San Francisco offers so much to do with amazing restaurants, vibrant neighborhoods,  even better views. But how do you see San Francisco if you're limited on time? While one day in San Francisco isn't enough to see everything, it's enough to see the major tourist attractions. This guide to the best things to do in one day in San Francisco will help you plan a San Francisco itinerary that checks off your bucket list items, while sharing a few local gems. 
This San Francisco itinerary is perfect for first time visitors to the city. It's a fairly touristy list of things to do, but that's ok! You'll still get to know San Francisco's free spirit. I always encourage readers to make these itineraries their own. If you find a neighborhood that you want to explore more of, then lean into it and forget the rest. Spend your 1 day in San Francisco in a way that works for you!
This post contains affiliate links, which means that, at no additional cost to you, I will earn a tiny bit of income if you decide to make a purchase or booking. For more, check out my disclosure. 
San Francisco Travel Resources
The Best Time of Year to Visit San Francisco
San Francisco's weather is just as quirky as the people who call the city home. While the summer is the busiest tourist season, it's also the coldest time of the year. I'm sure you've heard the quote "the coldest winter I spent was a summer in San Francisco". It's true.
The fog rolls in thick and heavy, so much so that we've named the fog Karl. If you're visiting in the summer, make sure you pack accordingly using my San Francisco packing list. As summer is the high tourist season, you can expect pricier accommodations. You'll benefit from longer days, the sun usually sets around 9 pm, allowing you time to do more things on your short trip.
The best time of year to visit San Francisco based on weather is September and October. This is when San Francisco summer starts. Our temperatures increase and people flock to the city's beaches. While it's the shoulder season, accommodation prices are generally the same as the summer.
The holiday season is a fun time to visit the city. San Francisco at Christmas is a beautiful sight to see. Not only does the city decorate with trees, gigantic ornaments, and ice skating rinks but many locals go all out with their house decorations.
The winter is technically San Francisco's rainy season, but it typically doesn't rain that much (with the exception of 2022/2023 being particularly wet!) If it happens to rain while you're visiting, head over to my favorite things to do on a rainy day in San Francisco. Accommodations are reasonably priced, with the exception of right around Christmas time.
Spring is also a beautiful time of year to visit San Francisco. Cherry blossoms and magnolias bloom throughout the city, the air is crisp, and accommodations are reasonably priced.
Where to Stay in San Francisco
You'll want to book your accommodations in a centrally located area, especially if it's your first trip. This means you should look for hotels in Fisherman's Wharf and Union Square. Here are my recommendations for each location.
Fisherman's Wharf Hotels  
The Argonaut Hotel
The Argonaut is an iconic San Francisco hotel. Most of the incredible rooms have Golden Gate Bridge views and if not, it doesn't matter because all you'll have to do is step outside to see it! If you're willing to splurge a bit, this is the place to stay for a good combination of luxury, convenience, and style. 
Check rates and availability here.
The Kimpton Alton Hotel
Stay in this hip hotel with an incredibly popular restaurant, Abacá, on-site! In addition to the typical Kimpton Hotel experience and its convenient location, there is valet parking available should you require it. 
Check rates and availability here.
Hotel Zoe
Stay at Hotel Zoe, which is part of the Noble House Hotel collection, the same as the Argonaut Hotel. A bonus (besides valet parking) is a FREE 2-hour bike rental. You'll really be able to get out and see the city when you stay here. 
Check rates and availability here.
Holiday Inn Express & Suites
A bit more of a budget-friendly option is the Holiday Inn Express. There is absolutely nothing wrong with staying here. You know exactly what you'll get (complimentary breakfast and onsite parking) and it's well located next to the Powell Hyde Cable Car line and other Fisherman's Wharf attractions. 
Check rates and availability here.
Union Square Hotels
CitizenM Hotel
Located near BART stations (which makes getting here from SFO easy!) this hip hotel offers a rooftop patio, lobby bar, and aesthetically pleasing rooms. Plus it's near the Cable Car turnaround making your morning start easy!
Check rates and availability here.
JW Marriott
You know what you're going to get with a Marriott, which is why I like to recommend it. It's in Union Square so you'll have easy access to start your day and you'll return to a cozy room to recover!
Check rates and availability here.
The Cift Royal Sonesta
This hotel is centrally located just off of Union Square with beautifully furnished rooms. Staying here you're just steps away from a great day in San Francisco.
Check rates and availability here.
How to Get Around San Francisco
First things first, if you're thinking about driving in San Francisco, don't. If it's your first time in the city you don't want to be stressed about parking fines, car break ins (we'll get to that later), or traffic. Follow these instructions for how to get from SFO to downtown San Francisco and then use one of the transportation methods listed below. 
If you are planning to do day trips out of San Francisco you can rent a car for the day. If San Francisco is a stop on a larger California road trip, then make sure that your accommodation includes parking and leave your car there for the day.
On Foot
San Francisco is a relatively small city, only seven miles by seven miles. Many of the neighborhoods blend into the next. However, one thing you probably know about San Francisco is that it is a city built on hills. Some hills are so steep that they've put in staircases to help people get up them. So if Google Maps tells you that your destination is a 15 minute walk away, it doesn't share that you will have to walk up multiple hills doubling the time and exertion to get there. 
To help you out (because that's what I'm here to do), as we move throughout the itinerary, I'll share with you what I think is walkable and when you should seek out other modes of transportation.
Public Transportation
While public transportation here isn't as great as New York, the popular locations in this itinerary are well served by Muni. This is the cheapest way to get around San Francisco, so if you're on a budget, this is for you! I recommend downloading the Muni Mobile app which will allow you to purchase your cable car ticket and a one day pass for a total of $13. 
Uber/Lyft
A more expensive way to move around the city is via Uber or Lyft. I recommend using rideshare at night to make sure you get safely to your destination.
Hop-on, Hop-off Bus
The best way to get around San Francisco is the hop-on, hop-off Big Bus. Sure, it's touristy, but so are many activities on this list. Since you're limited on time, this is the easiest, fastest, and most cost effective way to see the best of San Francisco.
The bus stops at 20 different locations, including Union Square, the Palace of Fine Arts, the Golden Gate Bridge, and Haight- Ashbury.
You can purchase your hop-on, hop-off bus ticket here.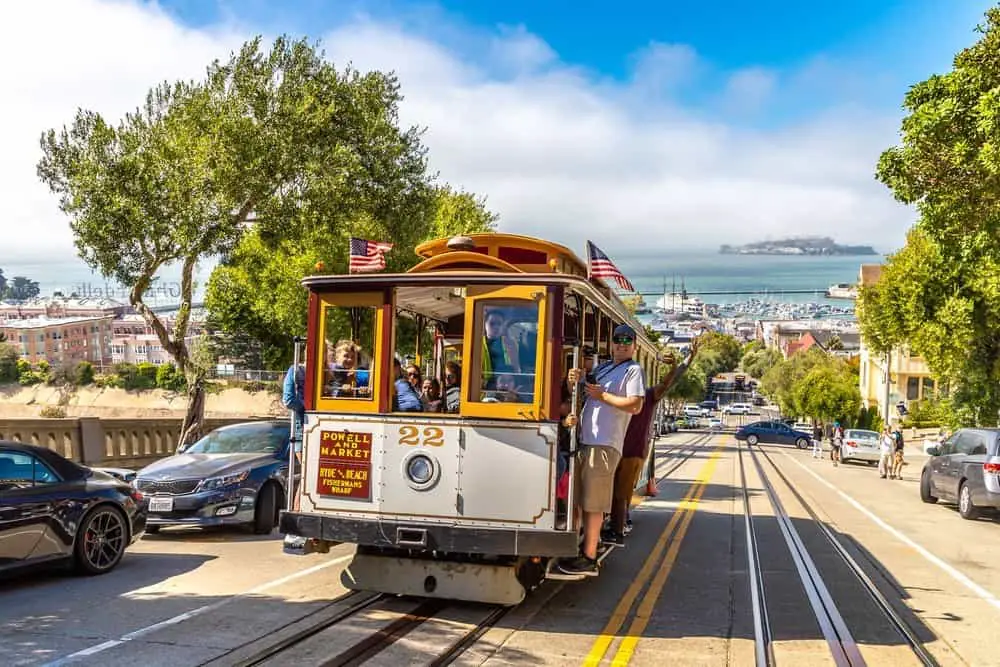 What to Bring with You
With only one day in San Francisco, you'll want to maximize your time out and about so make sure you have anything that you need to be comfortable all day long. Plus, bring the following items.
Backpack: Using a backpack to store everything that you bring with you will make moving around the city easier. And you'll have space for any souvenirs you purchase.
Jacket: As mentioned above, the weather in San Francisco is quirky and known to change rapidly. Bring a warm jacket, at least for the evening when it cools down (even more than the day). A packable down jacket is perfect for San Francisco. 
Comfortable Shoes: This itinerary does include a bit of walking so make sure that you're wearing appropriate shoes!
Power Bank: You'll be gone all day long taking lots of pictures with your phone and likely using it for directions as well. Make sure you stay powered up with a power bank. I've been using this one for years and I'm able to get multiple full charges out of it still. It's one of the best travel purchases I've made.
Camera: If you like urban or landscape photography, San Francisco is a playground for you. There are so many great photo spots in San Francisco (my favorites are listed here) so make sure to bring any camera gear your prefer.
Reusable Water Bottle: I don't know about you, but traveling dehydrates me! Bring a reusable water bottle that you can fill up in parks, in coffee shops, and restaurants to keep you hydrated and stay eco-friendly.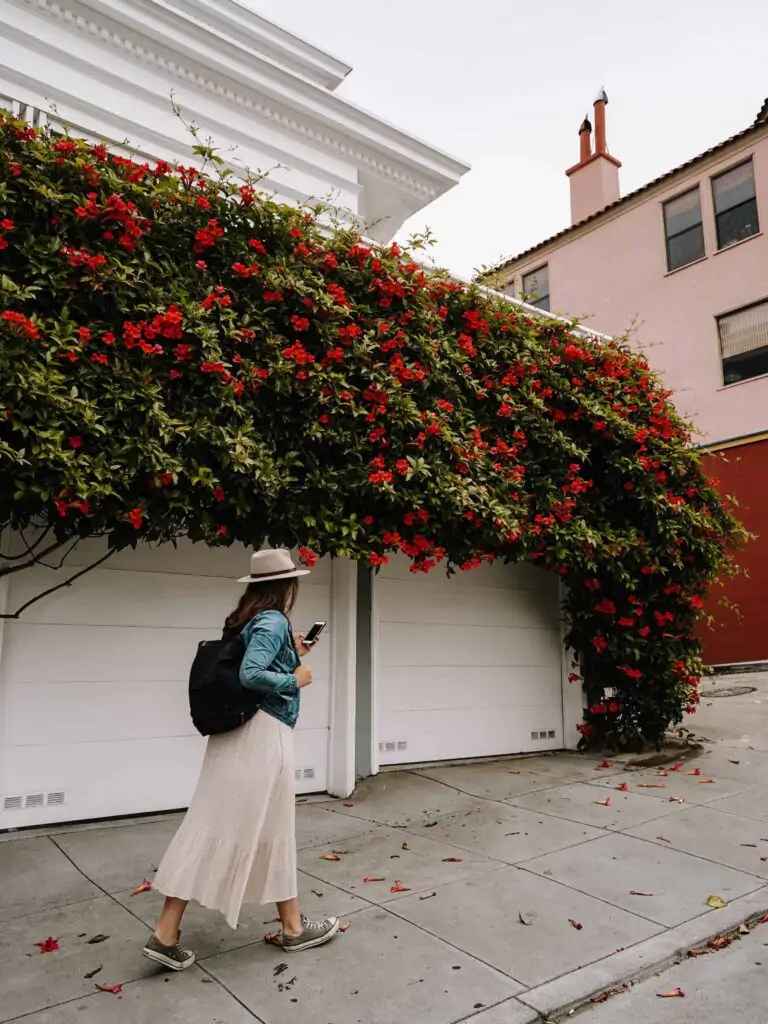 Where to Find Public Restrooms in San Francisco
Ok, this might be a weird section. But as I finished the last one telling you to stay hydrated, I figured I should tell you where to find public toilets! Every park has a free public restroom and they're usually very clean. Specifically mentioned in this itinerary: Washington Square Park, Dolores Park, and Golden Gate Park all have clean public restrooms.
I would avoid any public restrooms downtown if at all possible. Instead pop into a hotel and use the lobby restroom.
You can of course use restrooms in coffee shops, but some may request that you purchase something.
San Francisco Safety Tips
In general, San Francisco is a safe city. We don't have much violent crime here. However, homelessness is an issue that is only getting worse in the city. You will encounter homelessness. Many have mental health issues or drug addiction issues, but they also generally leave you alone.
That being said, if anyone sees an opportunity to grab a phone out of someones hand and run, it could very well happen here. Especially in the touristy areas of the city.
Use common sense. Keep any valuables out of sight, be aware of your surroundings, and leave others alone.
If you do have a car and are parking it in touristy areas, make sure that you take anything valuable with you. Car break ins are so common now, you'll probably see window glass on the street as you walk around. It takes them less than 10 seconds to break the window and grab what they want!
Honestly, theft in stores is increasingly common as well. If you see it happening, just let it happen. There's no need to get involved and potentially hurt. I worked in retail here for a bit and we were trained not to try to stop theft for our own safety. 
I hope this didn't deter you from visiting! If you use common sense, use rideshare at nights, and stay aware of your surroundings, you'll have a great time!
One Day in San Francisco Itinerary
Are you ready to have a perfect day in San Francisco? Let's go!
Union Square
You're likely staying at a hotel near Union Square, so let's start your day there! And the first thing you're going to do, is get out of Union Square. This area of the city, I avoid! Yes, there is shopping here, but it's shopping that you can pretty much get at any mall in America.
The only time of year I like going to Union Square is during the holiday season when the Christmas tree is up and Macy's has animals for adoption in the store windows.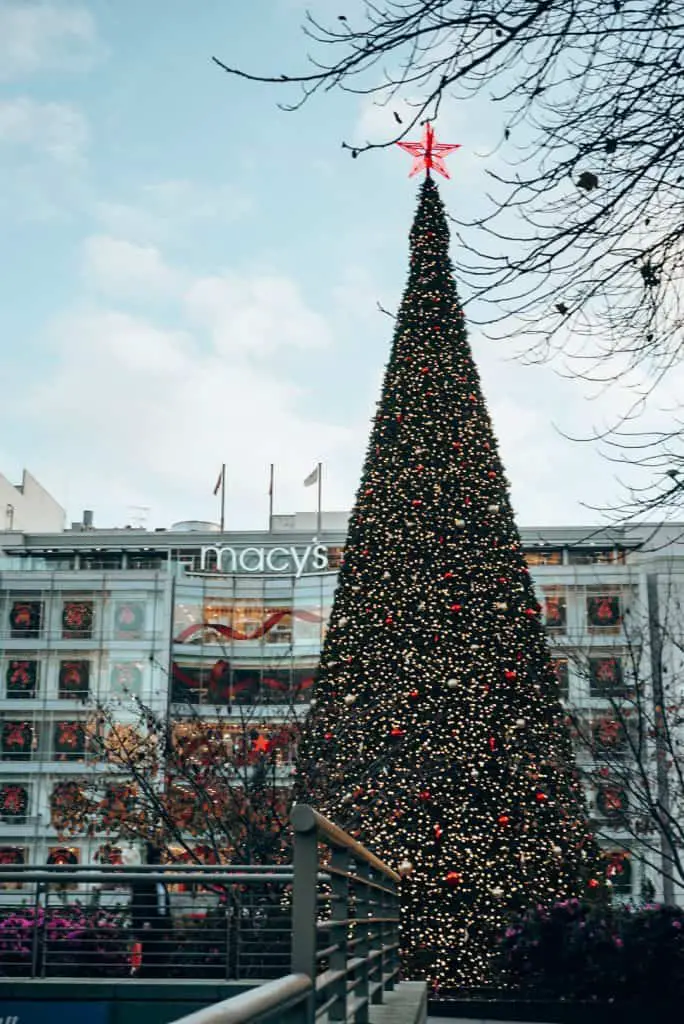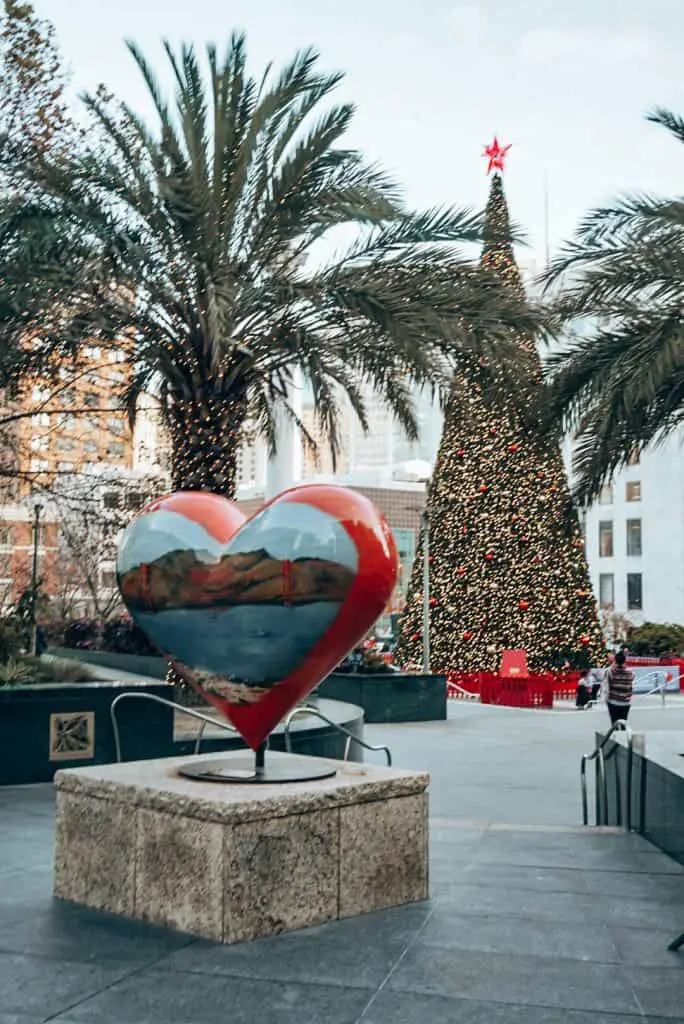 Ride the Cable Cars
To get out of Union Square you're going to check off a major bucket list item, riding the Cable Cars! You can use the Muni Mobile app, purchase a ticket ($8). Is eight dollars expensive for one direction? Yes. But you have to do it. Even as a local, I love when I get the chance to ride the cable cars! 
Get on either the Powell/Hyde Line or Powell/Market Line. You can get on at the turnaround on Powell and Market Street, but there will likely be a long line. If you get an early start and head there first thing in the morning, which you should with such a short time in the city, you should be ok. This is a great place to see how they turn the cable cars around! 
You can also hop on the cable cars anywhere along the route. So if you're staying on Nob Hill, walk to the Sacramento and Powell intersection for your cable car ride.
Where are you riding it to exactly? The Lombard Street stop.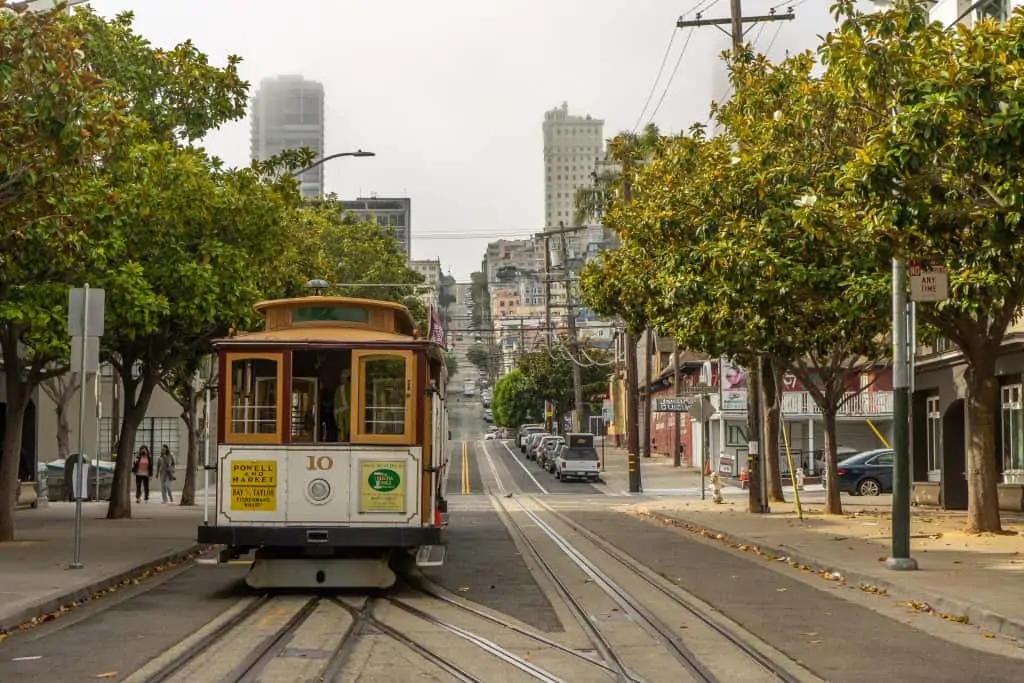 Check Out Lombard Street
It's time to see the "crookedest street in the world". Well, that title may not be totally accurate, but it's certainly one of the most famous crooked streets! 
Lombard street is a narrow, windy, one way street that connects the Russian Hill and North Beach neighborhoods. It's an active street that many people, myself included, love to drive down. This is probably when you'll wish you had a car, but it'll pass.
You can walk down the sidewalks of the street admiring the houses, like the stunning blue bougainvillea house. People live on this street so make sure you respect the residents and be mindful of the road.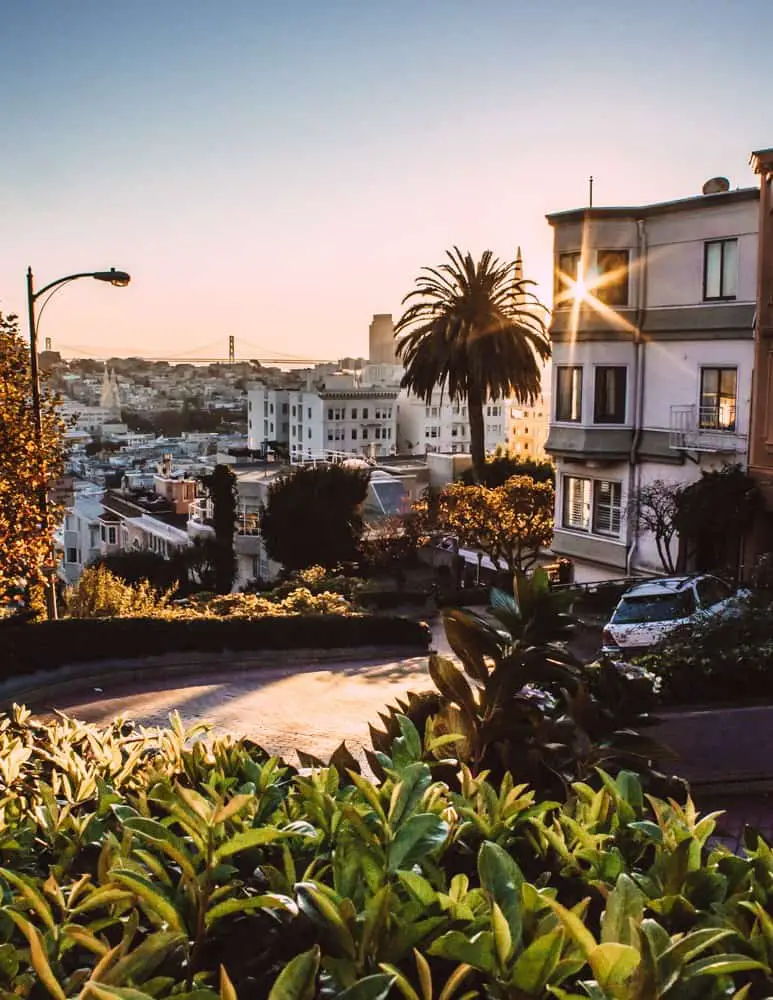 Explore Fisherman's Wharf + Pier 39 (Breakfast at Buena Vista Cafe)
Are you hungry? It's time to head to Fisherman's Wharf and Pier 39 for breakfast and to check off more of your bucket list. You've already done so much, but there is still more to see!
At the bottom of Lombard Street, follow Leavenworth into Fisherman's Wharf for the Buena Vista Cafe located on the corner of Beach Street and Hyde Street. Don't worry, it's a short walk that's mostly downhill.
Buena Vista Cafe is known worldwide for its Irish Coffee, but they also have a great breakfast! 
When you've finished, I recommend spending 30-45 minutes exploring walking from Fisherman's Wharf to Pier 39. Here are a few things to do in Fisherman's Wharf along the way.
Umbrella Alley: Located just a few steps away from the Buena Vista Cafe is Umbrella Alley. It's a small alley filled with colorful murals by local artists. It's a great place for an Instagram photo.
Ghirardelli Square: If it's a cold morning and you want a hot chocolate, pop in here.
In-N-Out Burger: If you happen to be in the area later in the day and you haven't had In-N-Out yet, please try it. I worked here in high school (it was my first job) and I still eat here! Get everything animal style!
Musée Mécanique: This is a really unique experience in San Francisco. It's a collection of antique coin operated arcade games. If you've watched Princess Diaries, you've seen the Musée Mécanique. It's free to enter, but you have to pay to play the games.
Sea Lions: The Sea Lions that have called Pier 39 home for ages are quite the tourist attraction themselves. You can see them sunbathing, parking, and playing on the docks at Pier 39!
Stroll through North Beach
Once you're done in Fisherman's Wharf, walk to North Beach via Taylor St.,Mason St., or Powell St. (all flat) until you get to Washington Square Park. North Beach is San Francisco's version of Little Italy and Washington Square Park is the center of it all. There are plenty of restaurants, coffee shops, and shops to pop into.
If you're up for a bit of an urban hike, climb up the hill to the Coit Tower steps and the top of Telegraph Hill. You can enter Coit Tower and go to the top for panoramic views of San Francisco.
If you're a book lover, head to City Lights Booksellers where you can learn the history of the beatnik generation as well as find bestsellers. 
Here are a few other fun things to do in North Beach:
Cafe Trieste: Cafe Trieste is known from bringing Italian espresso to San Francisco. Stop in for a caffeine fix!
Club Fugazi: Seeing the show at Club Fugazi is one of my favorite things to do in San Francisco. It's an acrobatic love letter to San Francisco and would be a fun thing to do with your one night in San Francisco if you're over the touristy things.
Eat: There are a number of places to eat in North Beach. A few of my favorite places are Tony's Pizza, Golden Boy Pizza, The Italian Homemade, Mario's Bohemian Cigar Store Cafe, and Chubby Noodle.
Explore Chinatown + Lunch
After North Beach, walk down Grant Avenue to enter the heart of Chinatown. You'll start to notice how one San Francisco neighborhood easily blends into the next as the architecture changes to Chinese designs and lanterns are strung across the street. 
Chinatown is where Chinese immigrants made their home in San Francisco. There is a tumultuous history to this neighborhood that I share more about in this post. But for the purposes of your day in San Francisco, you'll notice that Grant Ave has plenty of tourist shops and restaurants. One block over, on Stockton Street you'll find a variety of Asian markets.
One thing that I love about Chinatown is that there are plenty of alleyways to wander down that oftentimes have excellent food. One of the alleyways houses the home of the fortune cookie. You can visit the Golden Gate Fortune Cookie factory to see them being made and make a cookie with your own fortune in it!
Here are a few other fun things to do in Chinatown:
LiPo Lounge: If you're looking for a solid drink, get the Chinese Mai Tai from LiPo Lounge, it's Anthony Bourdain approved.
Hang Ah Tea Room: Eat dim sum from here while watching locals play basketball at the Willie Wong playground.
Z&Y Bistro: It's around lunchtime now, so eat here for lunch. The Mu Shu Pork is delicious!
Haight Ashbury + The Four Seasons Victorians
Many itineraries will tell you to head to Alamo Square to see the Painted Ladies made famous by Full House. And while it's definitely a great place to visit, really the only thing to do is look at them, snap a photo, and head out. You could grab a sandwich and have a picnic in the park on a nice day, but we are trying to maximize your time in the city!
Instead, take an Uber to the Haight Ashbury neighborhood to the corner of Waller and Masonic. Here you'll find the four seasons Victorian Homes which I find more beautiful and intricate than the painted ladies.
Then walk down Waller to Ashbury and turn on Ashbury towards Haight Street for the famous Haight Ashbury sign. The Haight is known for its hippie past and the summer of love. This free spirit remains with multiple head shops and a very specific smell in the air.
But there is also great vintage shopping, street art, and gorgeous homes to gawk at.
Here are some of my favorite things to do in the Haight-Ashbury:
Vintage Shopping: From luxury vintage stores to Goodwill you'll find something unique in one of the many vintage stores on Haight.
Victorian Homes: If vintage shopping isn't your thing, head to the side streets of Waller and Page for unique Victorian homes.
Famous House Walk: Many famous musicians called the Haight home in the '60s including Jimmi Hendrix, Janis Joplin, and the Grateful Dead. You can find where they once lived and check out the homes. Many are private residences, so please be respectful.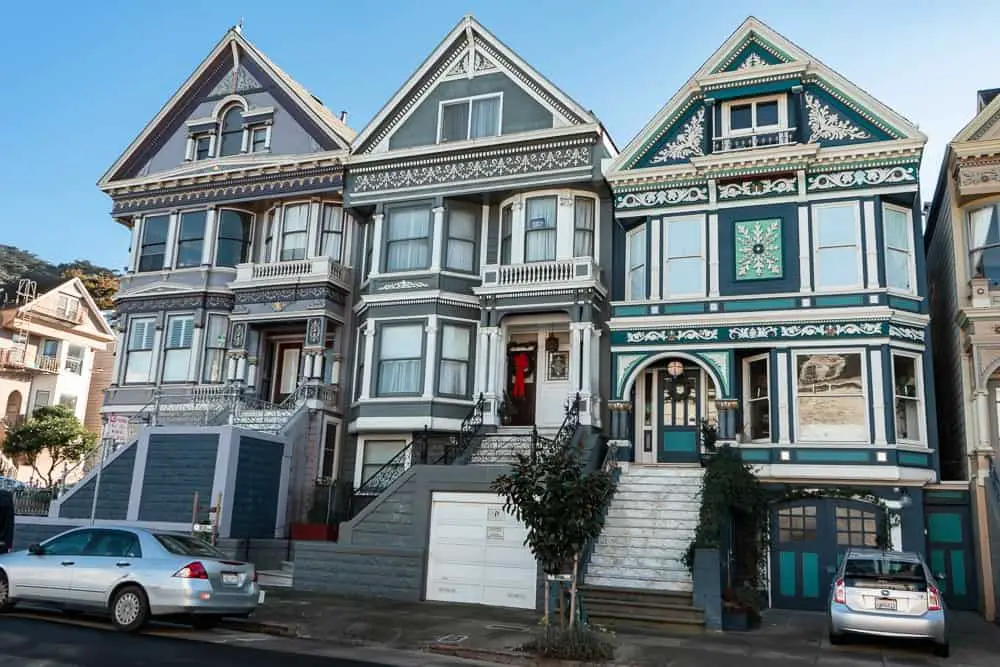 Chill in Golden Gate Park
The Haight-Ashbury leads directly into Golden Gate Park which you could spend an entire day in and still not see all of it! There are 2 museums (The California Academy of Sciences and the de Young Museum), a Conservatory of Flowers, a Ferris Wheel, and a Japanese Tea Garden to name a few things to see in Golden Gate Park. That's not even including the bison that are located on the west end of the park near Ocean Beach!
There are a number of bike rental shops in the Haight you could rent to see more of it than you could on foot. But with the limited time you have I recommend going for a walk through Robin Williams Meadow, past Hippie Hill, and across John F. Kennedy Drive to Peacock Meadow.
If you think you've got extra time, here are really unique experiences to have in Golden Gate Park:
Hamon Observation Tower: Located next to the de Young Museum, the tower is free to enter. Take the elevator to the top for sweeping views of San Francisco and a small gift shop.
Boat Ride: Rent a canoe or paddle boat and row around Stow Lake. This is incredibly romantic if you're visiting with a partner.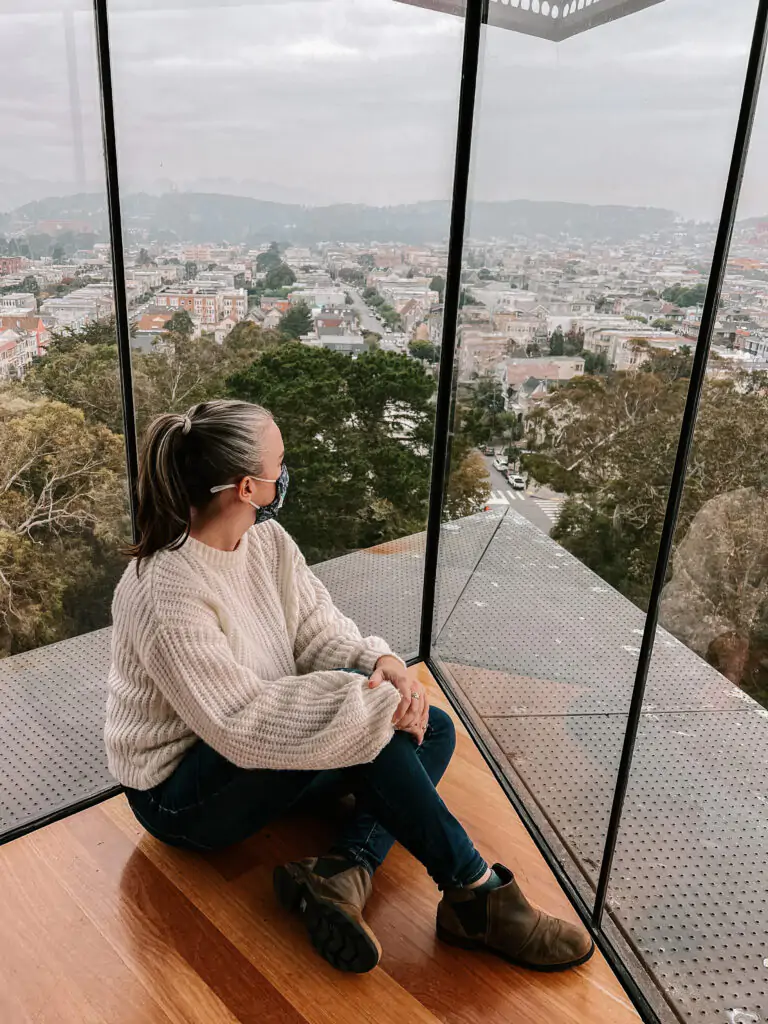 See Sunset at the Golden Gate Bridge
I've been saving the best for last, sunset at the Golden Gate Bridge! You can't come to San Francisco, whether it's your first or 100th trip without visiting the Golden Gate Bridge. The perfect place for sunset at the Golden Gate Bridge is the Golden Gate Overlook. 
At this location, you'll have the iconic view of the bridge through two Cypress Trees, you can walk around the old battery that's here, and see the sunset over the San Francisco Bay and Pacific Ocean. It's the best place to end your one day in San Francisco
If this view doesn't work for you, here are some of my other favorite views of the Golden Gate Bridge:
Fort Point: Is just below the bridge and while not great for sunset, you'll sometimes see surfers here which is really cool!
Marin Headlands: If you can make it across the bridge, the Marin Headlands provide ample viewpoints. The best are Battery Spencer and Hawk Hill.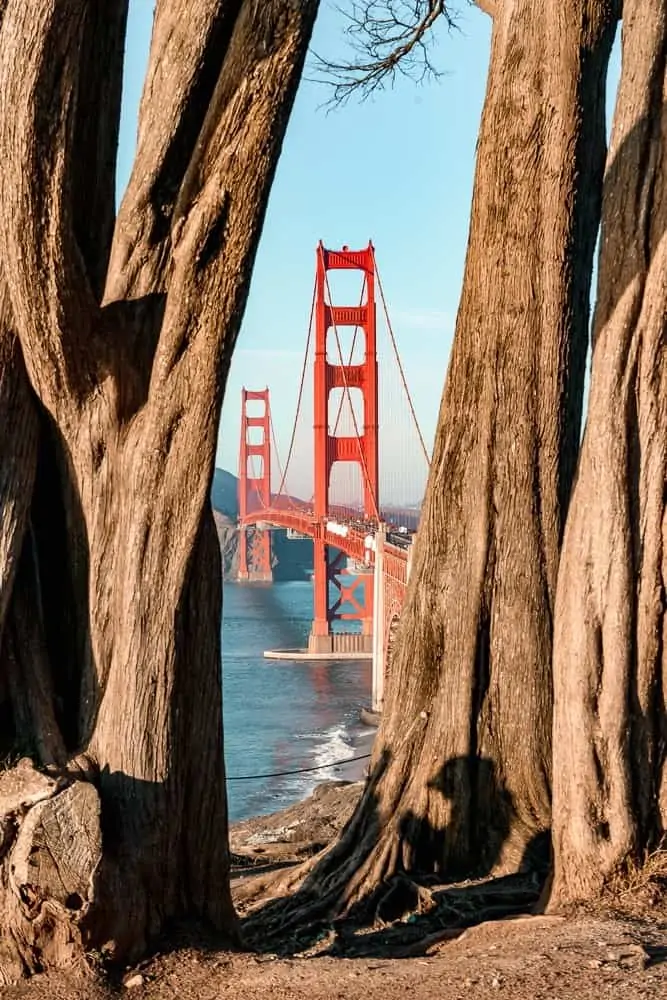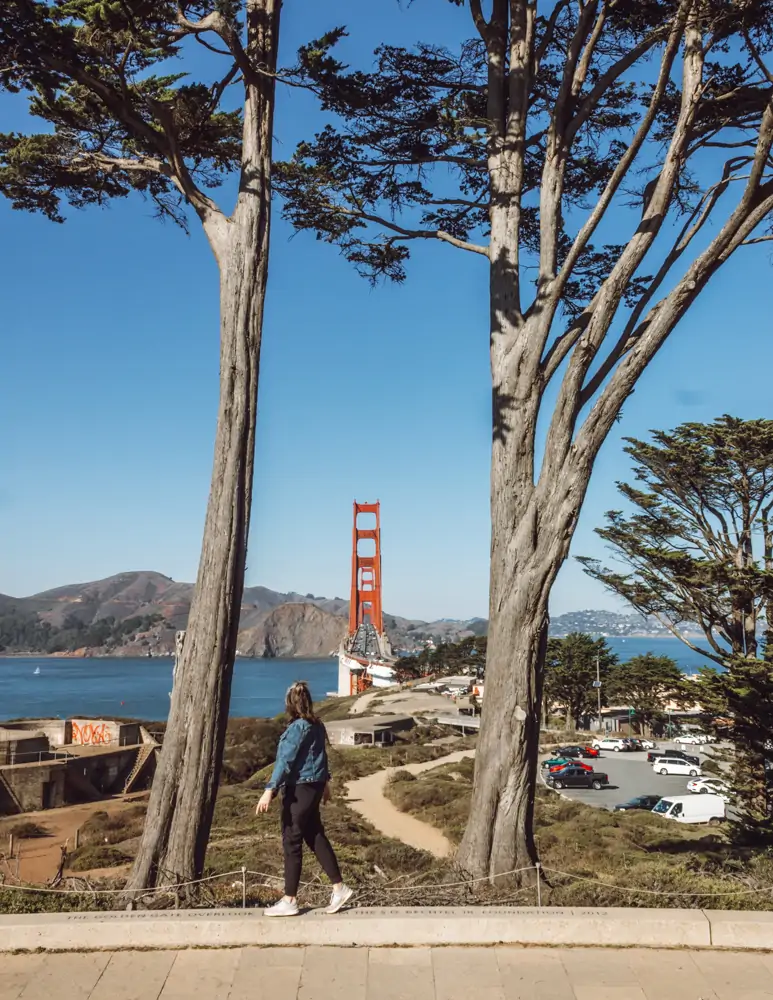 Dinner in the Mission District
It's time for dinner! Return to the Mission District for dinner at any restaurant on Valencia Street. While the Mission is known for its Mexican food, you'll also find great Burmese and Italian eats. Here are my recommendations for where to eat in the Mission:
Burma Love: Great Burmese food. If you've never had it, this is a great place to try it. Get the tea leaf salad, any of the curries, and coconut rice.
Beretta: If you're craving Italian, this is the place to go! It's got a great ambiance, wine selection, and of course delicious food!
La Taqueria: For an authentic Mission Burrito hop in line at La Taqueria! Remember to order it El Dorado style. This means they will grill the tortilla once it's filled. Delicious! 
If you have more time, explore these other things to do in the Mission!
Evening Stroll along the Embarcadero
As you're likely staying at a hotel downtown, your one day San Francisco itinerary will end there. Return to your accommodation, but don't go to bed just yet.
There is something magical about Downtown San Francisco after dark, even when the bars and restaurants are closed. Soak in the city's lights with an evening walk along the Embarcadero. 
Start at the Ferry Building, which is a beautiful sight lit up at night, and walk to Pier 7. This pier is an excellent photo opportunity as it seems to lead directly to the Transamerica Building, has excellent views of the Bay Bridge, and Coit Tower. 
Alternatively, you could walk in the other direction from the Ferry Building towards Cupid's Span, an art installation with Bay Bridge and city view!
This is a jam packed 1 day San Francisco itinerary. You've really seen all of the best things to see in San Francisco. You've seen multiple neighborhoods, the major tourist attractions, and some local gems. If you have extra time in San Francisco, I encourage you to check out this three day itinerary for ideas on how to spread this out and see more of this beautiful city. 
Remember to make this itinerary your own and have fun!
Like this post? Save it for later!