Christmas in San Francisco is one of the most magical times of the year. I absolutely loved coming into the city as a kid and checking out the animals in the windows at Macy's then heading to the Union Square ice rink to go skating. One Christmas, my family took us to the Nutcracker and another to the Symphony. As I got older, and my friends and I would all be in town for the holidays I loved combining a visit to the Gingerbread house with drinks at Foley's dueling piano bar.
When I finally moved into the city in October of 2020, I was excited to relive all of these memories. Unfortunately, most of the city was shut down. There were no furry friends in the windows at Macy's, no ice rink or Gingerbread houses. And certainly no dueling pianos.
That's why this Christmas, 2021, I am determined to soak up every last inch of Christmas in San Francisco. As I was writing my plan for what to do, see, and eat, I figured I'd share it with you to help you plan your own San Francisco Christmas in 2021!
Note: The majority of activities in San Francisco require COVID-19 vaccinations. Yes, even dining in a restaurant unrelated to holiday festivities. Be sure you have either the physical card or a photo of your vaccination card to ensure your visit to San Francisco flows smoothly. For the most up to date information about how San Francisco is responding to the COVID-19 pandemic, please visit this website. 
Pro Tip: If you're like me and hate crowds, it's best to plan these events for a weekday. 
This post contains affiliate links, which means that, at no additional cost to you, I will earn a tiny bit of income if you decide to make a purchase or booking. For more, check out my disclosure. 
What You Need to Know about Visiting San Francisco During the Holidays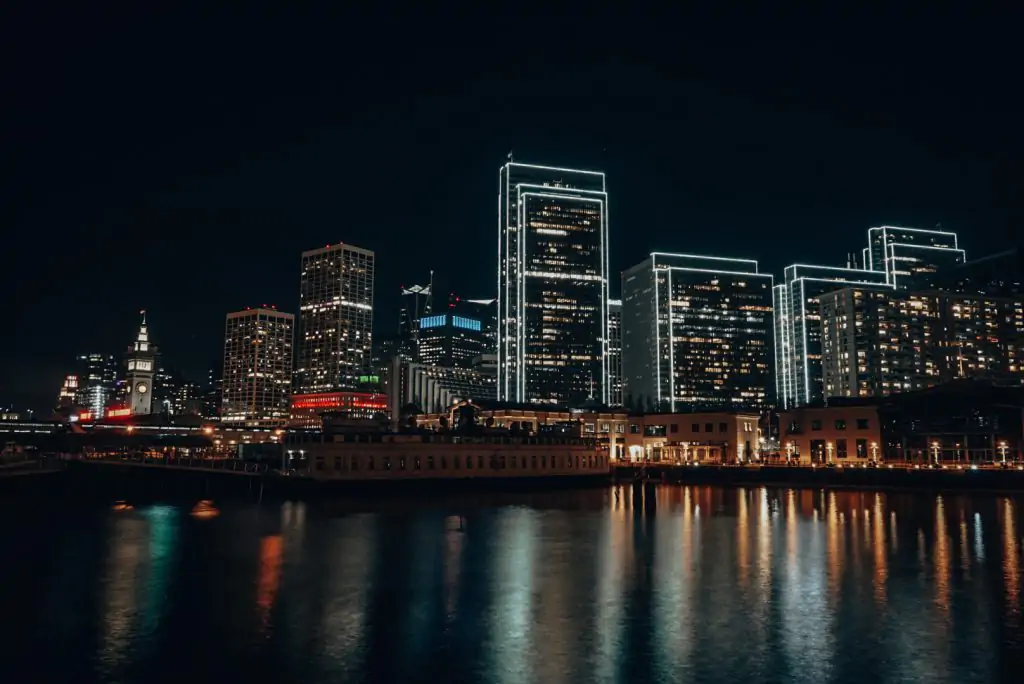 San Francisco Holiday Weather
The weather during November and December is generally fairly mild. It is our rainy season, but unfortunately in recent years it hasn't rained too much. The temperatures are typically in the mid 60s during the day and 50s overnight. Some days the temperature reaches 70! I definitely recall multiple Christmas Days when it was sunny and 75.
That being said, San Francisco is well known for its microclimates. It could be completely fogged in on one block, but the next block over is clear skies and sunshine. So be prepared for anything!
Except for snow. It won't snow in San Francisco. But, if you do want a winter wonderland experience, you can travel to Lake Tahoe for a weekend getaway.
What to Pack for Christmas in San Francisco
Thanks to San Francisco's lovely microclimates, layers are essential! San Francisco is a fairly casual city, so in terms of the type of clothing you pack, a nice pair of jeans will get you in basically anywhere. But of course, it's the holidays and you may want to get dressed up a bit – so go for it.
San Francisco is also a very walkable city so you'll need a comfortable pair of shoes. Also wearing heels on the San Francisco hills is pretty challenging, so I suggest wedges or saving them for when you're going to Uber to dinner. 
Here are some essentials to pack for your Christmas trip to San Francisco, for a complete list check out this guide for what to wear in San Francisco. 
Warm Jacket: a puffy coat works really well in San Francisco, but any coat that will keep you warm in the evening is perfect.
Rain Jacket: on the off chance that it does rain, don't let it stop you from exploring. Just throw on your rain jacket and get out there.
Waterproof Boots: I LOVE my Sorel Booties. They've traveled with me across Europe and are now in regular rotation in my San Francisco attire. I can walk MILES in them, I've hiked in them, they're waterproof, and they're cute. Truthfully the best shoes I've ever had. 
Sneakers: you'll likely be doing a TON of walking throughout the city and you want to make sure your feet are well taken care of. Everyone has different preferences in the types of shoes they can walk for miles in. 
Dark Jeans: if you want to wear jeans for a nice night out, a dark pair is probably the best way to go. But any type of jeans work during the day and for casual evening.
Umbrella: you may not need this, but it's always good to have just in case the forecast calls for rain
Backpack: you'll likely be gone from your hotel all day exploring, so carry a backpack to stash your extra layers, water bottle, and camera.
Alright, now that we've got some of the basics about visiting San Francisco out of the way, let's get in to the best things to do during Christmas in San Francisco!
Ice Skating Rinks in San Francisco
Ice Skating Union Square
Perhaps one of the more popular San Francisco holiday traditions is going for a spin on the Union Square Ice Rink surrounded by department stores. Honestly, I don't mean that to come off sarcastically – there is something about the busy atmosphere here during the holidays. 
The ice rink opens on Nov 3, 2021. Admission is $19 and includes your skate rental. You must buy tickets online and show proof of COVID-19 vaccination for everyone over the age of 12. 
For all of the details to plan your ice skating experience, visit the holiday rink website.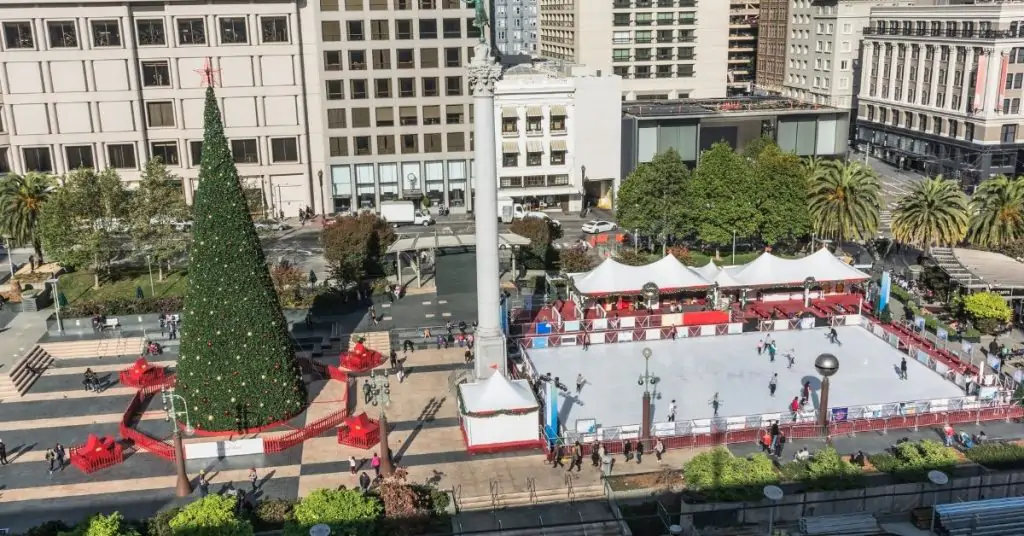 Holiday Ice Rink at Embarcadero Center
While the Union Square ice rink is fun, I actually prefer the ice rink at Embarcadero Center. My college boyfriend took me here one night to skate and I loved that there was more space to move around (aka fall down).  Plus the Ferry Building is the backdrop which is quite magical! 
To be honest, when I looked up information about this ice rink there was a blurb that said it's closed for the season. I'm not entirely sure if that just hasn't been updated yet, or if that is the case for 2021. I'll be checking out this website for updates, but make sure to do your research before making any plans. 
Where to Find Christmas Trees in San Francisco
I love a tall, well decorated Christmas tree. The awe I feel looking at them reminds me of Kevin McAllilster staring at the one in New York City. So, high on my things to do in San Francisco at Christmas is scoping out all of the trees!
Union Square Christmas Tree
The Union Square Christmas Tree is lighting for the 32nd year on Nov. 26, 2021. The event starts at 6:00 pm – 9:00 pm with the actual lighting ceremony occurring around 6:50 pm.
If you want to go for the Christmas tree lighting ceremony, be sure to get there early in the day to snag a good spot as this tree is located in a very touristic location in the city. But, the tree will be up until January 2nd at the latest, so any time at the end of the year you'll be able to see it.
Definitely combine your visit with some shopping, an ice skate, and drinks at Johnny Foley's down the street.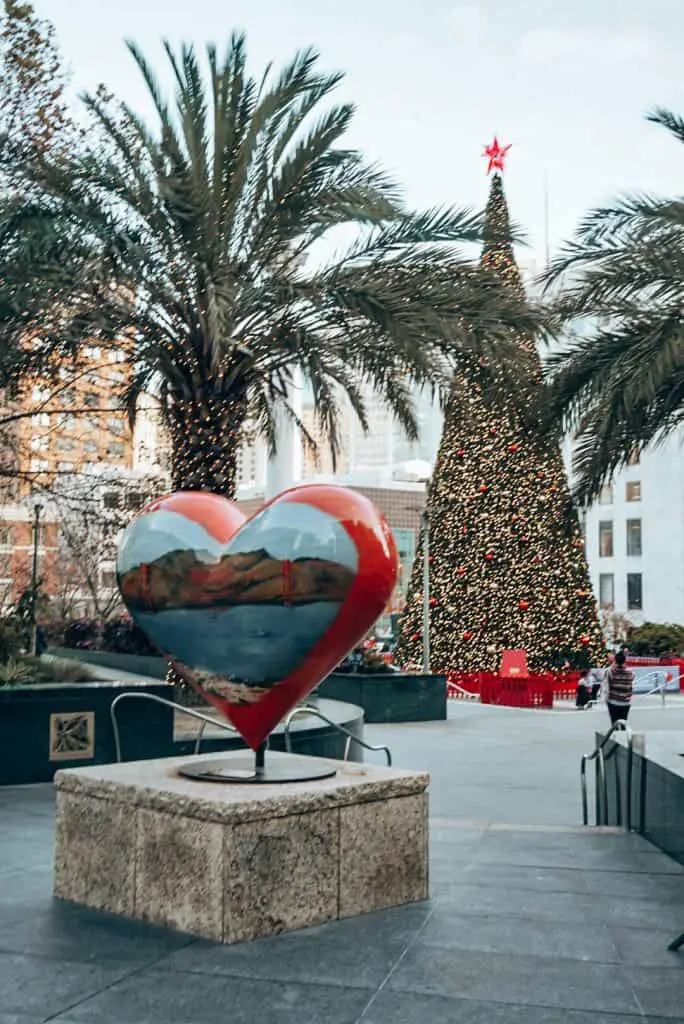 Pier 39 & Fisherman's Wharf Christmas Tree
While I don't normally advocate going to Pier 39 or Fisherman's wharf (unless it's your first visit to San Francisco), they do have a very lovely 60 ft tall Christmas Tree!
The Fisherman's Wharf sign also gets dolled up for the holidays and is a solid photo opportunity!
Tree Lighting is TBD for 2021.
Ghirardelli Square Christmas Tree
What's better than enjoying a hot fudge sundae from Ghirardelli than enjoying it while gazing up at a brightly lit Christmas tree? Not much, I'll tell ya. Actually – ok a lot – but it's the holiday let's enjoy!
If you're already scoping out the tree and festivities in Fisherman's Wharf, then take a stroll down to Ghirardelli Square to see their tree.
Tree Lighting is TBD for 2021.
Civic Center Christmas Tree
In front of City Hall, not only is there a giant tree, but the trees that are there year 'round are also lit up!
The Civic Center Holiday Tree Lighting is on December 1 from 4:00 pm – 7:00 pm.
This area has a high population of homeless people. I have been there by myself at night before to see the tree, but I don't recommend it. The majority of homeless people will leave you alone, but still be aware of your surroundings here, and anywhere in San Francisco.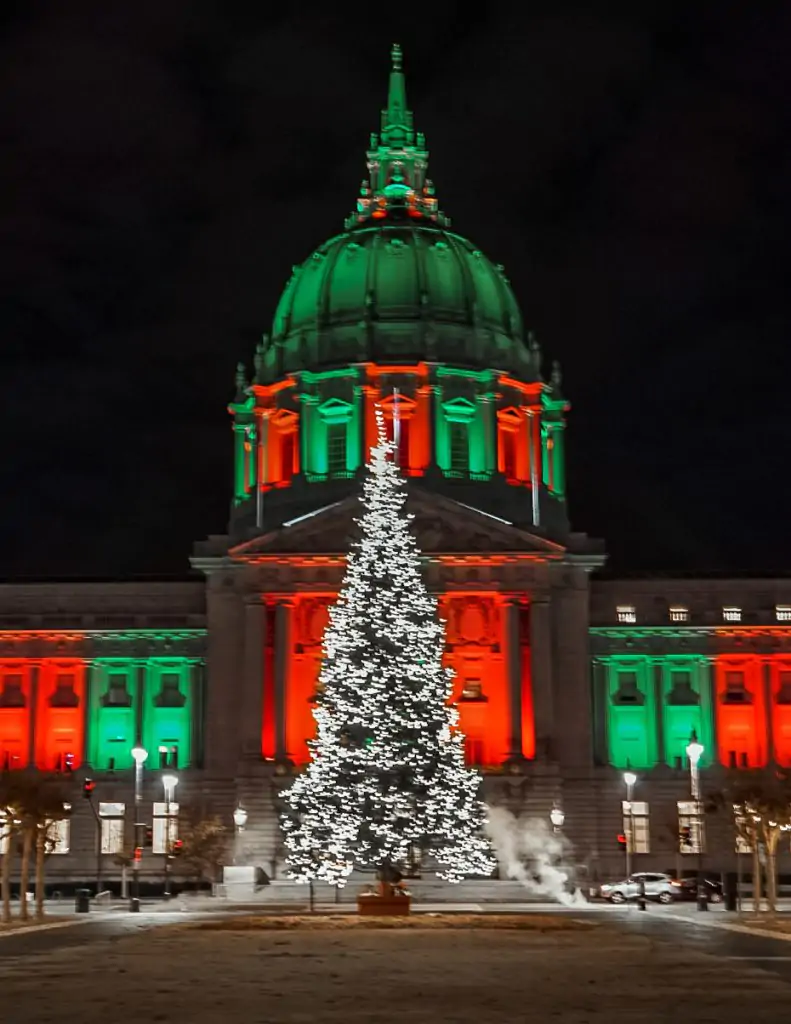 Where to See Christmas Lights in San Francisco (+ other decorations)
Another fond memory from childhood is driving around the neighborhood on Christmas Eve after dinner at my Grandparents house oohing and aahing at the homes all done up for Christmas.
San Francisco certainly has a few buildings and homes that are must-sees during the holiday season.
Tom & Jerry House
The Tom & Jerry House is a thing of legends for its annual over the top holiday decorations. The couple that lives here are prominent figures in the LGBTQ+ community. Tom, who was the impetus behind the creation, passed away in 2020. But his partner, Jerry, carried on the tradition. 
I didn't get a chance to see it last year, but this is number one on my priority list for 2021!
Location: 3650 21st St
68 Castro Street
Big red bows, candy canes, and Nutcrackers watching over the scene as Santa hangs out in the middle of two bay windows. This Castro Street house is one of the best decorated homes in San Francisco.
I recommend visiting this house just as the sun is setting for photos so you can have the lights on, but really any time of day is a fun time to visit this festive house.
Afterwards, you can head down the hill into the Castro for dinner!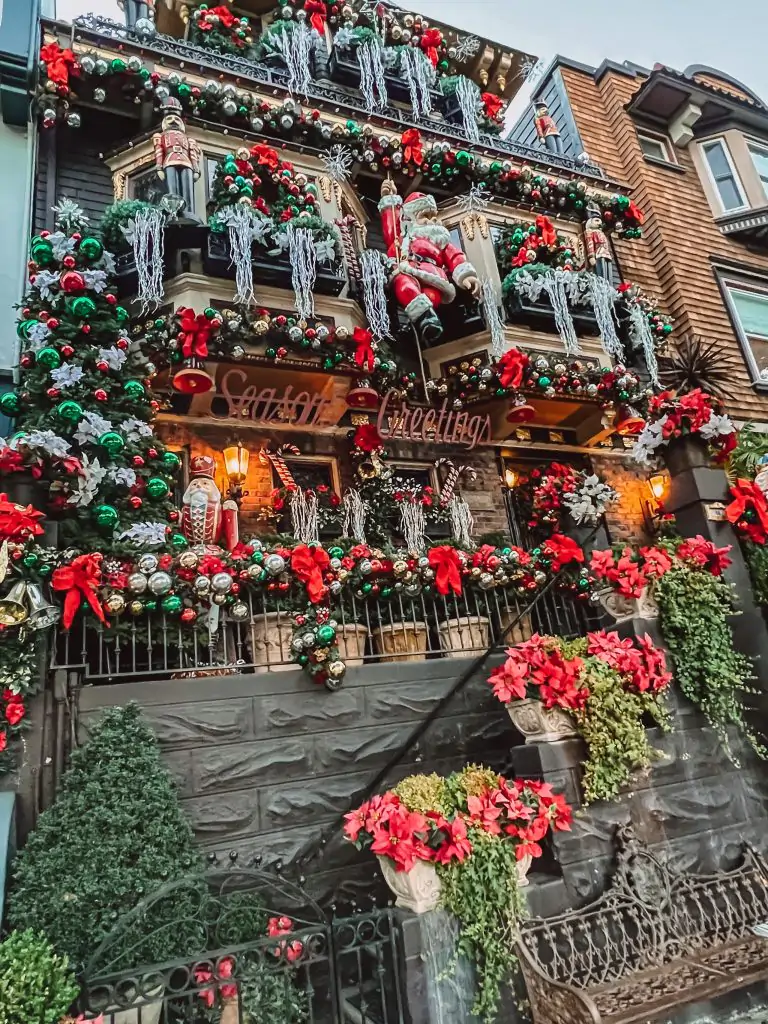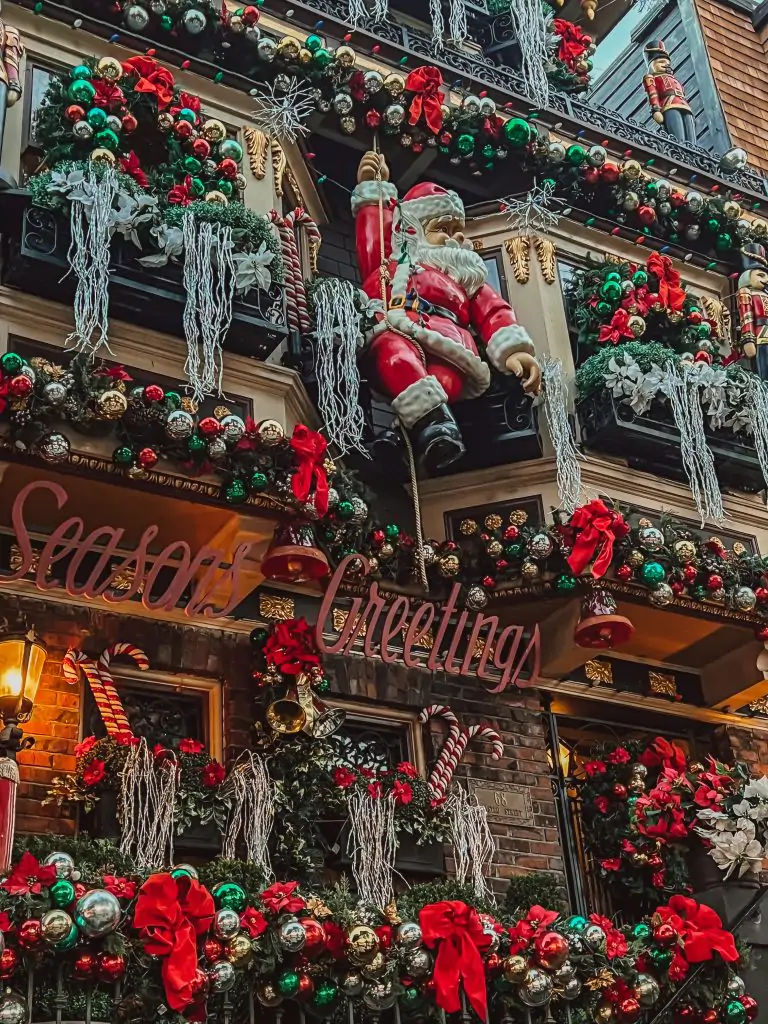 45 Upper Terrace
On a beautiful triangle corner near Buena Vista Park is the fun 45 Upper Terrace house filled with large presents, huge Nutcrackers, Christmas carols playing, a train crossing the entrance, and little Christmas gnomes on the roof! If the door is closed, you won't be able to see the train, but there is still plenty of Christmas cheer to feast your eyes on.
The best time to visit this house for photos is around sunset as it gets beautiful light and there aren't too many Christmas lights on this one…just lots of presents!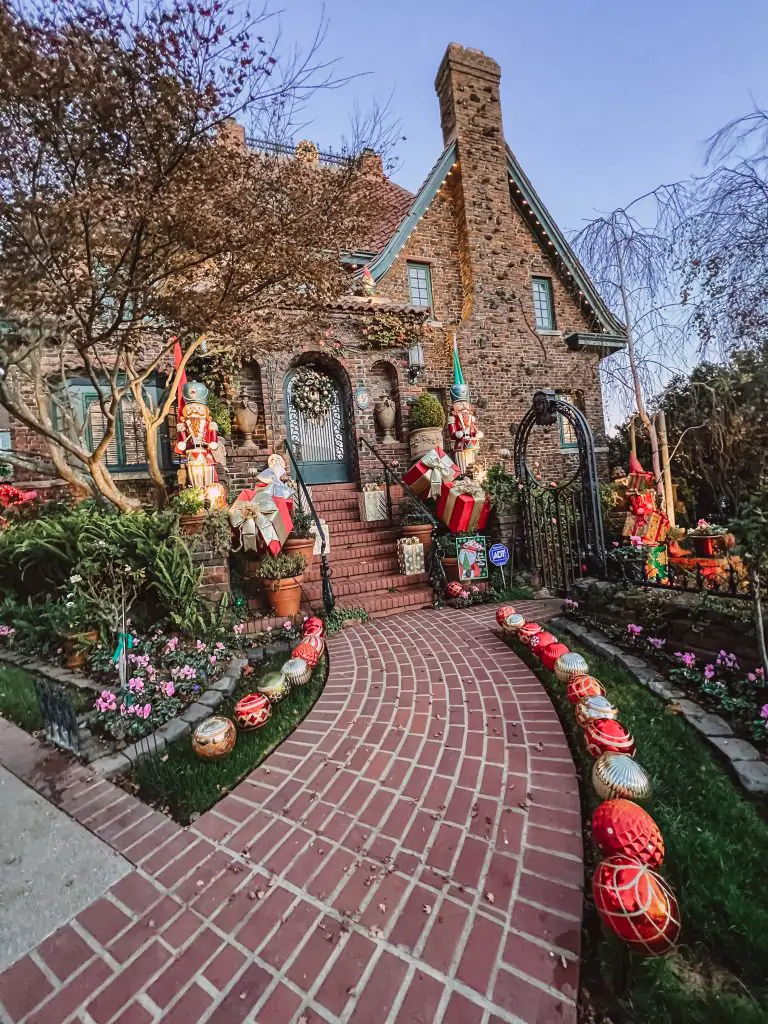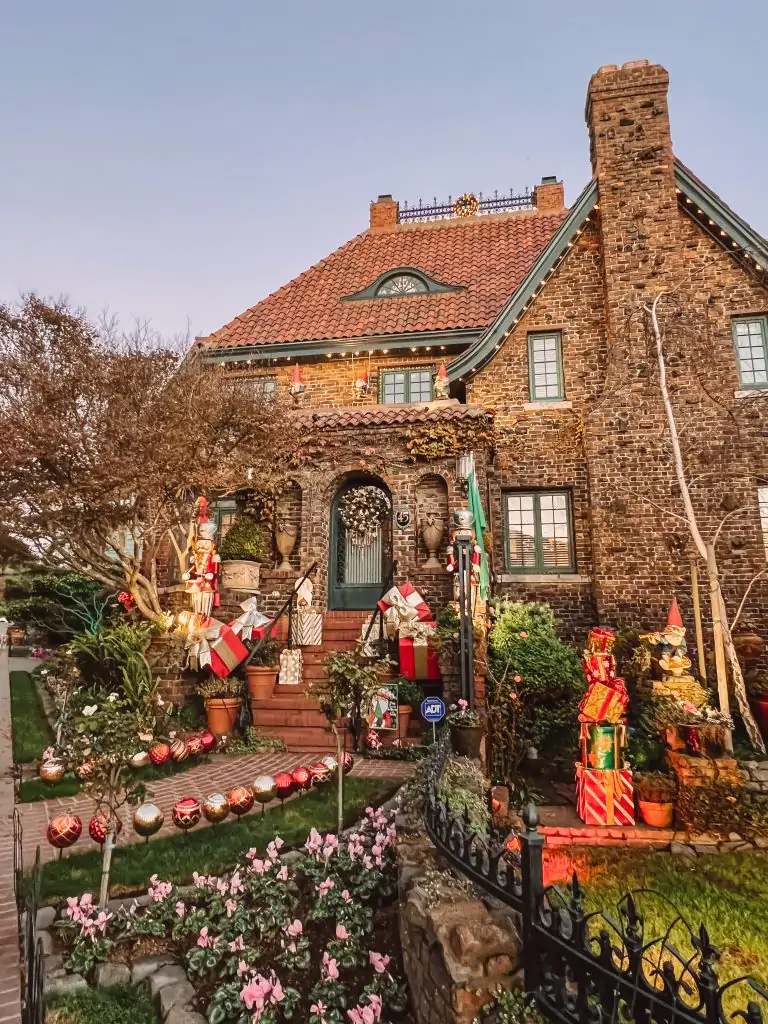 City Hall
City Hall lights up throughout the year for various reasons, a Giants or Niners play off run, Gay Pride Parade, and Christmas. Every night, the building is illuminated in the traditional red and green colors of Christmas, providing a lovely backdrop for the Christmas tree!
I 100% know that there are more homes in San Francisco that take their Christmas lights and decorations seriously and I plan to find them this year. I'll be updating this section as I do.
Gigantic Ornaments
Every year, gigantic red ornaments add a whimsical feel to the seriousness of the buildings of the Financial District.
Location: 101 California Street
Christmas Shows to See in San Francisco
The Nutcracker
If you're a fan of the ballet and haven't seen The Nutcracker yet, consider adding it to your San Francisco Christmas bucket list. The San Francisco Ballet was the first ballet to perform the Nutcracker in the US in 1944 and it's been a San Francisco favorite ever since.
Ticket prices range from $19-$172 and it runs from Dec. 10th to the 30th at the War Memorial Opera House. 
For more details and to purchase your ticket head to this website. 
A Christmas Carol
If you're feeling grumpy this holiday season maybe seeing a showing of A Christmas Carol will raise your spirits. Check out the story of Ebenezer Scrooge, the grumpy business tycoon who hates Christmas, but is reminded of how good it could be with visits from three friendly ghosts! 
A Christmas Carol is playing at Golden Gate Theater from Nov. 26 – Dec. 26. Tickets, which range from $76-$256, can be purchased here.
San Francisco Symphony Holiday Performances
The San Francisco Symphony hosts a variety of fun holiday themed performances. From live symphonies accompanying classic Holiday films like Home Alone and Love Actually (is that a classic now?) to more traditional performances, there is something for everyone.
Ticket prices range from $22-$200 depending on the performance. Holiday themed performances begin in early December. Check out this website for all of the details and to book your ticket. 
Other Cool Events in San Francisco at Christmas
Gingerbread House at the Fairmont
Have you ever wanted to walk through a Gingerbread House? Well now's your chance! Every year, the Fairmont Hotel in Union Square displays a two-story high Gingerbread House filled with royal icing and candy decor. 
It makes its 2021 debut on Saturday, November 27 at 11:00 am and will be on display for the entire holiday season.
Bonus: this is a FREE Christmas activity!
For more information about the Gingerbread House and other holiday fun at the Fairmont head to their website. 
Night Bloom SF Conservatory of Flowers
Night Bloom is a unique sound and light art experience at the Conservatory of Flowers in Golden Gate Park. It only had two years under its belt before the pandemic shut it down in 2020.
Their website is not yet updated to tell whether it'll be hosting this event in 2021, but you can check here for updates.
While it's not the cheapest of events, with tickets starting at $29, if it's running it does sound like a unique thing to do in Golden Gate Park! 
Macy's Window Displays
When you're in Union Square for the ice rink or Christmas tree, be sure to walk by Macy's to check out the window displays. Every year, Macy's partners with the SPCA to display pets available for adoption in their street level windows. These always draw a crowd of people to see the cute kittens and puppies playing or napping in holiday themed rooms.
This went virtual in 2020, but I'm hopeful that they'll bring it back in 2021.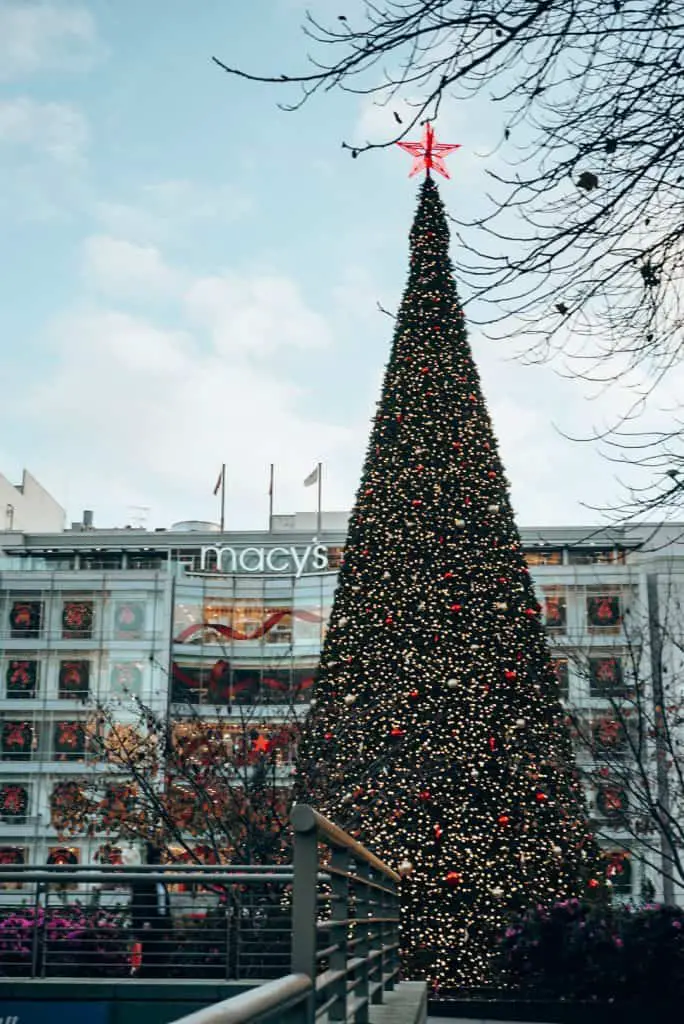 Where to Stay for A San Francisco Christmas
The majority of the holiday action happens downtown so the best places to stay are near Union Square, Nob Hill or in Fisherman's Wharf. I've got a full blog post about where to stay in San Francisco but here are my top 3 for these areas.
Fairmont: Stay in the heart of the action at the Fairmont where you can just take the elevator downstairs to walk through the Gingerbread House
Hotel Boheme: a retro 1950s boutique style hotel in the heart of North Beach. It's just a short walk from here to Union Square and Fisherman's Wharf.
Kimpton Alton: located in Fisherman's Wharf you'll be walking distance to Ghirardelli Square and just a short Cable Car ride to Union Square!
This is what I've found so far that I'd like to do during the holiday season in San Francisco. Most of the activities listed here have been around for years and are staples in the San Francisco Christmas scene. I plan to find some things to do that are a little bit more unique as well. As I do, I will be sure to update you and this post!
If you found this helpful in planning your visit to San Francisco during the holidays, please share it to Pinterest so others can find it too!
Like this post? Save it to Pinterest!