Fisherman's Wharf and Pier 39 are considered tourist parts of San Francisco and many locals tend to avoid the area. However, I fully support visiting tourist areas of the city, especially if it's your first time in San Francisco. As someone who grew up here, I bring visitors to Fisherman's Wharf and Pier 39 and will sometimes go there myself for specific occasions. In this post, I'll share with you my favorite things to do in Fisherman's Wharf and Pier 39 including both tourist attractions and local favorites.
A Brief History of San Francisco's Fisherman's Wharf
As its name suggests, Fisherman's Wharf is where Italian immigrant fishermen settled to take advantage of the Gold Rush. Most of these Fishermen lived in what we now call North Beach, creating their own Little Italy, while they worked on the waterfront. To this day, this San Francisco neighborhood is home to many active fishermen fleets, which is why you'll find delicious seafood stalls and restaurants lining the streets.
In the 1970s and 1980s, the area was redeveloped into a touristic part of the city. In fact, I remember a former boss from when I was living in Detroit telling me about his San Francisco honeymoon and how the best crab he ever had was from Fisherman's Wharf.  
Safety Tips for Visiting Fisherman's Wharf
As Fisherman's Wharf is the main tourist area of San Francisco it is important to stay vigilant.
If you stop to watch the street performers make sure you keep hold of your belongings
When parking your car remove all valuables as smash and grabs are incredibly common
If you're taking photos, I don't recommend setting up a tripod for a solo shot as someone could quickly grab your tripod and camera and run off with it.
The bottom line here is, keep anything valuable close to you!
Where is Fisherman's Wharf Located?
Fisherman's Wharf is located along the Bay on the Northern side of San Francisco. It extends from Ghirardelli Square (Van Ness) to Pier 39. The main streets that cross through Fisherman's Wharf are Jefferson St., which turns into the Embarcadero, Beach St., North Point St., and Bay St.
Many people wonder if Fisherman's Wharf and Pier 39 are the same. Pier 39 is a part of the greater Fisherman's Wharf neighborhood so things to do at Pier 39 are included in this post.
I'll share with you how to get to Fisherman's Wharf later in this post, but for now, let's get into the best things to do in Fisherman's Wharf, according to a local…me!
This post contains affiliate links, which means that, at no additional cost to you, I will earn a tiny bit of income if you decide to make a purchase or booking. For more, check out my disclosure. 
San Francisco Travel Resources
13 Fun Things to Do in Fisherman's Wharf, According to a Local
Ride the Cable Cars
One of the top things people do in San Francisco is riding the famous Cable Cars. You'll be able to check two items off of your San Francisco bucket list by riding them to Fisherman's Wharf and then working your way through the rest of this list!
There are two Cable Car stops in Fisherman's Wharf. The more popular stop is located across the street from Ghirardelli Square where you can catch the Powell-Hyde Line to other tourist attractions like Lombard Street and Chinatown. The second Cable Car stop for the Powell-Mason line is located just a few blocks away at Taylor and Bay St which takes you through North Beach on the way back to Union Square.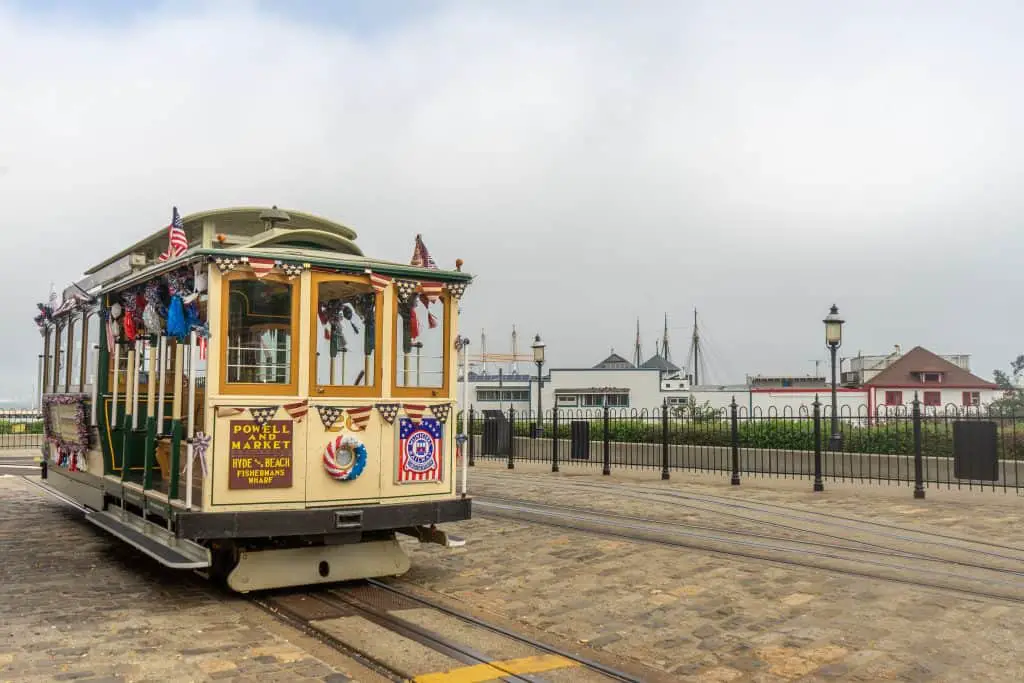 Indulge your Sweet Tooth at Ghirardelli Square
I had multiple birthdays growing up that ended with my friends and me around a table in Ghirardelli Square devouring hot fudge sundaes. Create your own sweet memories by trying one of their sundaes. Or on a chilly San Francisco evening, grab a hot chocolate to keep you warm while you wait in line for the Cable Cars. 
Fun fact, Ghirardelli Chocolate has been in San Francisco since before the Gold Rush. The chocolate factory has been in its current location since 1895! While they no longer make the chocolate there today, there are plenty of other shops and restaurants in the square to check out. I suggest Square Pie Guys and SF Brewing Co.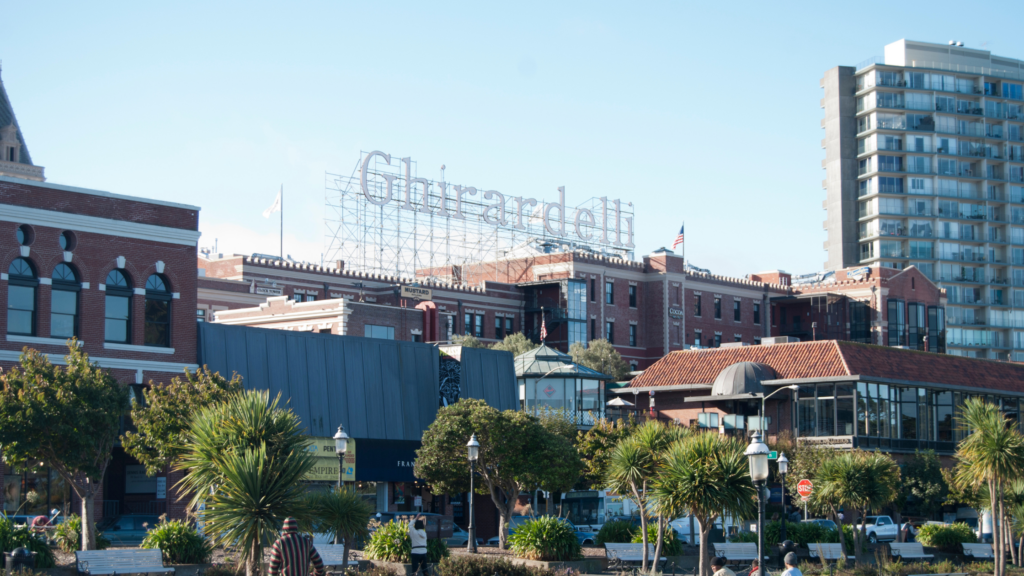 Up your Instagram Game at Umbrella Alley
Umbrella Alley is a colorful alley located near the Buena Vista Cafe with murals painted by local artists. In front of each mural, there is a small stand to place your phone or camera for the ultimate Instagram shot. My favorites for fun photos in San Francisco are the Greetings from San Francisco mural, the See the World, and the Kate Tova Heart. You can also see the Kate Tova Heart throughout the city including North Beach. 
While this is a free exhibit, donations are recommended.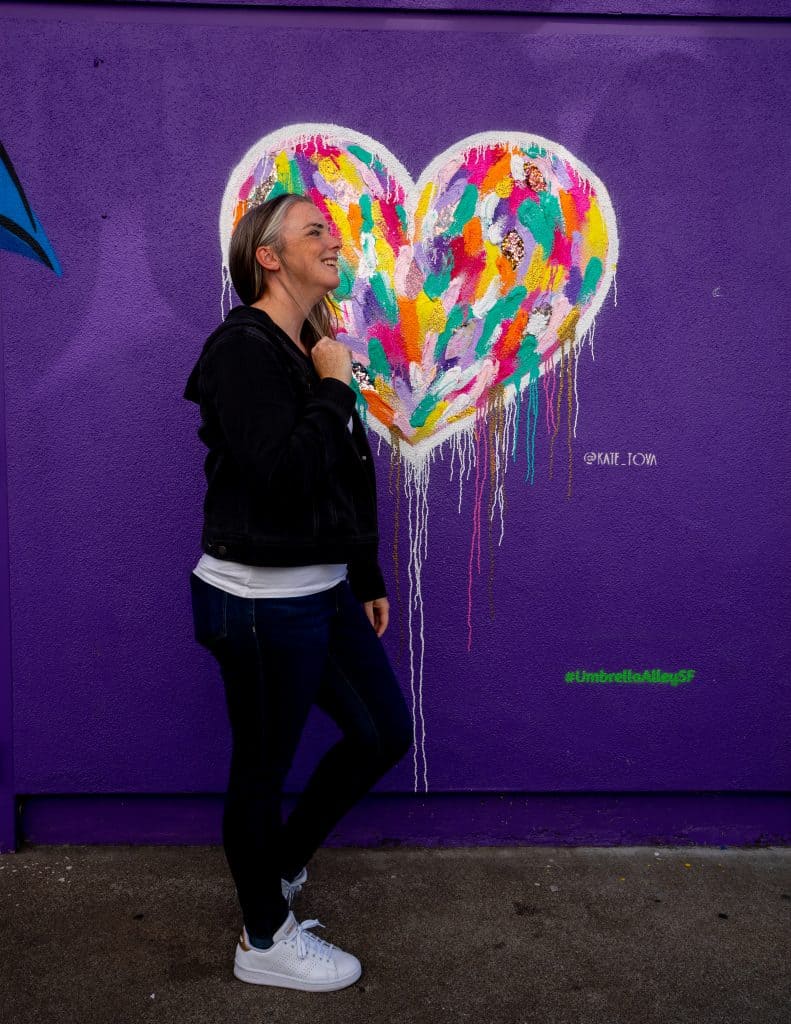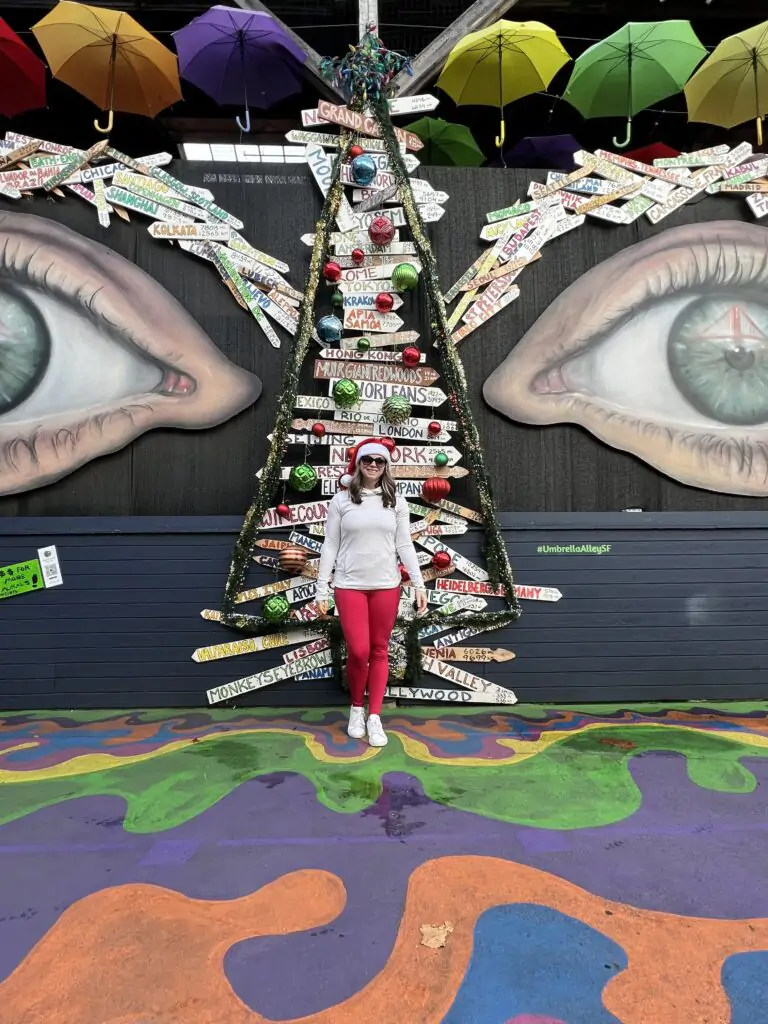 Enjoy an Irish Coffee at Buena Vista Cafe
Speaking of the Buena Vista Cafe, you must stop in for a local, and tourist, favorite Irish Coffee. If you've been following me for any amount of time, you know I don't drink coffee. But I love bringing people here to witness how the bartenders line up the drinks and make 10-15 at a time! The world-famous Irish coffee has been featured on many food network shows and is not overhyped (according to my coffee-drinking friends).
As a bonus, they're open for breakfast, lunch, and dinner. So there's plenty of opportunity to add the Buena Vista Cafe to your San Francisco itinerary. 
See the Sea Lions at Pier 39
To this day, I love seeing the sea lions at Pier 39. Maybe it's nostalgia, but spending a few minutes watching these goofballs sunbathing, barking at each other, or playing in the water makes me happy. And as a visitor, I think you should stop by to see them.
The sea lions might just be the most popular tourist attraction at the Pier. They arrived at the K-Dock in 1989 thanks to the plentiful food and relative safety of the marina. By 1990, the sea lions drove out all marina tenants and have called the K-Dock home ever since. 
They're some of San Francisco's most popular residents and you can watch them live here.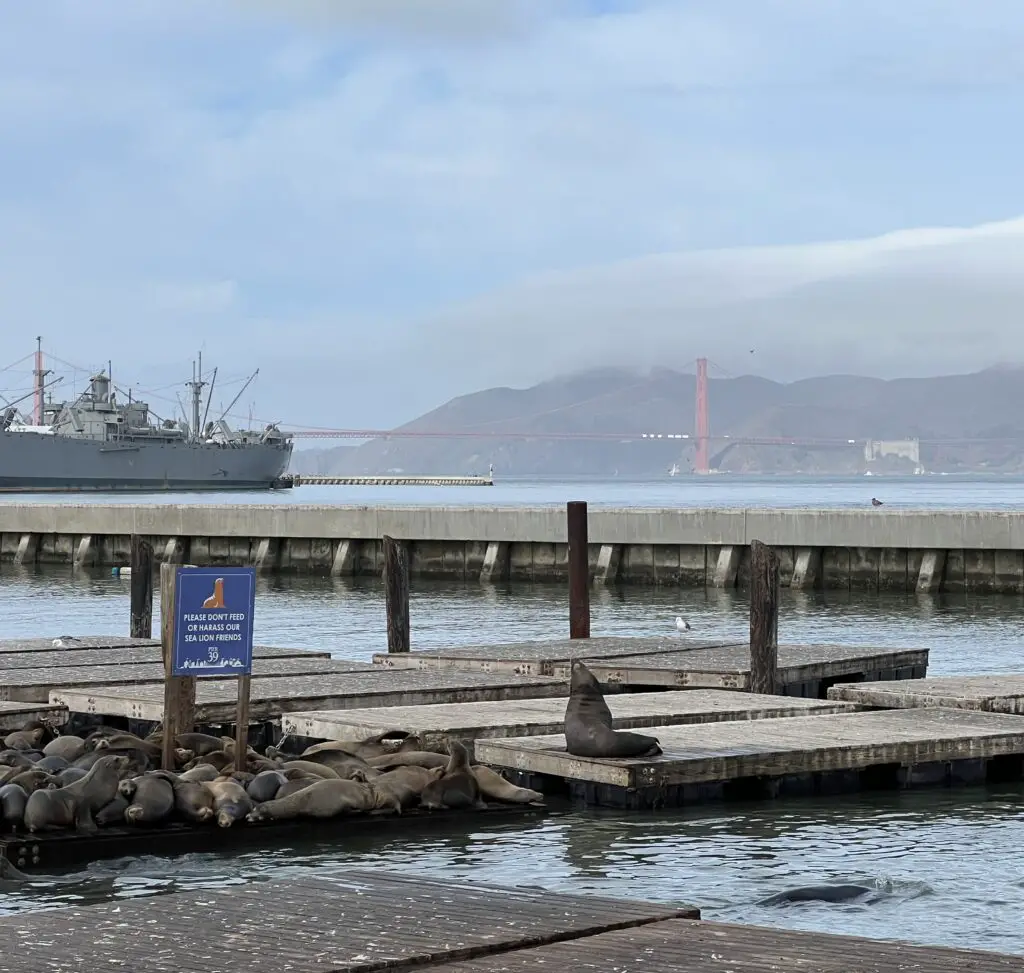 Wander Pier 39
This wooden plank pier filled with souvenir shops and restaurants is a cute place for a stroll. There are great views of the Bay and the Golden Gate Bridge from here. However, I don't recommend spending too much time here as it is incredibly crowded most of the time. This is a place where you're going to simply check off the list and move on.
Ride a Bike Across the Golden Gate Bridge
If you're visiting San Francisco when we have good weather, consider renting a bike from Fisherman's Wharf and riding it across the Golden Gate Bridge. A bike ride across the Golden Gate Bridge is something that locals do all day long and many tourists enjoy as well.
However, as you are finding out, San Francisco is a very hilly city and you will have to climb a few to get across the bridge. So make sure that you're ready for the physical effort!
There are several bike rental shops in Fisherman's Wharf and Pier 39 that will be able to get you set up.
Pro Tip: Take the Ferry back from Sausalito with your bike so you only have to ride one way.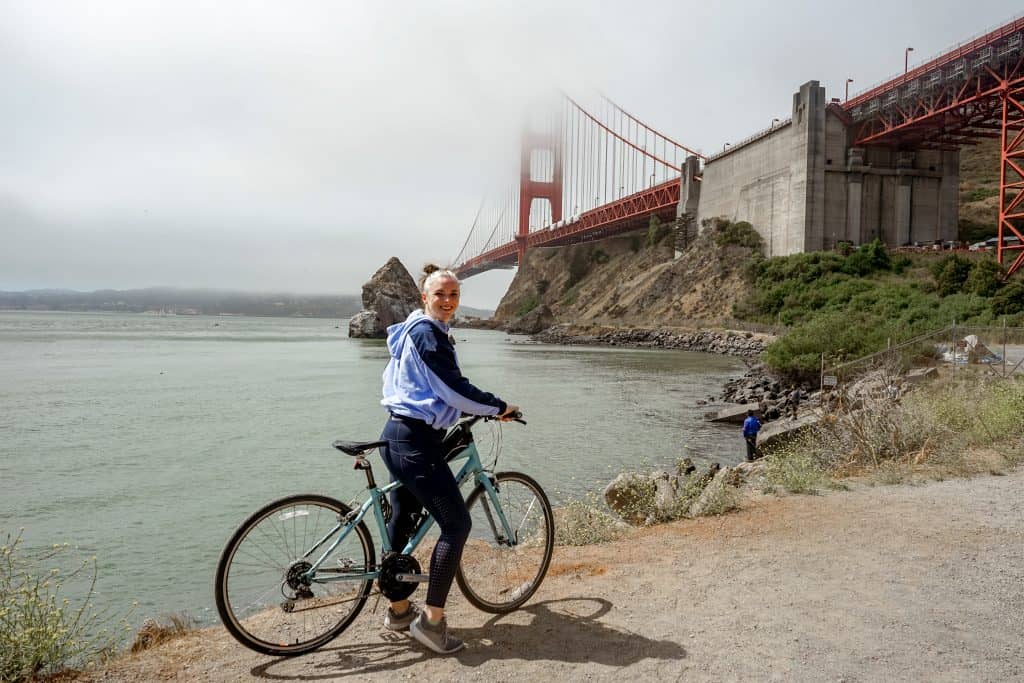 Play Games at Musée Mécanique
I really wasn't planning on this post turning into an entire walk down memory lane, but I used to play at the Musée Mécanique when it was located below the Cliff House and my parents were taking us out for a nice family dinner. But I'm sure it holds a bit of sentimentality to you too if you've watched The Princess Diaries, as the movie features this unique museum.
The Musée Mécanique is now located at Pier 45 in Fisherman's Wharf. It is one of the world's largest privately owned coin-operated mechanical musical instruments and antique arcade collections. There are over 300 games that you can play! 
As a bonus, admission is free! Stop in to see if you can remember which arcade games were featured in The Princess Diaries or simply reconnect to your inner child over antique pinball machines. 
Taste the Hype of In-N-Out Burger
If you've never had an In-N-Out Burger, now is your chance to try it. This incredibly popular fast food chain is the only place for fast food in Fisherman's Wharf. To be honest, though, it doesn't taste like fast food to me. 
I've always had a love of In-N-Out Burger when it was a stop on the road trip to Lake Tahoe growing up, but it's since moved into the city and I for one could not be happier about it. It's also one of the main reasons locals will head into Fisherman's Wharf. 
As a former In-N-Out Burger employee (my first job in high school), I will attest that there is a secret menu. You can order your burger and fries animal style, there are multiple ways to have your onions cooked, you can add sweet peppers to your burger, AND you can get the delicious sauce on the side to dip your fries in. This is just a sample of their secret menu options – if you want to know more, you can email me!
If you're looking for somewhere budget-friendly and delicious to eat, In-N-Out Burger is for you.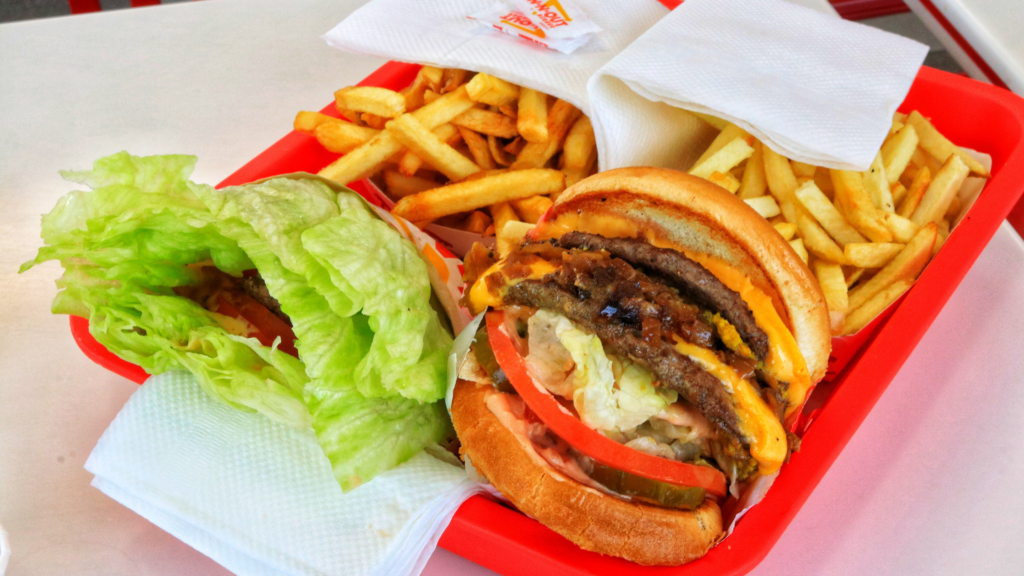 Indulge in Crab and Seafood
One of the must-do's when in Fisherman's Wharf is to try the Dungeness Crab or the famous Clam Chowder in a bread bowl. The clam chowder is the perfect dish to warm you up on a cold San Francisco day. And if you love crab, this is the place to get it.
I've already mentioned a few solid places to eat in Fisherman's Wharf, but if you're specifically looking for seafood here are some good options (to help you avoid the tourist traps).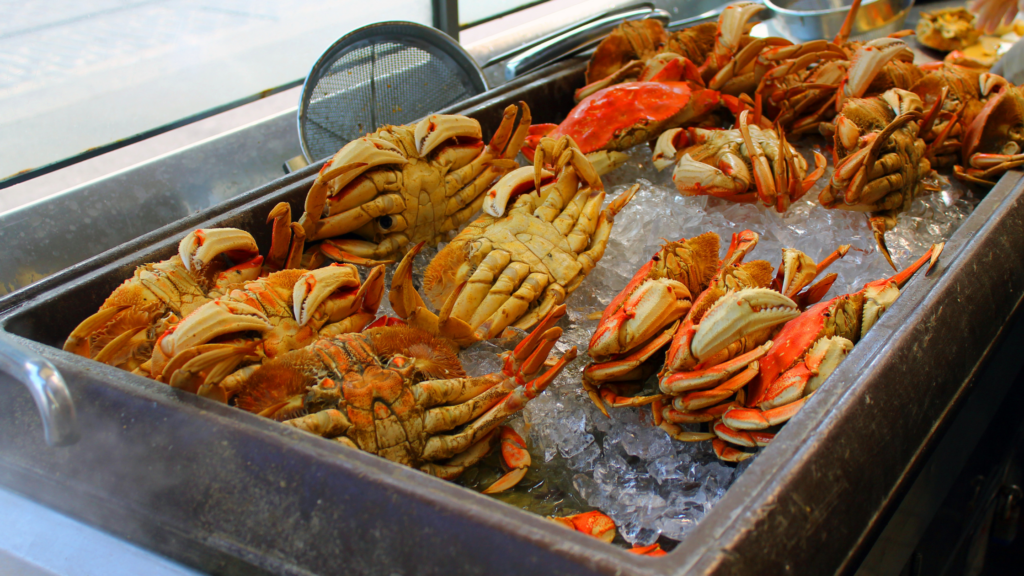 Scoma's
Scoma's has been around since the 1960s making it a San Francisco staple. If you're looking for a bit more of an upscale dining experience and deliciously fresh seafood this is the spot for you.
The Codmother Fish & Chips
Check out The Codmother, a food truck known for true fish and chips and delicious fish tacos. 
Boudin
Boudin started Sourdough Bread in San Francisco. Is it touristy? Yes. Is it a must-do? Also yes. The city would not have Sourdough bread without Boudin so get the clam chowder in a bread bowl and embrace the fact that it's ok to do touristy things when you're a tourist! 
In addition to these restaurants, there are stalls along the streets selling fresh crab!
Take a Boat Ride
A quintessential thing to do in San Francisco is taking a Bay Cruise. Many cruises start at the piers of Fisherman's Wharf. The pier where your cruise embarks depends on the type of cruise you choose. 
If you're considering a romantic evening, a sunset cruise under the Golden Gate Bridge or a wine-tasting cruise are great options.
Many of these boat tours take a journey around Alcatraz Island. So if Alcatraz is something you think would be cool to see, but you don't want to dedicate an entire day to it, a bay cruise like this one could be a nice compromise. 
If you want something a bit more adventurous, you could take a whale-watching cruise. This cruise will take you out past the Golden Gate Bridge with the hopes of seeing whales, sharks, dolphins, and other wild marine life. There are also Whale Watching tours that will take you to the Farallon Islands which is a great place to see the Gray Whale and perhaps a Great White Shark. I haven't done this yet, but it's high on my San Francisco bucket list! 
Fair warning, if you're prone to motion sickness, you may want to leave these off of your itinerary.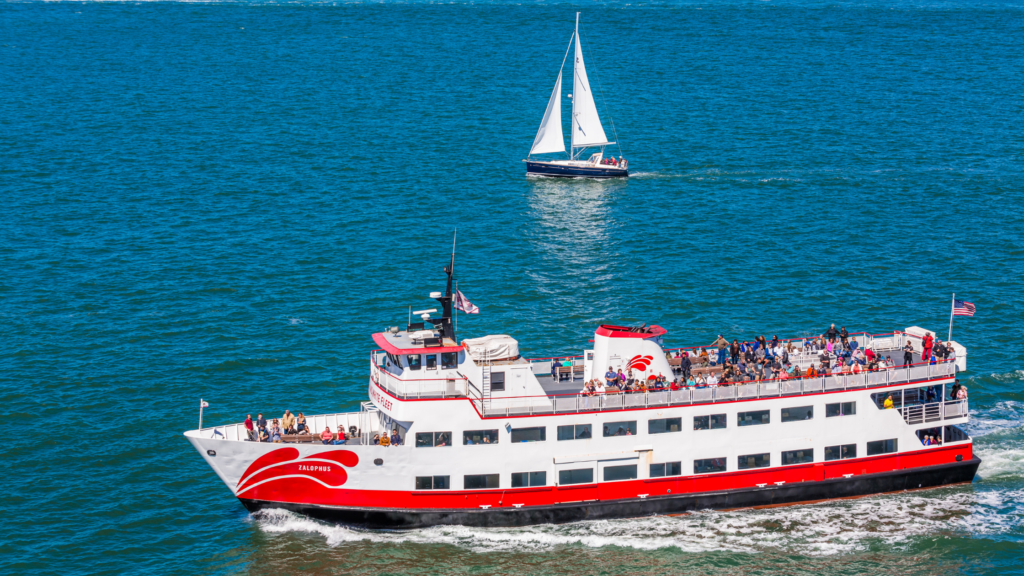 See the Ships at Hyde Street Pier
Fun fact, the Hyde Street Pier is technically part of the famous Highway 101! I didn't know that until writing this post! Before the Golden Gate Bridge was built it served as the main automobile ferry across the bay to Marin. 
Today, the pier is a part of the San Francisco Maritime National Historic Park where many historic ships are moored and available for tours. You can access Hyde Street Pier for free, however, there is a fee for touring the ships. 
Visit Alcatraz Island
While technically the ferry over to Alcatraz Island no longer departs from Fisherman's Wharf, you'll see signs advertising tours all over the area, so let's talk about it.
If you're even the slightest bit intrigued by the infamous prison in the middle of the San Francisco Bay, I highly recommend adding a visit to Alcatraz to your San Francisco itinerary. 
Tickets do sell out well in advance, especially during high tourist season, so I recommend booking them online before you get here if this is an activity you know you want to do!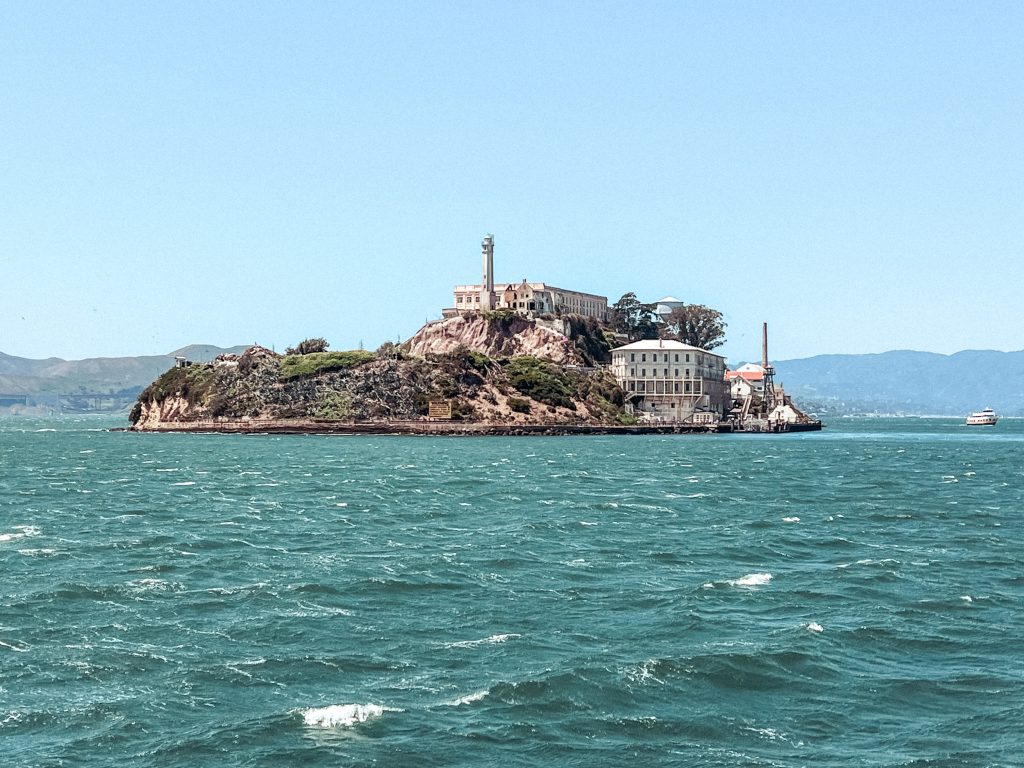 How to Get to Fisherman's Wharf
Fisherman's Wharf is well-served by public transportation and easily accessible on foot. It is one of the flatter areas of the city so you won't have many steep hills to climb while you're exploring the neighborhood.
Walking
Since there are plenty of hotel options in Fisherman's Wharf walking is a viable option. Even if you're staying in Union Square you could do a long walk through Chinatown and North Beach on your way to Fisherman's Wharf and Pier 39.
Cable Cars
Alternatively, if you're staying near Union Square and aren't feeling a long walk, hop on a Cable Car. The Powell-Hyde and Powell-Mason lines both serve Fisherman's Wharf and you can get on them anywhere along the route.
F-Line Streetcar
If you're coming from the Castro or somewhere along Market, hop on the F-Line StreetCar. This route takes you along Market to the Embarcadero where it turns towards Fisherman's Wharf. 
Driving to Fisherman's Wharf
If you're driving into the city, there are a couple of parking lots near Fisherman's Wharf. Three parking lots just steps from the main attractions are the Pier 39 garage, the Ghirardelli Square garage, and the Anchorage Square garage. 
Where to Stay Near Fisherman's Wharf
There are several hotel options for Fisherman's Wharf that suit all budgets. While I haven't stayed at these hotels, these are definitely places I would if I didn't live here and I recommend them to out-of-town guests. Here are my top recommendations:
The Argonaut Hotel
The Argonaut is an iconic San Francisco hotel. Most of the incredible rooms have Golden Gate Bridge views and if not, it doesn't matter because all you'll have to do is step outside to see it! If you're willing to splurge a bit, this is the place to stay for a good combination of luxury, convenience, and style. 
Check rates and availability here.
The Kimpton Alton Hotel
Stay in this hip hotel with an incredibly popular restaurant, Abacá, on-site! In addition to the typical Kimpton Hotel experience and its convenient location, there is valet parking available should you require it. 
Check rates and availability here.
Hotel Zoe
Stay at Hotel Zoe, which is part of the Noble House Hotel collection, the same as the Argonaut Hotel. A bonus (besides valet parking) is a FREE 2-hour bike rental. You'll really be able to get out and see the city when you stay here. 
Check rates and availability here.
Holiday Inn Express & Suites
A bit more of a budget-friendly option is the Holiday Inn Express. There is absolutely nothing wrong with staying here. You know exactly what you'll get (complimentary breakfast and onsite parking) and it's well located next to the Powell Hyde Cable Car line and other Fisherman's Wharf attractions. 
Check rates and availability here.
Other solid options are Hotel Caza and Riu Plaza, each of which offers a heated pool!