Few places in the world are as notorious as Alcatraz Island, most famously known for the prison of the same name that housed some of the United States' most hardened criminals. Alcatraz is one of the most popular attractions in San Francisco thanks to its storied history, its infamous inhabitants, its unique location, and the role it plays in many Hollywood movies. In this post, I'll share with you the best tips for visiting Alcatraz island.
This post contains affiliate links, which means that, at no additional cost to you, I will earn a tiny bit of income if you decide to make a purchase or booking. For more, check out my disclosure. 
Since I grew up in the San Francisco Bay Area, Alcatraz has always been one of those locations I was aware of, but wouldn't put in the effort to visit. I'd gone on a field trip to Alcatraz Island in middle school (almost 20 years ago), but hadn't been back until this year! A friend of mine was visiting from out of town and had Alcatraz on his San Francisco itinerary. So I obliged and went along for the ride.
I'm really glad I did! The cell block tour is incredibly well done, there is a history with Native Americans I was unaware of, the views are incredible, and there is a new exhibit at the end about the prison system in the United States. Plus, it doesn't take all day and can easily fit into a greater San Francisco itinerary. 
If you're wondering, is Alcatraz worth visiting? Hopefully, this post will convince you that yes, it deserves a spot on your San Francisco bucket list!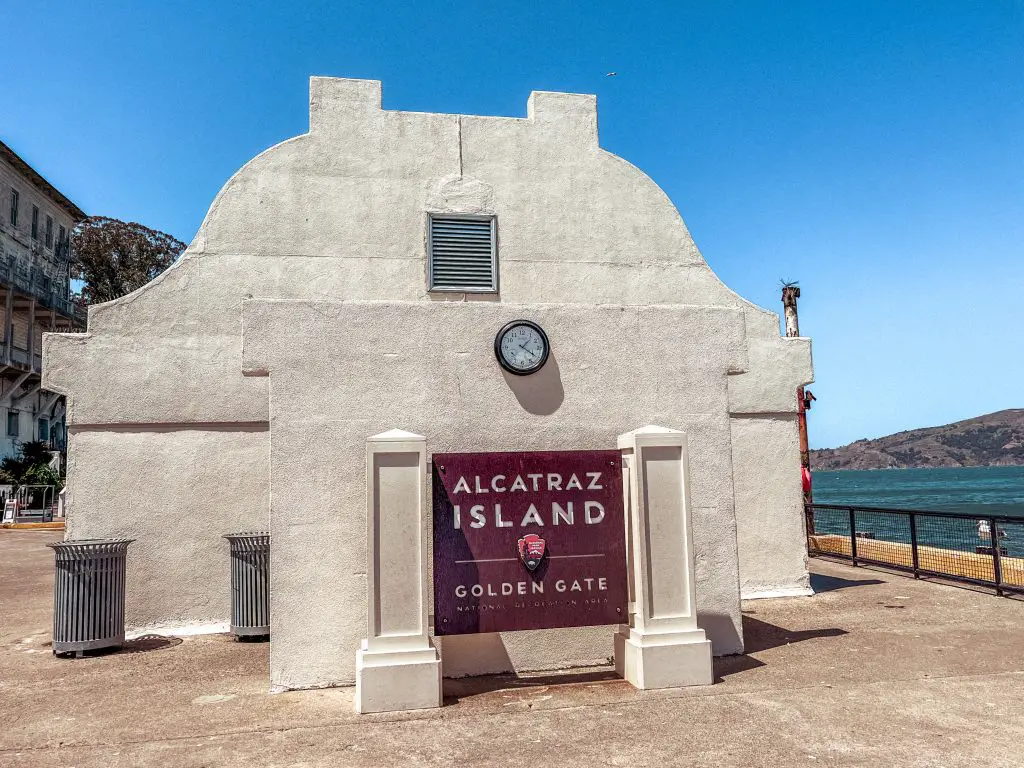 Alcatraz History
Most well known for the prison, Alcatraz, also known as "The Rock", has played other important roles in US history as well.
The islands inception was that of a military base that turned into a military prison during Civil War years.
1934-1963: Alcatraz Prison
Alcatraz became home to a federal prison due to its history of a highly secure military prison. For almost 30 years he most notorious criminals called Alcatraz home. People like Al Capone, The Birdman of Alcatraz, and Machine Gun Kelly once slept in the cells you'll see. During this time, not only prisoners lived on the island, but so did guards and their families. 
1969-1971: Occupation of Alcatraz
During this time a group of about 80 Native Americans occupied Alcatraz island in protest of the government's termination act. This occupation shed light on the treatment of Native Americans and prompted Native American activism.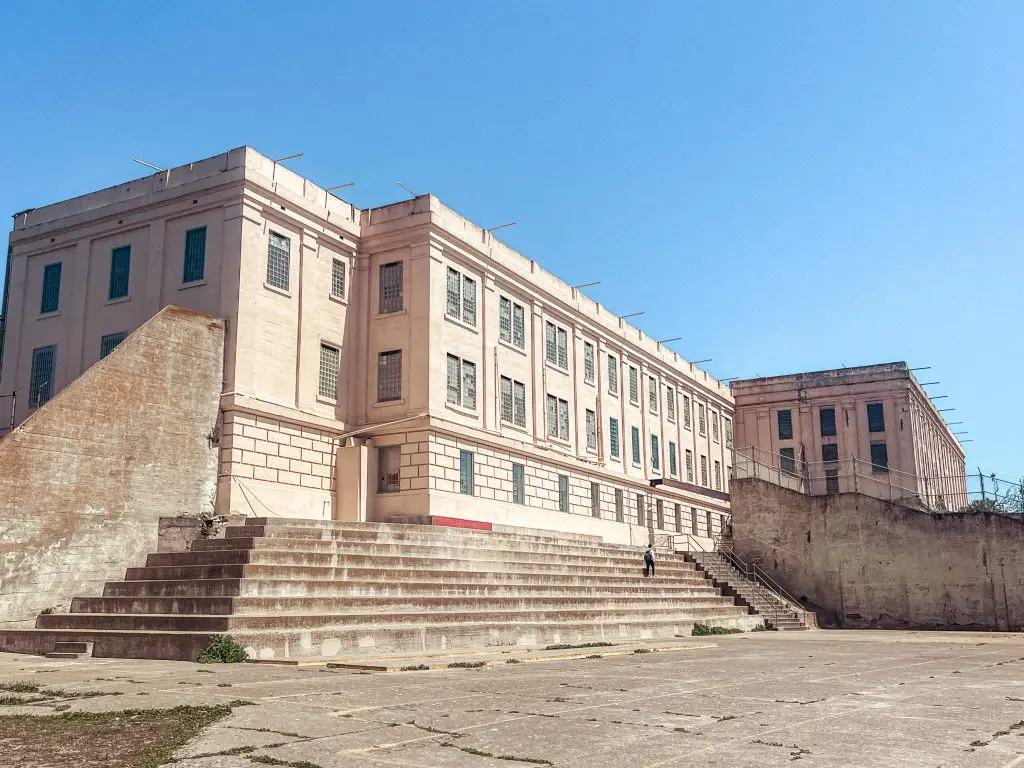 Alcatraz Tour
Alcatraz Tour Options
There are two Alcatraz tour options, the Alcatraz Day Tour and the Alcatraz Night Tour. Each tour provides a close up look at life on Alcatraz throughout the years.The tours are partially guided with a welcome talk upon arrival and via an audio tour of the cell block. 
The Alcatraz night tour includes the above in addition to a narrated ferry ride to the island and unique night exhibits. Plus, you could have the opportunity to watch the sunset over San Francisco from Alcatraz which would be a very unique experience.
Please be advised that walking around Alcatraz Island includes a few very steep climbs. However, there is a tram that offers transportation around the island if needed.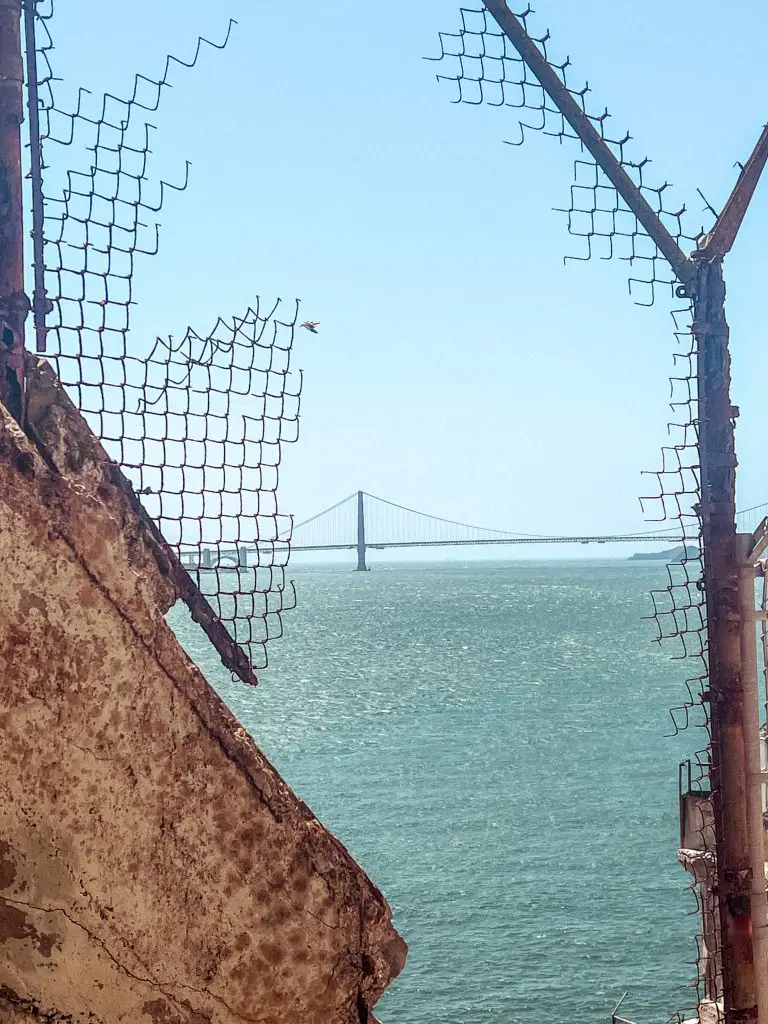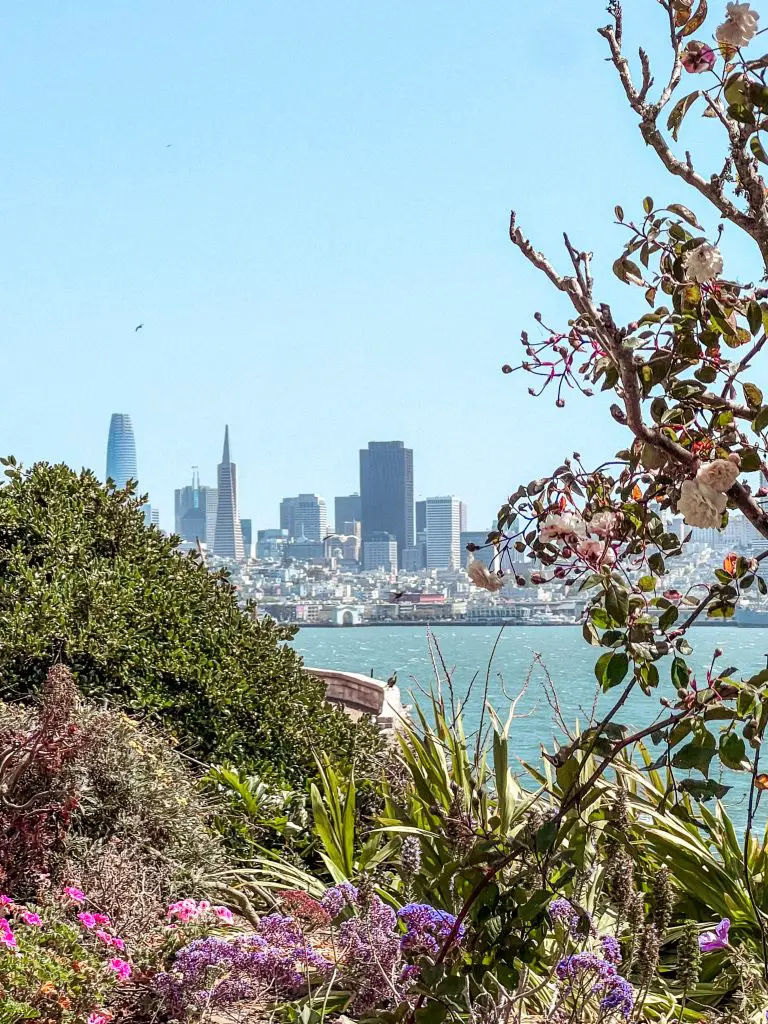 Cell House Audio Tour
The first place you'll want to visit on Alcatraz Island is the main prison building. Climb up the hill, or ride the tram to the cell block entrance.
You'll first enter the shower room where you'll see shelves for the inmates clothing and an open area shower with shower heads coming down from the ceiling. 
At the end of this room is where you'll pick up your audio. You can also listen to the audio via an app on your phone if you prefer.
From here you'll visit various aspects of the prison
Cell block: you'll see what the cells looked like and also see where escape attempts were made
Recreation yard: a small yard with steps that provide a view of the city and Golden Gate Bridge.
Library: where inmates could check out books or hold a job
Solitary confinement: you'll see where prisoners ended up for days or even years at a time and learn how they kept themselves sane.
Kitchen: you'll be able to see the large kitchen where meals were made. This is where you'll return your audio guide.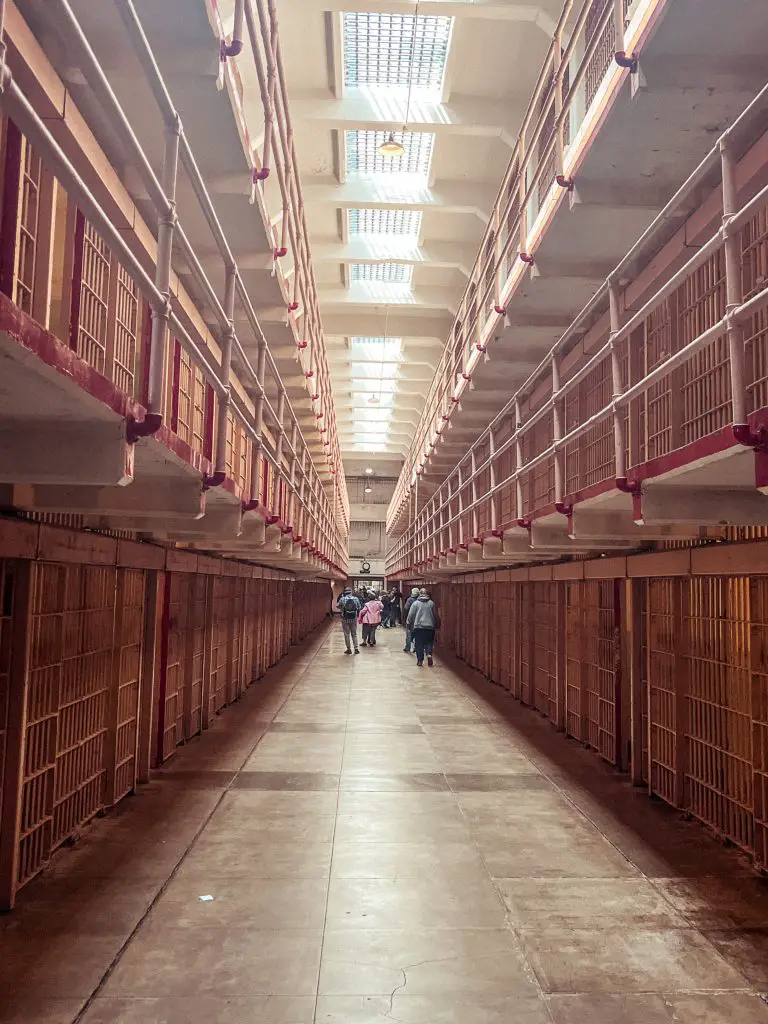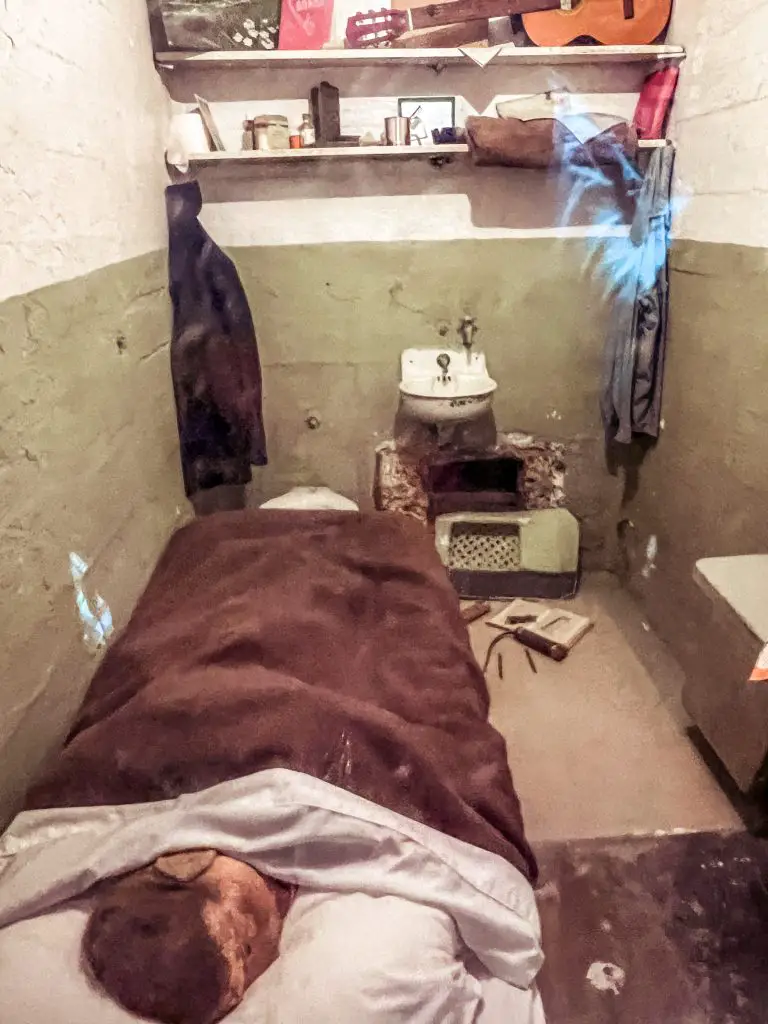 While you'll get to see all of these locations in the prison, the best part of the audio tour is that in addition to interesting facts about the famous prison, it also provides the sounds of the prison when it was full. You'll hear from inmates and guards. You'll hear the clanking of cell doors and the wind howling on cold nights. 
It's honestly one of the best audio tours I've done as it provides an almost immersive experience into what life was like for prisoners of Alcatraz.
The Big Lockup: Mass Incarceration in the US
The Big Lockup is a new exhibit at the end of the cellhouse audio tour. This exhibit shows the role that Alcatraz played in the larger context of the US prison system. It provides a look at how the US has over 2.3 million incarcerated individuals, more than any other country in the world.
It makes you question why there are a disproportionate number of people of color, those born into poverty, and those with low literacy behind bars. Plus, it shows the ripple effect that this has on communities.
But it also asks the question of is there a better way to move forward from the prison system the US has built.
It's a sobering exhibit to be sure.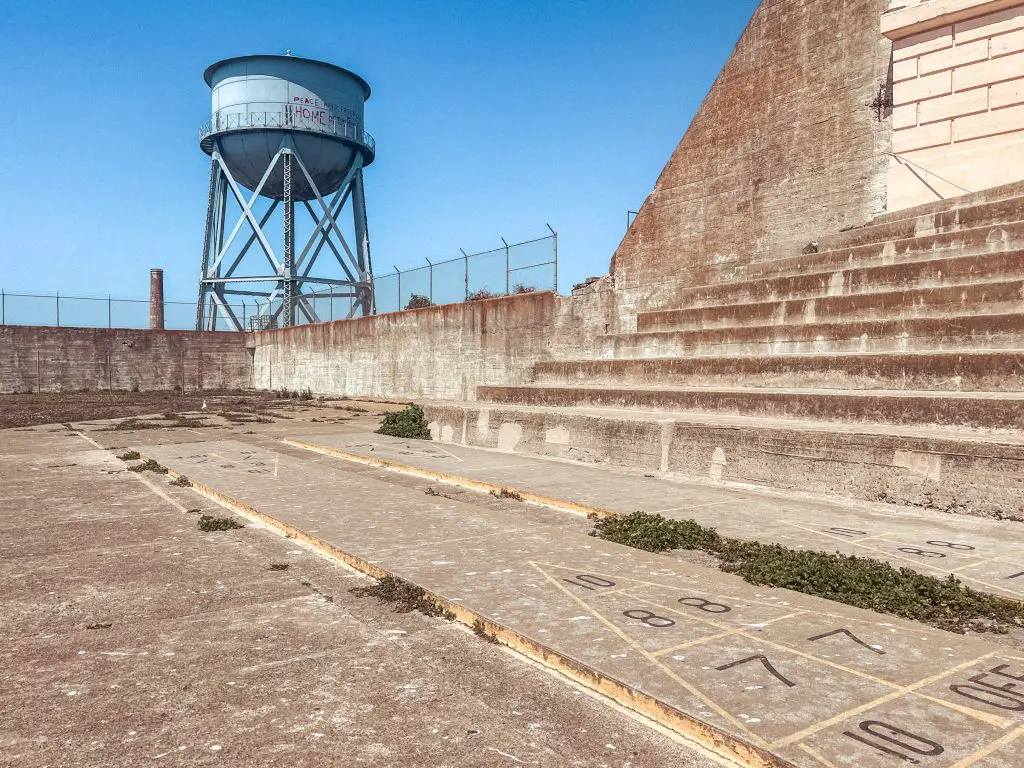 Red Power of Alcatraz: American Indian Occupation
Besides the infamous inmates, you'll also see evidence of the American Indian population that occupied Alcatraz island from 1969-1971.
As soon as you step off of the ferry, you'll see in red spray paint the words "Indians Welcome" and Indian Land.
A group of Native American activists lived on Alcatraz in protest to the United States' termination act which called to disband tribes and sell their land.
For 19 months the Indians of All Tribes, which they called themselves, held the rock. During which time they set up schools to educate their children, elected a council, and ensured everyone voted on all decisions.
Eventually, the federal government removed them, however, that did not change the fact that this occupation incited a new level of activism among the community.
Gardens of Alcatraz
After visiting the cell house and the exhibits, take some time to walk through the grounds of Alcatraz. 
These gardens, including the rose garden, were planted by some of the Alcatraz prisoners and have been flourishing as the buildings around them crumbled.
Now, I'm not a plant expert, but I have to say that the vibrant and lively color of the plants set next to the imposing yet decaying buildings is quite beautiful.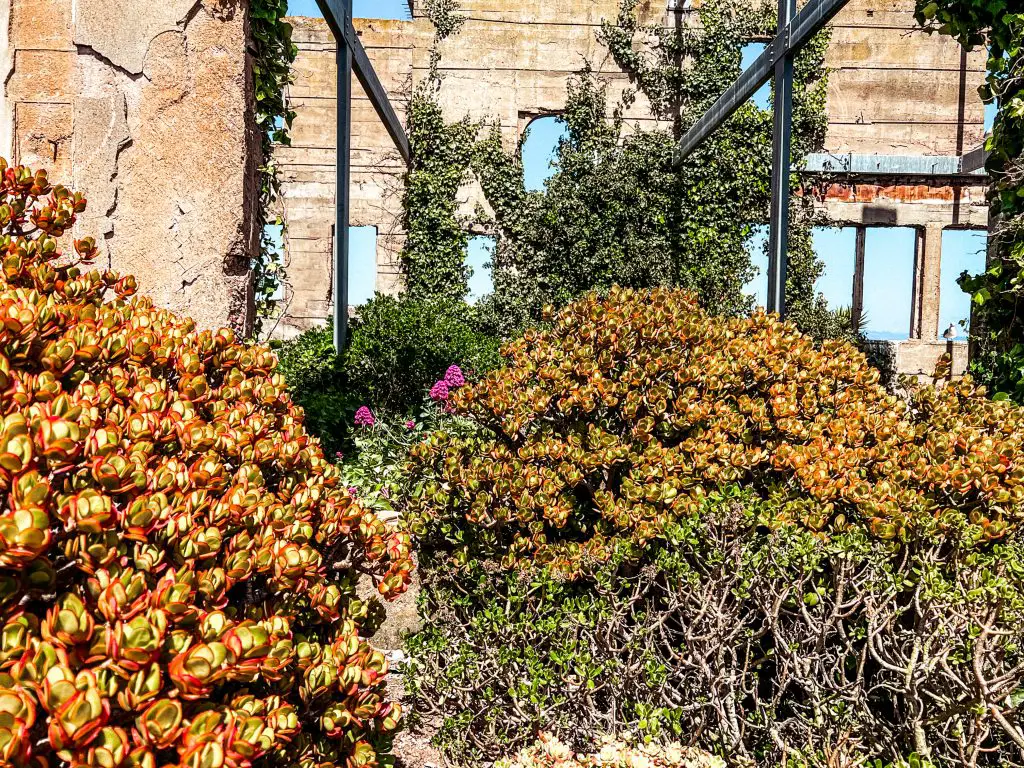 Alcatraz Combo Tour
You'll see many tour packages offering combo Alcatraz tours. Many tour companies combine an Alcatraz tour with a San Francisco city tour or a guided bike tour. In complete transparency, Alcatraz is incredibly easy to visit yourself.
The only Alcatraz combo tour I've seen that looks worth the money is combined with Muir Woods and Sausalito. If you don't have a car, it can be difficult to get to Muir Woods, but it's one of the best places to see Redwoods near San Francisco. And Sausalito is a charming town with great food and views of the city skyline.
You can book the Alcatraz and Muir Woods combo tour here.
How to Get to Alcatraz Island?
Alcatraz is located on an island in the middle of the San Francisco Bay, about 1.5 miles off the coast of Fisherman's Wharf. The only way to get to Alcatraz Island is via ferry.
Alcatraz City Cruises is the official ferry to Alcatraz. The ferry departs from Pier 33 Alcatraz Landing every 30 minutes starting at 9:30 am.
Pier 33 is very well located on the Embarcadero near other famous landmarks like the Ferry Building and Pier 39. It is an easy walking distance from many downtown and North Beach hotels.
Once on board the ferry it's a short 15 minute boat ride across to Alcatraz.
Public Transportation to Pier 33
However, if you need transportation to Pier 33, MUNI has three stops within a few blocks of the Pier.
F Line Historic Streetcar – use the Bay Street stop
#8 Bayshore – use Kearny Street & North Point stop
#82X Levi Plaza Express – use Levi Plaza, Sansome & Filbert Street stop 
Parking at Pier 33
If you choose to drive to Pier 33 know that street parking in this area is hard to come by. If you do happen to find a spot on the street, it is likely metered parking for a maximum of two hours and you've got a good chance of getting a parking ticket if you overstay.
Instead, pay to park in a lot. There are parking lots at Pier 39, 27, and 29.5. I also use the app SpotHero to find parking lots and pay in advance.
Cable Cars to Pier 33
If you're staying in Union Square, you could ride cable cars to Pier 33! Hop on the Powell-Mason cable car line to the end at Bay & Taylor in North Beach. It's a 6 block walk to Pier 33 from there and you'd be checking off quite a few fun things to do in San Francisco.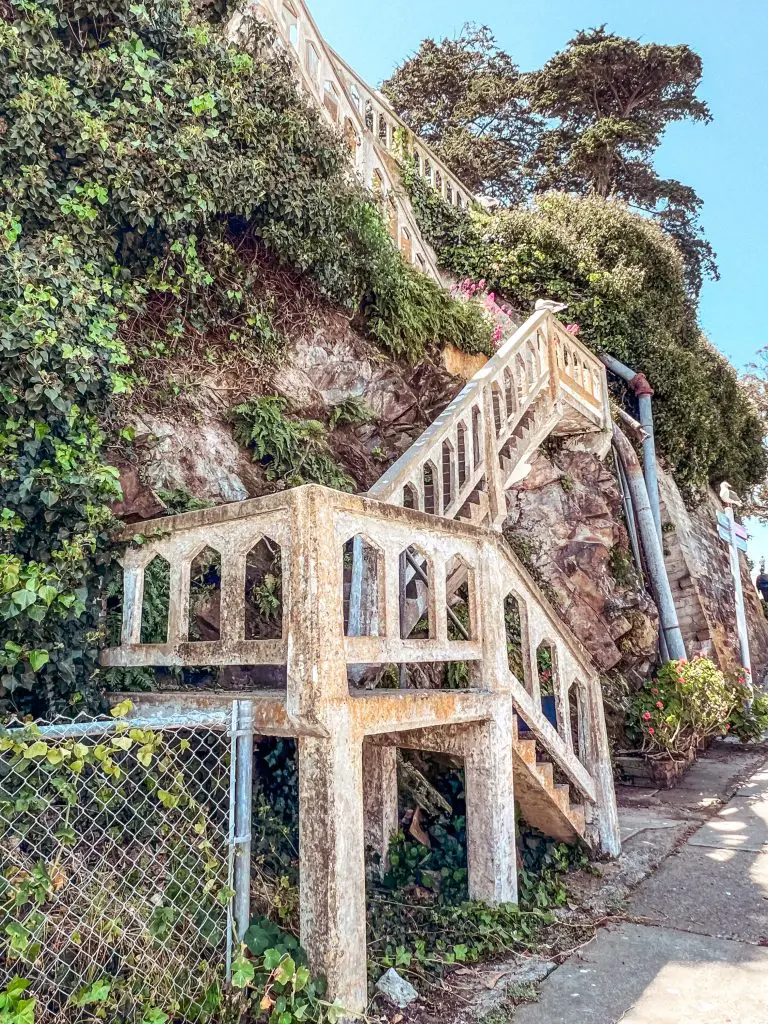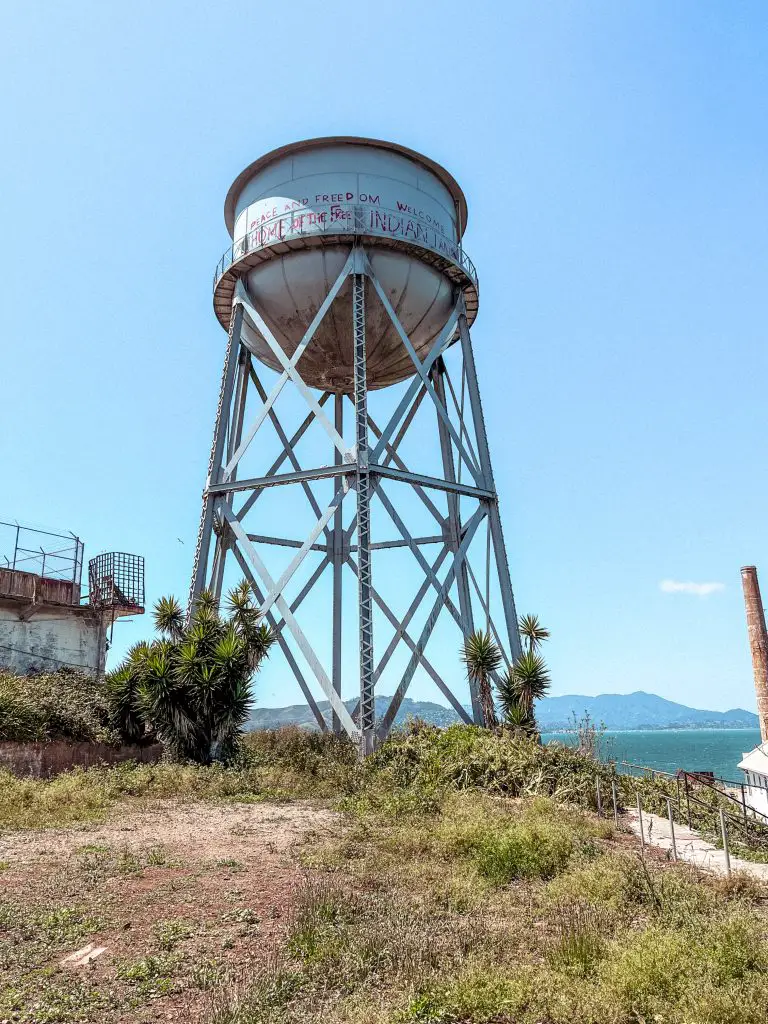 How Much Does it Cost to Visit Alcatraz?
Alcatraz ticket prices depend on the type of tour you're planning to do.
An Alcatraz day tour costs:
$49/adult
$46.65/senior
$33/child
An Alcatraz night tour costs:
$56.50/adult
$53.00/senior
$36.60/child
Included in the price of the ticket is the round trip ferry ride, the cell block audio tour, docent talks, and two additional exhibits. 
While Alcatraz is run by the National Park Service, the America the Beautiful National Park pass does not work here.
Be advised during the summer months Alcatraz tour tickets sell out well in advance. If visiting this top San Francisco tourist attraction is a must do for your visit to San Francisco, book in advance from the official website of Alcatraz City Cruises.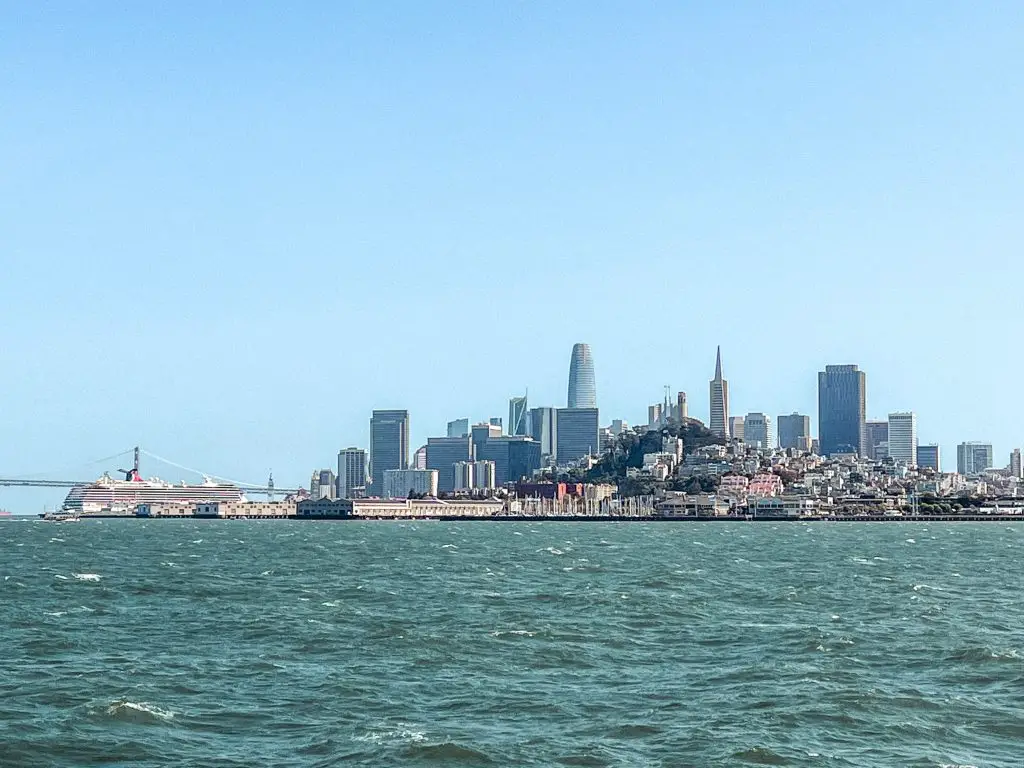 How Long is the Alcatraz Tour?
On my recent visit to Alcatraz it took us 2.5 hours from boarding the ferry at Pier 33 to boarding the ferry from Alcatraz island. During this time we did the cell block audio tour, walked through the gardens, and saw the two exhibits. The best part about your Alcatraz visit is that you can take it at your own pace.
As you're not following a tour guide around, you can linger over areas of interest or enjoy the views of San Francisco from one of the walking paths. Once you're done, visit the gift shop before you go if you're so inclined then enjoy the short ferry ride back to Pier 33 and the rest of your San Francisco adventure!
Are you planning to visit Alcatraz Island during your trip to San Francisco? I hope you found the information in this post helpful in planning your very own Alcatraz tour. If you have any questions, leave a comment below and I'll be sure to answer them!
Like this post? Pin for later!