San Francisco is world-famous for its epic, thigh-burning hills. And San Franciscans are famous for complaining about them until of course, we reach the top and are rewarded with the best views of San Francisco. Every neighborhood has its unique views of the city. You may get views of the Golden Gate, the downtown skyline, or the crashing waves of the Pacific Ocean. But the best views in San Francisco combine all of the elements we know and love about this photogenic city.
Make sure to add a few of these locations to your San Francisco itinerary. Then grab your camera, your best walking shoes, and head out to explore the best places to view San Francisco.
If you find any when you're out and about that aren't listed here, please let us know! We love learning about unique San Francisco views.
This post contains affiliate links, which means that, at no additional cost to you, I will earn a tiny bit of income if you decide to make a purchase or booking. For more, check out my disclosure. 
San Francisco Travel Resources
Twin Peaks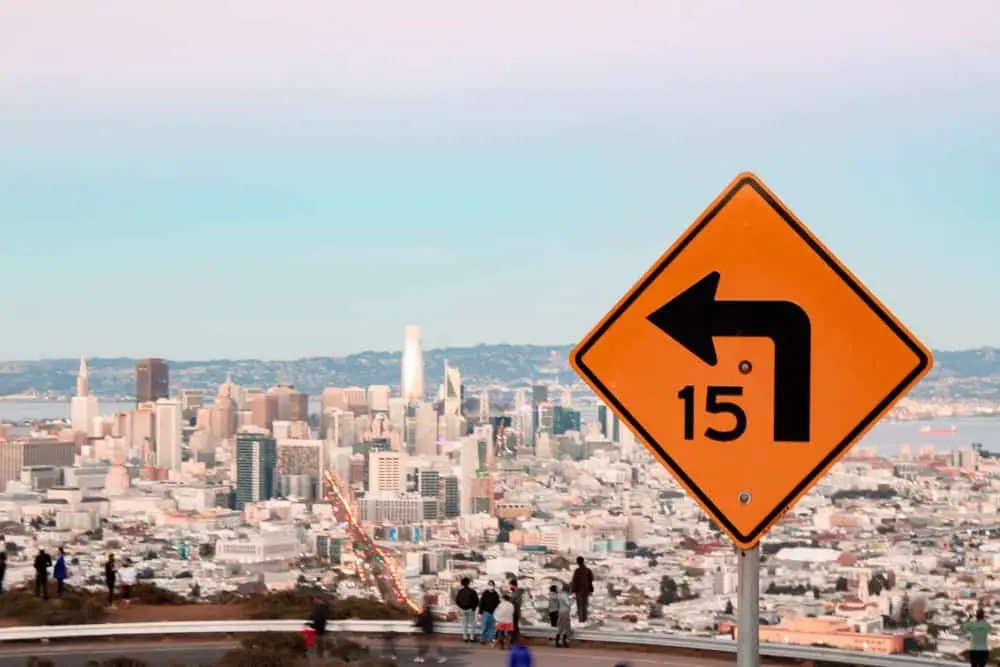 Twin Peaks is the place to go for sunset in San Francisco. Photographers love Twin Peaks because it offers panoramic views of San Francisco to the East and the Pacific Ocean to the West. 
As the second-highest peak in San Francisco city limits, Twin Peaks is also popular amongst cyclists and runners who make the thigh-burning climb up 925 feet to the top.
Fair warning, it gets quite windy here, so make sure to wear layers, a hat, and maybe even gloves. Additionally, if it's a foggy day, you may have no visibility. But on a clear day, it's stunning!
Location: 501 Twin Peaks Blvd
How to get here: The main road to Twin Peaks is currently closed due to COVID-19 restrictions. However, you can park in the neighborhood surrounding the park and climb up. Make sure to take all valuables with you as this is a popular break-in area. Alternatively, Muni Route 37 will get you close to Twin Peaks and then you'll climb 15-20 minutes.
Corona Heights Park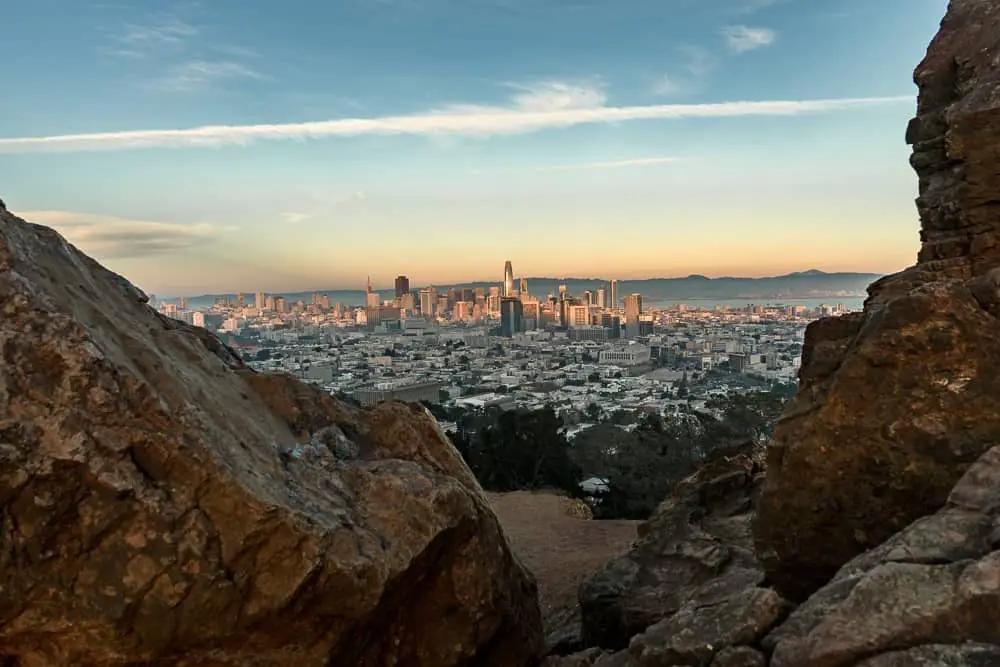 This is my favorite park for views of San Francisco. While it's a similar view to Twin Peaks, I prefer it over Twin Peaks which sits almost directly behind it. Maybe I prefer it because it feels like a hidden gem or maybe because it feels closer to the city. I can't quite put my finger on why, but you'll have to check out both and let me know which you prefer! 
Corona Heights Park is mostly dirt paths and stairways to the top and the terrain is a bit rocky. But the views are spectacular. This is another great place for sunset or sunrise in San Francisco. As always, when you're climbing up hills in San Francisco, prepare for wind and dress warmer than you think you'll need!
This is also a popular dog park, so you'll be in for a treat with playful pups around you!
Location: Near the Castro making it an easy walk before dinner! 
How to get here: There are multiple entrances to Corona Heights Park. If you're driving you can park on a side street and walk to the park. Or if you're coming from the Castro you can enter off of 16th or Beaver St. Multiple transit lines run along Market St. into the Castro as well.
Tank Hill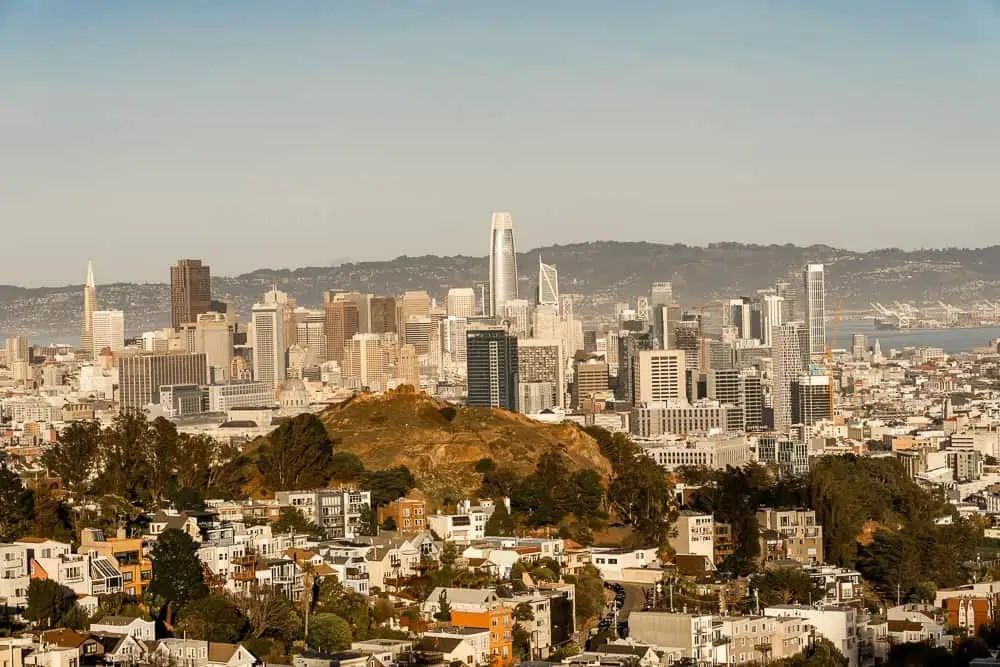 Want the panoramic views of San Francisco without the crowds and steep climb of Twin Peaks? Then head down the street for Tank Hill. This unassuming park offers views from the Pacific Ocean, across the Golden Gate Bridge, to the downtown skyline, and then south to the docks – just like Twin Peaks. From Tank Hill, you'll also see Corona Heights Park which offers similar views, except for the Golden Gate Bridge. 
It's easy to miss this park, I'd driven by it myself a few times and didn't even think twice about what it was. But now that I know, it might be my go-to over Twin Peaks! Especially since it's only one staircase to the top!
There is a bench to rest on overlooking the skyline or rocks to perch yourself on that overlook the Golden Gate Bridge. I also suggest bringing a blanket to make your spot to sit and watch the sunset.
Location: Twin Peaks Blvd
How to get here: Park on the street, you'll see a staircase tucked next to a house leading up to Tank Hill. 
Battery Spencer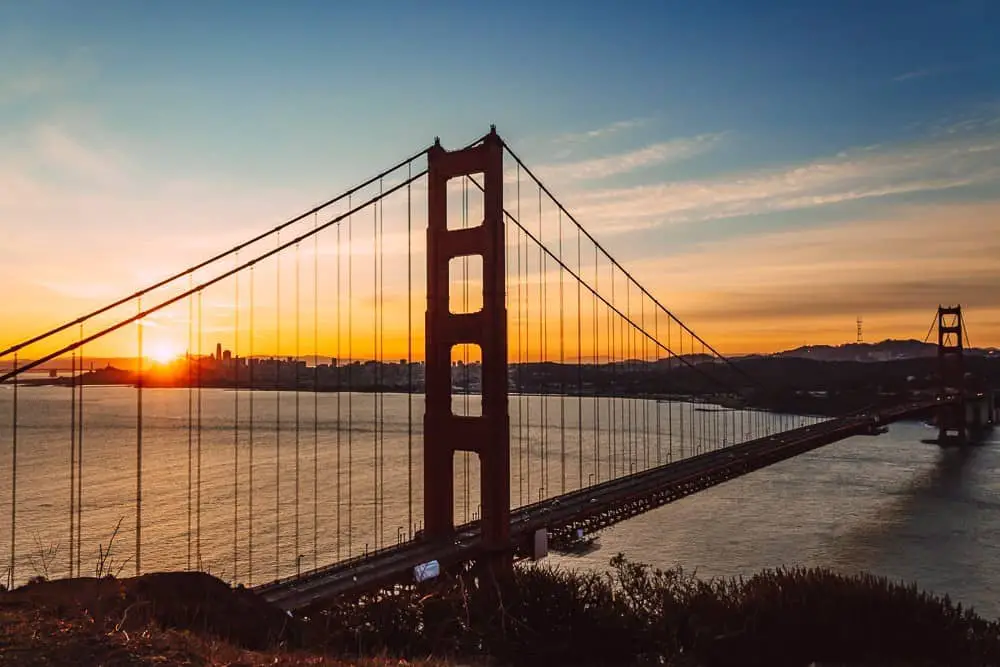 Head across the Golden Gate Bridge, which also offers awesome views of San Francisco, for Battery Spencer. This former army defense location now offers an awesome place to see the Golden Gate Bridge, especially at sunrise. While this is one of the most popular places to photograph the Bridge, there is plenty of space so that you can find your unique view. 
If you're going for sunrise be sure to get there earlier than you think to snag a parking spot from the small lot directly next to the entrance. If you go later in the day, then you'll likely have to park further away and walk. Conzelman Rd becomes a one-way road, so if you miss the parking, you'll have to loop back around the hill. 
Location: Conzelman Rd, Sausalito
How to get here: Driving, walking, or biking are the most popular ways to get to Battery Spencer. Alternatively, from San Francisco Muni Route 76 crosses the Bridge and has a stop right next to the parking lot. 
Hawk Hill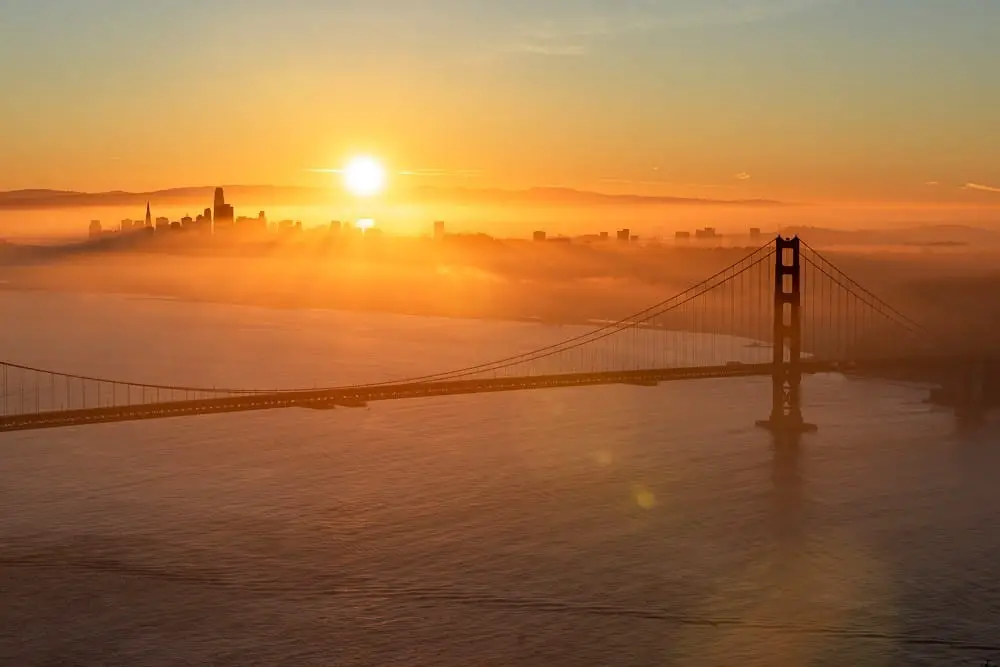 Also in the Marin Headlands is Hawk Hill, another great place for awesome sunrise and sunset views of the Golden Gate Bridge with the city skyline in the background. If you are planning to catch sunrise or sunset here, like many places listed, get there early! There is limited parking and it fills up quickly. You risk a hefty parking ticket if you decide to park in an undesignated parking spot.
When you get there, you can either walk through the tunnel that brings you around the back of the hill or on the trail around the front. Don't forget to look North, away from the city for awesome views of the Marin Headlands and Point Bonita lighthouse. 
Location: Hawk Hill
How to get here: The easiest way to get here is to drive.
Alta Plaza Park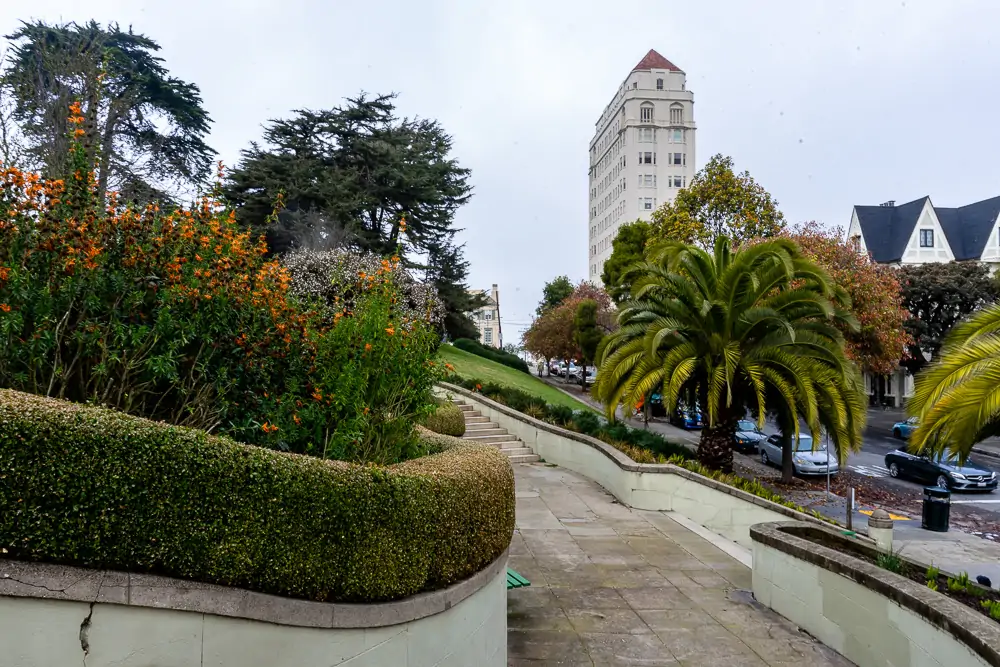 Located in Pacific Heights near the popular shopping district, Fillmore, Alta Plaza Park offers breathtaking panoramic views of San Francisco. Breathtaking because you'll have to climb up wide staircases to reach the top! The 5 staircases leading to the top of Alta Plaza are perhaps the most popular feature amongst fitness enthusiasts and photographers, second only to the view!
Once you do make it to the top, there are tennis courts, an off-leash dog park, and a playground. Take a walk around the perimeter to enjoy the view or take a picnic to enjoy on a nice day!
Location: 2700 Clay St
How to get here: If you're shopping on Fillmore, head one block west to Steiner St. You can park on any of the side streets. For public transportation, the 24 runs right next to the park, and 22 runs North and South on Fillmore. Consult SFMTA for more detailed directions. 
Alamo Square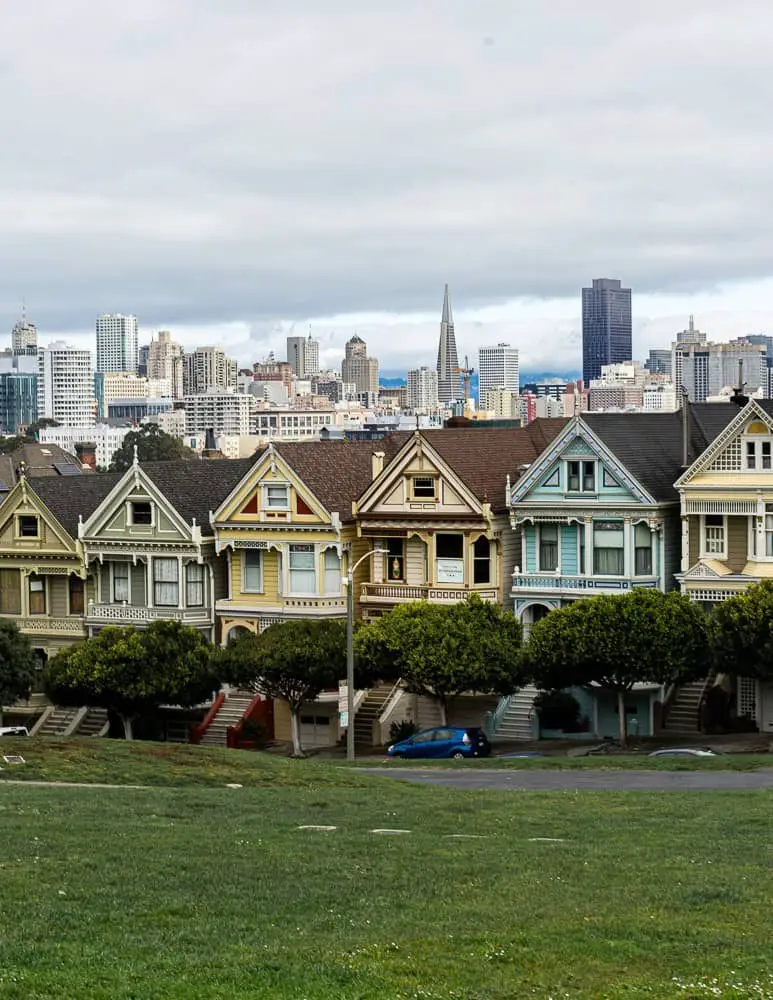 Thanks to Full House, Alamo Square is always a popular destination. To be honest, it's with good reason. This park is beautiful. It's surrounded by gorgeous Victorian Homes on all sides, including the famous Painted Ladies with the city skyline in the background. Additionally, there is a clear view of City Hall down Fulton St. 
Grab a snack at BiRite Market on the corner of Hayes and Divisadero, spread out a blanket, and bask in the San Francisco sun with gorgeous surroundings. You'll also find Lady Falcon Coffee Truck in Alamo Square if you prefer a warm beverage for a morning walk through the park.
Alamo Square is well located near popular San Francisco neighborhoods: Hayes Valley, the Fillmore, and Haight-Ashbury.
Location: Bordered by Scott, Fulton, Steiner, and Hayes.
How to get here: It's easy to get here by car and find parking on one of the side streets. Via public transit, take the 5 to McAllister & Pierce St and walk one block to the park. 
Golden Gate Overlook
You know that photo you see all over Instagram of the Golden Gate Bridge framed in between two Cypress Trees? This is where you go to get that photo. The Golden Gate Overlook is an old fort that overlooks the Golden Gate Bridge and it offers several unique vantage points of the bridge. 
Head here during sunset for a view of the sun dipping below the sea to the west, casting its colors across the sky and behind the Golden Gate Bridge. As always, dress warmer than you think you'll need to if you go during sunset!
Location: Langdon Ct
How to get here: There is parking in Langdon Ct and across the street. However, parking does fill up, so you may need to park in the Presidio and walk over. Muni Route 29 will take you close to Baker Beach and then you can walk to the Overlook. It's a gorgeous walk! That being said Uber is the better option if you don't have a car!
Filbert & Hyde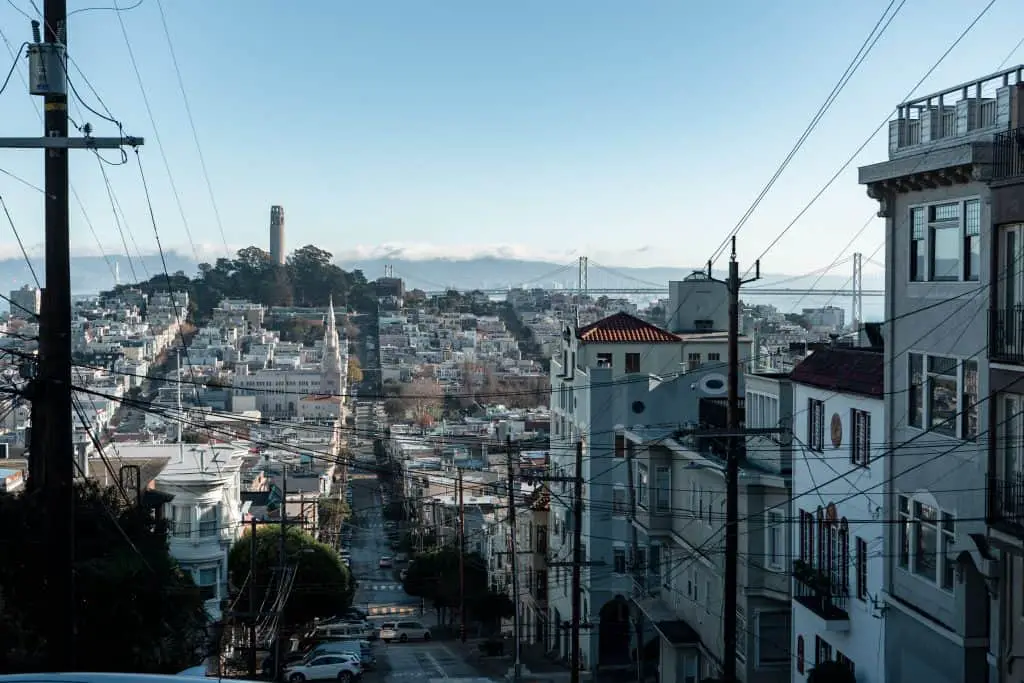 This is one of the streets where not only will your jaw drop when you reach the top but so will your stomach. This intersection offers a direct view of Coit Tower, the spires of Saint Peters and Paul Church, and the Bay Bridge. It's a very steep hill, so take your time walking up or driving down. The views are worth it!
Location: Filbert & Hyde, Russian Hill
How to get here: You can easily walk there if you're visiting nearby Lombard street, a Cable Car line passes here as well.
Lombard Street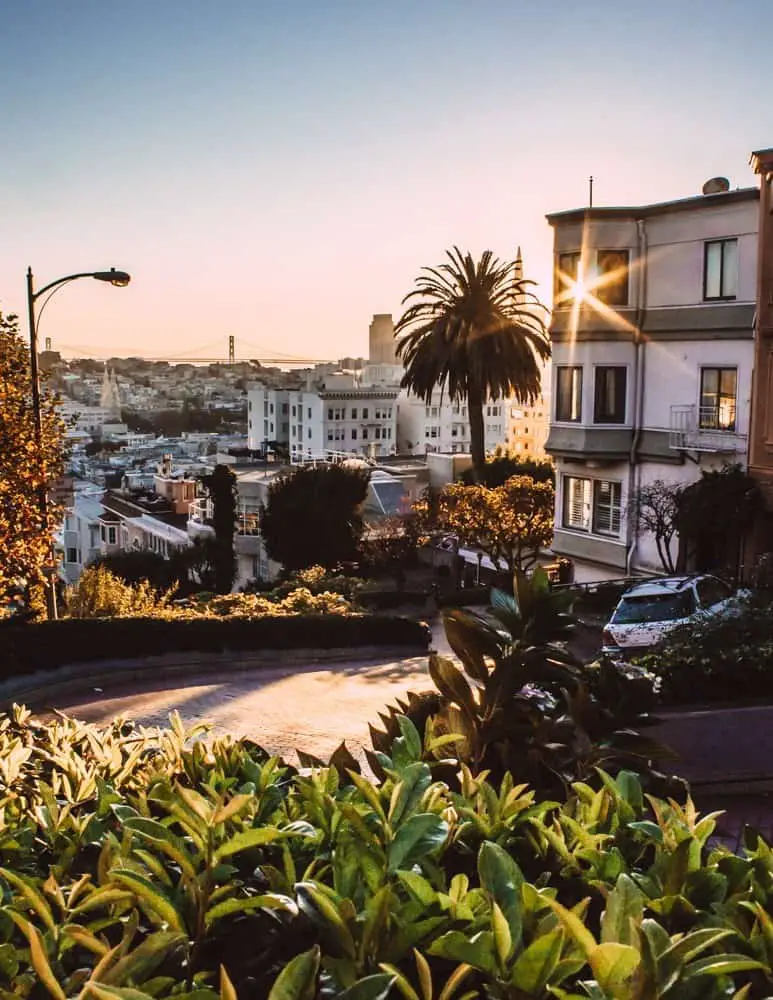 I can pretty much guarantee that driving down Lombard Street is on your San Francisco bucket list. You're in luck, because in addition to being one of the "crookedest streets in the world", it also has awesome views of San Francisco. From the top of Lombard Street, you'll see the Bay Bridge and Coit Tower directly in front of you, the Transamerica building to your right, and Alcatraz to your left!
Sunrise is a great time to visit Lombard Street as the sun rises right near the Transamerica building, and most tourists are sleeping still so you could have it all to yourself!
Location: Lombard & Hyde
How to get here: Drive!! That's the biggest draw, driving down Lombard Street! If you don't have a car, The Powell/Hyde Cable Car stops here, so you could cross two items off your SF bucket list with this one activity! 
Coit Tower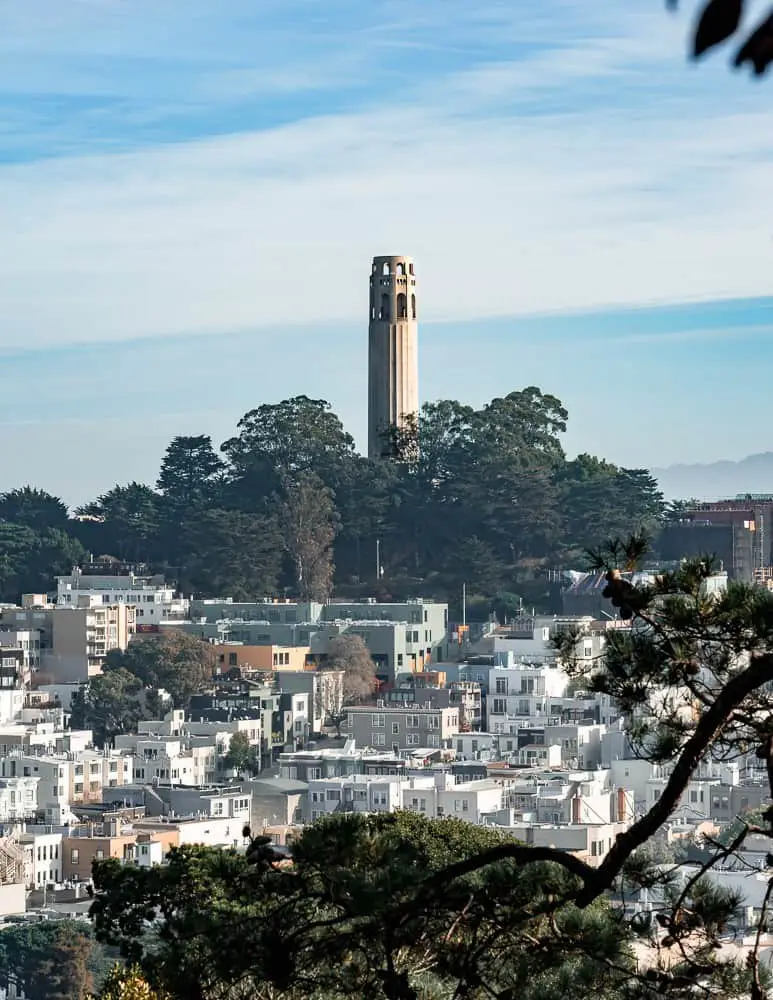 Coit Tower itself offers 360* views of San Francisco! This San Francisco emblem has been gracing the skyline since 1933! While you'll have nice views from the base of the tower, it's worth the $9 elevator ride to the observation deck so you can see the panoramic San Francisco views!
Location: 1 Telegraph Hill
How to get here: I recommend walking up. Yes, it's steep, but otherwise, you'll just be in a very slow-moving car line to the top (unless it's still the pandemic, then it shouldn't be a problem, but the observation deck is also closed). Instead, make your way to Washington Square Park and access it from there or climb the Filbert steps from the Embarcadero. 
The Embarcadero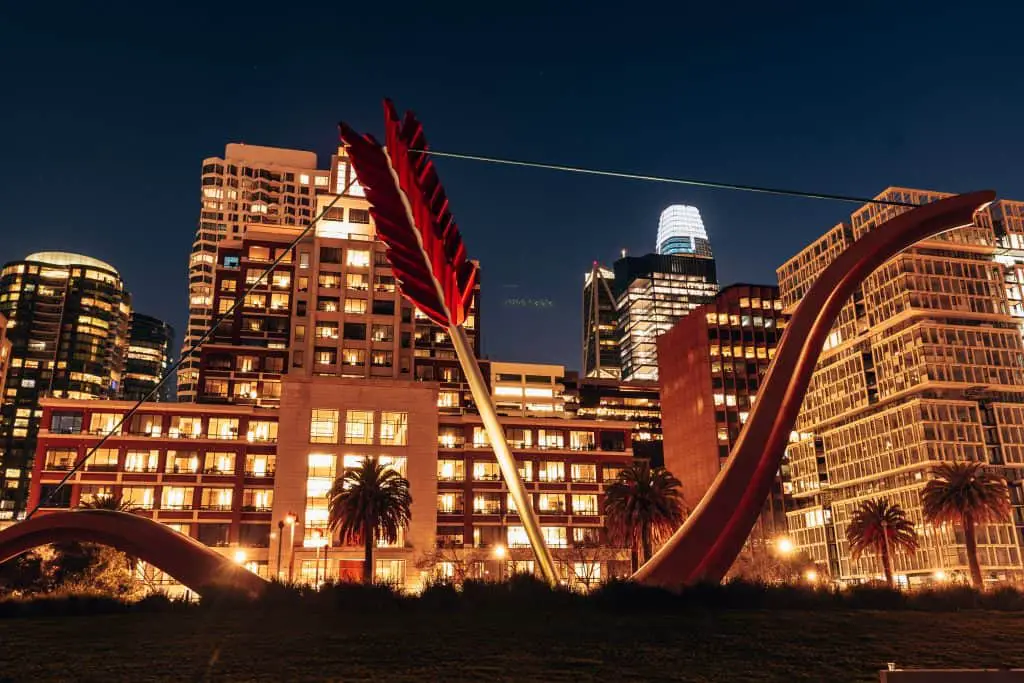 The Embarcadero is a 3 mile stretch of roadway and a pedestrian-friendly walkway that connects the Bay Bridge to the Golden Gate Bridge. 
The best way to enjoy the views of the Bay Bridge, Treasure Island, and of course the skyline is by walking or biking the length of the Embarcadero. There are many San Francisco highlights along the way you can take a break at such as The Ferry Building, Cupid's Arrow, Pier 39, and Fisherman's Wharf.
Location: The Embarcadero 🙂
How to get here: Take BART to the Embarcadero stop. Or if you're staying in a downtown hotel, walk there!
Pier 7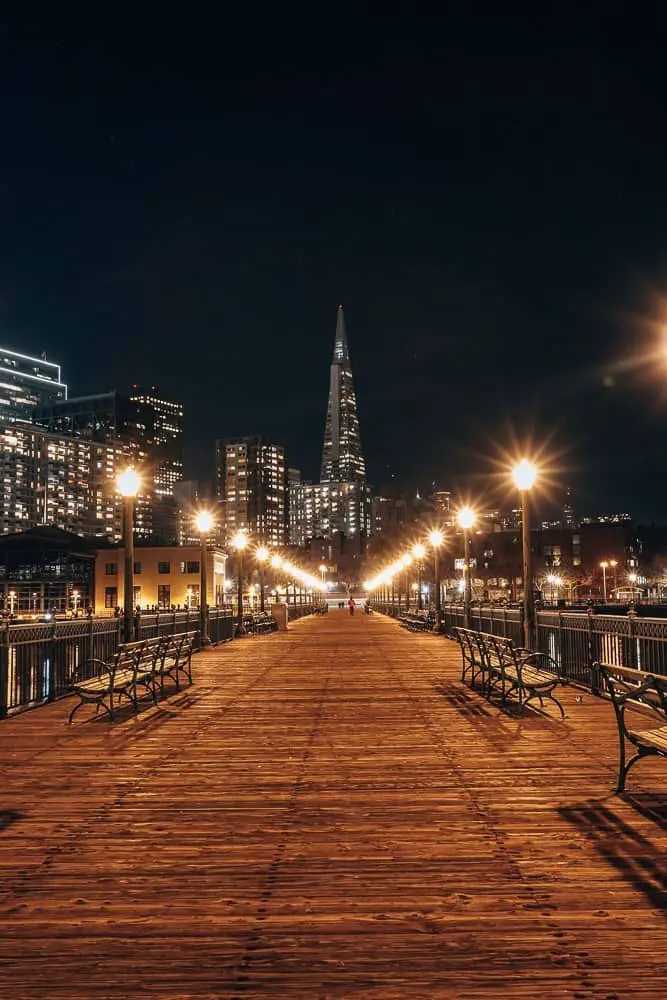 Pier 7 is one of the many Piers along the Embarcadero but it's one of my favorites because of the backdrop. If you walk to the end of the pier and then turn around, you'll be able to see the Bay Bridge, the ferry building, Transamerica, and Coit Tower. 
It's especially beautiful on a clear night when the lights turn on, highlighting these unique buildings.
Location: Pier 7, Embarcadero
How to get here: Find street parking near the Embarcadero and walk. You could also take BART to the Embarcadero stop and walk or take Muni to downtown and walk from there. 
California & Stockton Street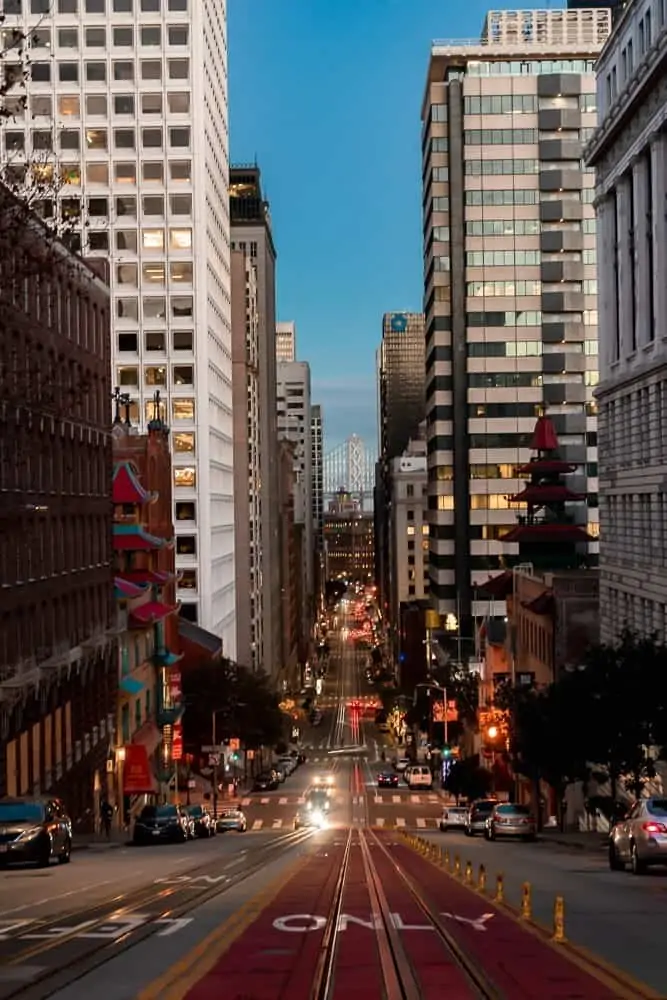 This view is for the photographers out there and when you go, you'll want to bring a traffic spotter. This is where you'll find the iconic image of the Bay Bridge Tower in between two high rises as seen from the top of the hill above Chinatown. If you're lucky, with your timing you could even snap a cable car running down Stockton St.
Location: This intersection is near Union Square and Chinatown. 
How to get here: Walk from Union Square or Chinatown. Or ride any of the 3 cable car lines to California & Stockton. 
Lands End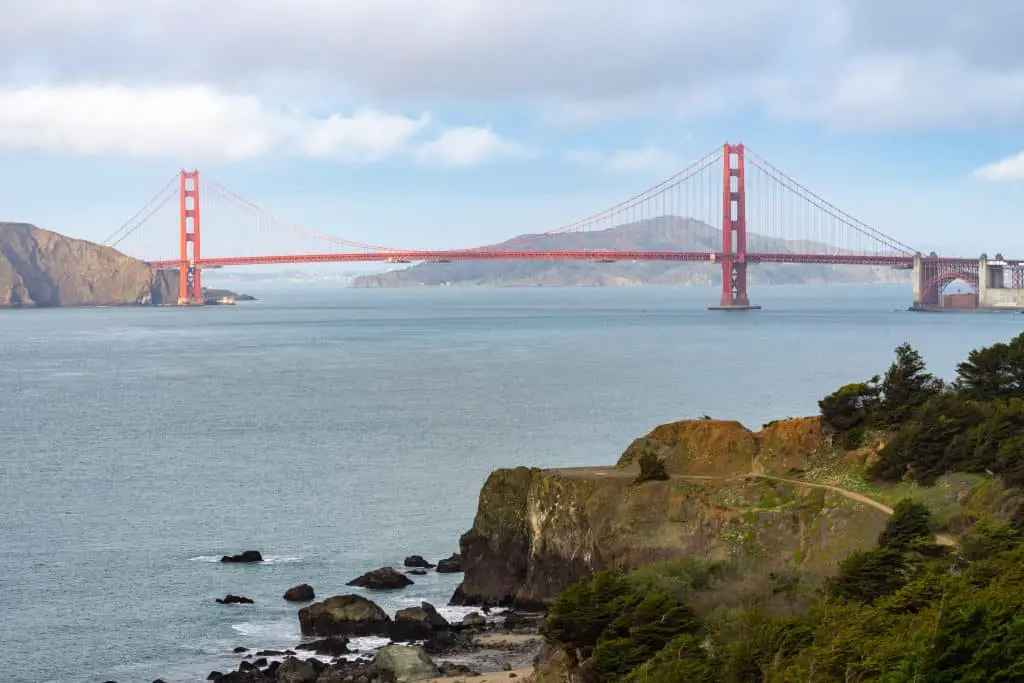 Lands End is a popular hiking trail that starts near Sutro Baths in Sea Cliff and extends into the Presidio. It's best walked as an out and back trail, starting and ending at the Sutro Baths. If you can time it, the Sutro Baths is a great spot to watch the sunset after your walk! 
It's about 1.5 miles to the end of the trail where you'll see an awesome view of the Golden Gate Bridge and the Marin Headlands. In all honesty, the entire walk is gorgeous and offers ample vantage points for the Golden Gate Bridge and the ships passing through. Also, keep a lookout for signs pointing to Mile Rock Beach. This is where you'll find the Lands End Labyrinth and a clear view of the Golden Gate.
Location: 680 Point Lobos
How to get here: The Sutro Baths parking lot is known to fill up on a nice day, so look for parking along Point Lobos or in the surrounding neighborhood. Muni Route 1 runs from the Embarcadero to 32 and California. You could get off there and walk the Lands End Trail starting from the Presidio. 
Sutro Baths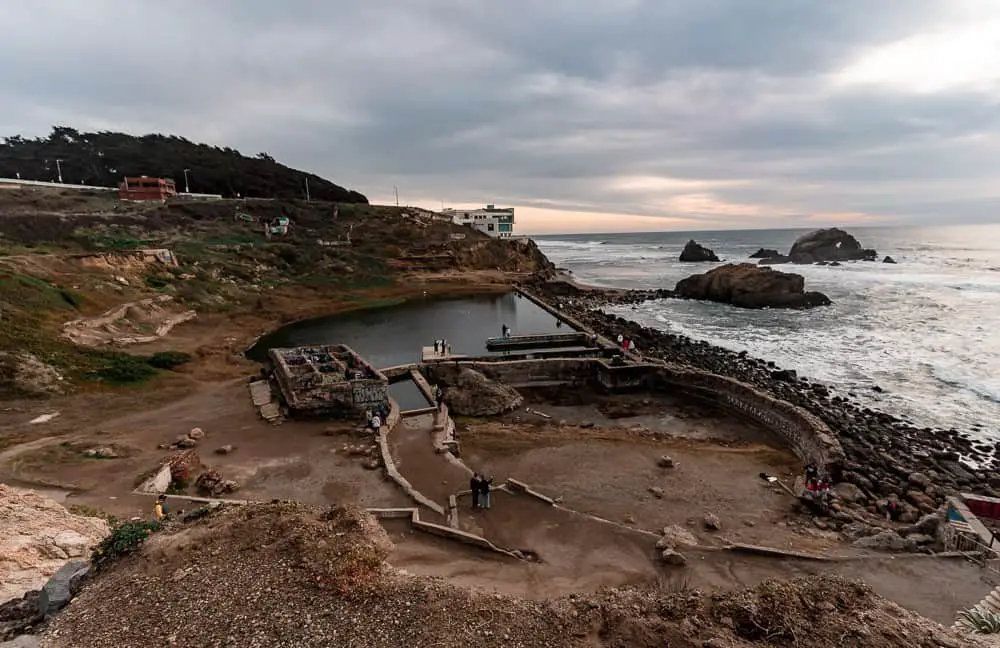 Sutro Baths located on the west side of the city are such a unique place to visit. What you'll find here are the ruins of a former bathhouse. You can still see the stairs entering the pool and the building where you could change before entering! 
Sutro Baths is also near Ocean Beach, one of the best beaches in San Francisco. You could make a full day exploring this whole area!
Location: 680 Point Lobos
How to get here: Driving is the easiest way to get here, but parking can be tricky so keep an eye out for spots in the surrounding areas. 
Sutro Heights Park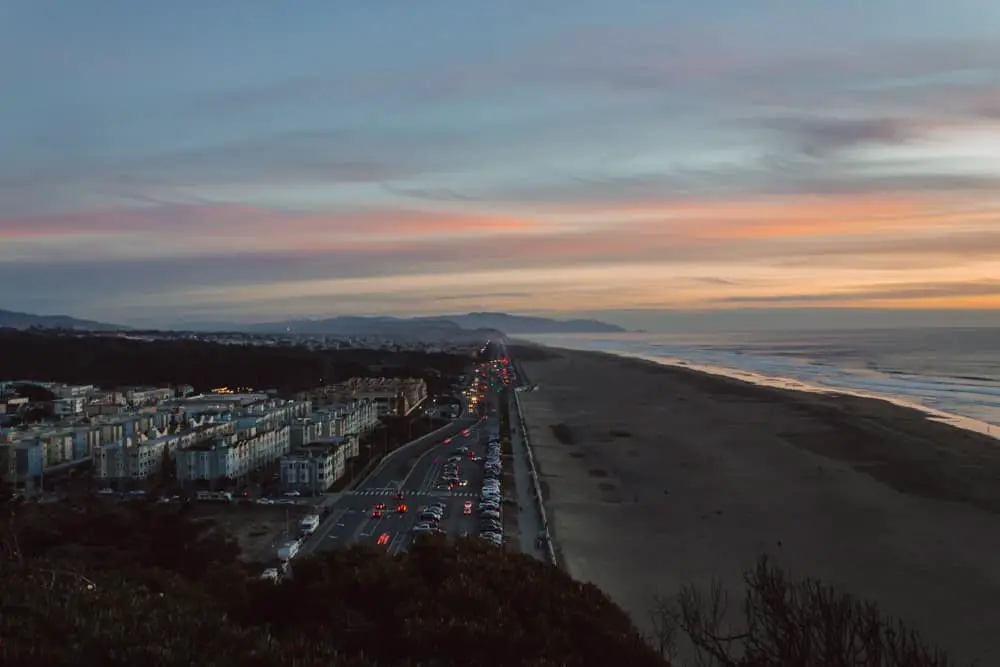 Across the street from Sutro Baths is a less well-known part of the Sutro ruins, Sutro Heights Park a former Victorian garden. Lions mark the main entrance from Point Lobos and once inside you'll find what looks like a castle overlooking the Cliff House, Seal Rocks, Ocean Beach and the Outer Richmond/Sunset neighborhood. 
This is a great place to chill out while listening to the waves crashing against the rocks below and watching locals go for their evening walks.
Location: 846 Point Lobos
How to get here: If you're visiting Sutro Baths, just walk across the street! Driving is the easiest way to get here and you can park in the surrounding neighborhood. 
Now that you've had a chance to explore the best views in San Francisco, let us know which one is your favorite!
Like this post? Pin for later!