Peru is an excellent destination for solo female travelers. This beautiful South American country has plenty to offer in the way of landscapes. Whether you're a beach bum, a mountain lover, desert babe, or city girl you'll find the landscape that fuels your soul in Peru.
Famous for Machu Picchu, there are also other awesome places to see in Peru like Huacachina, the Amazon, Arequipa, and more.
Plus, the food…OMG the food is so freaking good!
Know Before You Go
Budget
Peru's currency is the sol, although it's abbreviated PEN. Which I found thoroughly confusing at first.
Generally, Peru is a relatively inexpensive place to visit. Hostel prices for dorm rooms range from $9-$20 per night depending on the city and time of year.
Meals will cost an average of $15 USD per day.
You'll also have to factor in the cost of transportation. Flights are fairly inexpensive as are buses. For more information on how to come up with your Peru budget check out this website.
Getting Around Peru
The best options for transportation will depend on the amount of time you have. You could easily fly into Lima, spend a day or two visiting Lima, then hop on a flight to Cusco for a few days, and then fly home. This is what most people do due to time constraints.
If you have a bit more time, I highly suggest taking the Peru hop bus. It will take you to all of the popular destinations in Peru, is safe, and competitively priced to other bus companies.
Ubers are a safe option for transportation from airports and within the city. If you use a taxi, ensure that the meter is on and it is marked.
Solo Female Travel Safety in Peru
There are certainly dangerous places to find yourself in Peru, however, I felt very safe and relaxed during my time there. It is still very important to keep your wits about you. At street corners stand back from the crowds and keep your eyes on your belongings as pickpocketing is common.
In terms of transportation, always make sure the taxi is registered and a meter is used. I used Uber most of the time without any issues.
Ladies, you will get catcalled. In my opinion, it's best to just keep walking and not escalate anything.
Always trust your gut. Ask for advice from the hostel. And don't walk alone at night.
where to go in peru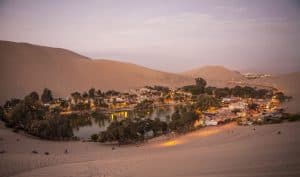 Peru is hands down one of my favorite countries. Everything from the people to the [...]
read more