If you're traveling to Cusco, Peru to check off that bucket list trek to Machu Picchu, then keep reading for everything you'll want to pack so you have a blister, and stress, free adventure. This Cusco packing list is perfect for the Salkantay Trek to Machu Picchu, especially if you're hiking in the rainy season. 
Which happens to be the season that I completed the trek. It rained just about every day, included traversing a landslide, a waterfall on the edge of a steep cliff, recovering in hot springs, and a few shots of Pisco here and there to warm up at night. 
Thankfully, despite the heavy downpours we hiked through each day, I stayed dry and blister free almost for the entirety of the trek. The only exception is when I decided to try out a new pair of socks on day 3. About an hour and a half later I could feel a hot spot starting on my heel and as soon as we took a break I switched back to my favorite hiking socks and stopped the blister before it got any worse!
In this Salkantay Trek packing list, I'll share with you exactly what I packed so that wet clothes were successfully avoided! 
This post contains affiliate links, which means that, at no additional cost to you, I will earn a tiny bit of income if you decide to make a purchase or booking.
Which Type of Salkantay Trek to Machu Picchu?
While the Inca Trail hike can only be completed with a tour company, the Salkantay Trek can be completed with or without a tour guide. This makes the Salkantay Trek an attractive alternative to the Inca Trail trek for seasoned hikers who want to take their time and not be locked into a tour group. 
As I was traveling solo and, at the time, a fairly novice hiker, I decided to book a guided trek using the Salkantay Trekking company – which I highly recommend. The trek is physically and mentally challenging, especially at the altitudes you'll reach. It was comforting to have a professional guide help me and the others in the group through the more challenging moments.
If you're opting to do the Salkantay Trek independently, then this really isn't the packing list for you. You'll need to pack and carry much different equipment, such as a tent, your food, and plenty of water. 
With the Salkantay Trekking company, all I had to carry with me daily was what I needed that day. The rest was sent ahead of our group on donkeys. When we arrived at camp there were people there to cook us dinner and huts for us to sleep in. It was amazing.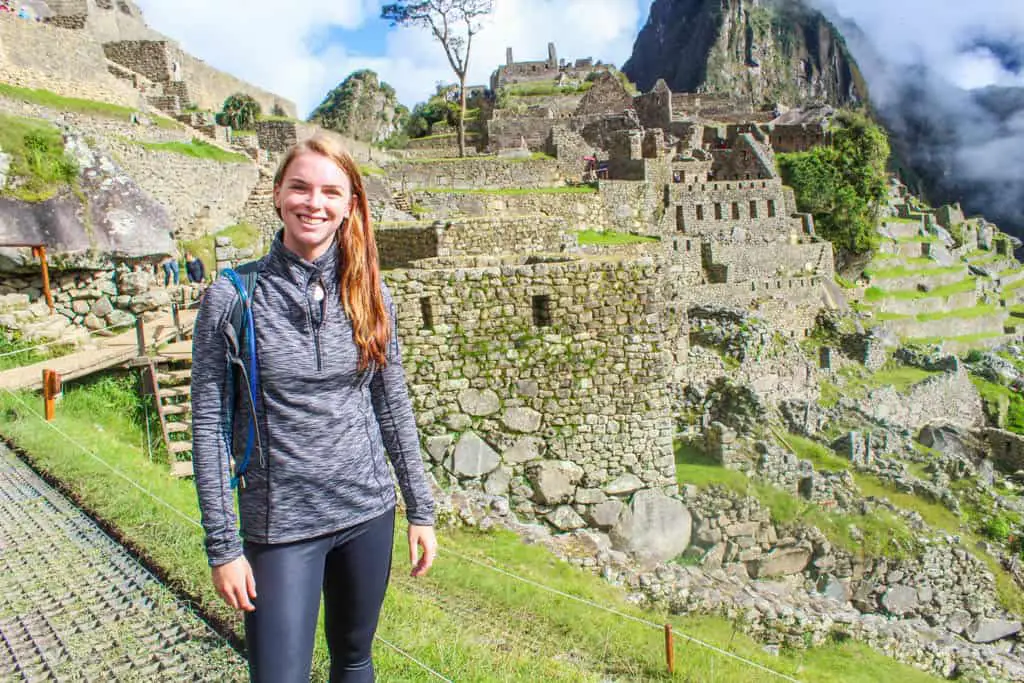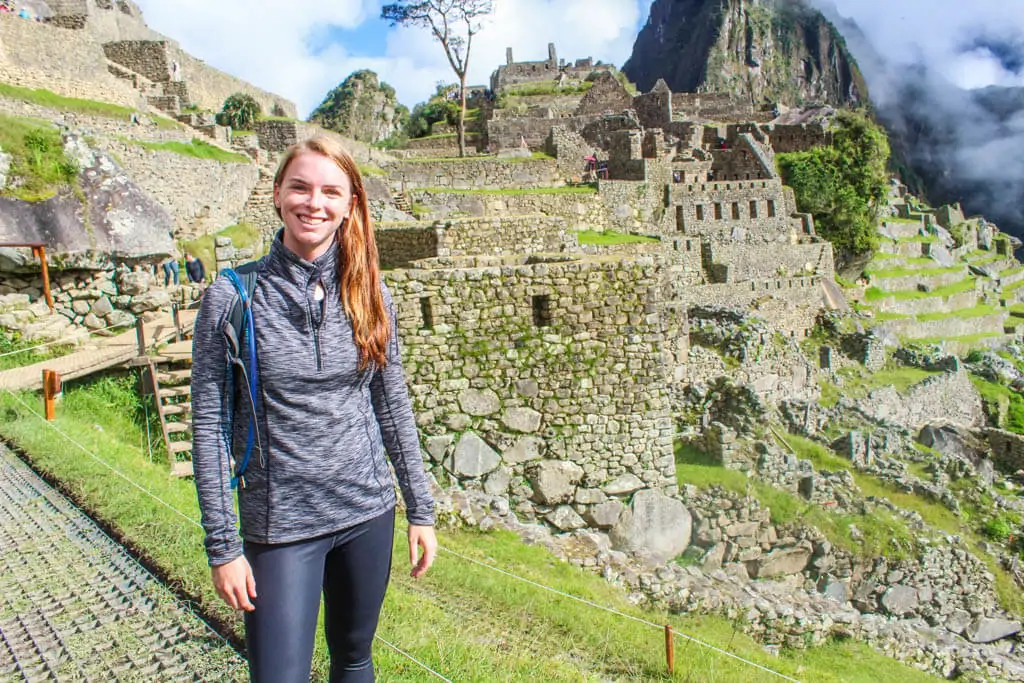 What Time of Year are You Hiking to Machu Picchu?
As I shared above, I did the hike to Machu Picchu during the rainy season which is from November to March. I actually started it the morning after St. Patrick's Day, which meant I had to skip celebrations at the highest Irish Pub in the world in Cusco. 
The dry season in this area of Peru is from April to November. This Salkantay Trek packing list is geared towards the rainy season, but if you're hiking at another time of year, just remove the rainy weather items. That being said, Machu Picchu is located in the jungle, which means it could rain at any time. This means layers are essential to enjoying your trekking experience. 
How you plan to complete the Salkantay Trek and the time of year are excellent starting points for planning your packing list for Machu Picchu.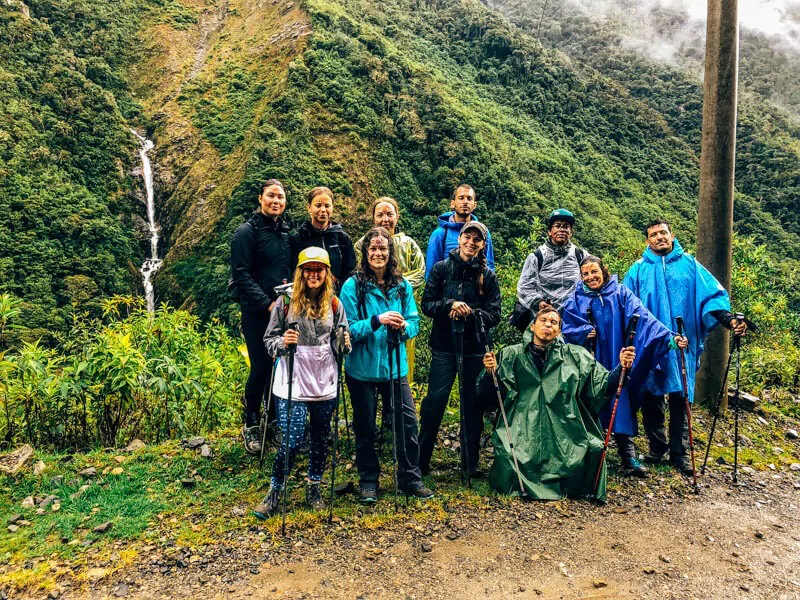 General Overview of the Salkantay Trek Packing List
What I wore on hiking days:
This was my hiking "uniform" if you will. Each morning I pulled on the exact same items, with fresh undies of course. I actually wore the same socks every day. When we reached camp, I would put on my camp socks and leave my hiking socks out to dry. 
While the clothing below is how I started the day, as the hike progressed and the day warmed up I'd take off layers. Our guide called it the layer game. 
SmartWool midweight thermal pants
Hiking pants
Thermal shirt
Dri-Fit t-shirt
Fleece ¼ zip pull-over
Waterproof  jacket
Rain pants (purchased in Cusco the day before the trek)
What I wore to bed & around camp:
There is no better feeling after 10 hours of hiking than reaching camp, taking off your hiking boots, and replacing them with Birkenstocks. 
Joggers
Thick hiking socks
Thermal shirt
Warm jacket
Birkenstocks
Beanie
What I wore to the hot springs:
The hot springs were the highlight of the trip – besides, you know, Machu Picchu and the gorgeous landscape we were traversing. Seriously, though, my muscles were so grateful for the evening soak. 
Swimsuit
Joggers
T-shirt
Flip flops
What I wore on Machu Picchu day:
I highly recommend keeping a clean pair of clothes in your duffel bag that you'll wear on the day you go to Machu Picchu. The night before, you'll sleep in a hotel in Aguas Calientes where you can have your first shower of the hike. It will feel amazing to be fresh and clean and step into clean clothes for the last leg of your journey to Machu Picchu.
Clean black leggings
Tank top
¼ zip pullover
Rain jacket
Baseball Hat
What I packed in my Day Pack (Osprey 10L from the Farpoint):
In my day bag, I had all of the short hike essentials, even though this was anything but a short hike. However, since the donkeys were carrying the rest of my belongings, I could keep what I carried on my back to the essentials.
2L hydration pack
DSLR camera
Snacks
Rain gear
Gloves
Ear warmer headband
Baseball Hat
Travel documents
Medication
Cash
Sunscreen
Mosquito repellent
Small plastic bags
Pro Tip: If your Peru itinerary includes more than hiking to Machu Picchu, you'll likely have a larger suitcase or backpack with clothing for the rest of the trip. Most hostels and hotels offer luggage storage so you can safely leave everything else and only take what you need.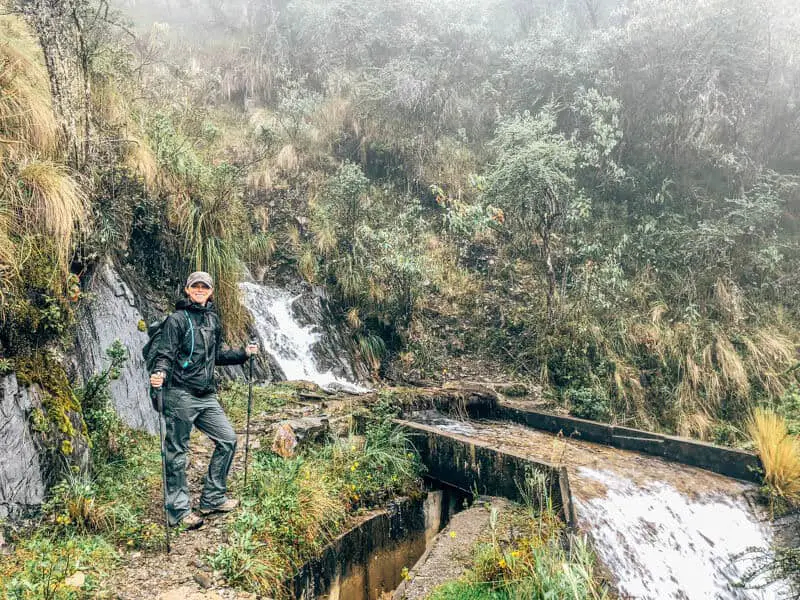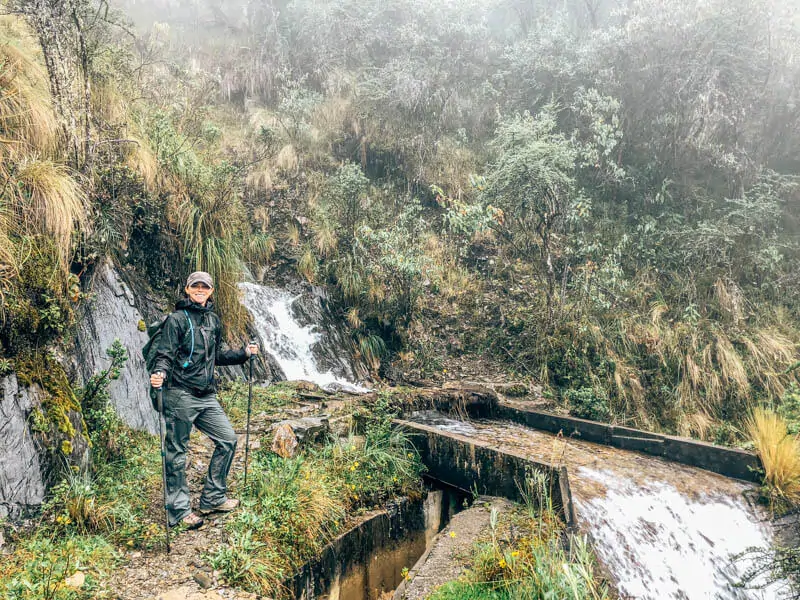 Salkantay Trek Packing List Deep Dive
Now that you have an idea of what I packed and wore each day, let's get into some details about the items and how many of each item you actually need. 
Travel Documents
These are important items to make sure you have with you. I recommend keeping these with you each day. 
Passport – Your passport is required for entry to Machu Picchu and you can get a stamp on your passport as well! The stamp doesn't occur at the gate, there is a little stand outside where you stamp your own passport. It's free – don't pay for this!
Cash – If you decide to go with a tour company you will need cash to tip the guides, chefs, and animal caretakers. Additionally, the hot springs are an extra cost.
Tickets – The tour company will take care of the tickets to Machu Picchu for you, but if you go solo, make sure to buy them in advance! And bring them with you!
Clothing
Hiking Pants – I only packed and wore one pair of hiking pants the entire 5-day trek and then changed into clean leggings for Machu Picchu day. I got my hiking pants from Athleta and loved them. However, they don't carry the specific kind that I wore anymore. So any pair of your favorite hiking pants will work. You only need one pair. 
Leggings – Leggings can be worn as an additional layer, to sleep in, or kept fresh for Machu Picchu day. I opted to use my leggings only for Machu Picchu.
Thermals – Instead of leggings as a base layer, I wore actual thermals. I loved these SmartWool mid-weight thermal leggings. They're thin enough to fit under my hiking pants and kept me warm on the cool early mornings. They also didn't overheat me as the temps rose throughout the day. Shop thermals here.
Joggers – Another pair of Athleta pants that they no longer carry. Any pair of joggers will do and are perfect for the campsites and for sleeping. You only need one pair. Shop joggers here.
Rain Pants – I almost didn't have any rain pants, which would've made my very rainy trek very miserable. The day before we departed, I stopped into a sporting goods store in Cusco and bought the only pair left in the shop. They happened to be these men's Marmot rain pants, but they worked wonders at keeping me dry every day. I wore them every day, except for Machu Picchu day, because that's the only day it didn't rain! Shop rain pants here.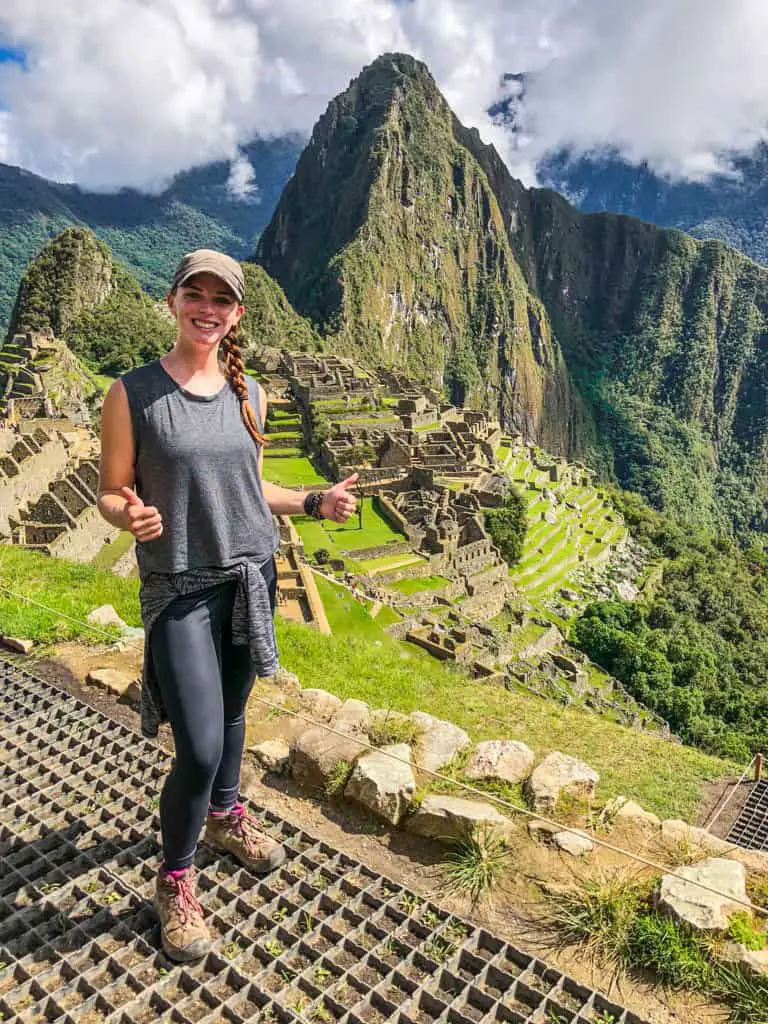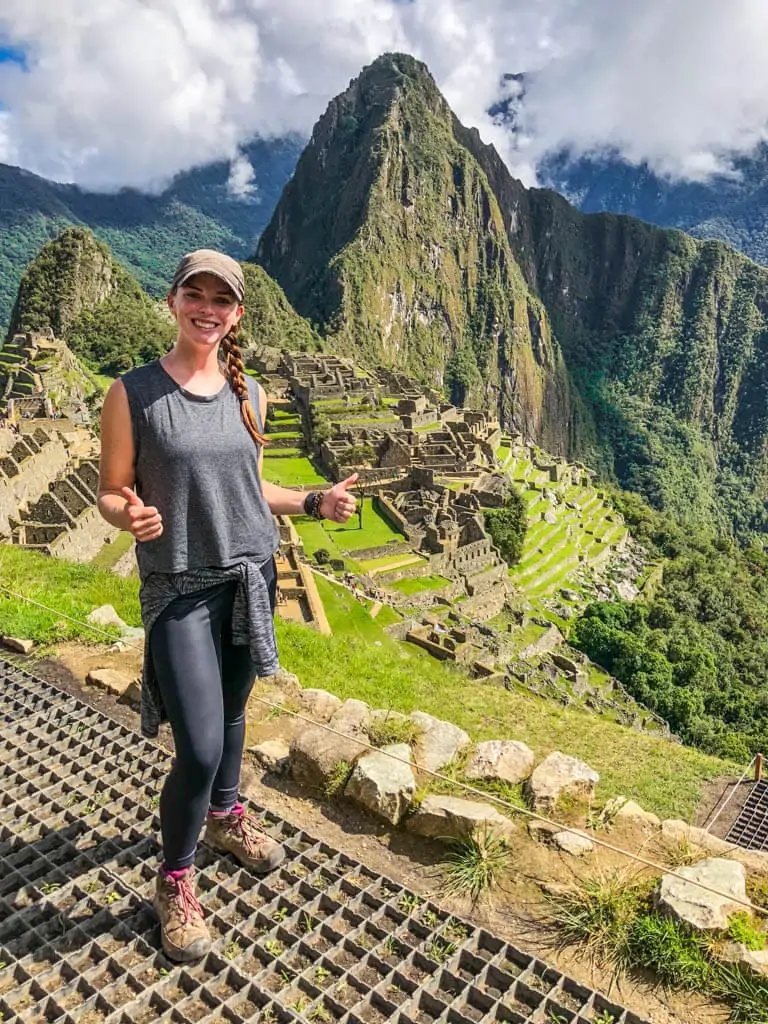 Workout Shirts – I wore two workout shirts during the hike. They were actually from my days as an Athletic Trainer, but they're basically dri-fit Nike shirts. I wore each shirt back to back, then switched on the third day to a clean shirt. On Machu Picchu Day I wore a fresh tank top from Athleta. Shop workout shirts here.
Thermal Shirt – SmartWool is my go-to for thermal wear. Pack at least one thermal shirt that you can wear during hikes and one long sleeve shirt to sleep in. Shop thermal tops here.
Waterproof Jacket – I loved my rain jacket with a hood from REI. It is lightweight and not lined, so you'll likely need an extra layer underneath it as well. It kept me mostly dry. There were some torrential downpours, so my shoulders did get a bit damp during those. But otherwise, no complaints! Shop waterproof rain jackets here.
Mountain Hardwear Puffy Coat – Any sort of warm jacket will work for when it cools off at night time. I didn't wear mine while hiking so it was dry and ready when we reached camp and for me to sleep in. Shop my coat here.
Fleece Pull Over – I purchased a lined ¼ zip from MooseJaw on impulse one day long before I trekked to Machu Picchu. It served me well on this hike and many others. Any fleece ¼ zip that you love will do. If you don't have one, here are some options. 
Undies & Sports Bra – I packed two sports bras and only switched to the clean one on Machu Picchu day. While I think we can get away with that situation, I definitely suggest packing more than enough underwear. I packed six pairs of my favorite ExOfficio underwear. They're super comfortable, don't ride up, keep smells at bay, and dry quickly if you need to wash them during the trek. Shop ExOfficio underwear here.
Beanie and/or Ear warmer headband – Depending on what you're most comfortable in, bring something to keep your ears and head warm. I liked the headband for when I was hiking and the beanie to wear at night.
Baseball or Wide Brim Hat – If you're lucky enough to get a sunny day, you'll want a hat to keep the sun off of your face! I wore it in the rain to keep the rain off of my face.
Sunglasses – I didn't have, or need, any as it rained constantly. But if you go in the dry season, you'll need them!
Gloves – The air is cold and thin at high altitude and your hands are out in the elements (holding the walking sticks). Keep them warm with gloves!
Buff – I wore my buff to keep my neck warm, dry, and to wipe the sweat! Plus they come in plenty of fun colors! 
Towel – A lightweight, quick dry towel is great for the night at the hot springs. I travel everywhere with this one.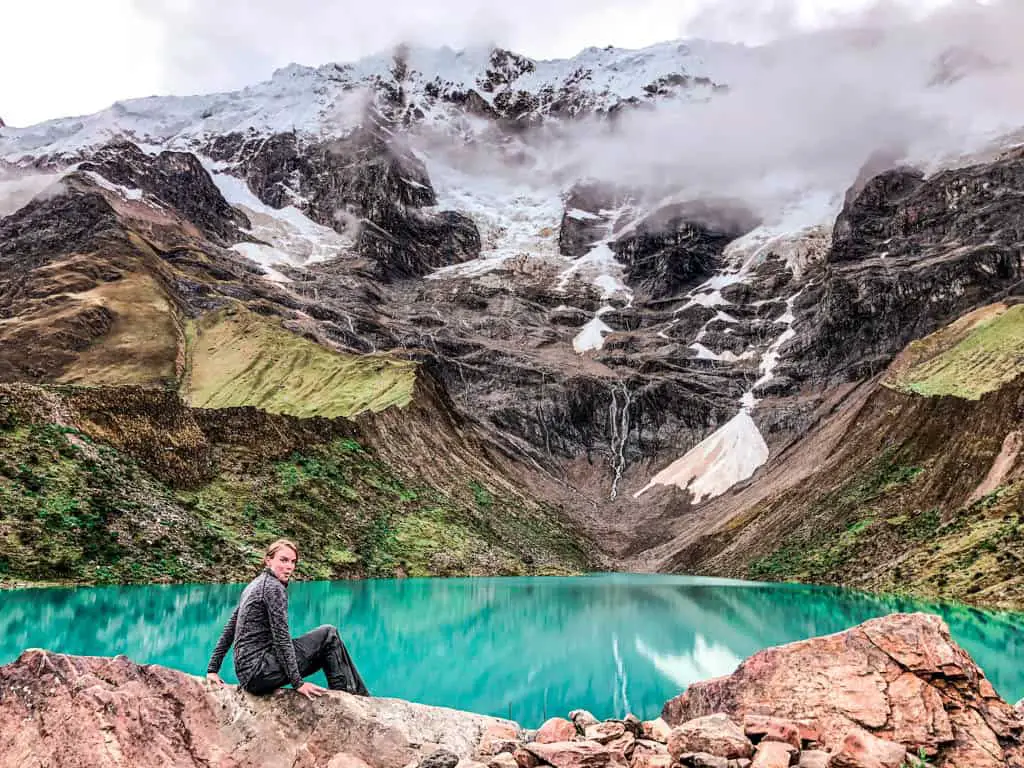 Footwear
Darn Tough Socks – Good quality socks are the most important things you'll pack and are worth the investment. I packed two types of socks, two pairs of REI brand hiking socks and one pair of Darn Tough socks. I ended up wearing the Darn Tough socks every single day of the hike. If I were to do this again, I'd pack two pairs of Darn Tough socks and one pair of the REI socks for the campsite. Shop Darn Tough hiking socks here.
Hiking Boots – A good pair of well worn hiking boots is essential. Now is not the time to break in new boots! I personally love my waterproof (necessary in the rainy season) Keen hiking boots. Shop my hiking boots here.
Flip Flops – Admittedly, I didn't shower until night 4 in my Aguas Calientes hotel room, but if you plan to shower at campsites, you'll want flip-flops. Flip flops are essential on all of my packing lists for showers! I also used mine for the night at the hot springs. Shop flip flops here.
Birkenstocks – There is something about pulling off your hiking boots and putting your feet in Birkenstocks. It's like they immediately relax and breathe a sigh of ahhhh. I wore Birkenstocks with my REI socks in camp each night. It's a good look, right? Shop Birkenstocks here.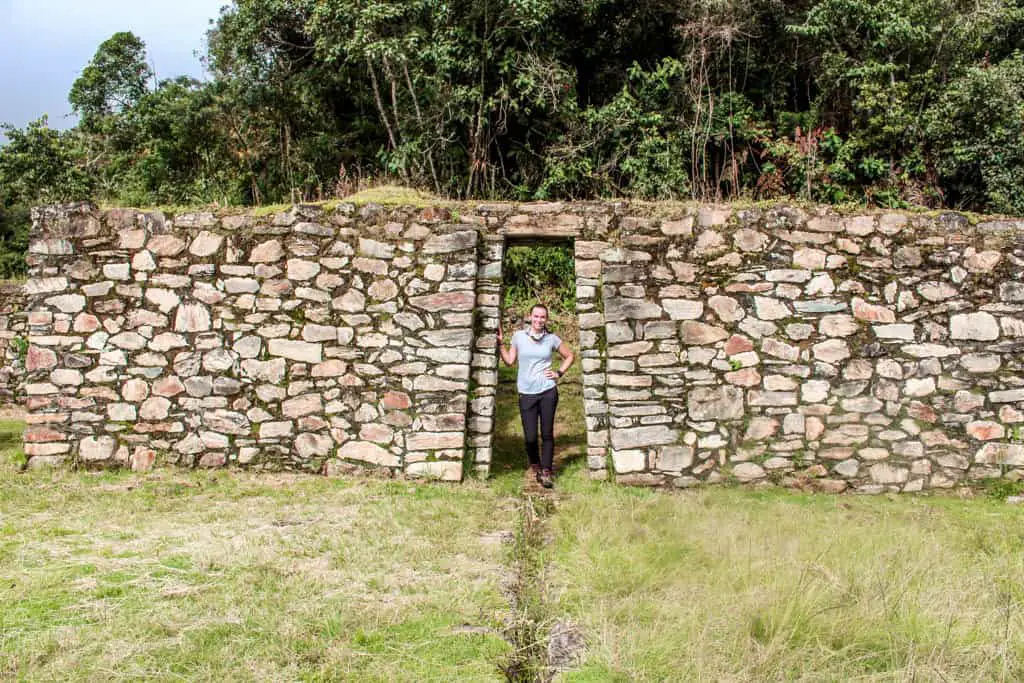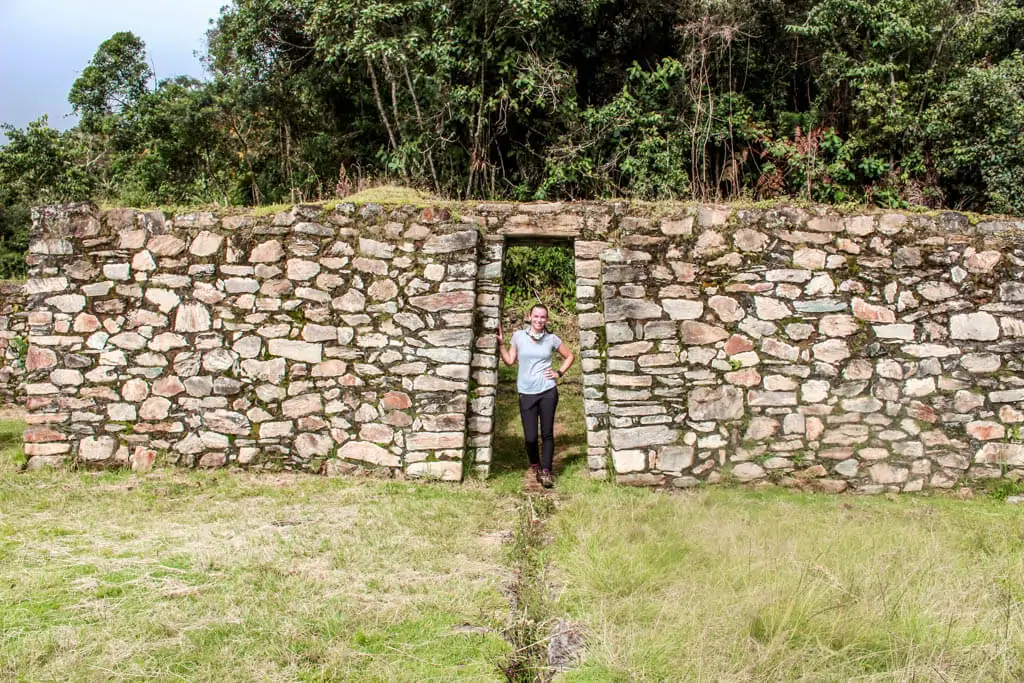 Electronics
DSLR – My Canon Rebel basically went everywhere with me during my year of travel and the Salkantay trek to Machu Picchu was definitely no exception. Was it a bit annoying to carry a DSLR every day, yes, but I'm glad I had it! Shop my DSLR here.
GoPro – I didn't use my GoPro at all, but many people in my hiking group used one. It was great for the rainy days. Shop GoPro here.
iPhone – I kept my phone on airplane mode the entire time to disconnect, but I kept it in my pocket to use as a camera when I didn't want to deal with getting the DSLR out.
Power Bank & Chargers – Make sure to bring the cords you need to keep everything charged up. A portable power bank works really well on this hike too. This is the one I use. It's able to charge my phone and camera completely about 3 times before running out of juice. Some of the huts on the trip had electrical outlets, but it's good to be prepared.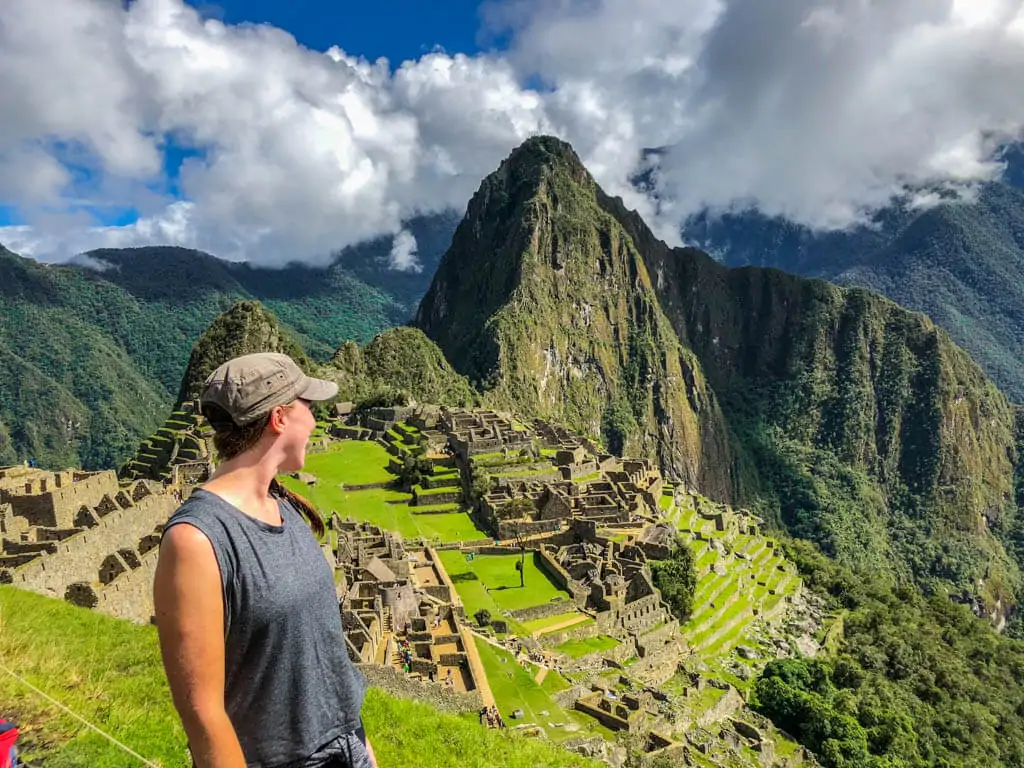 Food & Water
Food – If you're hiking the Salkantay trek independently, you'll need to pack and carry your own food and all cooking equipment. This website is a good resource.
Snacks – The tour company I used gave us daily snacks, but if you have anything you like on hikes, be sure to pack your own. I packed a bag of Peanut M&Ms for each day!
Hydration Pack  – The tour company also provided clean drinking water and water bottles for us to fill up our hydration packs before we headed out for the day. I carried a 2L hydration pack. Shop hydration packs here.
Water Treatment – While the water provided by the tour company was perfectly safe to drink, in general the water in Peru is not potable, make sure to use some sort of water treatment system. I recommend either the SteriPEN or this Katadyn water bottle that filters through the nozzle.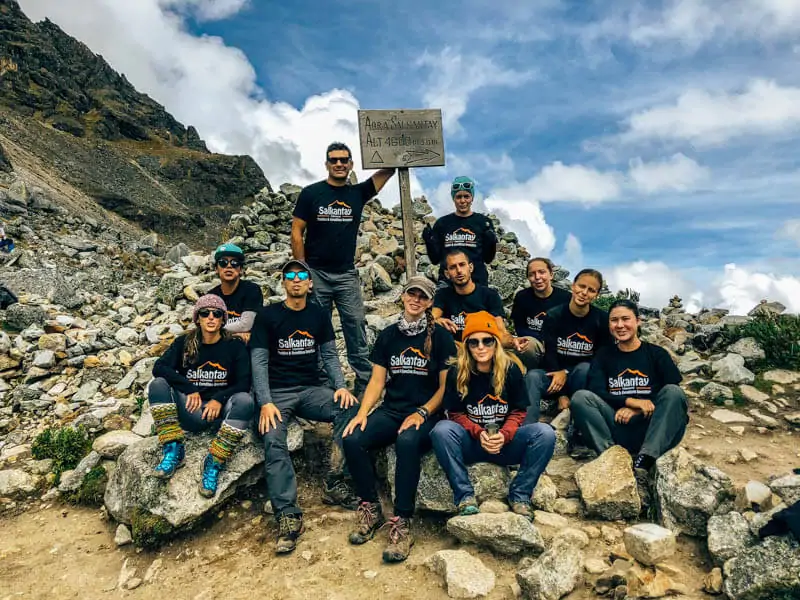 Toiletries
Medications – Make sure you have any prescription medication you may need. I recommend keeping these in your day bag just in case. I also recommend packing ibuprofen or tylenol in case of headaches that are common at higher altitude. 
Anti-Altitude Sickness Pills – Talk with your doctor about this before the trek. The altitude is challenging as Cusco lies at 3400m (11,000 feet), on day two of the trek you'll climb to an altitude of 4900m (16,000 feet) and Machu Picchu is at 2400m (7,800 feet). I didn't use any, but It's a good idea to spend time acclimatizing to the high elevation for a few days in Cusco. 
Coca leaves – Coca leaves are said to help with altitude sickness. Each morning of the hike our guides would wake us up with a hot cup of Coca tea. But he also brought them with him on the hike and on day two, I had a wad of leaves permanently in my cheek. You can pick up your own coca leaves in Cusco.
Makeup Remover Wipes – I didn't wear any makeup, but it was nice to use these to "wash" my face each night. Wet wipes would work well in this capacity too.
Insect Repellent – It sounds crazy, but I'm one of those people who has never been bitten by a mosquito. In fact, I can't remember the last bug bite I've had. That being said, I still packed these mosquito repellent wipes and gave them to others on the hike when they were getting bitten by bugs.
Sunscreen – Even though it rained each day, I still put sunscreen on in the morning just in case the sun decided to come out! The sun did come out on Machu Picchu day so sun protection was essential. I love Sun Bum sunscreen! Shop Sun Bum sunscreen here.
General Toiletries- I kept all of my toiletries in my duffel bag:  deodorant, toothbrush, toothpaste, contact lense equipment (plus extra), glasses, shampoo, conditioner, coconut oil, diva cup. Ladies, if you're not using the Diva Cup, it's time to make the switch. Shop menstrual cups here.
First Aid Kit – While our tour guide had many first aid items, I wanted to be prepared as well. I kept a few bandaids, antibacterial ointment, and moleskin in my mini first aid kit. You can also buy pre-made first aid kits here.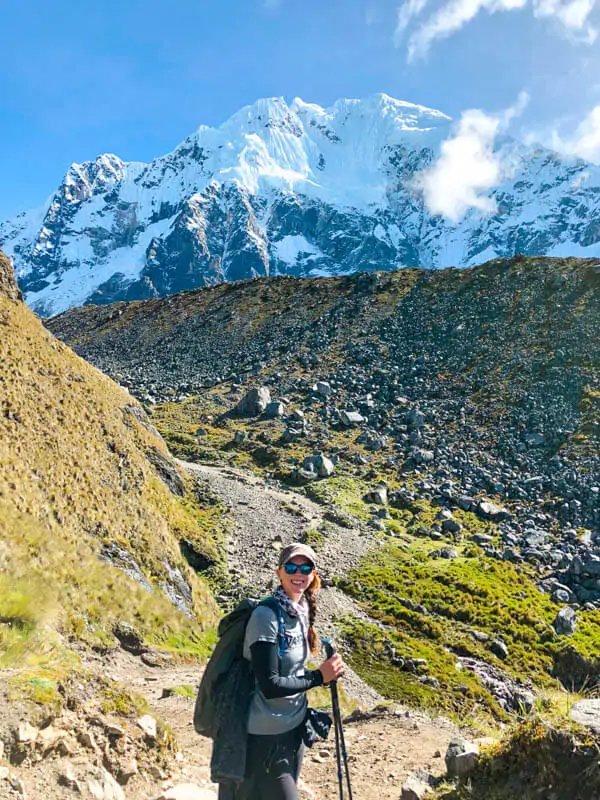 Provided by the

Salkantay Trekking Company

The company provided (for a rental fee) trekking poles, a good warm sleeping bag with liner, and a pillow! 

I'd never used trekking poles before this trek and I've got to say they make a world of difference even if it's just to lean on them during the steep inclines. If your company does not provide them, make sure to bring them!
Miscellaneous Equipment
Rain Cover – Consider packing a rain cover for your backpack. It packs down small so if you don't use it, no big deal. I'm glad I had it to keep my day bag dry! I use this one.
Vaccinations – Before heading to Machu Picchu, make sure to consult a travel health clinic to receive any vaccinations needed for Peru.
Travel Insurance – Ok, even if you've never bought travel insurance before, this trek would be a good place to start. This is a physically demanding 5-day trek with many unknowns – such as how your body will respond to the altitude, to the changes in climate, and to the hike itself. Plus, you'll be in fairly remote areas, it's better to be safe and covered! I use World Nomads for every trip!
I hope this packing list for the Salkantay Trek to Machu Picchu has been helpful! If you're Peru travel itinerary includes other treks like Rainbow Mountain or Colca Canyon, the items on this packing list are suitable for those as well.
Feel free to leave a comment below with any questions you may have about your upcoming Machu Picchu hike!
Like this Post? Pin it to save for later!