Thanks to the COVID19 Pandemic, I've started getting back into hiking! Hiking is an activity I started to enjoy when I was traveling internationally, but hadn't done much of since returning home. I realized I could bring that joy home since I'm lucky to live in the Bay Area, which is so close to some amazing hiking trails. I'm currently focusing on short hikes that are 5 miles or under to rebuild my hiking stamina. Through trial and error, I've figured out what to bring on a short hike, so that way I'm prepared for most scenarios.
This post is all about hiking essentials for beginners and day hikers only. This guide is not appropriate for backcountry hiking or through hikes. There are plenty of those guides out there for those, this isn't it!
For this post, I'm considering a short hike to be 5 miles and under or a hike that would take you 1-4 hours to complete. I'm also assuming that the hike you're going to undertake is well marked and well-traveled.
My Favorite hiking Resources
What to Pack for a Day Hike
Let's kick it off with a hiking essentials list, because who doesn't love a list to work from, right? If you pack this basic hiking gear for beginners, you will be off to a great start and prepared for most situations.
Day Hike Checklist
Water
Food/Snacks
Navigation System
Communication
First Aid Kit
Sun protection
Camera Gear
Power Bank
Trash Bag
We'll also chat about hiking safety tips and what to wear on a short hike at the end of this post. But first, let's get into why you're here.
Short Hike Essentials: Water
Water is the first and foremost item that should be on your day pack essentials list. Water is essential even if you think you're only going to be hiking for an hour, because one wrong turn could turn into a multi-hour hike leaving you without water, potentially creating a dangerous situation.
I like to use a water bladder for day hikes instead of a water bottle. I suggest using a water bladder over a water bottle because it's easier to carry in your backpack, eliminating sloshing around, and having that hose over your shoulder is a constant reminder to drink! As opposed to using a water bottle where you'd have to stop and remove it from your backpack, take a few chugs, and then continue on with your hike. 
Having a water bladder ensures that you're hydrating throughout your hike.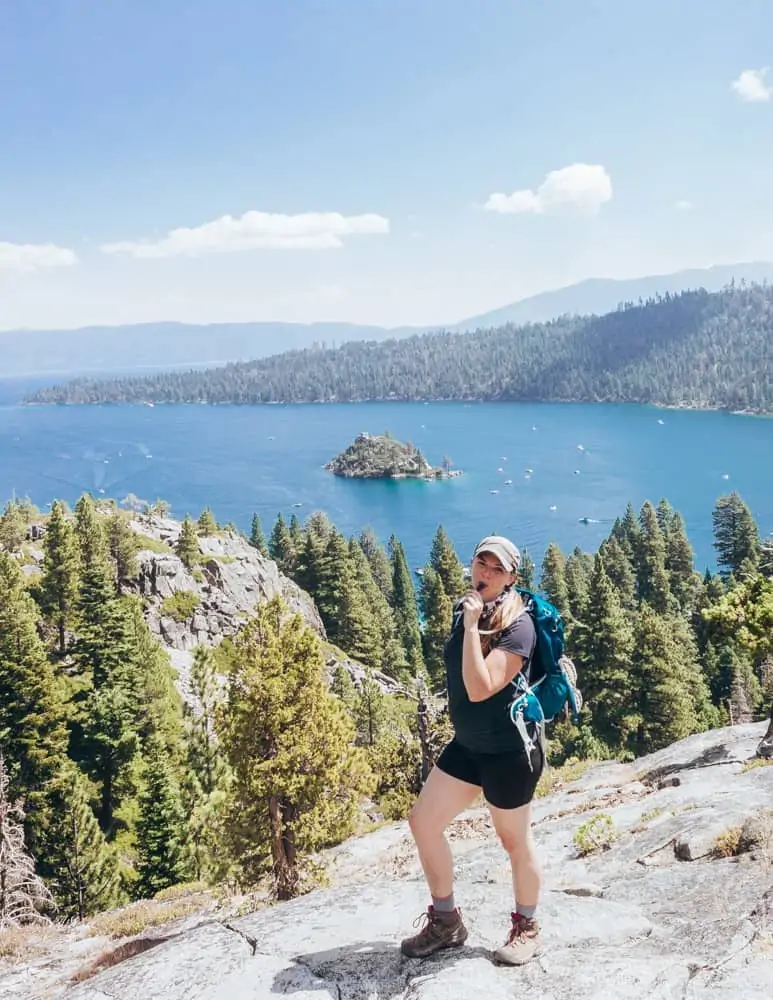 I currently carry a 2L water reservoir (which you can find here). However, I am going to get a larger size due to my recent experience hiking in Lake Tahoe. I went on two hikes, the first hike was eight miles of the 16 mile Rubicon Trail. I finished my water at the start of my very last mile, which was of course at the hottest part of the day and all uphill. 
The second hike to Eagle Lake was only five miles, but I stayed at the lake for a few hours, and while I was there, I drank a lot of water.
Each time, I'd planned to refill halfway through the hike, and each time I didn't. Instead, I returned to my car with a bone dry water bladder. 
I will say that this is the first time this has ever happened to me and I think if you're a beginner hiker then a 2 liter water bladder is a good size.
Update: I've recently upgraded to a 3L water reservoir and absolutely love it. I purchased it for a multi day backpacking trip in the Eastern Sierras in June 2021. Since then, I've used it exclusively for hikes ranging from 5 to 10 miles. It's nice to finish the hike and still have water remaining just in case I can't fill up immediately.
Pro Tip: Keep an insulated water bottle filled in your car. This way if you do happen to run out as you're finishing the hike, you know when you get to your car you'll have chilled water waiting for you!
How To Refill Water on Your Hike
If you are planning to refill water during your hike from a creek or lake then a water filtration system is one of the best things to take on a hike to prevent illness. There are a wide variety of water filtration systems on the market.
In the past I've used a SteriPen but don't like that it requires a charge and find it awkward to use in a water bladder.
Now, I use this Katadyn Be Free 1 Liter water filter. The bottle is flexible so it's lightweight and small enough to fit in my backpack. I'll fill it with water, then squeeze the water out through the filtered nose into my water bladder. Alternatively, you could drink it directly from the bottle.
Many people love the LifeStraw system as well.
I recommend going to your local sporting good store to see which water filtration system best fits your needs.
Short Hike Essentials: Food
One of my major trail hiking essentials is food!
Having food with you is important, even if you're just planning for an hour hike, because, again, an hour hike can easily turn into a five-hour hike if you're like, "Oh, this wasn't too bad. I'm going to keep going." 
When I was in Quito, Ecuador I planned to summit the Pichincha volcano. Everyone at the hostel told me it would take 3 hours total – up and down. With this information, I figured I'd be back in town in time to buy lunch.
I was wrong.
It took me 3 hours to get to the top because I had never climbed a volcano before, let alone at that altitude. I'd packed one granola bar which went very quickly.
Thankfully I met someone on the hike who gave me a banana which gave me enough energy to push to the top.
Please, learn from my mistakes and make sure to have some snacks with you.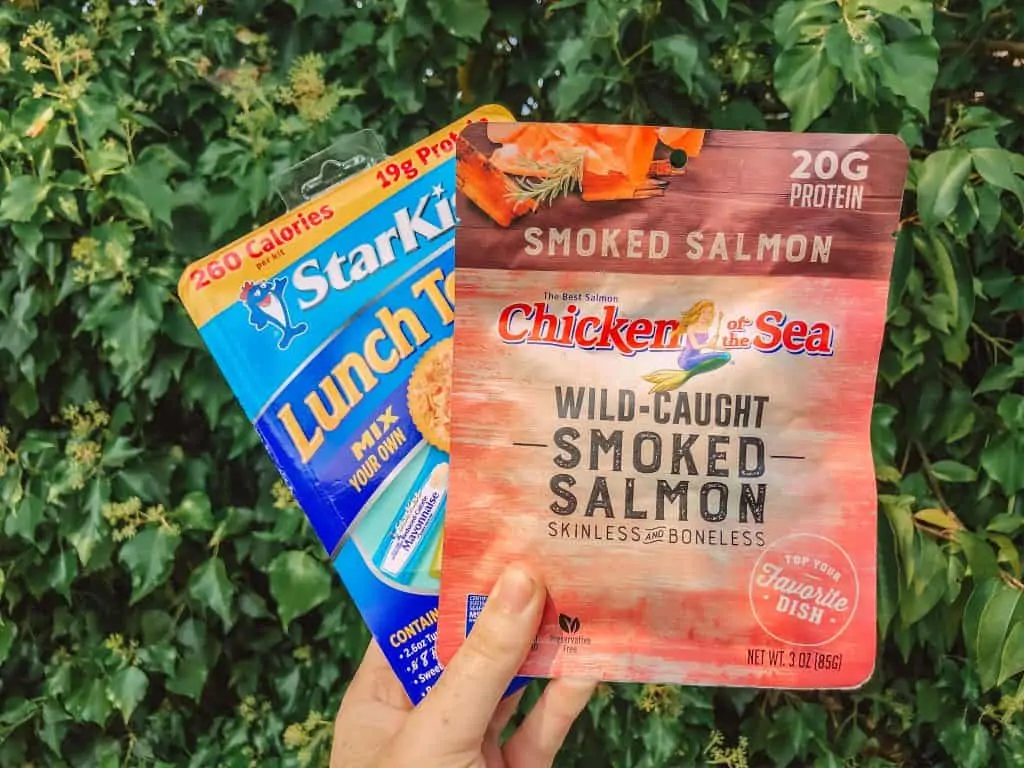 Now, I always pack small bags of trail mix, mango slices, and peanut butter pretzels. I'll also pack a Lara Bar or two. I'm considering starting to bring some gels with me as well.
Day Hike Lunch Ideas
If you are starting your hike after breakfast and will reach the midway point around lunchtime, definitely bring something to eat for lunch. 
A few of my favorite day hike lunches are a turkey wrap of hummus, turkey, and cheese wrapped in a tortilla. Just wrap it in foil and you're good to go. Or I'll take premade charcuterie packs from Trader Joes.
Another option for a super simple mid-hike lunch is tuna or salmon packets with Ritz Crackers.
Always make sure that you pack out what you pack in. We'll get to that later though.
Short Hike Essentials: Navigation System
The third essential item on your day hike packing list is a navigation system. This could be a paper map, your cell phone, a compass, or an actual GPS. Just make sure you have a directional system you are comfortable using. 
If you are going to rely on your phone for GPS, which is what I do many times, be sure to download the Google Map offline before you hit the trail. Doing this requires WiFi or data and if the trailhead doesn't have that, you'll be out of luck.
By downloading the map offline, you can still access the map for a general idea of your location even without service
AllTrails Pro is another great option for trail maps. AllTrails is an excellent app to find short hikes near you and I've used the free version until this month. I upgraded to AllTrails Pro because it allows you to access the specified trail map offline (download it before you go) and track your hike as well.
It's an affordable price of only $29.99 for a year if that's a route you want to go.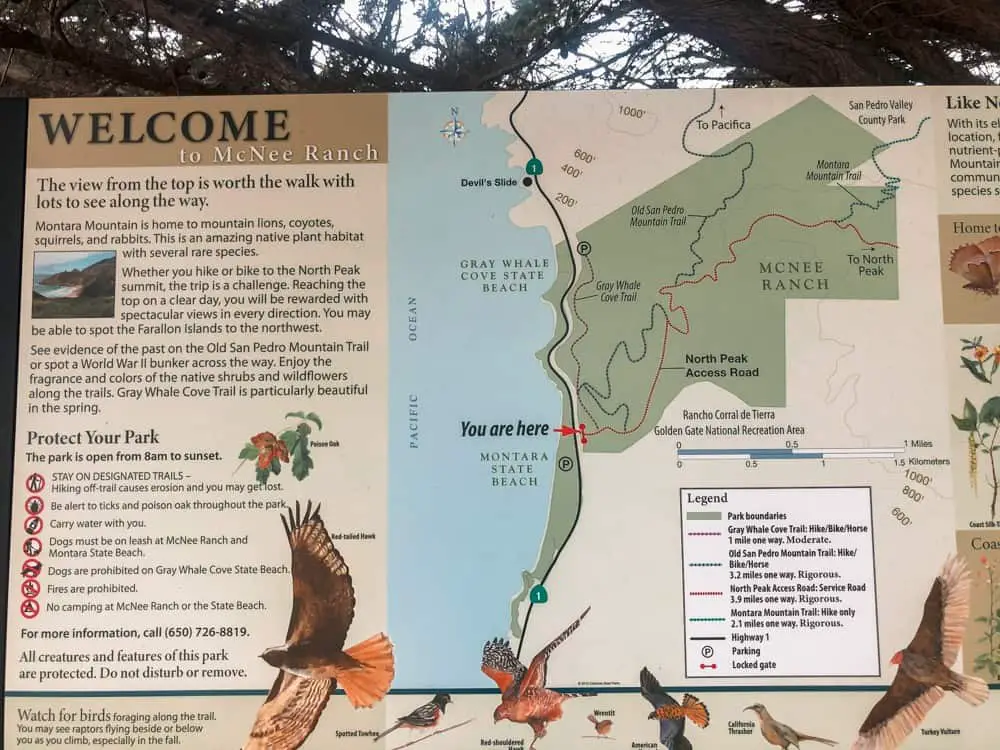 Many parks offer a paper map at the entrance which are typically more detailed than Google Maps so be sure to grab one.  
Additionally, there's usually a sign at the beginning of a hike that shows a general overview of the trails in the area. At the very, very least snap that you can use to compare to Google Maps if you are ever in a bind.
Short Hike Essentials: Communication
One of the best things about hiking is the ability to disconnect, if only for an hour. However, this can pose potential danger. If you are hiking on a trail without cell phone service and you need assistance, how would you contact help? Again, the majority of hikes we are likely to go on, and the types I'm referencing in this post, are well trafficked hikes. But it's always good to have a plan on how to communicate if you need help.
Many hikers use satellite phones such as the Garmin inReach for emergencies, or just to tell a loved one they've finished their hike and are heading home.
If you're a beginner hiker, this may not be essential just yet, but it's a good thing to keep in mind as you progress your hiking.
I don't have one yet either and many of the hikes that I go on do not have cell phone reception so I always take the following precautions:
tell someone where I am hiking
let them know how long it may take
share my location with trusted friends and family
hike in popular areas
Following these tips has kept me safe so far, but if I were to do anything more remote or overnight, I'd want a way to communicate.
If you're interested in a satellite phone, check out this resource comparing the top options.
Short Hike Essentials: First Aid Kit
A first aid kit is one of those things you need hiking that you rarely have to use, but when you need it you better have it.
I used to throw a few Band-Aids in my bag and some hand sanitizer and call it "prepared".
However, I recently invested in a pre-made first aid kit designed specifically for hiking and I'm so glad that I did.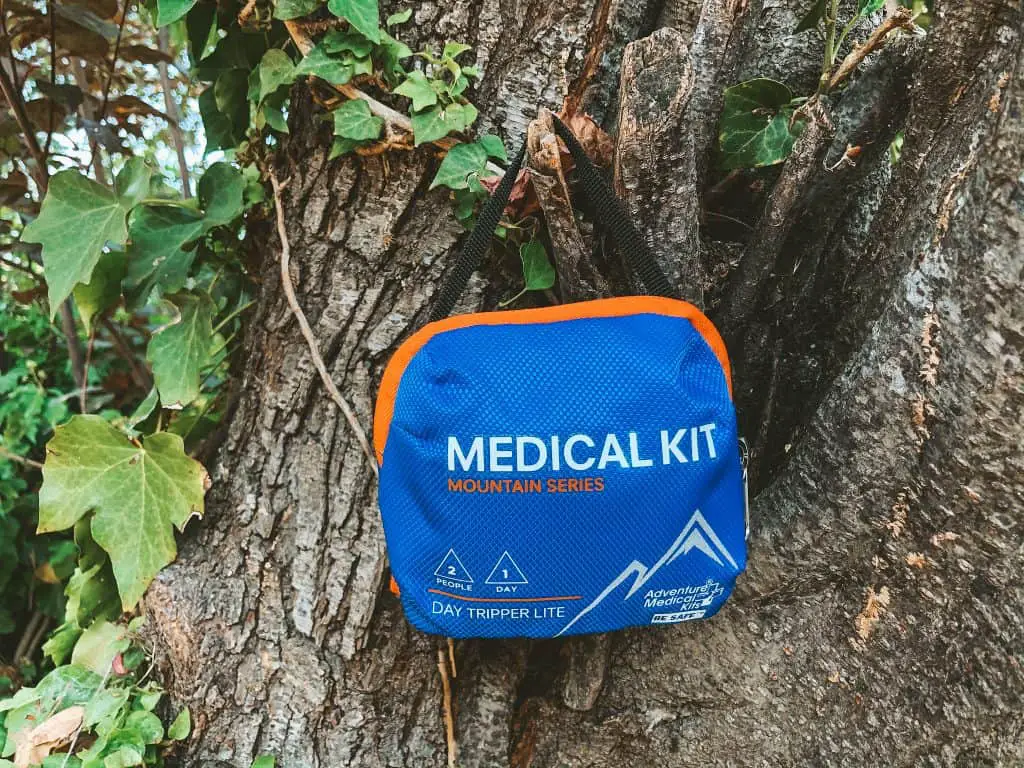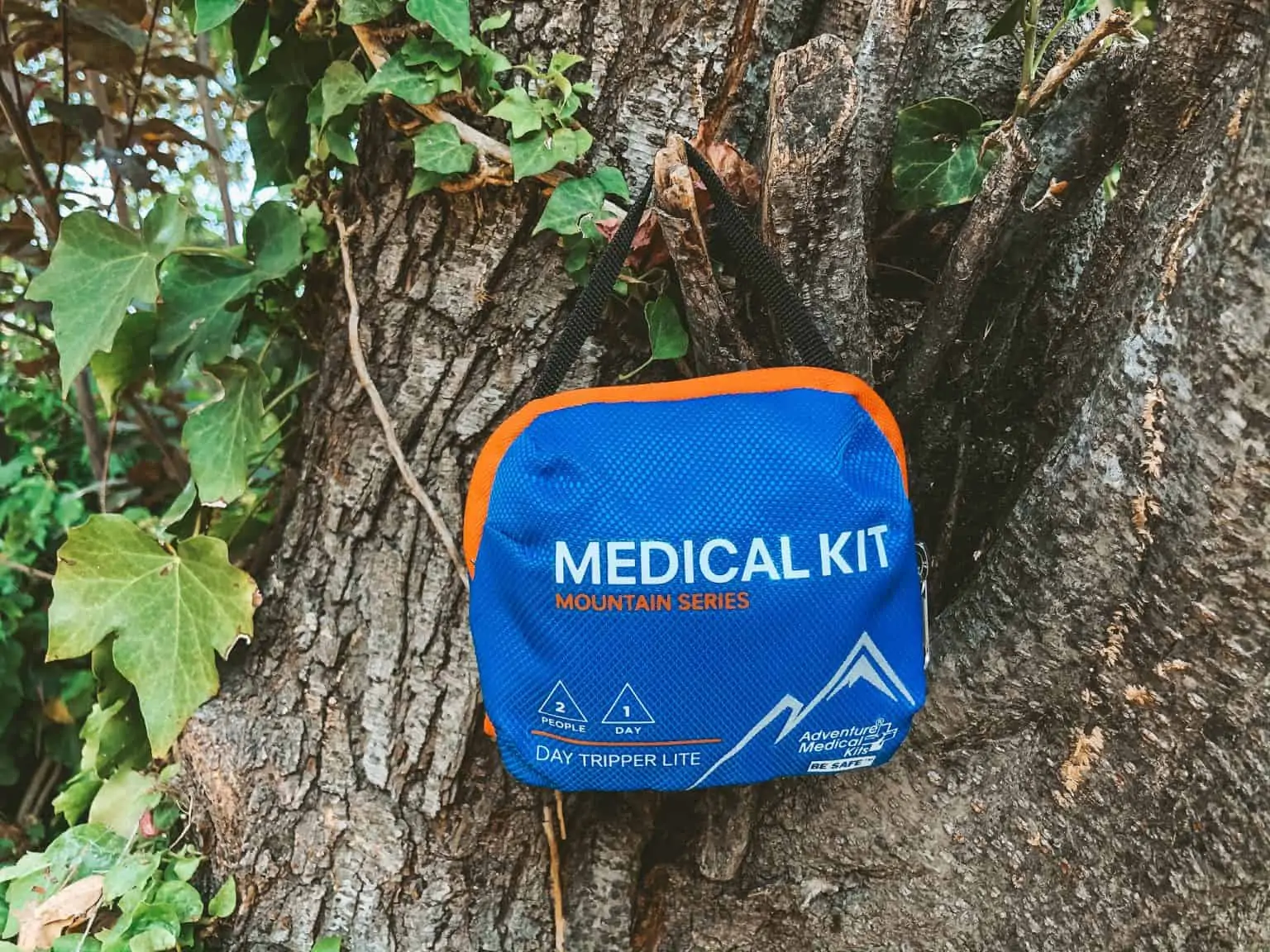 It has all the things you need for a day hike. The kit contains Band-Aids, a tick remover, over the counter medication (ie. Tylenol, ibuprofen), tweezers, gauze, antibacterial ointment and more.
You can purchase the first aid kit I bought here.
I've added to this kit a nail clipper and a small Swiss Army knife.
I also usually carry a small bit of moleskin in case I get blisters, but I never do thanks to quality socks and hiking boots (more on that later!)
Short Hike Essentials: Sun Protection
If you're planning to incorporate short hikes into your lifestyle, then you will want to protect yourself from the harmful effects of prolonged sun exposure. You want to return home with stories of epic views, not sunburned shoulders!
Even if it's a cloudy day, utilize sun protection in all forms, sunscreen, a hat, sunglasses, lip balm with SPF, and neck protection. 
I struggled to find a face sunscreen that was strong enough to protect my fair skin but also didn't turn my face white or feel super heavy. I finally found it! I use this Alba SPF 45. It's super lightweight and easy to reapply as needed because it doesn't get cakey.
On anything else exposed I use this Sun Bum spray. And I always wear my "adventure" baseball cap that I bought in high school from American Eagle and has served me so well.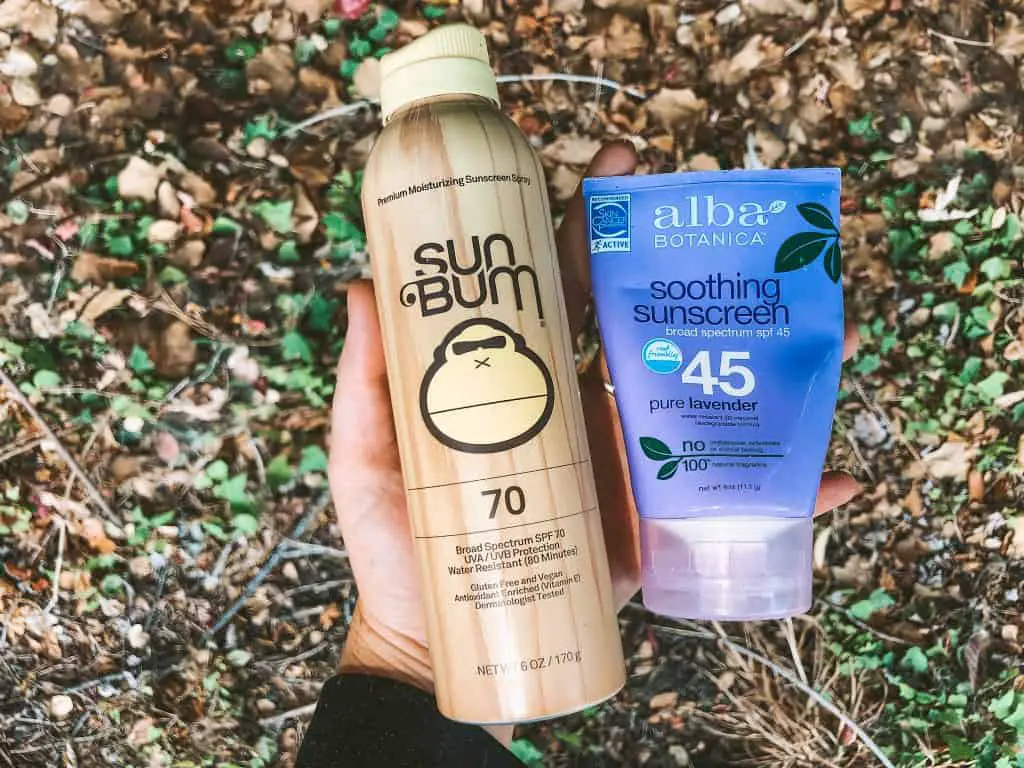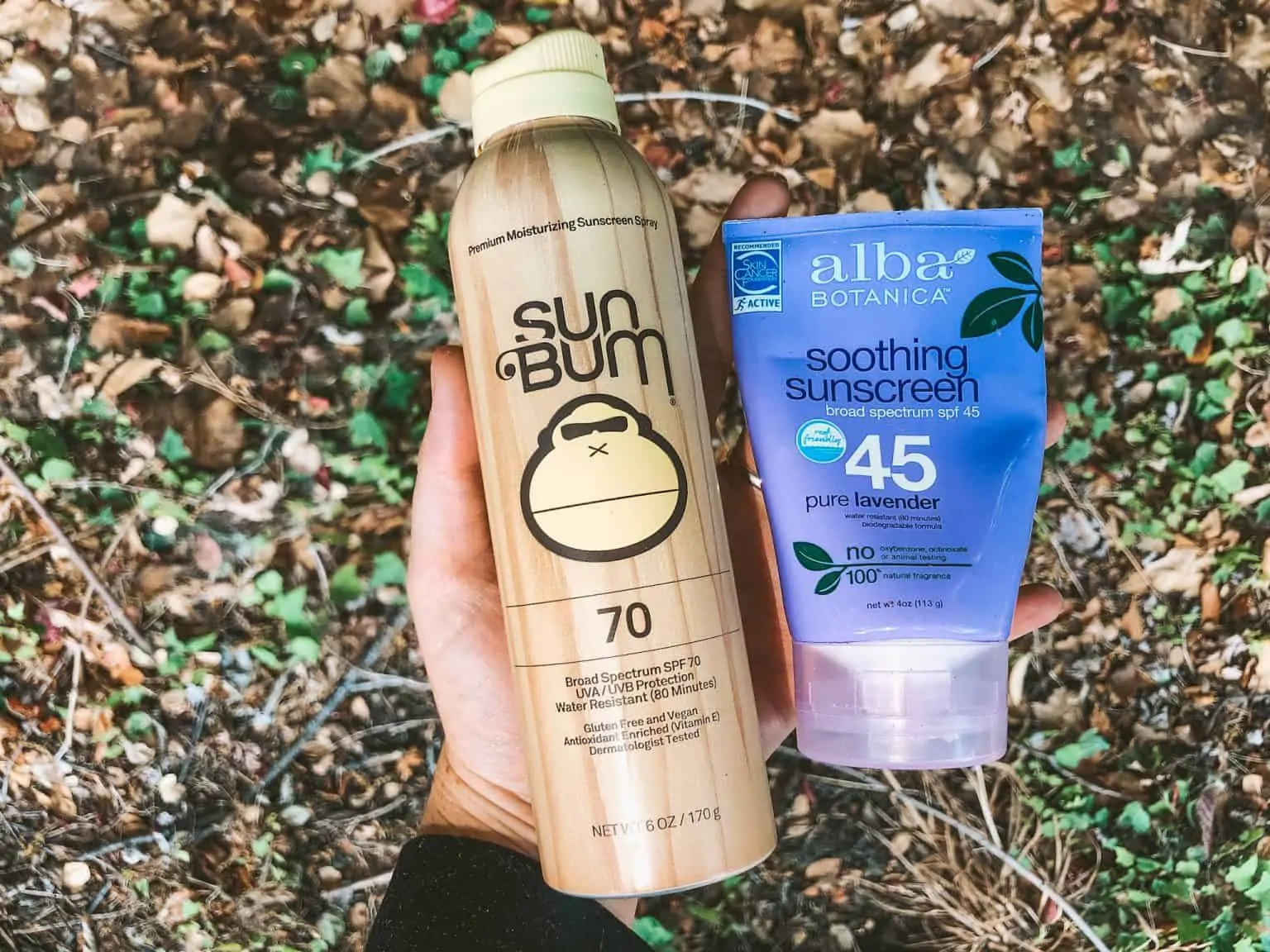 To protect my neck from the sun I wear a buff, which in these Coronavirus times also doubles as a mask that I can pull up to cover my face as I pass other hikers on the trail.
Alternatively, you could use a wide brim hat or wear clothing that has built-in sun protection. We'll get to what to wear on your hike in a bit.
Side note: I'm interested in using a wide brim hat so if you have one that you love, let me know!
Just a few more day hike essentials to go!
Short Hike Essentials: Camera Gear
While technically a camera isn't an essential short hike item, I highly recommend bringing one to document your day hike! 
We all already carry one with us anyway in the form of our phones, which may be all you need.
To be honest, I am a bit ridiculous and carry my Canon DSLR with me on all of my hikes as I'm working on improving my photography. 
To add to this ridiculousness I also just purchased the new GoPro Hero 8 (necessary as I have the 3, it doesn't even have the viewfinder!). I'm still working on how to use it most effectively but I found it takes great pictures.
Since I do the majority of my hikes solo, I also hike with a tripod. This is 100% non-essential, but it's one of my tricks for helping me get a great photo when I'm alone.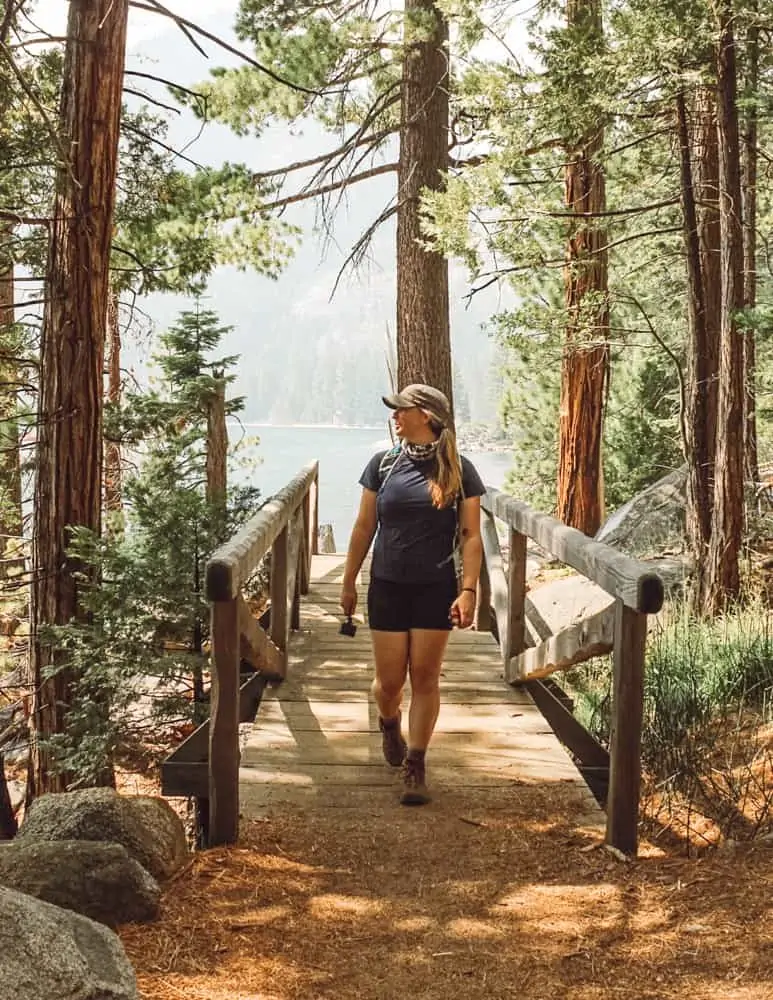 Short Hike Essentials: Power Bank
Since you are using your phone as a map, camera, and perhaps as a way to keep in communication with people, the battery will likely drain much quicker than normal. To ensure that you're not left without all of those items, bring a fully charged power bank.
I use this Mophie power bank and love it! It not only charges my phone incredibly fast but off of one fully charged Mophie I can recharge my phone at least 3 times! Just don't forget the cord to attach it to your phone. I've been there…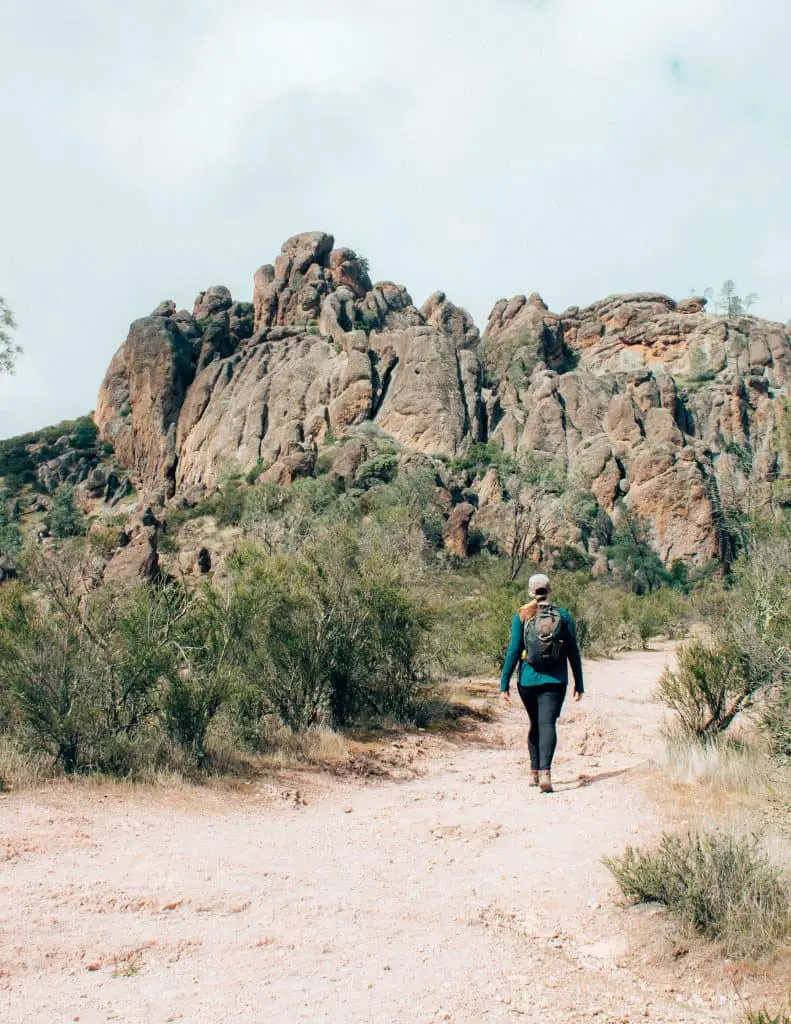 Short Hike Essentials: Trash Bag
One of the biggest principles of hiking is to leave no trace, to leave the trail and the places you hike through just as you found it. To make sure you're able to do so, bring a small trash bag with you, a quart zip lock bag works really well for this.
I like the zip lock bag because if there is any juice (like in the salmon packets) it won't spill in your backpack.
Any of your food wrappings go in the zip lock bag and you throw it out when you get home.
If you see any trash along the way, feel free to add it to your bag as well!
Day Hiking Backpack
Now that you know what to bring on a hike, what do you put it all in? The short answer, a backpack. I'm a big proponent of starting with what you have, so if you already have a backpack then give it a try on your next hike.
Throughout South America and Europe, I used the 10L day bag that came with my Osprey Farpoint travel backpack as a hiking backpack. Hell, I used that backpack until this week for all of my hikes. It has a computer sleeve that I used for my water reservoir and I'd just stuff everything else in.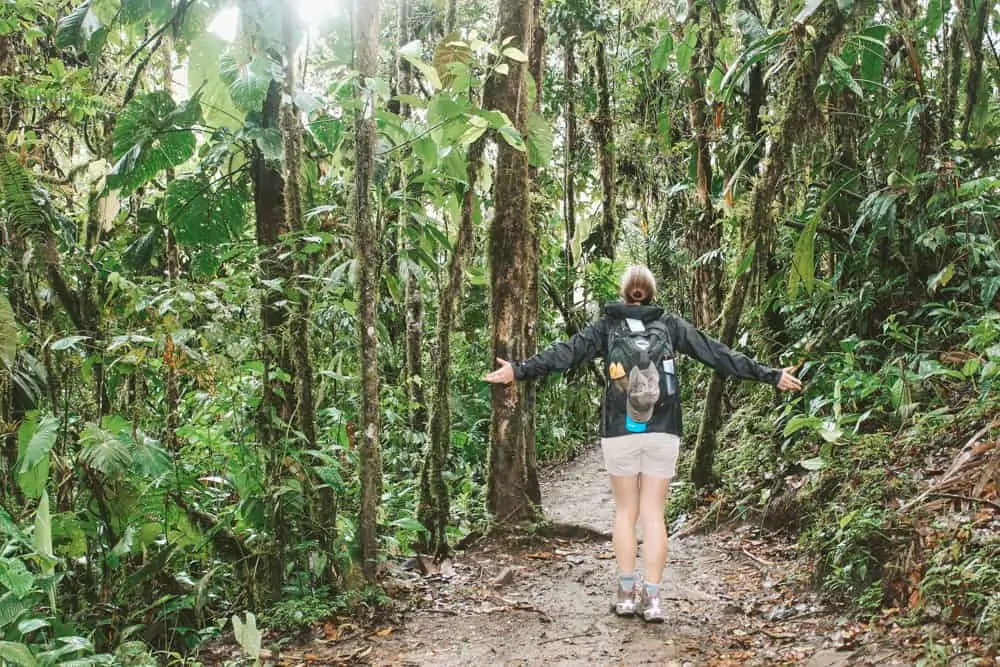 As you can see in the photo above, I didn't have enough space for everything so I had to hang it off the back.
It was heavy and a bit awkward at times, but it worked. I even used it on the trek to Machu Picchu!
However, I recently purchased a new backpack designed specifically for day hikes and I'm shocked at the difference. I spent about an hour at my local sporting goods store trying to pick the best hiking pack for me and after a weekend using it I'm so happy with my choice.
I upgraded to the Osprey Talon 22L, which I just found out is technically a men's hiking backpack, but I still love it!.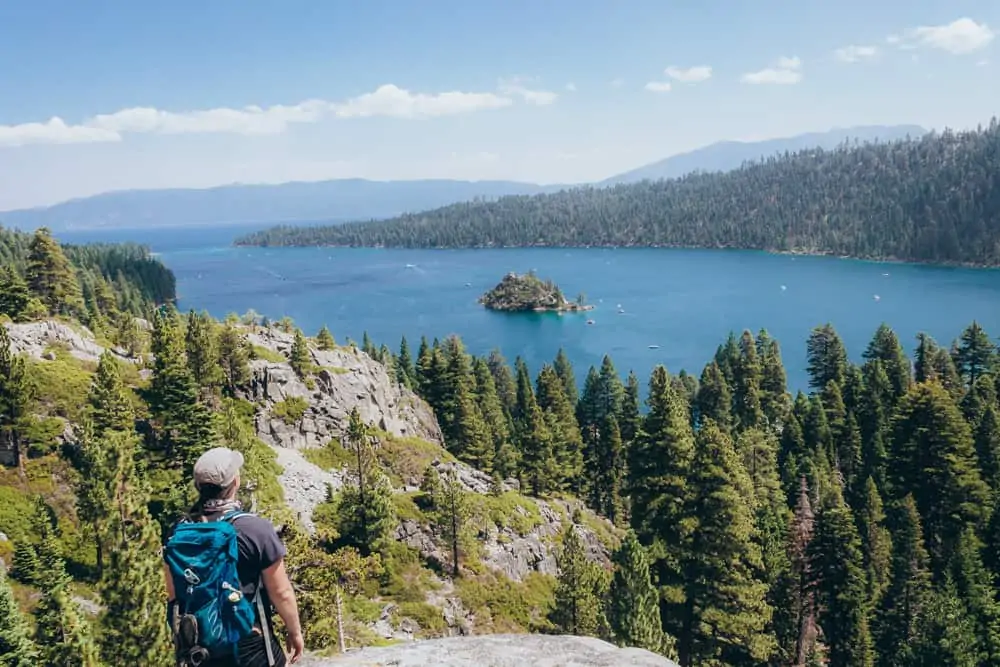 I was able to fit everything I normally had to play Tetris within the other backpack with ease. Plus it had hip belts that made carrying the weight a breeze. Another bonus is the back of it doesn't sit directly on my back which means my back can breathe a bit! It's so much more comfortable.
If you want to purchase a new day hike bag I recommend going to your nearest REI, Sports Basement, or other outdoor outfitter and trying a few on. Load it up with items from the store to mimic the weight of what you plan to carry to see how it feels. 
Here's a quick overview of what to consider when purchasing your new day hike bag:
Size: I upgraded from a 10 L to a 22 L and the extra space is so nice. A 22 L is likely all you'll need for a short hike.
Waist Belt: You should carry 80% of the backpack's weight around your waist. So make sure it a.) has a waist belt and b.) doesn't dig into your hips when you wear it!
Pockets: I love compartments in my backpacks. The waist belt usually has pockets that you can use to store snacks and your map/cell phone. There are also side pockets where you can put your sunscreen and perhaps an extra water bottle. A top pocket for hand sanitizer and first aid kit and an inner pocket for your wallet and keys.
Water Reservoir Space: This is usually either inside the backpack or just outside. It's a personal preference, but make sure that it has a clip to hold the reservoir up!
Price: Some brands are more expensive than others, so definitely consider this when making your purchase, especially if it's your first hiking backpack. Start with something budget friendly, learn what you like, and grow from there.
What to Wear on a Short Hike
Honestly, the best hiking outfit depends on the hike you're planning to do, the weather that day, and what you're comfortable hiking in. 
Check the weather before you go, but also be prepared for the weather to change. The higher up you go, the chillier it tends to get. You may start the hike in the cool morning and finish in the hot summer sun. This means layers are essential!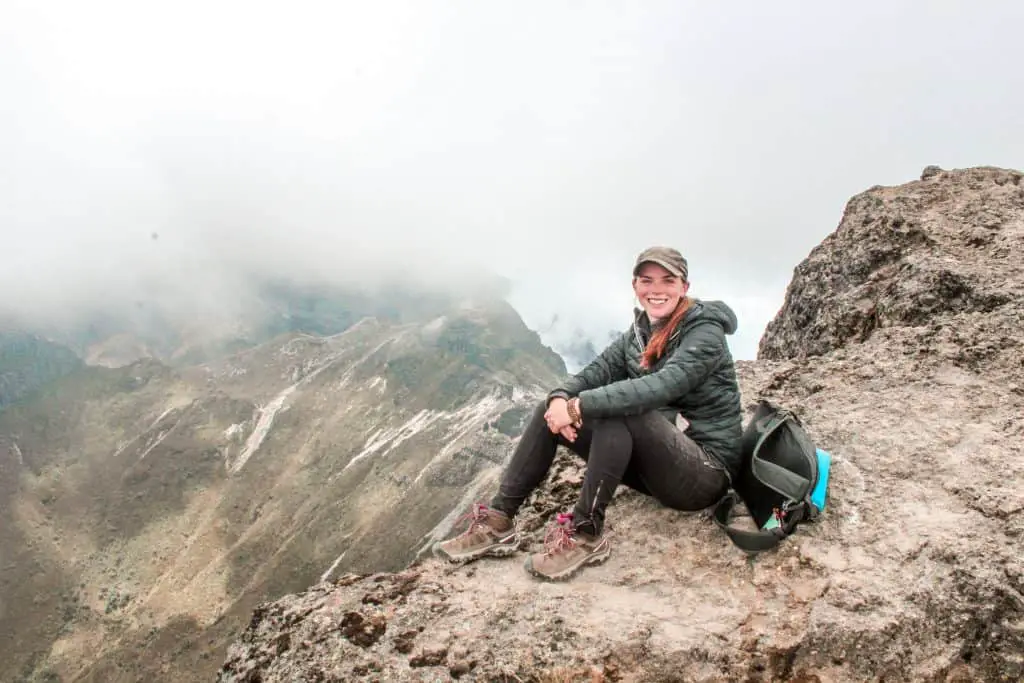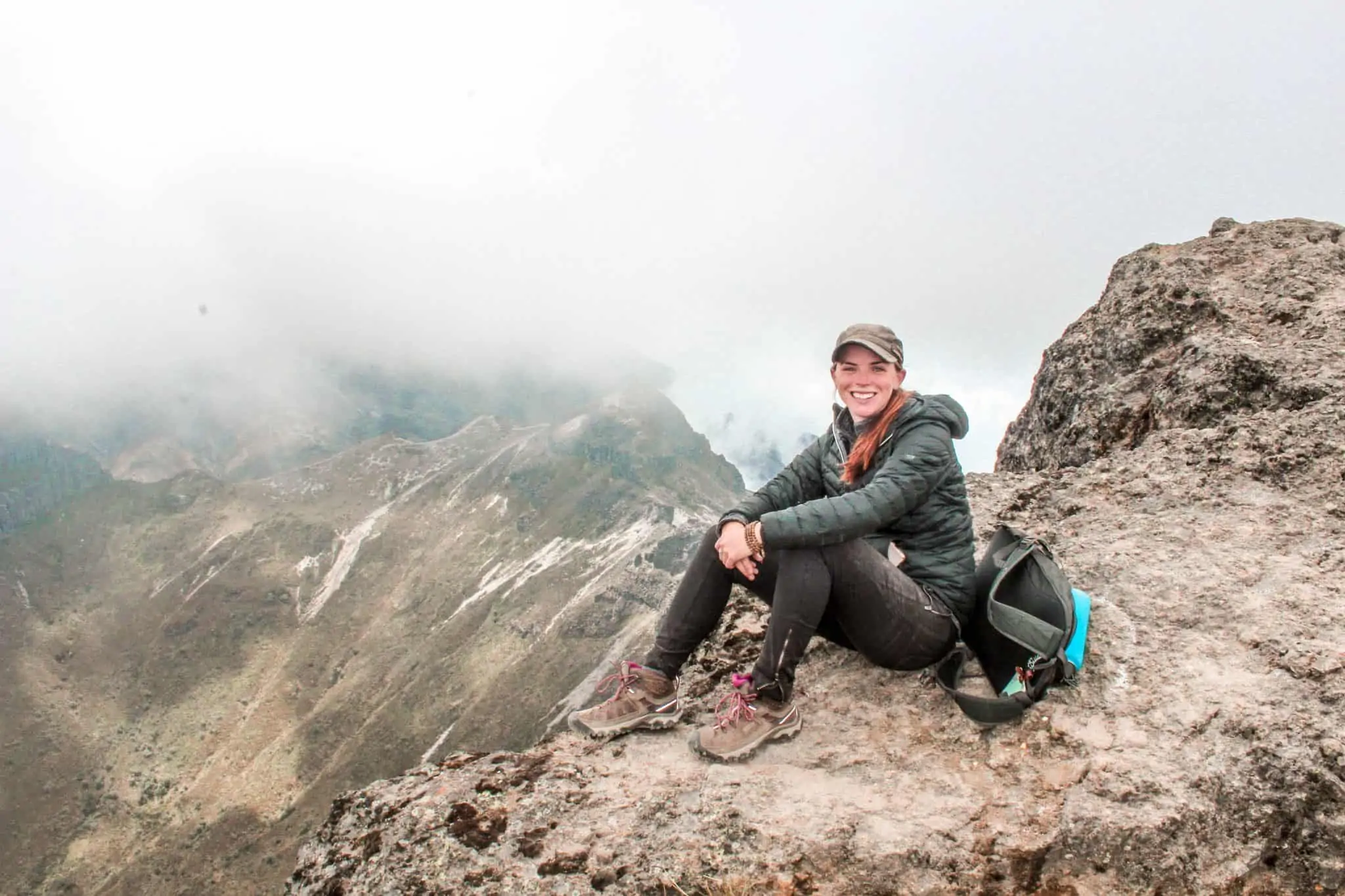 If rain is in the forecast, be sure to bring a waterproof rain jacket and perhaps leave a dry change of clothes in the car.
I typically wear pants or leggings even when it's warm out because of chafing and I just don't like things touching and scraping my legs. 
But I just bought these shorts from my favorite store, Athleta, and they are AMAZING! They don't ride up and they cover where my inner thighs normally rub together in shorts, creating chafe.
Plus, I got used to plants brushing my legs!
On top, I'll wear either a short or long sleeve shirt with UPF protection. I'll wear a tank top as a layer if it has thick straps. I don't like having my shoulders bare because they burn easily and I like having a layer between my backpack straps and my skin. 
Best Footwear for Hiking
Proper footwear is important for your hike. I don't understand how people can hike in Converse or Vans. My feet and ankles hurt just watching them hike.
I prefer a hiking boot to protect my ankles. I can't tell you how many times I've stepped on a rock wrong and "tweaked" my ankle. 
Other people like hiking in lower-profile trail runners.
I prefer a boot or shoe that is waterproof – even if you're not planning on hiking in the rain. You may come across a creek you have to pass and it's just easier to walk through than try to rock hop.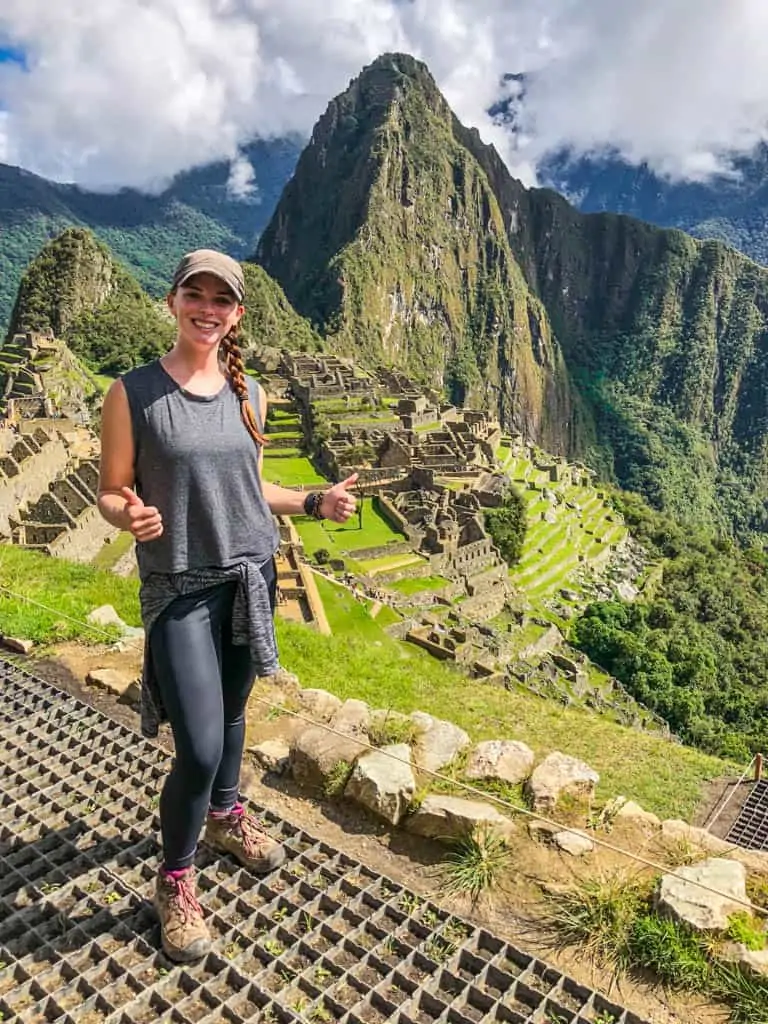 Whatever hiking shoe you choose, make sure it has good tread so you don't slip going downhill. Also ensure that they fit correctly so that your toes don't hit the front. That's just asking for a toenail to fall off (like in Wild).
An integral aspect of hiking footwear is the socks you decide to wear. I swear by Darn Tough hiking socks. They are a bit pricey for a pair of socks, but I've never had a blister in them, even when they got wet!
I wore them on the Salkantay Trek to Machu Picchu every day except for one morning when I decided to put on a fresh pair of REI brand hiking socks. For some reason, I decided to still bring them with me in my day bag, just in case. Thankfully, I had them because after a few hours of an uphill climb I had blisters on my heel and toes. I switched back to Darn Tough during a break and the blisters didn't get any worse and I didn't get anymore!
Hiking Safety Tips
The tips in this post will ensure that you're well prepared for and safe during your hike. But before you go, make sure you tell a few people that you trust where you're going, the hike you plan to do, and how long you think it will take to complete the hike.
I do most of my hikes solo, but even if I were to go with a group, I still tell someone who isn't going.
This way someone knows where you are and when they should expect to hear from you again. If they don't they can alert the appropriate authorities. 
Once they know where I'm going and what hike I plan on doing, I'll text them at the start and end of it so alarms aren't unnecessarily sounded.
One more safety tip before we part ways, for now, make sure that your fitness level is compatible with the hike. Don't bite off more than you can chew.
Check AllTrails, Google, Yelp, and blog posts for reviews of your hike to evaluate if you'll safely be able to complete it.
If you bring the essentials listed here and do your pre-hike research, you are going to be well prepared for a safe and fun day hike! Go out there and explore!
If you're interested in some of my favorite short hikes and even some longer treks I've done check out these posts. You may find some more insight in these posts.
The Best Ocean View Hikes in Pacifica, California
Awesome Hikes in Half Moon Bay California for Coastal Views and Redwood Forests
The Complete Guide to Hiking the Quilotoa Loop
Explore the Howth Cliff Walk on a Day Trip from Dublin
Like this post? Save for later!