Thanks to fairly consistent weather throughout the year, Half Moon Bay offers ample outdoor activities year round! It's a short 30 minute drive from San Francisco making it an excellent day trip to experience Northern California's coast. Besides the obvious, learning to surf, exploring one of the many Half Moon Bay hiking trails is a popular thing to do in Half Moon Bay. The best thing about hikes in Half Moon Bay is that you can witness the varied landscape of this area, from panoramic coastal views to Redwood and Cypress tree forests and more. 
Plus there is a Half Moon Bay hiking trail for every activity level. Whether you're looking for a short and sweet morning or sunset hike or a full day challenge there is a hiking trail in Half Moon Bay for you. These are the best hiking trails in Half Moon Bay, California.
Now, there are a lot of hiking trails in Half Moon Bay and I've only got two little legs. You'll see below that some of the hiking trails say "coming soon". That's because I haven't had the chance to do them yet, but they are on my "must hike" list!
Disclaimer: This post contains affiliate links, which means that, at no additional cost to you, I will earn a tiny bit of income if you decide to make a purchase or booking.
My Favorite hiking Resources
Weather in Half Moon Bay, California
As mentioned above, the weather in Half Moon Bay is fairly consistent year around so you have access to these hiking trails near Half Moon Bay 365 days per year. I mean, you may not want to hike when it's raining out, but other than that, you're good to go.
Temperatures throughout the year range from mid 40s to high 60s. 
In the summer months (June – October) there are a few summer days that will reach the 70s, that's when Half Moon Bay gets crowded! You'll also have more days with clearer skies in the summer months.
In the winter (November – April) expect to find more foggy days which could obscure the views from the tops of many of these hikes. It also tends to rain more during these months.
Personally, I don't mind the fog, I actually prefer hiking without the sun beating down on me all day! The fog can also make for some cool photos!
What to Wear Hiking in Half Moon Bay 
Layers are the name of the game for hiking in Half Moon Bay.
You may start the day with cloud cover, but by the end of your hike, the sun could be out!
Generally, I prefer hiking with pants and I've been using Athleta's hiking pants for years. The ones I currently wear they no longer carry. Sad face, I know! But generally, any of their outdoorsy pants are a good bet. Leggings are also a good option for hiking, especially if they have pockets to hold your phone.
On top, I usually wear a tank top, under a long sleeve shirt, under a lightweight jacket which I can peel off if it gets hot or layer on if the wind picks up.
Definitely utilize all of the sun protection items, wear sunscreen and reapply often, a wide brim hat or baseball hat with a buff, and sunglasses. 
Speaking of a buff, it's honestly the best investment for hiking during the pandemic. Simply wear it around your neck while hiking to protect your neck and as you pass someone it's really easy to pull it up over your mouth and nose. They're also inexpensive and you can get one with a fun pattern on Amazon.
Depending on the terrain of the trail, you may need hiking boots or just sneakers will do. I'll specify which I recommend for each hike I mention below.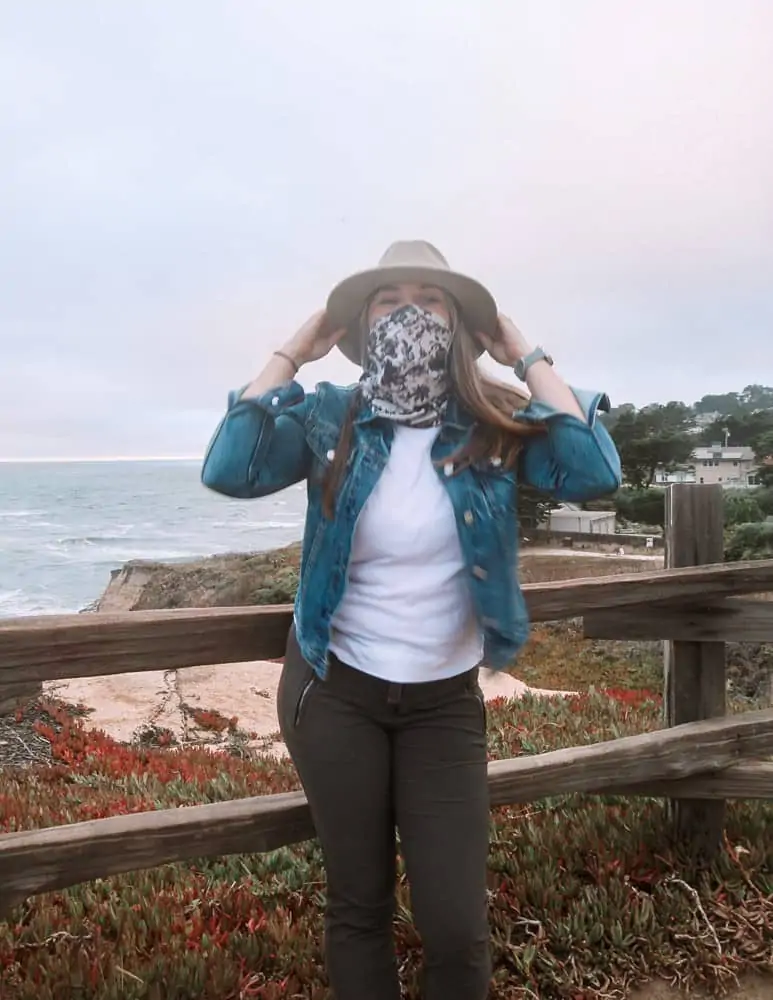 What to Bring on Your Half Moon Bay Hike
Even if you're only intending on going for an hour hike, you may miss a turn and 1 hour turns into 4 and you'll be hungry and thirsty! It's best to be over prepared. 
No matter the length of your hike be sure to bring more than enough water to get you through. Always bring snacks, I like to bring trail mix, an apple, a Lara Bar, and a Peanut Butter & Jelly sandwich. 
Bring a GPS or download Google Maps offline before you go because there isn't alway reception. At the very least, take a photo of the park map before you head off. 
There are mountain lions in the Half Moon Bay area so you may want to bring some sort of protection. To be honest, I don't bring anything with me, but perhaps a knife would work? 
I should look into what to do if I run into a mountain lion…stay tuned…
Alright logistics are done – let's get to hiking in Half Moon Bay!
Montara Mountain Hikes
There are a number of hikes on Montara Mountain ranging in difficulty levels from easy to pretty damn challenging. I'll describe three of the trails below, but before I do, I first want to share how to access the trailheads for these Montara Mountain hikes near Half Moon Bay.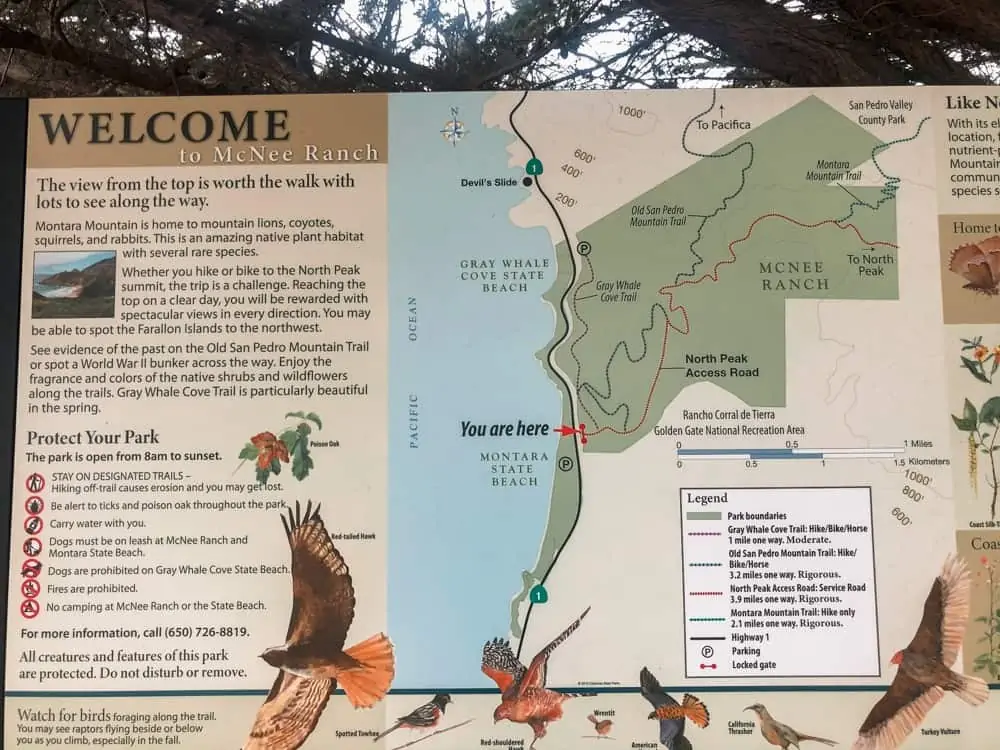 Montara Mountain is located on Highway 1 north of Half Moon Bay, in between Montara State Beach and Gray Whale Cove State Beach.
There are two parking lots to access the trailheads, one on either side of Montara Mountain. Look for the yellow signs that say Montara State Beach -McNee Ranch.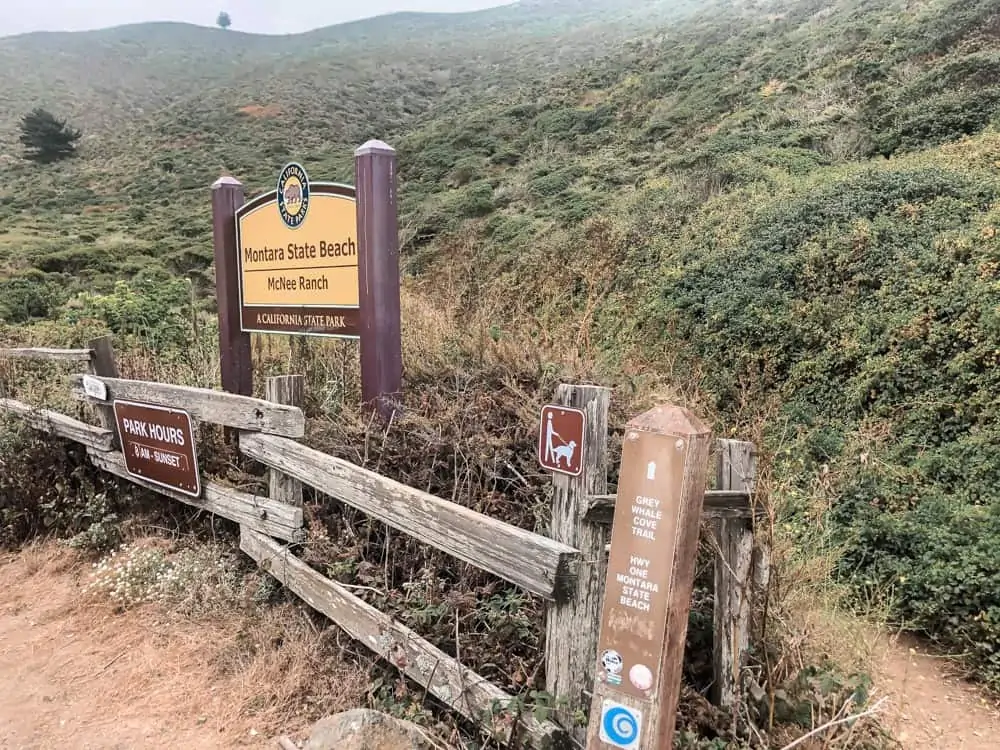 As you head North on Highway 1, towards Pacifica from Half Moon Bay, you'll pass the first parking lot on your right, which is incredibly small and usually full. Just a bit further up the road is the second parking lot which is larger, but also tends to get full. So try to get there early, especially on weekends.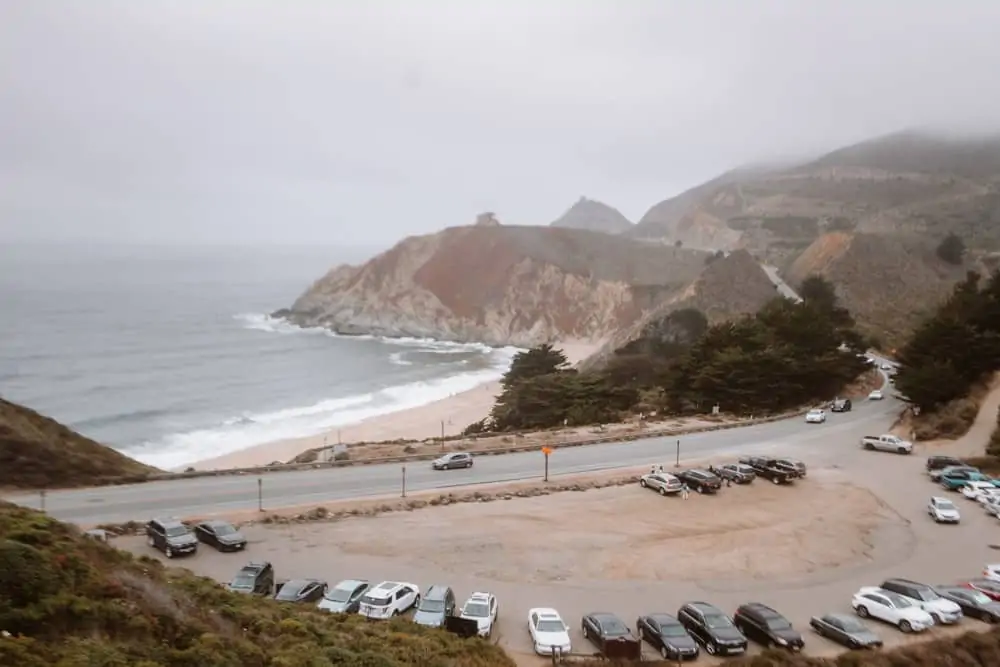 You will see people parked on the coast side of Highway 1. As there are no signs that say "No Parking", I parked there one weekend while I headed up the mountain. Three hours later I returned to my car to find a $48 parking ticket. 
The reason? 
Apparently it is illegal to park on Highway 1. If you decide to do this, park at your own risk, you have been warned.
If you can't find parking at either of these sanctioned lots, it's probably a better idea to park at Montara State Beach and just walk carefully along the side of the road to the trailhead. Otherwise, you're risking a very expensive hike!
Alright now that you've parked, let's get to hiking!
Gray Whale Cove Trail
Of the Half Moon Bay trails on Montara Mountain, Gray Whale Cove Trail is on the easier end of the spectrum. It is a 2 mile out and back trail with amazing ocean views the entire way. No matter which trailhead you start from, the hike kicks off with a bit of an incline, but it levels out and is mostly flat for the remainder of the hike as you weave along the side of the mountain.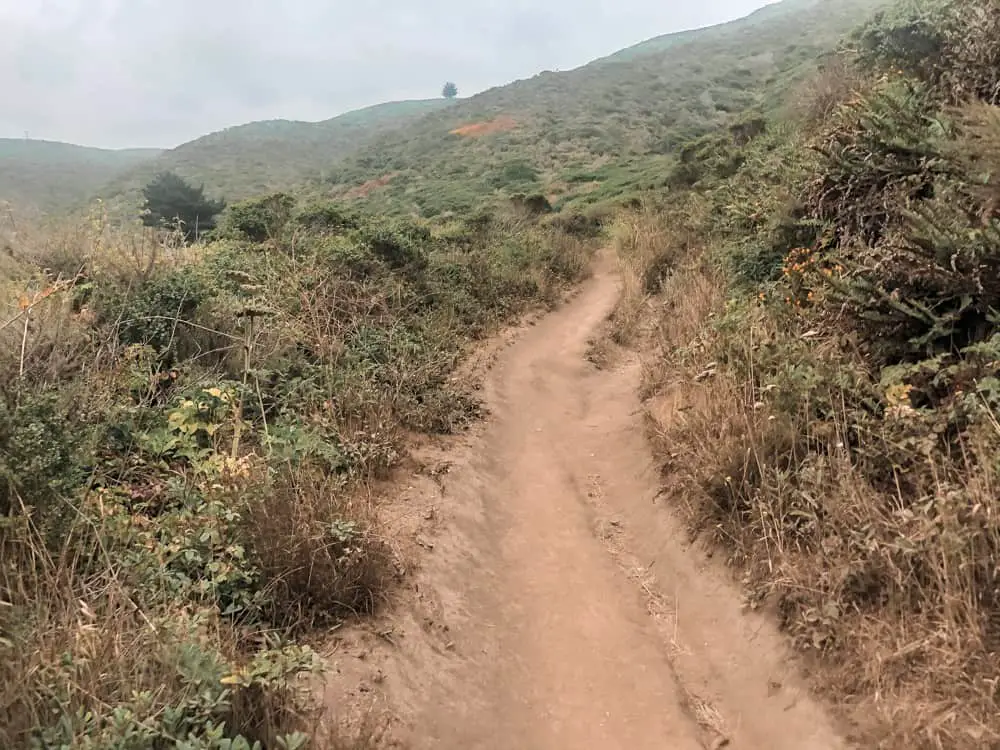 The dirt path is fairly narrow, so you'll have to step to the side to pass people. Make sure to have your mask or buff ready for these encounters. Also, be on the lookout for mountain bikers as this mountain is filled with bike trails, but they are really good at making themselves known. 
You may also see a bunny or two!
There is one part of the trail that leads to an overlook with two benches where I suggest resting for a moment or two while taking in the Half Moon Bay views and watching the surfers below.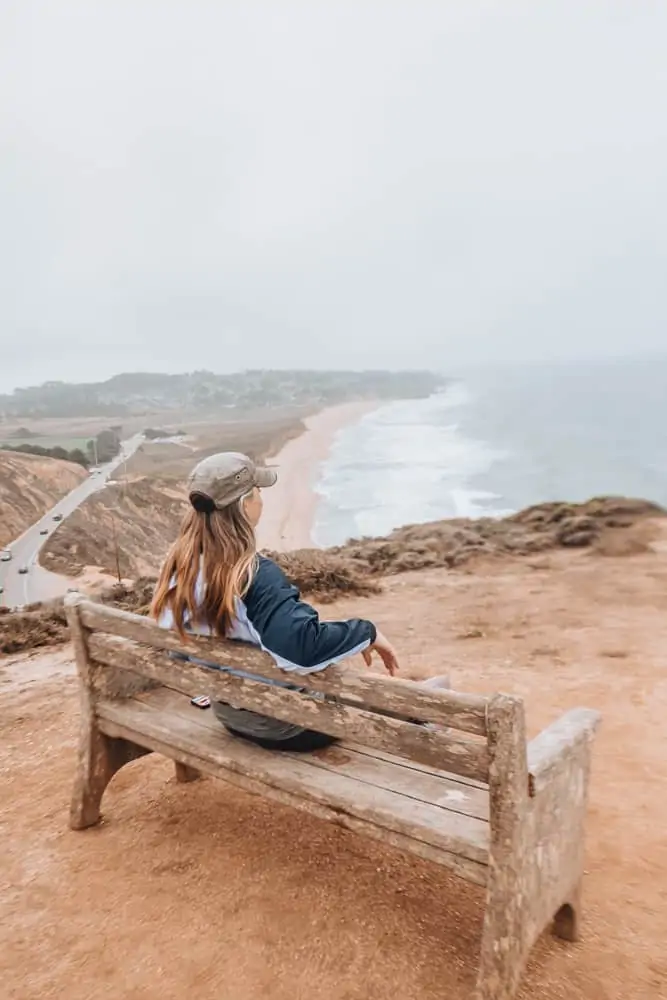 This would be a great spot to watch the sunset.
Gray Whale Cove Trail is a great place to stop to stretch your legs if you're doing a Highway 1 road trip because it is not too strenuous and will only take you about 30-45 minutes to complete – depending on how many photo opportunities you take!
Length: 2 miles out and back
Time: 30-45 minutes
Terrain: Narrow dirt path
Difficulty: Easy
Shoes: Sneakers with good tread or hiking shoes
Gray Whale Cove – Pedro Mountain Trail – N. Peak Access Road
Coming soon!
Gray Whale Cove – Pedro Mountain Trail – N. Peak Access Road – Gray Whale Cove
This is an incredibly challenging hike in terms of inclines and length. But it's amazing on a clear day because once you get to the top you'll have panoramic views of Half Moon Bay and Pacifica. If you can get parking, start this hike at the southern trail head, near the smaller parking lot.
Walk a portion of Gray Whale Cove Trail until you see the marker for Pedro Mountain Road Trail. Turn onto Pedro Mountain Road Trail which becomes a wide, mostly paved, path. This will wind up the mountain at a steady, but manageable incline. This path will then join the North Peak Access Road, which is when the incline kicks up a notch.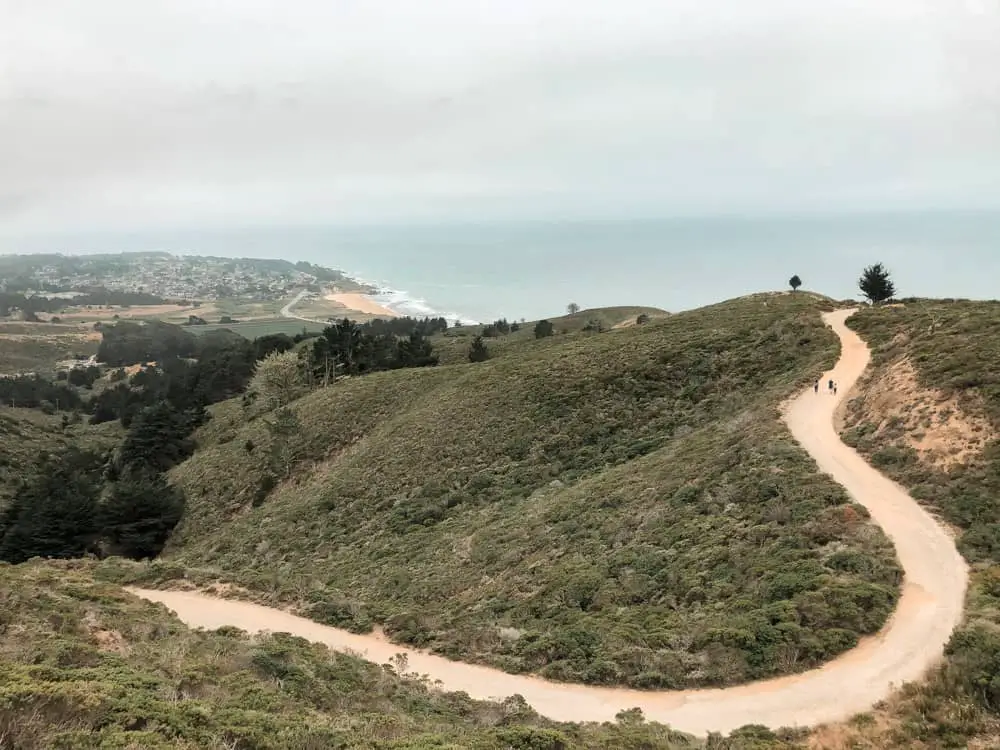 As you climb up this section of the trail, you'll see markers to rejoin Pedro Mountain Trail which will bring you to Linda Mar in Pacifica (I haven't done this portion of the trail so I don't know what it's like). 
Continue to follow North Peak Access Rd, up for another mile and you'll then pass a marker for Montara Mountain Trail with views of Pacifica down below. This trail will take you down to Pacifica via San Pedro Valley Park.
This part of the trail is one of my favorite Pacifica hikes, but save it for another day.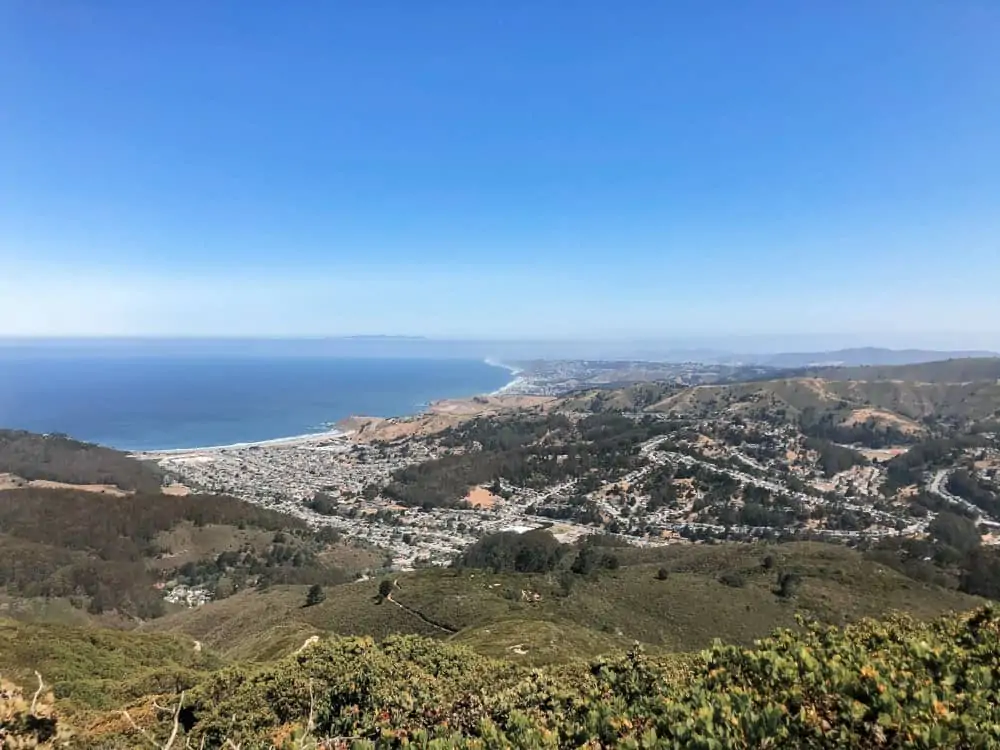 At this point it's been about 5 miles of hard work. If it's a clear day, continue to the top for panoramic views of Half Moon Bay & Pacifica. However, if it's not a clear day, turn back around, pat yourself on the back…good work!
If you continue on, the incline that you thought was steep this entire way, becomes incredibly steep. 
You have about 1 mile left to go at this point. And at the top, clear views of the coast! 
Once you've climbed far enough, it's time to make your return down the mountain. On the way back down, I opted for a cut through. I followed the marker for Gray Whale Cove Trail which cut off the rest of Pedro Mountain Trail and shaved about 1.5 miles off of the hike. You'll see lots of people coming up or going down this part of the trail.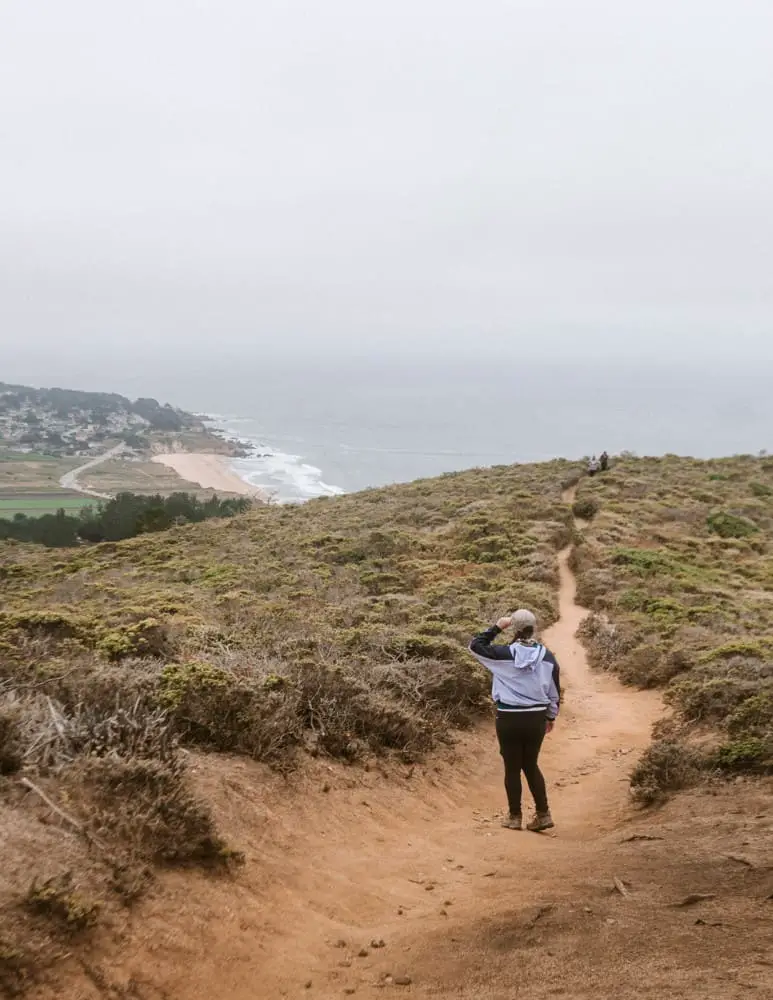 Return to your car, hydrate, and go treat yourself to a delicious lunch in Half Moon Bay.
Length: 10 miles
Time: 3-4 hours (the way down is much faster)
Terrain: Mostly wide paved trail, some narrow dirt
Difficulty: Hard
Shoes: Sneakers with good tread as it's mostly paved or hiking boots
Fitzgerald Marine Reserve
This is an awesome Half Moon Bay walking trail complete with a Cypress Tree tunnel, cliff views, tidepools, and perhaps a seal sighting or two! I visited this walking trail in Half Moon Bay in July of 2020 and am shocked I never knew this existed before – it's gorgeous! 
It's located in the Moss Beach neighborhood of Half Moon Bay, very close to the Moss Beach Distillery – a great spot to eat in Half Moon Bay.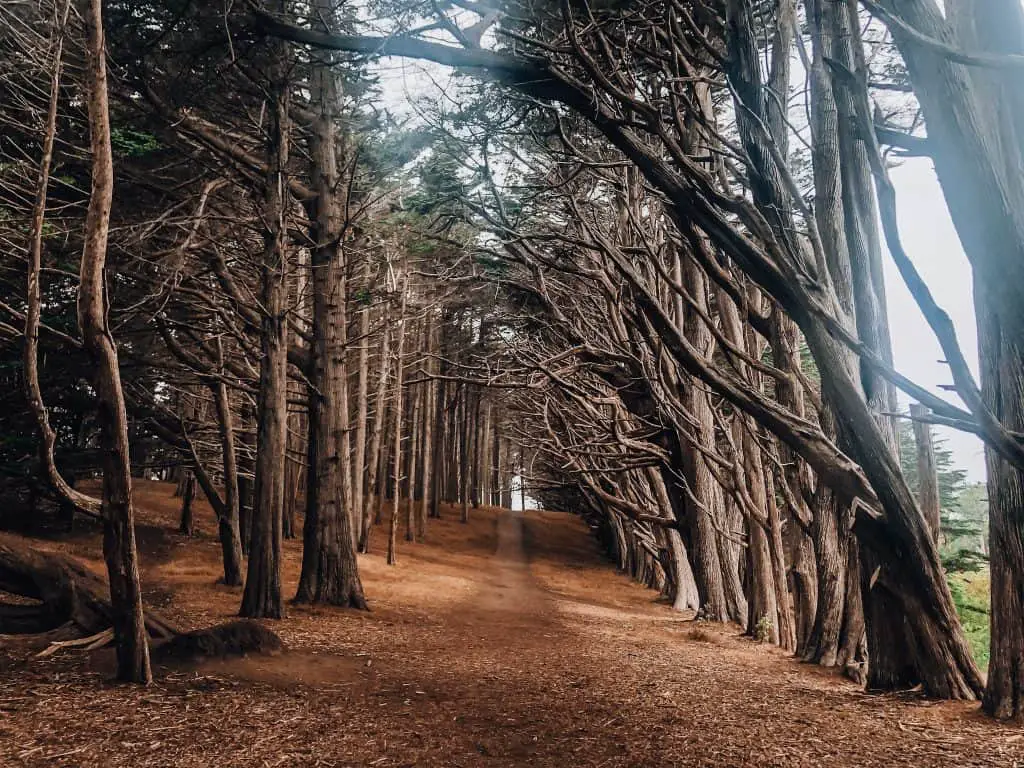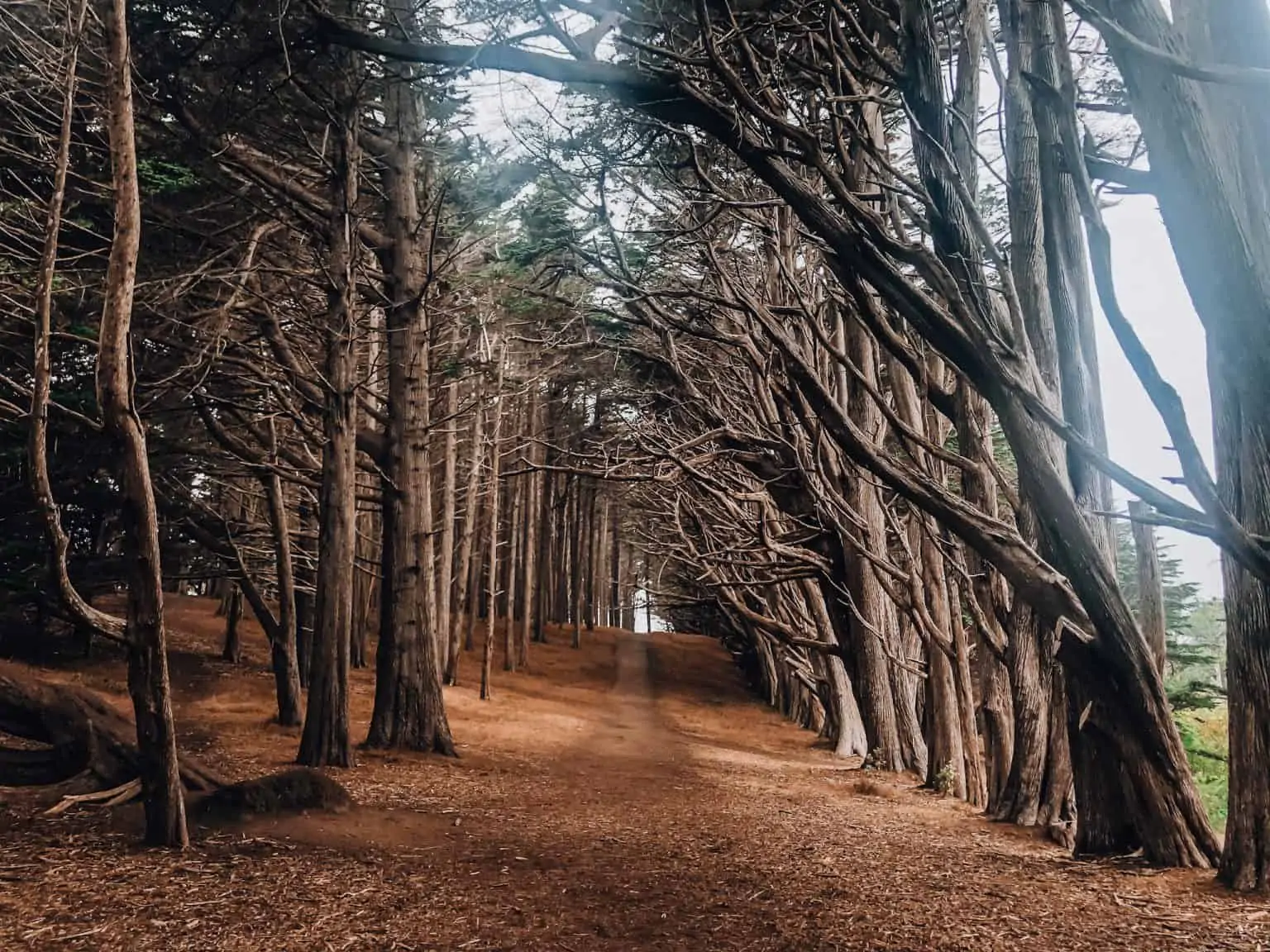 As I visited in the midst of COVID-19, the main Fitzgerald Marine Reserve parking lot was closed, however, there is a small lot where you can park for 30 minutes, which is really all you'll need, but if you want more time, consider parking in the neighborhood. 
From the parking lot, walk towards the neighborhood and you'll see a small bridge to your right with a sign post. Cross this bridge and follow the signs for Cypress Road. You'll come to a gorgeous Cypress Tree Tunnel that is just asking to have its photo taken.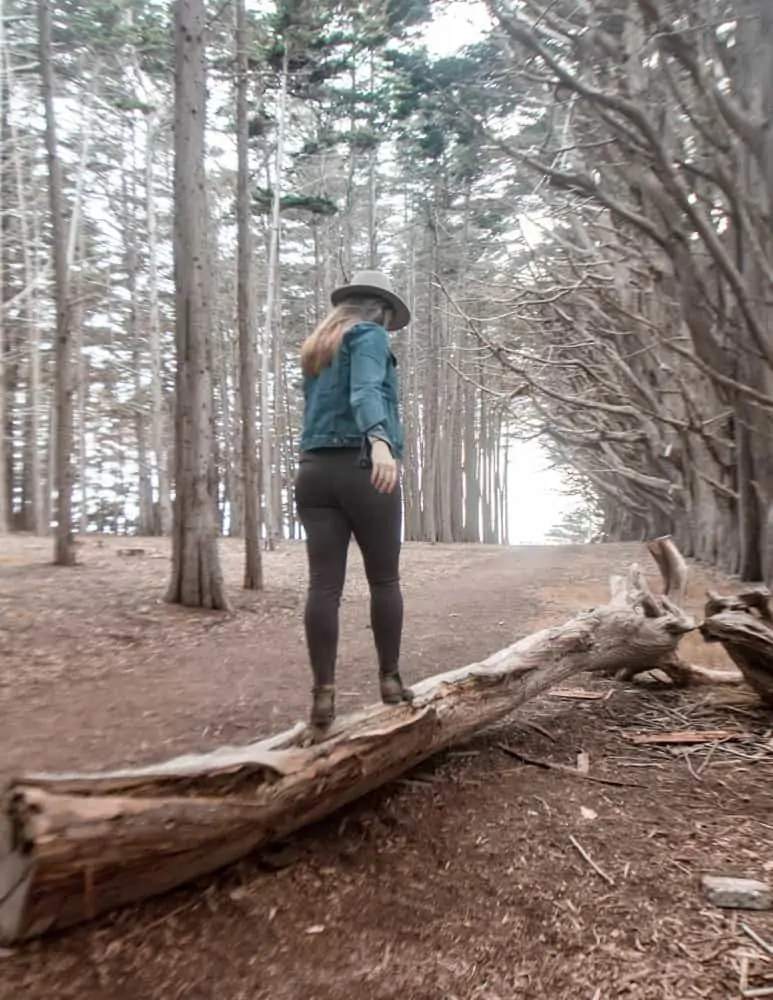 Once you're satisfied you got the Insta worthy shot, continue along this path towards Seal Cove Beach Staircase.
This beach was closed when I visited, but if it's not when you visit, I'd definitely go down and check it out. Or, continue to follow along through the Cypress Forest to the Bluff Trail where you'll find gorgeous cliff views on the other side. 
There are some benches along the way where you can sit and relax for a few minutes. 
When the beach becomes accessible again, this is a great place for tide pools at low tide. Seals are also known to rest on the beaches below, but remember to maintain your distance.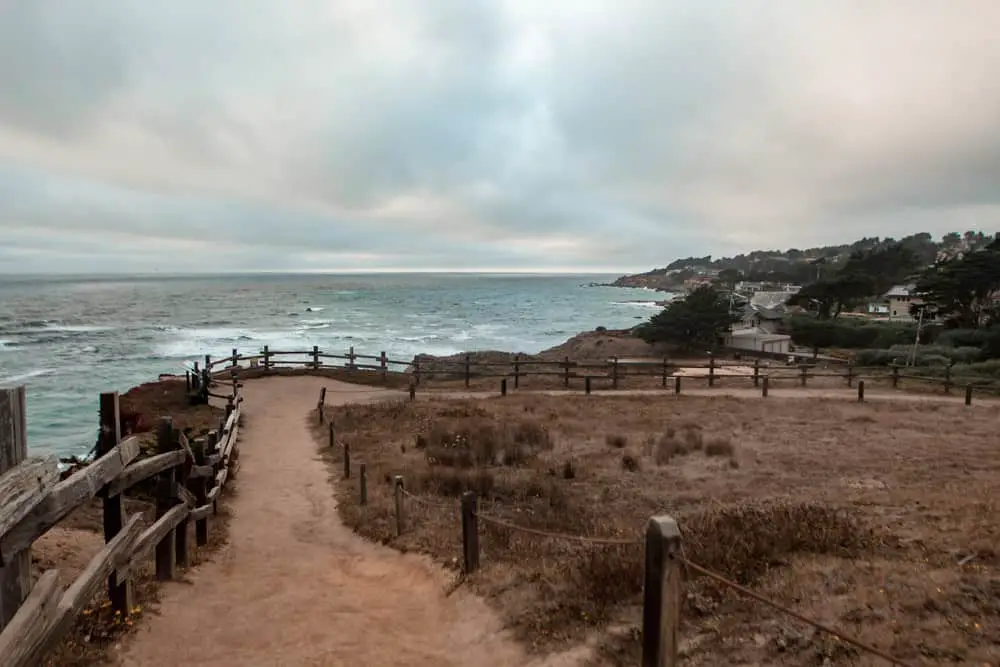 I visited on a Friday afternoon and there were only a handful of other people there.
Length: 1 mile
Time: 15-30 minutes
Difficulty: Easy
Terrain: flat forest floor
Shoes: Sneakers are just fine
Pillar Point Trail
After a rough day at work, I needed some Vitamin Sea therapy and a walk, but I didn't want anything too strenuous. I headed to Pillar Point Bluff for the first time to clear my mind and feel like I was traveling amidst the pandemic. 
This is a lovely spot with a series of wide dirt packed trails and, of course, amazing views. Jean Lauer trail is the main hiking trail in this area, but there are 2-3 off shoots, such as Ross Cove which is the beach you'll see just below Pillar Point Bluff.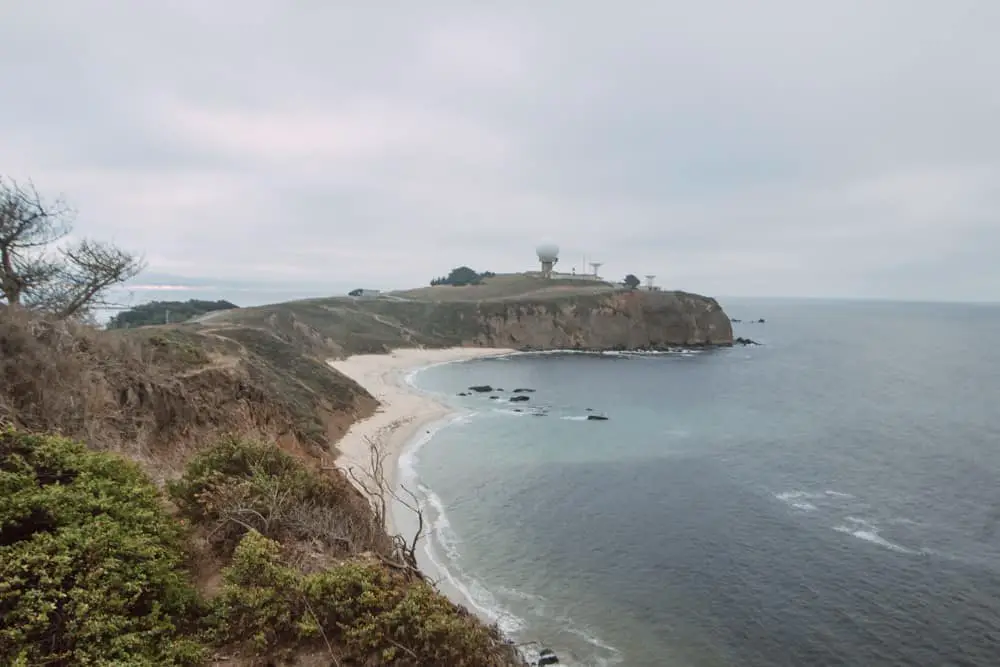 Those buildings on top of the bluff is an Air Force Tracking station and about ½ mile off shore from there is the world famous Mavericks surf break. These waves swell between November and March and according to my sister in law who grew up here, the waves often cover the bluff! Insane!
I highly recommend this trail if you're looking for a relatively easy hiking trail in Half Moon Bay with exceptional views (and not too many people).
There is a small parking lot to access these trails off of Airport Blvd with restrooms and a trail map.
Length: 1.5 miles
Time: 30 mins – 1 hour depending on how long you explore
Difficulty: Easy
Terrain: wide packed dirt on Jean Lauer, off shoot trails are more narrow
Shoes: tennis shoes
California Coastal Trail
The Half Moon Bay California Coastal Trail connects multiple beaches along Half Moon Bay's coast. This paved trail starts at Pillar Point Harbor and extends about 5 miles to the end of Poplar Beach. You can continue past Poplar Beach however the path becomes gravel.
The awesome part about this trail is that you can start it from whichever beach you happen to be visiting in Half Moon Bay, walk as far as you'd like and turn around.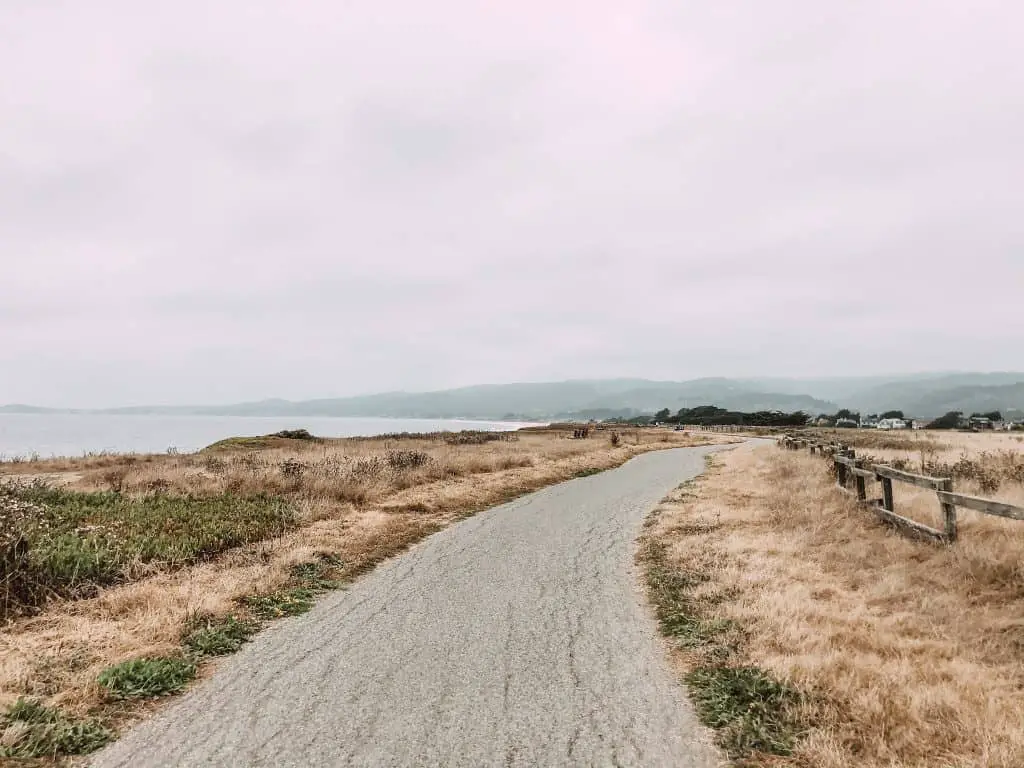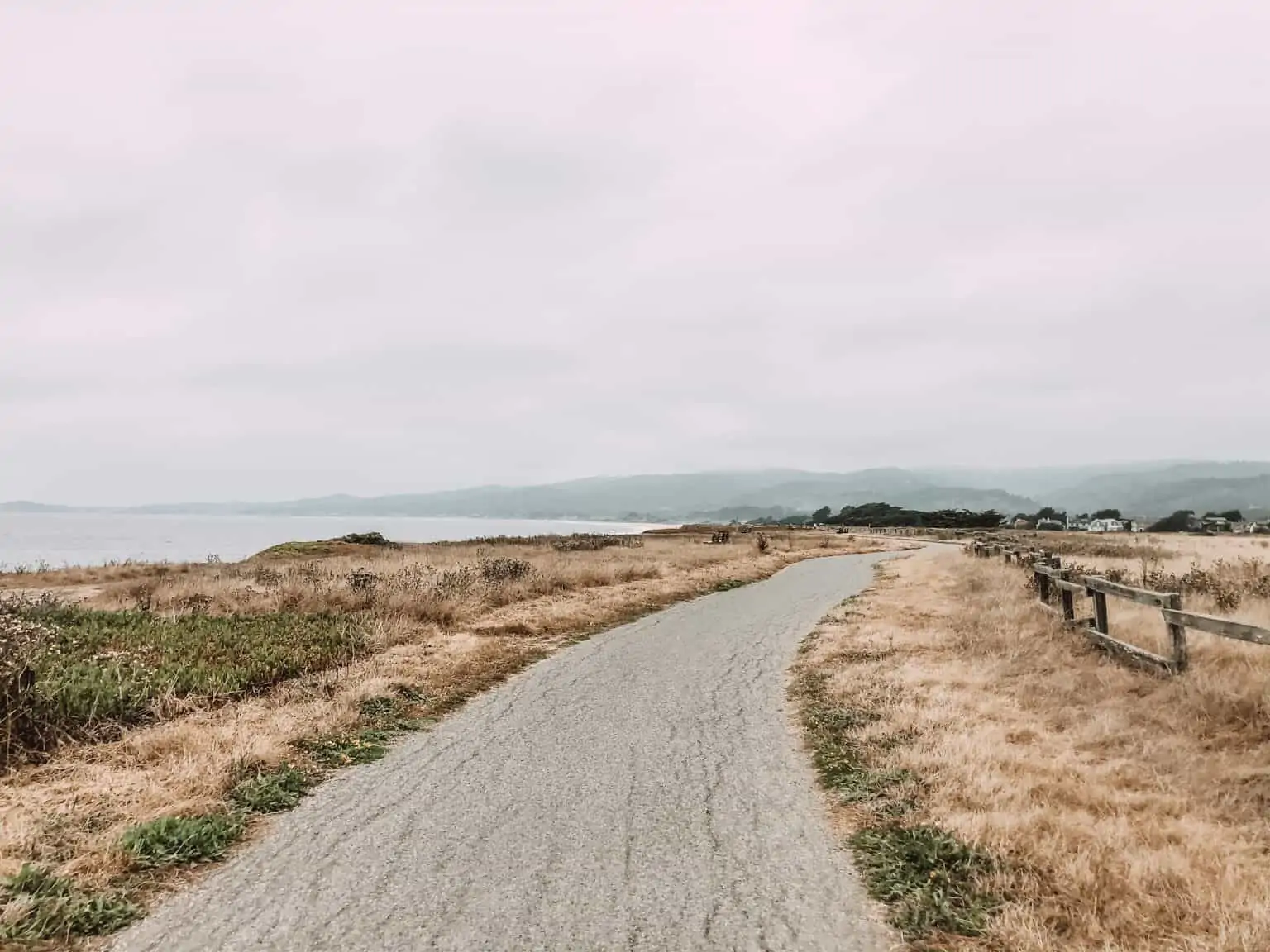 Alternatively, if you have a bike, this makes for an excellent biking trail. You'll also see people riding horses, perhaps a hawk, and of course gorgeous ocean views.
I biked a portion of this trail on August 14 and the bridge to Miramar Beach was closed. This means if you do start at Pillar Point Harbor you will have to join Highway 1 for a bit before rejoining at Mirada Road.
To avoid this, I suggest parking at Mirada Road, where it's free street parking, and starting your bike ride there. You could also park at Poplar Beach for a fee and start the trail there if you want to do the entire trail.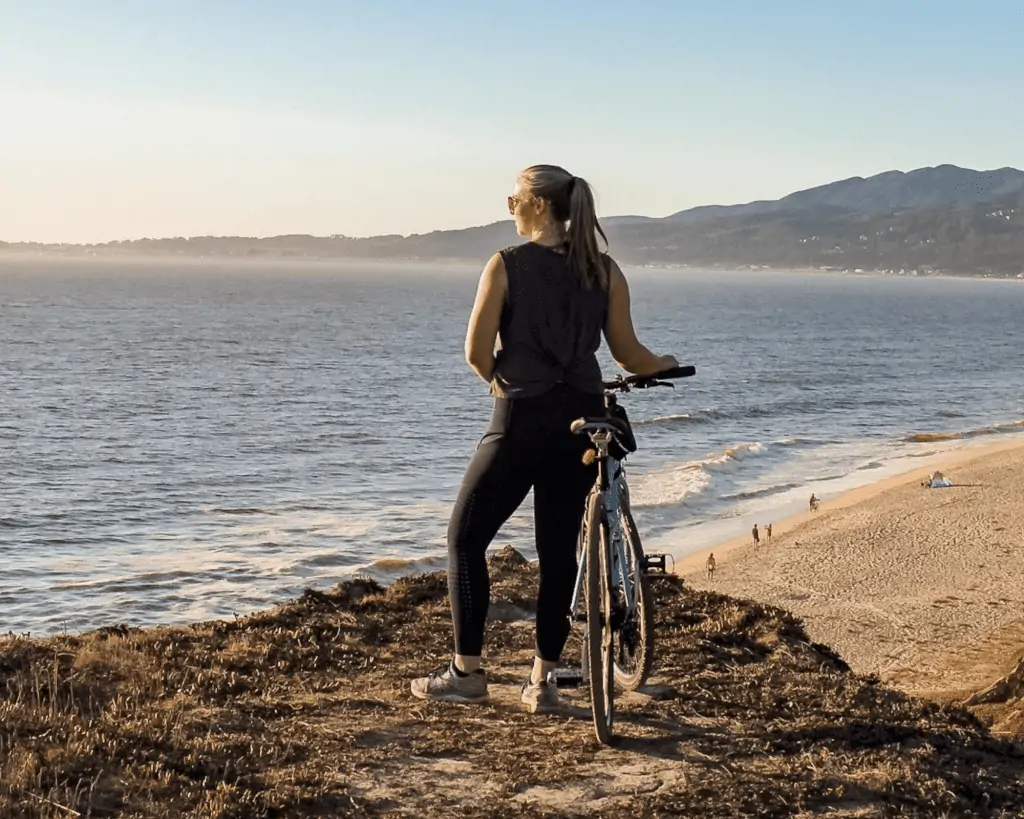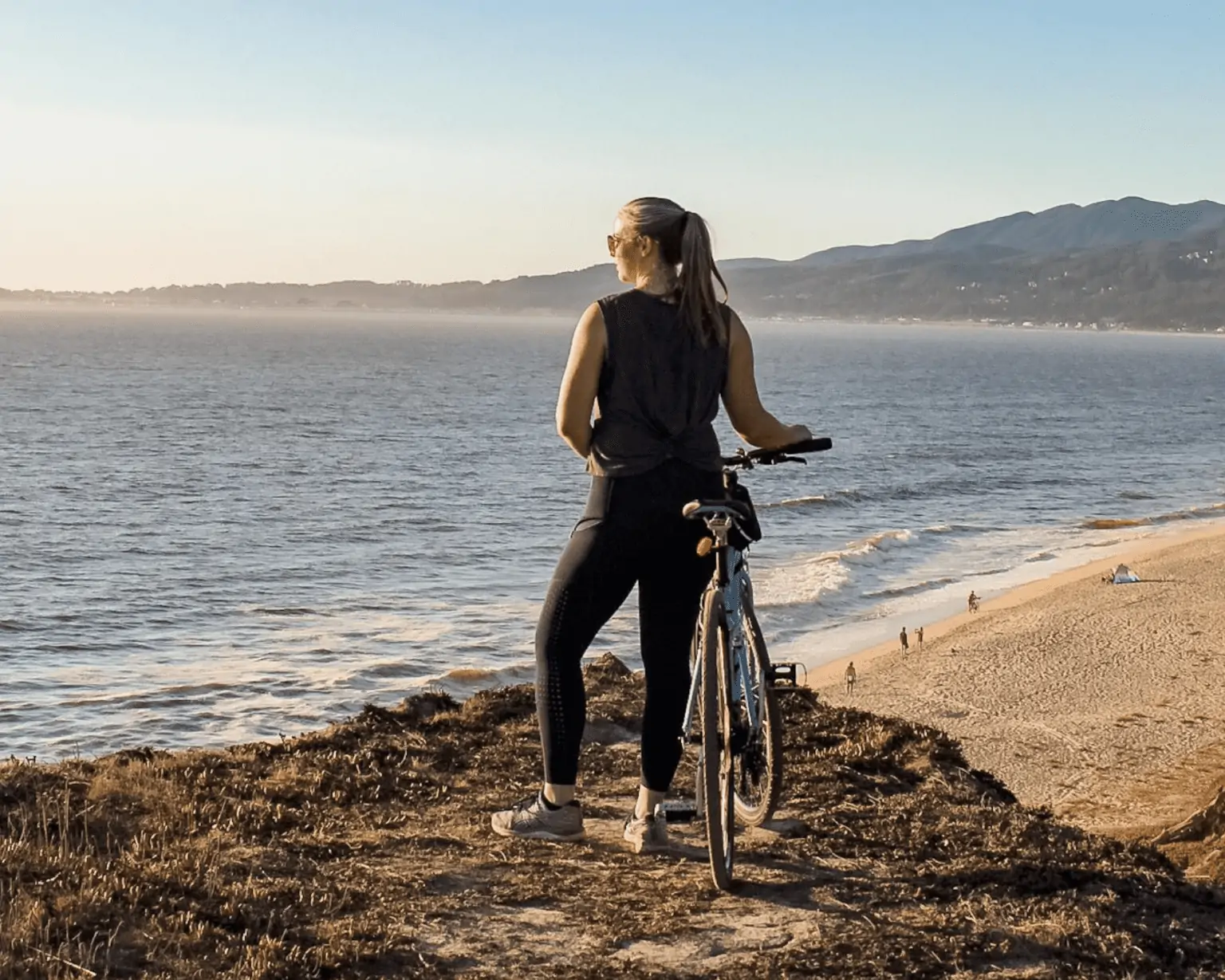 There are plenty of benches along the way to relax or take in the sunset if it's a clear day.
There are also bathrooms located at Half Moon Bay State Beach, Francis State Beach, and Dunes Beach.
Side note, there is a fossil of a Blue Whale skull at Francis State Beach that is really cool to check out. It's massive!
Length: 10 miles round trip from Miramar to Poplar
Time: 1 hour on bike; 2 if walking
Terrain: Paved path
Difficulty: Easy
Shoes: Walking shoes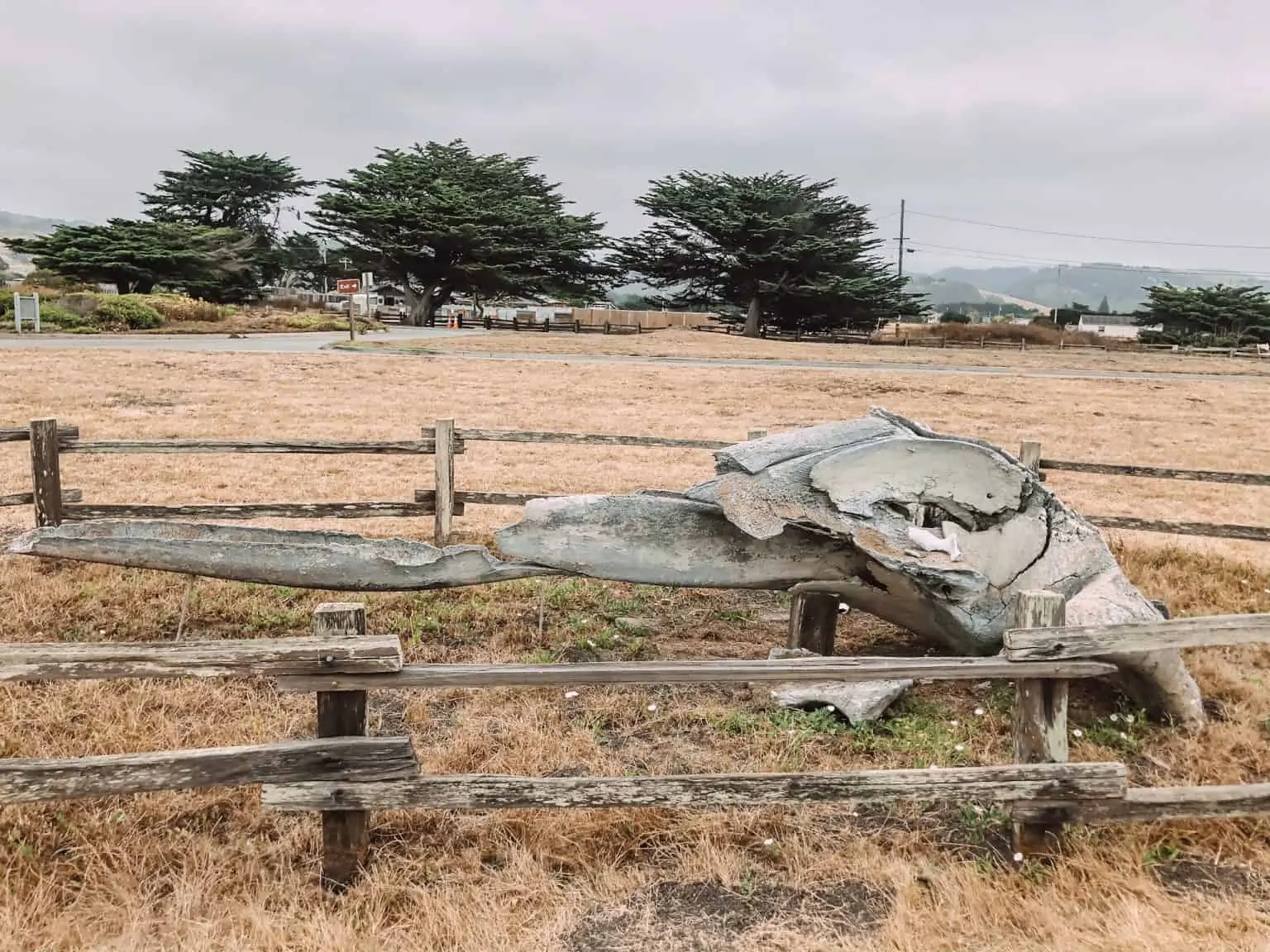 Purisma Creek Redwoods Open Preserve
Purisma Creek Redwoods Open Preserve is where you'll find the coastal Redwoods for which California is famous! Hikes in Purisma Creek combine all of California's beauty, with Redwood forests, a babbling creek and views of the Pacific Ocean.
There are three access points to Purisma Creek, from Highway 35, Higgins Canyon Rd or Purisma Creek Road. Due to COVID-19, parking is limited so if you're planning to go on the weekend, go early as this is a popular hiking trail in Half Moon Bay.
There are a number of hiking trails in Purisma Creek Redwoods Preserve suitable for a variety of hiking levels. Let's dive into two of them, one easy and one difficult.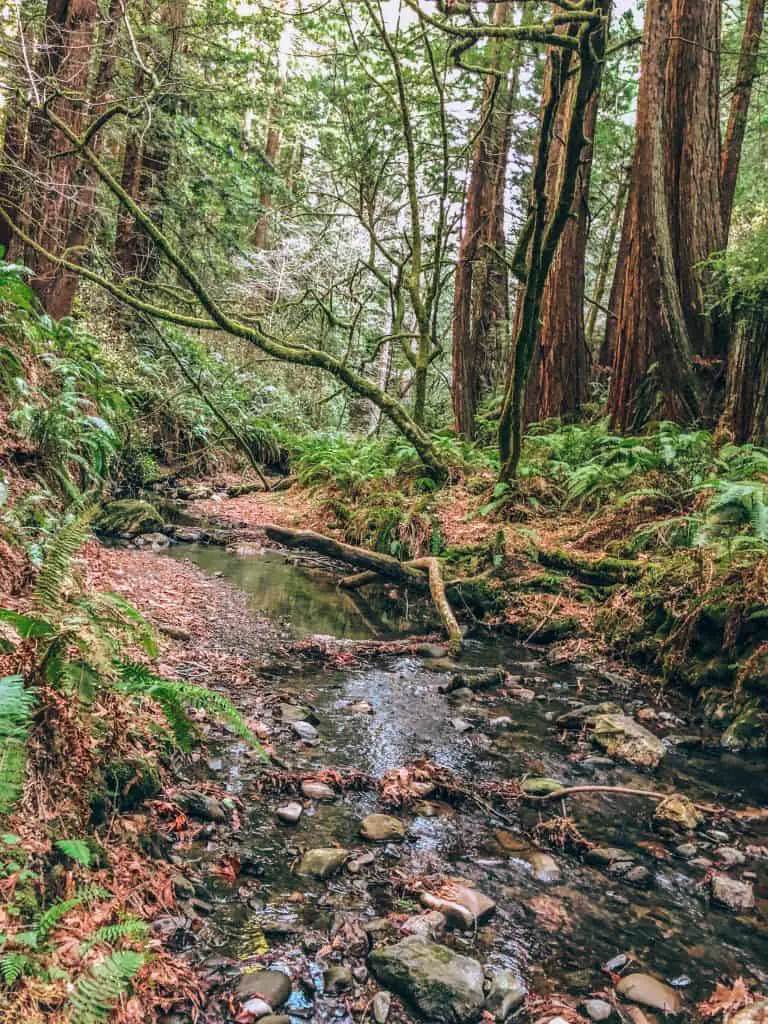 North Ridge Trail – Whittemore Gulch – Harkins Ridge – North Ridge Trail
For this hike, I parked at the North Parking Lot for Purisma Creek off of Highway 35.
This hike is demanding, but it offers amazing views of the coast, you'll walk in shade for the majority of it through the Redwood Forest, meander along Purisma Creek, and then climb back up. It's essentially 3 miles down and 3 miles back up – but it's worth it – I promise. 
When you first start off there are two options for North Ridge Trail, if it's a sunny day, take the switch backs as it's shaded and easier on the knees as you descend into the Preserve. This section is marked "hiking only" as mountain biking is popular in this Preserve as well.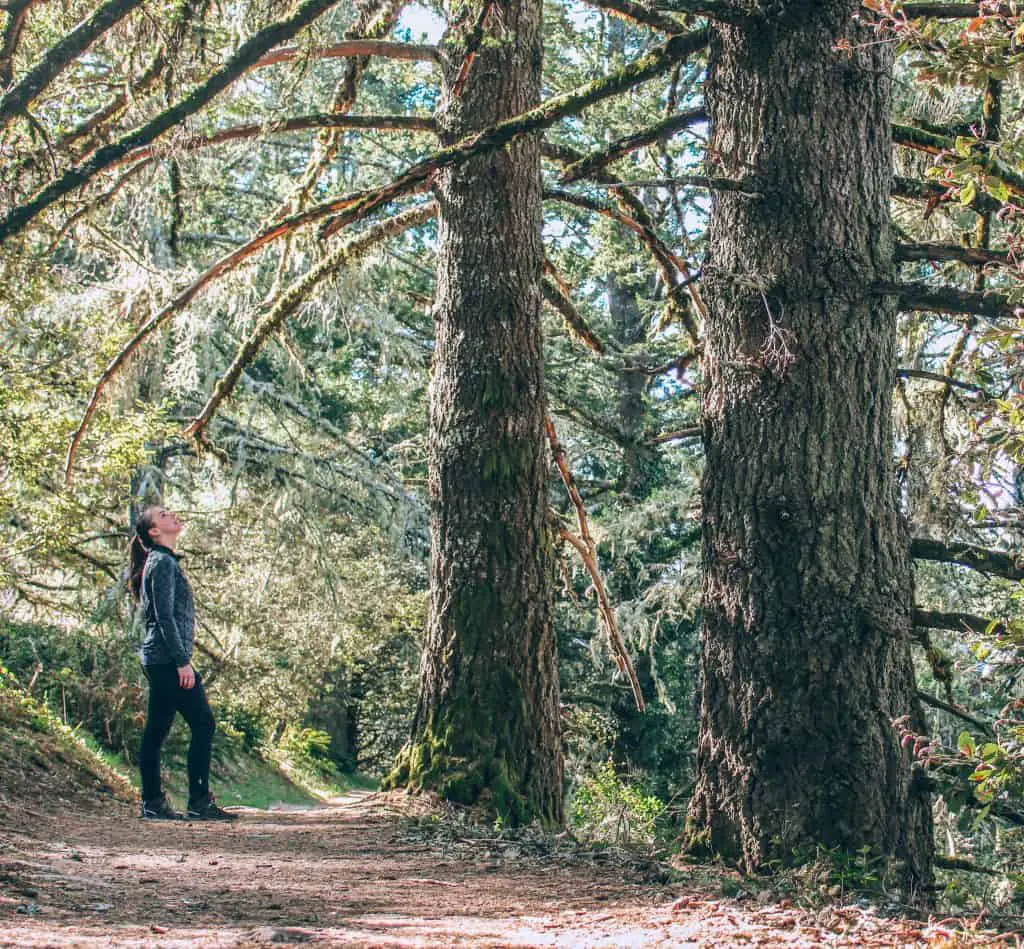 After about a mile, North Ridge Trail joins Whittemore Gulch Trail which will lead you down to Purisma Creek which is the other entrance to the Preserve. This is a good resting point where you can enjoy the sounds of the creek, a snack, and a restroom break.
Once you're ready, mentally prepare yourself to climb back uphill, on Whittemore Gulch Trail until it joins Harkins Ridge which will ascend back to North Ridge and your parking spot at the North Lot.
Length: 8 miles
Time: 3-4 hours
Terrain: Narrow dirt paths
Difficulty: Hard
Shoes: Hiking boots or shoes
Purisma Creek Trail – Craig Britton Trail – Harkins Ridge Trail
Coming soon!
These hikes in Half Moon Bay are a great place to start exploring beautiful Northern California's coast. It's amazing how we can go from towering Redwood forests to sweeping coastal views, even in the same hike! I know there are so many other hikes in Half Moon Bay and I'm so excited to explore them soon.
If you're looking for more towns to explore in the Bay Area, check out my favorite things to do in Pescadero and these awesome things to do in Pacifica each an easy day trip from San Francisco.
Do you have any recommendations I should add to my "must hike" list?
Like this post? Pin for later!