Hiking is one of the best things to do in Pacifica, perhaps second only to learning how to surf. Hiking in Pacifica allows you to experience ocean views, the shade of Eucalyptus trees, and even a bit of quiet in a busy Bay Area. There are a number of hiking trails in Pacifica that are suitable for any fitness level and are a great way to get outside while social distancing in a pandemic. Below I share with you my favorite hikes in Pacifica – I hope to see you out on the trails!
This post contains affiliate links, which means that, at no additional cost to you, I will earn a tiny bit of income if you decide to make a purchase or booking. For more, check out my disclosure. 
My Favorite hiking Resources
Weather in Pacifica
When visiting Pacifica, CA you have a 50/50 chance of sunshine. Fog is incredibly common in Pacifica, but don't let that deter you from hiking in Pacifica. I find it more pleasant to hike with a bit of cloud cover because many of the hikes below do not offer shade. 
However, don't be surprised if you start your hike off with a layer of fog and a few hours later the sun is out in full force!
Summer weather is the warmest in Pacifica with an average daily temperature of 65*F. But the great thing about Bay Area weather is that it's fairly consistent year around, with the winter being a bit more wet. This makes any time of year a good time to check out Pacifica's hiking trails.
What to Wear Hiking in Pacifica
Since the weather in Pacifica can change, wearing layers is the best way to prepare for a comfortable hike in Pacifica.
Personally, I prefer hiking in pants so I wear these pants from Athleta or leggings with pockets. On top, I usually wear a t-shirt or long sleeve under a lightweight jacket. 
No matter the weather, please wear sunscreen because even if it's overcast, you can still get a sunburn. Trust me! A baseball hat, wide-brim hat, and sunglasses are also a good idea.
In the era of COVID, please bring a mask with you. I've realized that wearing a buff is easier than wearing a mask when hiking. I just wear it around my neck when no one is around and then slide it up to cover my nose and mouth when passing people. Plus, it's extra sun protection around the neck. 
They actually make them now with a filter insert. You can find these buffs for a decent price on Amazon.
In terms of footwear, I make my decision based on the hike. I prefer hiking boots for hikes with steep inclines (for the decline part of it) and uneven terrain, but regular sneakers are suitable for less intense hikes. I'll specify which I recommend for each of the hikes below.
What to Bring on Your Pacifica Hike
The majority of these hikes can be completed in a half day, so my short hike packing list is a great resource for what you should bring with you.
Here's a brief overview:
Water: I prefer a water bladder, but make sure you have some sort of hydration. Water isn't available on these hikes, but you're close to town if you need to pick up a bottle before you go.
Map: While these hikes are well marked and populated, it's always a good idea to bring a map. I love using All Trails.
Snacks: For the longer hikes, you may want to pack a snack. I enjoy sitting at the top of Montara Mountain and indulging in a PB&J before heading back down.
Cell Phone: Always good to have on you in case of emergency. You should have service throughout all of these hikes.
Camera: These hikes are quite beautiful and you'll find plenty of photo opportunities!
Ocean View Hikes in Pacifica, CA
Alright – let's get to exploring these hiking trails in Pacifica
Devil's Slide
Did you know that Devil's Slide was once part of Highway 1? 
It was extremely windy, narrow, and dangerous. I loved driving on it as a teenager!
But, a few years ago, a tunnel was built through the mountain to safely divert traffic away from the rocky cliffs and they converted Devil's Slide into a paved walking and biking trail.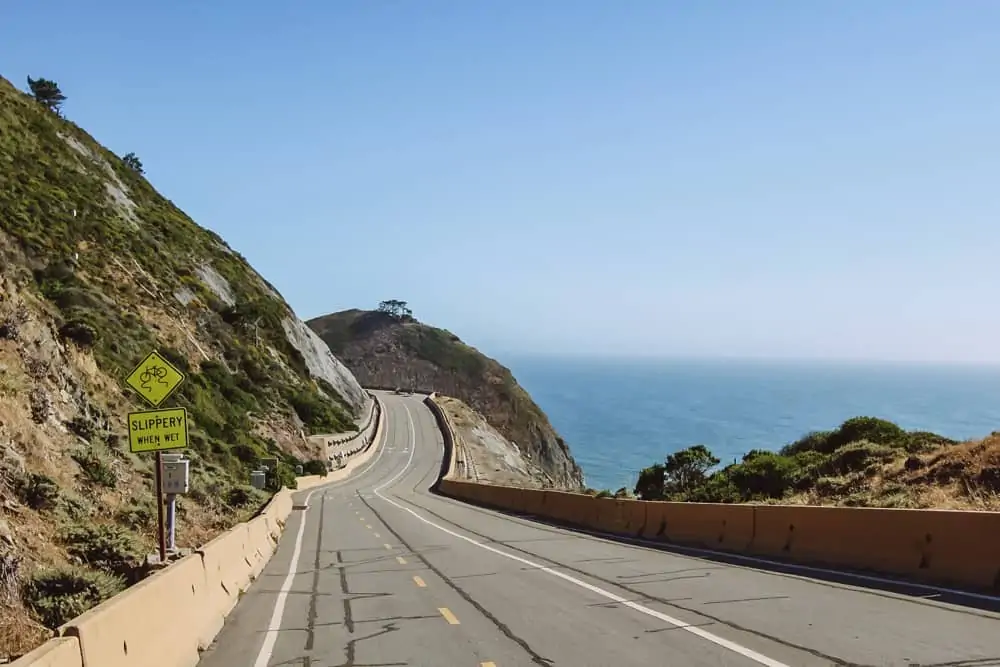 Now that there are no cars, it's wide enough to provide plenty of space for walkers, joggers and bikers. 
This is a roughly 2 mile out and back trail, or 3 if you want to add on a walk to the bunker.
Devil's slide has a daily steady incline near the North End, but there are also plenty of benches to sit on and relax. I imagine it would be a great sunset spot, I haven't been able to confirm yet as the sun currently sets after this trail closes at 7:00 pm.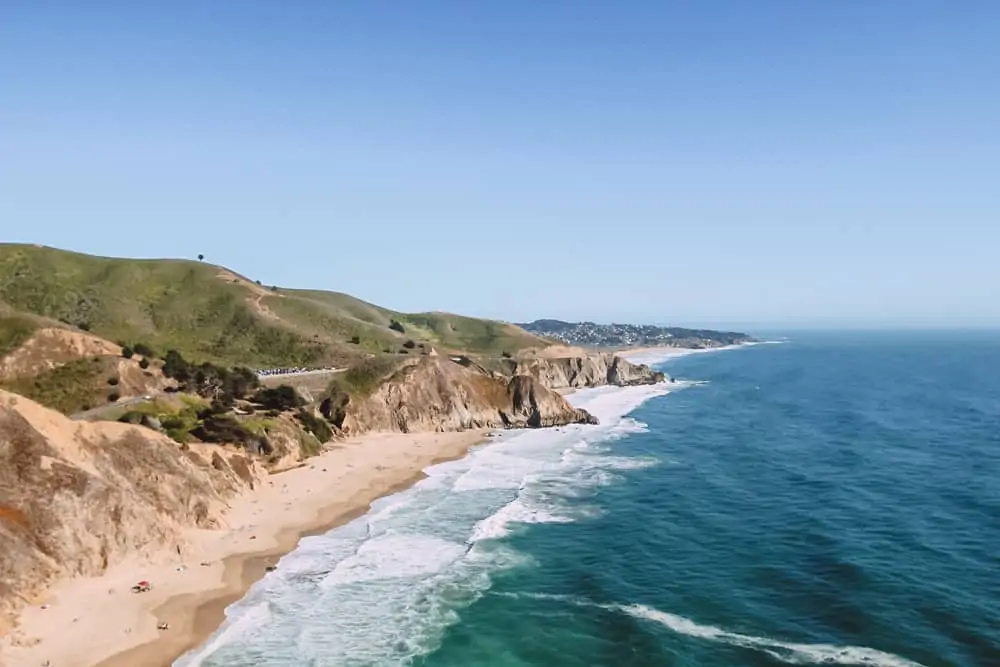 There are two trailheads to access Devil's Slide, each with a small parking lot and restrooms. When I say small parking lot, I mean maybe 10 cars on each side. I'll cross my fingers for you that you get a space and can soak in the ocean views on this coastal hike in Pacifica.
Length: 2 miles out & back
Time: 1 hour
Difficulty: Easy
Shoes: Sneakers – it's completely paved
Location: 5929-5981 California Coastal Trail, Pacifica, CA
Pedro Point Headlands
Pedro Point Headlands is a hidden gem of a hike located off of Highway 1 near Devil's Slide. In fact, one of the two trailheads for this hike shares a parking lot with the North Devil's Slide parking lot. If you park there, instead of walking towards Devil's Slide walk back towards the Highway and you'll see the start of the hike to the left.
The other access point is supposedly behind the Ace Hardware store in Pacifica. I haven't tried to access it from that direction. 
When you reach the trailhead from the Devil's Slide parking lot, I suggest climbing uphill to the left. These headlands are recovering from use as a motorbike trail so stay on this path until you reach the top. It's a short, but steady and unshaded incline until you reach the gorgeous view from the top. You can wander down to overlook Pedro Point Rock, a great place for photos.
Once you're done soaking in the views and taking your photos, head back to your car via the Arroyo Trail which is shaded by tall Eucalyptus trees. 
Length: 3.5 mile loop
Time: 1-2 hours
Difficulty: Moderate
Shoes: Hiking boots or shoes
Location: Old Pacific Coast Highway Trail, Pacifica, CA
Mori Point
This is my favorite of all of the Pacifica hiking trails. It's where I take friends when we need a breath of fresh air because it's accessible to all fitness levels and doesn't take all day. To access Mori Point you can either park in the Mori Point parking lot or in the side streets. I personally prefer to park near Pacifica Pier and walk the paved path along the beach.
From Pacifica Pier walk south along the coastal trail in between the beach and Sharp Park Golf Course. Once you reach the end of Sharp Park Beach, you can either climb bootleggers steps for a bit of a booty workout or take the switchbacks for a slower incline to the first lookout point of Mori Point. On clear days you'll be able to see all of Pacifica and even out to the Farallon Islands.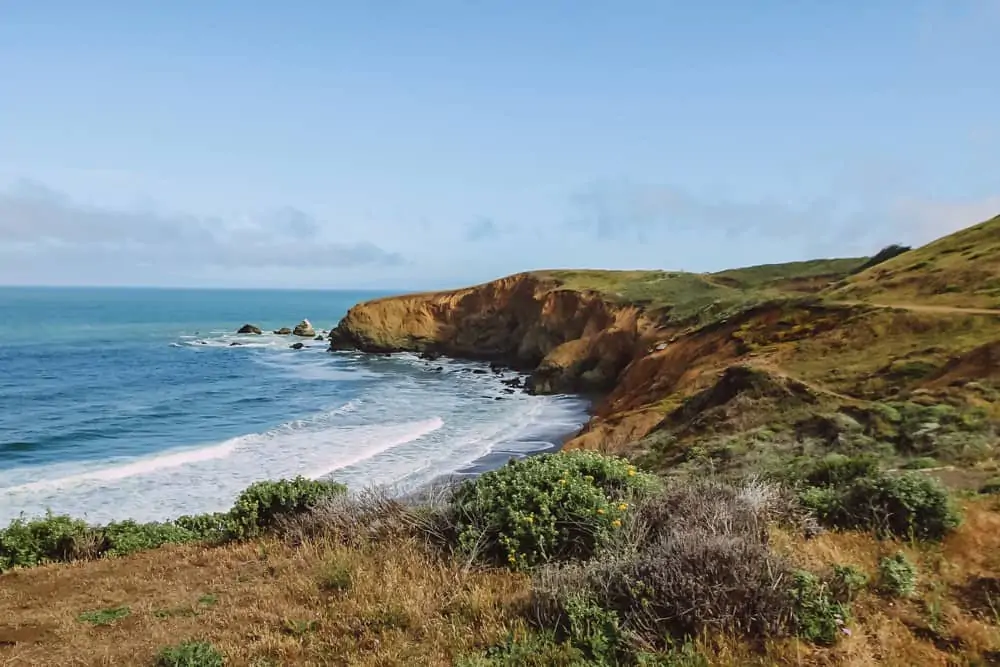 You can stop your hike here and return to your car for a 2 mile round trip hike. Or you'll see narrow dirt paths that climb up the mountain which you can continue on to the highest lookout point.  It's definitely a steep climb and you are right along the cliff's edge so be careful, especially after rain as erosion is possible.
Once you reach the top have a seat in the dirt and take in the view. 
Depending on where you park your car this can range from 2-4 miles. 
Length: 2-4 miles
Time: 1-2 hours
Terrain: Dirt paths
Difficulty: Easy
Shoes: Sneakers work just fine, even if you plan to climb up higher 
Location: Mori Point Rd, Pacifica, CA
California Coastal Trail
One of the hikes in Pacifica is a portion of the California Coastal Trail. This trail connects Mori Point, Rockaway Beach, and Linda Mar. It combines dirt trails, paved paths, and switchbacks for a moderately challenging walk. 
Where you park your car for the start of this hike is very important because parking too far away can easily add 2 miles (one way) to this hike. So either park as close as you can to Mori Point or park in the Pacifica State Beach parking lot (paid) and start there. It's roughly a 2.5 mile walk in one direction, so 5 miles round trip.
The first time I did this, I parked near Pacifica Pier and somehow managed to make this a 5 mile one way walk. Which was fine, but I wasn't prepared for it!
Follow the above directions for Mori Point, and once you reach the top of the staircase turn towards the left and follow the path around the back of the larger hill.
This trail eventually leads to a paved biked path and then to the Rockaway Beach parking lot.
You'll see the switchbacks on the opposite side, walk towards them and up! The paved path continues along the side of the Highway but soon enough you'll come to a view of Linda Mar and all of the surfers below. 
Continue to follow this path until you reach the Taco Bell parking lot, or continue along the beach for Soul Grind Coffee Roasters. This is a great little cafe that makes awesome matcha and waffles. I highly recommend stopping in for a break before the return trip to your car.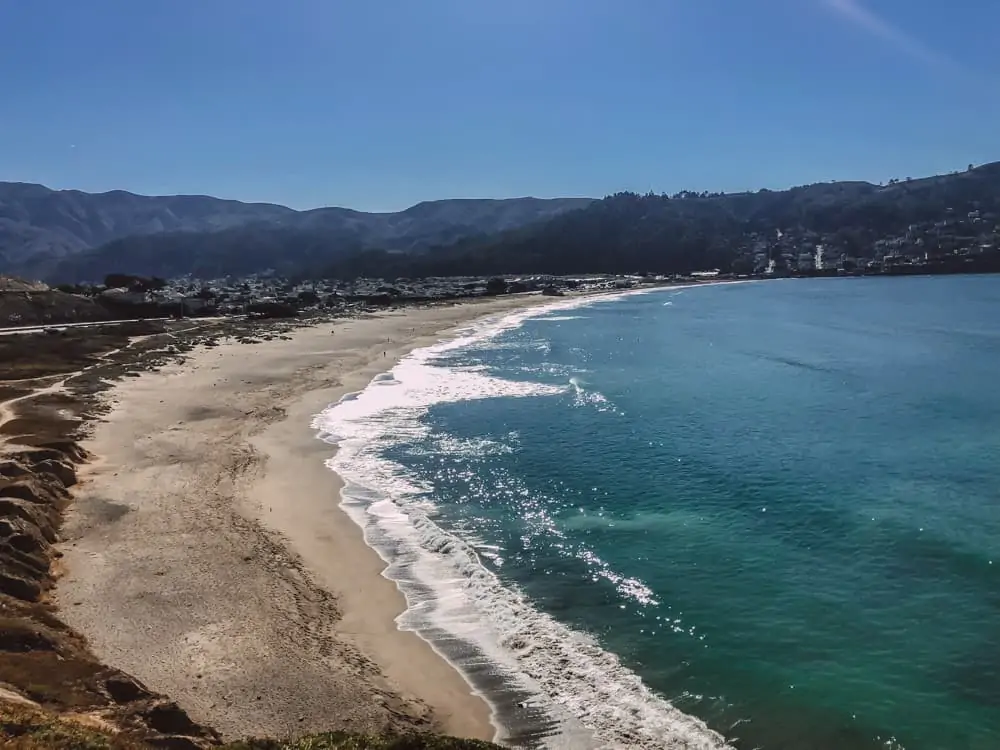 If you park in Linda Mar parking lot for the start of this walk, just reverse it! The path is incredibly clear and you will see others walking it as well, it's very popular.
Length: 5-9 miles (depending on where you park)
Time: 2-4 hours
Terrain: Mostly paved trail, some dirt paths near Mori Point
Difficulty: Moderate
Shoes: Sneakers are fine.
Montara Mountain Trail – North Peak – Brooks Falls
This is an incredibly popular 6.5 mile hike that starts in San Pedro Valley Park. It gets quite busy on the weekends, so try to plan your hike for a weekday or arrive first thing in the morning on a weekend.
It costs $6.00 to park in San Pedro Valley Park. Alternatively you can park for free in the neighborhood, but the residents aren't huge fans of this.
The hike starts out under the shade of Eucalyptus trees with views of Pacifica stretching out below. This portion of the hike includes a climb up switchbacks for about 1 mile until you join North Peak Access Road.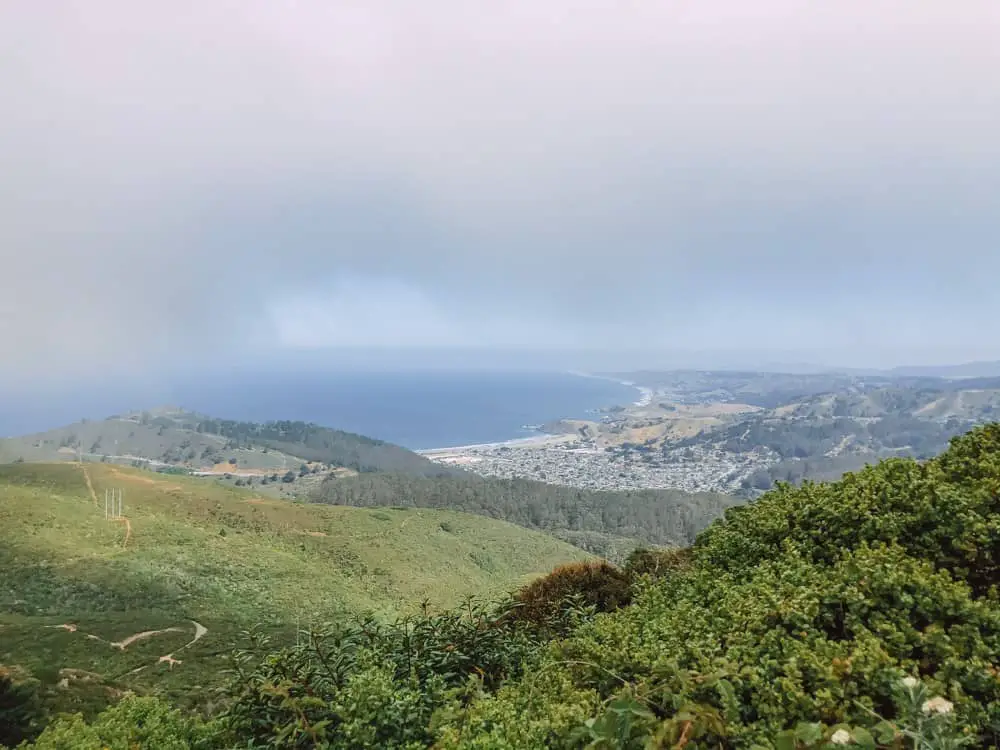 At this junction, the trail joins its sister hike that starts in Half Moon Bay. If it's a clear day turn left to head up the granite hill to the top of Montara Mountain. 
When I say hill, I mean a very real, very challenging incline. Get ready to sweat if you weren't already. After a little over a mile, you'll reach the peak.
You can opt out of the North Peak trail portion of this hike and just turn around and head back down when you reach the junction. However, if it's a clear day, I highly recommend the climb because you'll be rewarded with panoramic views of Half Moon Bay and Pacifica. 
On your return trip down the mountain take Brooks Creek Trail where you'll find a waterfall!
I love that you can climb a mountain with ocean views and see a waterfall all in the same afternoon. California is pretty amazing.
Length: 6.5 miles (including North Access Rd)
Time: 4 hours
Terrain: Narrow dirt paths that give way to steep granite hills
Difficulty: Hard
Shoes: Hiking boots or shoes.
Location: 600 Oddstad Blvd, Pacifica, CA 
Sweeney Ridge Trail
On a clear day, this former Nike Missile site boasts a 360o view of the Bay Area. At the top of a steep climb up Sneath Lane Trail you will find vacant buildings that are the remains of the missile site and are now adorned with some pretty impressive graffiti. To the north you'll see San Francisco, the west, you'll see the Pacific ocean, and to the east/south the rest of the Bay Area.
Alternatively, on a foggy day it will feel as if you've stepped into the Pacific Northwest.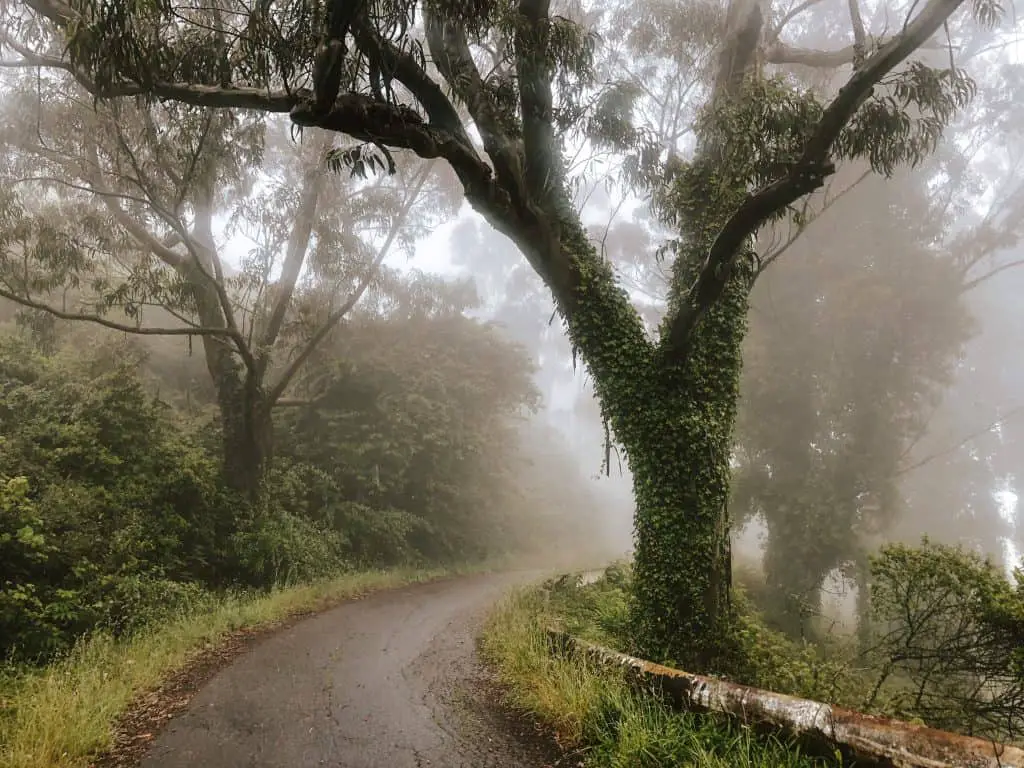 There are two options to start this hike, from the parking lot off of Highway 35 or at Shelldance Orchid Gardens. Either place you start, the first 1.5 miles is a steep climb! However, the climb from Highway 35 is a paved road and the climb from Shelldance Orchid Gardens is a dirt path (with a fair amount of loose rocks).
I promise you, the views are worth it. 
Length: 4 miles
Time: 2 hours
Terrain: Paved road
Difficulty: Moderate/Difficult
Shoes: Boots or Sneakers
Location: 2000 CA-1, Pacifica, CA (Shelldance Orchid)
Mussel Rock
Technically, this hike is located in Daly City, but it's a hike near Pacifica so I'm including it on this list! This is an easy 2-mile oceanside walk located just North of Pacifica on Highway 1. Looking South you can see Pacifica Pier and Mori Point on a clear day.
This trail has wide paths and plenty of open space to practice effective social distancing. As you enter the park from the parking lot head down to the left of the trail and continue past the large rock where you'll find a cliff with a cave! If the tide is low there is a small patch of sand that would make a good relaxing space.
Once you're done exploring this side of the trail, continue North along the coastal trail until you reach the beach. There is a makeshift staircase you can climb down to reach the sand or just perch on a nearby rock to watch the fisherman fish. 
I went on a very cloudy day, but this would be an excellent place to catch the sunset as it's not near as crowded as the Mori Point hike.
This is also a very popular place for paragliding, which by the way is a total thrill. I went paragliding in Peru and it's one of the highlights of my trip. If you ever get the opportunity to go, take it!
All in all, Mussel Rock is a perfect place for a post work stroll or a quiet place to clear your mind.
Length: 2 mile loop
Time: 30 min – 1 hour
Difficulty: Easy
Terrain: Wide dirt paths, sneakers are sufficient.
Location: Skyline Dr &, Westline Dr, Daly City, CA
This is just a small sampling on the hikes in Pacifica. If you head south down Highway 1 there are even more hiking trails in Half Moon Bay and plenty of things to do in Pescadero! I love that these hikes are accessible all year round and allow us to appreciate the diverse beauty of California. Always remember to pack out what you take in.
Which of these hikes in Pacifica is on your list for a weekend break?
Check out these other awesome Bay Area Hikes
The Best Bay Area Hiking Trails
Awesome Hikes in Half Moon Bay
How to Hike to Alamere Falls in Point Reyes
Lands End Hiking Trail in San Francisco
Hiking the Batteries to Bluffs Trail in San Francisco
Here's Everything I Take on a Short Hike
Like this post? Pin for later!