Deprecated
: The PSR-0 `Requests_...` class names in the Request library are deprecated. Switch to the PSR-4 `WpOrg\Requests\...` class names at your earliest convenience. in
/home/customer/www/justchasingsunsets.com/public_html/wp-includes/class-requests.php
on line
24
The Batteries to Bluffs Trail is a stunning coastal trail located in the Presidio of San Francisco. This roughly two-mile out and back trail includes two popular San Francisco beaches, gorgeous views of the Golden Gate Bridge, and centuries-old batteries to explore. It's one of my favorite hikes within the city since it's gorgeous and short enough to complete in about an hour or two. 
Even though the hike is only about .7 miles in one direction, it is fairly challenging as it includes a handful of steep staircases. One of these staircases, called the Sand Ladder, is particularly challenging because sand covers the steps making the calves burn a little bit more than usual. 
This post contains affiliate links, which means that, at no additional cost to you, I will earn a tiny bit of income if you decide to make a purchase or booking. For more, check out my disclosure. 
San Francisco Travel Resources
How to Access the Batteries to Bluffs Trail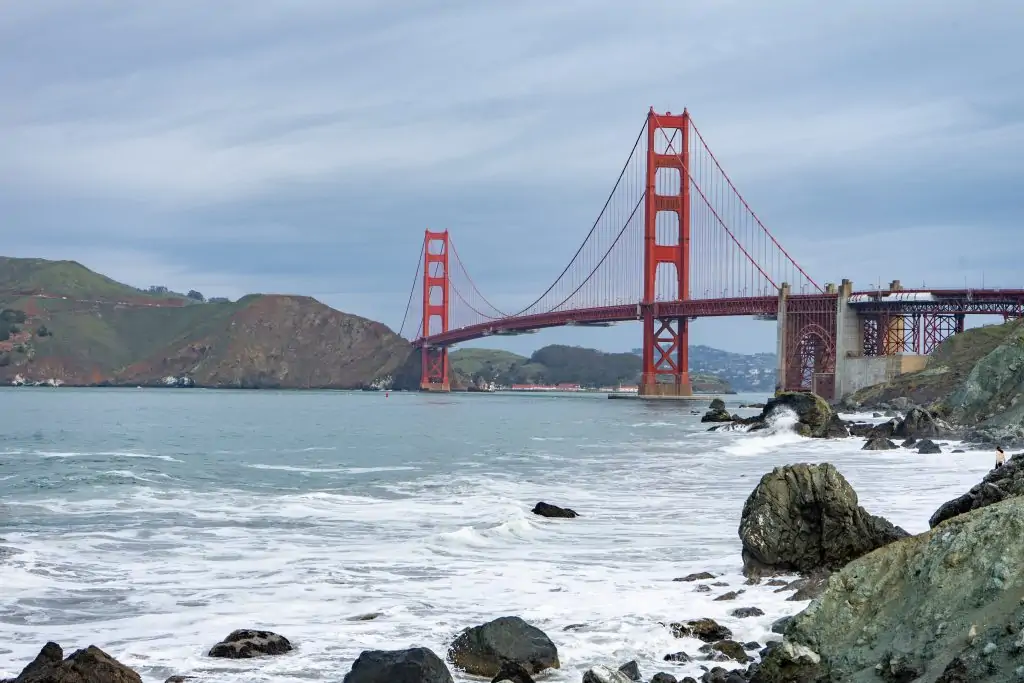 You can access the Batteries to Bluffs trail from either the parking lot at Baker Beach or the parking lot at the Golden Gate Overlook. I don't have a preference for one over the other and have hiked the trail from both starting points. 
I think it just depends on what the rest of your plans are for that day as the hike itself won't take you very long to complete.
 If you are planning to only do the hike and then you want to spend some time at the beach afterward, then I suggest parking at Baker Beach. You can do the out and back trail and then relax on the beach.
If you want to do the hike but spend more time viewing the Golden Gate Bridge and then moving on to a different activity in the city, then park at the Overlook.
Batteries to Bluffs Trail Overview
Length: 2 miles out and back
Terrain: Narrow dirt path, some paved sections, lots of stairs
Difficulty: Moderate (due to the stairs)
Batteries to Bluffs Trail Directions
Since you can start the trail from either parking location, let's break down how to complete the hike from each starting point.
Batteries to Bluffs Trail from Baker Beach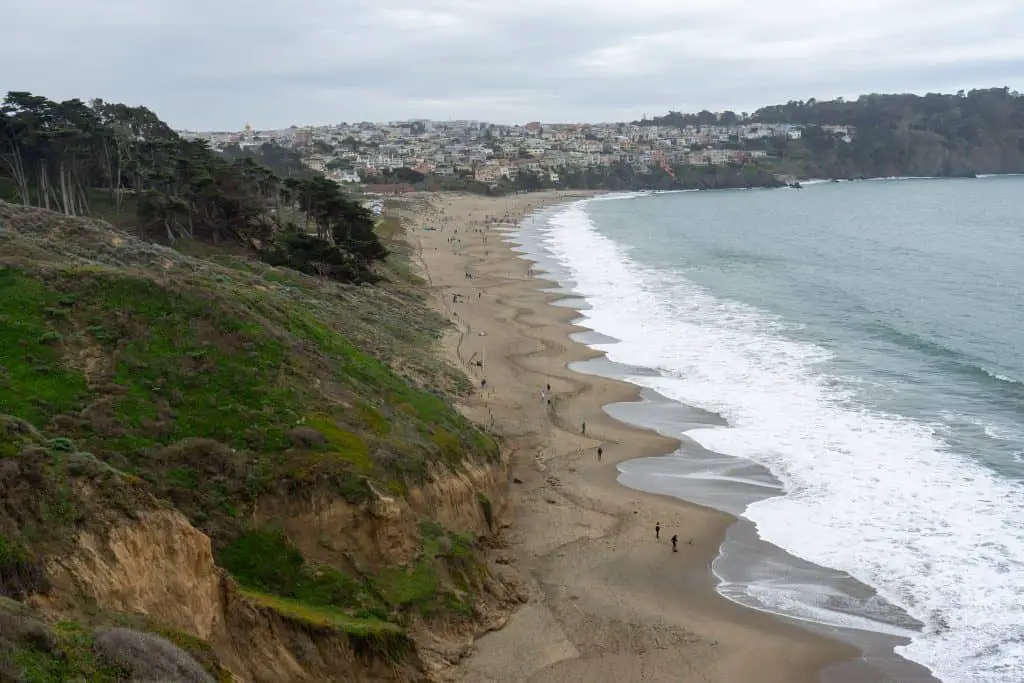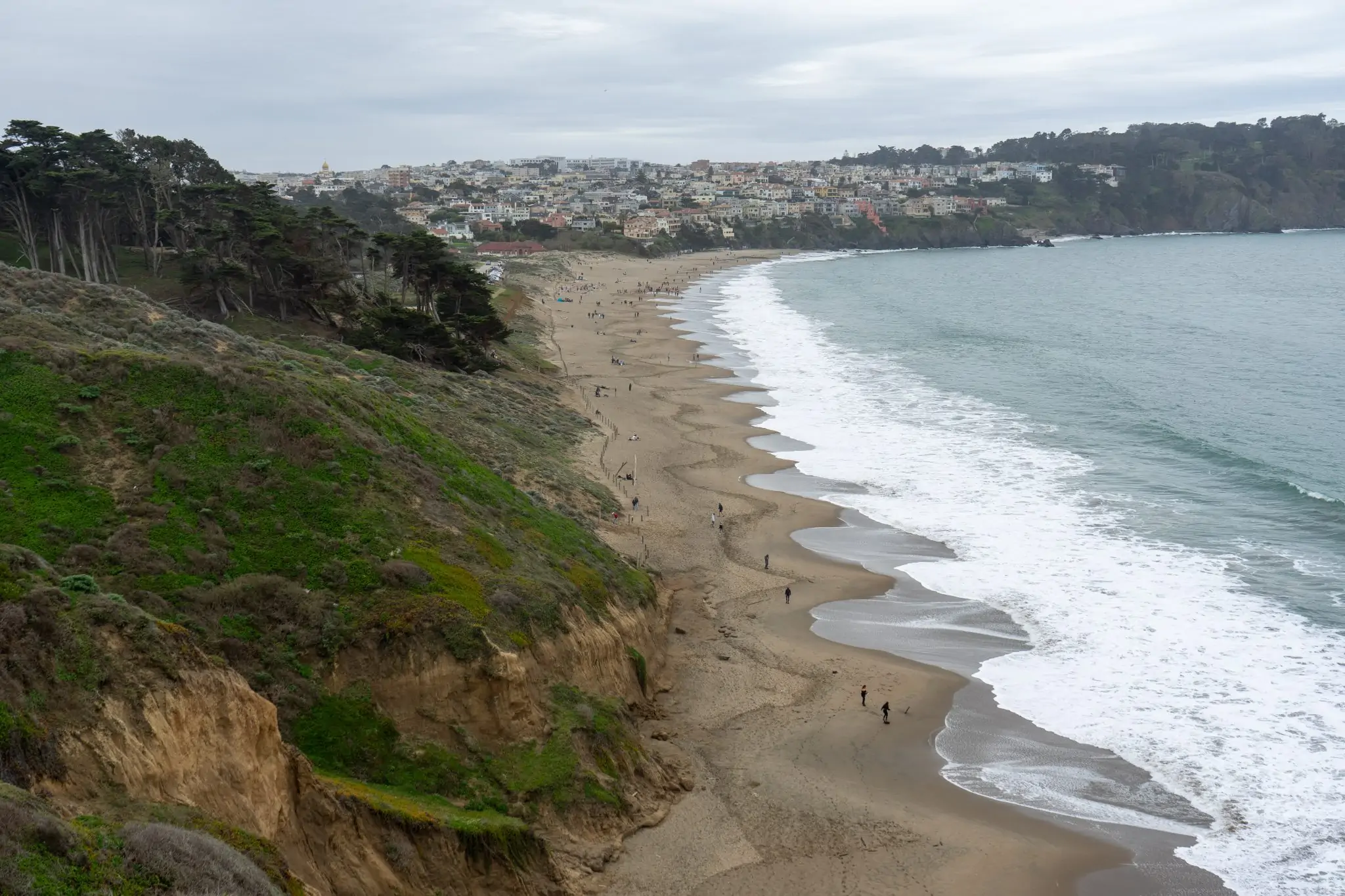 Park in the parking lot for Baker Beach. You'll find restrooms here if you need to use the facilities before you start.
Start walking north and you'll immediately see the first battery. Battery Chamberlain is unique as it still contains a canon! The path will lead to your first incline options. You can either walk along the sand and find the sand ladder staircase. Or you can skip the sand ladder and walk up a paved path. Either one will lead you to a tiny trail alongside Lincoln Avenue which you'll only walk along for a short time before following the sign for Marshall's Beach. 
Along the way, you'll pass the second battery, Battery Crosby, which is popular amongst skateboarders and can also offer unique photography options.
After this battery, head down a series of staircases and you'll see Marshall's Beach and the Golden Gate Bridge! 
Accessibility to Marshall's beach depends on the tides. Exercise caution here, especially if the tides are high as there will be minimal sand to walk on, leaving only rocks to scramble over. However, at low tide, definitely walk along Marshall's Beach as close as you can get to the Bridge. It's such a unique view as the waves crash against the rocks below it! 
Fair warning, this is a nude beach! If that makes you uncomfortable, don't walk too far North as the clothing decreases the closer you get to the bridge.
Once you've explored Marshall's beach, you'll head up another steep set of staircases to the left and arrive at the Golden Gate Overlook. 
Here you'll find the classic view of the Golden Gate Bridge in between two Cypress trees. There are also two large batteries here, Battery Godfrey and Battery Boutelle. This entire location is a great place to watch a classic San Francisco sunset.
Batteries to Bluffs Trail from Golden Gate Overlook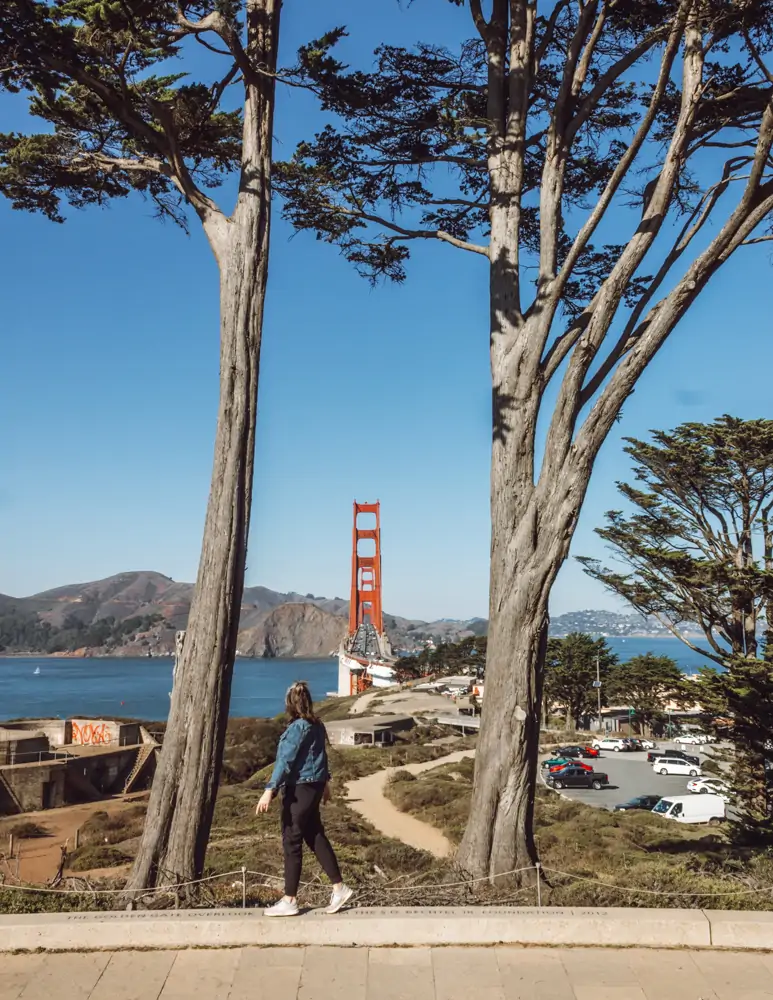 If you're planning to start the Batteries to Bluffs Trail from the Golden Gate Overlook, then just do the reverse of the above! 
When you reach Baker's Beach, I recommend using the restroom facilities and taking time to relax on the beach before you climb back up the stairs. 
Many families spend a sunny day at Baker Beach, but another word of warning. The further North you walk along this beach (towards the bridge) the less clothing you'll see people wearing. Yep, Baker Beach is another clothing-optional beach.
When you've soaked up enough San Francisco sun, or had enough of the fog, then make your way back to the Golden Gate Overlook. 
Tips for Completing the Batteries to Bluffs Trail
Parking Tips
Parking at both of these locations can fill up quickly, especially on the weekends. Parking is free at Baker Beach and the lot directly next to the Golden Gate Overlook. However, the overflow parking across Lincoln Ave from the Overlook is paid. Make sure to pay, as parking tickets are expensive in the city! 
Safety Tips
Since this area is so popular, car break-ins are very common. Please take anything of value with you and don't leave anything visible in your car.
If it rains, the path becomes very muddy and slippery.
Stay away from the Bluff's edge! You'll notice little paths that lead down the cliff, if you decide to take one, exercise extreme caution. 
What to Wear on the Trail
Hiking boots may be a bit too much for this hike, although I've worn my hiking boots doing this trail to train. Sturdy tennis shoes or hiking shoes are highly suggested. 
In regards to clothing, wear what you're comfortable breaking a sweat in for about 2 miles. Maybe this is your hiking clothes or general workout clothes. That being said, layers are the name of the game in San Francisco. Even though the day may start sunny, fog is always just around the corner. 
What to Bring on the Hike
There aren't any stores nearby so bring water and snacks! Maybe even pack a little picnic to enjoy midway through your hike! Also, wear sunscreen. Even if it's foggy, those sun rays are no joke!
Don't forget your camera! This is a very picturesque hike, with the centuries-old batteries, coastal bluffs, and of course the gem of San Francisco, the Golden Gate Bridge.
Let me know all about your experience hiking the batteries to bluffs trail in the comments below!
Like this pin? Pin it to Pinterest!