San Francisco is a great place to visit for unique architecture, lively neighborhoods, and delicious international cuisine. After living in the San Francisco Bay Area for the majority of my life, with a brief hiatus to Detroit and a year spent abroad, I believe that any time of year is a good time to visit this colorful city. That being said, I also believe in managing expectations when it comes to the weather in San Francisco. Certain times of the year have much more pleasant temperatures for sightseeing than others. In this post, I'll share with you the best time of year to visit San Francisco (hint: it's not summer) and things to do in San Francisco, depending on when you plan your trip! 
This post contains affiliate links, which means that, at no additional cost to you, I will earn a tiny bit of income if you decide to make a purchase or booking. For more, check out my disclosure. 
San Francisco Travel Resources
What's the Best Time of Year to Visit San Francisco?
Let's get this question answered right off the bat. The best time of year to visit San Francisco is in the Fall, specifically September and October. This time of year is what gets called our Indian summer and you'll get the California weather you're dreaming of on a winter's day. The average temperature this time of year is between 65-70 degrees with clear skies. Plus, the summer tourist crowds have thinned out so accommodation prices are more reasonable. If you can, plan your trip to San Francisco for early fall. Check out this three day San Francisco itinerary to help you plan your fall trip!
Peak Tourist Season in San Francisco
While San Francisco gets its best weather and clearest skies during the fall, most people visit during the summer. I've heard numerous complaints from first time visitors in June and July thinking they'd get a hot California getaway only to realize they need to buy a coat and a beanie to enjoy the days. Summer is typically when our friend, and tourist attraction, Karl the fog rolls in which brings colder temperatures than expected. However, if you tailor your San Francisco packing list for this, I don't see why you shouldn't have a great time here! Yes, it will be crowded and prices will be higher – but there are still a lot of fun things going on in the city to add to your San Francisco bucket list.
Best Time of Year to Visit San Francisco by Season and Month 
Now that you know that the peak travel season is different than the best time of year to visit San Francisco, let's discuss what to expect throughout the year by season and month.
Winter in San Francisco
Winter months in San Francisco are from December to February and brings the wettest weather and coldest months of the year. San Francisco typically sees the most rainfall in the winter season. The temperatures range from high 30os over night to low 60os during the day. When the breeze picks up off of the water, it can feel downright freezing! 
However, San Francisco in the winter is a beautiful thing. The city decorates for the holiday season well with ice rinks in neighborhoods, homes that go all out with decorations, and cable cars that even get dressed up for the holidays.
The crowds are typically very low so it's a good time to see tourist attractions like Alcatraz Island or take a day trip to Muir Woods. As it's the low tourist season, you'll see lower prices for accommodation (except during the holidays).
PS: The sunsets during San Francisco winters are amazing! Here are my favorite places to catch a San Francisco sunset.
Things to Do in December in San Francisco
If you're planning your visit to San Francisco in December get ready for some amazing holiday events. Head to the War Memorial to see the famous Nutcracker Ballet, join the SantaCon pub crawl, enjoy a holiday themed bar at the Summer Place, or go ice skating in Union Square. 
The San Francisco Symphony performs holiday themed concerts. Homes in various neighborhoods go all out on Christmas lights. Plus, nothing beats an Irish Coffee from the Buena Vista Cafe on a chilly December evening while waiting to ride the cable car.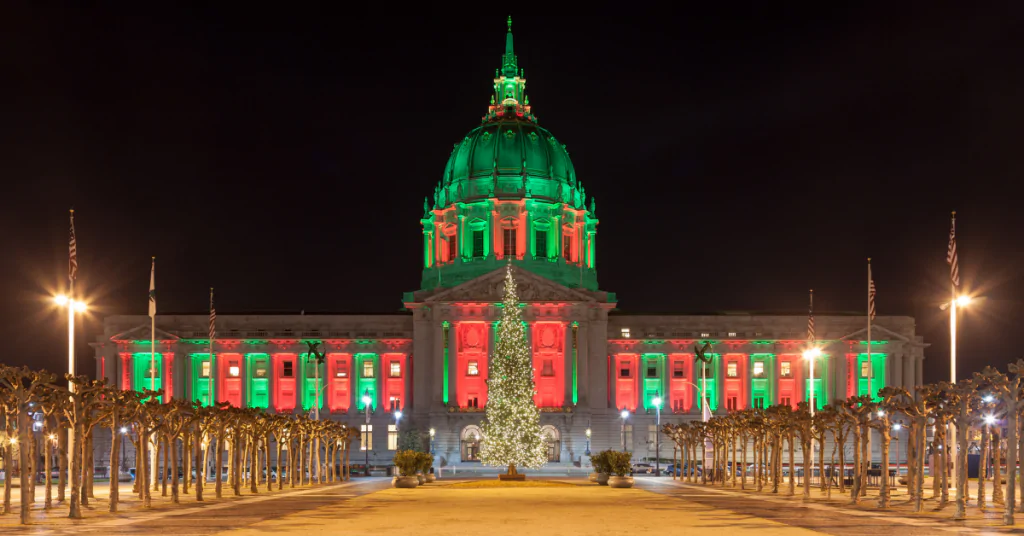 Things to Do in January in San Francisco 
With the weather still cold it's a good time to lighten things up with a comedy show during San Francisco Sketch Fest. This comedy festival is celebrating its 20th year in 2023. It hosts improv, comedy shows, and stand up shows in various venues throughout the city over a two week period at the end of January. 
If you enjoy beer, you can participate in the Bay Area Brew Fest. It's held at Fort Mason to sample over 50 breweries, eat from a variety of food trucks, and enjoy live music.
Also held at Fort Mason is the FOG Design and Art fair that showcases international galleries and contemporary designers.
Things to Do in February in San Francisco
February in San Francisco continues to see cold days, but there are still fun things to do! Head to Chinatown for the Chinese New Year Parade. Or if you like discovering new music head to the Noise Pop Music Festival at the end of the month! This is where bands such as the White Stripes and Death Cab for Cutie once played. You might just hear the next big artists!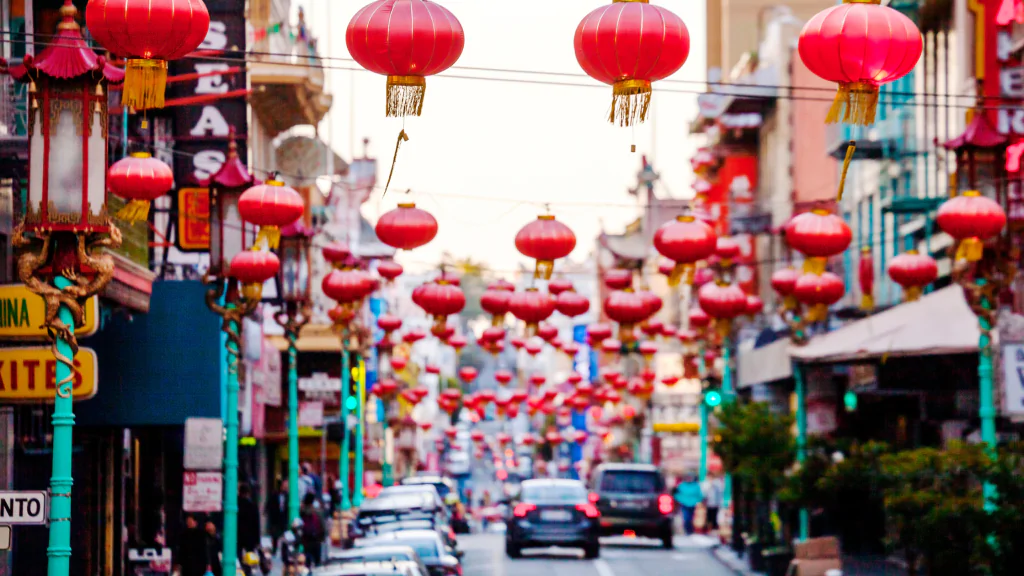 Spring in San Francisco
Spring season in San Francisco is from March to May and is considered our shoulder season for tourism. This is a great time to visit San Francisco as many flowers will begin to bloom making the iconic Victorians even more beautiful. 
In terms of weather, rainy days are still a possibility. However, the temperatures begin to rise, ranging from low 50os overnight to high 60os during the day. It's a great time of year to go on long walks throughout the city as it starts to say light out later in the day..
As it's shoulder season, expect fewer crowds and reasonable prices for accommodation. If you haven't been to Alcatraz yet, go now!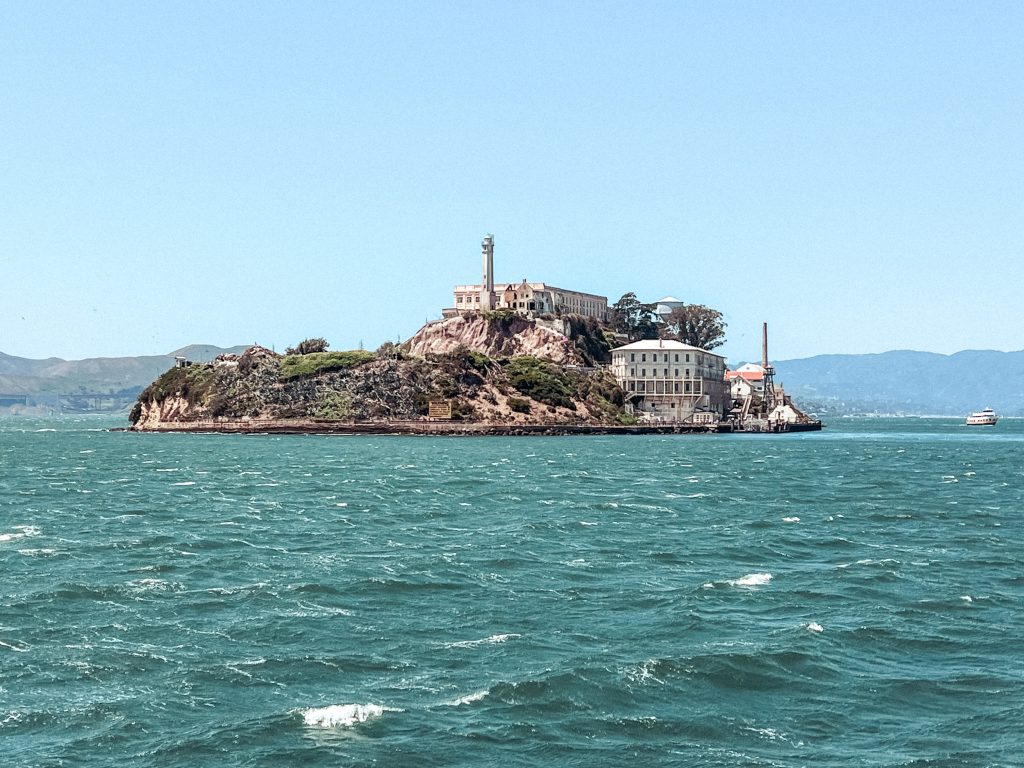 Things to Do in March in San Francisco
San Francisco is home to a large population of Irish immigrants, so St. Patrick's Day is done right. The St. Patrick's Day parade and associated festivities draw over 100,000 visitors each year. It's held on a weekend (you can find the information here) and runs from 2nd and Market to Civic Center Plaza.
If you're looking for something a bit more low key, head to the Botanical Gardens in Golden Gate Park. In early spring the Magnolia's begin to bloom and it is quite the gorgeous sight to see.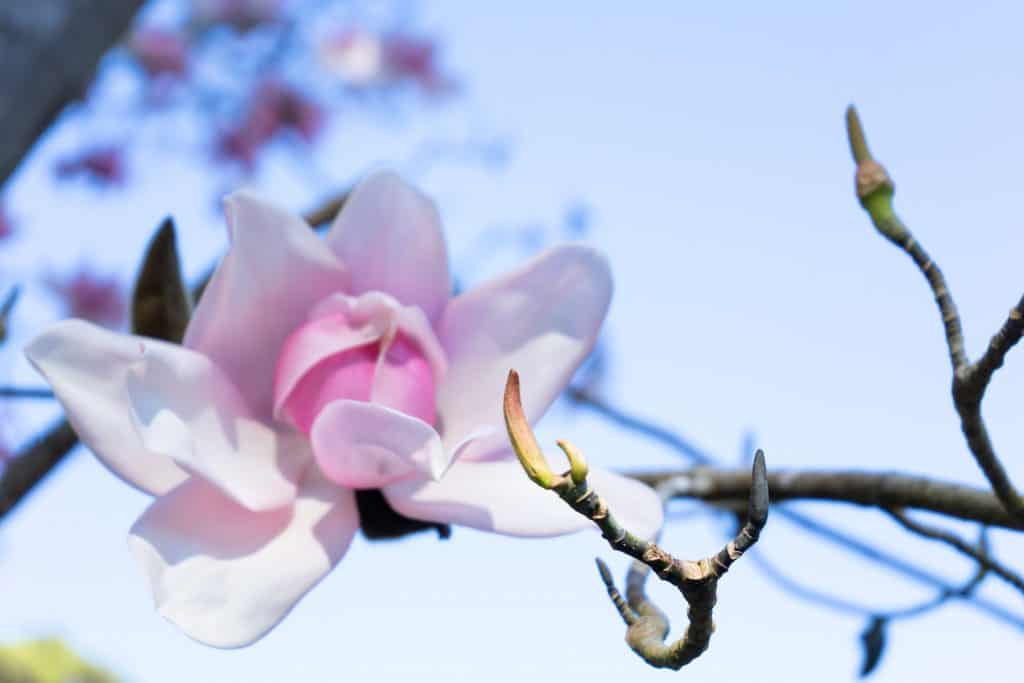 Things to Do in April in San Francisco
Speaking of flowers in bloom, in April head to Japantown for the Cherry Blossom Festival. In addition to celebrating the pink blooms you'll see, there are traditional Japanese artists and delicious food to try. You can also see Cherry Blossoms in bloom at the Japanese Tea Garden in Golden Gate Park.
If you're a movie buff, the world renowned San Francisco International Film Festival takes place over two weeks in April. The festival showcases over 150 films from over 50 countries. Events are typically held in the famous Castro Theater in the Castro neighborhood and the Kabuki Theater in Japantown.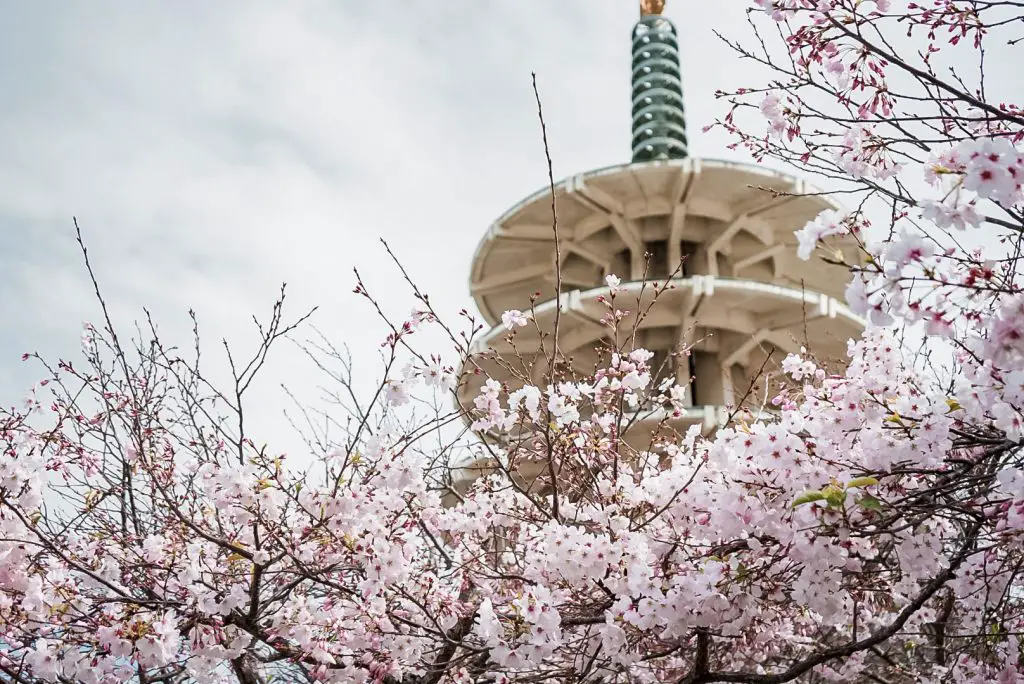 Things to Do in May in San Francisco
May is my favorite month in San Francisco, but I could be biased as it's also my birthday month so I tend to get out and enjoy the restaurants and other events in the city more than other months!
The weather in May brings mild temperatures and the days are getting longer so its the perfect time for outdoor activities!
A unique event to experience is the Bay to Breakers race. You can walk, jog, run, or simply watch this festive 12k race. It starts on the Embarcadero (by the Bay) and ends at the Great Highway (by the ocean aka breakers). Many people dress up in themed costumes while others decide to wear nothing at all.
Another colorful event in San Francisco is Carnaval which takes place at the end of the month in the Mission. It's a two day festival celebrating Latin American music that culminates with a Grand Parade on Sunday. 
Summer in San Francisco 
As mentioned above, the summer months (June-August) are the peak tourist season in San Francisco. Even though the weather is some of the "worst" throughout the year. While the temperatures are mild, ranging from high 50s to sometimes 70, it's our dear friend Karl the fog that makes San Francisco's weather unpredictable.
Another note about San Francisco weather is that we have microclimates. Out by the beach is typically colder and shrouded in fog. While the Mission District, specifically Dolores Park, will be sunny. So maybe, all you'll have to do is head to a different neighborhood a few blocks away to get some better weather!
Crowds will be large in the main tourist areas of the city and you'll likely have a long wait in line to ride the cable cars. Since it's peak season, hotel prices will jump.
However, summer is a fun time in the city. There are plenty of events to fill up your itinerary and it's a good time of year to take a road trip from San Francisco to check out other beautiful places in California.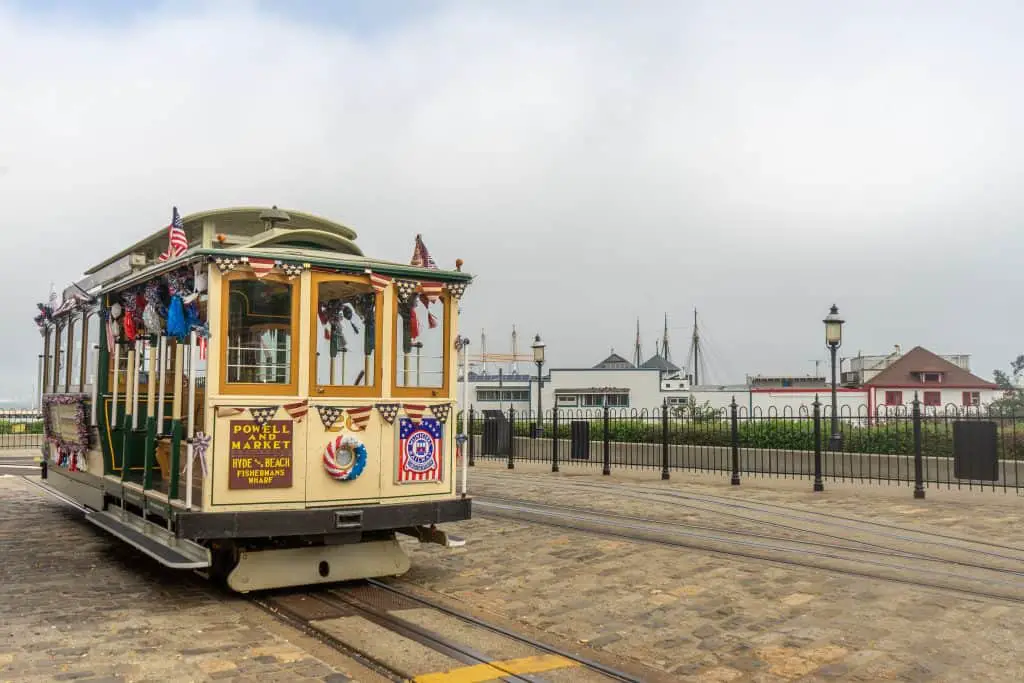 Things to Do in June in San Francisco
June is peak street festival time in San Francisco. There are so many street fairs throughout the city in the summer they probably deserve their own blog post. Every neighborhood seems to have its own festival that reflects its personality. The North Beach Festival celebrates the food of the historically Italian neighborhood, North Beach. The city's oldest street festival is the Union Street Festival which celebrates art and music. 
San Francisco was, and still is, an integral part of the fight for LGBTQ+ rights. As such, the city celebrates its LGBTQ+ Pride and history with the Pride Parade and associated festivities. The Pride Parade begins at Market and The Embarcadero and ends at Civic Center.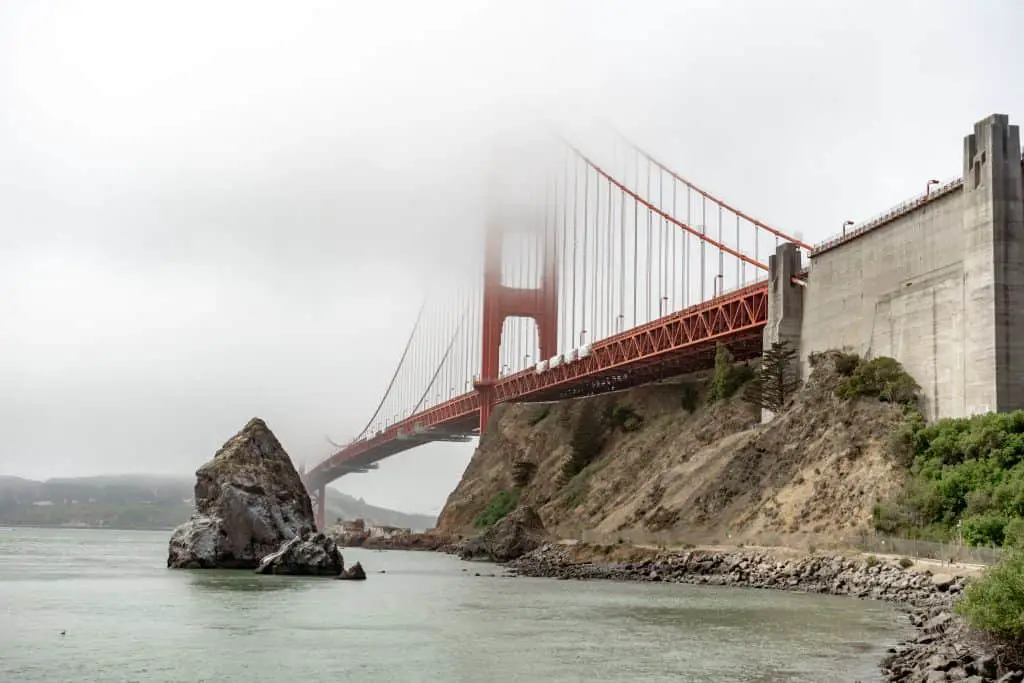 Things to Do in July in San Francisco
A fun thing to do during the summer in San Francisco is take in a baseball game at Oracle Park. While the Giants have up and down seasons, even if the game isn't good the food and views will be!
Also in July take in a free outdoor concert at Stern Grove or an outdoor movie night in one of San Francisco's many parks with Sundown Cinema.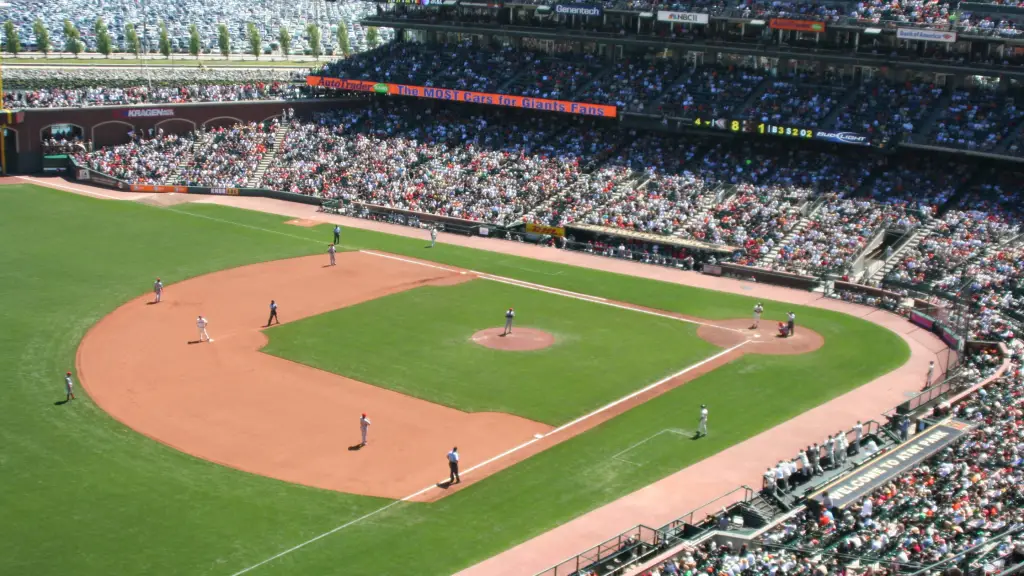 Things to Do in August in San Francisco
Two big events happen in San Francisco in August: Outside Lands and Burning Man.
Outside Lands is a 3 day music festival that takes place in Golden Gate Park. I have not gone, I actually tend to leave the city during the weekend it's held because it's in my neighborhood and the influx of people is insane! But if you're into music and enjoy festivals – this is one to check out.
Burning Man is a week-long festival that started here in San Francisco at Baker Beach and has since moved to the desert. The city EMPTIES out during Burning Man as most of the population heads off to the desert. This means, it's a great time to visit San Francisco in the summer without crowds. You may also be able to find better hotel prices!
Fall in San Francisco
Fall, from September to early November is the best time of year in San Francisco. The weather is absolutely gorgeous with the warmest month of the year being October! The temperatures remain the same as the summer, but since the fog typically stays away, it actually feels like it's 70 outside!
The summer crowds will begin to thin out, allowing accommodation prices to drop a bit. In addition to exploring San Francisco this is a good time of year to go wine tasting in Napa Valley and Sonoma or head to Lake Tahoe for a weekend of hiking.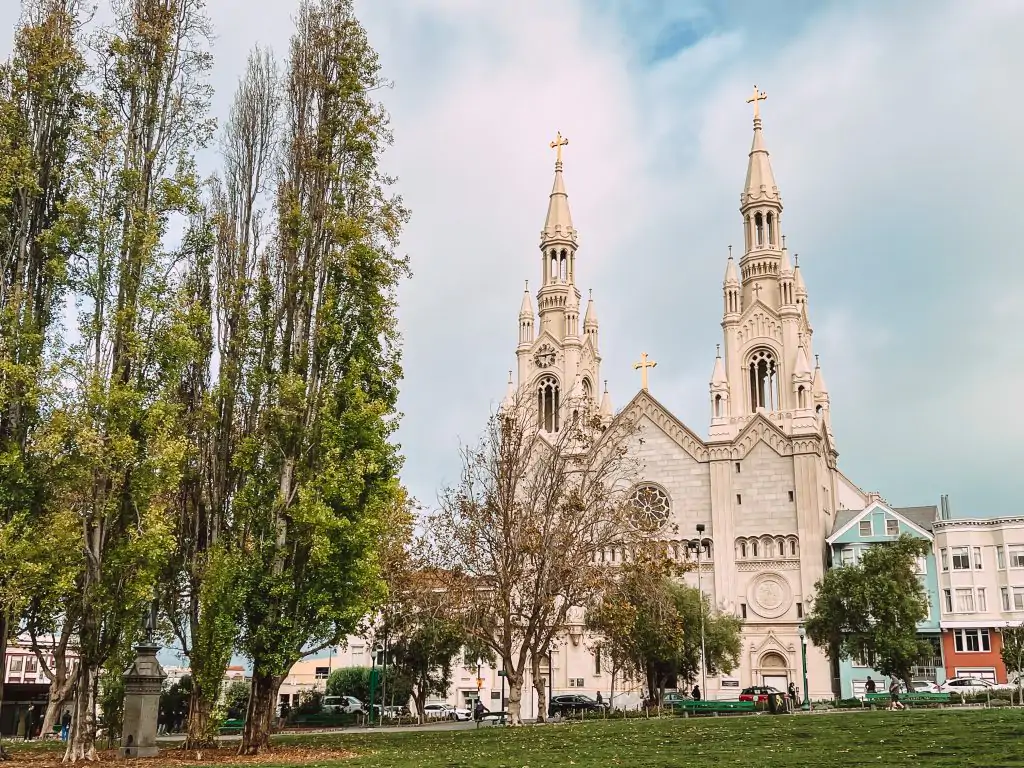 Things to Do in September in San Francisco
In September, the crowds begin to disperse after Labor Day Weekend. But there are still plenty of fun things to add to your San Francisco itinerary. 
The Folsom Street Fair is a celebration of all things kink, leather, and sexual liberation. If you're in the city this weekend, you might see some interesting things or you may want to join in on the fun. 
Also occurring in September is the Fringe Festival, a theater festival with over 100 performances occurring in small venues throughout the city including comedy and cabaret. You may even see unofficial performances in parks, bars, or buses.  
Things to Do in October in San Francisco
October is the bet month to visit San Francisco. And don't worry, just because it's fall doesn't mean that there aren't things to fill out your itinerary!
First up is the completely FREE three days music festival in Golden Gate Park: Hardly Strictly Bluegrass. I attended for the first time this year and had a blast checking out new, to me, music. It's a chill vibe and since it's free, you can pop in and out when you want without feeling like you need to commit to an entire weekend because you bought expensive tickets!
Fleet Week also takes place in October culminating with a weekend of the Blue Angels performing over the Bay and Golden Gate Bridge. You'll hear them practicing all week long! This past year, unfortunately, the fog rolled in unusually thick and the show was canceled. However, it's quite the sight to see!
A unique event out at Ocean Beach is the Sand Castle Classic where teams of people head to Ocean Beach to create huge sand castles. There are also food trucks and live music throughout the day to keep you entertained at one of San Francisco's beautiful beaches. 
Things to Do in November in San Francisco
The fairs don't stop in the summer! The Renegade Craft Fair takes over Fort Mason where you can find unique clothes, jewelry, art, and other gifts. It's a great place to start your holiday shopping! 
Illuminate SF begins in November and continues through January. Since the nights are so long, this gives you something to do once the sun sets at 4:00! Throughout the city are various art and light installations. Some are akin to neon signs while others are huge statues. There are a variety of art walks you can do, check them out here. 
Christmas Tree lightings will also begin in November as the city begins to decorate for the holiday season. 
Now that you know the best time of year to visit San Francisco and all of the unique events in the city throughout the year, when will you plan your trip?