The Lands End trail is a heavily trafficked 3.5-mile hiking trail located in the Outer Richmond neighborhood of San Francisco. It's popular for good reason! It offers beautiful scenery, is family-friendly, and relatively easy. As you walk, you'll have views of the Sutro Baths, the Pacific Ocean across to the Marin Headlands, and of course epic views of the Golden Gate Bridge guiding your way.
On the weekends, this trail is incredibly busy with families and groups. The weekdays are a bit less crowded and it's a great walk to take about an hour before sunset. You'll be able to see the sun setting into the Pacific ocean, the colors of the sunsets spreading across the sky to the Golden Gate Bridge. It's breathtaking.
There's even a "hidden" San Francisco beach and a labyrinth located off of the Lands End trail. We'll get to that later.
This post contains affiliate links, which means that, at no additional cost to you, I will earn a tiny bit of income if you decide to make a purchase or booking. For more, check out my disclosure. 
San Francisco Travel Resources
Overview of the Lands End Hiking Trail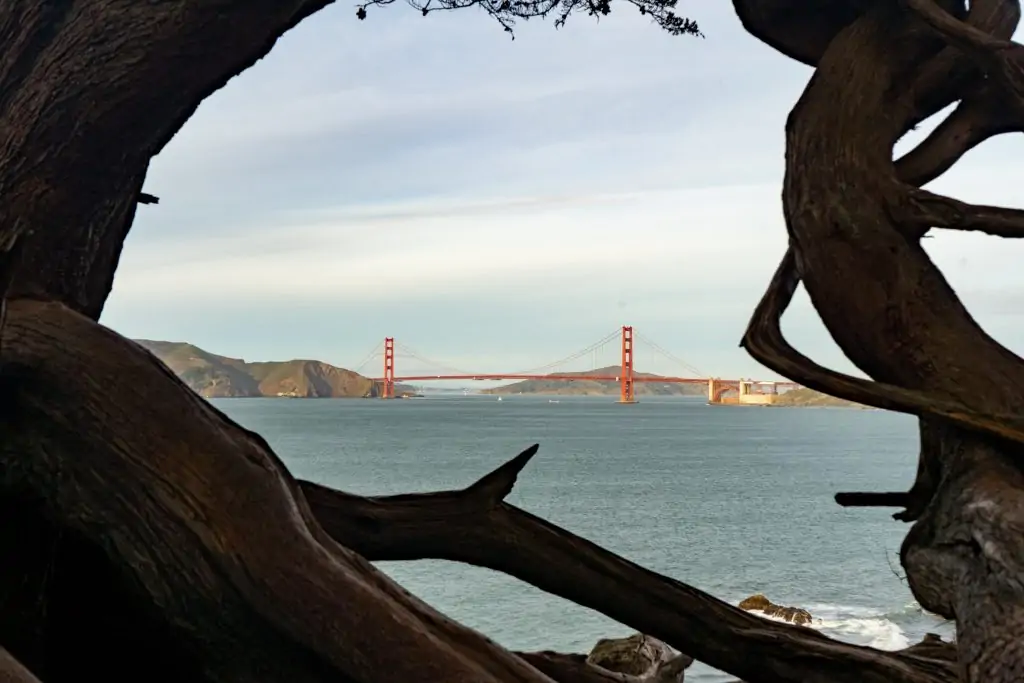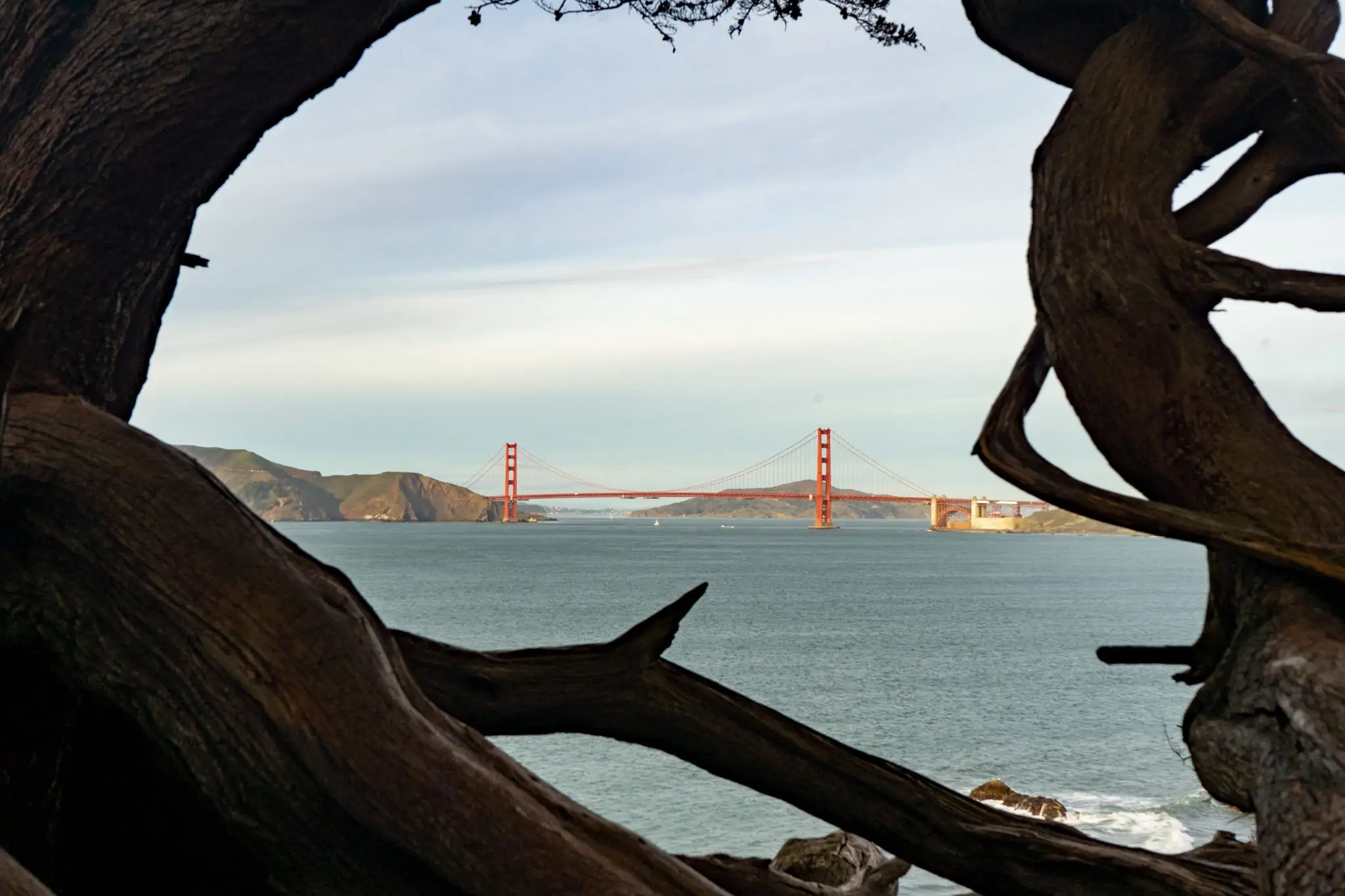 Length: 3.5 miles out & back
Terrain: Wide dirt path, mostly flat with a few staircases
Difficulty: easy to moderate (the stairs are tough)
Facilities: there are porta-potties in the Fort Miley parking lot
What to Wear Hiking the Lands End Trail
I see it all on this hike. I've seen people walking in sandals and hiking boots, jeans and workout gear. I think people underestimate it, but those stairs will get ya!
I recommend wearing something you're comfortable sweating in and sturdy walking shoes. 
Also, if it's recently rained, be prepared to get a little muddy!
How to Access the Lands End Hiking Trail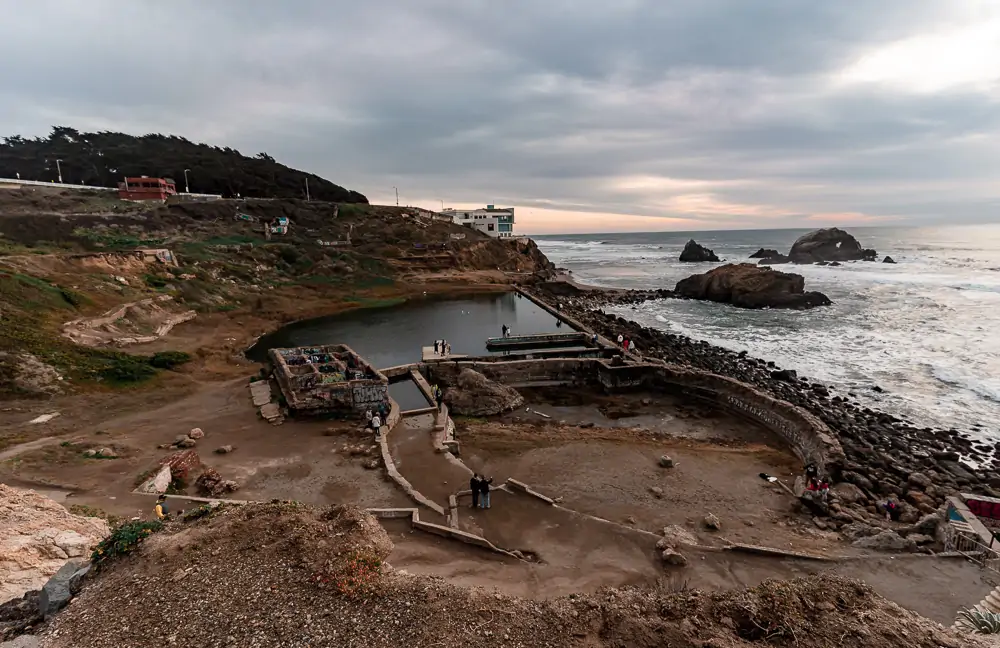 The easiest way to access the Lands End Trail Head is from the Sutro Baths area. You can either park at Sutro Baths, taking one of the paths to connect you to the Lands End trail. Alternatively, you can park at the Fort Miley parking lot. Either option is free! But be sure to take all of your belongings with you as this is a popular area for car break-ins.
If the lots are full, a common occurrence on a sunny San Francisco day, you can also park in the surrounding neighborhood.
Hiking Lands End Trail
You'll understand why this is such a popular trail as soon as you start the walk because the Golden Gate Bridge is in full view immediately!
The path contains many direction posts, so it would be incredibly difficult to get lost!
Stay on the wide dirt path until you reach a staircase leading down the side of the Cliffs. This staircase will take you to Mile Rock Beach and the labyrinth. 
Mile Rock Beach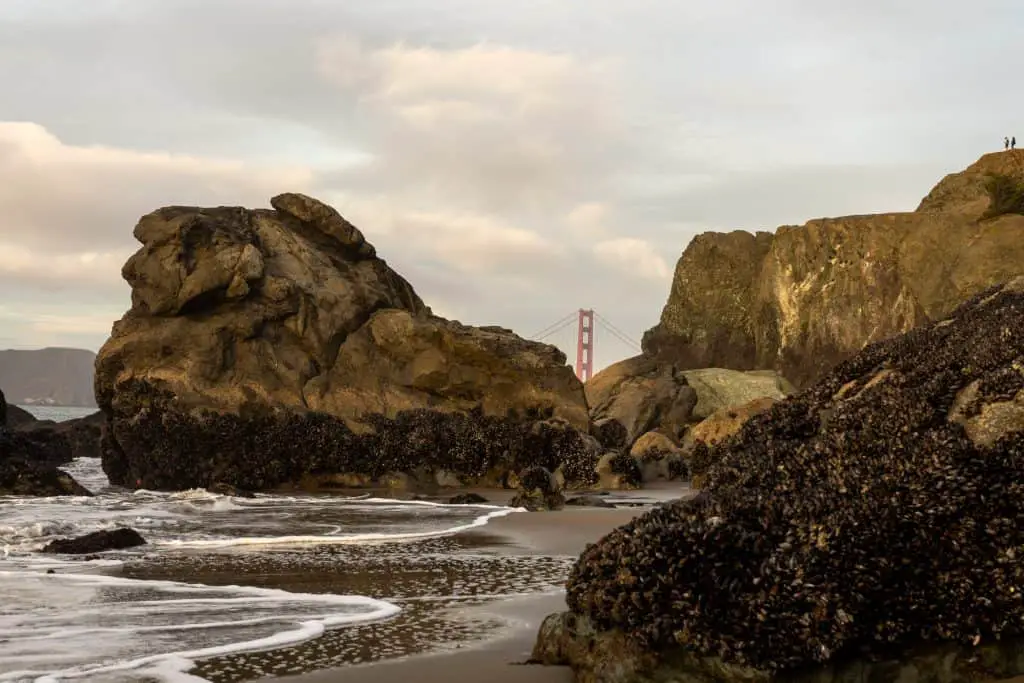 Mile Rock Beach is a rocky cove that is fun to explore if the tide is out. As you walk south you'll see mussels clinging to the slides of the rocks. You may even see a shipwreck! 3 shipwrecks occurred in this area that might be visible during low tide.
If the tide is in, the experience at Mile Rock Beach is much different as there is very little sand exposed. Exercise caution.
Lands End Labyrinth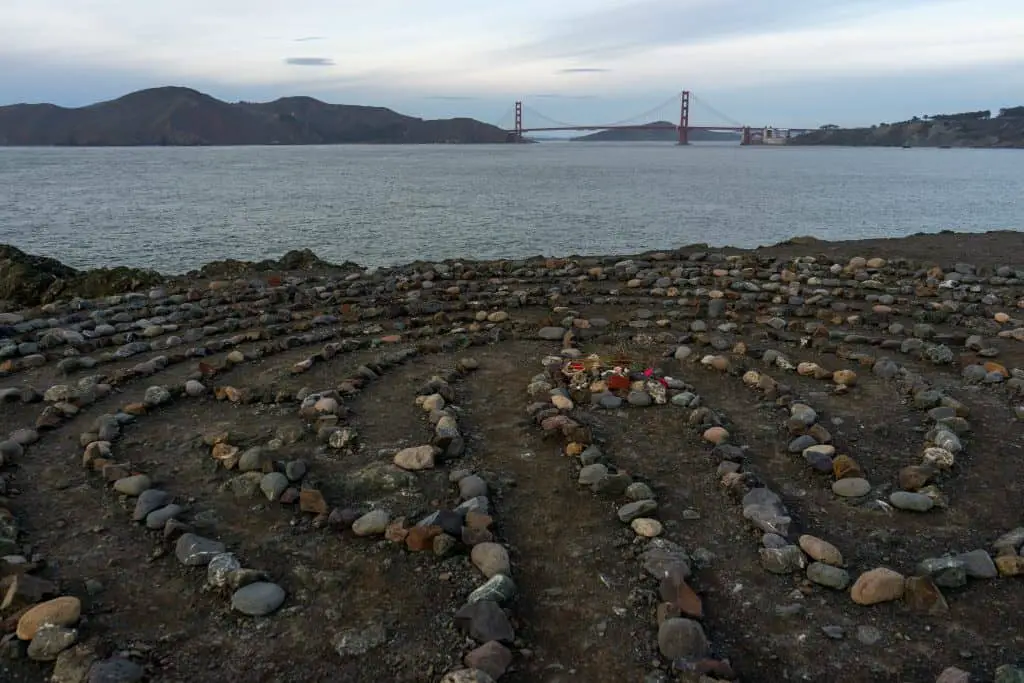 Just above Mile Rock Beach is the Lands End Labyrinth. Follow the narrow dirt path from Mile Rock Beach to the large bluff, this is where you'll find it! 
And say hello to an epic view of the entire Golden Gate Bridge.
Many evenings, this is as far as I go on the trail. I sit here to relax, enjoy being in nature without having to leave the city, and watch the sunset. I highly recommend it!
The Lincoln Park End of Lands End Trail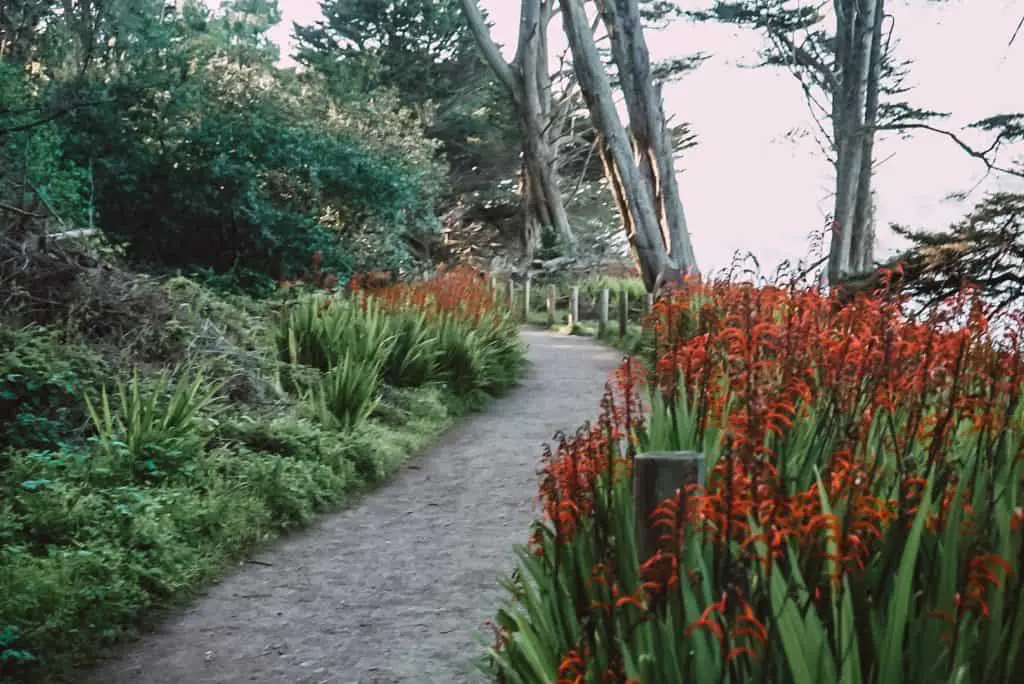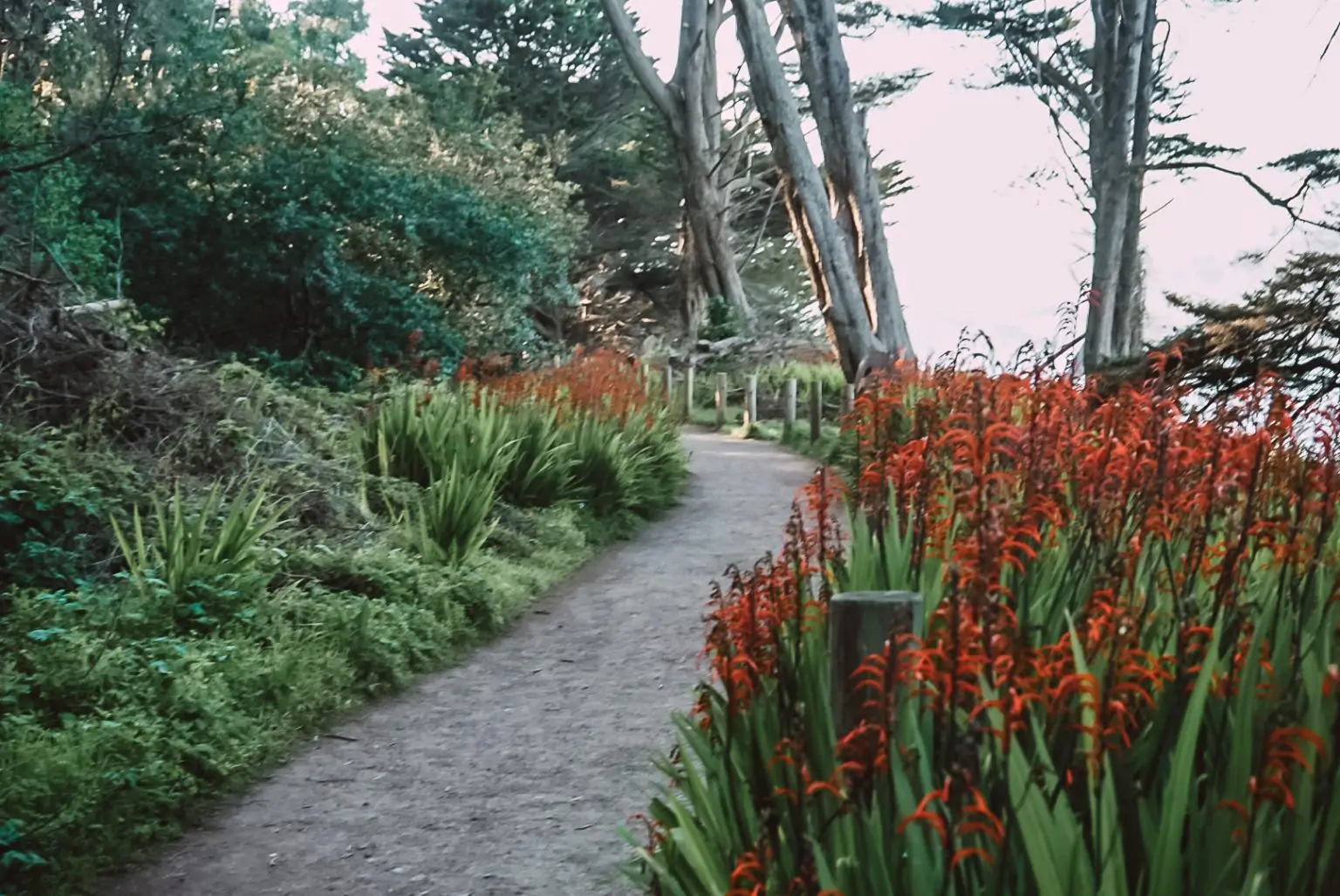 After exploring the beach and the labyrinth, climb back up the stairs and continue following the path. You'll have to climb another staircase, so be prepared for that!
About half a mile later, you'll reach the Lincoln Park golf course and Sea Cliff neighborhood. In addition to the golf course and massive mansions, this is also where you'll find the Legion of Honor museum and a beautifully tiled staircase. 
At this point, you could either turn around and go back the same way, which is what I usually do. Or, you can walk back to your car along the El Camino Del Mar passing the Legion of Honor on your way.
Want More?
If you really want to get your steps in, you could extend your walk through the Sea Cliff neighborhood along El Camino del Mar to China Beach. Even further you could walk to Baker Beach and connect with the Batteries to Bluffs trail which will lead you to the Golden Gate Overlook. I'd suggest using rideshare to get back to your car from there!
Things to Do Nearby
There are many things to do in this area of San Francisco.
After you've finished your walk, I highly recommend spending some time exploring the Sutro Baths. This former bathhouse is such a unique feature of San Francisco and offers excellent photo opportunities. 
You could also grab lunch from one of the many restaurants in Outer Richmond and take it to Ocean Beach or Golden Gate Park.
As mentioned above, if you haven't seen the tiled Lincoln Park steps, take a quick detour to check those out or see Rodin's Thinker at the Legion of Honor. 
There you have it, everything you need to know about hiking the Lands End Trail in San Francisco's Outer Richmond.
Let me know how the hike goes for you in the comments!
Like this post? Share it to Pinterest!