I moved into the Outer Richmond neighborhood in San Francisco in October of 2020 and absolutely fell in love. Over the last few months, I've been getting to know this often overlooked and underrated neighborhood. Within minutes I can walk to the beach, Golden Gate Park, and the Golden Gate Bridge is a short drive away. I've also had some of the best sushi, Dim Sum, pizza, and pancakes (not all at once) in the Richmond neighborhood restaurants.
In this Richmond neighborhood guide, I will spill all the tea on the best things to do in the Richmond district.
Ready? Let's go!
The Richmond is a pretty large district in San Francisco so it might be difficult to add all of it to your San Francisco itinerary. Before we get into the best things to do in the Richmond neighborhood, let's break out the mini neighborhoods within Richmond.
This post contains affiliate links, which means that, at no additional cost to you, I will earn a tiny bit of income if you decide to make a purchase or booking. For more, check out my disclosure. 
San Francisco Travel Resources
Inner Richmond
The Inner Richmond borders the Presidio to the North and Golden Gate Park to the South. It contains USF and extends from Ar to 19th Avenue. The main streets you'll want to know when you visit the Inner Richmond are Clement, Geary, and Fulton.
But don't overlook Cabrillo and Balboa as they contain some great gems as well. 
Outer Richmond
The Outer Richmond begins where the Inner Richmond ends. Staring at 19th Avenue and extending all the way to the Pacific Ocean. Bordering Golden Gate Park along the way.
The main streets you'll want to know in this area are Geary, Balboa, and Clement.
Richmond – Seacliff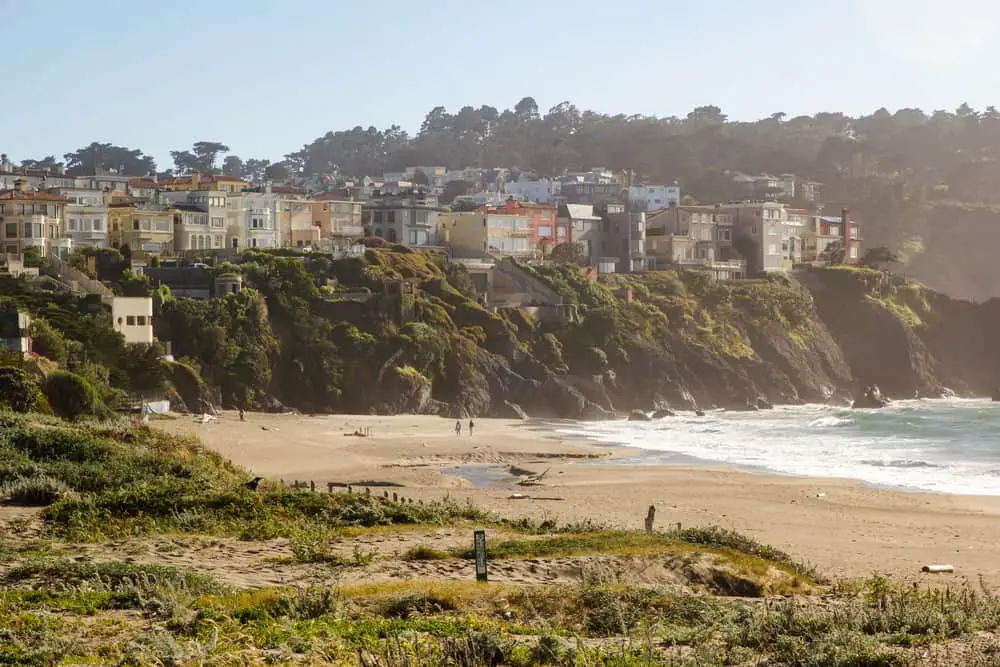 The Outer Richmond borders a neighborhood called Sea Cliff. Known by locals as millionaires row. There's a prominent orange/pink house on a cliff overlooking a small beach and with views of the Golden Gate Bridge. At the time of writing this guide, it's on sale on Zillow to the tune of 17.5 million dollars.
This is a fancy neighborhood with mansions that offer awesome views of the bay and Golden Gate Bridge.
The Best Things to Do in The Richmond
Alright, now that we know about the smaller enclaves within the Richmond, let's dive into the best things to do in the Richmond district!
Where to Eat in the Inner Richmond
Eat! There is such a variety of cuisines in the Richmond area, you'll definitely find something you like. You'll be able to get Dim Sum, Russian food, Burmese, and wash it all down with a Guinness! That's what I love about this neighborhood, it's like you're traveling, eating new cuisines all of the time, but you don't have to get on a plane!
Ariscault Bakery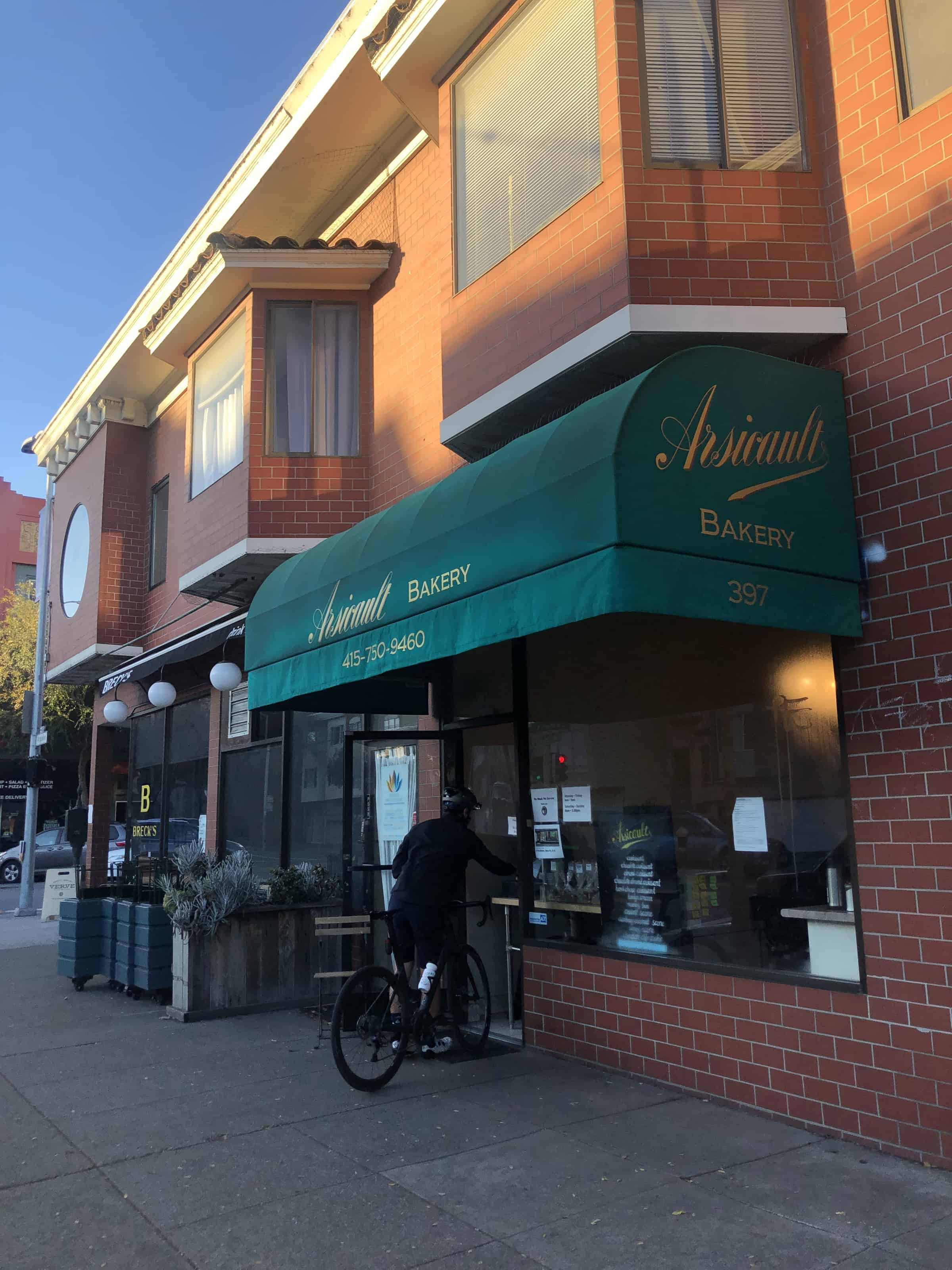 Another location that will definitely have a line on Sundays every day is Ariscault Bakery. Their claim to fame: a buttery, crunchy, flakey croissant. 
Now, I'm no croissant expert, but I had to see what all the hype was about.
Since Sundays the line is typically down the block and around the corner. I decided to go at the opening on a random Tuesday. So did about 15 other people.
But I made it to the front of the line within 10 minutes and ordered what the Yelp reviews said to order. Here are my thoughts:
Ham & cheese croissant: $5.75

This isn't a breakfast sandwich like I was expecting. The ham and cheese are baked right into the folds of the croissant. It was handed to me warm, so the cheese was perfectly melted. And so good. The croissant crust was crunch and flakey but the inside was buttery perfection.

Chocolate Almond Croissant: $5.75

Holy heaven in a croissant. First: this croissant is dense. I swear it weighs about a pound. It's not in the typical croissant shape, but it's covered in powdered sugar. Again, it was served to me warm which means that first bite was the perfect mix of melted chocolate, some sort of almond cream, and the croissant itself was perfect. In all honesty, this is more like a donut, in terms of heaviness and cream filling, but I don't even care. It was so good. I want another, but my waist line says to make it a monthly treat.

Chocolate Croissant: $4.75

I should've said that I ordered all 3 of these on the same day. I ate the above two first and I couldn't handle another one. So I saved the chocolate croissant for breakfast the following day. It was served to me warm, but clearly the following day it was no longer warm. I nuked it in the microwave for 10 seconds. You guys, it was delicious as well. Not as heavy as the Chocolate Almond Croissant, which was nice.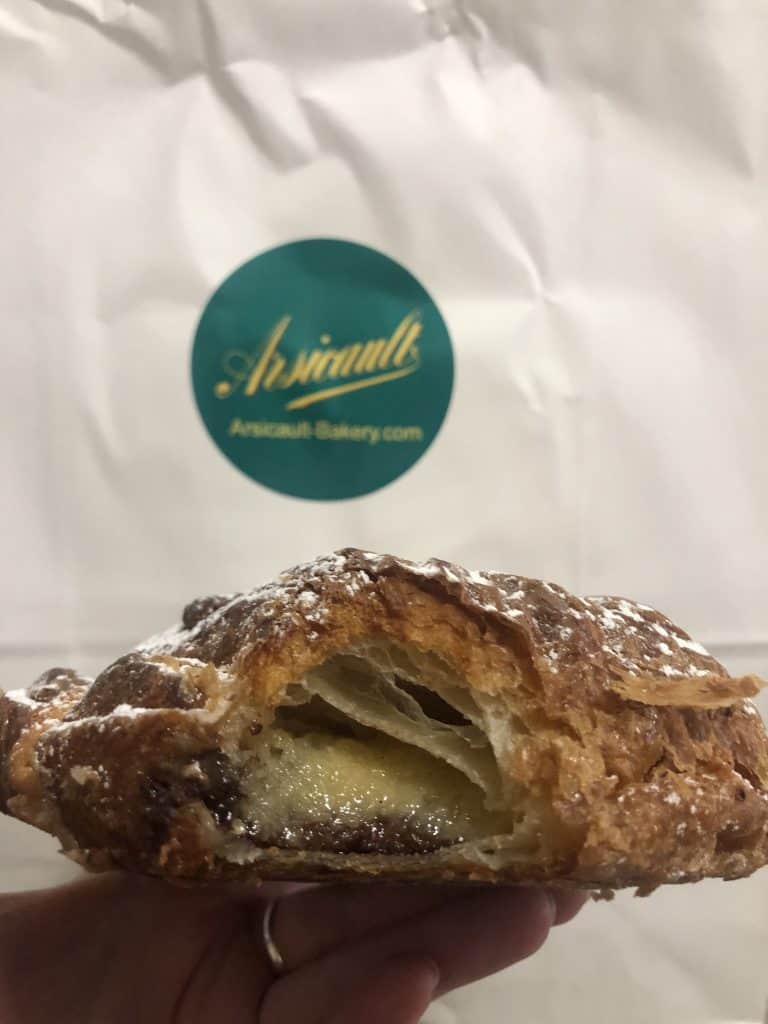 Now, I understand what all of the hype surrounding Ariscault is about. You might be thinking that almost $6.00 is expensive for a croissant. And you're not wrong, but these croissants are worth it. And it is San Francisco, so, expect to pay more for just about everything.
I love that they were all served warm. I'm not sure if this was because I was there at opening, but I imagine they've always got a fresh batch baking. I'll return at another time and report back.
Because I would 100% stand in line for any of their croissants. 
Location: 397 Arguello Blvd
Wing Lee – Dim Sum
After a Sunday morning at the farmer's market I was hungry. Knowing that the Richmond neighborhood is becoming known as the new Chinatown, I figured it was time to try some Dim Sum.
I passed a Dim Sum location with a line out the door and figured it was good as any.
This place happened to be Wing Lee. Cash only, Chinese on the menu, and know what you want fast!
I pointed to one of everything that they had displayed and was through the line with my food in 10 minutes.
This being my first Dim Sum experience, let me tell you. It was fan-freaking-tastic.
I have now made Dim Sum a part of the monthly rotation and will report back on other options for Dim Sum in the Richmond.
That being said, I don't think you can go wrong anywhere on Clement St. Most places had a line out the door!
Location: 503 Clement St
Lokma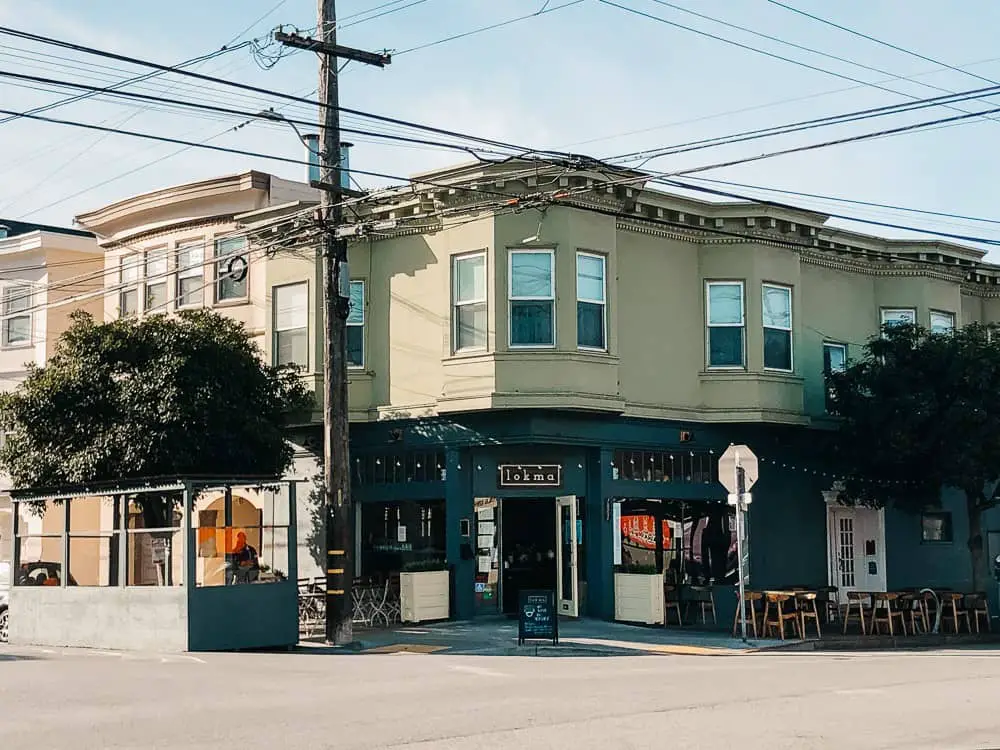 Lokma is a Turkish restaurant that serves the best pancakes I've ever had. Their Greek Yogurt Pancakes are amazing! I usually only get them or add it to the combo for their delicious Turkish sausage and eggs. They have other food on the menu too, and it all looks fabulous. But you know when you find a meal you love at a restaurant and when you go there that's exactly what you want. That's how I feel about the pancakes at Lokma. 
Go give them a try ASAP!
Location: 1801 Clement St
Pizzetta 211
The first time I tried Pizzetta 211 it was 6:00pm on a Saturday night. They had sold out of pizza. That's how popular this place is!
Naturally, I couldn't stop thinking about it, because we always want what we can't have. Later that week I called ahead to place an order for pick up (because.. COVID). 
It was still hot by the time I got it home and it made my car smell yummy!
Let me tell you, this pizza was legit. No wonder it sold out! 
In addition to their regular pies, they also have seasonal options. I ordered a seasonal option with an egg on it and am planning to try more!
Location: 211 23rd Ave
Where to Get Your Coffee/Tea Fix in the Richmond
Home Coffee Roasters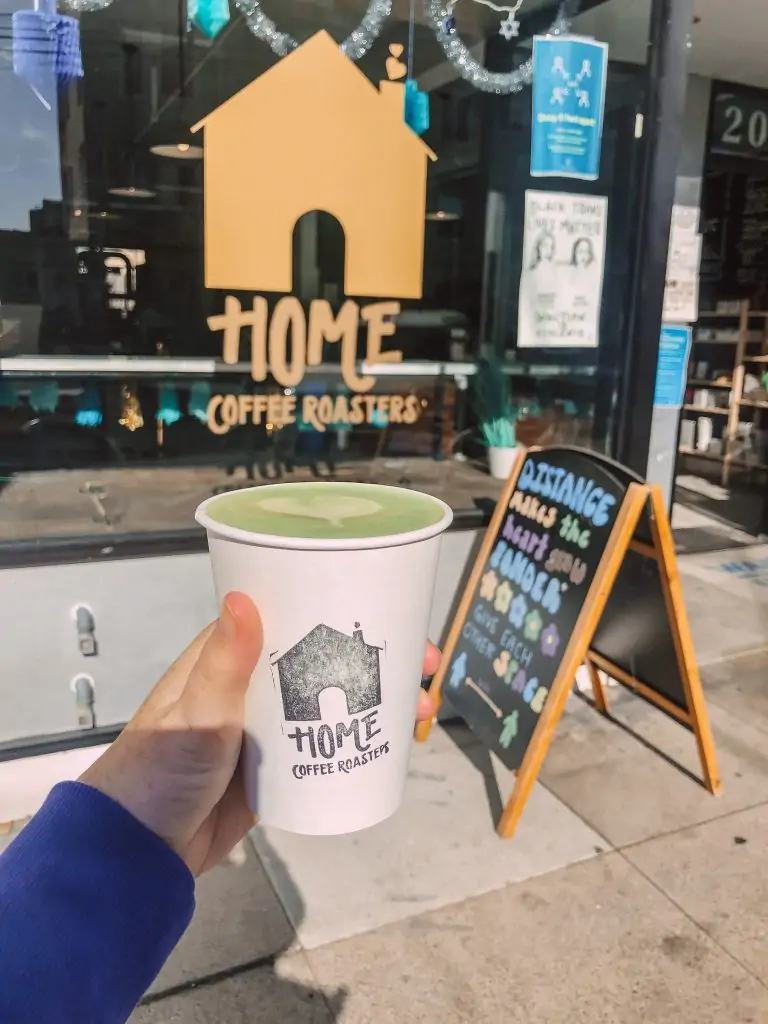 Home Coffee Roasters is a local favorite. I don't drink coffee, so I can't speak to their roasts, but their matcha latte is one of the best I've had in the city. They consistently are busy, so I imagine their coffee is top notch as well. 
In addition to the traditional brews, they offer a creative beverage menu as well. 
Where to Go Shopping in the Inner Richmond
Clement St Farmers Market
Clement St is one of the main roads in the Richmond neighborhood. Here you'll find a wide variety of restaurants from Russian, to Burmese, to Dim Sum, to Irish pubs. There are also unique gift shops and boutiques.
However, every Sunday morning you'll find Clement Street between 2nd and 4th ave filled with colorful stalls for the Clement St. Farmers Market.
You can truly get everything you need for the week here; from humanely raised meat, cheese, and colorful fruits and vegetables. Along with a few bakery stalls to satisfy that morning sweet tooth.
There seem to be "popular" stalls with long lines at the ends of the market. However, in between, many stalls don't have lines, so if you're like me and would prefer to avoid lines either get there super early or just shop the stalls without lines.
Some merchants are cash only, so be sure to have a bit of cash on you. There are ATMs nearby.
Location: Clement St between 3rd Ave & Arguello
Green Apple Books
Three floors of new and used books await you behind the doors of Green Apple Books. Established in 1967, Green Apple Books has been a Richmond, and San Francisco favorite. You'll find a wide array of books, in every genre here.
What I love about Green Apple Books, besides the charm of the creaky staircase leading to the second floor, is that they have a pulse on current events and ensure that their shelves are stocked with enlightening reads to help us learn more about what's going on in the world.
They also buy books here! So if you need to clear out some space on your bookshelf with some new favorites, bring your gently used books to Green Apple!
Location: 506 Clement St
Outdoors Activities in the Richmond
Golden Gate Park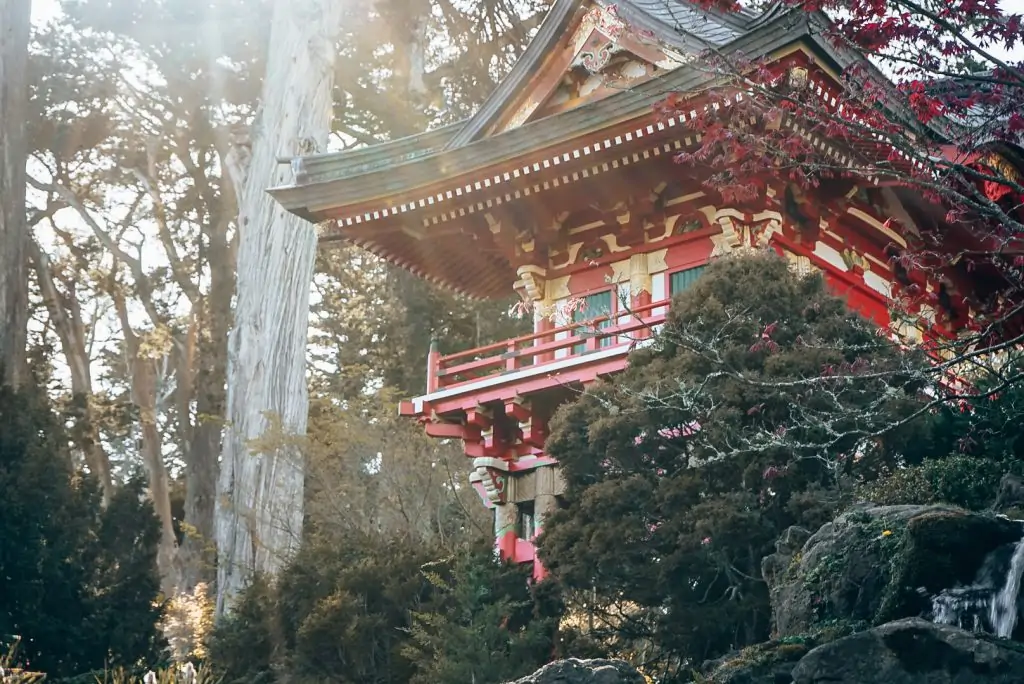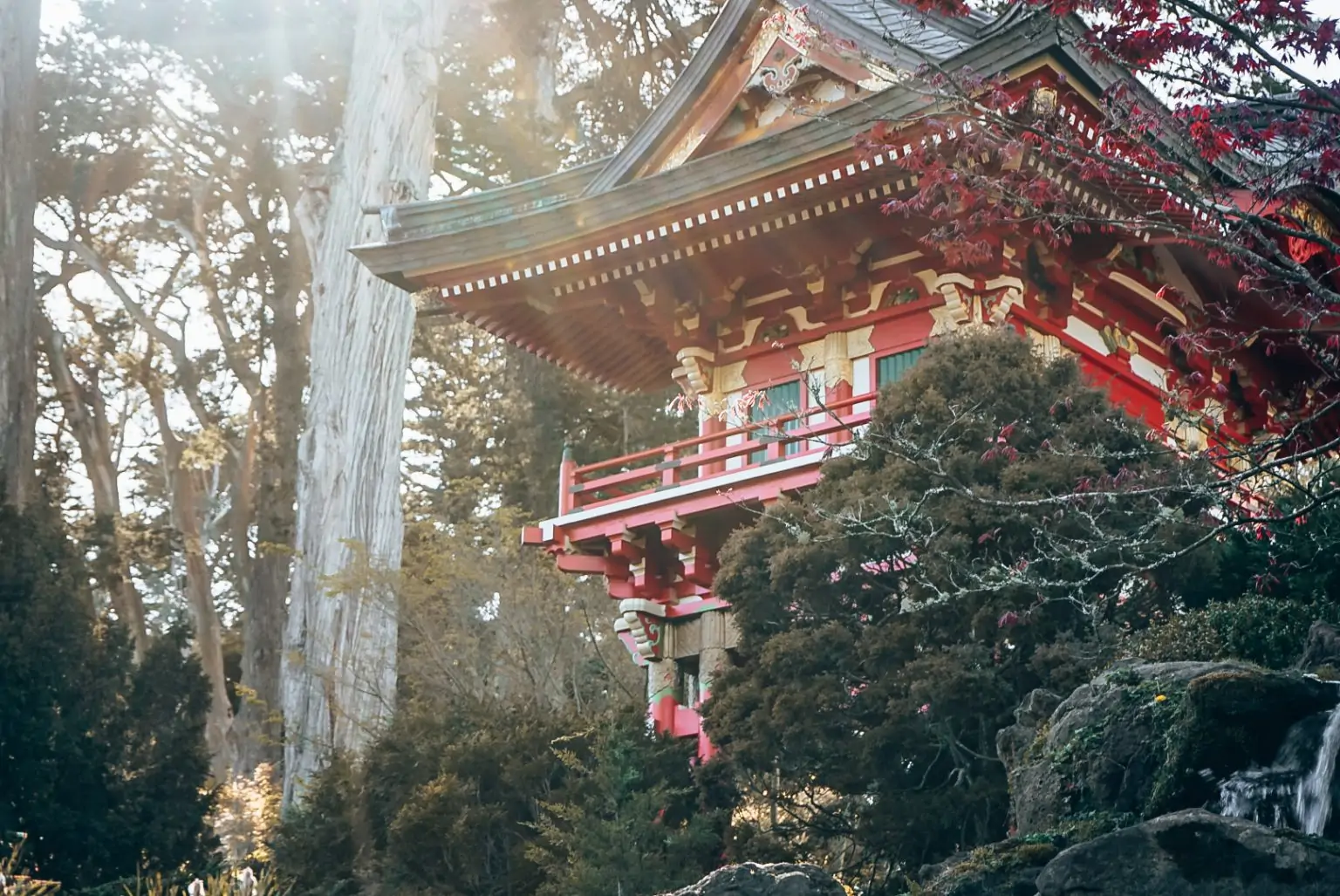 Since the Richmond neighborhood runs the entire length of Golden Gate Park it has easy access to all of the awesome things to do there. I'm working on an entire post that goes deeper into the best things to do in Golden Gate Park, but here are two of my favorites!
Botanical Gardens
The Botanical Gardens are an awesome (free to locals) place to spend a few hours wandering around. They're incredibly peaceful and a popular picnic spot. Plus if you're limited on time, you can see a Redwood Grove here which is just amazing to me.
Visit the Bison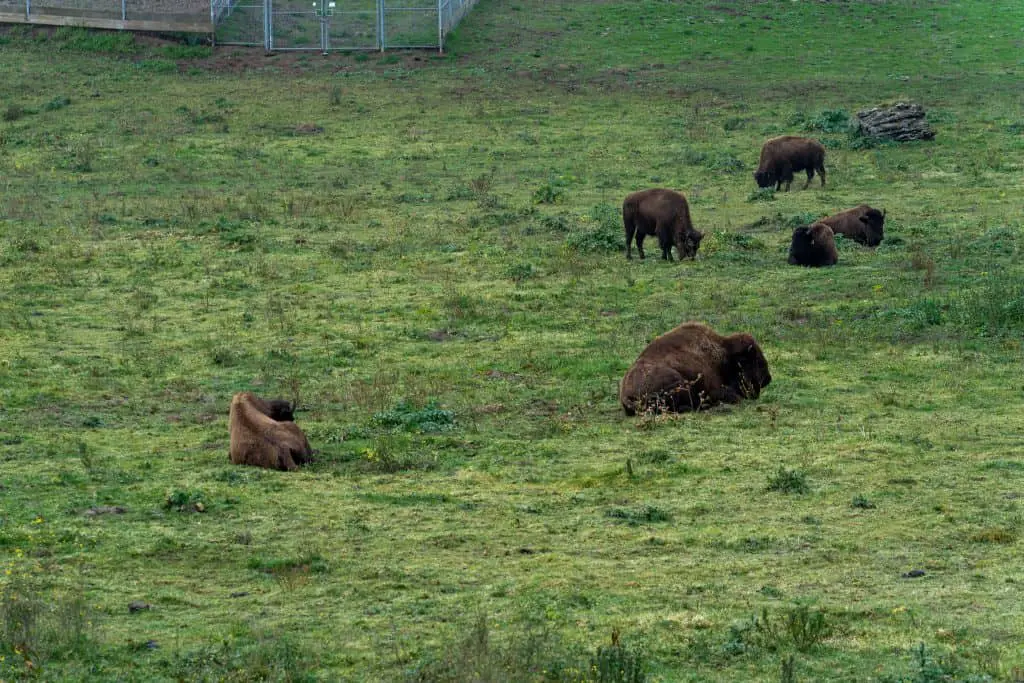 Did you know that there is a herd of Bison in Golden Gate Park? Bison have been calling Golden Gate Park home since the 1890s and in 2020 5 more calves joined the herd. Interestingly, they're all female, to keep things a little bit more chill.You'll usually find the Bison relaxing in the grass, grazing, or slowly wandering its enclosure. If you've never seen a Bison close up, it's a unique experience. 
Ocean Beach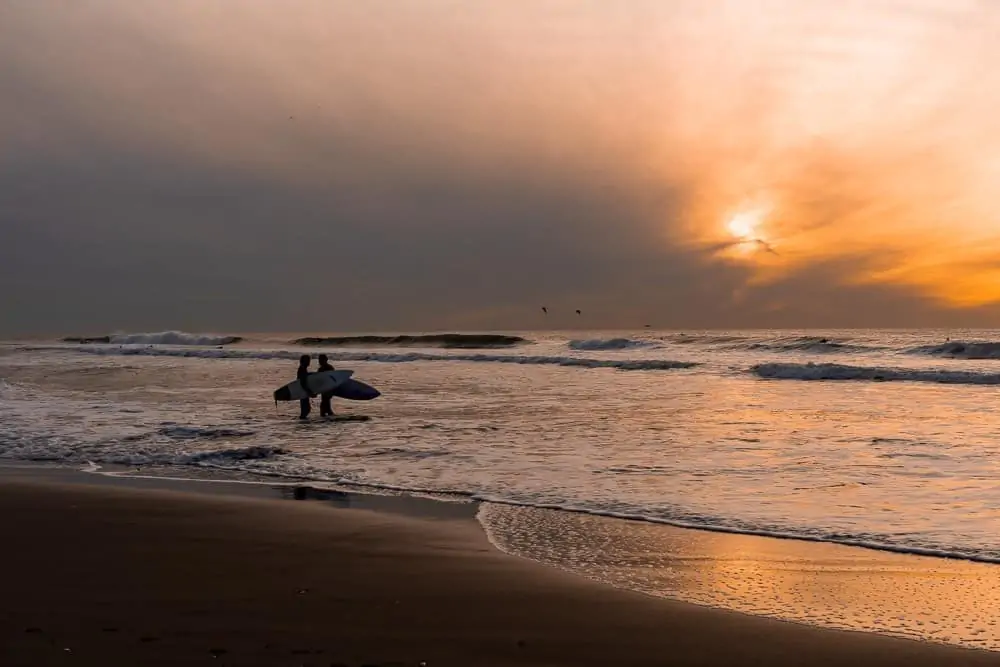 At the very west of the Outer Richmond is the Pacific Ocean. Here you'll find a large stretch of sand called Ocean Beach.
Ocean Beach is incredibly popular San Francisco beach. Especially amongst surfers, typically you'll find intermediate and advanced surfers here as the current is strong and the waves are huge!
The northern part of Ocean Beach is where you'll see the Cliff House building overlooking Seal Rocks. This is also where you'll find the Street Art Seawall!
As you walk along the beach to the south, you technically enter the Sunset District where you can walk on the Great Highway and the graffiti seawall turns into large sand dunes. 
Interestingly, these sand dunes used to cover this entire area, including Golden Gate Park.
While the Outer Richmond has a reputation for being foggy and cold, Ocean Beach is the place to be on a sunny day. And as the sun sets, make sure you're prepard with firewood as Bonfires are legal at this beach! You'll see them start popping up just after sunset just about every night of the week.
China Beach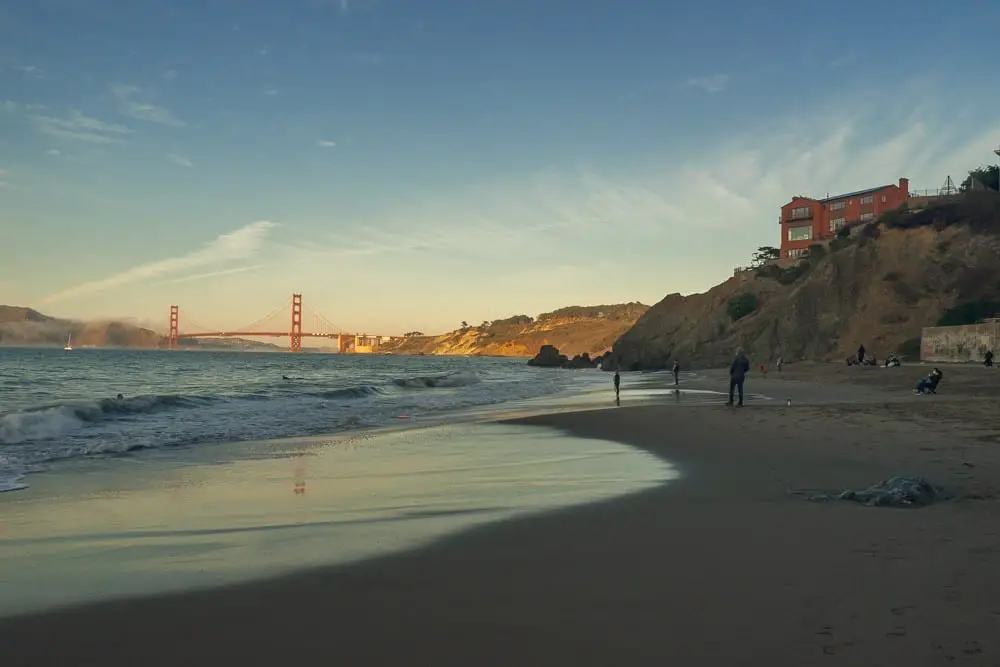 China Beach is a small beach located in the Richmond-Seacliff neighborhood. It gets its name from the Chinese fisherman who camped here ages ago. It's still a popular fishing spot and it's a gorgeous place to relax with a view of the Bay and Golden Gate Bridge. Since it's a bit removed from the rest of the city and so small, this is a popular location amongst locals. 
There is a small parking lot near the stairs leading to China Beach.
Location: China Beach, Sea Cliff
Sutro Heights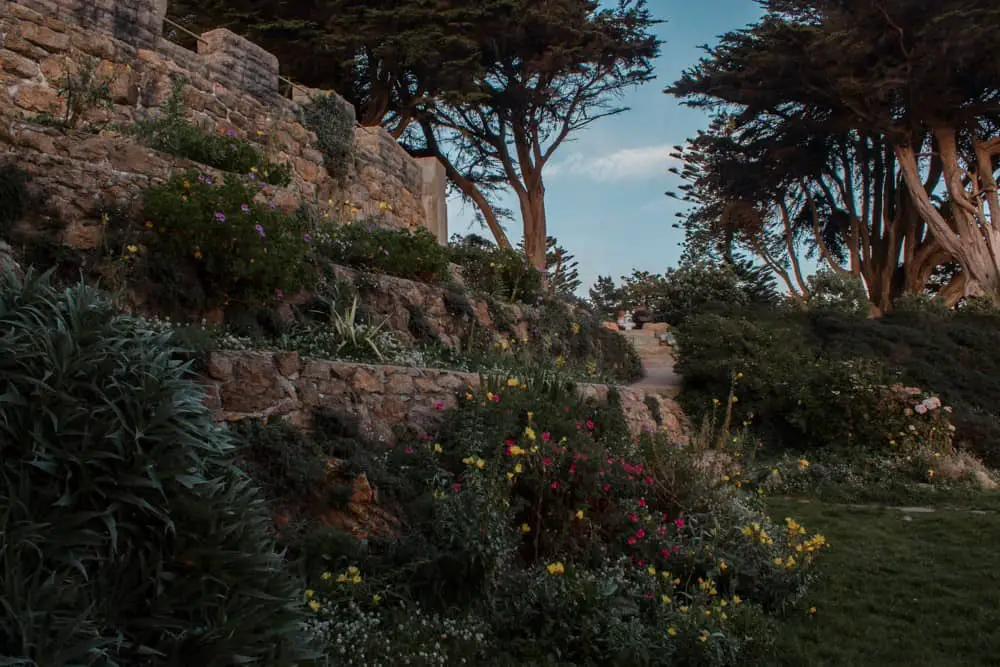 Sutro Heights is a hidden gem of a park. This park overlooks the Cliff House and is part of the land developed by Alfred Sutro who created the Sutro Baths (which we will get to). This park was once a walled Victorian garden. Some of which remains, the fountain, the lions at the entrance off of Point Lobos Ave and the stone overlook.
This park is the perfect place to hear the waves crashing against the rocks below. It's mostly locals at this park as well, which is nice.
Sutro Heights is a great place to watch sunset over the rooftops of the Outer Richmond and Ocean Beach.
Sutro Baths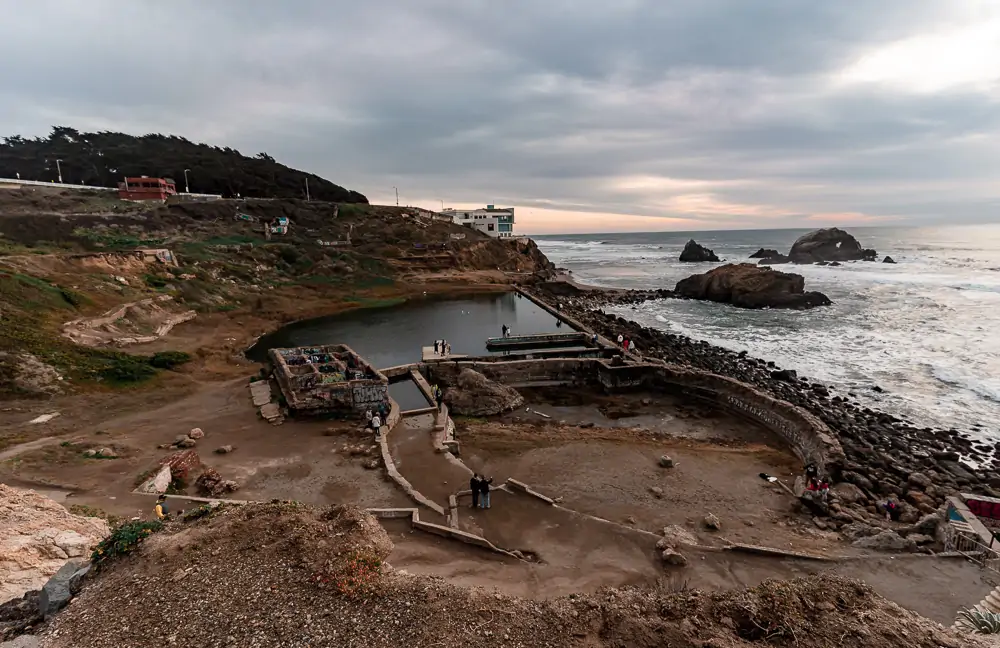 Just across the street from Sutro Heights Park is Sutro Baths. Once a popular bathhouse, the ruins still remain and are accessible to walk on. But be careful! The waves crash directly below and it can be dangerous!
Otherwise, it's absolutely beautiful. You can still see the steps leading into the former pools and the building that was the changing rooms. 
When the tide is out, there is a little beach below the ruins.
This is an incredible place and incredibly popular especially on the weekends and at sunset. Parking can be difficult so you may have to park in the surrounding neighborhood. As this is a popular location, remember to take all of your belongings from your car, as break ins do occur here.
Lands End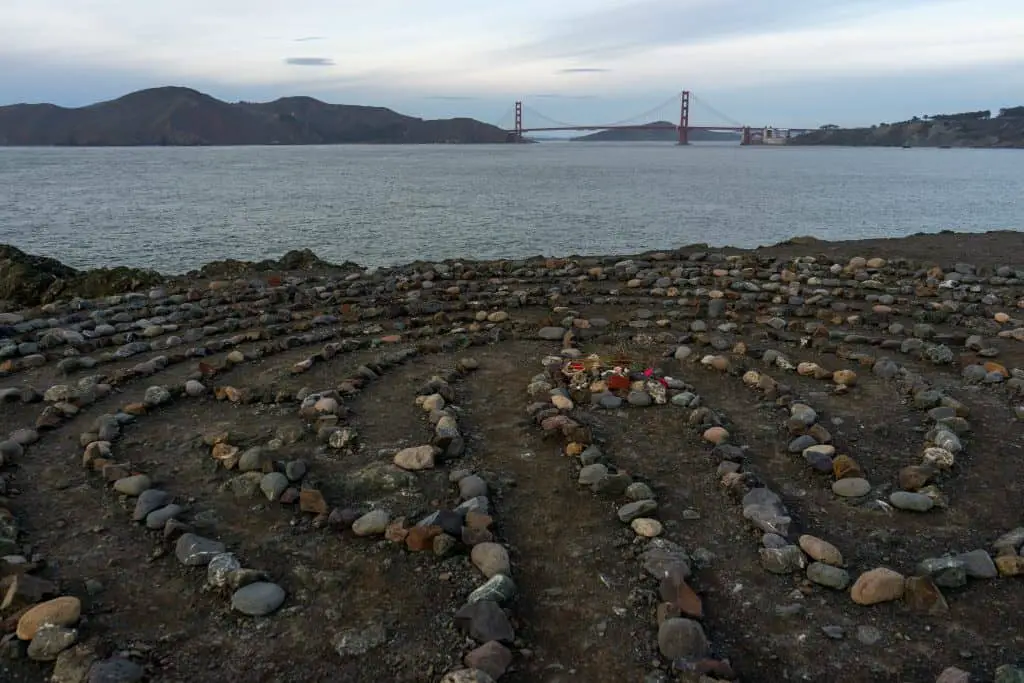 Right near Sutro Baths is the Lands End trail, my favorite hiking trail in San Francisco. This 3.4 mile out and back trail is incredibly popular amongst locals and tourists because it includes views of the Sutro Baths, the Pacific Ocean, and of course the Golden Gate Bridge. 
You can also climb stairs down to Mile Rock Beach and see the labyrinth. Other points of interest along the way are the Legion of Honor and one of San Francisco's mosaic staircases, Lincoln St. Steps.
If you really want to geete a long walk in, you can continue the walk through the Sea Cliff neighborhood, meeting up with the Batteries to Bluffs trail. 
This trail is heavily trafficked on the weekend, so if you want a little bit more quiet, try going about an hour before sunset on a weekday. It's a stunning sunset walk!
Location: Lands End Trail (park near Sutro Baths)
Visit a Museum
Legion of Honor
Besides the fact that the Legion of Honor is a beautiful museum with an impressive collection of European arts, prints and drawings, it's also located in stunning surroundings. Situated in Lincoln Park, The Legion Of Honor overlooks the Pacific Ocean and the Golden Gate Bridge, offering just as much natural beauty as manmade.
Check out their website for more information on hours, tickets, and upcoming exhibits.
Location: 100 34th Ave
deYoung Museum
The deYoung Museum has been a staple in Golden Gate Park, and San Francisco, for over 100 years. Its collection includes art from the Americas in the 17th and 21st century. Stop in to check out their collections and any exhibits going on while you're enjoying Golden Gate Park!
Check out their website for more information on hours, tickets, and upcoming exhibits.
Location: 50 Hagiwara Tea Garden, San Francisco
How to Get to the Richmond
Now that you know the best things to do in the Richmond neighborhood, how do you get there?
If you have a car, the best way to get to the Richmond is to drive. As stated above, the main thoroughfares are Fulton, Geary, and California. Parking is mostly free for two hours except for metered parking on commercial streets. You might just have to circle the block once or twice to find a space.
If you don't have a car, an Uber is always an option.
Alternatively, there are multiple Muni routes that service the Richmond.
5 – Fulton: runs from the transit center downtown, along Golden Gate Park, all the way to Ocean Beach
38 – Geary:  runs from the Transit Center downtown, through the center of the Richmond, ending at Sutro Baths/Lands End
1- California: runs from the Financial District downtown, through the Richmond, to Lincoln Park
29 – Sunset: runs from the Bayview Neighborhood, near the San Francisco Zoo, through the Sunset & Golden Gate Park, into the Sea Cliff neighborhood
Where to Stay in the Richmond
The Richmond neighborhood is not home to many traditional accommodation options. You won't find any household name hotels like the Hilton or Marriott in this neighborhood.
And, we kind of like it that way.
What you will find, however, are charming B&Bs that will place you right in the center of this neighborhood. Check out AirBnb for current listings, but keep your eye out for these options.
Additionally, in the Sunset neighborhood is the Rodeway Inn & Suites, for more traditional accommodations. 
Now, you have all of the information you need to get out and explore this underrated neighborhood. Let us know what you find!
Like this post? Save for later