These San Francisco beaches are the perfect opportunity to get outside in 2020! Grab a to-go lunch or pack a picnic and enjoy the healing properties of the ocean! Below are the main beaches in San Francisco that are perfect for feeling like you've escaped the city without actually having to leave it. 
One of the best things about San Francisco beaches is that they each a unique vibe. Some are great for fitness enthusiasts, others for adrenaline junkies, and some for clothing-optional fans. But they are all perfect for enjoying a warm San Francisco day and a classic San Francisco sunset!
This post contains affiliate links, which means that, at no additional cost to you, I will earn a tiny bit of income if you decide to make a purchase or booking. For more, check out my disclosure. 
San Francisco Travel Resources
Fort Funston Beach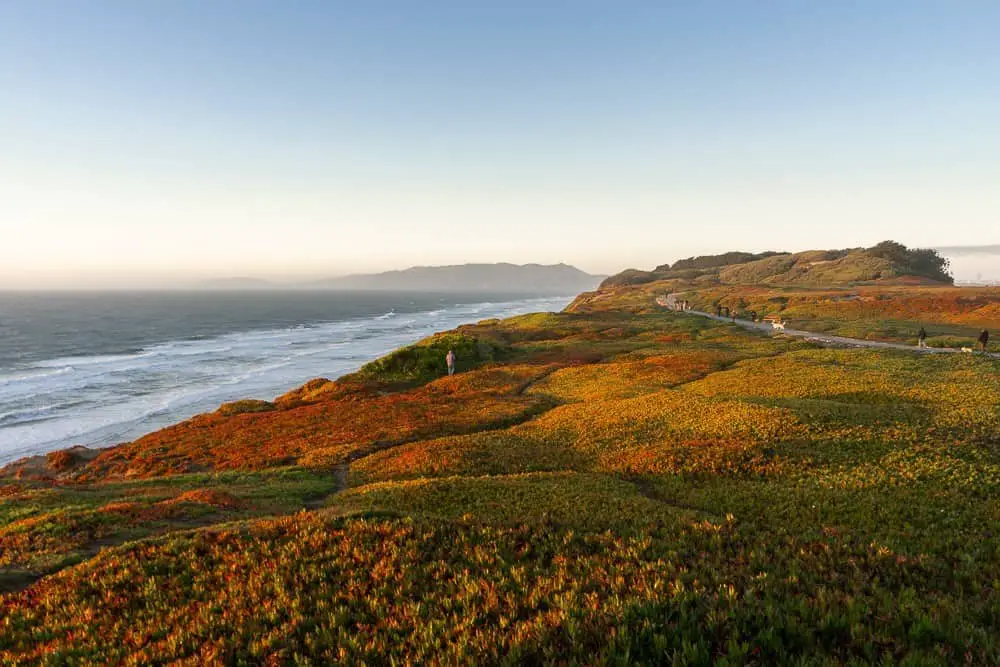 Funston Beach is located at Fort Funston near Lake Merced, close to the border of San Mateo and San Francisco Counties. Fort Funston beach is popular amongst hang gliders because it is almost always windy atop the 200 ft bluffs. For those of us who are not hang gliders, there are several paved trails you can explore throughout this area.
Access to the beach is off of the main trail and is a very steep climb down and up. Thankfully, the view is equally as gorgeous from the top if you're not feeling like exerting too much effort.
Additionally, there is a viewing deck with battery remnants and benches to watch the hang gliders float around in the sky, or to watch the sunset, which is the best time of day to visit Fort Funston Beach.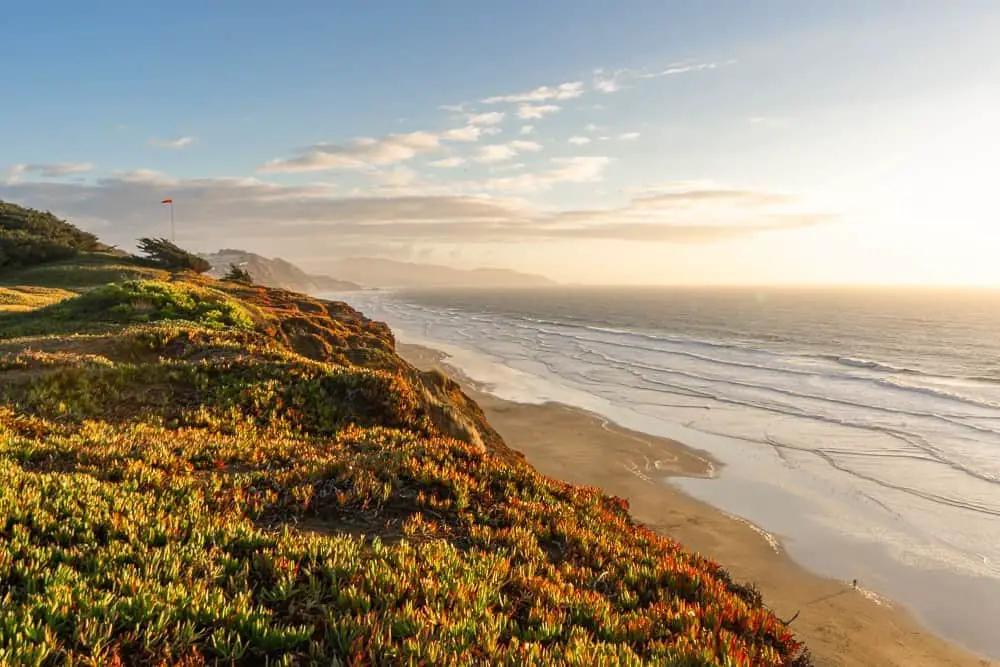 If you have a dog or are simply a fan of seeing happy dogs running around, then Fort Funston is the place for you as dogs are allowed off-leash here. You'll see dog parents opening up their car doors and their pup sprints out and around the top of the bluffs.
Do utilize caution here, the bluffs are dangerous, especially if you try standing on the edge on a significantly windy day.
Amenities: Porta-Potties available
Ocean Beach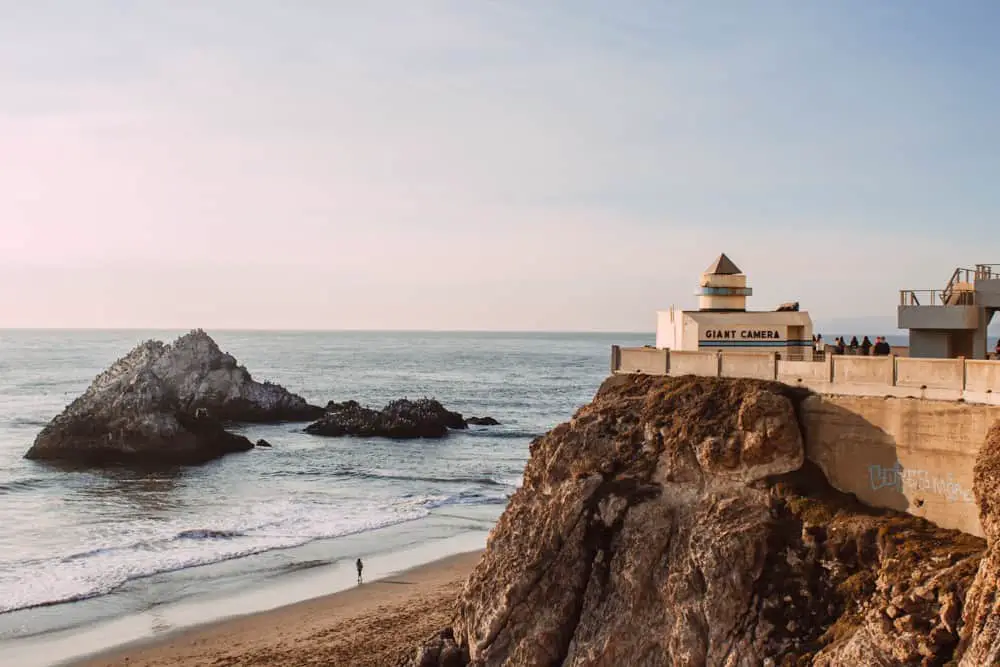 Ocean beach is a 3.5 mile stretch of sand located on the western border of the city in the Richmond neighborhood. The beach is a haven for locals with no high rises in sight. Just our artfully decorated (aka graffiti) walls. 
The waves at Ocean Beach are a huge draw for surfers from beginners to experts. However, the waves get massive here in the winter so exercise caution. 
This is also a popular beach for fitness enthusiasts with sand volleyball pits and plenty of runners getting their sweat and salt therapy. 
One portion of Ocean Beach is backed by dues, which offers an awesome vantage point to watch surfers, kite surfers, fishermen do their thing, and also a great spot for a picnic. Pick up a to-go lunch from Hook Fish or Java Beach Cafe and enjoy it with your toes in the sand then take a walk along the beach when you're through.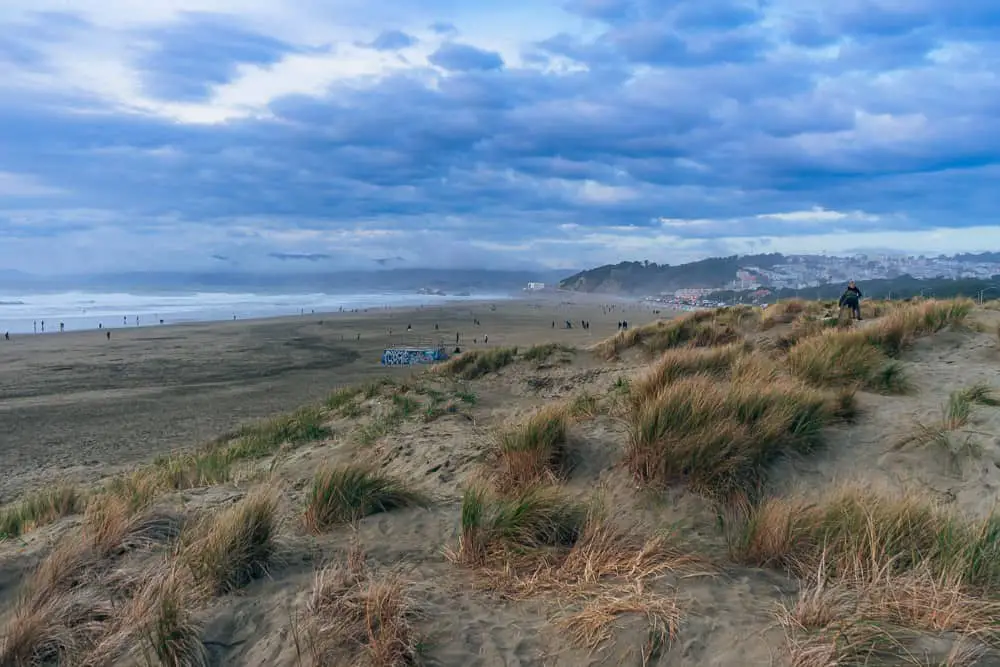 However, be wary of jellyfish. You'll see them right where the waves kiss the sand and look like small clear jelly substance. Those are our jellyfish. Also be on the lookout for Sand Dollars, as those will wash ashore as well!
Come back for sunset and stay for a few hours with a bonfire! Bonfires are allowed at Ocean Beach, but only at the rings located between stairwells 15 and 20. Be sure to check all of the rules and regulations for having a beach bonfire here. 
Amenities: Porta-Potties available. There are also bathrooms located on the Great Highway and you can use the restrooms located in the Beach Chalet. 
Mile Rock Beach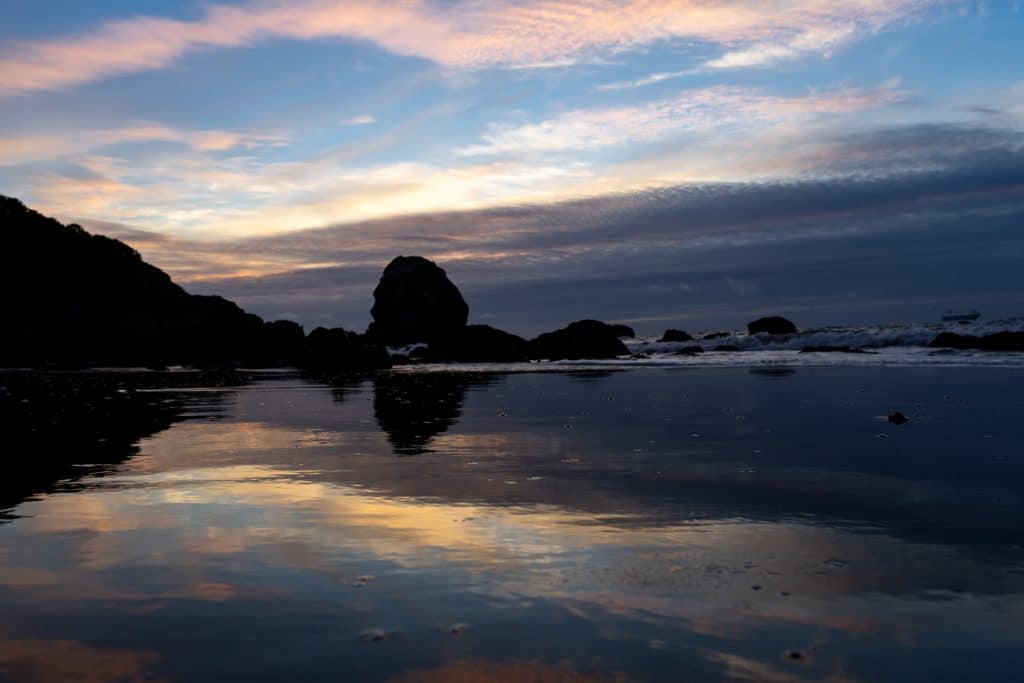 Mile Rock Beach is a tiny cove located off of the popular Lands End Trail. It takes a bit of an effort to get there, but if rugged and secluded beaches are your thing, then Mile Rock Beach is for you! This beach is filled with rocks and logs that allow you to take a break after climbing the 243 steps down to reach it! On high tide, there really isn't that much sand, but if the tide is low you can walk a little further south for Seal Rock Beach and may even catch a glimpse of the three shipwrecks!
Above Mile Rock Beach is the Lands End Labyrinth, in addition to a cool labyrinth, which offers panoramic views of the Golden Gate Bridge and the Marin Headlands.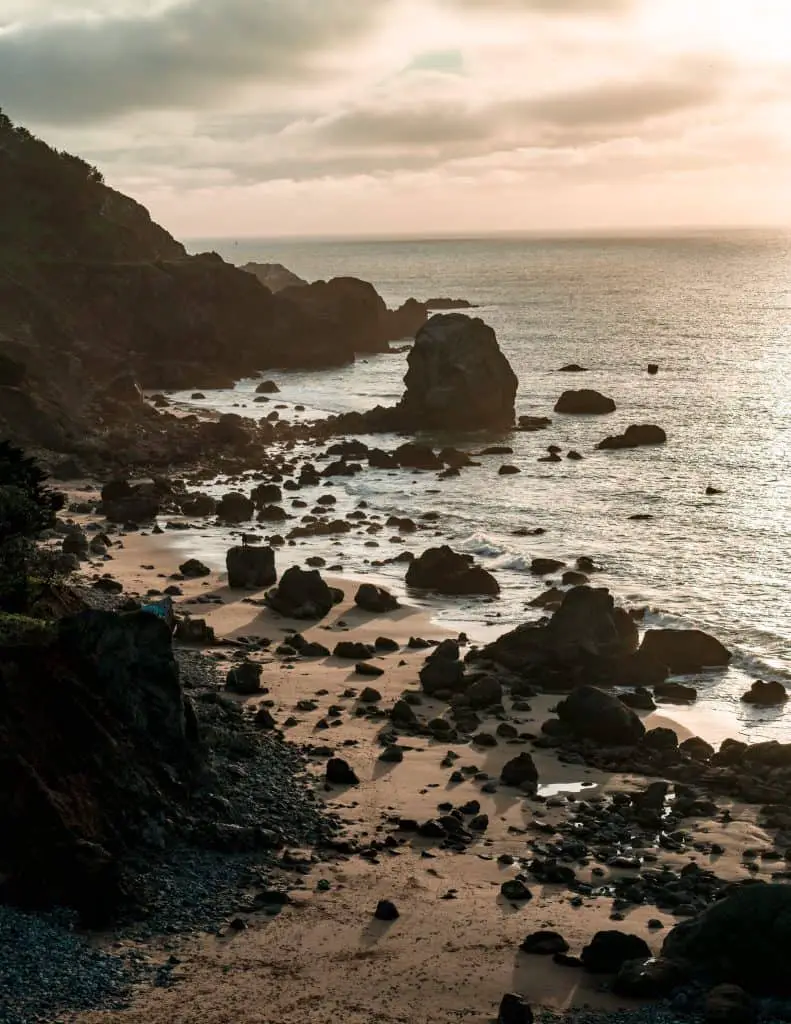 To get to Mile Rock Beach park in the parking lot for Sutro Baths or off of 48th avenue for Fort Miley. Walk the Lands End Trail until you see stairs going down to your left and a sign for Mile Rock Beach. When you're done, you can continue your walk on the Lands End trail or return to the Outer Richmond for a snack!
Amenities: None, however, there are restrooms and a cafe at Lands End Lookout Visitor Center.
China Beach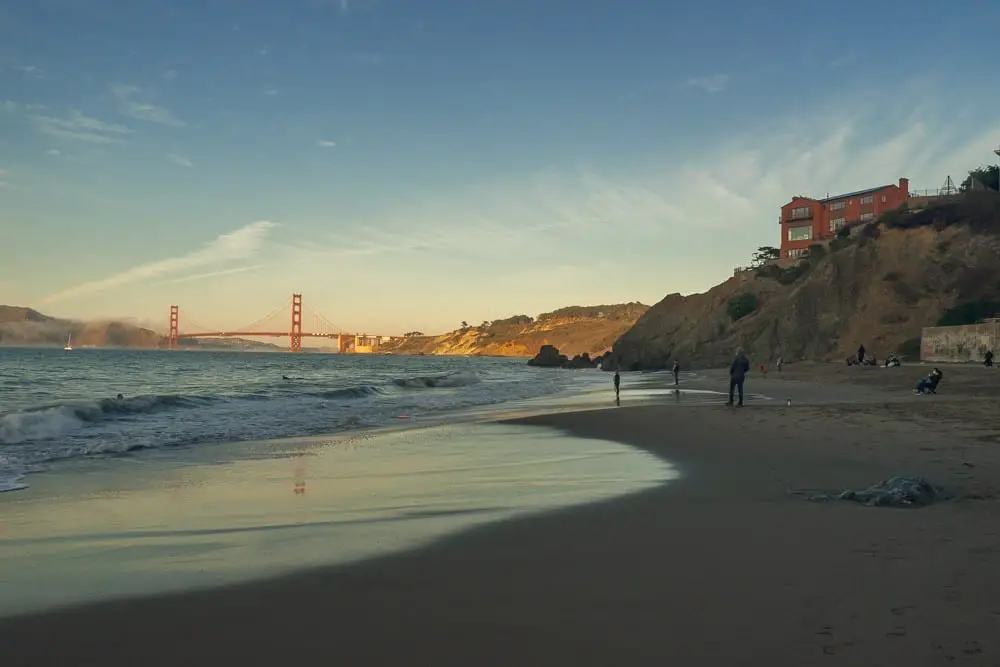 China beach is a small beach located between Lands End and Baker Beach. You'll find the small parking lot for this tiny cove in the affluent Sea Cliff neighborhood. You'll find it behind a row of mansions, nicknamed billionaire row. There is a stone before you climb the stairs down to the beach that explains locals named this China Beach after the Chinese fishermen who camped out on the beach ages ago. 
When you get to the beach, you'll have great views of the Golden Gate Bridge. China Beach feels protected by the rocks on either side, but always be safe and practice caution if you enter the water.
Since this beach is small and slightly hidden away, you'll find mostly locals here relaxing, fishing, or body surfing. 
Amenities: Bathrooms and showers are located next to the beach.
Baker Beach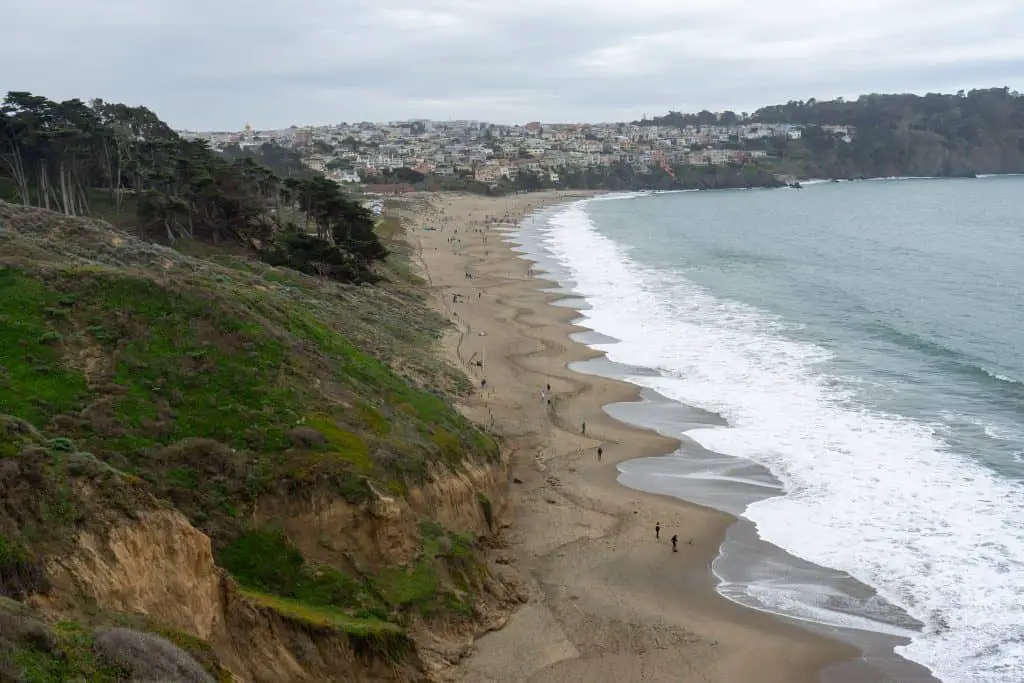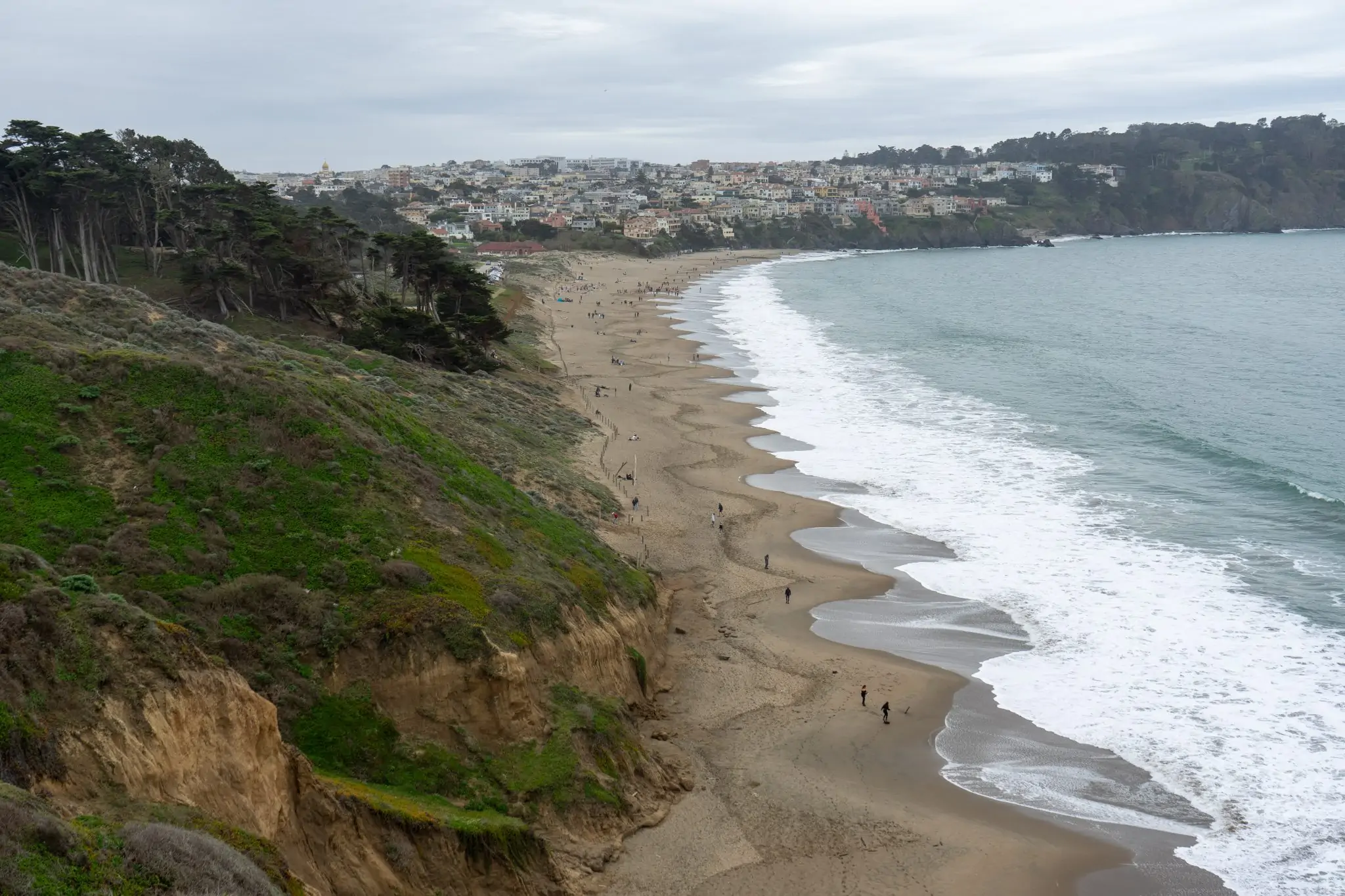 On a warm, sunny San Francisco day, locals and tourists alike flock to Baker Beach. This mile-long stretch of sand is located in the Presidio and offers awesome views of the Golden Gate Bridge and the Marin Headlands.
Fair warning, the closer you walk to the bridge, the less clothing you'll see. This part of the beach is popular amongst clothing-optional sunbathers. As you walk closer to the bridge, you will notice that clothing becomes optional. (Clearly, they did not read our detailed guide for what to wear in San Francisco).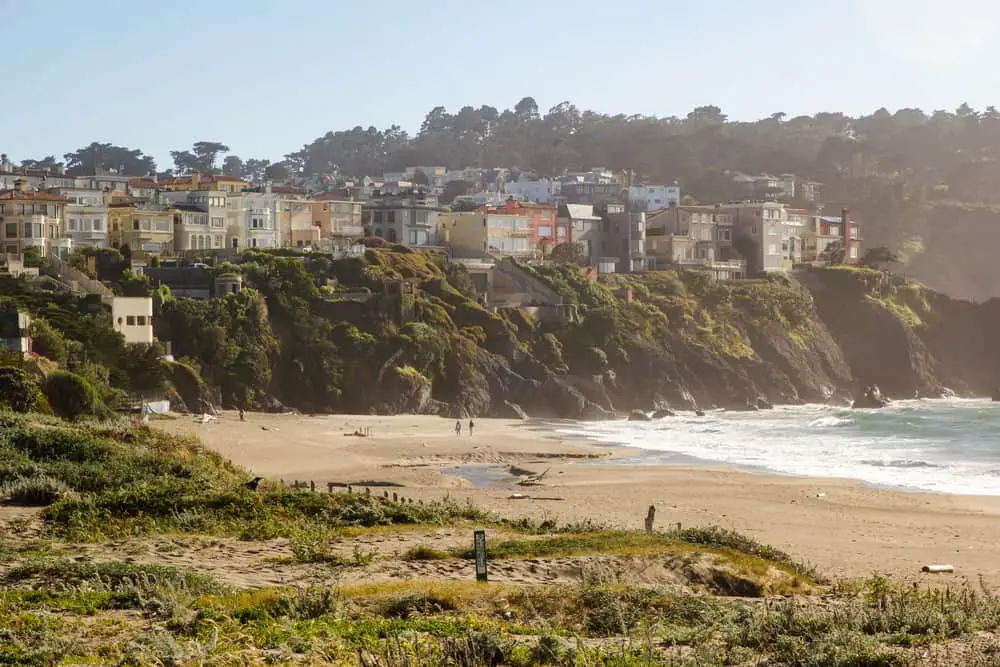 Bakers Beach is also an excellent beach for sunset. While you may not see the actual sun setting, you will see the colors in the sky surrounding the Bridge and it's beautiful!
There are two parking lots, which can fill up on a hot day so get there early. Also, be sure to take your belongings with you as break-ins do occur here. 
Amenities: Bathrooms located in the main parking lot.
Marshall's Beach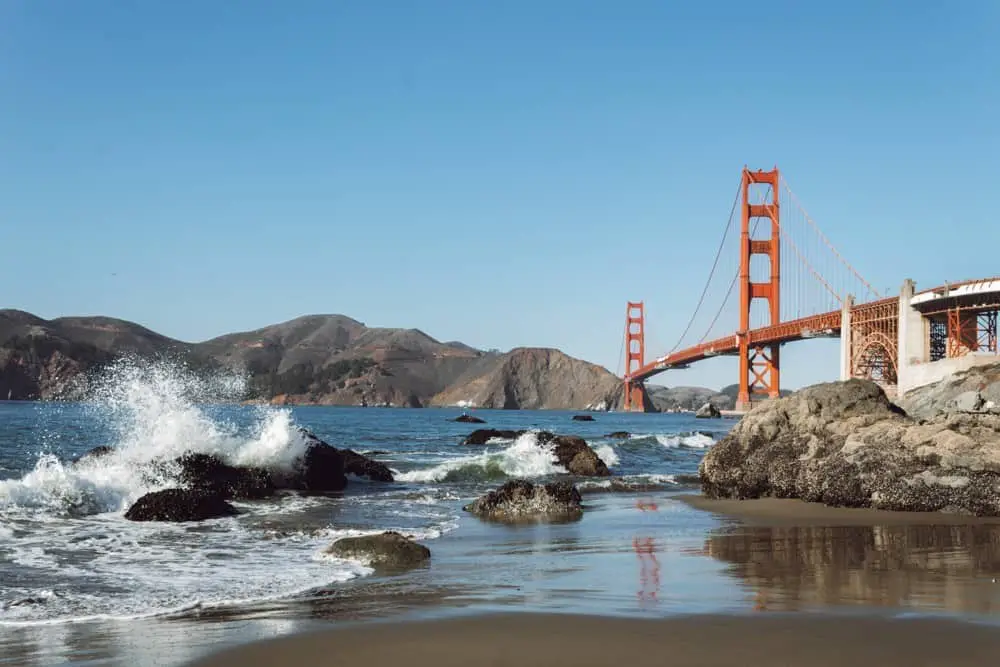 Marshall's Beach might be San Francisco's best-kept secret. Located North of Baker Beach, Marshall's sits closer to the Golden Gate Bridge, offering spectacular views. If you can find it!
That's why we're here!
You can access Marshall's Beach in two ways, by walking from Baker Beach or Golden Gate Overlook. There is a trail called the Batteries to Bluff trail that connects Baker Beach to Marshall's beach. You'll take the San Ladder up from Baker Beach and connect to the Batteries to Bluff trail. Alternatively, you can park near the Golden Gate Overlook and walk the Batteries to Bluff trail down.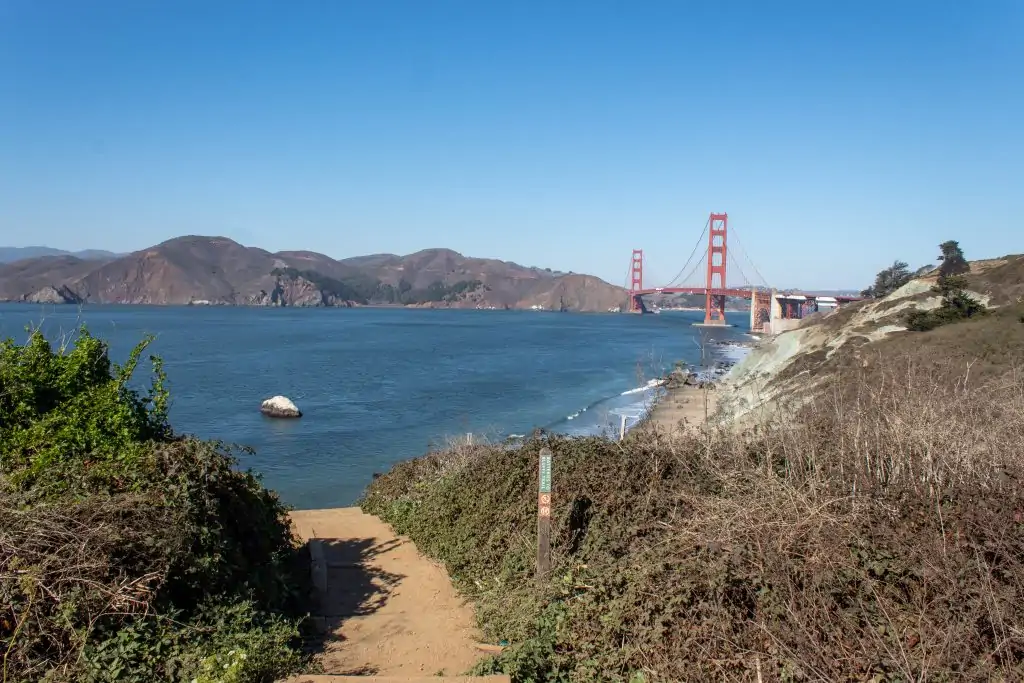 Similar to Baker Beach, the seclusion on Marshall's Beach lends itself to clothing-optional sunbathing. If that is bothersome for you, then skip it. But if you don't mind, then head down to Marshall's for the sunset! It's gorgeous here!
Amenities: None, however, there are restrooms at Baker Beach
Crissy Field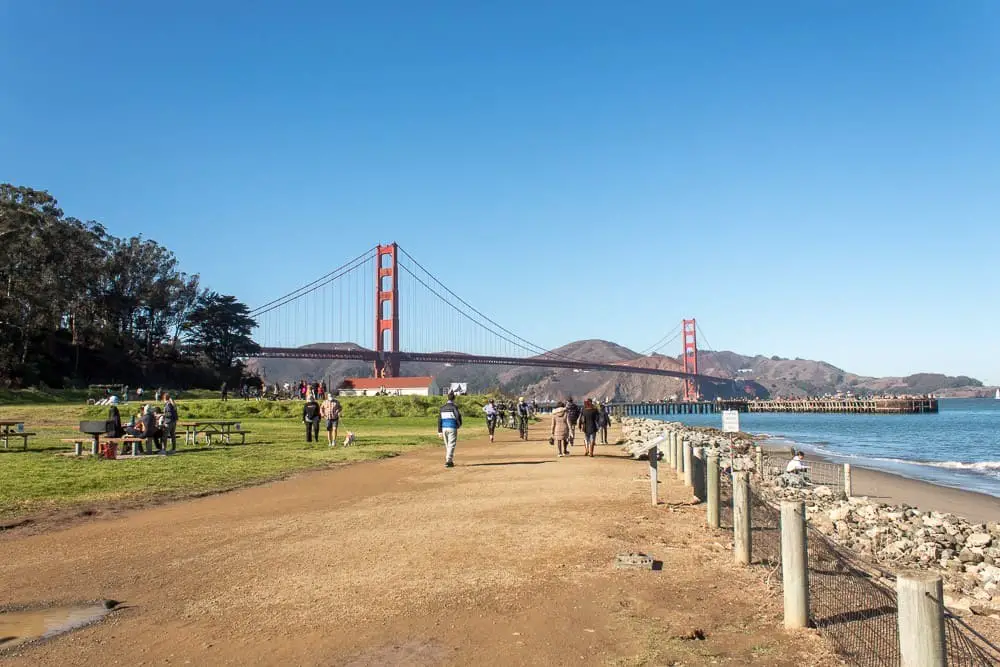 Crissy Field is an incredibly popular beach located in the Presidio and nearby the Marina District. Here you'll find a huge green space that is perfect for picnics, but also a long sandy beach that extends from the Golden Gate Bridge to the Marina. This beach is wide, offering plenty of space for you to relax on a sunny San Francisco day. 
You'll see stunning views of San Francisco including the Golden Gate Bridge, Marin Headlands, Alcatraz Island, and Angel Island. 
This area is popular among fitness enthusiasts and if you'd like to join in, you can rent a bike from the nearby Sports Basement, enjoy a nice long walk, or even go for a swim in the Bay!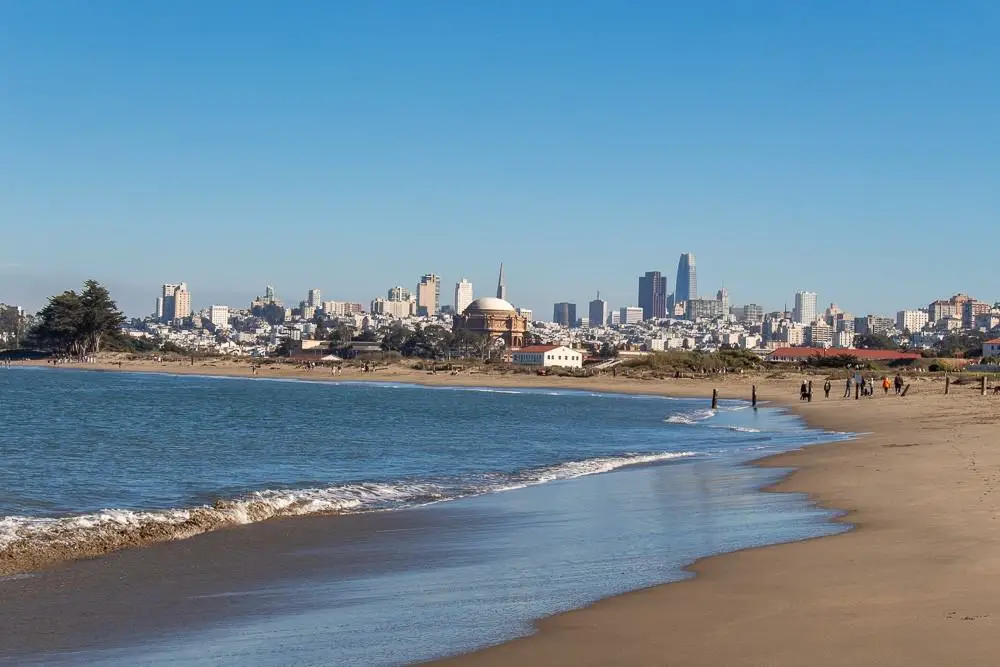 Amenities: The Warming Hut offers refreshments and snacks and there are plenty of food options in the Marina. There are porta-potties in various locations.
Now that you know all about the beaches in San Francisco, get out there, and find your favorite. When you do, be sure to drop us a comment letting us know your pick for the best beach in San Francisco!
Like this post? Pin for later!