The San Francisco Botanical Gardens is one of my favorite places to visit in Golden Gate Park. This 55-acre garden is filled with 8000 flower varieties including native plants and those found throughout the world. In the San Francisco Botanical gardens, you can stroll from a succulent garden to a towering Redwood grove passing African calla lilies.
It's a very peaceful place to escape the business of city life, especially in the morning or evenings. You'll often see locals taking their daily walks through the botanical gardens as it's free to locals!
Botanical Garden Overview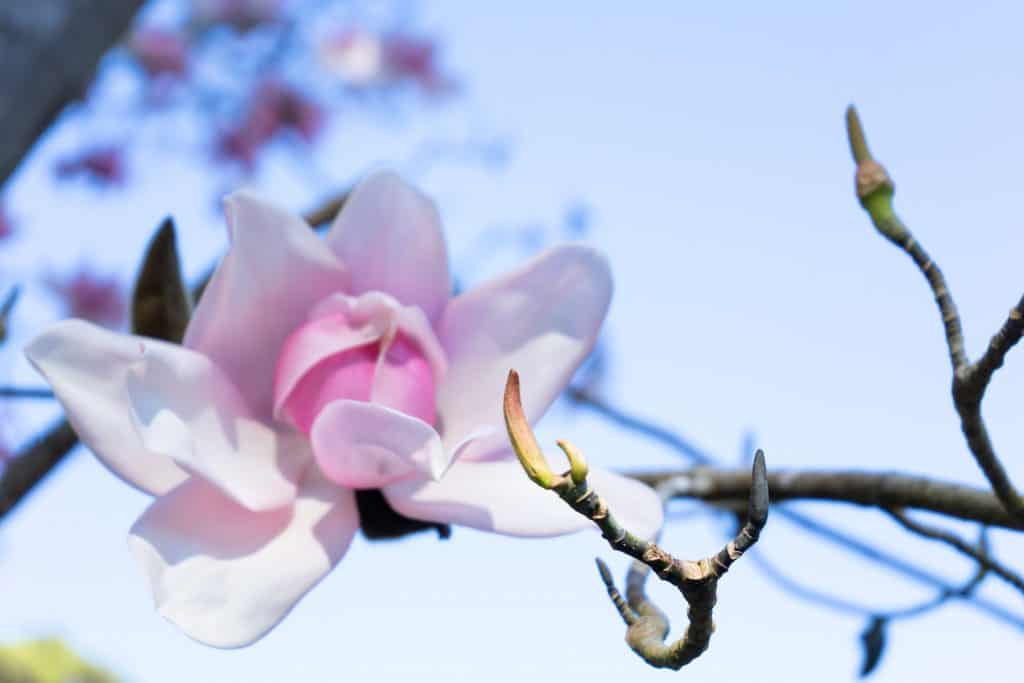 There are Gardens with plants and flowers from Australia, the Andean Cloud Forest, the Mediterranean, South Africa, and more. There are also large meadows, ponds, and plant-specific gardens (ie: Camelia and Rhododendrons)
I'm not a horticulture expert, and my thumb is certainly not green, if you want more details on the types of plants you'll find in each of the above gardens, check out the Botanical Garden Website. 
Botanical Garden Favorites
What I do want to share with you are my favorite areas of the Botanical Gardens. You can use this to guide your experience while you discover your favorite corners of the gardens. 
Great Meadow & Fountain Plaza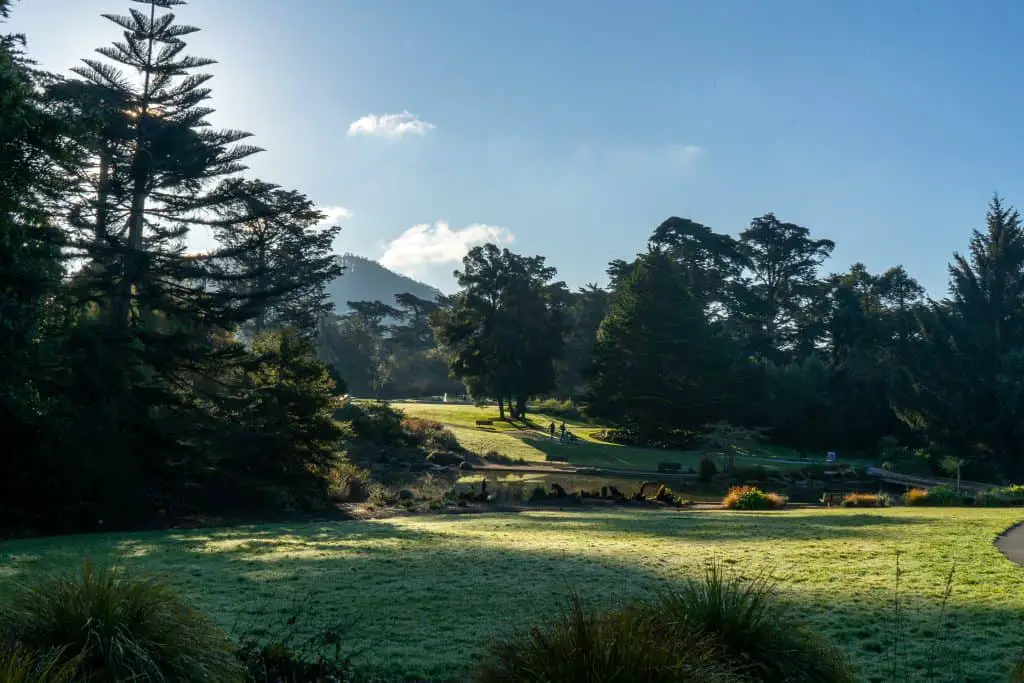 After entering from the Main Gate, you'll be greeted by a large grassy meadow that leads to a fountain. The meadow is surrounded by the garden's trees and it truly feels as if you've stepped into an idyllic meadow. Not off of busy Lincoln Ave.
This is a great place for a sunny Saturday afternoon picnic. You can get to-go food from one of the many places to eat in the Inner Sunset, bring a blanket, and find a nice spot to relax and enjoy the day. The perfect COVID activity.
Redwood Grove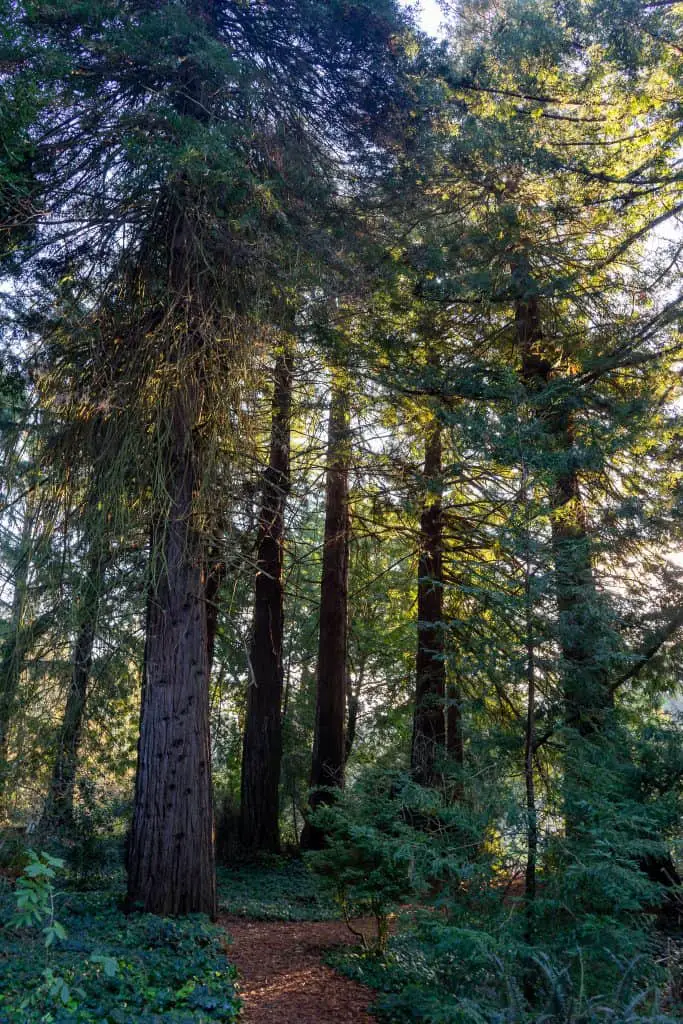 On my first visit to the Botanical Gardens, I wandered to the very back corner, first noticing the smell. It transported me to summer childhoods in the mountains. Then, I saw it. A towering Redwood Grove. 
I had no idea that there were Redwoods here and was so happy to find them!
If you're visiting San Francisco and don't have a chance to get to the Redwood National Forest or across the Golden Gate to John Muir Woods, head to the Botanical Gardens to see these giants.
Ancient Plants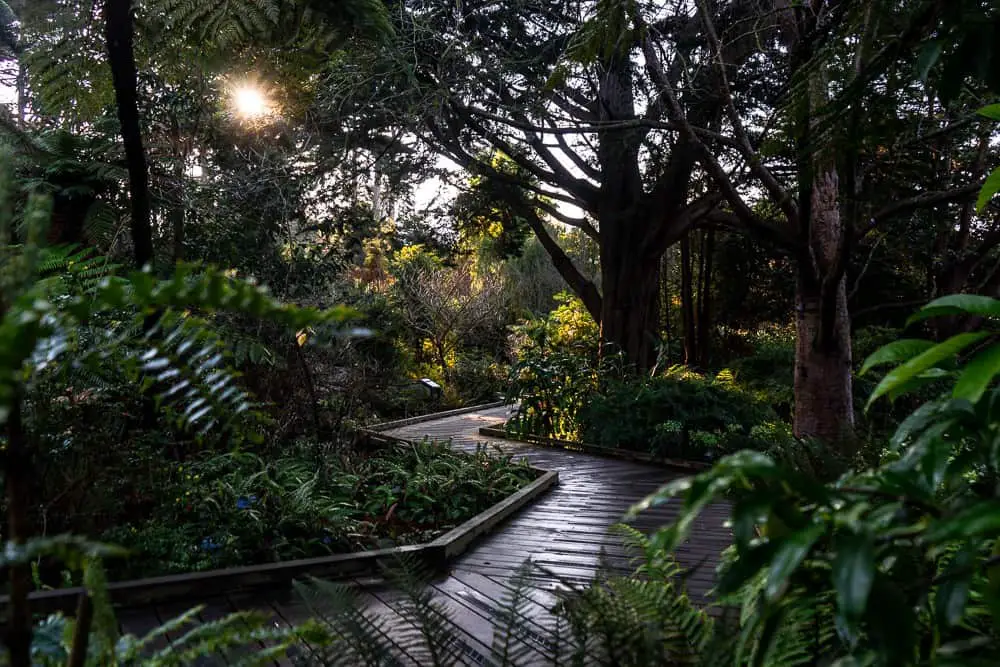 Wander through living fossils in the Ancient Plant Garden. I loved this boardwalk path lined with lush fern trees. The sun just starting to peek through the leaves made it feel magical. 
This is a great garden for kids as there are large dinosaur footprints that will let their imaginations run wild!
Magnolias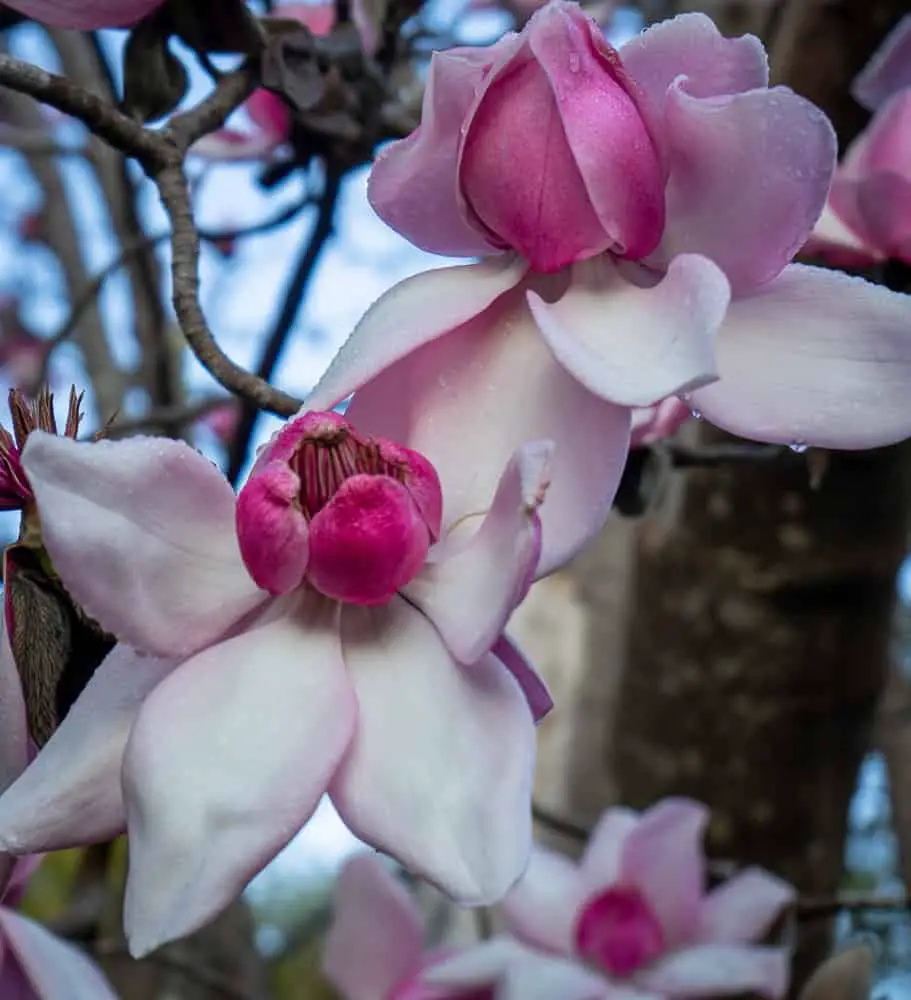 The San Francisco Botanical Gardens have the largest collection of Magnolia trees outside of China.
The Magnolias bloom from mid-December through March, with peak viewing time occurring around mid-February. I highly recommend stopping by for a visit during this time.
You can find the Magnolias on the walk to the Moon Viewing Garden, walking through Chile, and surrounding the Great Meadow.
Here is a Magnolia Walking Guide that details all of the locations of the Magnolias throughout the Gardens! 
Botanical Gardens Events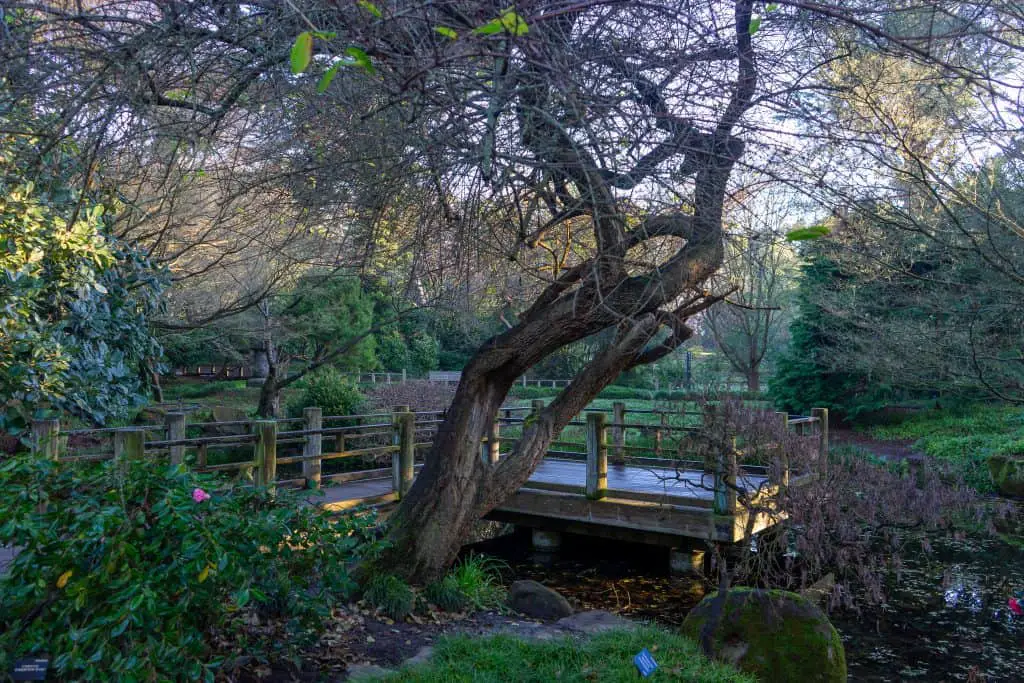 Aside from the beautiful gardens, some unique events and workshops occur throughout the year at San Francisco's Botanical Gardens.
Currently, most of the workshops are virtual and events may be canceled due to the pandemic. However, as things start to open, the events may return to the schedule, so keep your eye on it if any events sound interesting. 
Flower Piano
If this event returns to the schedule, I'll definitely be checking it out. The Flower Piano is a 12-day long event featuring musical performances, free piano lessons, and an after-dark event with food trucks and outdoor bars.
There are 12 pianos located throughout the many gardens.
This was scheduled for July 9-20 in 2020. Of course, it did not occur. However, I'd anticipate that if they're planning for it in 2021 or 2022, it will take place around the same time of year!
Plant Sale
See a plant you like while strolling the garden? You can purchase plants from a rotating, seasonal selection of plants! Head to the Arbor, near the main gate to peruse the selection of plants available during your visit.
The Details: How to Visit the Botanical Gardens
Now that you have an idea of what to expect during your visit, let's talk about the practical information about how to visit the Botanical Gardens.
Address: Golden Gate Park1199 9th Ave San Francisco, CA, 94122
There are two entrances to the Botanical Gardens. The Main Gate and the North Gate.
Main Gate: near the corner of Lincoln & 9th ave
North Gate: on MLK Jr. Drive near Music Concourse, near the Japanese Tea Garden. Only open on weekends from 9:00 am-6:00 pm.
Hours of Operation
The Botanical Gardens are open daily. Opening at 7:30 am and closing at 7:00 pm with the last entry one hour before closing.
Cost of Tickets
Adults: $9 (weekday)/$12 (weekend)
Youth & Seniors (12-17 & 65+): $7
Children (5-11): $3
Toddlers: Free
Families (2 adults & all children under 17): $21
SF Residents: FREE! Bring proof (ID or Utility Bill)
Pro Tip: It is also free before 9:00 am, for anyone!
Botanical Garden Parking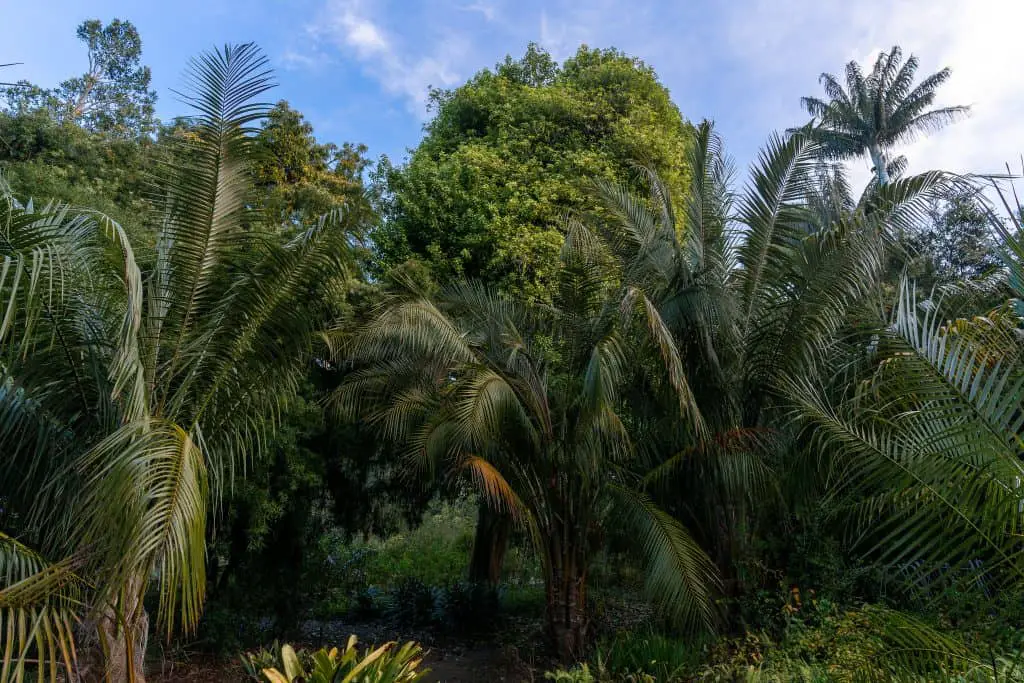 There is limited, free parking in Golden Gate Park. However, there are strict time limits. Plus, on weekends these spots go very quickly!
Alternatively, you could park at the Music Concourse Garage. It costs $5.25/hour during the week and $6.25 on weekends.
Public Transport Options
There are many routes (N Judah Streetcar, 44, 28, 29, 7, 6, and 43) that serve Golden Gate Park, and therefore, the Botanical Gardens.
The frequency may be affected by COVID so be sure to check schedule updates.
Golden Gate Park Shuttle
Spending the day exploring all that Golden Gate Park has to offer? You can take the free Golden Gate Park shuttle to the Botanical Gardens. The closest stop to the Gardens is in front of the de Young Museum on JFK Drive, which is about a 5-minute walk to the Golden Gate Park Botanical Gardens. 
Like this post? Save & Share to Pinterest