Golden Gate Park is rapidly becoming one of my favorite places to go in San Francisco. There are so many different things to do in Golden Gate Park from having picnics to hiking, to visiting museums, it's hard to get bored! Plus, walking on the trails of Golden Gate Park after a busy day in the city makes you feel as though you've escaped into the forest for a brief moment. Allowing you the ability to reconnect to nature and refresh for the following day!
Before we get into the best things to do in Golden Gate Park, a little bit of background on the park! 
This post contains affiliate links, which means that, at no additional cost to you, I will earn a tiny bit of income if you decide to make a purchase or booking. For more, check out my disclosure. 
San Francisco Travel Resources
A Brief History of Golden Gate Park
On April 4, 2020, Golden Gate Park turned 150 years young! There was a year-long celebration, most of which was dampened or canceled due to the pandemic. However, you can still ride the Skystar Wheel!
Before Golden Gate Park became the sprawling urban park we know and love today, it was once filled with Sand Dunes, similar to the ones you can still find at Ocean Beach and Fort Funston!
Because of its natural landscape, many people avoided settling here and dubbed it "Outside Lands". This nickname lives on today in cafe names and a popular 3-day music festival of the same name that takes place every August in the park.
While the sand dunes are now covered with grassy fields, the architects of the park, John McLaren and William Hammond Hall, left the dune shape contributing to the rolling hills of the park. 
Often compared to Central Park, Golden Gate Park is actually 150 acres larger as it is 3 miles long and a half-mile wide!
Where is Golden Gate Park Located
Golden Gate Park extends from Ocean Beach on the Western Border to the Haight Ashbury neighborhood on the Eastern Border. Along the way, it crosses both the Richmond and Sunset neighborhoods.
John F. Kennedy Jr Drive and Martin Luther King Jr Drive are roads that connect the East and West. However, portions of MLK Jr Dr. are closed to vehicular traffic, especially on the weekends. Additionally, a recent vote made the eastern part of JFK Drive to Transverse Drive completely car free.
If you need to cross the park north to south consider the Great Highway (Ocean Beach), Chain of Lakes Dr (41st Ave), Crossover Dr (19th Ave), or Stanyan St (borders Haight- Ashbury).
There are many options to enter the park, both officially, and unofficially. The main entrance is off of Stanyan and Oak St near McLaren Lodge. However, walking along Fulton or Lincoln Ave, you'll find little trails leading into the park as well as marked entrances.
How to Get to Golden Gate Park
There are multiple options for getting to the park.
Drive & Park
The first is to drive. This is a very convenient way to get to Golden Gate Park. There is street parking permitted along JFK Jr Dr and MLK Jr Dr for free, but it's a four-hour, strictly enforced, time limit. 
There is a parking garage at the Music Concourse that would leave you right near many of Golden Gate Park's attractions such as the de Young Museum, the California Academy of Sciences, the Japanese Tea Garden, and the Botanical Gardens. The easiest way to access the garage is to enter from 9th Ave & MLK Jr Dr.  
The Music Concourse parking garage is open from 7:00 am – 7:00 pm daily with an hourly rate of $5.25 on weekdays and $6.35 on weekends and evenings after 5:30 pm.
You can also find street parking in the surrounding neighborhoods. Remember, when driving in San Francisco, always pay attention to posted parking restrictions to avoid parking tickets.
Via Public Transportation
There are multiple public transit options available to get to Golden Gate Park depending on where you're coming from in the city. Consult the SFMTA trip planner to find the best route!
Rideshare
You could also Uber/Lyft into Golden Gate Park, or to the closest entrance to your activity for the day. Traffic in the park during the weekends is pretty bad, so I'd suggest putting your drop-off location as one of the entrances so you're not paying to sit in traffic in the park!
Bike/Scooter
There are multiple Lyft bikes and Lime scooters throughout the city. You could use this as a way to get you into and around the park. Or if you have your own bike, ride it over to the park!
Getting around Golden Gate Park
Now that you're in Golden Gate Park, what's the best way to get around? I mean, you don't want to have to move your car once you've scored a parking spot or order another Uber.
Many of the main things to do in Golden Gate Park are near each other, so you could walk from one to the other. If you want to see the entire park, but don't want to walk the entire thing, consider bringing or renting a bike. It's an incredibly bike-friendly park, especially with the Slow Streets that started during the pandemic. 
If you're like, this is too much activity for me, there is also a FREE Golden Gate Park Shuttle with multiple stops throughout the park. Click here to find free shuttle stops!
Where to Eat in Golden Gate Park
In the Music Concourse, you'll find a variety of food trucks as well as hot dog stands located in various places throughout the park.
There are also food trucks and a cute coffee truck, that has one of the best matcha lattes in the city, located near the Conservatory of Flowers on the weekends.
However, Golden Gate Park is surrounded by amazing food in the Sunset, Richmond, and Haight. The Beach Chalet Brewery is a great option across from Ocean Beach. There is a great beer garden, a lovely bar inside, and windows upstairs for a sunset dinner.
Alternative, consider ordering a meal to go, bringing a blanket, and having a picnic. There are plenty of meadows to do this throughout the park!
The Best Things to Do in Golden Gate Park
Now that we've got all of the practical stuff out of the way, let's get into the best things to do in Golden Gate Park! We'll start with attractions on the east side of the park as that's likely where you'll enter and move your way to the western border. 
San Francisco Botanical Gardens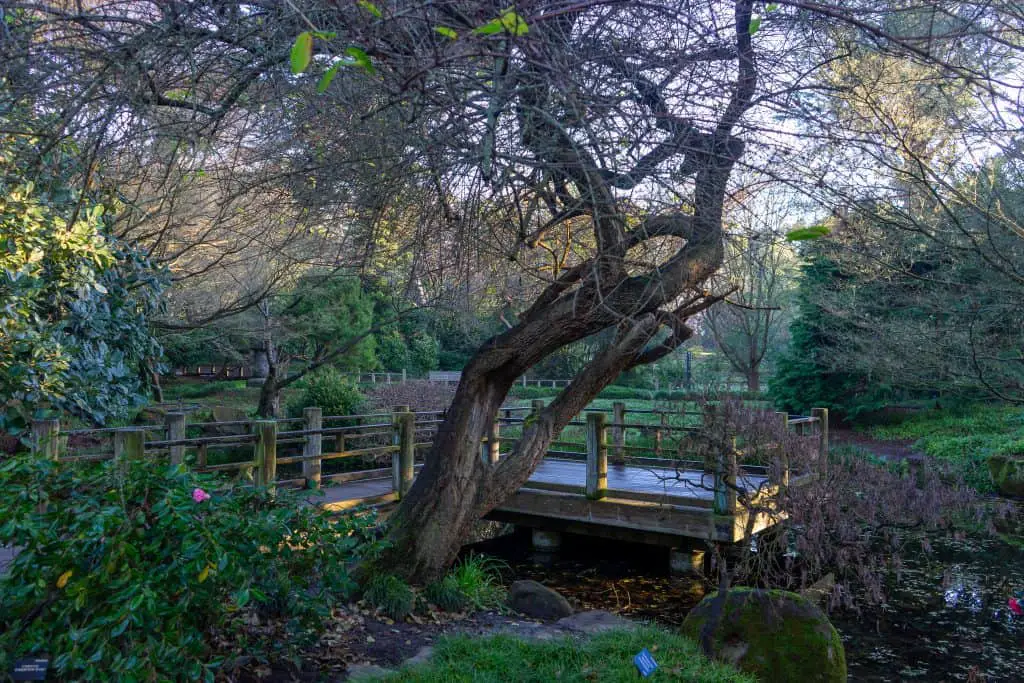 The San Francisco Botanical Gardens is one of my favorite places to visit in Golden Gate Park. This 55-acre garden is filled with 8000 flower varieties including native and exotic plants. In the San Francisco Botanical Gardens, you can stroll from a succulent garden to a towering Redwood grove passing African calla lilies along the way.
These beautiful gardens are a peaceful escape from the business of city life, especially in the morning or evenings. You'll often see locals taking their daily walks through the botanical gardens as it's free to locals!
Entry is free for those with a San Francisco address. Otherwise an adult ticket costs $15. Alternatively, you can buy the Gardens of Golden Gate Park Pass which allows 3 days of unlimited entry to the San Francisco Botanical Garden, the Japanese Tea Garden, and the Conservatory of Flowers for $28.
You can buy your tickets here.
Location: 1199 9th Ave, San Francisco, CA 94122
Hours: Last entry one hour before close.
Spring & Summer: 7:30am-6:00pm
Fall & Winter: 7:30am-5:00 pm
Japanese Tea Garden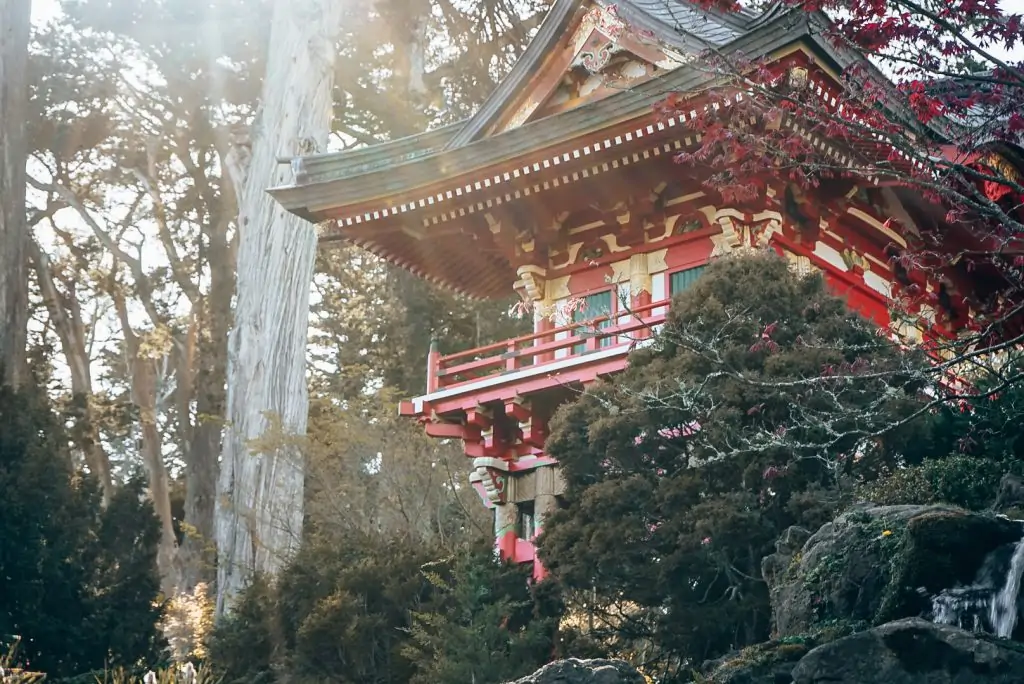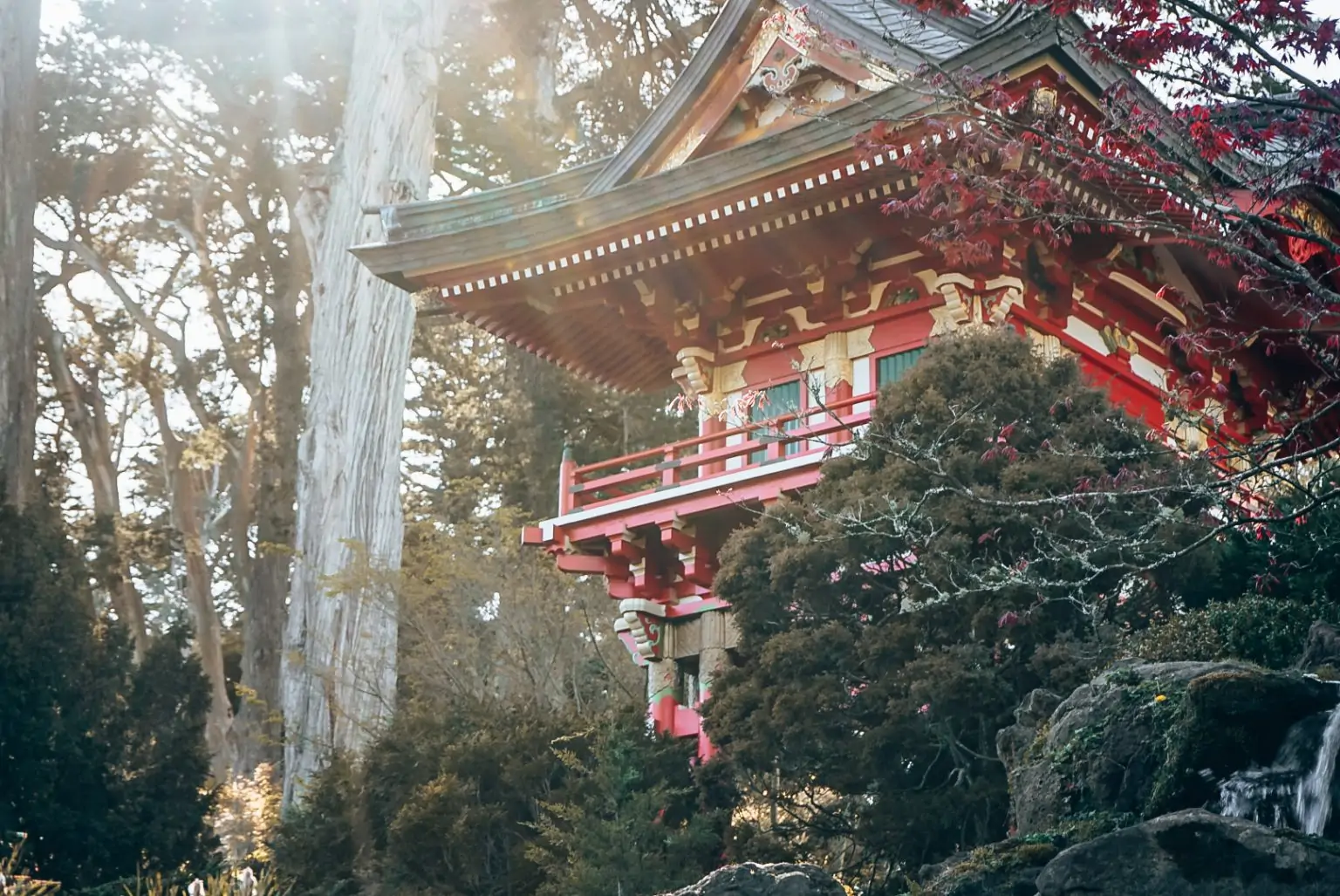 The Japanese Tea Garden in San Francisco is the oldest public Japanese garden in the United States! Pay a visit to this beautiful part of Golden Gate Park to see koi fish, traditional Pagodas, a Zen garden, and Cherry Blossoms blooming, in the Spring. 
Of course, there is also a tea house where you can sample from a variety of teas, including traditional Matcha, and a variety of light snacks.
You don't need much time for the Japanese Tea Garden, probably an hour tops depending on how many photos you want to take as there are ample opportunities to practice your photography here!
Location: 75 Hagiwara Tea Garden Drive, San Francisco, CA 94118
Hours: Open Everyday
Winter:  9AM – 4:45PM
Summer:  9AM – 5:45PM
California Academy of Sciences
Go see Claude, the albino alligator at the California Academy of Sciences! This natural history museum, aquarium, planetarium, and living roof (among many other fun things) is a great way to spend a day in Golden Gate Park, especially if it's raining in San Francisco.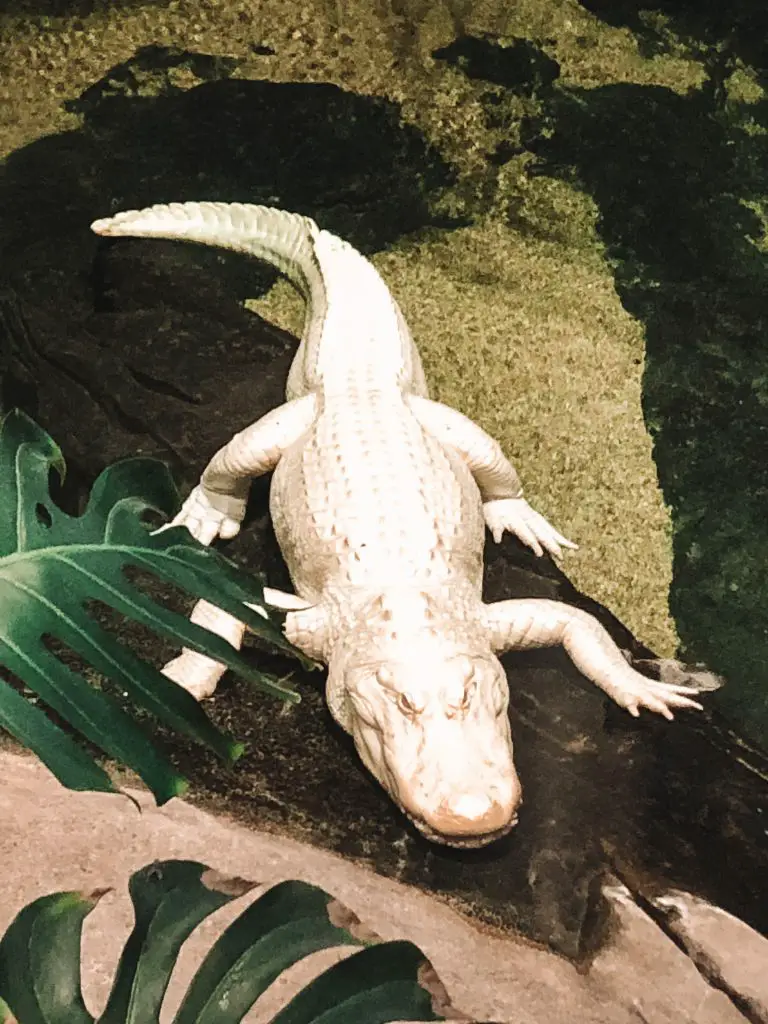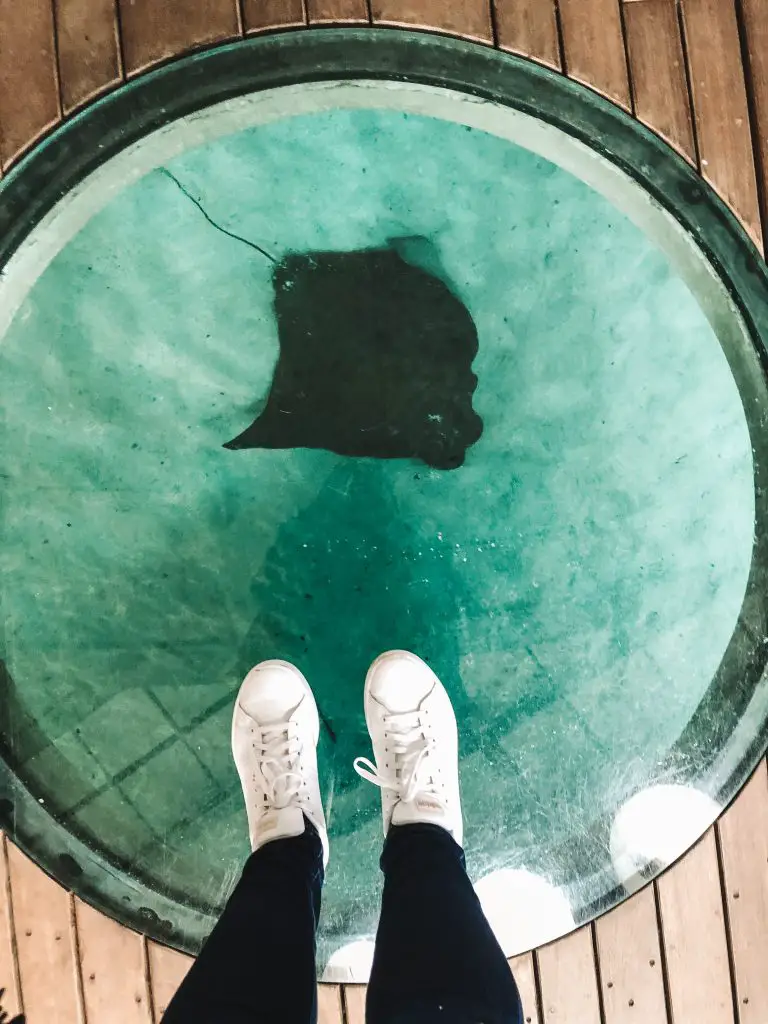 The Academy has a variety of exhibits throughout the year, as well as unique rotating exhibits. One very popular exhibit at the Academy of Sciences is Night Life on Thursday nights. On these nights you can enjoy cocktails while learning about nocturnal life. This is my favorite way to visit the Academy of Sciences!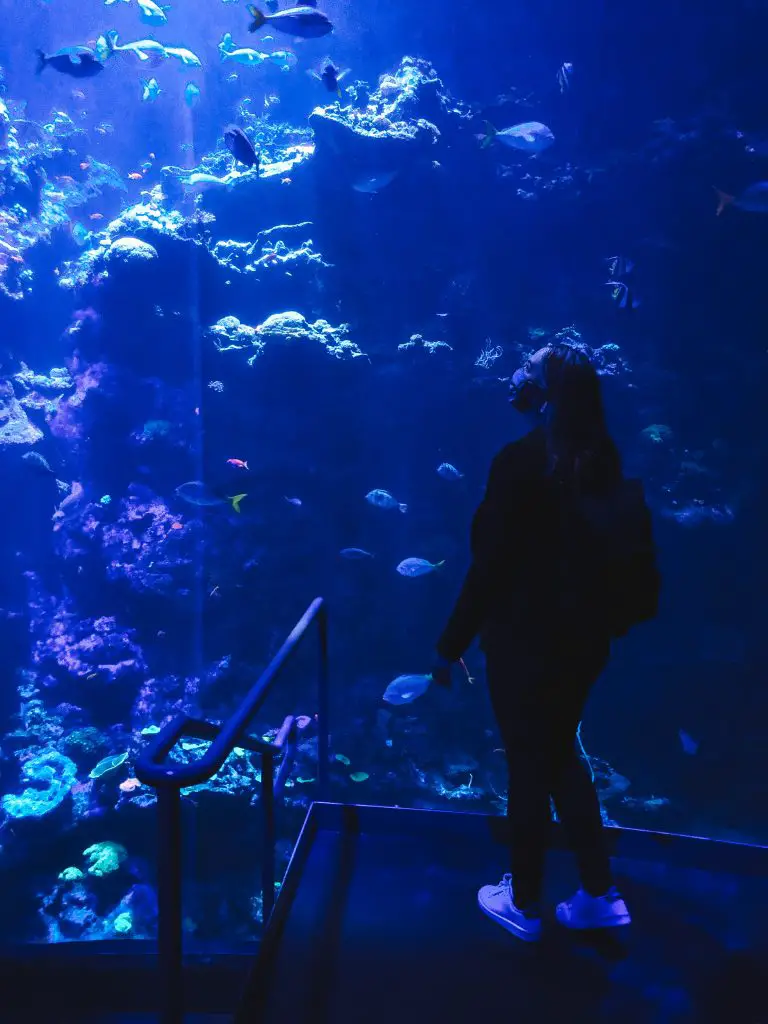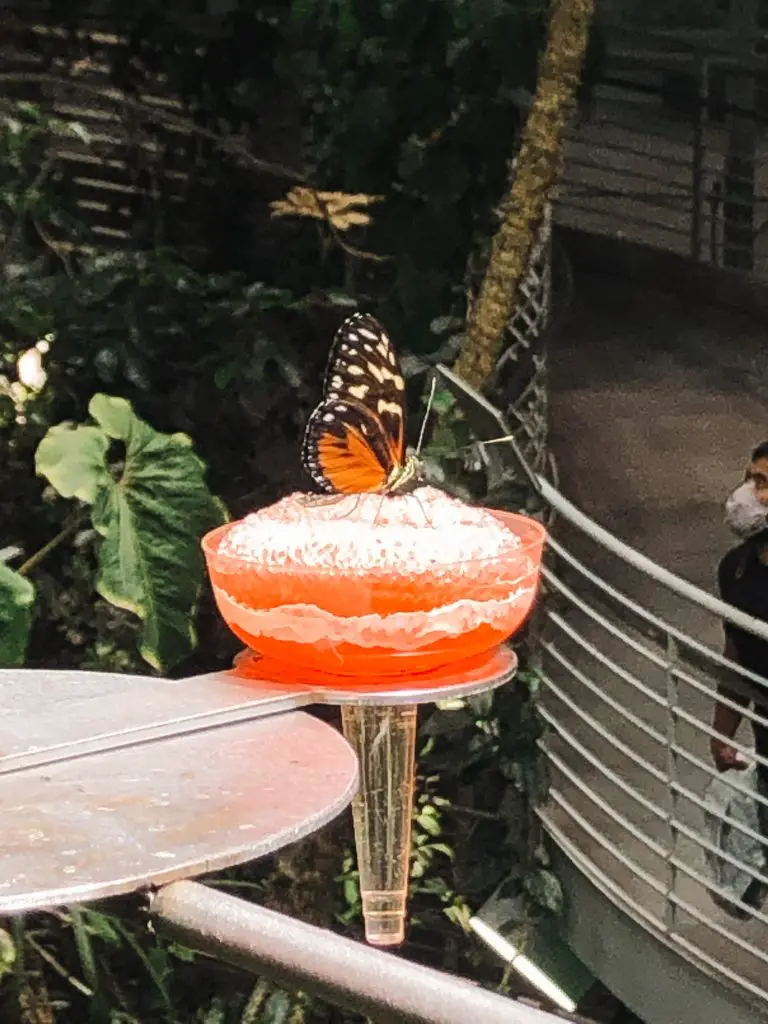 Pre-purchased tickets are required for entry during a specific time. Purchase tickets here
Location: Golden Gate Park, 55 Music Concourse Dr, San Francisco, CA 94118
Hours
Monday – Saturday: 9:30 am – 5 pm
Sunday: 11 am – 5 pm
Member Hours
Tuesday: 8:30 – 9:30 am
Sunday: 10 – 11 am
de Young Museum
The de Young Museum celebrated its 125 anniversary in 2020! Stop by to see the permanent collection that displays paintings, sculptures, modern and contemporary art from the Americas, Oceania, and Africa.
There are also a variety of special exhibitions held throughout the year. At the time of this writing, there is a Frida Kahlo exhibition and I'm just (im)patiently waiting for the museum to reopen!
One thing that I like about the de Young is that it offers viewing of its permanent collection for free on Tuesdays and Saturdays (Bay Area residents only).  If you don't happen to be in the area on these days, purchase tickets in advance here.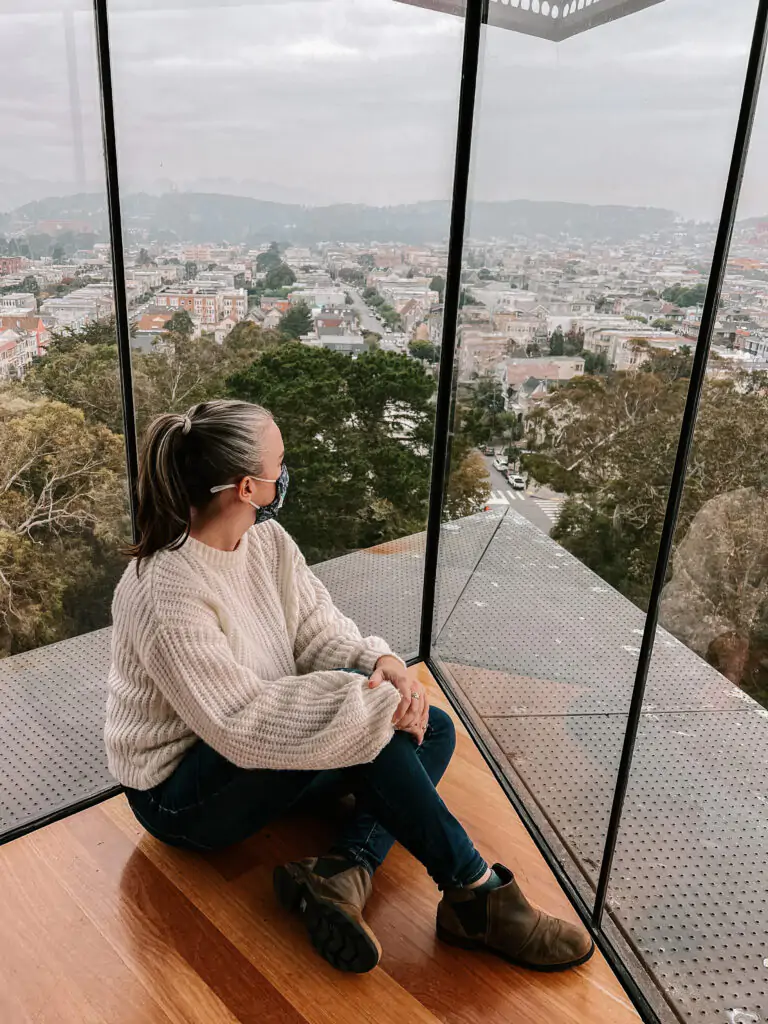 When you visit, you may notice a very tall structure, that is the Hamon Observation Tower that offers panoramic views of the city, and is entirely free to enter! So, if you don't have time to go to the museum, definitely consider going to the top of the tower for epic views!
Location: Golden Gate Park, 50 Hagiwara Tea Garden Drive, San Francisco, CA 94118
Hours: Tuesday–Sunday: 9:30 am–5:15 pm
Conservatory of Flowers
The Conservatory of Flowers is a Golden Gate Park Landmark. As the first formal building constructed in the park, the Conservatory of Flowers has been welcoming visitors since 1879! Today, you'll find 5 different galleries each showcasing a unique ecosystem, from rainforests to cloud forests.
Not only are the building and the plants it houses iconic but so is the sprawling garden in front. Whether you enter the building or not you'll have the chance to see beautiful blooms! The lawn is also a popular picnic spot for locals and visitors!
Side note, inside you'll find an Instagram famous photo opportunity.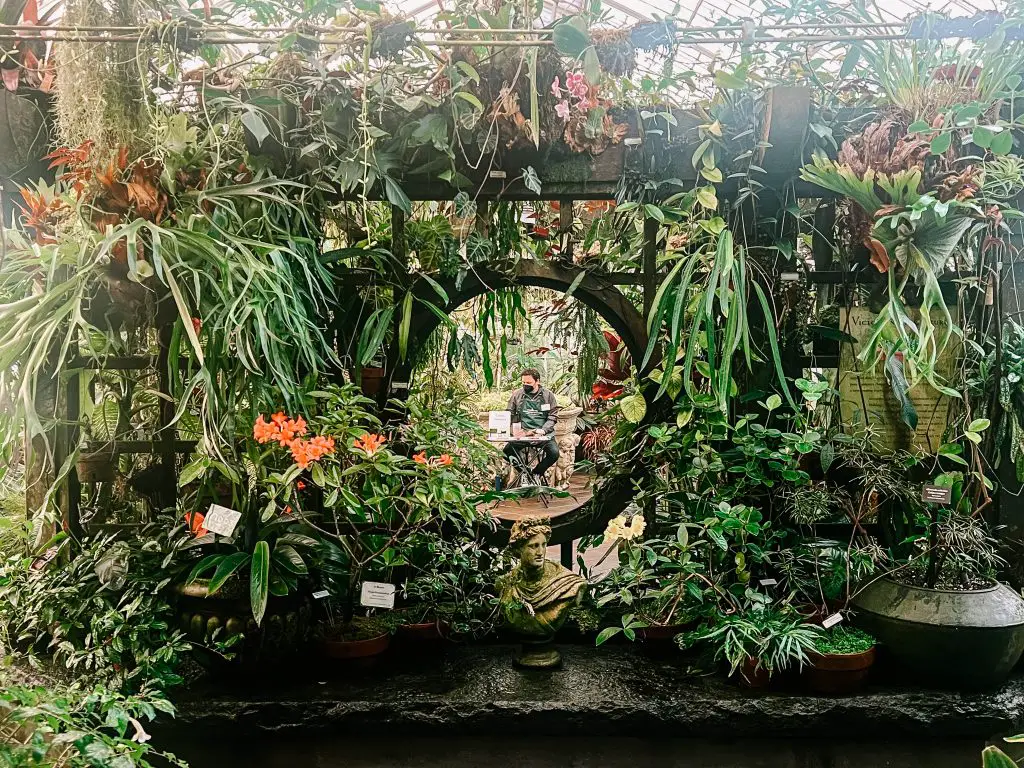 Advanced tickets are encouraged and can be purchased here.
Location: 100 John F Kennedy Drive, San Francisco, CA 94118
Hours: Tuesday-Sunday
10:00 a.m. – 4:30 p.m.
(Last ticket sold at 4:00 p.m.)
Hike up Strawberry Hill
Strawberry Hill is an island located in the middle of Stow Lake and is the highest hill in Golden Gate Park. You can climb to the top via multiple staircases or slowly sloping pathways. About halfway up the hill, you'll be at the top of Huntington Falls and a beautiful lookout of the northern part of Golden Gate Park.
I highly recommend visiting during the Spring as there are multiple varieties of flowers, including Cherry Blossoms, blooming on and around Strawberry Hill! 
Row a Boat on Stow Lake
As mentioned above one of the most popular, and romantic, things to do in Golden Gate Park is rent a boat on Stow Lake. Stow Lake Boathouse offers pedal and rowboats on a first come first serve basis. From here, you'll be able to row underneath beautiful stone bridges, around a waterfall, and Strawberry Hill.
Location: 50 Stow Lake Dr E, San Francisco, CA 94118
Hours: 10:00 am to 5:00 pm
Picnic at the Dutch & Murphy Windmills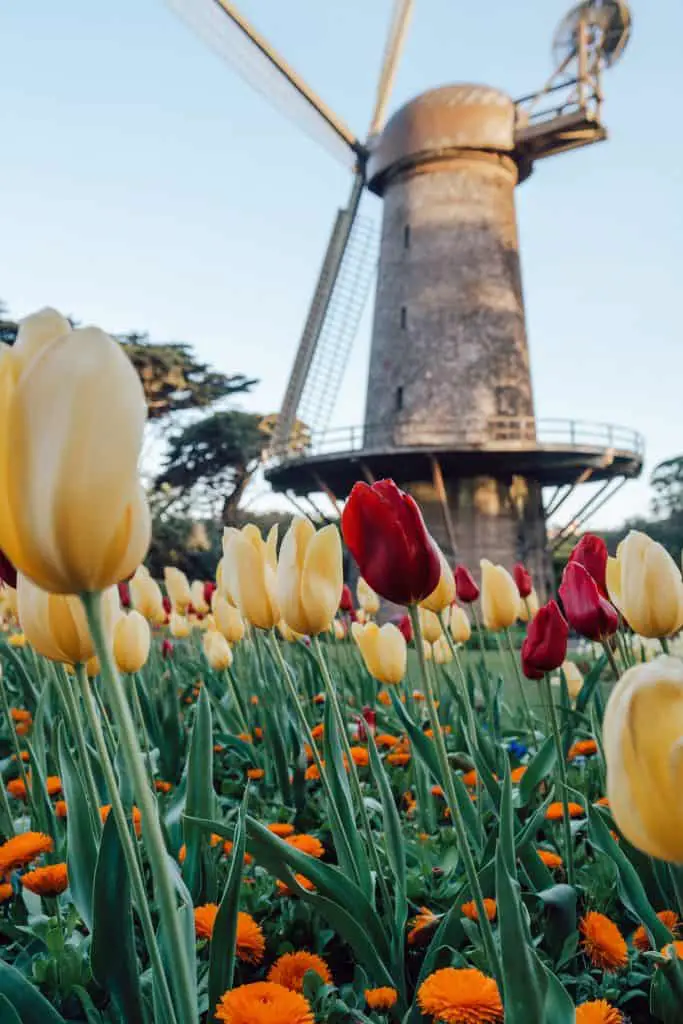 Located on the western side of Golden Gate Park overlooking the Pacific Ocean are two Dutch-style windmills. They once served the practical purpose of pumping water into Metson lake to keep Golden Gate Park green. Supposedly, this still occurs a few hours per week, but I haven't seen the windmills moving yet!
In the Spring Tulips bloom around the Dutch Windmill making it a very popular location for picnics and photo sessions! It's gorgeous to see, so if you want to visit without the crowds, I recommend it first thing in the morning!
Murphy, the southern windmill was recently renovated along with Millwright's Cottage which was once the home of the Windmill's caretakers!
Practice Your Archery
Want to find your inner Katniss Everdeen? Well, there is an Archery Range where you can do just that! You can rent equipment from the San Francisco Archery Shop located at the corner of 39th Ave & Balboa in the Richmond. It's only a few blocks away! 
Visit the Bison
Windmills, Archery and Bison? Yep, Golden Gate Park really has it all. The herd of bison currently roaming a small portion of the park between Chain of Lakes Dr and Spreckles Lake is an incredibly popular and unique attraction! 
They've been here since the late 1800s and their arrival began a conservation effort to save the nearly extinct American.
Thankfully, it worked! Today, the herd contains 10 females! They used to have males, but they became too aggressive during mating season. Go say hi to these beauties!
Relax by a Lake
Multiple man-made lakes throughout Golden Gate Park make for a great place to relax on a warm San Francisco day. 
Spreckels Lake is known for motorized boat enthusiasts racing their boats around, but you can also find turtles here!
Stow Lake is popular if you want to get on the water! You can rent a boat from the Stow Lake boathouse by the hour and row or pedal around the lake. 
Lloyd Lake has a lovely little waterfall and nice meadow surrounding it for the ultimate relaxation! There is also usually a good amount of shade around this lake from the surrounding trees.
Go Waterfall Chasing
There are a surprising amount of waterfalls throughout Golden Gate Park. Two are located on JFK Jr Dr. There's a small waterfall next to Lloyd Lake and a much larger waterfall just up the road to the north called Rainbow Falls. At Rainbow Falls look up and you'll see a large Celtic style cross! 
Huntington Falls is the third waterfall in the park, cascading down the side of Strawberry Hill. This is an excellent place for a photo opportunity and you can walk to the base of the falls as well!
See the Cherry Blossoms Bloom
Golden Gate Park is an excellent place to see the Cherry Blossoms bloom in the spring! You'll find them throughout the park but the highest concentration of them is of course around the Japanese Tea Garden. Another great place to spot the spring blooms is at Shakespeare Garden. You'll also see them on the walking paths surrounding Stow Lake.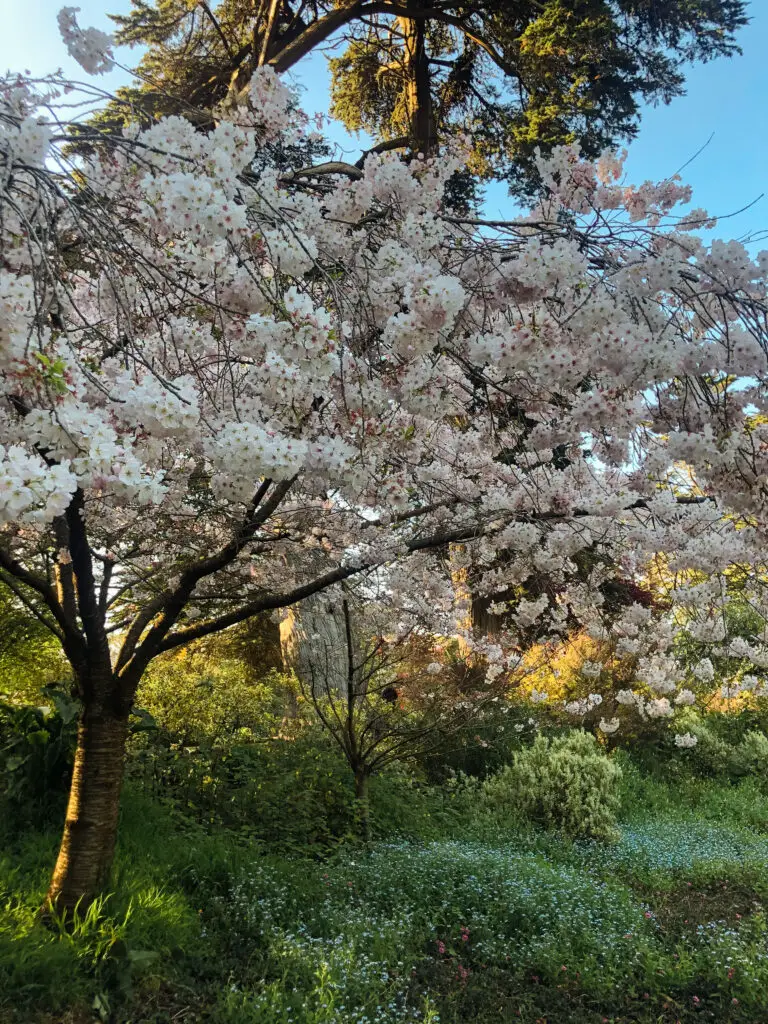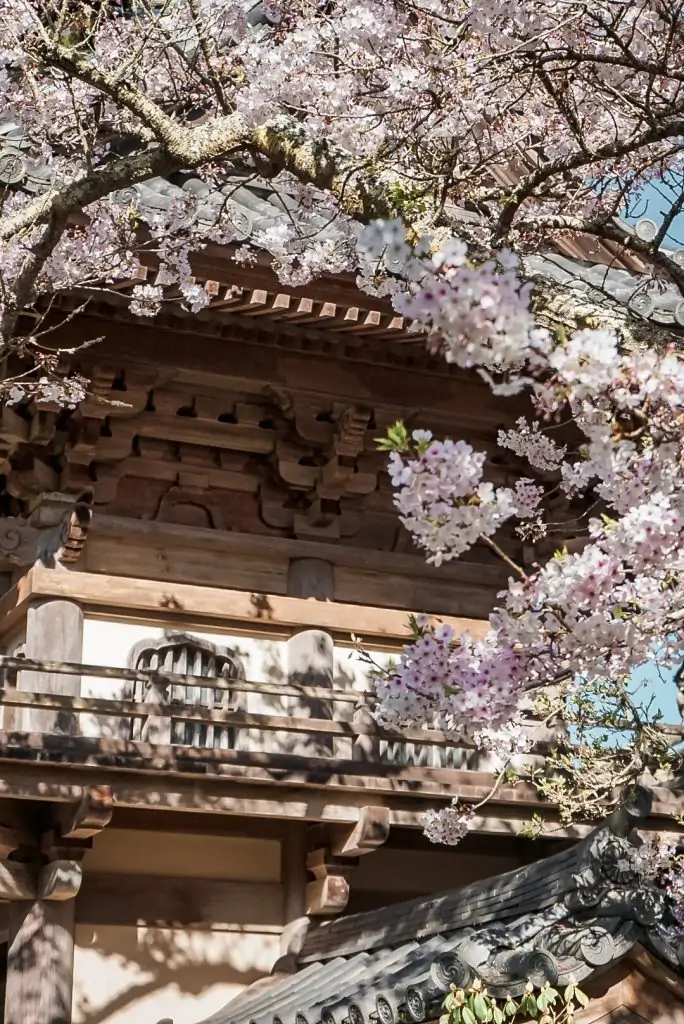 Get Active
One thing you'll notice during your visit to Golden Gate Park is that people love getting active here. Whether they're riding bikes, going for a long run, playing softball, soccer, or disc golf, there are plenty of places to get your fitness on. Even walking a few laps around the Polo Field is a fun way to get your steps in!
Take a Walking Tour
Want to dive deeper into the history of Golden Gate Park, consider taking a Golden Gate Park Walking Tour. These tours from SF City Guides are completely free, but you do need to reserve in advance. There are a few different types of tours for Golden Gate Park to choose from so check out their website for more information. 
Take a Segway Tour
An alternative way to see the best of Golden Gate Park is with a Segway tour. These tours start at the Music Concourse and take you to all of the top and some hidden sights in Golden Gate Park. Their Original tour lasts 2.5 hours and costs $75. 
Attend a Music Festival
There are two music festivals in Golden Gate Park each summer.
Every August, Golden Gate Park turns into an outdoor music venue for three days of Outside Lands! Outside Lands is a bit pricey to attend and you need to get your tickets early! They sell 3 day passes first, once those sell out, they sell one day passes. I'm attending for the very first time this year (2023) and I'll report back for what else to expect!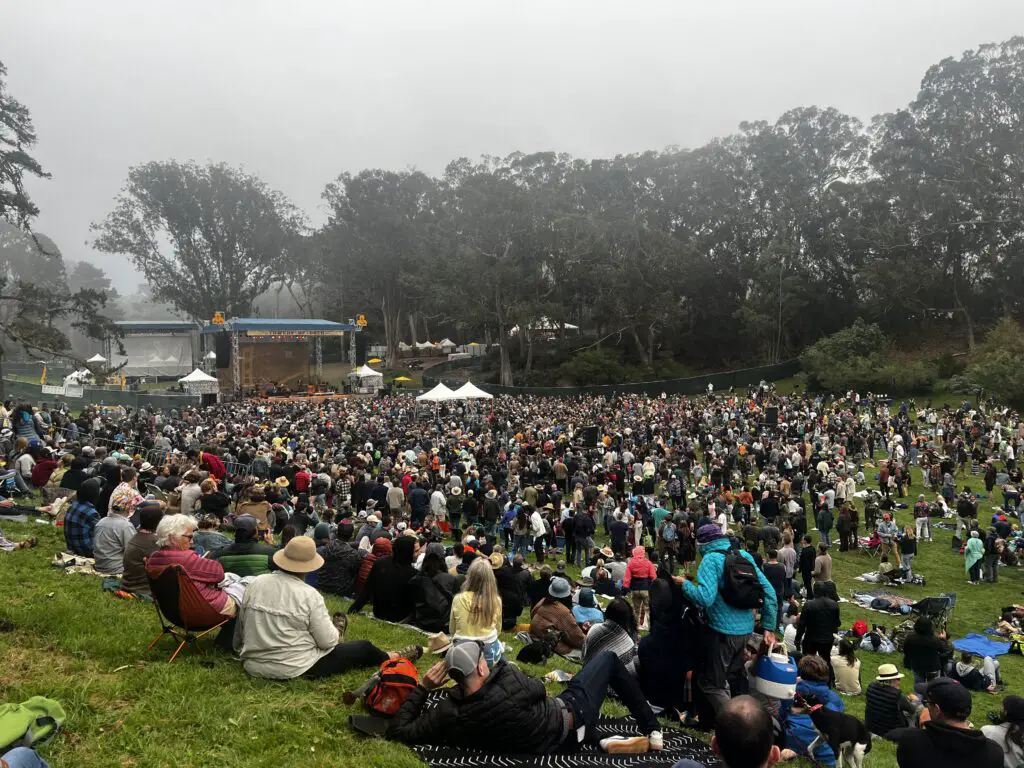 A few weeks after Outside Lands, another multi day music festival occurs called Hardly Strictly Bluegrass. This is a FREE event! I went for a few performances last summer and loved the relaxed energy of the crowds and the performers were great!
I know that there was quite a bit of information in this post. I even decided to leave some attractions, because it's almost overwhelming the number of things to do in Golden Gate Park! Honestly, any way you decide to spend your time in the park is time well spent. Whether it's going for a long walk, checking out the museums, or laying in the grass on a sunny day, definitely add Golden Gate Park to your San Francisco itinerary.
Like this post? Save & Share to Pinterest!