I'm not entirely sure where I had my first matcha latte, probably in a Detroit cafe during my years living there. But I am entirely sure that it was love at first sip, and I haven't stopped sipping. I love the earthiness, the coziness, and also the bitterness of a high quality matcha. I've learned that it is very difficult to make a good matcha latte, and I've made it my goal to find the best matcha in San Francisco. 
The one thing about this quest to discover the best matcha latte in the city, is that my order needs to be consistent to ensure that I'm comparing matcha to matcha. The type of matcha powder will vary cafe to cafe, which plays a role in the flavor and texture of the end cup. So here's my order: Matcha latte with oat milk. If oat milk is not an option, then almond is next up. In terms of hot or iced, that I'll leave up to the weather (since this is in San Francisco 9/10 it'll be hot).
This post is for matcha lovers like me. Let's drink!
This post contains affiliate links, which means that, at no additional cost to you, I will earn a tiny bit of income if you decide to make a purchase or booking. For more, check out my disclosure. 
San Francisco Travel Resources
Arguello Velo Rouge – Creamiest Matcha Latte
Since I swap cow's milk for oat milk, I've noticed that the latte's aren't as thick and creamy as I like them (which is just what it is, I don't do cow's milk). But OMG the matcha latte at Velo Rouge cafe on Arguello makes such a perfectly creamy matcha latte. It's heavenly! 
You get the full flavor of the matcha complimented nicely by the thickness of the milk. Perfection.
This cafe also has excellent breakfast sandwich and is located near an entrance to Golden Gate Park. So grab a sandwich and matcha to go and explore my favorite things to do in Golden Gate Park.
Location: 798 Arguello Blvd
Hollow – Coziest Matcha Latte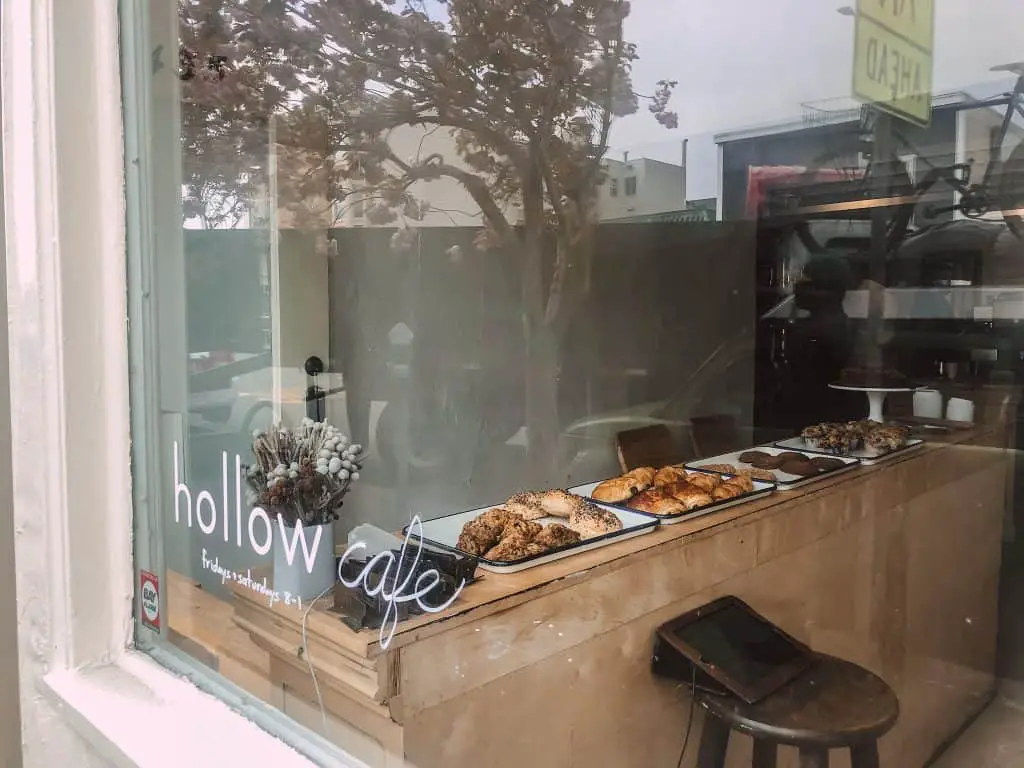 Hollow in the Inner Sunset makes a unique matcha latte by adding chai spices to it. At first, I thought this might be a weird combination. Turns out, it's actually coziness in a cup. 
One tip for ordering, is to get the large size. The small is funnily small. Like "what is this a cup for ants" type small. 
Right now, they're only open from 8:00 am – 1:00 pm Fridays and Saturdays, and I highly recommend paying them a visit. They also have delicious pastries and bagels.
Location: 1435 Irving St
Home – Most Consistent Matcha Latte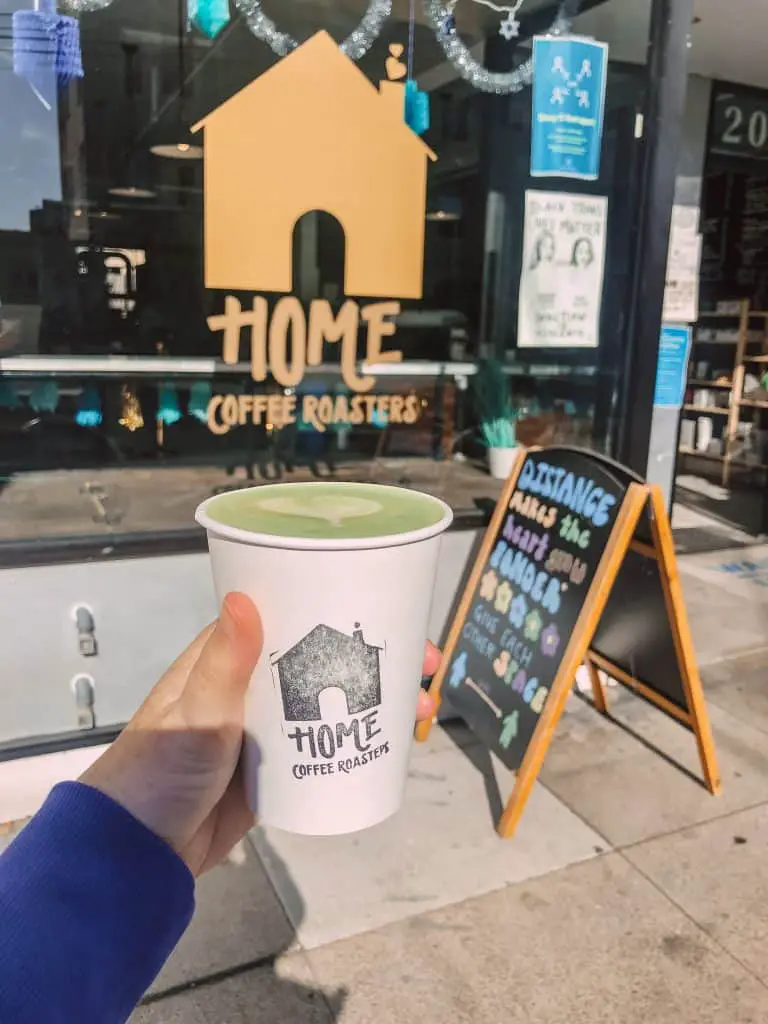 You know what's annoying? When you get a great matcha latte (or anything for that matter) from a cafe, that makes you return. But on your return visit it tastes nothing like the first time. That doesn't happen at Home.
Home is the cafe I visit most frequently because two of their locations are in my neighborhood. One on my way home from work and one much closer and on my way to the Clement St. Farmer's Market. 
Because I visit Home more than any of the other cafes listed here, I've learned that I can depend on Home to make a great matcha latte every single time. Such a rarity! I've had it both hot and iced and both variations are always excellent.
Added bonus, the staff are incredibly friendly at each location.
Locations: 2018 Clement St/1222 Noriega St/455 Grant Ave
Ashley's Cafe – Best Iced Matcha Latte
Ashley's was the first matcha latte I had in San Francisco. I remember driving home from sunrise at the Golden Gate Bridge and saw a sign for matcha latte. I've never whipped my car across three lanes faster (thankfully it was COVID traffic levels, so no cars were around).
An iced matcha was on their sign, so that's what I went with. It is SO GOOD! It has a strong matcha flavor that is balanced out with the oat milk. I've been back a few times, always getting it iced, and each time, it is so good! 
Location: 4454 California St
Stonemill Matcha – Best Matcha Sweets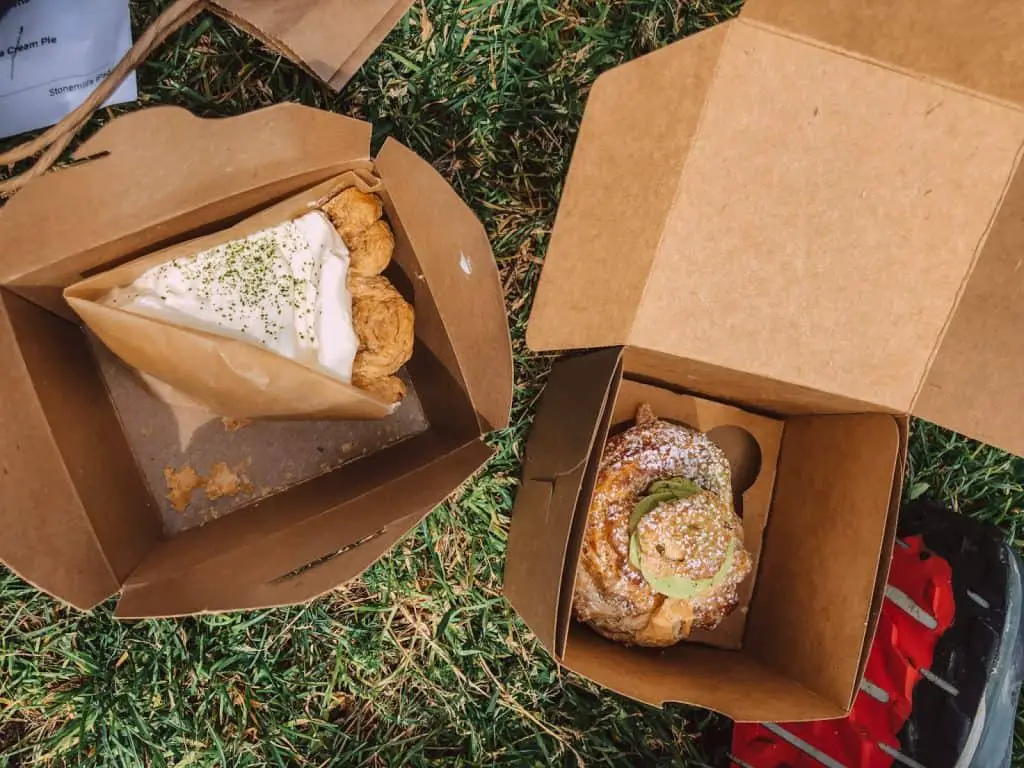 Stonemill Matcha located on Valencia St. in the Mission is filled with a tasty curated menu of various matcha treats. With 7 varieties of matcha drinks from traditional (only water) to an Iced Strawberry Matcha Latte there is something for everyone here!
And don't even get me started on the sweet matcha desserts that include a matcha cream pie and a matcha cream puff!
On my visit, I ordered my typical matcha latte with oat milk which was perfectly creamy and had excellent matcha flavoring. I also ordered the matcha cream pie and my friend got the matcha cream puff. I devoured the pie which was heavenly! I didn't try the cream puff, but my friend said it was really tasty!
I highly recommend stopping here while you're in the Mission neighborhood. You can also order ahead to avoid the line!
Location: 561 Valencia St
Matcha Cafe Maiko – Most Creative Matcha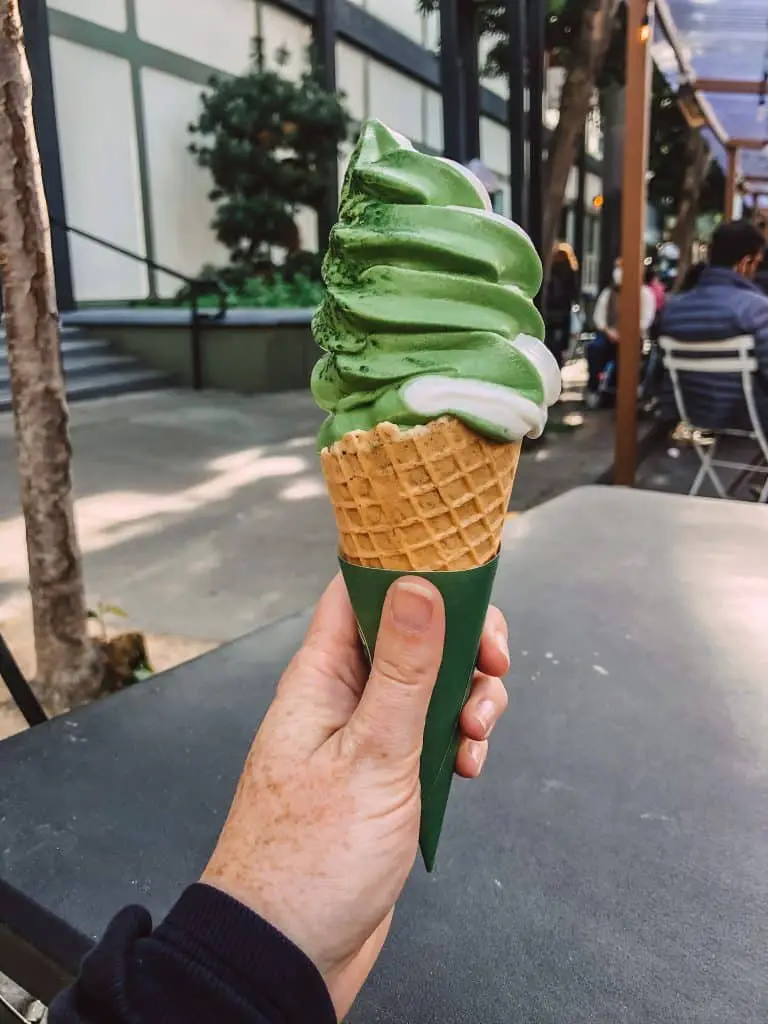 Looking for more of a matcha treat? Then head to Japantown for Matcha Cafe Maiko's creative Matcha menu. Yes, you can get a traditional matcha here as well. But why not expand your matcha horizons a bit? At least try the matcha soft serve, it's SO GOOD!
Location: 1581 Webster
California Kahve – Best Located Matcha Latte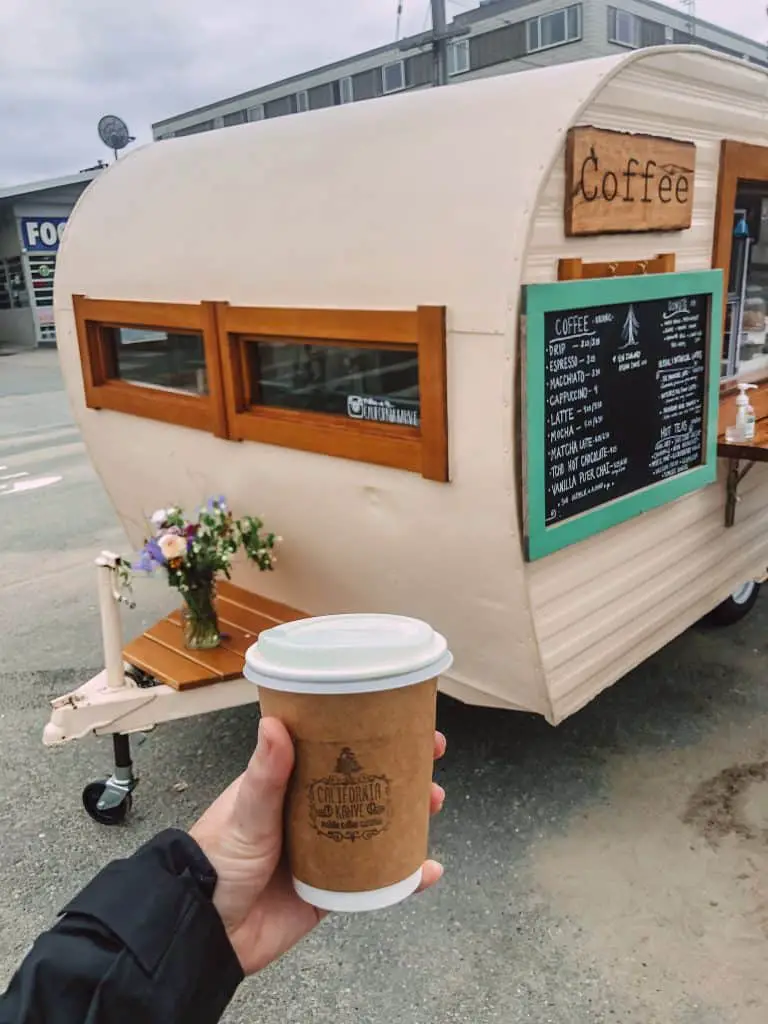 This coffee caravan is located most weekends just off of Ocean Beach. It's one of the new spots in town serving up delicious matcha. The coffee caravan has been around for about a year now and has expanded its menu.
Their hot and iced version have always been a quality staple, and recently she's added a lavender mint matcha to the menu. I was skeptical at first, but it is such a great flavor combination, especially iced. My taste buds were very happy!
It's owned by an awesome woman who wants to make sure you enjoy your drink! Plus they carry a selection of donuts from dynamo donuts and I happened to score a matcha one! Grab your cup from California Kahve and enjoy it across the street at the beach!
Location: Lincoln & La Playa (check Instagram for updates)
Reveille Coffee – Modern Matcha Latte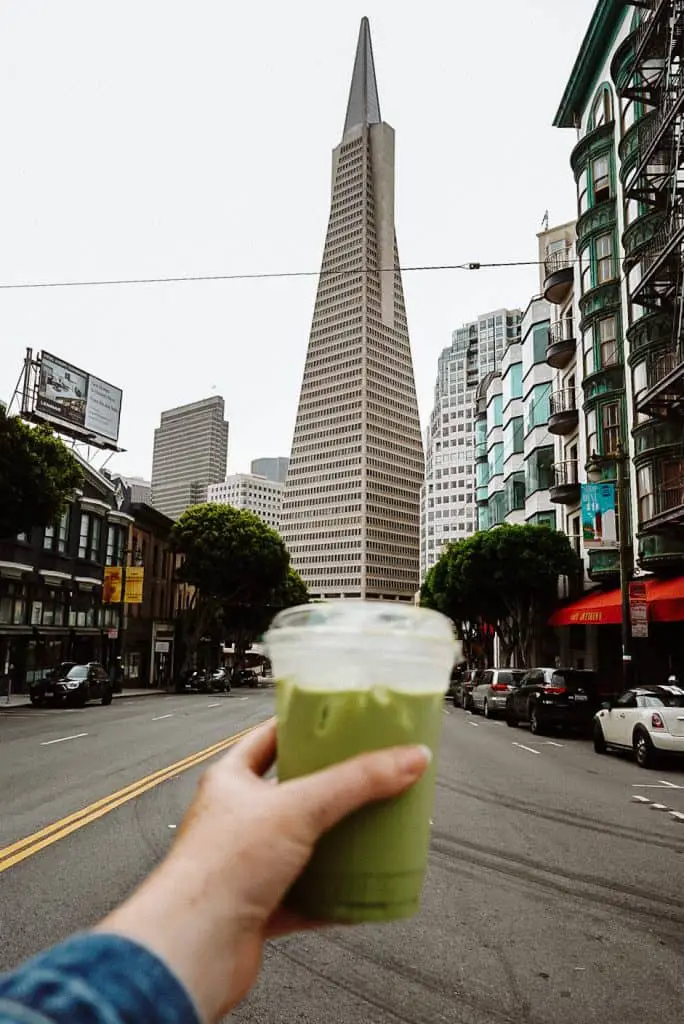 Reveille Coffee is a San Francisco based coffee roaster with various locations throughout the city. I recently stopped by their North Beach location as I was exploring the neighborhood and their iced matcha latte really hit the spot.
Their North Beach location has a modern, minimalist vibe to the cafe with large windows perfect for people watching as it's just across the street from the Sentinel and Transamerica Buildings.
The service was quick and friendly even on a busy Saturday morning and the matcha was excellent. I highly recommend checking out this location or one of their other 6 throughout the city!
Location: 200 Columbus Ave, North Beach
Boba Guys – For Boba Lovers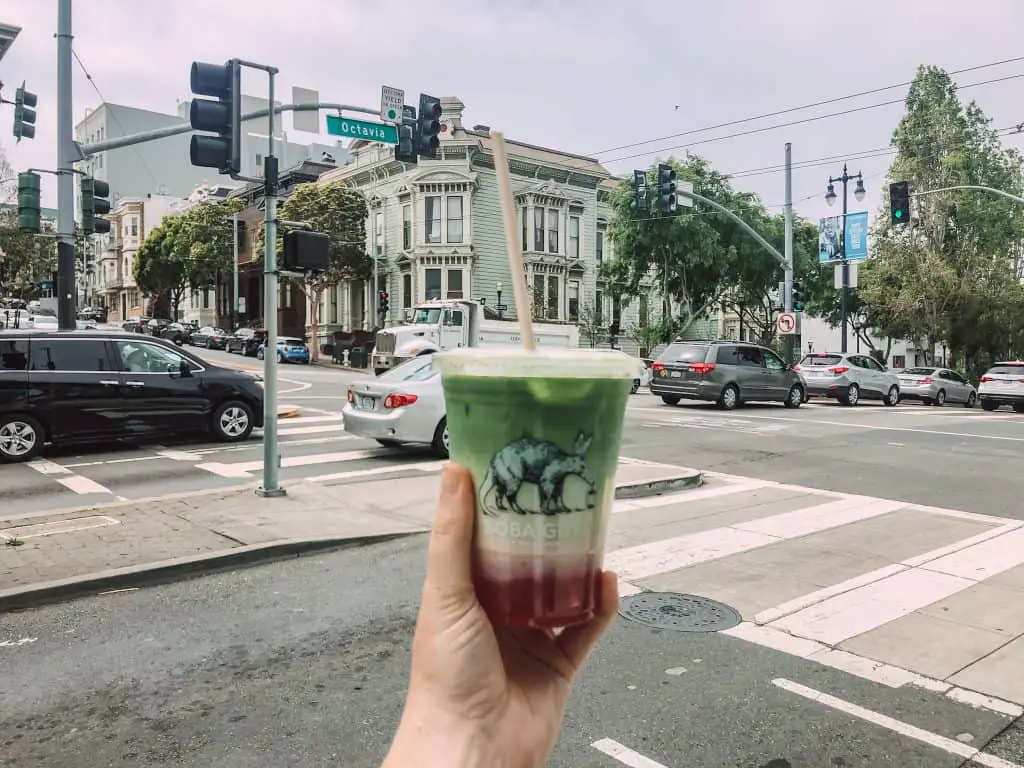 With multiple San Francisco locations, including Hayes Valley, the Mission, and the Fillmore, Boba Guys is known for their boba drinks (shocking I know). However, they also have a few varieties of a matcha tea latte. A very popular option here is the strawberry matcha latte. It comes with premium quality matcha and a layer of homemade strawberry puree for added sweetness. You can get it with or without the boba as well!
Ballast Coffee: Hidden Gem
After a Saturday morning yoga session at Breath Salt Yoga in the Lakeside area, I typed matcha latte into Google maps to see if there were any cafes nearby. Ballast Coffee Shop came up as being a 10 minute walk away in the West Portal neighborhood so I headed there.
I was happily surprised when I walked into this warm and cozy coffee shop on a foggy day. The baristas were incredibly friendly and welcoming, ensuring they had my order correct. There was a group of neighbors hangin out at a table towards the front of the cafe.
As I walked through the cafe to find a seat I was pleasantly surprised at how large the cafe is and how many people I saw studying on laptops. There are a few larger tables for bigger groups, a bar for individuals, and a few two seaters for intimate conversations. There's also a large back garden you could take you tea on a sunny day.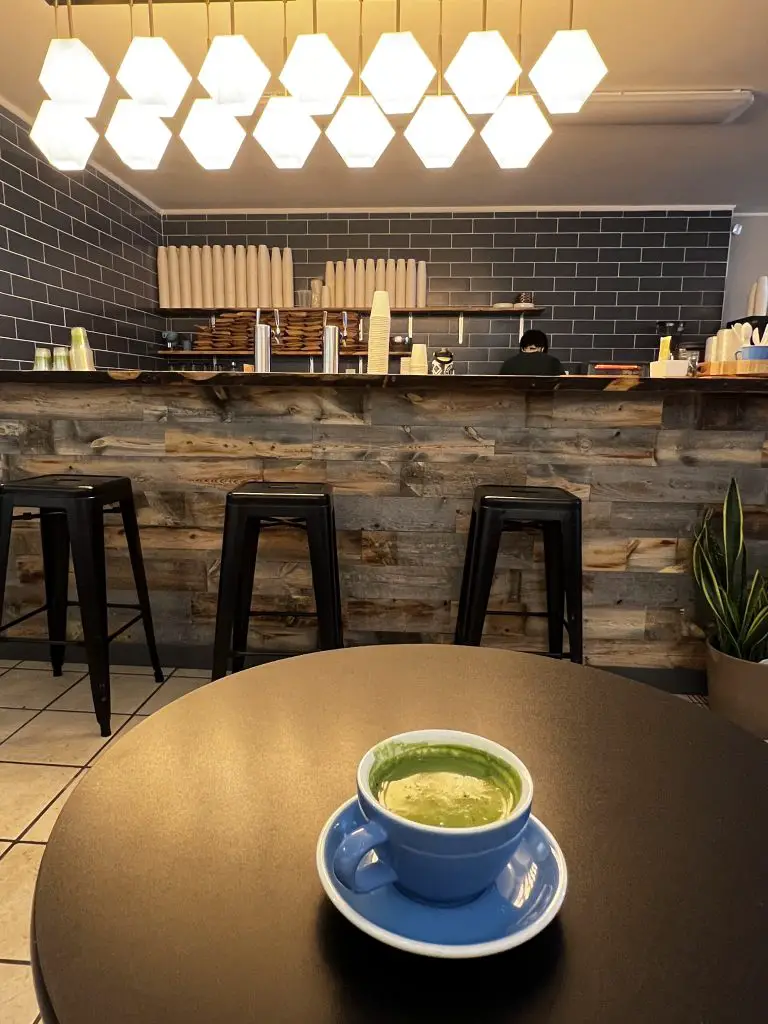 Now on to the matcha. I ordered a hot matcha latte with oat milk and no sweetener. The green color of the creamy tea was absolutely perfect. I could tell this wasn't a pre-mixed matcha situation. It had just the right amount of earthiness and warmth that I crave from a matcha latte. I also ordered the smoked salmon toast thinking that $10 was a reasonable price for smoked salmon! Well, it was smoked salmon cream cheese on toast with some arugula and capers on top which, honestly, was not worth $10.
Besides that, I will definitely be visiting this cafe again when I need to get some work done and can spend a few hours. They're also open late, until 9:00pm and serve beer!
Location: 329 West Portal Ave
Snowbird Coffee: Matcha by the Park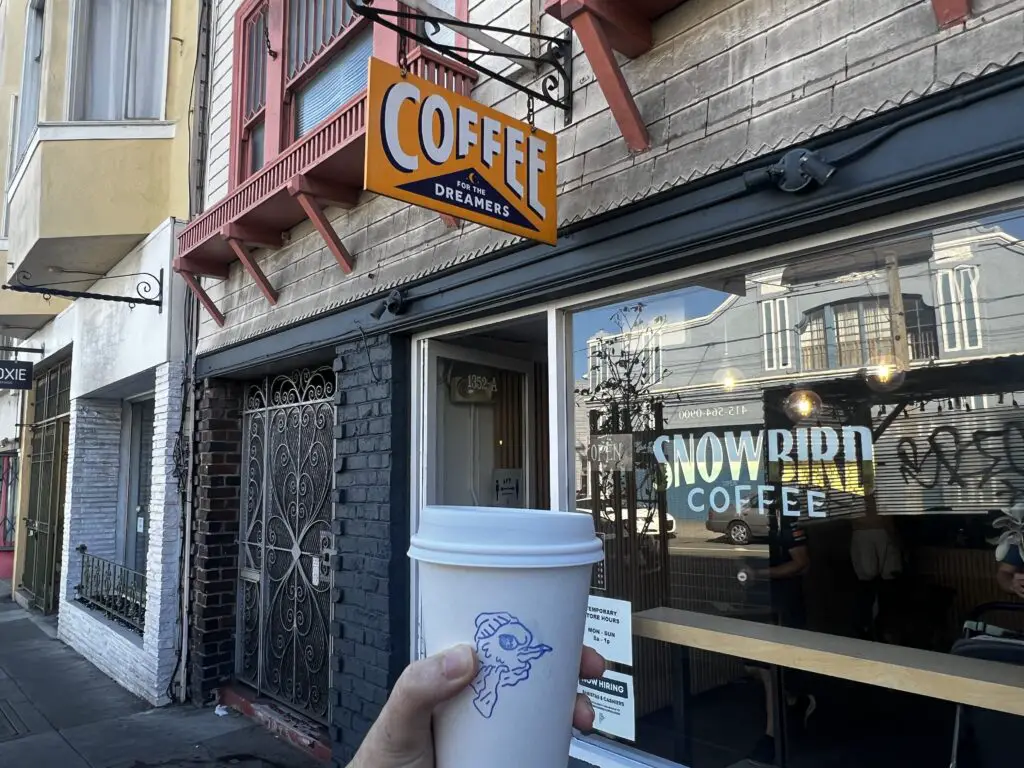 Similar to Ballast Coffee above, I found Snowbird Coffee Roasters after a morning yoga session at Yoga Moxie next door. This very tiny coffee shop has a well rounded menu, delicious looking pastries, and serves up a solid matcha latte. There isn't really anywhere to sit and enjoy your matcha, so I recommend grabbing it to go and heading into Golden Gate Park for a stroll through the Botanical Gardens.
Location: 1352 9th Ave
Now there are definitely more than these cafes in San Francisco serving matcha lattes and I'm planning on finding them and giving them a try. I'll update this list as I go, but it's worth noting that I've tried cafes mentioned in other best matcha lattes in San Francisco posts, and found them not that great. And if you're going to spend $7.00 on a drink, I think it's gotta be pretty great. 
That's what you'll get when you order a matcha latte at one of these San Francisco cafes.
Have you had a great matcha latte in San Francisco that's not listed here? If yes, please let me know so I can go try it out for myself!
Like this post? Pin for later!