North Beach is one of San Francisco's most beloved neighborhoods. It's known as the Little Italy of San Francisco as Italian immigrants made North Beach their home here. The Beat Generation also called North Beach home as did pro baseball player Joe DiMaggio. Today, this neighborhood is a cultural mix of locals, tourists, and transplants who love exploring the best things to do in North Beach, San Francisco. 
This post contains affiliate links, which means that, at no additional cost to you, I will earn a tiny bit of income if you decide to make a purchase or booking. For more, check out my disclosure. 
Where is North Beach
North Beach is located in the northeastern part of San Francisco. It borders Fisherman's Wharf to the north, Russian Hill to the west, Chinatown to the southwest, FiDi to the South.
Google Maps will tell you it encompasses Fisherman's Wharf and the Piers as well. There used to be a time when people didn't cross Broadway from Chinatown in to North Beach and vice versa. Now, it all blends together.
The main streets of North Beach are Columbus Ave and Broadway with Washington Square Park at the epicenter of the neighborhood. 
How to Get to North Beach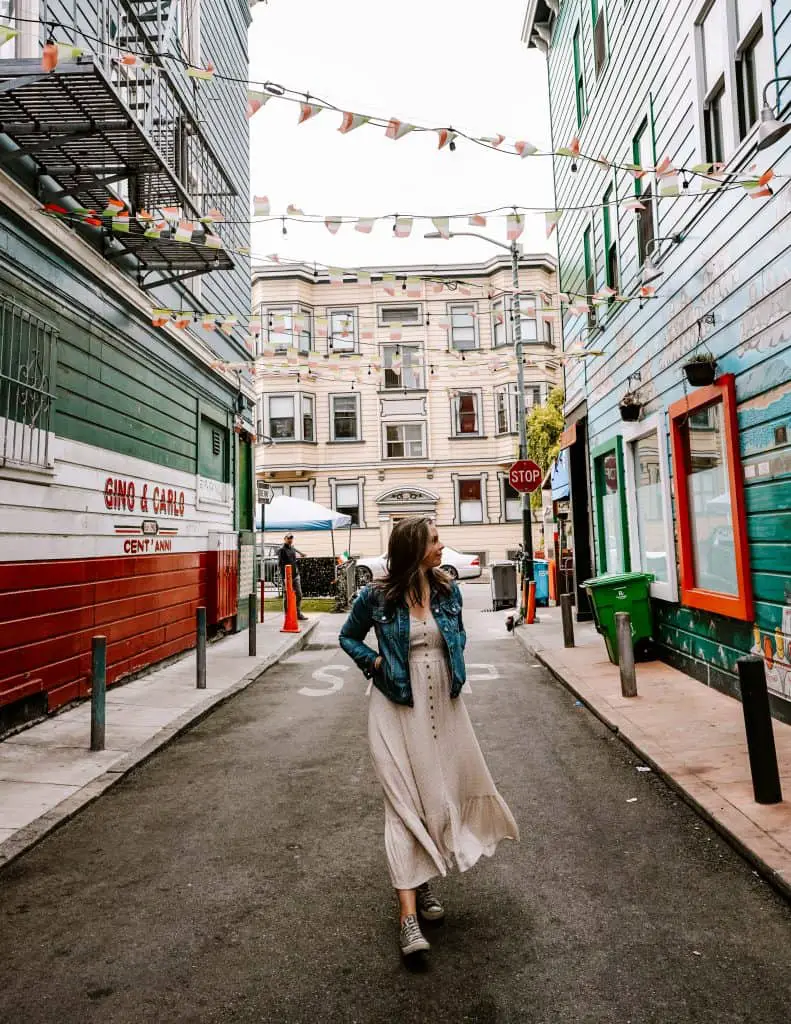 North Beach is perfectly located for out of town visitors. It's a short walk, or cable car ride, from downtown and Fisherman's wharf hotels.
If you're driving to North Beach, know that parking is insanely difficult to find, especially with the parklets now taking up many spaces. Plus when you do find parking it's usually only for two hours (except for Sunday) and it is highly likely that you will receive a ticket if you park past that time frame.
There are some parking lots in North Beach that will save you having to find a new spot every two hours. One of them is a North Beach attraction all its own, it's the North Beach Garage on Vallejo St. Each parking spot has a small fortune cookie saying to go with it, which makes finding your car extra interesting.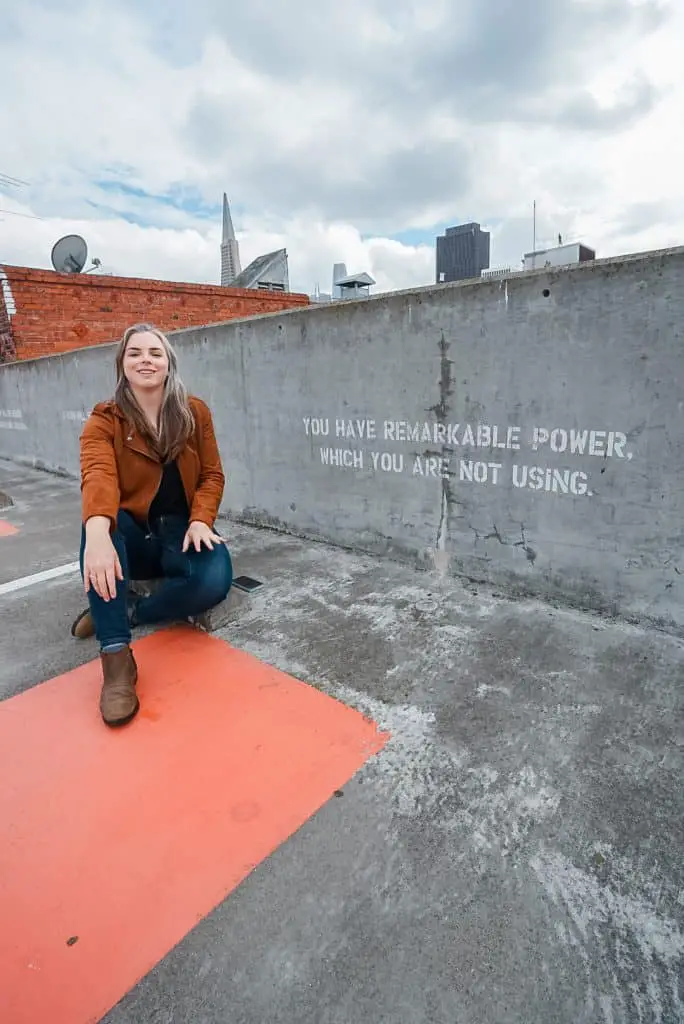 Dine at the Best Restaurants in North Beach
One of the main things to do in North Beach is eat! There are so many good restaurants in North Beach to choose from, and mostly, you can't go wrong.
Tony's Pizza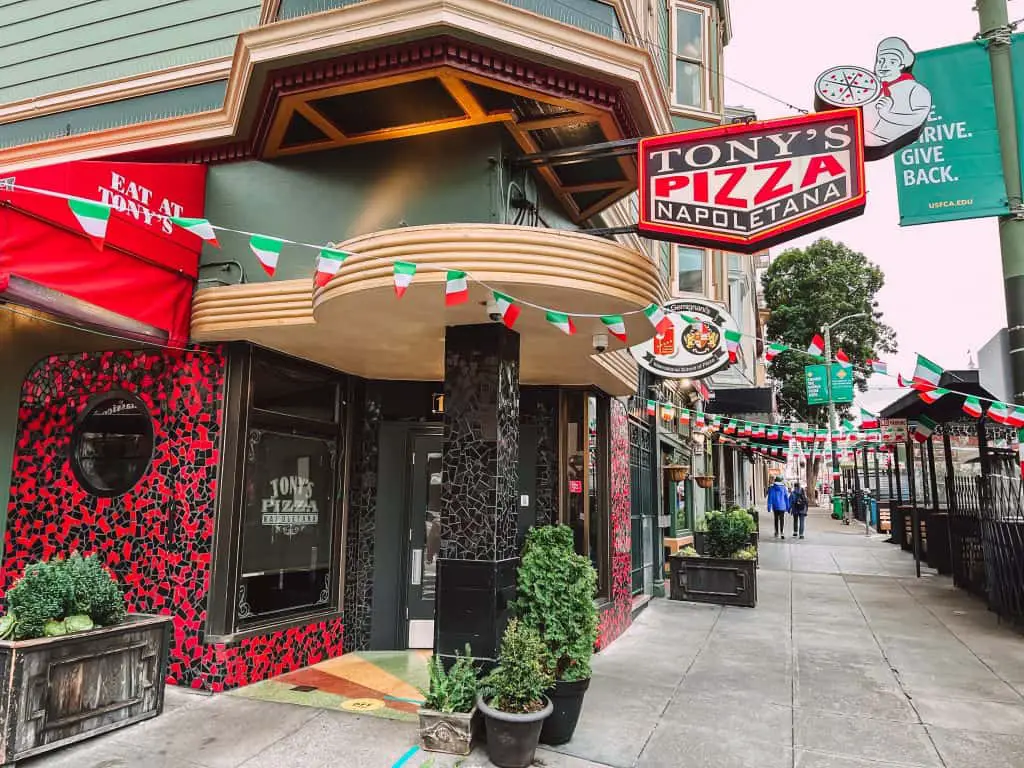 Tony's Pizza's claim to fame is its award winning Neapolitan margherita pizza. Tony – an American non Neapolitan actually won the award for this pizza IN NAPLES! That's nuts!
Numerous pizzas here have won awards and while they're known for thin crust pizza, they also do Chicago style, Sicilian Squares, and others. 
I personally love the Margherita if you can get your hands on one (they only sell 73/day!). My second favorite is the Cal Italia. 
The wait is known to be insanely long here and they don't take reservations, if you don't feel like waiting, a few doors down you can buy a pizza by the slice! So you can give it a try without the long wait!
Original Joe's
Original Joes is a North Beach staple. Known for their consistently delicious Italian food served by tuxedoed waiters.
I've eaten here, and it's sister restaurant West Lake Joe's, countless times over the years. 
My favorite things to order, the Crab Louie, the French Dip, or cheeseburger. 
But you really can't go wrong with anything on the menu. 
Mamas on Washington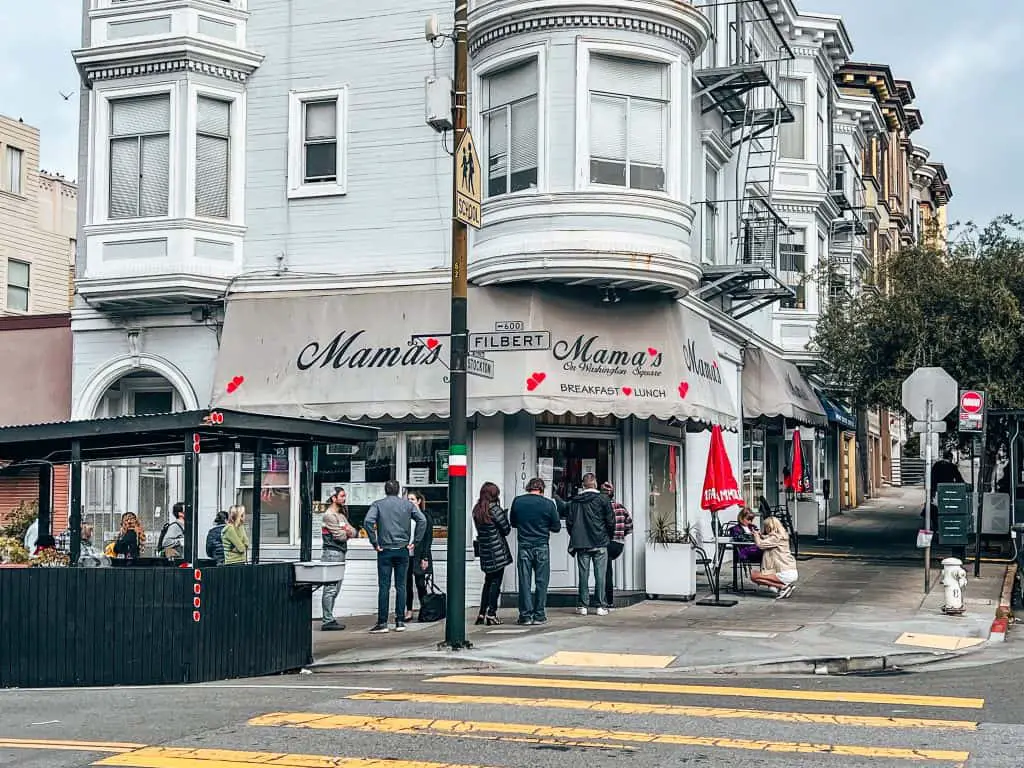 I got to Mamas on Washington just as it opened at 8 am on a Saturday morning. I was planning to get there at 7:30, but the sunrise from Ina Coolbrith park called my name!
I was expecting the line to be all the way to St. Peter and Pauls church but thankfully it was only about 10 people deep, most of them in large groups. 
25 minutes later I was ordering my monte cristo (this is what they're famous for, not my typical breakfast menu) and a tea.
I found a seat in the heated parklet and sipped my tea as I waited for what is called the best breakfast in San Francisco.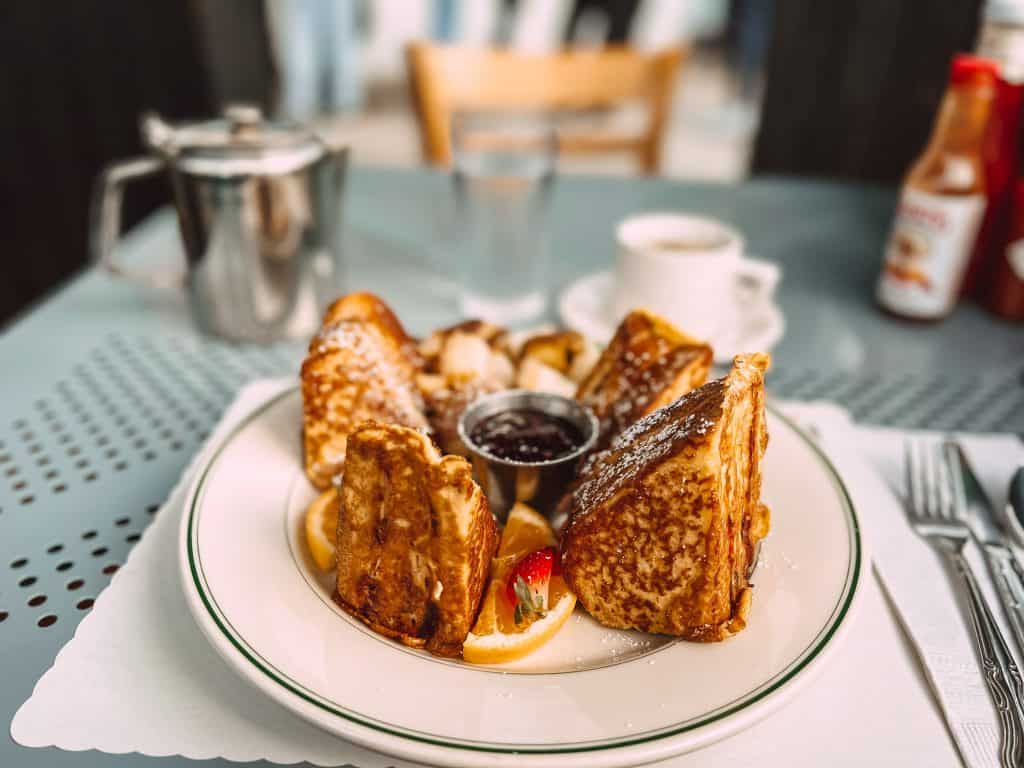 Let me tell you. The first bite of the monte cristo dipped in home made jam was amazing. That is truly one of the best breakfasts I've had. 
Would I wait for more than 30 minutes for it again, probably yes. Should you get up early on your trip to San Francisco to try this breakfast, yes, yes you should. If the line is incredibly long, send someone to grab a coffee and a scone from Cafe Trieste to enjoy while you wait.
The Italian Homemade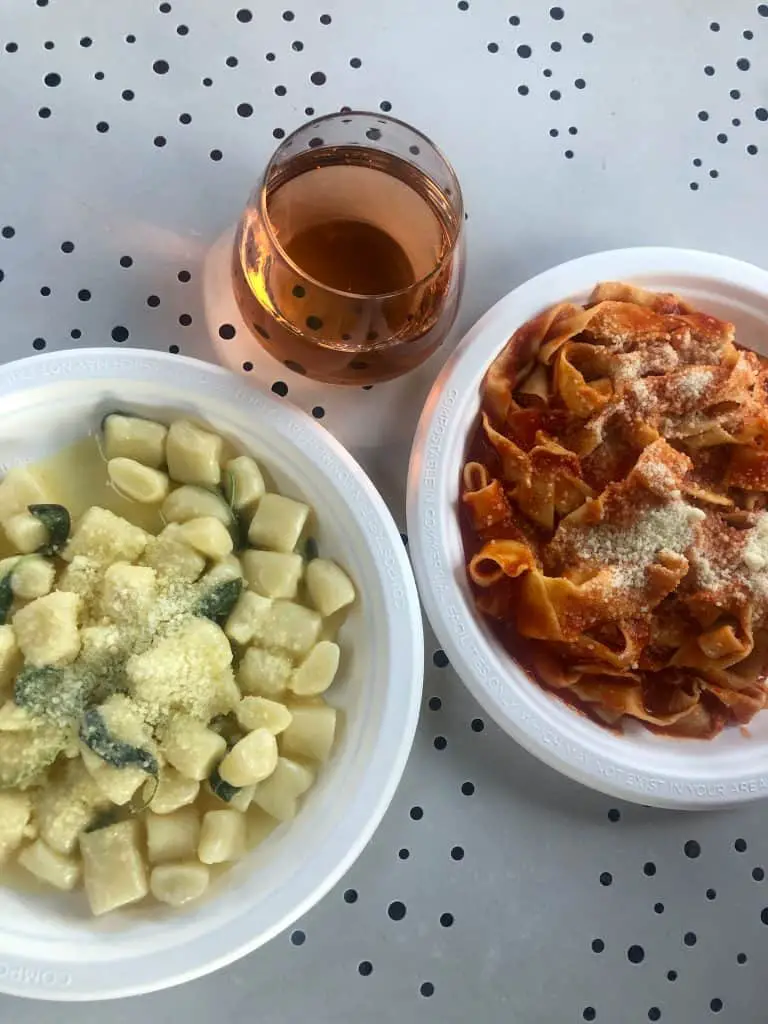 This tiny, no frills establishment serves some of the freshest pasta I've had without breaking the bank! 
You order at the counter from a "make your own" style menu. 
The menu has the type of pasta and the type of sauce available. You make the combination and within minutes it will be brought out to you on a paper plate. I'm not sure if the paper plate is a COVID thing or not as I've only eaten there during COVID. 
If you get nervous about the "make your own" situation, like me, the staff will definitely help point you in the right direction. 
I love their gnocchi with pesto. My friend got pappardelle with marinara that was delicious as well. And people at nearby tables had lasagna that looked incredibly tasty!
There are some small tables inside and seating outside in the parklet. 
Golden Boy PIzza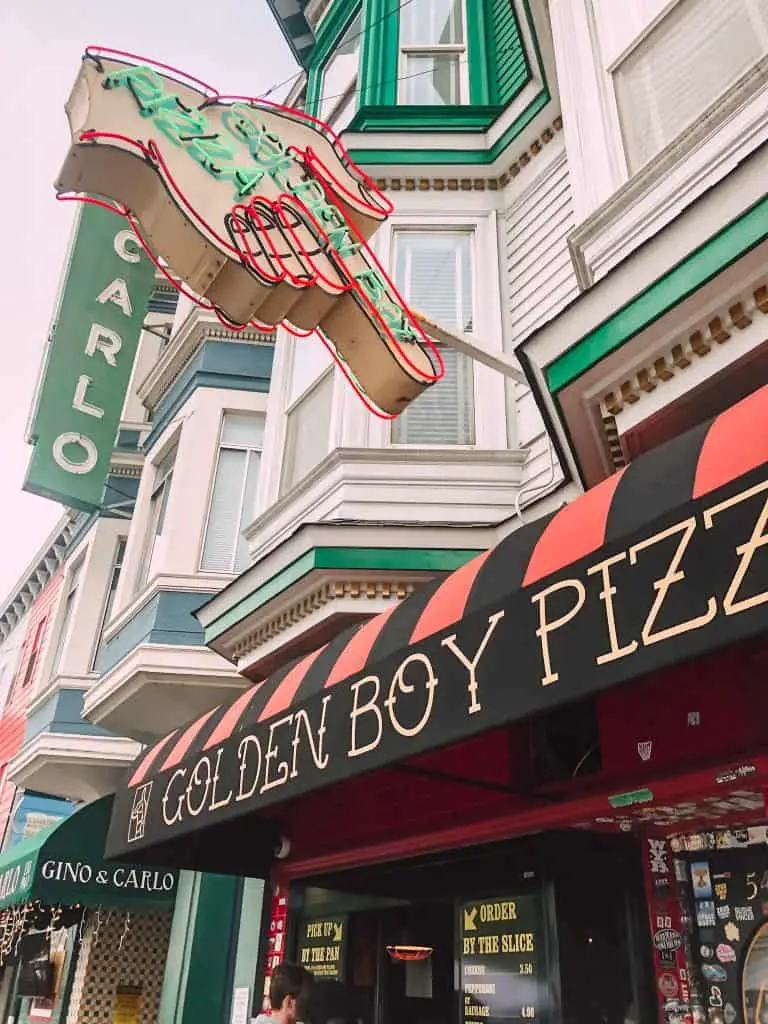 Golden Boy Pizza has amassed loyal fans since it made its home on Green St in North Beach in 1978. Its menu is simple, choose from 6 varieties of square pizza, all of which you can also get by the slice. By the slice definitely seems to be the more popular option, especially as the indoor seating has yet to open due to COVID. Plus a slice costs a budget friendly $4.50 max and will certainly fill you up as you continue to explore North Beach
Here's what you can get:
Cheese
Pepperoni
Sausage
Combo
Pesto Veggie
Clam & Garlic
On my first visit, I went all in and got the clam and garlic slice. It was so good! It was a thick slice, but not overly heavy. The garlic was loaded on which I loved – but if you don't like garlic, get the classic pepperoni. My friend got the pepperoni and said it was delicious too!
Grab a slice, sit in the photo friendly alleyway and eat it while hot. Or take it to Washington Square park for pizza and people watching. 
Mario's Bohemian Cigar Store Cafe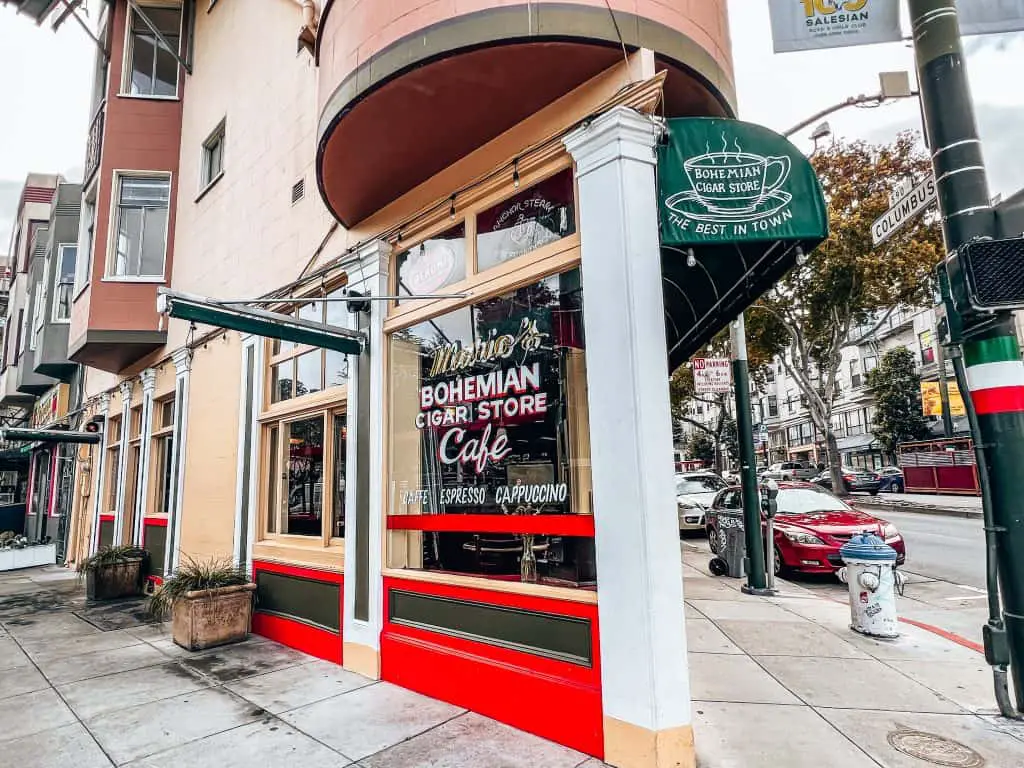 Located directly across the street from Washington Square Park is Mario's Bohemian Cigar Store Cafe. This tiny cafe and restaurant is in an excellent location for a relaxed evening sipping wine, enjoying a meatball sub, and people watching.
Inside gives off cozy winter vibes and is the perfect place to warm up on a cold day in San Francisco. There is a long bar or small tables near the windows. On the other hand, the parklet out front is excellent on a sunny day to watch the people in the park!
I highly recommend the meatball sub which is served on focaccia from Liguria bakery and a glass of wine!
Relax in the Cafes in North Beach
North Beach coffee shops and cafes are just as popular as the restaurants. Many of them have a European vibe to them that allows you to simply sit, slowly sip your espresso and enjoy the people watching. 
Caffe Trieste
Are you an espresso fan? Then, Caffe Trieste is for you. Known for bringing espresso to the west coast, Caffe Trieste has been a beloved North Beach staple since the 1950s. Even if you're not a coffee drinker, like me, this place has such a unique atmosphere of classic Italian coffee shop mixed with a bohemian vibe that it's worth at least stopping in for a pastry!
Caffe Trieste also has live music on Saturday afternoons. I'm not sure if this aspect of the cafe has "reopened" since COVID, but the line out the door the other day showed the coffee is ready to welcome you back!
Reveille
Not a coffee drinker? Me neither. Enter Reveille Coffee Shop. This local coffee roaster also happens to make a great iced matcha latte. In fact, their iced matcha latte is one of my favorite matcha lattes in San Francisco.
Their North Beach location is across the street from the Sentinel building and its large windows make it a great place to people watch while you sip you drink. There are also tables outside if it's a nice day! 
Vesuvio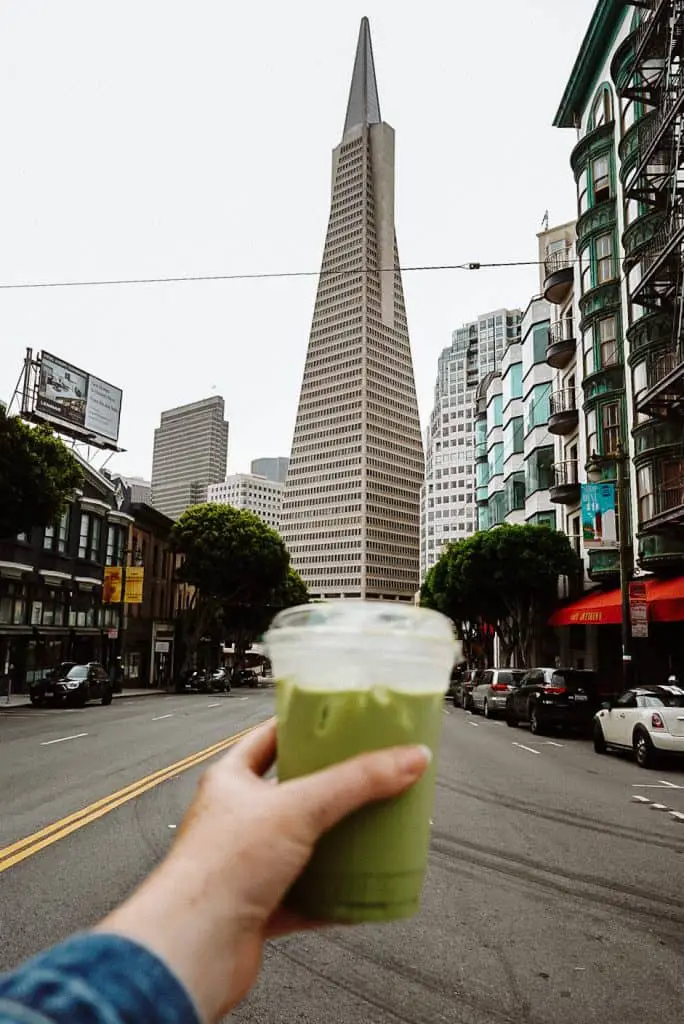 Indulge in the Bakeries (and Gelato) in North Beach
Is it Little Italy without at least one solid bakery? Of course not!
Stella Pastry & Cafe
After dinner head to Stella Pastry and Cafe for dessert! This bakery is open late and it's shelves are packed full even at 7:30 pm. Well, everything except for the cannoli! My friend and I got the last two for the evening.
Now, I don't like cake (I know – it's weird) but according to Yelp – Stella has an awesome Tiramisu and is known for their cakes as well.
The one thing I will say is that the people working weren't super helpful. But – for the delicious cannoli, does it really matter?
Liguria Bakery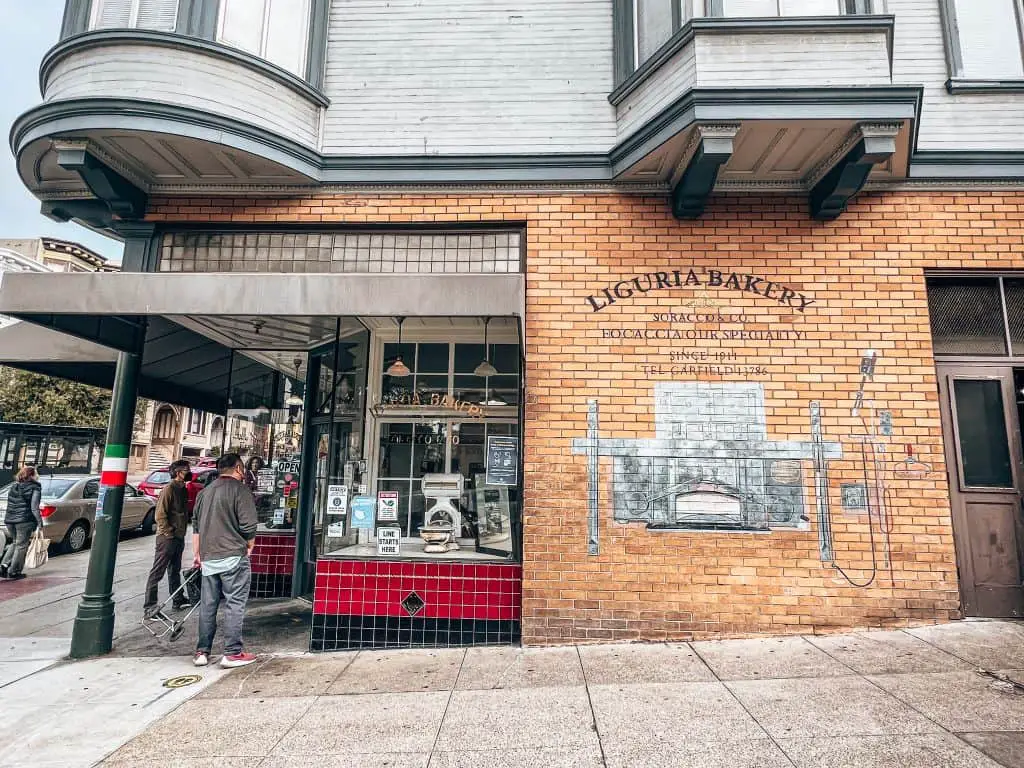 The corner of Stockton and Filbert has been home to the family owned and operated Liguria bakery since 1911! While Liguria Bakery originally sold a variety of breads, over the years it niched down to selling only Focaccia. Something they do very well.
After months of my Sister in Law telling me to try it, I finally arrived one morning just as they'd opened. There were already two people being helped, so I waited outside (COVID rules). As I waited outside I checked yelp to figure out which loaves to get!
Liguria offers 10 varieties of Focaccia bread. Plain costs $6.00, while the rest cost $7.00.
Here's what you can get:
Plain
Onion
Pizza
Raisin
Garlic
Rosemary
Mushroom
Black Olive
Rosemary Garlic
Jalapenos & Cheese
At the advice of the clerk I got pizza, which is the most popular. Then he suggested raisin for a morning sweet treat. And finally I added garlic.
The other customer who had a massive order being filled, I assumed he owned a sandwich shop or something, said the jalapeño & cheese was also quite popular.
The verdict: all of them were delicious! Shockingly, the raisin was my favorite because it was a bit sweet!
When you go, you'll have to tell me what you order and which is your favorite!
Location: 1700 Stockton St
Eat some Gelato
There are multiple gelato spots in North Beach that you really can't go wrong. In fact there are three incredibly close to each other. Lush, Alimento, and Gelato Classico. All of them serving up classic gelato flavors!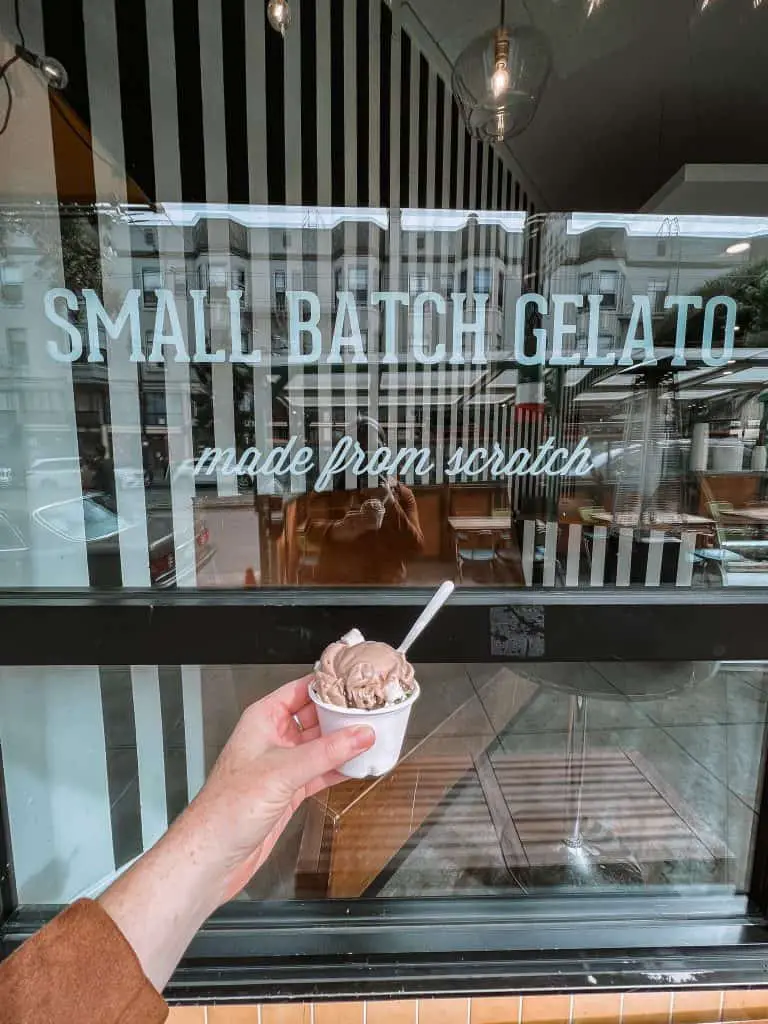 Chill out in the Parks in North Beach
One thing San Francisco does well is its neighborhood parks and some of my favorite San Francisco parks are in North Beach.
Washington Square Park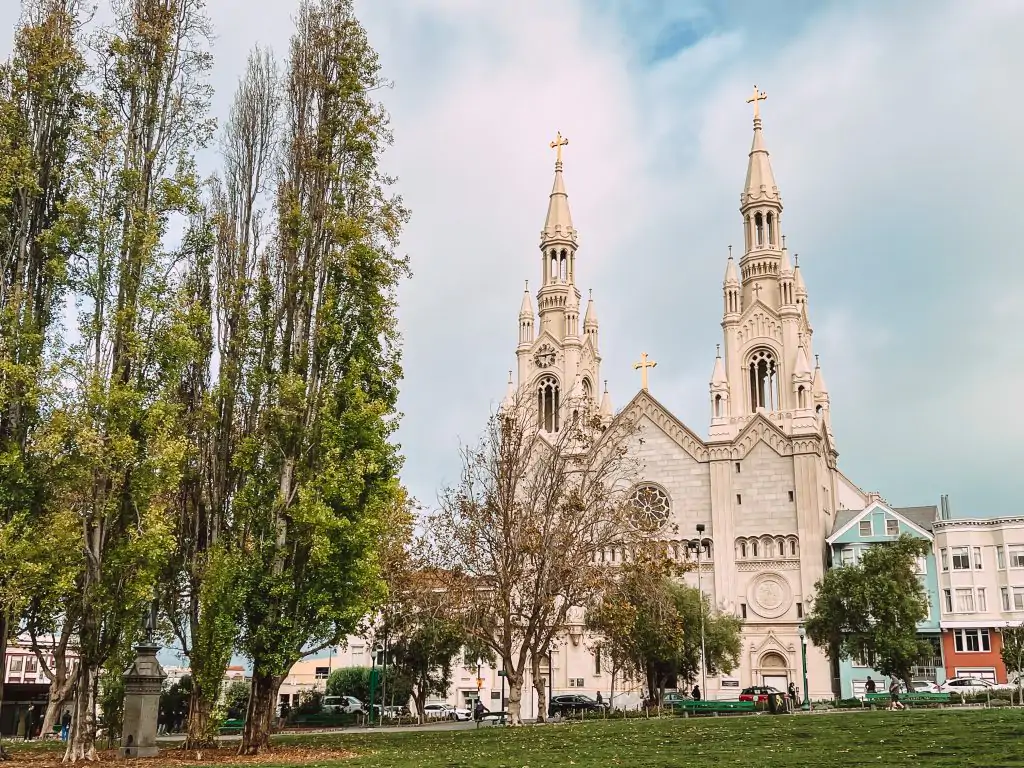 Washington Square Park is one of my favorite city parks. It's surrounded by cafes and restaurants, St. Peter and Paul's church offers a stunning backdrop, and it is an excellent place for people watching.
In the morning, you'll see the neighborhood waking up with locals taking walks through the park or practicing Tai Chi. On sunny days, the grass will be filled with people enjoying a picnic of goodies gathered from a local grocer or enjoying takeout from a local restaurant. 
Ina Coolbrith Park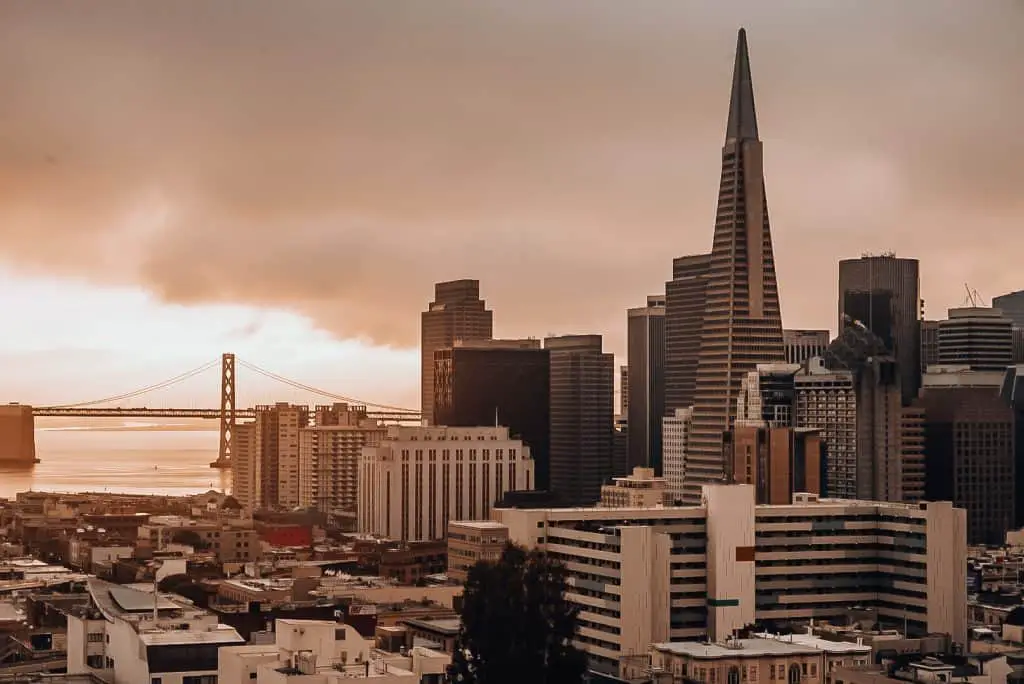 Technically, I don't think Ina Coolbrith Park is in North Beach. It's in the neighboring Russian Hill area. However, I'm including it here because it offers awesome views of North Beach. From this tiny, almost hidden, park, you'll see the skyline from Coit Tower to the Transamerica Building, including the Bay Bridge and North Beach!
This is a great place to watch the sunrise over the city. Then head down the hill to grab breakfast in North Beach and start your day exploring Little Italy!
Climb up Telegraph Hill via Filbert St. Steps & Greenwich St. Steps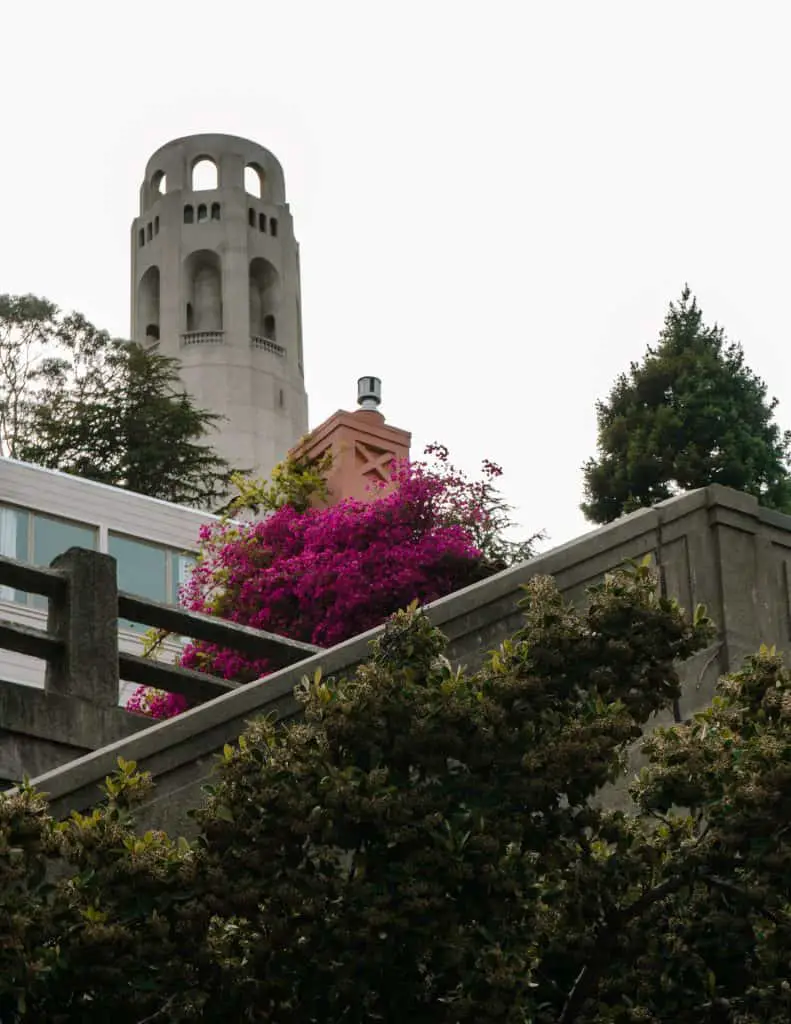 Quite possibly one of my favorite stairway walks in the city is Filbert St. Steps to Coit Tower and back down Greenwich Steps. This path takes you up Telegraph Hill through what is basically people's backyards. 
There is so much greenery here it's like a mini escape from the city with only the amazing views of the piers, the Embarcadero, and the Bay Bridge to remind you you're still in San Francisco.
When you reach Montgomery street, walk to the end for an awesome view of the Transamerica Building!
The staircase walk starts on Sansome St. However, if you don't want to do the entire climb, you could start on Montgomery which is about the halfway mark. 
Keep your eye out for parrots! Wild parrots call this area home, I haven't seen them yet, but I did see a coyote…so there's that. 
Pioneer Park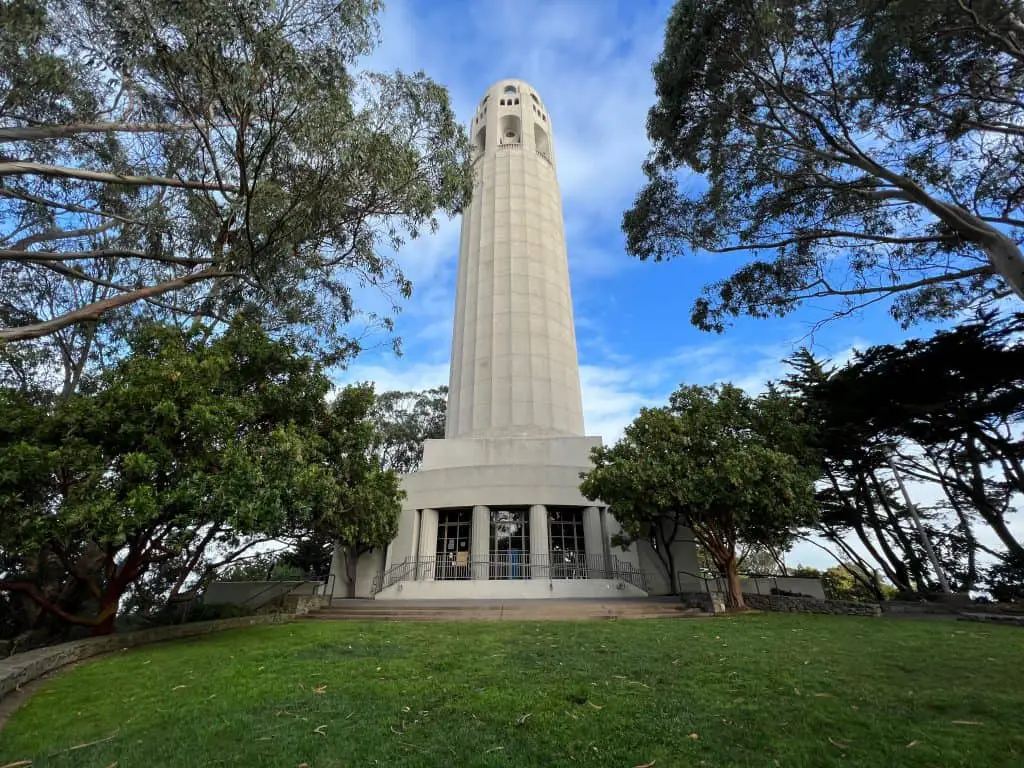 Once you reach the top Telegraph Hill you'll be at Pioneer Park which sits at the base of Coit Tower. While the park is surrounded by trees, there are still pretty great 360 views of the San Francisco if you take a lap around.
Parking is EXTREMELY limited here, so it's best to park elsewhere and make the climb up. It's one way to get a workout in 🙂
Check out San Francisco Landmarks
North Beach is home to a few iconic San Francisco landmarks.
Coit Tower
Coit Tower has been a part of San Francisco's iconic skyline since 1933. While it does resemble a fire hydrant and Coit Tower was dedicated to the firemen who died in San Francisco fires, the resemblance is purely a coincidence. 
You can take an elevator ride 14 floors up to the observation deck for unobstructed 360* views of the city! This is something I recall doing in high school, but haven't done as an adult! Perhaps I should remedy that.
Tickets can be purchased in advance, online. There are also guided tours available. 
St. Peter & Pauls Catholic Church
The church bells ring every hour from St. Peter and Pauls as it stands as a gorgeous backdrop to Washington Square Park. Joe DiMaggio and Marilyn Monroe are linked to St. Peter & Paul's. Joe grew up in this parish and married his first wife here. Although he married Marilyn Monroe at San Francisco's city hall, they went to St. Peter and Paul's after the ceremony for photographs!
Explore the Shops in North Beach, San Francisco
In between restaurants and cafes on Columbus Ave are some shops that are worth popping into.
City Lights Booksellers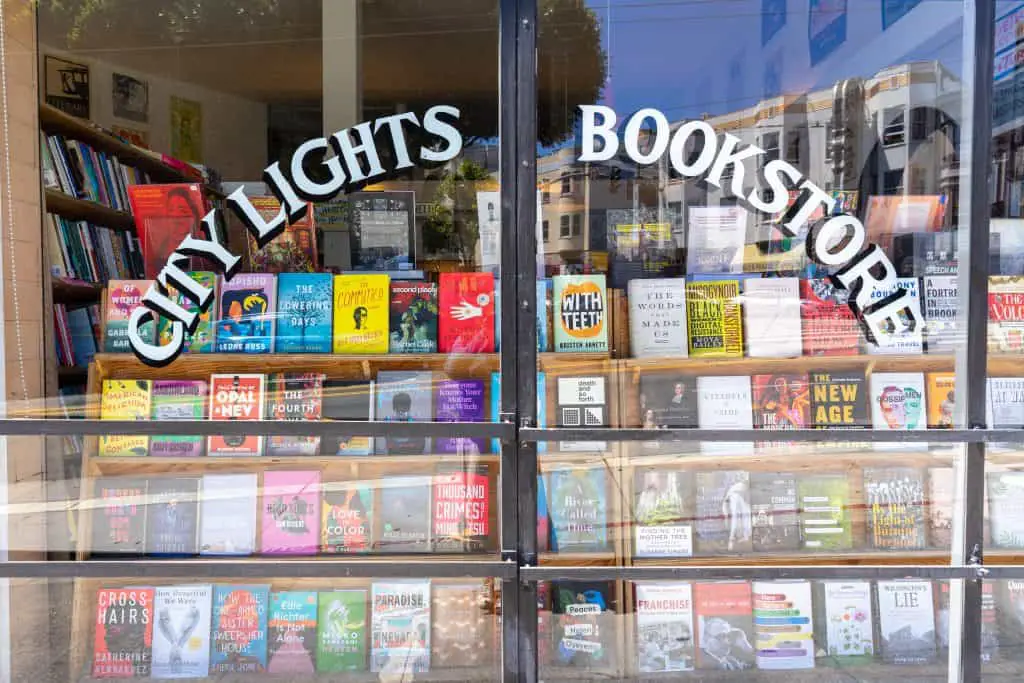 City Lights Booksellers is another San Francisco icon. This bookstore, and publishing house, gained notoriety during the Beat Generation. I had to look up what the Beat Generation was 😉 It was a culture in the 1950s after WWII that rejected the standard American narrative, explored it, and wrote about it. The Beat Generation preceded, but also influenced the hippie movement. You likely know some of the authors that came from this generation such as Jack Keruoac and Allen Ginsberg who called City Lights Booksellers home.
While there aren't many beatniks hanging around these days, the shop still retains its counterculture essence. Three floors bring you today's best sellers but also an extensive poetry collection, as well as sections on Native American History, Spirituality, LGBTQ and more. There are so many good books to uncover here. Definitely add City Lights Booksellers to your North Beach itinerary.
North Beach Farmer's Market
On Saturday mornings from 9:00am to 1:00pm, there is a small farmer's market located on Greenwhich Street, right near Joe DiMaggio playground. It's small, only a handful of stalls, but they have everything you need for a picnic in Washington Square Park or for a healthy dinner.. Plus, they were the friendliest people at a Farmer's Market I've ever met! 
See a Show in North Beach
North Beach is known for its nightlife and there are a variety of shows you could see here from risqué on the Barbary Coast to risky on Beach Blanket Babylon Blvd. 
Club Fugazi
If you're from the area or have been to San Francisco in the past you may have heard of a show called Beach Blanket Babylon.
Beach Blanket Babylon was a long running show filled with campy songs, fancy hats, and funny on point comedy that reflected current events.
Unfortunately, after 45 years of fun, Beach Blanket Babylon stopped singing in 2019.
But in its place is a new show called Club Fugazi.
The show is an acrobatic display of feats called Dear San Francisco. 
A friend and I recently went to see it during its preview stage, on just its 8th show.
It was so impressive. They had this one act where the acrobats slid down a pole stopping just inches from the ground! And another where the acrobats flung themselves through a hoop and another where they rode a unicycle across tables.
Besides those amazing feats, it truly was a love letter to San Francisco. It touched on all aspects of the city, from its gay pride, to its flower child history, to that one day the sky turned orange. 
I highly recommend checking it out when you're in town.
Take a Walk through the Side Streets of North Beach, San Francisco
After all of the eating you're doing in North Beach, take a bit of a stroll through the neighborhood streets and see what you find. Yes, you'll have hills to contend with and will definitely work up a sweat, but the views from the top of the hills are pretty spectacular.
Climb up Filbert Street and when you turn to look back down you'll see the spires of St. Peter and Paul's Church. Or walk up Lombard Street and as you look back you'll see the curvy section of it!
Also on the side streets are some great Victorian homes and no matter what time of year, some type of flower will be blooming on the side of them!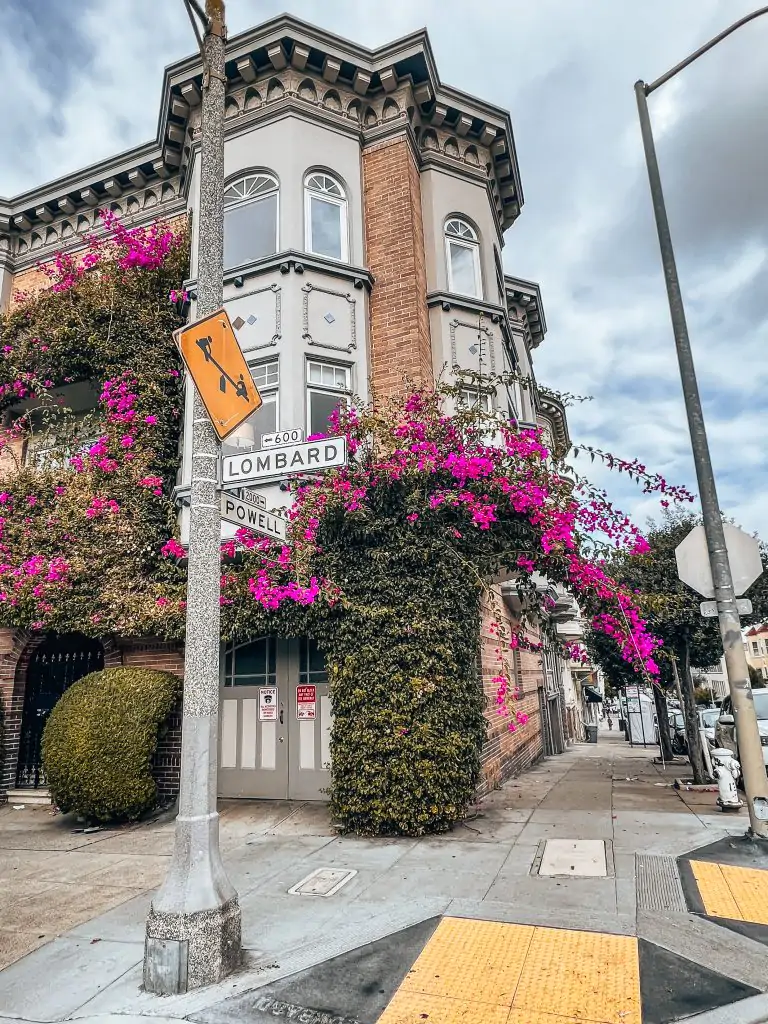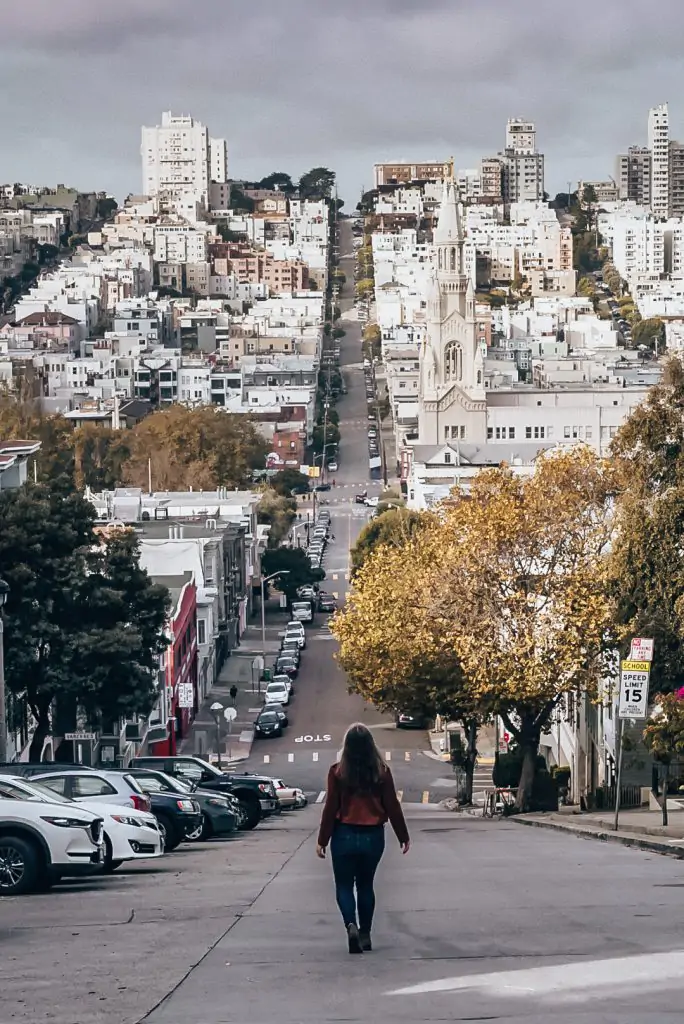 Find Street Art in North Beach, San Francisco
North Beach is filled with fun street art and you'll find it where you least expect it. For instance, I was crossing the Broadway and Columbus intersection when I looked up from my phone and saw a Banksy style art work on the side of a building. Is it actually a Banksy? Google says yes, yes it is.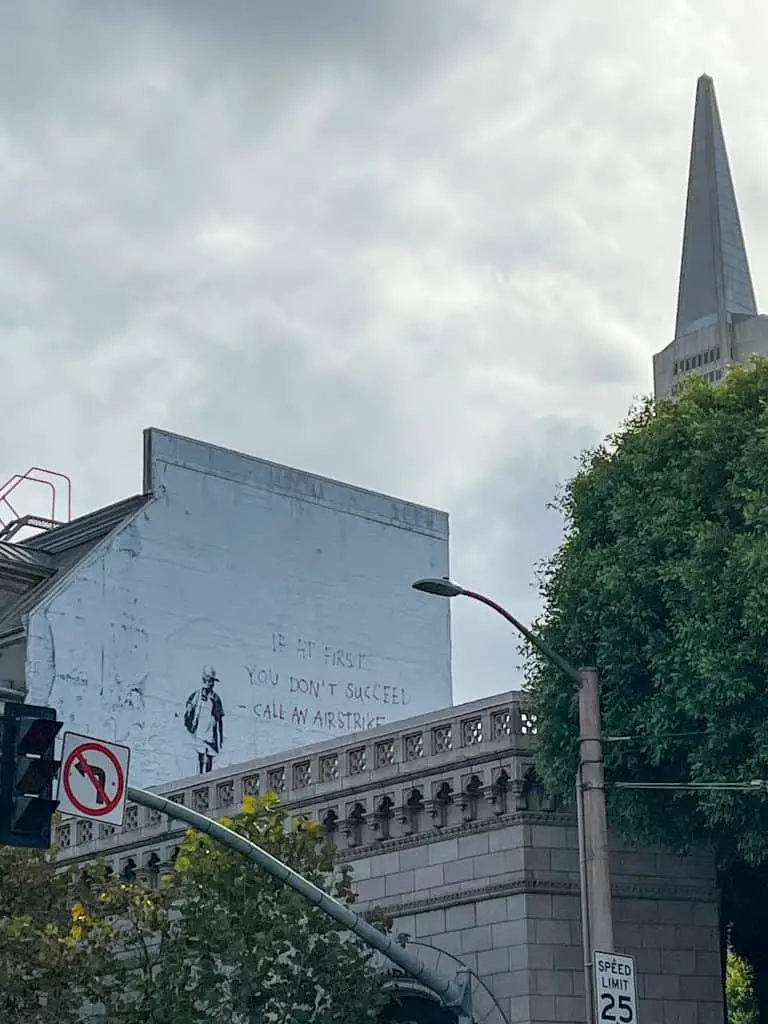 Kate Tova also has a crystal studded heart nearby on Kearny Street just up from the Reveille Coffee shop.
Other street art locations in North Beach
Jack Kerouac Alley: is filled with a variety of intricate murals and connects to North Beach to Chinatown.
Liguria Bakery: two tiny Boston Terriers
Grant/Columbus/Broadway intersection: look up to see the high flying books
Fnch lips: outside of the Bodega wine bar on Columbus Ave
Gino & Carlo Alley: one side is a baseball field and the other has Gino & Carlo's name with the colors of the Italian flag, many of which fly above.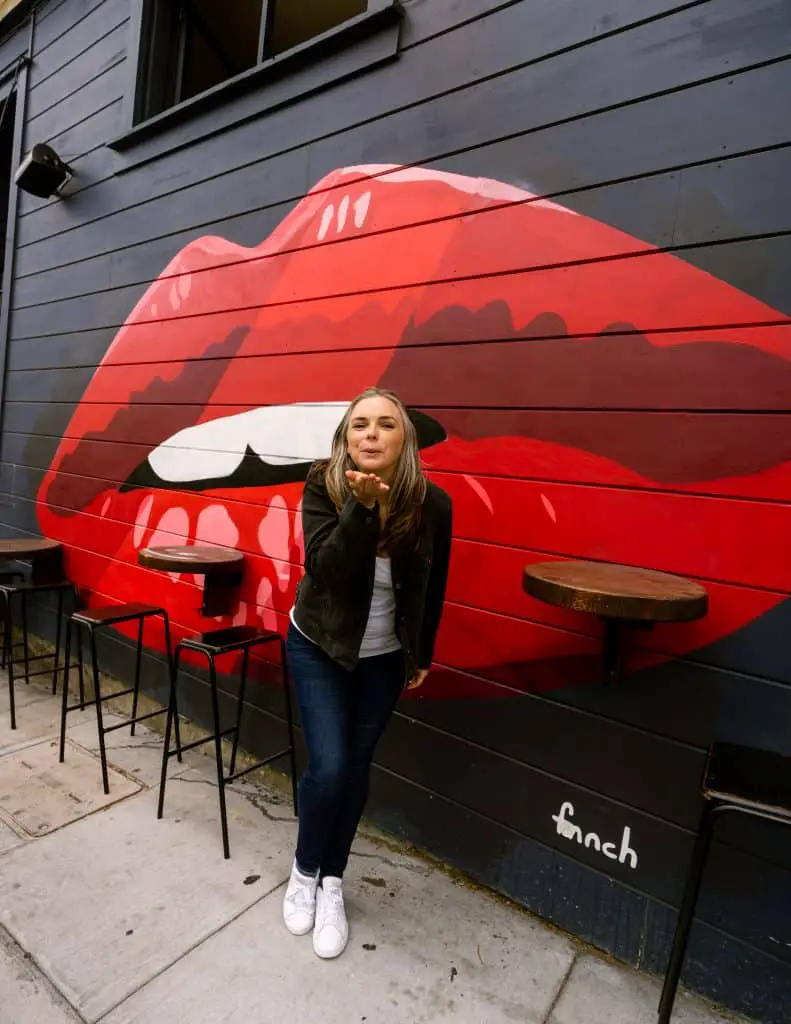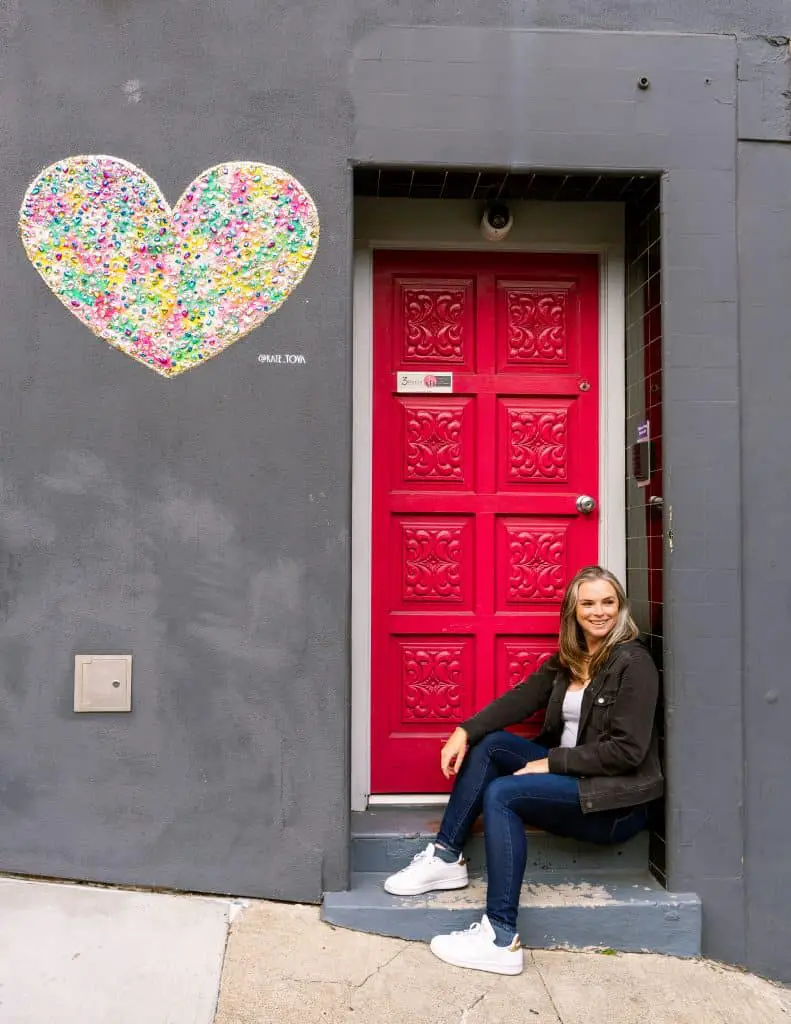 Where to Stay Nearby North Beach, San Francisco
There aren't many hotels in the heart of North Beach, but if you do want to stay in the center of the action, check out Washington Square Inn. It's literally sandwiched between Liguria Bakery, Tony's Pizza, Mama's, and the park. Another option for a hotel in North Beach is Hotel Boheme, a quirky, but highly rated, hotel located on Columbus Ave.
There are more accommodation options in Fisherman's Wharf and Downtown. Here are a few solid options to consider: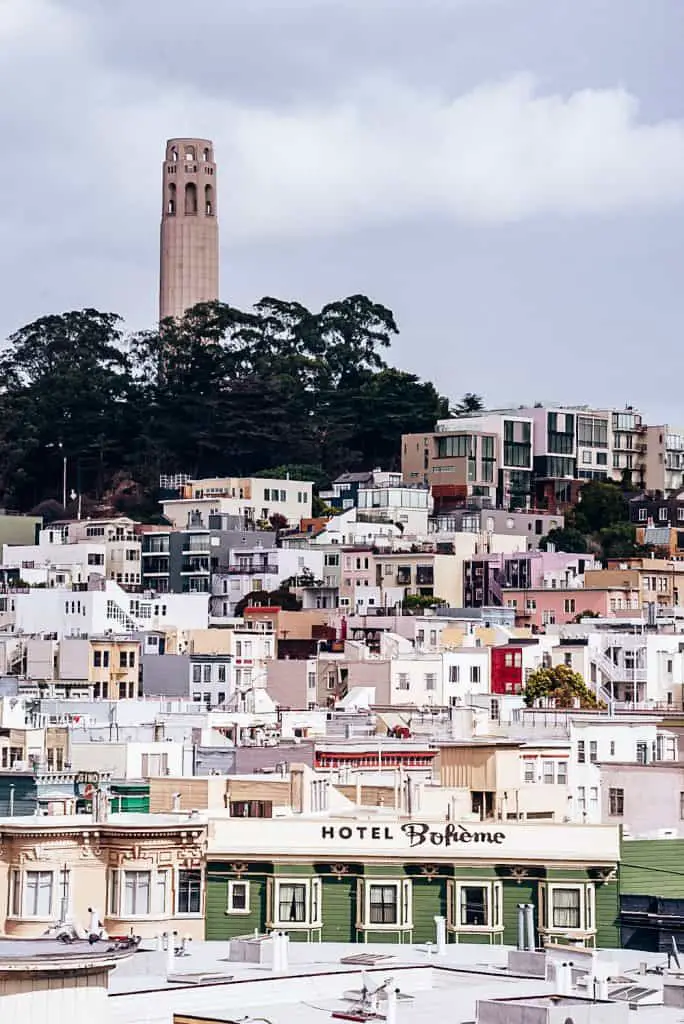 Hotels in North Beach
Kimpton Alton: located in Fisherman's Wharf with excellent views and reviews!
International Mark Hopkins: Located in Nob Hill, but centrally located to explore all of San Francisco
Hotel Caza: located in the heart of Fisherman's Wharf is this recently renovated and incredibly welcoming hotel.
There are also plenty of Airbnb's in the neighborhood that can fit any budget!
Now that you know the best things to do in North Beach, how do you do it all? Here's how I'd spend one day in North Beach, San Francisco.
Sunrise: Ina Coolbrith Park
Breakfast: Mama's On Washington
Mid Morning: Shop the Farmer's Market & City Lights Bookstore
Lunch: Golden Boy or Tony's enjoyed in Washington Square Park
Mid afternoon: coffee at Cafe Trieste
Dinner: Italian Homemade
Evening: Club Fugazi
Night: Post show drinks at Vesuvio
That is one pretty awesome day exploring this awesome San Francisco neighborhood. What was your favorite part?
Like this post? Save it to Pinterest to help you plan your trip to San Francisco!