San Francisco is a city built on hills that typically offer amazing views at the top. One way to make the climb to the top just a tiny bit easier was to build staircases on the steepest of hills. You'll find many staircases in San Francisco that are nothing spectacular. However, some of these staircases have been painted, tiled, and/or are set in beautiful gardens that will provide you not only something pretty to look at but also a welcome distraction from your burning thighs!
I've set out to uncover the most beautiful stairway walks in San Francisco. Here's what I've found!
This post contains affiliate links, which means that, at no additional cost to you, I will earn a tiny bit of income if you decide to make a purchase or booking. For more, check out my disclosure. 
San Francisco Travel Resources
Mosaic Stairs in San Francisco
Perhaps the most famous stairs in San Francisco are of the mosaic variety. Many of these tiled stairs in San Francisco are the result of neighborhoods coming together to create something beautiful in their backyard.
16th Avenue Tiled Steps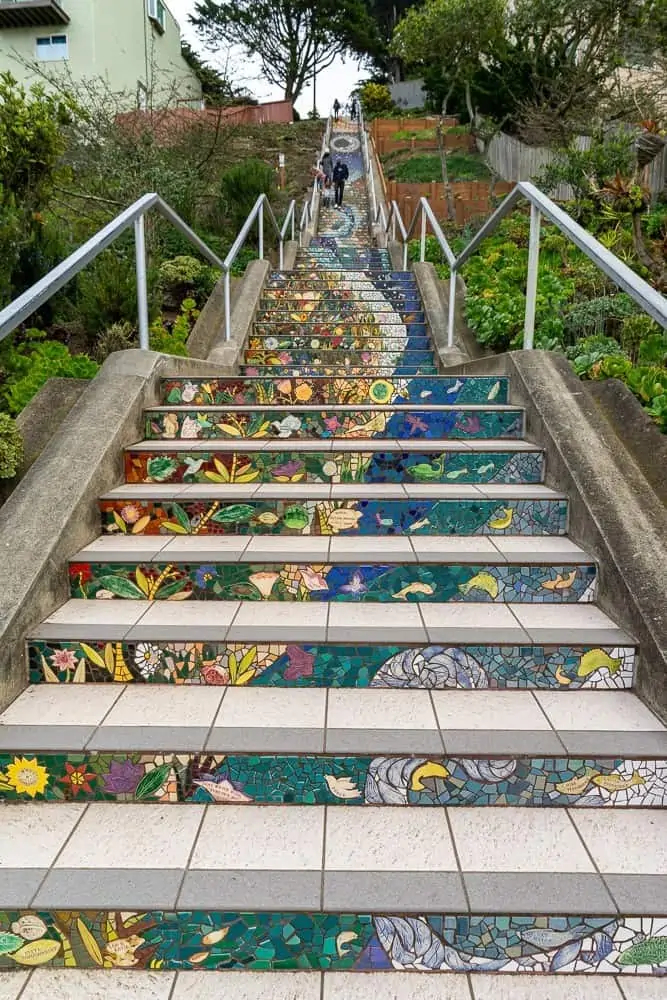 The 16th Avenue Tiled Steps is perhaps the most popular staircase in the city. This 163 step stairway flows from the sea to the stars in beautiful mosaic tiles of sea animals, shells, stars, moon and sun at the very top. I think this theme is fitting because at the top of the staircase you'll have an amazing view of the Pacific Ocean in the distance and if you continue up a little bit higher, Grand View Park offers awesome views of the city.
When planning your visit to the 16th Avenue Tiled Steps know that it will be busy! You may have to park further away and walk to the steps. Don't leave anything valuable in your car as this is a popular break-in area due to the Steps' popularity. Also remember that this staircase was created by the people living in the neighborhood so respect their property, keep noise levels to a minimum, and don't block their driveways.
Neighborhood: Golden Gate Heights/Inner Sunset
Location: Moraga St between 15th and 16th Avenue
How to get here: Muni route 28 runs the length of 19th ave. Get off at Lawton and walk up to the steps. 
Hidden Garden Steps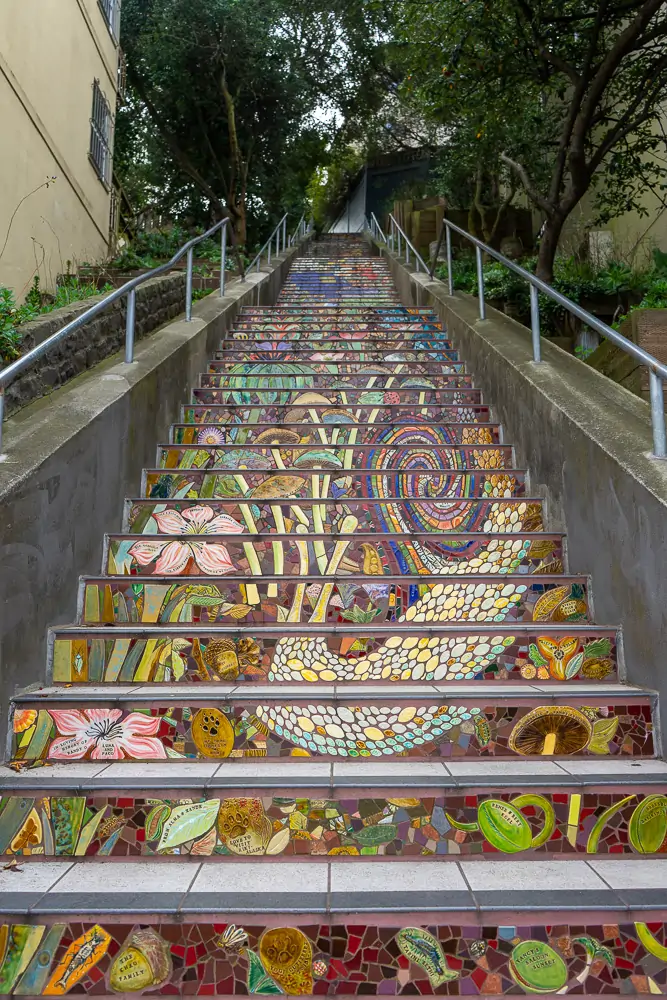 Located in the same area, although not as popular are the Hidden Garden Steps. The mosaic tiles of this staircase are garden-themed and include a long salamander, butterflies, and beautiful flowers.
I highly recommend visiting this staircase before you visit the 16th Avenue Tiled Staircase. It's a short walk in between the two, but parking here will be more convenient, especially on a busy weekend. 
As above, do not leave any valuables in your car and respect the neighbors who created this beautiful urban artwork!
Neighborhood: Inner Sunset
Location: 16th Ave in between Kirkham and Lawton
How to get here: Take Muni 28 to Lawton and walk about 5 minutes to the staircase.
Things to do Near 16th Ave & Garden Street Steps
One of the great things about these two staircases is that they're close to other activities in San Francisco. They're only a couple of blocks away from delicious restaurants on Irving and Judah in the Inner Sunset. One of my favorite coffee shops, Home Coffee Roasters, is on nearby Noriega St. I highly recommend stopping in there for a matcha or Rainbow latte.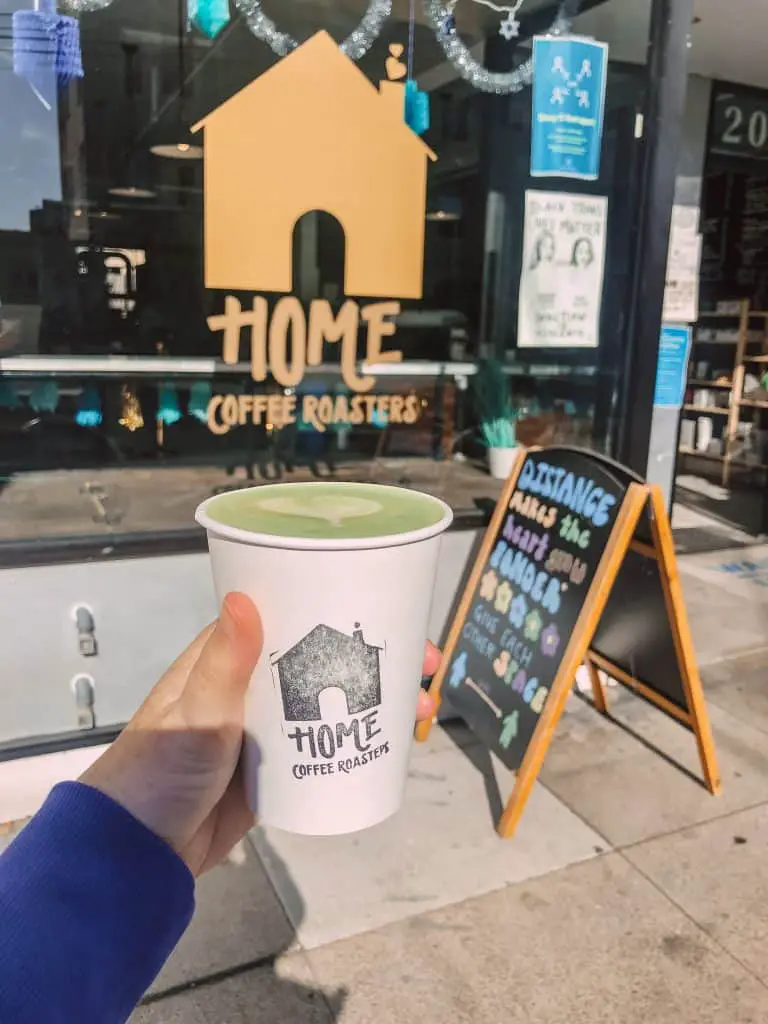 Don't forget to check out Grandview park for amazing views of San Francisco.
If I were to visit both of these staircases in one day, I'd start by walking up the Hidden Garden Steps, then head up to Grandview Park and from there head down 16th Avenue Tiled Steps, turning back to look at the mosaics at each landing. 
If you start with 16th Avenue Tiled Steps, then head up to Grandview park, and instead of walking down Hidden Garden Steps, walk down the 15th avenue Staircase and turn left. This puts you in position to walk back up via the Hidden Garden Steps and loop back to your car. 
Lincoln Park Steps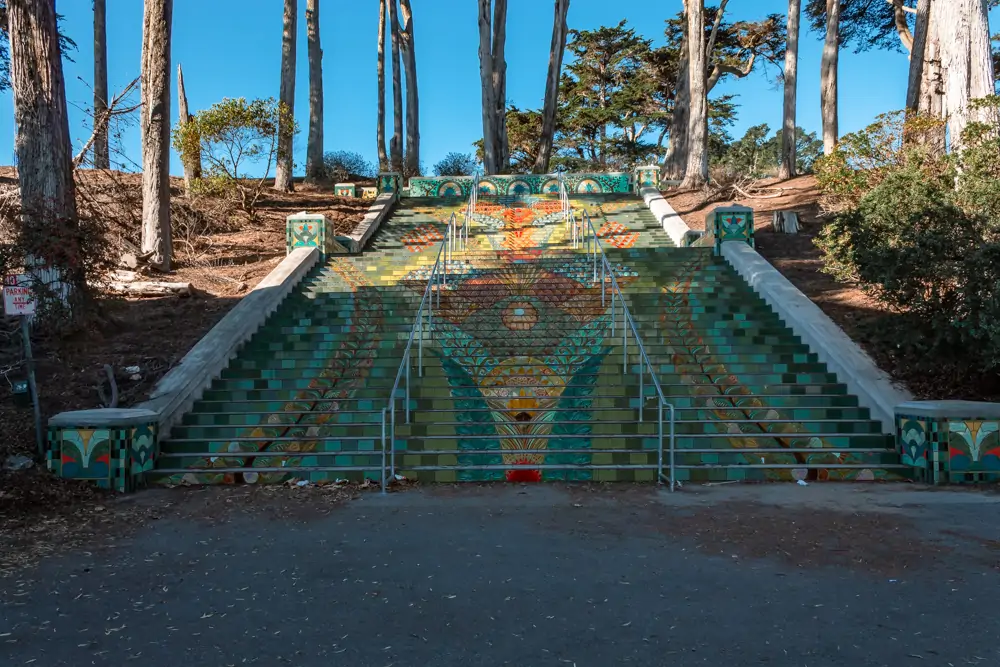 In 2009, the Lincoln Park Steps were broken, graffitied, and decaying. A group in the community, Friends of Lincoln Park, came together to create the beautiful staircase you can visit today. While not as tall as the other two tiled staircases mentioned above, it is much wider and includes a bench at the top and in between the two flights of stairs with views of the Golden Gate Bridge. 
If you're after some good photos here, go early in the day. Once the sun is high, it's difficult to capture the vibrant colors of the mosaic tiles. However, if it's a foggy day, you'll be able to have a great view of them!
Neighborhood: Outer Richmond
Location: 32nd & California
How to get here: The 1 California bus runs here from downtown. Get off at 32nd and California and you'll be right next to the steps. 
Things to do Near Lincoln Street Steps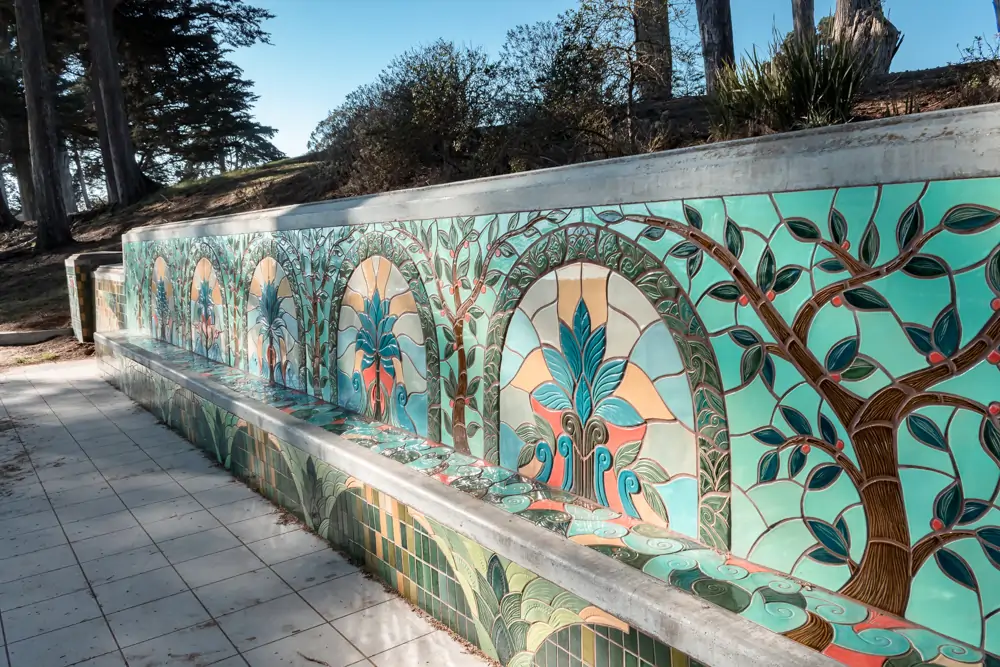 The Lincoln Park Steps lead to Lincoln Park where you'll find the Legion of Honor, a golf course, and the Lands End Trail (which I highly recommend walking!). Also in the neighboring Sea Cliff neighborhood is China Beach, a hidden gem amongst the beaches in San Francisco.
Miraloma Park Steps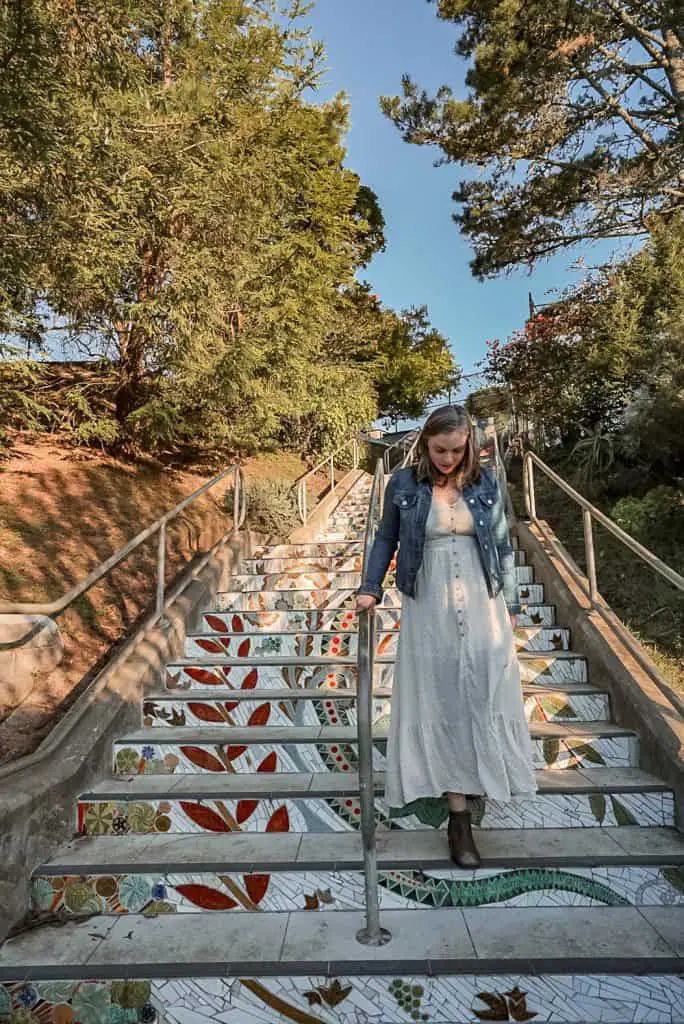 A new mosaic stairway arrived on the scene in July of 2020 with the installation of the tiles at the staircase near Miraloma Park. Technically, this staircase is called the Miraloma Southern Gateway Tile Project, but that's a mouthful. I'm going to call it the Inspiration Stairway.
Why, because woven amongst the colorful flowers are a variety of inspirational quotes such as: "The Secret of Getting Ahead is Getting Started" and "Integrity is doing the right thing even when no one is watching". The quotes are fitting considering the staircase leads to a playground.
Neighborhood: Miraloma
Location: Bella Vista Way & Dorcas
How to get here: 36 & 44 bus lines service Miraloma neighborhood and there are stops nearby
Things to do Near "Inspiration Stairs"
These Inspiration Stairs are near Mt. Davidson, the highest peak in San Francisco. This is a great park for hiking with panoramic views of the city. Portola Drive offers a few small eateries such as Tower Burger and Miraloma Taqueria, as does the nearby West Portal neighborhood.
Stairway Walks in San Francisco
Lace up your sneakers and grab your workout clothes because these stairway walks in San Francisco will leave you breathless, literally and figuratively.
Lyon Street Steps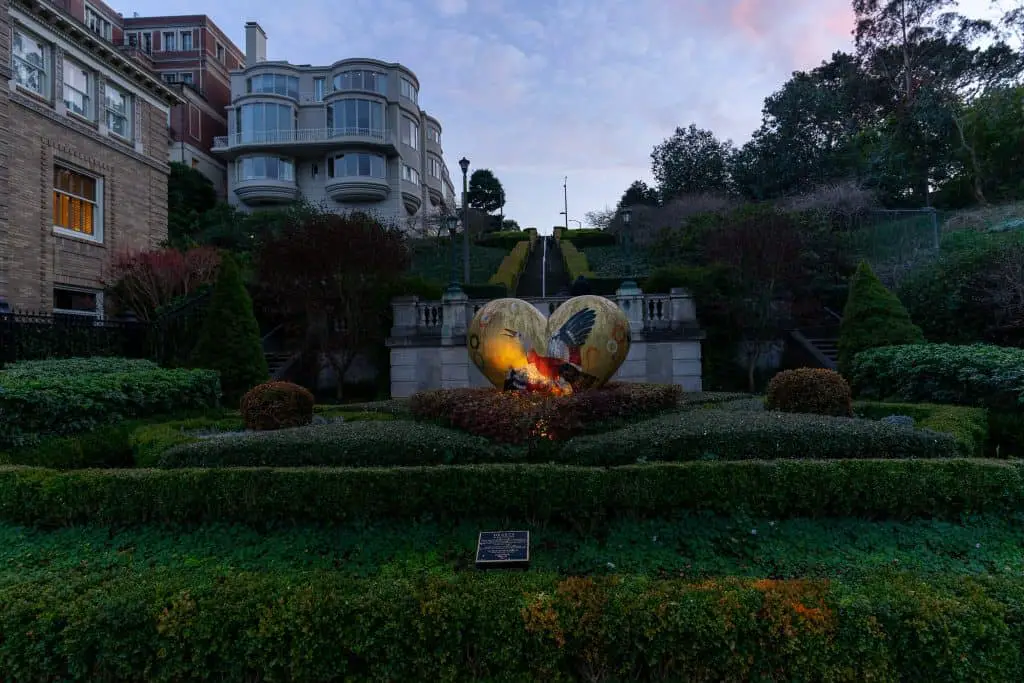 Perhaps one of the most popular places for an outdoor workout in San Francisco, especially during the pandemic, is the Lyon Street Steps. This staircase starts at Green and rises 2 blocks to Broadway.
The section of stairs between Green and Vallejo are incredibly steep and nothing too special. But when you reach the landing you'll see the base of the second portion of the steps. 
This portion of the staircase is lined with gardens, incredibly large homes, and when you reach Broadway, you'll have awesome views of the Palace of Fine Arts and the Bay. 
There is also one of the sculpture hearts located here that can be found throughout the city.
If you don't want to climb any of the staircases but want to see what all the fuss is about, park on Broadway and simply enjoy the view.
Neighborhood: Pacific Heights
Location: Lyon & Vallejo/Broadway/Green
How to get here: The easiest way is by car or rideshare
Things to Do Near Lyon St Steps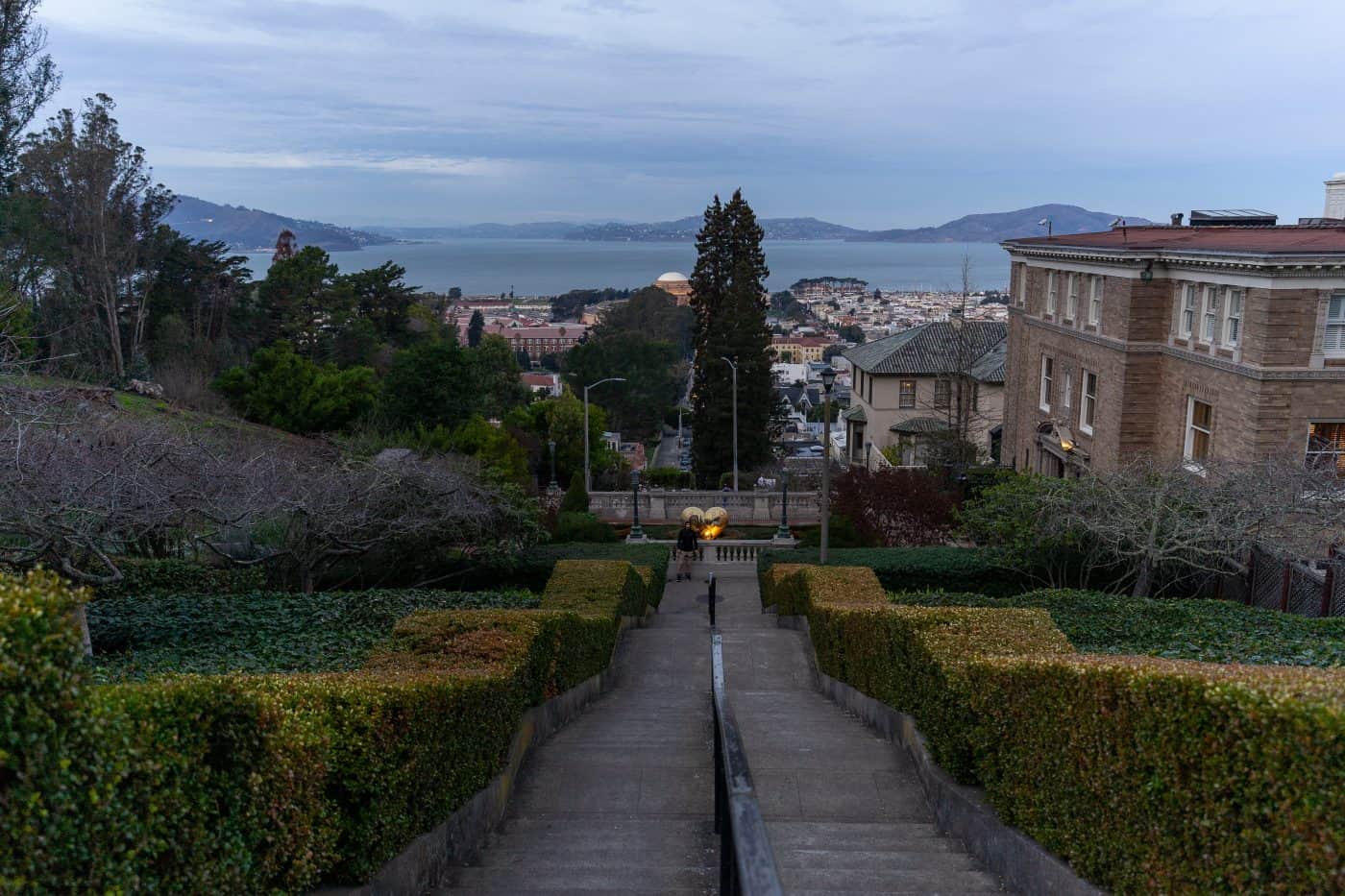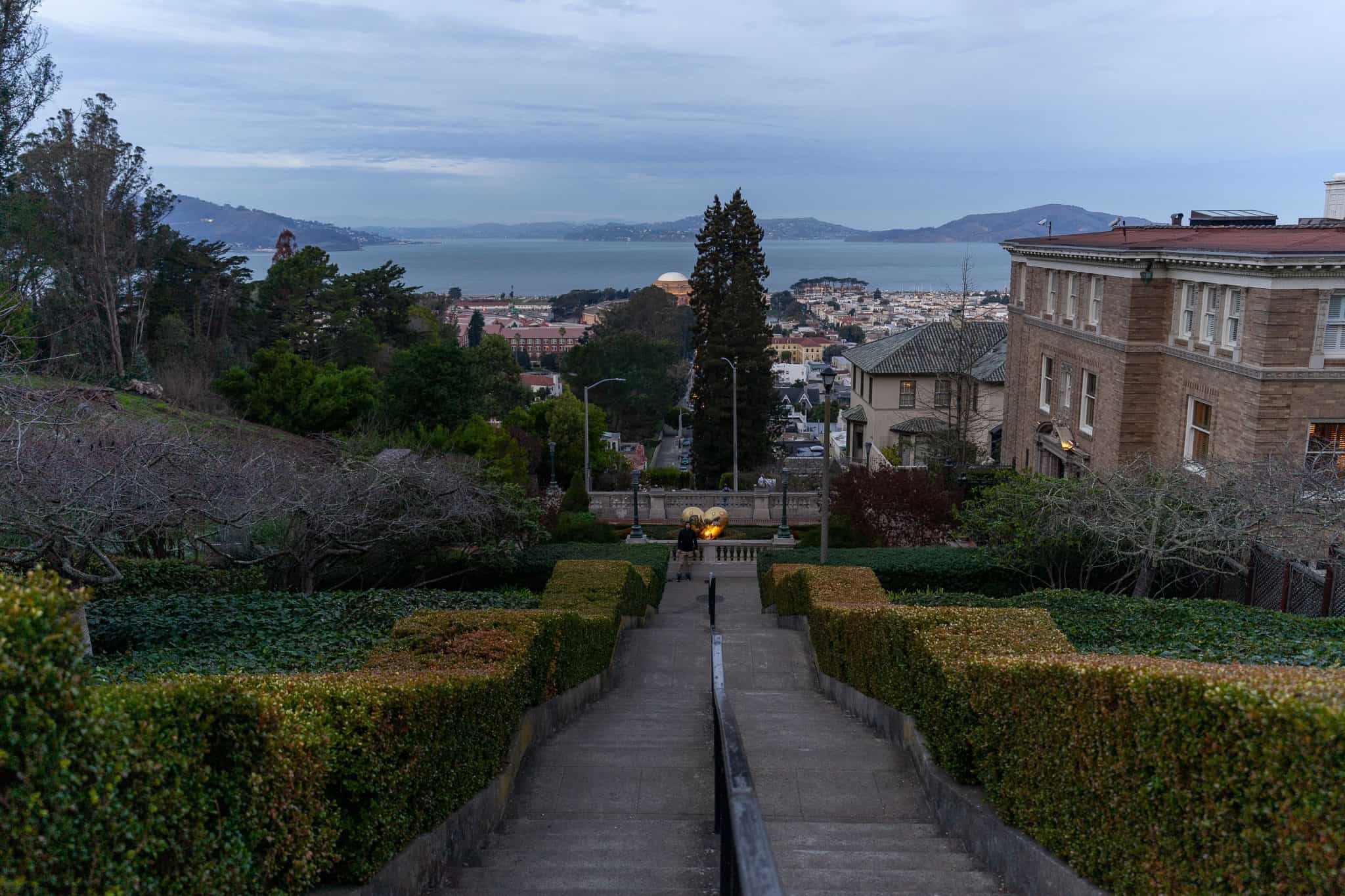 The Lyon Street Steps are located directly next to the Presidio which is a lovely place to extend your walk, especially down the Lover's Lane. On nearby Union, Filbert, and Fillmore streets you'll find shopping, coffee shops, and a variety of restaurants.
Filbert St & Greenwich St Steps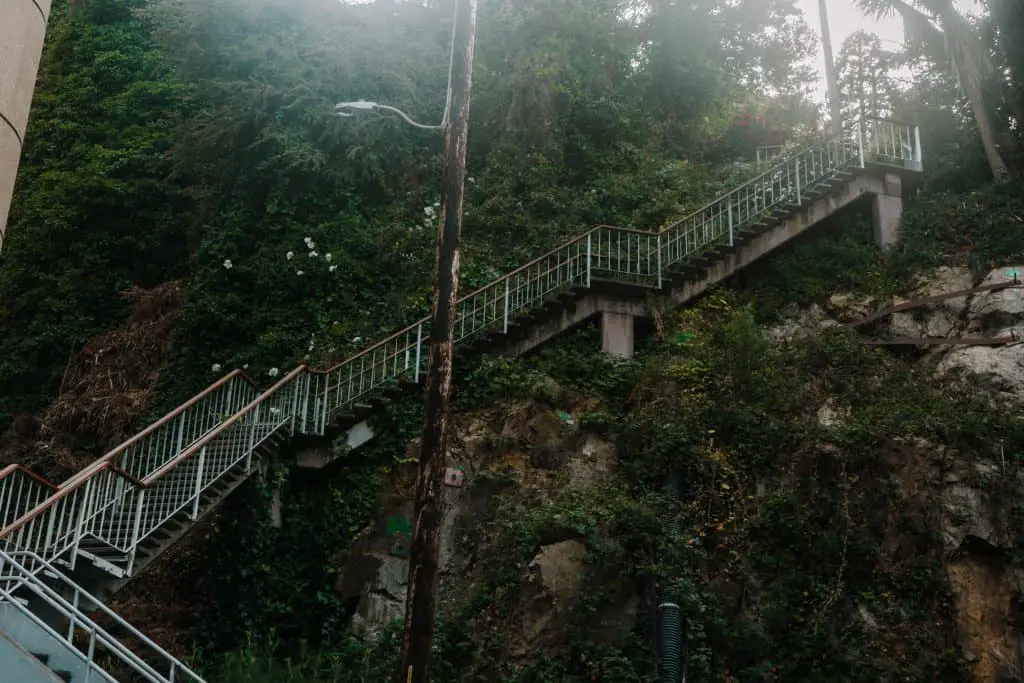 This stairway walk might just be my favorite in San Francisco. The staircases themselves, are nothing to write home about, but the walk is stunning. This walk takes you 400 steps up Telegraph Hill through what is basically the gardens of the homes on the hill, to Pioneer Park and Coit Tower. In addition to feeling like you're walking through a secret garden, there are awesome views of the Bay Bridge along the way, and once you reach the top, views of the Golden Gate.
Wild parrots also call Telegraph Hill home, however, on my multiple walks here, I have yet to see them!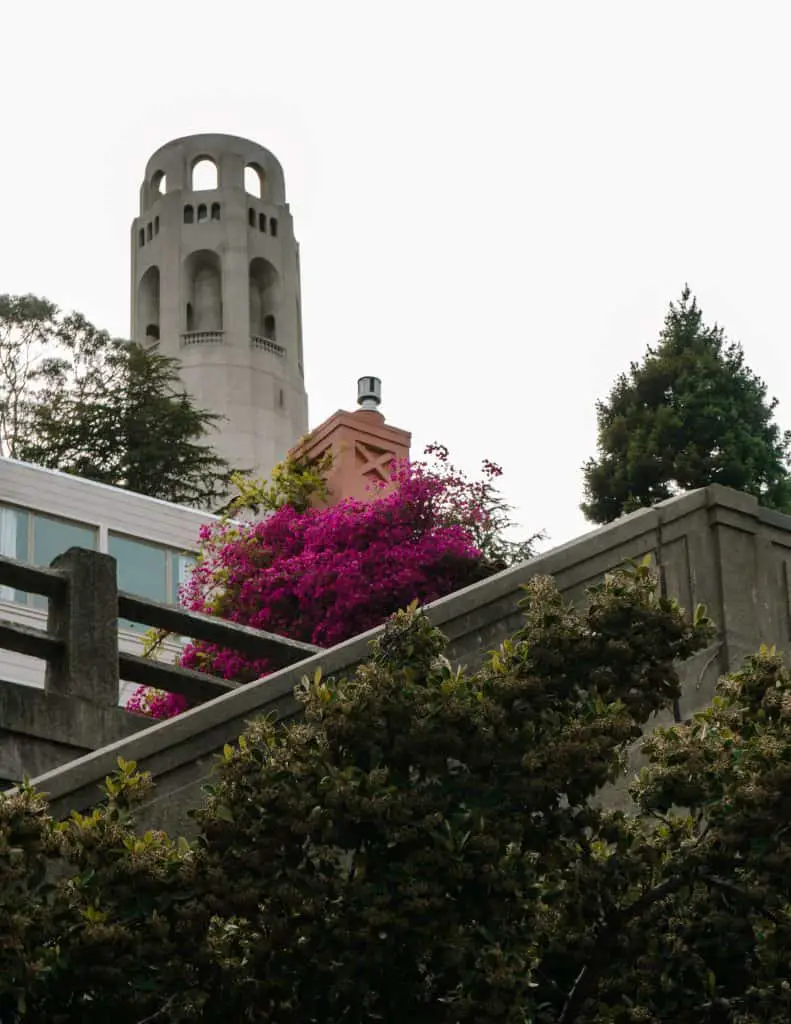 I recommend starting the climb on Filbert St steps from Sansome. After the first portion of the staircase, you'll reach Montgomery street and from there just one more staircase to the top. You can either go check out Coit Tower, or turn right and you'll see a sign for Greenwich Street which a brick staircase leading down, take it. Once you reach Montgomery Street again, the staircase continues in front of a house. When I was there, the house had construction occurring, but a little cardboard sign pointed an arrow down. Follow it all the way back down to Sansome!
Neighborhood: Telegraph Hill/North Beach
Location: Sansome & Filbert
How to get here: Walk! This staircase is pretty centrally located to Downtown and the Embarcadero, so walking is your best bet! Otherwise there is 2 hour parking on Sansome.
Things to do Near Filbert St &. Greenwich St Steps
Once you reach the top, head down the opposite side of the hill and you'll be in the heart of North Beach! Grab a drink in the cafes here, relax at Washington Square park, and of course eat some delicious Italian food! Alternatively, the Embarcadero is one block away and the Exploratorium is on the closest pier!
The beautiful thing about these staircases in San Francisco, besides their mosaic tiles, paint, and views is that they're free! Only a bit of effort and maybe some sweat are required! Plus you can extend your visit to these stairways by exploring their surrounding neighborhoods. All while practicing social distancing.
Are there any beautiful staircases in San Francisco missing from this? Let me know so I can go out and see them for myself!
Like this post? Pin for later!