Welcome to San Francisco, California! A favorite destination on the West Coast famous for its diversity, open-mindedness, good food, and gorgeous views! There are so many things to do here that 3 days in San Francisco is not enough time to do it all. 
But the beauty of this city is that you can cater your San Francisco itinerary to meet your travel style. Is it your first time in San Francisco and you just want to see all of the highlights, I've got you. Are you a foodie who wants to eat all of the things, there's an itinerary for that. Outdoorsy? I've got you covered.
In this post, I'll provide one itinerary that is perfect for a first-time visitor. But, I'll also add swaps for the foodie and the outdoor enthusiast.
Also, this post contains affiliate links, which means that, at no additional cost to you, I will earn a tiny bit of income if you decide to make a purchase or booking. For more, check out my disclosure. 
My travel philosophy is that you should create the trip that YOU want. Don't care about Alcatraz? That's cool, then don't go. Instead, do something you do care about! And mix and match these recommendations.
That being said, here's a quick overview of the best things to do in San Francisco, in no particular order:
Sunset or Sunrise at the Golden Gate Bridge
Hike the Batteries to Bluffs Trail
Learn about the Fortune Cookie in Chinatown
Eat Italian Food in North Beach
Ride the Cable Cars
Eat delicious food & see street art in the Mission
Explore Lands End, Sutro Baths & Ocean Beach
Eat through the Ferry Building & walking it off on the Embarcadero
Feel the love in the Castro
Thrift, Victorian House Hunt, and experience the remaining hippie vibes in Haight-Ashbury
Enjoy the view at Alamo Square and the Painted Ladies
Soak in the skyline views from Twin Peaks
Ride a bike through Golden Gate Park
If you don't have three days, I've got you too. Check out this one-day itinerary I put together during COVID!
San Francisco Travel Resources
Before we dive into these three San Francisco itineraries, let's discuss some tips for getting the most out of your trip.
Start your days early so you can fit it all in!
You'll be gone for the majority of the day, so bring a small backpack to carry your water, a jacket, and your camera. 
Wear good walking shoes! There are lots of hills you'll be climbing up and down, heels aren't worth it, I promise!
If you have a car, make sure you take all of your valuables out of it. Car break-ins are incredibly common especially in tourist areas, so keep your things safe in your hotel room! It takes less than 1 minute for them to smash and grab!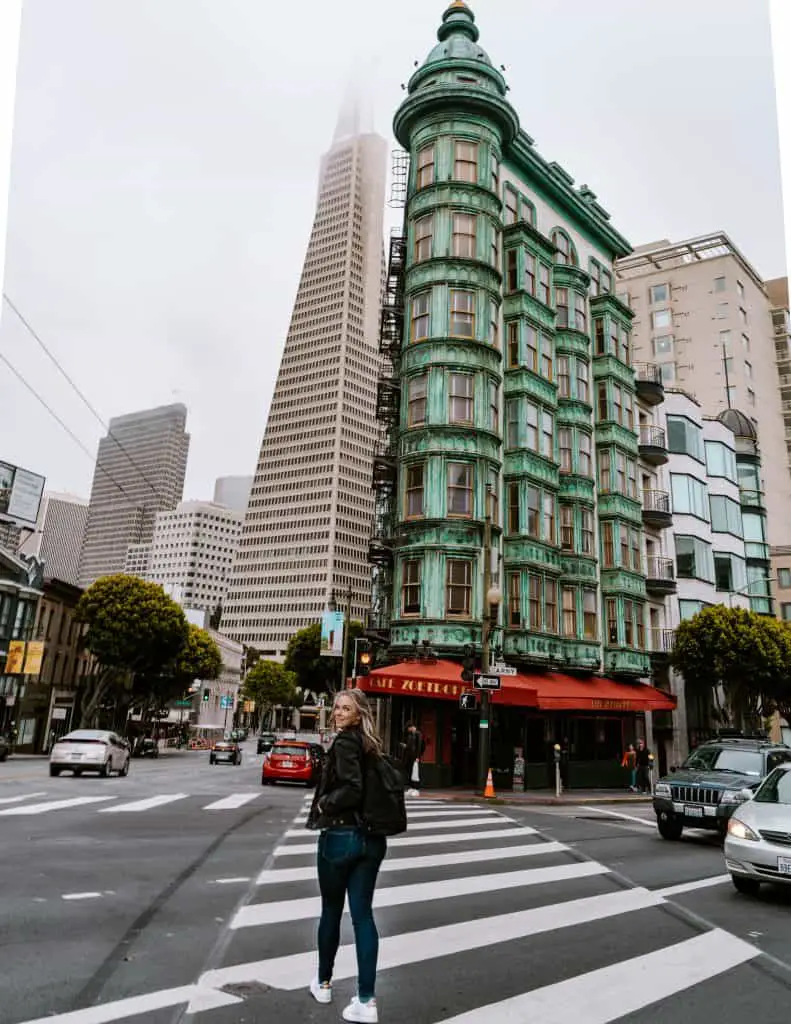 Best Time of Year to Visit San Francisco
Thanks to its temperate climate, any time of the year is a good time to visit San Francisco! While the weather doesn't change too drastically from season to season, there is one thing that surprises people when visiting San Francisco in the summer – it's cold!
Summer: June to August
I know, when you think of a California summer, you think of being bathed in warm sunlight, shorts, flip flops, and beaches. Not quite in San Francisco. Instead, you'll be bathed in fog (fog that we named Karl, who also has its own Instagram account), need jeans and tennis shoes…but you'll still visit the beaches! Temperatures are generally in the low 60s with the thick fog makes it misty and windy. That being said, summer is the most popular time to visit San Francisco – if you embrace the fog, you'll do just fine!
Real Summer: September to October
The hottest months in San Francisco are actually September and October. So if you want to squeeze in a San Francisco weekend, this is a great time to do it! The temperatures are in the 70s, the sun is out consistently, and the beaches and parks are filled with locals soaking in the Vitamin D after spending the last few months shrouded in fog. 
Winter: November to February
Winter is typically our rainy season. Although, California is in a massive drought right now, so it may not rain at all when you're here. This is a fun time of year to visit as the city goes all out for the holidays. The winter is also when you'll catch some epic San Francisco sunsets. 
Spring: March to May
Spring in San Francisco is gorgeous! Flowers are blooming and if it rained during the winter, everything is lush and green! This is a good time of year to see Cherry Blossoms bloom in Japantown and throughout the city and to visit the Botanical Gardens in Golden Gate Park.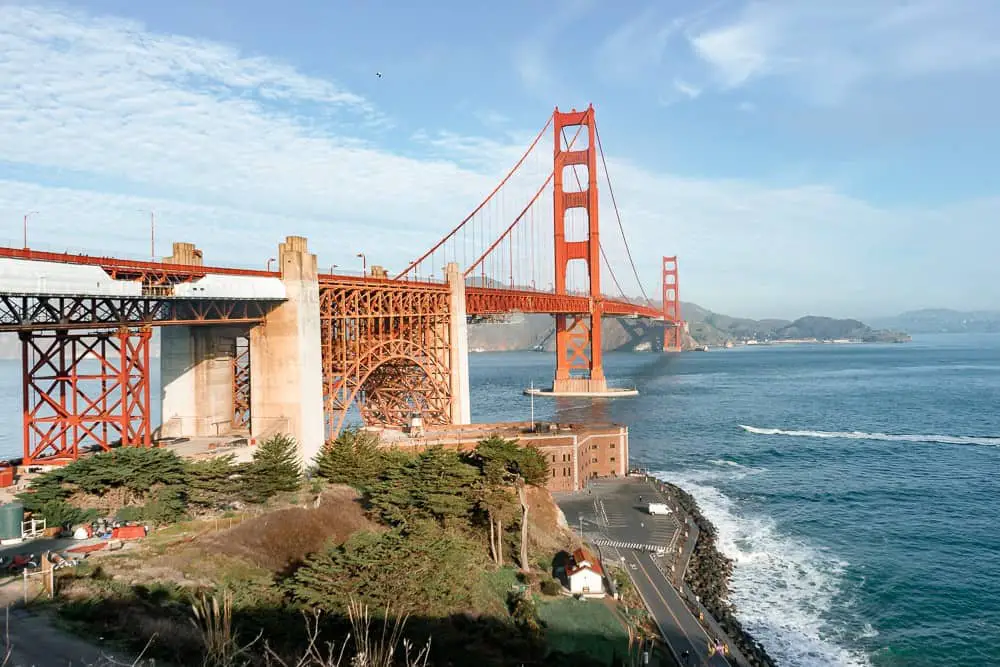 Getting from San Francisco Airport to Downtown
When visiting San Francisco most people fly into the San Francisco international airport. The airport is located about 30 minutes outside of downtown and there are multiple ways to get from SFO to downtown, here are two of the most popular options:
Bart: the most budget-friendly, and perhaps the fastest if you land during rush hour. You can catch Bart from the International Terminal Garage G and take it to one of the three main stops downtown, Powell St, Montgomery St, Embarcadero. Since most hotels are in this area you can then walk to your hotel. Alternatively, you could use a rideshare to get to your hotel after getting into the city via Bart. A one-way ticket to one of these three stations is about $10
Rideshare: Uber and Lyft both operate here. A ride into the city can take anywhere from 20-45 minutes depending on the traffic and how far into the city you're going! A ride will cost you at least $30, more if the prices are surging! But if you're splitting with someone, have a lot of luggage, or are staying in a non-central location, this might be the easiest option. 
San Francisco is also well served by the Oakland Airport. If you're flying into Oakland, I highly recommend taking BART into the city to avoid traffic.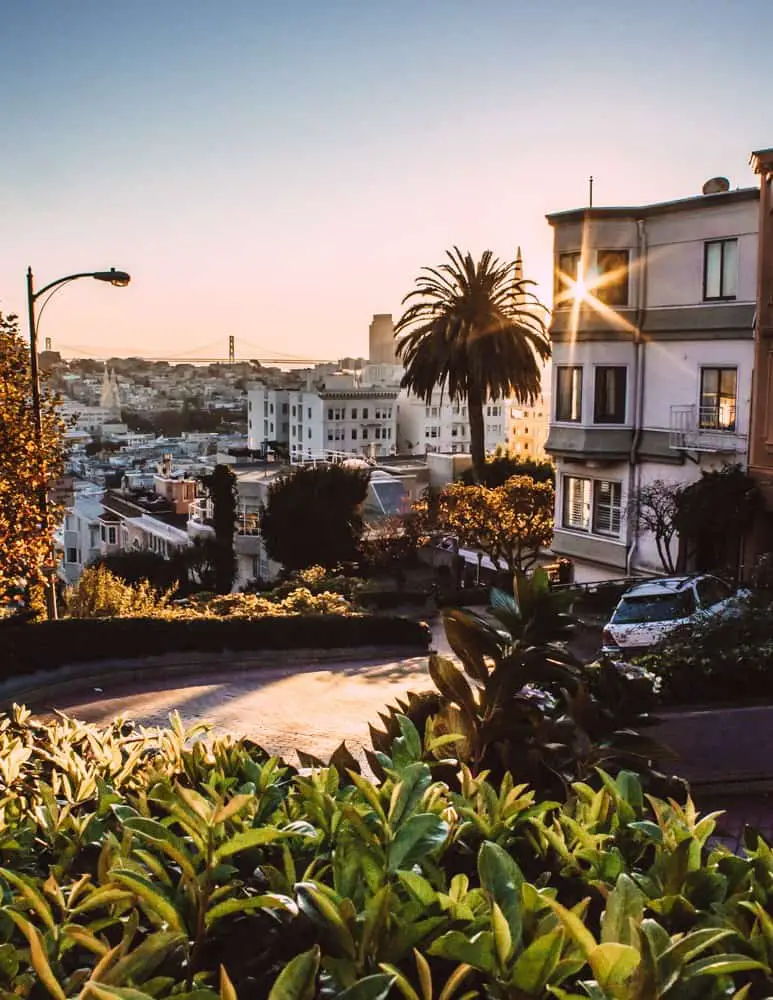 Do you Need a Car for San Francisco?
If you're flying in, then please don't rent a car. San Francisco is walkable and has decent public transportation. If you rent a car, you'll just end up paying to park it somewhere, and driving in the city is super annoying.
If you're planning a day trip, then rent a car for the day. There are rental car companies in the city, so you wouldn't have to go back to the airport. Alternatively, you could join a guided tour and not worry about it at all!
If San Francisco is just a stop on a larger California road trip, then you'll already have a car. Make sure to check with your hotel about parking rates and locations. Remember to leave nothing of value in the car. If you're going to park it on the street, most neighborhoods have two-hour limits and will ticket you. Parallel parking on the hills can be a bitch, but remember to curb your tires correctly (towards the curb if facing downhill, away from the curb if facing uphill) and put on the parking brake!
San Francisco Packing List
I've got a complete San Francisco packing list that you should read for more details. But I do want to highlight a few things about what to wear in San Francisco here.
Layers are key: the temperature can drop here. You could start with a sunny morning and then by the afternoon, the fog rolls in, and by the time the sun sets is downright cold! Wear layers or pack a jacket for the evenings. I generally recommend this light down jacket as it's packable and warm! (check out the down jacket here!)
Comfortable walking shoes: these itineraries will have you walking all over the city. Bring walking shoes you can walk for miles in and good socks to accompany them (I swear good socks are underrated).
Waterproof booties, rain jacket & umbrella: If rain is in the forecast, a comfortable pair of booties will keep your feet dry and allow you to continue to explore the city. I absolutely love my Sorel Booties (check them out here). I can walk for miles in them and they can be dressed up for a night out. A small umbrella that fits in your backpack and a rain jacket with a hood are solid choices for a rainy day.
Portable Charger: you'll be gone from your hotel room all day long. Bring along a portable charger so you can keep using your phone for maps, photos, and to call Uber when you just cant walk up another hill. I love my Mophie portable charger. It holds a charge for days while fully charging your devices quickly!
Wear what you like!: You'll see all sorts of fashion in San Francisco, but generally San Francisco is a laid-back city. During the day you'll see people out in their workout clothes and in the evenings it usually turns into a nice pair of jeans and top or a casual dress. Again, heels should be left at home unless you're not planning on walking at all in them!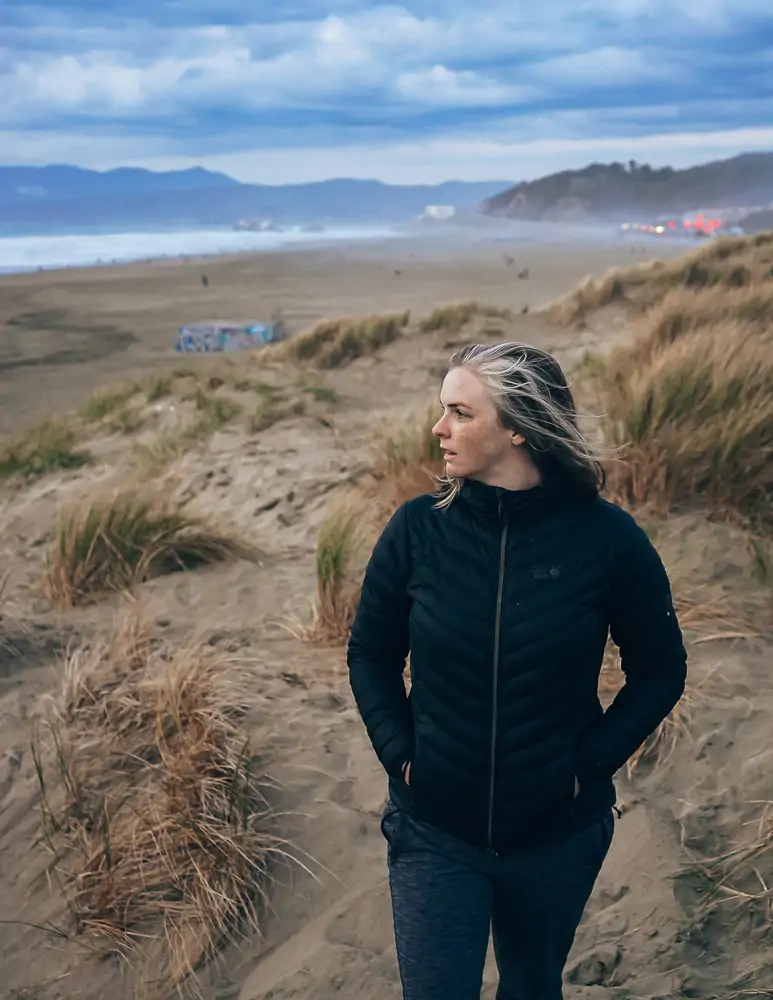 San Francisco Safety Tips
In general, San Francisco is a safe city. But like every city, there are problems.
You will see, likely, an alarming amount of homeless people. This might be especially troubling to you if you're from an area without a homeless population. Many have mental health issues, others might've been priced out of their homes. This is a complex issue that I will not be diving into here. But the majority of the time they keep to themselves and don't bother anyone outside of asking for money. Give it or don't. Up to you. 
I mentioned this before, but car break-ins are incredibly common in tourist areas of the city. If you have a car leave nothing behind when you park it!
The Tenderloin is a rougher part of San Francisco and various parts of the Mission are a bit rough as well. But generally, if you don't bother anyone, they won't bother you. I would recommend keeping your phone out of sight because that's an easy grab and go for those looking.
Where to Stay in San Francisco
Where should you base yourself in San Francisco for all of these awesome activities? There are two main locations that visitors in San Francisco stay: Union Square or Fisherman's Wharf. 
These two areas have a variety of hotels for any budget and will leave you well located to begin your daily San Francisco adventures. 
While I generally don't like being anywhere near Fisherman's Wharf, the fact that many tours start here makes it appealing for tourists. 
The same goes for Union Square. There's not much charm in Union Square but you can get a great hotel and be well located for exploring the rest of the city. 
Alternatively, you could branch out into neighborhoods such as Hayes Valley, the Mission, the Castro, and Nob Hill. I recommend these neighborhoods if you're not planning on spending much time on the east side of the city. 
Here are a few hotel recommendations to get you started on your search:
Staypineapple: Union Square
When you stay at Staypineapple you'll have everything you need in the heart of San Francisco. From grab-and-go snacks to super chic rooms and decor. This is an awesome place to stay in the city and it's close to all of the attractions mentioned in this itinerary. 
Parker Guest House: Mission/Castro
Stay in one of the gorgeous rooms of the Parker Guest House located on the border of the Mission and the Castro neighborhoods. This is a great place to stay if you're looking for a more local experience. 
Hotel Zoe: Fisherman's Wharf
Hotel Zoe in Fisherman's Wharf is close to all of the top tourist attractions in San Francisco. It's a short walk from your gorgeous hotel room to North Beach, Chinatown, and the Embarcadero. Highly recommend this location if it's your first time visiting San Francisco. 
Grove Inn: Hayes Valley
Grove Inn is a B&B with a great location in Hayes Valley. It's just around the corner from Alamo Square and the Painted Ladies. It's also a short walk to Golden Gate Park and the Mission from your Victorian bedroom.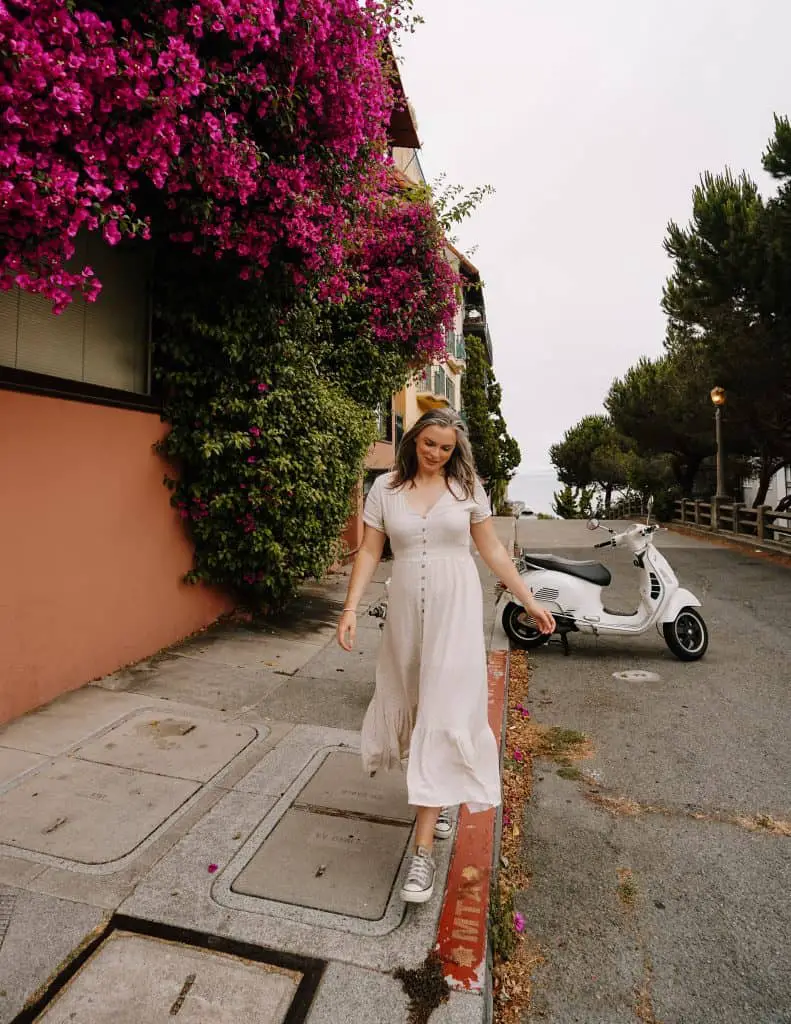 Solo Female Travel in San Francisco
I grew up about 20 minutes south of San Francisco and have been living in the city for about 8 months at the time of this post. I've found San Francisco to be a great place to travel solo, even during the pandemic.
There are plenty of things to do here to keep you busy. Restaurants have just opened up, so you could easily snag yourself a spot at the bar if you're more comfortable eating alone that way. And generally, I feel safe living here and exploring the city. 
I'm usually surprised at how nice people are here and that goes a long way at making me feel comfortable doing things solo!
So get out there and see San Francisco – you ready.
It's now time – finally – for your San Francisco 3 day itinerary options!
San Francisco Itinerary
The base itinerary assumes that you're staying near Union Square, so I've used that as the starting and ending point for each day. I provide my recommendations for where to stay at the end of this post if you're unsure about the best locations.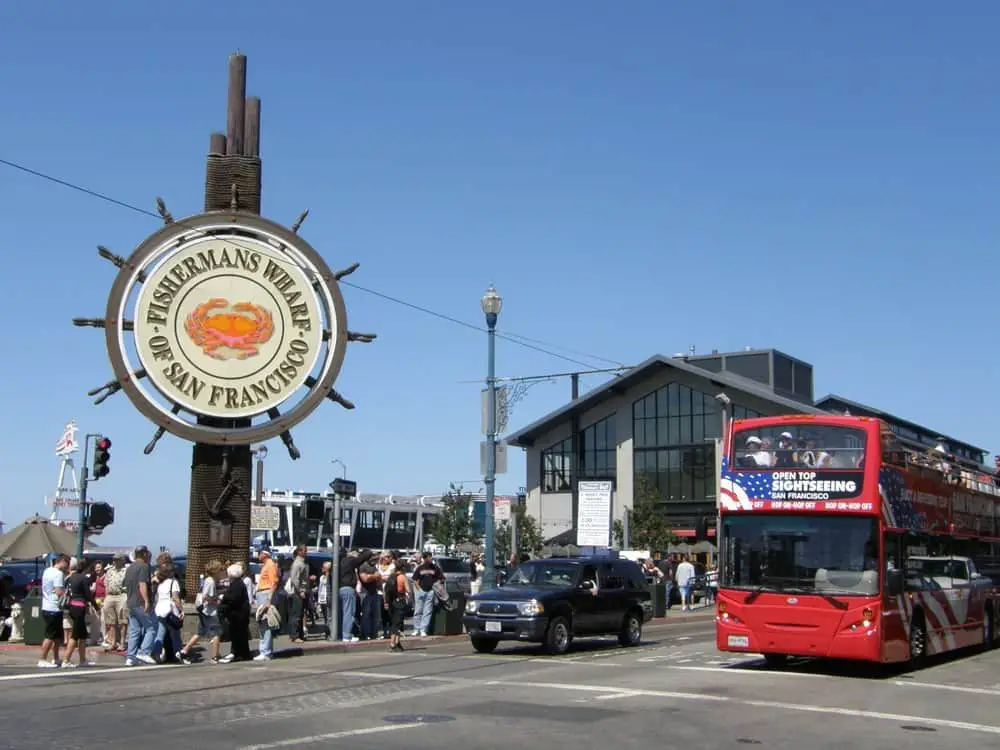 San Francisco 3 Day Itinerary: First Timer
This itinerary is ideal for your first visit to San Francisco. It is jam-packed with the best things to do in San Francisco. It includes where to eat every meal of the day and the best activities to do in the morning, afternoon, and evening. 
I try to keep the activities for each day near each other so you're not walking ALL over the city. But you will be walking…a lot. Wear comfortable clothes, good walking shoes, bring some water and snacks. And let's get to it!
San Francisco Day 1: Alcatraz, Fisherman's Wharf, North Beach & Chinatown
Your first day will have a big tour in the morning, Alcatraz! Then the afternoon is open to explore a few neighborhoods and eat delicious food! Lace-up your walking shoes, bring a jacket, camera, and water…let's go!
Breakfast: Mama's on Washington Square
Start your day off with breakfast at Mama's on Washington Square which is touted as one of the best breakfasts in the city. On weekends people have been known to wait in line for an hour to get a taste of the french toast and poached eggs. 
If you're not up for waiting in line to eat, a second option in this area is Pat's Cafe, just a few blocks away.
To get to either of these breakfast spots from Union Square I highly suggest walking through the Dragon's Gate into Chinatown, if you have time. If you don't have time – take an Uber to your breakfast location of choice. 
Or if you're not in the mood for a sit-down breakfast and just want to get your San Francisco tour rolling, stop at Home Coffee Roasters in Chinatown for a quick, yet tasty avocado toast and matcha latte. They make one of the best matcha lattes in San Francisco. 
The rest of Chinatown won't be quite open yet but you could return for dinner!
Morning Activity: Alcatraz
Keep an eye on the time, because when you're done with breakfast, head over to Pier 33 to catch your ferry to Alcatraz. 
Alcatraz Island operated for 28 years and since it was deemed impossible to escape from, it imprisoned the most dangerous criminals in America including Al Capone and the Birdman. Numerous failed attempts at escape were made out of Alcatraz including one that was labeled the Battle of Alcatraz. This spawned multiple movies about the prison. 
You'll learn about all of this and more on the audio tour you'll take when you get to Alcatraz. 
This activity should be booked in advance as it's one of the most popular things to do in San Francisco. In the summer, ferries leave every hour from 10:00 am to 6:00 pm and in the winter the last ferry to the island is at 2:00 pm. A round-trip ferry ticket costs $41 and includes the audio tour. Arrive 45 minutes before the ferry departure and allow for approximately 3 hours for the entire journey
Afternoon Activity 1: Pier 39 Sea Lions
When you arrive back in the city, head to Pier 39. Say hi to the sea lions that have called this pier their home for decades! How? They basically took it over after the Loma Prieta earthquake in 1989 and the Marina agreed to let them stay.
Take a break and watch them swim, tan, and sometimes fight with each other. Once you've listened to them bark long enough, it's time to eat! I'm sure you're starving by now.
Lunch: In-N-Out or Boudin
Both of these are staples in California and San Francisco. I'm partial to In-N-Out because it was my first job in high school and I still eat there today! Get a burger animal style with fries and a shake! This will also be a budget-friendly meal that will keep you full until dinner!
If you're not a burger fan or have had In-N-Out elsewhere in California, then go to Boudin and get clam chowder in a bread bowl. Yes, this is a very tourist thing to do in San Francisco. To be honest, I haven't had this meal since high school. But when in Rome…
After you've eaten, it's time for a little pick-me-up – Irish style. Walk to Buena Vista Cafe for their world-famous Irish coffee. If you can, get a seat inside so you can watch them make these. They'll line up pretty glasses on the bar. Fill them with coffee and top them off with whiskey. Oh and don't forget the heavy whipping cream. I don't even like coffee, but this, I'll drink.
You could also eat here for lunch instead of the other two options!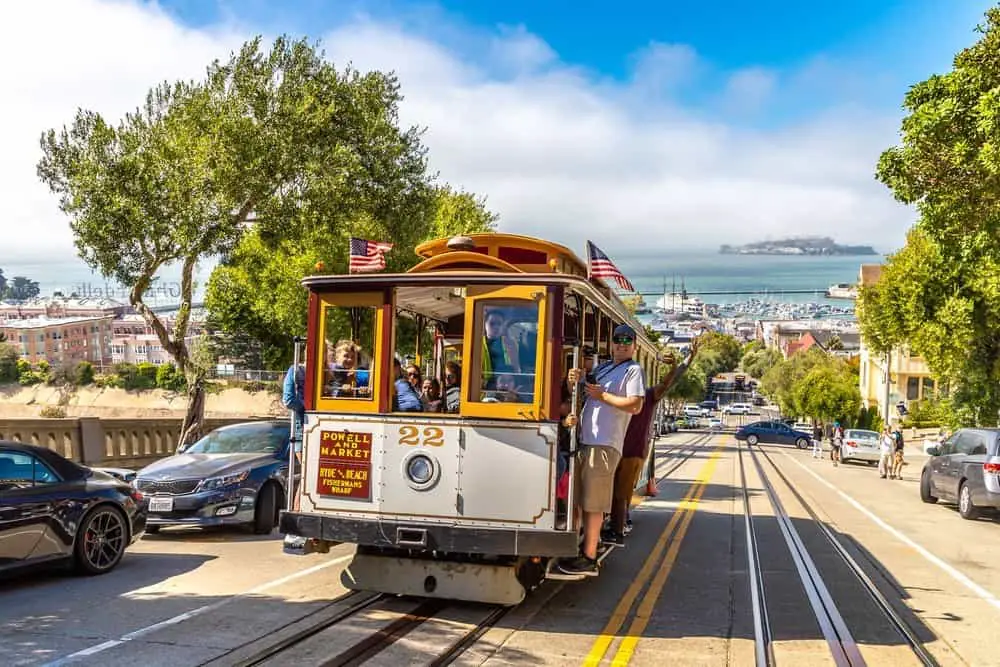 Afternoon Activity 2: Ride the cable car to Lombard St (or walk) & North Beach
Just across the street from Buena Vista Cafe is the final stop for the Powell-Hyde Cable Car line. Currently, the cable cars are not running due to COVID. However, they are due to start up again in August (free of charge as they work out the kinks) then full fare service in September.
If the cable car is operating during your visit, then hop on and save yourself the steep climb up Hyde St. There is a stop at the top of Hyde and Lombard where you can get off and walk up and down Lombard St. 
Lombard St is known as the "crookedest street in the world", even though it's really not! But it is a pretty gorgeous windy road. From the top of the street, the views are epic. You can see Coit Tower, the Transamerica building, and the Bay Bridge! In the Spring, the flowers bloom and there is one house, you'll know it when you see it, that has a gorgeous purple bougainvillea snaking its way up the pretty blue house.
Once you're done taking all of the photos at Lombard Street, walk back to North Beach. It's only a few blocks (downhill) from the bottom of Lombard Street.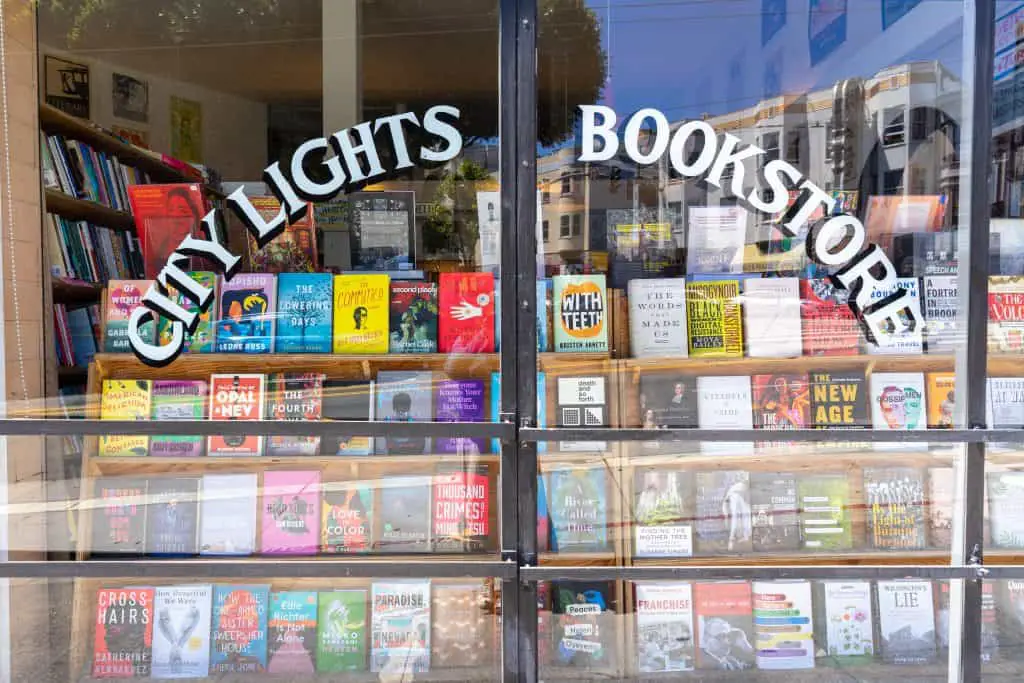 Before dinner pop into City Lights Booksellers to peruse the three floors of books! 
City Lights, and North Beach, was once home to the Beat generation. This is the generation in the 1950s just before the hippie movement. The beatniks were a counter-culture movement that believed in anti-capitalism and spiritual growth through psychedelic drug use. Jack Kerouac and Allen Ginsberg were two of the main authors of this generation and they spent quite a bit of time at City Light Booksellers. On the third floor, you'll find a dedicated space just for Beat Literature.
Dinner: North Beach or Chinatown
If you're opting for North Beach, I recommend trying
You've got two neighborhood options for dinner: North Beach or Chinatown.
If you're opting for Chinatown I recommend trying
Drinks: Top of the mark
Alright, it's been a big day. You might be thoroughly exhausted and ready to collapse into bed to prepare for your second day in San Francisco. But, if you're up for a quick drink, head to Top of the Mark. 
San Francisco doesn't have many rooftop bars – it's far too cold. But the ones we do have are top-notch.
Top of the Mark is located on the 19th floor of the Intercontinental Mark Hopkins hotel, just steps away from Chinatown in Nob Hill. Sip a fancy craft cocktail while enjoying the 360* views of the city.
Walk-ins are welcomed on a first come first serve basis, with reservations highly recommended. Weekend reservations tend to fill quickly so if you know you want to have a drink here, reserve in advance!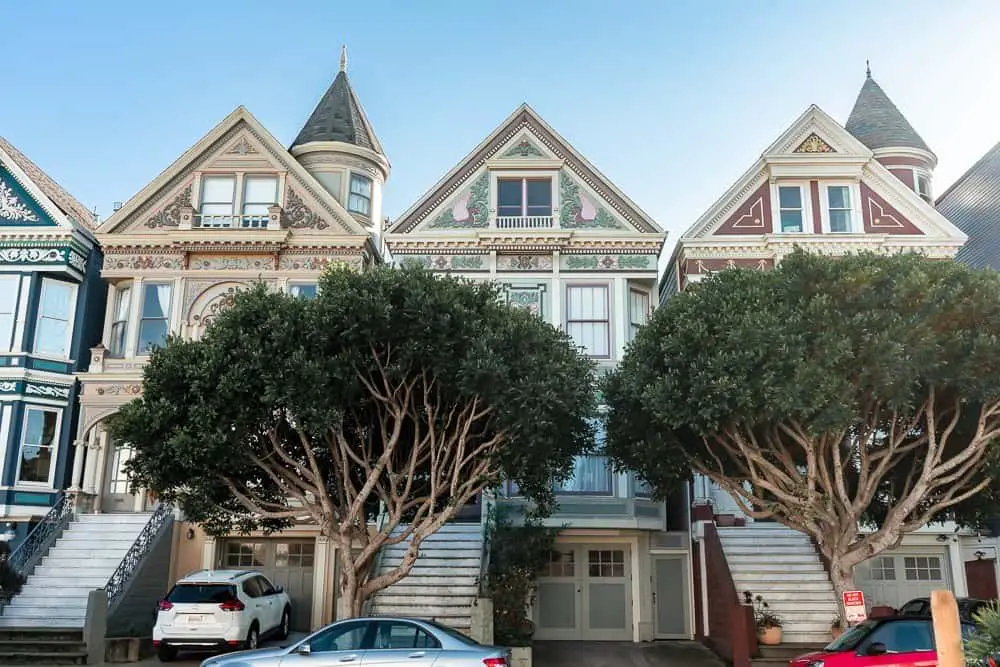 San Francisco Day 2: Victorian Homes, Golden Gate Park, Ocean Beach Sunset 
Today, you'll be exploring the classic Victorian Homes that San Francisco is well known for. From the Full House famous Painted Ladies to the Grateful Dead house! Then you'll check out a bit of Golden Gate Park and round off the day with a sunset at Ocean Beach! Ready? Let's do it!
Breakfast: Sweet Maple
Since this morning isn't as rushed as yesterday, start your day off right with breakfast at Sweet Maple. Currently open for indoor and outdoor dining, there might be a wait, but it's worth it. Put your name on the waitlist then stroll around the Lower Pac Heights neighborhood. Walk up Filmore for a bit of window shopping, take a left on Clay Street to check out Alta Plaza Park, then walk back down Steiner St.
Alternatively, you could walk 10 minutes to check out the actual Full House house!
When your name is called for your table I recommend ordering:
The Millionaire's Bacon
Any of the benedicts
Anything on the menu… honestly, it's all good!
Morning Activity: Victorian Homes 
Now that you're full and caffeinated, it's time to check out the famous Painted Ladies! If you didn't see the Full House house before breakfast and you want to, walk there first. Then backtrack to Sweet Maple.
From Sweet Maple, simply walk 15 minutes on Steiner to Alamo Square and you're there. Easy peasy! 
Alamo Square offers awesome views of the Painted Ladies with the city's skyline in the distance. It is really quite beautiful. Alamo Square is also a great place for a picnic if you fancy one (but that's coming later!)
Otherwise, snap your photo and move on to the Haight-Ashbury neighborhood.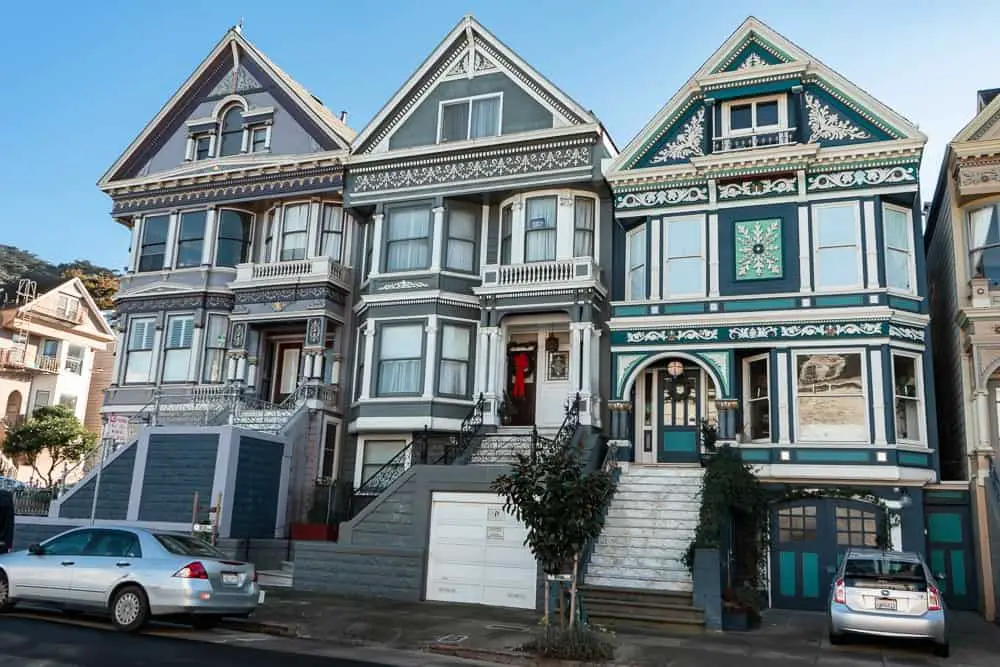 It's about a 30-minute walk from the Painted Ladies to the heart of Haight-Ashbury. You could walk through Panhandle park, but I recommend crossing through it and walking along Page St to see stunning Victorian homes of all colors and decorations!
When you get to Masonic, take a left towards Waller St. At the corner of Masonic and Waller are the Four Seasons Houses, aka my favorite Victorian homes in San Francisco. The Winter house is my favorite (the deep blue one with the snowflake in the center!)
A few more Victorian homes to keep an eye out for in Haight-Ashbury:
Grateful Dead House: 710 Ashbury St
Janis Joplin House: 1220 Lyon or 635 Ashbury
Crosby Stills & Nash House: 731 Buena Vista West
Hell's Angels House: 715 Ashbury St
Once you've had your share of Victorian homes, walk down the main blocks of Haight St to find various head shops, thrift stores, and a slight nod to the hippie movement that took place here in the summer of 1967.
Side note – I've got a complete guide for things to do in Haight-Ashbury if you want to spend more time here. Otherwise – it's time for lunch!
Lunch: Bite Me
Pick up a sandwich of your choice from the large menu at Bite Me Sandwiches on the corner of Cole and Waller. If you haven't had Dutch Crunch bread yet, make sure to order it for your sandwich roll! So freakin' good!
Take the sandwich to go for your bike ride and picnic in Golden Gate Park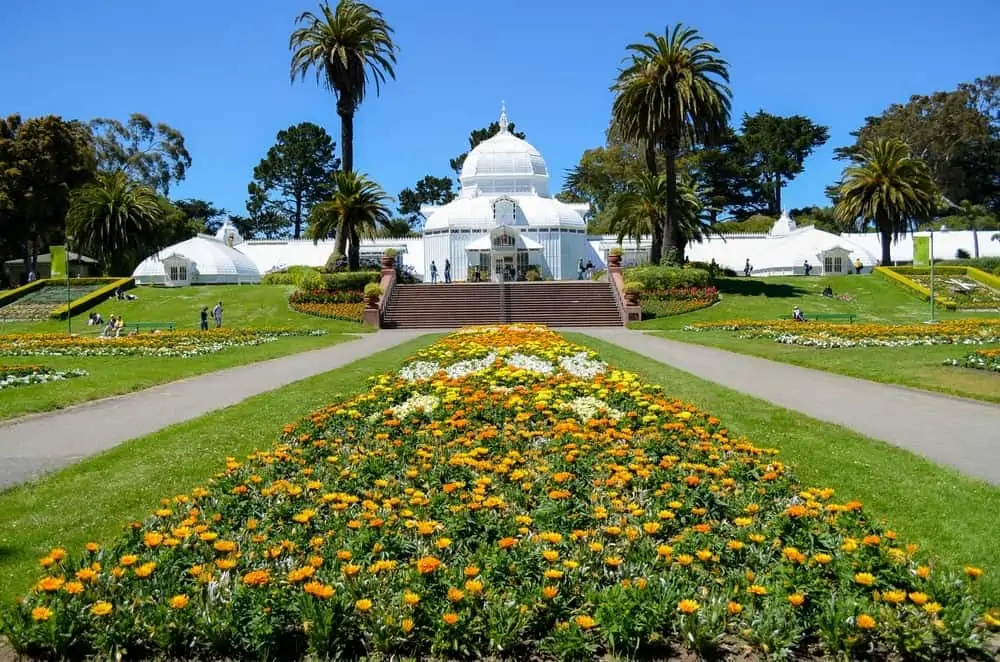 Afternoon Activity 1: Bike Ride through Golden Gate Park
Rent a bike from either Avenue Cyclery or Golden Gate Tours & Bike Rentals. You can rent the bikes by the hour for $8/hour or $30/day. 
Once you're set up with your bike rental, it's time to discover all of the great things to do in Golden Gate Park. 
Start your bike ride along JFK drive. Off this roadway, you'll be able to visit the Japanese Tea Garden, ride the Sky Star wheel, or pick a lake for a picnic. I also recommend biking to see the 10 Bison who call a portion of the park home. Plus just down the road from the bison is the gorgeous Dutch Windmill – especially gorgeous if the tulips are blooming.
Return the bike by riding along Martin Luther King Dr., but on the way stop at Stow Lake to climb up Strawberry Hill or have a romantic boat ride around the lake.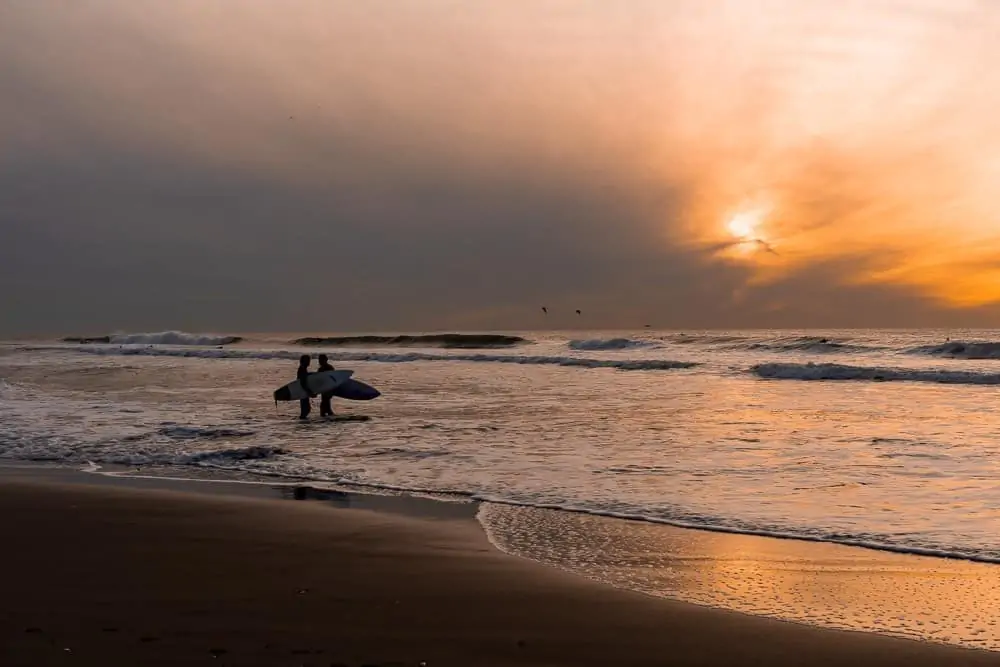 Afternoon Activity 2: Sutro Baths & Ocean Beach Sunset
Once you return your bike, it's time to explore Sutro Baths and enjoy an Ocean Beach sunset.
Sutro Baths is a former saltwater pool complex from the late 1800s. In 1966 a fire brought it to the ground and the ruins remain today.
You can actually see the concrete steps leading down into a pool that is now fed by the Pacific Ocean. Although, I definitely don't recommend swimming in it!
There are ample photo opportunities throughout the ruins and on the trails in the surrounding area.
I highly recommend walking one of the trails to overlook the baths – it's also a great place to watch the sunset.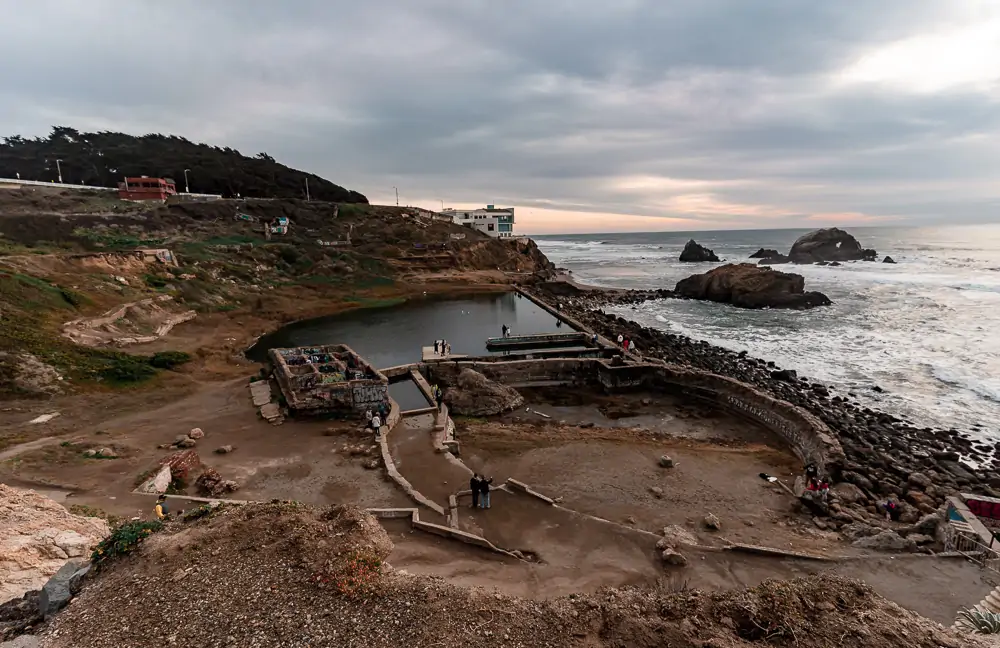 If you have time and want to get your steps in, the popular and scenic Lands End Trail connects to Sutro Baths. This is about a 4-mile round trip walk with views of the Golden Gate Bridge the entire way.
Otherwise, walk down the hill to Ocean Beach for sunset! This is a large beach with plenty of sandy locations for you to relax as the sun sets. Bonfires are permitted here at one of the pits on the southern edge of the beach, just before the dunes. If you want to build yourself one, you can get firewood from Safeway across the street.
To get here from Golden Gate Park you can either use rideshare or take the 5 bus. It runs along Fulton and ends at Ocean Beach!
Dinner: Hayes Valley
Hungry yet? After sunset, use a ridesharing app to take you to Hayes Valley – a great neighborhood for food! Here are three of my restaurant recommendations, but really you can't go wrong at any of the restaurants in Hayes Valley.
Papitos: great tacos and spicy margaritas
Souvla: budget-friendly, yet delicious Mediterranean food
Drinks: Smuggler's Cove
San Francisco is home to quite a few Tiki bars, and Smuggler's Cove is one of the best. This pirate-themed Tiki bar serves 99% rum cocktails in a nondescript location. Literally, you'll know it by the line of people waiting to get in a random door with no sign!
When you finally enter this very dimly lit bar it's like you've stepped aboard the Black Pearl. It's tiny, but there are three levels with a bar on the main and basement levels. There's extra seating on the third floor but no bar. So just be patient – the bartenders are amazing and will make sure to get your drink.
The drinks, by the way, are deliciously dangerous. You can't taste the rum in most of them. I enjoyed the Painkiller and the mint in my friend's mojito smelled like it was just recently picked. Super fresh ingredients and you only need one or two to get the job done.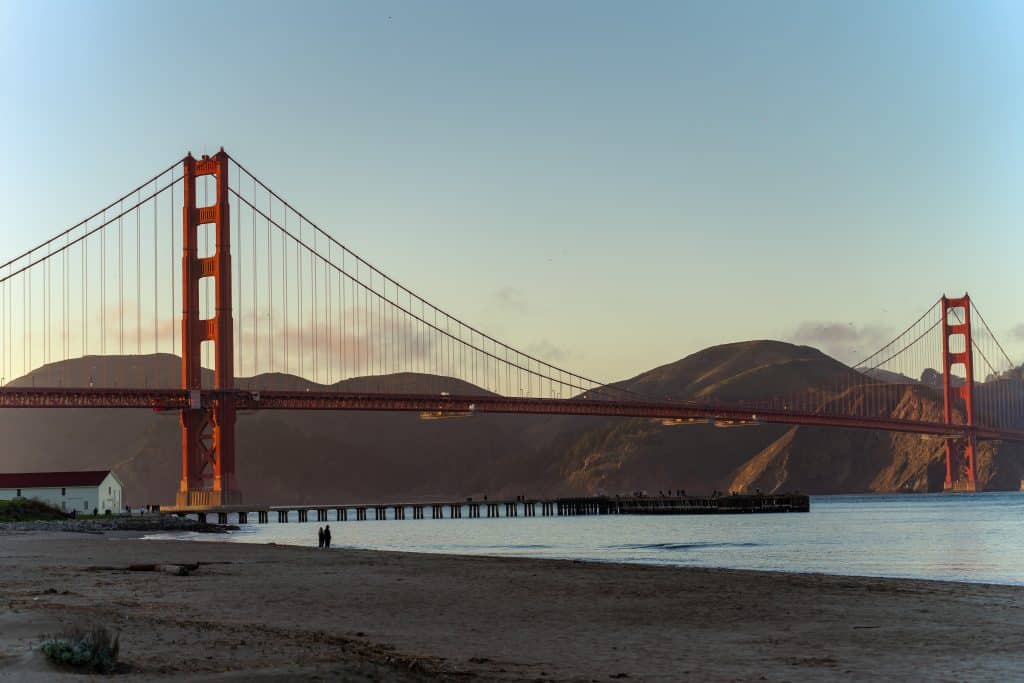 Day 3: Golden Gate Bridge and Two Special SF Neighborhoods
Don't worry, I wasn't going to leave the Golden Gate Bridge off of this itinerary! Today, you'll get as up close and personal with it as you wish, but no rush to get there super early. Perhaps enjoy an extra hour or two of sleep and then be at the bridge around 9:00 am to start your day!
Morning Activity: Golden Gate Bridge
Call an Uber/Lyft to take you to the Golden Gate Overlook. This is one of my favorite places to see the Golden Gate Bridge. 
Here, you'll see the classic location of the bridge between two Cypress trees. And you can walk around the old batteries to find your favorite view.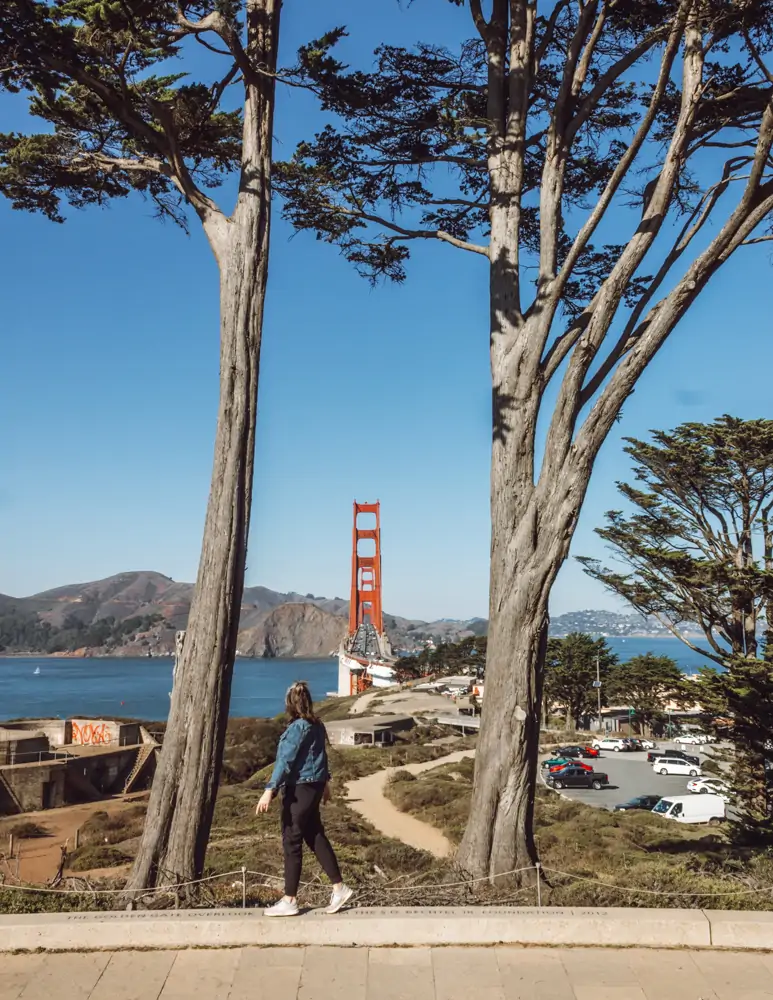 From the Golden Gate Overlook you can walk either across the Golden Gate Bridge or underneath it to Fort Point – another awesome viewpoint for the bridge. 
If you haven't walked across the bridge before, I recommend doing so. You don't need to go all the way, even halfway will do.
Once you're done exploring this area, it's time for a late breakfast!
Breakfast: Lokma
Lokma is one of my favorite places in the city! This Turkish restaurant makes delicious greek yogurt pancakes, the spice in their sausage is mouth-watering and even their scrambled eggs are perfect.
They also have a full Turkish breakfast which I've seen ordered at tables around me when I'm there and looks amazing and perfect for sharing with a group!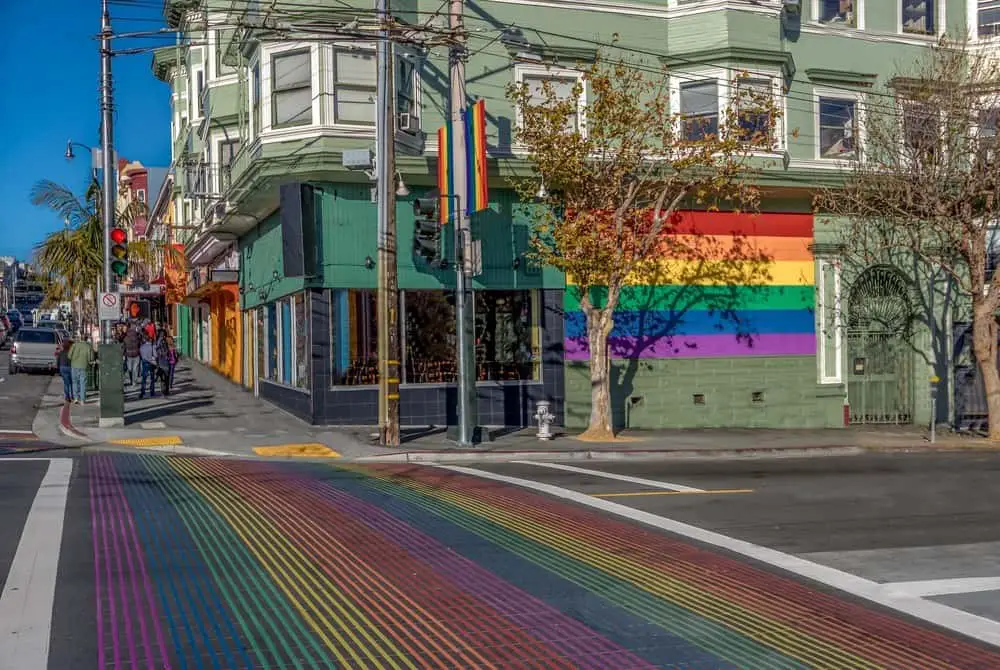 Afternoon Activity: Explore the Castro and Mission
For the remainder of the day, you'll be exploring the Mission and Castro neighborhoods. To be fair, each of these neighborhoods deserves its own blog post (working on it!). The few highlights I'll share here are just the tip of the iceberg.
Anyway – here are the highlights, and of course if you discover something that resonates with you throw out the rest of the itinerary and go all-in with it!
I suggest starting in the Mission neighborhood with some street art. Balmy Alley and Clarion Alley are two of the main places where you'll see gorgeous street art, most of it representing political, cultural, and social issues we're facing today.
From Balmy Alley walk down 24th to Valencia Street. On Valencia Street, you'll find local bookstores, thrift shops, and great food options as well. Walk on Valencia street towards 20th and find Clarion Alley – another alley filled with beautiful and impactful murals. 
If you're interested in a good burrito – this is where to get it! La Taqueria and Taqueria el Farolito are the two burrito places that people argue over which is best. You may not be hungry just yet, but if you are, grab a burrito and head to Mission Dolores Park.
Mission Dolores is a popular park on a sunny day for people to chill out on. From the top of the hill, there are great views of the city and the classic view of the gorgeous Mission High School.
Once you've captured a bit of the local feel here it's time to walk to the Castro.
The Castro neighborhood has been the epicenter of the LGBTQ+ community since the 1970s. It's where Harvey Milk fought for gay rights from his camera store (now home to the Human Rights Campaign Store). On the corner of Market and Castro is Twin Peaks – the first gay bar in the city and you'll find rainbows painted on the crosswalks. Of course, you'll also find the famous Castro Theater here!
The Castro is such a vibrant neighborhood to wander around in for an hour or two. The side streets off of Castro are also home to stunning Victorian homes.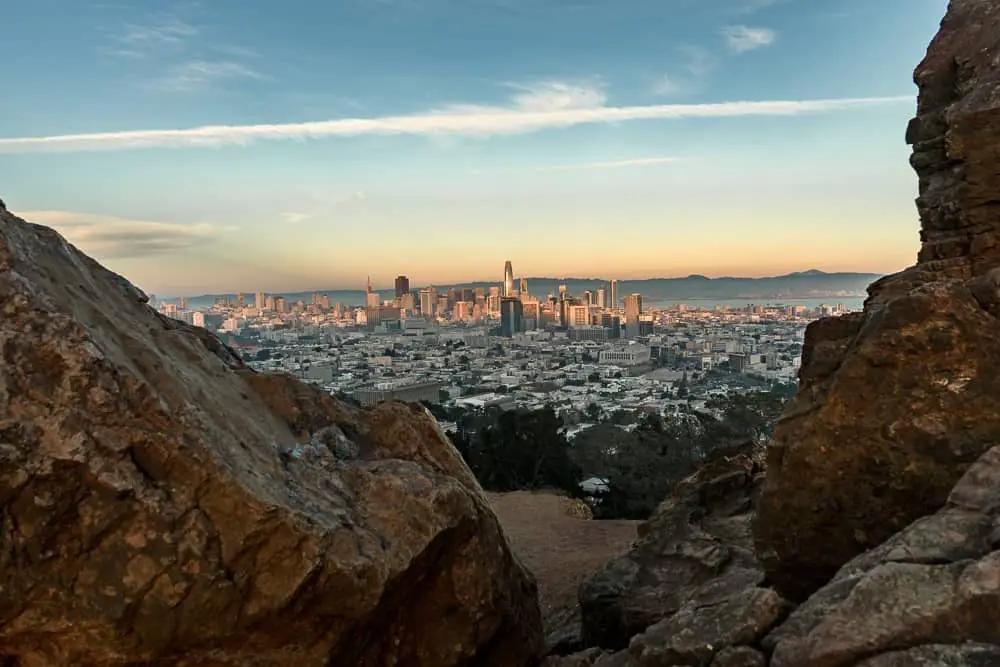 Sunset: Twin Peaks or Corona Heights Park
It's time for your final sunset in San Francisco. This time I'm recommending Twin Peaks or Corona Heights Park.
Twin Peaks is the classic place to see the sunset in San Francisco – and for good reason. From the top, you'll have 360* views of San Francisco. You'll be able to see the sunset from the Pacific Ocean, around the bay, past the Golden Gate Bridge, and to Downtown.
If you're into photography this is also where you can get the classic photo of the winding road leading to the peak with the skyline off in the distance.
An alternative to Twin Peaks is Corona Heights Park. It's a bit closer to the Castro and not as much of a climb but the views of the skyline are just as good! You just won't be able to see the Golden Gate Bridge from here.
Both of these locations get incredibly windy at night – so be prepared with your jacket!
Dinner: Mission Burrito
If you didn't get a burrito earlier today, head back to the Mission and get one! Another solid option for Mexican food in the Castro is Bonita Taqueria y Rotisserie.
If you did get a burrito earlier today, head to Fable for an ah-mazing, treat-yo-self kind of dinner!
Drinks: There are a few cocktail bars that come highly recommended in the Mission. Find one that fits your style – and enjoy!
Oh man – that was a packed 3 days in San Francisco! I hope you got to see a little bit of everything, but also took the time to dive into aspects of the city that intrigued you. If you followed any portion of this itinerary please let me know your thoughts in the comments!
San Francisco 3 Day Itinerary: Outdoor Enthusiast Swaps
Day 1 Swap: Biking Across the Golden Gate Bridge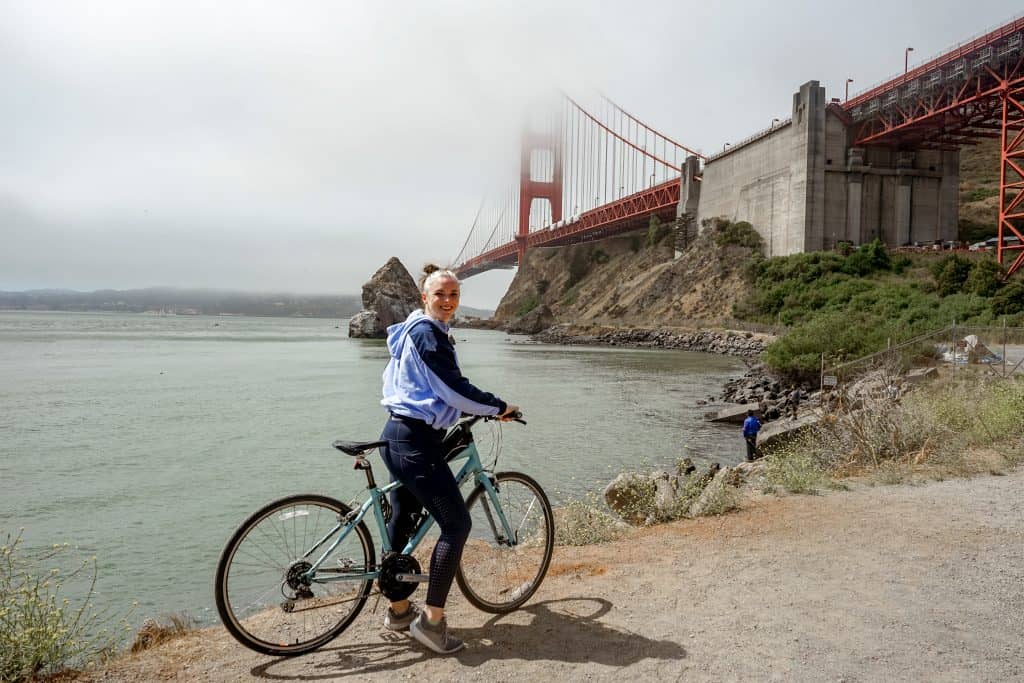 Swap a morning trip to Alcatraz with a morning bike ride across the Golden Gate Bridge!
Biking across the Golden Gate Bridge is such a fun way to see the city from a different perspective. Cycling in the city is a popular way for locals to get around so it's a very bike-friendly location with designated lanes and paths.
After a solid breakfast, (I recommend Eight AM near multiple bike rental shops), pick up your bike rental! 
There are multiple bike rental companies, but I recommend Blazing Saddles or Bay City Bike Rentals. A hybrid bike costs the same at each location, $32, and they also have electric bike options if you want some help battling the hills.
Pro tip: book in advance to save some money!
Your bike rental will come with a helmet, map, and tips for taking the ferry back to the city. 
I've got a full blog post about how to ride a bike across the Golden Gate Bridge but I just want to highlight a few key tips.
Start early: Be on your way, bike and all, by 10 am at the latest (especially if it's a weekend). The bridge will get more crowded as will Sausalito as the day goes on!
Layers are key: San Francisco could be foggy, the Bridge can be incredibly windy, and Sausalito is likely going to be warm and sunny! Wear light layers so you can adjust.
Wear your helmet: seriously, protect yourself. While San Francisco is very bike-friendly, accidents do happen – stay alert and stay safe!
Lunch: Lighthouse Coffee Shop/Bar Bocce/Equator Coffee/Lappert's Ice Cream
Once you arrive in Sausalito, lock your bike at the ferry terminal (you can not park it on a light post – only at the ferry terminal). 
Then hit up one of the many places to eat in Sausalito and enjoy this charming town. 
Lighthouse Coffee Shop: a solid option for breakfast in case you skipped it
Bar Bocce: Grab a pizza and a drink along the water. Play a game of Bocce Ball while you wait for your food!
Equator Coffee: Looking for something a bit more grab and go. Head to Equator Coffee for a coffee, smoothie, treat, or matcha (it's good here!).
Lappert's Ice Cream: You know the ice cream is good here when there are two locations less than 1 mile apart. I mean, you did just bike all that way – treat yo self!
Follow the remainder of the base Day 1 itinerary for a delicious dinner in North Beach or Chinatown.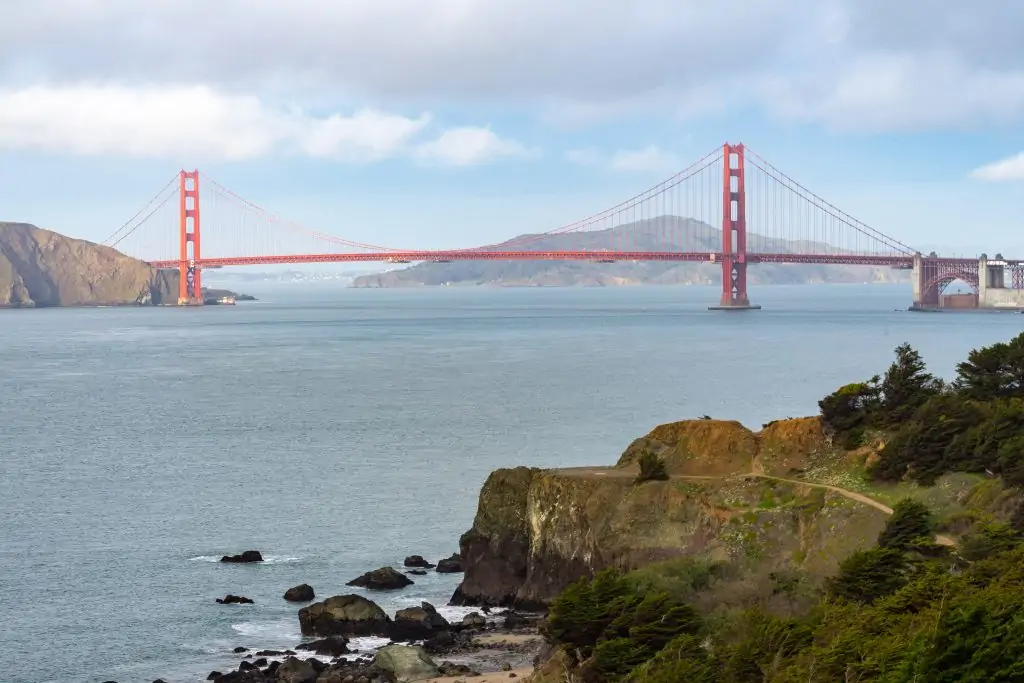 Day 2 Swap: Hike Popular Lands End Trail/Batteries to Bluffs Trail
On your second day in the city, we are going to follow the base day 2 itinerary, but swap the Golden Gate Park bike ride for the morning activity and in the afternoon you'll hike the Lands End Trail or the Batteries to Bluffs trail instead of Twin Peaks!
Each of these trails is an epic sunset location in San Francisco, so hiking them in the evening is the best time to do it! While technically, these are two separate trails, you could connect them through the fancy Sea Cliff neighborhood if you need to increase your step count!
Lands End Trail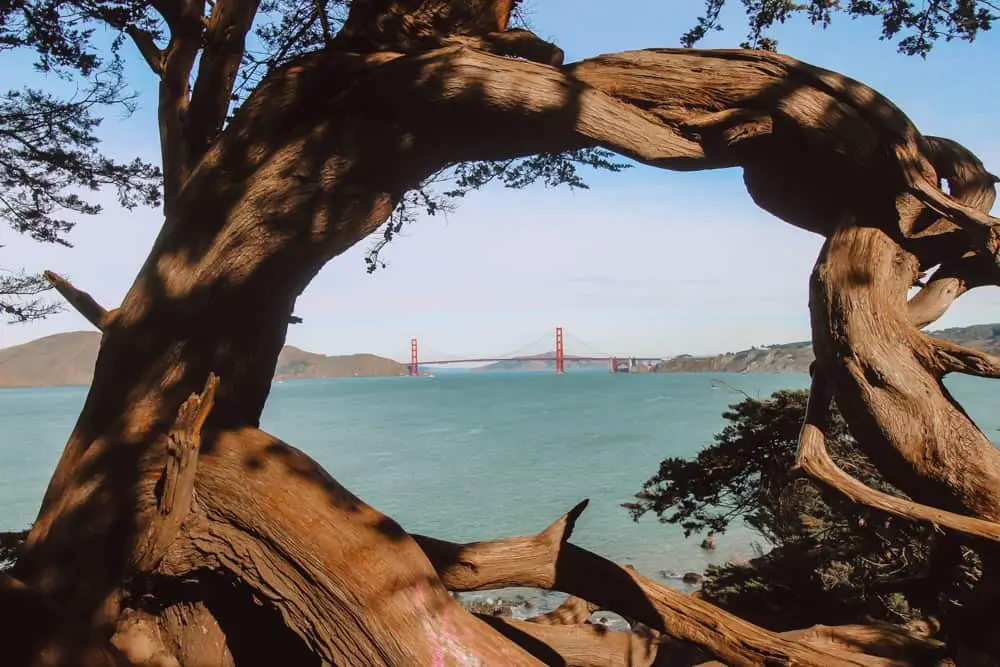 Lands End Trail is an incredibly popular out and back trail in the Outer Richmond neighborhood.
This 4 mile round trip trail has views of the Golden Gate Bridge the entire way as well as sweeping views of the Pacific Ocean.
If you don't mind taking an extra staircase then follow the signs for Mile Rock Beach. This small beach is accessible during low tide and is a true hidden gem in the city.
The bluff above the beach is a great spot for sunset. There's usually a labyrinth here, but it's been removed in recent months. Hopefully, it will return soon as it is quite a good spot for walking meditation.
I recommend starting and ending this hike at the Sutro Baths trailhead and spending some time also exploring Sutro Baths. 
Batteries to Bluffs Trail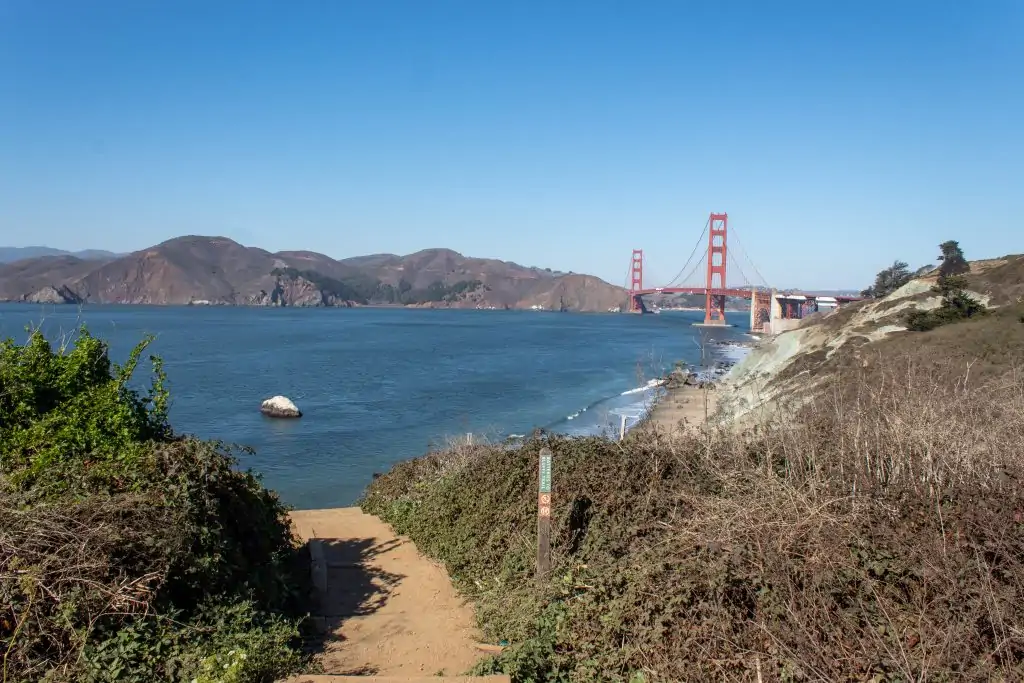 The Batteries to Bluffs Trail is another excellent option for a sunset hike. You could hike this trail as a one-way or out and back.
There are two trailheads, one at Baker Beach and the other near the Golden Gate Overlook. Either is an excellent starting point, but it just depends where you'll want to end your hike. There really isn't a bad option here as sunset from Baker Beach and the Overlook is quite beautiful. 
The Batteries to Bluffs trail also has an offshoot trail for Marshall's Beach. If the tide is out, I highly recommend heading down to this beach. You can walk pretty much right underneath the Golden Gate Bridge when the tide is out. But when it's in, this beach is quite dangerous and best viewed from above. 
For the remainder of your second day, follow the base itinerary for dinner and drinks in Hayes Valley.
Day 3: Muir Woods Day Trip Swap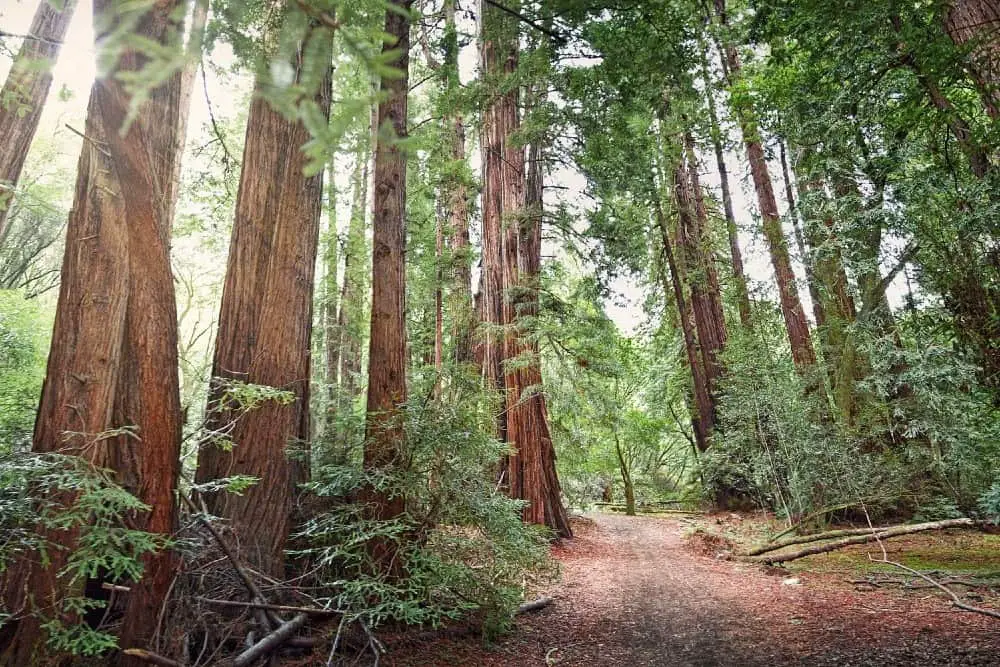 For your final day in San Francisco, it's time to take a day trip to Muir Woods! Muir Woods is a quick 45-minute drive across the Golden Gate Bridge and is filled with ancient Redwoods and plenty of hiking trails.
To get there, you'd either have to rent a car for the day or join a day tour. This is the day tour I recommend taking.
If you're planning on renting a car, please be aware that advanced parking reservations are required. You can book those through this website for $8.50. You can also purchase your entry ticket in advance if you don't have the Annual National Park Pass.
Once in Muir Woods, there are plenty of hiking trails to explore. From a boardwalk trail through the forest floor to trails that bring you to panoramic viewpoints above the trees. 
Try to go as early in the day as possible to avoid crowds and pack a lunch.
While you're there, you can also hike from Muir Woods to Muir Beach if you have the time and energy.
When you're done, head back into the city and treat yourself to a Mission Burrito as shared in the base itinerary.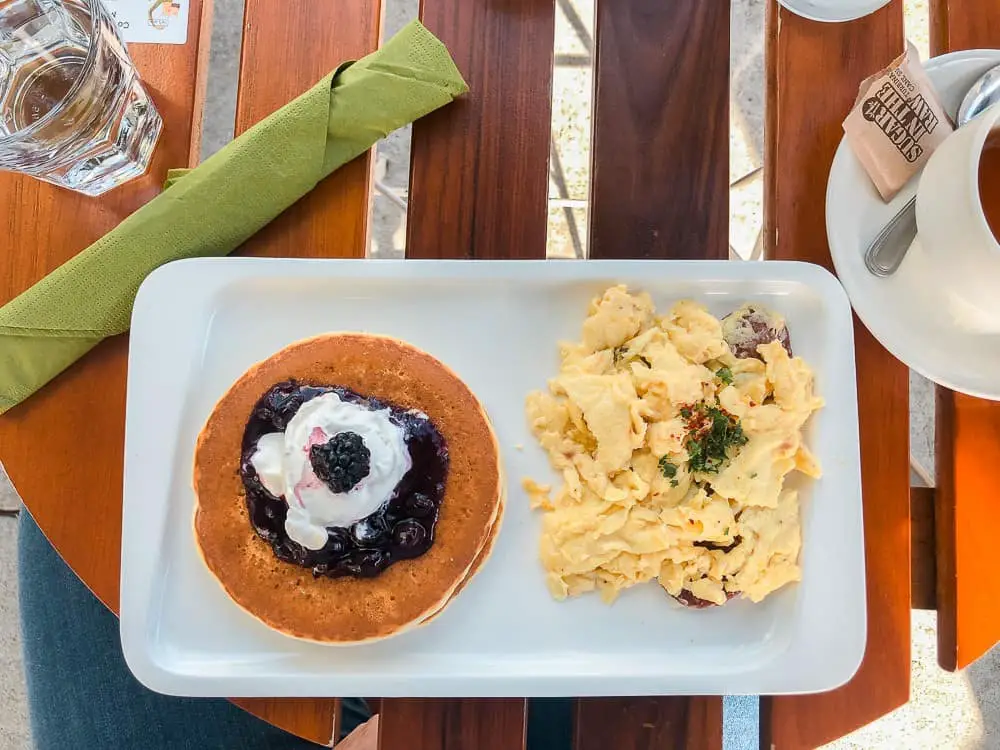 San Francisco 3 Day Itinerary: Foodie Edition Swaps
Oh hey, foodie! San Francisco is an excellent foodie destination. With cuisines from all over the globe from Burmese, to Mexican, to Russian and everything in between – you are entering a foodie paradise.
For you, my foodie friend, I'm going to recommend food-based walking tours that you can swap with any of the activities from the base 3-day itinerary. Some of these walking tours are guided and others I'll share with you how to DIY it!
Chinatown & North Beach Walking Tour
This is a classic San Francisco foodie walking tour. You'll start in Chinatown sampling Dim Sum and a variety of teas. You'll also learn about how the fortune cookie is made. Did you know it originated in a bakery in Chinatown – not in China!?
After you finish learning about not just the food, but the history of Chinatown, you'll walk into North Beach for a flavor of Italy. You'll learn about the Beat Generation, see where The Godfather was written, and of course eat delicious pizza, cannolis, and sip some wine.
In my opinion, this is a must-do tour for a foodie's visit to San Francisco. Come hungry! 
Mission District Walking Food Tour
You probably know that the Mission District is famous for its Mexican food. But did you also know that it's home to a scrumptious bakery, unique Burmese food, and perfectly made falafels?
I sure didn't when I first visited the Mission. I went for the burrito and stayed for the other delicacies – and the vibe of this neighborhood.
This walking tour is also a must-do!
Ferry Building – DIY Tour
If you're in San Francisco on a Saturday morning head to the Ferry Building for an awesome Farmer's Market. Shop the stalls outside of the Ferry Building but also head inside and wander the restaurants and food stalls here.
Inside, sample Mt. Tam cheese from Cowgirl Creamery, shop the gourmet food selections at Epicurean Trader and enjoy a gluten-free treat from Mariposa Baking Company.
Day Trip to Sonoma 
If you have time, spend a day in Sonoma. Why Sonoma instead of Napa? Well, first it's closer to the city than Napa and it's a bit friendlier especially during COVID. 
You could take a guided day tour that would include both Napa and Sonoma or you could rent a car. The perk of taking a guided tour is that you can sample as much wine as you want without having to worry about driving back to the city.
If you're planning to drive yourself, select a designated driver who isn't a fan of wine. There's plenty of delicious food to sample in Sonoma as well.
Check out this list of Sonoma Wineries to consider visiting during your trip. I'd suggest picking one or two wineries and eating good food before driving home. 
When you're done with your walking tours, refer back to the base itinerary for awesome things to do in San Francisco.
You are now so well prepared for an awesome trip to San Francisco. As you can see from the variety of things to do in San Francisco, there really is something for everyone here. Whether it's your first trip to San Francisco, you want an outdoor adventure mixed with city exploring, or what to eat your way through the city – San Francisco has your back.
I'd love to know how you made this itinerary your own! Let me know in the comments or share your adventure on Instagram and tag me in it @just_chasingsunsets
Like this post? Pin to save and share with others!