I moved into San Francisco in October of 2020 and was quickly reminded of how photogenic this city is. Since my move, I've spent weeknights and weekends scouring the city with my camera – looking for the best San Francisco photo spots. 
From well known landmarks like the Golden Gate Bridge and Coit Tower, to hidden beaches and alleys, San Francisco is a photographer's dream. Whether you're a professional photographer or just want some photos for your Instagram, I'll share with you the best places to take pictures in San Francisco.
San Francisco Travel Resources
Safety Tips for Taking Photos in San Francisco
Don't leave any valuables in your car. Car break ins are incredibly common in San Francisco. They're more likely to happen in tourist locations, but I've also seen them on neighborhood streets. It takes less than 10 seconds for someone to break into your car and steal your camera equipment, or anything else you might have left behind. So, even if you're just hopping out to scope out the scene, bring everything with you.
Some of the locations below require you to be in the middle of the street. If this is the case, ensure that you're following traffic laws and not crossing the street when you're not supposed to. If you're shooting in one of these locations, it's best to go outside of rush hour and bring a spotter when possible.
Here are the TOP 10 Instagram San Francisco Instagram Spots
Is it your first visit to San Francisco, these are the Instagram spots that should definitely be on your San Francisco itinerary:
Golden Gate Bridge Overlook
Palace of Fine Arts
Twin Peaks
Baker Beach
Grant Ave Chinatown
California Street
Painted Ladies
Lombard Street
Sentinel Building
16th Ave Tiled Steps
San Francisco Photo Spots: Landmarks
When photographers come to San Francisco, there are a few landmarks and classic photos they hope to capture. Scenes like Karl the fog rolling in low across the Golden Gate Bridge and Cable Cars climbing the steep hills. There are some images that just scream San Francisco. Here's where to get them.
Golden Gate Bridge
There are a ridiculous number of places to see the Golden Gate Bridge, which means there are ample opportunities to snap a photo. Whether you want that classic Golden Gate Bridge photo with the bridge in between two Cypress Trees or you want a photo of you standing below it for the gram, there's a Golden Gate Bridge photo location for you.
Here are a few of my favorite places to photograph the Golden Gate Bridge:
Hawk Hill: Located in the Marin Headlands, just on the other side of the bridge is Hawk Hill. This is a great photography location especially at sunrise. You'll be able to capture the sun rising behind the city skyline, illuminating the Golden Gate Bridge as it rises.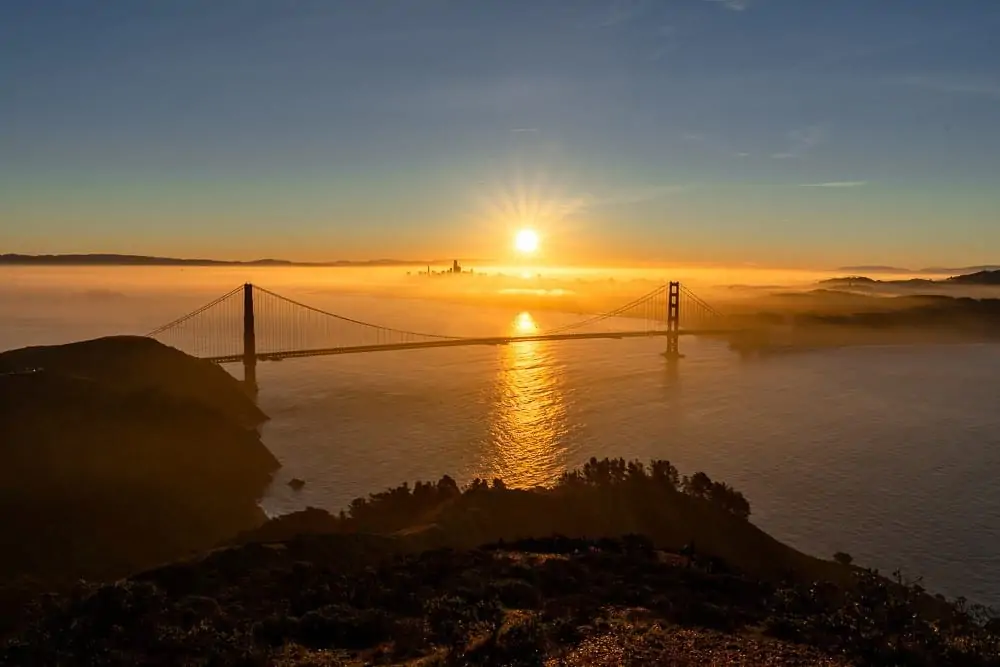 Battery Spencer: Also located in the Marin Headlands is Battery Spencer. The remains of a fort provide lots of creative options to photograph the Golden Gate Bridge. Snap a shot of it through the whole in the chain link fence, capture the fog rolling in, or grab the perfect Instagram photo with the bridge as your backdrop.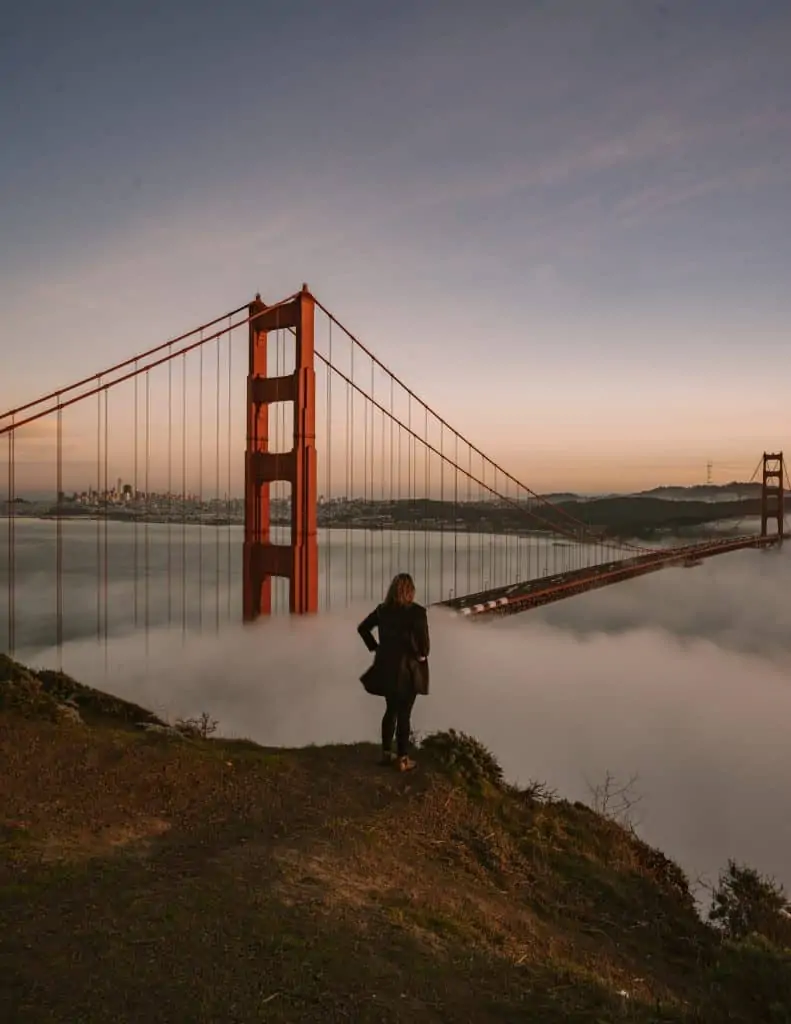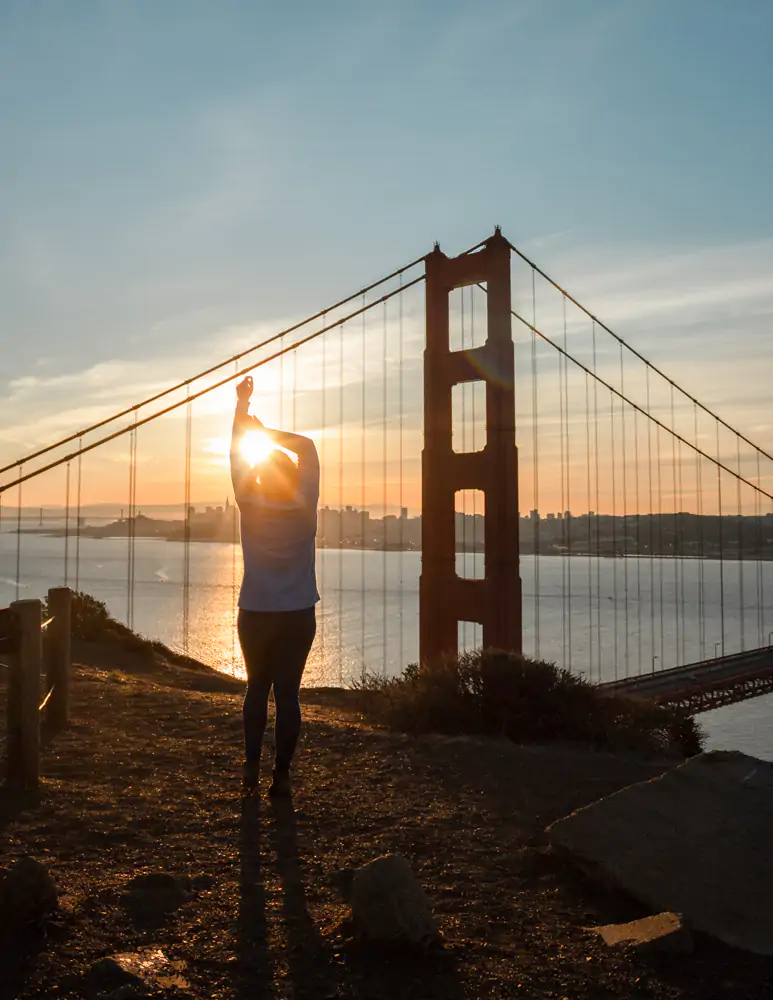 Fort Point: Back on the San Francisco side of the bridge, and below it, is Fort Point. I love this location because you'll have waves crashing into the pathway and perhaps even be able to get a photo of surfers riding the waves below the bridge.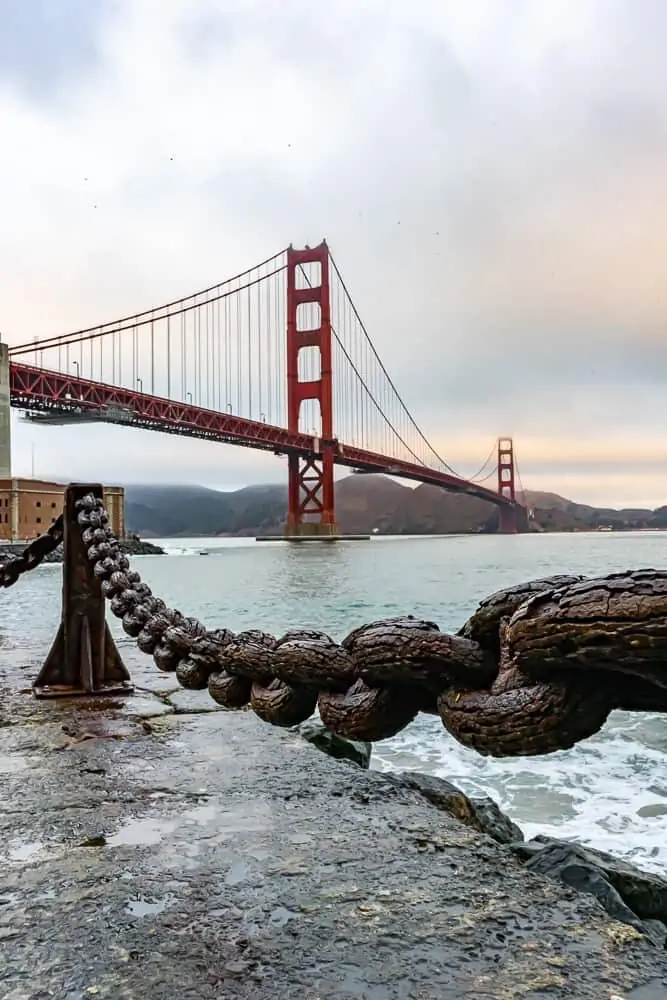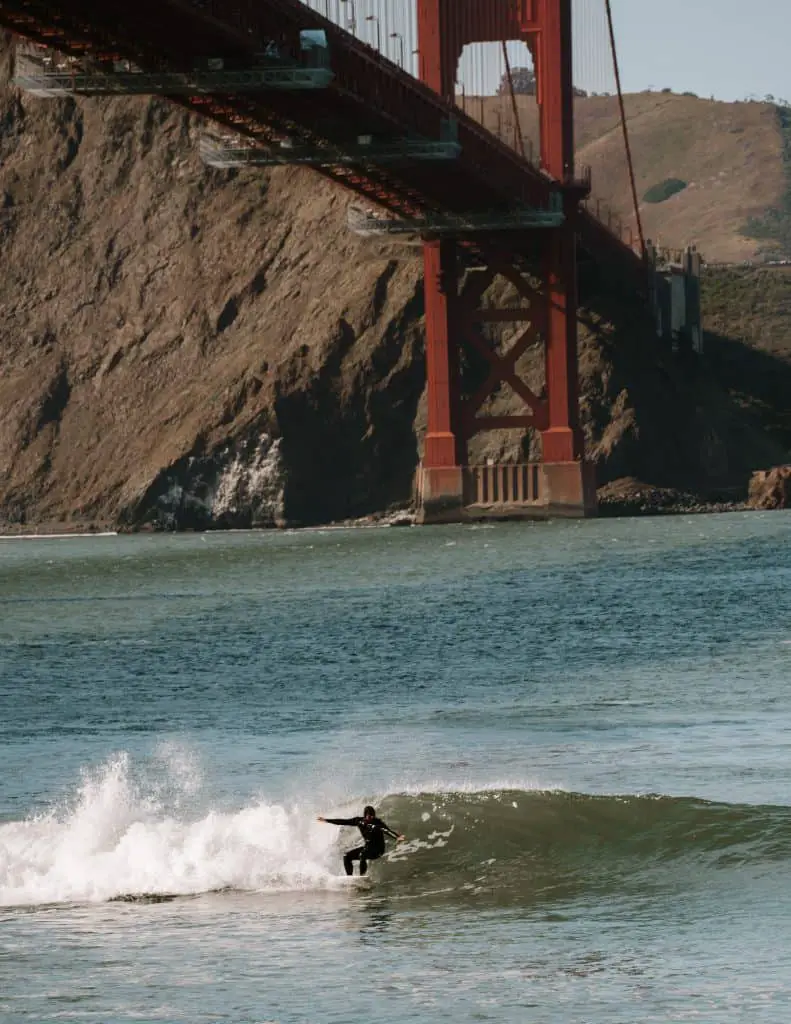 Golden Gate Overlook: In my opinion, this area is a playground for getting classic and unique Golden Gate Bridge photos. Here you'll find the two famous Cypress Trees framing the Golden Gate Bridge, but there are also remnants of an old fort and multiple pathways where you can find your own unique perspective on the bridge.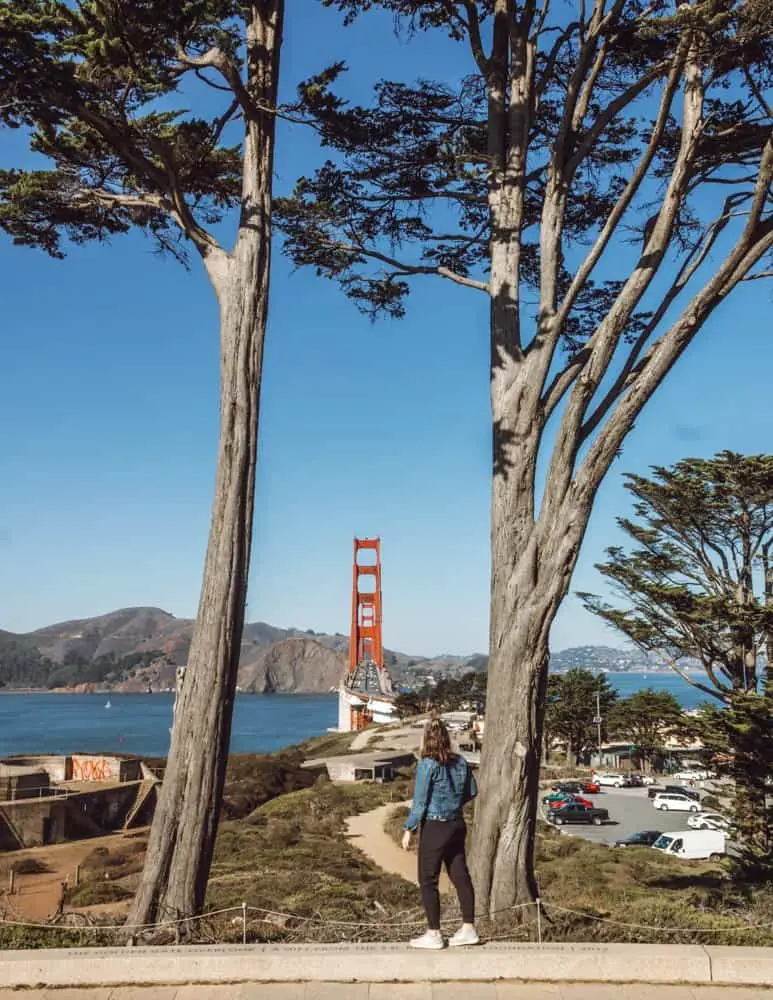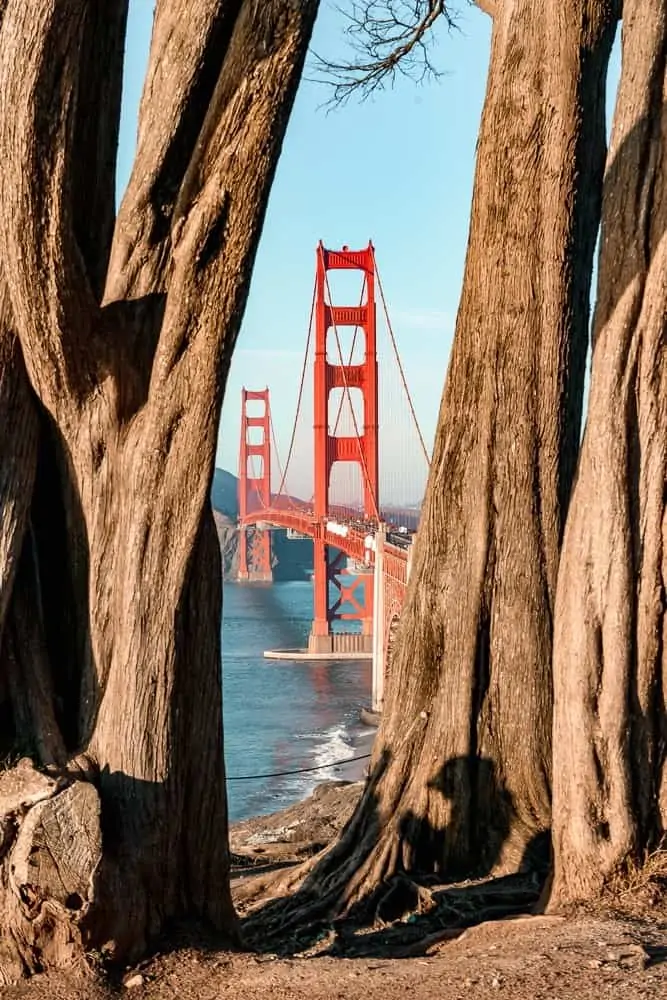 Marshalls Beach: Many people recommend Baker Beach as a great beach with the Golden gate Bridge in the background. While that's true, and it's one of the best beaches in San Francisco, I prefer Marshall's Beach when photographing the Golden Gate Bridge. The reason why Baker is recommended more, in my opinion, is because it's not dependent on the tides. If the tide is in, Marshall's beach is inaccessible. But if the tide is out, take the Batteries to Bluffs trail and walk as close as you can get to the bridge for some amazing photos. This is a great place to photograph sunset in the city.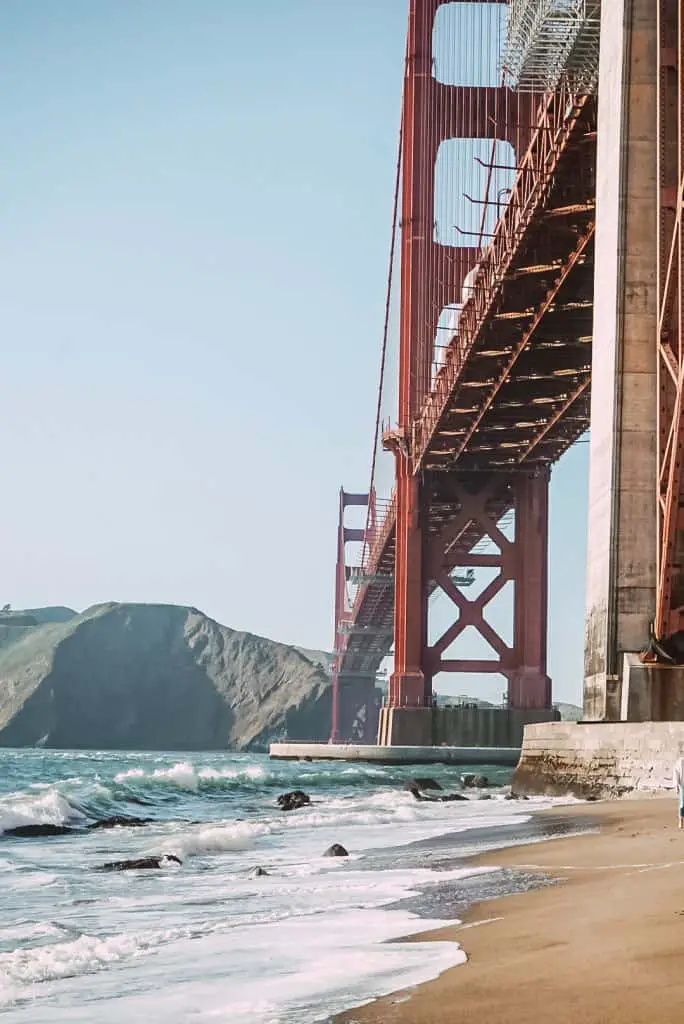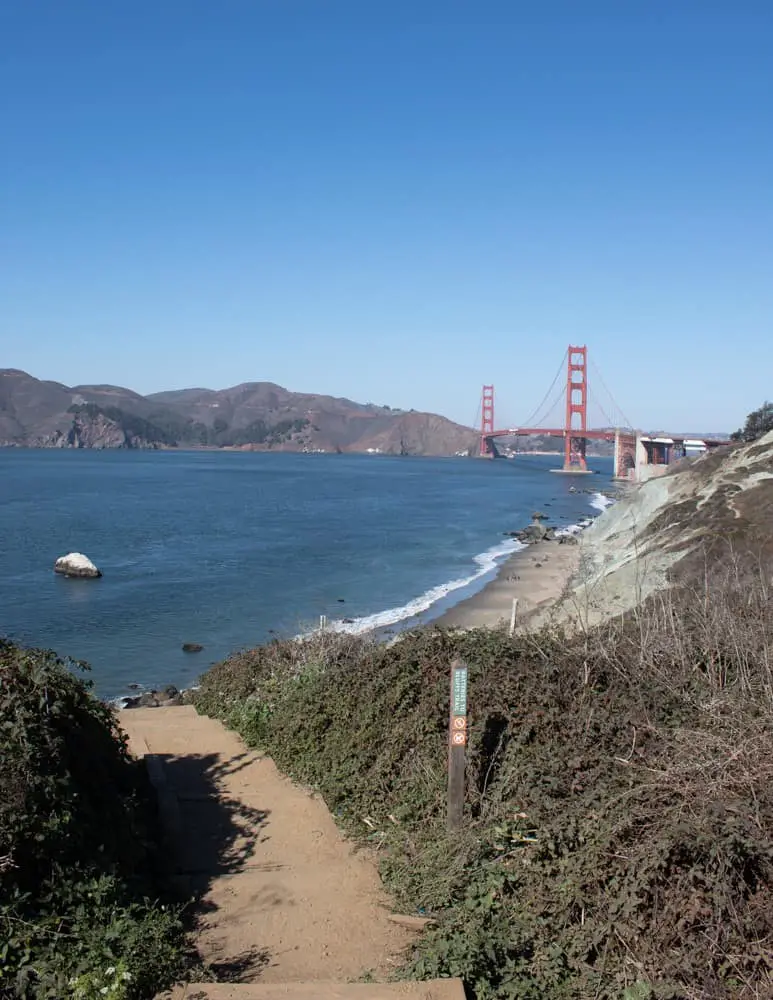 Outer Richmond: Sutro Baths
Sutro Baths is one of my favorite places in the city to photograph and to use as a backdrop for photographing others. This is also an incredibly popular photo spot for engagement and wedding photoshoots. 
Sutro Baths provides ample photo locations, such as on the paths through the coastal Cypress and Eucalyptus trees or on the ruins of the baths themselves. If the tide is out, there's even a little beach you can access to expand your session.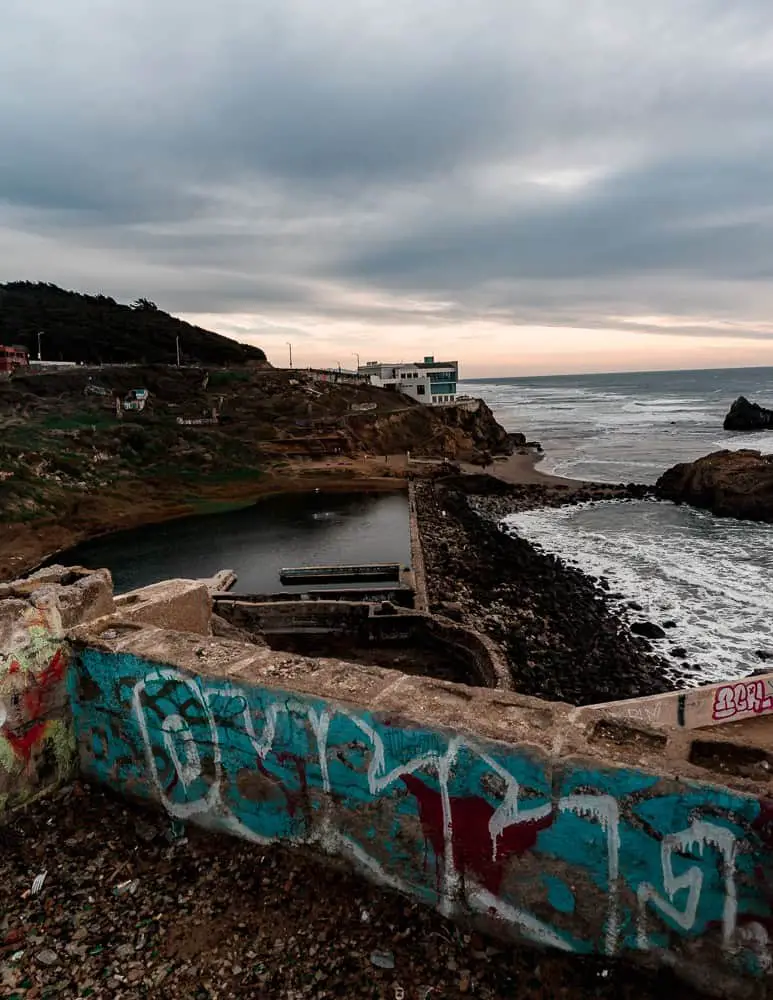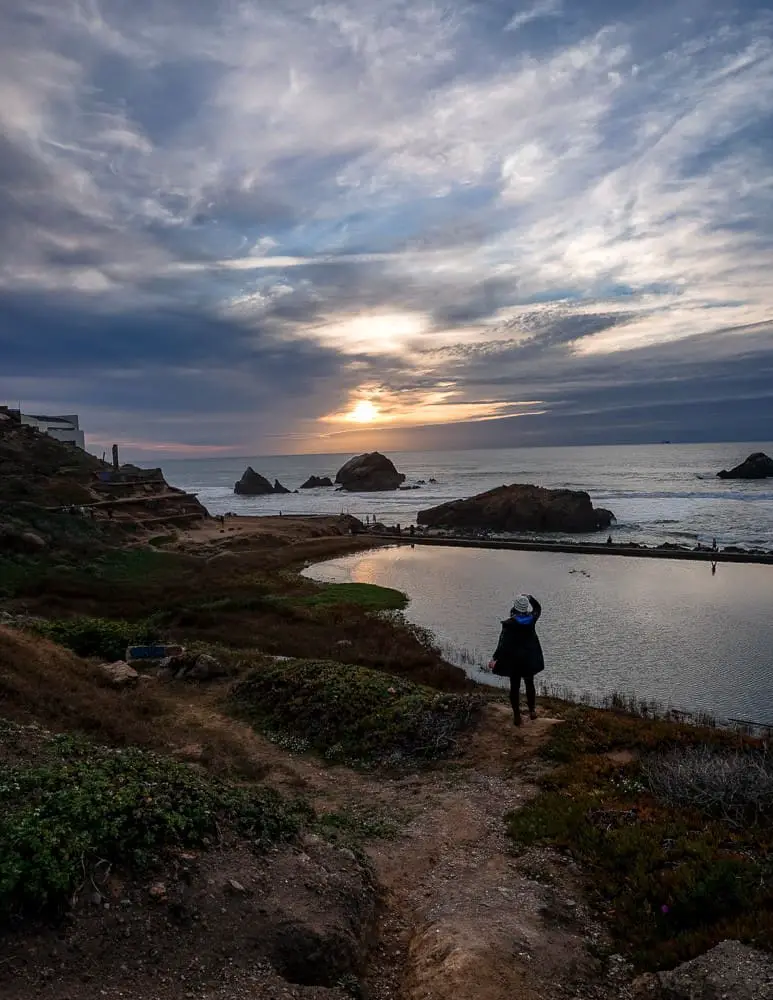 Marina: Palace of Fine Arts
A classic, and incredibly instagrammable place in San Francisco is the Palace of Fine Arts. Many people use the Palace of Fine Arts as a backdrop for their graduation photos or business headshots. It's also incredibly popular for engagements!
I personally love it at sunrise and sunset. You can walk the path around the lake looking for different vantage points to capture the entire building, go into the center of the main structure, or use the columns as a prop! There are also these incredible green doors to use as a background.
Go check it out and have fun!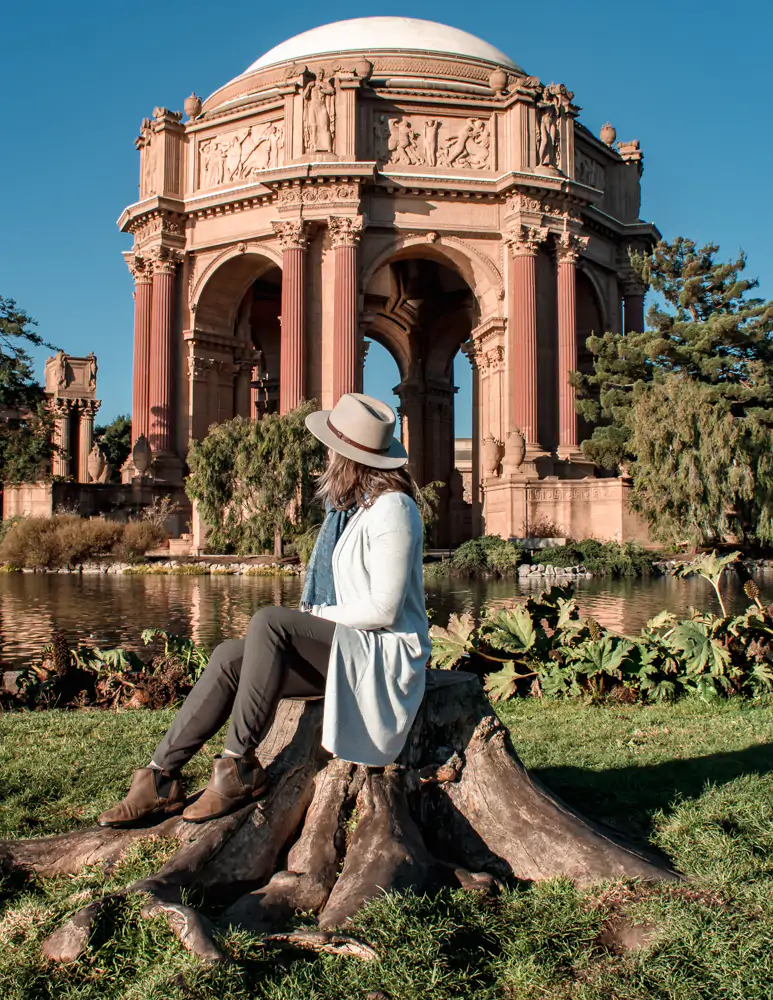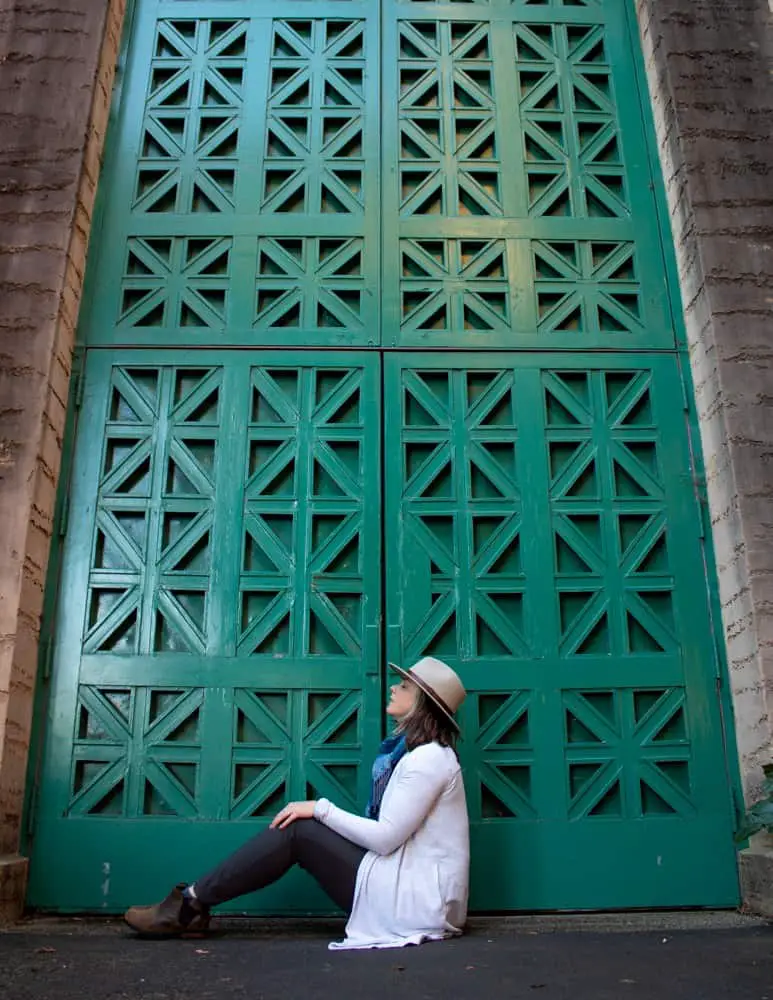 Bay Bridge
The Bay Bridge is not photographed as much as its orange counterpart just a few miles up the road, but it is quite a beautiful bridge, especially at night. 
At night, the Bay Bridge lights up and reflects into the water below. While this time of day may not be good for portraits or getting that Instagram shot, it is a fun time to break out the tripod and work with some long exposures.
The best location to photograph the Bay Bridge is along the Embarcadero near Cupid's Span.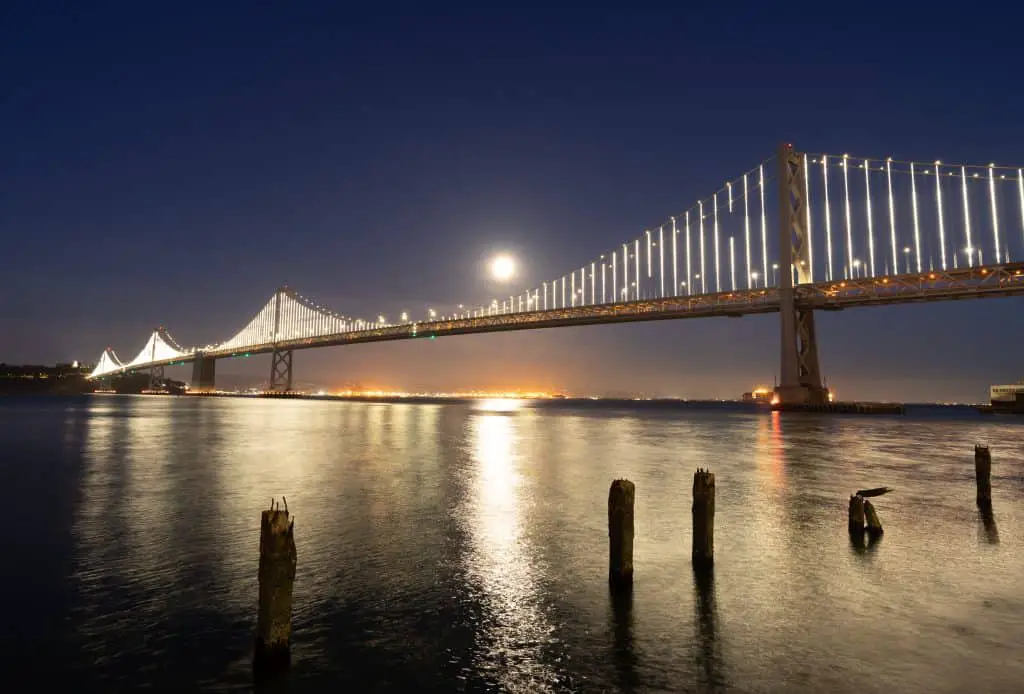 Alamo Square: Painted Ladies
You've definitely heard of the famous Victorian Homes across the street from Alamo Square, the Painted Ladies. This row of homes was made popular by the opening of Full House (the actual  Full House house is a few blocks away).
It's not just the houses that make this such an Instagrammable location in San Francisco, but you can actually see the city's skyline in the distance by walking to the top of the hill.
The best time is at sunset, because the skyscraper's lights will come on. So plan a picnic in the park for some Instagram photos and wait until the sun goes down for more pictures!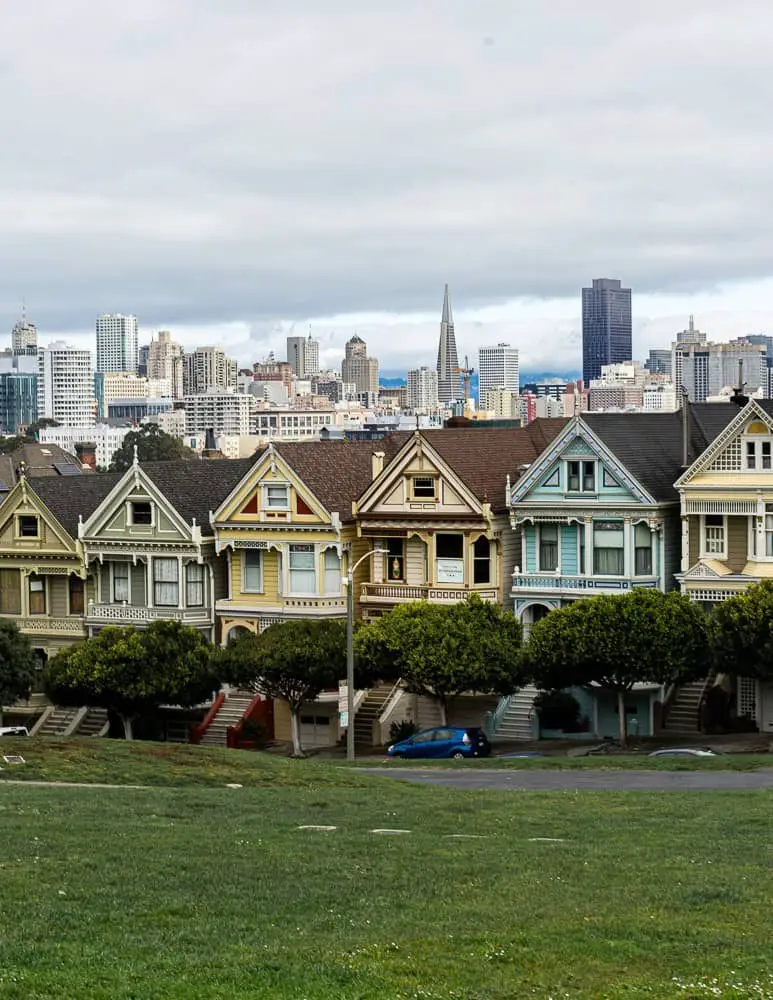 Telegraph Hill Coit Tower
Coit Tower is an iconic San Francisco Landmark atop Telegraph Hill and overlooks North Beach, Fisherman's Wharf and the Embarcadero. The 360 degree views from the top of it are incredible.
But – that's not actually the best place to take a picture of or with Coit Tower since you'll want to be able to see the entire structure perched on its lookout point.
Here are a few of my favorite places to photograph Coit Tower either on its own or with a person in it for the gram!
Ina Coolbrith Park
Filbert Street Steps
Hyde & Filbert Intersection
The top of the Vallejo St. Parking Garage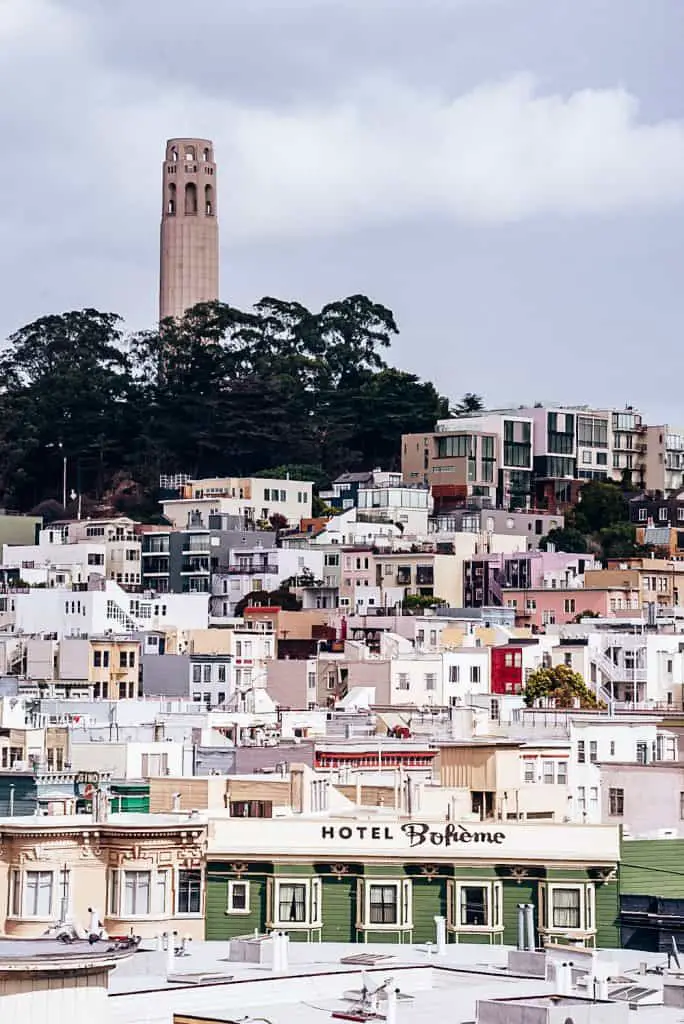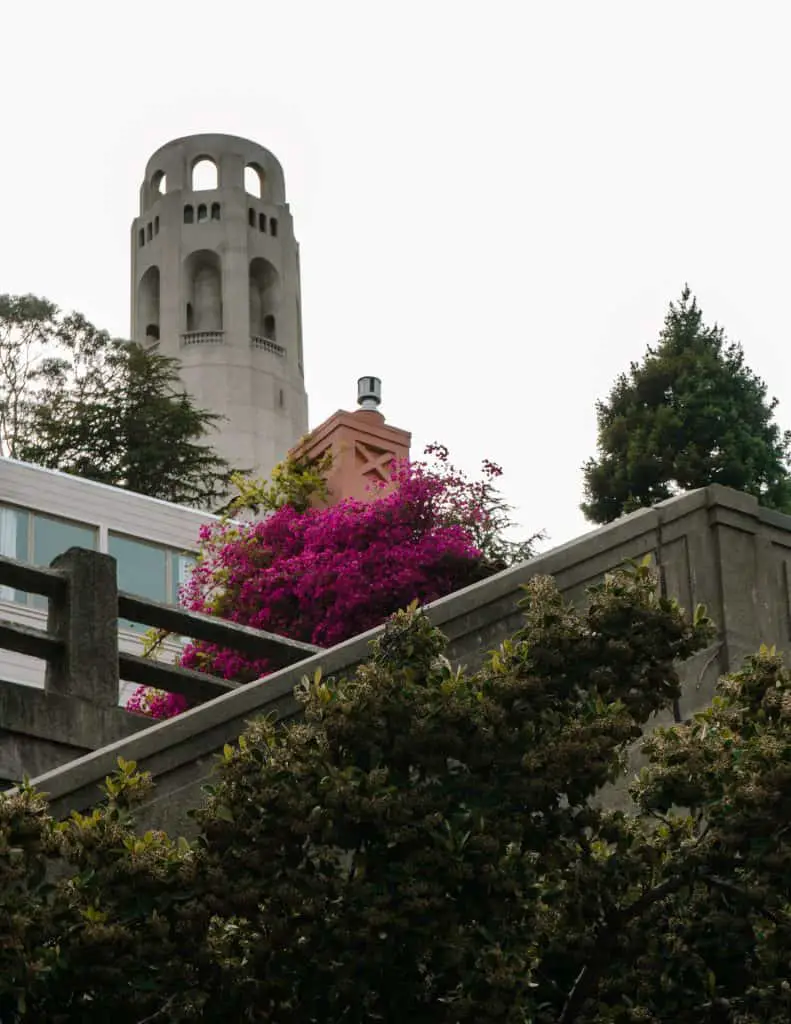 Russian Hill: Lombard Street
Is it the most crooked street in the world? No. Is it a fun street with gorgeous views, homes, and ample photo opportunities. Yes.
Perhaps the most popular home is the teal blue home with purple bougainvillea that blooms in the spring making it incredibly Instagram worthy.
Don't worry if you don't visit in the Spring though, there are plenty more photo locations you can scout out.
My favorite time to go is at sunrise as it's less busy and the sun tends to rise right on top of the Transamerica building which is gorgeous!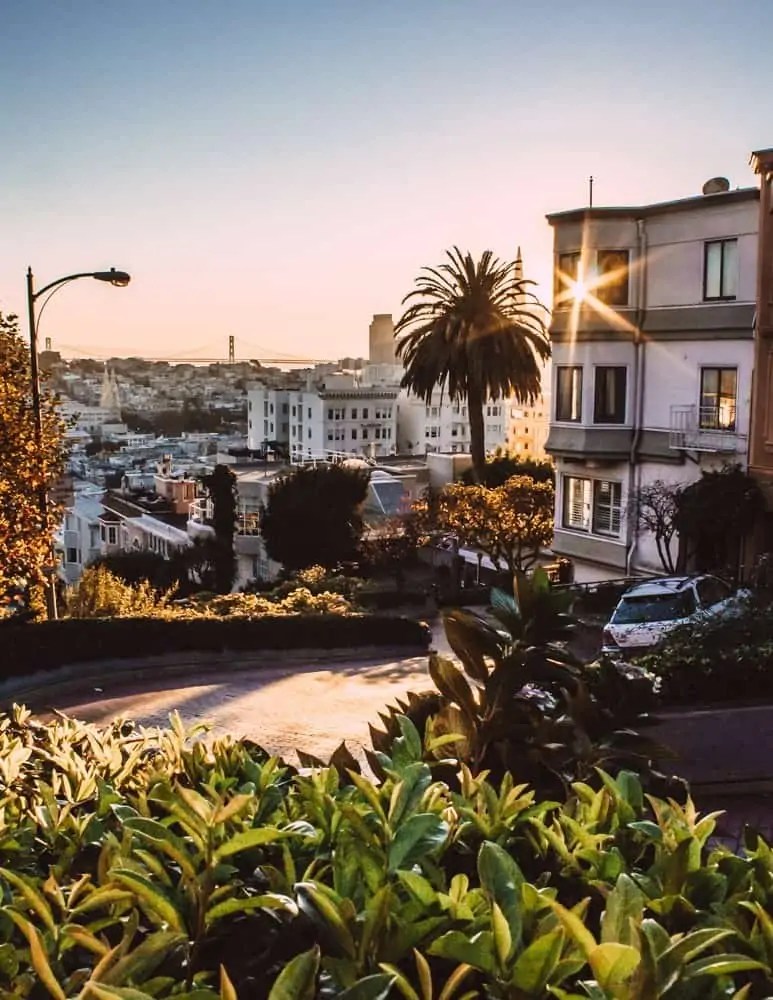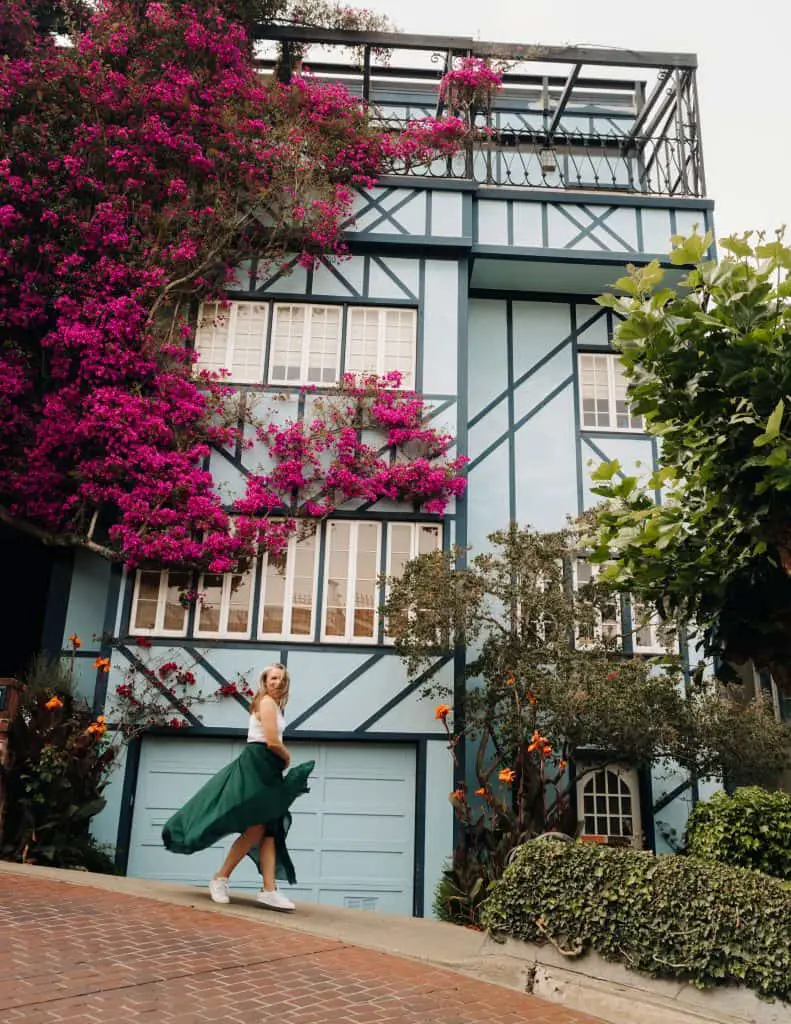 Cable Car
Is there anything more touristy than riding the San Francisco cable cars? Only if you ride them to get clam chowder in a bread bowl followed by an Irish Coffee. But seriously, snagging a photo of the Cable Cars in San Francisco is a bucket list shot for many photographers.
There are a few iconic places in the city to get them, but perhaps the most popular is at the California & Powell Street Intersection where you can snap the California line riding the hill into the Financial District with the Bay Bridge peeking out in between the buildings. Sunset is a great time to try to snag this photo. Just please be careful and bring a spotter with you as you'll need to be in the middle of the street.
If you want a photo of you standing on the side of one of the cable cars, it's probably best to ask the conductor while it's stopped at a turnaround point. They probably won't take the photo for you, but may allow you to hop on for a quick snap!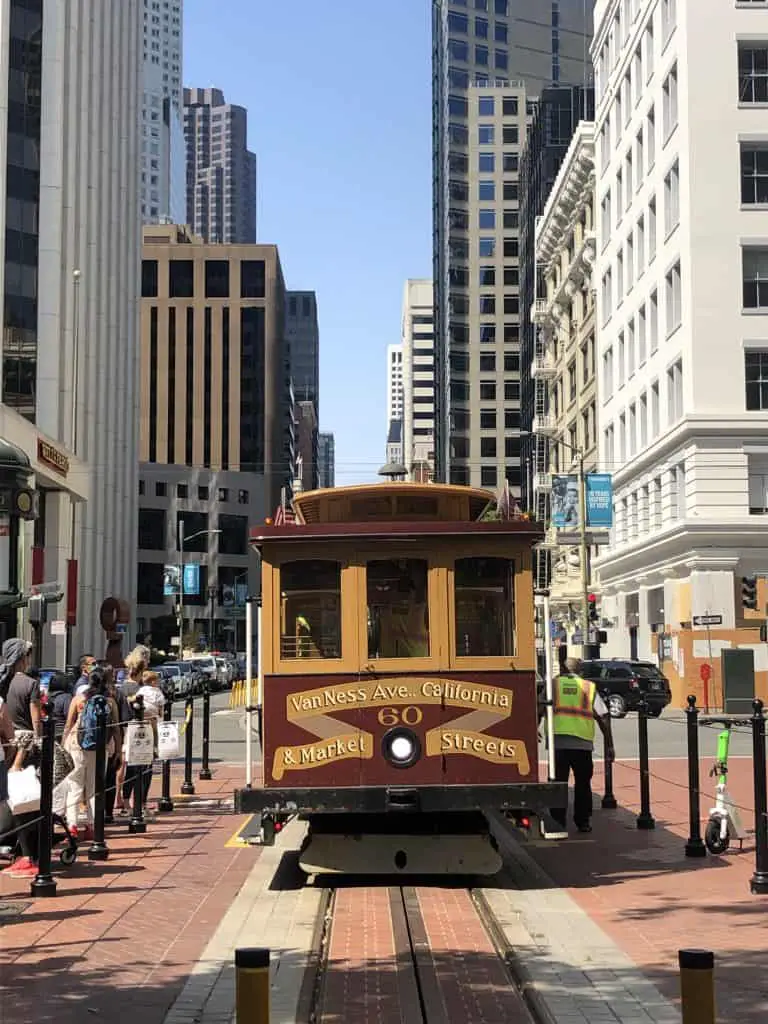 San Francisco Photo Spots: Parks & Beaches
One thing that I love about San Francisco is that there are so many parks, and beaches, that provide unique backdrops for your creativity.
Presidio: Baker Beach
I already shared about Marshall's Beach as a great place to photograph the Golden Gate Bridge, but Baker Beach just down the road is equally beautiful, and more easily accessible beach. 
Here the bridge, ocean, and bluffs provide an awesome backdrop for a fun sunset Instagram photoshoot!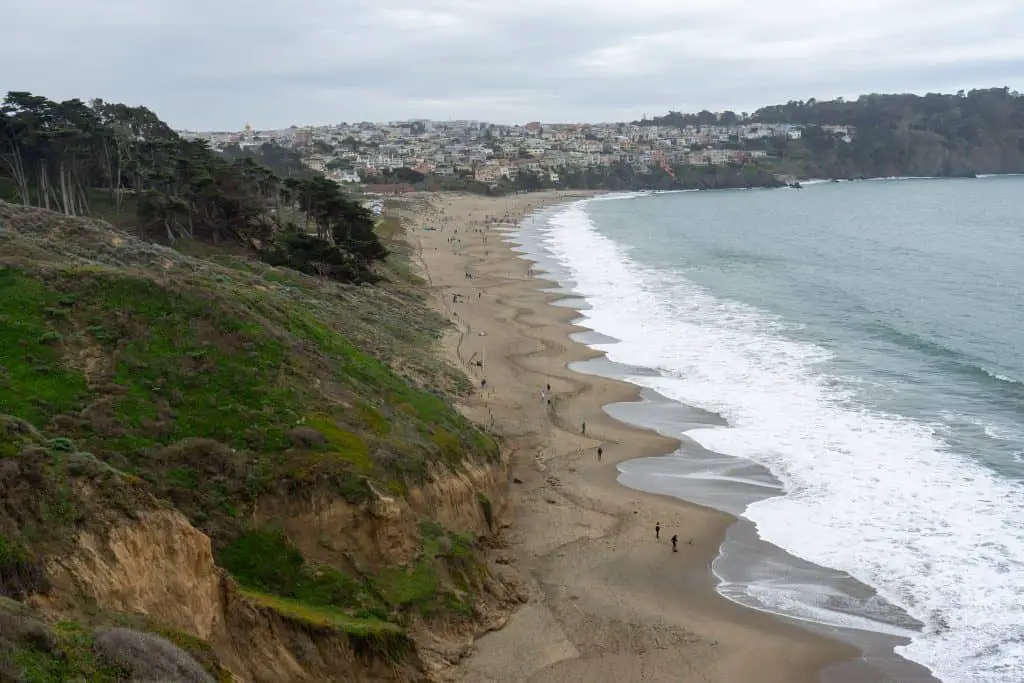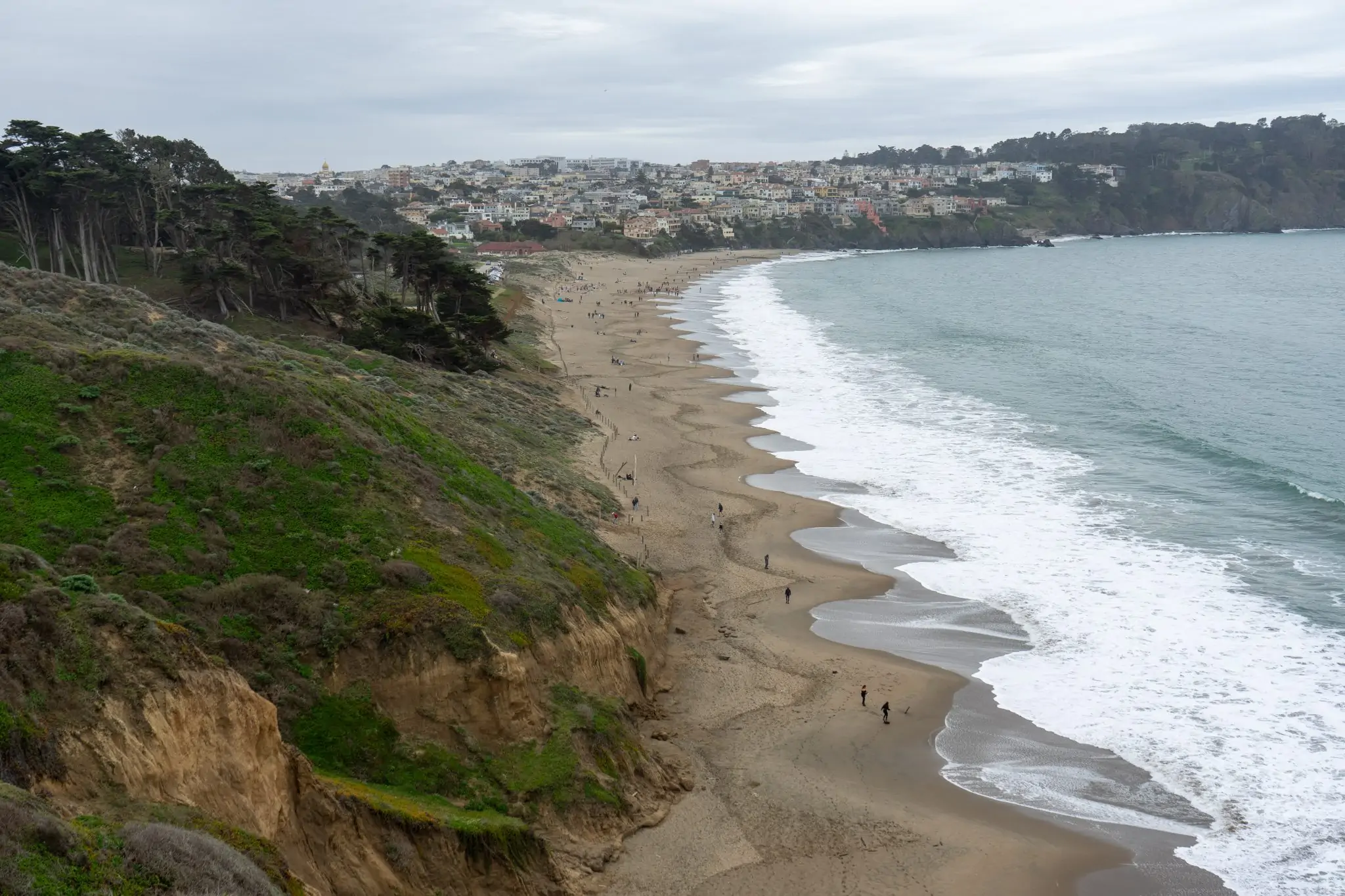 Outer Richmond/Sunset: Ocean Beach
Ocean Beach is a huge 3 mile long beach in the Outer Richmond and Outer Sunset neighborhoods. The southern portion of the beach has sand dunes and bluffs that provide fun photography options. The northern portion has a famous graffiti wall and leads to Sutro Baths and the Cliff House.
My favorite area to photograph this beach is the northern portion near the Cliff House at sunset. There are a few rock stacks that make for an interesting backdrop, plus the Camera Obscura, waves crashing…it's a vibe at sunset.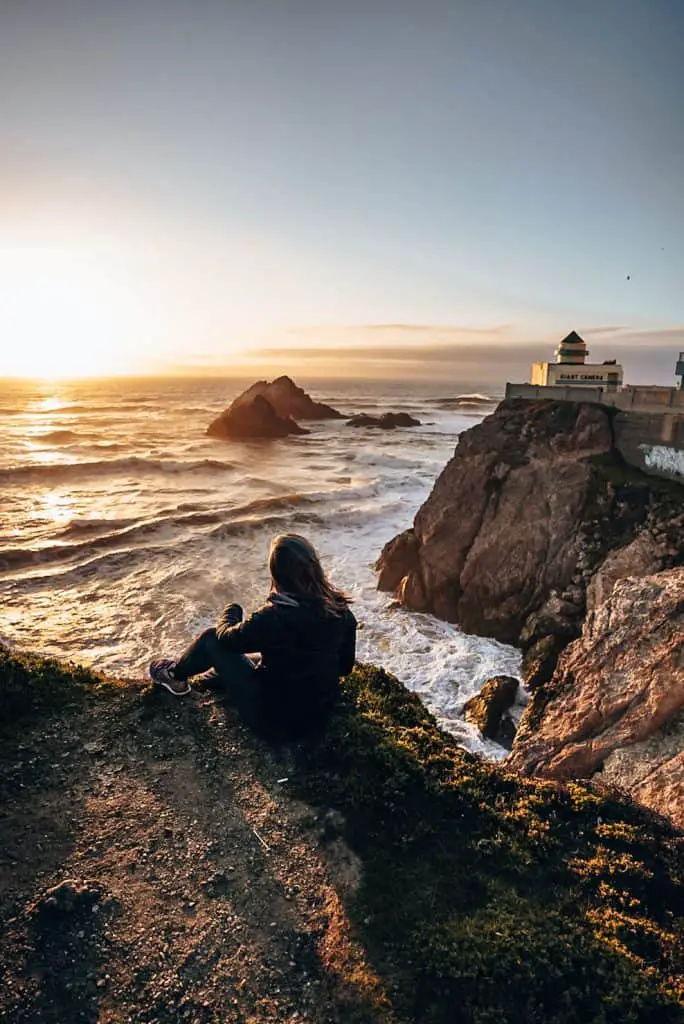 Sea Cliff: Lands End & Mile Rock Beach
Lands End is a short hiking trail near Sutro Baths that has epic views the entire way. It's 2 miles round trip with an optional hike down to Mile Rock Beach. Which you should 100% take because this is where you'll find the labyrinth on a bluff that overlooks the Pacific Ocean AND the Golden Gate Bridge.
I promise the climb is worth it for the photo opp, and views, here.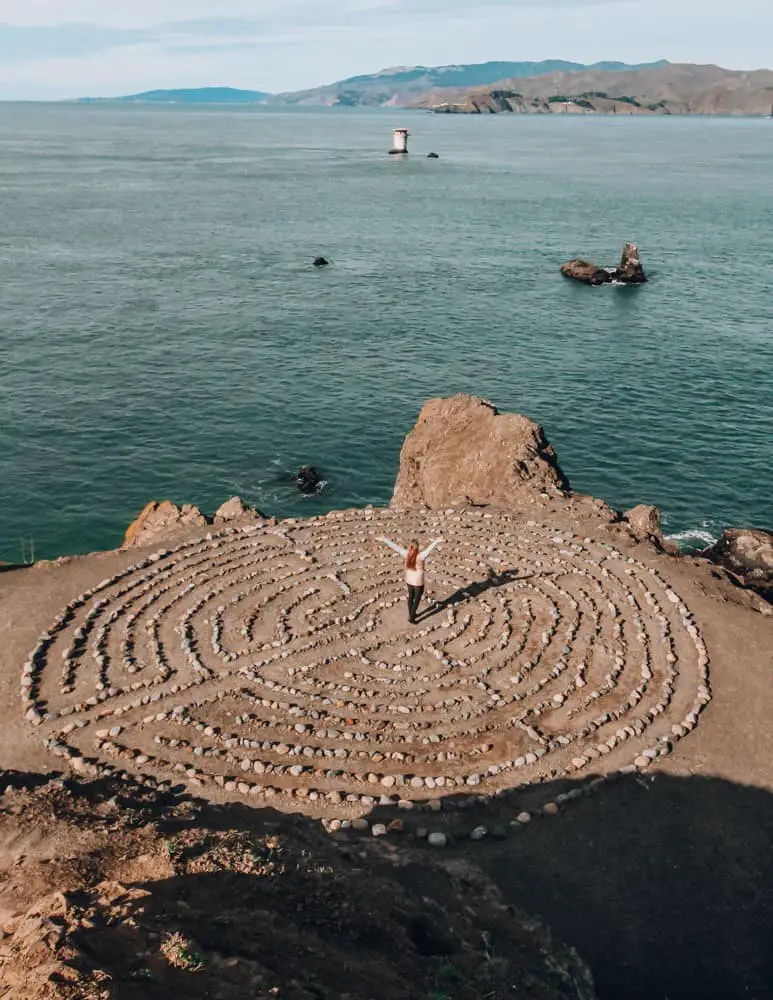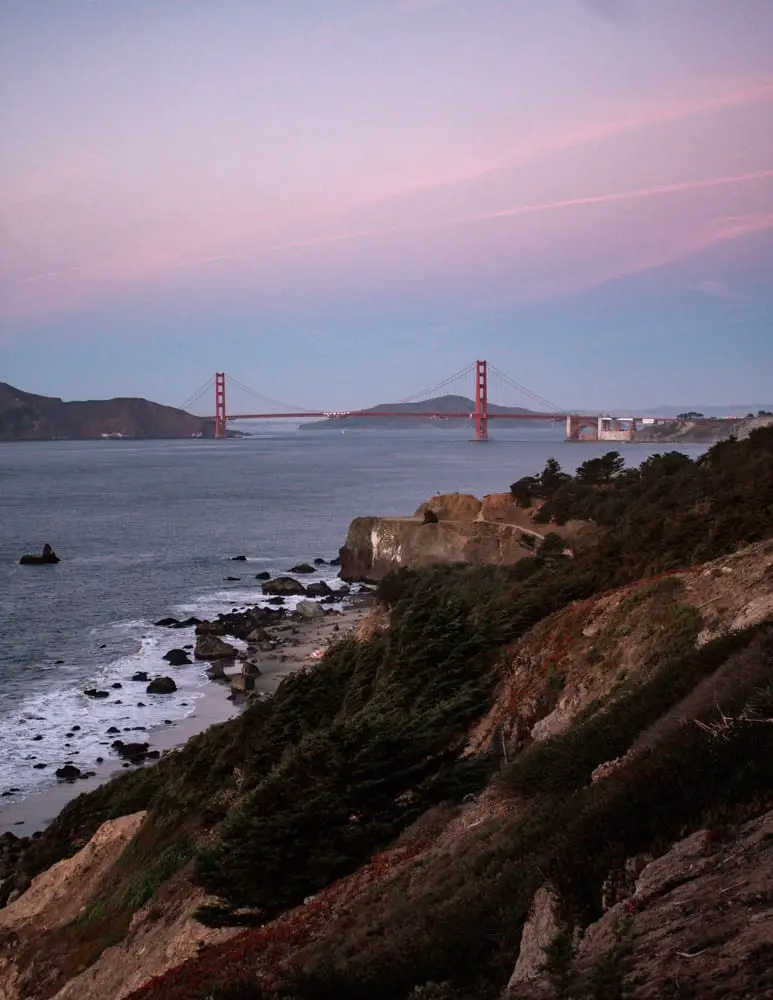 Golden Gate Park: Strawberry Hill
Did you know that there is a waterfall on an island in the middle of Golden Gate Park? I sure didn't. Right in the middle of Stow Lake, where you can rent a boat for another fun Instagram opportunity, is Strawberry Hill. While providing awesome views of the park, there is also a waterfall that you can walk below, a Chinese Pagoda, and blooming flowers in the Spring Time.
Go take a stroll here and see what angles you find!
Golden Gate Park: Windmills
On the western edge of Golden Gate Park are two towering windmills, the Dutch windmill to the north and Murphy's Windmill to the south. While both are interesting subjects, the Dutch windmill has a gorgeous garden surrounding it.
In the Spring, the tulips bloom here, creating a bit of an Instagram photoshoot frenzy. To avoid it, it's best to go first thing in the morning during the week so you don't have to spend time editing out people or asking them to move out of your frame.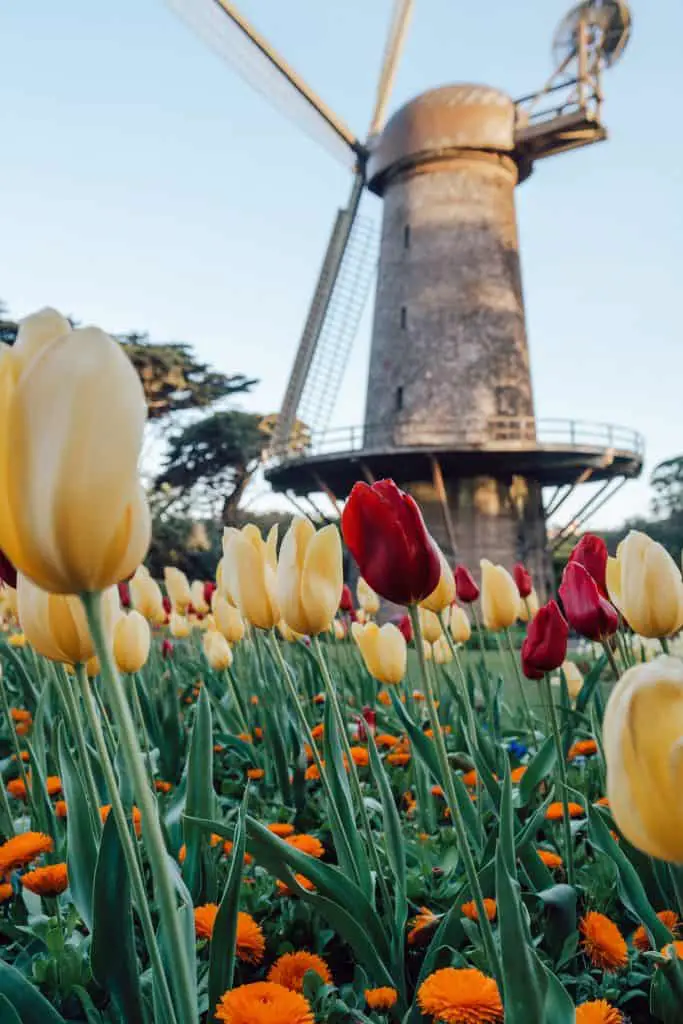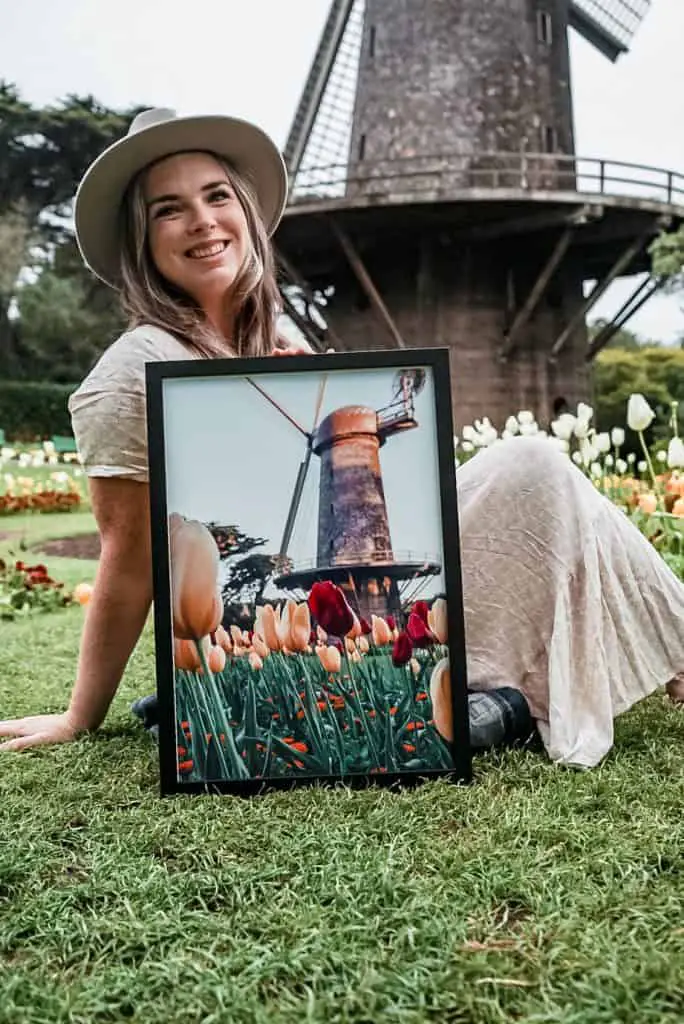 Presidio: Lover's Lane Andy Goldsworthy Art Installation
Lover's Lane is the oldest walking trail in the Presidio that is popular amongst walkers, joggers, and anyone who jut wants a bit of a break from the city.
For your Instagram photo, however, you want to go to the southern end of the trail for the Andy Goldsworthy art installation, which is just a few steps away from the actual Lover's Lane Trail. Here, in the eucalyptus forest, you'll see tree trunks zig zagging down the pathway.
This San Francisco photo location is popular amongst couples and families, but even if you're solo, like me, it's a fun place to play around with some photos.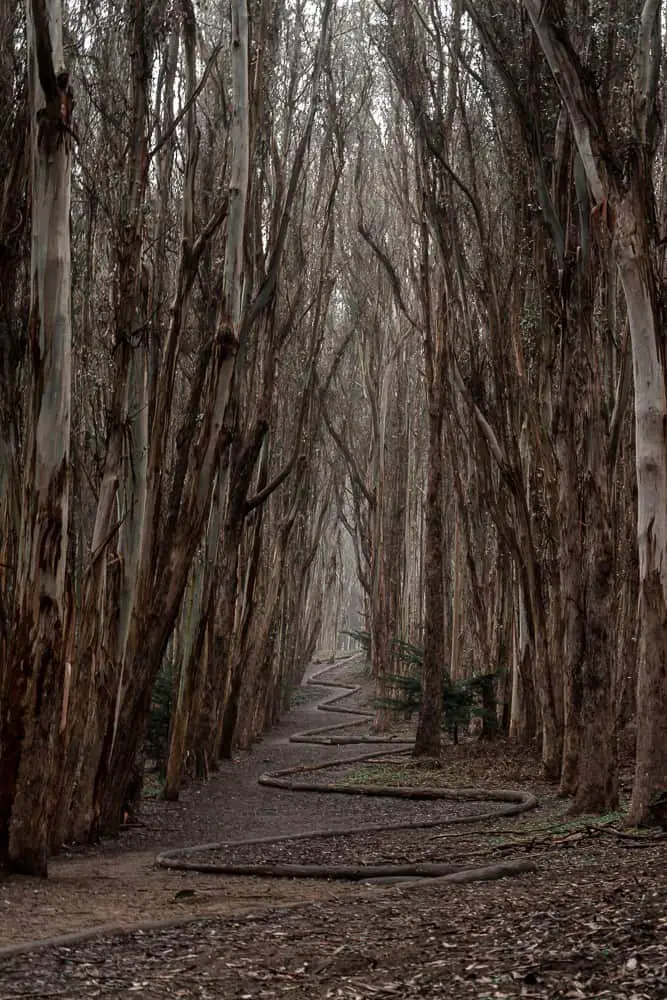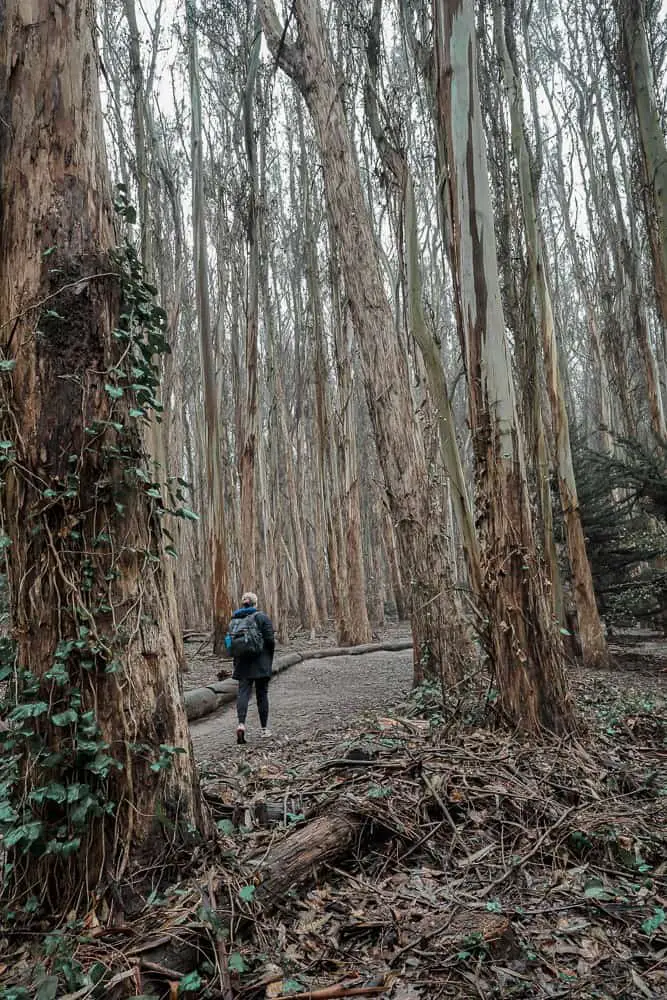 Twin Peaks
A visit to Twin Peaks is usually at the top of many people's San Francisco bucket lists. The view from Christmas Tree point is pretty epic. You'll literally be able to see from the Pacific Ocean, around to the Golden Gate Bridge, to the downtown skyline, and south to the Peninsula.
Plus, for photos, it has the iconic winding road to the top with the skyline off in the distance. This is definitely an Instagram worthy location. 
The best time to visit is at sunset, but it does get fairly windy here. If you're using a tripod make sure it's steady!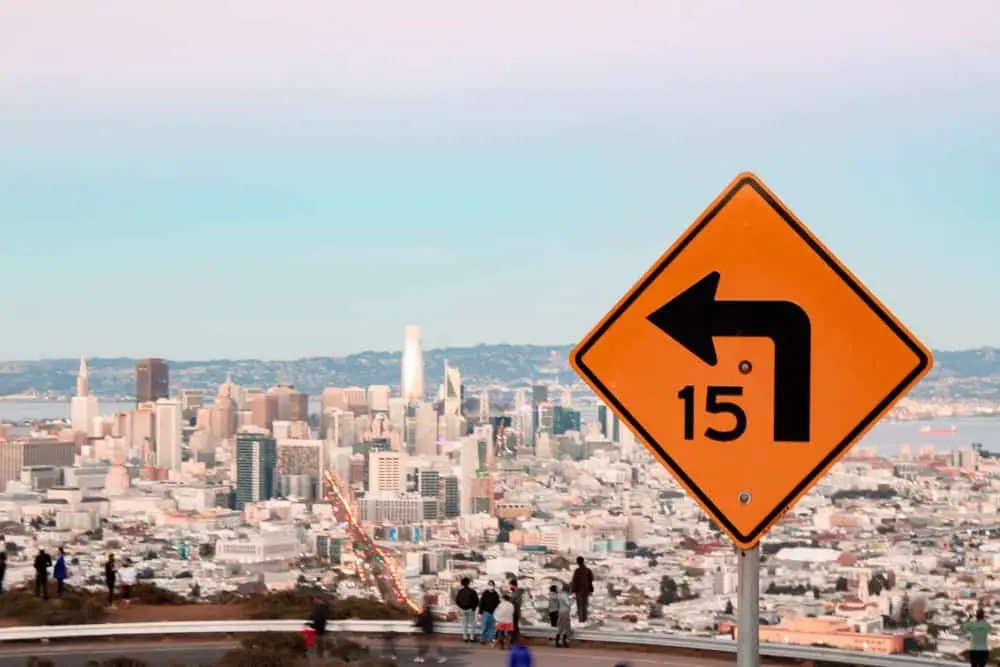 Corona Heights Park
Corona Heights is a small park above the Castro neighborhood with awesome views of the downtown skyline in one direction and Mt. Sutro in the other. This means you can use either as the backdrop to your Instagram photo, or make them the subject of your photo. 
The best time to come here for photos is at sunset as the sun will illuminate the buildings downtown. It's also gorgeous when the fog rolls in over Mt. Sutro – it's like a wave rolling down the mountain.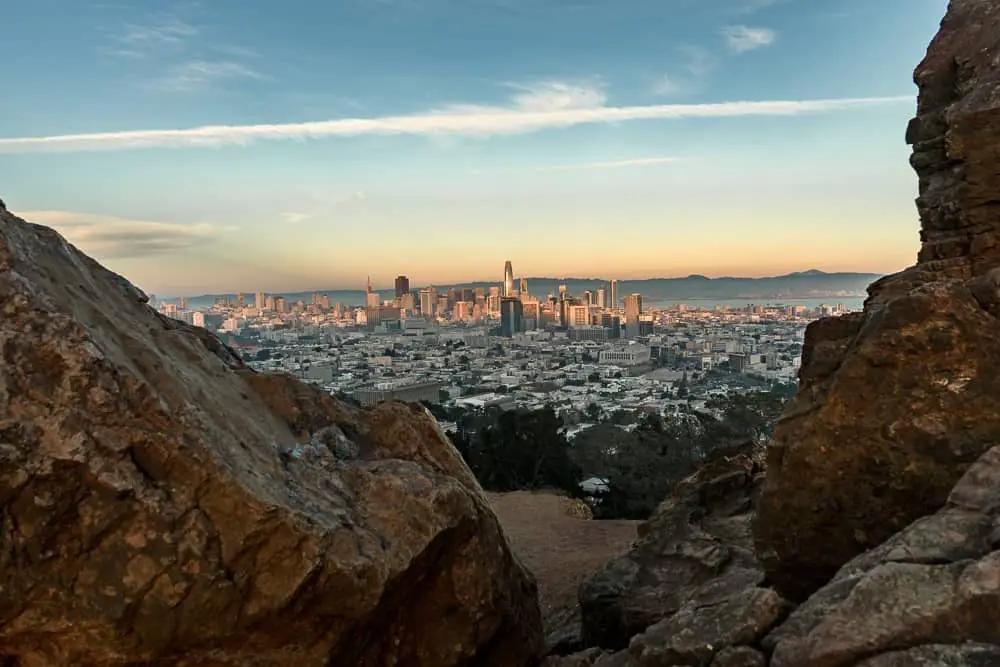 Tank Hill Park
Tank Hill is just down the hill from Twin Peaks and offers sweeping views of San Francisco from the Golden Gate Bridge all the way to the Peninsula. What I love about this park compared to Twin Peaks is first you don't have to walk up a huge hill, and second it's not as well known. 
The people in this park are typically locals from the neighborhood enjoying an evening walk. Plus, since it's tucked in the neighborhood the wind is blocked by the homes making it an all around much more enjoyable park.
Similar to Twin Peaks and Corona Heights, the best time to visit for photos is at sunset.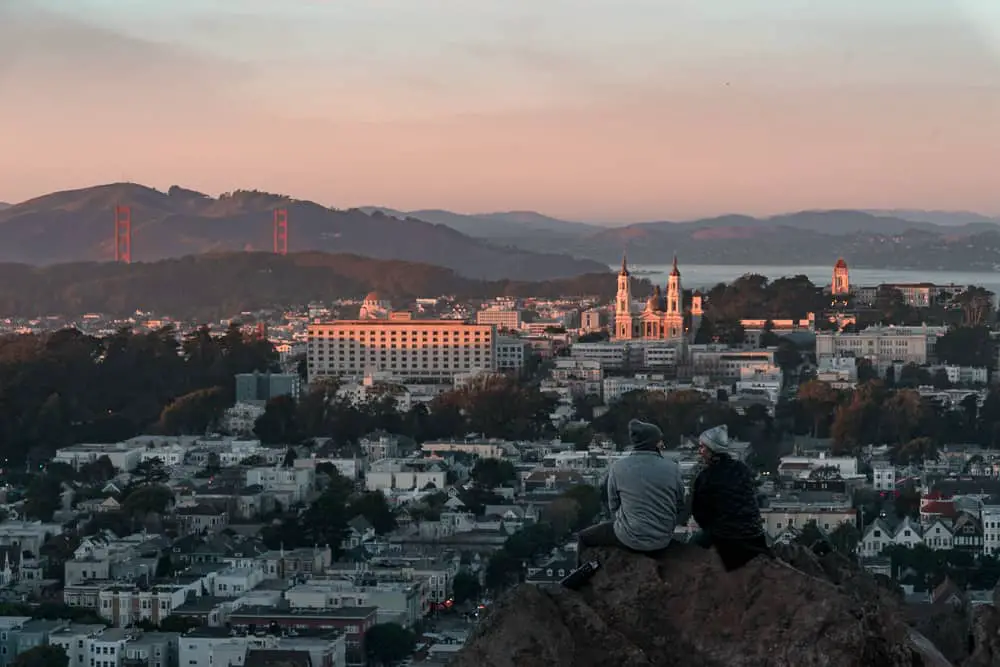 Mt. Davidson
Mt. Davidson is actually the highest point in San Francisco and offers downtown and Sutro Tower views. There's a fallen tree that people use in their photos here, but I love it for the sunrise views. There are a number of walking paths to get to the top of Mt. Davidson – some harder than others. But the one I happened to take was just a 5 minute, mostly flat walk to through the trees to the clearing with views of downtown.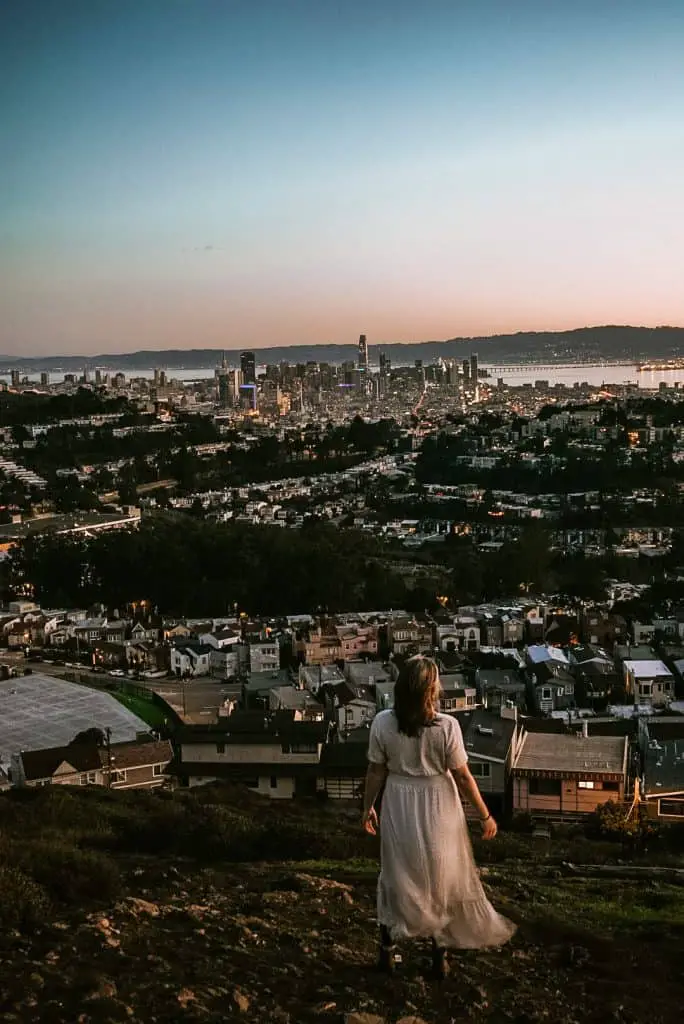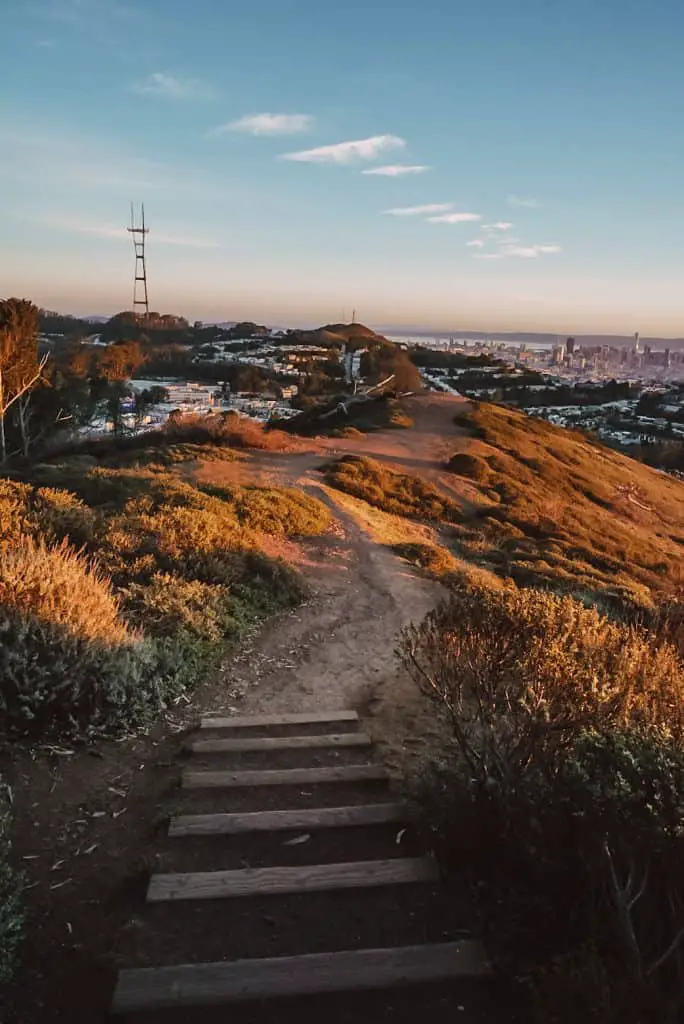 North Beach: Washington Square Park
Washington Square Park is in the heart of one of my favorite San Francisco neighborhoods, North Beach.
This small park is surrounded by awesome bakeries and restaurants, as well as the spires of St. Peter and Paul's church. In the morning you'll see groups of people practicing Tai Chi, dogs on their walks, and locals enjoying a cup of coffee on the benches. On a sunny day, it's a great spot for a picnic by grabbing a pizza or sandwich from one of the local restaurants and delis.
Bonus, you could turn your picnic into a quick photoshoot.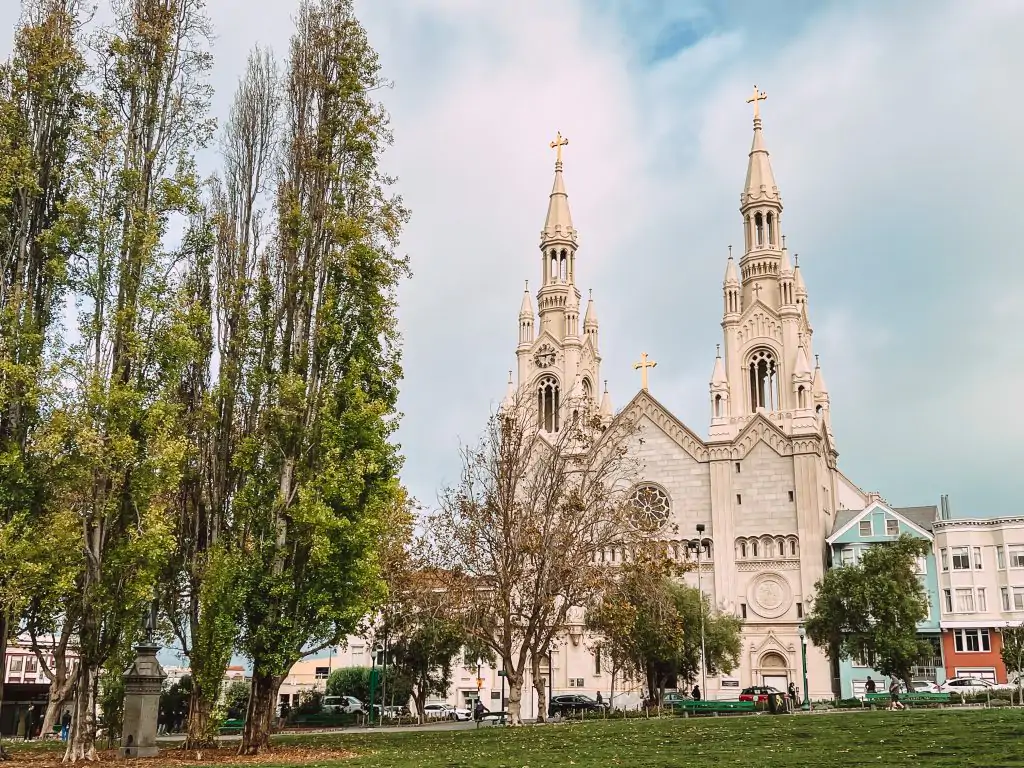 The Mission: Mission Dolores Park
There's no better place to be on a sunny day than Mission Dolores Park. Thankfully, this park is in one of the sunniest locations in San Francisco! At the bottom of the hill you'll find the stunning high school that has been there since 1896! From the top of the park, you'll have awesome views of the downtown skyline. Whether you want to photograph the people in the park or the park itself, there are plenty of ways to get creative with your photography here. 
Russian Hill: Ina Coolbrith
Ina Coolbrith is a tiny park located in Russian Hill that overlooks North Beach and provides views from Coit Tower to the Salesforce Tower. To be honest, it's hidden pretty well in between the large homes and you could easily drive right by this little gem.
The best time to come here is at sunrise – but really any time is good. Parking can be tricky in this area, but it's walkable (via steep hills) from North Beach and Russian Hill if you're able to find a spot a few blocks away!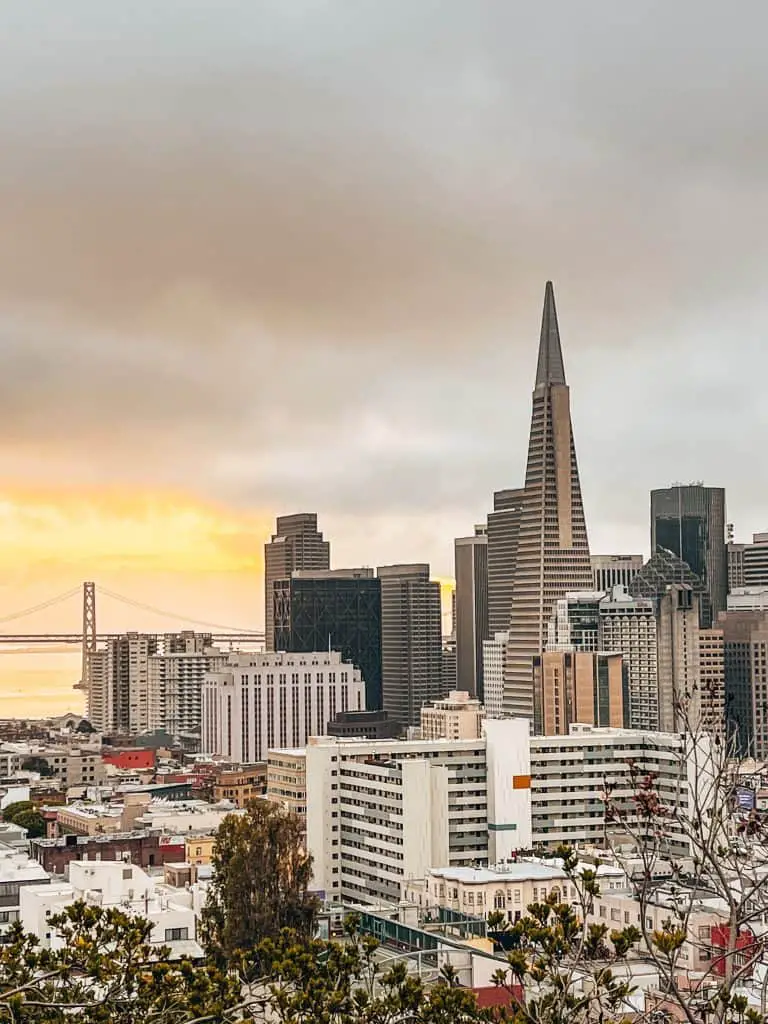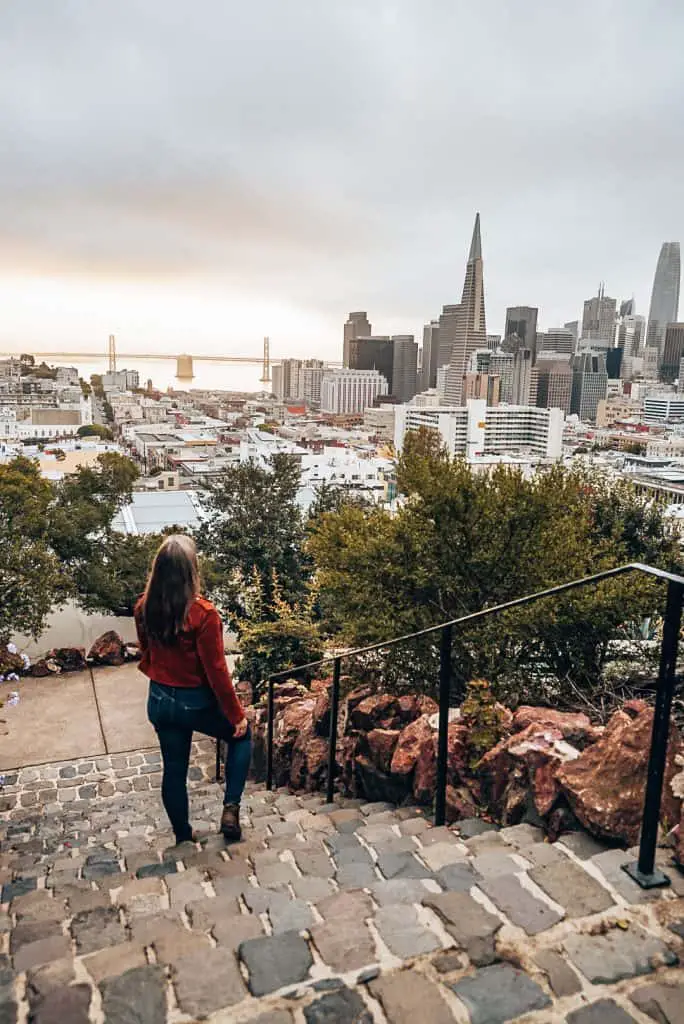 Golden Gate Park: Japanese Tea Garden
Even though you do have to pay to enter the Japanese Tea Garden in Golden Gate Park ($4 for non SF residents), it's definitely worth a visit, and of course, make sure you have your camera ready! One of the best times of year to visit is in the Spring when the Cherry Blossom trees are blooming.
But, outside of Spring there are still ample photo opportunities. Some of the favorites are the big red pagoda emerging from the trees, the drum bridge, and the bamboo garden.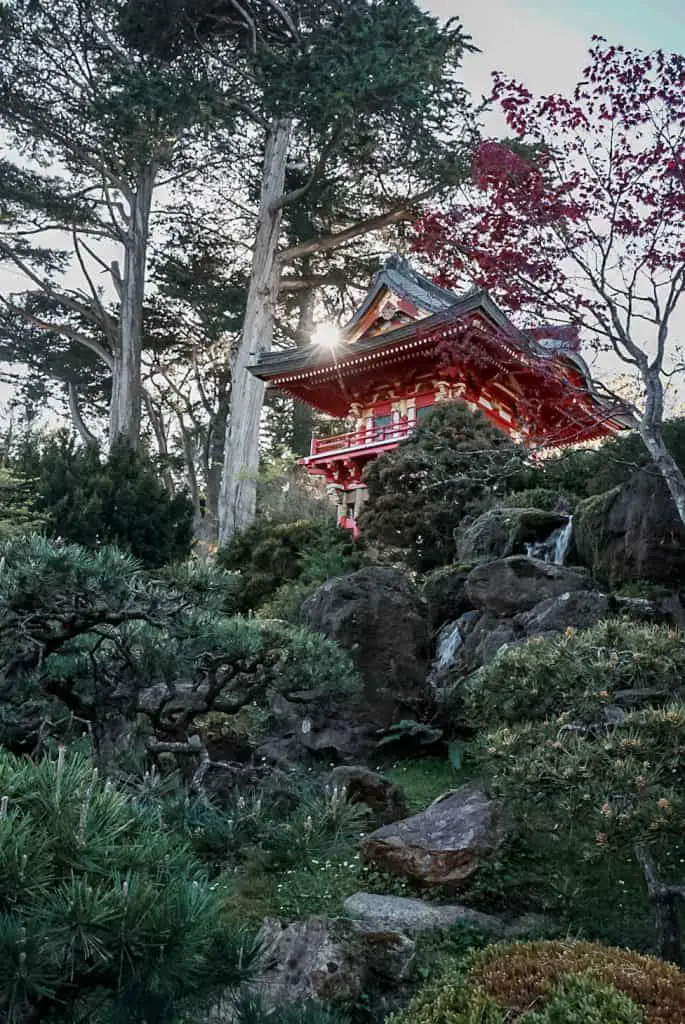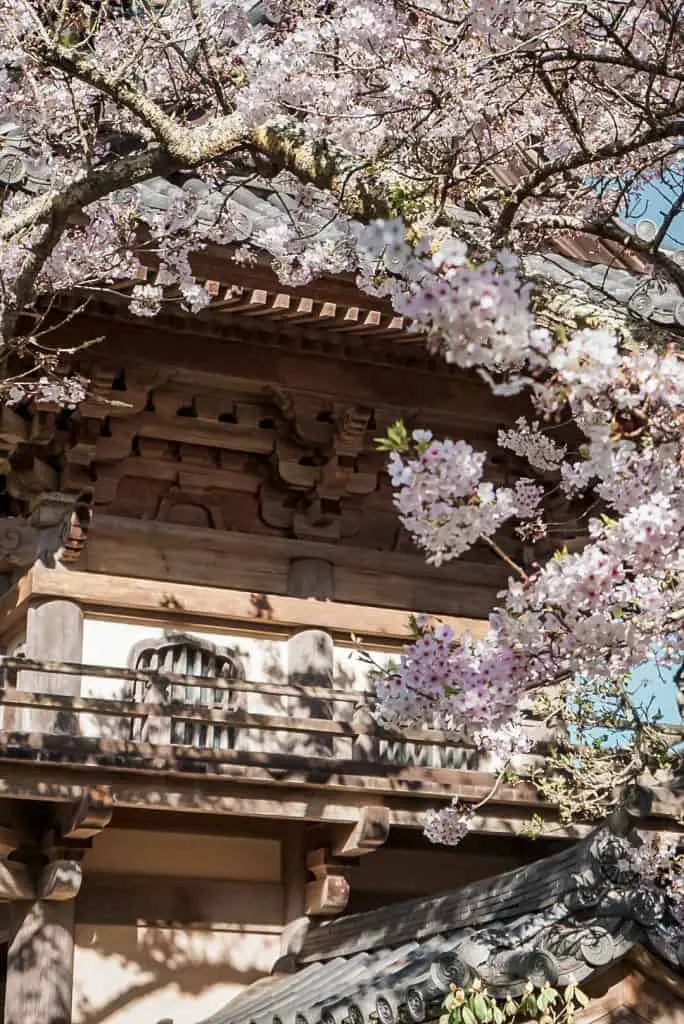 Golden Gate Park: Botanical Gardens
The Botanical Gardens are one of my favorite places to visit in Golden Gate Park. I mean, you can actually see towering Redwood Trees without leaving the city! Plus they're very large and spread out, so if you're like me and using a tripod to take your Instagram photos 99% of the time, you'll have plenty of space to do so without onlookers!
The best time to come to the Botanical Gardens is during the Magnolia Bloom which occurs mid January to March.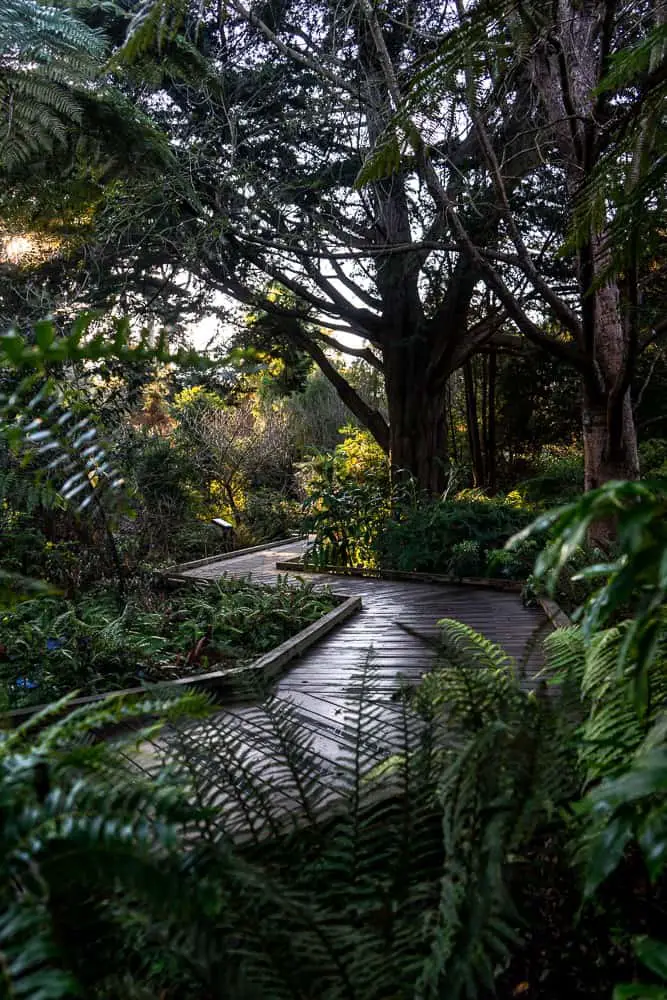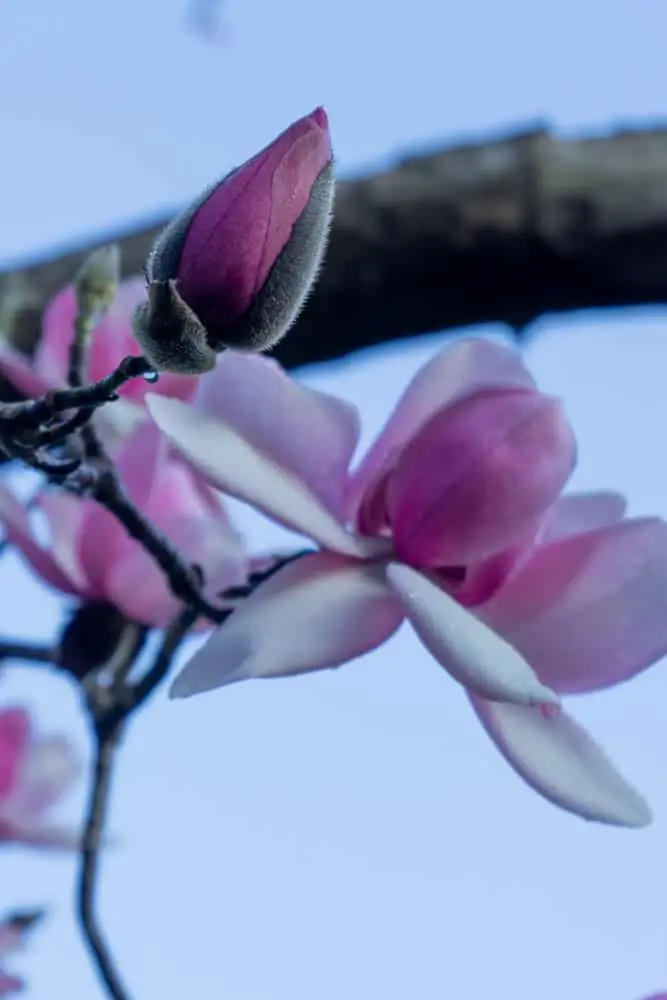 San Francisco Photo Spots: Neighborhoods & City Streets
Each San Francisco neighborhood has a unique atmosphere that can oftentimes be captured with the click of a camera. From rainbow walkways in the Castro to the tall hills and buildings of the Financial District – these are some of the best places to practice your cityscape photography in San Francisco.
Embarcadero: Cupid's Span
On the Embarcadero in a small park called Rincon Park is a unique sculpture of a bow and arrow called Cupid's Span. This bow and arrow almost provides a frame to the corporate buildings behind it. You can walk all the way around it, picnic on the grass in front of it, or even join the kids using it as a slide!
I personally love this spot at night when the buildings are lit up, but any time of day is good here to grab a photo. It is a very busy area, so please keep an eye on your belongings.
Once you're done with your photoshoot, head to the Ferry Building for a treat!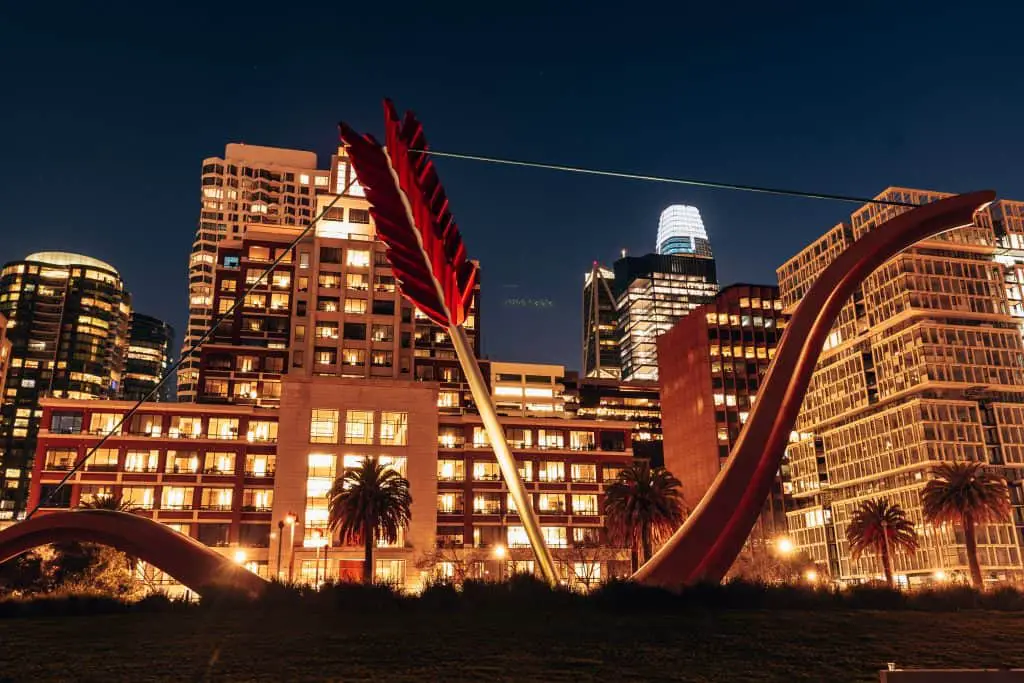 Embarcadero: Pier 7
Pier 7 is one of my favorite places to take photos in San Francisco. This pier aligns almost perfectly with the Transamerica building and provides amazing views of the Bay, Ferry Building and Coit Tower. Plus, there is something unique about the old school lamps that line the wooden pier.
The best time to shoot here is at sunset, just as the sun dips below the skyline during golden hour. When you're done, right around the corner is Coqueta, a Spanish tapas restaurant if you need dinner after.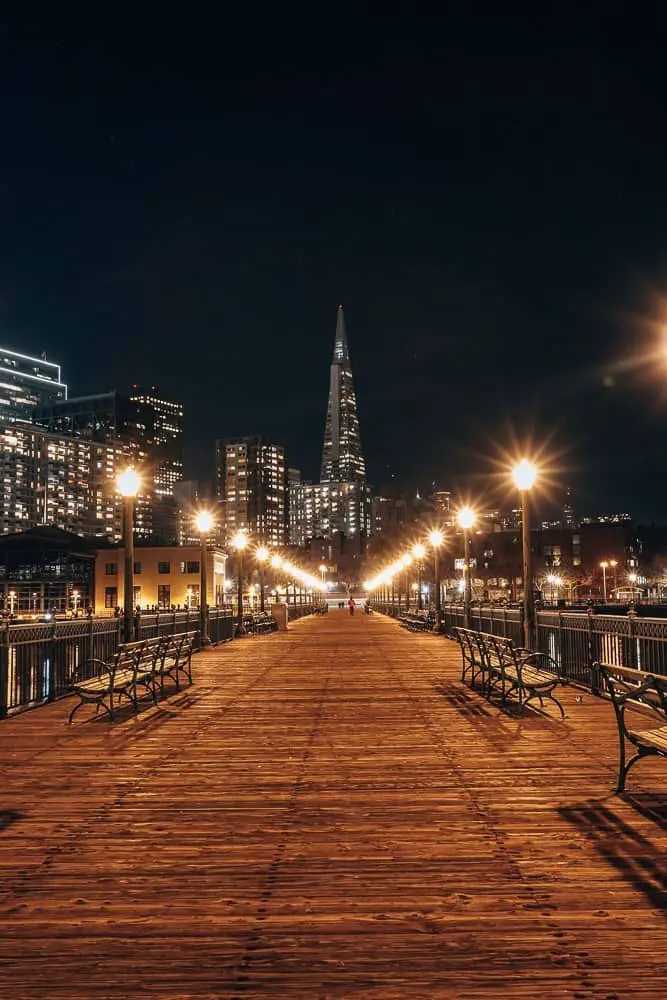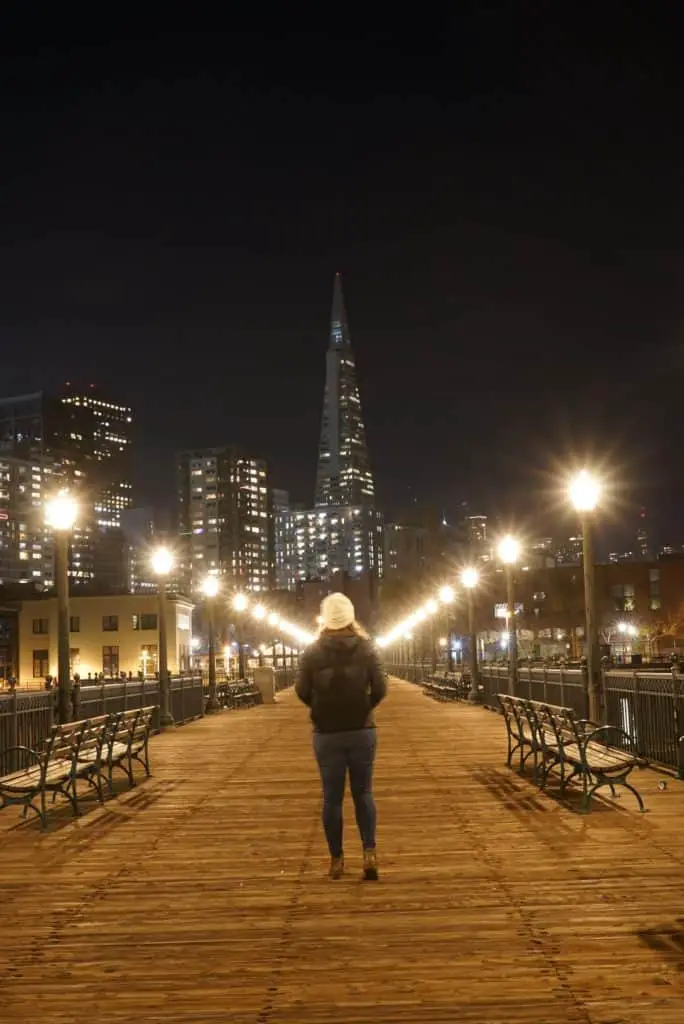 Nob Hill: California & Sacramento
Perhaps one of the most Instagramed streets in San Francisco is at the intersection of California & Sacramento in Nob Hill. From the top of the hill, you can see the Bay Bridge lined up almost perfectly in between the tall buildings of the Financial District.
Bonus points if you can time your shot with the Cable Car running up California. Be careful when shooting here as you'll need to be in the middle of the intersection to get the shot. Keep your ears and eyes open for cars and if possible bring someone with you as a spotter.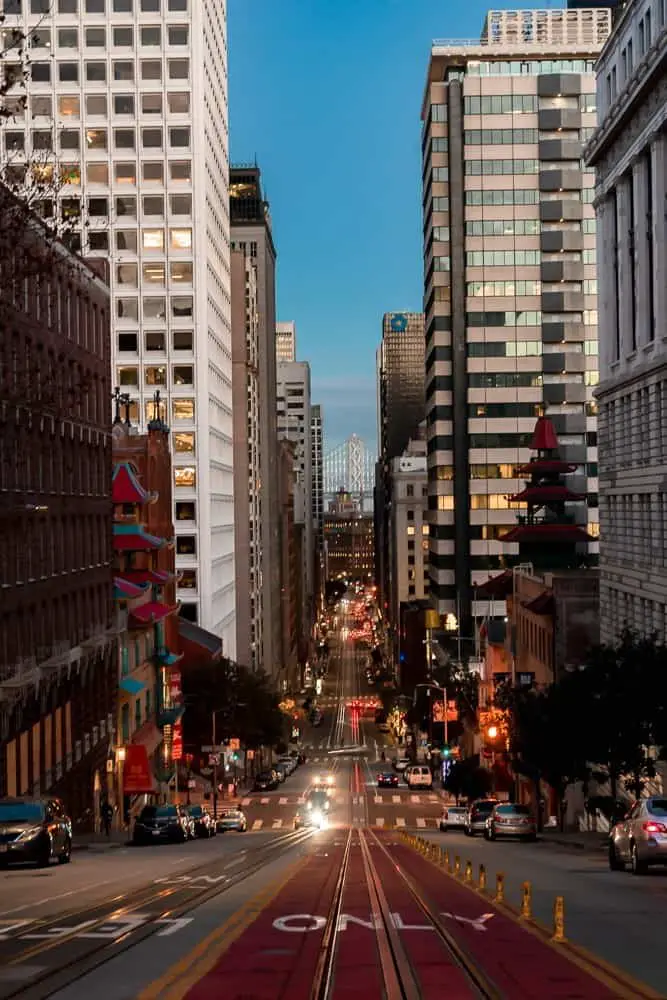 Chinatown: Grant Ave
Let's be honest, there are so many instagrammable locations in Chinatown. From the Lion Gate, to the stunning buildings, to the unique artwork on the side streets.  But the shot most people want to get is with the Chinese lanterns strung across the street in between the buildings.
You'll find that on Grant Ave which is the main street in Chinatown! 
On weekends this street is blocked off to vehicle traffic which makes getting the shot of you standing in the middle of the road under the lanterns so much easier!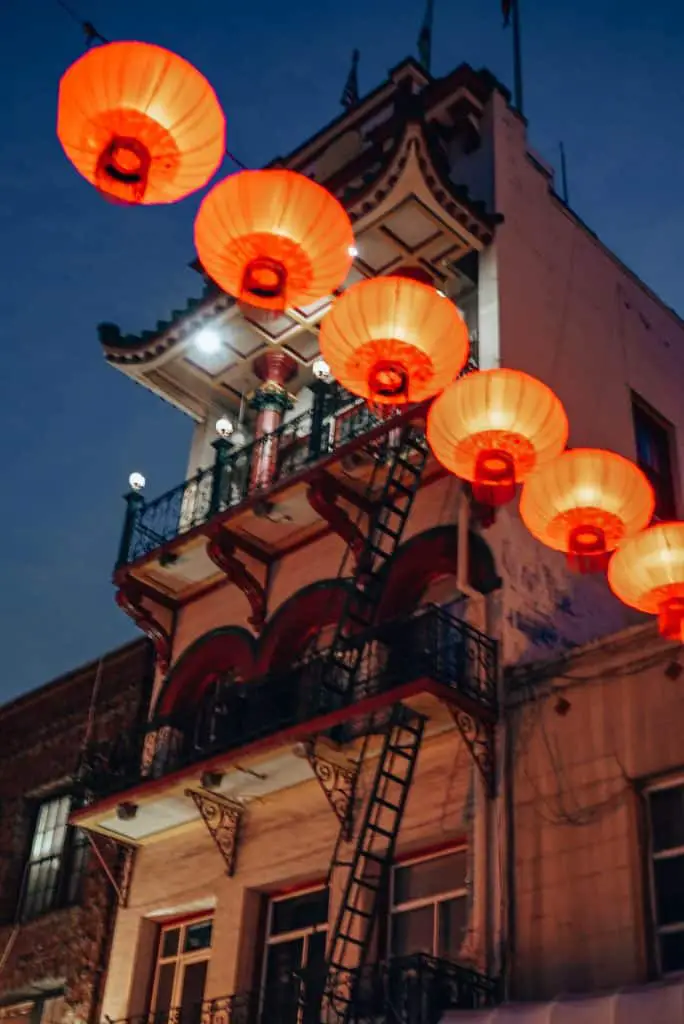 North Beach: Columbus & Kearny
At the intersection of Columbus and Kearny you'll find the iconic Sentinel Building which houses the film studio, America Zoetrope. This film studio has produced iconic films such as The Godfather, Lost in Translation, and Sleepy Hollow, among others.
Besides the fact that The Godfather trilogy was written inside its walls, the Sentinel building is a gorgeous piece of architecture. And what makes this intersection unique is how it layers with the Transamerica building just a few blocks away.
If you want to be in this photo, it's best to bring someone with you to snap the photo as this is an EXTREMELY busy intersection.
I had my friend stand on the sidewalk as I crossed the crosswalk ONLY when it was my turn to cross.
Stay aware, stay safe, and have fun.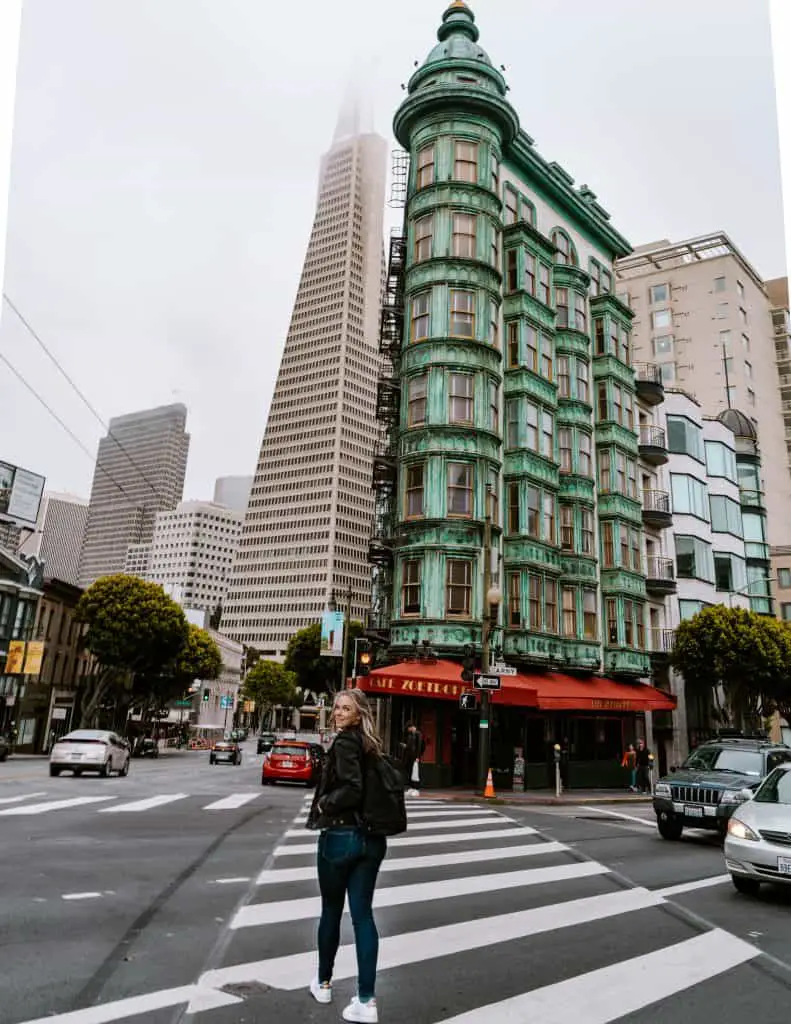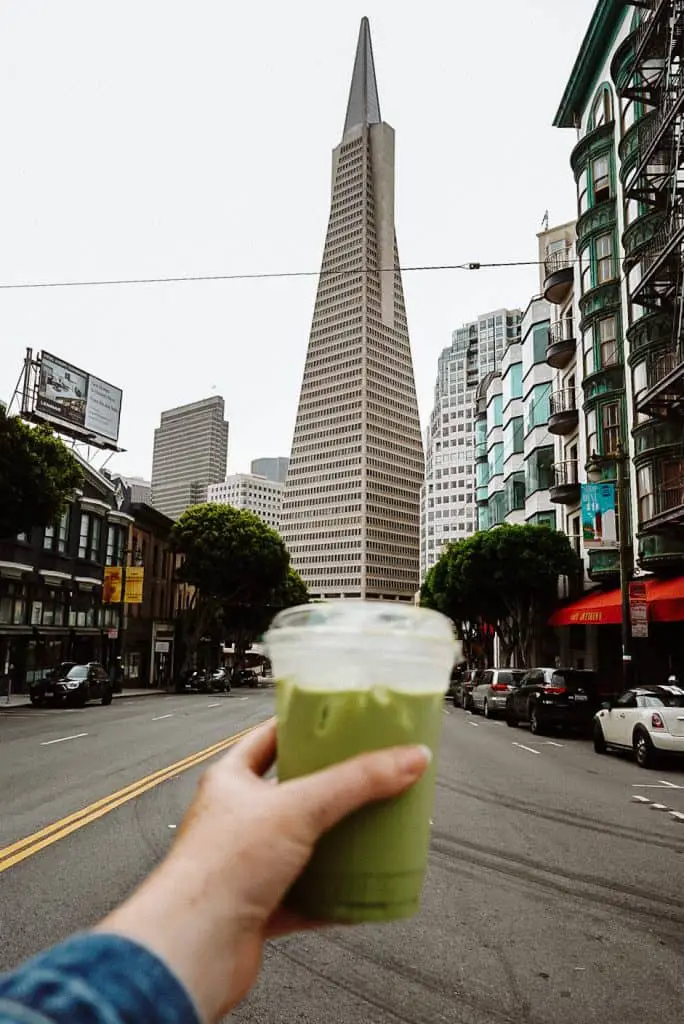 North Beach: Gino & Carlo Alley
The Gino & Carlo Alley wasn't made for Instagram, but today it's a great place to get a fun Instagram shot!
One wall is painted in the colors of the Italian flag with Gino & Carlo's name in the middle, as they own the popular bar on the corner.
The other wall depicts a baseball game.
And above small Italian flags flap in the breeze.
Just around the corner is Golden Boy pizza, a local favorite and one of the best places to eat in North Beach on a budget. I love grabbing a slice and having a seat in the alley to eat it after I've taken my photos.
This is an active alley way for vehicle traffic so be sure to stay aware.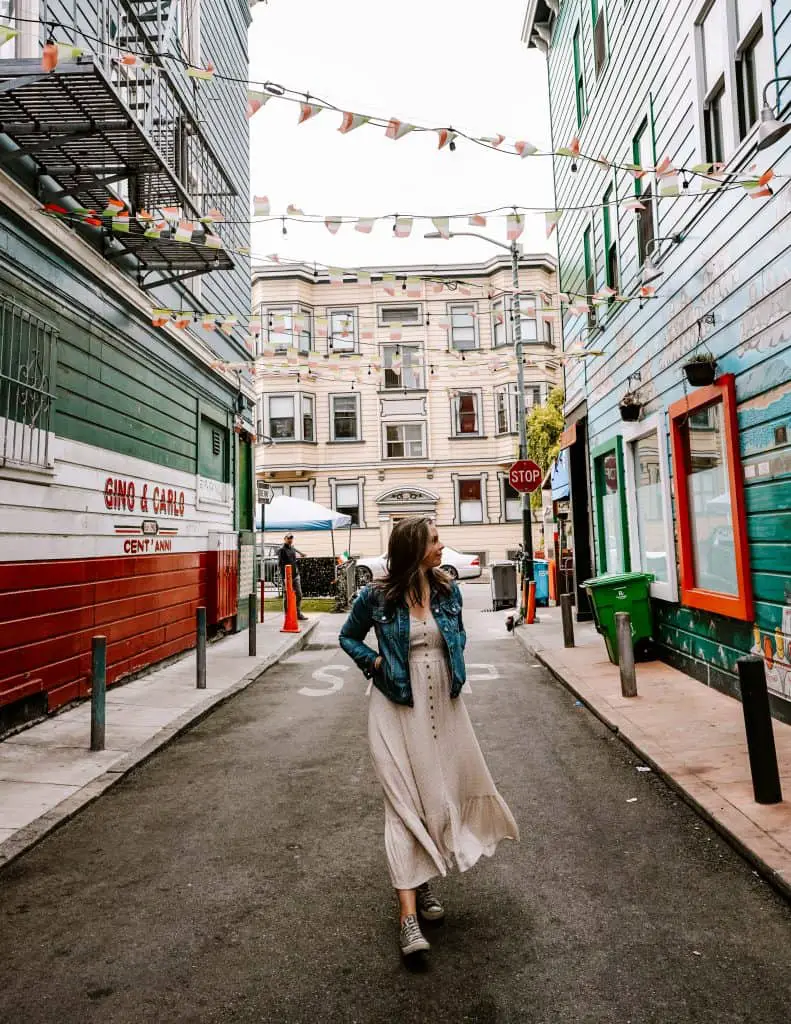 Union Square: Maiden Lane
Maiden Lane is a cute little alley way off of Union Square with a storied history
In the early years of San Francisco, prior to the 1906 earthquake Maiden Lane was where you could find the brothels in town. However, the earthquake destroyed them all and as the city rebuilt shops took their place.
Today this is a (mostly) car free alley lined with high end boutiques, cafes and lights strung overhead. During the day, cafes put tables underneath the lights to offer outdoor dining options – which is lovely on a nice San Francisco day. 
I especially like this little street during the holiday season.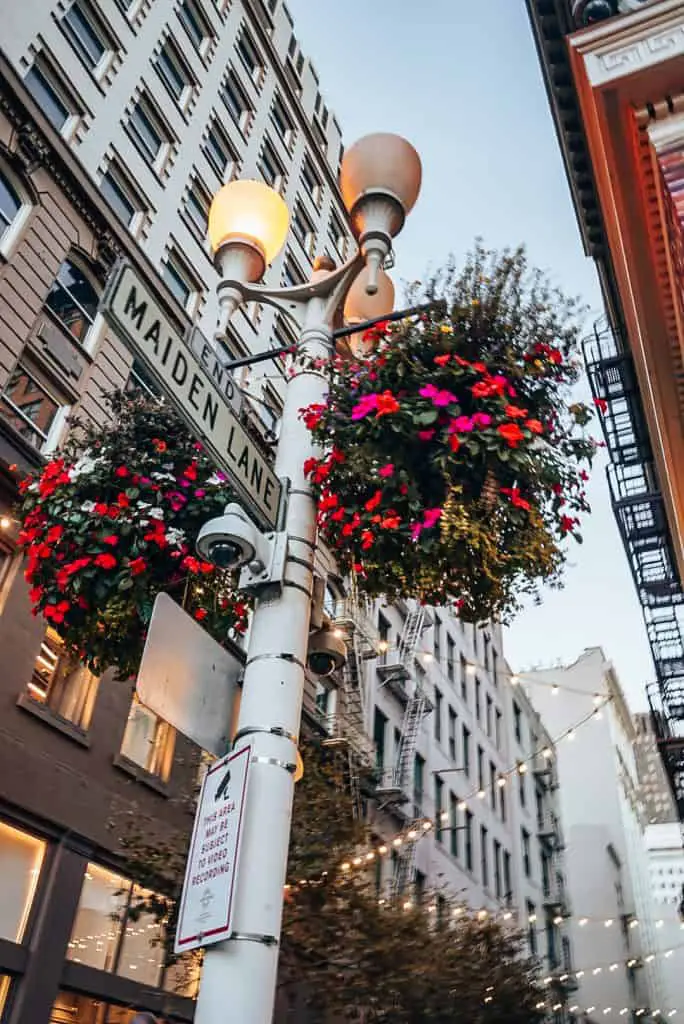 Castro: Rainbow Crosswalk
Why have a regular crosswalk when you can have a rainbow crosswalk? Especially in the Castro, which is one of the first predominantly gay neighborhoods in the US.
At the intersection of Castro & 18th you'll see all 4 rainbow crosswalks. While you're there snapping photos, be sure to spend some extra time in this lively neighborhood, whether you're gay or not!
Location: 4114 18th St.
San Francisco Photos: Staircases
To help its city's residents climb the hills its famous for, staircases were put in place on some of the steepest of San Francisco's hills. While many are nothing to write home about, some neighborhoods rallied around to create beautifully tiled staircases that are works of art.
Inner Sunset: 16th Ave Tiled Steps
Perhaps the most popular tiled staircase in San Francisco is the 16th Ave mosaic staircase located in the Inner Sunset neighborhood. You'll notice the sea to sky theme as you climb your way to the top. At the top, enjoy the view down to the Pacific Ocean. Or you can continue you walk up to Grandview Park for a pretty epic view of the Ocean, Golden Gate Bridge, Golden Gate Park, and downtown.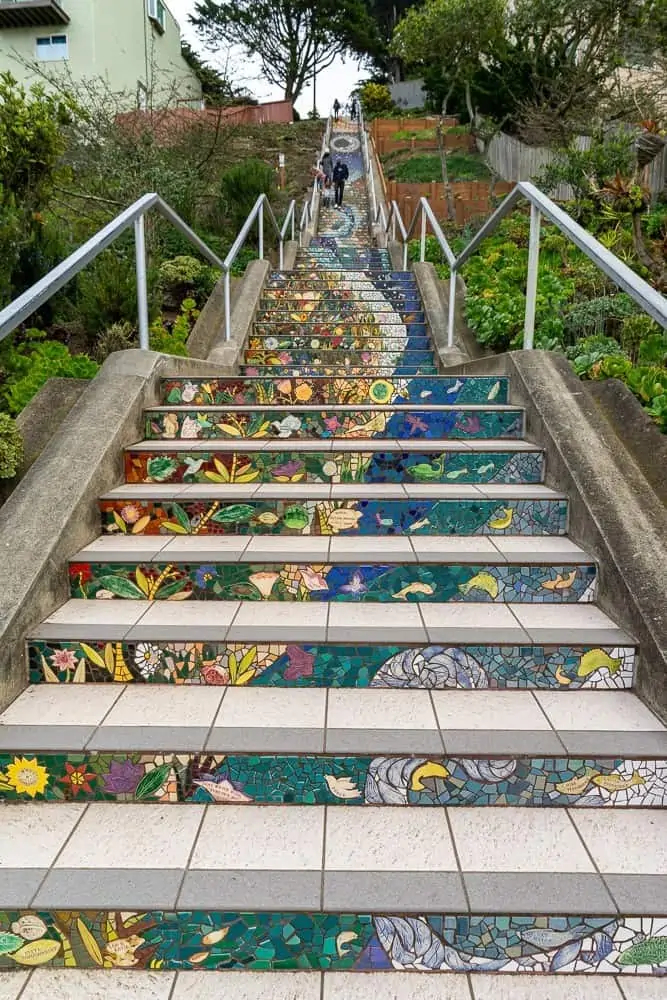 Inner Sunset: Hidden Garden Steps
In the same neighborhood as the 16th Ave tiled staircase is the Hidden Garden tiled staircase. And they are pretty well hidden as they're just down the street from their more popular counterpart but few people know about them. This staircase depicts a garden filled with California Poppies, snails, butterflies and more.
Since you're already in the neighborhood, you might as well add this staircase to your San Francisco photo bucket list.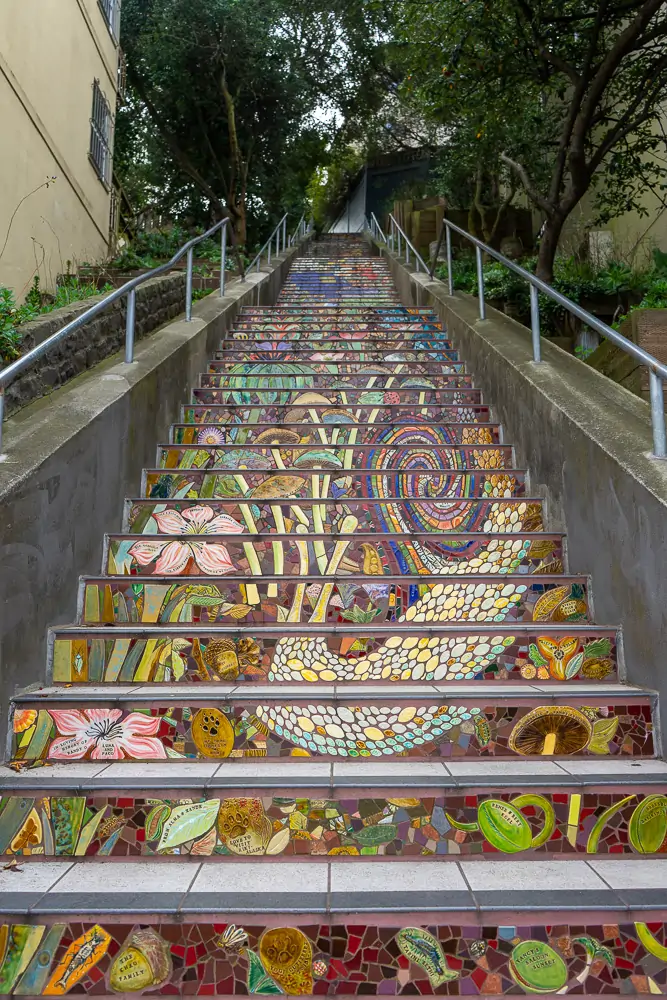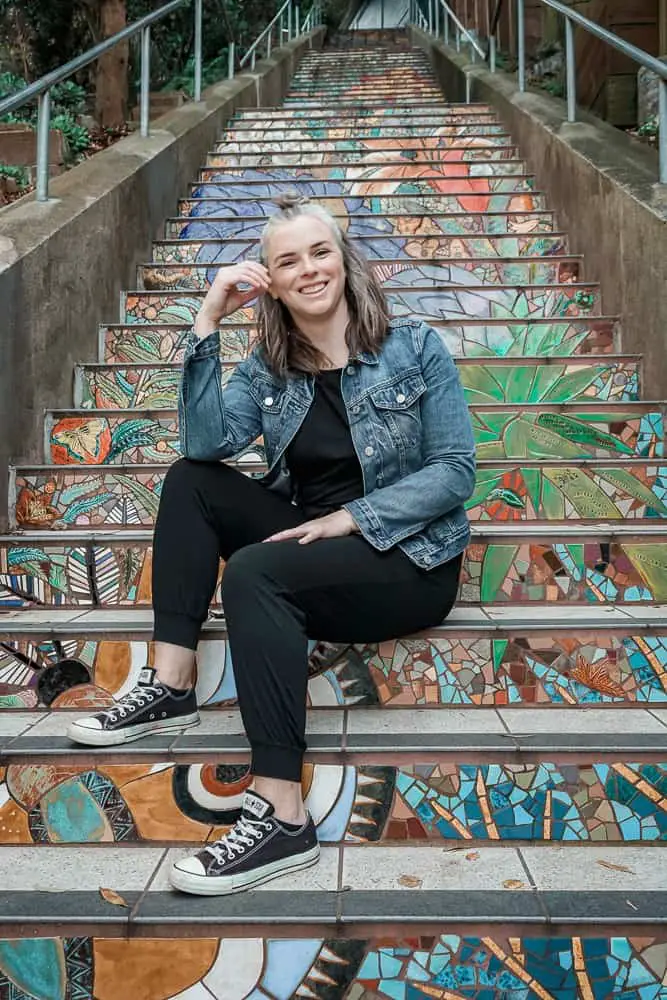 Outer Richmond: Lincoln Park
Another less well known photo opportunity in San Francisco is the tiled staircase in Lincoln Park. While not as tall as the other two previously mentioned, this wide staircase is bright and colorful with a tiled bench at the top and views of the Golden Gate Bridge.
For photos here, I suggest going early in the day as once the sun is high the surrounding trees cast shadows that are difficult to work with.
While you're here, pay a visit to the Legion of Honor for some photos or walk nearby Lands End trail.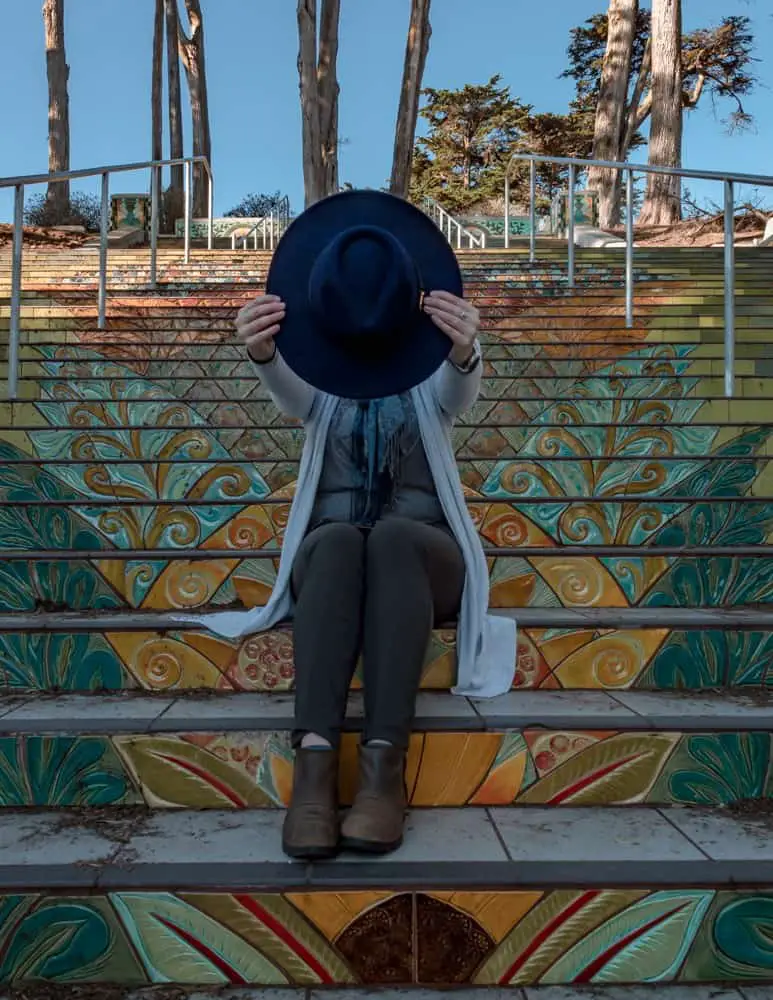 Pacific Heights: Lyon Street Steps
The Lyon Street Steps are not of the tiled variety, but they still are a great location for photos. At the base of the steps is a San Francisco heart and at the top of the staircase you'll find views of the Palace of Fine Arts and the Bay.
If you're into fitness this is a great place to work up a sweat and would make sense for a fitness style photoshoot.
Local Tip: The house that played a school in Princess Diaries is at the VERY bottom of the staircase.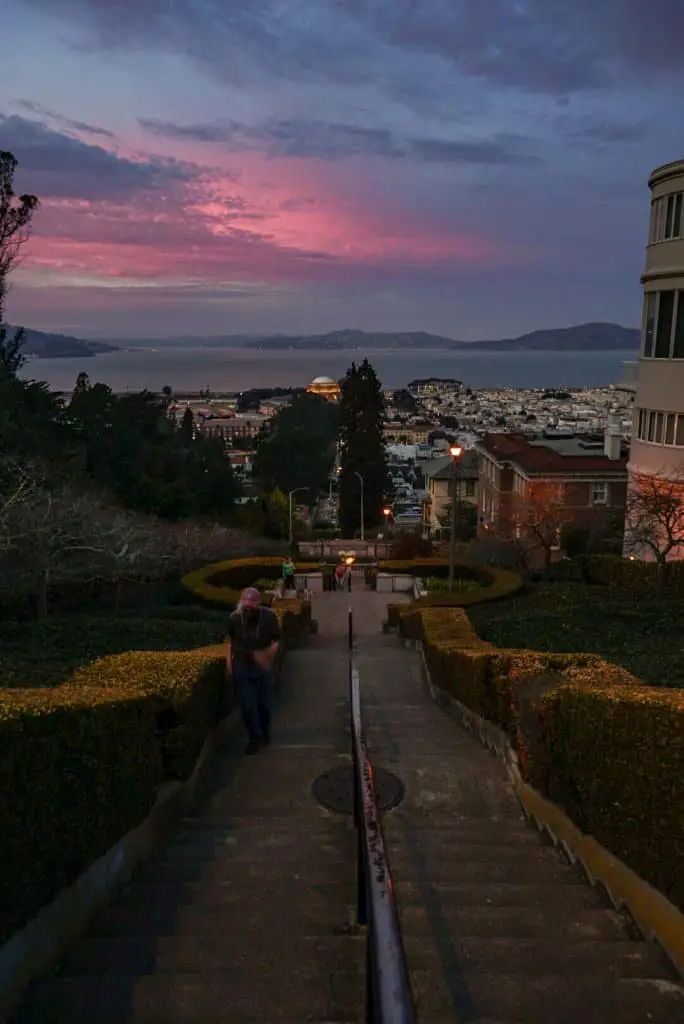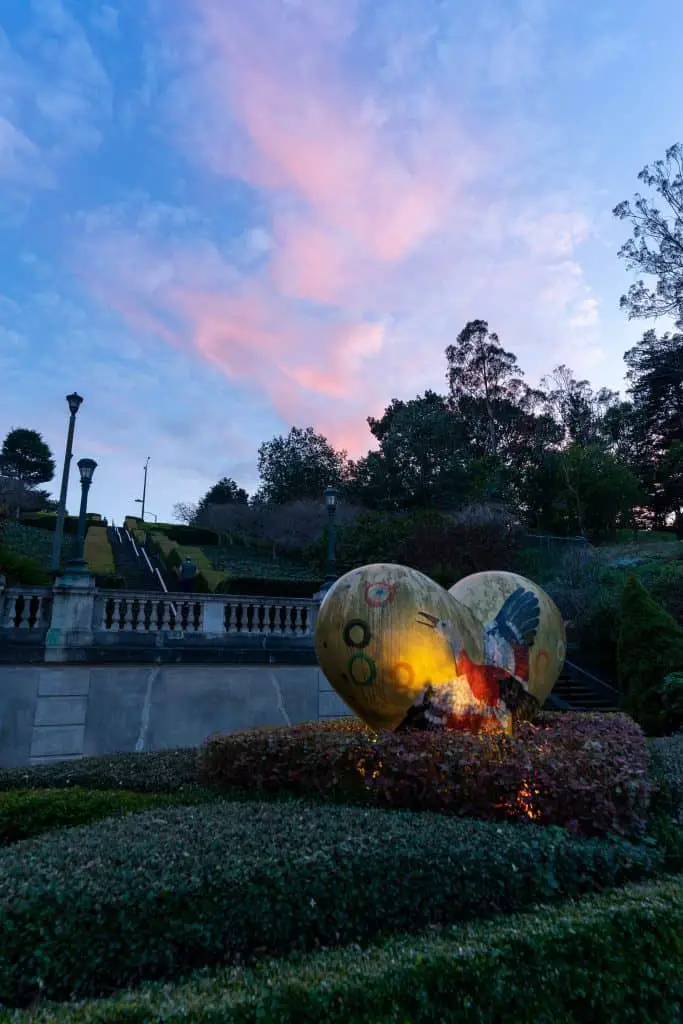 San Francisco Photo Spots: Street Art & Murals
While San Francisco's museums are a great place to marvel at art, San Francisco's streets are just as worthy a place to admire the work of incredibly talented artists. Here's where to find great street art and murals throughout San Francisco.
The Mission: Clarion Alley & Balmy Alley
There are two alleys in the Mission that are filled with vibrant and poignant murals, Clarion Alley and Balmy Alley. They're about a 25 minute walk apart from each other, but you should definitely check both of them out when you're in the Mission.
The murals you'll see in both of these alleys beautifully depict serious topics that affect San Francisco and the Mission community such as gentrification, immigration, and more recently the black lives matter movement.
As you walk from one alley to the next, and around the Mission in general, you'll definitely stumble upon more artwork on buildings and side streets.
Beyond the alleys, two of my favorites are the Women's Building and the Frida Kahlo. The Women's Building MaestraPeace Mural was created by female artists to depict the various contributions made by women word wide. And who doesn't love a Frida Kahlo image?!
I highly recommend spending time finding your own favorite works of art on the streets of the Mission. When you need a break for food, grab a burrito from La Taqueria or a pizza from Flour and Water.
Haight-Ashbury Murals
The Haight-Ashbury neighborhood is filled with murals that have a common theme – music. Specifically the music from the 1960s during the summer of love. You'll see a stunning Bob Marley piece and another with Jimi Hendrix, Janis Joplin, and Jerry Garcia – all once prominent members of the Haight music scene.
While musicians do make a few appearances on the Haight buildings, there are also murals you'll find that are a bit more open to your interpretation of what they might be about.
The Haight Ashbury is a unique neighborhood to explore in its own right so have yourself a good street art hunt here.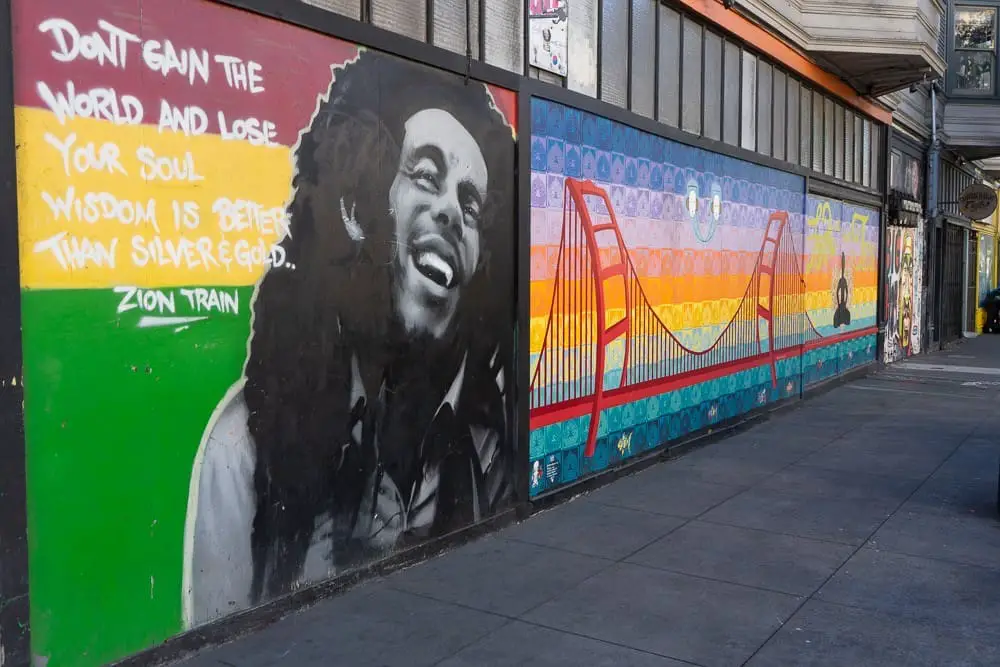 Umbrella Alley
Umbrella Alley is a fun and bright little alley located near Ghirardelli Square. Below colorful umbrellas you'll find a variety of murals including the popular "Greetings from San Francisco" a fnnch honey bear and a Kate Tova Heart.
fnnch
fnnch is a street artist popular for honey bears throughout the city. But he also has a California Golden Bear on California Street, big lips in North Beach, and a dog walker in North Beach. You'll also find California poppies, flamingos and other pop art on the streets of San Francisco.
Kate Tova
Check out the art of internationally acclaimed artist, Kate Tova. You'll find her bright and colorful hearts throughout the city in just about every neighborhood. She started putting her hearts throughout the city during the pandemic as a way to bring a big of joy to her neighborhood. Her hearts have taken off from there!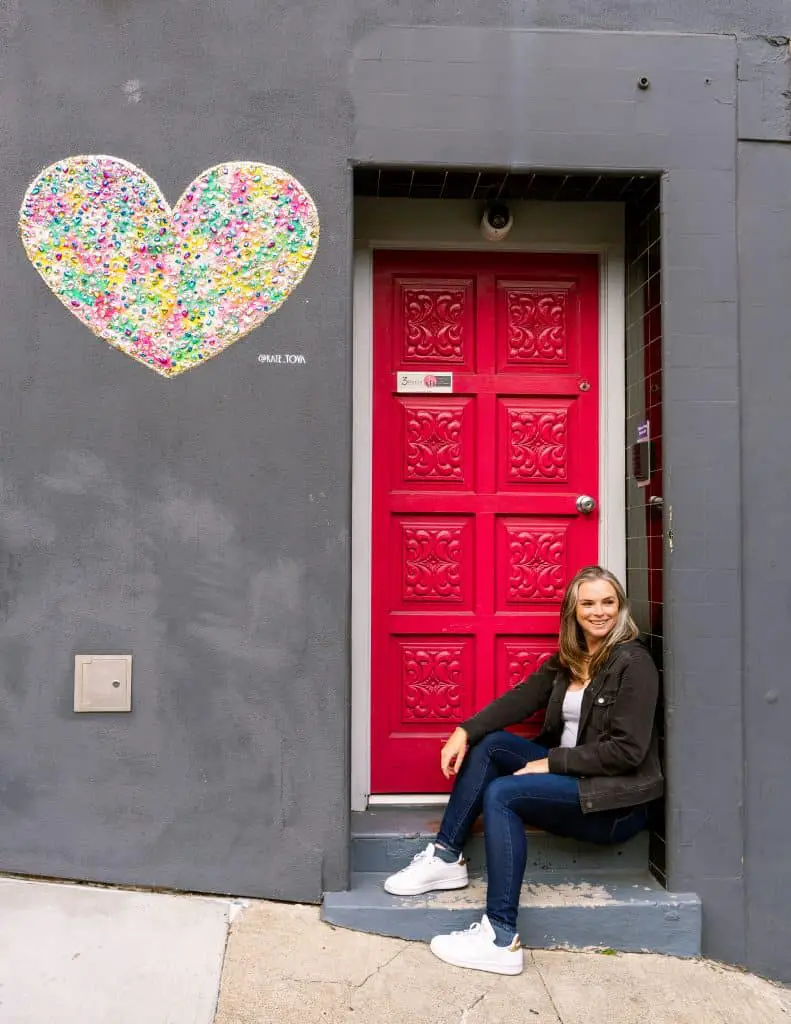 Banksy
Thankfully, I looked up from my phone as I stood on the corner of Columbus & Broadway to see a small Banksy high on the side of a building. As the light turned green I quickly snapped a photo and wondered if it was the real deal. I do know there have been quite a few copy cats of him, but according to Google, it is a true Banksy! Next to a man it reads "If at first you don't succeed, call an airstrike".
Also a good reminder to stay off of our phones when exploring the city, you never know what you may stumble upon.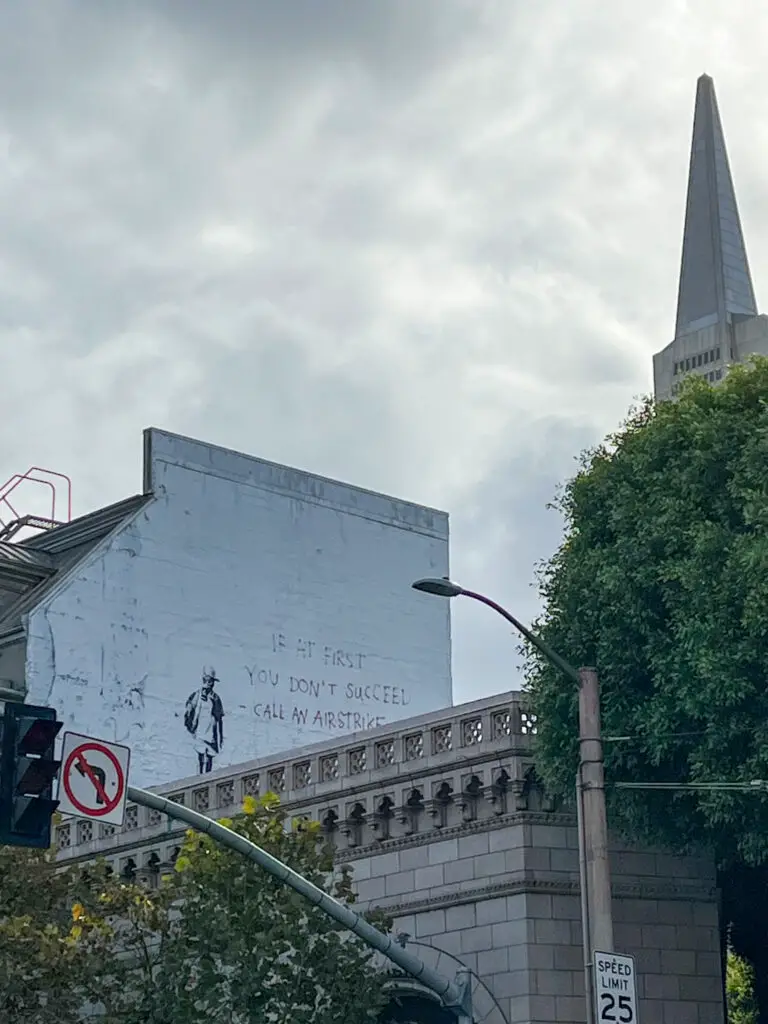 North Beach Parking Garage
Is it weird that I'm recommending a parking garage, perhaps. But this one is special. Each space of the North Beach parking garage holds a fortune for you. Walk, carefully, through the levels to find the fortune that speaks to you and snap a photo!
Or head to the very top floor for fewer cars and awesome views of North Beach, including Coit Tower.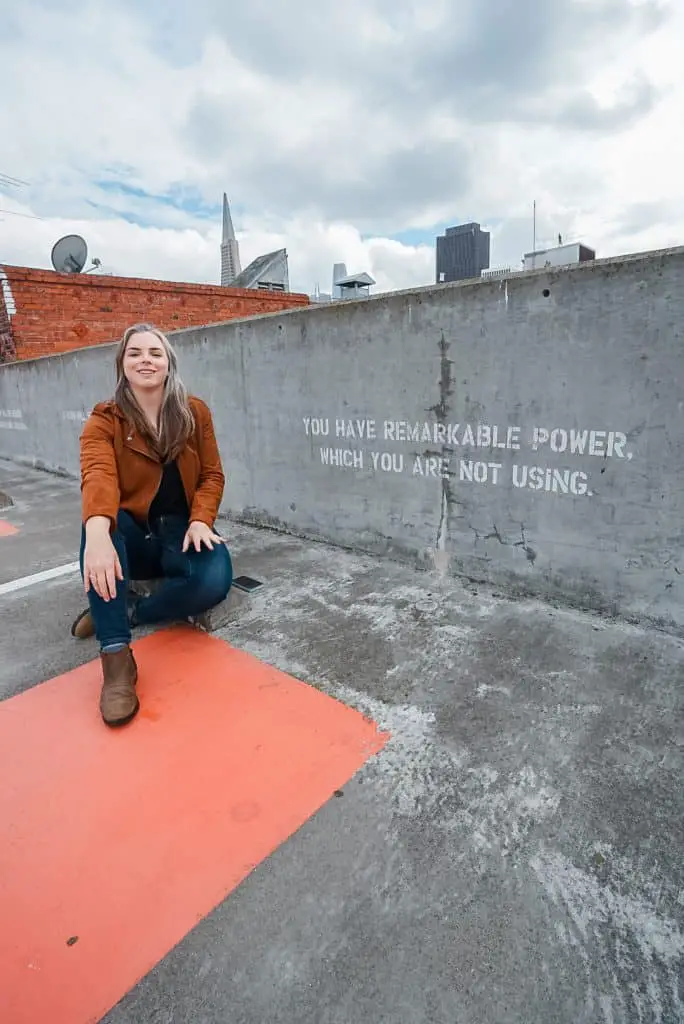 San Francisco Photo Spots: Museums
deYoung Observation Tower
The Hamon Observation Tower at the deYoung Museum is open again! Ride the elevator to the top for provides 360o views of San Francisco from the glass walls. Bonus – it's free to visit!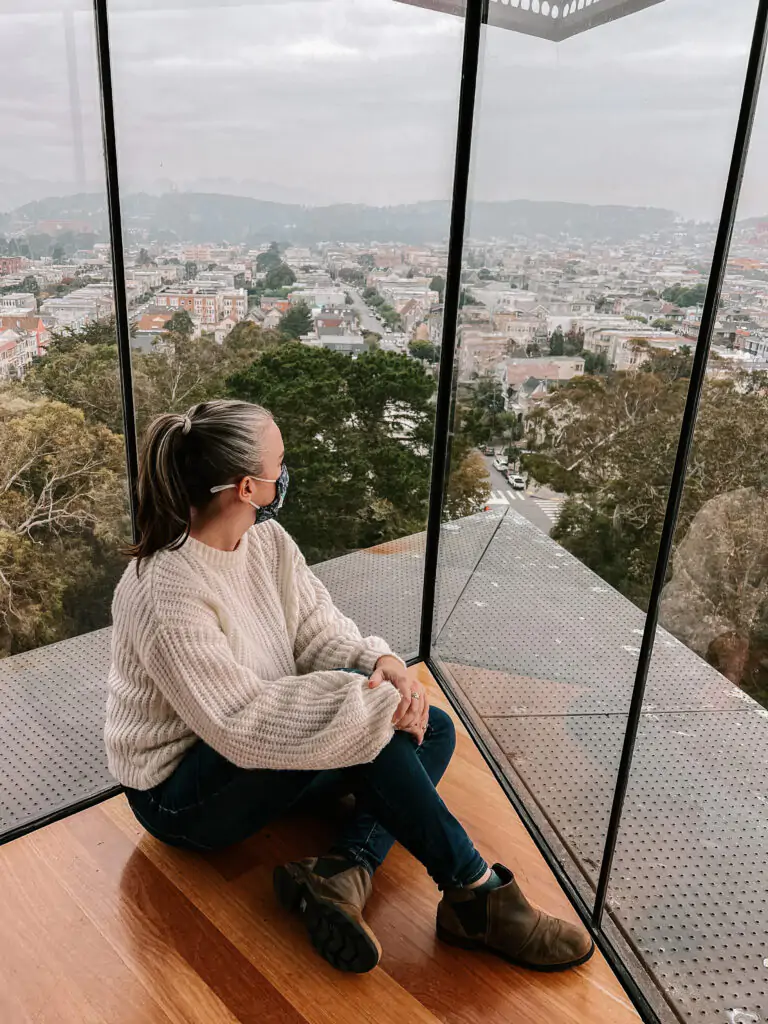 San Francisco Photo Spots: Homes
One thing San Francisco does not have a shortage of, is uniquely decorated and colorful homes. We already discussed the painted ladies, but I just want to highlight a few more unique San Francisco homes.
Haight Ashbury Homes
In the 1960s musicians like Janis Joplin, Bob Marley, and the Grateful Dead called the Haight Ashbury home. Since then, their homes are something of a tourist destination. The Grateful Dead house is a bit dark and eerie looking from the outside, Janis Joplin's is a fun bright pink, and Bob Marley's is a deep red. For some reason, I feel like this works for their previous tenants. If you decide to go check out these homes, remember they're currently private residences so please respect that.
Also in the Haight Ashbury you'll find beautiful Victorian homes located along Paige and Waller, including another group of Painted Ladies that reflect the season. The winter home is my favorite. Go find yours!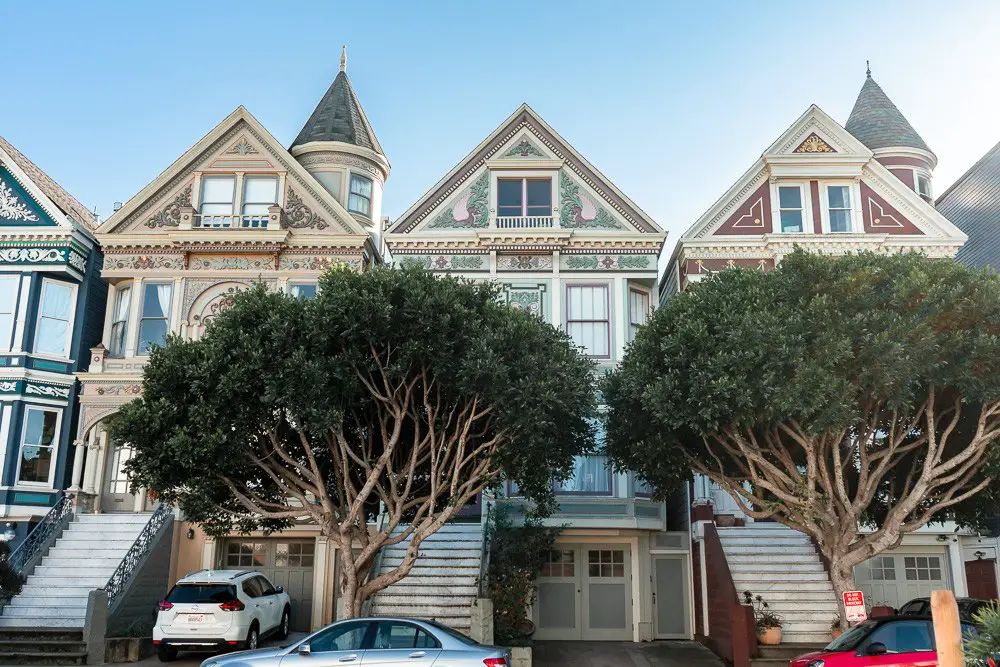 Flamingo House
As I mentioned above, fnnch has Flamingos located througout the city. One of his murals is on the side of home in the Inner Richmond, just around the corner from one of my favorite matcha latte spots in San Francisco.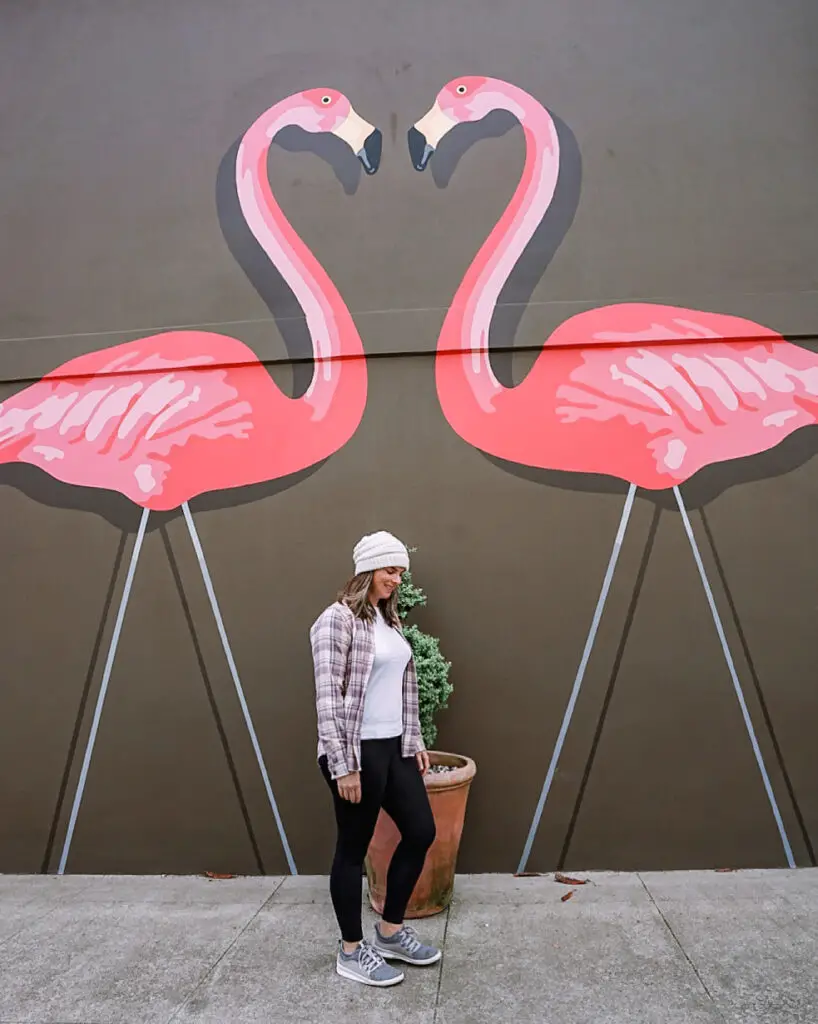 Sea House
This is one of my favorite homes in San Francisco. Located just steps from Ocean Beach is a home that is decorated in an ocean life theme. Sea Horses, starfish, and brightly colored algae adorn this beachside Victorian. Take a stroll on the Great Highway and see if you can spot it!
Phew. Ok. This list of San Francisco photo spots is more than enough to get you started snapping your way through the city. Is it an exhaustive list, no probably not. I'm 100% certain that there are more quintessential and hidden gems throughout the city that I haven't found yet. But I can also 100% guarantee that as I find them, I'll come back and update you so you can add them to your San Francisco Instagram bucket list as well.
Want more help planning your trip to San Francisco? Check out these resources.
Three, 3 Day San Francisco Itineraries
How to Spend One Day in San Francisco
The Ultimate San Francisco Bucket List
Like this post? Save it to Pinterest for reference!