As I sit here watching the pouring rain outside of my San Francisco apartment, I figure it's time to write a post about the best things to do on a rainy day in San Francisco. I'm writing this mostly so I get out and do some of these rainy day activities because this is the rainiest winter I can remember in San Francisco. While I love gloomy weather, it can present challenges for people visiting who planned an itinerary around seeing all the sites. Thankfully, San Francisco has plenty of fun indoor activities that are perfect for a rainy day. Let's get into it.
This post contains affiliate links, which means that, at no additional cost to you, I will earn a tiny bit of income if you decide to make a purchase or booking. For more, check out my disclosure. 
San Francisco Travel Resources
When is Rainy Season in San Francisco
San Francisco's rainy season is during the winter months, typically from December to March. While we may have a drizzly day or two outside of this time of year, you can expect most of the rain to happen in winter. 
California has been in a serious drought for many years, so the rain is quite welcome and there is no reason to let it stop you from enjoying your time in San Francisco. However, if you're looking for the best time to visit San Francisco with optimal weather, October is your best bet.
What to Wear in the Rain in San Francisco
While my San Francisco packing list will serve you well for San Francisco, no matter the weather, there are definitely some specific recommendations I have for what to wear in the rain in San Francisco.
First things first, you'll want to keep your feet warm and dry while exploring. Nothing ruins a day more than cold, wet feet! I love my waterproof Sorel Chelsea boots that aren't just incredibly comfortable, but they're cute too! I wore them all over Europe, even taking some short day hikes in them in very rainy places, like Ireland. They have kept my feet dry the entire time!
Next up, is a good rain jacket because nothing says tourist like a poncho! You likely already have a rain jacket laying around, but if not, I recently bought this one from Costco and love the bright yellow color. But, they also have it on Amazon. You can find it here.
Finally, get a small travel umbrella that you can carry in your backpack if the forecast is calling for rain. I really like this one – it's lightweight and durable.
Things to Do in the Rain in San Francisco
Now, most of these activities are going to be indoors. While you could go on some of my favorite San Francisco hikes like the Lands End Trail or explore the things to do in Golden Gate Park when the weather isn't the best. If it is a truly rainy day, you'll likely want to be indoors.
Visit a Museum
San Francisco is filled with excellent museums that are the best place to spend a rainy San Francisco day. Here are a few of my favorites.
California Academy of Sciences
The California Academy of Sciences is one of my favorite museums in San Francisco. I love its focus on animal life with the Rain forest environment you can walk through, Claude the albino alligator, and I always get a solid nap in the Planetarium. I love Thursday nights for their nightlife event which is 21+ which allows you a few hours to enjoy the museum, child free! IF it happens to be raining on a Thursday night and you're looking for something unique to do – this is it!
Check out all of the details including hours of operation and admission prices for the California Academy of Sciences here. 
de Young Museum
The de Young Museum located in Golden Gate Park is a great place to spend a few hours on a rainy day. If you happen to be visiting on a Tuesday, admission to the museum's permanent collection of American, Oceanic, and African art (among others) is free! I also recommend going up the Hamon Observation Tower which has amazing views of San Francisco.
Check out all of the details, including current exhibits, hours of operation, and admission prices for the de Young Museum here.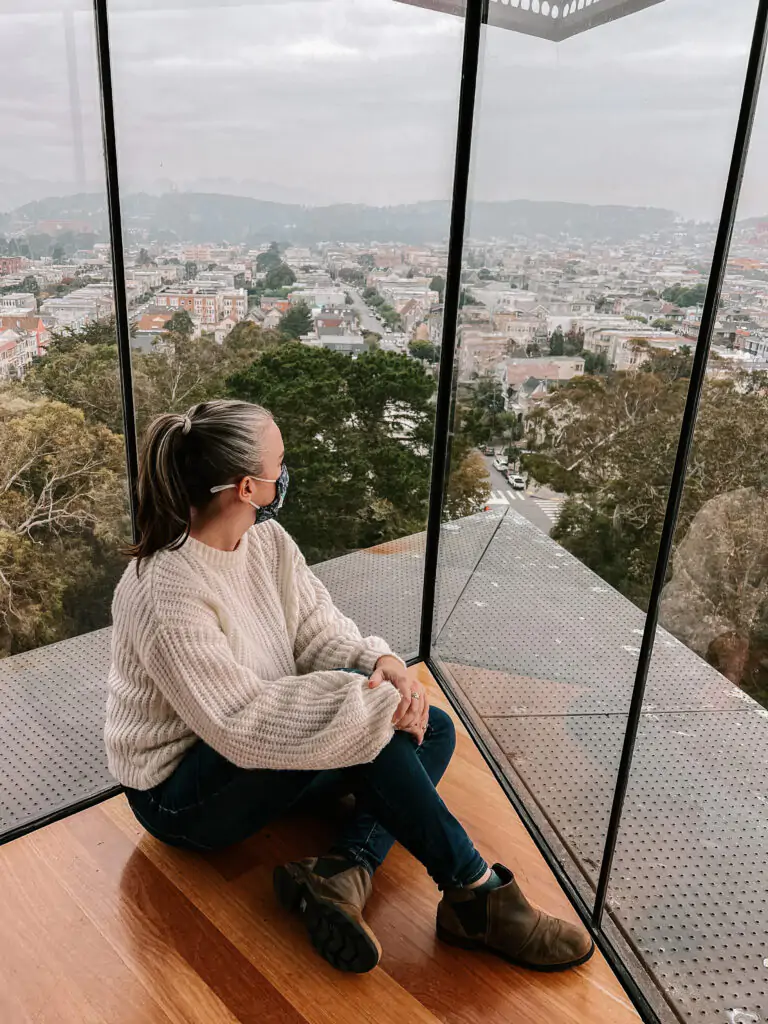 Conservatory of Flowers
While you're in Golden Gate Park, take a short walk to the Conservatory of Flowers to learn about rare and endangered flowers. There are five distinct galleries of flowers and a very popular San Francisco photo spot in one of them – see if you can find it! If you're a local, admission is FREE!
Check out all of the details, including hours of operation and admission prices for the Conservatory of Flowers here.
Walt Disney Family Museum
If you're a Disney fan, head to the Presidio to visit the Walt Disney Family Museum. Inside you'll learn about the life of Walt Disney, see behind the scenes of his innovations, and learn more about the evolution of Disney movies. It's incredibly interesting and there are a few interactive exhibits as well.
Check out all of the details  including hours of operation and admission prices for the Walt Disney Museum here.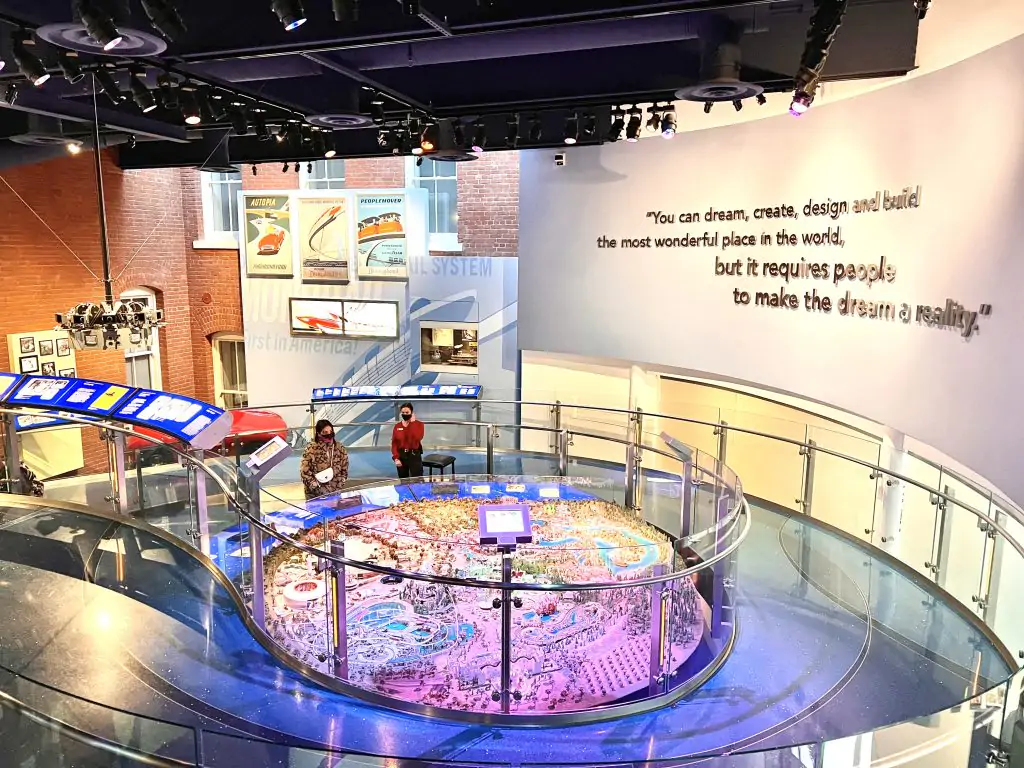 Museum of Modern Art
I've honestly yet to been to the MOMA, but it is high up on my bucket list. I had planned to go on a First Thursday which allows free admission to Bay Area residents, but I got sick! There are plenty of interesting contemporary art exhibits and the largest living wall in the United States, however, the one I'm interested in is the current Diego Rivera exhibit that is at the museum until 2024. So if you're reading this before then, go see it! 
Check out all of the details, including current special exhibits, hours of operation and admission prices for the San Francisco Museum of Modern Art here.
Musée Mécanique
While I don't typically suggest spending much time in this area, one really unique thing to do in Fisherman's Wharf is visit the Musée Mécanique. This museum is a collection of over 300 coin operated mechanical musical instruments and antique arcade games. This is a well loved museum for San Franciscans and is actually a private collection! It's free to enter, but you do pay to play the games. This is the perfect place for the whole family. 
Check out hours of operation here.
Cable Car Museum
Learn about San Francisco's most popular tourist attraction, the cable cars at the Cable Car Museum. While you're likely going to hop on a cable car ride during your time in San Francisco, it's also really interesting to learn about how they came to be a part of the San Francisco landscape. Inside you'll see historic cable cars, learn about the inventor, how they operate, and how they were saved. As an added bonus, this is a free museum!
Check out hours of operation for the Cable Car Museum here.
Relax in a Coffee Shop
Perhaps my favorite thing to do on a rainy day is relax in a coffee shop with a good book, a journal, or doing a bit of trip planning. Thankfully, San Francisco is home to many cozy coffee shops. No matter what neighborhood you're in, you're likely to find one. If you're new to the blog, I don't drink coffee, but I love matcha and have found great cafes for matcha to check out. I'm sure they also have great coffee. 
Have an Irish Coffee at the Buena Vista Cafe
One cafe in particular you should visit on a rainy San Francisco day is the Buena Vista Cafe because nothing says warm and cozy like and old school cafe serving up the best Irish Coffee in San Francisco. If you can, sit at the bar to watch the bartender make the drink that made them famous. It's part of the experience! They also have breakfast, lunch, and dinner menus so any time of the day is a good time to stop by.
Indulge at Boudin Bakery
If you're looking to warm up a bit, nothing says San Francisco like clam chowder in a bread bowl. Is it a touristy type of food? Yea, sure it is. But it's also really delicious and will warm you up on a dreary day. The Boudin Bakery at Fisherman's Wharf also offers a bakery tour and a museum. You can learn about the impact of Sourdough bread on San Francisco's foodie history while seeing the bakers at work in the bakery.
Eat in the Ferry Building
Another great place for foodies to explore in rainy weather is the Ferry Building. While the Ferry Building should be on any San Francisco itinerary, it's a particularly great place to wait out the rain while sampling local chocolate from Dandelion, eating Tomales Bay Oysters at Hog Island, finding a great gift at Fog City Flea Market, or getting a new book at book passage. You could honestly spend an entire day slowly eating and drinking your way through the Ferry Building and be able to sample the best of the San Francisco Bay Area foodie scene!
Shop in Union Square
San Francisco is a great city for shopping, whether that's thriting or finding designer goods. The shops surrounding Union Square are on the designer and name brand end of the spectrum. Alternatively, head to the top floor of Macy's where the Cheesecake Factory is for a treat and a bird's eye view of Union Square. You could also spend the day in Westfield Mall where you'll find more name brand clothing stores.
Visit Alcatraz Island
Ok, you may be thinking I'm crazy for recommending a visit to Alcatraz Island for a rainy day. But hear me out. Alcatraz Island is typically a cold, dreary place anyway and a visit on a bad weather day may just add to the atmosphere there. The ferry across the bay to the island has an interior portion and you'll also be inside the prison the entire time on the island anyway. 
Now, I don't recommend visiting Alcatraz in torrential downpours or anything like that. But if it's just a bit drizzly off and on – go check that off of your San Francisco bucket list.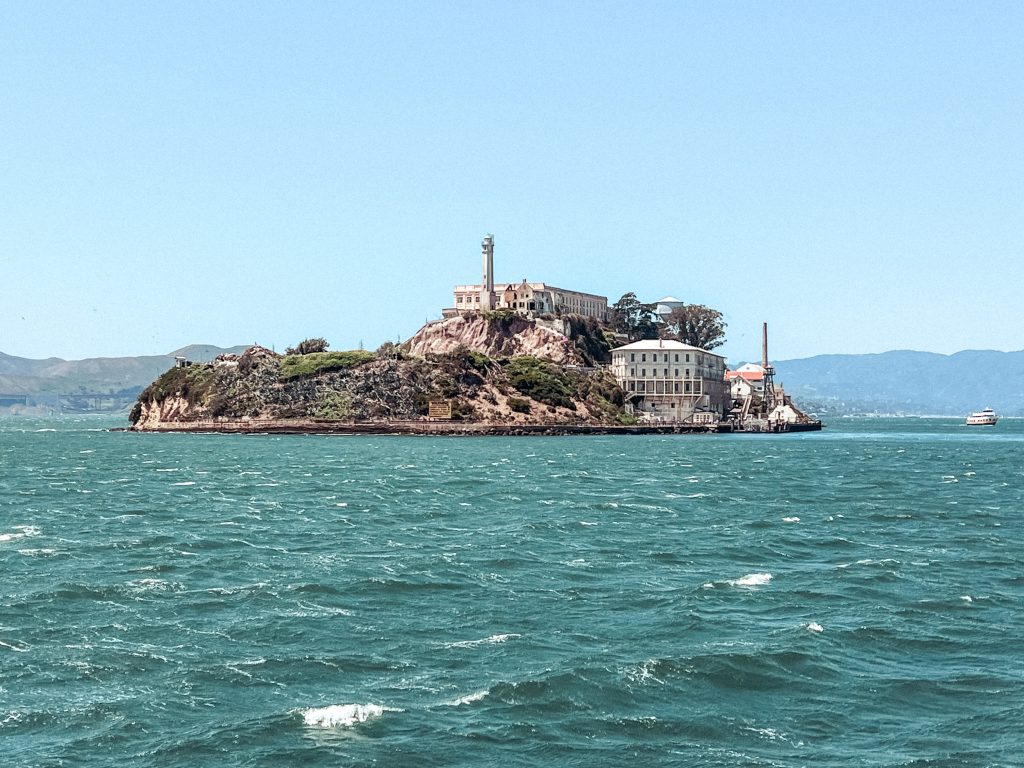 Take a Yoga Class in Grace Cathedral
On Tuesday evenings and Saturday mornings practice yoga on the labyrinth below the stained glass windows and amidst the gothic columns of Grace Cathedral. There is typically live music as you're gently guided through a yoga practice that is suitable to all levels. Don't worry, though. Just because it's taking place in the Cathedral, doesn't mean it's related to a religion. I highly recommend checking this truly unique yoga experience out.
For class times and tickets visit this website.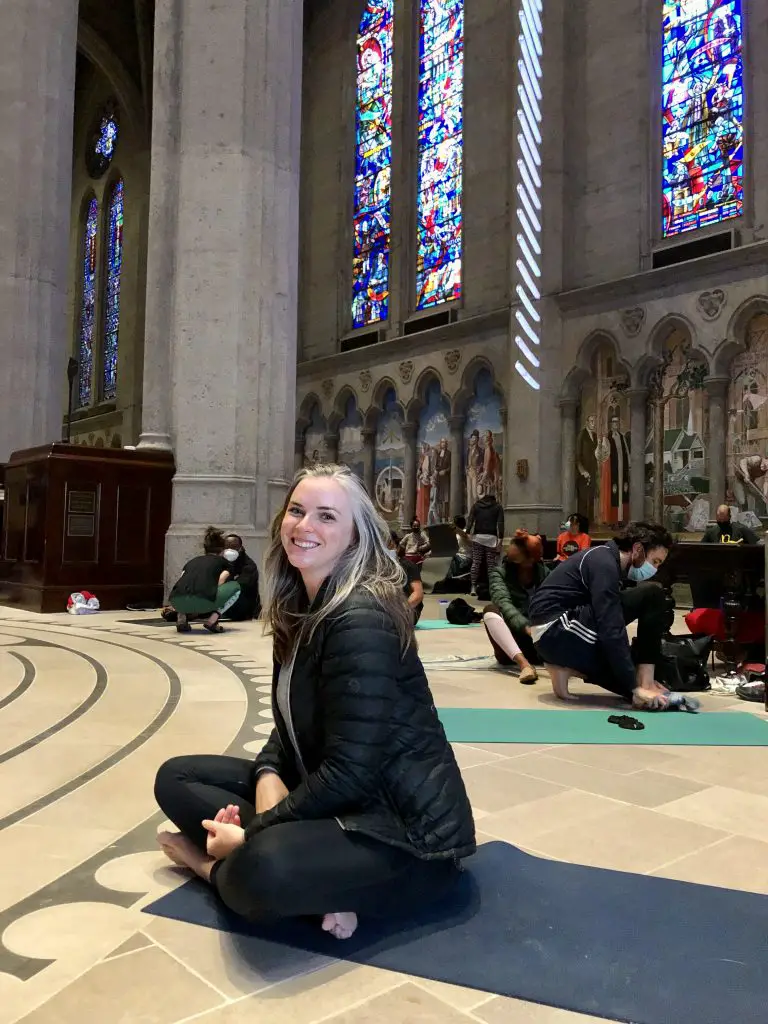 Take your Golf Game inside at Urban Putt
Urban Putt is a really fun rainy day activity in San Francisco. This 9 hole mini golf course is located in the Mission District and each hole is themed after an aspect of San Francisco life. Just keep a look out on the 9th hole as once you sink your putt the ball is automatically returned. So if you want to do a second round, skip the 9th hole until you're completely done! There's a bar for drinks and a restaurant upstairs as well. Alternatively, once you're done playing putt putt you could head into the neighborhood to check out some of my favorite things to do in the Mission.
Check out Urban Putt's hours and more details here. 
See a Movie at Alamo Drafthouse
Isn't a movie just the perfect rainy day activity. Thankfully, in San Francisco we have really unique movie venues, like the Alamo Drafthouse, also located in the Mission. While you'll be able to catch some new releases like Avatar, Alamo movie theater also brings more obscure films to the big screen. You can get drinks and food delivered to your seat while you enjoy the movie of your choice.  Sometimes, there's even a menu paired to a film! 
Check out current movies and showtimes at Alamo Drafthouse here.
Fall in Love with San Francisco at Dear, San Francisco
Housed in the former home of Beach Blanket Babylon is a new circus show called Dear, San Francisco. I've seen this show twice so since it opened in 2021 and it's one of my favorite things to do in North Beach. The story is a crash course in San Francisco history and its current environment told alongside incredibly talented acrobats and amazing circus style performances. I 10/10 recommend adding this to your San Francisco itinerary whether it's raining or not!
See showtimes and admission prices here.
While most of these indoor attractions are great ways to spend an incredibly rainy day like we've been seeing recently, don't let a mildly drizzly day stop you from getting outside to see the Golden Gate Bridge too. I hope this guide to things to do on a rainy San Francisco day has inspired you, as it has me, to not let the rain hold you back from still seeing some of the most popular things to do in San Francisco.