Welcome to one of the best places in San Francisco – the Castro. The Castro District is the vibrant neighborhood that the LGBTQ community has called home for decades. You'll see this reflected as you walk the rainbow crosswalks, see rainbow flags, and chuckle at some of the names of restaurants and shops (like Hand Job which is a nail salon). While learning about the history of this neighborhood is a great thing to do when visiting, there are also plenty of other fun things to do in the Castro that I'll share with you in this post.
This post contains affiliate links, which means that, at no additional cost to you, I will earn a tiny bit of income if you decide to make a purchase or booking. For more, check out my disclosure. 
San Francisco Travel Resources
History of the Castro District
The Castro neighborhood in San Francisco is synonymous with the LGBTQ+ civil rights movement. While the majority of San Francisco is now LGBTQ+ friendly, that was not always the case and the Castro was where this community found a home. Gay men and lesbians moved into the Castro neighborhood in the 1970s, along with Harvey Milk opened a camera store and eventually ran for public office, dubbing himself the Mayor of the Castro. Harvey Milk was an integral part of the gay community and his legacy lives on in the Castro and greater San Francisco. A few weeks after being elected as the first openly gay man to public office in California, he, and the then Mayor George Moscone, were assassinated in city hall. 
Since then, the Castro has remained the central location for the queer community.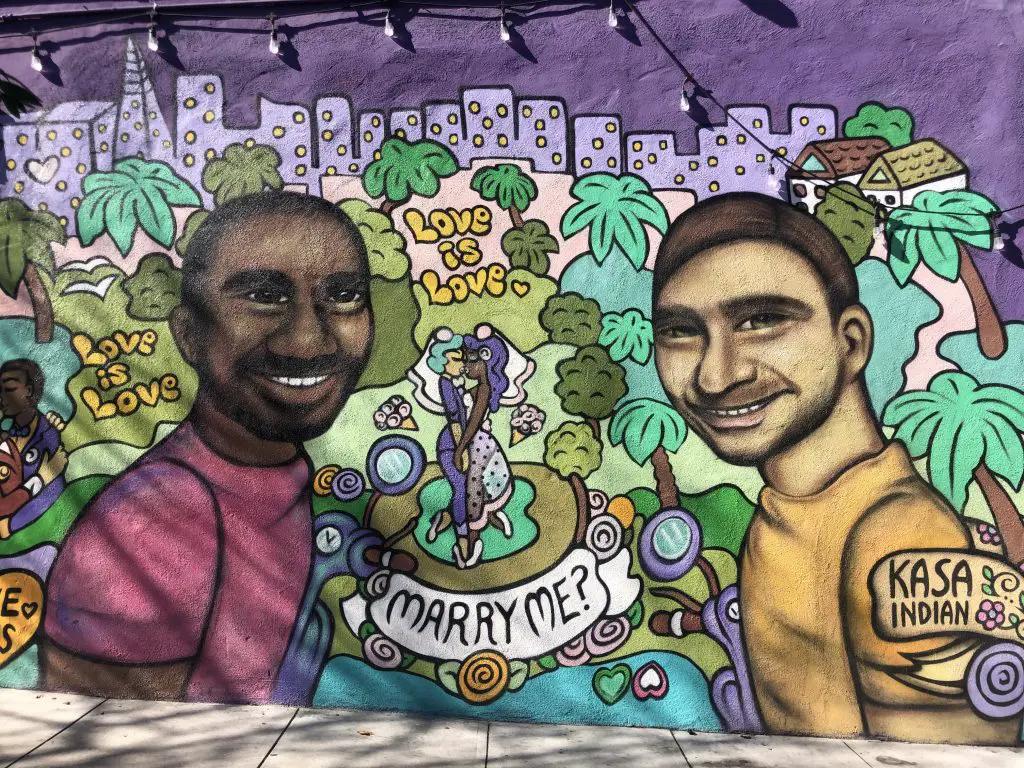 The Best Things to Do in the Castro
Alright, now it's time to discover one of the best neighborhoods of San Francisco – the Castro.
Sing Along at the Castro Theater
One of the most popular attractions in the Castro is The Castro Theater. This community landmark and San Francisco institution has stood proud on Castro Street since 1922! In those over 100 years, the theater has presented films, comedy shows, plays, and the ever loved, sing-along. At a sing along a film, such as the Sound of Music is played and guests are encouraged to dress in theme and sing along. It's a positive, lively, and energetic environment. Check out the Castro Theater website to see when they're happening.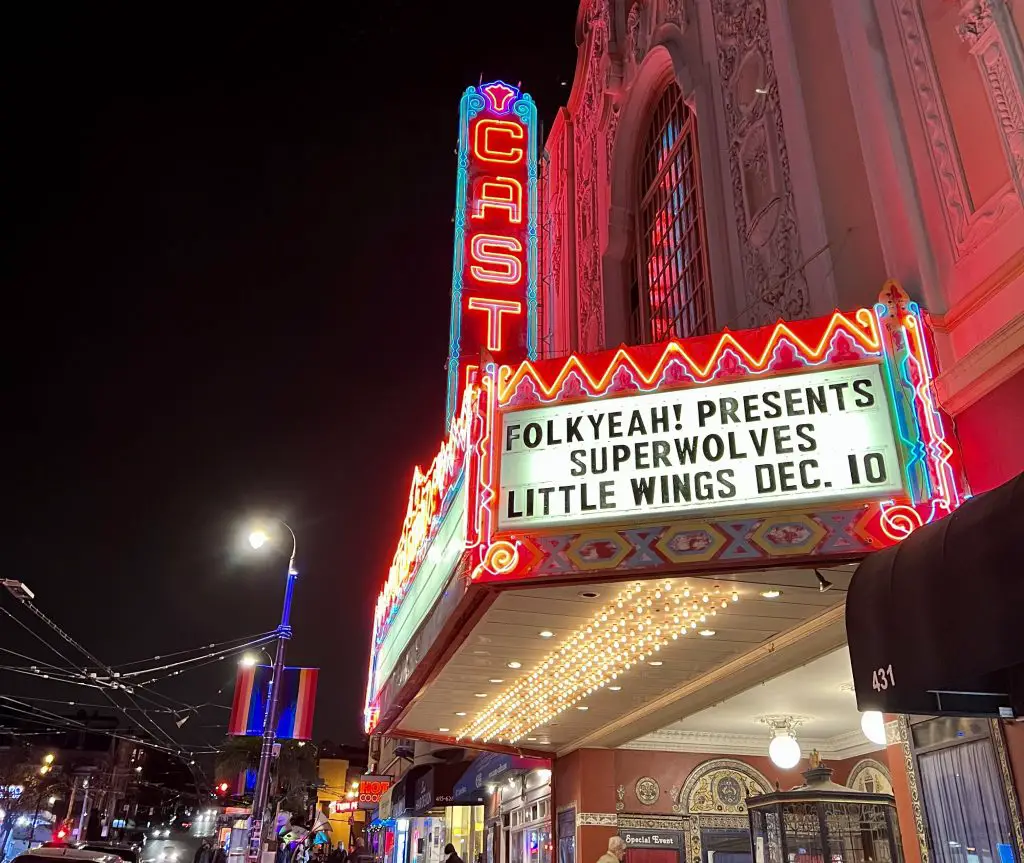 Pink Triangle Memorial Park
Stop by Pink Triangle Memorial Park which is the very first memorial in the United States dedicated to the homosexual, bisexual, and transgender people who lost their lives to the Nazi regime. The pink triangle refers to the pink triangle these individuals were forced to wear on their clothing as a marker. In the middle of the triangle are small pink crystals that visitors are encouraged to take as part of the experience.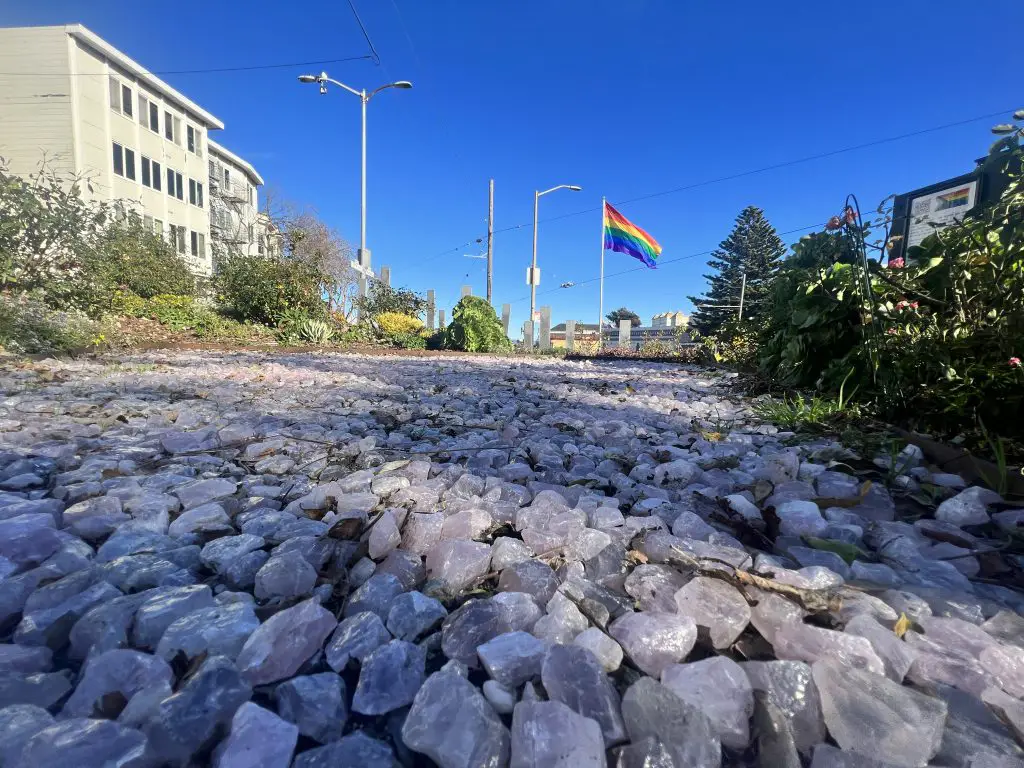 Castro Camera + Harvey Milk Residence
Harvey Milk was the first openly gay man elected to public office in California. His campaign headquarters were in his camera shop and home located at 575 Castro Street. For ten years the Human Rights Campaign store was here and it was recreated as a set for the movie about Harvey Milk, aptly named Milk. 
Side note, I highly recommend watching this movie for a better understanding of this neighborhood, the LGBTQ+ movement, and San Francisco as a whole.
Now, Castro Camera is an LGBTQ+ art gallery and artisan shop known as Queer Arts Featured…aka Queer A.F. Queer A.F. hopes to continue the legacy of this historic location by being a place for the LGBTQ community.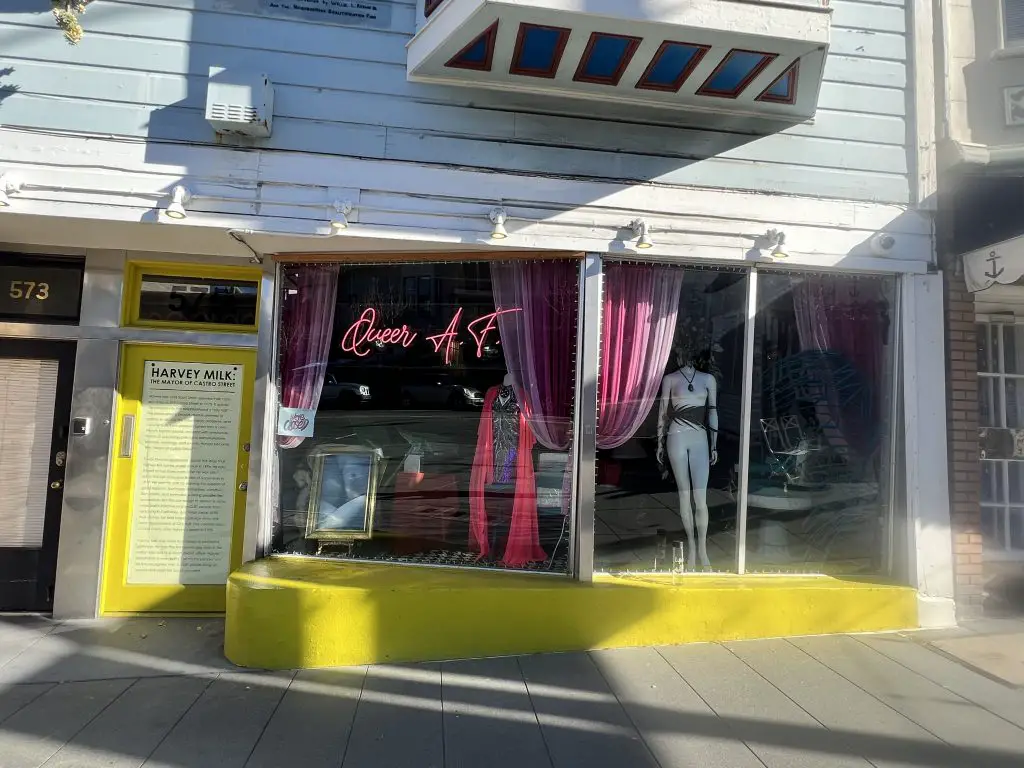 GLBT Historical Society Museum
Located in the heart of the Castro, the GLBT History Museum is the very first free-standing LGBTQ+ museum in the United States. Are you catching on to a theme here?
The museum celebrates not just San Francisco's queer past and present but also tells the story and importance of LGBTQ+ contributions worldwide.
General Admission is $10, but every first Wednesday of the month is Free thanks to the Bob Ross Foundation (which is pretty cool if you ask me.)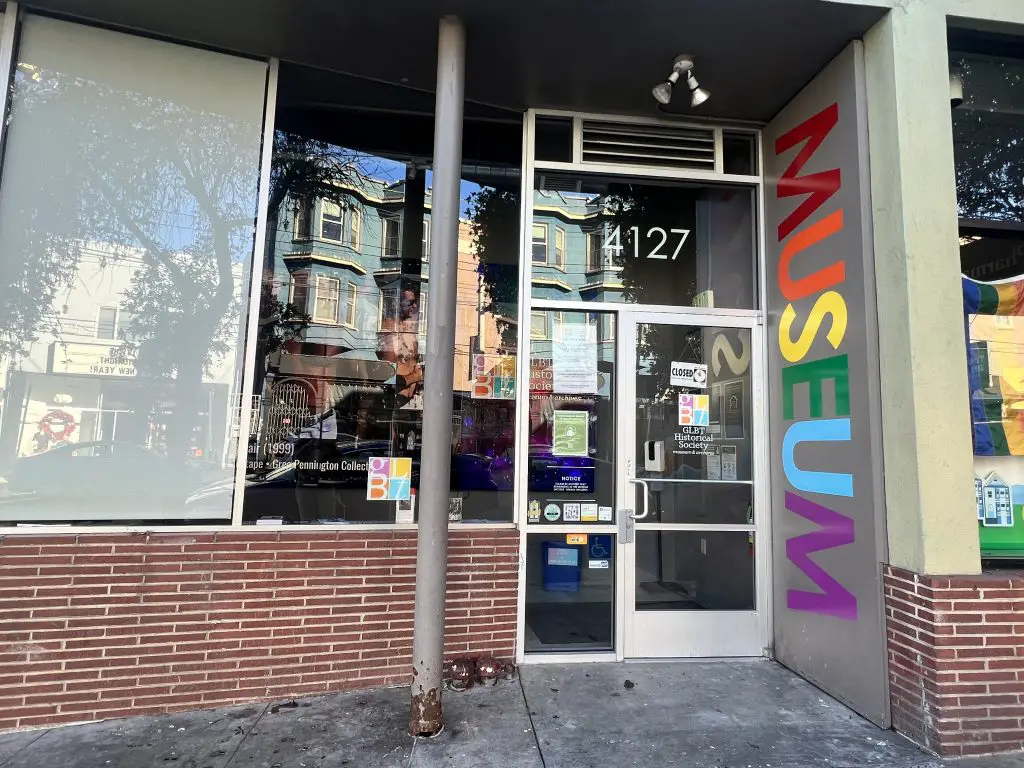 Have a Drink at Twin Peaks Tavern
At the corner of Market and Castro sits Twin Peaks Tavern. While not the first gay bar in the Castro, Twin Peaks' location makes it a top destination for locals and tourists alike. On a sunny day, you'll see people soaking up the sun while enjoying a drink and conversation. On a cold day, the warm interior calls you in and the large windows allow you to people-watch. If you're thirsty, need a break from walking, and have a moment to relax, Twin Peaks is the perfect place for you.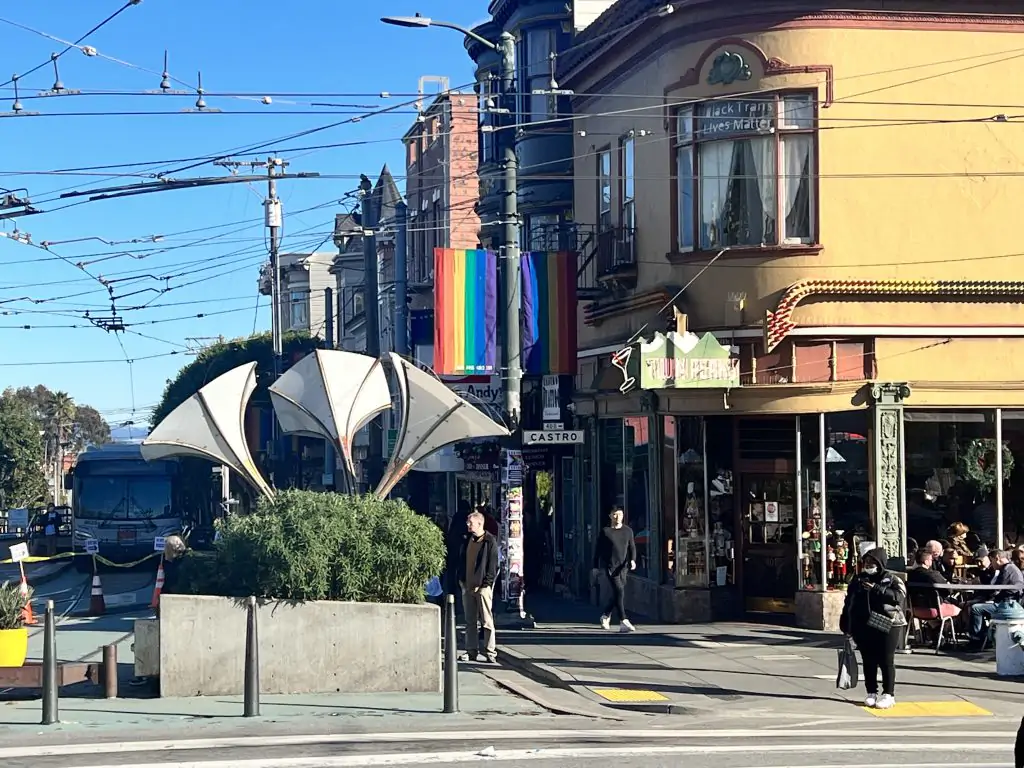 Go Shopping in the Castro
There are several awesome shops in the Castro worthy of popping into.
Cliff's Variety
I love Cliff's Variety. Every time I'm in the Castro, I make sure to stop in here. Cliffs Variety is a store where you can get almost anything. If you need a small kitchen appliance, a paint sample, a new puzzle, or a candle, Cliff's Variety probably has it. It's part neighborhood hardware store, part gift shop, and part art supply store. You'll be able to find unique souvenirs to bring home, or if you're a local, perhaps a new air fryer.
Local Take
Check out this San Francisco gift shop without the kitschiness you may find in the souvenir shops of Fisherman's Wharf. Local Take features local artists and designers' work that includes jewelry, San Francisco artwork, clothing, and more. You're sure to find a gift for yourself or a friend that they'll use and love!
Fabulosa Books
One thing I love about local San Francisco bookstores is that they each cater to their neighborhood. Fabulosa Books is no different. Behind the bright purple exterior, you'll find a huge selection of LGBTQ+ literature. You'll also be able to find best sellers, new releases, and a small kids section.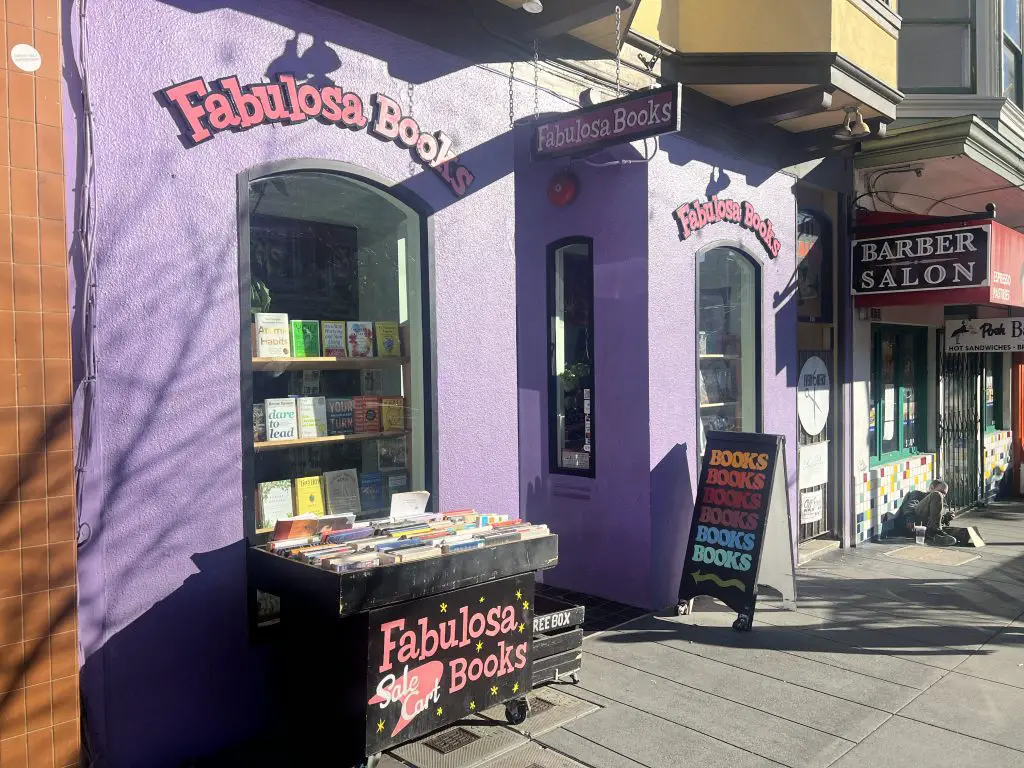 Stag + Manor
Stag + Manor is a modern home furnishing and decor shop. While it was closed due to a holiday when I was in the neighborhood, a peek through the window solidified that this is a place I'd be tempted to spend a lot of money. I'll be saving up and be back! Stag + Manor sells high-quality home goods, decor, and other items sourced from artisans around the world. Their website shows that they have a unique collection of gorgeous goods if you'd like to peruse.
ZGO Perfumery
Step into this scent boutique located at the corner of Castro St and 19th. I've wandered by ZGO many times and when I was in the neighborhood on New Year's Day I finally wanted to stop in, but it was closed. Next time I will as I'd love help picking out my signature scent.
Spend the Afternoon in a Park
The Castro is well served by many awesome parks with great views of San Francisco.
Mission Dolores Park
The Castro borders Mission Dolores Park which is one of the most popular parts of San Francisco. This large park has plenty of lawn space to lounge with a good book, tennis courts, and a playground. There are also two public restrooms that you can use for free! 
You'll often see people selling drugs, beverages, and typical treats. One of my favorite things on a warm day in Mission Dolores is to purchase a rum coconut from the coconut guy to enjoy with tacos from Nopalito!
Corona Heights Park
Just north of Market Street, and up a hill, is Corona Heights Park which offers amazing views of the San Francisco skyline and is a great place to enjoy a San Francisco sunset. There is a small path that leads to a rocky overlook where you can shield yourself from the wind as it often gets quite cold here as the sun goes down. There is also a fenced-in dog park here if you've got a furry friend that needs to get some energy out! Additionally, the Randall Museum is located at the bottom of the park.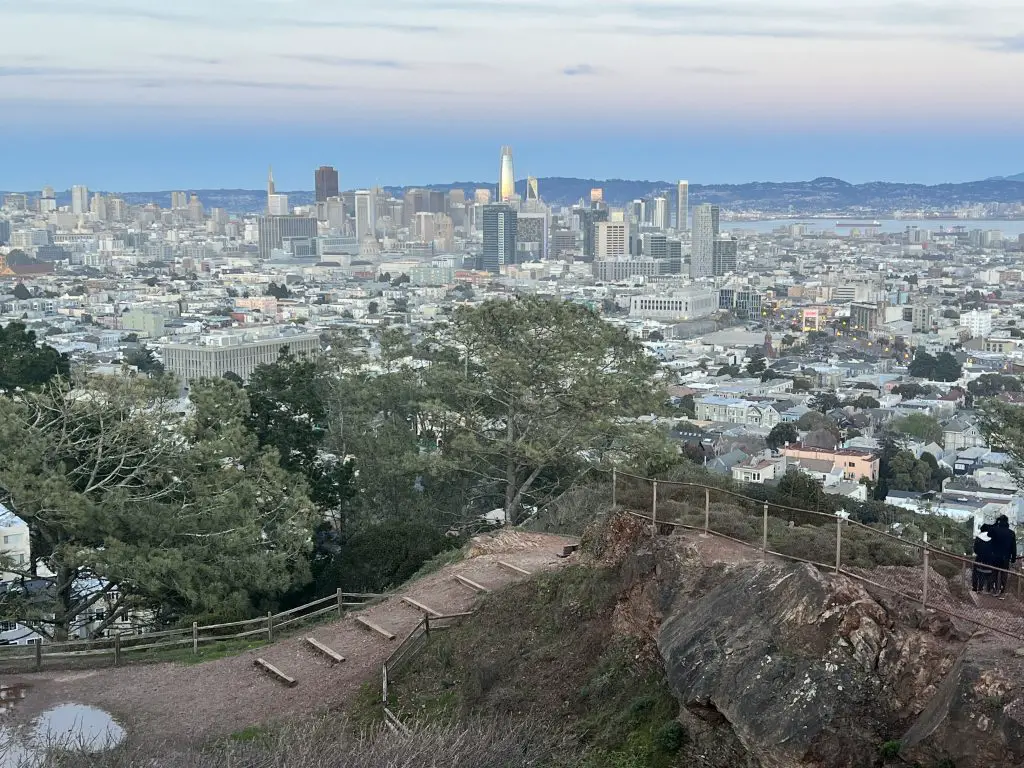 Kite Hill
Perhaps the smallest of the parks mentioned here, but not lacking in views, is Kite Hill. Up another steep hill from Castro Street, this small grassy park provides a reprieve from the busy city below. Plus, you'll see great views of the Castro down Market Street to Downtown.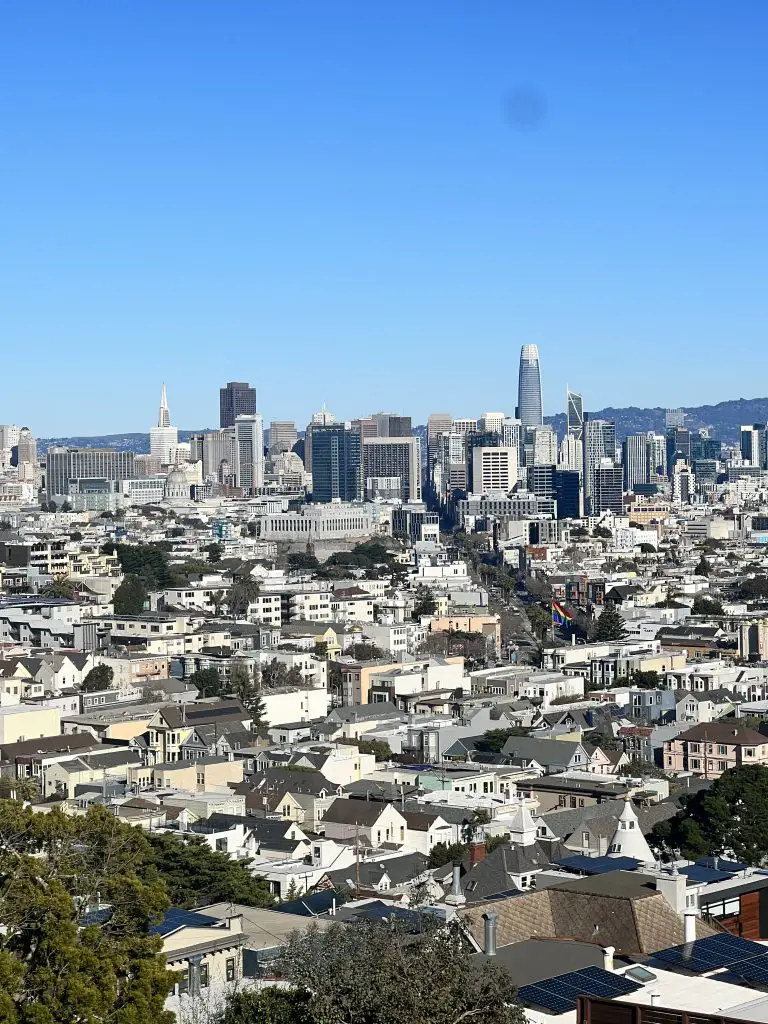 Slide Down the Seward Street Slides
If you've got kids and some spare cardboard head to the even smaller park at Seward Street. Here you'll find steep concrete slides that you can slide down. To be honest, they are steep and look like they could seriously hurt if you hit the concrete too hard, so proceed with caution!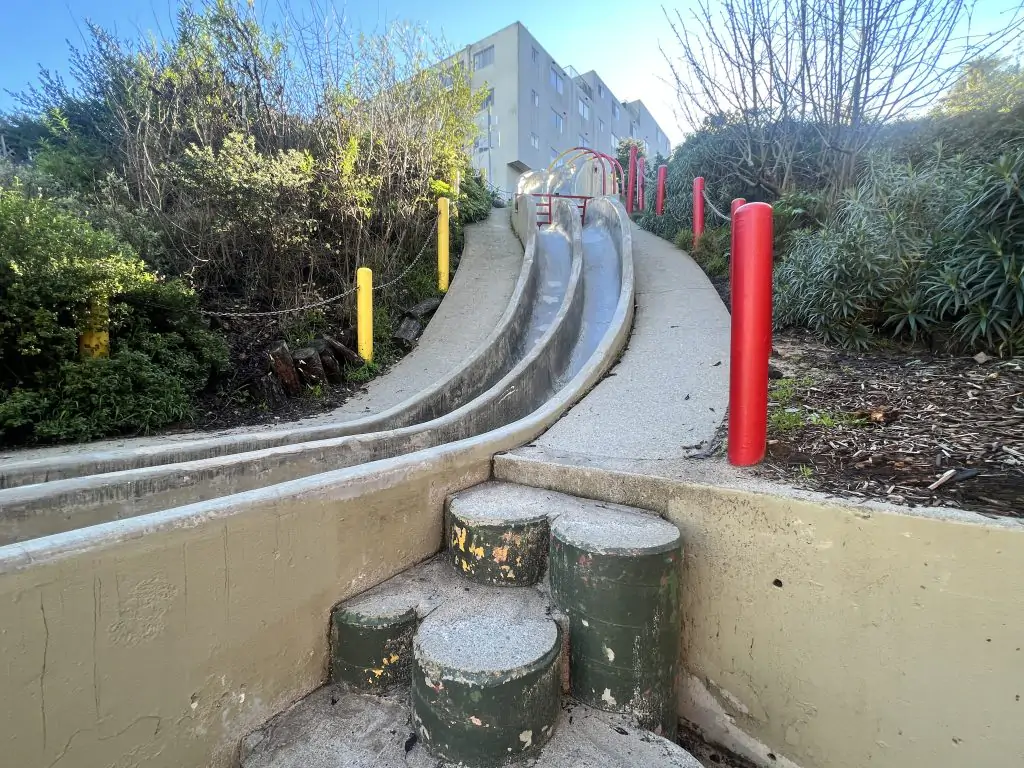 Attend a Festival 
Perhaps the most popular festival in the Castro is the Castro Street Fair. The Castro Street Fair was founded by Harvey Milk in 1974 and has been running ever since (not including the Pandemic years). At the fair, you'll see hundreds of local artists, vendors, and musicians bringing the community together.
Take a Walking Tour
In the next section, I'll share with you my recommended way to spend a day in the Castro. However, if you want a guided tour, consider joining SF City Guides which offers free walking tours throughout the city. I've done one in the Mission and loved learning more tidbits about the neighborhood. If you have a keen interest in this neighborhood, I recommend joining a tour.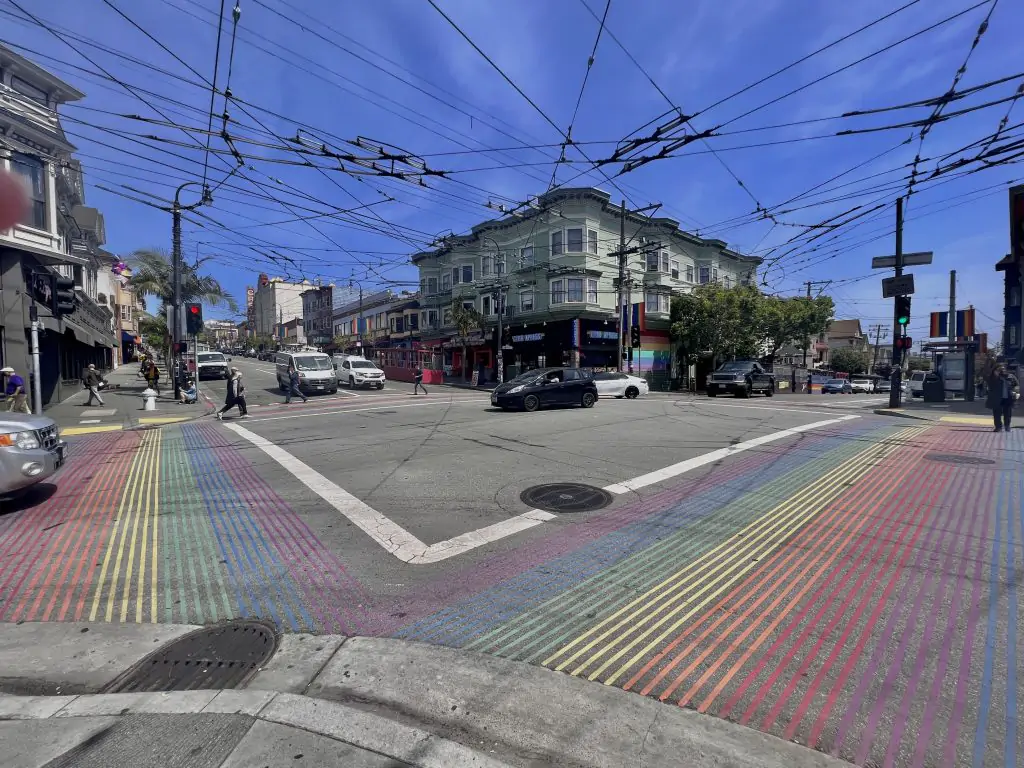 How to Spend a Day in the Castro
If you're more of a DIY person, here's how I'd recommend adding a day in the Castro to your San Francisco itinerary. 
Start your day mid-morning with breakfast and coffee/tea at Le Marais
Walk towards Castro St. on 18th St. Take a left on Castro to see the Castro Camera Shop
Take a right on 19th St. and walk to Kite Hill (it's a steep climb)
Come back down via the Seward mini park and walk up Castro Street, crossing Market to the Pink Triangle Memorial.
Continue walking to Corona Heights Park
Return to Castro Street and walk down the opposite side of the street, stopping at Twin Peaks for a drink, Cliffs Variety, or Fabulosa Books.
Enjoy dinner at one of the restaurants mentioned below.
If you're one for going out – then head out to one of the bars mentioned below.
Where to Eat in the Castro
The Castro is home to so many delicious places to eat! Here are a few of the best restaurants in the Castro.
Fable: Eat at Fable for a weekend brunch on their garden patio.
Orphan Andy's: Enjoy this greasy spoon diner for breakfast, lunch, and late-night dinner.
Anchor Oyster Bar: I stood next to Anchor Oyster Bar waiting for a friend and everyone who walked by mentioned that this restaurant was awesome. If you like seafood, give it a go.
Le Marais Bakery: Stop by Le Marais for a delicious croissant, coffee, or crepe. Or grab a table for a French lunch.
Cafe Mystique: Enjoy breakfast, lunch, and dinner at this Cafe Mystique that combines American, Italian, and Mediterranean cuisine.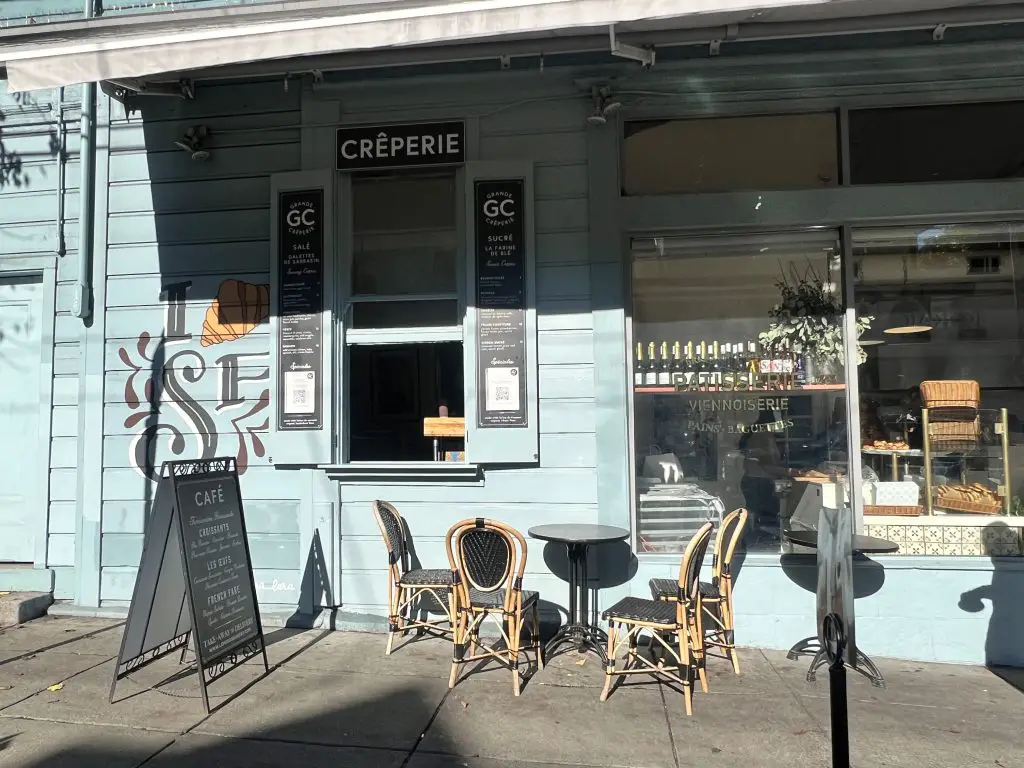 How to Get to the Castro
The Castro neighbors the Mission District, Eureka Valley, and Corona Heights. You can easily walk to the Castro from any of those neighborhoods. You could also walk there from the Haight-Ashbury neighborhood if you're interested in a longer walk.
Public Transportation
If you're coming from the Union Square area, the best way to get to the Castro is via the iconic F Streetcar. It will drop you off right at Market + Castro.
Alternatively, you could take the underground Muni. Lines K, L, and M all stop at Harvey Milk Plaza.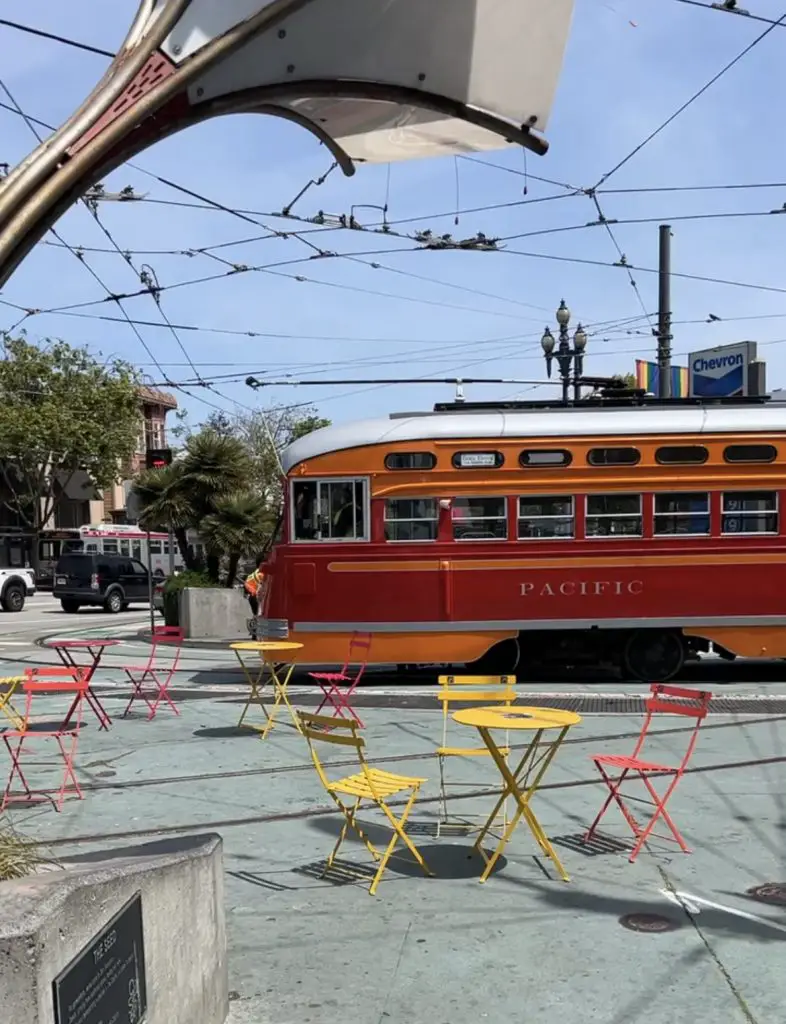 Uber/Lyft
Uber and Lyft are plentiful in the city.
By Car
You can drive to the Castro, which is what I typically do. Just note parking can be challenging, so you may have to park in a residential area and walk. Also, parking is typically only for 2 hours at a time. Make sure follow my San Francisco driving tips and read all posted parking signs to avoid a ticket.
Where to Stay Near the Castro
Parker Guest House
The Parker Guest House is a great boutique hotel on the border of the Castro and the Mission. They offer 21 elegantly appointed rooms, a private garden, and complimentary breakfast and evening wine social. They also offer on-site parking for an additional fee. I highly recommend using this as your base for exploring the Castro and beyond.
Check here for rates and availability.
Beck's Motor Lodge 
Beck's Motor Lodge is a budget-friendly option for a hotel near the Castro. In addition to this boutique motel's recently renovated guest rooms, there is also free parking!
Check here for rates + availability.