The Haight-Ashbury neighborhood is incredibly popular for tourists and locals to visit. I highly recommend adding the Haight Ashbury to your San Francisco itinerary. Head shops, vintage stores, beautiful architecture, good food, and of course the history of the summer of love draw people in. Before we get into what to do in the Haight-Ashbury neighborhood, we must first understand how it became immortalized as the countercultural epicenter of the 1960s and how you can still feel that energy walking through the streets today.
This post contains affiliate links, which means that, at no additional cost to you, I will earn a tiny bit of income if you decide to make a purchase or booking. For more, check out my disclosure. 
San Francisco Travel Resources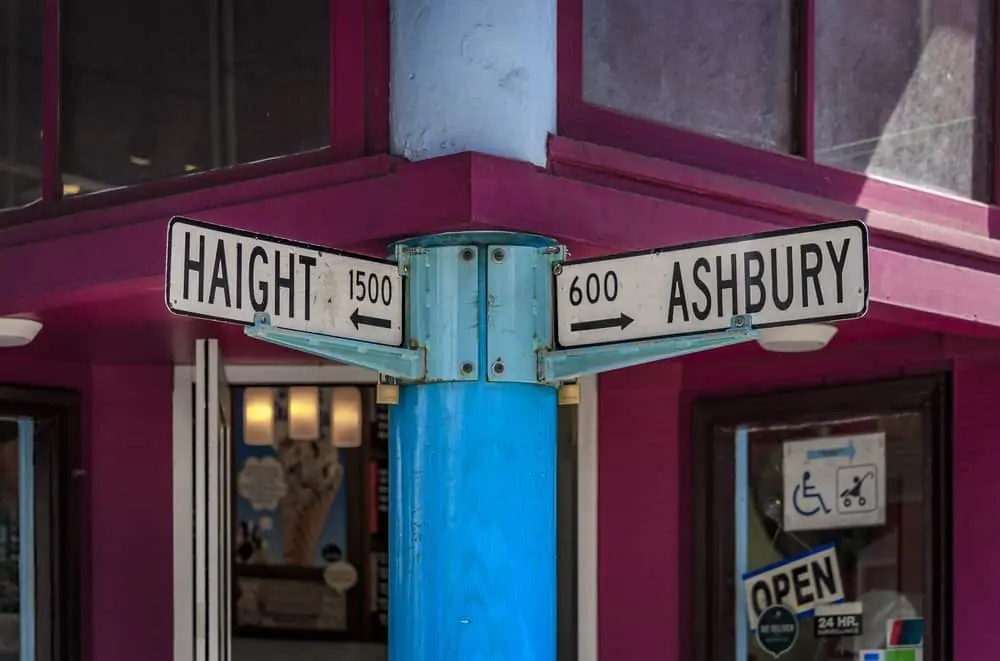 A Brief Lesson on Haight-Ashbury History
The Haight-Ashbury district rose to fame in the 1960s as the home of the hippie movement. The height of which occurred in the summer of 1967 when almost 100,000 people flocked to Haight-Ashbury in search of free love, like-minded anti-war sentiments, and, of course, drugs. Artists such as the Grateful Dead, Janis Joplin, Jefferson Airplane, Jimi Hendrix, Yoko Ono, and others made the Haight-Ashbury their home during this time, adding to the allure. 
If you haven't heard it yet, this song inspired thousands of people to move to the Haight in the summer of 1967.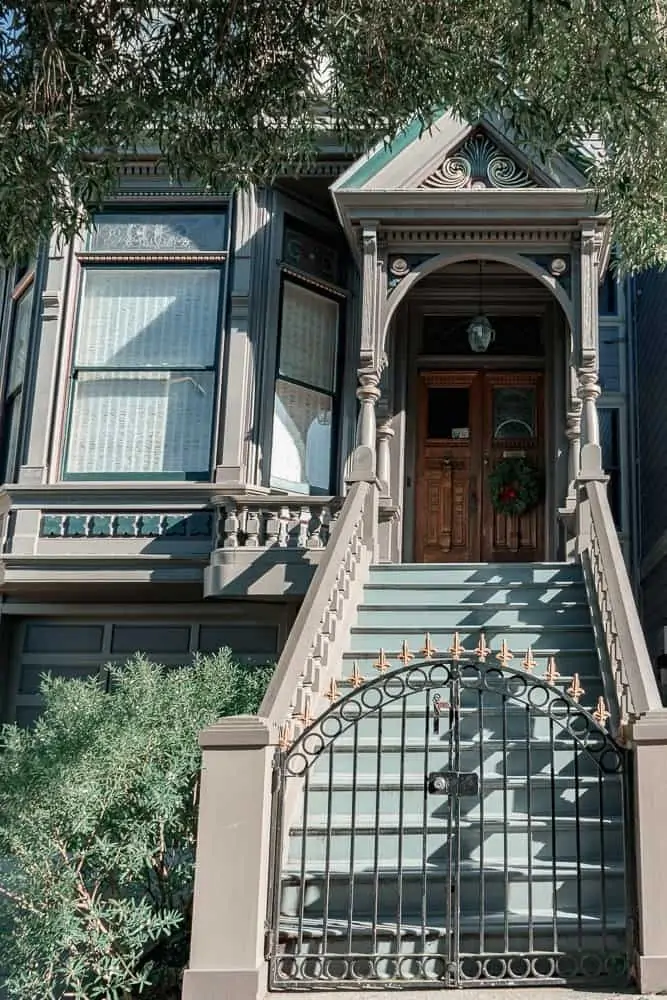 While it sounds like it would've been an interesting summer, to say the least, the neighborhood could not accommodate the large influx of people so homelessness, crime, and addiction became a problem. 
Interestingly, an anti-capitalist community called the Diggers organized the very first free medical clinic, handed out free meals daily, and offered a free store to support the community. 
As the flower power hippie movement had become a media sensation and residents were going back to school or work, it was time to put an end to the counterculture movement.. So, at the end of the summer of love, residents of the Haight Ashbury celebrated the "death to the hippie".
However, remnants of this storied past can still be seen on the streets of Haight Ashbury. In 1966 the first head shop, the Psychedelic Shop, opened its doors supplying the community with LSD and marijuana, now there is one on almost every block in this neighborhood, even though marijuana is now legal. There is still an aura of the anti-establishment mentality here, even if there is a Whole Foods at the end of the street!
What to Do in Haight Ashbury
Go Shopping in the Haight Ashbury Stores
Today, the Haight is a popular shopping destination in San Francisco. So much so, that some chain stores have moved in. A fact that I'm sure many of its former residents would be incredibly upset about.
Don't worry though, vintage stores still make up much of the storefronts along Haight Street. You'll also find record shops, book stores, and of course, multiple head shops. This is also a great place to find funky festival wear!
While we recommend checking out all of the unique stores on Haight, here are a few stores as a starting point to find your hidden San Francisco treasures.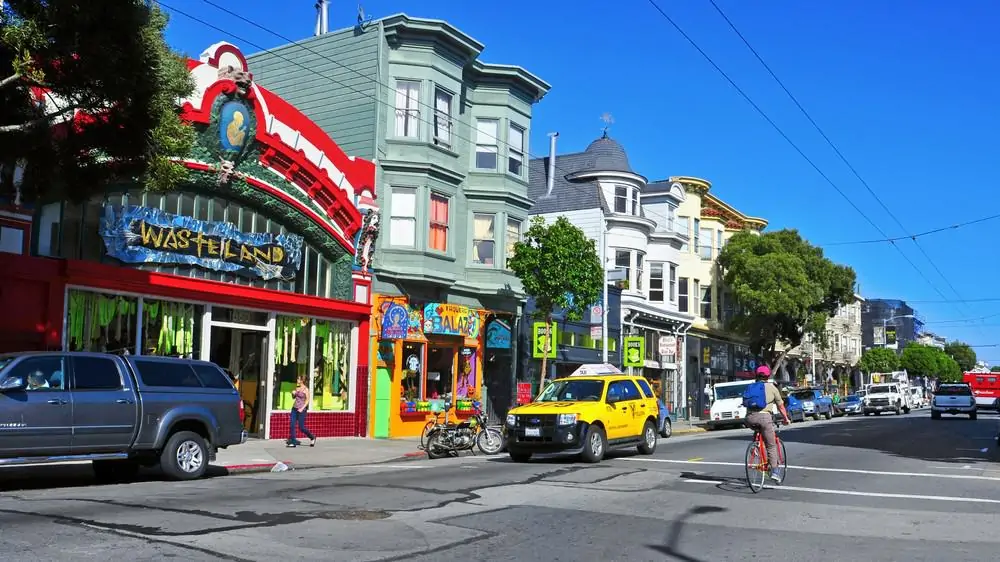 Wasteland
From designer vintage clothing to thrift store goods, Wasteland has it all. You'll find some unique items to add to your wardrobe here!
1660 Haight
Indigo Vintage
Indigo is female-owned and operated vintage store offers an excellent selection of vintage denim in addition to new, local, designer items. Worth popping into while you're shopping on Haight!
1649 Haight
Amoeba Records
Amoeba Records has been a long time resident on the western edge of Haight. Here you can find amazing music and movies, at great prices. 
1855 Haight
Twisted Thistle Apothecary
If you're looking for incense, unique CBD products, clean beauty products, and healing herbs, this Apothecary is for you! There are so many goodies in this store but don't be overwhelmed, the staff is incredibly friendly and knowledgeable, helping you find what you need!
Plus it smells amazing!
1391 Haight
Top Drawer
Top Drawer offers unique Japanese style goods from Bento Boxes to stationary to handkerchiefs! Many of their products are designed with travelers and creatives in mind so this is the perfect place to find a gift for the globetrotter in your life, or yourself!
1409 Haight
Admire the Stunning Victorian Homes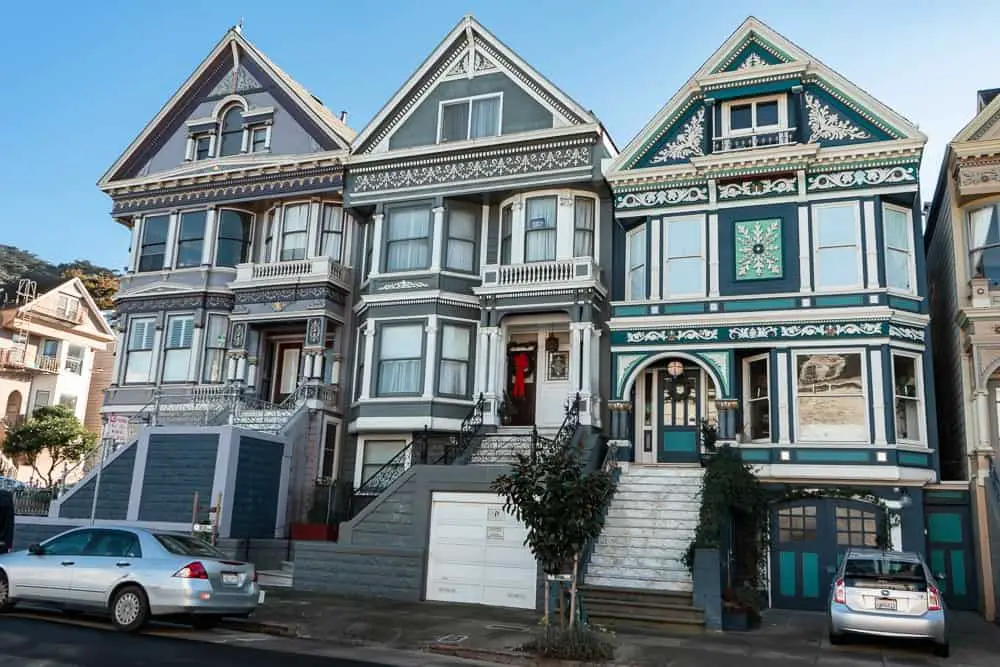 While you probably know of the Painted Ladies in Alamo Square, Haight Ashbury has its own ladies to show off! In my opinion, the Victorian homes in the Haight Ashbury neighborhood are more ornate and quite a bit more beautiful than their sisters on Alamo square.
To find them, wander any of the surrounding streets. Particularly, walk up to Waller, where you can wander to find your favorite Victorian. However, definitely check out the homes on the corner of Waller and Masonic!
Page St also has some beautiful Victorian Homes.
Alternatively, you can search out the homes of former musicians who made Haight Ashbury their home in the 1960s. Here are a few notables:
Grateful Dead House: 710 Ashbury Street
Janis Joplin House: 122 Lyon Street or 635 Ashbury Street
Jefferson Airplane (among others): 2400 Fulton Street
Jimi Hendrix: 1524A Haight Street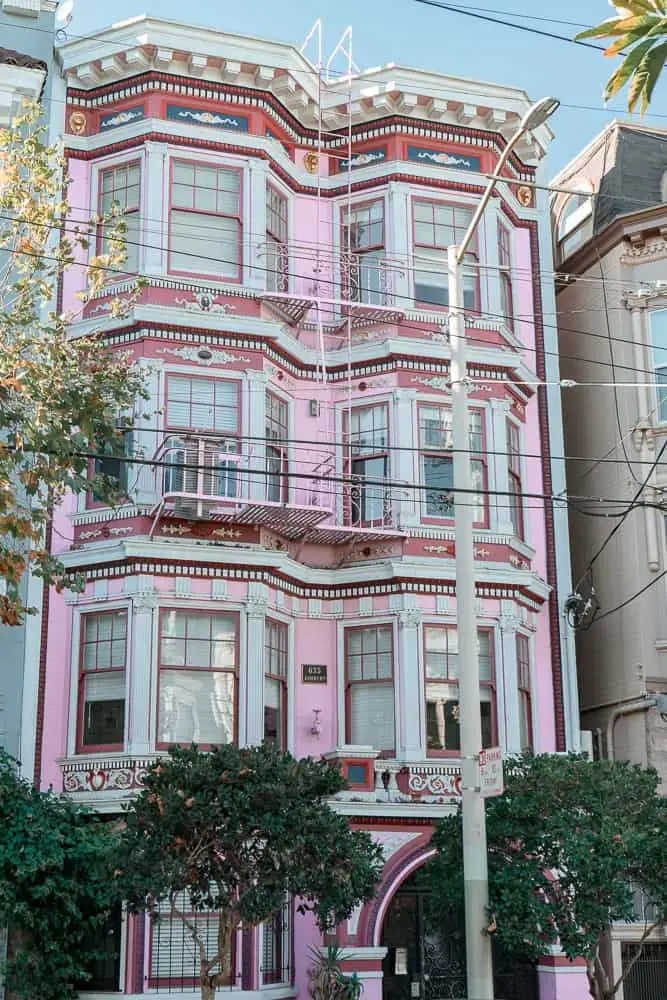 Enjoy a Coffee
You're in luck, the coffee craze has not missed Haight-Ashbury! You can re-energize after all of the shopping and climbing up hills with a coffee or tea from one of the unique coffee shops that have found their home here.
Flywheel
Flywheel is a family-owned and operated coffee shop and roasters located across the street from Golden Gate Park. The interior of Flywheel has a very industrial feel with cement flooring, exposed brick, and beautiful woodwork. The baristas are always welcoming and while I don't drink coffee, I can say that their tea is excellent. My coffee drinking friends say their coffee is one of their favorites as well.
678 Stanyan St.
Coffee to the People
Located on Masonic and Haight, this unassuming coffee shop looks like the perfect place to cozy up on a couch and read or catch up with friends. Unfortunately, I visited at the height of the pandemic so I can't vouch for the comfort of the couches! In addition to a wide selection of coffee and tea, Coffee to the People also has a variety of sandwiches and quiches to satisfy your appetite.
1206 Masonic ave
Ritual Coffee Roasters
Ritual Coffee Roasters is located directly across from Buena Vista Park, so you can take your coffee with you on your walk throught the park or stop in afterward for a pick me up. 
1300 Haight St
Relax in the Parks
If you need to take a break from all of the shopping you've done, head to one of the three parks that surround Haight-Ashbury.
Golden Gate Park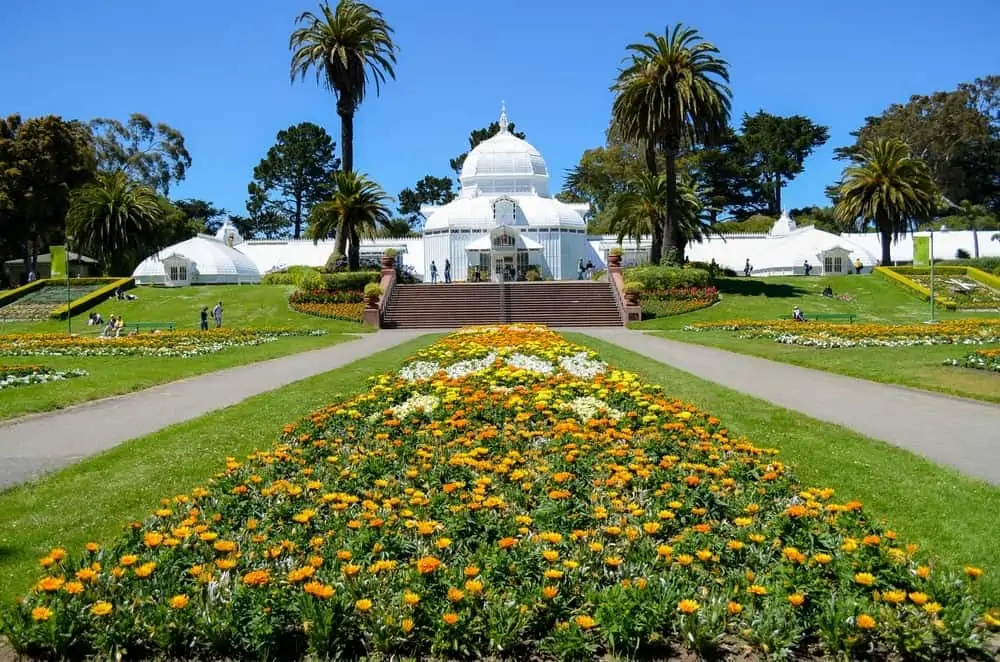 While you could easily spend multiple days in Golden Gate Park and not see it all, there are some awesome things to do near Haight Ashbury. First and foremost is Hippie Hill. In keeping with the traditions of Haight Ashbury, Hippie Hill is where a big 420 celebration takes place every year. But also, on a random Sunday visit, there was a drum circle! Bring a blanket, a lawn chair, or find a bench and enjoy people-watching in the sun on Hippie Hill. 
Also nearby is the Conservatory of Flowers where you can go to learn about rare and endangered plant species. General Admission is $10-$12 depending on the day of the week you visit.
Buena Vista Park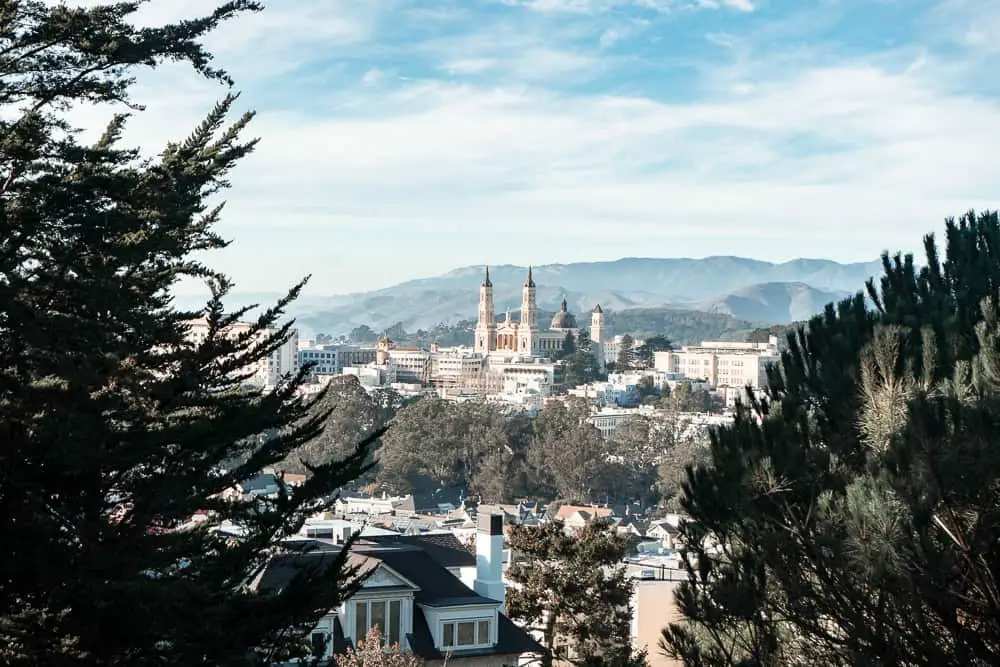 Get ready for a climb at Buena Vista Park! On the opposite end of Haight Street from Golden Gate Park in Buena Vista Park. This park offers multiple trails leading uphill with various places to pause to catch your breath while enjoying the view of the city below. On a clear day, you'll have awesome views of San Francisco. You'll be able to see the Golden Gate Bridge, St. Ignatius Church, Alamo Square, and the Castro.
Panhandle Park
Panhandle Park runs in between Fell and Oak Streets and leads into Golden Gate Park. This park is popular amongst runners, cyclists, and dog walkers. Alternatively, find a bench under a tree or spread out a blanket and relax with a book!
Attend a Festival
Haight Ashbury Street Fair
In the summer, the Haight Ashbury Street Fair combines good music with over 200 food and merchandise on Haight Street between Masonic and Stanyan. See if it coincides with your visit to the Haight with more information here.
420 Day
If you're so inclined, celebrate 420 Day on Hippie Hill. Until 2017, this celebration was a bit more underground. However, the legalization of Marijuana in 2017 created a legitimate celebration, which may have taken the fun away just a little bit. Alternatively, if this is not your scene, then plan to explore a different neighborhood in San Francisco on 420!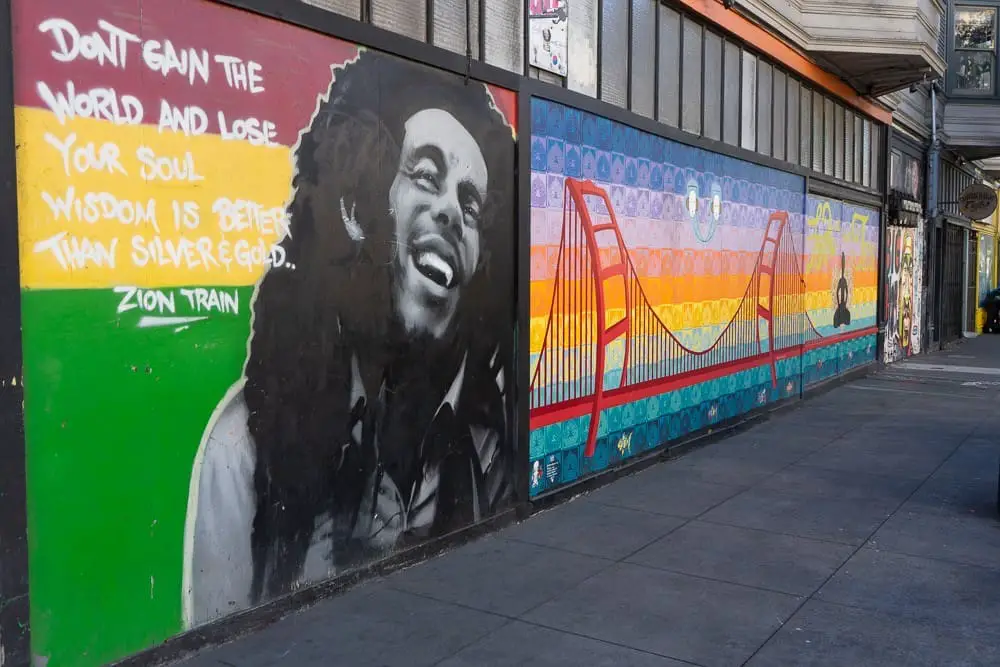 How to Get to Haight Ashbury
By Car
If you have a car, you can drive to the Haight Ashbury neighborhood. You can park at a metered spot on Haight St. However, I recommend trying to find parking on the side streets such as Waller, Frederick or Page St. Most of the surrounding streets are 2-hour parking only, although it is Free. But the 2-hour limit is enforced, so keep an eye on the time to avoid a ticket. Petty theft is common in the Haight, so be sure to take all valuables with you to avoid break-ins.
By Bus/Muni
Multiple Bus routes pass through or near Haight-Ashbury.
From Ocean Beach: Take Bus 5 along Fulton to Clayton St and walk to the Haight.
From Downtown/Embarcadero/Hayes Valley or Sunset: Take Bus 7 which has multiple stops on Haight St.
From Presidio Heights/Balboa Park: Take Bus 43 Masonic which has multiple stops on Haight St.
To find a bus route near you, use SFMTA or the MOOVIT app.
Where to Stay Near Haight Ashbury
Stanyan Park Hotel
Stanyan Park Hotel is as close as you'll get for traditional accommodations in the Haight-Ashbury neighborhood. The hotel is located directly across the street from Golden Gate Park and below is the local favorite, Kezar Pub. This hotel receives high reviews for its customer service and location. However, there is a homeless encampment directly across the street. If that will present a problem for you.
Check rates and book your stay at the Stanyan Park Hotel.
Rent an Airbnb
There are several Airbnbs in the Haight-Ashbury neighborhood for any budget. Plus, you could stay in a beautiful Victorian home! Live like a local for a few days in one of these cozy San Francisco apartments while being steps away from Haight St. 
Here are some of my favorites.
Resources
Like this post? Pin for later!