One of my favorite things to do in San Francisco when I don't have anything to do is visit a local bookshop for a new read. If it's a sunny day, I'll take my new book to the park or find a nearby cafe to relax with a new book. Many of the best bookstores in San Francisco have been around for years and are San Francisco landmarks in their own right.
One of my favorite things about the independent bookstores in San Francisco is that they each take on their neighborhoods' personally! For example, Fabulosa books in the Castro feature many LGBTQ-related reads, and City Lights honors its literary past with an entire floor of poetry. This means each time you enter a new bookstore in San Francisco your library, and mind will expand to new ideas and concepts. 
Below you'll find a few of my favorite bookshops to visit for a new literary find. 
The Best Independent Bookstores in San Francisco, CA
City Lights Booksellers
City Lights Bookstore is a San Francisco institution. Perhaps one of the more famous bookstores in San Francisco, Located in North Beach, this bookshop and publishing house is known for being a writing place for poets of the Beat generation, like Allen Ginsberg and Jack Kerouac.
This history remains with an entire third floor as a dedicated poetry room. On the other two floors, you'll find current top novels, as well as sections on Native American History, Spirituality, LGBTQ, and more. The friendly staff and will point you in the right direction to find your next favorite book.
If you're interested in learning more about the work of Beat poets, visit the Beat Museum down the street.
Location: 261 Columbus Ave.
Things to do nearby: Take your book to a nearby North Beach restaurant or Washington Square Park.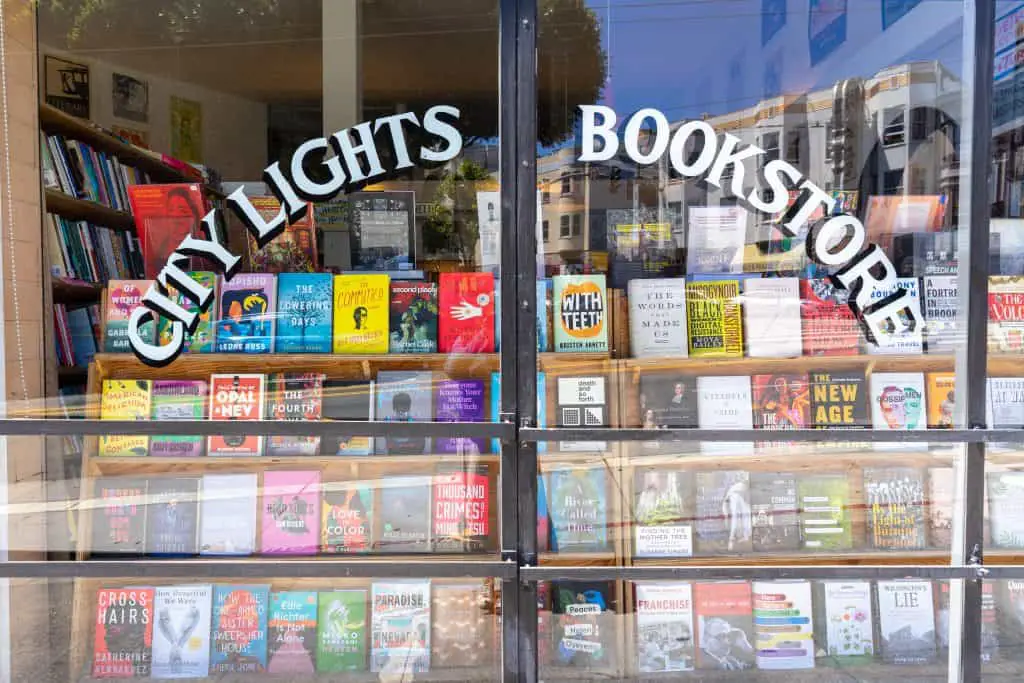 Green Apple Books
Established in 1967, Green Apple Books has been a Richmond neighborhood, and San Francisco favorite for quite some time. With three floors of new and used books, you'll definitely find something interesting to read.
What I love about Green Apple Books is that their shelves are stocked with not just the current bestsellers, but also books that will help us understand current events and unique perspectives.
Each time I go, I find a new author or book that I fall in love with.
I especially love the third floor where the used books are. I've found some real gems on those shelves, like The Gentleman of Moscow. It's a great way to get some new books without spending too much money. 
They also buy books here! So if you need to clear out some space on your bookshelf with some new favorites, bring your gently used books to Green Apple!
The Richmond location is the flagship location, but you can find a smaller second location in the Inner Sunset. 
Locations: 506 Clement St. & 1231 9th Ave.
Things to do nearby: Take your new book to one of the best restaurants in the Richmond or to Golden Gate Park.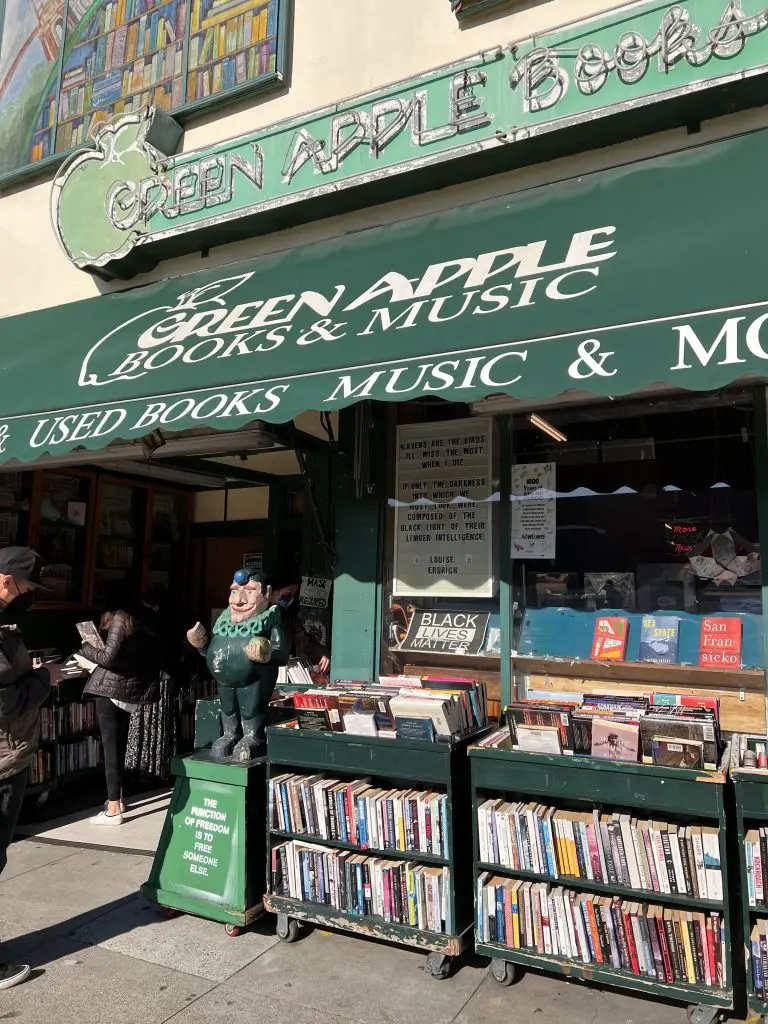 Blackbird Bookstore
If you're out in the sunset neighborhood, head to the highly curated, and very aesthetic, Blackbird Bookstore. If stacks and stacks of books overwhelm you and leave you unable to decide on your next book purchase, then Blackbird is for you. Then, if you're still having difficulty deciding on a book, sign up for their book of the month club and leave the decision making to the pros!
This bright and airy bookstore only displays a handful of each carefully selected book. They carry a diverse range of books from topics on current events to children's books. 
There is also an on-site coffee shop to combine your love of coffee (in my case tea) and a new book!
Location: 4541 Irving St.
Things to do nearby: Head to one of the most beautiful beaches in San Francisco, Ocean Beach!
Folio Books
Folio Books is a charming bookstore nestled in Noe Valley's shopping area. While it has an impressive collection of new releases and helpful staff members, what I noticed about this bookstore compared to the others listed here is its large children's section. 
Almost the entire back half of the bookstore is filled with children's books and gifts. This is likely a reflection of the family-oriented nature of Noe Valley. It is a great place to bring a child to look for a new book, I just may bring my nieces here!
Location: 3957 24th St.
Things to do nearby: Check out the other local shops on 24th street.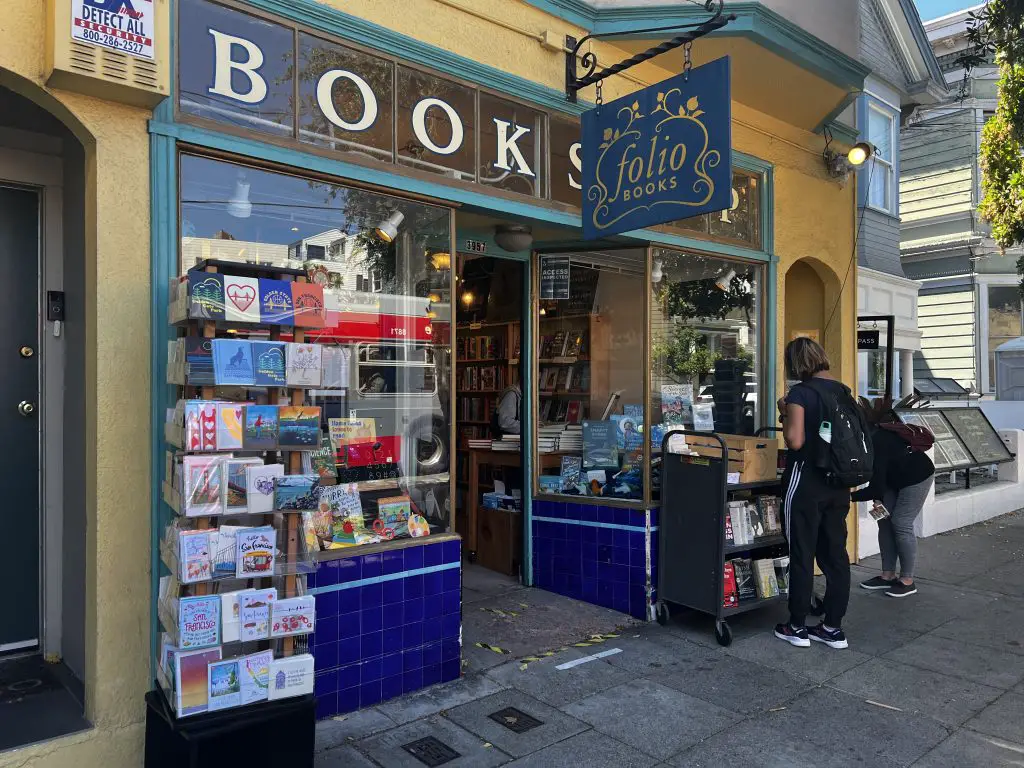 Borderlands Books
If you like Science Fiction, Borderlands is for you! Borderlands has been a hub in the Mission for all things fantasy, horror, science-fiction, and mystery for over 24 years. However, they've recently moved locations to the Haight-Ashbury neighborhood. 
I visited their shop when it was located in the Mission and, while I'm not a huge Sci-Fi fan, I did find the staff to be very helpful in offering suggestions for a friend. I've yet to visit their new Haight Street location, but I'm sure it's just as cozy and charming.
Location: 1740 Haight St.
Things to do nearby: Explore historic Haight-Ashbury neighborhood by popping into thrift shops on your way to Golden Gate Park to read your new book.
Dog Eared Books
Dog Eared Books on Valencia Street in the Mission has a little bit of everything. It's the perfect place to peruse for a new genre or find your favorite author. They have a nice variety of new and used books. 
If you're looking to offload any of your own gently used books, they do buy books as well. Be sure to call in advance to see if a buyer is available when you plan to visit.
What I love most about this bookstore is it's open late, until 10:00 pm! So after your dinner in the Mission, stop by to grab your next favorite book!
Location: 900 Valencia St.
Things to do nearby: Grab a snack from Tartine and head to Mission Dolores Park for an afternoon of reading.
Fabulosa Books
Fabulosa Books has taken over the former Dog Eared Books location in the Castro. Thankfully, they kept the bright purple exterior that draws you into this super charming bookstore. While Fabulosa carries a variety of books in every genre, they do specialize in LGBTQ history and literature.
And just like its former owner, Dog Eared Books, Fabulosa is open late on Saturdays, until 10:00 pm! 
You can also sell your gently used books to Fabulosa for store credit.
Location: 489 Castro St.
Things to do nearby: Learn more about the history of the Castro at the GLBT History museum.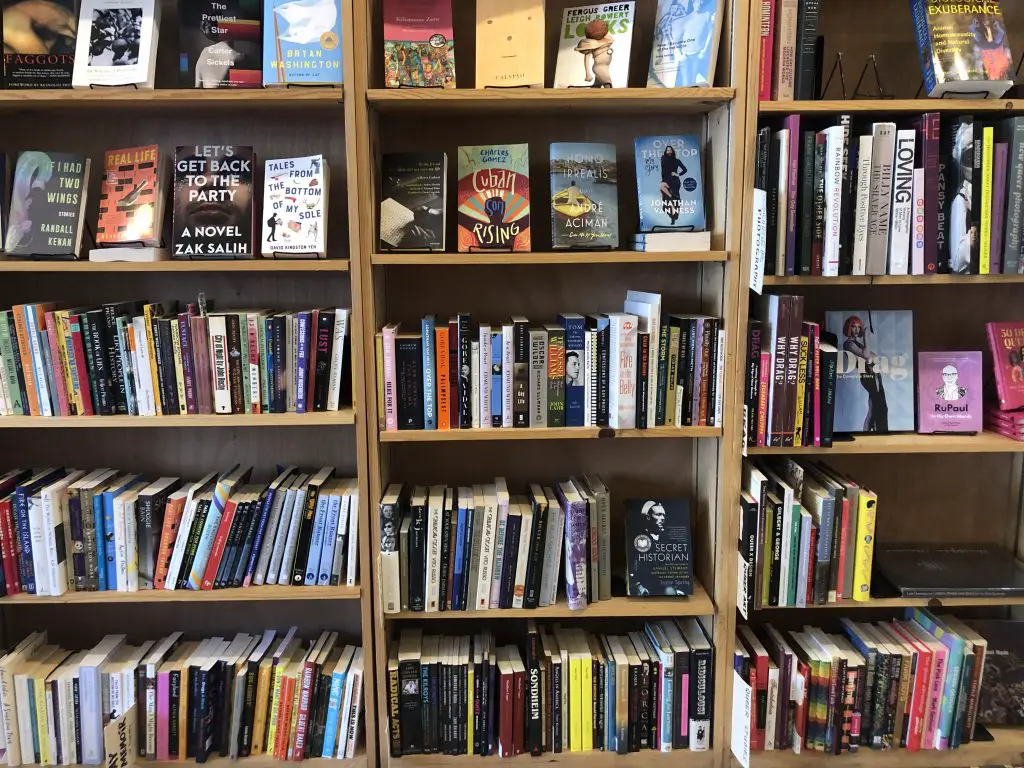 Bookshop West Portal
After a Saturday morning yoga session at nearby Breathe Salt Yoga I decided to head into West Portal to try out a matcha latte at a new to me coffee shop. After stopping at Ballast Coffee, I meandered down West Portal Ave and found the neighborhood bookshop. This bright bookshop has a serious collection of fiction books featuring a diverse range of authors. You'll be able to find bestsellers here as well as books on current events and a nice children's book selection.
While I perused the shelves looking for something new that piqued my interest, I noticed the woman working the counter greeted customers by name. West Portal Bookshop really has a warm and welcoming neighborhood vibe. If you're in the area, definitely stop by!
Location: 80 West Portal Ave
Things to do nearby: After getting your new book head to Ballast Coffee to enjoy your book with one of the best matcha lattes in the city. Or head across the street to the Goodwill for a high quality thrift find.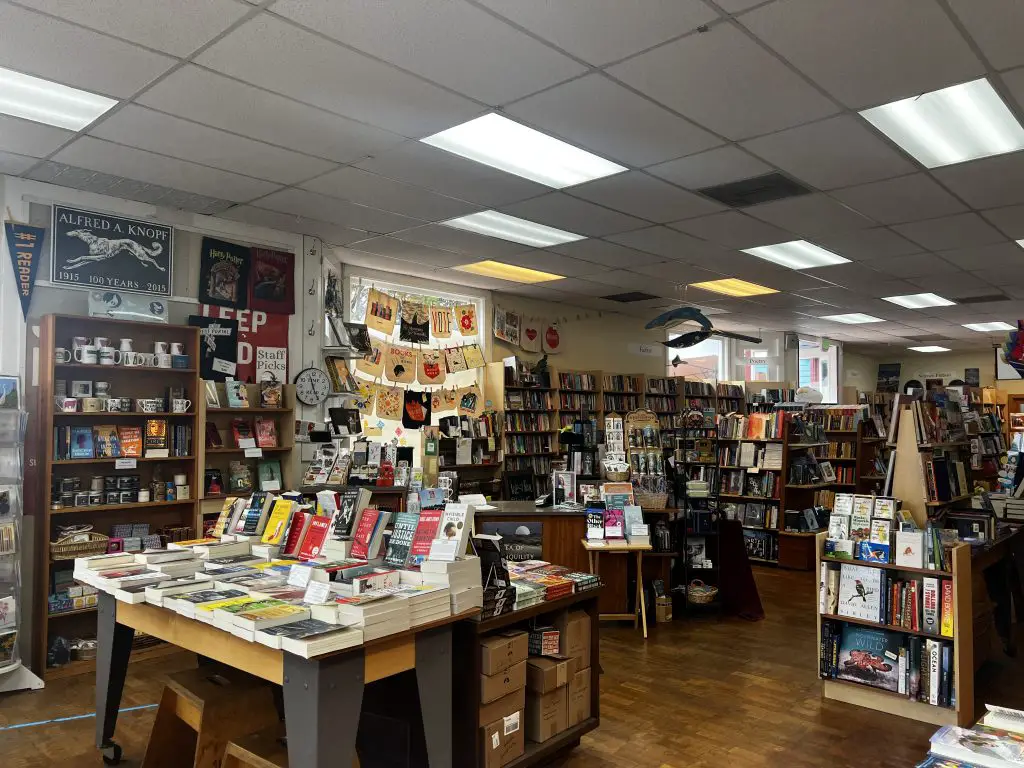 There are a few bookstores in the city that I haven't had the chance to visit just yet. But they're on my list. If you're in one of these neighborhoods check them out!
Christopher's Books: Potrero hill
Browser Books: Pac Heights
Adobe Books: Mission
Booksmith: Haight
Bird & Beckett: Glen Park
Alexander Book Company: SOMA
Argonaut Book Shop: Downtown
Even with the convenience of Amazon and Audible, these independent bookstores in San Francisco still thrive thanks to the communities they support, who in turn support them. Nothing beats a relaxed weekend afternoon spent perusing the shelves of a local bookstore to find your next favorite read. Plus you just can't get that good book smell from Amazon! But which is the best bookstore in San Francisco – that's for you to decide! Hope you have fun finding your favorite San Francisco bookshop!
Save this post to Pinterest for planning your San Francisco itinerary!