Do you want a little slice of Japan without the long flight? Head to Japantown in San Francisco, where you'll be able to immerse yourself in some Japanese culture. In Japantown, San Francisco you'll find dozens of Japanese restaurants, dessert shops, tea shops and so much more located in a fairly small six-block radius. Even though Japantown is small compared to its counterpart, Chinatown, there are still so many things to do in Japantown, San Francisco. An afternoon spent in Japantown will easily fit into your overall San Francisco itinerary. 
This post contains affiliate links, which means that, at no additional cost to you, I will earn a tiny bit of income if you decide to make a purchase or booking. For more, check out my disclosure. 
History of San Francisco's Japantown
I always like to provide a little bit of the history of San Francisco neighborhoods when it's warranted. Before we dive into the best things to do in Japantown, a brief recap of how this neighborhood came to be.
Japanese immigrants began settling in this area of the Western Addition neighborhood after the great earthquake of 1906. It quickly became one of the largest Japanese communities outside of Japan. That is until the Japanese internment began in 1942.
After World War II some Japanese Americans returned to the neighborhood and in 1957 San Francisco entered into a sister city relationship with Osaka, Japan earning it the nickname, "Little Osaka".
Today, Japantown is one of only three remaining Japantowns in the United States. The other two are also located in California, in San Jose and Los Angeles.
Where is Japantown Located in San Francisco?
Japantown is a small six-block area of the larger Western Addition neighborhood. The main streets that border Japantown are Pine St, Geary Boulevard, Octavia St, and Fillmore St. Buchanan Street runs through the center of Japantown and contains the pedestrian-only section known as Little Osaka Way.
Things to Do in Japantown
Since Japantown is small I recommend allotting 1-3 hours to visit on your larger San Francisco itinerary. I recommend starting with lunch and then checking off other items on this list or the reverse. Explore a bit of Japantown and then have dinner in one of the delicious restaurants I'll mention below.
No matter how you dedicate your time here, you'll leave feeling as if you've had a little taste of Japan.
Relax under the Peace Pagoda in Japantown Peace Plaza
The Peace Pagoda which sits on the corner of Peace Plaza is perhaps the most recognizable part of Japantown. The Peace Pagoda was a gift from San Francisco's sister city, Osaka in 1968. This is a particularly beautiful place to visit in the Spring as the cherry blossom trees surrounding the pagoda will be in full bloom. 
It's also a great place to people watch as locals and tourists meander through Japantown's Peace Plaza.
Go Shopping in Japantown
One thing that Japantown is great for is finding unique gifts and household items. Whether you're interested in anime, unique Japanese houseware, or a good book you'll likely find it in Japantown.
Little Osaka Way
Start your Japantown shopping excursion on Little Osaka Way. On this pedestrian-only section of Buchanan street, you'll find one of my favorite Japanese shops. 
SF76
SF76 is a home goods store offering just about everything you'd need in your kitchen, plus jewelry and other unique gifts. But it's not overwhelming. The minimalist design of the store and layout of their goods lends to an enjoyable shopping experience. 
This shop is the perfect place to pick up a unique gift for someone at home, or yourself.
Location: 1758 Buchanan St.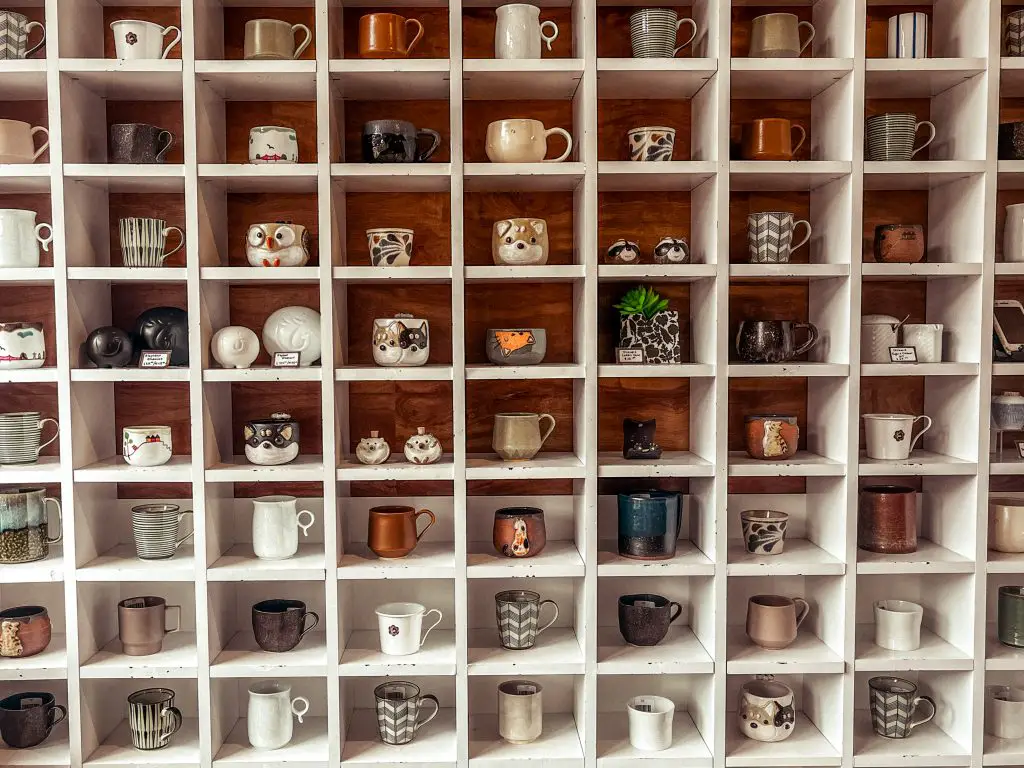 Forest Books
Next door to the home goods shop is a used and rare bookstore, Forest Books. Inside this small bookshop, you'll find hand-selected books on Eastern religion, some popular fiction, and other rare books.
Location: 1748 Buchanan St.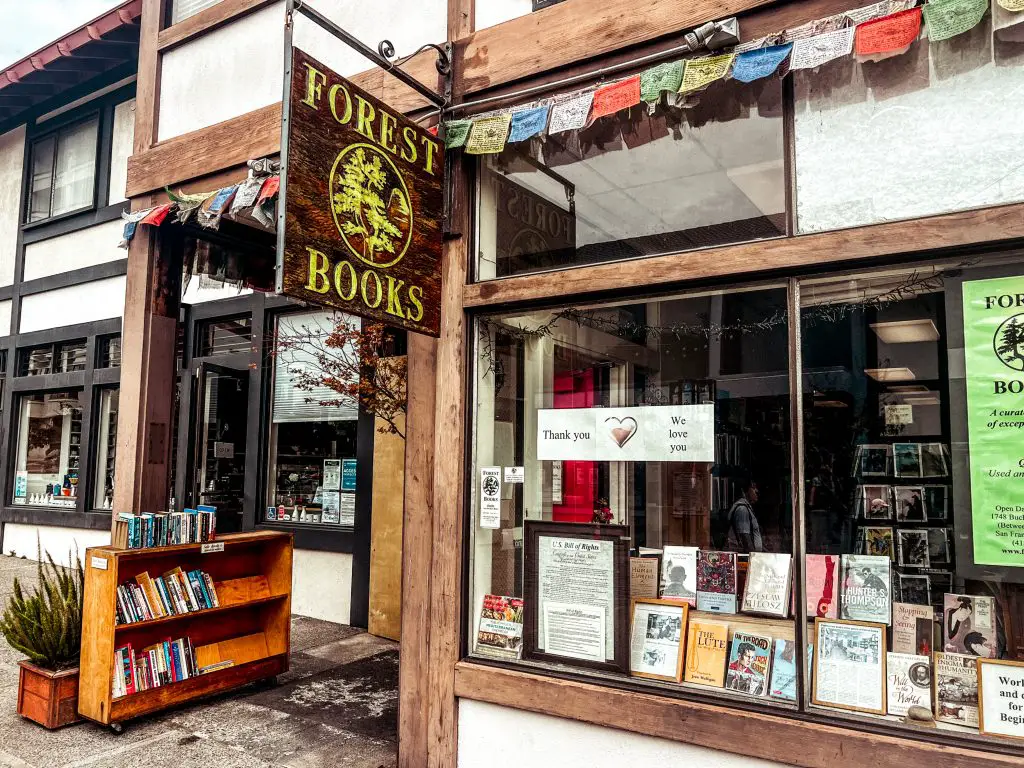 Shop in Japan Center
Once you're done, cross Sutter Street to Peace Plaza where you'll find Japan Center Malls. 
One thing to know about Japantown is that the majority of the shops and restaurants are located inside the Japan Center Mall. These indoor malls have an east and west portion, with the western portion housing the majority of restaurants and shops.
Location: 1737 Post St.
East Mall
The eastern mall is home to a very large Daiso. Daiso is where you can find just about anything for relatively cheap. I liken it to a Japanese version of CVS and Home Goods. There is a little bit of everything inside.
Daiso is the main shop on this side of the mall. Once you're done here, cross Peace Plaza to the west mall.
West Mall
The western side of the mall is where you'll find several cute shops. I'm going to highlight a few of my favorites. 
Chato
If you're a tea lover like me, Chato is for you! This small shop is dedicated to all things Japanese tea. And the owner is an incredibly kind man who will share his wealth of knowledge about how to make the perfect cup of tea, depending on the tea you choose. 
Inside you'll find matcha-making kits (my favorite) as well as traditional Japanese tea pots that both steep and filter the tea. 
What I also loved about this experience is the owner genuinely loves speaking about tea. He understood I was starting in my knowledge of tea and recommended a great starter Sencha and gave me a sample!
10/10 recommend this tea shop. 
Kinokuniya Bookstore
Around the corner from the tea shop is the Kinokuniya Bookstore. For over 50 years, Kinokuniya has been offering mostly Japan-related books and merchandise. The first floor is dedicated to anime and manga, while the larger second floor has a wider variety of books outside of the Japanese genre. 
I especially loved their travel section which had a huge selection of books about Japanese travel. If you're planning to travel to Japan anytime soon, definitely stop by this San Francisco bookstore to pick up a guide or Japanese literature to help you prepare.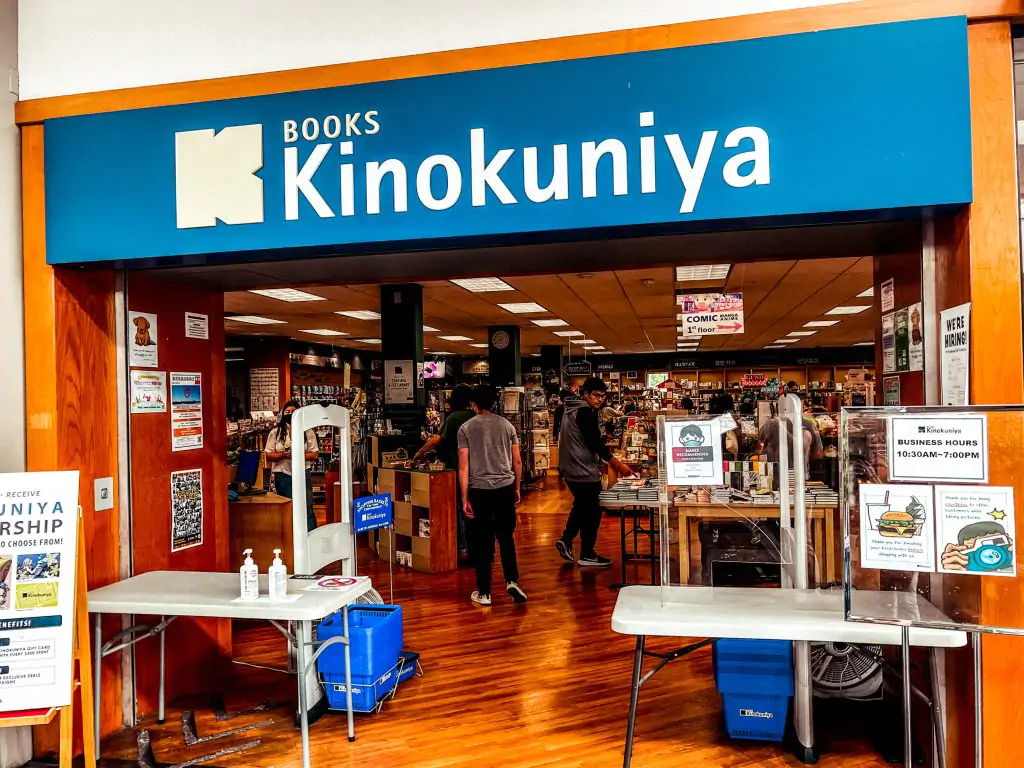 See the Cherry Blossom Bloom
I love visiting Japantown in the spring as there are many Cherry blossom trees throughout the neighborhood. One of the main places to see the Cherry blossom bloom is around the Peace Pagoda, but they are also on Little Osaka Way. 
The timing of the Cherry Blossom bloom is, of course, dependent on the weather, however, March and April are likely a good time of year to visit to see them in bloom.
See a Movie
Interested in seeing a movie? Located in the mall is the AMC Kabuki 8 theater. This has been a movie theater since the 1980s, but before that it was an actual Kabuki theater!
See showtimes and purchase tickets here.
Location: 1881 Post St
Relax at the Spa
There are a few spas in Japantown if you're looking for a bit of relaxation during your trip.
Kabuki Springs
Kabuki Springs is a traditional Japanese bathhouse with communal baths and body treatments. I love bathhouses like this. It reminds me of the bathhouses in Budapest. There are hot and cold pools, steam rooms, and saunas that you circulate through to improve your health and well being. You can combine this with a massage, facial, or other body treatments.
There are women only, men only, and coed days. Reservations are required for baths at 2.5 hour increments. 
Location: 1750 Geary Blvd
Pearl Spa and Sauna
Pearl Spa and Sauna is a women only Korean inspired spa. They offer a variety of body scrubs that they combine with Himalayan salt room treatments. I can't wait to try this out and report back as the prices are pretty reasonable!
Location: 1656 Post St
Where to Eat and Drink in Japantown
There really is no bad restaurant in Japantown. There are several Japanese cuisine options, ramen restaurants, top sushi spots, as well as other international cuisines and of course places for dessert!
Just don't go to Benihana – you can get that just about anywhere in the United States. 
Noodles 
If you're craving a nourishing bowl of noodles on a foggy San Francisco day, you're in the right place. 
Inside Japan Center Mall there are two top-rated Ramen and Udon restaurants, Marufuku and Udon Mugizo. Thankfully, they're right next to each other so you can see which line is shortest and hop in that one!
Alternatively, if you want to sit outside on a nice day, check out Hinodeya Ramen Bar. Located on Little Osaka Way this is a great spot to sit and people-watch while enjoying lunch. 
Sushi
Walking through Japan Center you'll pass several sushi restaurants, and to be honest, I don't think you can go wrong with any of them. In full transparency, I haven't had sushi in Japantown since college. In fact, it was my first ever sushi experience and turned me into a huge sushi fan. Unfortunately, I don't remember which sushi spot it was, but based on the reviews I've seen online, here are the sushi restaurants in Japantown that are on my list to try.
If you want to splurge a little bit and give Omakase a try, check out An or Oma Sushi Station. Omakase translates to "I leave it to you". It leaves the sushi you eat up to the sushi chef. I can't wait to try this, it seems like such a fun experience! 
Dessert
Now, what I have tried in Japantown are the dessert shops. If you're craving something sweet, you have several dessert shops at your fingertips. 
Matcha Cafe Maiko
Matcha Cafe Maiko is a popular place for creative matcha concoctions. To be honest, I usually keep it simple and get the frozen yogurt swirl. But there is a large menu of delights to choose from and the staff is more than happy to help you decide.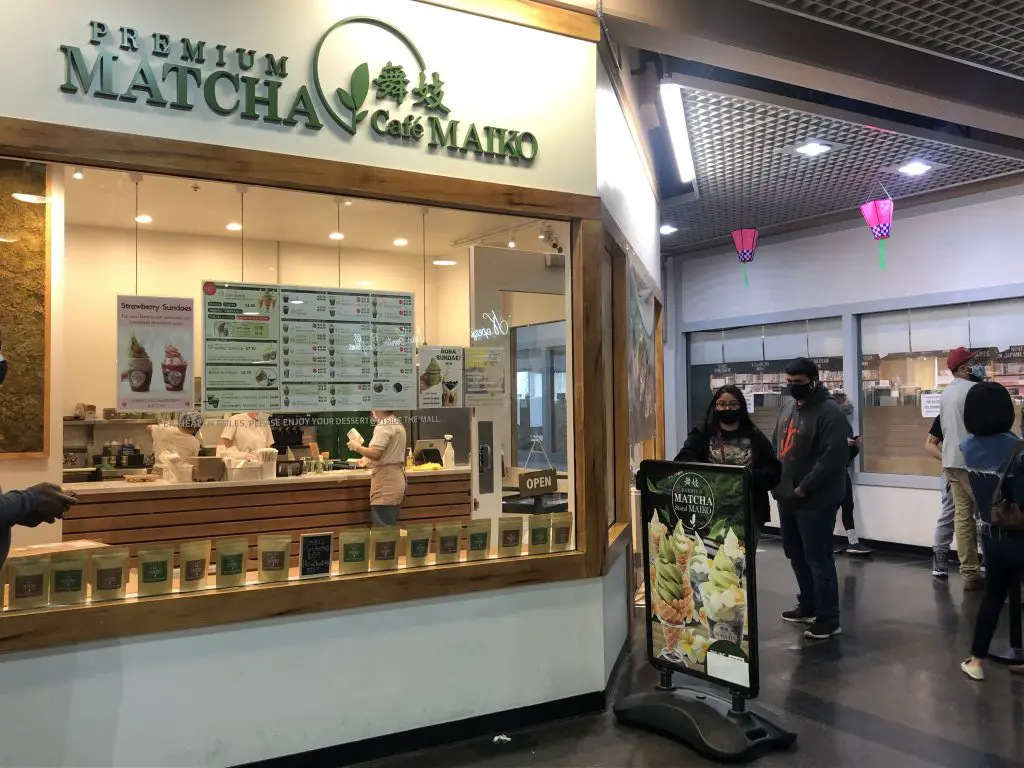 Mochill SF 
These little donuts by Mochill are so freaking good. Made from rice flour, they're lighter than traditional American donuts. And the variety of flavors that they come in are amazing. The matcha mochi donut is of course my favorite, but the black sesame is a close second. 
Events in Japantown
There are many events in Japantown throughout the year, but the two annual events in Japantown are the Cherry Blossom Festival and the Nihonmachi Street Fair.
Northern California Cherry Blossom Festival
Every spring Japantown comes to life as the cherry blossom trees bloom. The annual Cherry Blossom festival has been held in celebration of this since 1967. Over two weekends in April, approximately 200,000 people attend this festival which typically includes a Grand Parade (TBD based on COVID), traditional music, dance, and of course culinary delights.
Check the San Francisco Cherry Blossom Festival website for future dates. 
Nihonmachi street fair
The Nihonmachi Street Fair celebrates Asian-Pacific American cultures with live entertainment, Asian-inspired art, and once again, delicious food. Typically held over a weekend in August, this festival is a great way to learn more about Asian cultures. 
How to Get to Japantown
Public transportation
It's very easy to get to Japantown via public transit. Several Muni lines service Japantown depending on where you're coming from in the city. 
#38: From Union Square hop on #38 and get off at Laguna Street or Buchanan Street.
#22: From the Marina or Dogpatch hop on #22 and get off at Fillmore Streetand Geary Blvd.
Driving
If you're driving to Japantown, there is 2-hour street parking available in the neighborhood. Just be aware of parking restrictions like street cleaning.
Alternatively, you can park your vehicle in the Japan Center parking garage which is on the ground floor of the indoor malls.
Walking
If you've followed my San Francisco packing list and packed comfortable walking shoes, Japantown is about a 20-minute walk from Nob Hill, Hayes Valley, and Alamo Square (the Painted Ladies).
Where to Stay Near Japantown
Hotel Kabuki
Hotel Kabuki is a beautiful boutique hotel located in the heart of Japantown. This pet-friendly hotel offers craft cocktails at their on-site bar, a state of the art 24/7 gym, and perfectly appointed rooms for a place to relax. Plus, it's well located to explore San Francisco beyond Japantown.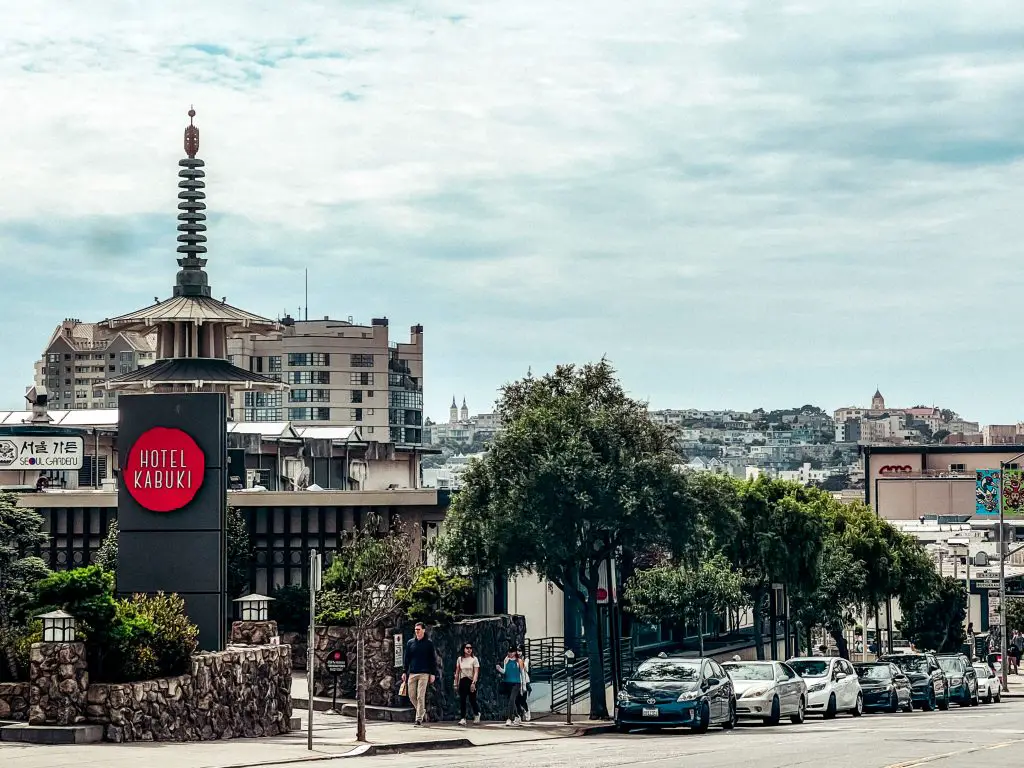 Queen Anne Hotel
San Francisco is known for Victorian architecture, I'm sure you're visiting the Painted Ladies, right? Why not step it up a notch and stay in one? The historic Queen Anne hotel is the perfect place to base yourself for exploring Japantown and the rest of San Francisco. In addition to Victorian charm, the hotel offers a continental breakfast, afternoon tea by the fireplace, and a knowledgeable concierge to help you plan your San Francisco adventures. 
Now that you're ready with the best things to do in Japantown, head out and find your favorite things! 
If you liked this post, share it to Pinterest so others can find it!