Budapest is well known for its stunning architecture, delicious food, and of course, thermal baths. I spent a little over a week in Budapest and initially intended to visit every thermal spa within the city. But due to budget and an interest in seeing other aspects of the city, I only made it to one. After a day spent eating all of the things on a self-guided food tour, I chose to relax at the Rudas Baths in Budapest.
There are more popular baths in Budapest that many tourists go to before even considering Rudas Baths. The Szechenyi Baths and Gellert Spa are two of the more touristed options. Especially with the Szechenyi sparty series (a massive pool party). While these other options were tempting, I chose Rudas Baths for a few reasons:
The entrance fee fit my budget

It maintains a beautiful Turkish bath.

It has a rooftop pool just made for beautiful sunsets

It was close to my Couchsurfing host's house.
But other than that, I really had no idea what to expect for my first thermal spa experience. This must have been obvious to others by the confused look on my face when I unexpectantly walked into the only unisex locker room! I don't want you to be wandering around as I did, wasting precious time trying to figure out how it all works. So, in this post, I'll share with you all of the details you need to know to plan your first visit to Rudas Baths in Budapest.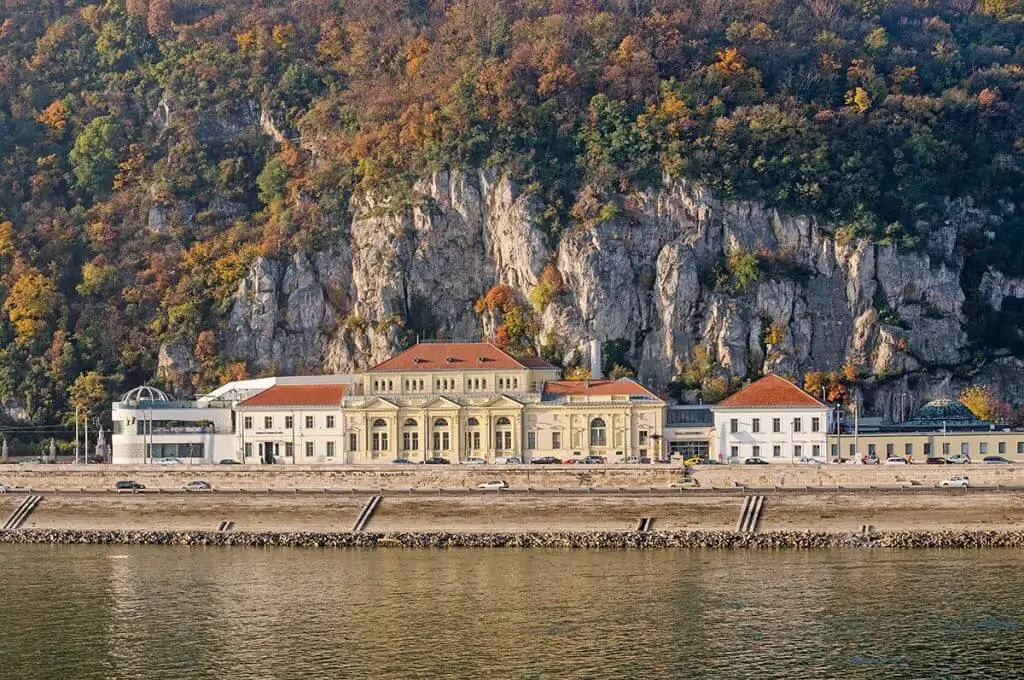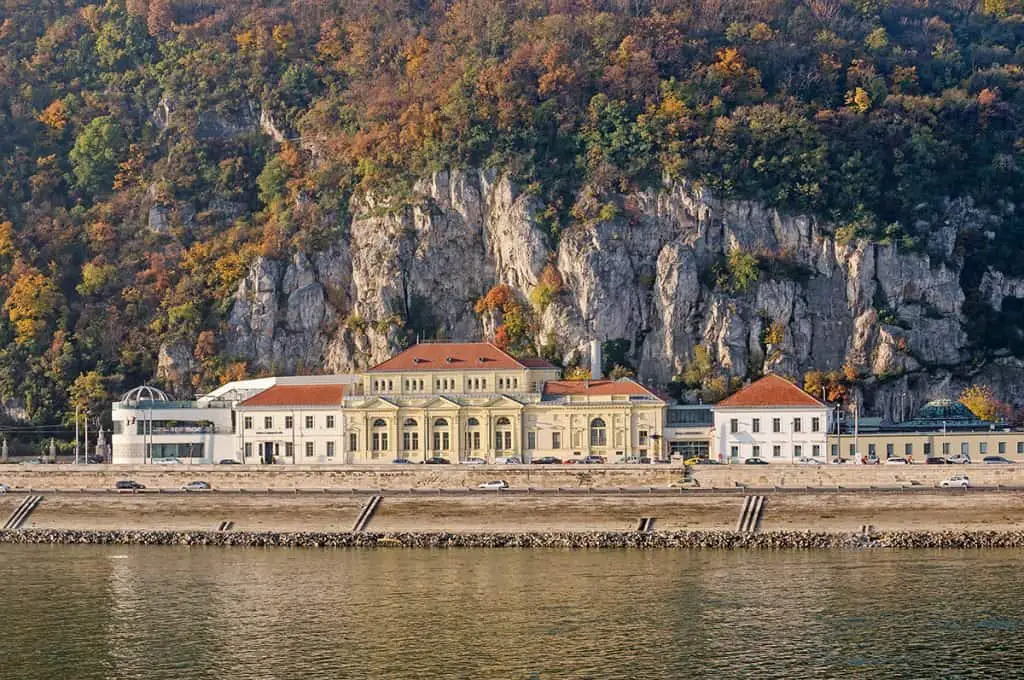 What to Know Before You Go
In order to have a smooth and relaxing time at the spa, here's what you need to know before you get there!
Rudas Baths Bathing Hours
Rudas Baths offers bathing hours for women only, men only, and co-ed bathing. This information is found on the official website of Rudas Thermal Baths in Budapest.
Swimming pool and wellness section (co-ed)
Swimming pool: 06:00 – 22:00
Wellness – sauna world: 08:00 – 22:00
Vapor bath (Turkish bath)
Every day: 06:00 – 20:00
For women: Tuesday
For men: Monday, Wednesday, Thursday, Friday,
Group use: Saturday, Sunday
Night bathing: Friday, Saturday: 22:00 – 04:00
(The sauna world is not available during night bathing.)
Rudas Baths Prices
There are a few packages for the entrance fee to Rudas Baths. The more you pay, the more you can access. They also offer various spa services such as massages and pedicures. Make sure you specify what you'd like access to and any additional services when you check in. You may need to book a massage in advance especially if you're going on the weekend.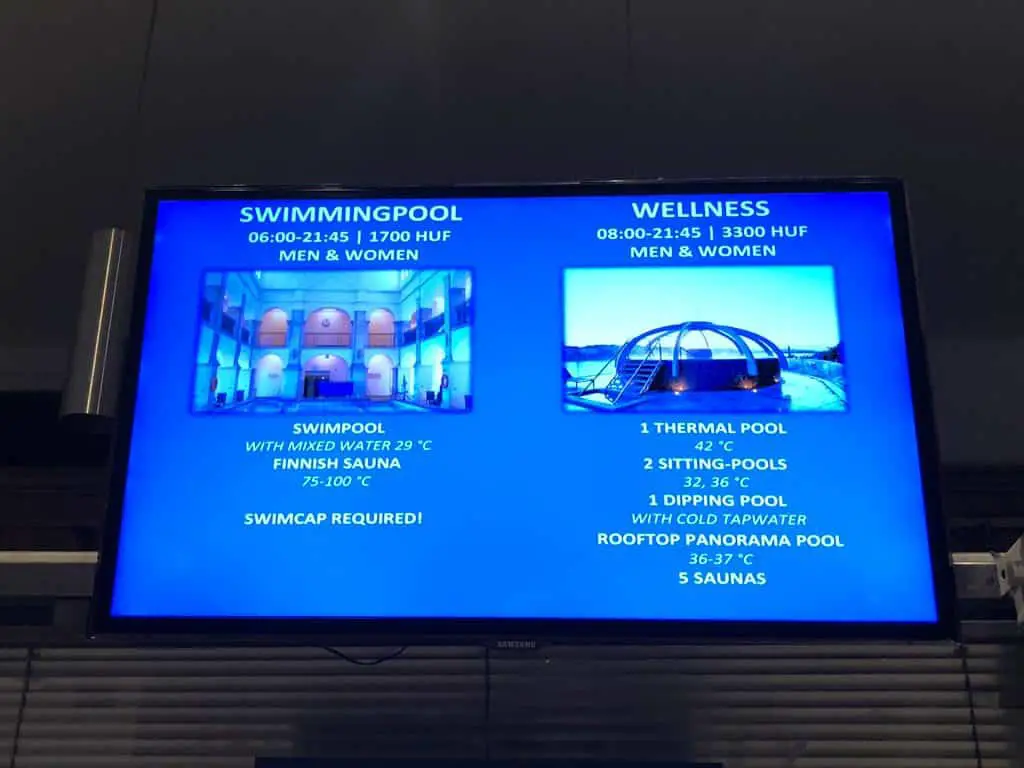 I opted for the wellness package which cost 3,300 florint and gave me access to every sauna and pool I thought existed at the time. The Turkish bath area is where the gender-specific bathing occurs and it has different operating hours than the rest of the spa. Since I arrived around 7:30 pm, they likely wouldn't have given me access to the Turkish bath even if I knew I had to specifically ask for it! You can find a list of prices and services here.
What to Bring to Rudas Baths
Generally, you can rent just what you'll need (towels, bathing suits, and swimming caps) at Rudas baths for a fee. So, if you don't happen to have any of those items, no worries! However, on co-ed days a bathing suit is required. If you don't happen to have one, I suggest just wearing a sports bra and underwear. Make what you have work.
I also suggest wearing rubber flip-flops for walking in between the pools and around the spa.
Make sure to bring a refillable water bottle. All over the spa are drinking fountains that provide some of the best tasting water I've ever filled up my Hydroflask with!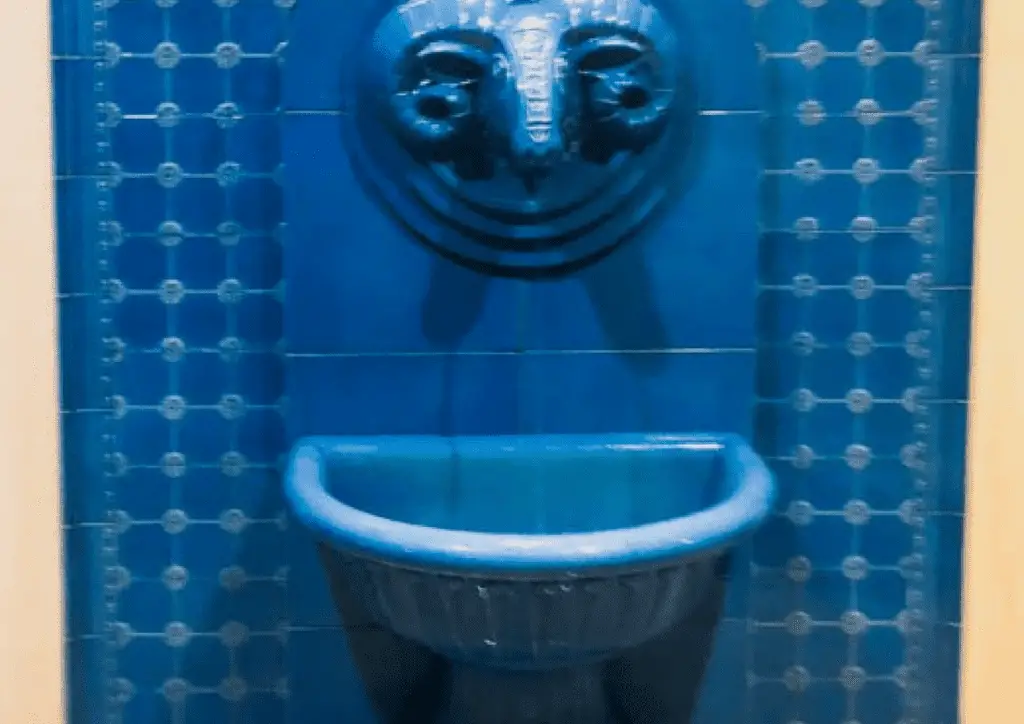 Getting to Rudas Thermal Baths Budapest
Rudas Thermal Baths are easily accessible via public transportation from just about anywhere in the city. The baths are located on the banks of the Danube, on the Buda side of Budapest. Don't worry, I continuously had to ask which side of the river was Buda and which was Pest. The Buda region is the western side with the castle while Pest is the eastern side with Parliament (I remembered P for Parliament).
You'll find Rudas Baths just across the liberty bridge, near Gellert Baths and Gellert Hill (a great place to watch the sunset). To get there using public transportation take the M4 metro line (green line) to Szent Gellert Ter stop and walk about 5 minutes along the Danube to Rudas. Additionally, buses 7, 8E, 108E, 110 or 112 and trams 15,19, 56, and 56A have stops directly in front of the entrance. Look for the bus or tram stop, Rudas Gyógyfürdő.
Eating at Rudas Baths
If you don't spend your entire day eating on the Bitemojo food tour like I did prior to relaxing in the baths, you might get hungry. They have two options for food at the baths. There is a snack bar located near the entrance and an upscale restaurant called Rudas Bistro.
Men and Women Only Bathing
The Turkish baths (called vapor bath) continue offering men only and women only bathing. Women only bathing occurs in the Turkish bath only on Tuesdays from 6 am – 8 pm. I visited on a Tuesday without realizing it was a women only day but was thoroughly confused as men and women were enjoying the spa. By my understanding, it's gender-specific only for the Turkish bath, except for Saturday and Sunday, which is co-ed. So, if you'd like to enjoy the supposedly beautiful Turkish bath, make sure to ask for it at the reception.
It will be a must for me on my next trip to Budapest.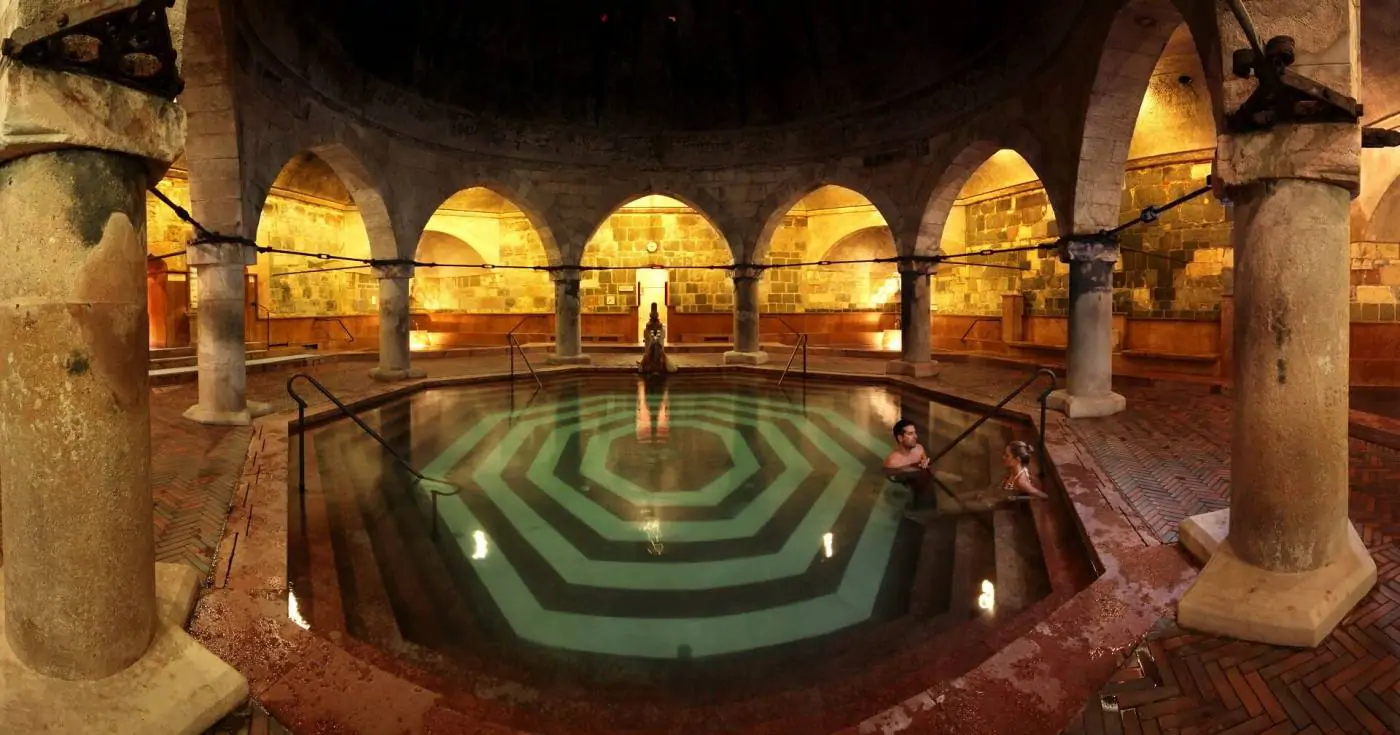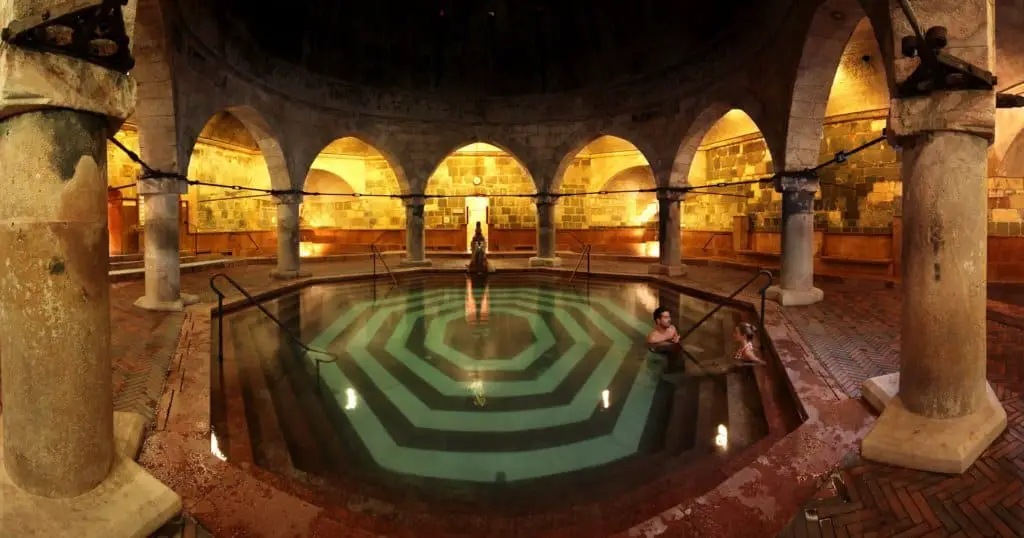 Once You've Arrived at Rudas Baths
The Locker Rooms
After paying your entrance fee, you will be handed a bracelet that looks like a watch. Put this on your wrist. This is your key to everything – which I wish I'd known.
There's a hallway in between the ticket counter and the snack bar, which will lead you to a turnstile. I stared at the turnstile for a good 5 minutes before realizing my watch was the key. I waved my wrist in front of the turnstile and it let me pass into the locker rooms with a beep.
Quite honestly, I walked around a bit confused for the first 10 minutes trying to figure out if I was in the right locker room as I passed a naked older gentleman: apparently, the locker rooms are shared, but there are separate showers and toilets.
Again, I fumbled with the lock on the locker to figure out how to use my travel lock to secure it, before realizing the pattern on the lock matched the pattern on the watch. A quick wave of the watch and I flipped the switch to lock! Basically, this watch is like a hotel room key, it gives you access to everything you paid for, except you have to return it at the end of your visit.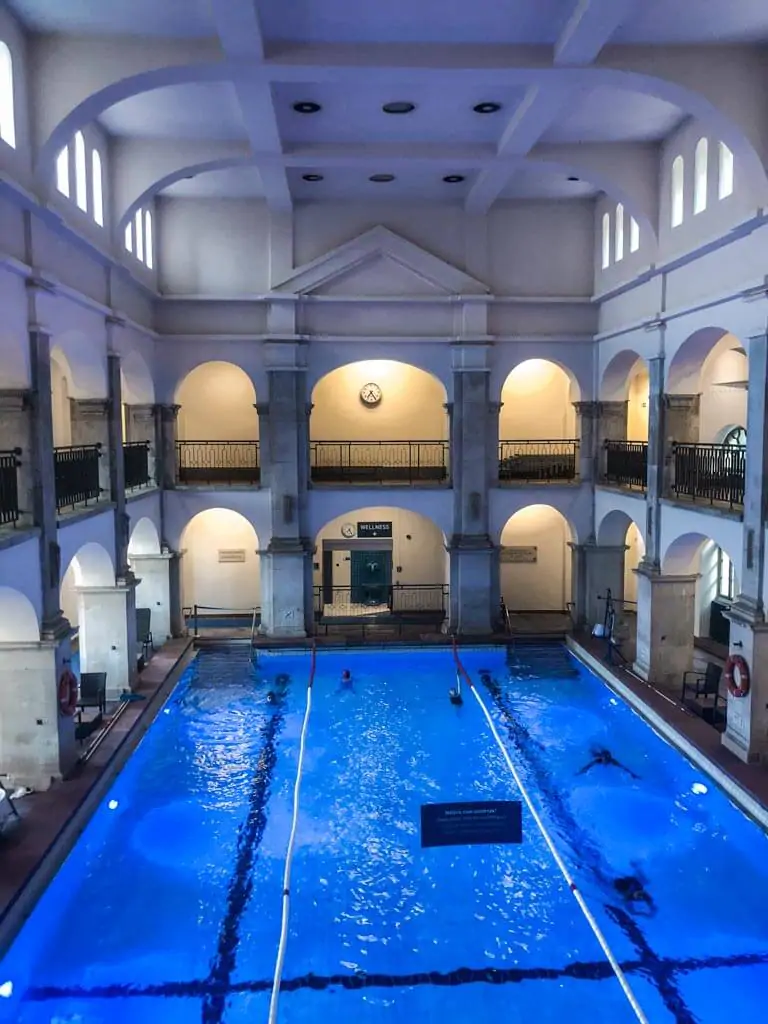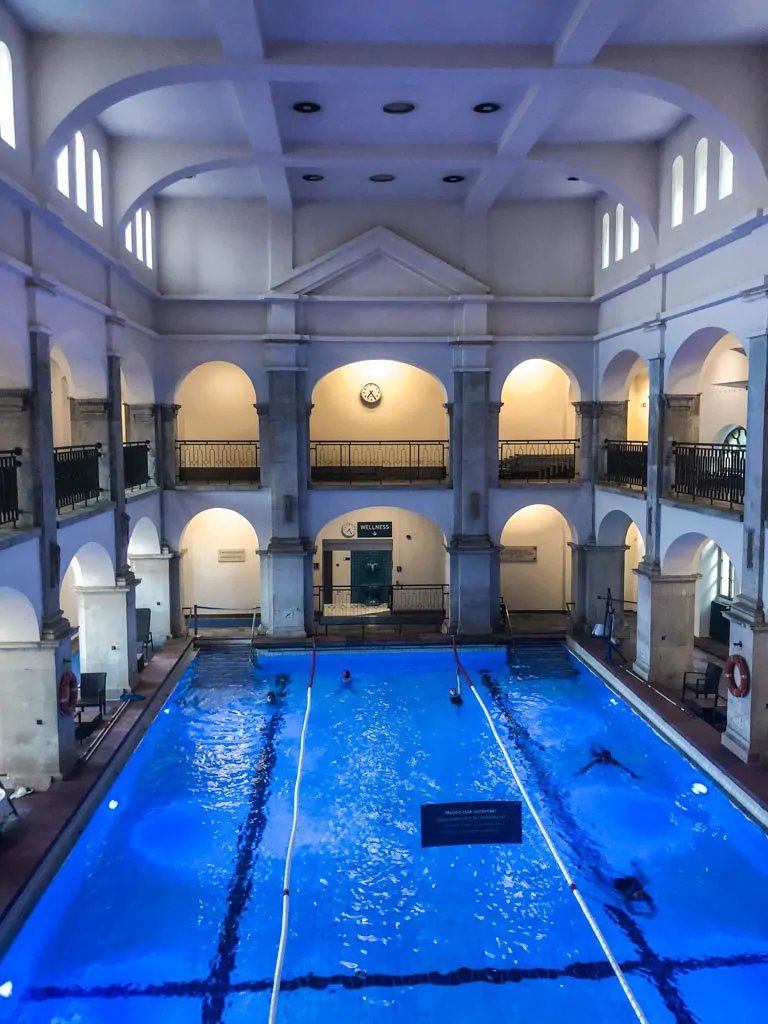 The Sauna Room
The baths themselves are a bit of a labyrinth of hallways and stairwells. The first room you'll pass from the locker rooms is a sauna area. Here, there is a tropical rain room (broken while I visited), an ice-cold plunge pool, a Finnish sauna, an aromatherapy sauna, and a steam room.
The aromatherapy sauna is lovely as it isn't overwhelmingly hot so you can linger a while with instrumental music is playing in the background. Lay in here, close your eyes, and drift away for a bit.
The Finnish sauna is incredibly hot, as evidenced by the vibrant red glow of the coals. To sit in here, bring your towel and a piece of ice from the bowl outside. Sitting directly on this bench will burn your booty and the ice will help keep you cool. I lasted roughly half a second in here and went directly to the shower to cool off. After being in the hot August sun all day, this type of heat was literally the last thing I wanted.
Across from the Finnish sauna is the steam room. There are rubber mats outside of the door that you can bring in to sit on, hanging your towel on a hook outside. This is a lovely room, yet I have always found it difficult to breathe in steam rooms. I managed 3 minutes, showered off and made my way towards the wellness area in search of the rooftop pool for the sunset.
The Rooftop Panoramic Pool
I followed a hallway leading to the large indoor swimming pool with lounge chairs on the second level to relax. Continuing to follow the signs for the wellness area I discovered a secluded roof deck with lounge chairs. Further wandering took me to a small, circular rooftop pool, overlooking the Danube and Pest.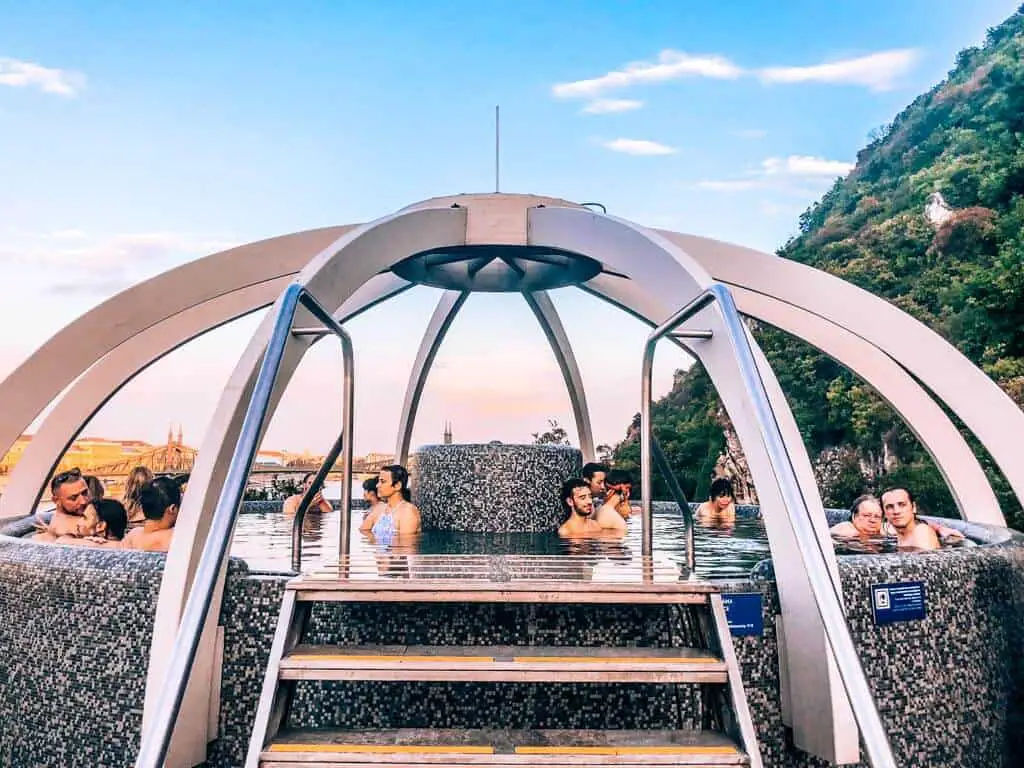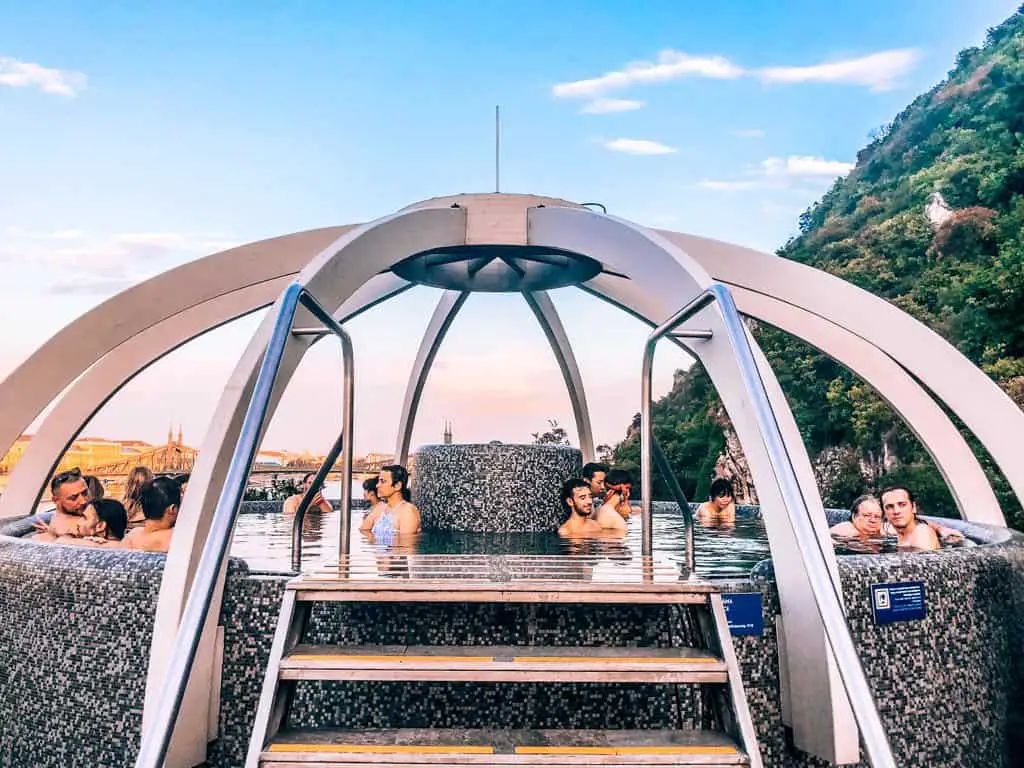 At first, the water seemed a bit warm for this balmy evening, but I quickly cooled off and felt my muscles and mind begin to relax. People moved in and out of the pool, a group of girls took Instagram photos, a few people had beers from the restaurant below, and even though it was a bit crowded, it was calm. It's certainly a tourist destination but doesn't have a massive party vibe like I'd heard occurs at other baths in Budapest.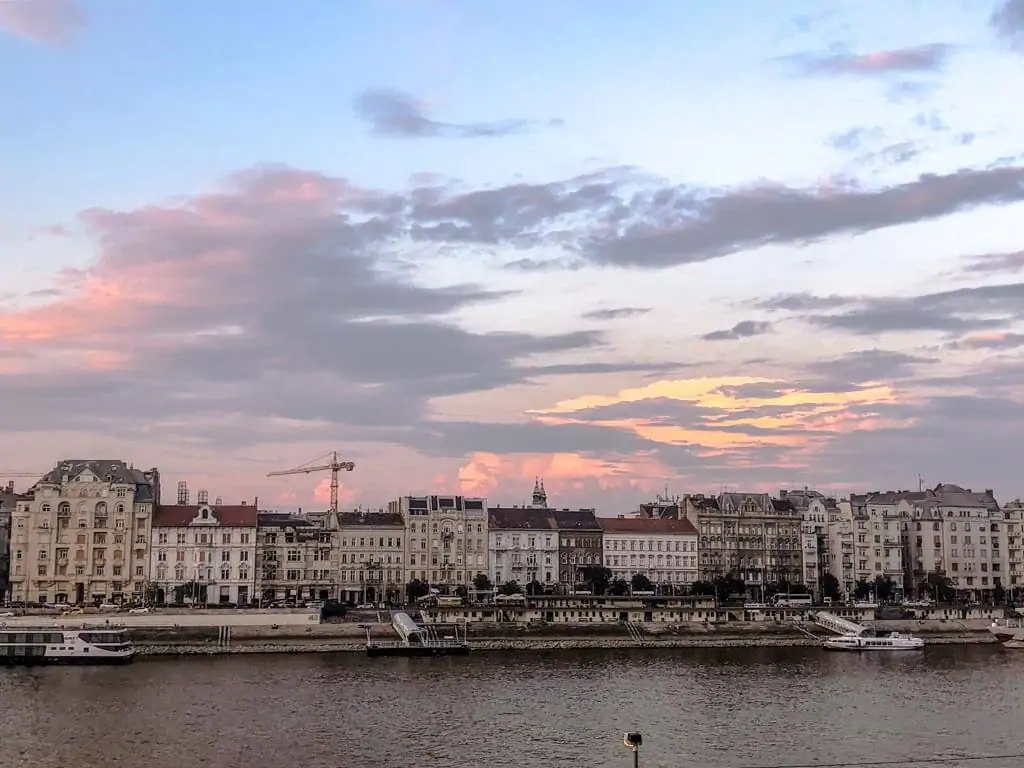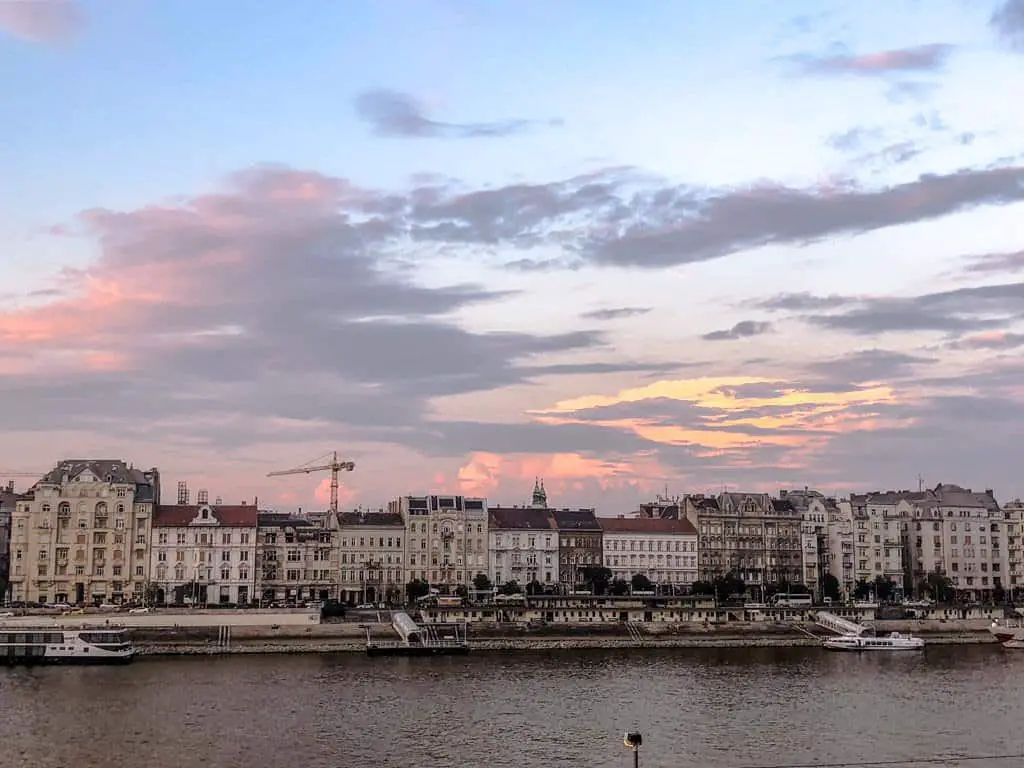 As I began to feel my body temperature cool, the sunset over Gellert Hill behind us sent pink and orange hues cascading over the Danube, coloring the buildings that lined the river. The sun finished its spectacular show and I made my way back into the labyrinth inside to explore the other saunas and pools specific to the Wellness area.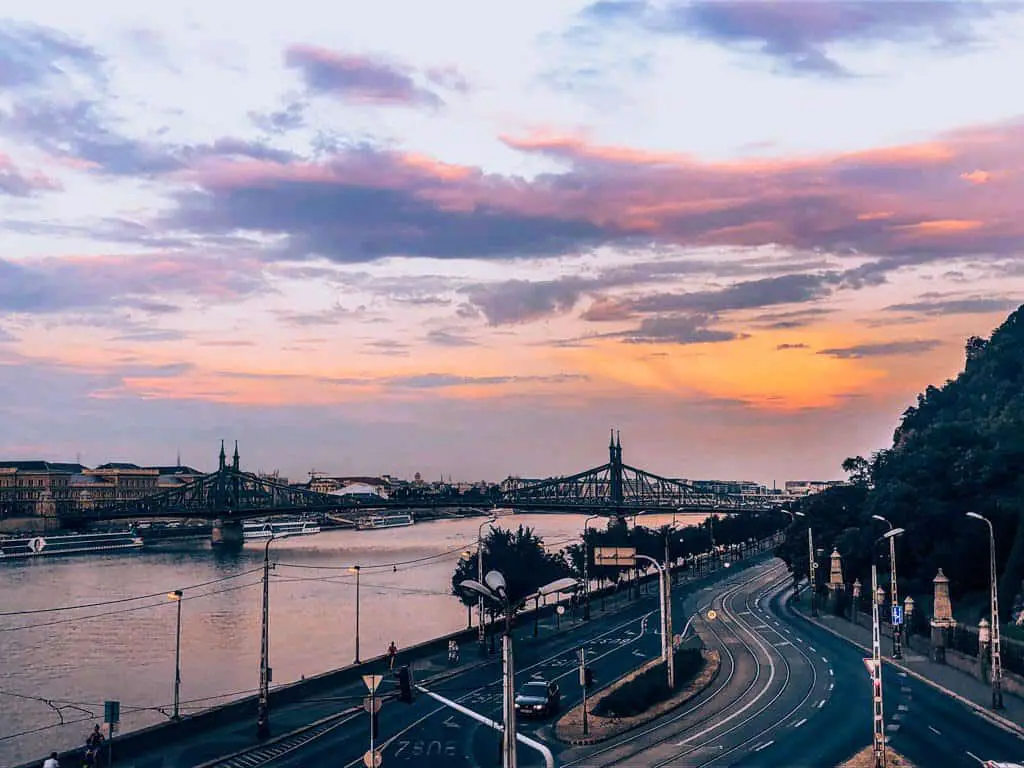 The Wellness Area
Following the stairs down, you'll find a room filled with four different pools. There is a large black pool filled with warm mineral water, next to it an equally large red pool filled with cooler water, and in the corners a hot bath, and an ice-cold plunge pool.
I started with a lovely contrast bath to alleviate my sore legs after a day of walking and eating. There is a plaque on the wall near the ice-cold pool with directions for the most effective contrast bath. 50 seconds in the hot bath had my legs tingling from the heat, followed by 10 seconds of ice-cold water biting my skin. The contrast made my legs feel alive and refreshed.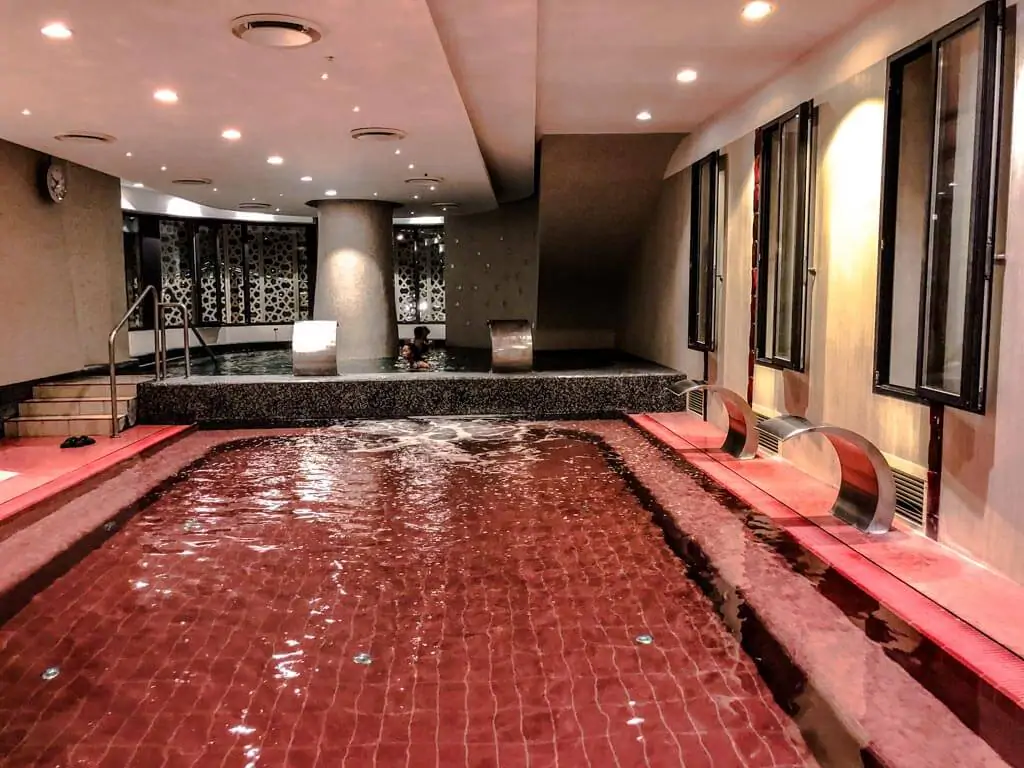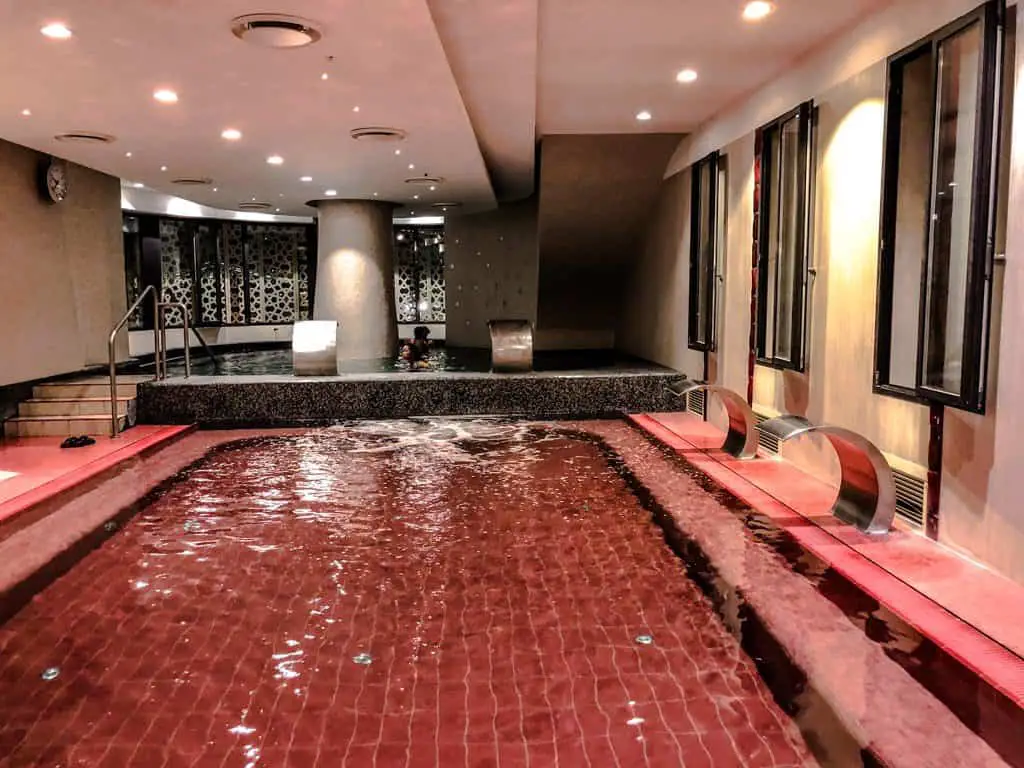 Then I tried the red pool – which was my personal favorite out of the entire spa. The water, while cool is more refreshing than shockingly cold. Both the black and red pools have silver spouts that occasionally water will pour from. I sat underneath one of these in the red pool, letting the strong water massage my shoulders and upper back. It was better than many massages I've paid for.
On the way back towards the indoor pool there is a dry sauna and salt room (still in the wellness area). The sauna here is lovely as it has a window that overlooks the Danube and isn't too hot. It's a great room to relax in and enjoy the view.
I wasn't sure about the benefits of the salt room, but I decided to give it a go anyway. Inside there are wicker chairs, which weren't too comfortable. It's room temperature and the walls are filled with salt, obviously. There is a description on the wall that describes the salt, but not the benefits of the room. Based on my limited knowledge of salt lamps, which are quite trendy these days, I figured it had something to do with balancing the ions in my body. I left my cell phone outside and settled into a wicker chair, only to notice there was a little boy playing a video game (on silent thankfully) and his mom was texting on her phone.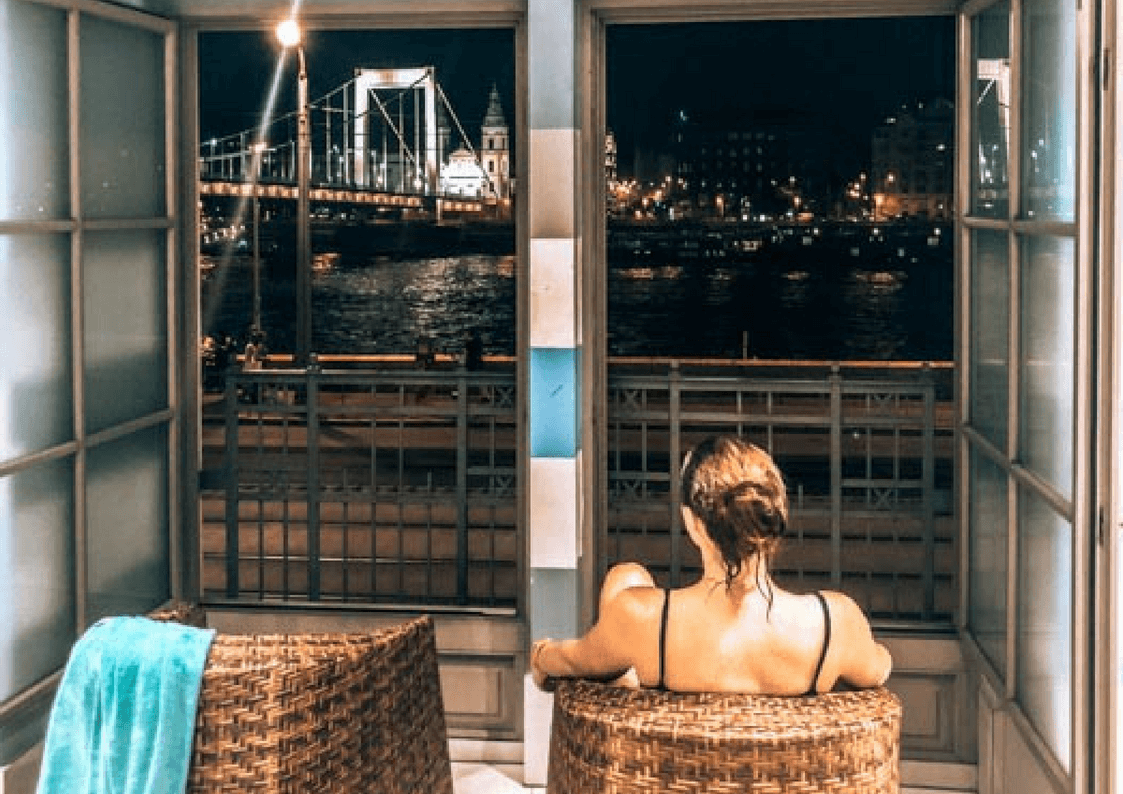 In my opinion, it wasn't the most relaxing room, but afterward, I did some research on salt rooms. They are apparently excellent for improving respiratory conditions, decreasing inflammation and improving energy. The article states one should sit in a salt room for about 45 minutes, which is much longer than the 10 minutes I dedicated to my salt therapy. Next time I'm in a salt room, I'll make myself cozy in a corner, close my eyes, and meditate, or sleep. Yea, probably just nap.
Leaving Rudas Baths
My time at Rudas Baths was coming to an end, and I wanted to see the city view after dark, so I headed back up to the pool. The water still feeling warm on entry but eventually cooling off as I took in the lights across the river and daydreamed.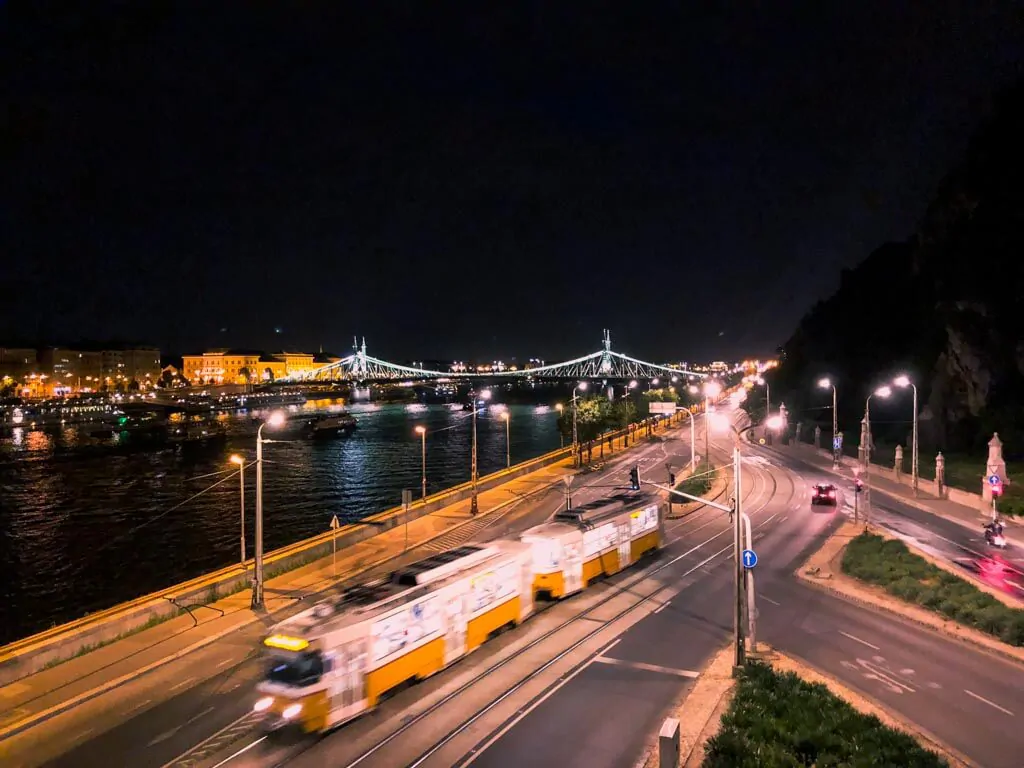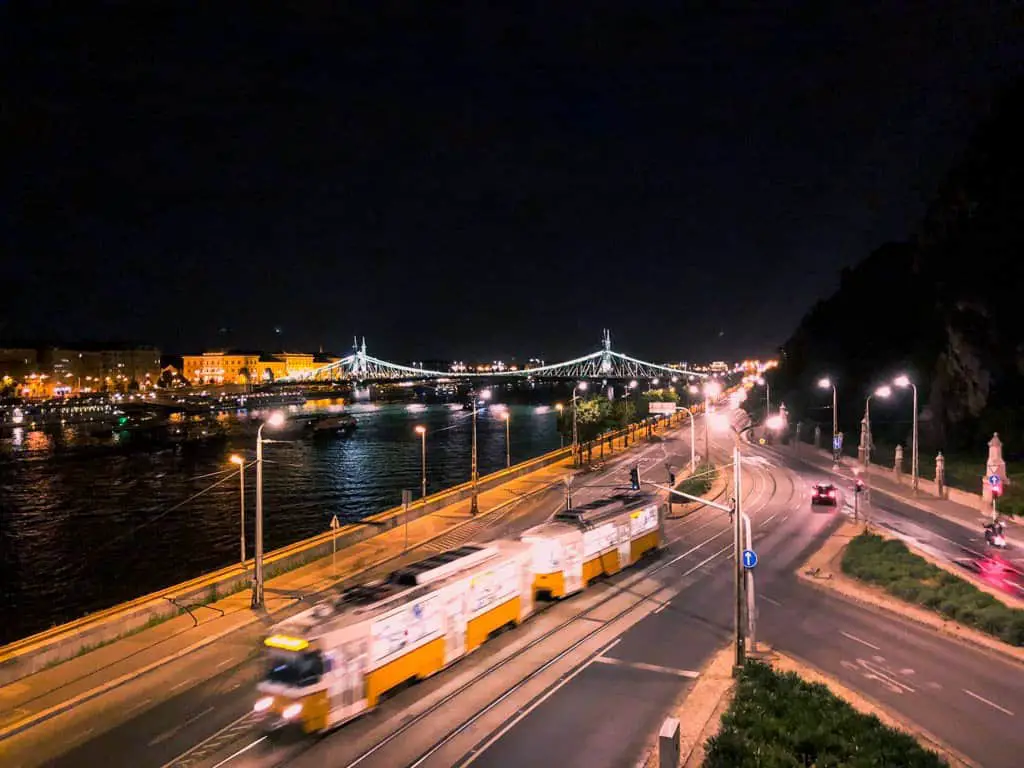 Although the clock on the wall said 9:30, a lady began tidying up the lounge chairs. Figuring it might be time to leave, I started to make my way back to the locker room. But when I re-entered I noticed people were still in the red and black pools. I hopped in the red pool enjoying another water shoulder massage as I waited to get kicked out.
At 9:45 I collected my flip flops and returned to the locker room.
I returned to the locker room, showered (in the separate women's showers), and made my way back to my Couchsurfing host's place. Completely relaxed and rejuvenated, I thought to myself "every day should end after having relaxed at a thermal spa with a sunset view."
Like this post? Pin for later!