"You should go to The Schvitz tomorrow"
My friend said to me as we waited for a table at Supino's pizza in Eastern Market, Detroit.
"What's The Schvitz?"
"It's a bathhouse."
"Sold!"
And that's how I ended up at The Schvitz Detroit (aka The Schvitz Health Club) on a wintery Sunday.
History of The Schvitz, Detroit
Even after living in Detroit for 6 years I never heard of The Schvitz – as it turns out that was with good reason. While The Schvitz has been in operation since the 1930s, it was opened by Russian mobsters called the Purple Gang. For the better part of its history, it was a place for the mob to meet and do mob things. In more recent history, it was used as a place for swingers to do their thing on the weekends.
This last piece of history is evidenced by the signs posted in locker rooms claiming that the establishment is now desexualized and any inappropriate behavior results in immediate removal from the premises.
Under new ownership that renovated the bathhouse, The Schvitz keeps the tradition of men only and women only bathing hours in addition to offering co-ed hours.
I Googled The Schvitz before going and became quite hesitant after viewing the photos of the uninviting exterior. But after many assurances for my friend and in desperate need of relaxation I went during women's only bathing on a Sunday afternoon.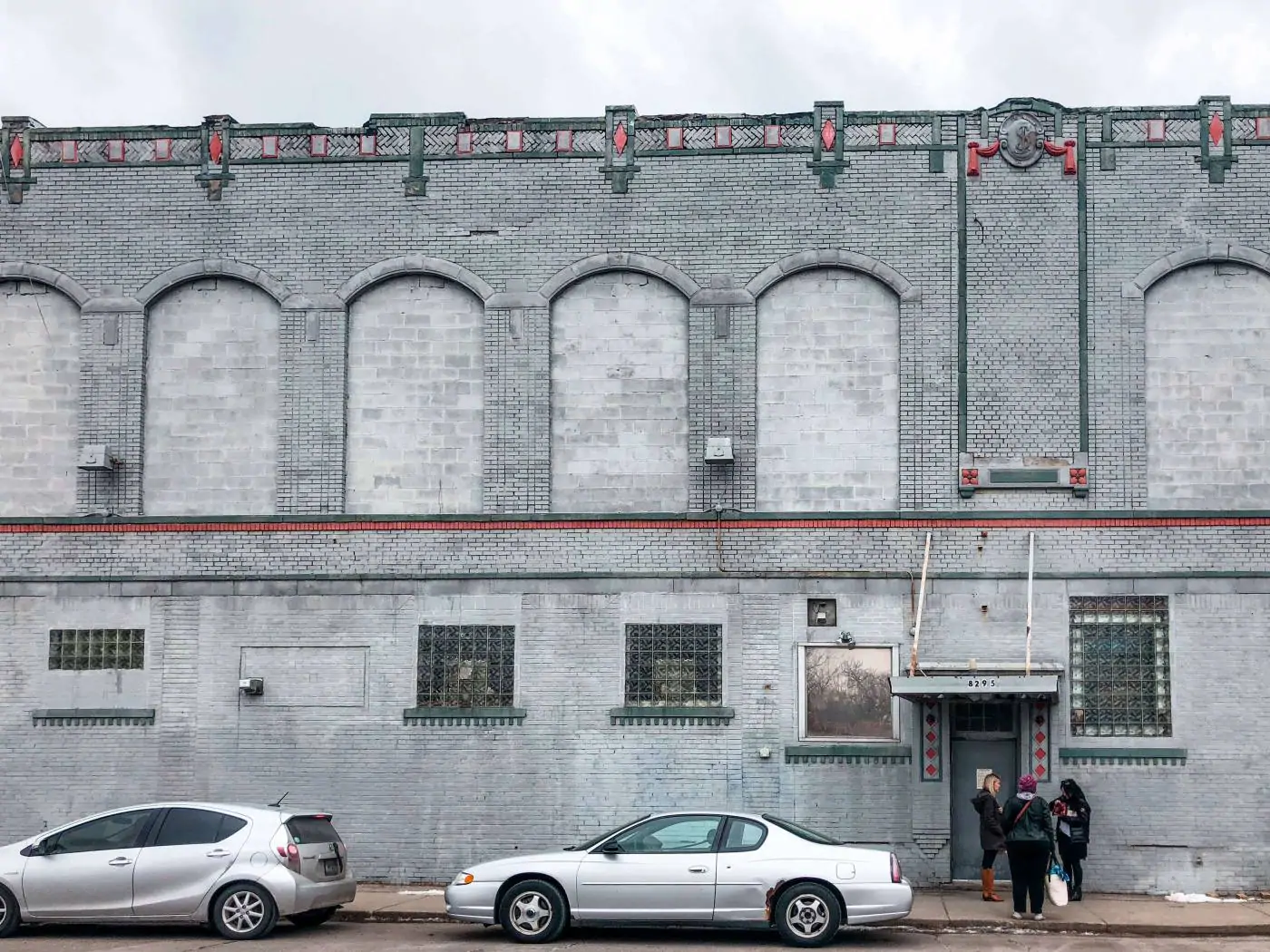 Upon arrival, just a few minutes after the 12:00 pm opening, there was a line of women out of the door. A good sign if you ask me. When I finally made it inside, I was greeted by a beautiful chandelier and oak walls as I checked in.
The main floor where you enter has a restaurant that was serving up competitively priced Sunday brunch, a large seating area, a section for spa treatments, two locker rooms, and a second very cushy seating area wrapped in dark oak walls with large leather sofas and chairs. I could honestly envision a group of mobsters sitting there making their evil decisions as opposed to a group of light-hearted women celebrating a birthday with champagne.
It's BYOB by the way and you can bring in your own food.
The basement floor is where you'll find a large and incredibly cold plunge pool, a dry sauna, a steam room, and showers.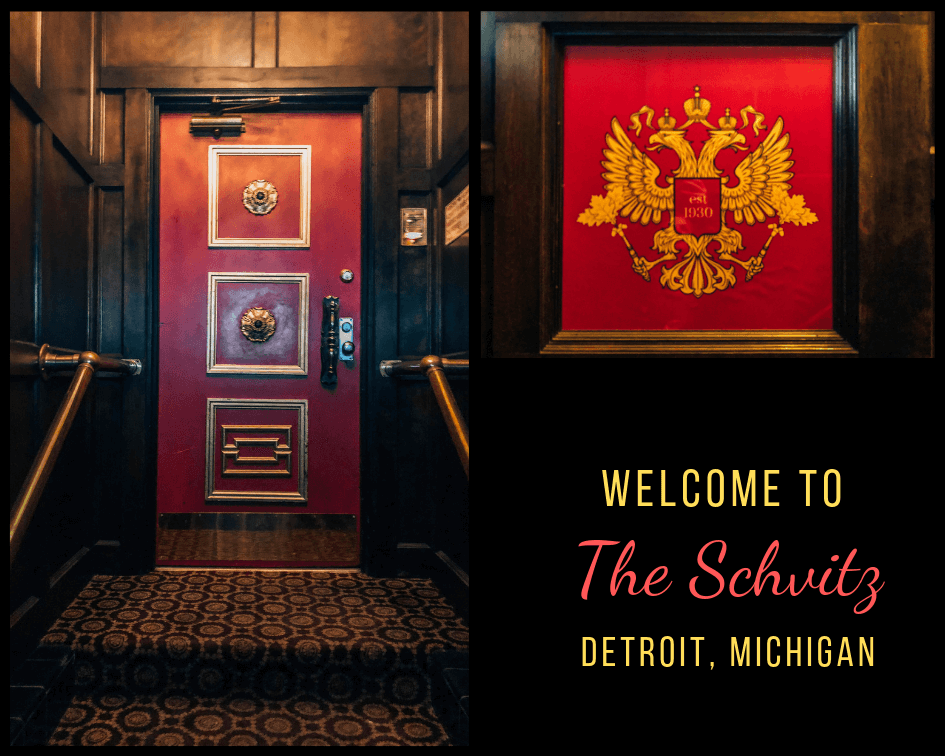 My Experience at The Schvitz
As I said, I had no idea what to expect and felt unprepared. After visiting the baths in Budapest, I had high expectations for bathhouses but also understood that it would not even come close. Additionally, in my haste to pack for this trip, I didn't pack a swimsuit like I normally do, so I wore a sports bra and underwear. I did, however, pack a robe, for the first time ever. It came in very handy!
It cost $30 to enter and since there was a bit of a line, I felt a bit rushed through check-in and was told, "everything is self-explanatory, you'll see". Which, as it turns out, it was.
After changing into my undies and robe, I ordered a smoothie from the kitchen. I honestly expected to see a bunch of nude women wandering about, but that doesn't happen on the main floor. If it did, the male chef would've had quite a view.
I stopped by the spa services area and received a rundown of how services work. The services are a la carte with different practitioners offering various services. On the day of my visit there was a:
10-minute scalp massage with a hair mask for $15

30-minute massage for $35

30-minute facial for $35

Tarot card reading for $30
The massage and facials were already booked, which I found surprising as it was just after opening, so I signed up for the scalp massage in the next hour and made my way downstairs where the sauna, steam room, and cold plunge pool are located.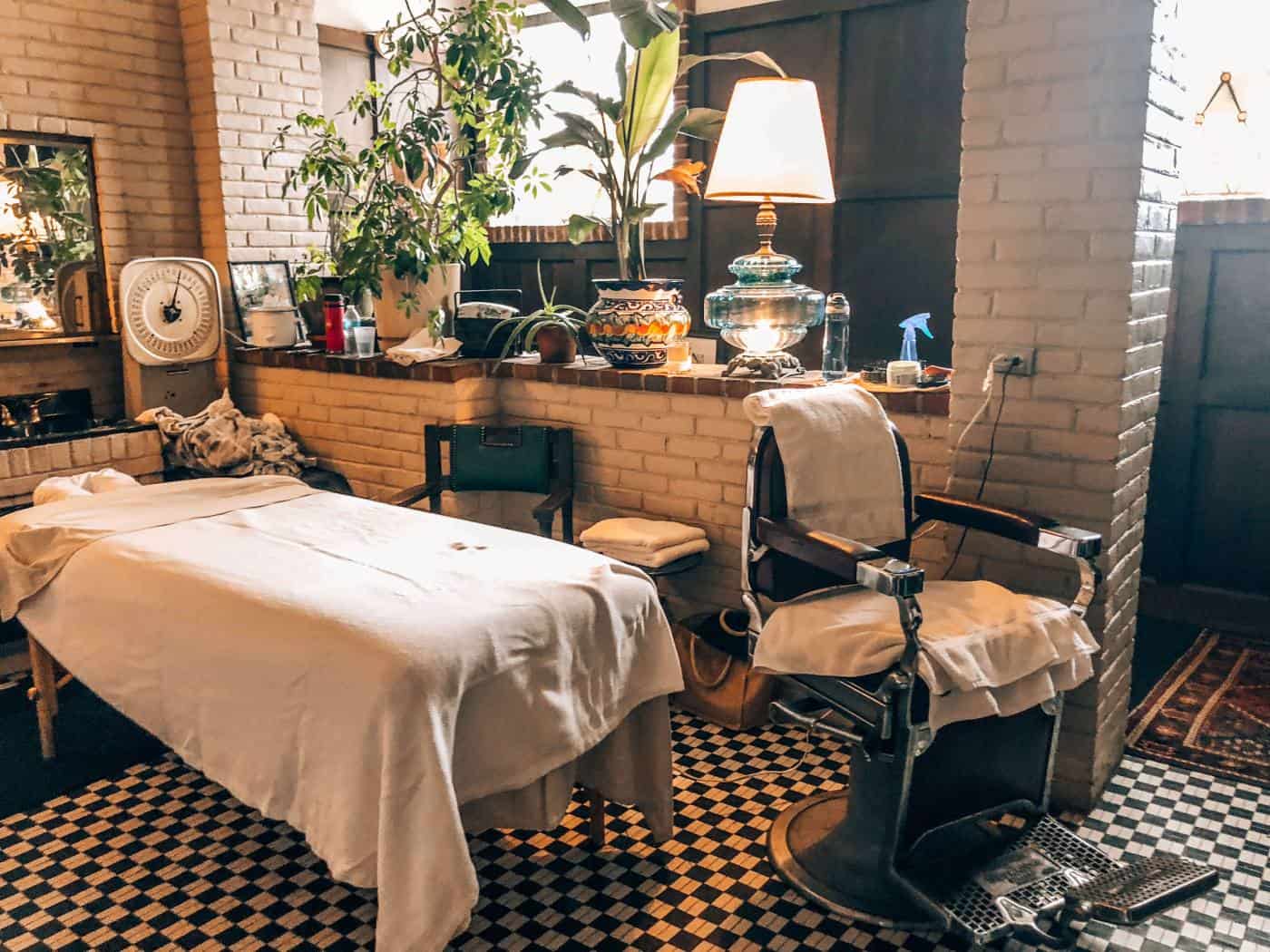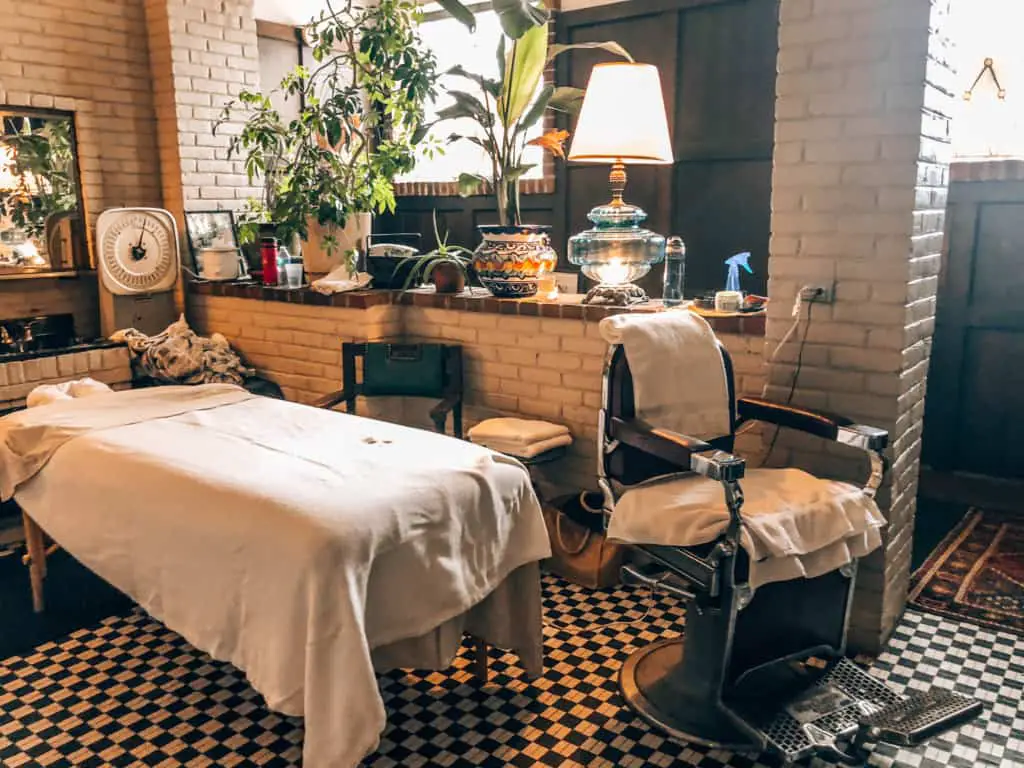 Deciding to fully embrace the experience, I stripped down and sunk into the warmth of the dry sauna. It felt incredibly freeing to be so vulnerable, but it was a very safe space, so I highly recommend going for it. I honestly believe if I did this once per month, walked around nude surrounded by other nude women, I would love my body unconditionally.
But, I digress…
Following the dry sauna, I popped into the steam room where I discovered another spa treatment I'd never seen or heard of before: the platza
The platza is an old Russian oak leaf treatment where the body is hit with a bunch of oak leaves stimulating a variety of health benefits. In between this hitting, the practitioner made her way to the steam area and threw in a bucket of cold water then waved the leaves in front of it. She then returned to the patient and continued the body treatment. It looked like an amazing ritual, but I didn't see anywhere to book this.
After getting nice and relaxed in the heat, I returned upstairs to receive my scalp massage. There is seriously nothing better than a scalp massage. It's my favorite part of full body massages so I relished having 15 minutes of targeted massage.
With my hair mask on, I returned to the basement for another round of dry sauna and steam room. I also made a failed attempt at the cold plunge pool. Made it to my knees and immediately retreated.
I showered off, put on dry clothes, and cozied up in one of the large comfy leather chairs with a book I've been meaning to read for ages. Surrounded by light-hearted and lively conversation from the other women getting their schvitz on. From a bit of light eavesdropping, many women in attendance frequent the Shvitz at least once per month.
The women-only hours were coming to a close and I was hungry. I returned my locker room key and walked out into the fresh snow feeling completely relaxed and rejuvenated. In fact, I texted my coworker telling her I felt like a new woman. If I still lived in Detroit, The Shvitz would definitely become part of a biweekly ritual.
The Schvitz, with its storied past, is still a well-kept secret in Detroit. One that you should seek out immediately. It feels like stepping back in time and you'll emerge feeling like a new person.
A Few Things to Know Before You Go
What Does schvitz mean?
It's a Yiddish word meaning sweat. Which you will certainly do here!
How Much does it Cost & What's Included?
The cost is $30. This includes a shower towel, a towel to sit on, and a locker with a key.
What to Bring?
You should bring flip flops and a robe. During women-only hours, swimsuits are optional in the basement. However, during co-ed hours swimsuits are required.
It's also BYOB.
How to Book Spa Treatments?
To ensure that you receive a spa treatment, book through Instagram. Follow @theschvitz so you know about the services offered on the day you plan to visit. The account tags the practitioners and you DM them to schedule. This is how you don't miss out on the experience of a platza.
Other Add Ons
At reception, they have masks that you can purchase and use in the steam room. I only noticed it on my way out. Also at reception they offer sparkling water, kombucha, and t-shirts.
More Info About The Schvitz, Detroit!
Visit The Schvitz's website for details on hours and other updates.
Read more about the storied history of The Schvitz.
For before and after photos of the Schvitz during renovation and to see what the basement looks like, where I couldn't take photos, check this page out.
Pin this post so you don't forget about Detroit's hidden gem!