A short, and very simple, DART ride north of Dublin, Ireland you'll find Howth, a small fishing village famed for its fresh seafood and beautiful views. During each of my two previous trips to Ireland, I was told the Howth cliff walk is a must do. My first trip, I opted to do the Brey to Greystones cliff walk located south of Dublin and very worthy of a day trip as well. During my second trip I skipped Dublin all together opting to cycle in Killarney National Park and reconnect with Galway. So, for my third trip to the Emerald Isle (yes third, I freaking love it there), I sharpie-d the Howth cliff walk into my itinerary.
This post contains affiliate links, which means that, at no additional cost to you, I will earn a tiny bit of income if you decide to make a purchase or booking.
Getting to and from Howth
Before we get into the jaw-dropping views of the Howth Cliff Walk, let's talk logistics.
If you've rented a car, you can easily drive to Howth. If you're like me and still too scared to drive on the opposite side of the car and road, then DART is the best way to get to Howth. DART is Dublin's rapid railway system. It runs from Howth (or Malahide) in the north to Greystones in the south with many stations throughout the city of Dublin. Depending on your location in Dublin, you could get on at various stops including Tara Street, Dublin Heuston, Dublin Pearse, Dublin Connolly, and Docklands.
I was close to Tara St. station, so I took it from there. There are machines that allow you to input your destination and buy a return ticket for approximately €6. Then just wait for the next train as they run every 10 minutes. Howth is the final stop on the train, so there's very little chance of missing your stop. But do ensure that you board the right train, as there is another final stop in the north called Malahide, which has a stunning castle by the way. The ride is smooth and takes about 30 minutes from Tara Street!
Returning to Dublin
You'll simply go back to the Howth train station and board the next train south and get off at the same station where you started. The last train departs Howth at 6:00pm.
Check out
the
Irish Rail
website for more detail and timetables for DART.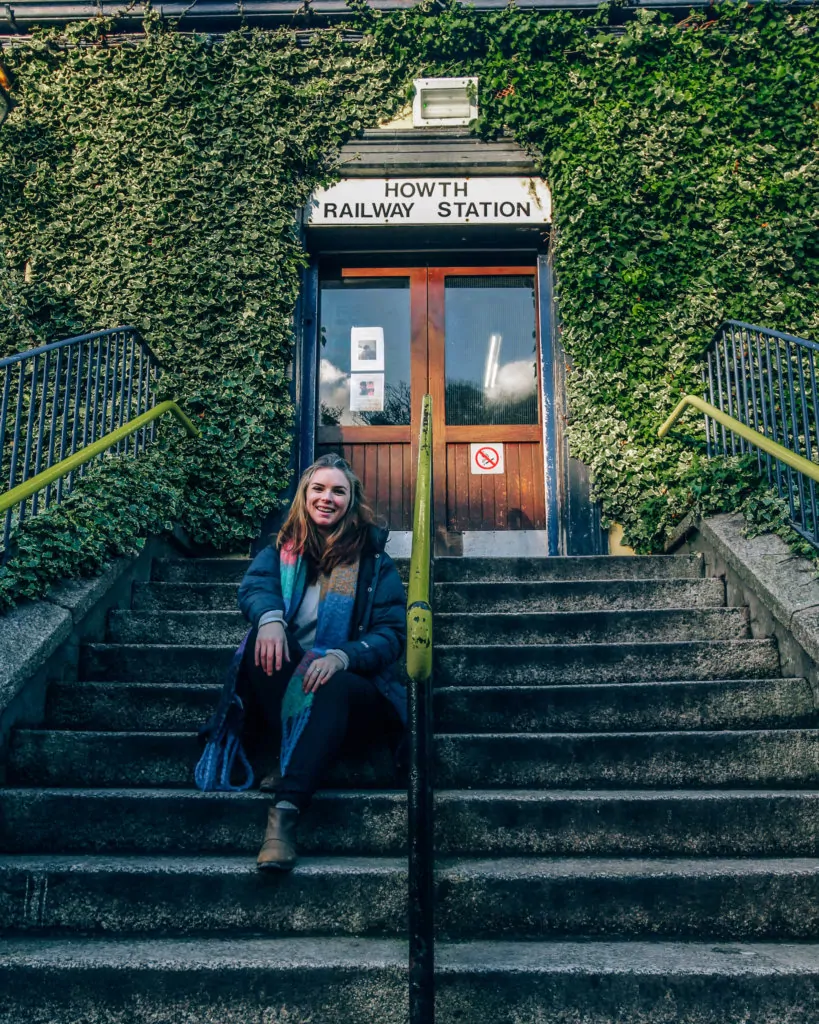 The Weather
The day I did the Howth cliff walk I woke up to a rainy and cold winters day in Dublin. I debated not going for fear that the rain would stick around all day, making for a fairly miserable, and potentially dangerous, walk. After waiting it out for a few hours in Dublin I realized I had to get out of the city so I just went for it. I figured if the rain continued there is always a pub close by to cozy up in.
Thankfully, I didn't have the opportunity to check out any of the pubs in Howth as by the time I arrived the rain had disappeared! Much to my surprise, there was no rain in Howth. It must've rained in the morning as the path was freshly muddy, but the sun stayed out the majority of the day!
It was, however, very windy. So be prepared for that!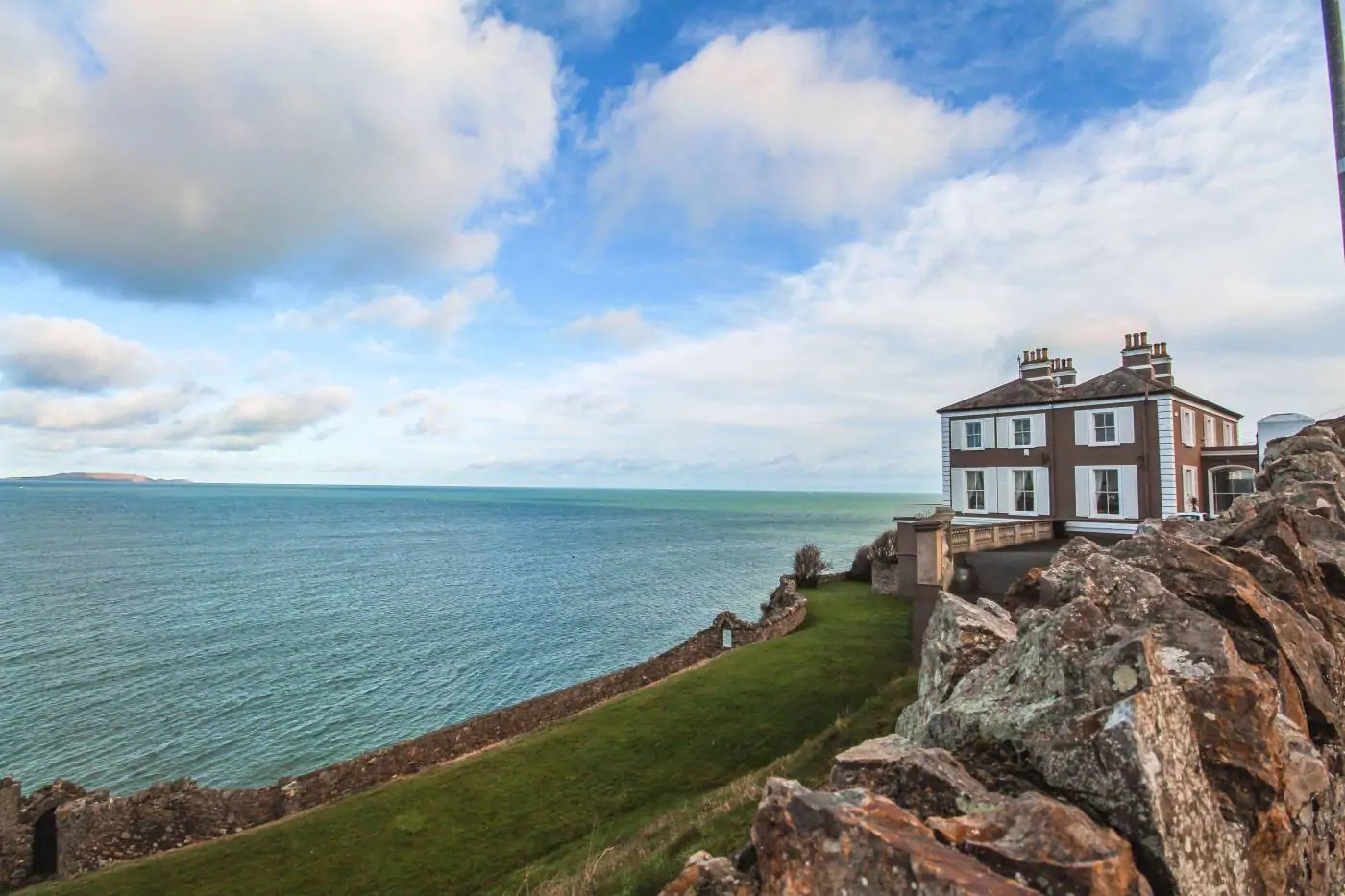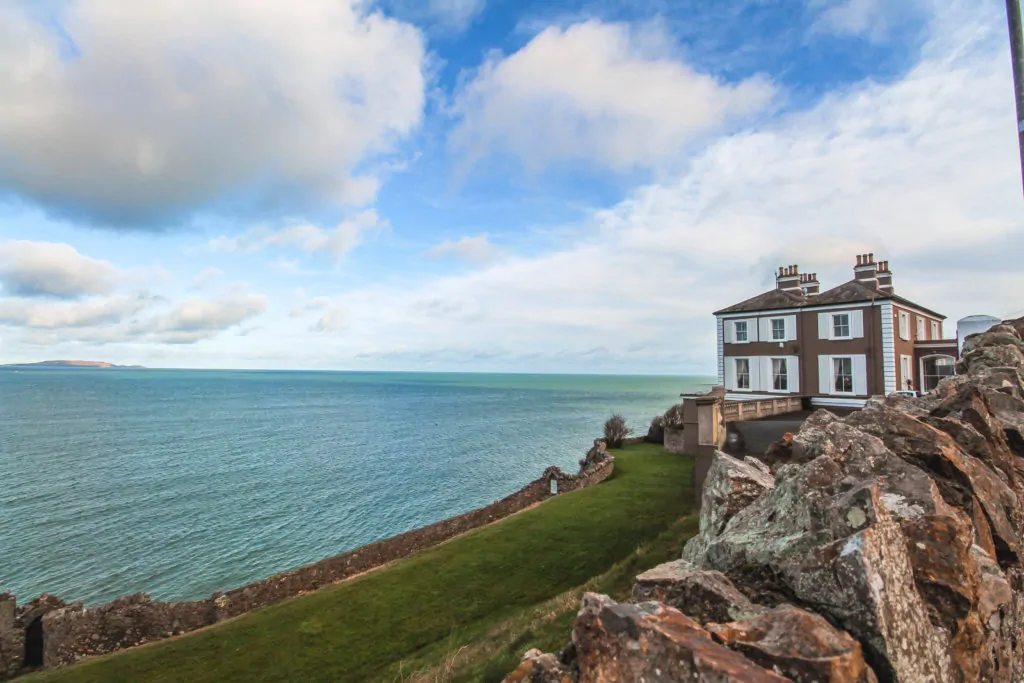 What to Wear
I did this walk in January, which meant I wore considerably more clothing than you might in the summertime.
Considering the Irish weather can change quickly, layers are always a good idea. In the winter, a hat to cover your ears and gloves to keep your hands toasty are great items to pack, just in case.
Must-haves are a sturdy pair of walking shoes, waterproof preferable. I wore mid-weight thermals from REI, pants from Athleta, Sorel booties, two long sleeve tops, my coat, a hat, scarf and gloves. Oh and my knee-length down North Face that I unzipped when I got hot, but never totally took off.
Again, I visited in January so the down jacket might be overkill in July.
The Howth Cliff Walk
Everything I read online about the Howth cliff walk mentioned that it starts at the Howth train station. While, technically, that is true, I expected to get off of the train and be at the cliff. But you have to walk through the village first, which exudes as much charm as you'd expect from an Irish fishing village!
On your way, you'll pass by the Howth Market, which was closed during my weekday visit. But on the weekends it's open from 9:00 am – 6:00 pm. There are stalls that offer fresh local produce, artisanal goods, and gift items. The coffee shop, Bodega, adjacent to the market was open, however, and I suggest stopping in there for a warm drink before embarking on the cliff walk.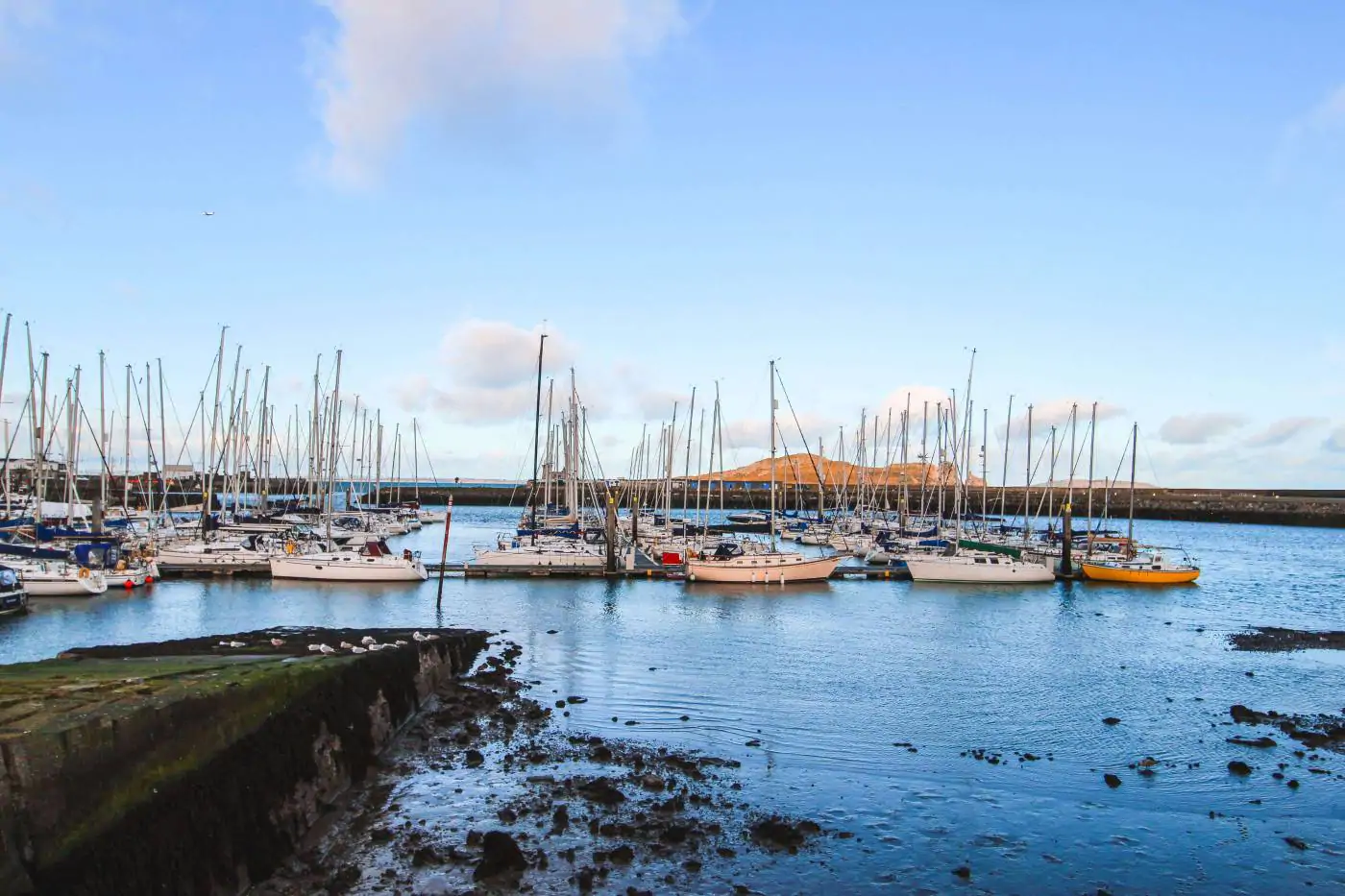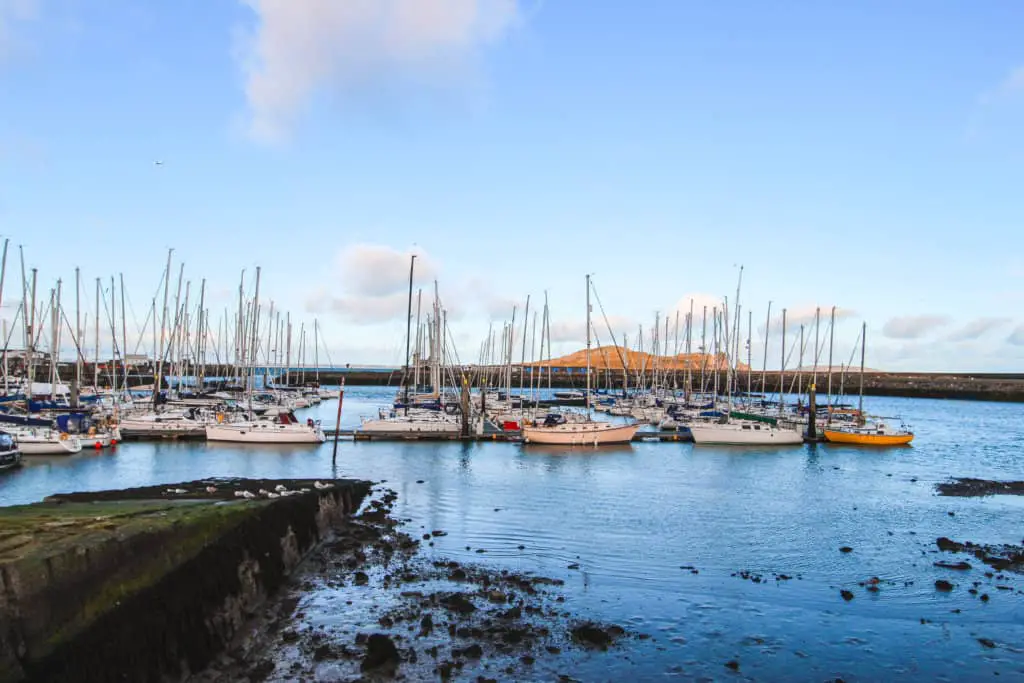 You can also walk down the pier passing seafood restaurant after seafood restaurant. I'm ashamed to admit, that I didn't eat any seafood while in Howth. So, I don't have any recommendations, other than to say they all looked delicious and you probably can't go wrong.
From the edge of the pier, you'll look out onto Ireland's Eye, a small island home to a variety of birds and an ancient church. I thought the pier might connect to the other side of the inlet where the boats are floating, I was wrong. So you'll double back and take a left to walk along the harbor and through the town.
The Route
You'll start to see large signs describing the options for the cliff walk. There are four trails marked green, red, purple, and blue. Green is the easiest and shortest option which is the route I followed. Along the route, you'll see posts with the colored markings pointing in you in the correct direction.
Before you get to the cliff, you'll walk up a hill through a neighborhood coming to a small parking lot. In my opinion, this is when the cliff walk actually starts.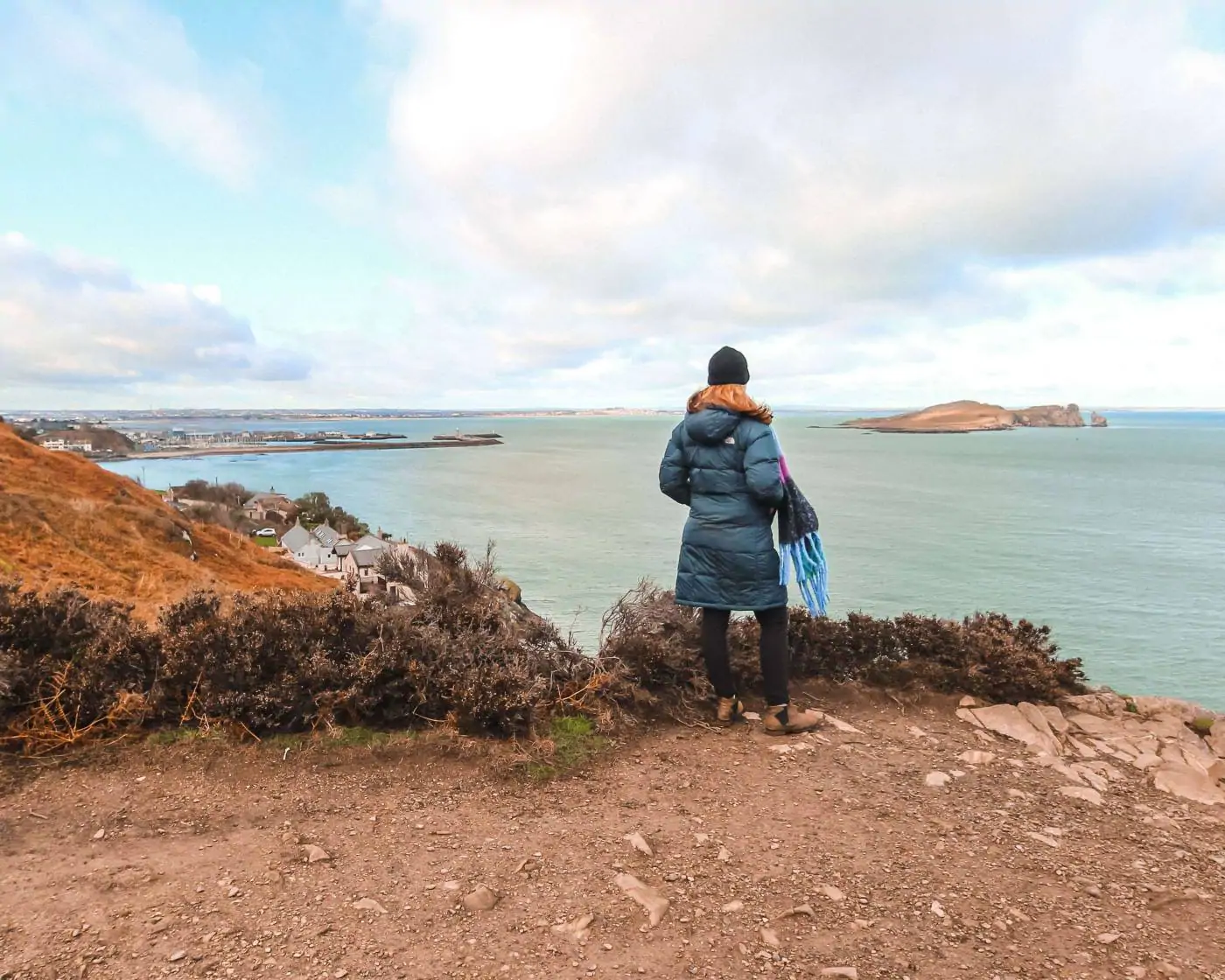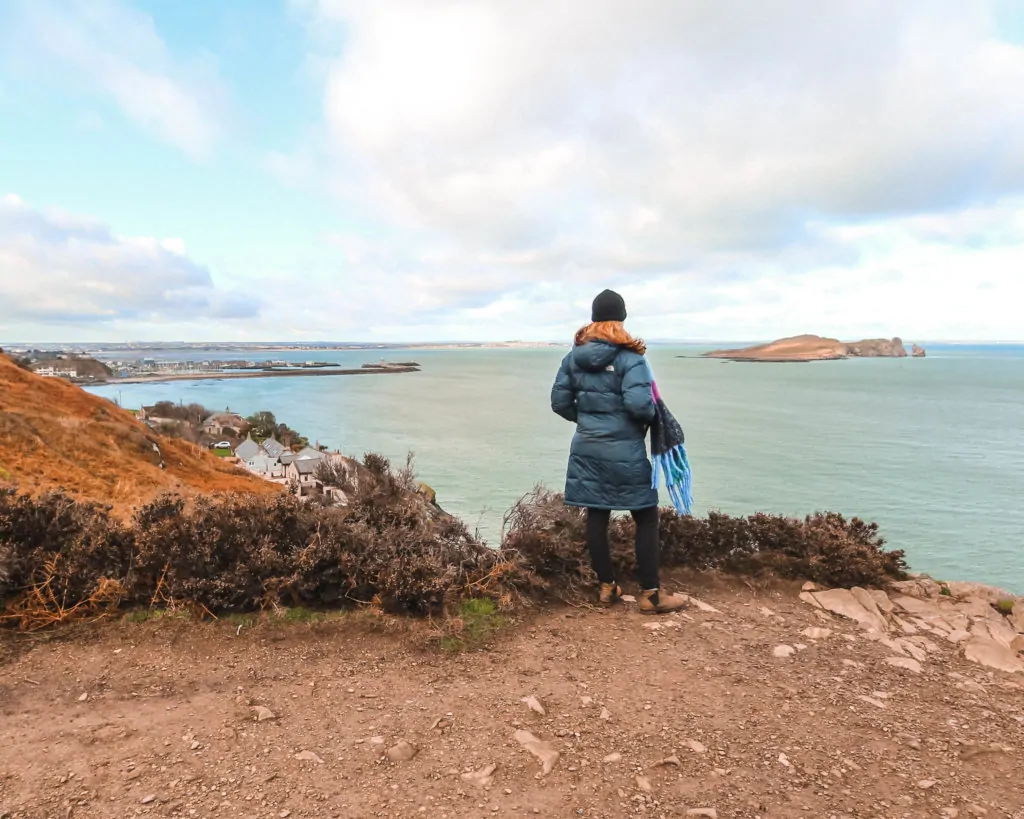 And it's beautiful.
The dirt path is clear and very narrow in some parts. Literally, you'll look down to your left and you're foot is a few inches away from a straight drop into the sea. So be careful at these parts, but mostly, just enjoy the sweeping views.
About 3km later, you'll see the bay of Dublin and a lighthouse on a tip of land jutting out into the sea. This effectively ends the green loop. To the right, up the hill is a parking lot. If you were to complete the entire loop, as I did, the rest of it takes you through neighborhoods and streets, without a view.
Once you finish your jaunt through the neighborhood, which also has clearly marked trail signs, the path will deposit you back at the Howth train station.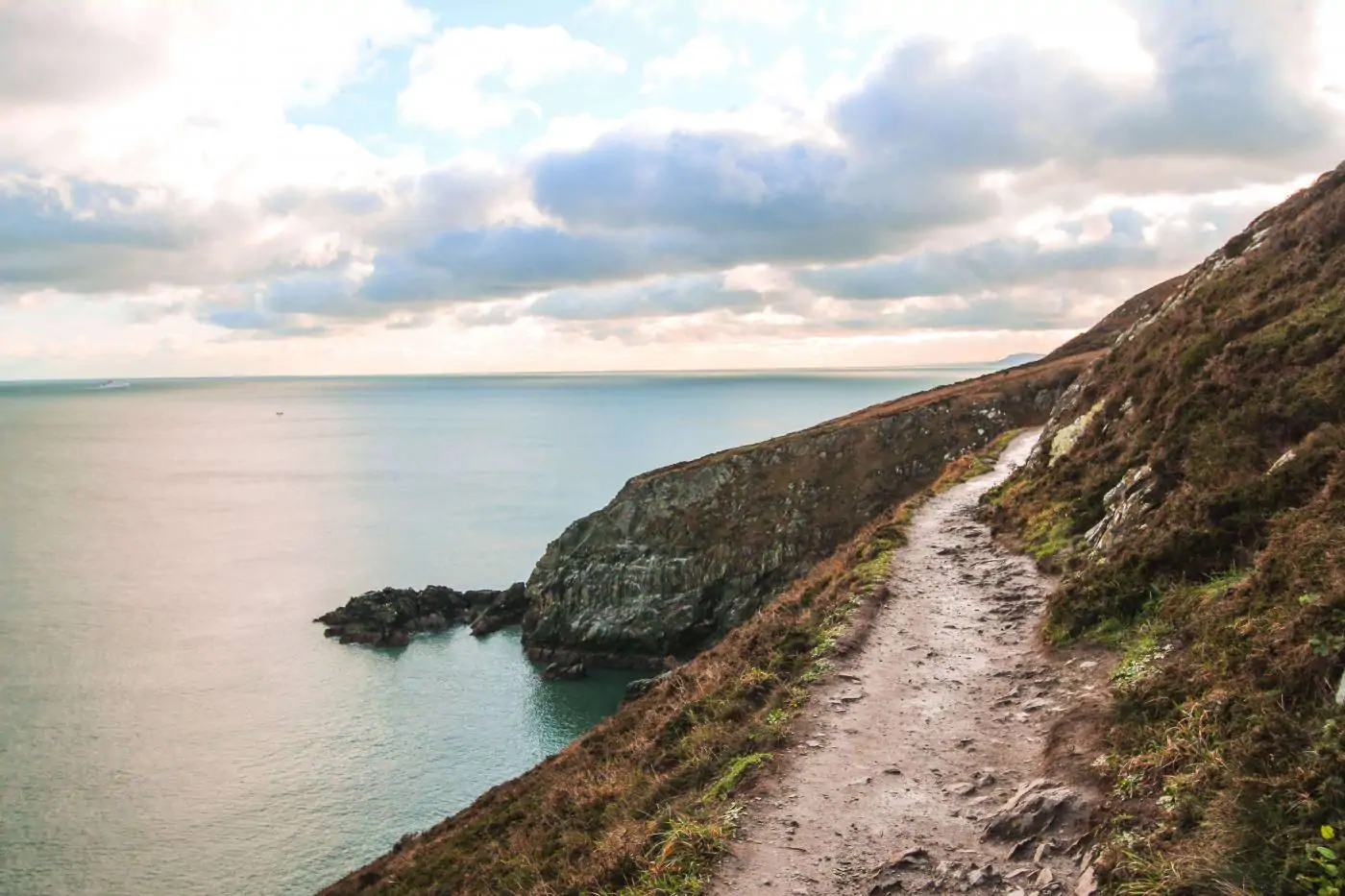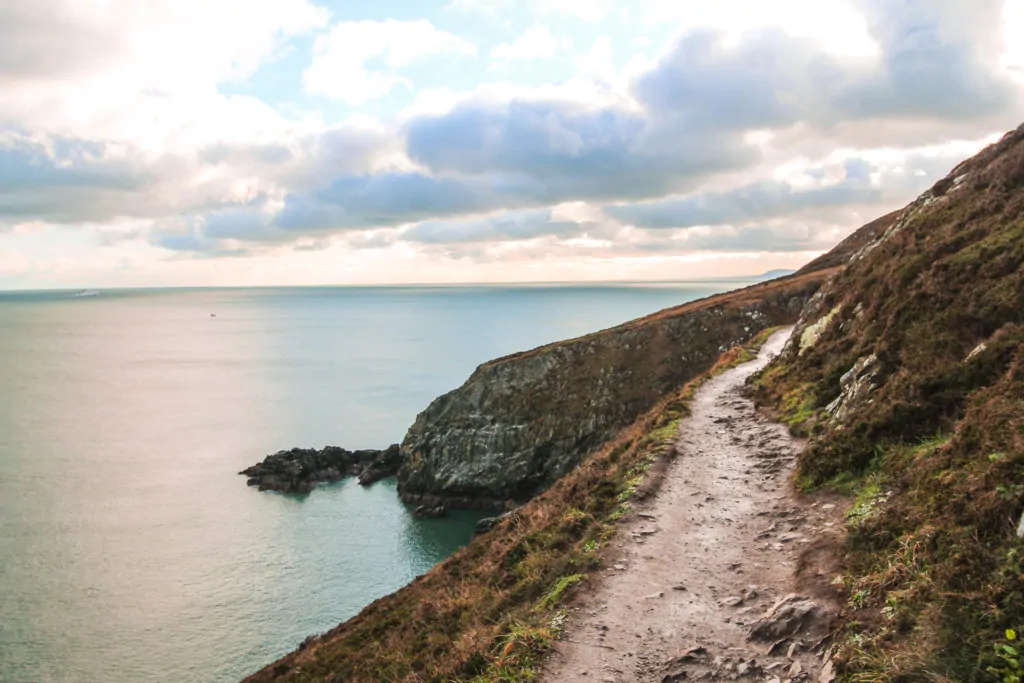 Don't do what I did.
Don't walk through the neighborhoods. There is really nothing to see here.
Instead, double back and enjoy the views on the way back too!
It took me roughly three hours to complete the green loop of the Howth cliff walk including an outrageous amount of stops for photos.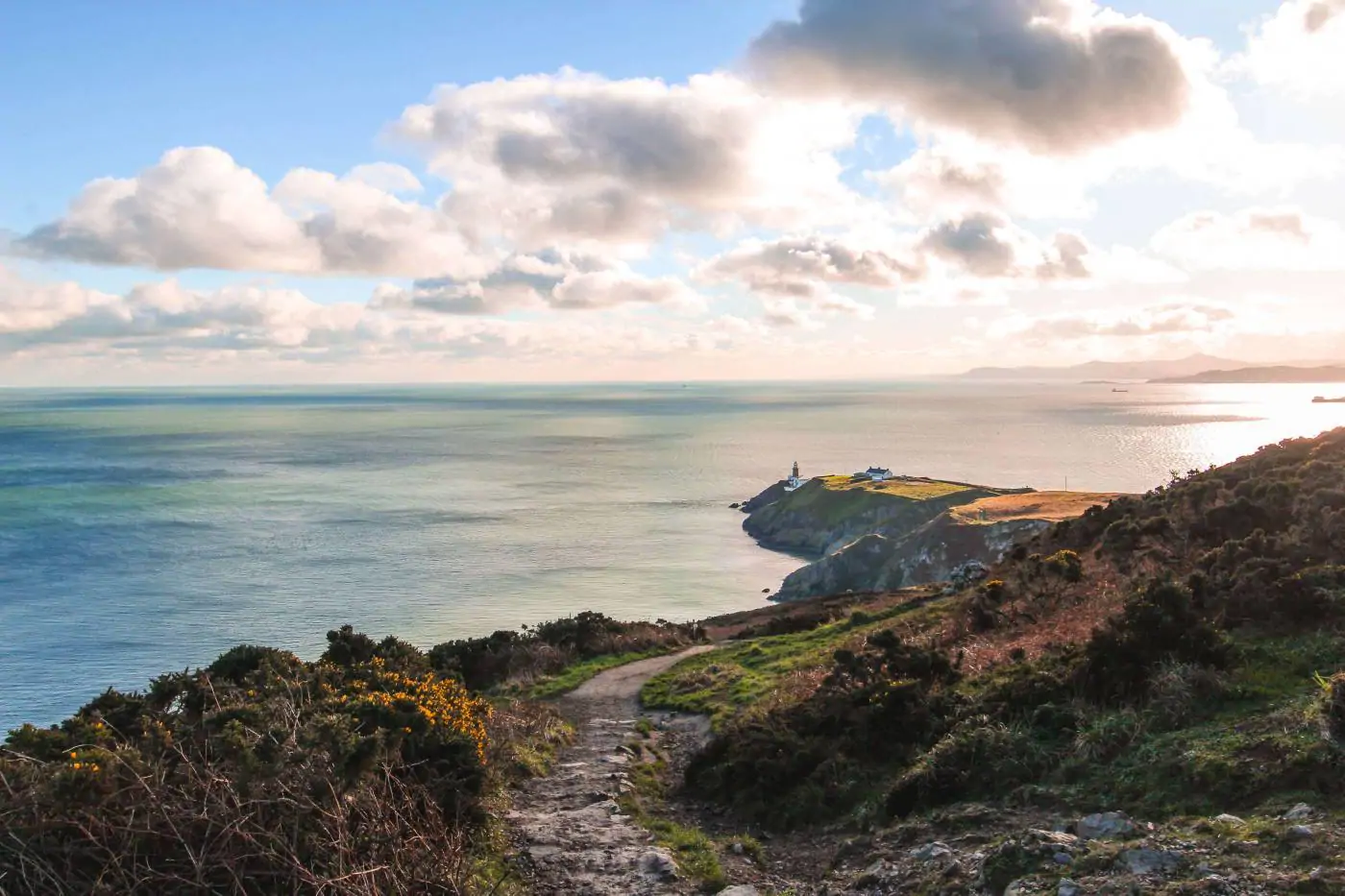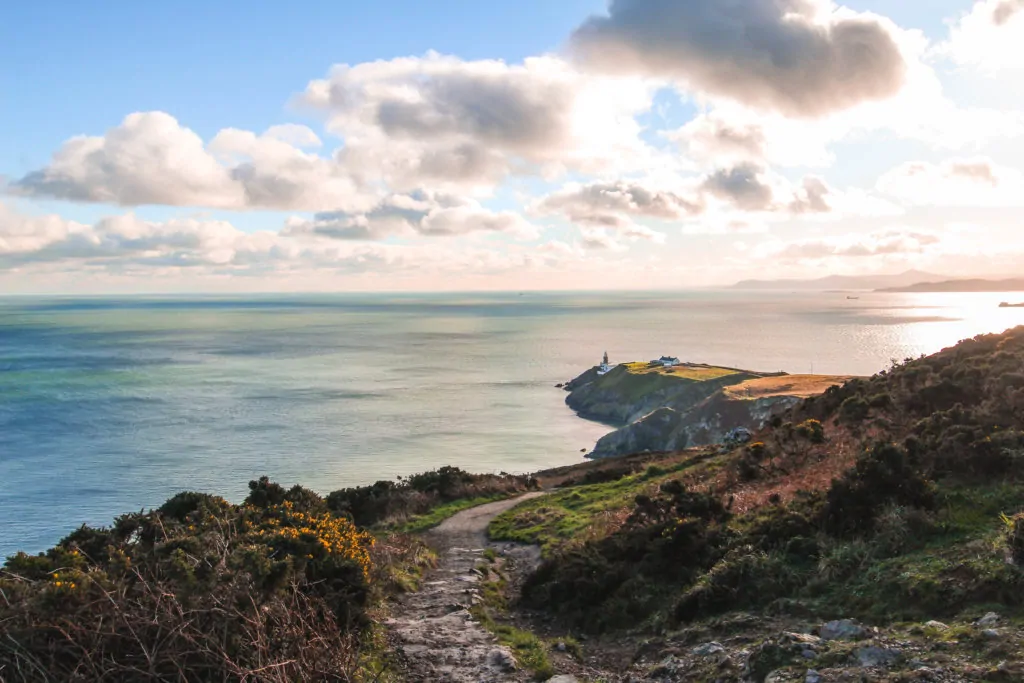 Just in case you sprain an ankle on the walk… make sure you're covered!
Other Howth Attractions
St. Mary's Abbey
There are a few other attractions in Howth and as much as I wanted to explore them, my feet just couldn't be asked to keep walking, especially since I was already at the train station! However, I did catch a glimpse of the Abbey from the road returning to the train station and it is in a beautiful location overlooking Howth and the sea.
Eat Seafood
I would say that 90% of the restaurants in Howth are seafood based. Immediately when you disembark the train there is a seafood restaurant and Irish pub called the Bloody Stream. Also, take a walk down the pier and see what suits your taste buds at Octopussy, Beshoff's, The Market, or Crabby Jo's. Again, no personal recommendations here as I didn't eat there, but you have plenty of options.
Where to Stay in Howth
Options are a bit limited in terms of traditional accommodation in Howth. The King Sitric Hotel has a great location overlooking the sea. There are also a few options on Airbnb. The options are a bit pricey, so if you're on a budget, find cheaper accommodation in Dublin and just do the day trip!
Dublin is a great city, but there is so much more to Ireland and a day trip to Howth is a glimpse into all that Ireland has to offer. It can easily be seen even when your time in Ireland is limited. But if you do have more time in Ireland, I highly recommend checking out this 7 day itinerary that'll take you to a few unique locations, all without a car!
Pin this post to your Ireland board!