The busker's music envelopes and carries you down cobblestoned Quay Street. You pop into a pub for a pint and a friendly chat with a local. The warmth from the pint shields you from the chilly air as you continue to amble down to the Spanish Arch and select your seat for the sunset. The glow from the sun kisses your skin as it sets behind Galway Bay and the spark of life ignited within you grows to match the fire in the sky. These are the things to do in Galway, Ireland that will forever leave a Claddagh shaped mark on your heart.
Solo Female Travel in Galway
Since Galway gives me all of the feels, I visit as often as possible. It's the city I've been to the most on my international travels and it is the next city on my list. The beauty of Galway, besides the music, people, and scenery, is it's a safe place to travel solo so before we get to all of the fun (and mostly free) things to do in Galway, first let's talk about traveling solo there as a female.
Ireland, on the whole, is regarded as one of the safest solo female travel destinations. Galway is no exception. I frequent the many Galway pubs, stay out well past dark, accept drinks from strangers, and basically ignore all of the standard solo female travel safety rules – except of course for trusting my gut. Not once did I feel like I was in danger.
Does that mean that bad things can't happen in Galway? Of course not. Bad things can and do happen everywhere. I'm just saying that I rarely look over my shoulder when walking by myself and find that if an Irish lad is getting a bit too friendly a strong No will suffice. I've found that the people in Galway are more likely to invite you in for a chat once they realize you're alone than they are to take advantage of your solo-ness (a word I just invented).
I have yet to experience a place to avoid in Galway. But as always, get a feel for the city for yourself before walking alone at night.  Make your own judgments based on your experiences there.
Two Key Words to Know Before You Visit Galway
Craic is a term used to describe having a good time. Let's say you had a fantastic night out with friends (basically a guarantee in Galway) you'd say "Last night was good craic". Admittedly, I've never been brave enough to use it, but you'll hear the Galweans use it frequently. This will save you the confused expression I had on my face during my first 24 hours in Galway.
Quays is pronounced Keys. Quays is the main pedestrian street in Galway, also known as Shop Street. Plus, there is a pub of the same name. Again, save yourself making

others

confused by your pronunciation of this word. It's pronounced Keys, like car keys.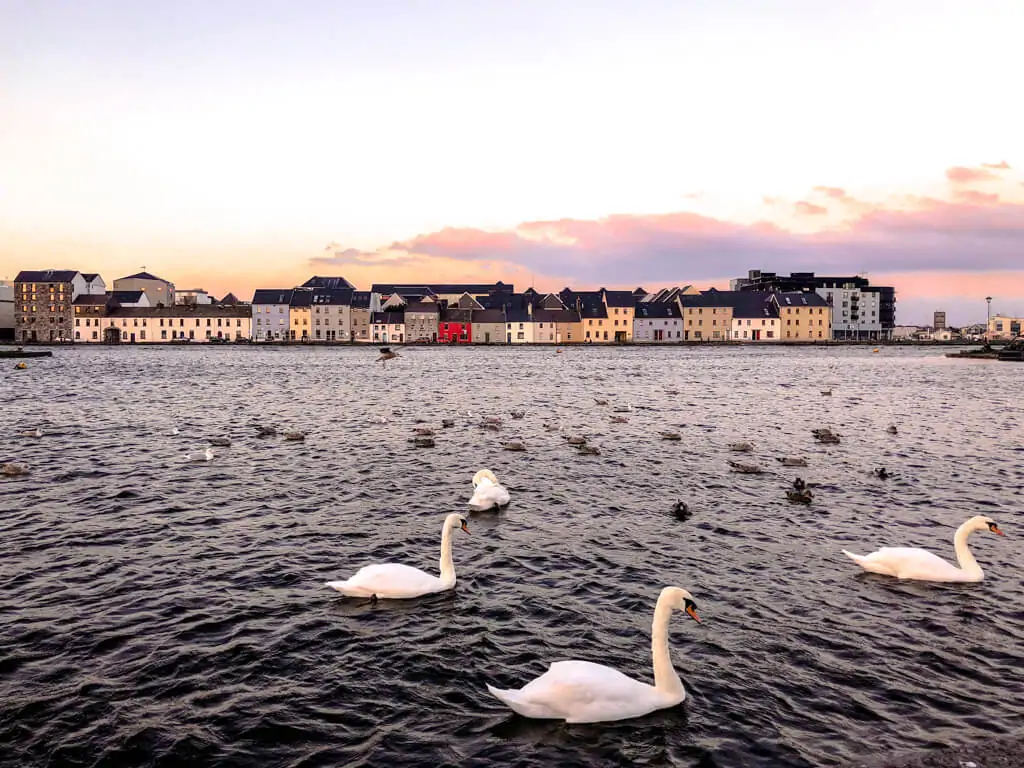 How Many Days Should You Spend in Galway 
Many people spend about two days in Galway before moving on to explore other beautiful places in Ireland. While everything listed below could easily be accomplished in that time frame, I highly suggest extending your stay and really soaking up the lively atmosphere of Galway. 
Galway also makes an excellent base to explore Ireland's west side. You could easily take a day trip to the Cliffs of Mohr, the Aran Islands, Connemara, Cong, Kylemore Abbey and the Burren from here. There are plenty of tour companies that run daily trips to these destinations (sometimes multiple stops in one day). Of course, if you have a car you can easily DIY these day trips!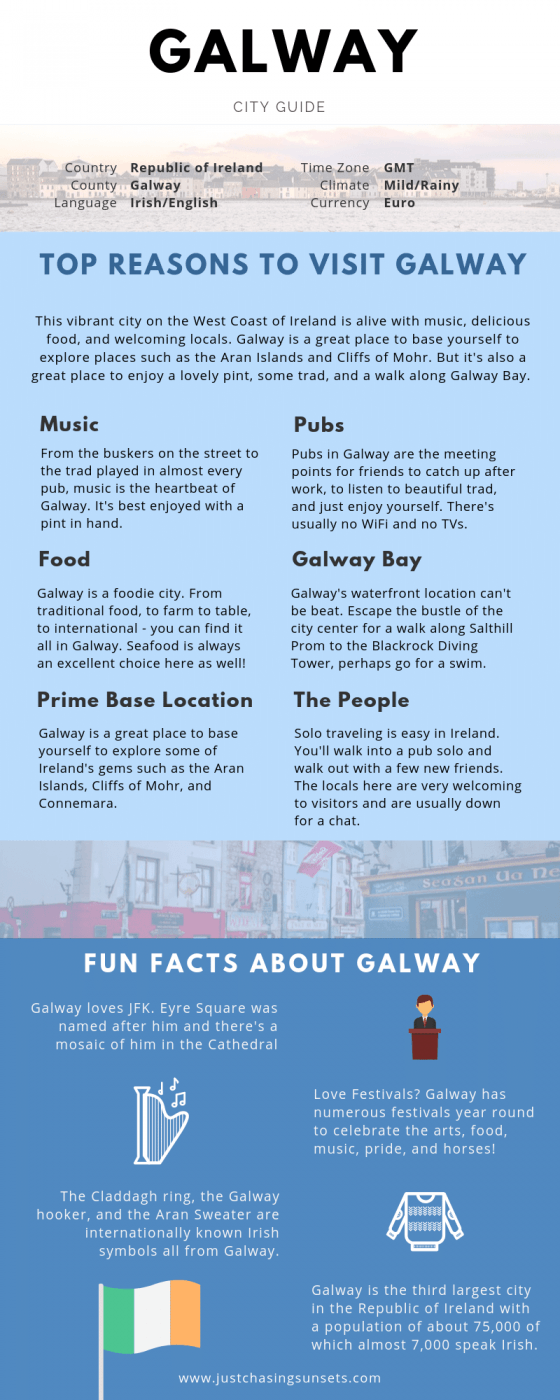 And Finally, Let's Get to the Best (and Mostly Free) Things to do in Galway
This post contains affiliate links, which means that, at no additional cost to you, I will earn a tiny bit of income if you decide to make a purchase or booking.
Explore the City's Medieval Remains
First, a little background on Galway. The city has been around for centuries and seen its fair share of struggle and triumph. During medieval times, Galway was a walled city governed by 14 merchant families also known as the Tribes of Galway, which is how Galway got its nickname: "The City of Tribes". As you explore Galway, you'll discover remnants of this time period.
Two of the most obvious relics are the Spanish Arch and Lynch's Castle. The Spanish Arch is one of the few remaining segments of the wall that surrounded medieval Galway. It was created to allow passage from the Long Walk promenade to the center of town. There really is no relation to Spain with this arch – it's simply what it's called these days.
Lynch was one of fourteen families of Galway and their castle still stands on Shop Street although it's now a bank. One story I enjoy about the Lynch family is that the Father was a Judge and carried out sentences for criminals.
Well, Lynch's son murdered a sailor who hit on his girlfriend, and not one to shirk his duties, the Judge hung his own son from a window that still stands today, aptly named Lynch's window. This window is located on Market Street next to St. Nicholas' Church.
Walk Along the River Corrib and Explore Galway's Canals
Sunny days in Galway are the best for walking along the River Corrib. There's really not much "to see" per se, but it's just a lovely walk. If you start at the Long Walk, pass under the Spanish Arch and head in the direction of Galway Cathedral it's about a half a mile. From Galway Cathedral you could wander around Nun's island, exploring the canals and checking out the beautiful homes on your way towards exploring Galway's West End. You'll see quite a bit of Galway on this walk.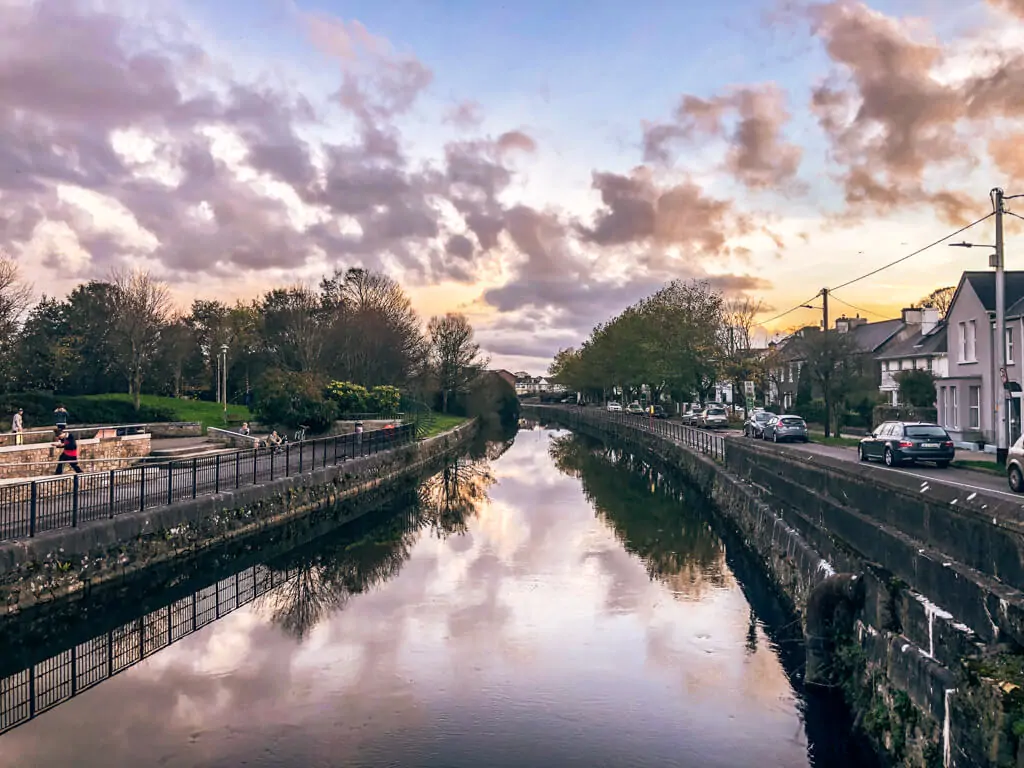 Check Out Galway Cathedral
Galway Cathedral was built in 1958 from the remaining stones of the prison that once stood on the same grounds. This makes it the last stone cathedral built in Europe. The artwork inside boasts a large crucifix mosaic and three large rose stained glass windows. John F. Kennedy visited the church just before his assassination and they added mosaic artwork to pay respect to him and his support for the cathedral. Can you find it?
It is free to enter, but there is a suggested donation of €2. Don't plan to visit when a service is occurring unless, of course, you are participating and not looking for the mosaic of JFK!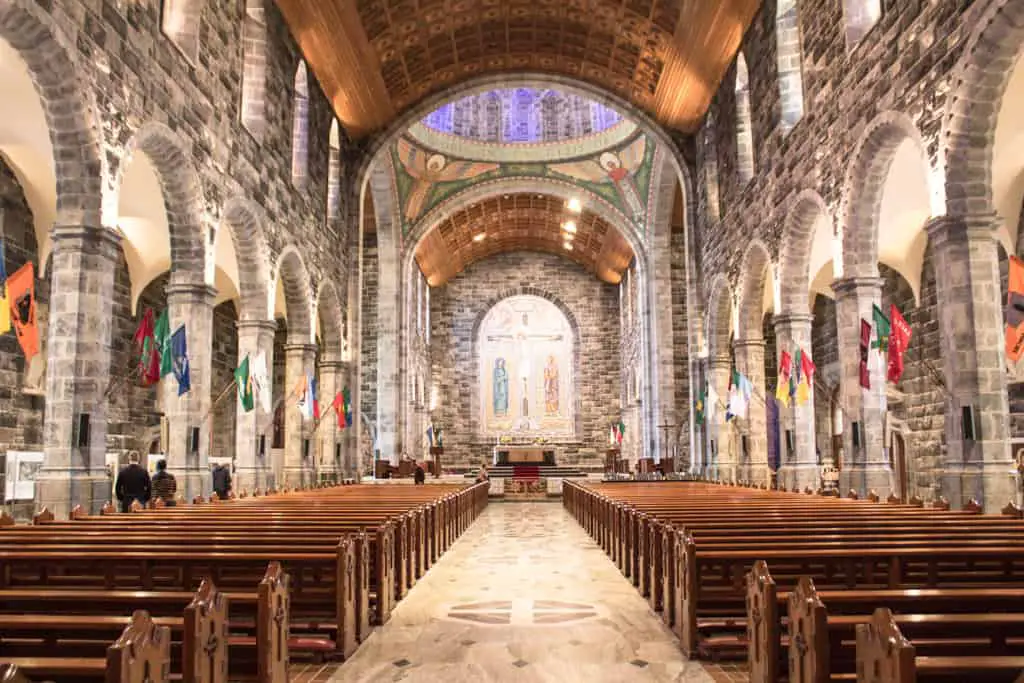 Explore Galway's West End
Across the river from the Latin Quarter, you will find Galway's West End. The West End is home to a few of my favorite places in Galway. Nova, an awesome gay bar where on a Wednesday in May 2015, I danced the night away with locals in celebration of Ireland's vote to support gay marriage. The Secret Garden Tea Shop which I'll share more about if you keep scrolling and the delicious restaurant, Kai Cafe are also located here.
The West End has a more local vibe than the Latin Quarter and is worth a stroll through!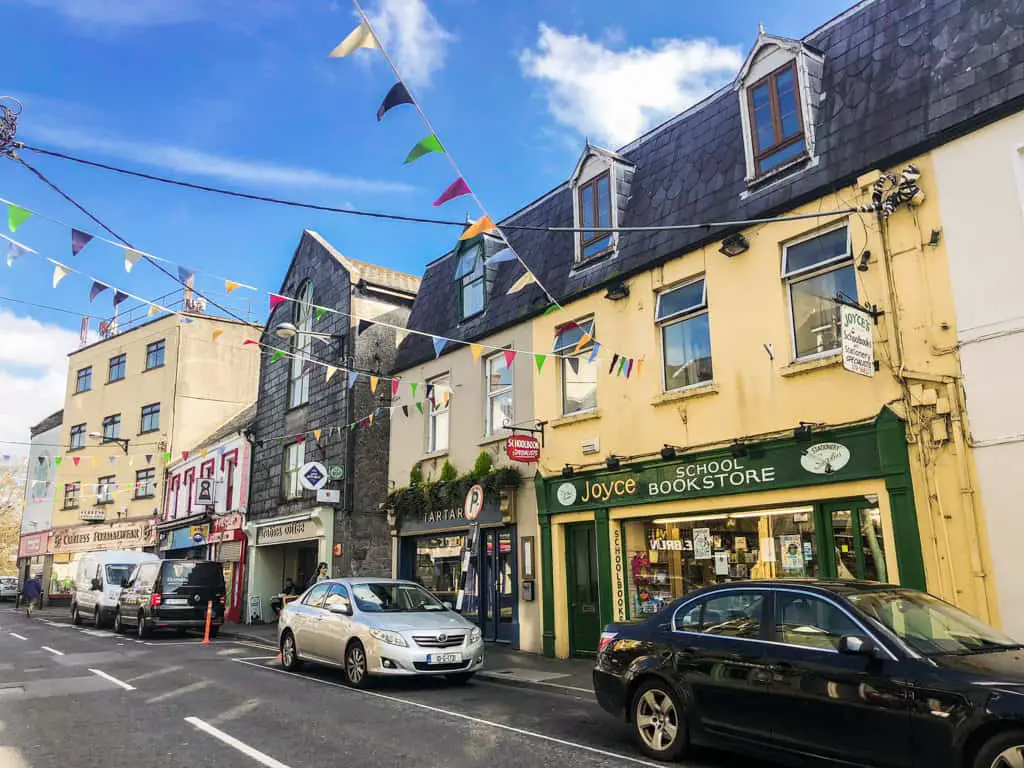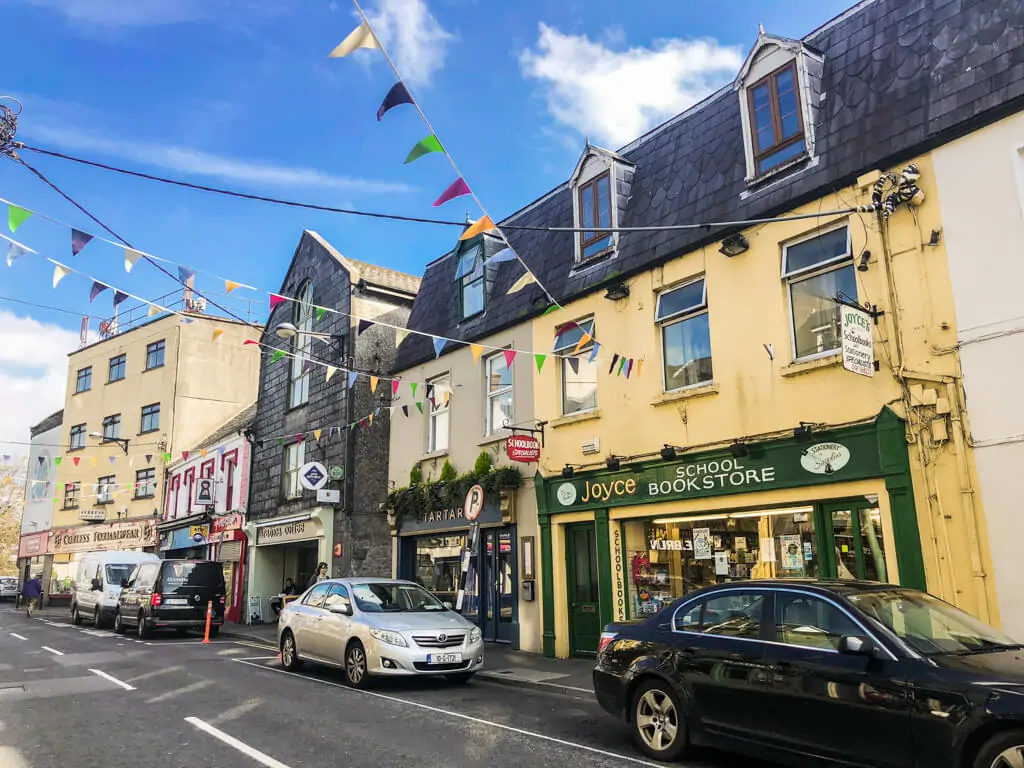 Go On a Pub Crawl
Pub culture is alive and well in Galway! The best thing about the pubs in Galway is that even though each all have their distinct vibe, it still feels like stepping into a long lost relative's home and being welcomed by a pint and a smile. While I have a post dedicated to the pubs in Galway, I'll share with you my top three favorites!
Tigh Coili. When I first walked through the red door of Tigh Coili and into the crowd of people singing along to the musicians playing at the front of the room I was shocked. Nowhere in the states have I encountered such a lively atmosphere on a Sunday afternoon. It may be crowded but people are more than willing to make way for you to get a drink at the bar. Once you've got what you're thirsty for be prepared to make new friends quickly in this popular spot for locals and tourists alike!
The Crane. When a local recommends anything to you, listen. This is how I found myself at the Crane one night in Galway. Each night there is live music upstairs that starts at 9:30 (ish). I learned it's best not to be a stickler about time in Ireland. But don't worry, there will be music and you will find yourself listening to some of the most beautiful music you've heard.
O'Connor's. Located in Salthill Galway is O'Connor's. And if you know who Ed Sheeran is, then you know about O'Connor's as his music video for the famous Galway Girl song was filmed here. But, I didn't go because of that, I went because it was down the street from my hostel and I needed a drink. This pub is awesome! It's been owned by the same family for decades and there is a roaring fire! The music is a bit more American sing-along rock – think Sweet Caroline, but who doesn't love a little Sweet Caroline every now and then!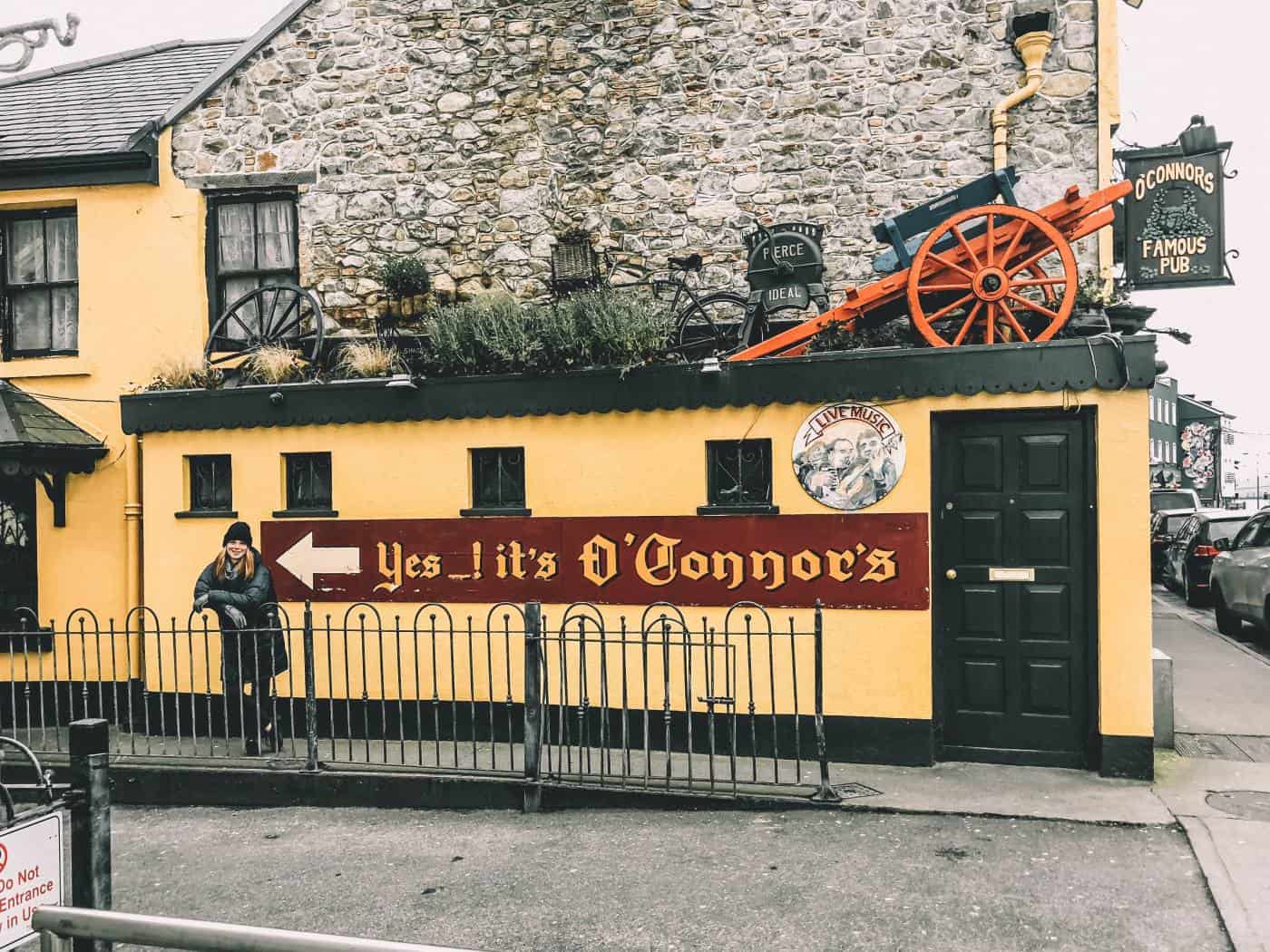 People Watch (or work) in Cafes
The cafes in Galway are another excellent option for a drink, a treat, people watching and WiFi. There are quite a few cafes in Galway and I did my best to try them all. Here are my top three favorite cafes to visit in Galway
The Secret Garden Tea Shop. It's located on the west end of Galway so it's less trafficked by tourists. The interior is incredibly warm with low tables and pillows to sit on or large arm chairs that remind me of my Grandparents' home just perfect for reading a book. Which is what you'll likely do here as there is no WiFi. So leave the laptop at home, bring cash as it's cash only, order their delicious Matcha Latte and cozy up for a few hours with that book you've been wanting to finish!
Coffewerk + Press. Part coffee shop, part gift shop, part hipster haven, Coffeewerk + Press is a must when in Galway. They don't have Matcha, but they do make a mean hot chocolate. I recommend enjoying it upstairs where you can try to snag the window seat that looks out over Shop Street. The upstairs room has a number of unique coffee table style books and is where I discovered the She Explores book that is filled with inspiring stories of solo female travel!
Little Lane Coffee Company. Located just off of bustling Shop Street is Little Lane Coffee Company that receives daily deliveries of freshly baked treats to accompany your comforting Chai Tea Latte (no Matcha here either). With solid WiFi and a gracious owner, I highly suggest spending a few hours relaxing in this cafe.
Listen to Trad & The Buskers
Galway is the heart of Trad (traditional Irish music) and it's played in just about every pub and on the streets of Galway. The pubs are a fun place to listen to music with a pint in hand.

But heading out on the street is a musical delight as well. The Buskers (street musicians) are insanely talented musicians and artists. Many times I just sat on the ground across from them listening to their music. Two of my favorites are Katie O'Connor and Paul Taylor (who made it to the live rounds of the Voice Ireland)
Shop for Food & Crafts at Galway Market
If you happen to be in Galway on a weekend visit the market that takes place on Church Street, just in between the back to Tigh Coli and St. Nicholas' Church. Saturdays are for the Farmer's Market and you'll find everything you need to have a picnic or create a healthy hostel dinner. Be sure to stop by the stall with the barrels of olives and sauces to pick up their pesto garlic hummus – it's amazing!
Sundays are for crafts and a great spot to purchase a souvenir or two. Local artisans set up shop to sell photography, jewelry, hand-painted items, among other crafts.
Each day there are food trucks as well! Definitely not to be missed!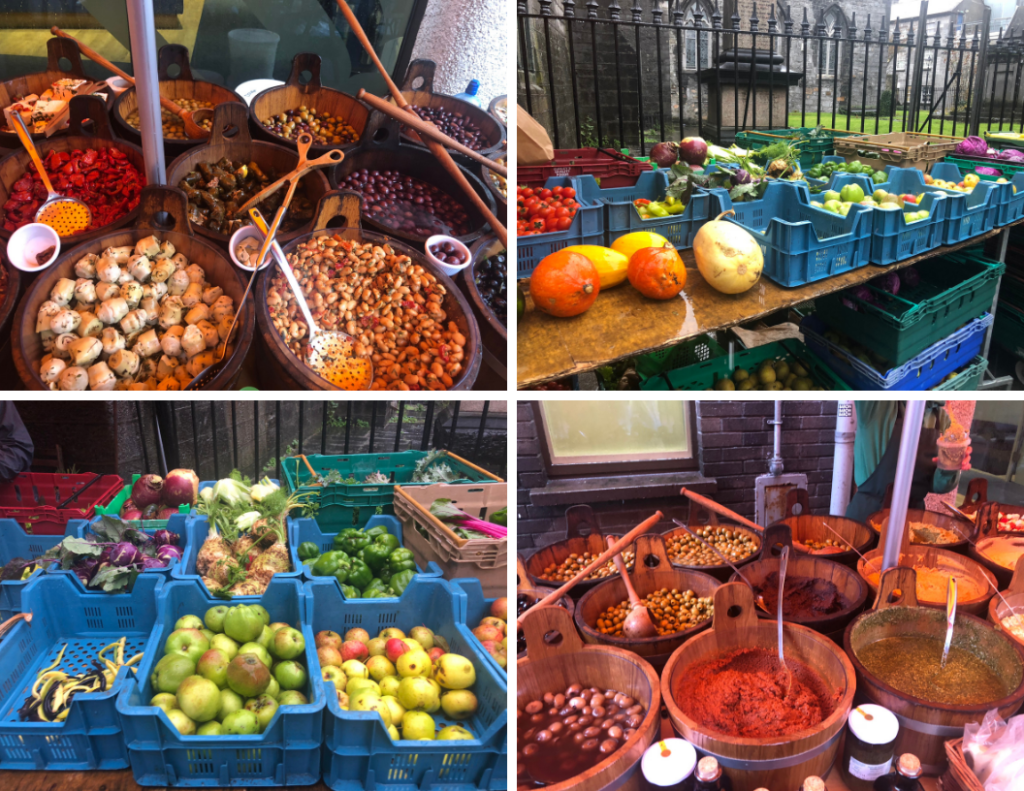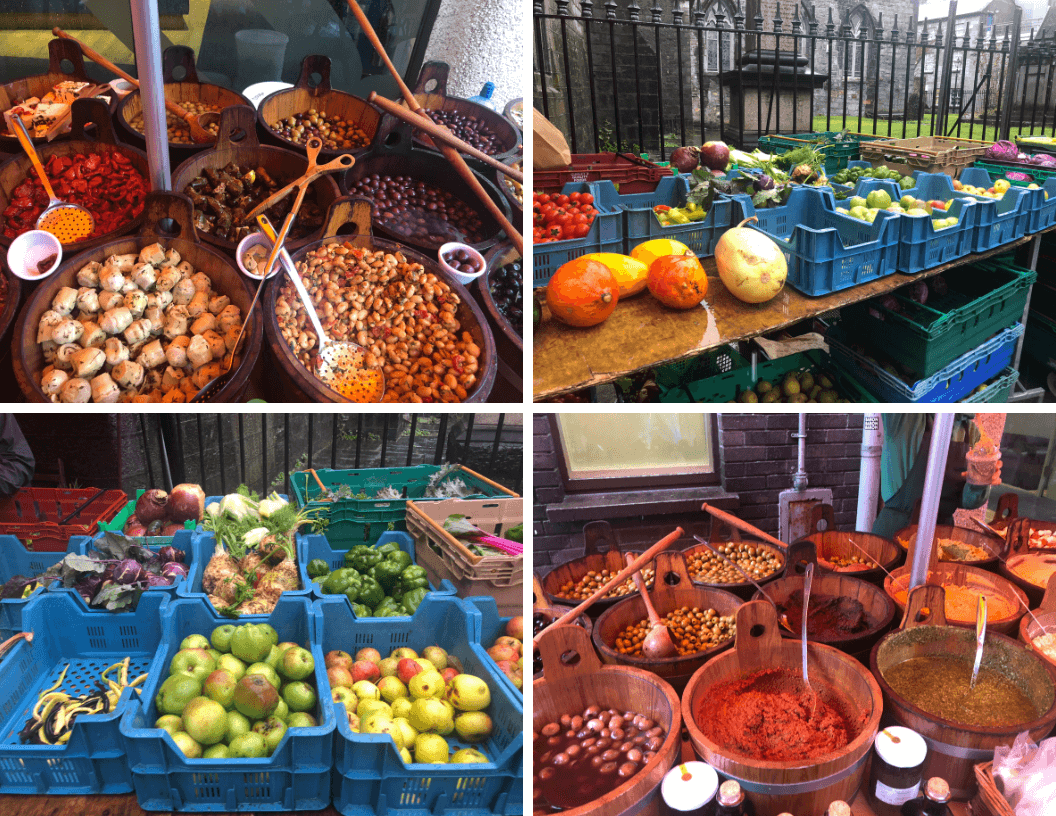 Eat Traditional and International Food
If you're not a do it yourself meal kinda gal, no worries, Galway is a foodie hot spot. Everything from traditional to pub food, to international, can be devoured here. Shop Street has many traditional cuisine offerings, but if you wander along the side streets and over to the West End you'll find tapas, Italian, Pizza, Sushi, and Mexican – to name a few.
For a budget-friendly option check out McDonagh's Fish & Chips. Located in Galway's city center, McDonagh's is a solid option for fish and chips that won't break the bank.
Alternatively, treat yourself try to snag a reservation at Kai Cafe & Restaurant or The Universal. Kai is well known for having a quality seasonal menu. And The Universal has delicious small plates If I weren't traveling solo, I would've ordered one of everything to share. As it was the steak, tiny potatoes, and beets were deliciously sufficient for a night out in Galway.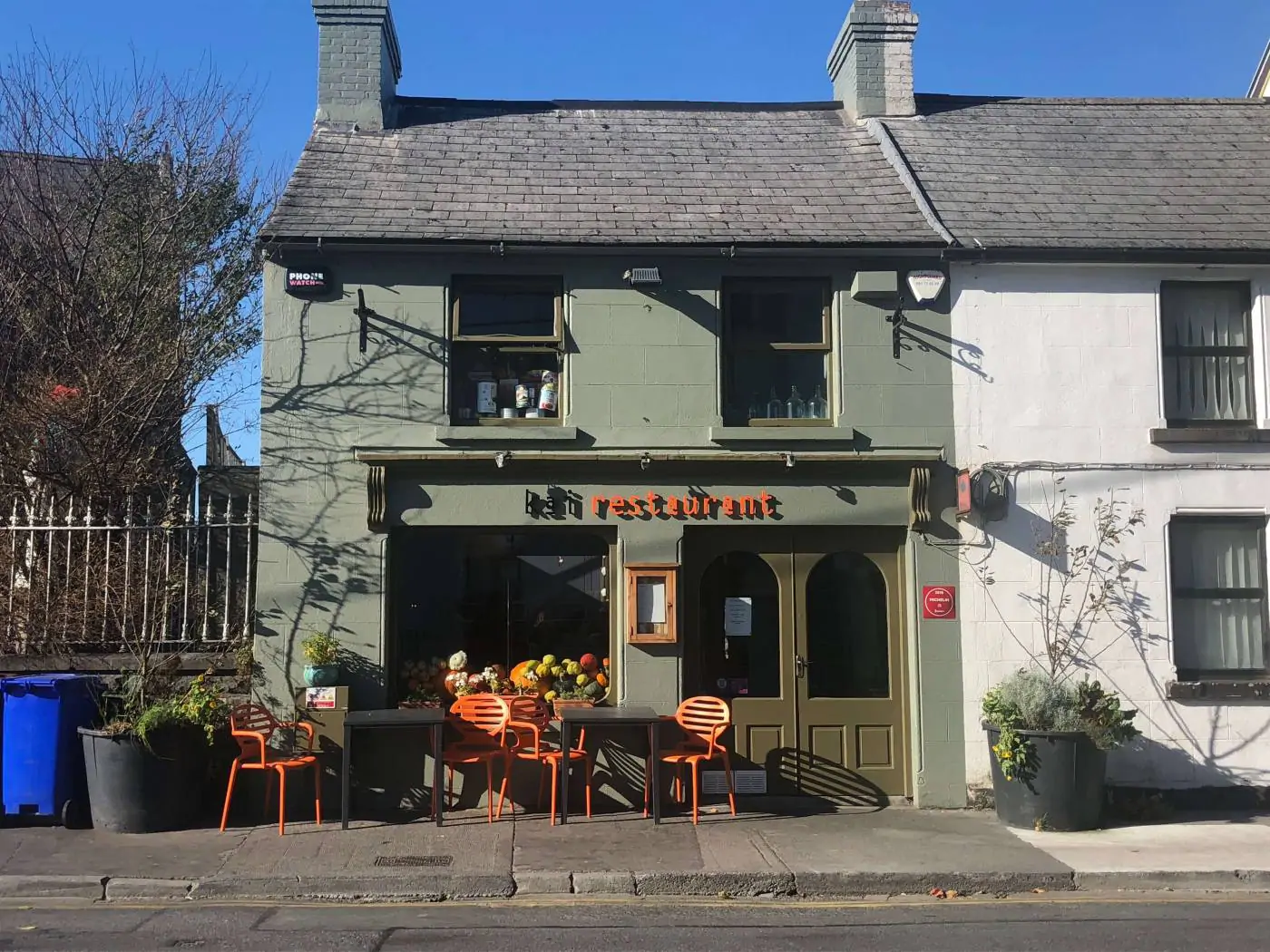 Walk Along Salthill Prom
Join the locals for a walk, jog, or bike ride along Salthill Prom. From the City Center to Blackrock Diving Pier, it's about a 3-mile walk (6 miles round trip) and perfect for a sunny day.
Along the way you'll see the homes of the Long Walk from across the River Corrib, you'll pass the large green fields of South Park, a famine memorial, and you'll eventually come to Blackrock Diving Tower. You don't have to go all the way, but it's well worth a bit of a journey on a clear day as across Galway Bay you'll be able to spy the Aran Islands (a perfect day trip from Galway, by the way!)
There are also benches along the way and a few cafes and pubs you can pop in to. But you should totally do your best to make it to Blackrock pier (you can always take the bus back, there's a stop right next to the tower).
As you reach Blackrock pier there is a small sign that people kick when they've made it. It's called kicking the wall. Sit and watch, you'll see the majority of people do this. So join in and kick the wall before heading back to town.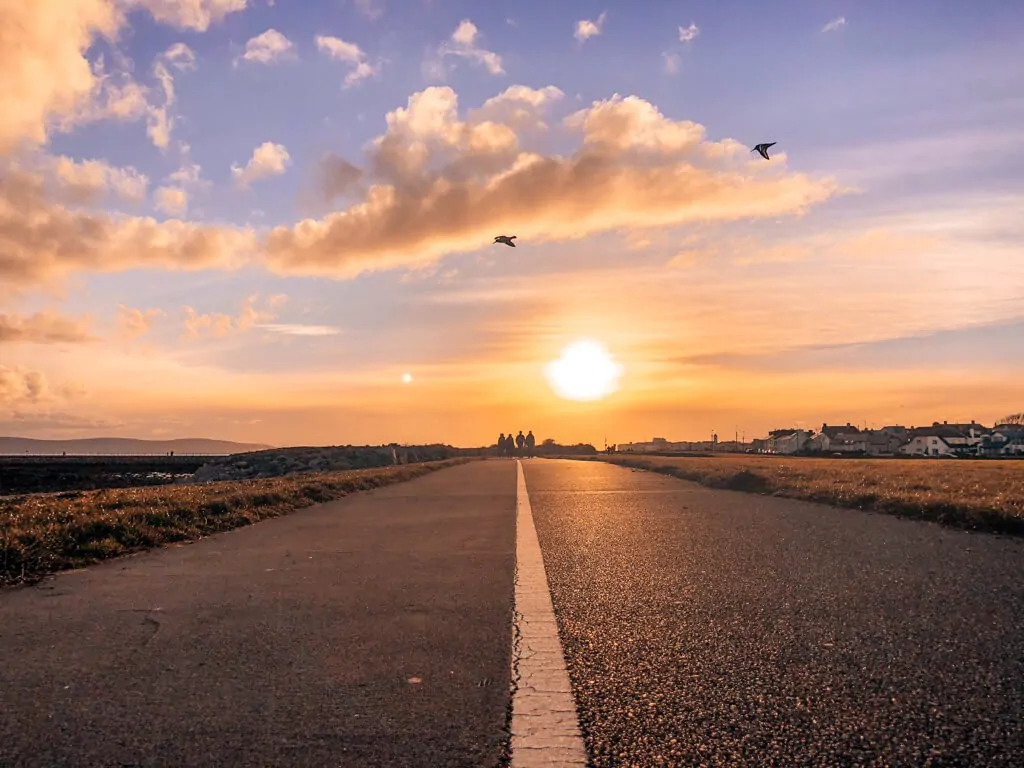 Jump Off Blackrock Diving Tower
Back in the day, like the 1880s, there used to be a simple diving board attached to the edge of a rock. Today, there is a three-tiered diving tower with stairs leading into the water on the first level, a diving board on the second, and two platforms on the top. Apparently in the summer and when it's high tide, the pier is packed with people jumping in. I was just amazed to see so many people swimming on an October afternoon.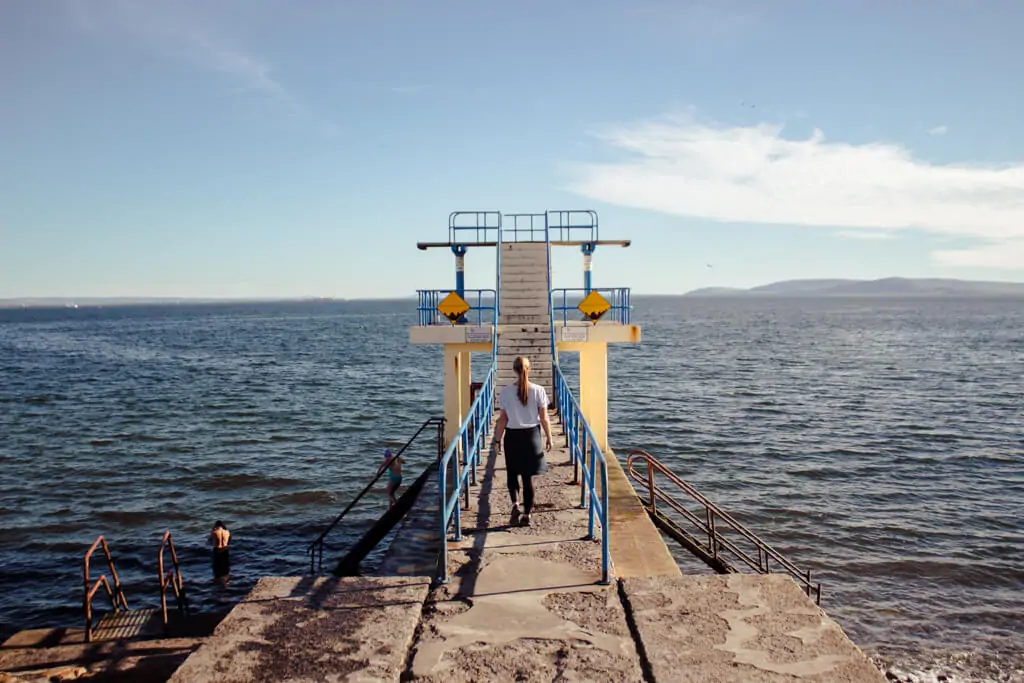 Sure it was a sunny, but it's still the Atlantic ocean – that water is cold! But, as I sat there taking photos and watching the sunset, people kept coming and jumping into the water. Retreating from the water covered in goosebumps to tell me it was incredibly refreshing and made them feel better. Can't knock that I guess, but it's not something I need to discover for myself!
Also – an epic place for sunset, if you didn't catch that.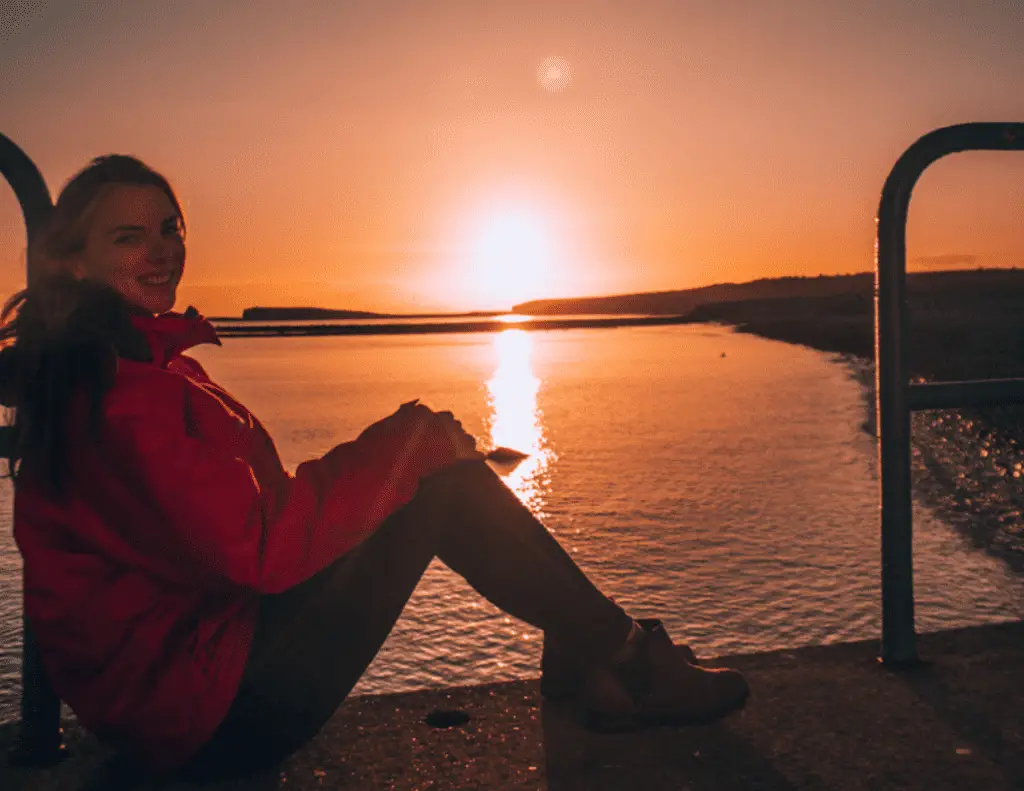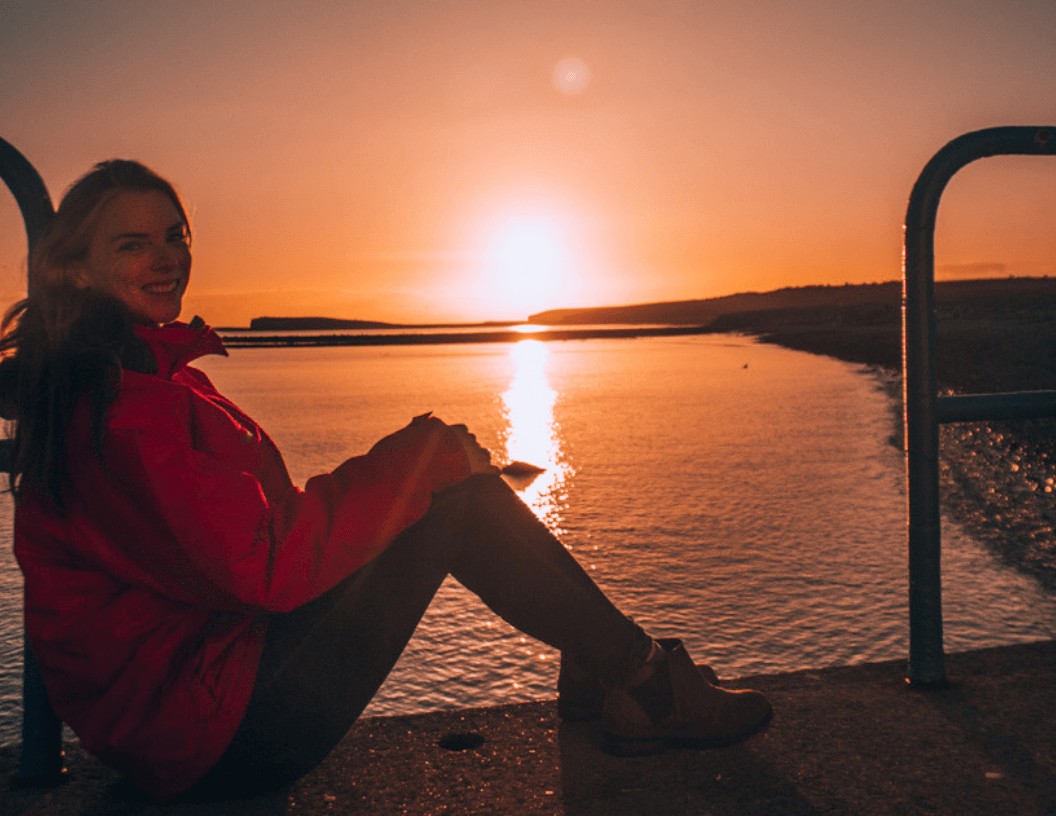 Learn about Galway's History at the Galway Museum
I don't normally visit museums, because they usually cost money and I forget what I learned relatively quickly. They're also usually super crowded which is just not my scene. But, it was a rainy afternoon in Galway, pretty standard, and as I Googled "things to do in Galway in the rain", Galway Museum appeared for the perfect price of FREE! So, I took a break from pubs to learn a little bit more about the history of this city I love.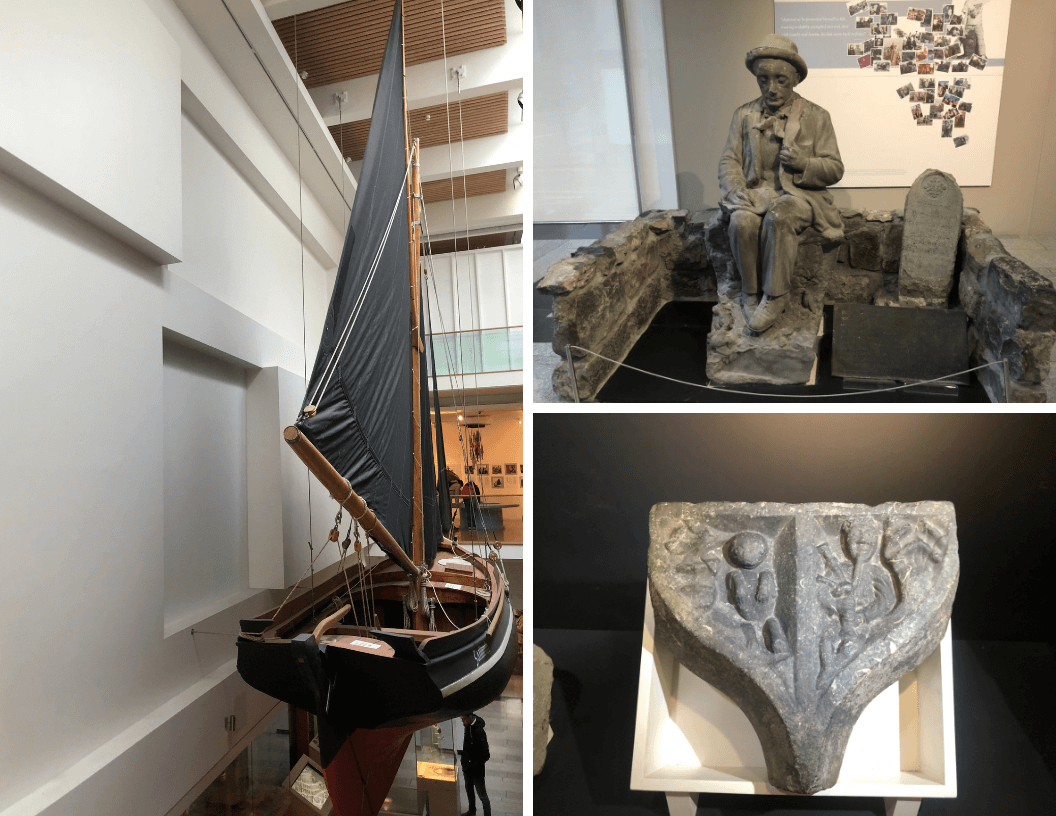 I wasn't sure what to expect from a free museum, but it's really well done. Each of its three floors has a specific focus. The first floor describes the early years of the tribes that settled in Galway. It pays homage to the city's fishing past with a full-sized hooker hanging in the stairwell as you head to the second floor. There I learned that Galway had a successful soccer team for quite a few years!
It also details the Easter rising, the wars, and local heroes. The top floor was unexpected, it's like a mini marine life knowledge center. Which makes sense considering the location of Galway and its fishing history! Definitely worth a visit on a rainy day when you just can't drink one more Guinness.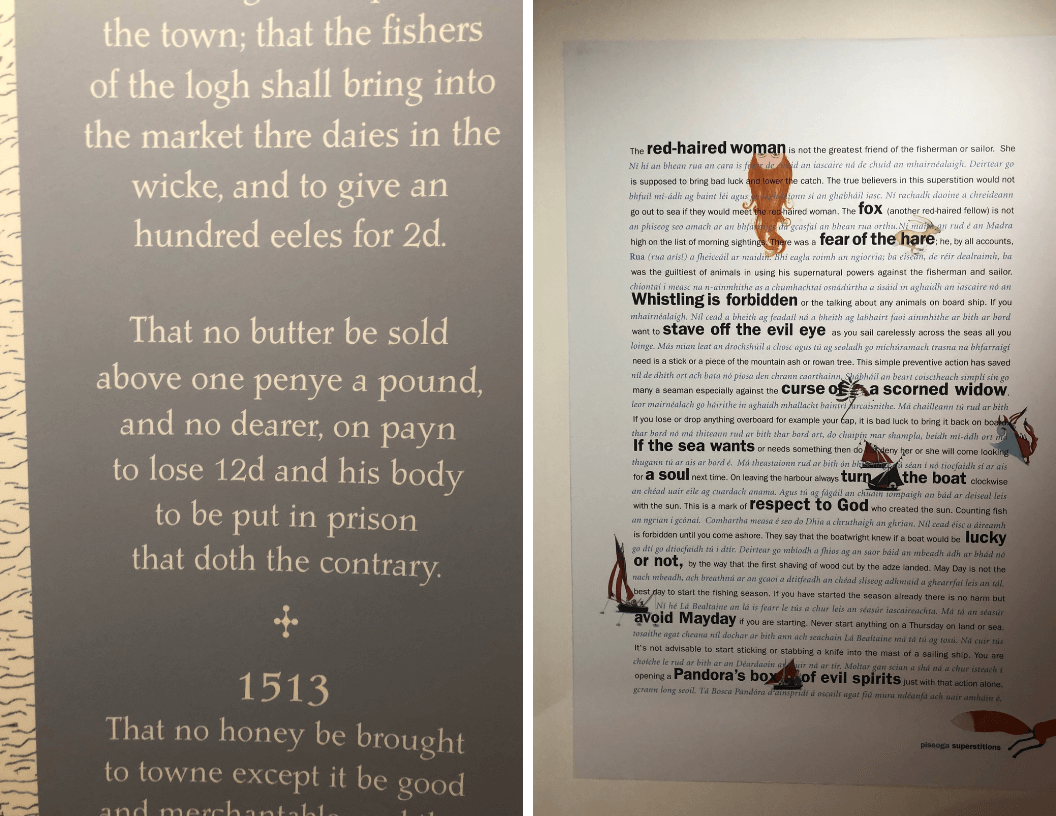 People Watch in Eyre Square
It's hard to miss Eyre Square (aka JFK Memorial Park as he gave a speech here during his visit…and they seriously love him) as it's located right next to the bus station, the shopping center, and popular pubs. It's a lovely park that is excellent for catching some rays on a sunny day. You could take your food from the market here for a picnic and a bit of people watching.
There's also another medieval relic located here, a door to one of the tribe's homes. On the door, you'll find 14 flags each representing one of the original Galway families.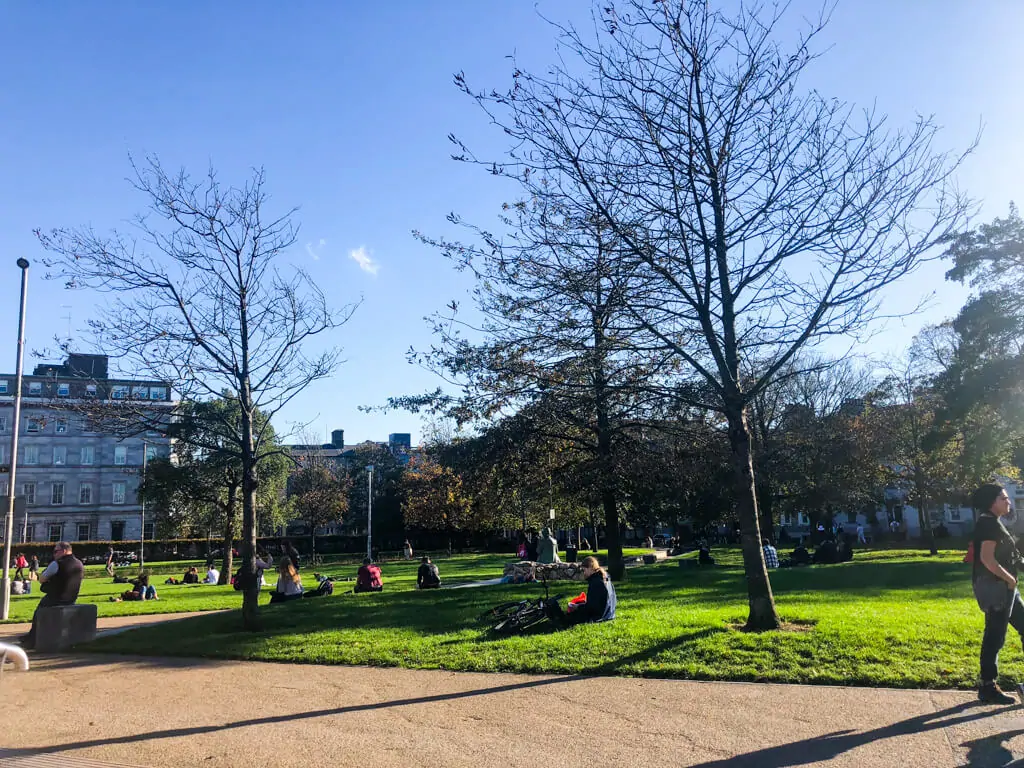 Pick up a Book at Charlie Byrne Bookstore
Don't you just love the smell and feel of a real book? I travel with my Kindle because I don't have enough space to carry the books I want to read. But walking into Charlie Byrne's bookshop made me want to buy a bigger backpack and fill it with books! It's huge and has about 5 rooms filled from the floor to the ceiling with new and used books on any subject you can dream up!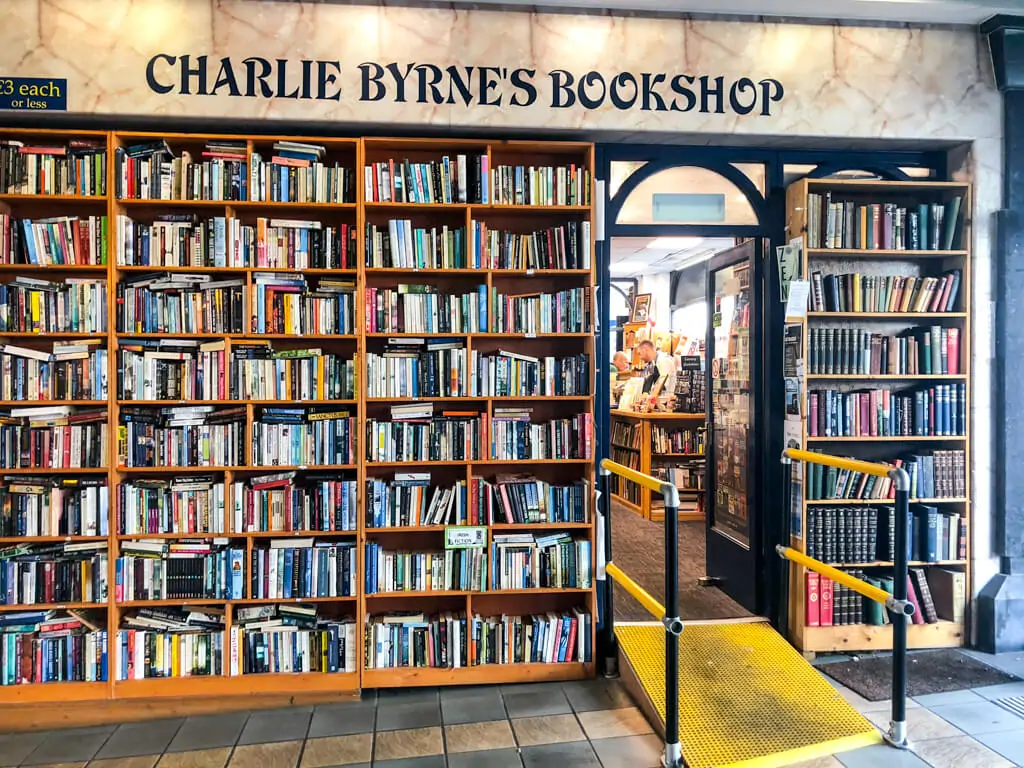 Paying great homage to Ireland's literary history they have loads of books on Irish history and sections dedicated to Irish authors. Of course, they also have new Best Sellers as well. If the 5 rooms of books aren't enough for you, the hallway outside of the shop is lined with used books for 2-3 euros. This shop is definitely worth a wander on a rainy day.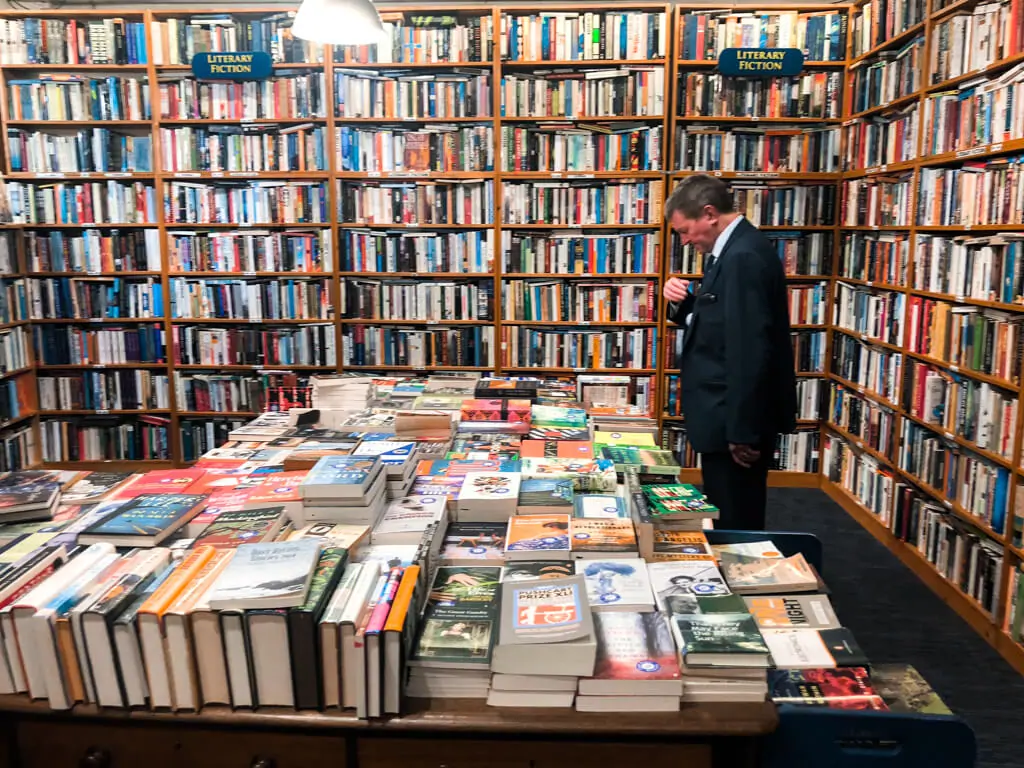 Learn About the History of the Claddagh Ring fromThomas Dillon's Claddagh Gold
Pay a visit to the oldest makers of the traditional Claddagh ring. They've been in business for over 200 years and still make the famous Claddagh ring. Traditionally, it's used as an engagement ring, but I bought one for myself, 'cause why not? The silver rings, without any stones, are not too expensive. But, they also create more elaborate, engagement style Claddaghs.
The coolest part about these rings is that the inside is stamped with TD Original. This way you know it's legit! The back room has a small history of Thomas Dillon and how the ring came to be – as well as a ring the size of a pinhead. 
Take in a Festival or a Horse Race
Galway is a city of festivals. They celebrate their music, food, pride, and horses! It seems as if there is a festival going on year round! And I seem to always just miss them by a few days.  I need to get better at planning! The Galway Races and Oyster festival are high on my list. What festival would you attend?
There you have it, my favorite things to do in Galway, that are mostly free – with the exception of feeding yourself, the odd pint and if you attend a festival. Now that you're excited to visit, you need to know how to get there and where to stay right? Check out the FAQs below for that information – I've got you covered.
I just really want people to see and fall in love with Galway. It's an amazing place that I hope you add to your Ireland itinerary.
Galway, Ireland FAQ
Where to Stay in Galway
Galway is a small city with plenty of accommodation options for any budget. I do a deep dive into where to stay in Galway in this post, but as an overview I highly suggest staying as close to Shop Street as possible so you can be close to all of Galway's attractions. 
Airbnbs in Galway
On my first visit, I stayed at the best Airbnb right around the corner from Tigh Neachtain (a 120 year old pub) called the Zen Den. The hosts are fantastic, the rooms are large and warmly decorated. If it's available I highly suggest booking it!
I also saw some great Airbnbs located on the Long Walk while I was planning my most recent trip. But I was on a strict budget and wound up at a much cheaper location that I do not recommend. I wish I just splurged and stayed at one of the options on the Long Walk. 
If Airbnbs are your accommodation of choice, you can get 15% off of your booking when you book through this link!
Hostels in Galway
There are a number of hostels to choose from in Galway from budget to boutique. I've personally stayed at one on each end of the spectrum.
On my first visit, I stayed at the Kinlay House which is located just off of Eyre Square. It is a huge hostel with over 200 beds. There is a large kitchen where you can cook for yourself and they offer a wide variety of tours. It's very budget-friendly and social.
On my second visit, I was looking for something much smaller and a bit quieter. I discovered The Nest hostel located in the Salthill neighborhood and I can't recommend it highly enough. They have a large kitchen and an amazing free breakfast filled with fresh pastries, yogurt, fruit, and cereals.
It also offers a coffee shop, is beautifully designed, and has very comfortable beds. It's a 20-minute walk from the city center, or a 2 euros and 5 minute bus ride from the stop directly outside.
I highly recommend staying at The Nest in Galway – you can book through this link.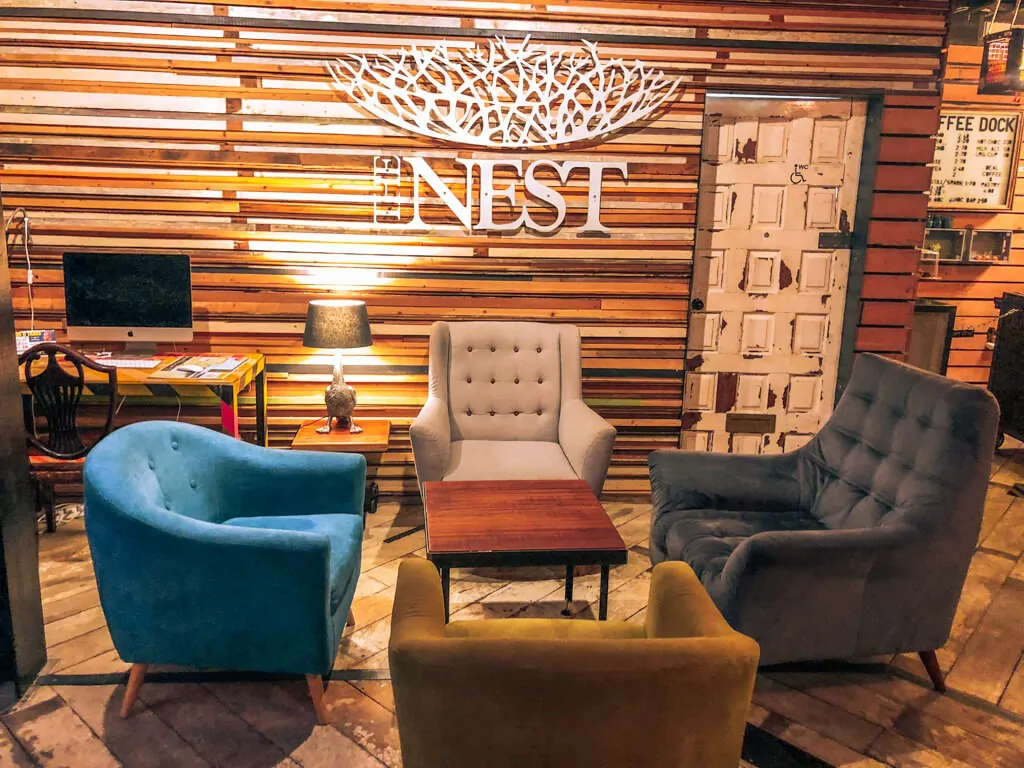 Hotels and Bed & Breakfasts
Galway has a number of hotels and Bed and Breakfasts to choose from as well. I haven't had the opportunity to go down that accommodation route yet, so I don't have any specific recommendations. I will say the Jury's Inn is very well located and looks beautiful!
You can use the map below to conduct your own search of places to stay in Galway that will suit your travel style and budget.
The Weather in Galway
I've visited Galway in May, October, and January, three very different times of the year when it comes to the weather anywhere else in the world. But in Galway, you can expect some rainy days, some sunny days, and some days where you'll get both.
January was by far the coldest, requiring big jackets, gloves, hats, and boots. Keeping in mind that it was winter, I still spent plenty of time outside enjoying the best of Galway. 
Before your visit, just check the weather for the overall forecast, but be prepared for a little bit of everything.
How to Get to Galway
From the Shannon Airport
The closest airport to Galway is Shannon. A bus ticket with Bus Eireann costs 10 euros and can be purchased on arrival at the kiosk in Shannon Airport. The kiosk is red, says Bus Eireann and is basically right where you exit customs. It takes about two hours to arrive at Galway Bus Station, which is across the street from Eyre Square.
By Bus from Dublin and Cork
The Citylink bus service has a direct service from Dublin and Cork. You can check the timetables here.
Bus Eireann offers services to and from Galway to smaller cities, such as the Cliffs of Mohr, Doolin, Dingle, and Ennis. Check their website or speak with them at the bus station for more information. They're incredibly helpful!
By Car
I would love to rent a car and drive around Ireland, one day. That day hasn't come yet, but it is very common and everyone in Galway seemed to have cars. Most accommodations offer parking, but be sure to double-check when booking.
Check out these Ireland Travel Guides for More Help Planning Your Trip to Ireland
Like this post? Save to Pinterest for later!