"A storm is coming, better go on Thursday, we may cancel the ferries on Friday."
Wise advice from the woman working at Aran Islands Ferries in Galway as I booked my second Aran Islands day trip. Just three years earlier was my first day trip to the Aran Islands. On my 28th birthday during my first trip to Ireland I cycled around Inishmore (Inis Mór) Island, the largest of the three islands, in the rain. It's one of my favorite birthdays to date. Now, I wanted to recreate the magic on a normal October day with a day trip to visit Inisheer (Inis Oírr), the smallest of the three islands. Still left on my bucket list is to visit the third island, Inishmaan (Inis Meáin).
After two day trips to the Aran Islands from Galway, I can honestly say that the Aran Islands should be on everyone's Ireland itinerary. When you step foot on the islands, you'll find incredibly hearty, happy, and welcoming locals happy to chat with you about their rural way of life, stunning scenery, and a pace of life you'll wish you could recreate at home.
But before we dive deep into the best way to spend your day on one of the Aran Islands, let's first discuss why I recommend doing this day trip from Galway instead of Doolin, another popular jumping-off point for the Aran Islands.
Before we go any further, I need to let you know that there are a few affiliate links in this post. This means that, at no additional cost to you, should you decide to make a purchase, I'll earn a little bit of money.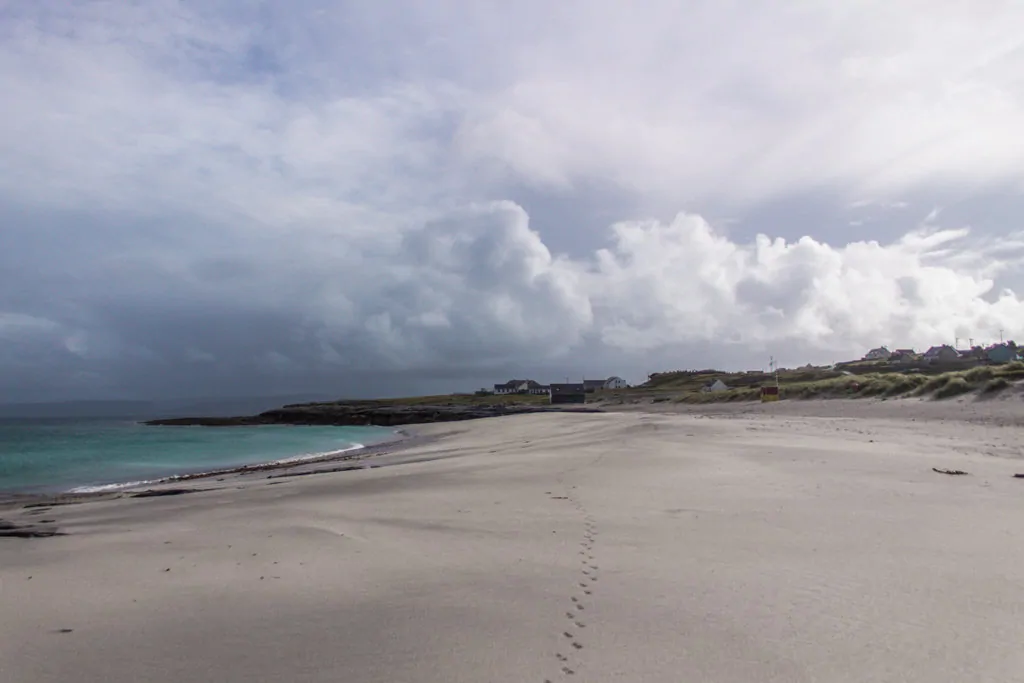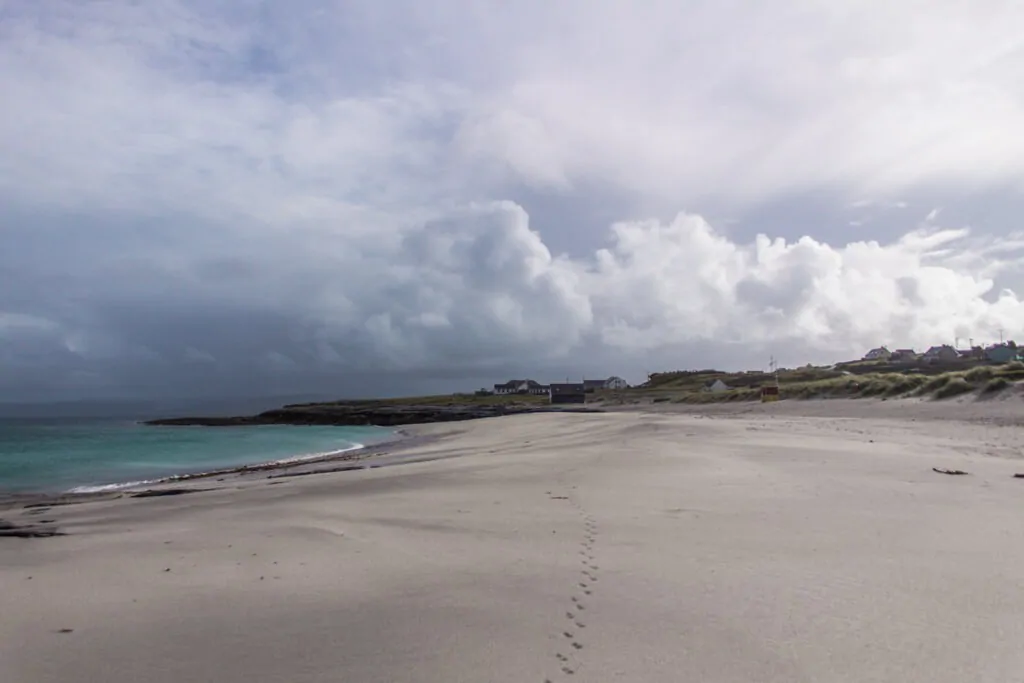 How to Get to the Aran Islands – Galway or Doolin
There are two ways to get to the Aran Islands, by ferry or by flight. I've taken the ferry each time and I highly recommend it.
If you are absolutely against a ferry ride for whatever reason, check our Aer Aerann Islands website for a schedule, location, and prices. 
The Aran Islands Ferry from Galway
Each journey to the Aran Islands from Galway begins with a visit to the Aran Islands Ferries office located just across the street from the New Coach Station in Galway. The people who work here are incredibly helpful with not just purchasing your ticket, but providing their advice on which island to visit and why.
The ferry departs from Rossaveel port about one hour outside of Galway city, but don't worry, they've got you covered with a shuttle bus to take you to port. Or if you have a car, you can drive yourself. 
The round trip ferry journey with the shuttle bus transfer costs €39 (€30 for the ferry & €9 for the shuttle). Should you decide to drive yourself, parking at the port costs €7 for 24 hours.
Travel time to each Island from Rossaveel (not including getting to port)
to Inishmore: 40 minutes

to Inishmaan: 45 minutes

to Inisheer: 55 minutes
The ferry journey out is pretty rocky. I remember on my first trip in May 2015 having flashbacks to the opening scene of Gilligan's Island and thinking we'd capsize. In October of 2018 when I went, it was still rocky, but not as bad as that rainy May day three years earlier.
However, each return journey was incredibly smooth. I even sat on top on the ride back from Inisheer soaking up the Irish sun and sea breeze.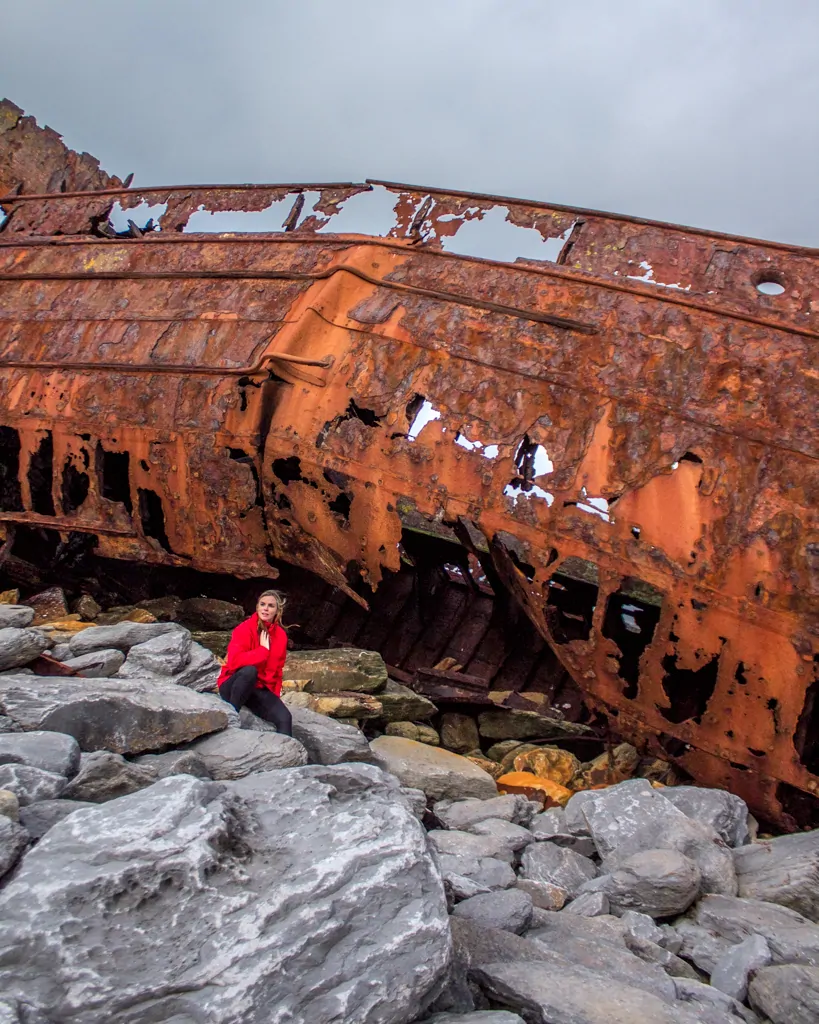 The Aran Islands Ferry from Doolin
There are some pros, but one very big con to taking the ferry from Doolin to the Aran Islands. Let's start with the positives. 
First, there is more than one ferry operator from Doolin, which means more sailing times. You can choose from The Doolin Ferry Co (the guys in red jackets) or Doolin2Aran Ferries. Side note if you want to do more than a day trip to the Aran Islands to experience more than one island, Doolin2Aran Ferries offers interisland transport.
The second pro is that it takes less time to get to the first Aran Island from Doolin. Inisheer is incredibly close to the coast of Doolin and it only takes about 30 minutes to arrive. But if you want to get to Inishmore it will take you approximately 90 minutes.
Travel time to each Island from Doolin
to Inishmore: 90 minutes (€25)

to Inishmaan: 60 minutes (€25)

to Inisheer: 30 minutes (€20)
The third pro is that Doolin itself is small and, if needed, you can walk to Doolin Pier from town. I took a Cliffs of Moher cruise in Doolin and the walk from my B&B on the other side of town took about 40 minutes. Once you arrive at port, there are stands where you can purchase your ticket. 
With all of those pros, I still will recommend making this a day trip from Galway for one very legit reason: cancellations. The ferries in Doolin get canceled based on tides, these tides do not affect Galway's route. 
I had a ferry cancel in Doolin and the majority of people I've met who have attempted to get to the islands from Doolin share stories of canceled ferries. I mean there are plenty of fun things to do in Doolin in case your ferry does cancel, but if a visit to the Islands is at the top of your bucket list then leave from Galway. The only reason the Galway ferry was planning to cancel on my recent trip was because of a huge storm that rolled in. 
Getting Around the Aran Islands
No matter which island you choose to visit there are a few transportation options to take in the sights and they'll be made readily available as soon as your ferry docks in port.
You'll see horse-drawn carriages and vans (on Inishmore) awaiting to whisk tourists off on their Aran Island adventure. I recommend passing on these modes of transportation and renting a bike for €10-15 for the day and adventuring by yourself.
There's a bit more freedom in renting a bike on the islands. You can stay as long as you'd like at any of the attractions and you get to slow down to match the pace of life that makes these islands so attractive. Plus, the extra calorie burn makes that Guinness at the end of the day so much more rewarding!
On Inisheer, I recommend renting a bike from the lovely lady at Rothai Inis Oirr and on Inishmore head to Aran Islands Bike Hire. Each place will get you set up with a bike and a map and point you in the right direction. 
What to Expect from Aran Islands Weather
Just like anywhere in Ireland, expect rain and be delighted on a sunny day! When I visited Inishmore in May the morning started out very windy and there was a consistent drizzle. As the afternoon went on the sun came out to play, but the wind stayed!
When I visited Inisheer in October I was delighted by a pleasantly warm day which meant I didn't have to wear my jacket while biking around the island. The sun was out all day long and rain in the distance provided ample rainbow sightings!
What to Wear to the Aran Islands
Definitely think layers anytime you're packing for Ireland. If you plan to cycle the islands wear comfortable clothes, leggings, a long sleeve top, a hat, sunglasses, a coat, and gloves for your hands in case it's cold. Always pack a scarf and wear sunscreen in case the sun does come out to play!
Now that we know how to get to the Aran Islands and how to get around once we're there, let's dive into the fun stuff – what to do there!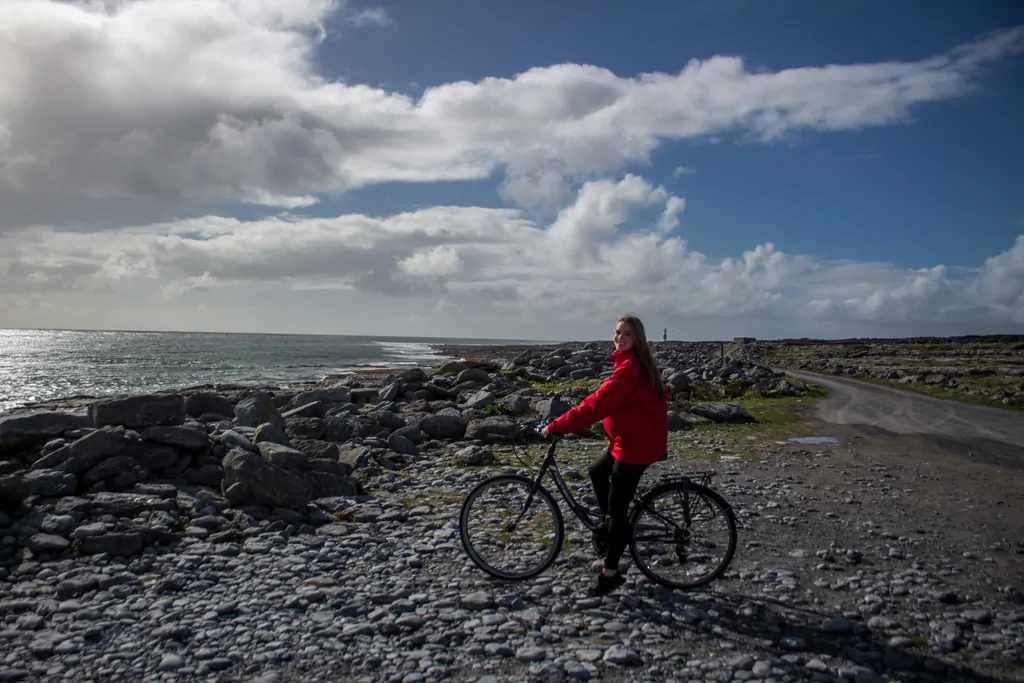 Things to do on Inisheer Island
Inisheer is the smallest of the three Aran Islands, which means you can see so much of it with little time. There are only about 250 year-round residents, with this number swelling to close to 600 during tourist season. I will say, out of the two Aran Islands I've been to, Inisheer is my favorite, so I'm going to dive into the best things to do on this island first! 
Get Sand Between Your Toes
The first thing you'll notice when you step off of the ferry on Inisheer is the white sandy beach next to the pier. This beach made me feel like I'd landed on a tropical island until the strong wind knocked my camera over into that pristine sand. And, please, don't really take off your shoes, it may look tropical but it's far too cold to go dipping your toes in the Atlantic. 
Turn around from the sandy beach and you'll see rolling green hills, squared off by stone walls, that seem to lead straight into the Atlantic. Now hop on your bike and head to the first destination on Inisheer, the Plassey Shipwreck.
Plassey Shipwreck
The Plassey crashed off the coast of Inisheer in 1960. Thanks to the help of the islanders, everyone on board survived the crash. The waves eventually lifted the ship to its current location on the limestone rocks. Mike Tobin, the only crew member still alive today, tells his story here.
I spent over an hour exploring the shipwreck and taking photos. I discovered various parts of the ship in their whole laying around the rocks. Closer to the ship, there are tiny rusted fragments that look like pebbles. No doubt they've fallen from the rusted wreck over the last 60 years. As I moved to the side facing the ocean and saw the massive hole in the middle of the ship. I imagine this is where the ship hit the rocks that fateful night.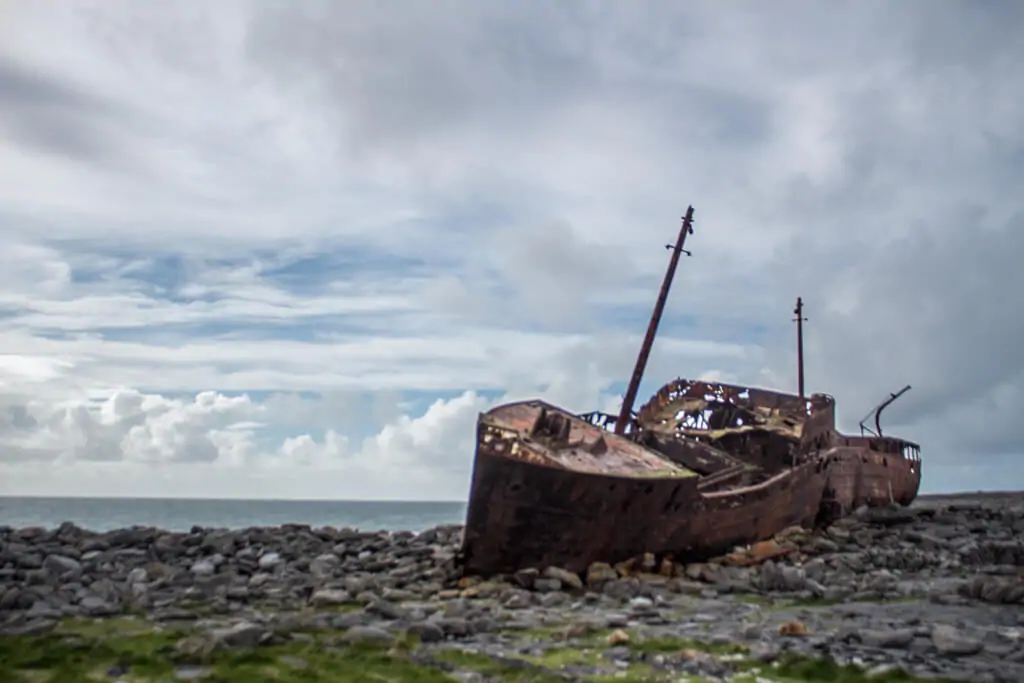 The Lighthouse
From the Shipwreck, off in the distance, you'll see a lighthouse standing tall, You can't actually go into the lighthouse, but it does make for a beautiful ride through the island countryside among camera-shy horses. 
On your way back down the hill from the lighthouse, you'll turn left on a dirt path to head towards O'Brien's castle. It's very easy to miss, which I did multiple times. I'm sure if anyone was watching me from their homes they got a good chuckle as I rode back and forth before realizing I was supposed to turn onto the dirt path I'd been riding by. Hey, I was distracted by the breathtakingly cliche rainbow over the ocean that made its way into the green Irish pastures. 
Side note, there are also arrows directing you to this path, that I missed the first few times. It's amazing I haven't gotten seriously lost in the past year of traveling! The path became a very steep hill and I'm not ashamed to say I walked the bike up as an older Irish gentleman laughed at me huffing and puffing!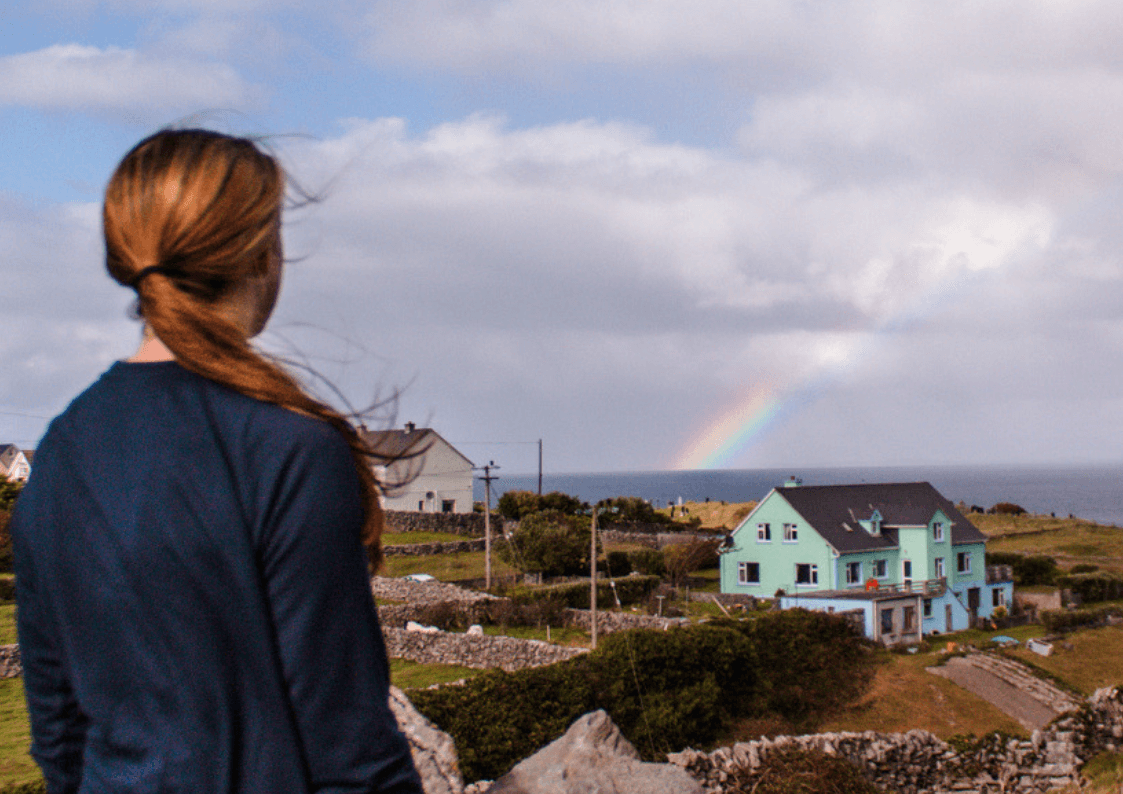 O'Brien's Castle
O'Brien's castle is quite small compared to the other castles I've seen in Europe, and not too much is known about it, other than it was inhabited by the O'Brien clan. But its hilltop perch does have an excellent view of the ocean. And would you believe it, another rainbow appeared off in the distance as I sat there taking in the view! Talk about prime real estate.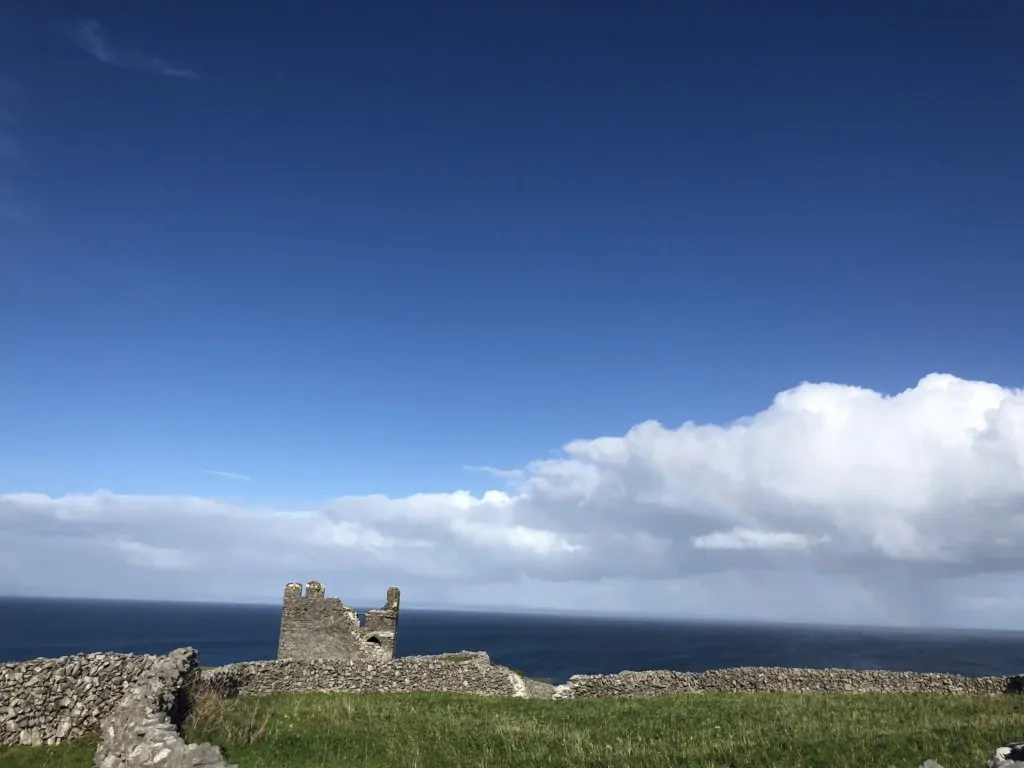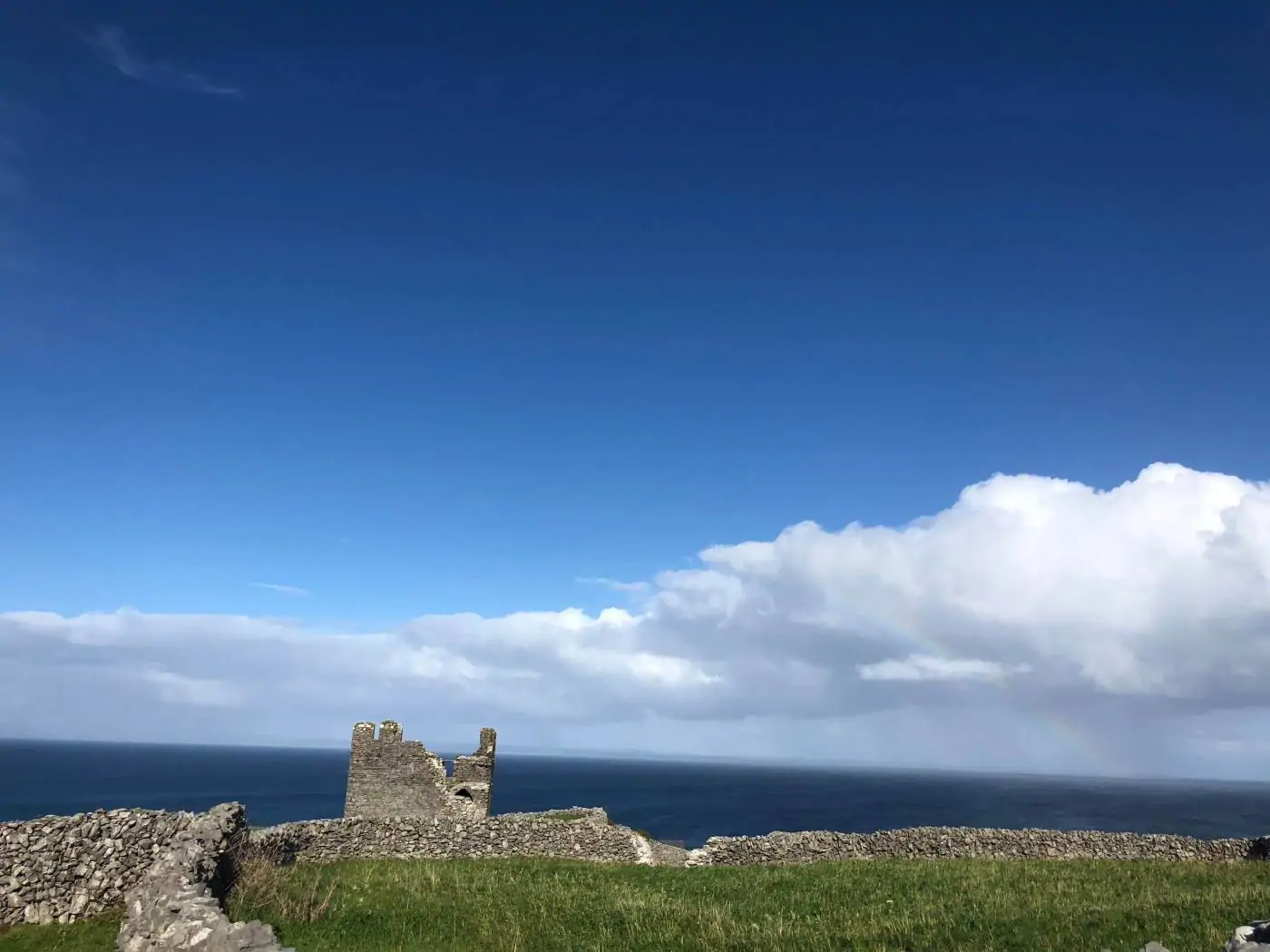 Three hours ago as I set out on this bike ride, I'd made it my goal to visit every marker on the map. I now only had an hour and a half left before the ferry back to Galway and I wanted to eat something! It was time to get down to the biking business.
Ancient Ruins on Inisheer
Tempall Chaomhain 
Down the hill from the castle lies the 10th-century graveyard Tempall Chaomhain, seemingly underground. It wasn't always below ground, but sand blown in over the last thousands of years covered it. Each year, the islanders dig it out as St. Chaomhain is the patron saint of Inisheer. Above the stone altar, I discovered an ancient engraving of Christ on the Crucifix.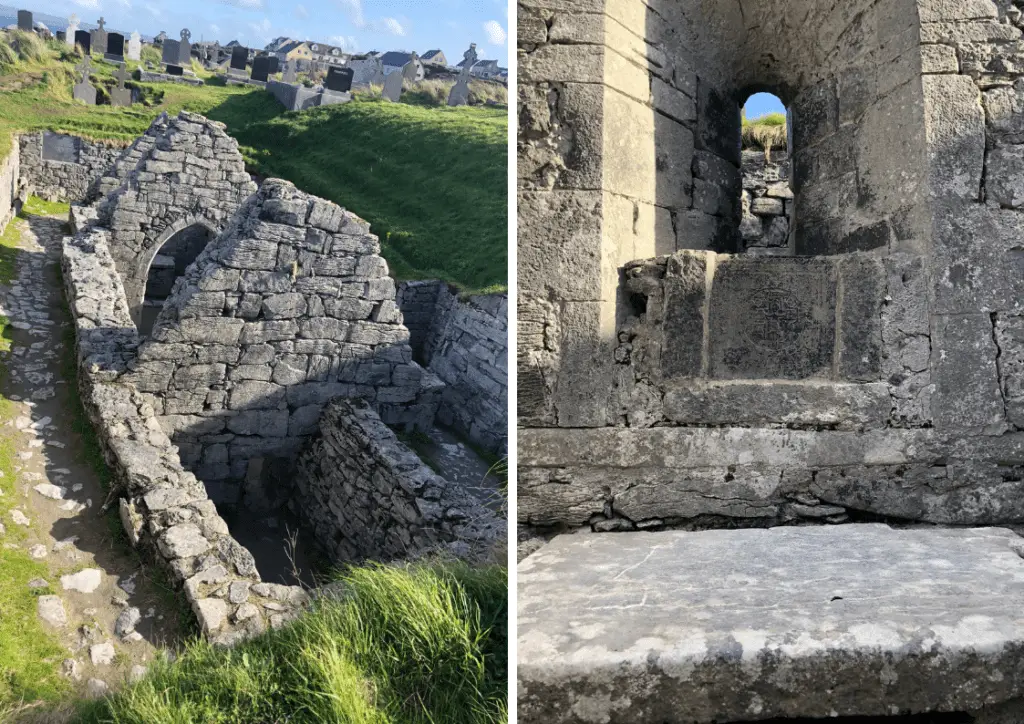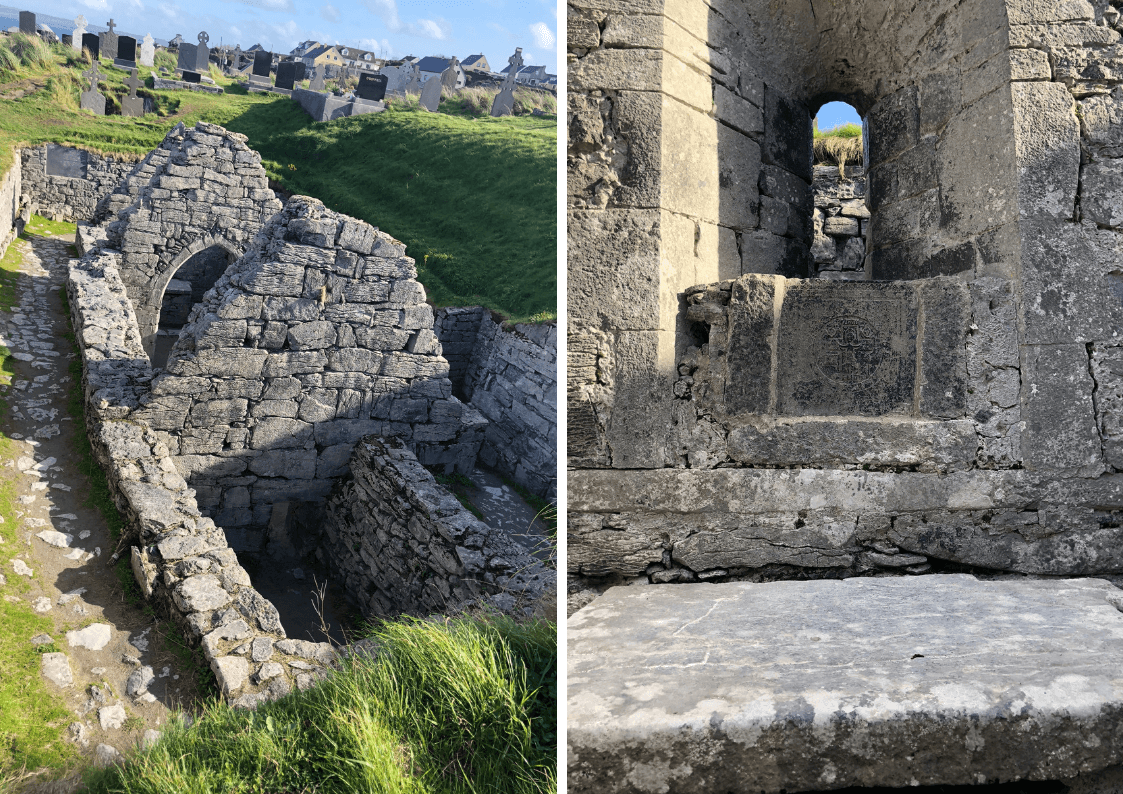 Cnoc Raithni
There is also an ancient burial ground that I'd accidentally biked right past just a few hours earlier. This burial ground dates back to 1500 BC! It was discovered in 1855 after a storm uncovered it from the sand. They discovered urns with cremated remains.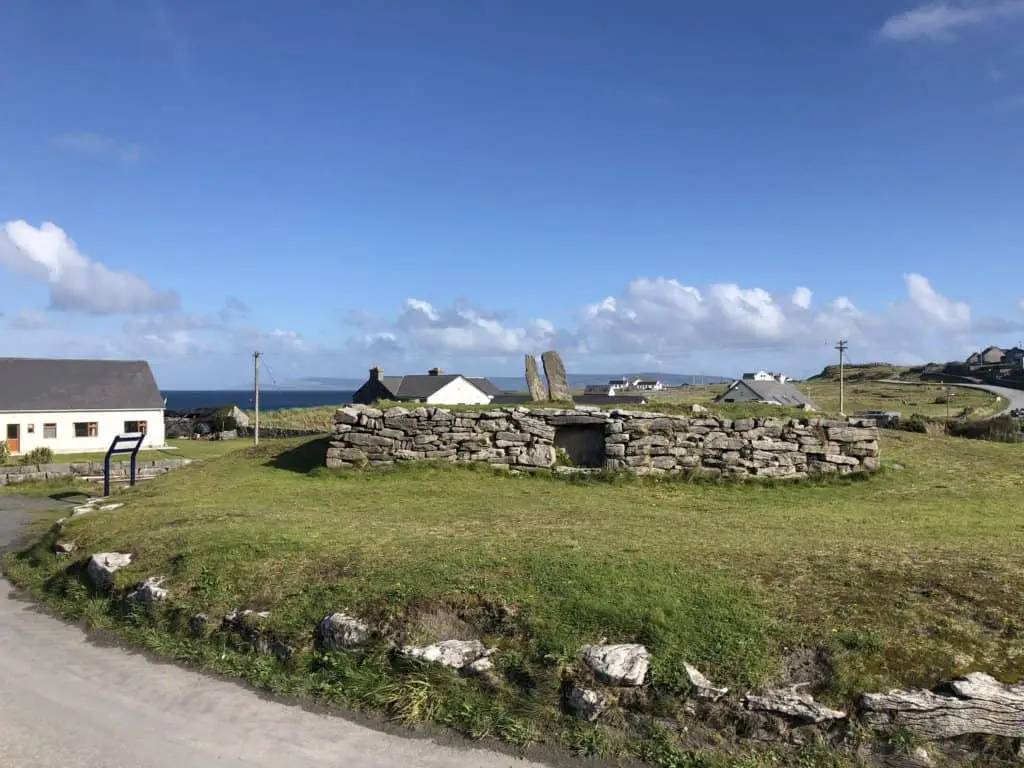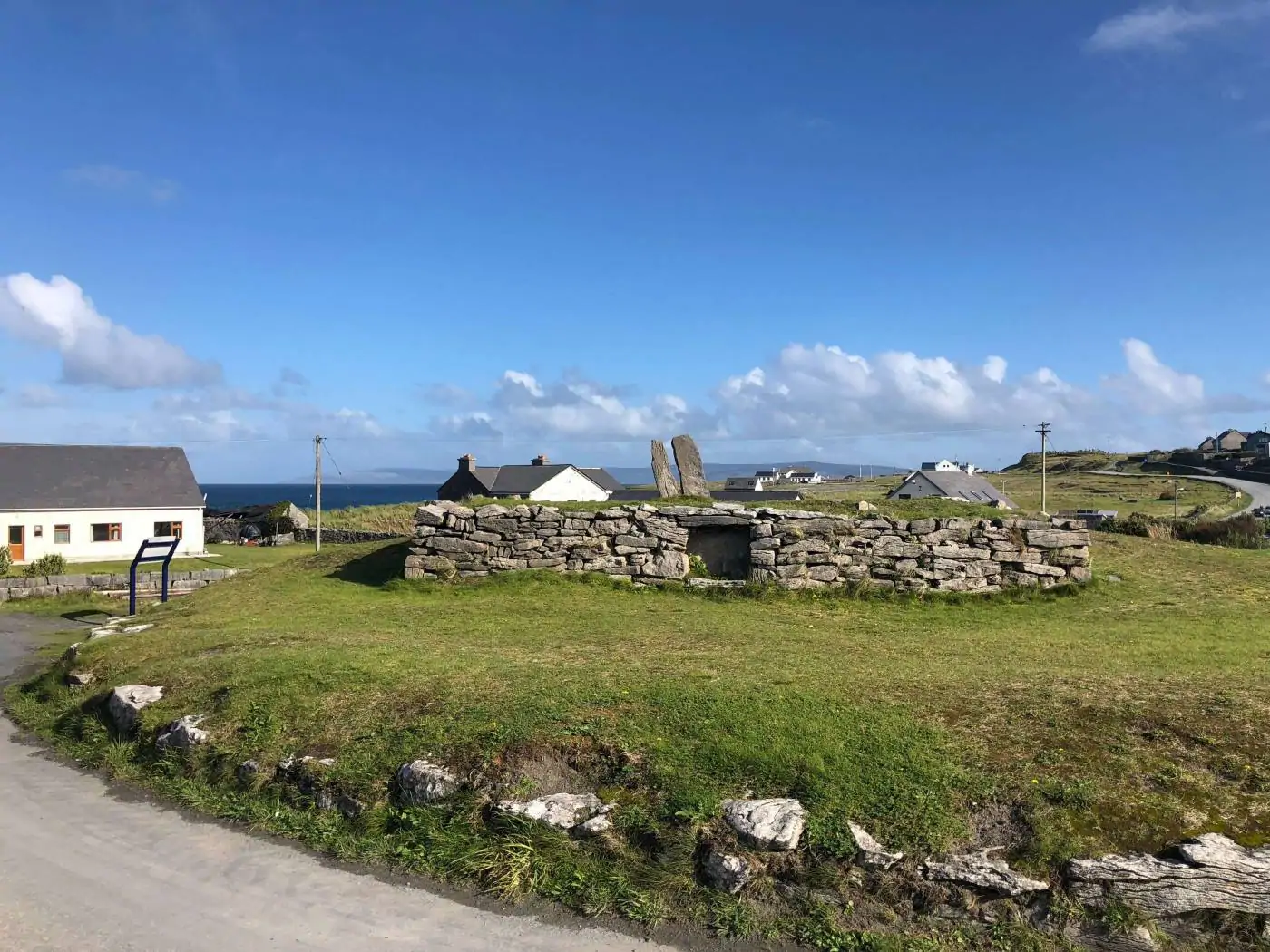 Cill Ghobnait
I accidentally whizzed by another ancient site, Cill Ghobnait, even though this time I was looking for it. It's a small church ruin without a sign. There was a tiny open gate that I passed through and narrowly missed stepping in a very large cow pie. The field surrounding this church must be used as a cow pasture these days as the field was riddled with cow pies. I quickly I explored the tiny remains of this church, completing the first leg of the bike ride!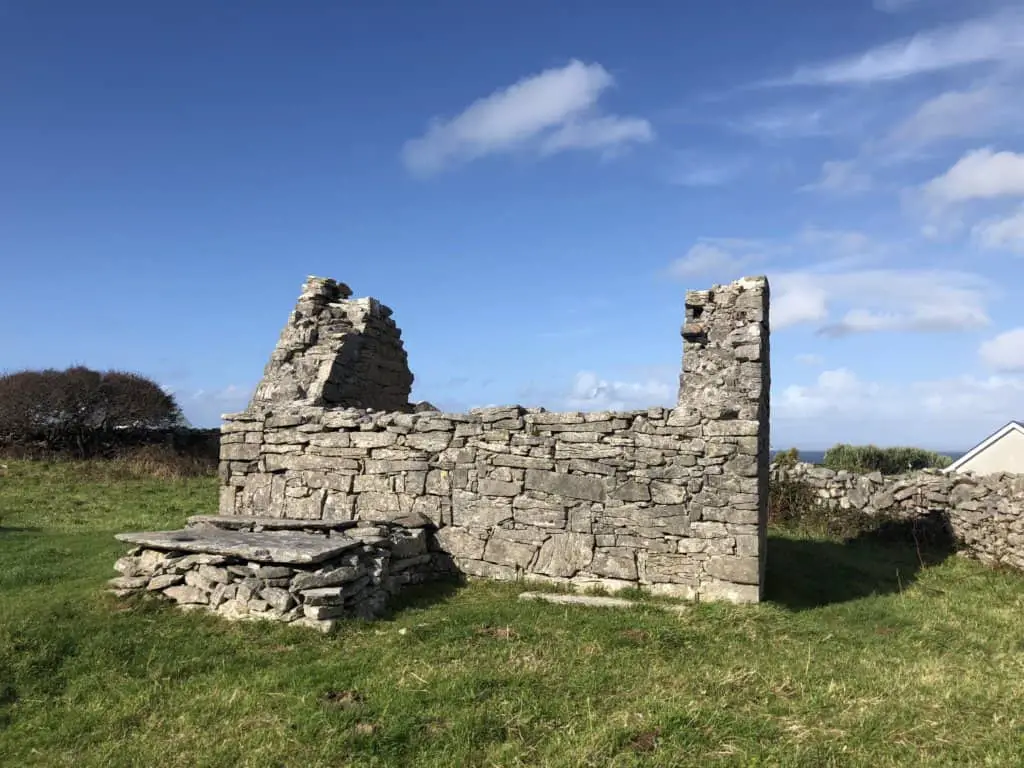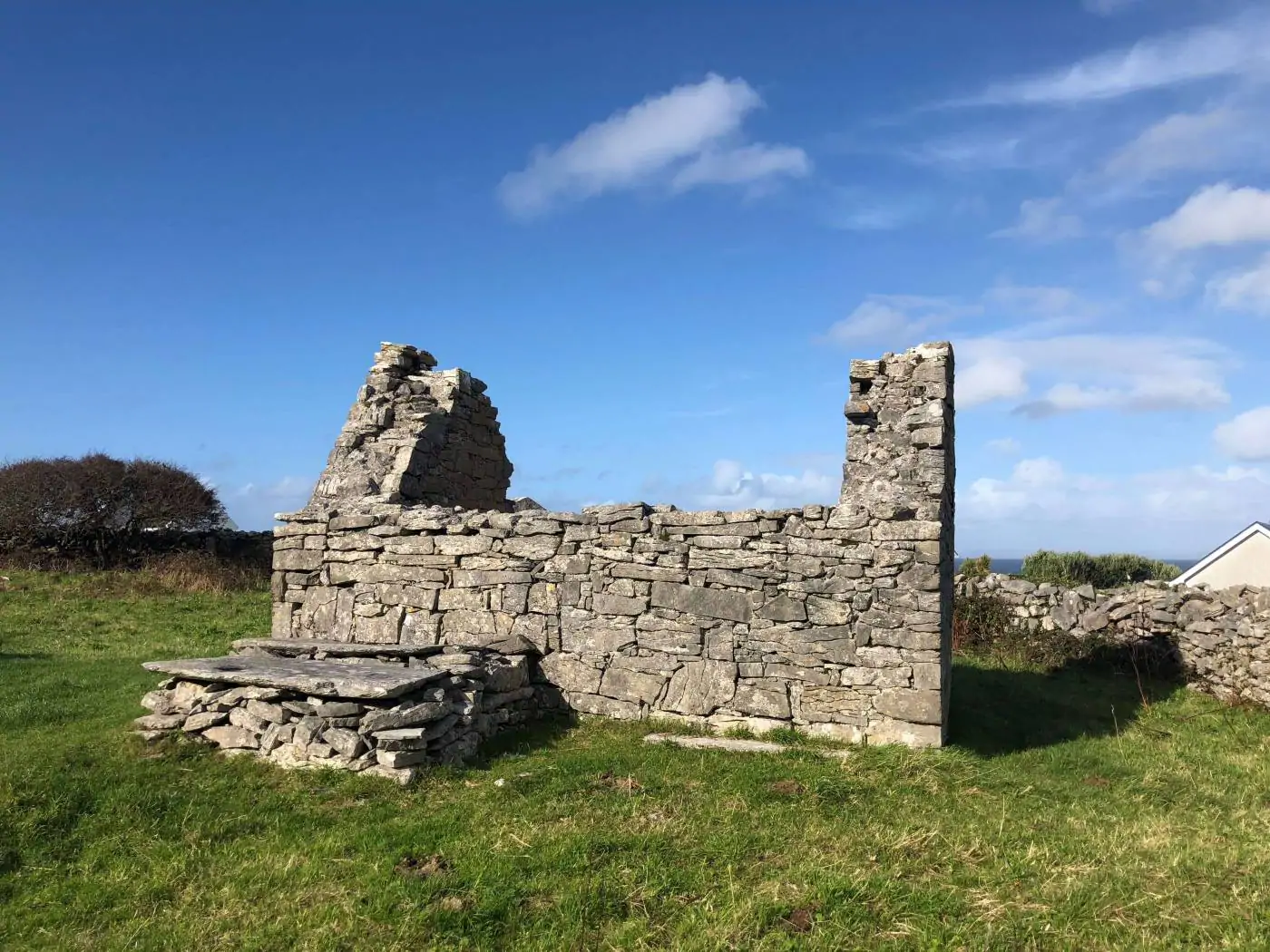 The lady who rented me this bike told me that the portion I'd just completed would only take 45 minutes. Well, 3.5 hours later I finished and headed off for the 25-minute portion. I considered skipping it in favor of a few drinks at the local pub, but I figured, "when is the next time I'll be on this island?". I cycled off into the headwinds to find a drastically different island.
St. Enda's Well
This side of the island is much wilder. There are no houses and the waves roll in strong and consistent, crashing against the very rocky shore. Along the shore, there is a memorial stone for those lives lost at sea. With the intense crash of waves behind the stone, I can easily imagine this fishing village has seen its fair share of loss. Just beyond this stone, and up a hill against the wind, is St. Enda's well. This well was built in honor of St. Edna, the patron saint of Inis Mor. On my way out of the small stone "gate", I noticed two clovers growing amongst the grass. This was the first time I'd seen a clover in Ireland. Quite pleased, I headed back to town, just 25 minutes later.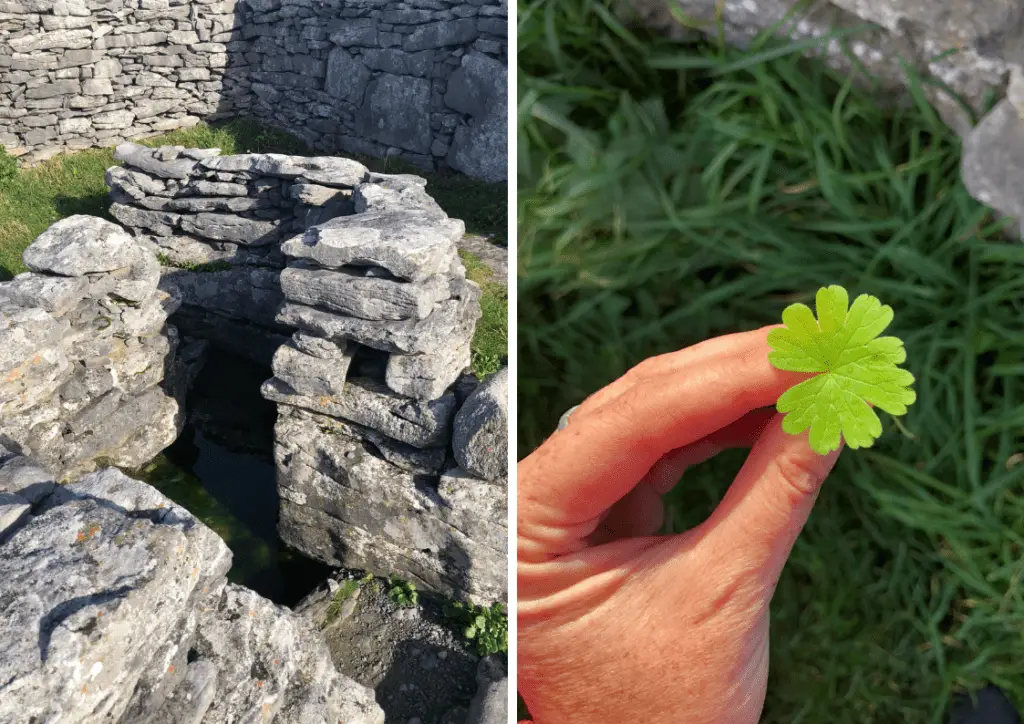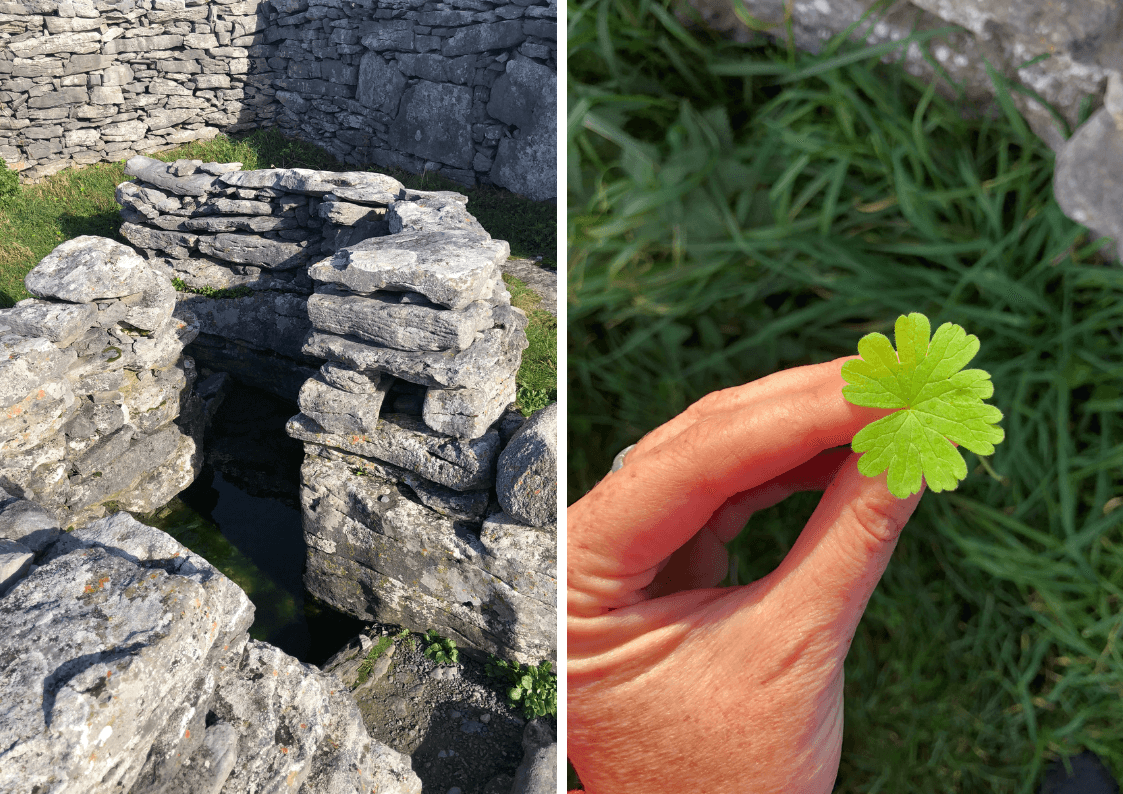 Two rainbows and two clovers. Sunny, blue skies. Enough time for two Jameson & Ginger Ales and a grilled sandwich at the local pub. And a smooth sail back to Galway.
Total Time to Bike Inisheer
As I mentioned before, the lady who I rented the bike from told me it would take about 1.5 hours. My bike ride lasted closer to 4 hours with plenty of stops for photo ops, to take in the views, and get a little bit lost. When you're done with your bike ride, the shop may be closed, just leave it outside the door. 
Where to Eat on Inisheer
I visited Inisheer in October, just as the island was getting ready to close up its tourist season. As such, the only place open for lunch was Tig Ned. And I use the word open loosely as the bartender told me it was the last day they'd be serving food, but he whipped me up a sandwich anyway and poured me a strong Jameson & Ginger Ale.
Where to Stay on Inisheer
While this post is about day trips to the Aran Islands, I can't blame you for saying "screw it" to your return ferry ticket and staying on the island for another day. There are a handful of B&Bs and a hostel located on Inisheer which you can scope out here. But be sure to check their availability before you skip that ride back to the mainland.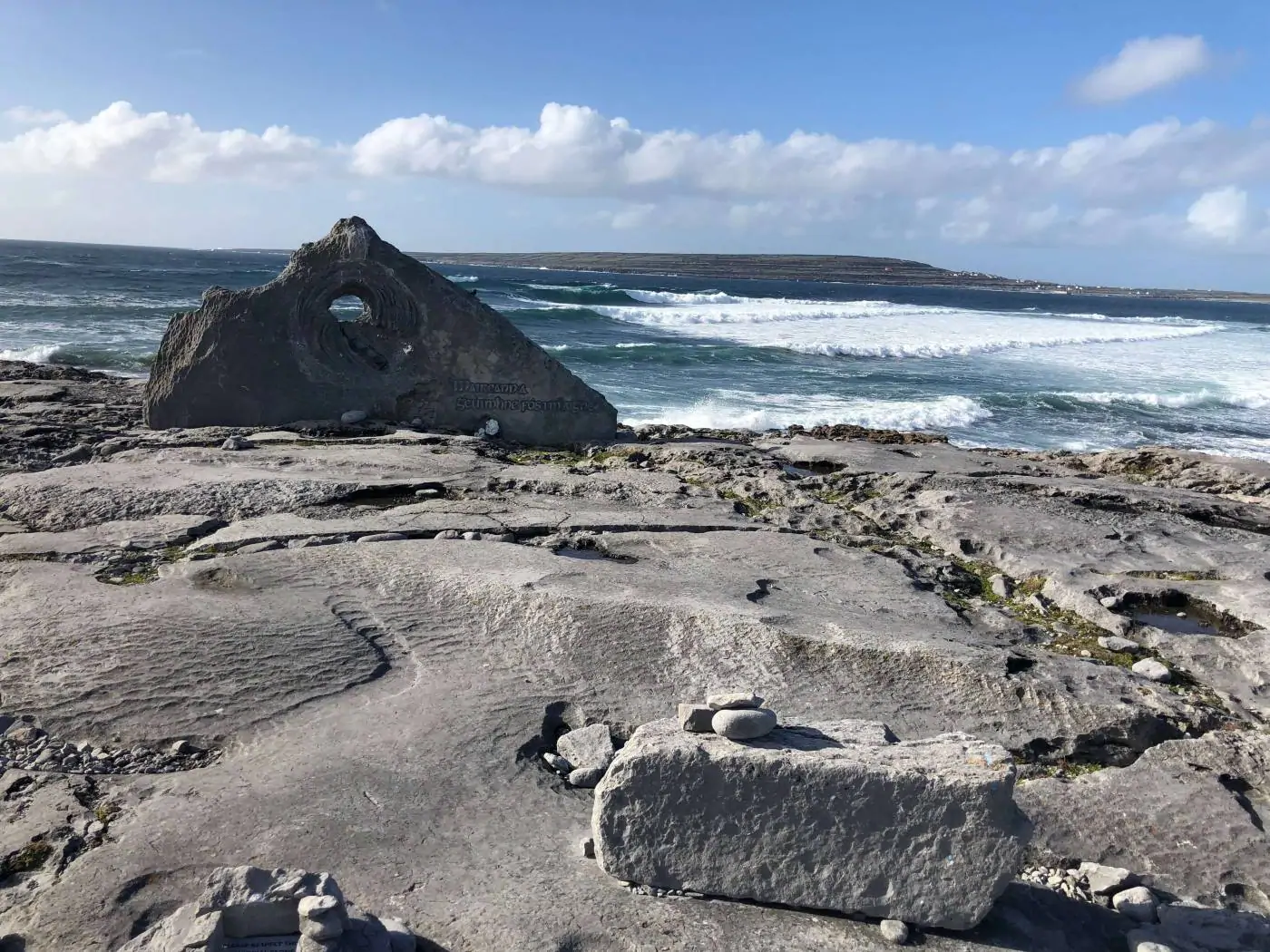 Things to do on Inishmore
Inishmore is the largest of the three Aran Islands and the one that tourists typically choose to visit on their day trip from Galway. It was my first Aran Island that I visited for my 28th birthday on my first solo trip on my very first trip to Ireland, and as such, it holds a very special place in my heart. I visited before my blogging days and I can't find any of the photos from this day, so I had to use some from the lovely interwebs. I always recommend taking photos of your travels as a way to remember special moments.
Dún Aonghasa
Dún Aonghasa is the biggest tourist attraction on Inishmore. This is a large ring fort that sits on top of a 330ft cliff. Not quite as high as the Cliffs of Moher, but close! The views from the cliff are breathtaking, but be sure not to get too close to the edge. It gets quite windy up there!
When I rented my bike from Aran Islands Bike Hire, the kind gentleman told me it should take approximately 30 minutes to get to the fort.  But it was an incredibly windy day and with the headwinds it took me almost an hour and a half of consistent effort, and stopping for breaks (aka photo ops that I no longer can find). I now see on their website that they offer electric bikes, on a windy day I'd recommend getting one!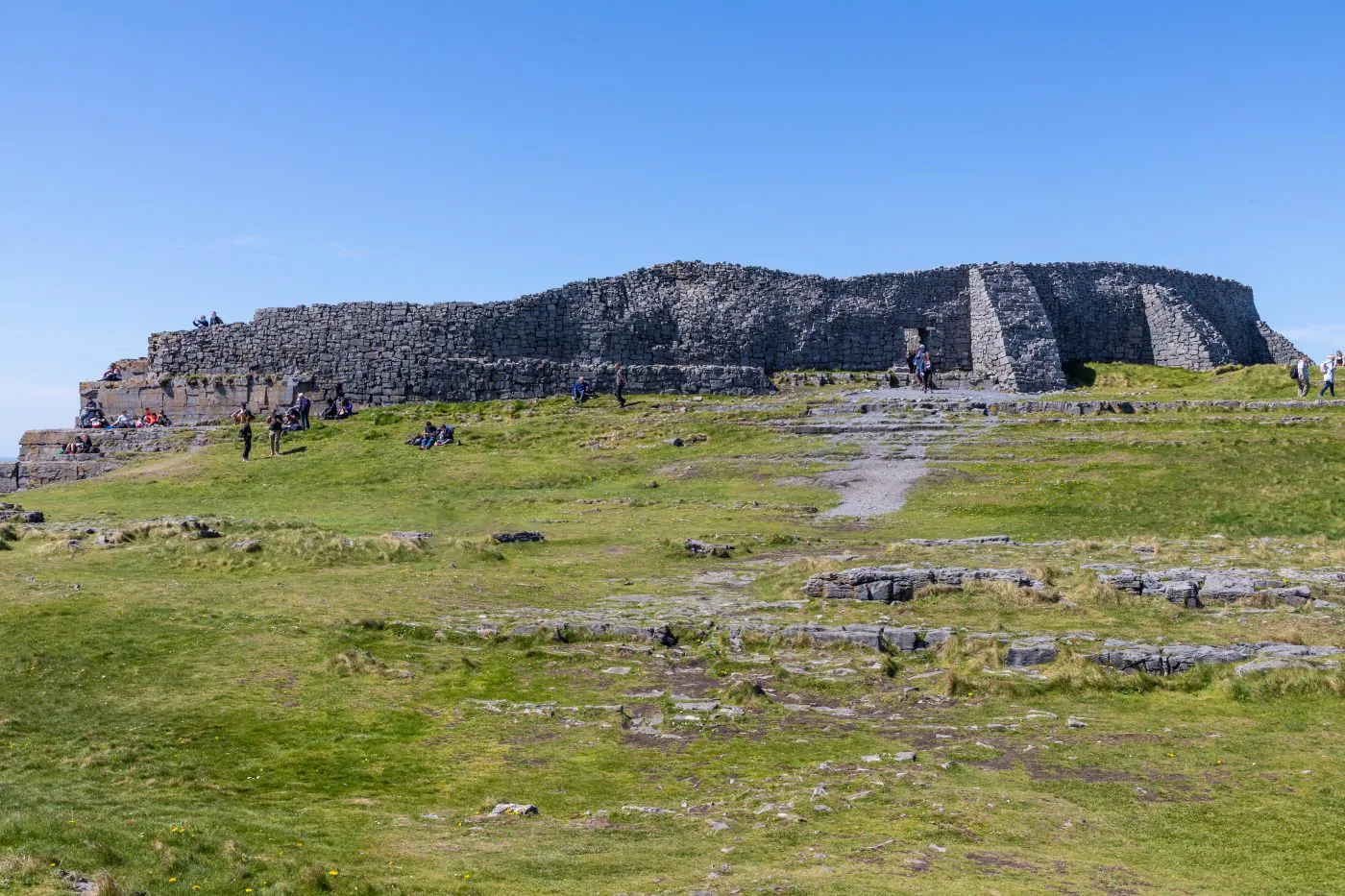 Worm Hole
Just south of Dún Aonghasa's cliffs you'll find a Worm Hole which is a small rectangular pool that is fed by the sea. Red Bull has had a diving competition here, but I don't recommend swimming as it can be quite dangerous and you could get swept out to sea!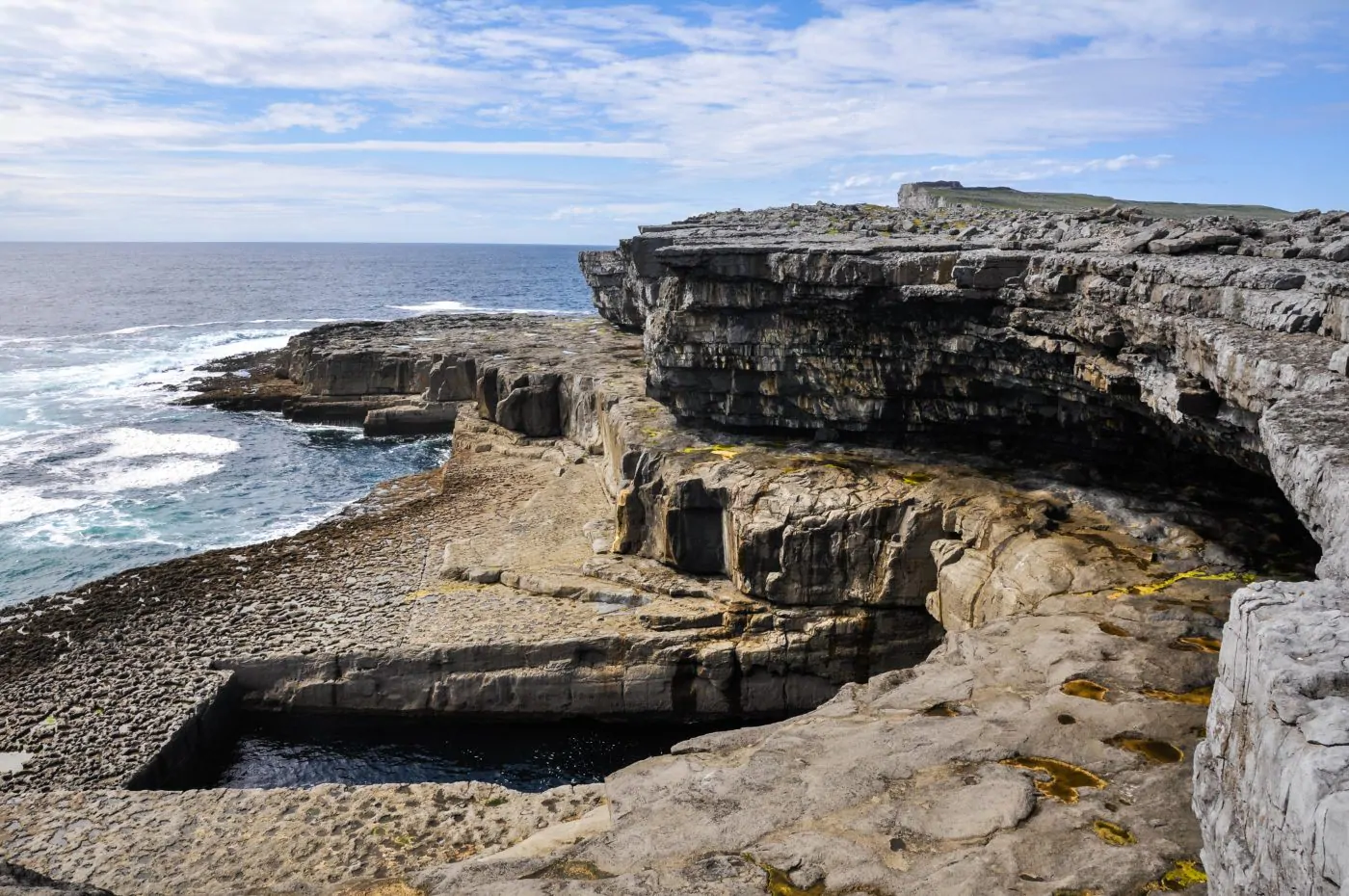 Enjoy the Beaches & Keep your Eye out for Seals & Puffins
I know Inishmore is an island, but because the weather is quite cold, I never really thought of it to have beaches. But it does have plenty of beaches and they are absolutely beautiful. The sand is fine and white against the turquoise blue water the meets it. 
There are a number of beaches that you'll pass as you cycle Inishmore, but one of the more popular ones is near Kilmurvey beach where you can find a seal colony. On the day I visited there were no seals, but I did see some Puffins!
Joe Watty's Pub
What's better than a cozy Irish pub after a hard day of biking in the wind and rain on your birthday? Nothing. And Joe Watty's pub delivered. As usual, I sat at the bar and ordered my birthday lunch of mussels and Guiness. I was joined shortly by an older local who spoke only Gaelic and listened in on his conversation with the bartender. I loved seeing this side of Ireland that still has a firm hold on its traditions.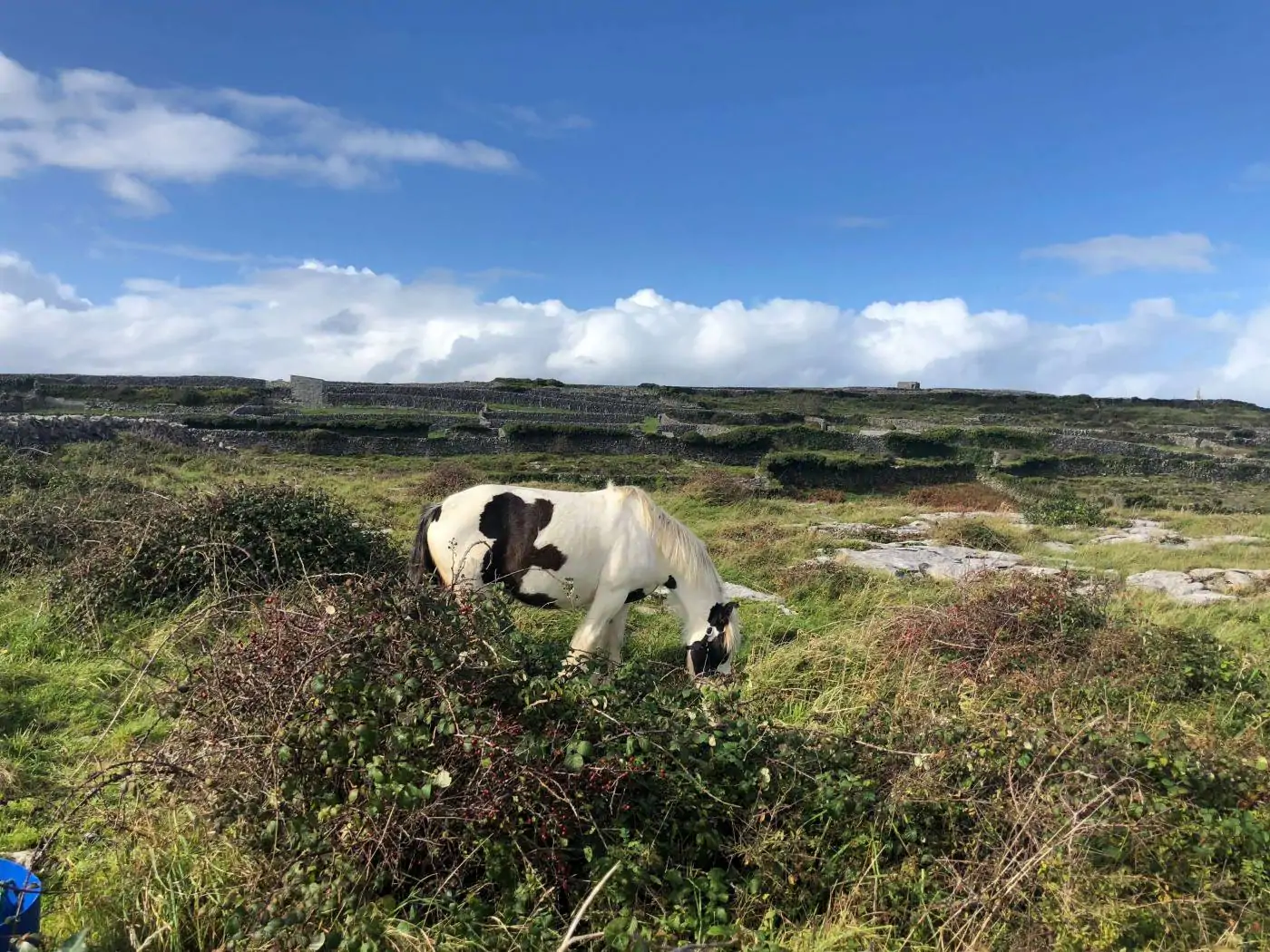 Shop for a Sweater
As Inishmore is the largest and most touristed of the Aran Islands – there is plenty of shopping to be had. The Aran Islands are famous for their wool sweaters which you can purchase for yourself or as a gift at the Aran Sweater Market located in Kilronan (the main town). 
Total Time to Bike Inishmore
I'd give yourself an hour of leisurely biking, not including the time where you'd like to stop. So in total, you'll probably need about four hours to see the entire island. Unfortunately, I was unable to see the entire island as it took me much longer than anticipated to bike to the ring fort. Which, as I'm now writing this, I'd really like to go back to Inishmore and spend the night there so I don't have to rush!
Where to Eat on Inishmore
You must stop at Joe Watty's for a lovely meal and overall genuine Irish pub experience. You won't be disappointed.
Where to Stay on Inishmore
If you do plan to extend your day trip, there are a number of B&Bs and a Hostel on the island which you can discover here. There's also glamping pods with sea views which look awesome!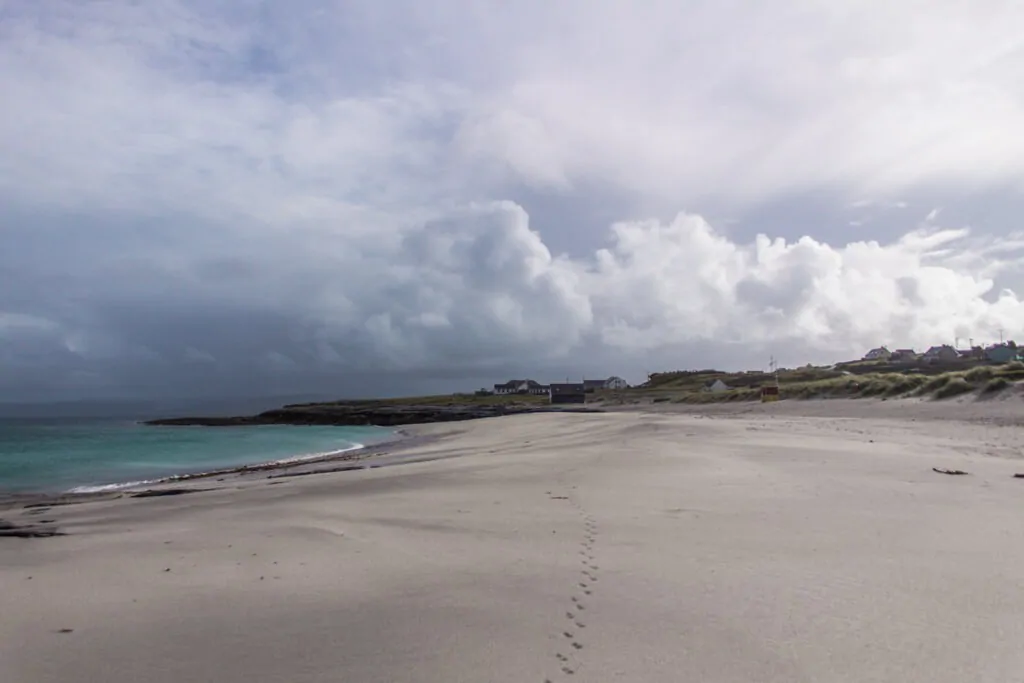 So, which Island will you choose to visit on your Aran Islands day trip? I know, it's a hard choice to make, but you really can't go wrong with either of these two (once I visit Inishmaan, I'll update this post).
But if you're looking for my recommendation on which Aran Island to visit, I recommend Inisheer because of the shipwreck. It's a pretty awesome sight and you don't need to feel bad about taking photos of it because everyone survived! So go, explore the Aran Islands and enjoy seeing a different side of life in Ireland.
Like this post? Pin for later!