Doolin, Ireland is a small gem in County Clare that many people drive right through on their Wild Atlantic Way road trip to the item on everyone's Ireland bucket list, the Cliffs of Moher. But there are plenty of things to do in Doolin including visiting the Cliffs of Moher, taking a day trip to the Aran Islands, or simply breathing in the fresh wild air and letting the music carry you away.
This post contains affiliate links, which means that, at no additional cost to you, I will earn a tiny bit of income if you decide to make a purchase or booking.
What to Know Before You Go
Doolin is a small, but spread out town. I like to think of Doolin as three little neighborhoods each with its own pub, a shop or two, a restaurant, and a number of accommodation options. From one end of town to the other is about a 15-minute walk.
The most recognizable part of Doolin is considered the center of town. It's located at the beginning of the Cliffs of Moher cliff walk where you'll find the picture-perfect pink shop that you must get a photo of as proof that you were actually there!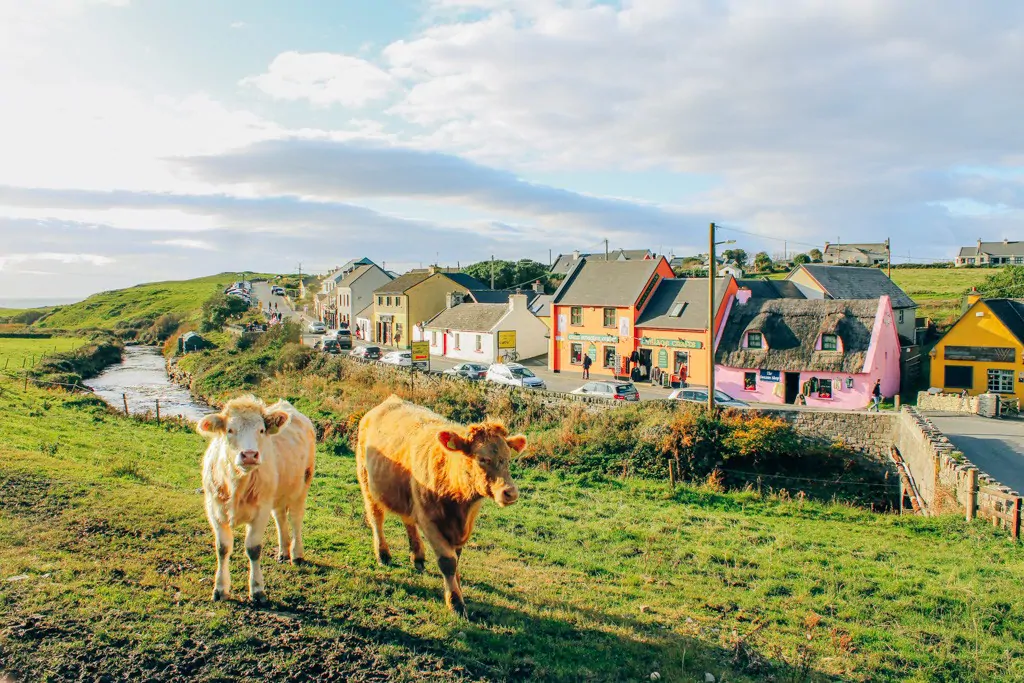 A very important piece of information about Doolin is that there are no grocery stores in any of these three neighborhoods. If you're planning to cook your own hostel dinners or grab snacks for your coastal walk, unfortunately, you'll be out of luck. Make sure to either bring snacks with you or plan on eating out for your meals.
How to Get to Doolin
If you're road-trippin' the Wild Atlantic Way, then just make sure that Doolin is a stop on your itinerary. Plan to arrive in the early evening so you can enjoy the pubs and have the entire following day to explore.
I did not drive to Doolin – I still haven't bit the bullet on renting a car in Ireland. I rode the bus from Galway to Doolin which cost €16, took about two hours and drove along the stunning coastal route. So you get the views without having to rent a car and drive those narrow roads!
Its proximity to Galway makes Doolin an easy day trip, but that also means that you'll sacrifice listening to pub trad sessions as the last bus leaves for Galway at 6:30 pm and music doesn't start until 9:30 pm Irish time (anytime from 9:30 onwards).
The Best Things To Do in Doolin
Cliffs of Moher Cliff Walk at Sunset
If you are blessed with the luck of the Irish and get a sunny day then head for the Cliffs about 3 hours before sunset. This will allow you plenty of time to enjoy the walk unhurried as it is beautiful in its own right. You'll arrive at the Cliffs just as the sun begins to set.
This walk is clearly marked and follows what feels like the edge of the earth for the majority of the time. There are a few steep inclines that take you away from the cliff's edge and through farmland, I mean you are walking toward cliffs that are 702 ft high at their highest point, so inclines are to be expected.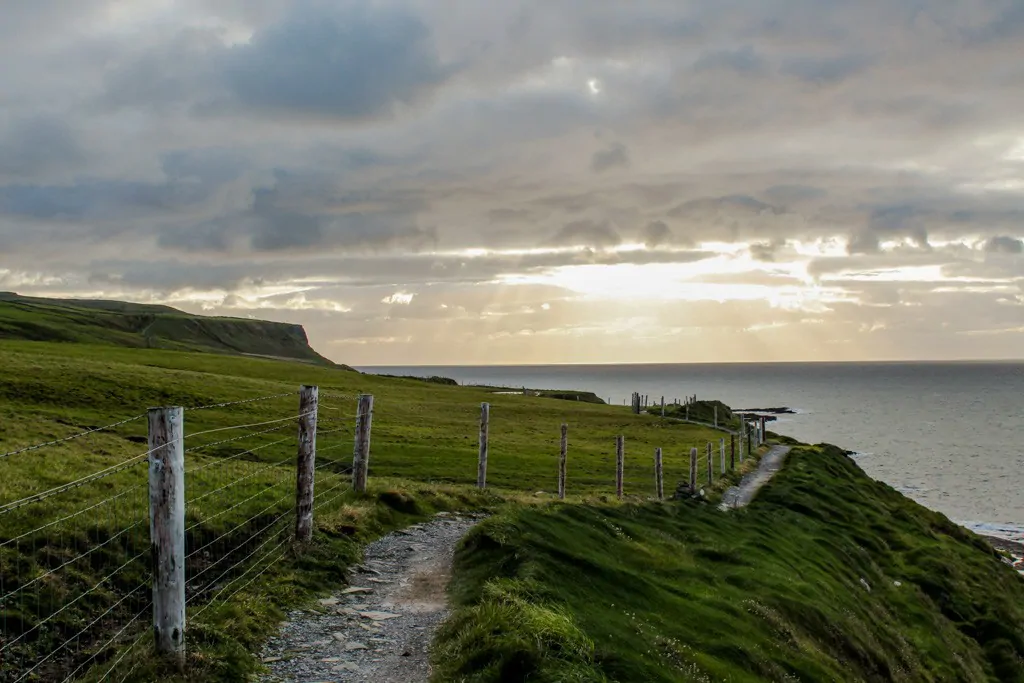 A few key pointers for the cliff walk:
Stay on the marked path. It's very easy to follow the correct path, don't try to cross the barriers for photo opps as the ground has been known to crumble to the sea with people standing on it.

There is one section of the walk that takes you directly in front of a cattle pen. Trust the sign that says to go right. I followed it right for a few steps and it appeared the green pasture dropped off into the Atlantic, so I turned to the road and rejoined the path a few meters later. What actually happens when you walk to the right is witnessing your first jaw-dropping views of the Cliffs of Moher. According to the people who followed instructions.

Wear waterproof hiking boots. Did you know that it rains in Ireland? So even if it's a sunny day there will be mud. I wore Nike running shoes which were covered in mud by the end of the walk and my feet were soaking wet. Learn from me and wear the right shoes!

There is one section that looks impassable as the walkway over a trench was washed away, just walk down to the rocks and back up again. You'll be fine!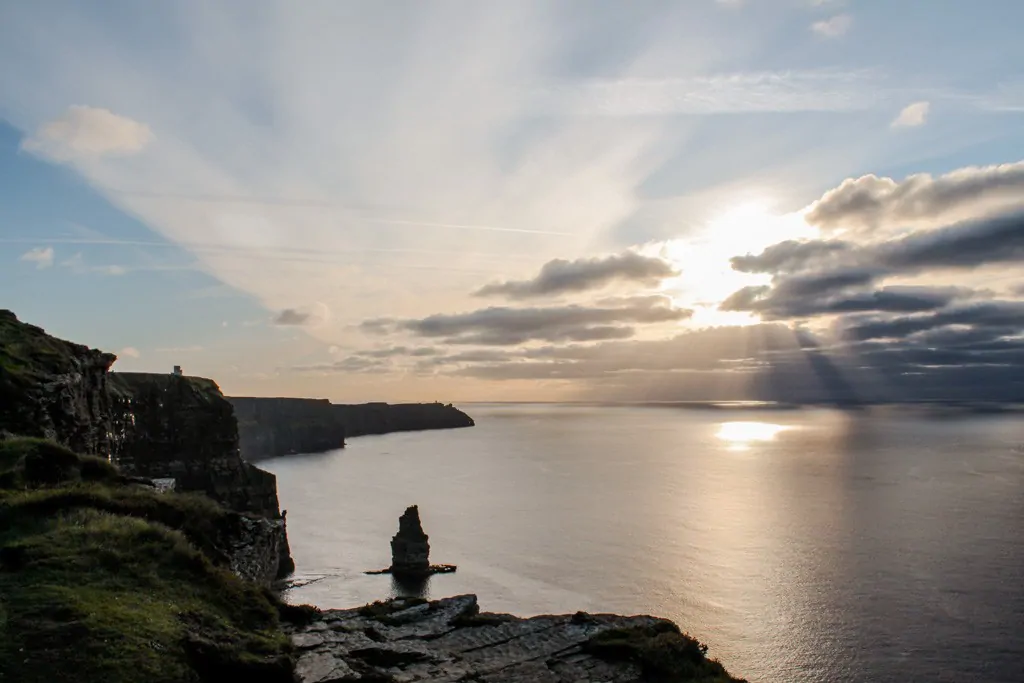 Since you're doing this walk at sunset, it will be too dark to safely walk back to Doolin and you'll likely be far too tired anyway. No worries, Bus Eireann picks up from the Cliffs of Moher at 6:20 pm and 7:20 pm so you can take a ride back to Doolin and head for the pubs!
If doing this walk at sunset just won't work for your schedule or the evening calls for rain, consider joining a guided walk with local legend Pat Sweeney. His walks leave at 10:00 am daily from Gus O'Connor's Pub and you'll learn about the Cliffs and Doolin as you make your way to the cliffs. The guided walk costs €10.
View the Cliffs of Moher from Below
Want a different view of the Cliffs of Moher? Take a cruise and marvel at their height from below. Seeing them from below gives such a great perspective on just how high they are (and how dangerous it can be to stand on the edges).
From your boat, you'll see people standing on the edge and realize that there truly is only a small bit of cliff below them as the sea erodes the cliffs from bottom up.
Also depending on the time of year, you may see Atlantic Puffins! October is not that time of year by the way, April to July is the best for Puffin sightings!
There are two ferry companies to choose from Doolin 2 Aran Ferries and the Doolin Ferry Co. You can purchase your ticket at the tourist office, say hi to John for me, or at the pier. Cliffs of Moher cruises can also be combined with a day trip to Inisheer, the closest Aran Island.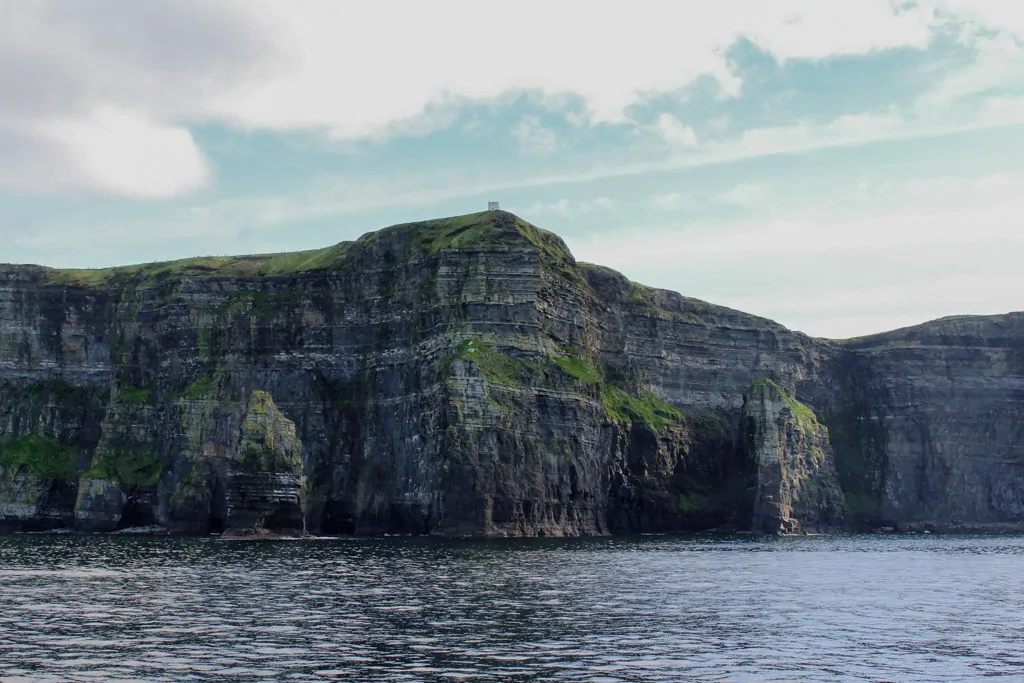 Take a Day Trip to Inisheer on the Aran Islands
If you think that Doolin feels rural and quiet just wait until you step off of the ferry on to Inisheer Island. Inisheer is the smallest of the three Aran Islands and the closest to Doolin taking only 20 minutes to arrive via ferry.
On Inisheer, you can rent a bike for €10 and ride around the island seeing all of the sites in about two hours. One of the main sites is the Plassey Shipwreck which is more or less still intact, save for the gaping hole in its rusted-out side. Don't feel bad about taking photos here, as everyone onboard survived thanks to the quick action of the islanders.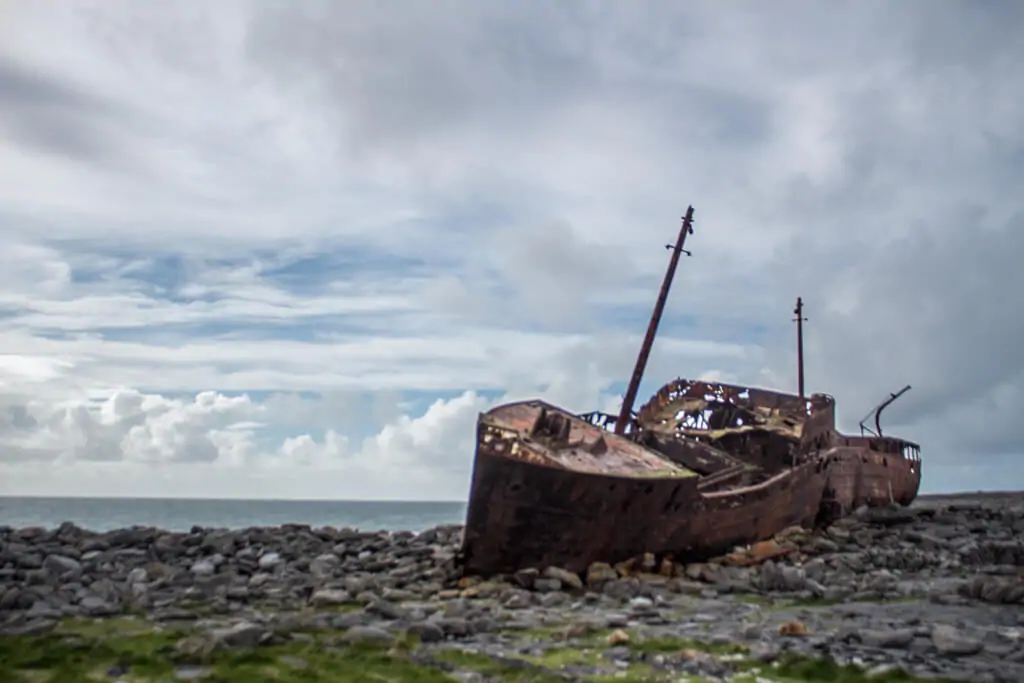 If riding a bike isn't your thing, then hire a carriage ride to see all of the top spots with minimal exertion.
At the end of your day, head to Tigh Ned for a pint before boarding the ferry back to Doolin. Or if you really want to soak up the unique atmosphere of the islands, stay the night!
I should note that for both of these sailings if the weather is poor they tend to cancel them due to rough seas. So if you get a sunny day take advantage of the opportunity to sail.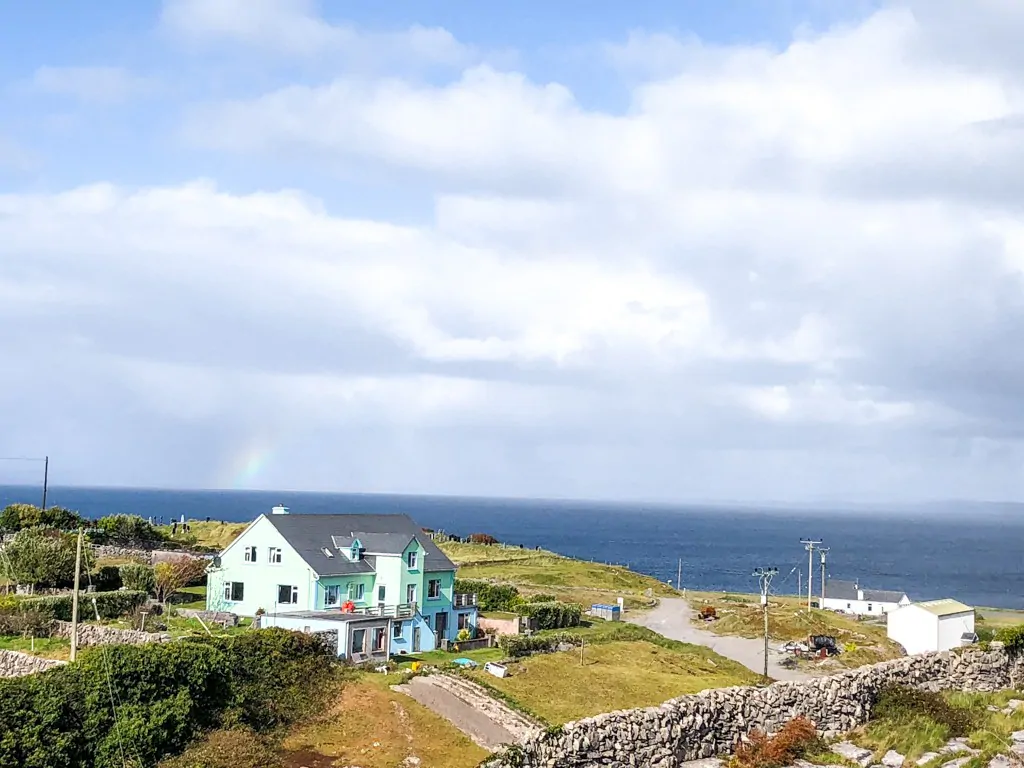 Indulge in Chocolate
Just a few doors down from the pink sweater shop is a chocolate shop that you absolutely must visit for the fudge! All of the chocolate is made locally in Tuamgraney County Clare which you can visit for free (about an hour drive from Doolin). I tried the Rocky Road and the Dark Chocolate Peanut Butter, both of which were fantastic treats for the walk to the cliffs.
The woman helping me pick out my chocolates was incredibly welcoming and chatted with me about my Irish heritage. She treated each customer that entered as if they were long lost friends. So if not for the chocolate, just go in to say hi to her!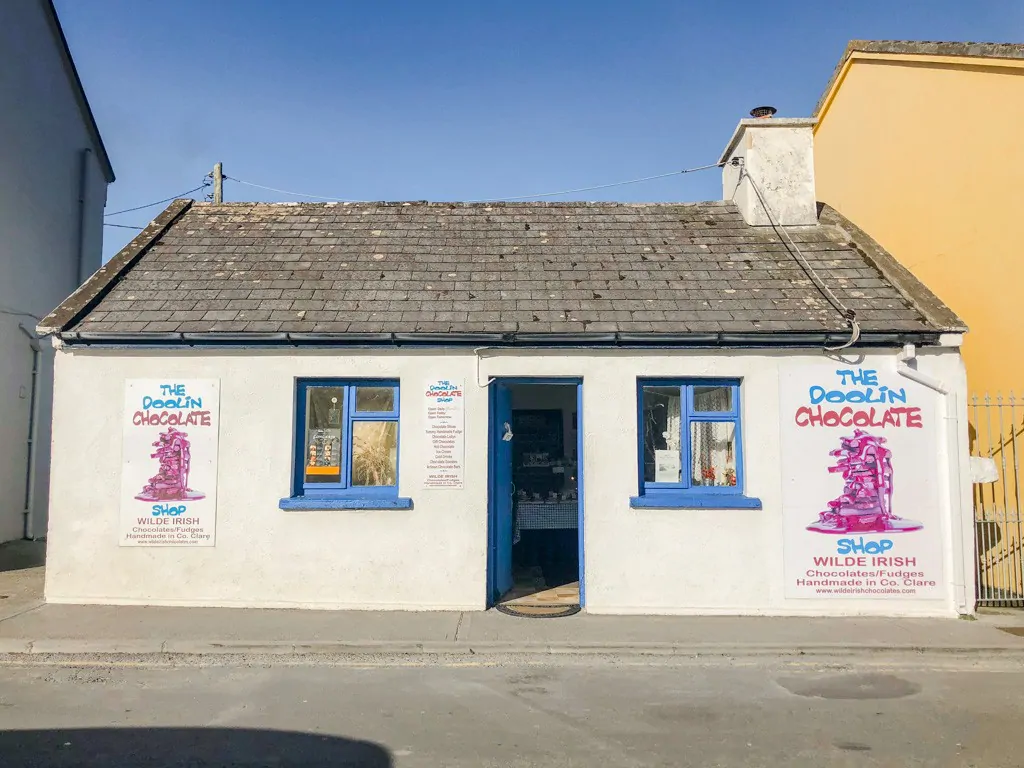 Practice Your Photography at Doonagore Castle
Doonagore Castle is a 16th century round tower perched on a hill almost as if it is protecting Doolin. These days the castle is privately owned so entrance is prohibited. But that doesn't mean that you can't walk up the road behind the castle and take some epic landscape photos!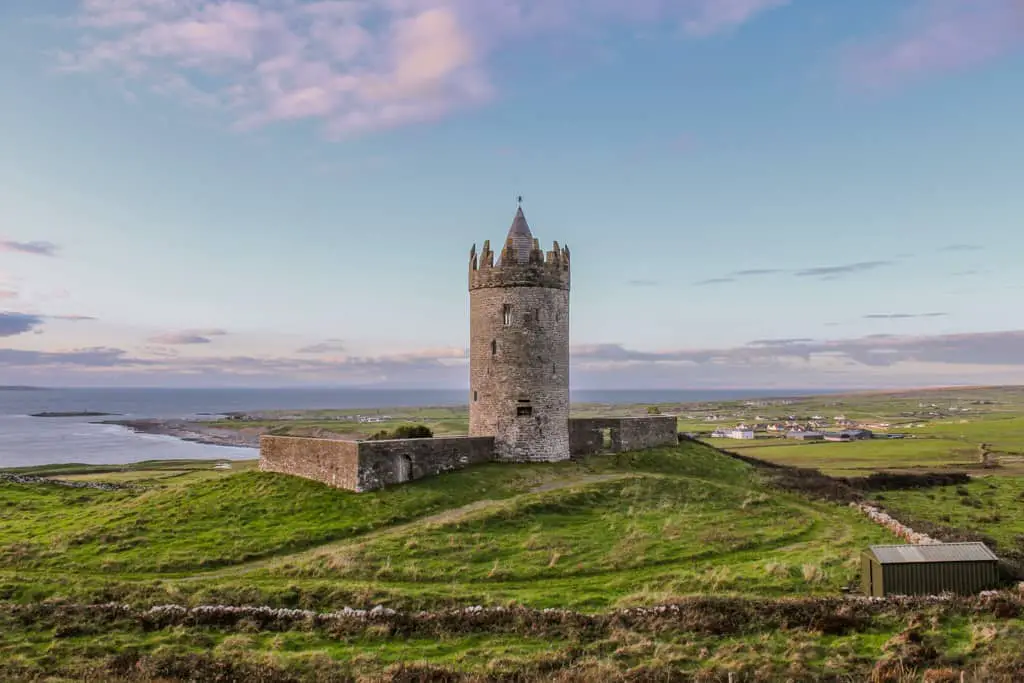 Listen to Trad Sessions in Doolin's Pubs
There really is no shortage of excellent music in Ireland. It's almost as if the Irish have this special musical gene. That being said, the music played in Doolin's pubs is some of the best I've heard in the country. You can listen every night in any of the pubs, but there are two specific musicians you should seek out.
Ask your B&B hosts where Blackie O'Connell and/or Eoghan Neff are playing that night – everyone in town will know. Blackie plays the uilleann pipes, think bagpipes but they make beautiful music. Eoghan Neff is a fiddle player who I heard play at McDermott's. He's like next-level Ed Sheeran, using a machine to layer sounds to create a full song – fantastic.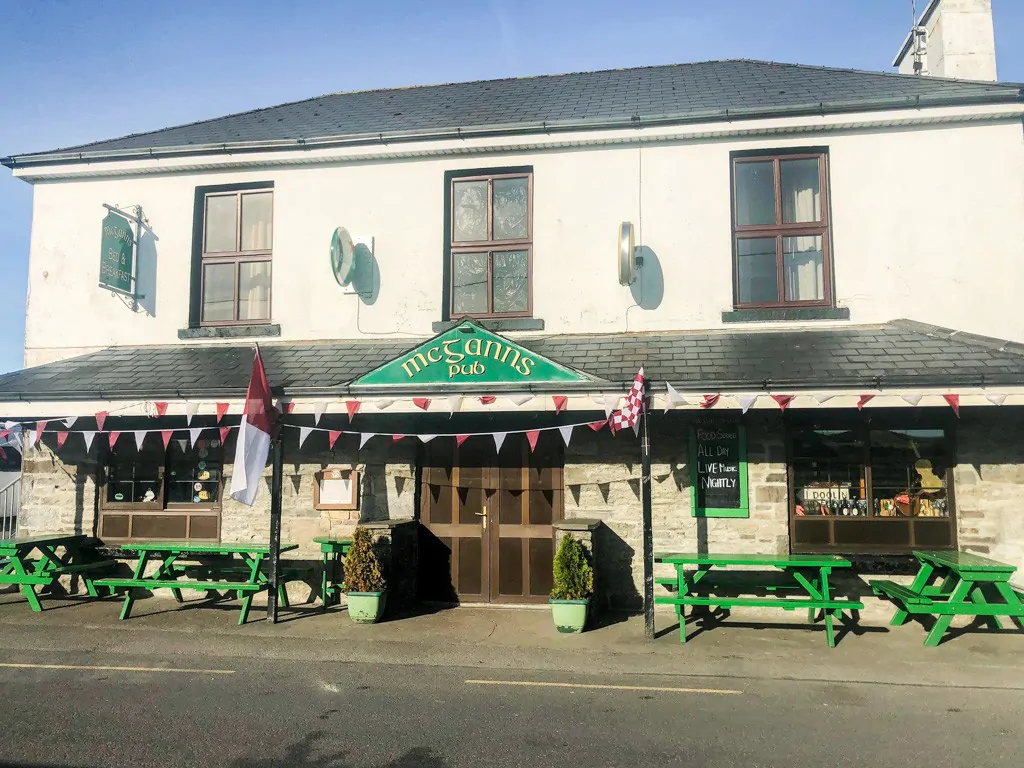 Find out where those two are playing for the night and head to that pub! I heard them at McDermott's and McGann's.
Or you could do a trad pub crawl! Start at a pub on the edge of town opposite from where you're staying. This way at the end of the night you're close to your bed! Since music starts around 9:30 pm at each of the pubs you'll have about 30 minutes to listen before you walk to the next pub. When you're short on time, this is a fun way to soak up the atmosphere of each of the pubs and get a great glimpse of the beautiful music to enjoy here.
Enjoy Traditional Irish Comfort Food or Seafood in any of the Pubs
Doolin is a fishing town, which means their seafood is on point, specifically their salmon. Smoked salmon appears on every pub menu in town and you should most definitely order it.
Each pub serves food daily, which is great during the offseason as the other restaurants in town were closed during my visit in October. So I had one meal in each of the pubs and not one of them disappointed.
Ok, well the fish and chips at McDermott's disappointed, but I don't really like fish and chips in general so I don't even know why I ordered them!
And since you may be wondering just what you should order, I'll tell you what I ate to help you decide!
Here's a rundown of what I ate in Doolin's pubs:
Gus O'Connor's: I ate the smoked salmon plate here for lunch before I started my walk to the Cliffs of Moher. I was shocked at how much salmon was on my plate for less than €10. It filled me completely, without feeling overly full, for the walk. Highly recommend.

Fitzpatrick's Bar: I went for lunch during which they cater to tour buses so lunch is served carvery style. I opted for the seafood chowder and it was excellent.

McGann's: Oh McGann's. I ate here twice. The first night I forgot to pay my tab before leaving. I returned the next morning and they basically didn't seem bothered by it, but I still paid for my delicious Guinness Stew and numerous drinks the next day vowing not to return out of embarrassment. Then I got over myself and returned two nights later and had their salmon and mussels. The salmon was better at Gus O'Connor's but the mussels were fantastic!

McDermott's: Unfortunately, I made a poor ordering decision here with the fish and chips. I'm sure if you enjoy fish and chips they're great. They weren't overly breaded or greasy at all, it's just not my meal. I would say that McDermott's prices were just slightly higher than the other pubs.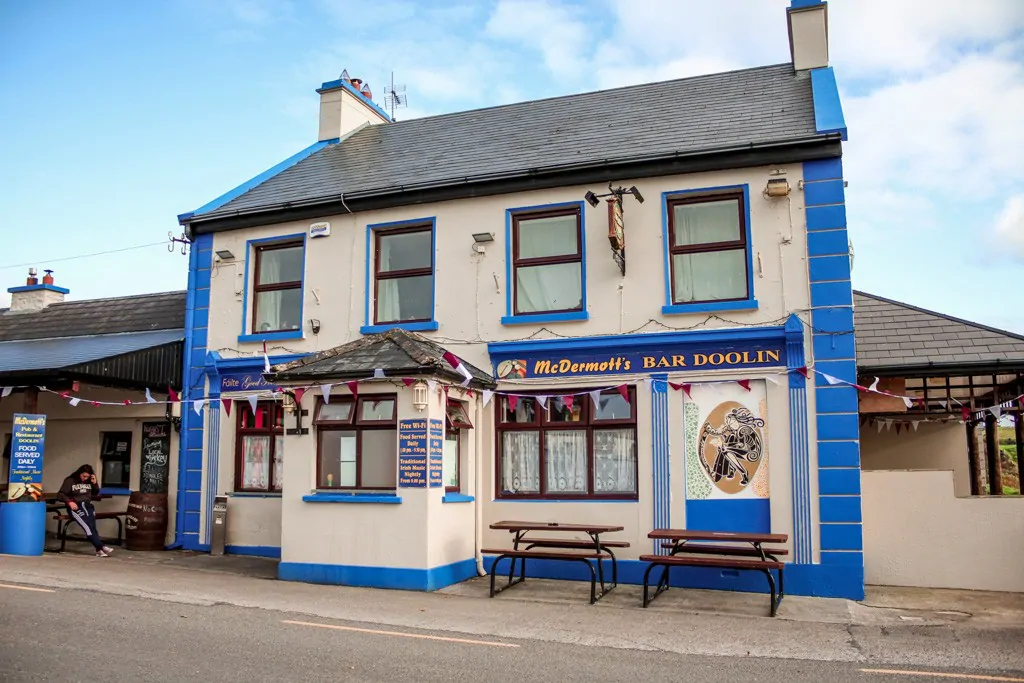 Visit the Burren
Take a 10-minute drive to the Burren National Park and enter the moon. Well, it's not really the moon but the landscape is out of this world and a drastic departure from the lush green landscapes of Doolin.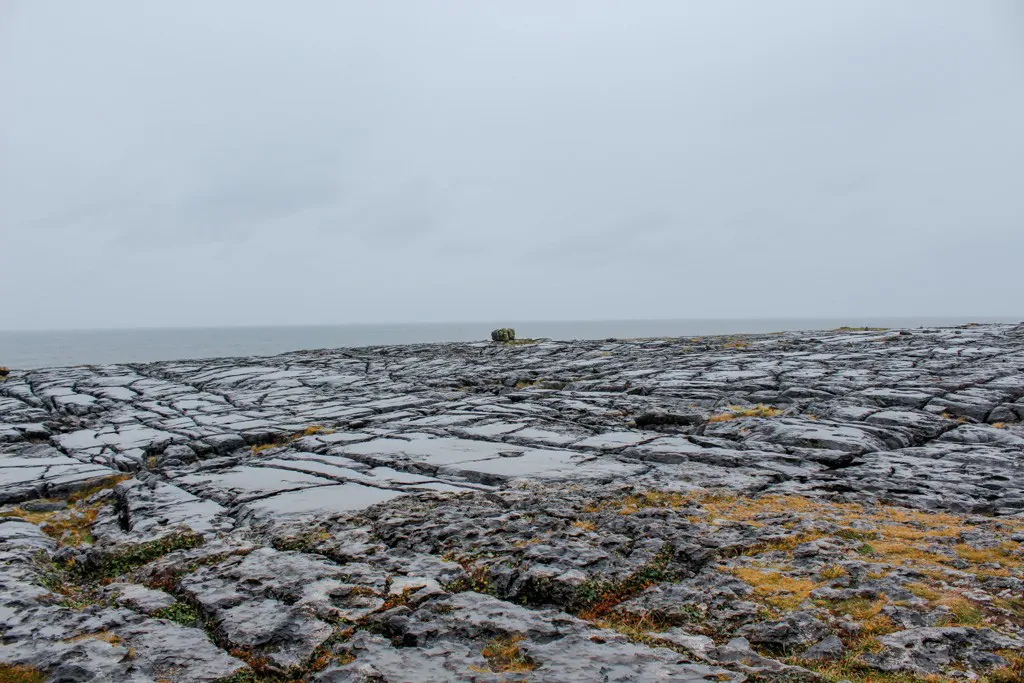 In the spring and summer, the limestone rocks of the Burren are dotted with gorgeous flowers and even in the winter you'll find greenery sprouting in the crevices of the rock. If you have time, there are several walks you can do in the National Park ranging from 30 minutes to 3 hours so you can really immerse yourself in this rocky landscape.
For more information about the Burren, check out the National Park's website.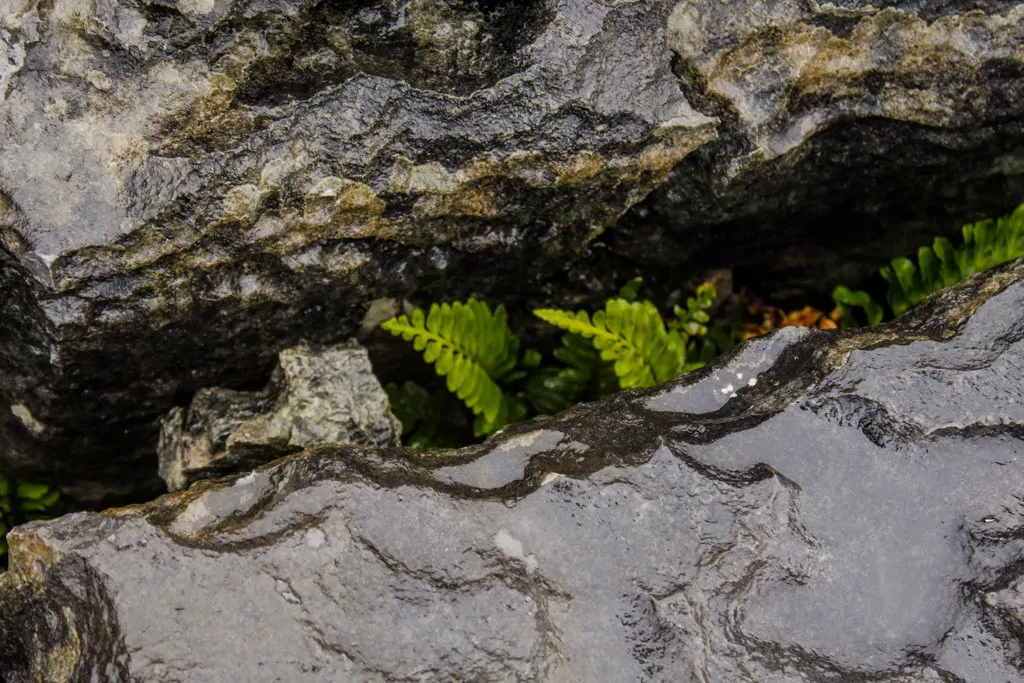 Other things to do in Doolin that I didn't do
Doolin Cave: I originally planned to visit the cave but just couldn't be asked to walk there in the rain and didn't want to pay for a taxi. But the cave does boast Europe's largest Stalactite which in photos looks like a large chandelier hanging from the ceiling of the cave. For more information check out the

cave's website

.
How Much Time Should You Spend in Doolin
Now that you know the best things to do in Doolin, how much time will it take to do all of them?
You could do accomplish everything on this list with one night in Doolin, however, two nights are ideal to really enjoy this Irish gem.
Two nights allows you to arrive in the late afternoon the first night and enjoy a pub dinner and trad session. The entire next day you can explore the Cliffs, the Islands, and/or the Burren without having to rush off. Then you can enjoy another night in the pubs before moving on.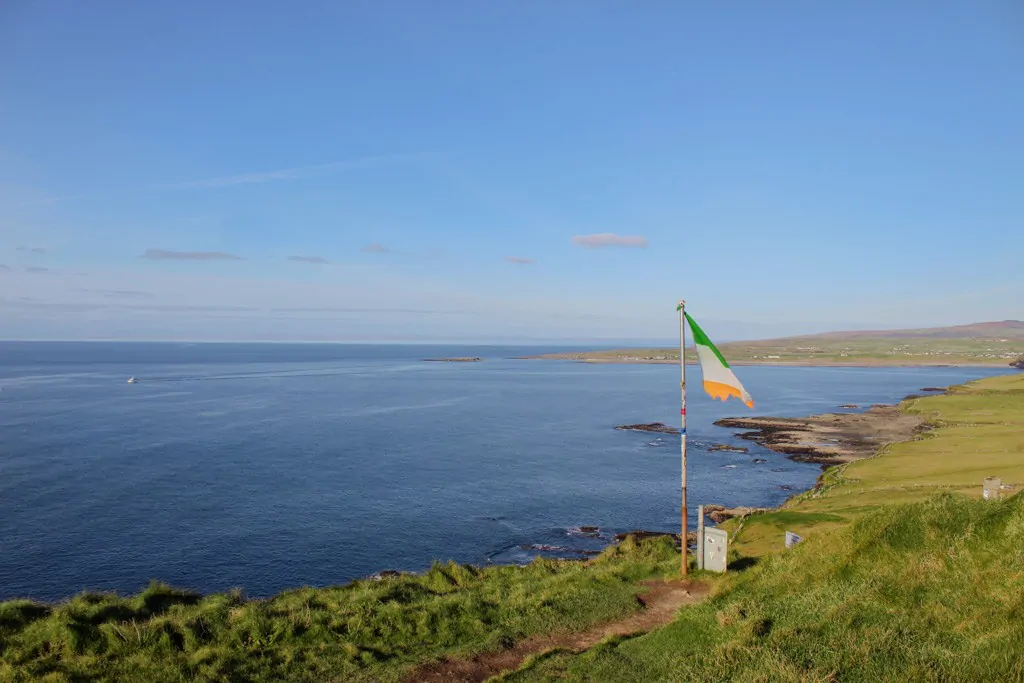 Where to Stay in Doolin
There is no shortage of accommodation options in Doolin to suit any budget. There are three hostels to choose from each in one of the neighborhoods. Doolin Hostel is near the start of the cliff walk, Aille River Hostel is in the middle neighborhood and Rainbow Hostel is at the other end of town.
I opted out of the hostel experience in Doolin. I was craving my own space and found a reasonably priced B&B called Nellie Dee's that included breakfast and views of the wide-open landscape. The hosts were fantastic and it's located right up the street from McGann's and McDermott's. Plus the views of lush green landscapes and the tip of the Cliffs from their breakfast nook are excellent.
There are plenty of B&Bs and a handful of hotels to choose from. Browse through them all here to make your selection.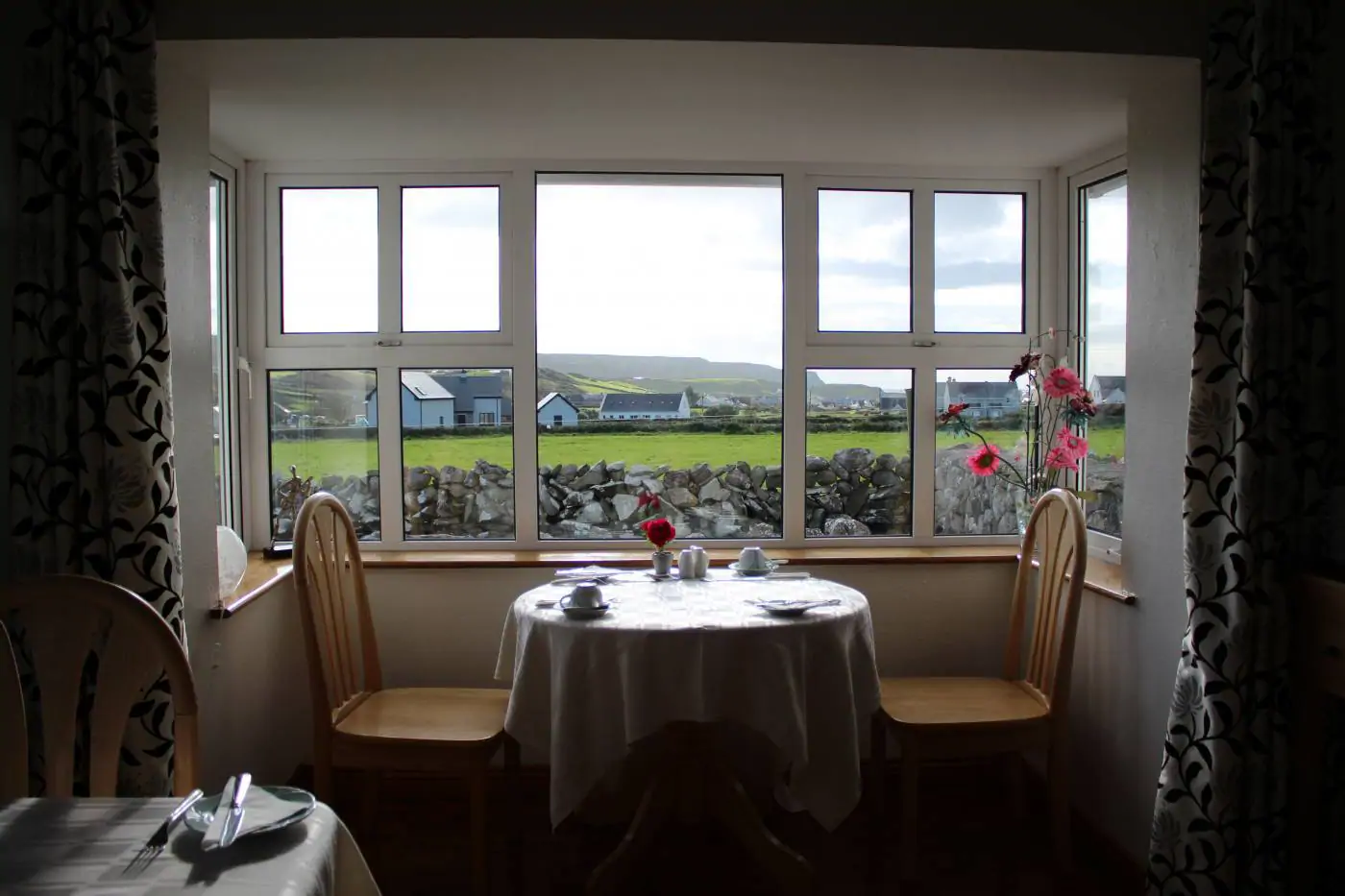 I spent three nights in Doolin because I found the people who live there to be extremely warm and welcoming. I loved soaking in the wide-open spaces and the coastal winds. Doolin is a great place to slow down and just enjoy the moment in front of you, with beautiful Irish music as the soundtrack to your experience.
I'd love to hear about your experience in Doolin. Leave me a comment below with your favorite thing to do in Doolin, Ireland. And if you found this post helpful in your Ireland trip planning, please share it!
Like this post? Pin it to Pinterest!