Packing for Ireland does not have to be a challenge. Yes, it rains frequently and gets cold. Yes, in that very same day the weather could turn beautifully sunny. That doesn't mean you need to pack everything. It is actually possible to pack light for Ireland. You just have to have the right things on your Ireland packing list. This way you'll never wonder what to wear in Ireland. 
This post contains affiliate links, which means that, at no additional cost to you, I will earn a tiny bit of income if you decide to make a purchase or booking.
This is the third post in the Ireland Travel Series. Here is the complete 6 part series:
Ireland Travel Series
Itinerary: Discover the Best of Ireland with this 7 Day Ireland Itinerary without a Car
Travel Tips: What Not To Do In Ireland: Avoid These Tourists Mistakes in Ireland
Dublin: The Ultimate Guide to 2 Days in Dublin
Cliff Walks: A Day Trip from Dublin: The Bray to Greystones Walk
The Wild Atlantic Way: Top 3 Day Trips from Galway Ireland
A Few Quick Packing Tips for Ireland
The best way to pack for Ireland is to think in terms of layers. Layers allow you to stay warm when it gets chilly and you can peel them off as the sun comes out.

When trying to travel light it's best to stay in the same color palette. This way you can coordinate outfits effortlessly. You can add pops of color with accessories like scarves, gloves, hats, and even outerwear.

Casual attire is just fine for Ireland. You don't need anything too fancy for the cities. It's a very come as you are culture.

Make sure to pack what you'll need for the activities you know you'll pursue. If you plan on hiking the Wicklow Way you'll need proper hiking boots and attire. But if you plan to explore Ireland's cities then a sneaker or cute booties and casual attire is perfect. I'll advise to leave the heels at home. There are so many cobblestone streets just waiting to trip you up in those heels. If you want a cute shoe go for wedges or a boot with a sturdy heel.

Take less than what you want to. There are plenty of shops in Ireland if you absolutely need something you decided not to bring.

You may not need everything on this list!
The Weather in Ireland
I touched on Ireland's unpredictable weather above, but let's get into a bit more detail about it here so you can prepare for it all!
What to Wear in Ireland in the Summer (June – August)
The temperature in Ireland during the summer ranges from 60*- 67* F with the summer months being the driest and the days the longest. I use driest loosely because it's all relative. Still, expect it to rain and be pleasantly surprised when it doesn't. If you're traveling to Ireland during this time of year, you could leave the down jacket at home in favor of a leather jacket over a sweater for chilly nights. Also if you're planning outdoor activities pack lighter clothing. You can also leave the gloves at home in favor of sunglasses and sunscreen!
What to Wear in Ireland in the Fall (September – November)
Fall in Ireland is absolutely stunning. The leaves are changing color and the temperatures are cooler, ranging from 57*-65* F. When I visited in the Fall it rained frequently but also gave way to a few sunny afternoons. Bring a heavier, waterproof jacket, a couple of extra long-sleeve shirts, and warm socks.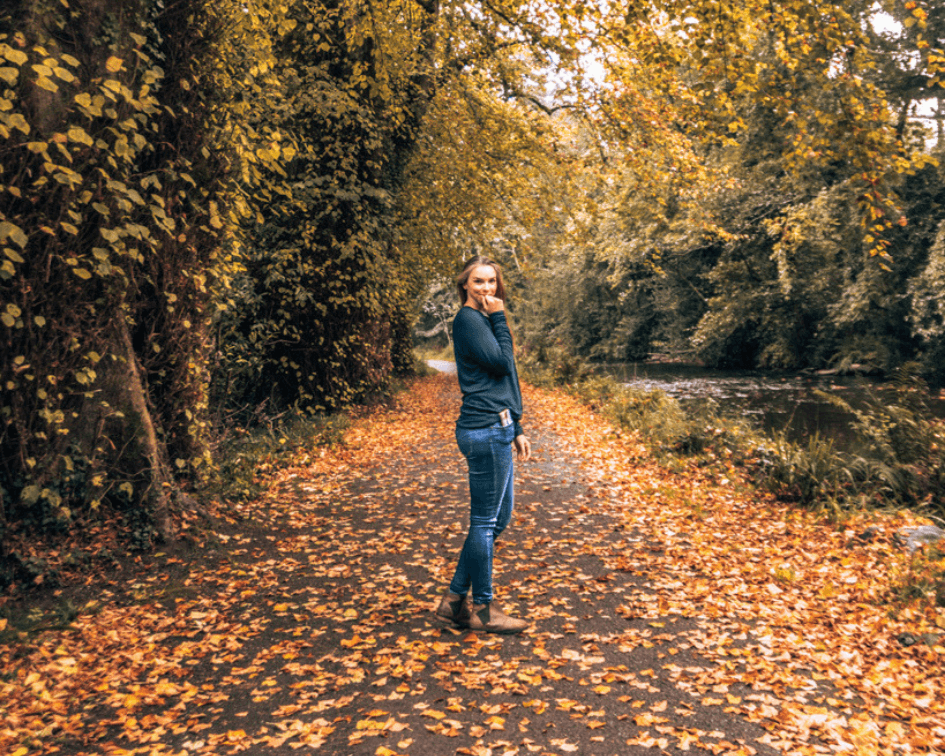 What to Wear in Ireland in the Winter (December – February)
Winter in Ireland is cold making it the perfect time of year to enjoy Ireland's cozy pubs. The average temperature is around 40* F. Northern Ireland will get a bit of snow, but the rest will just see plenty of rain. That being said, even during my recent trip to Ireland in January, there were still a few sunny hours! So make the most of them by packing clothing that will keep you warm outside. Stylish waterproof walking boots, gloves, a beanie, warm socks, and a winter coat are all necessary.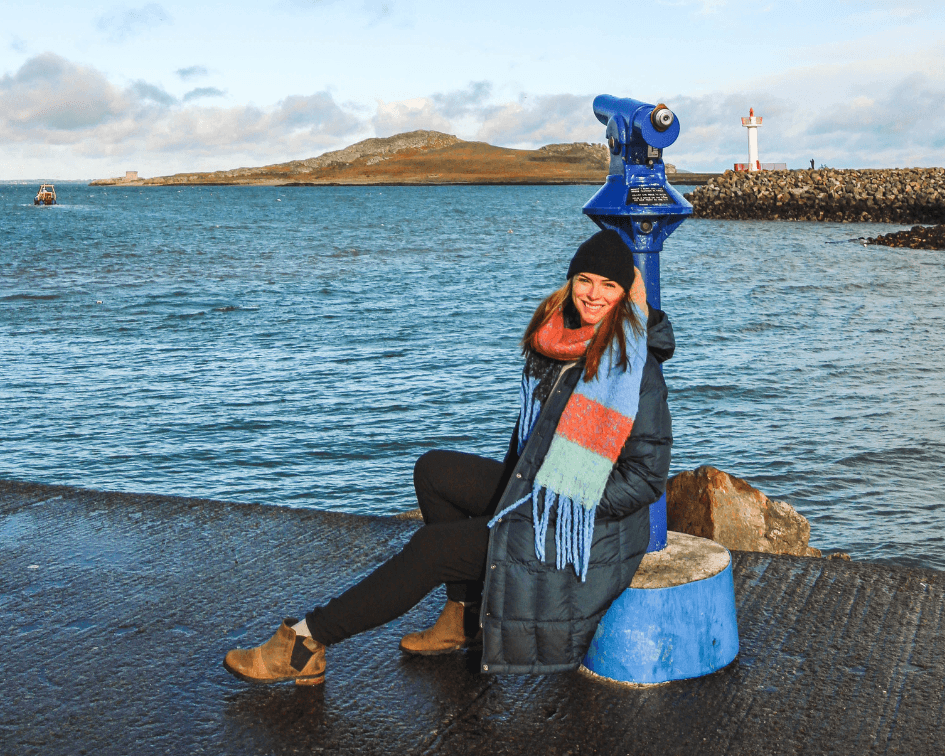 What to Wear in Ireland in the Spring (March – May)
The weather will begin to warm up towards the end of Spring with temperatures averaging 45*-54* F. This is a great time of year to visit as you'll get decent weather and the high tourist season has yet to hit! You will need a warm and waterproof jacket as well as light layers for when the temperature increases.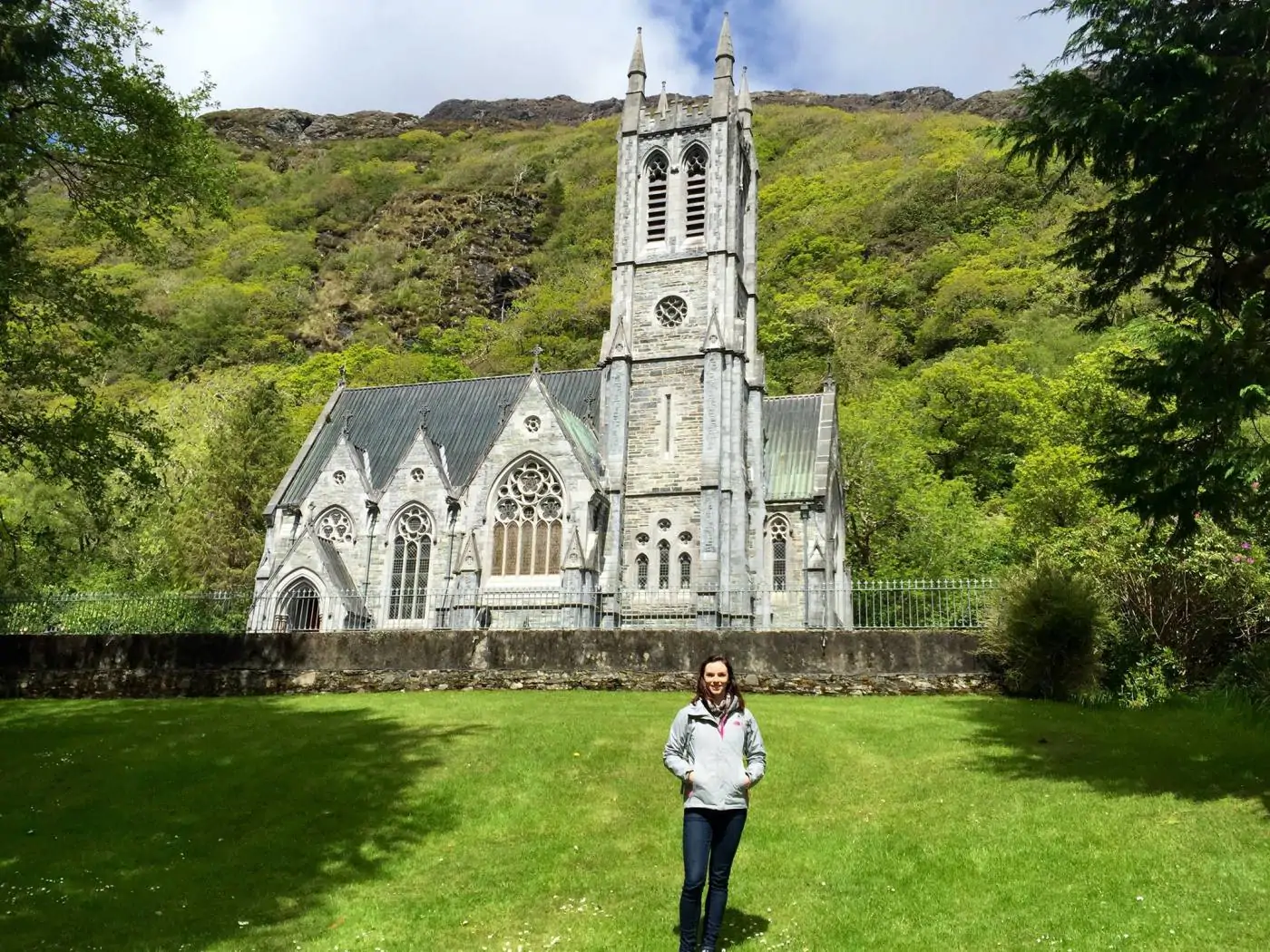 Packing List for Ireland: Outerwear
Rain Jacket
Have you heard about the rain in Ireland yet? So the first thing you'll need is a solid rain jacket. Don't make my mistake and think you're purchasing a rain jacket only to realize when you're soaked in Ireland that it was just a wind shell. Ensure that your rain jacket is waterproof! I love the ones from Athleta for a stylish, yet functional, option. You can layer it over a sweater and be kept warm. A sporty, yet still sleek looking option is this North Face waterproof rain jacket. No matter which rain jacket you choose, make sure it has a hood!
Down (or similar) Jacket
A staple for any traveler's wardrobe. This type of jacket is essential during the fall and winter in Ireland. They can pack down quite small as well, but chances are you'll need to wear it. If you can, find a waterproof one, that's an added bonus, but if not you'll have to layer your raincoat over it. So make sure it's not too bulky. I really like my Mountain Hardwear one!
Fleece Jacket or Sweater
This is the perfect layering item for Fall and Spring in Ireland. You can wear it alone for more warmth on cooler nights or for outdoor walks. Plus it fits easily underneath another coat if necessary. It doesn't have to be fleece. I used a crewneck sweater from Athleta that had fleece like material on the inside but looked like a normal sweater on the outside. I could wear it for hikes and out at night without looking like I'd been hiking all day. 
Leather Jacket (or something similar)
A leather jacket is the perfect outerwear for a summer night in Ireland. It adds a bit of style to your outfit for hitting up the pubs at night, while keeping you warm. So if your Ireland itinerary includes exploring the city life in Dublin, Cork, or Galway then a leather jacket, like this one, is perfect for added style while keeping you warm! 
Scarf
Any time of year, a scarf is a good idea for Ireland. Pack a thicker scarf (like this one) for the winter months and a lighter, brighter scarf for the summer. It's a great addition to any outfit and you can use it to add a pop of color or pattern! If you're worried about your scarf taking up space in your luggage, just wear it on the plane! Planes tend to get chilly and you can use it as a pillow or throw it over your eyes to help you sleep.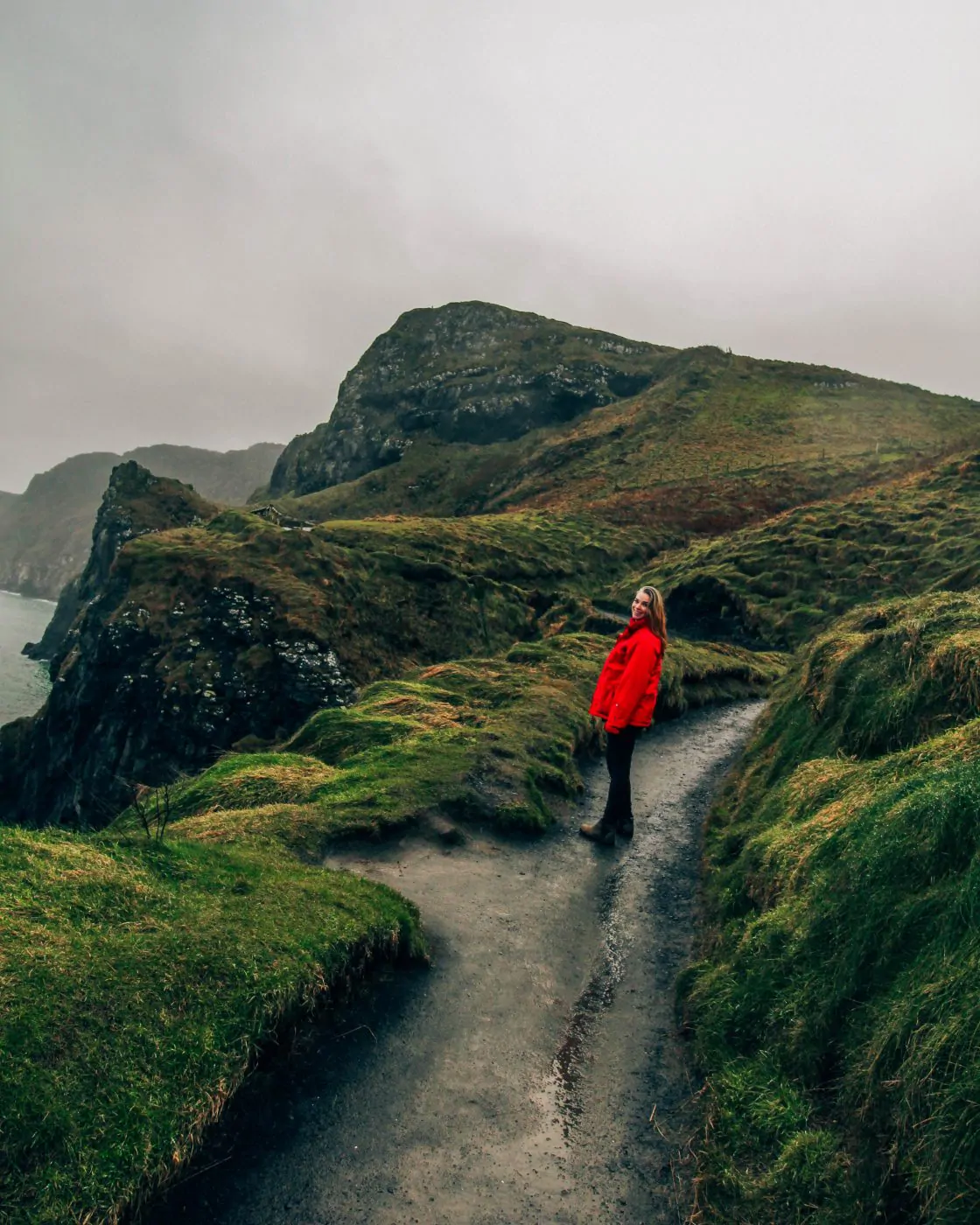 Ireland Packing List: Clothing
T-Shirts
Nothing beats a basic T-shirt and you've probably already got a few in your closet, but if not these ones are great for Ireland! You can wear them with jeans, tucked into a cute skirt, or out for a hike! Keep it basic with a crew neck or get a little crazy with a v-neck. I recommend packing a couple in a solid color like black, gray, or navy (white tends to get dirty easily). 
Long Sleeve
Packing a long sleeve shirt in Ireland is always a good idea. It can be used as a base layer on colder days or on its own under a jacket for warmer days.
Jeans
You can wear jeans at any time of year in Ireland. Just keep them clean-cut and well-fitting and you'll fit right in with the locals. One pair of dark wash jeans is all you'll need as you can dress it up for a night out or wear them for a walk in the country side. I love my jeans from Athleta as they're super stretchy, but I recently got a pair of jeans made from legging fabric – not jeggings – and they're amazing for travel. So if you can find a pair of jeans that stretch you'll be good to go.
The only thing with jeans is if you get caught in a downpour they soak up the water really quickly which can be uncomfortable! So on a rainy day maybe consider wearing stylish hiking pants.
Hiking Pants
I got a great pair of hiking pants from Athleta. They stretch as I move, have plenty of pockets, and they don't look like your traditional hiking pants. I wore them out at night with a cute pair of boots and on my Howth Cliff Walk. If you're planning on doing any hiking consider getting a versatile pair of hiking pants that you can wear on the trail and in the pubs. Bonus if they are waterproof! 
Joggers
A pair of stylish joggers – not sweatpant material – would be perfect for Ireland (like these ones!) They are cozy and comfortable for you, but stylish enough to be worn in the city. Pair them with a cute sneaker and you're set for exploring Ireland's cobbled streets! Bonus, you could use them to sleep in if needed and save some space in your bag!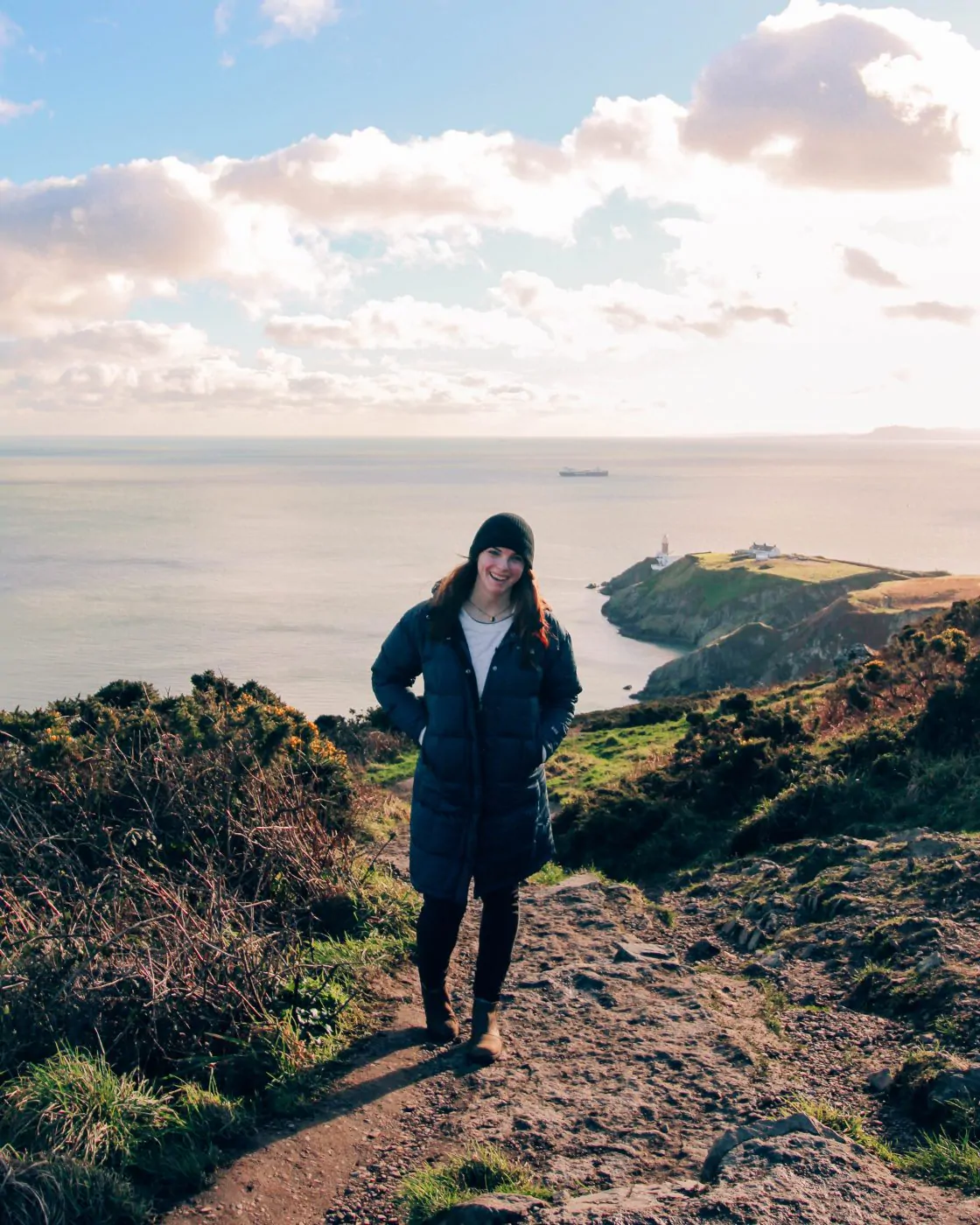 Ireland Packing List: Undergarments
Bras
Pack two pairs of bras, one regular and one sports bra. You'll need a sports bra for all of the hikes you're doing and the regular one for city days. Or you can find a mix between the two so that way you're comfortable no matter what you're doing. I love Athleta's Suryanama Bra. It's great for a walk and goes well under t-shirts for a night out.
Undies
This is one time I'll say pack more underwear than you think you'll need. They take up almost no space and it's nice to know you've got enough to get you through. I love the ex-officio underwear. They're super comfortable, breathable, and come in plenty of styles. Plus, if you need to wash them, they dry quickly – even in damp Irish weather.
Darn Tough Socks
If you haven't splurged on Darn Tough Socks yet, let me tell you, they are the best investment you can make for your feet. They will keep your feet so warm, dry and blister-free in Ireland. They're also thin so they don't feel bulky inside your boot!
Thermals
Thermals are an excellent item to have on your Ireland packing list for the winter and even fall months. Midweight merino wool thermal pants fit easily under hiking pants or even jeans if you need extra warmth. And a long-sleeve thermal top is perfect for layering on cold nights. If needed, you could also sleep in these to keep you warm at night.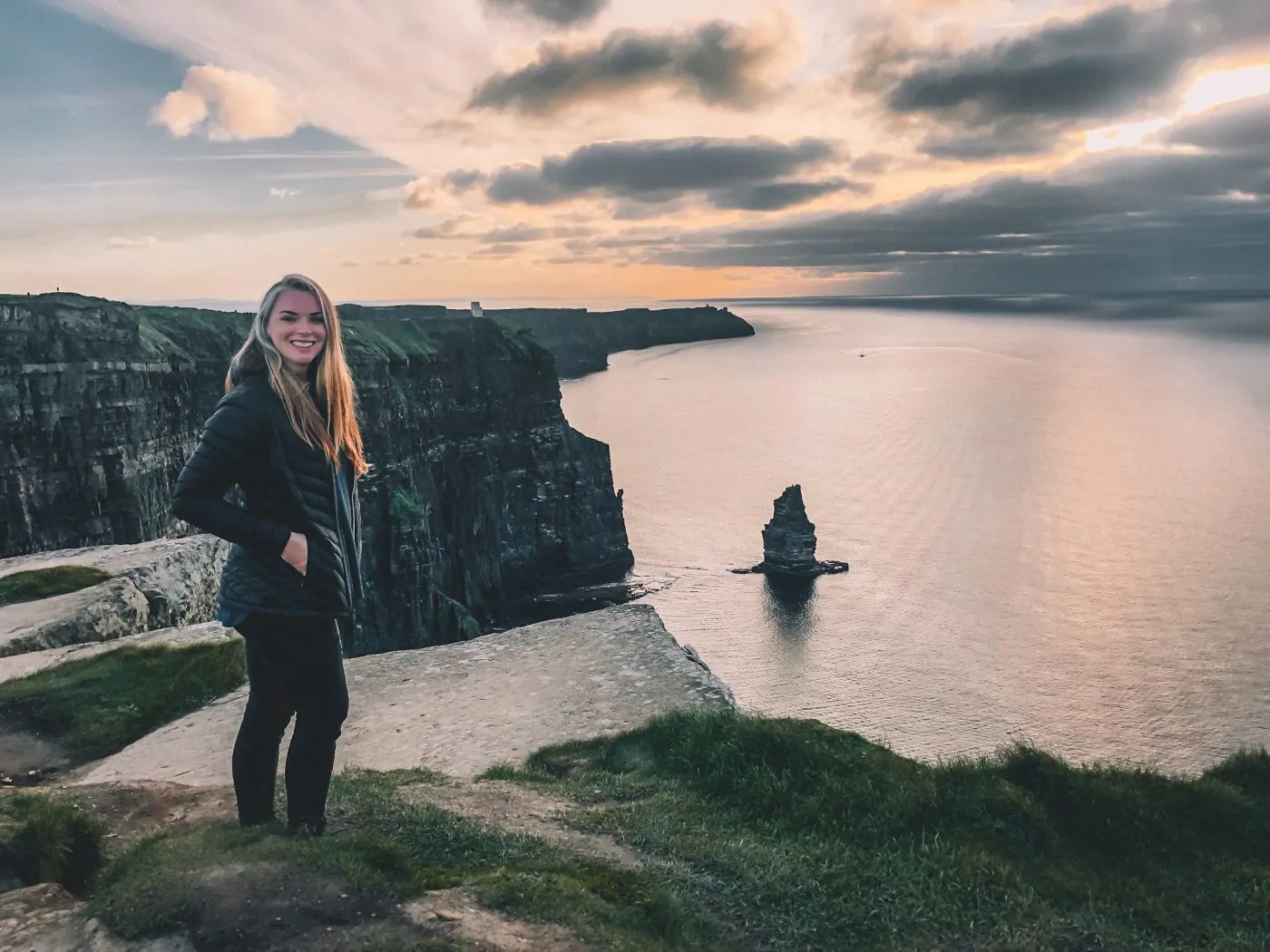 Ireland Packing List: Shoes
Waterproof Hiking Boots
The type of hiking you plan to do will determine the type of hiking boot you'll need. But no matter what, make sure they're waterproof!!
If you're doing extensive hikes then these Keens are my recommendation for a lightweight and waterproof hiking boot.
If extensive hikes are not on your Ireland itinerary, I recommend Sorel's Chelsea Ankle boot. It's waterproof, supportive, has good tread so you don't slip, and it's cute! I wear these boots on every single trip to Ireland. I've worn them for the Howth Cliff Walk, to walk to the Cliffs of Moher from Doolin, walking in Killarney National Park and around all of the cities I've visited. You'll see them in the majority of the photos on this post.
Sneakers
A pair of comfortable sneakers are essential for wandering around Ireland's cities, travel days, and also the odd summer hike. I've tried so many different types of sneakers, trying to find the perfect balance between style and comfort. I haven't found it yet, so I lean towards comfort with my all-black Nike frees. 
So many people recommended All Birds, so I got a pair and they gave me blisters. Other people recommended New Balance, I got them, they hurt the arch of my foot. So it appears that it's Nikes for me. But I'm definitely open to your recommendations.
What's your favorite sneaker for travel?
Flats
A pair of simple black flats work great to dress up an outfit during the summer in Ireland. They don't take up much space in your backpack and you won't have to worry about breaking an ankle on the cobblestone streets! 
Again, I have had trouble finding a solid travel flat. People recommended Rothy's, I got a pair and couldn't keep them on my feet for more than 5 minutes. I haven't tried Tieks yet. So I'm just rocking my Naturalizers!
Shower Flip Flops
These are only necessary if you're planning on staying in Hostels in Ireland. You'll want them to use the showers!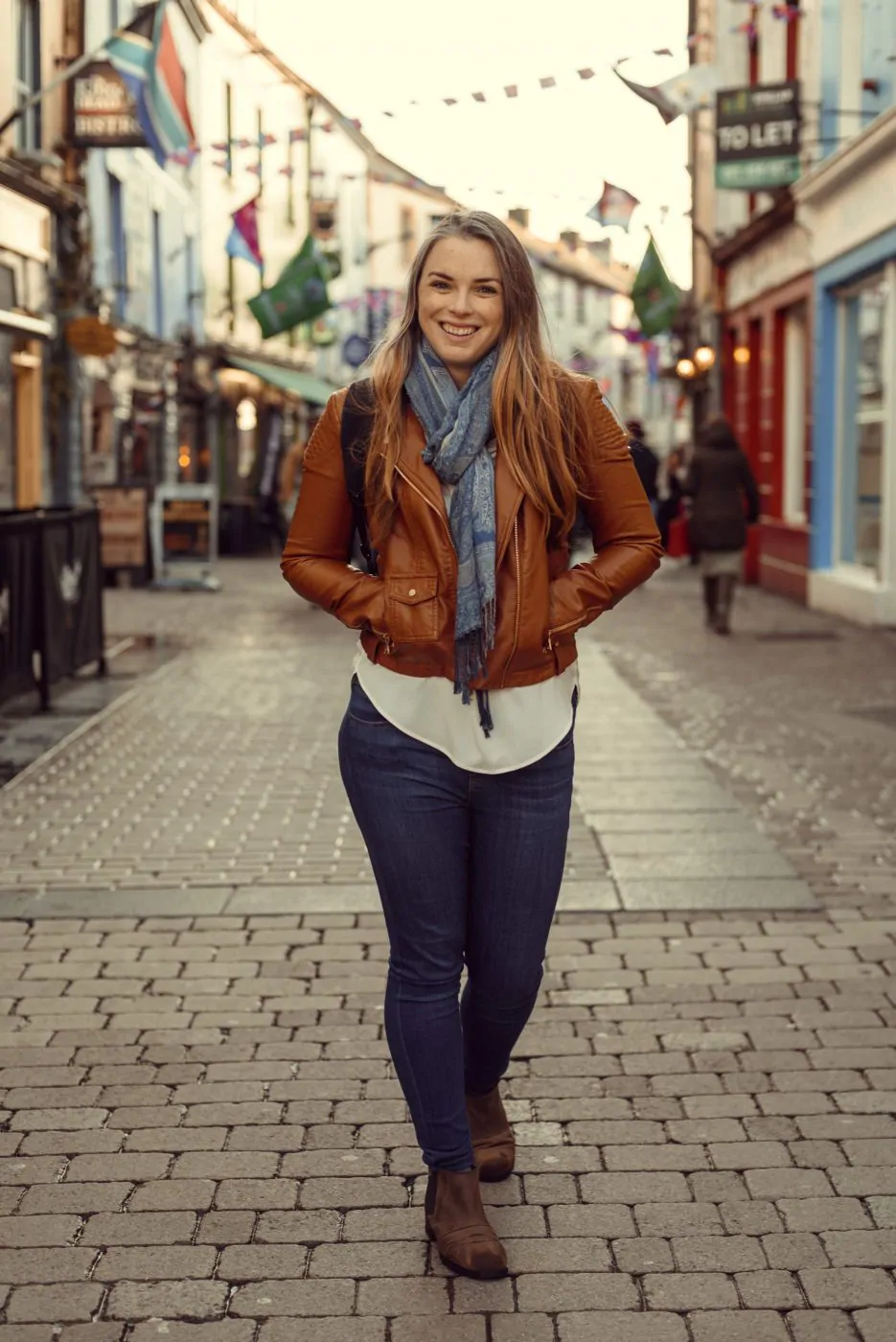 Ireland Packing List: Toiletries
Minimal Makeup
I did find it interesting that women in Ireland wear quite a bit of makeup. I'm a less is more person in this area, so I only pack a small tube of CC cream, mascara, blush, and an eyebrow brush. This takes up almost no space in my backpack and is all I need!
Dr. Bronner's Soap
Dr. Bronner's is the best do-everything soap. You can use it as body wash, shampoo, and to wash your clothes if necessary. I purchased a gallon of it and refill a small travel size bottle as needed.
Diva Cup
I can't sing the praises of the Diva Cup loud enough! I've exclusively used the Diva Cup for two years. It has never leaked on me, it's so comfortable, and it's good for my body! Once you get over the ick factor, I'm sure you'll love it too. Plus you can wear it for up to 10 hours before you need to clean it!
Medications
You can get over the counter medications at pharmacies in Ireland, but if you have prescription medications ensure that you pack more than enough to last the length of your trip. Keep them in their original bottle and travel with a written prescription just in case you need more.
General Toiletries
Make sure to have all of the general toiletries. Your toothbrush, toothpaste, and eye care you need. In terms of your hair, don't pack a hairdryer or straightener. It takes up too much space, is heavy, and you can likely borrow one in the hostel or Airbnb.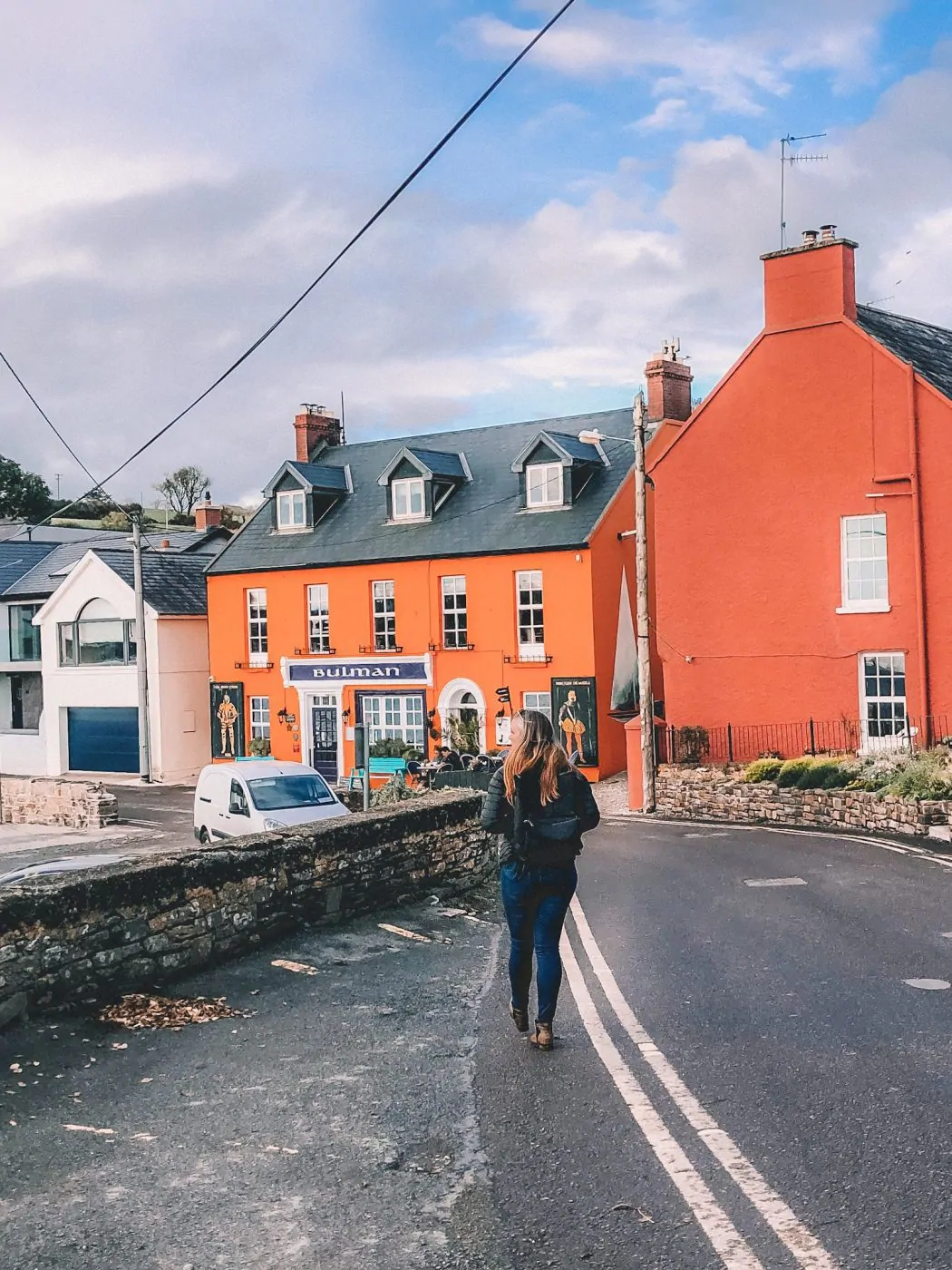 Ireland Packing List: Electronics
Adapter
If you're visiting Ireland from the states you will need an adapter for the plugs. I use this universal travel adapter and it works quite well! 
Multi-Port Charger
Damn, every electronic these days has its own USB charger. To be able to charge everything at once, get a multi-port USB charger so you don't need more than one plug, which are limited in hostel dorm rooms.
Power Bank
You know what sucks? Going out for the day with a full charge only to have to return to the hostel or find a cafe with a plug to recharge your items. Charge on the go with a power bank so you'll never be without a camera or directions! I picked up this one in the SFO airport before my most recent trip to Ireland and it powers my electronics quickly and its own charge lasts for at least three charges!
Camera
You will want to have a camera to capture those stunning Irish landscapes, the Cliffs of Moher, and anything else you might find beautiful in Ireland. I travel with a DSLR and tripod so I can take pictures of myself while I travel solo. But you might just be OK with a point and shoot or the camera on your phone!
Phone with International Sim Card
I recommend traveling with an unlocked phone and getting a SIM card when you arrive in Ireland. This is definitely the cheapest option. The less cheap option is to sign up for an international plan with your cell phone provider (T-Mobile has a good one). This way you can use your phone immediately when you land and don't have to go in search of a SIM card.
Kindle
Ireland is a great place to catch up on reading. You can cozy up in a pub or a cafe on a rainy day and get lost in a good book. Instead of packing a bunch of heavy books, just download a few on your Kindle and you're good to go!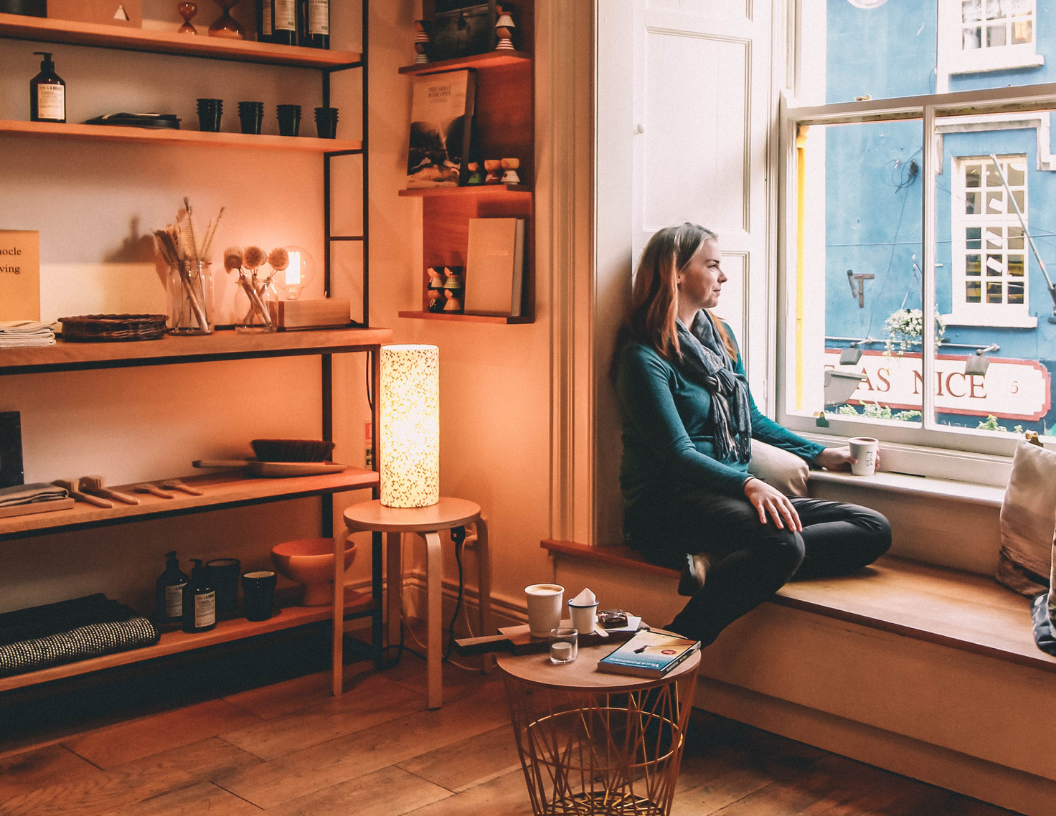 Ireland Packing List: The Gear
Packing Cubes
So, what are you supposed to put all of this stuff in? Packing cubes. Yes, they live up to the hype. Roll your clothes, stick them in the cube, and keep your backpack organized. I've actually noticed I can fit much more in my bag when I used packing cubes!
Backpack
I prefer a backpack for traveling in Ireland. There are so many cobblestone streets that dragging a wheeled suitcase just plain sucks. I also like to have my hands free! No matter if you choose a roller bag or a backpack, make sure it's carry on size for ease of travel. I use the 40L Osprey Farpoint.
Rain Cover
The Osprey is not waterproof. So I also travel with a rain cover to help keep things dry should I be moving about Ireland on a rainy day.
Day Bag
A small backpack or shoulder bag is perfect for days out exploring the Emerald Isle. I usually travel with either a smaller, and more stylish than my Osprey day bag, backpack or my Long Champ shoulder bag. Both fit everything I need for the day: snacks, camera, tripod, kindle, and are stylish!
Umbrella
An umbrella is incredibly beneficial on a rainy Ireland day. But if it's windy it's best just to stick with your raincoat because the wind will render your umbrella useless. The photo below is a perfect example of a useless umbrella and I'm so happy it was caught on camera.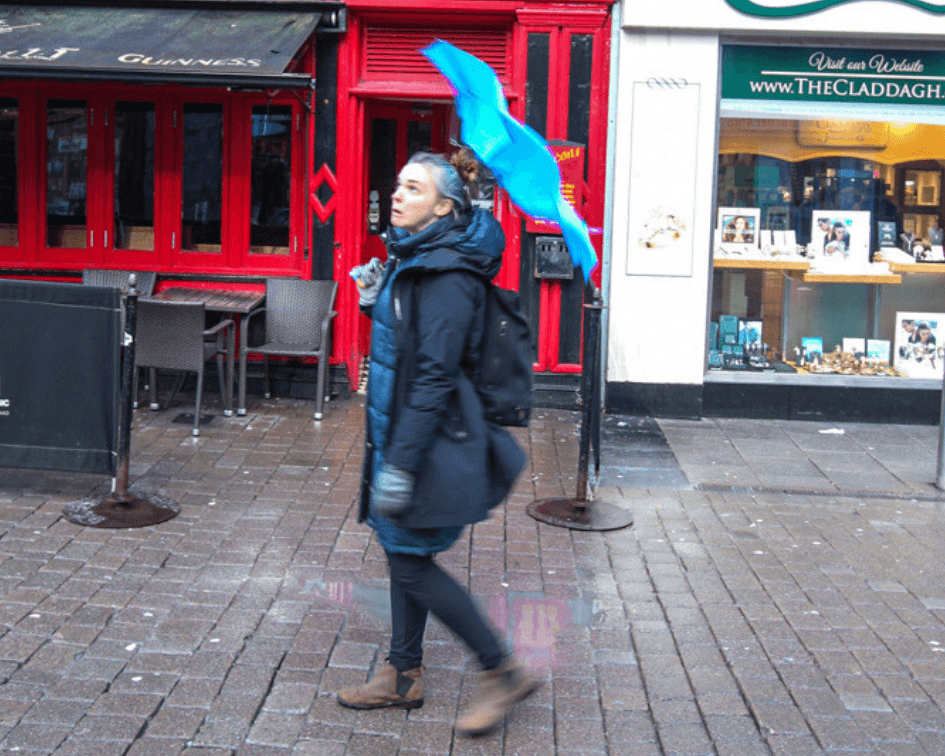 Ireland Packing List: Paperwork
Passport
Make sure that your passport doesn't expire within 6 months of your trip and that you have plenty of pages left for your stamps! Also, ensure that your plane ticket matches exactly what is on your passport.
Return Ticket
Customs in Ireland may ask you to provide proof of your departure from their country. It happened to me once, but this was after my second trip in 4 months. So they probably were curious why I visited so much and wanted to confirm I wasn't planning on overstaying the allowed 90 days!
Travel Insurance
I didn't travel with travel insurance on my first trip to Ireland, because I wasn't doing anything crazy and figured I'd be fine. I was fine, but I've also realized that anything can happen at any time and it's best to be protected. I could easily sprain an ankle on a cobblestone street or come down with some sort of illness that requires medical attention. So I always purchase World Nomads before I leave to protect not just my trip but myself.
You should now feel totally prepared for your upcoming trip to Ireland. You've got the basics that you need on your packing list for Ireland and won't have to worry about what to wear. You just get to go and have an awesome Irish adventure – no matter the season or weather!
Like this post? Pin for later!