"Oh you like trad music – you should definitely go to Doolin". A sentiment echoed to me by tourists and locals alike when they discovered my love for traditional music sessions in Irish pubs. So on my most recent, and fourth, trip to the Emerald Isle, I made Doolin a stop on my Irish itinerary as it's referred to as the home of traditional Irish music. There, in the Doolin Pubs I listened to some of the best trad I've heard in the country in the pubs.
There are four main pubs in Doolin, each with music nightly (during high season) starting around 9:30 pm. Now, this is 9:30 pm Irish time which means anywhere from 9:30 pm until the end of the evening. But generally, they'll start around 10:00 pm.
With four pubs each playing music every night, how will you choose? Especially when you likely only have one night in town?
Here's how: find out where Blackie O'Connell, Cyril O'Donoghue, and/or Eoghan Neff are playing that night and go to that pub. They are both fantastic musicians and you really can't miss them if they're playing. Anyone in town will know where they're playing that night.
Another option is to just go to the pub that is closest to your accommodation because you really can't go wrong with the pubs in Doolin.
Below is a video of the three musicians mentioned above playing at McDermott's. Blackie on the uilleann pipes, Eoghan on the fiddle, and Cyril on the bouzouki.
A Doolin Pub Crawl
Or a really fun thing to do in Doolin is a DIY trad pub crawl. Start at one end of town, preferably the opposite end of town from where you're staying so you can be close to your bed at the end of the night. Doolin is small enough, it only takes about 15 minutes to walk from one end of town to the other. 
In the first pub enjoy your dinner while you wait for the music to start, listen for a few songs then make your way to the next pub for a few songs. Continue until you've hit all of the pubs in Doolin!
While the pubs are home to beautiful traditional music, they're also a place where you will feel immediately welcome. The people of Doolin are some of the warmest I've met in Ireland. So don't be afraid to strike up a conversation with someone at the bar or wait a few minutes and you'll likely be chatted up anyway!
Gus O'Connors
Gus O'Connors is located in what I consider the heart of Doolin. It's next to the start of the cliff walk and down the street from the pink sweater shop.
O'Connors opened its doors in 1832 and has been welcoming musicians ever since. Stepping into O'Connors is like stepping into a family's living room, with a roaring fire and plenty of space at the table for you. Don't worry if it's crowded, they'll make room for you!
My food recommendation for O'Connors is the smoked salmon. It's incredibly well priced. For less than €10 you get a large amount of salmon.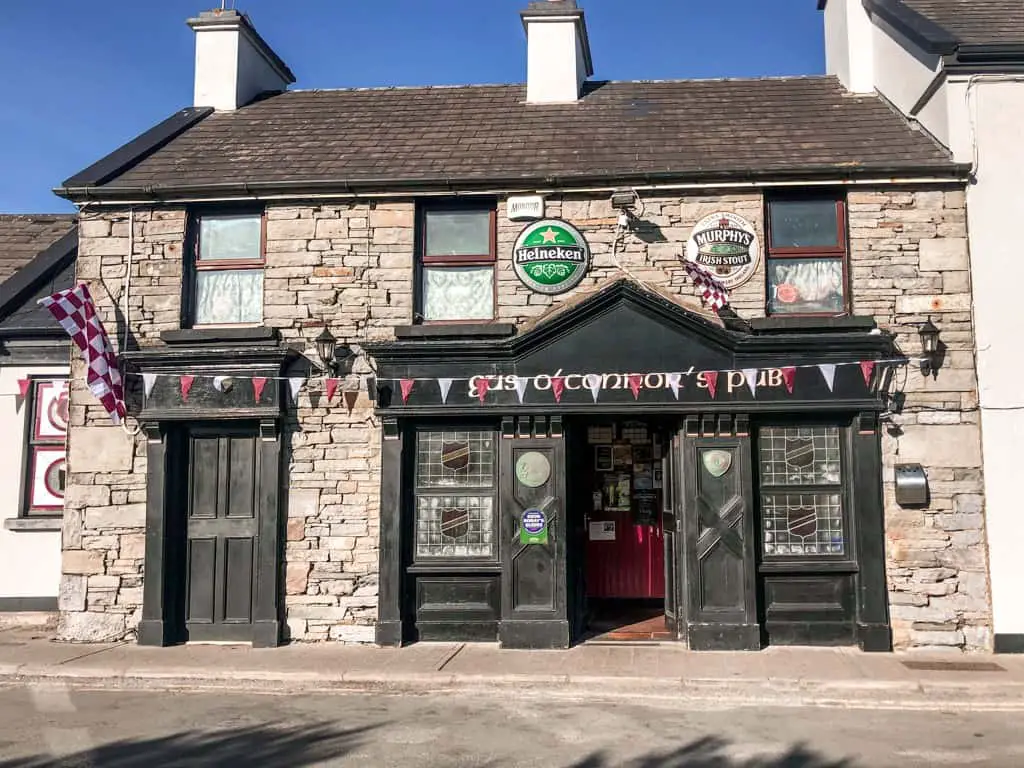 McGann's Pub
McGann's holds a special place in my heart for one reason. It was the first pub I went to in Doolin where I heard Blackie O'Connell play and made friends with a few locals over more than a few pints.
So many pints that at the end of the night I simply walked out. By the time I got home and snuggled into bed I realized I hadn't paid my tab. When I sheepishly returned the next day to pay the bartender simply shrugged and said that it's likely gone by now. But I insisted and told him what I had and paid.
I returned two nights later thinking people would be rude to me about it but no one made a peep! 
So I got to enjoy another trad session in the warm atmosphere of McGann's.
My food recommendation for McGann's is the Beef and Guinness Stew or the Mussels. Yep, Mussels in an Irish pub. This is a fishing town after all. I also ordered the smoked salmon here but it wasn't as good as O'Connors.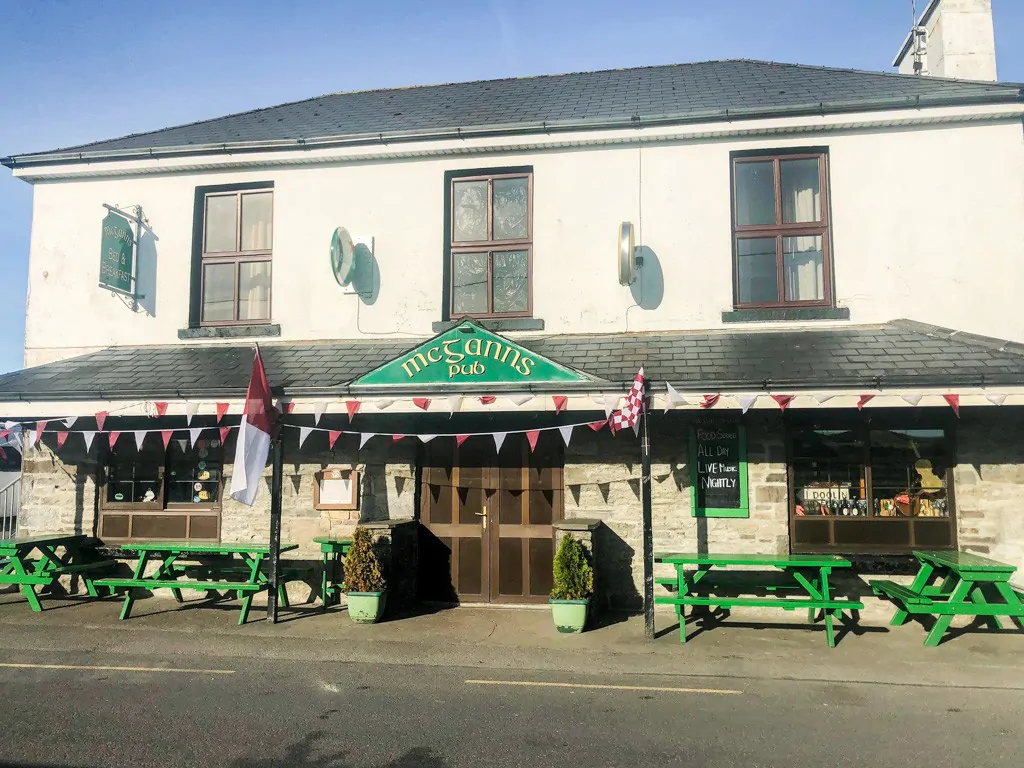 McDermott's Bar
Across the street from McGann's is McDermott's Bar which had a roaring fire going that messed with the reeds in Blackie O'Connell's uilleann pipes. So while he fixed them he gave us a short introduction to his beautiful instrument, which was quite enjoyable.
McDermott's is also where I heard Eoghan Neff for the first time – a fiddle player who could give Ed Sheeran a run for his money. During his solo he used some sort of instrument to layer beats so by the end he had a multifaceted song to play the growing crowd. 
If you're flying solo grab a seat at the bar. The bartenders are super friendly and will have no problem chatting in between songs.
In terms of food at McDermott's, I made a poor ordering choice. I ordered the fish and chips which came out light and flaky, not greasy or overly breaded. That being said I'm just not a fish and chips fan so I wasn't wild about it. I did overhear a couple raving that they just had the best meal in Ireland at McDermott's but I didn't get a chance to see what they ordered.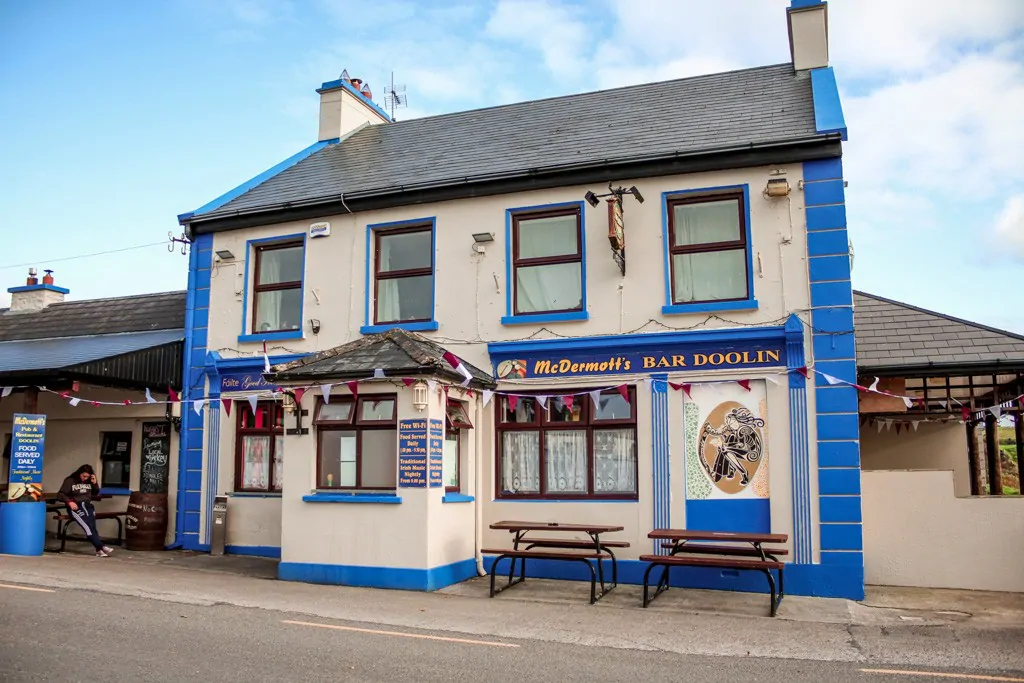 Fitzpatrick's Bar
Admittedly this is the one bar I did not go to Fitzpatrick's Bar for music. But I did go for lunchtime during which they cater to tour buses so they serve carvery style. This is great if you're in a rush to go to the cliff walk!
Even though I didn't stay for the music and it did get crowded quickly with tourists at lunchtime, Fitzpatrick's bar is cozy. The fire was roaring on a rainy afternoon and there was plenty of beer to go around, try the Dooliner lager.
Their food was also really good (I had the seafood chowder which was perfect for a rainy afternoon) and the staff provided expert advice on how to spend a rainy day in Doolin as a tourist. Hint: it's in the pubs!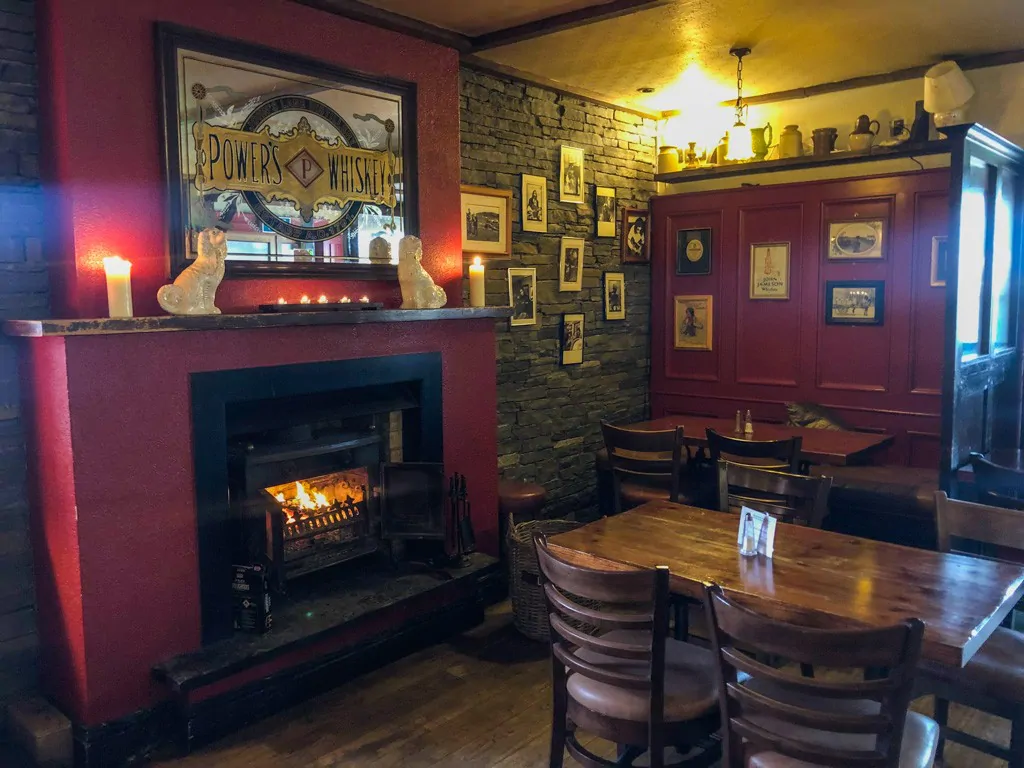 I thought that Galway had amazing pubs for music but Doolin really spoils you for choice. For such a small town it is not short on warm pubs, beautiful music, and delicious Irish food. The most beautiful thing about the pubs in Doolin is how they bring everyone together. 
The locals that you'll meet in the pub are there for the same reasons you are: good food, good music, and good craic. The atmosphere in each of the Doolin pubs really can't be beat.
I have my favorite, but now it's time for you to discover your favorite. Tell me in the comments below about the Doolin pub that holds a special place in your heart.
Like this post? Pin for later!