I always recommend that solo female travelers add Galway, Ireland to their bucket list. Galway's vibrant city center offers plenty of fun things to do from pubs, to cafes, charming bookstores, and stunning scenery. Galway is also perfectly located for awesome day trips to Ireland's top attractions! Plus, it's an incredibly safe place for solo travelers as the people are warm and welcoming, you won't have any problems making new friends. But where is a safe place to rest your head after a day of exploring or a night in the pubs? In this post, we'll dive into where to stay in Galway based on my own personal experiences and some of my fellow traveler's experiences.
How to Decide Where to Stay in Galway
Galway offers a variety of accommodation options for every type of solo traveler with every type of budget. There are hostels, Airbnb's, Bed & Breakfasts, and hotels. So, how will you choose?
First, consider your budget. Hostels are budget-friendly accommodations as you share space with other travelers. Galway has everything from the traditional party hostel to the new, trendy, boutique hostels. If you've never stayed in a hostel before (don't worry I've got a guide for hostels here) they're a great way to meet new people, are safe, and often offer free activities like pub crawls or walking tours! 
That being said, if you're looking for a more private space but still want to get to know the local way of life, an Airbnb or traditional Bed & Breakfast might be right up your alley. You can find these for any price!
The second thing to consider is the accommodation's location. How important to you is it to be close to the city center? Or are you looking for something a bit more removed so you can relax? Be sure to consider proximity to public transportation and walking distances to the places you want to visit. I've made some mistakes in the past where I've booked a place removed from the city center to save a few bucks, but then I end up spending an hour on public transportation to get to where I want to go! 
The third thing to consider, which I've kind of touched on already, is the type of atmosphere you want. Do you want to soak up the pub culture in Galway? Are you looking for a place with a chilled out and welcoming vibe where it's easy to meet people but it's also easy to be totally alone? To get a good idea of the atmosphere of the place you're considering booking, read the reviews. People are honest about noise levels, staffing, and safety.
Neighborhoods in Galway
There are two main areas that I recommend staying in during your trip to Galway, either the city center or Salthill. 
Staying in the city center puts you right in the beating heart of Galway. You'll be steps away from some of the best pubs, tasty restaurants, great cafes and other attractions. This means you can go back to your room if you need to rest in the middle of the day without having to walk too far and at night you'll be close enough to fall into bed!
But Salthill is also an excellent option for those who want to be close to the action, but also escape from it. Salthill offers some great restaurants and pubs as well, so you won't be hurting for places to dine and drink. Plus, it's a bit closer to the sea, if you want to be able to easily walk to the Promenade for sunset!
I don't think you can go wrong choosing a place to stay in either area, it just comes down to the type of experiences you want to have in Galway.
Now, let's get down to it! Below are the best places to stay in Galway broken up by the type of accommodation. As I said before, these recommendations are based on my own personal experiences actually staying in the accommodation. And if I haven't stayed there, I enlisted the help of some fellow solo female travelers who have been to Galway for their recommendations.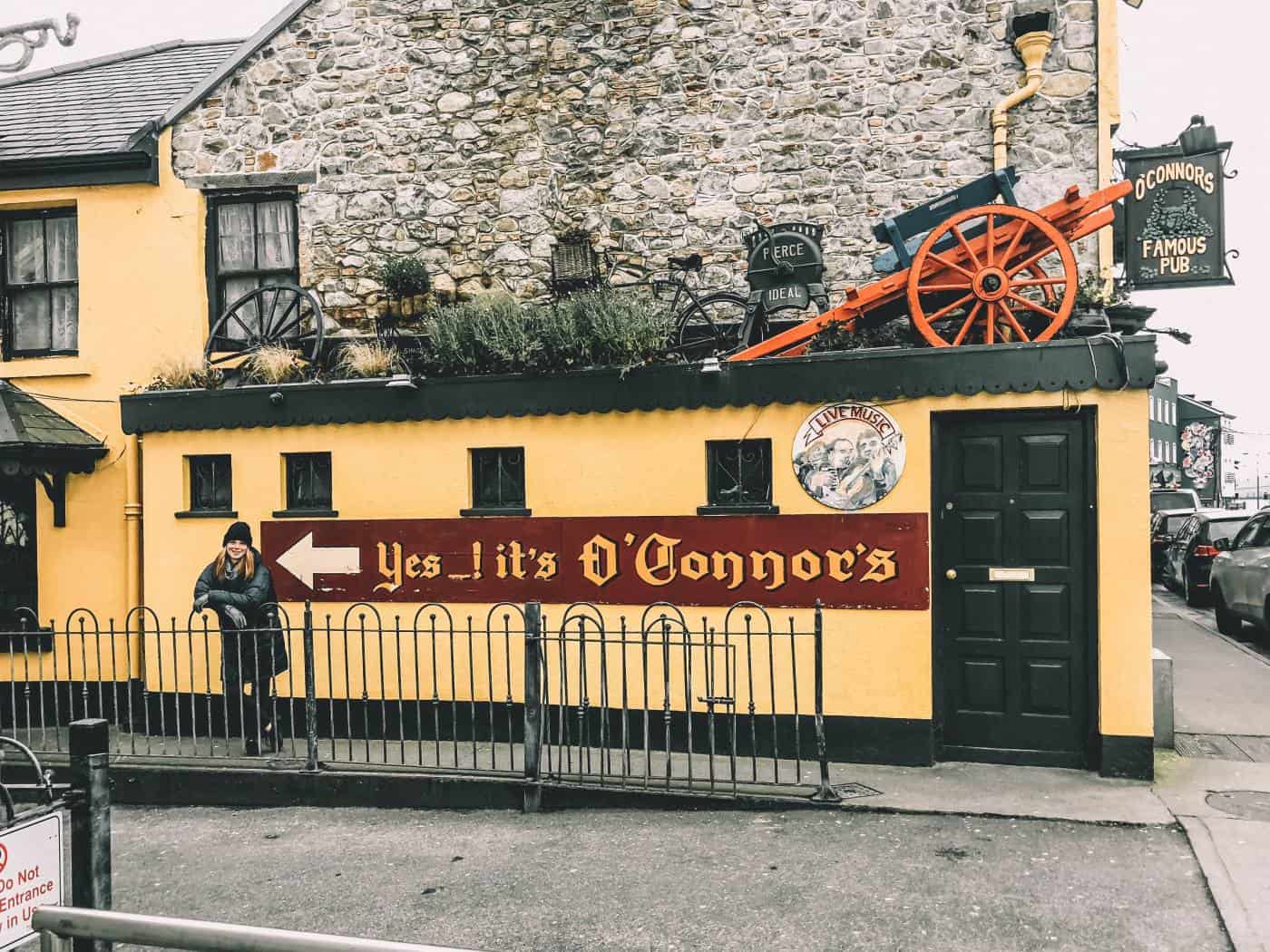 This post contains affiliate links, which means that, at no additional cost to you, I will earn a tiny bit of income if you decide to make a purchase or booking.
Places to Stay in Galway
Hostels in Galway
There are a number of hostels located in Galway that each cater to a specific type of crowd. There are some located in the heart of the medieval center that are perfect for people who want to enjoy the city's nightlife and then stumble just a few steps back into bed. There are those a bit removed from all of the action that provide a more chilled out vibe. And of course, there are ones that offer a little bit of both.
These hostels are perfect for any type of solo female traveler as they all offer safety, comfort, and fun!
The Nest Boutique Hostel
The Nest Boutique Hostel is one of my favorites in Galway. It has the look and feel of a boutique hotel without the price tag. When you walk in you are greeted by friendly staff, a warm fire, and a cute little coffee shop. There is also a large kitchen with plenty of storage and everything you need to cook your own meals. But if you don't feel like cooking breakfast, The Nest has you covered with a free breakfast filled with pastries, yogurt, oats, fruit, tea, and coffee.
In terms of bedrooms, they offer everything from private to shared rooms, both mixed and single-gender. I stayed in a female-only 6-bed ensuite dorm. The wood frame beds are incredibly comfortable and don't have the squeak of the metal bunks other hostels offer. Each bed comes with its own charging ports and light so you can read in bed without disturbing your neighbor. 
The ensuite bathroom was very spacious and felt like a boutique hotel bathroom. Plus, if you need a hairdryer, which I don't travel with, you can borrow one from the front desk. And if you're on a longer trip, there are laundry facilities on-site!
The Nest is located in the Salthill neighborhood, just a 20 minute walk away from Galway city center. I walked back multiple times at night and there is a secure key fob for late-night entry and someone always on staff. If you don't feel like walking there is a bus stop that leaves you right outside the front door and only costs €2 – perfect for a rainy day. The Nest is perfect for those solo female travelers who want a quiet and warm atmosphere to return to after a day exploring Galway.
Book your stay at the nest here
Galway City Hostel
Recommended by Rose of Where Goes Rose
Without a doubt the most conveniently located for places in Galway, there's one hostel you most definitely need to know about. Galway City Hostel is less than a minute's walk from the train station which is helpful if you're arriving late from another city in Ireland.
This cozy base runs bar crawls, group trips, and hostel dinners. These really help to keep the cost down when backpacking in Galway. While the bar crawls are less likely to keep the costs down, they're an excellent way to bond with other backpackers and head out to meet the locals and enjoy Irish live music.
The hostel has rooms of various sizes including 4-bed dorms if you don't like the idea of a larger one. The comfy social area has cozy sofas and free tea and coffee making facilities so you can feel totally at home. The morning breakfast with toast, spreads, and cereal will set you up for a day of exploring.
Bunk Boutique Hostel
I've had two experiences at Bunk Boutique Hostel, both very positive. I was already staying at The Nest and decided to extend my stay in Galway, but at the time The Nest was fully booked. So I found the Bunk Boutique Hostel on booking.com and decided to give them a try. On the day I was supposed to check out of The Nest and check into Bunk, The Nest had a cancellation and I decided to stay instead of moving all of my stuff. I called the Bunk to see if I could get a refund, even though booking.com had said No, the manager processed my refund immediately. 
This experience is why I decided to stay with them on my subsequent trip to Galway. Bunk Boutique Hostel is located steps away from the bus station, Eyre Square, and some of the best pubs in Galway. Making it a perfect location for a solo female traveler who doesn't want to walk very far alone at night.
I booked in a 10-bed dorm room with bathrooms located across the hall. I ended up on the third level of the bunk bed which was fine, except when you're slightly hungover in the morning and need to get to the bathroom STAT!
The staff was super friendly, allowing me to store my luggage before and after check out. And if you'd like to cook your food, they have a fully equipped kitchen – although no free breakfast!
Book your stay at the Bunk here
Kinlay Eyre Square
From Hayley of Hayley on Holiday
Kinlay Eyre Square Hostel is seriously one of the best hostels I've stayed in across Europe (and I've stayed in a lot). When I'm instantly greeted by friendly reception staff at a hostel, I know it's going to be a good stay. Firstly, Kinlay Eyre Square Hostel is in a very central location. I easily walked everywhere in Galway: down the main streets, to Galway Cathedral and to the bus station.
Inside, you will find spacious common areas, including a chill-out lounge and a large dining room with excellent free WiFi. It definitely had a social atmosphere, which is always good when you're traveling solo. Although the kitchen is available for guest use, the hostel organizes a free continental breakfast every morning as well.
When I traveled solo to Galway, I personally stayed for three nights in a 6-bed female dorm at Kinlay Eyre Square Hostel. The room was a good size (as were the lockers) and I always appreciate when the bunk beds come with a shelf and personal light. We also had a very spacious ensuite in our dorm room. One final thing – it was named the best hostel in Ireland, that's how good it is! I highly recommend checking it out when visiting Galway solo.
Book your Kinlay stay here
Airbnb in Galway
Airbnb in Ireland is becoming more regulated due to a shortage of long term housing options for locals. You can still rent out entire apartments for your stay, but it has to be the owner's primary residence. This responsibility lies in the hands of the Airbnb host, but it's important to be aware of how our decisions as a visitor have a ripple effect into the bigger picture of the country we've come to visit.
This is why I recommend booking a room in a house as opposed to an entire house for yourself. You can still find really unique stays and most of the time the host leaves you to your own devices. But there is a bit of safety knowing that someone else is in the house with you and that you can get advice on what to do in the host's home city!
These are the best Airbnbs for solo female travelers in Galway. 
(There's only one for now as I have a limited amount of time to spend in Galway – but if you have any recommendations for others to include here, I'm all ears!)
The Zen Den
The Zen Den was my very first Airbnb experience on my very first solo trip on my very first trip to Ireland. So the Zen Den does hold a very special place in my heart, but for more reasons than just being a part of so many firsts for me.
When I first checked in to the Zen Den, the hosts greeted me like an old friend and showed me to my room. I was there for my birthday, which happened to be just a few days before the host's. When I returned that night he'd bought me a slice of pie as a birthday gift. I only saw them in passing after that, but they provided me with so much knowledge about Galway and really made my first time in the city memorable.
Besides the fact that the hosts are awesome, you'll feel immediately at home here because the room is so perfectly decorated. There is a large bed and plenty of storage space if you want to put your clothes on actual hangers and in drawers. The wall is lined with plants in colorful pots and above the large windows are the words Be Present.
This townhouse is also in a prime location for exploring all of the fun things to do in Galway. It is just steps away from Quay's Street and one of my favorite cafes in Galway. Even though it is in the heart of Galway, the room is quiet, providing a great place to chill when you need it!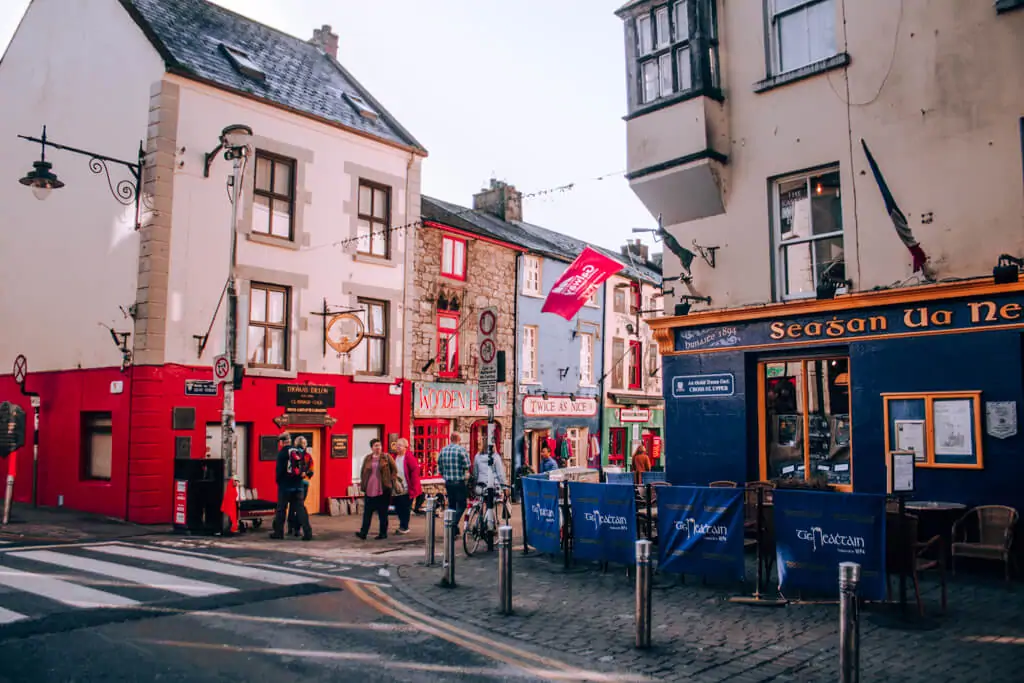 Hotels in Galway
Admittedly, I have not stayed in any hotel in Galway – although there are plenty of great options to choose from, it just hasn't been in my budget. I am not one to recommend places without having vetted them myself or asking others I trust for their personal recommendations. 
That being said, if hotels are more your style, there are three that I was considering staying in on my recent trip as the reviews were fantastic and they're really well located. I'll offer those to you as suggestions and I hope to one day be able to give you my personal review on them!
If I were to stay in a hotel in Galway I would choose Jury's Inn for its excellent location, 7 Cross Street Boutique Hotel for its expert design and unique way of honoring Ireland's literary history, or the G Hotel because it looks so luxurious and like a total treat yo'self place to stay.
Bed & Breakfasts in Galway
There are also a number of bed and breakfasts located in Galway, many in between the city center and Salthill. I've walked by a number of them and they all look super cute. If you want to give this type of accommodation a try, check out this website to see what is available during your visit.
Are there more places to stay in Galway than what is recommended here – of course! There are also a couple of places I've stayed in Galway that I wholeheartedly do not recommend. That's why I wanted to write this post, tto help you find a place that suits your travel style and that I know you'll feel welcome and safe. 
Please let me know in the comments below if you stayed anywhere recommended here or if you have a place I should check out the next time I'm in Galway!
Like this post? Pin for later!