The Cliffs of Moher are Ireland's top tourist destination, receiving over 1 million visitors each year. The majority of these millions add the Cliffs of Moher as a stop on their Wild Atlantic Way road trip when they've got plenty of time or as a day trip from Galway or Dublin when they're short on time. How you visit the Cliffs of Moher will depend on how much time you have to spend exploring the Emerald Isle and your budget. Today we are going to dive deep into how to get to the Cliffs of Moher, no matter how much time you have in Ireland. 
This post contains affiliate links, which means that, at no additional cost to you, I will earn a tiny bit of income if you decide to make a purchase or booking.
The Cliffs of Moher Location
First things first, where exactly in Ireland are the Cliffs of Moher? They're located on the west side of the country in County Clare nestled in between Doolin and Liscanoor. The closest airport to the Cliffs is Shannon airport just in case you want to head there directly after your flight! For exact locations and directions from Galway and Limerick, visit the Cliffs of Moher official website.
How to Get to the Cliffs of Moher
A Day Tour from Dublin
If you only have a few days in Ireland and plan on basing yourself in Dublin, the best way to see the Cliffs of Moher is on a day tour. Although this isn't the most budget-friendly option, it is the most convenient. These day tours also typically include a stop in the Burren and in Galway as you make your way to the Cliffs of Moher, which allows you to see much more of Ireland than just the Cliffs of Moher.
Since it's a day tour, your time will be at the mercy of the bus driver, so you'll likely only get s few hours at the Cliffs of Moher. To maximize your time at the Cliffs begin by walking away from O'Briens Tower in either direction. The crowds will thin out as you get away from the tower and you'll be able to witness the height and distance of the Cliffs from the periphery. This is where you'll get your best photo ops. 
When your time at the Cliffs begins to dwindle, make your way back to O'Brien's Tower and take in the sweeping Atlantic views from there. The crowds will have dissipated as everyone is heading back to their bus tours at this point as well. There are a number of tour companies that operate Cliffs of Moher day tours from Dublin.
I suggest looking at Get Your Guide to compare company offerings, prices, and schedules.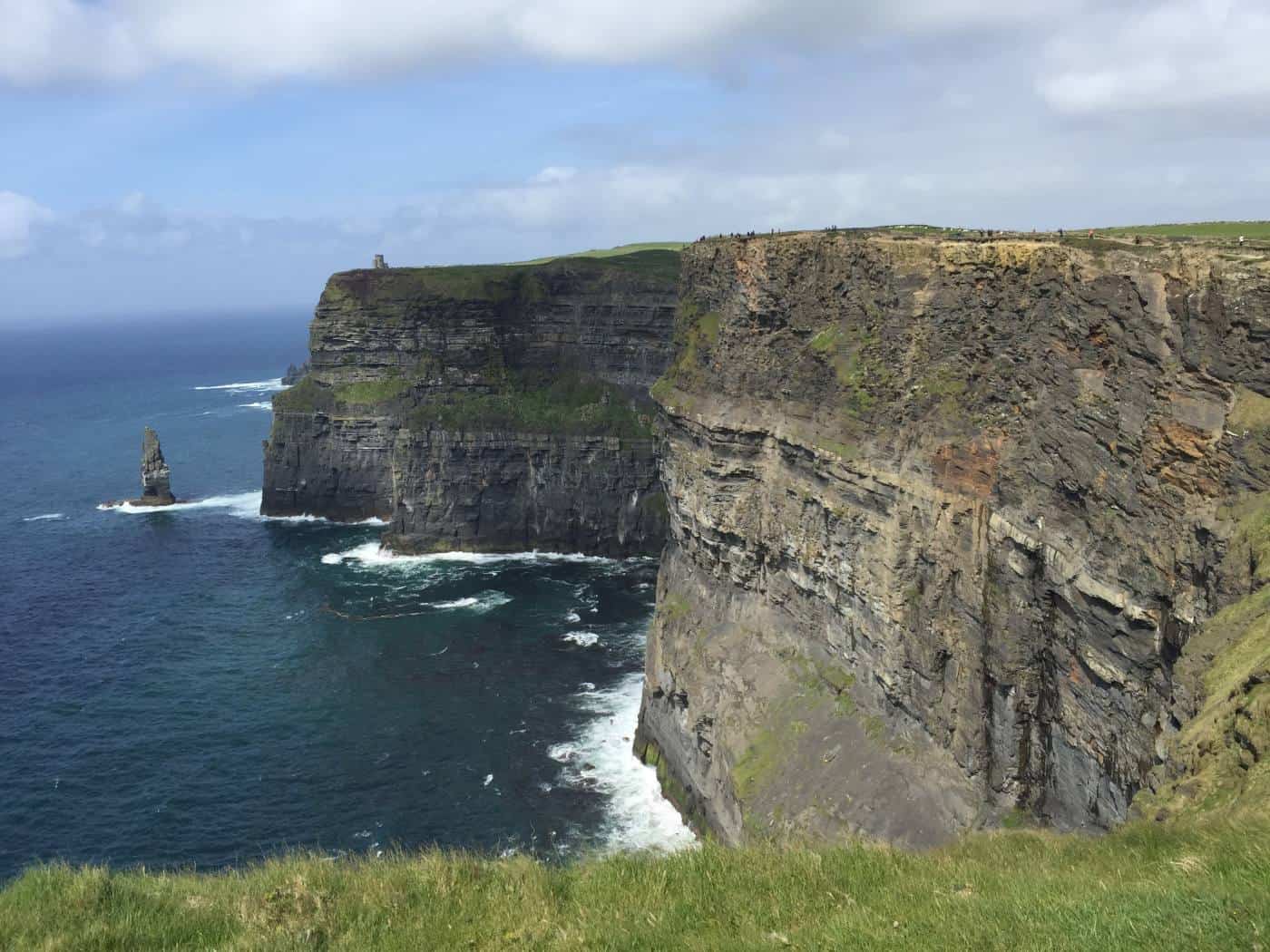 A Day Trip from Galway
Galway is a vibrant city with plenty of sites to occupy your time. But it also makes an excellent place to base yourself for exploring the West Coast of Ireland. From Galway, you could do a day trip to the Aran Islands, to Connemara, and of course to the Cliffs of Moher.
Organized day tours also leave Galway daily for the Cliffs of Moher, so this is definitely an option. Or, you could DIY it, which is my suggestion as you get more time freedom, it's incredibly easy to navigate, and it's wallet-friendly.
Bus Eirrean Route 350 offers a number of daily services from the Galway bus station to the Cliffs of Moher car park and back. Purchase a round trip ticket for €25 (one way for €17) at the kiosk inside of the bus station or from the counter in the bus station. The staff working the counter are also incredibly helpful in answering any questions about timetables.
The bus ride takes approximately 2.5 hours from Galway to the car park and it drives along a stunning coastal route so make sure to snag a window seat on the same side as the driver. It's also a bit of a thrill because the coastal route roads are quite narrow so you'll pass just inches away from other tour buses and be able to wave to those passengers.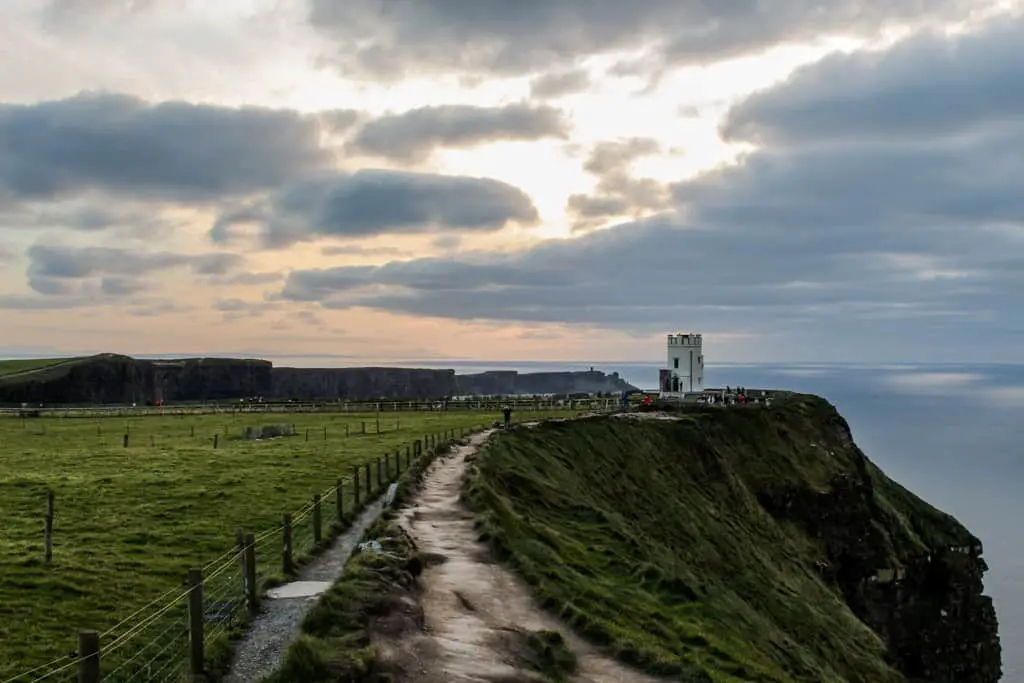 Once you reach the car park, you'll have to pay the Visitor's Center entrance fee which ranges between €4 and €8 depending on the time of your visit. Then you have access to the Cliffs of Moher to explore at your leisure. Depending on your time frame you could hike to Hag's Head which is about two hours south of the Cliffs of Moher and then snag a bus back to Galway from there. But I suggest wandering the trails close to the Cliffs of Moher and O'Brien's Tower.
If you get hungry, the Visitor's Center has a cafe for lunch or snacks. Or pack food from Galway for a picnic on the side trails of the Cliffs. Just be sure to stay away from the edge and on marked trails. The last bus returns to Galway from the car park at 7:20 pm.
If you don't want to have to worry about figuring out bus timetables on your own, then check out the Get Your Guide day tours from Galway.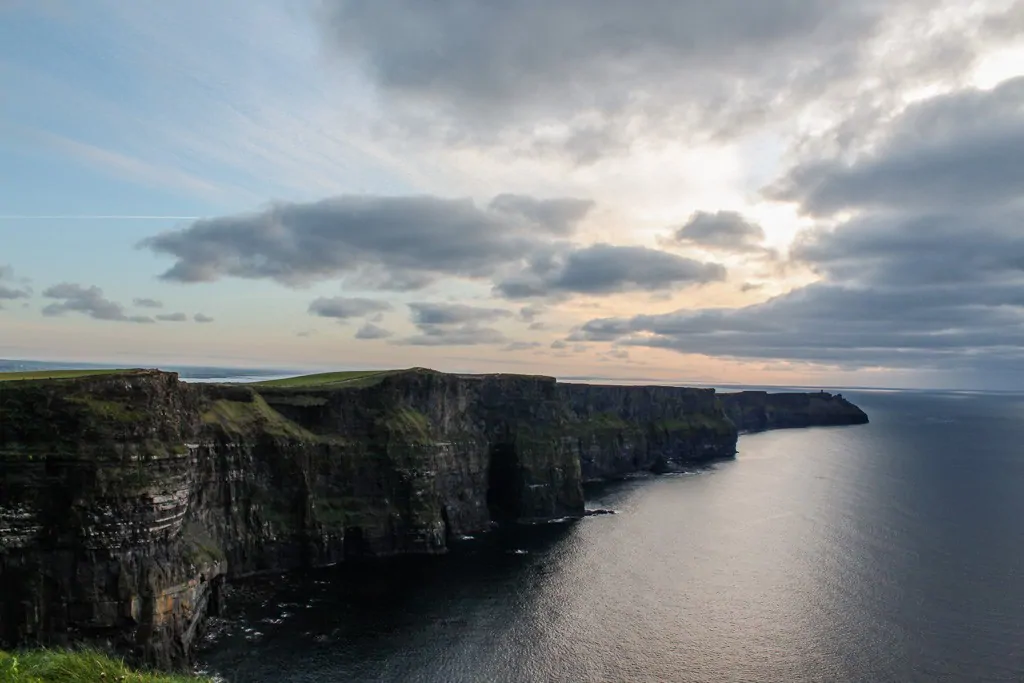 Overnight in Doolin
First, Doolin is a charming fishing village with amazing pubs and is worth a visit in its own right.  Second, Doolin offers two great options for seeing the Cliffs of Moher.
Coastal Walk to the Cliffs of Moher
My personal favorite way to experience the Cliffs of Moher is by walking from Doolin to the Cliffs of Moher. The walk will take approximately three hours along the coast and through the farms of Doolin. The trail is clearly marked and with only a few steep inclines it's fairly easy. Although be sure to wear sturdy shoes and ones you don't mind getting muddy. 
I highly suggest that if it's a clear day trying to time your walk for sunset which just adds to the magic of the Cliffs. If you want to join a group, each day Pat Sweeney offers a guided walking tour for €10 that leaves O'Connor's pub at 10:00 am and ends at the Cliffs of Moher.
The biggest issue with the coastal walk to the Cliffs of Moher is bad weather. If it's incredibly foggy, windy and raining I would suggest skipping the walk and taking the shuttle or the bus to the Cliffs. It's just not safe to attempt the walk during poor weather conditions.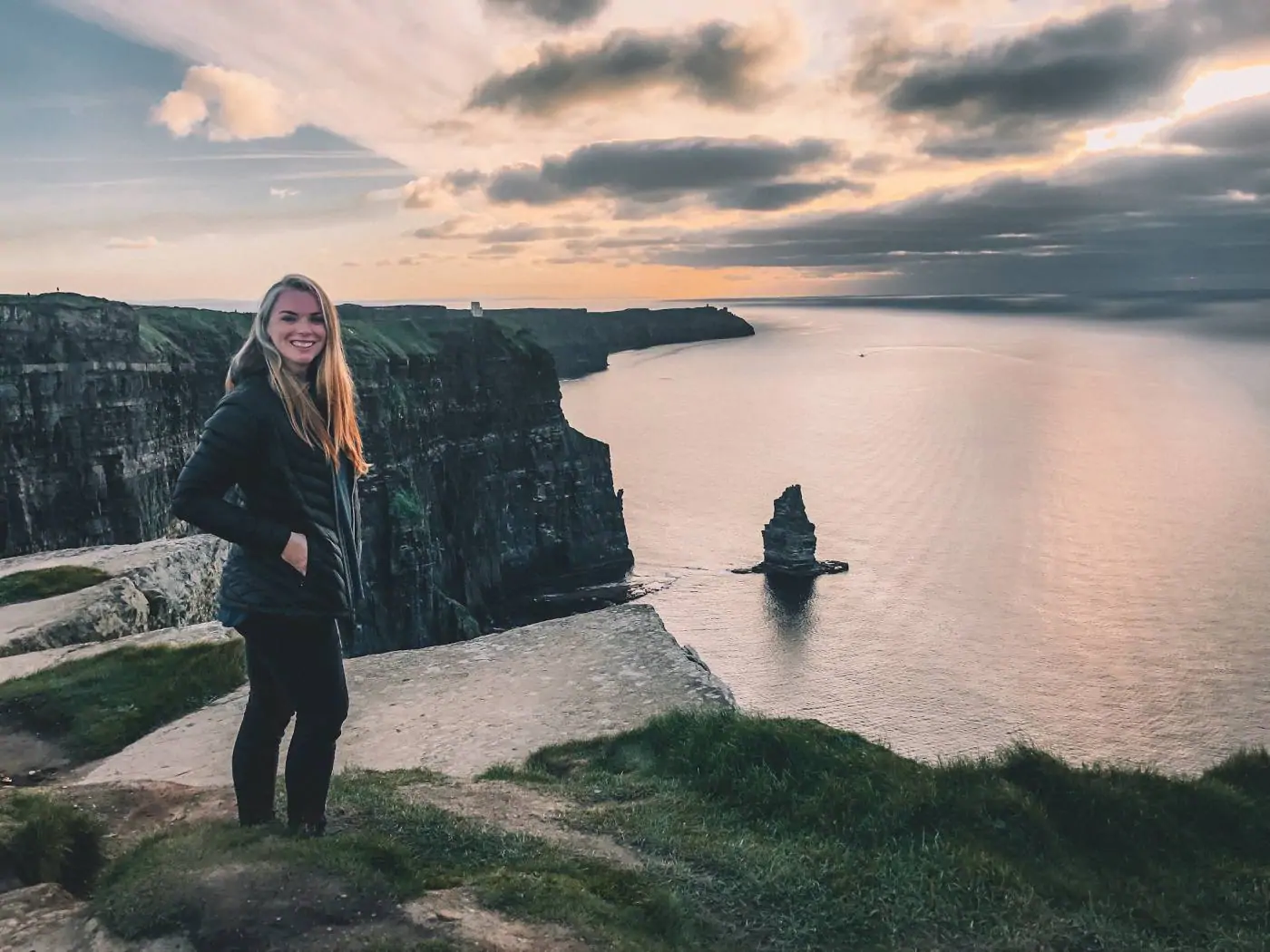 Cliffs of Moher Cruise
The other way to see the Cliffs of Moher from Doolin is by sailing beneath them. Of course, the weather is a factor in these cruises as well and they won't sail if it's dangerous.
The day that I went I was seriously blessed with a crystal clear day and an incredibly smooth sail. The following day I saw people in one of Doolin's pubs looking quite yellow from the sail. Apparently it was akin to sailing on Gilligan Island's boat.
If you're not prone to motion sickness, then I highly suggest taking a Cliff's cruise. It really provides an amazing perspective on just how high they are and you'll get fun facts from the crew. It's also wallet-friendly as my off-season cruise cost €15. 
There are two companies that provide cruises under the Cliffs, Doolin2AranFerries and The Doolin Ferry Co. These companies also combine some of their cruises with a cruise to Inisheer – the smallest Aran Island located just 20 minutes by sea away from Doolin.
If the Aran Islands are also on your bucket list, then you can have a pretty epic day in Doolin doing all the things.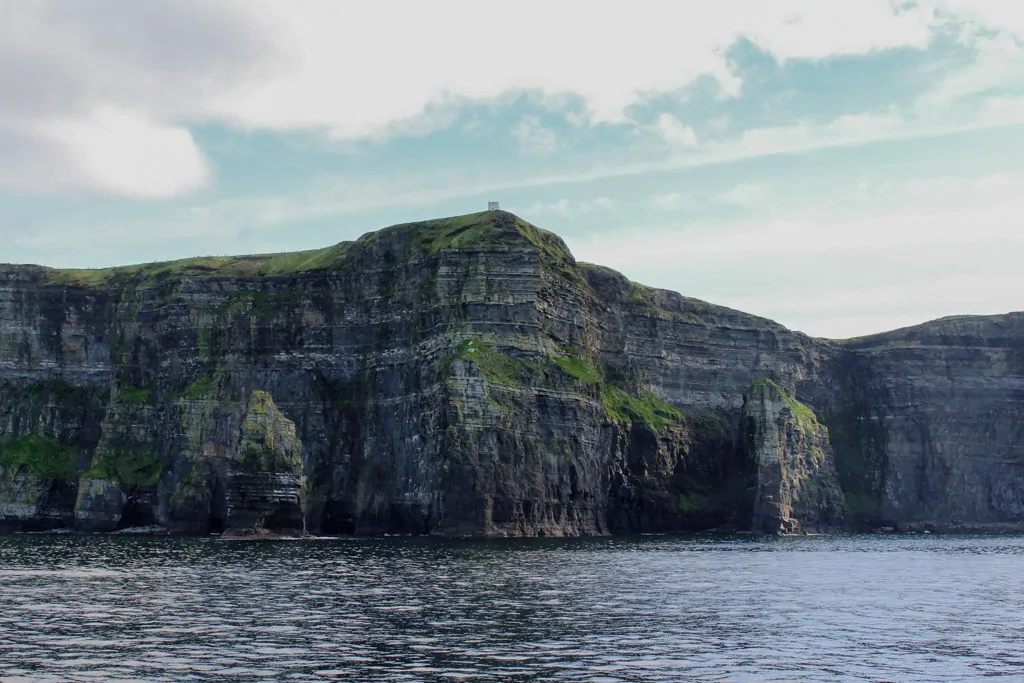 Rent a Car & Road Trip It
The ultimate freedom when you're in Ireland. Admittedly, I have never experienced this freedom as I haven't rented a car in Ireland…yet.  And I have a perfect rationalization for avoiding it which I won't dive too deep into here, but I will just say it's not the most financially sound decision for me as a solo traveler. But, it's also something I want to do on one of my visits, so one day I will. 
That being said, those who do rent a car in Ireland can easily add a stop at the Cliffs of Moher to their Wild Atlantic Way road trip! You could stop on your way to overnight in Doolin or Liscannor depending on your route. Or spend a few nights in Doolin and simply drive 20 minutes to the Cliffs of Moher. 
Parking is included in your Visitor's Center entrance fee (€4 or €8 depending on the time of day).
If you want to visit the Cliffs of Moher but don't want to take a bus in any way shape or form or pay for a rental car for the entirety of your time in Ireland, you could always do a two-day rental from Galway.
If I were to do this, I would rent the car in the morning and drive to the Cliffs of Moher. I would then spend the night in Doolin to experience the pubs. The following morning I would do the coastal walk to the Cliffs of Moher and just ride the bus back to Doolin to get my car. On my way back to Galway, I'd stop in the Burren to check out the landscape. 
No matter how you visit the Cliffs of Moher in Ireland, just make sure they're on your itinerary. I also have more tips on visiting the Cliffs of Moher, including safety and avoiding crowds, so be sure to check it out. 
Like this post? Pin for later!