As Ireland's capital city, Dublin is typically the first destination on Ireland itineraries. The city offers a wide variety of attractions suitable for any traveler. If you want to explore Ireland's literary history, soak in the pub culture, shop, or even get outside, Dublin has something for you. That being said, I highly recommend only spending 2 days in Dublin.
Why?
Because while Dublin is a fun and beautiful city, I don't feel like I'm in Ireland here. It's incredibly diverse – which is awesome, especially for expanding the Irish food scene – however, it's not why I go to Ireland. I go to Ireland to meet local Irish people, to chat with them in small-town pubs, to see the lush green countryside and the coast.
So, during the following two days in Dublin, you'll spend one day exploring the highlights of the city, and another day taking a day trip to a small fishing village. This way even if you have a limited time in Ireland, you can get a good glimpse at city and country life in Ireland.
This post contains affiliate links, which means that, at no additional cost to you, I will earn a tiny bit of income if you decide to make a purchase or booking.
This is the fourth post in the Ireland Travel Series. Here is the complete 6 part series:
Ireland Travel Series
Itinerary: Discover the Best of Ireland with this 7 Day Ireland Itinerary without a Car
Travel Tips: What Not To Do In Ireland: Avoid These Tourists Mistakes in Ireland
Packing Tips: The Only Ireland Packing List You Need for Any Season
Cliff Walks: A Day Trip from Dublin: The Bray to Greystones Walk
The Wild Atlantic Way: Top 3 Day Trips from Galway Ireland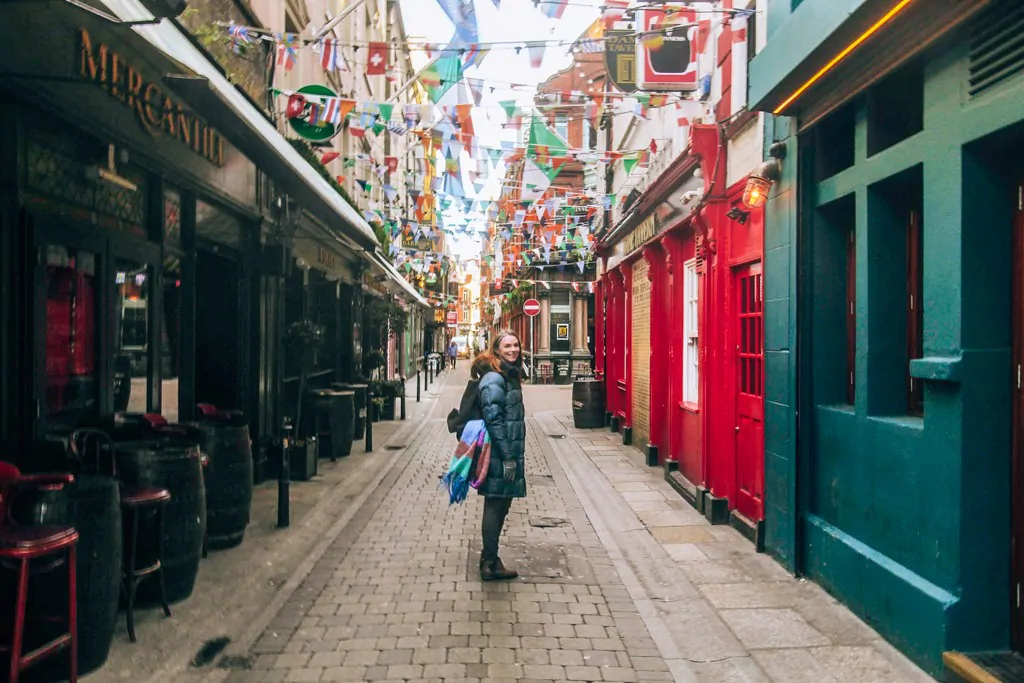 How to Get into Dublin from the Airport
In order to explore Dublin, you first have to make it from the airport to the city. The easiest way to get there is by taking the 747 or 757 Airlink bus. Check their website for which route will take you closest to your accommodation. It leaves every 10 minutes from the airport and costs €6 (if purchased online) or €7 for a one way ticket. You can purchase a return ticket and use it up to 30 days later.
Transportation In and Around Dublin
There are multiple transportation options in and around Dublin. If you want an easy way to see all of the main attractions, you can purchase a hop on hop off bus ticket. This bus has stops within the city center that include the Guinness Storehouse, Temple Bar, and Trinity College, as well as locations a bit further out like Kilmainham Goal and Phoenix Park.
The Luas Lightrail is another option for transportation within Dublin via the Red and Green Line. While making stops at St. Stephen's Green, Trinity College, and others, the Luas also connects to Heuston, Busaras, and Connolly transit stations for trains and buses to other cities in Ireland.
The third option is the DART system. DART connects Dublin to smaller towns just outside of the city center like Howth and Bray. Both of which make excellent day trips from Dublin.
If you're planning to rely on public transportation in and around Dublin I suggest the Visitor Leap Card for unlimited rides for a specified time period. This also works on the Airlink bus!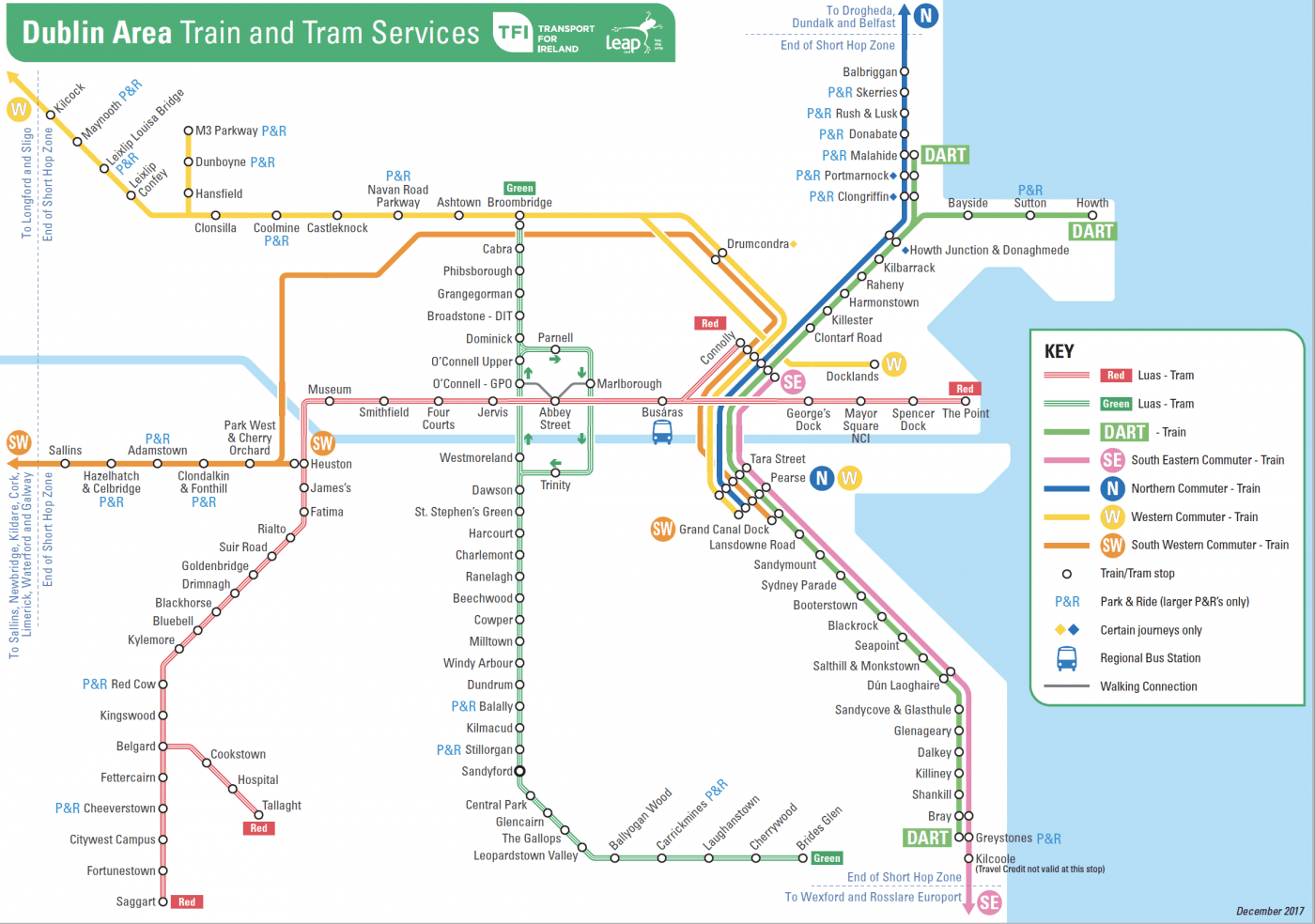 Where to Stay in Dublin
One lovely thing about Dublin is it's a fairly compact city so no matter which neighborhood you choose as your, you're just a brief walk or Luas ride away from the city's attractions. For a detailed guide on Dublin's unique neighborhoods, check out this article.
I've stayed in Temple Bar, Smithfield, and the Liberties neighborhoods in a combination of Airbnbs and hostels. So far, I enjoyed staying in the Smithfield neighborhood the most. It's just a brief walk across the River Liffey to Dublin's biggest attractions and there is a convenient LUAS stop that helps me connect on those mornings I just can't be asked to walk after a night out in Dublin.
Dublin also offers a wide variety of accommodation options suitable for any budget. I had my very first hostel experience at the Avalon House back in 2015 during my first solo trip and since then I've been hooked on hostels. On my most recent trip I stayed at Garden Lane Backpackers and Times Hostel College Street. Out of those three I would stay at Times Hostel again, they had a fun atmosphere, clean rooms, a well rounded free breakfast, and excellent location.
If Airbnbs are more your style, you'll have a number to choose from. I stayed at one in Smithfield and quite enjoyed getting to know the hosts and their inside scoop on the best things to do in Dublin. For a discount on your Dublin Airbnb, use this link!
Of course, you can also go the traditional route with a hotel! Use the map below to explore your Dublin accommodation options.
Now that we've gotten all of the logistics out of the way, let's dive in to how to spend 2 days in Dublin
Day One in Dublin
For your first day in Dublin, you'll see the best of what this vibrant city has to offer!
Breakfast at RoCo Cafe
Depending on where you decide to stay in Dublin – you're likely close to a delicious cafe to start your morning off right. And RoCo is one of them. RoCo has an excellent location in between Christ Church Cathedral and Trinity College making it the perfect spot for a light breakfast. They have a wide selection of breakfast pastries and sandwiches. Everything from vegan to gluten-free to I eat anything and everything. Plus, their matcha is legit!
Visit the Book of Kells & Trinity College
The first official stop on your Dublin adventure is Trinity College to visit the spectacular Book of Kells and the famous Old Library's Long Room. The Book of Kells is an ancient religious text filled with intricate designs that has been preserved over the centuries for our viewing pleasure. Leading up to witnessing the book with your own eyes, is an extremely well done exhibit that details the design and construction of the Book as well as its authors.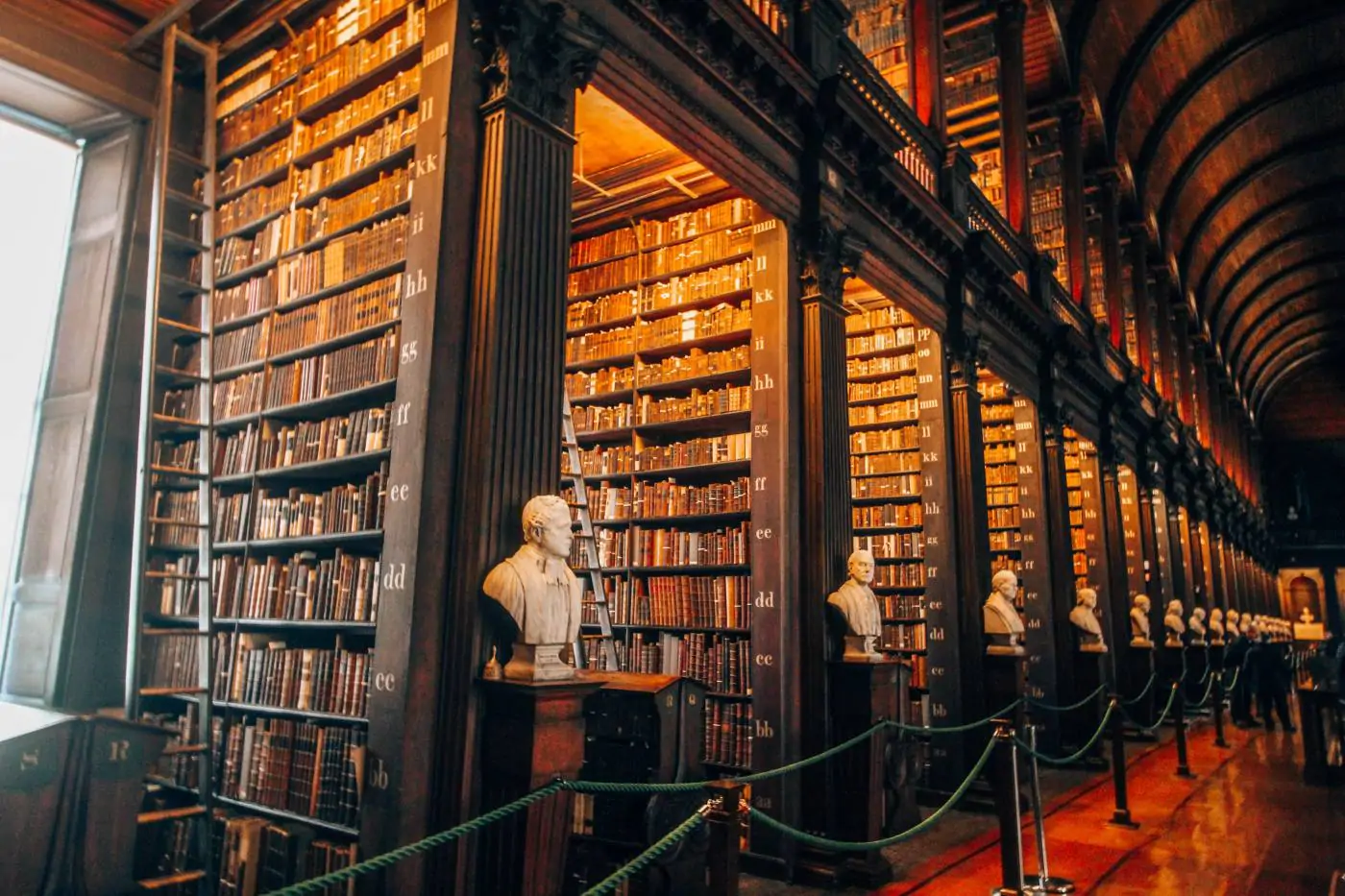 After the Book of Kells, the tour continues into the Old Library's Long Room. This is where you'll find thousands of books filling the shelves of this two story room. Each aisle is book ended by the bust of a famous author and in the middle of the room you'll also discover Ireland's oldest harp. A fun fact about this section of the library is that students and scholars can still check these books out! I'm not sure they can actually leave the library with them, they probably just have to take them to a specific reading room and peruse with white gloves. But still – that's cool. I'd do it just to say I did it!
Pro Tip: This is a very popular attraction in Dublin, so be sure to plan ahead. In high tourist season book your tickets online so you can skip the line. Additionally, consider visiting first thing in the morning as the tickets are cheaper and it's likely less busy as other people are still nursing hangovers.
Cost: €11-€14 depending on the time of day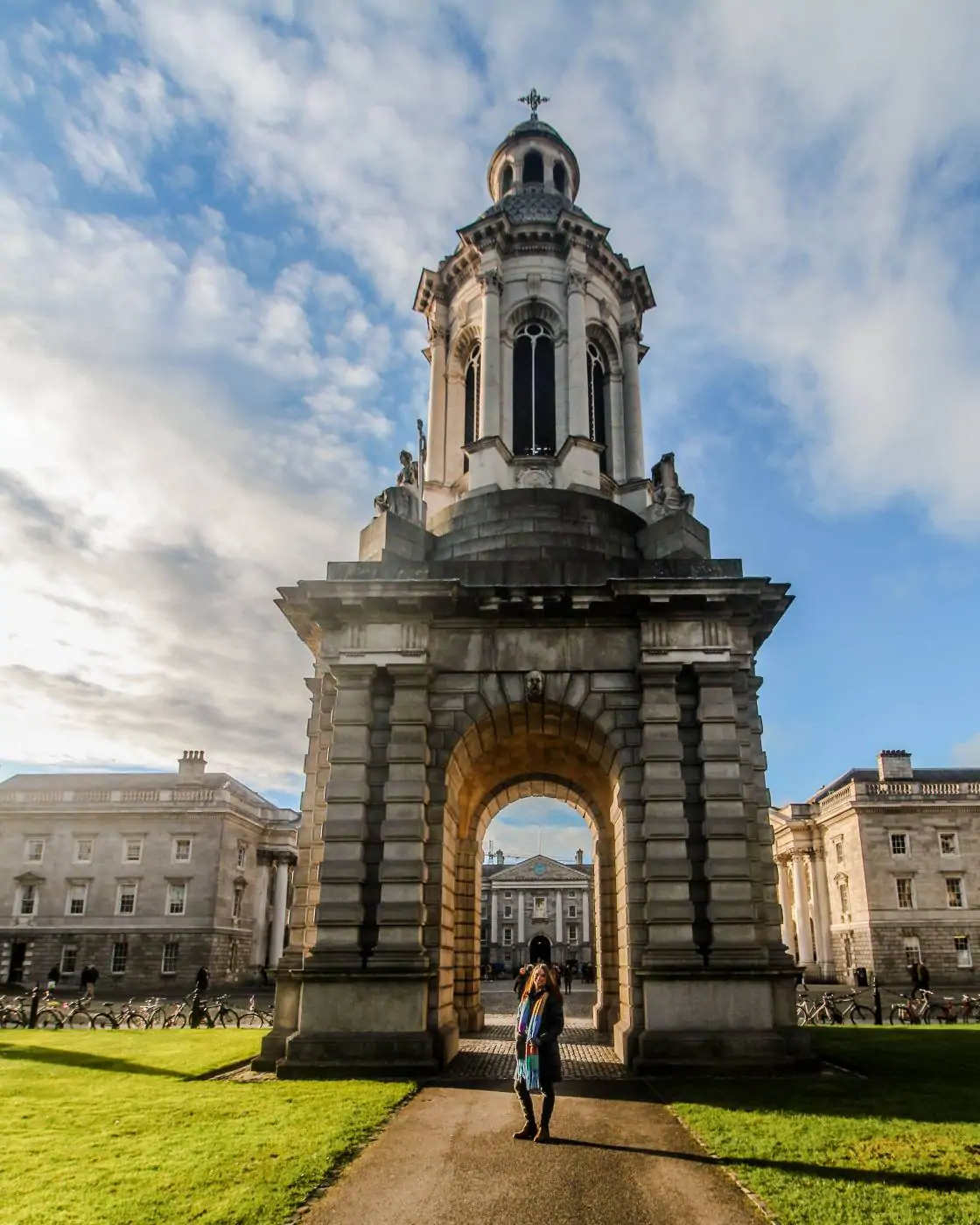 Learn about Ireland's Religious History at St. Patrick's Cathedral
Next up, make your way to St. Patrick's Cathedral. St. Patrick's Cathedral plays a central role in the history of Ireland and has served as a site for religious and political needs throughout the centuries. The grounds outside are beautiful to walk through. You can pay a small fee to enter the church as well. A tour is included in the price of admission if you wish to take one. Or you can walk through at your own pace.
Cost: €7.00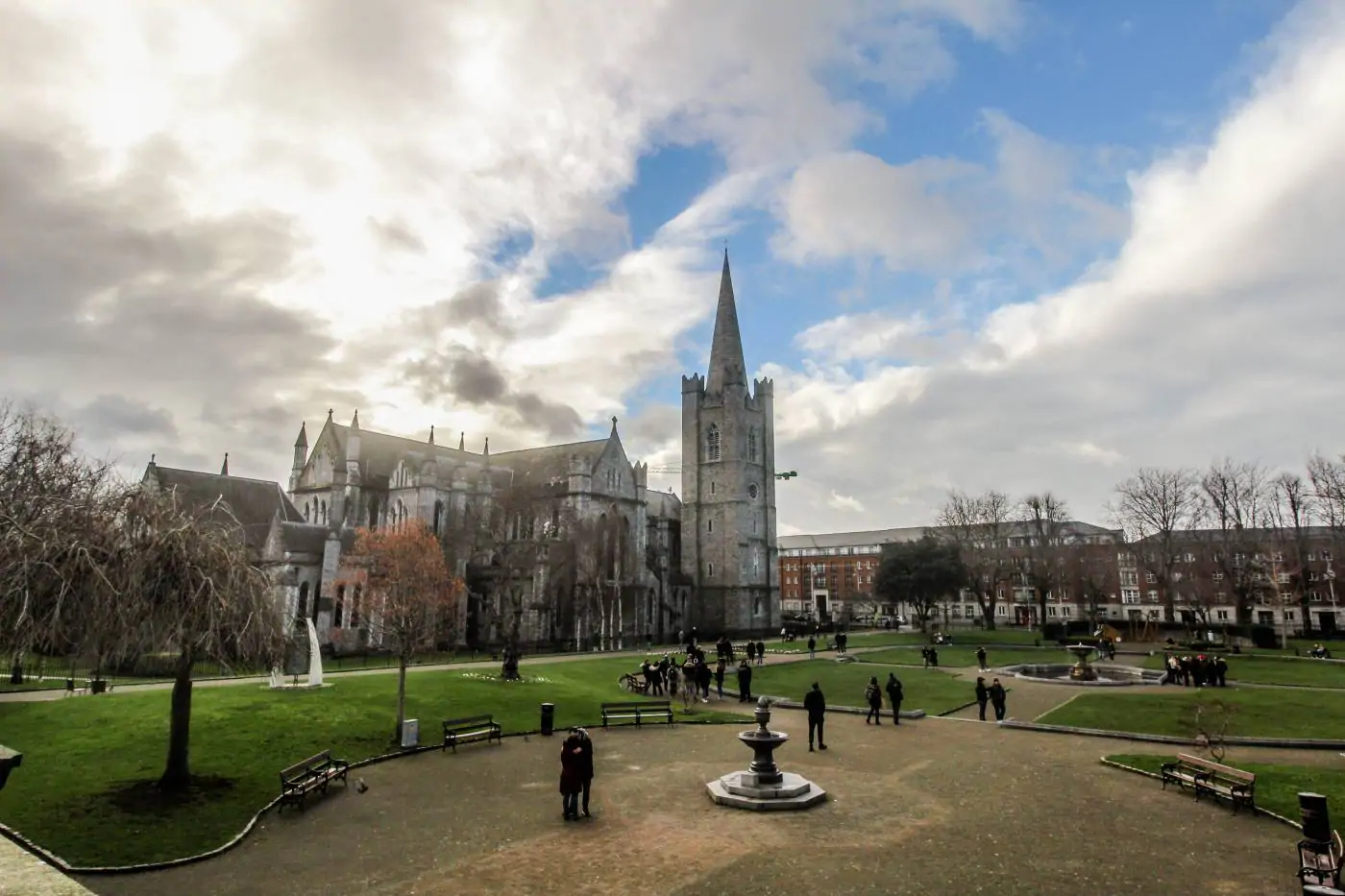 Have a Pint at Guinness Storehouse
The Guinness Storehouse is a fun way to acquaint yourself with another facet of Ireland's history. The self-paced tour walks you through the history of Guinness, how it's made, and allows you to taste it along the way. Included in the tour is a pint at the rooftop bar overlooking Dublin.
This is definitely a touristy thing to do, but it's also a fun way to kick off your trip to Dublin. And yes, as someone who hated Guinness until my sip at the Storehouse, it definitely tastes better in Ireland.
Pro Tip: I highly suggest purchasing a ticket in advance online. This is a very popular attraction and there will be a line of tourists waiting to get in. Pass them by with your pre-purchased ticket. Who wants to spend time during their two days in Dublin waiting in line?!
Cost: Online €18.50; at the door €25.00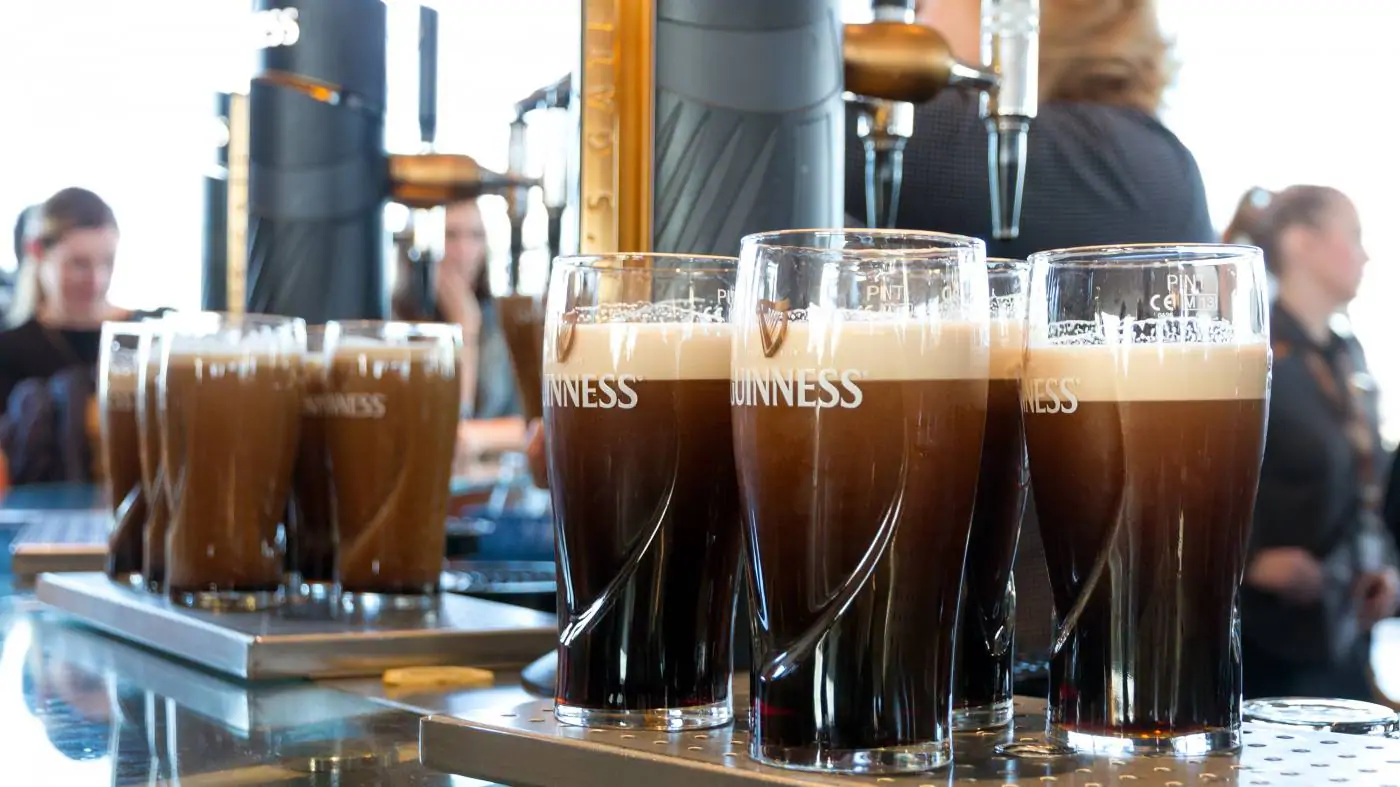 Dinner at the Brazen Head
Dinner, drinks, and music are a must at Ireland's oldest pub, the Brazen Head. As you walk through the many rooms of the Brazen Head you'll find centuries old photos and memorabilia, police officer badges from around the world, and dollar bills in various currencies.
They have an excellent traditional Irish menu and even better traditional Irish music. Depending on the night you go, you may hear trad, pub rock sing-alongs, or storytelling. You may walk in alone, but you'll definitely leave with a few friends and stories to tell.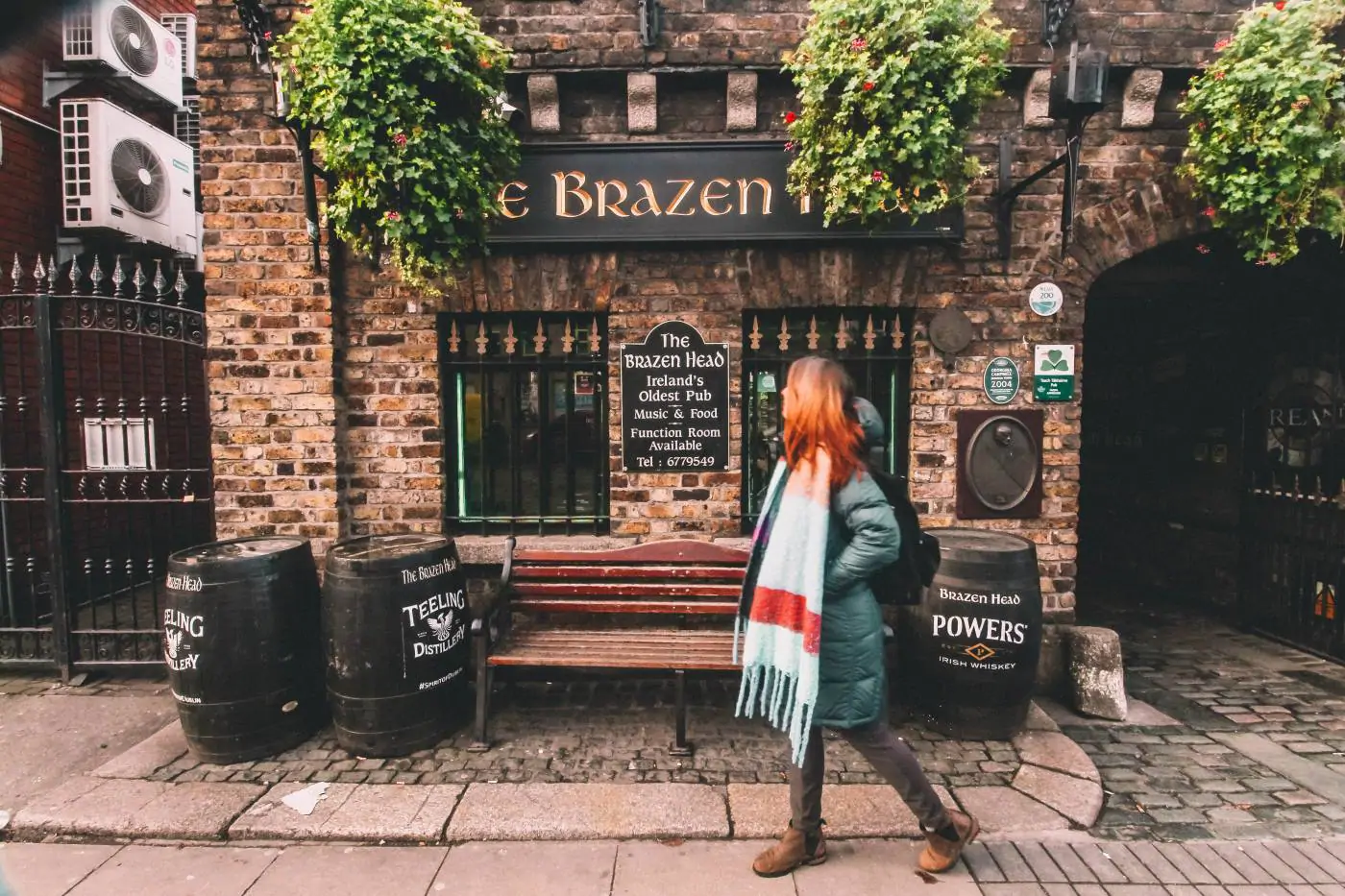 Day Two in Dublin
Today, you'll be heading out of the city for a half-day trip to Howth. Howth is a small fishing village located about 30 minutes outside of Dublin city center via DART. The main attraction to Howth is its stunning cliff walk, but this day trip will also give you a glimpse into Irish life outside of the city.
There's no need to rush out to Howth in the morning, but make sure you're on your way there by about 10:00 am. This will give you enough time to get there, enjoy the cliff walk, and perhaps even eat some delicious fresh seafood at one of the many restaurants lining the pier.
Howth Cliff Walk
The cliff walk is technically a loop, which starts and ends at the train station. But I strongly suggest making it an out and back. Once you reach the view of the lighthouse turn around and walk back along the coast. If you follow the rest of the loop, you'll walk through a residential neighborhood which really isn't why you walked all this way! Depending on how many stops you make for photos or snacks it should take about 3 hours to complete the cliff walk.
Make sure that you wear sturdy shoes and pay attention to the trail. There are no ropes alongside of the cliff and at some places, it's very narrow and slippery, especially after rain!
The last DART train returning to Dublin leaves the Howth train station at 6:00 pm, so plan accordingly!
Dinner at O'Neills
When you return to Dublin, head to O'Neill's for dinner. It's a large pub with a maze of walkways and rooms. They have fantastic food served carvery style and it is all reasonably priced and freaking delicious. If carvery is not your style, they also have a regular menu to suit your taste buds.
Say Hi to Molly Malone
Across the street from O'Neill's is the Molly Malone statue with her cockles and mussels made for the famous song "Dublin's Fair City" which became Dublin's unofficial anthem.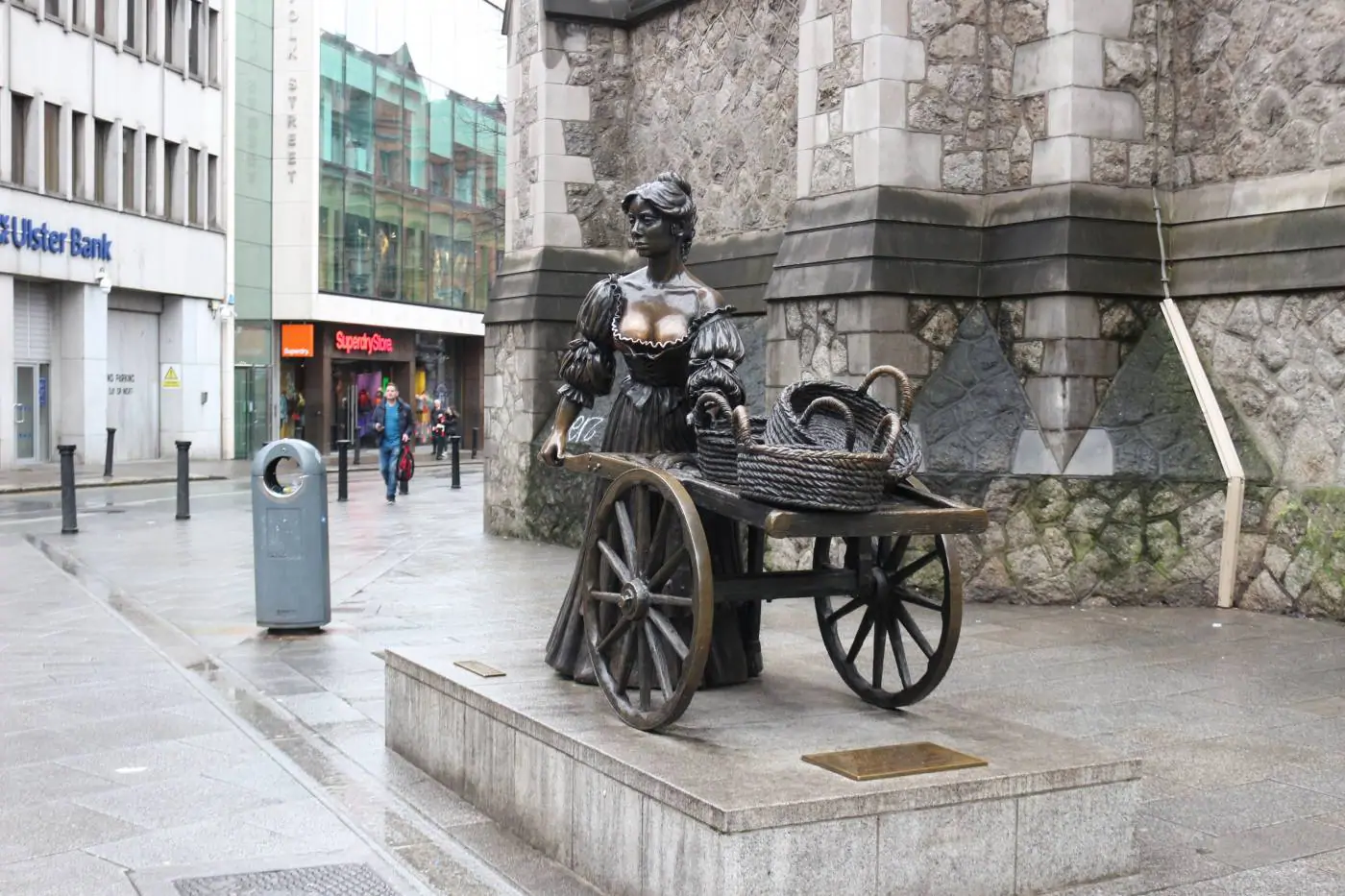 Drinks in the Temple Bar Area
There are better pubs in Dublin than those in Temple Bar, but it is a good time. I walked into the Temple Bar bar once and it reeked of puke and was so overcrowded that I had to walk out. There are plenty of other pub options in this area, all of which likely are playing live music each night.
If you're looking for a more local vibe, head across the River Liffey to the Cobblestone. My Airbnb recommended this pub and it did not disappoint. Good drinks, nice people, and live music.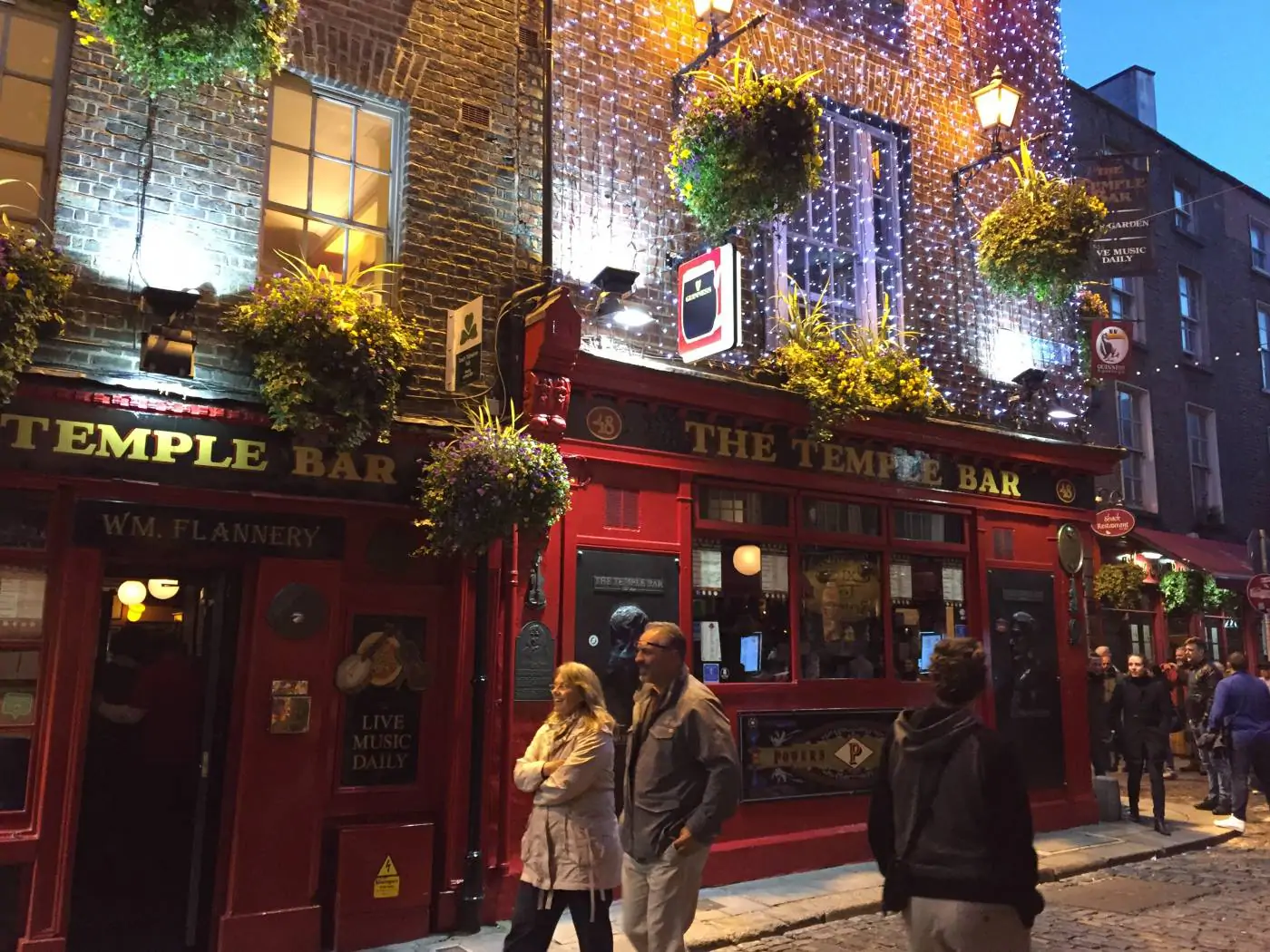 If You Have Extra Time in Dublin
If the cliff walk isn't for you and you want to spend a second full day in Dublin here are a few options for sites you can see!
Kilmainham Goal: I haven't visited this former jail myself, yet, but I have heard nothing but good things about people's experiences here. Visiting the jail is one of the most popular things to do in Dublin, so it sells out, and you can only enter with a ticket. So book it in advance if this is on your Dublin bucket list. A tour is included in the price of admission.

Merrion Square: a lovely area for a stroll, perhaps that's why Oscar Wilde lived here and there is a statue of him at one of the park's entrances. The buildings surrounding the square are beautiful and have awesome doors!

Jameson or Teeling Distillery Tour: If you want to do a bit more drinking, or beef up your knowledge of whiskey, then check out the Jameson or Teeling Distillery Tours. I've done the Jameson tour and quite enjoyed the tour and cocktail at the end. That's how I learned about Jameson and ginger ale. Teeling is next on my Dublin bucket list.

St. Stephen's Green: a beautiful park with a small lake that will give you a glimpse of the lush green you'll find outside of the city. It's nice to stroll through here on a sunny Irish day and maybe even have a picnic.
Now that you've spent 2 days in Dublin, it's time to get outside of the city and discover other beautiful places in Ireland. I highly suggest making your way west to discover Galway, my favorite Irish city. Or you could head south to Killarney to explore the National Park. Perhaps head North and discover the Game of Thrones filming locations on the Giants Causeway.
There really is so much to do and see on this beautiful island that you shouldn't limit your time to just Dublin. But if you only have a short amount of time, then this Dublin itinerary will give you a taste of everything Ireland has to offer.
Like this post? Pin for later!