Cycling in Ireland is a great way to witness the varied and lush green landscapes that the Emerald Isle has to offer. You can cycle the entire Ring of Kerry and stop off at many interesting points, such as Achill Island. But if you're not a pro cyclist, like me, cycling in Killarney National Park is a great way to bike a portion of the Ring of Kerry. Killarney National Park is located within the town of Killarney a charming Irish town worthy of a wander in itself. It's simple enough to rent a bike in Killarney and spend a day riding past hidden beaches, to the Torc waterfall, and along the lakes within Killarney National park.
There are a number of routes to explore in the park, both on foot and by bicycle. The Muckross Dinis Loop is a great option because it is mostly flat – there are a few rolling hills, but nothing crazy – it is paved and it allows you to see all that Killarney National Park has to offer!
This post contains affiliate links, which means that, at no additional cost to you, I will earn a tiny bit of income if you decide to make a purchase or booking.
The Muckross-Dinis Loop
The Muckross-Dinis loop will take you to Muckross Abby, Muckross House, Dinis Cottage & Old Weir Bridge, and Torc waterfall. Along this route, you'll pass hidden beaches along the lakes where you can pull over for a rest and a snack. This bike ride is about 11 miles and it took me approximately 6 hours to finish it – I stop frequently for photos.
To start the Muckross-Dinis loop, cycle out of Killarney on N71. There is a bike path on both sides of the road. However, I advise staying on the right side as the bike path eventually turns into a wide sidewalk that is shared with walkers and jaunty cabs. Cycle down this path until you see the entrance to Killarney National Park, you can't miss it.
Once in the park, there are two options for how to cycle the loop.
Muckross Abbey
First, follow the signs toward Muckross Abbey, an old Franciscan monastery that is free to explore. Inside you'll find a cemetery and various rooms that were used for worship and living. The most spectacular find was the square courtyard with archways and an ancient Yew Tree standing tall in the center.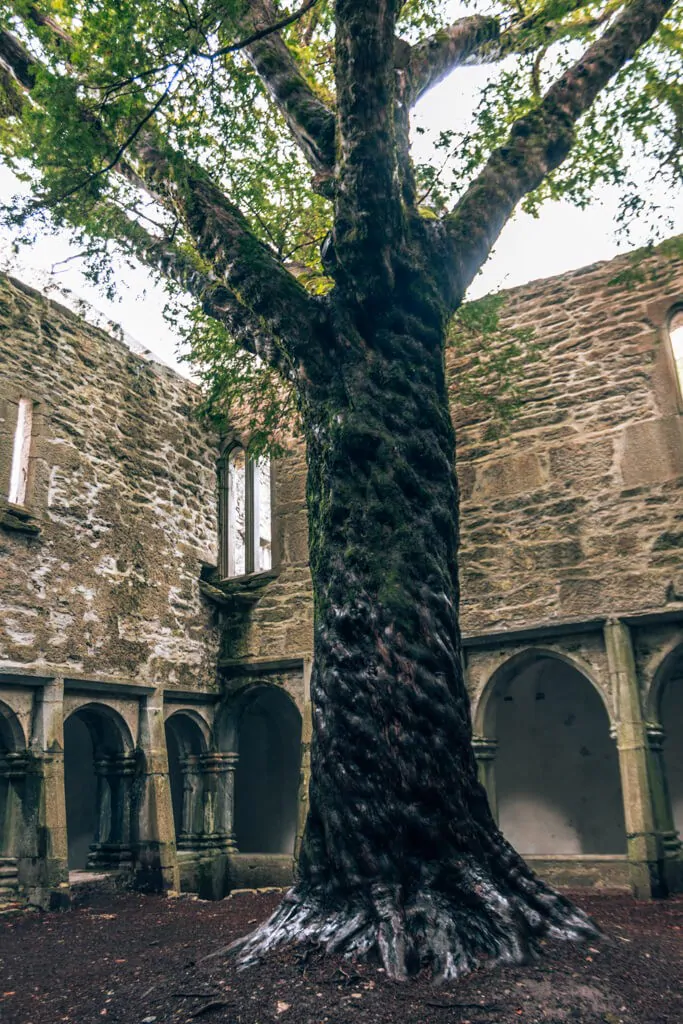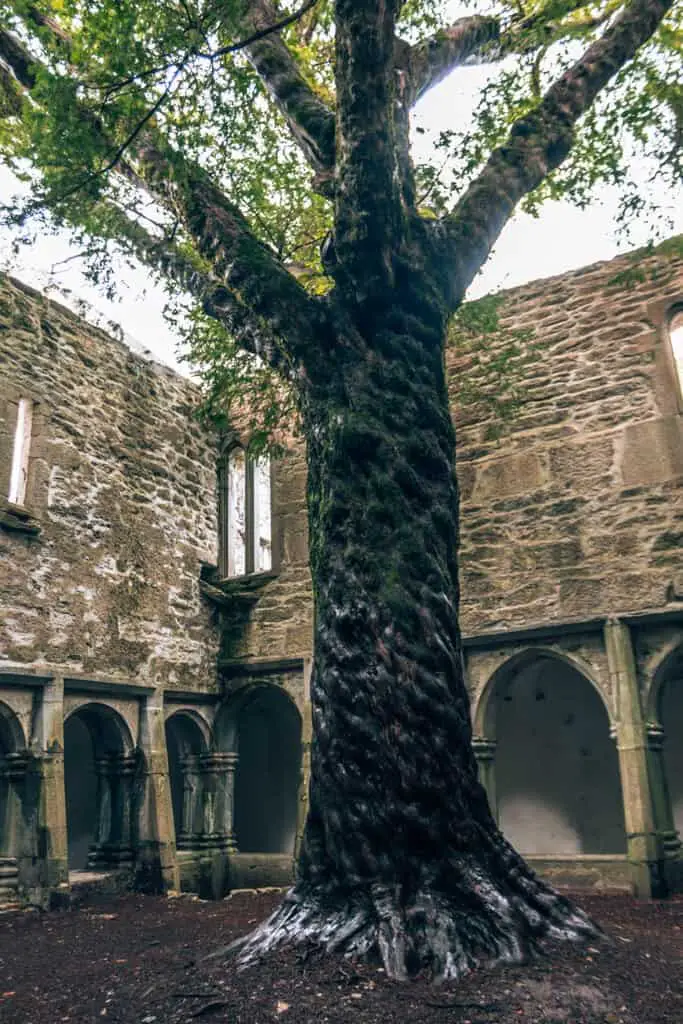 Muckross House
After exploring the Abbey, head toward Muckross House. Personally, I think this house should really be called a mansion, it's huge! I opted not to pay $9 to go inside. Instead, I spent about an hour and a half exploring the grounds and gardens of the house, on foot. Don't worry about your bike, here is a place to lock it up. Once finished, I sat on a bench in front of the mansion, with a view of the expansive lawn and Muckross lake, snacked on a banana and sipped some water to get energy for the next 5km of the bike ride.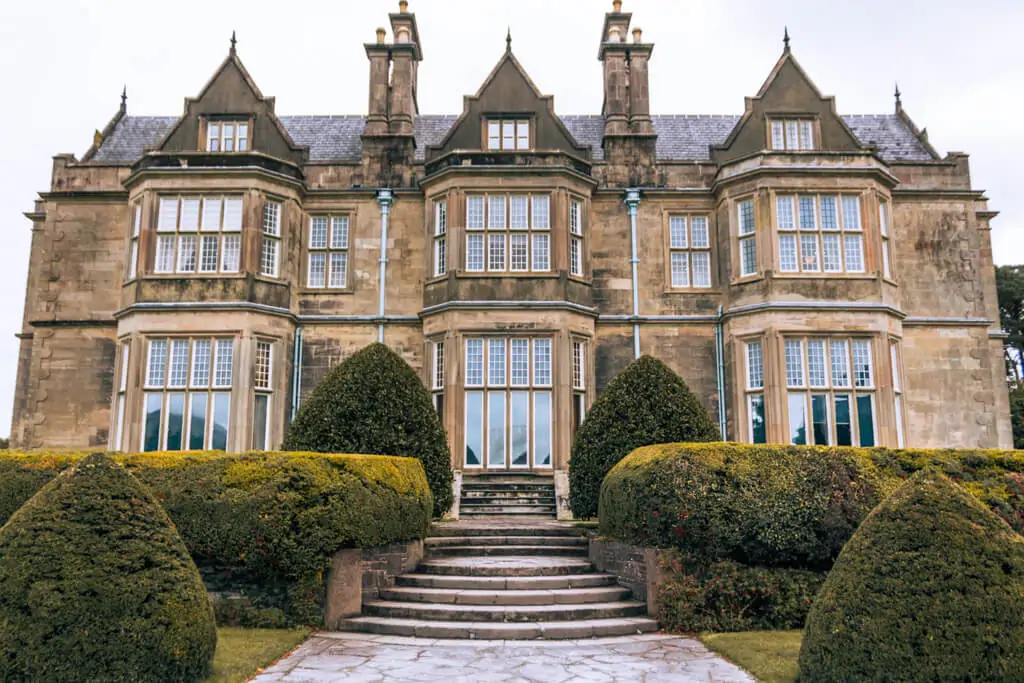 After a snack, cycle the one-way route toward Dinis Cottage. Along the way, there are plenty of photo ops! There are lots of small beaches with beautiful views of the lake, mountains, and fall colors on the trees. It's only 5km to Dinis Cottage but it took me about an hour to get there stopping frequently to snap some photos!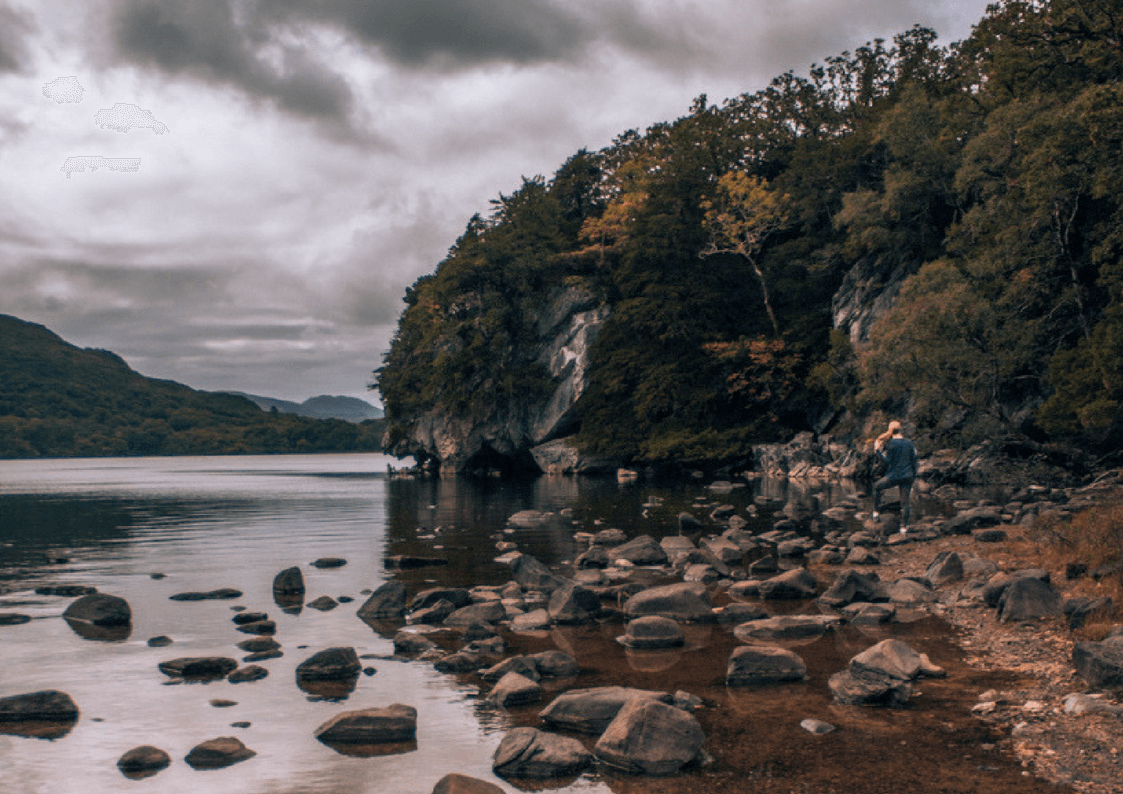 Dinis Cottage & the Meeting of the Waters
Dinis Cottage sits just beyond Brickeen bridge overlooking the opposite side of Muckross lake. The cottage is actually a small shop that serves tea and cakes. Besides stopping here for a breather and a treat, there's another reason to park your bike. Just behind the cottage is a short path that leads to the Meeting of the Waters. This is where the Upper, Muckross (Middle) and Lower lakes of Killarney National Park meet. It's a beautifully tranquil spot to gaze upon Old Weir Bridge.
A bit further down the road, you'll see a sign to the right for Old Weir Bridge. If you'd like you can lock your bike up to a tree and walk to the actual bridge. It takes about 10 minutes and is clearly marked.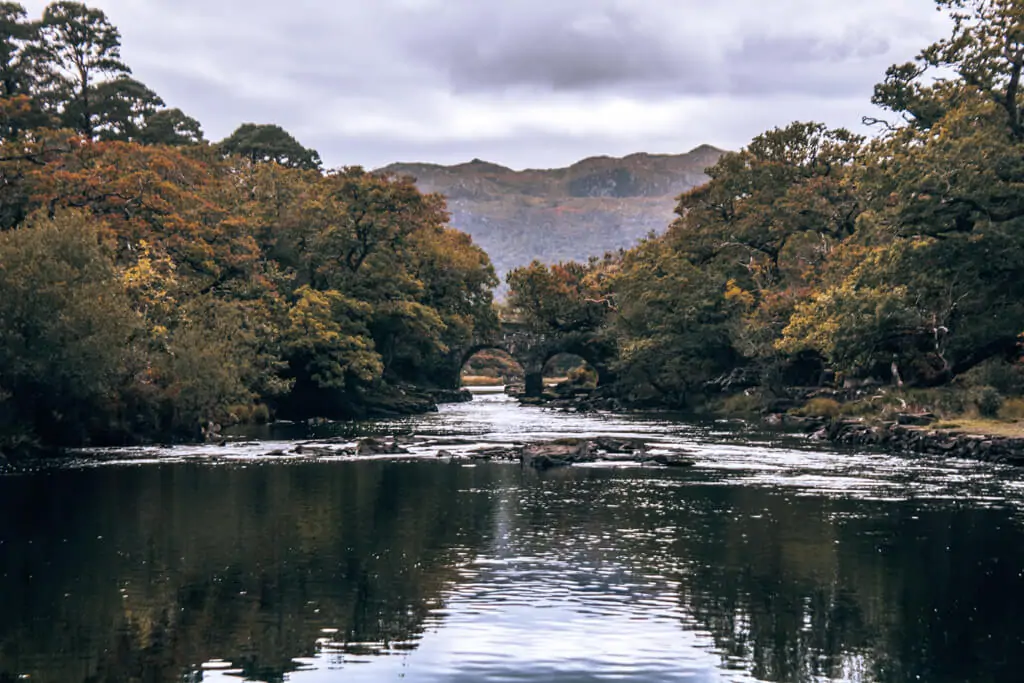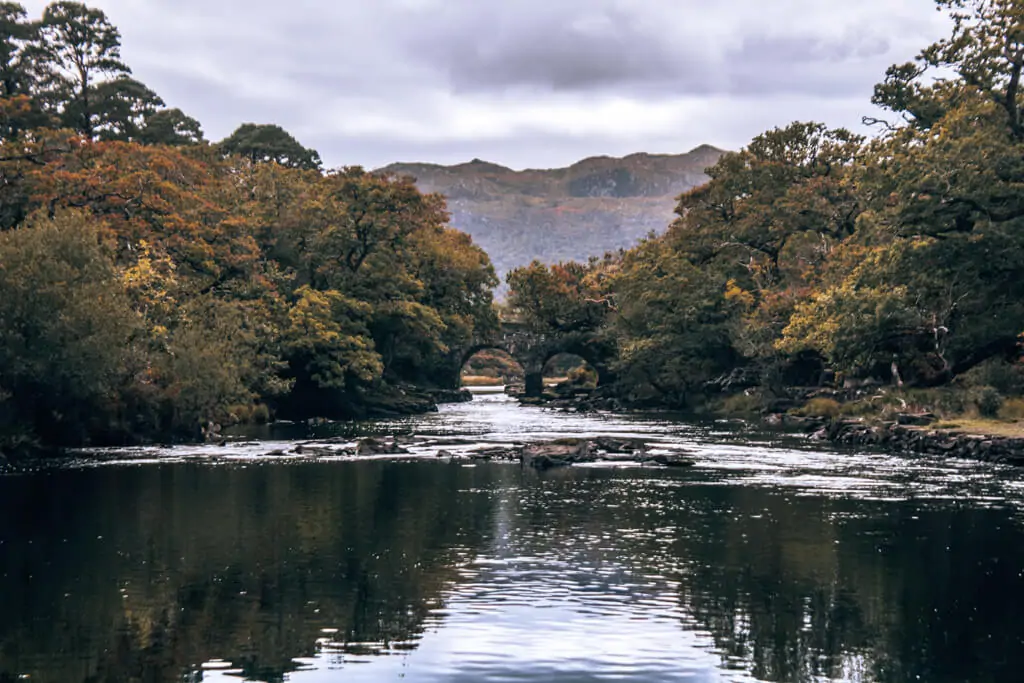 Torc Waterfall
Up next, bike toward Torc Waterfall. As you head toward the waterfall, the cycle path within the park ends and re-connects with N71. There isn't a bike lane on this section of N71 and not much of a shoulder, but the cars pass slowly. You won't be on the main road too long, only about 10 minutes until another path to the left appears to bring you back into the woods – safe from the cars.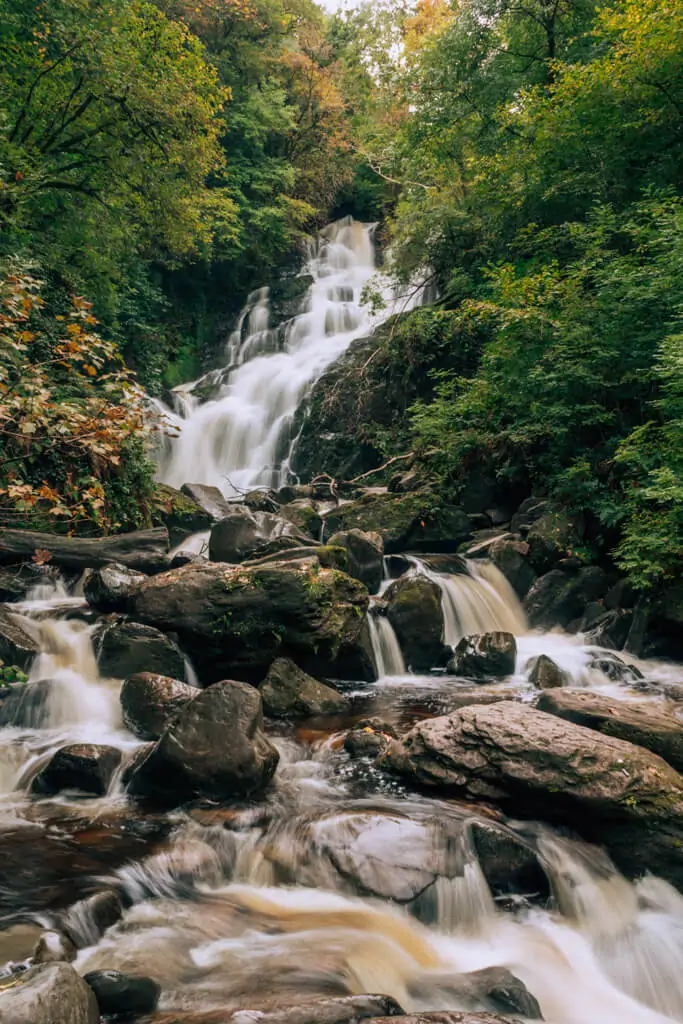 About 5-minutes later, you'll reach the parking lot for Torc Waterfall. Lock your bike up on one of the railings and walk 5 minutes to Torc Waterfall. This area is fairly busy with foot traffic as it is so close to the road and a popular stop along the Ring of Kerry. Behind Torc Waterfall, there are steps that I thought might bring me to a view of the top of the falls. I was wrong – they connect to a longer hiking trail, which once I realized I returned back to the waterfall and the bike. FYI those steps are called the cardiac steps…give them a climb and you'll find out why!
The "Alternate" Loop
While there is only one direction allowed to cycle from Muckross house to Dinis Cottage and Torc Waterfall, there is an alternate way to organize some of the sites. Torc Waterfall is very close to Muckross House. In fact, within 5 minutes I was back to Muckross House. So what you could do is skip Muckross House in the beginning part of the cycle and instead finish there. Or, you could see Muckross House and Torc Waterfall first and then return to the path for the rest of the loop, knowing you'll pass by them on your way back into town.
If you're only in Killarney National Park for one day, add Ross Castle to this route. You could either see it at the start or finish of your bike ride. However, if the sky is clear, I recommend saving it for sunset! Whichever route you choose, you'll have a lovely day cycling in Killarney National Park.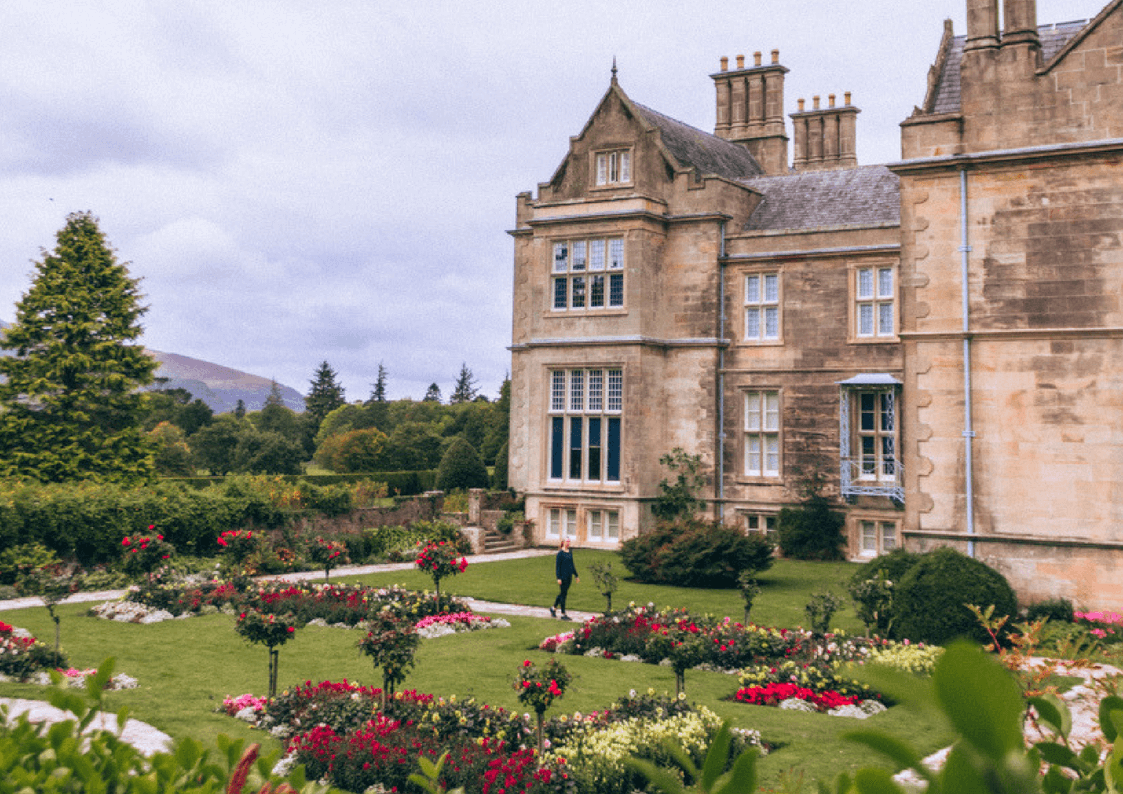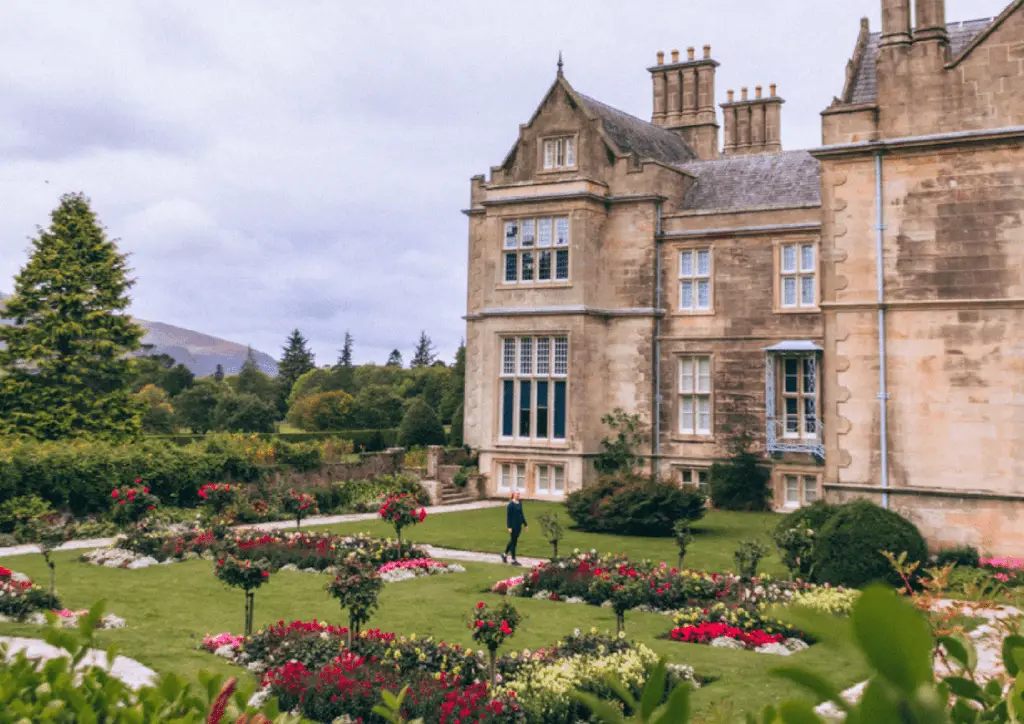 FAQ
What to Wear
It's generally cold and rainy in Ireland. I did this bike ride in October and while it didn't rain, it was overcast the entire day and there was a brisk chill in the air. I wore leggings, tennis shoes, a tank top, a sweater, and a puffy red coat. I was plenty warm while cycling and at times took the coat off. Layers is the name of the game in Ireland!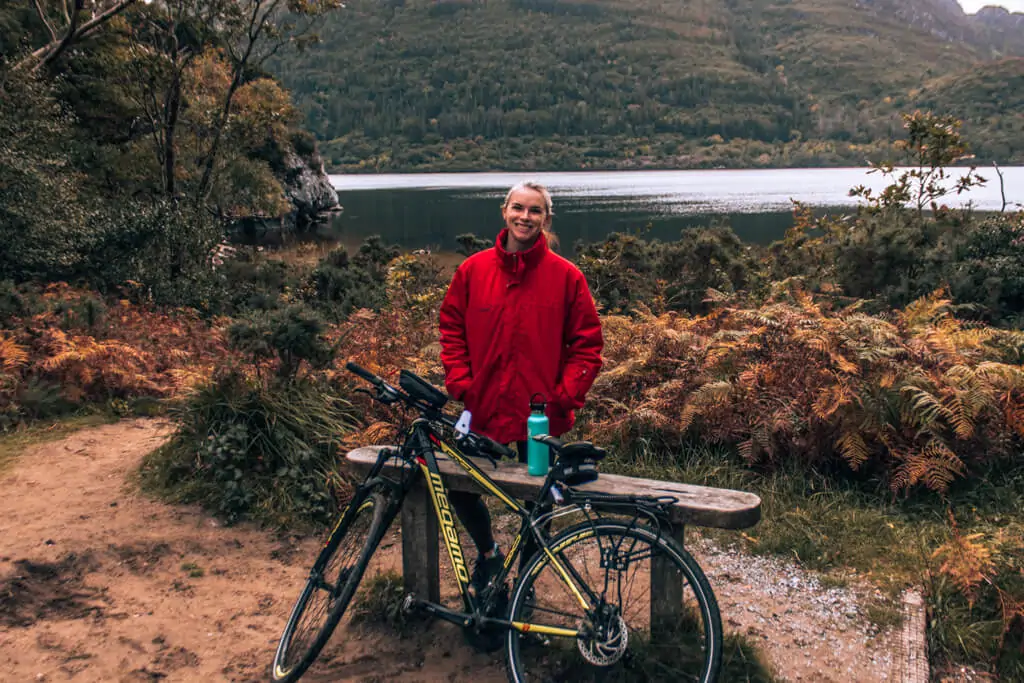 Where to Stay in Killarney
I stayed at Black Sheep Hostel. Its location is awesome as it's about a 5-minute walk to the entrance of Killarney National Park and a 5-minute walk to the main streets of Killarney. There is a huge kitchen with ample space for cooking and good WiFi. The beds were also very comfortable and had their own charging points! Also, there are two dogs to hang out with!
Where to Rent a Bike
Black Sheep Hostel rents bikes, as do many shops in Killarney. The cost at Black Sheep was $10 for half a day and $15 for a full day.
Where to Enjoy the Craic
A local recommended Reidy's which was a lively spot jammed packed during a Rugby match. But really, any pub that's playing Irish music is a good bet.
Where to Eat
I cooked at the hostel, there is a Tesco down the block for all of your grocery needs. But, Black Sheep also has a cafe in town called Black Sheep Cafe! I had a bowl of soup and a kettle of tea which tasted delicious while I read away a few rainy hours. I forgot this, of course, but mention you're a guest at the hostel for a discount.
Heading to Ireland? Pin this post for later!