I remember going on a family trip just after college. I couldn't tell you where we were going, but I do remember that my little brother brought his girlfriend, now wife. As we loaded up the I noticed he'd packed everything she needed in a tiny little backpack while I hauled a huge red wheeled bag to the car. I was in both shock and awe at her ability to pack everything she needed in a carry-on. Fast forward a few years, and I was still wondering what to pack in a carry-on as I embarked on my first solo trip.
To be honest, I wasn't just concerned about what to bring in a carry-on, but how to even get started packing one. I devoured all of the carry-on packing lists blogs. I even consulted some of my solo female traveler friends for their carry-on packing tips. 
On that first solo trip to Ireland, I thought I was traveling carry-on only because I had a backpack. A backpack that was 80L and filled to the brim with stuff. My shoulders were screaming after carrying it through airports and throughout Dublin when I got lost looking for my hostel. It made me wish I had the huge red wheeled suitcase. Even though it was a backpack, it certainly was not a carry-on.
I vowed not to make the same mistake twice. For my year long trip I went back to the blogs and packing tips. After many trial packings and the ordering, returning, ordering, returning of gear I eventually figured out what worked for me, what I needed most on the road, and what I could likely buy if I actually did need it once I was actually traveling..
And I'm here to share that wisdom with you so you don't make the same mistake I did.
Picking the Right Type of Carry-On Bag
Successfully packing in a carry-on only starts with one crucial thing – the right carry-on bag.
This also ushers in a hotly debated topic: backpack or roller bag? Which one are you?
To be totally honest – I'm not here to sell you on using a backpack if that's just not your style. I personally prefer a backpack because it's easier to move throughout security and still have the use of my hands. Admittedly, the carry-on roller bags I do have are ancient and I might change my mind if I had one with four wheels that rolled in all directions.
What's more important than your choice of a backpack or roller bag is the size of the bag you choose. As I shared above, just because you choose a backpack – that does not make it a carry-on!
Here are some pros and cons of using a backpack as your carry-on luggage:
Pros of Using a Backpack
Your hands are free to use
Easier to move around (stairs)
No worries about damaging a wheel
Airlines may look the other way when checking bags during boarding
Cons of Using a Backpack
Heavy on shoulders
Sweaty back
Stick out like a tourist
Smaller day backpack may need to also be carried on your front
What Size are Carry-Ons these Days?
Every airline has different rules regarding what sized bag constitutes a carry-on. The more budget airlines even limit your carry-ons to a personal item which is truly a school-sized backpack or purse. Others charge you for even bringing a carry-on on board.
The first step is consulting your airline's website to figure out exactly what is allowed. It won't matter if you've got the perfect carry-on checklist when you get to the airport and get hit with a surprise charge or realize your bag isn't up to the airline's policy. Do your research first. 
As of the writing of this post – here is what I found on popular US based and International airlines' websites. I try to update this as things change, but sometimes I miss something, so always be sure to check for yourself. 
Popular Domestic Airlines' Carry on Luggage Allowance
*Be sure to check the airline's website for up to date information & costs
Popular International Airlines' Carry on Luggage Allowance
*Based off of a basic economy fare
Carry on Bags that will Fit in the Overhead Bin
A super simple way to find a carry on that fits the above dimensions is by simply going to Google and typing in the dimensions above. I'm going share with you the backpack that I currently use, one that I want to get next, and which carry-on suitcase I have my eye on.
In addition to the carry-on bag which will hold the majority of your carry-on checklist, decide on a second, even smaller bag. I usually use my Longchamp which was a gift 10 years ago! That bag is truly a champ and sometimes it's all I use as a carry-on. You can use something similar, a cross-body purse is also a good option, as is a smaller backpack.
A smaller backpack is a nice option if your main carry-on of choice is a suitcase. If your main back is a backpack, you can still use a smaller backpack as your second bag – you'd just have to wear one bag on your front and one on your back…. I do this all the time.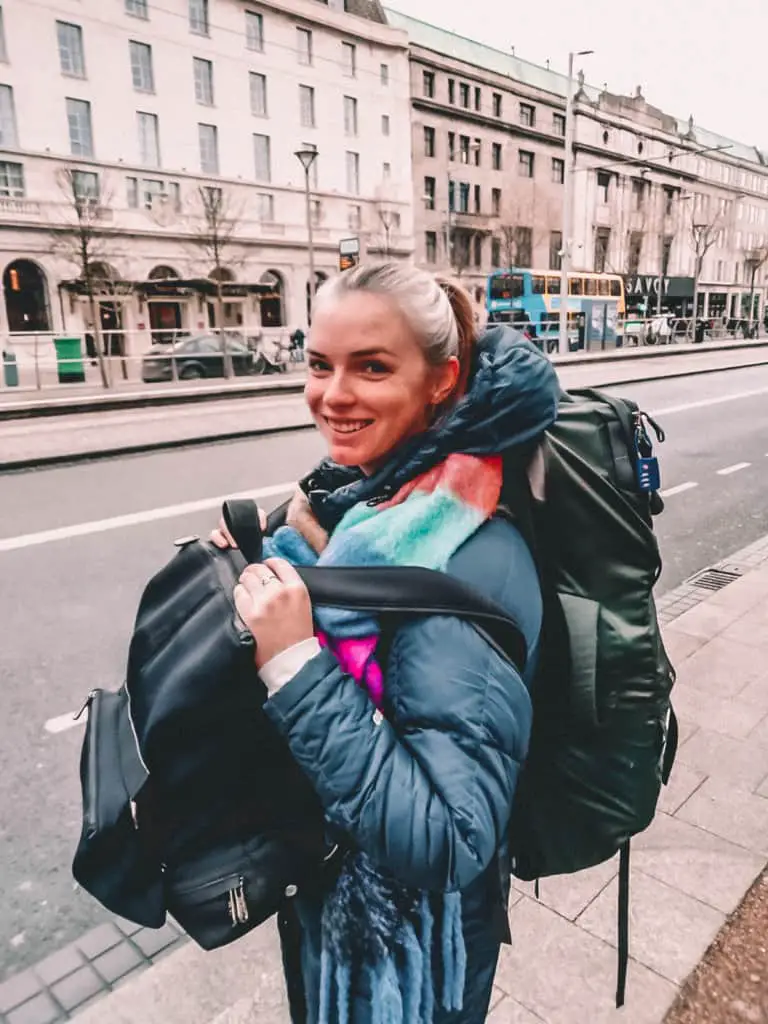 What to Pack in Your Carry-On
Now that you've selected the perfect carry-on bag for you – let's talk about the carry-on essentials you need!
When you're packing for a trip, no matter the length of time you'll be gone, think about packing what you would need for a week. This is generally a good rule of thumb to help avoid over packing or stuffing your carry-on to the brim. This means that if you're packing for a month of travel in a carry-on, your carry-on packing list would not change from if you were packing for one, two, or three weeks. This makes one carry-on-only packing list applicable to all lengths of trips.  All you'll need to do is a bit more laundry or Febreezing of your clothing.
Here is an overview of what clothing to pack in your carry-on. You can customize this depending on the climate of your destination, your planned activities, and your own personal style. If you need destination-specific packing lists, check out the packing lists I've written for Ireland, the Galapagos, Ecuador, and for hostel stays.
Things to Pack in a Carry-On: Clothing
When you're packing a week's worth of clothing, I suggest packing in the same color palette so you can use the same clothing item in a variety of outfits. Also, don't be afraid to wear the same outfit twice – you likely won't be seeing the same people two days in a row! We've all had that trip where we packed for every possible occasion and then ended up wearing the same t-shirt and shorts the entire time. When you're packing your clothes focus on the second scenario.
Special note about socks and underwear: they take up very little space, so pack a week's worth. 
1 weeks worth of clothing which includes

3-5 shirts (any combination of tank top, short sleeve, or long sleeve)
1 lightweight sweater or fleece
1 Jacket
1 pair of jeans
1 pair of leggings
1 short
1 sleep outfit
7 pairs of underwear
1 sports bra, 1 regular bra or bralette
7 pairs of socks
1 swimsuit 
Accessories: think scarf, hat, some jewelry. Anything that could be used to spice up an outfit or is needed for your adventure.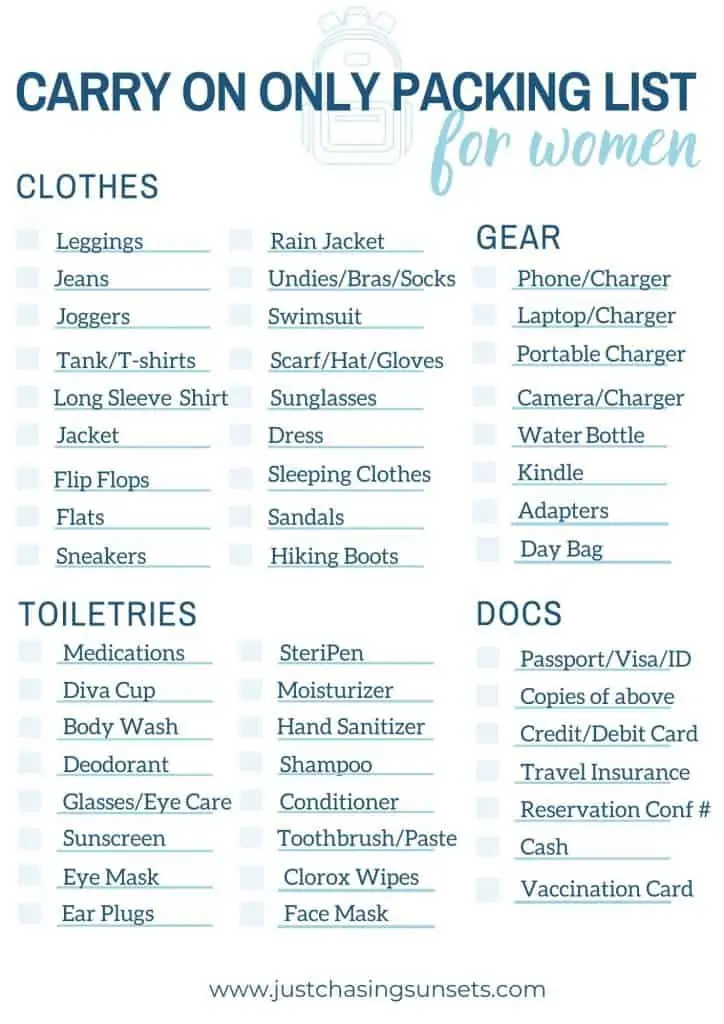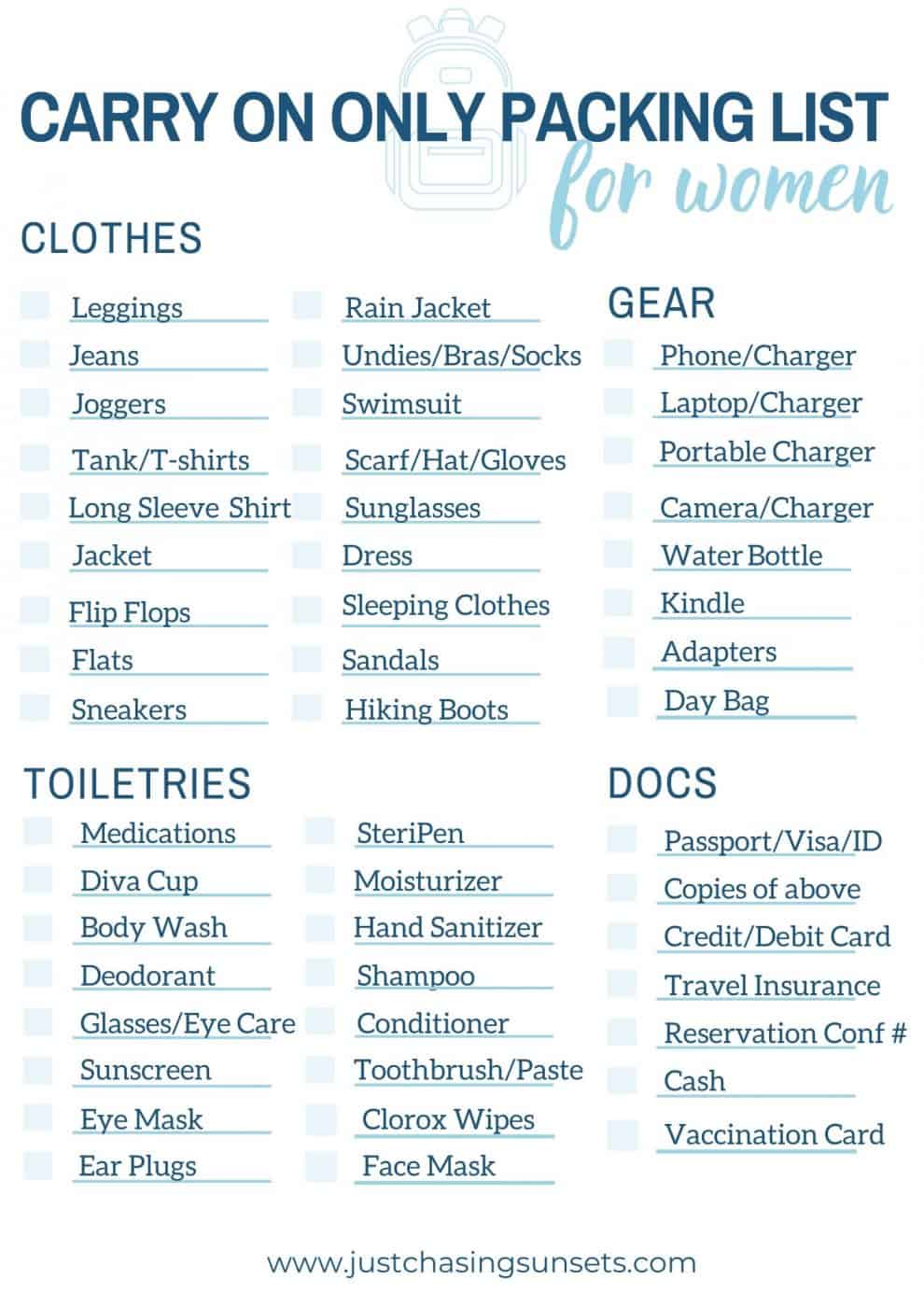 Things to Pack in a Carry-On: Shoes
You'll have the shoes that you're wearing to the airport or on your travel day. Perhaps what is on your feet could be sufficient for your trip. If not here are lightweight shoes I recommend packing in your carry-on.
Sandals: flip flops, Birkenstock, sport sandals like Keens, or stylish…the type of sandal you pack is up to you! However, flip flops are essential for hostel showers.
Sneakers: these are great for walking around cities and also look cute
Hiking shoe or boot: if you're planning to do any hiking, leave the sneaker behind and just pack your hiking shoes. When you're done hiking you can slip your feet into your sandals.
In full transparency, I am not a fan of flats for traveling. They do not provide me with great support and usually I end the day with back pain. However, if you want them instead of heels for a night out, then definitely include them in your carry-on packing list. 
Things to Pack in a Carry-On: Toiletries
Toiletries can be tricky when you're packing in a carry-on only. If you're traveling somewhere for an extended period of time, I actually recommend waiting until you arrive to purchase your toiletries. If not, then remember that TSA has a carry-on list of approved items that you can bring through security. Make sure you follow the size requirements so you don't have to throw out your favorite, expensive moisturizer or pay to check your carry-on bag so you can get all of your essential toiletries through.
Shampoo & conditioner: hotels often have these too so you could leave them behind
Body wash: I love Dr. Bronners because it doubles as a face wash and can be used as laundry detergent.
Moisturizer
Diva Cup: if you haven't made the switch yet – read this so I can convert you 
Contacts/Lens Solution/Container
Glasses
Sunglasses
Sunscreen: this can be expensive purchased at your destination, so try to find a carry-on size to get you through. I love Sun Bum sunscreens!
Deodorant
Febreeze: use this on your clothes so you can wear them more than once!
Medications
Reusable water bottle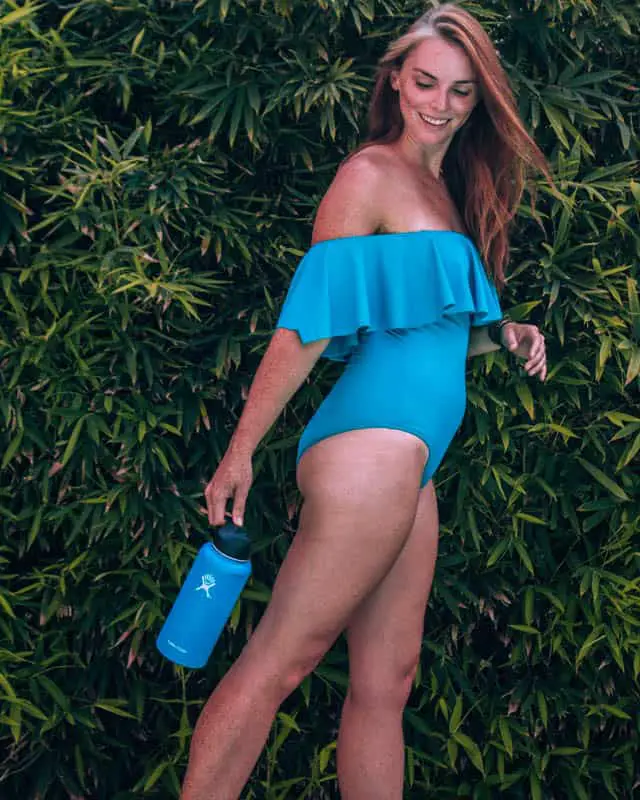 Things to Pack in a Carry-On: Electronics
Depending on your style of travel, you may not need many electronics, or you may need them all. As a travel blogger, I definitely carry more electronics than the person sitting next to me. I'll start this list with the basics and move into what you might want to have if you like documenting your adventures.
Cell phone/charger: phones are powerful these days. Your phone could be all you need to take photos, videos, directions, and keeping in touch with your friends back home.
Portable charger: I use this mophie one and it lasts multiple charges. It was expensive – but well worth it.
Headphones: I have your basic headphones that come with your iphone and they work just fine for me. If you're planning to listen to the in flight entertainment make sure you pack a pair with the correct plug (round not flat).
Your electronics could very well stop there. But if you want more here's what you could take.
Laptop/Tablet: I travel with my laptop because I find it easier to book using it compared to my phone. It's also necessary for travel blogging while on the road.
Kindle: I love reading on the road, but hate carrying heavy books, a Kindle is a great option to bring hundreds of books at once.
Camera/Charger/Lenses/SD Card: all the camera things if you want to up-level your travel selfie game
GoPro: I am saving my pennies for the newest GoPro because I have the Hero3. I can't wait to be able to use this to document my travels via photo and video!
External Hard Drive: All of these photos and videos take up space – use an external hard drive to store your footage so your computer continues running smoothly.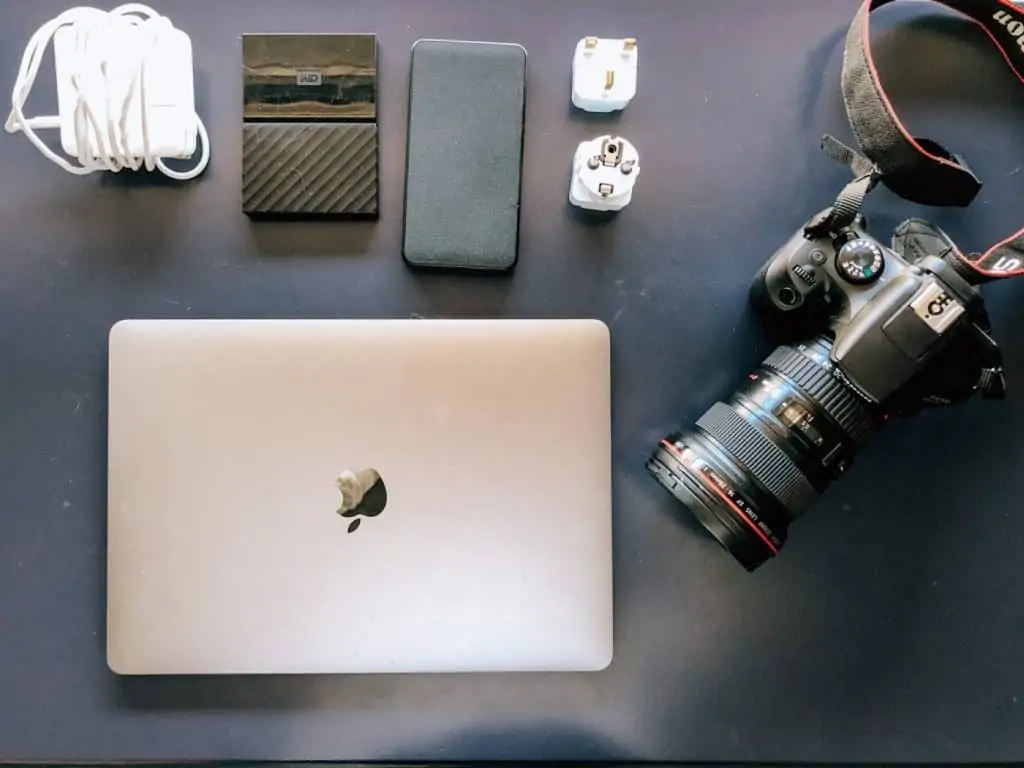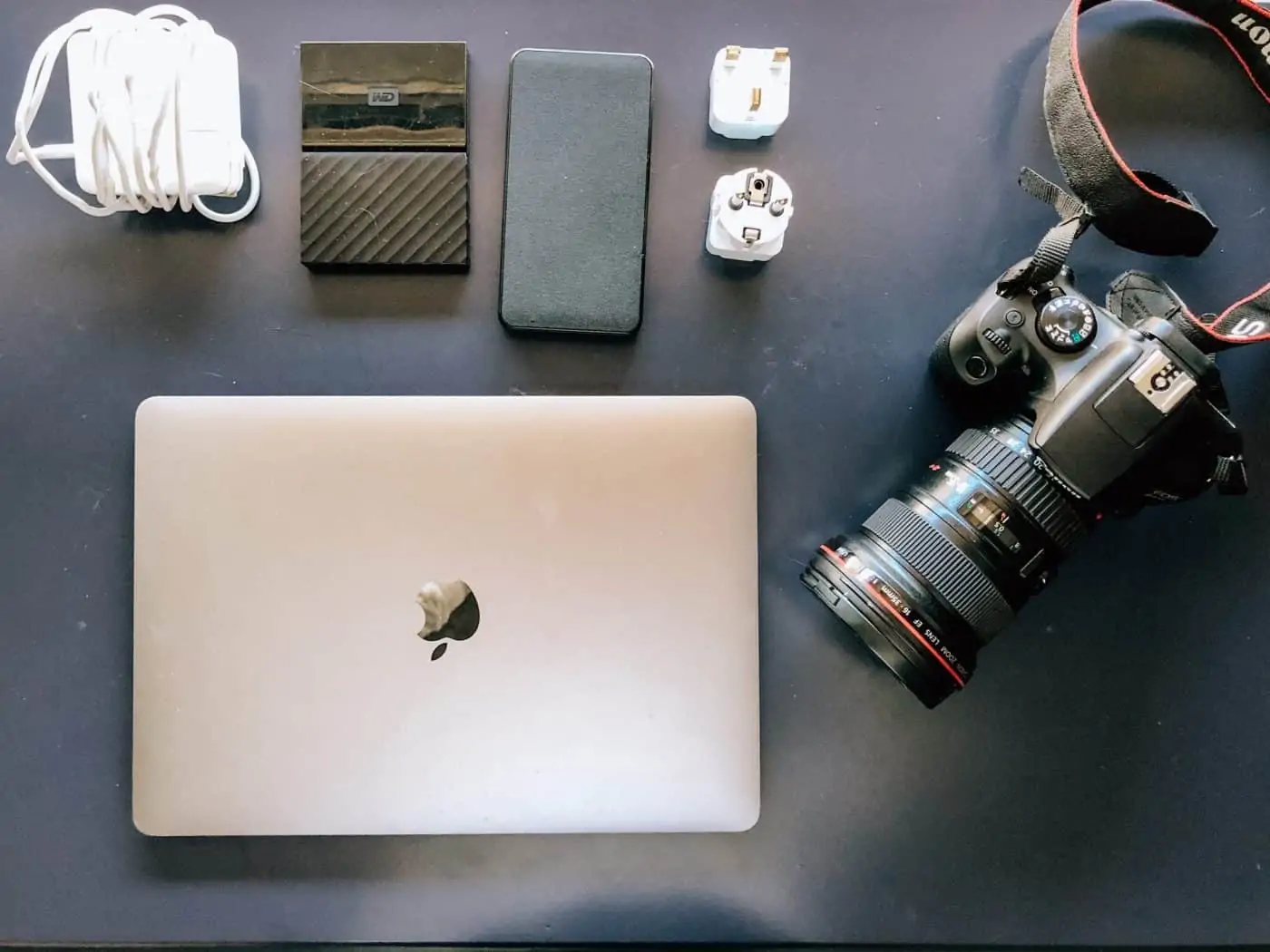 Things to Pack in a Carry-On: Documents
Last, but not least, perhaps the most important of carry-on travel essentials are your documents.
Make sure that you have your
License
Passport
Boarding Passes
Accommodation confirmations
I use an app called TripIt to keep track of all of my reservations in one place so I don't have to go scrolling through emails to find the one I need!
Things to Pack in a Carry-On: Health
I'm writing this packing list during COVID-19 travel bans so I'm 99.9% certain you will also need to put the following items in your carry-on bag.
Mask: these are likely here to stay for quite some time and many airlines will require their passengers to wear one.
Hand Sanitizer: always a good thing to have in your carry-on
Clorox wipes: or a similar brand to wipe down your seat and tray table
Hydration tablets
Multi-vitamins
Eye Mask to help you catch some zzzs
What to Pack in a Carry-On for an International Flight
If you're packing in a carry-on for an international flight, which is totally do-able by the way, you'll start with the same basic carry-on packing list described above, but with a few additions.
Your carry-on packing list for a long international flight will also include:
Visa for your destination – if needed
Vaccination card
Snacks and perhaps a light meal to keep you satisfied on the long journey
Compression socks: long flights can cause circulation issues and compression stockings can keep our legs feeling nice and fresh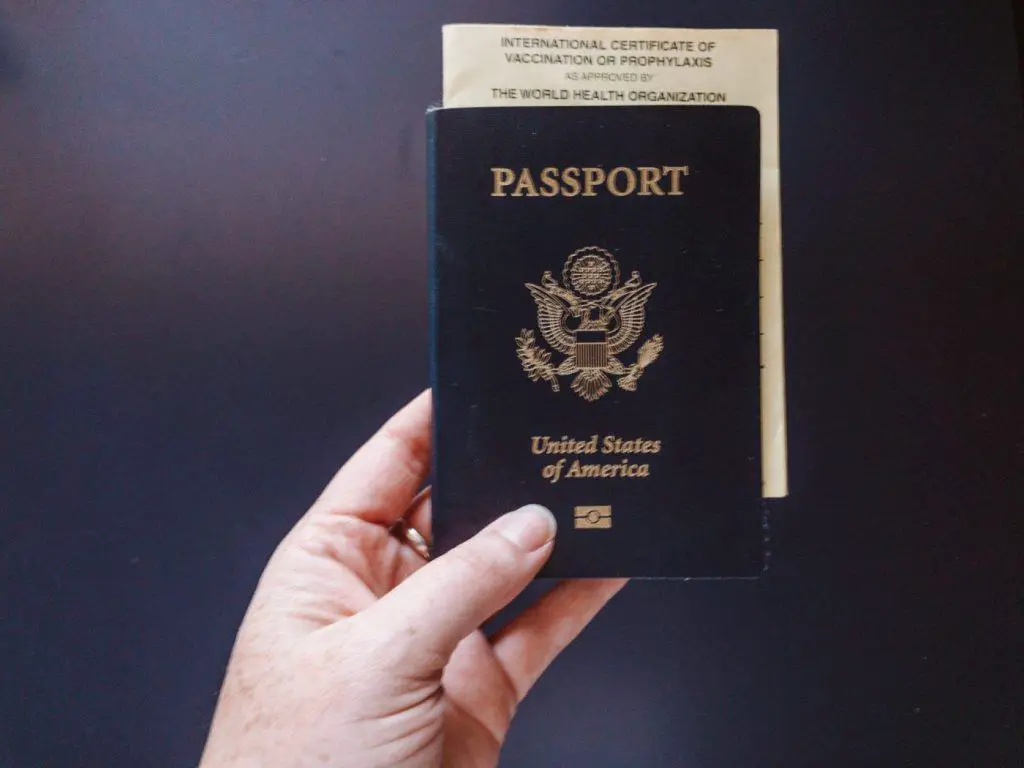 Carry-On Packing Hacks
Now that you've got your carry-on packing list and know what to put in your carry-on bag, exactly how are you going to fit everything?
Here are my top carry-on luggage packing tips:
Decide what you'll wear on your travel day. What you wear to travel should be your bulkiest items so any heavy sweaters or coats, boots or jeans should be worn to travel. This will keep space open in your suitcase or backpack.
Use the roll method. I fold my clothes in half and then roll. 
Use packing cubes. Packing cubes are truly the best invention for carry-on only packing success. Once your clothes are rolled line them up neatly in your packing cube. I use one large one for my clothes, a medium-sized one for undergarments, and then a small one for electronics. I'll also use another small one for any solid toiletries that don't need to go in a clear bag for TSA. Then arrange all of your packing cubes in your backpack or suitcase. This is why I love the backpack I have – it front-loads so it's really easy to organize the packing cubes.
You don't need compression. For the first half of my travel, I also carried a compression bag with me which I used absolutely zero times.
Anything that you'll need immediately, keep in your personal bag. This way you don't have to go into your carry-on bag once you're on board.
Do trial packings. I know – packing sucks, who wants to do it more than required? But by doing at least one trial packing you'll be able to see if you'll be able to bring everything you want and give you an idea of how to organize your carry-on bag.
With these tips, you can be just like my sister in law – the original light traveler in my life. Seriously though, traveling with a carry-on only will make your travels so much easier and cheaper – as long as you pay attention to your airline's baggage rules and follow the steps in this post – you are on your way to being a carry-on only traveler!
Like this post? Save it to Pinterest!