Each time I think about Ireland a smile crosses my face and I get all warm and fuzzy inside. Not because I'm drinking Jameson, but because I freakin' love Ireland. It's a beautiful country filled with dramatic landscapes, charming cities, welcoming people, and good craic.
I've had the opportunity to visit Ireland three times and with each visit, I discover new places to love and fall deeper in love with my favorites on the Emerald Isle. But, I haven't been everywhere…yet…so I collaborated with other travelers to create this list of the best places to visit in Ireland.
This post will focus on the Republic of Ireland. Our journey will start in Dublin, which is the most common entry point for visitors to Ireland. From Dublin, we will travel down the East Coast, through small towns like Kinsale, Waterford, and into Cork – the second largest city in Ireland. We will move through the south of Ireland, meet up with the Wild Atlantic Way on the west coast, journey out to the Aran Islands and witness the dramatic Cliffs of Mohr. Of course, we will stop in my favorite city, Galway and eventually head to the north part of the Republic of Ireland.
Before we move ahead, let's address that Gaelic term I threw out there in the beginning…craic. Craic is something you'll hear referenced throughout Ireland. It basically means a good time. For instance, if you go out and have fun, the next day you'd say "last night was good craic!" And you'll have plenty of it with this list.
Ready? Let's go!
This post contains affiliate links, which means that, at no additional cost to you, I will earn a tiny bit of income if you decide to make a purchase or booking.
The Best Places to Visit in Ireland
Dublin
As the capital city, Dublin is a popular tourist destination in Ireland. I'll be up front and say that, at times, the city can feel a bit touristy. But you shouldn't let that overshadow all the culturally rich experiences Dublin has to offer!
Three things I always recommend to anyone stopping in Dublin are to visit Kilmainham Gaol (Jail), tour the Jameson Distillery, and walk through the Trinity College Dublin campus.
The Kilmainham Jail is a must see if you love history or are interested in learning more about the recent history between Ireland and the United Kingdom. I was brought here by my Irish friend and between taking the tour and talking to him about it later, I was really able to better appreciate the struggle the Irish went through for their independence. The jail officially closed its doors in 1924, but the stories they tell are all still felt strongly today.
Also while in Dublin be sure to visit the Jameson Distillery. I found the Jameson Distillery Tour to be unique and more entertaining than many brewery/distillery tours I've done in the past. I also highly recommend volunteering for the comparative whiskey-tasting event they do at the very end. You'll taste first hand why Jameson is truly the best!
And if you find yourself in Dublin's city centre, be sure to take a stroll through the architecturally rich Trinity College Dublin. It's a beautiful campus completely surrounded by shops, restaurants and busy city life which makes the visit all that more fun. And if you haven't had a Guinness in Ireland yet, popping into any of the bars near the campus should be your next stop.
Contributed by: Tayler of Traveling Tayler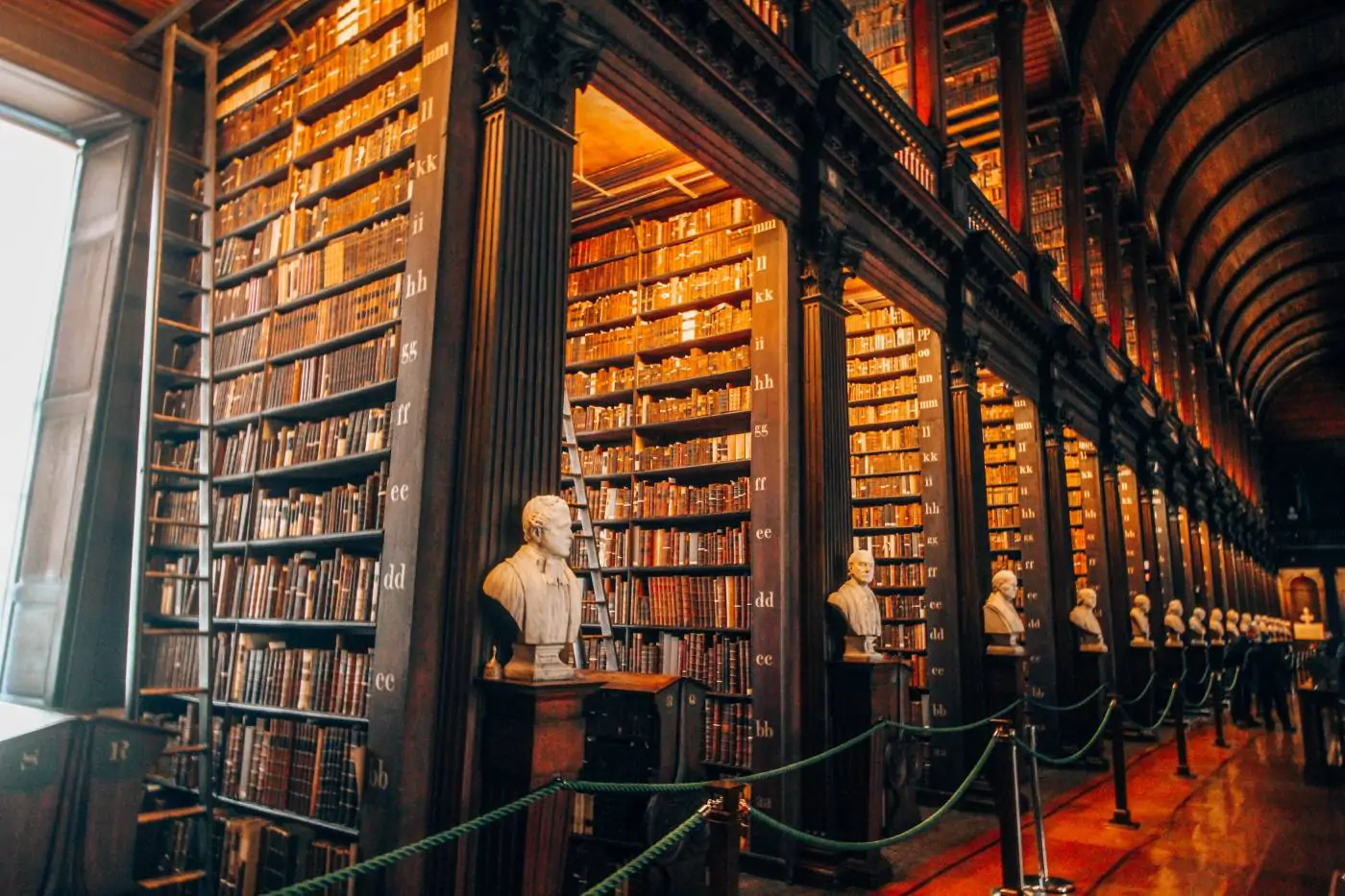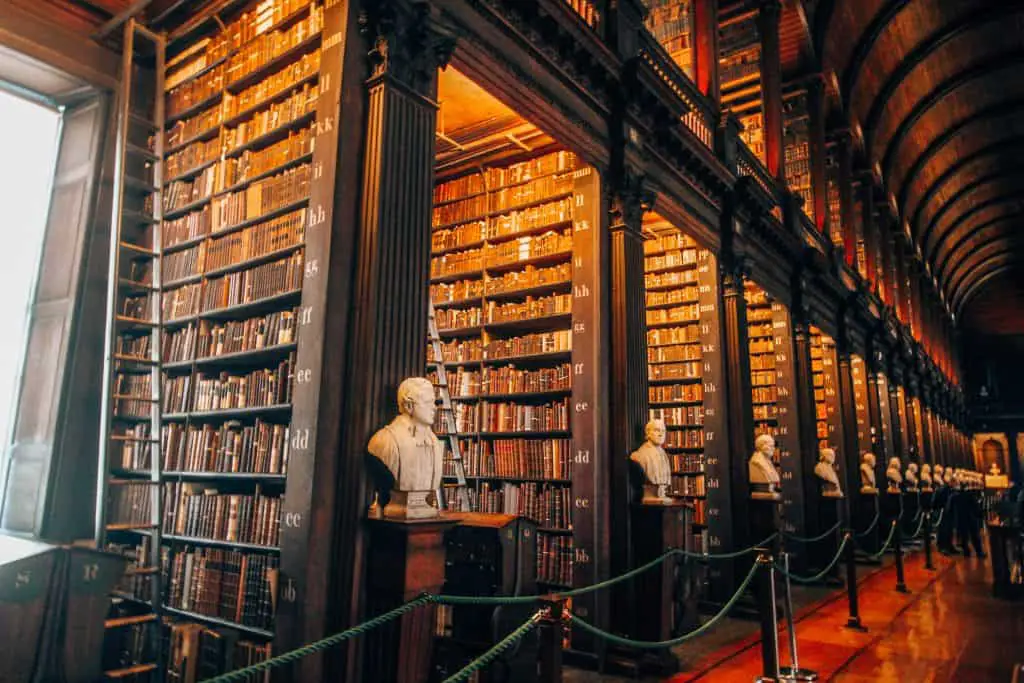 Howth
This small fishing village just a 45 minute DART ride from Dublin makes for the perfect escape from the bustle of Ireland's capital city. Like most fishing villages in Ireland, Howth has excellent seafood. Lining the pier is restaurant after restaurant of seafood eateries. And the beauty is that you really can't go wrong with any of them!
After eating your fill of seafood, it's time to take a walk! The most popular attraction in Howth is the cliff walk. It's about a 6k loop from the train station, along the cliff, and back to town. But I suggest only going out until you reach the view of the lighthouse and then doubling make to really enjoy the views of Dublin and Ireland's eye. If you complete the whole loop, the second half of it takes you through neighborhoods and there's really not much to see there!
Once you've completed the walk and are ready to return to Dublin, stop by Howth Market to purchase some snacks for the ride home!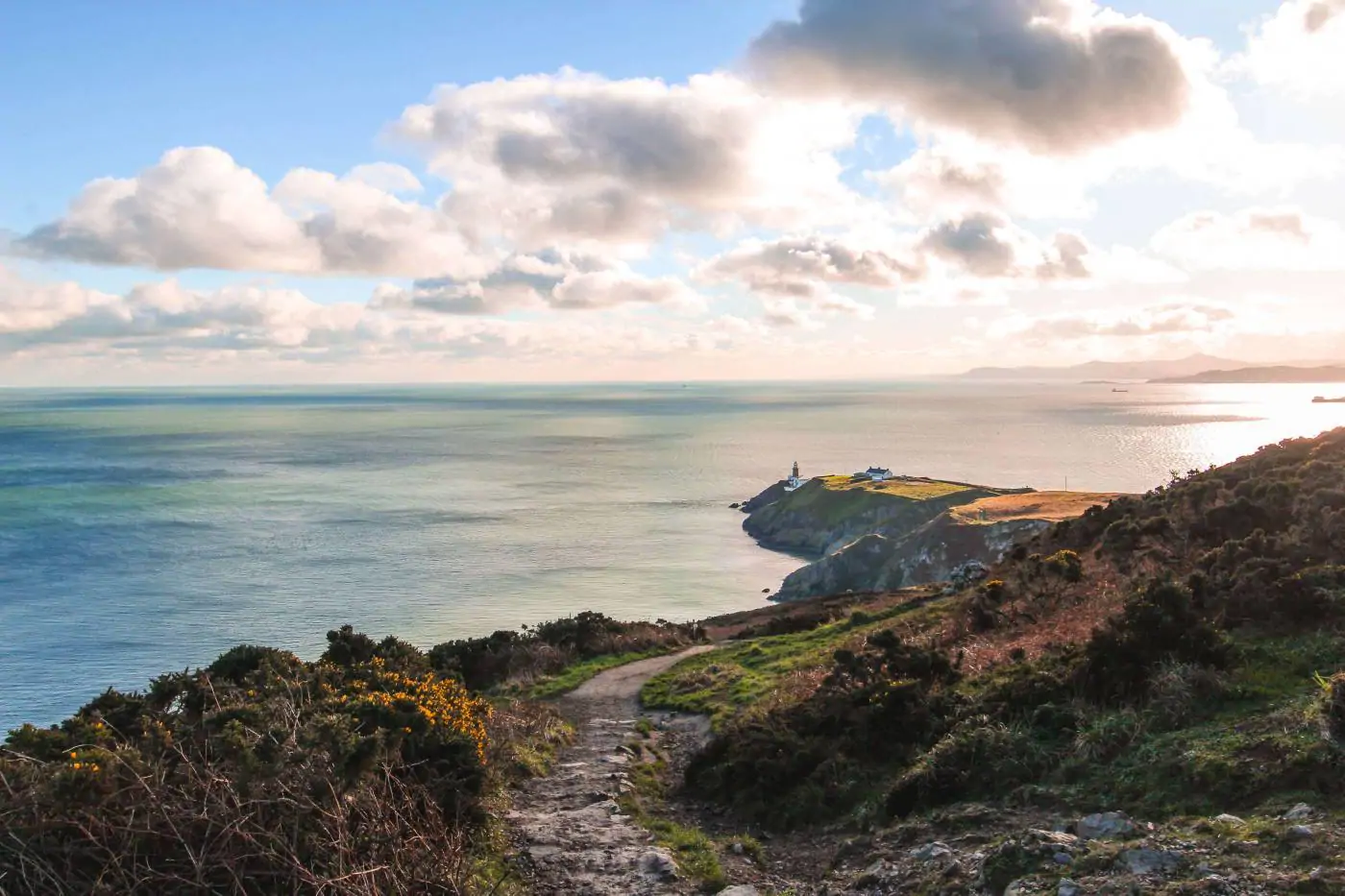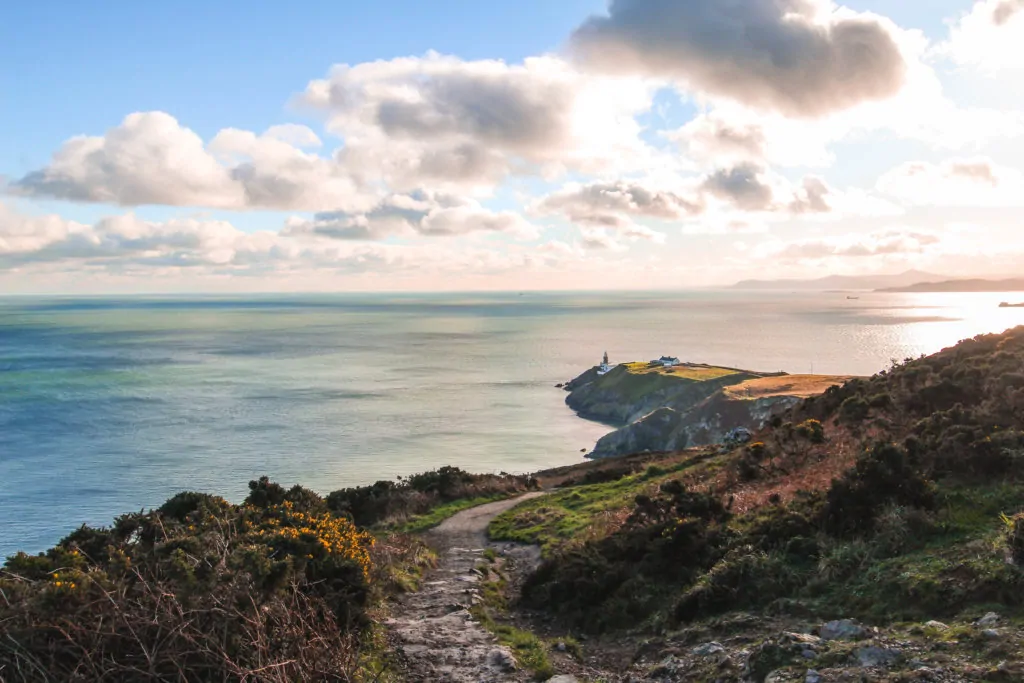 County Wicklow
Just South of Dublin, County Wicklow is a beautiful location that any outdoor enthusiast will love.
With National Parks, the Wicklow Mountains and the idyllic historical town of Wicklow itself there's plenty of stunning Irish countryside to admire.
The
Wicklow Mountains National Park
covers over 200 square kilometres, and there are two nature reserves to explore, Glendalough Valley and Glendalough Wood. Wildlife is prolific throughout both parks, and you're likely to spot deer, birds of prey and possibly some red squirrels.
For enthusiast hikers, Wicklow Way is a beautiful trail and one of the busiest in Ireland. It starts at Marlay Park just south of Dublin and ends in Clonegal in County Carlow. To complete the path you need between 5-7 days but its easy to do only a small section.
County Wicklow is also home to one of the worlds most beautiful gardens at Powerscourt Estate. The gardens are renowned for their stunning beauty, and they're by far Wicklows most
popular landmark
. The Italian and Japanese gardens are the star of the show, and if you're visiting in spring, the scent of the rhododendrons as you walk through the woodland is wonderfully perfumed.
Just a short drive from the gardens is the Powerscourt waterfall, which is the highest waterfall in Ireland. There are several walks laid out around this area, and there's plenty of birds in the vicinity.
In Wicklow's historic town is a more unusual tourist attraction known as Wicklow's Historic Gaol. This was a notorious prison, and the harshness of prison life is described through the exhibits. If you're brave enough, you can try out the gaol dungeon or sit in one of the solitude cells.
The prison also has a genealogical library where you can search through digital databases in search of Irish ancestry.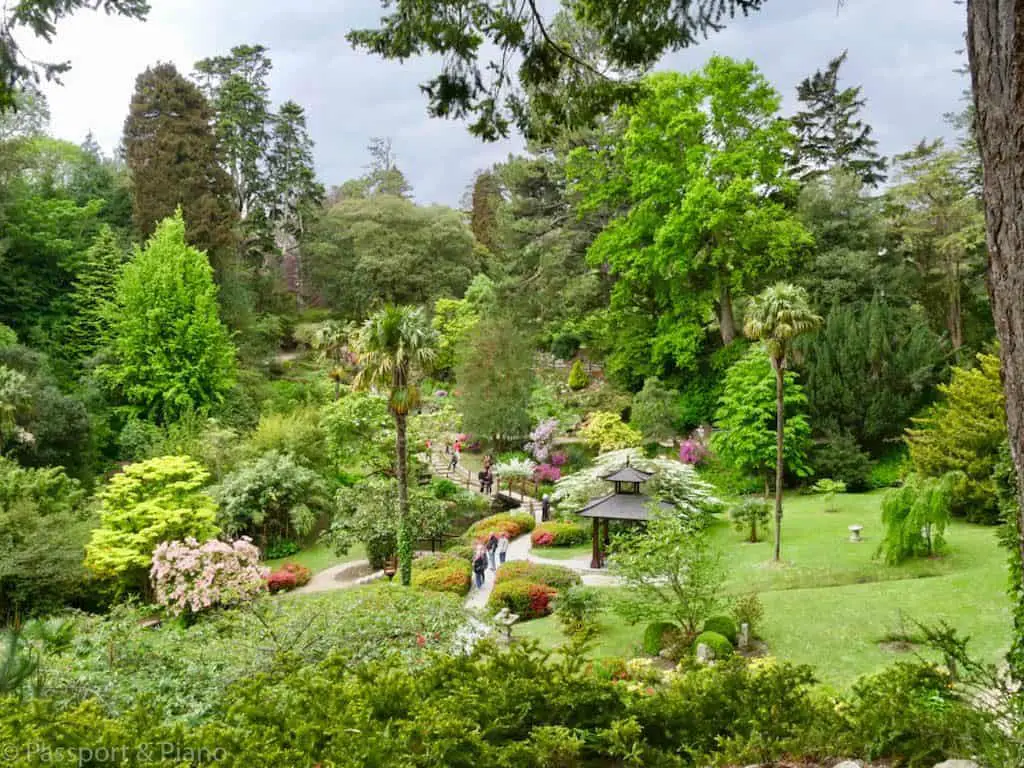 Bray Head
The seaside town of Bray in County Wicklow is an easy day trip from Dublin and an attractive coastal location to escape the bustle of the capital. Many people visit Bray to climb Bray Head, the 218-metre headland which looms over pretty Bray beach and its lively esplanade. From the pebble beach, it is a gently winding one-hour uphill walk to the windy summit of Bray Head.
The summit is topped with an enormous stone cross erected here in the 1950s. The 360-degree views from the top of Bray Head are stunning; you can see as far as Dublin Bay to the north, Greystones and the Wicklow coast to the south and to the west, the iconic Great Sugar Loaf Mountain in the Wicklow Mountain range. The Bray Head walk can be extended by following the rugged coastal path for a further 7 kilometres into the seafront town of Greystones from where you can catch the DART back to Bray or to Dublin.
Waterford
You may know Waterford for the crystal factory located in town, but there is much more to Waterford than crystal. Much like the rest of Ireland, Waterford is steeped in history. Reginald's Tower is an excellent example of this. The first Tower was built in 914 by Vikings. The current Tower was built in the 12th century with the top two floors being added in the 15th century and it was once part of the city defensive walls. There is now an exhibition about Viking Ireland located inside.
Another great place to visit in Waterford is the Medieval Museum. You actually enter the exhibition through a medieval entrance. There are original medieval spaces inside. The other impressive thing is the vestments of gold that were made in the 15th century! There is lots of Waterford history inside. If you want to see some Waterford Crystal head across the street to the Bishop's Palace. Waterford is a beautiful town that should be on your Ireland bucket list.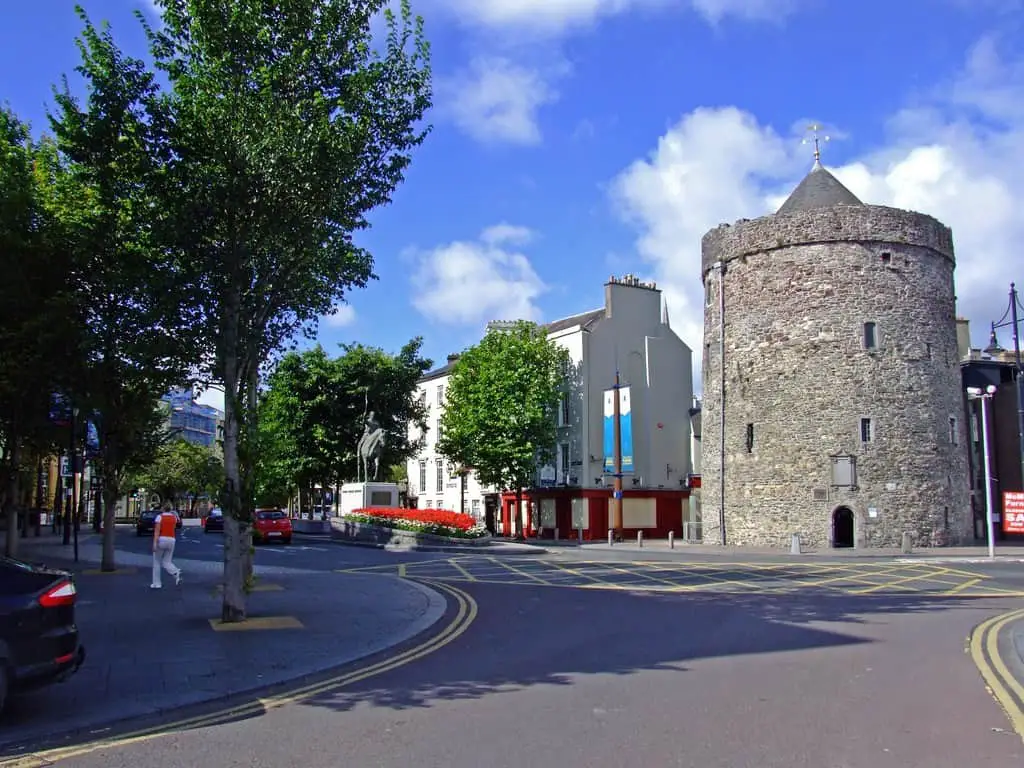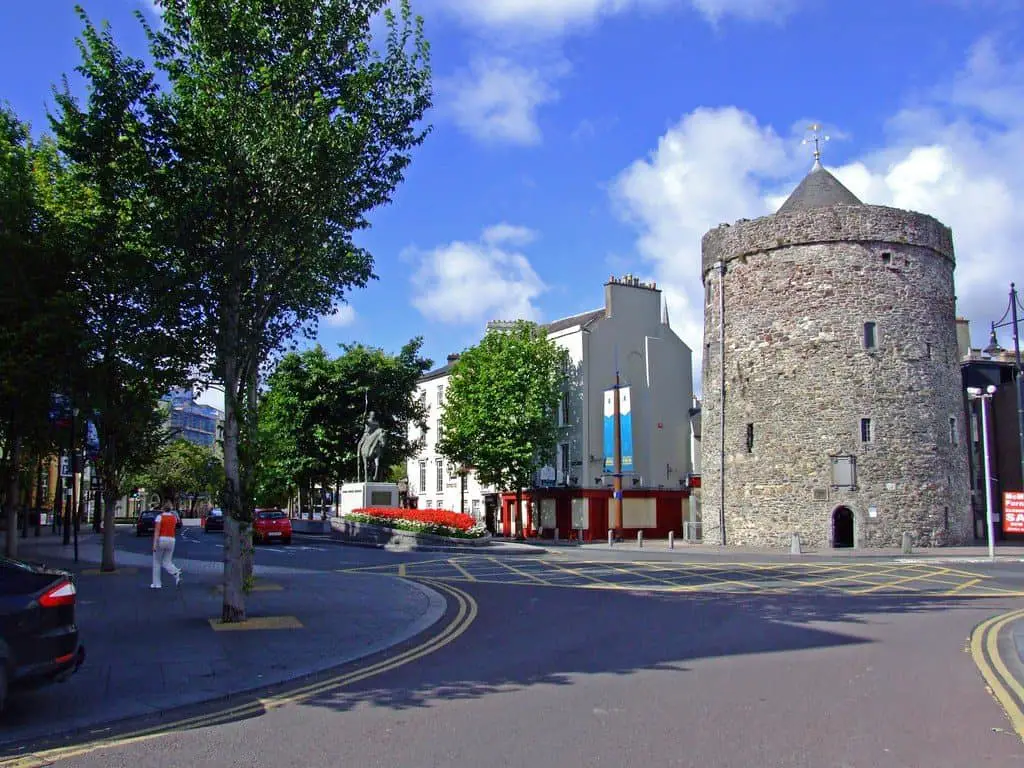 Cork City
Cork is Ireland's second-largest city. It's famous for its foodie culture and it's proximity to the Blarney Stone. The Irish accents here are much different than the rest of Ireland. I found it difficult to understand!
A must on your Cork itinerary is a visit to the English market. It's a large, covered market offering a wide variety of Irish meats and cheeses as well as local fruits and veggies. My family comes from Cork and in this market I found two of my family surnames, one over a cheese stand directly across from the other over a meat stand. No wonder they connected!
And of course, a trip to Blarney castle is a must, not just to kiss the Blarney Stone (if you want to check touristy things off your list) but also to simply enjoy the beautiful grounds of the castle.
Another fun thing to do in Cork is ring the Shandon Bells of St. Anne's church – which is a stunning church in and of itself. If you're up for a bit of exercise you can climb the 132 steps to the top and enjoy the view of Cork spreading out below you. It costs €5 to climb the tower and ring the bells.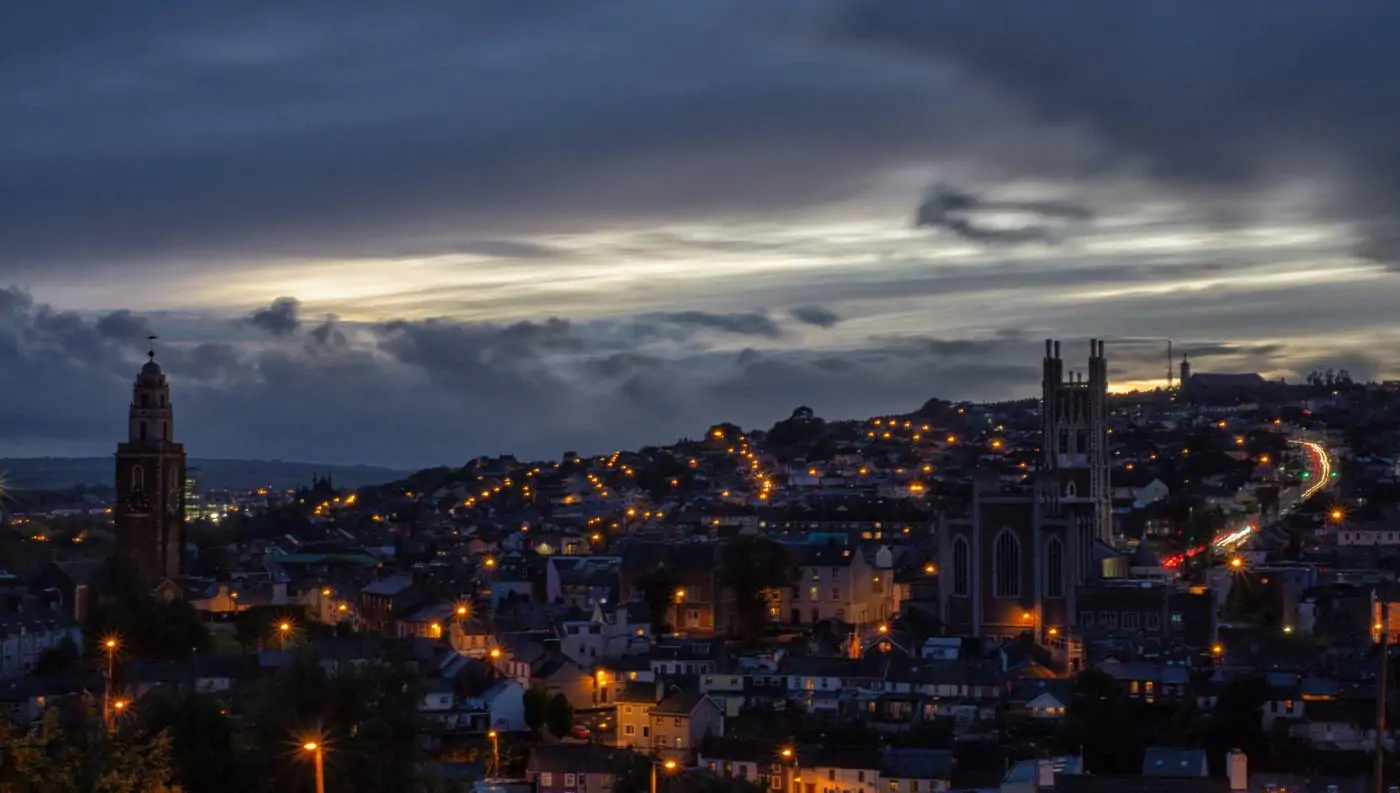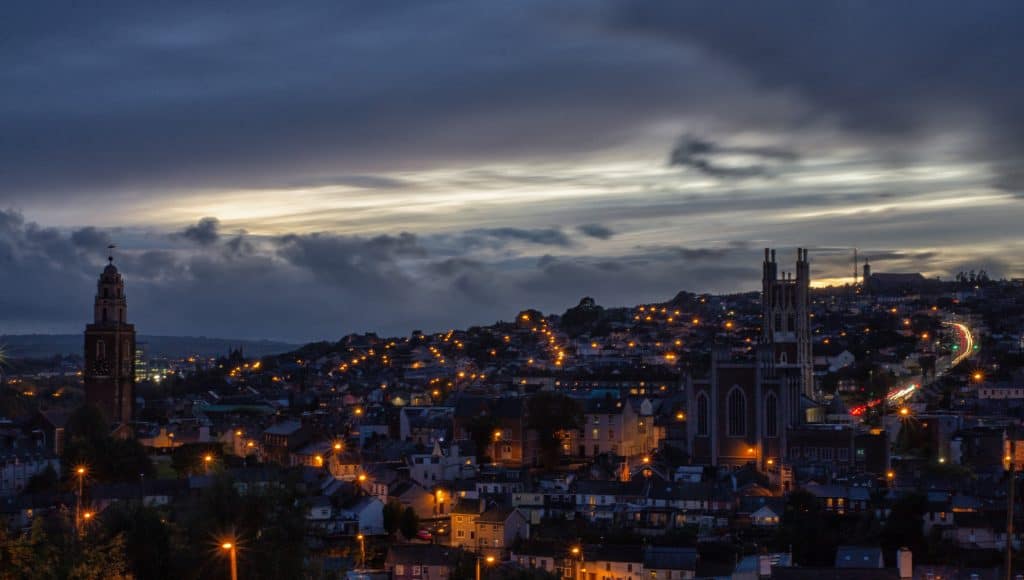 Kinsale
Kinsale is a charming town in County Cork, Ireland. It was originally a medieval fishing port, but now Kinsale is one of the most picturesque and historic towns in the country. It is one of the best day trips from Cork City as it's only 30 km away from the centre.
Kinsale has a beautiful setting of a long waterfront, medieval fortresses, yacht-filled harbour, and brightly painted galleries, shops and houses. Among the best things to do in Kinsale are Charles Fort – a 17th- century star-shaped fort and it's one of the most significant forts in Irish history, Old Head which is a headland and a dramatic piece of land protruding in the Atlantic Ocean. And the center of town which is quite popular due to brightly colored shops and houses which is a trademark of Kinsale, Ireland. Churches are also popular landmarks in Kinsale with St. Multose Church being the most significant. It was constructed as early as the 12th century and it was here that Charles II was proclaimed a king.
The town also boasts amazing architecture and seascapes that a trip to this town when in Ireland is a must.
Contributed by Christina of Ireland Travel Guides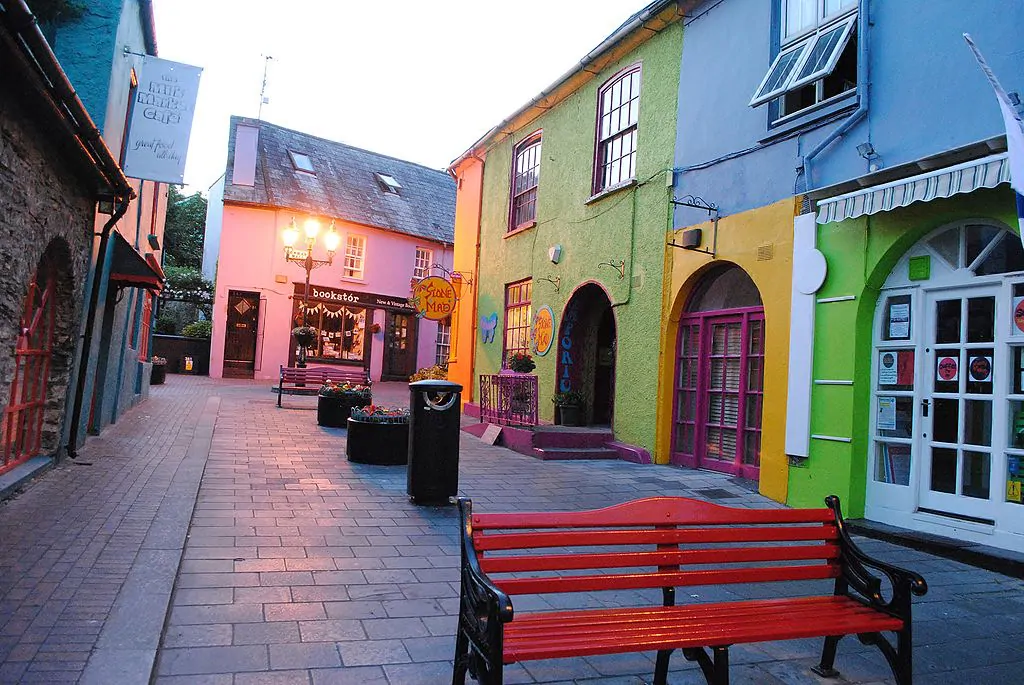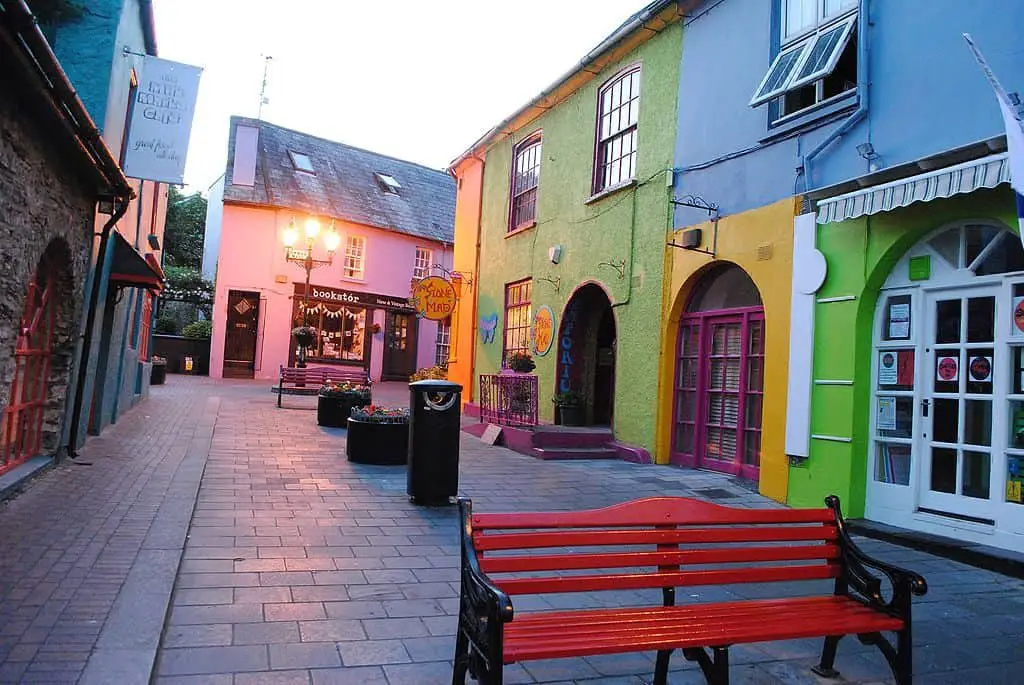 Killarney
There are so many incredible places in Ireland, but whenever family and friends ask where they should visit, I always tell them to be sure to go to Killarney! It's one of the best places in Ireland if you're interested in Irish culture, history, nature, food, and fun!
Killarney National Park is nestled amongst the gorgeous mountains and lakes in County Kerry. You could spend your whole trip to Ireland in this beautiful destination and never get bored. Be sure to visit Muckross House, Muckross Abbey, and Muckross Traditional Farms where you can learn about life as an Irish farmer in the 1800s. You'll learn to milk a cow, thatch a roof, and churn your own butter!
Spend time hiking through the beautiful National Park or kayaking through one of Killarney's pristine lakes. If you're looking for another iconic traditional experience, be sure to take a "Jaunting Car" (horse and buggy) through the adorable town.
Contributed by: Vanessa of Wanderlust Crew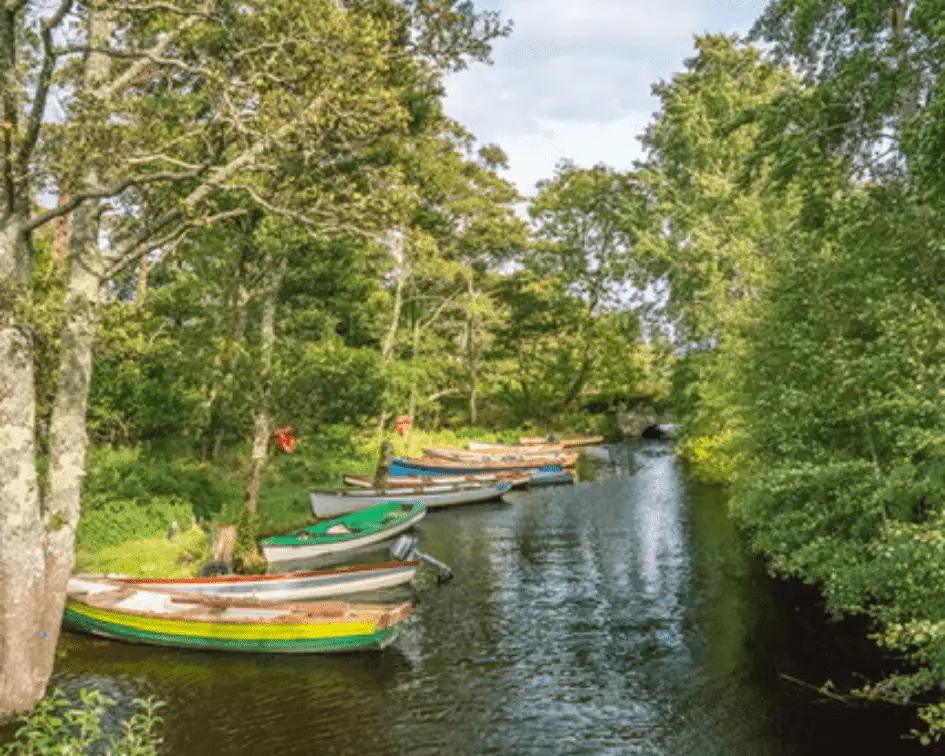 Dingle
Dingle is a cute fishing village located on the Wild Atlantic Way. It's well known for its delicious seafood and a local favorite, Fungie the dolphin. For me, it's the place where I hitchhiked for the first time! I walked the very long walk to Inch Beach, a beautiful mile-long stretch of white sandy beach. It's about a 20-minute drive to Inch Beach from Dingle, but I didn't have a car, so I walked there. It's a very beautiful walk through quiet countryside roads and the beach is very beautiful. It's incredibly popular among windsurfers. But, by the time I was ready to leave it was getting dark and I didn't want to walk back, so I stuck my thumb out and hitched a ride back to town.
Once safely back in town, I checked out a hardware store/pub called John Foxy's. It holds up to its reputation of being a warm and welcoming place! Like other places in Ireland, Dingle holds a variety of festivals throughout the year, the most popular of which is the Dingle Food Festival. This festival is held annually on the first weekend in October. During this festival, there are cooking demonstrations, 50 market stalls, wine and whiskey tastings, and many other events. If you happen to be in Ireland during this time, I highly suggest checking it out!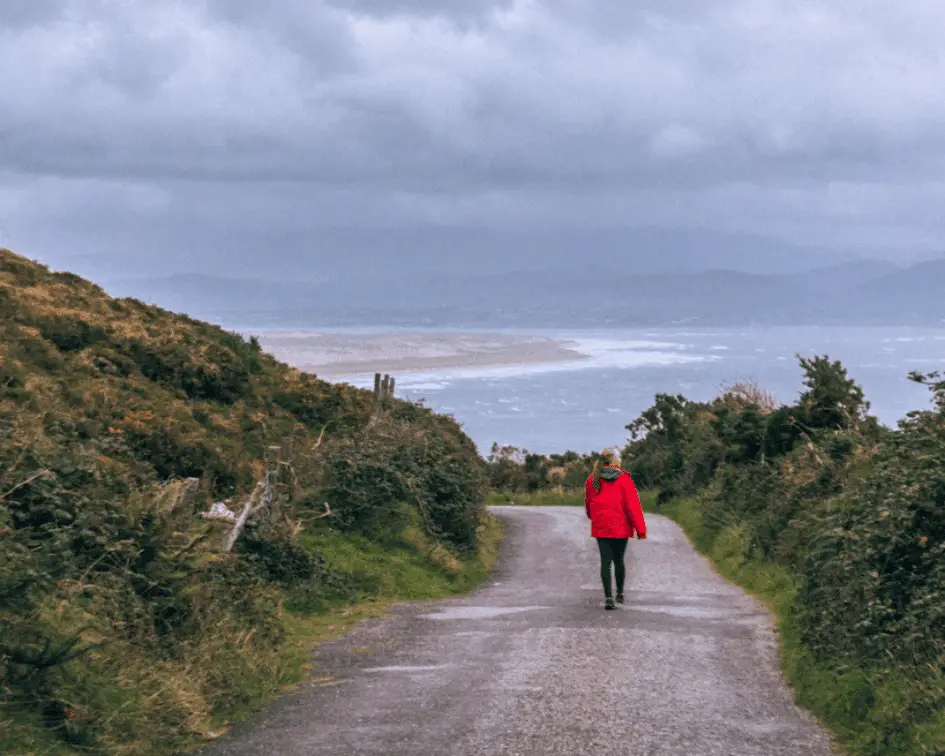 Wild Atlantic Way
Following a 1,553-mile stretch of coastline on the west of Ireland, the Wild Atlantic Way is one of the world's best road trip destinations that should be covered in roughly a week in total. It also conveniently connects many of Ireland's more famous tourist attractions, with more off-the-beaten-path itineraries making it the ideal way to properly explore Ireland rugged west coast.
The route itself starts either at the very north of Ireland at Maiden Head in Donegal, or, alternatively, it can start in the very south with Mizen Head in Cork. Some of the more iconic attractions along the road trip route include the rather magnificent Cliffs of Moher, the Ring of Kerry, and the cobbled city of Galway, where the latter makes for the perfect break in between.
But really it's just the overall beauty of the landscapes found on the west coast of Ireland that make it so special including the peat bogs of Connemara, the wild sheep of Achill Island, and the rugged coastlines along the way. The Burren is rather fascinating as well, and there is just too much to share here. If planning to take on the Wild Atlantic Way most people start from Dublin, however, the easiest way to reach the most northern point of the road trip is by traveling across from nearby Northern Ireland.
Contributed by: Allan of It's Sometimes Sunny in Bangor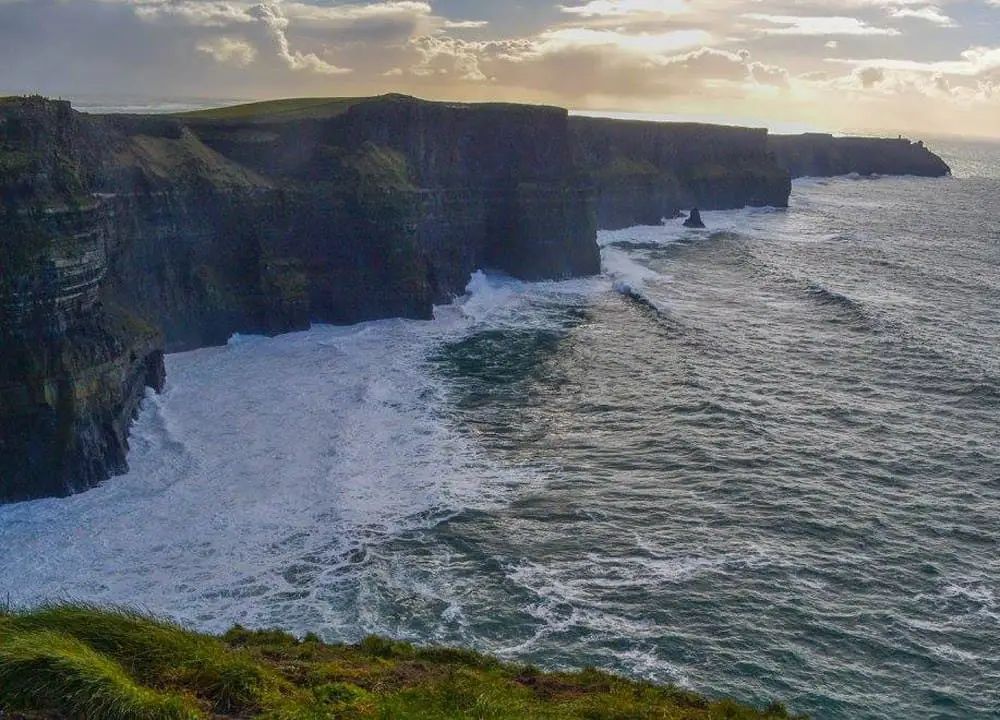 West Cork
West Cork, the jewel of the Wild Atlantic Way, occupies the southernmost tip of Ireland. It's replete with pristine beaches, colorful villages, artisanal food products, historical and archeological sites, and opportunities for adventure in the Real Ireland.
Traditionally a tourist area, the sheer beauty of West Cork's rugged terrain grabs the hearts of visitors and doesn't let go. Walk on Inchydoney beach, explore the Mizen Head lighthouse, kayak on the Beara Peninsula, enjoy a sunny interlude in the café at Adrigole Arts or aboard a cruise to Garinish Island. The seafaring history of West Cork is evident in the sailing culture of Schull, in the pirate lore of Baltimore and its nearby islands, as well as in Castletownbere, a bustling global fishing port.
Market towns dot the landscape of West Cork. Easily walkable and with intriguing lanes and shops, the towns of Bantry, Clonakilty and Skibbereen offer a glimpse of Irish country life that's becoming rare. Smaller villages such as Ballydehob, Allihies and Eyeries offer their own distinctive charms, a photographer's dream around every corner. Classic traditional pubs and sophisticated restaurants feature local produce and are highly rated by Michelin and other food critics.
Creative people from around the world have settled in West Cork to hone their crafts, which include painting and sculpture, metal, fiber and ceramic art as well as artisanal sea salt and cheesemaking. Major cultural events such as the West Cork Chamber Music Festival, Literary Festival and Masters of Tradition showcase the best of Irish and international talent.
Stay awhile in West Cork, in a boutique hotel, a bed and breakfast home or campsite; you're sure to leave a piece of your heart here.
Contributed by: Kathleen Lyons, The Ireland Expert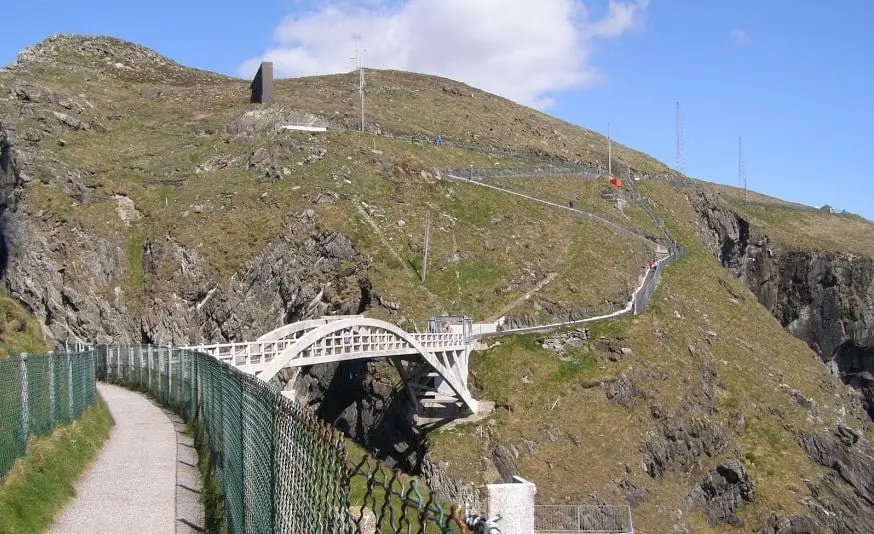 Mizen Head
While the Ring of Kerry on Ireland's Wild Atlantic way is perhaps best known as one of the most beautiful places in Ireland there are so many epic and scenic drives in Ireland with fare fewer tourists. For a more local experience,
drive the Mizen Head
peninsula just next to it instead. And take a whole day to do it! We started in beautiful Glengariff—at tiny one street village where we stayed—and headed south. There's no shortage of quaint cafes and pubs for a coffee or a pint along the way.
If you head all the way to the end of the peninsula at Mizen Head, you'll be standing on the most southern point in Ireland. Plus, there's a secret hike here at Three-Castle Head, just before the end of the peninsula. Drift through pastures of cows and sheep, climb a steep hill, and then, suddenly, a romantic castle ruins perched on the edge of a lake will stand before you.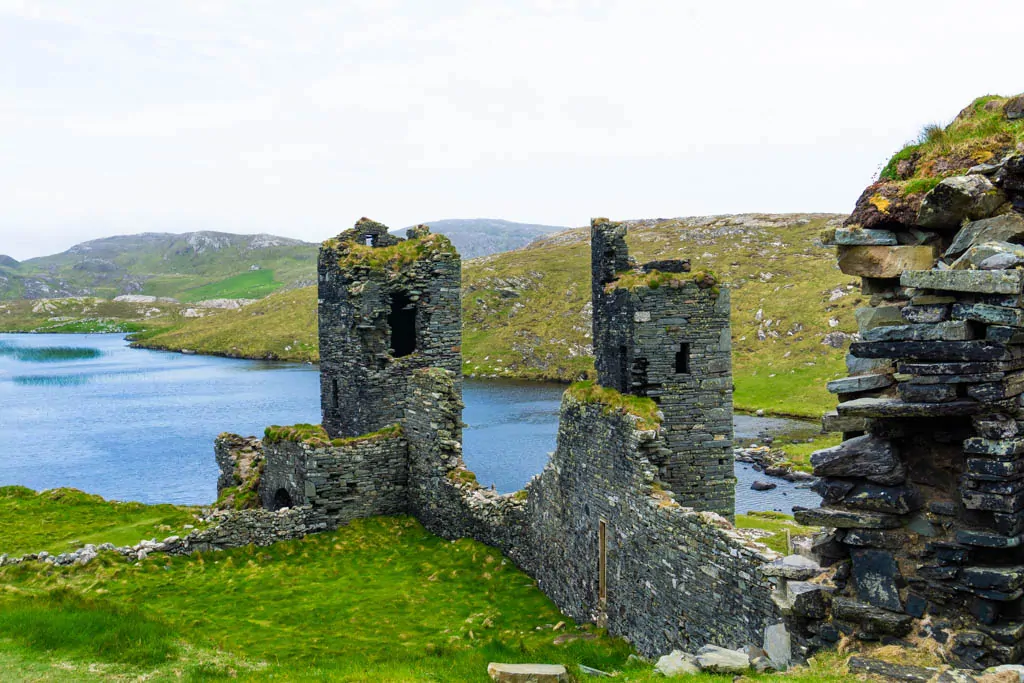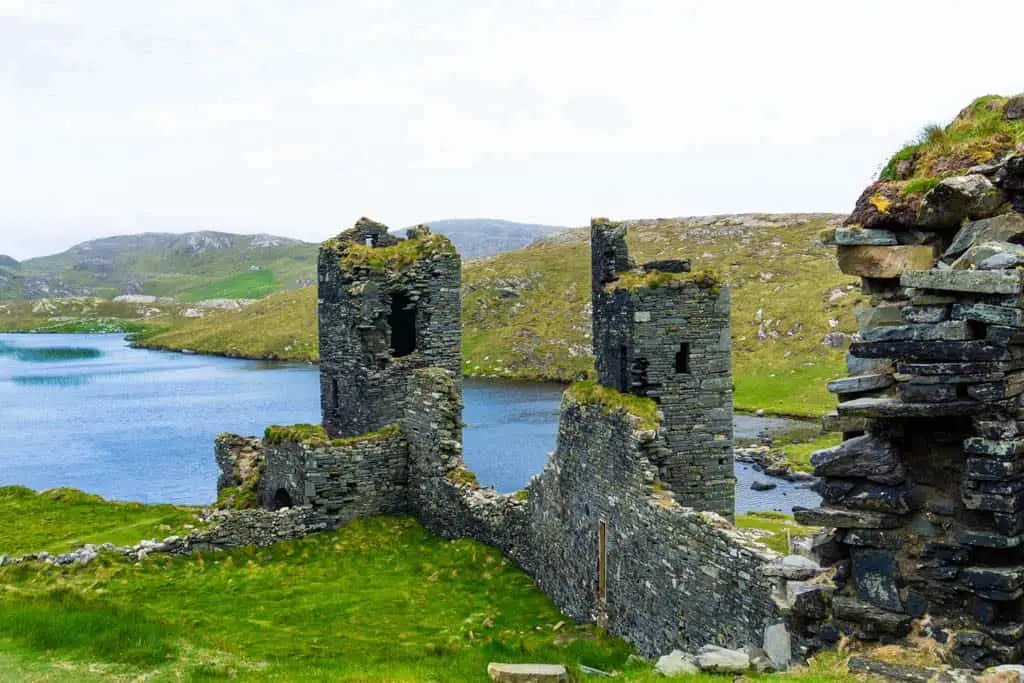 Galway
Galway is my all time favorite city and there is so much to do here! It is filled with beautiful music, people, and views! Shop Street is the main, cobblestoned street in Galway city center and it is always filled with buskers playing their music. On a sunny day, it's great to sit in front of a pub and listen to music.
Plus, the pubs themselves are good craic (fun!). And there are plenty to choose from in Galway. For traditional Irish music head to Tig Coili or The Crane. They have musicians playing live music every day. For a bit more of an Irish pub rock feel, visit Taaffes or O'Connor's in Salt Hill. For a decidedly local feel, great beer garden, and no WiFi head to O'Connel's near Eyre Square.
If you need a break from the pubs, Galway is a great foodie city. There are a number of cafes to try, my favorites are Little Lane Coffee Company and The Secret Garden. And there are a number of traditional and international restaurants to choose from. Check out breakfast at Nimmos or dinner at Kai Cafe. On Saturday, stop by the farmers market behind Tig Coili. It's an excellent place for fresh produce and there are some deliciously cheap food trucks!
To walk off all of this food, take a stroll on Salthill prom along Galway Bay. Walk towards Blackrock diving pier where you'll likely see locals swimming in the frigid waters. This is an excellent spot to take in the sunset!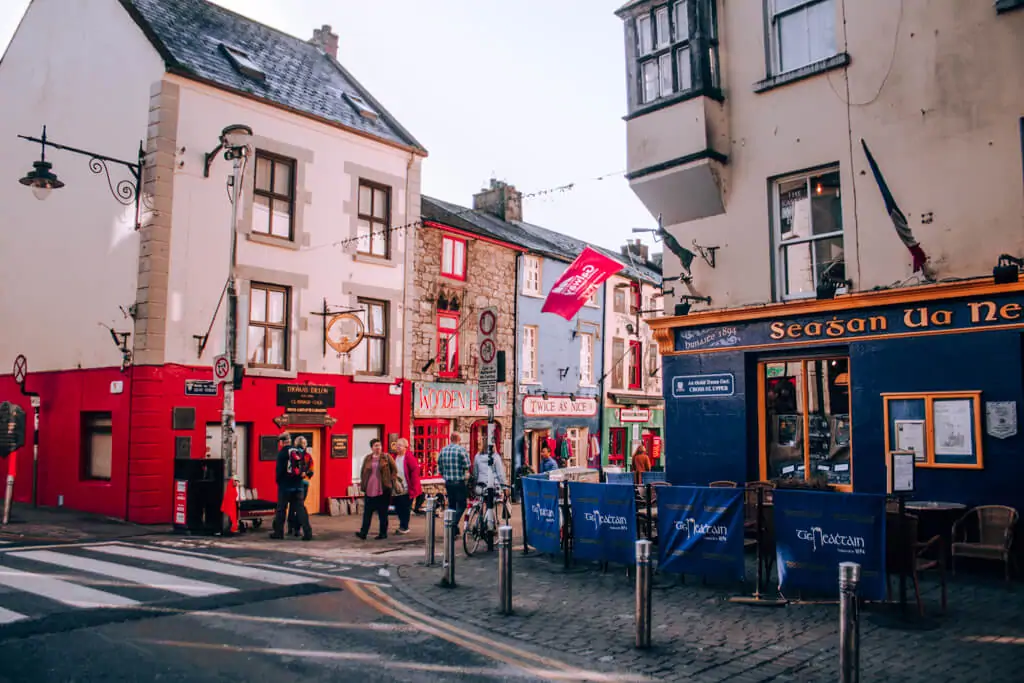 Cliffs of Moher
The Cliffs of Moher is Ireland's top tourist attraction, a status that is completely justified. While the country is filled with gorgeous landscapes, the Cliffs are breathtaking. Whether it is the ocean mists in the morning, crashing waves in the afternoon, or the sun setting over the Atlantic, they add to the magic. But don't trust us: the European Union Birds Directive has designated the Cliffs as a Special Protection Area for Birds, and UNESCO has selected the Cliffs of Moher and nearby Burren, as one of the new Global Geoparks.
The Cliffs have been attracting visitors since the mid-1800s, when Cornelius O'Brien oversaw the installation of the flagstone walkways and the construction of the tower. Not only did this work provide employment for the poor, but it also created a safer, and higher, viewing experience. In those days, the view, a walk, and a picnic completed the experience. Today's visitors can learn about the forming of the Cliffs and the diverse flora and fauna of the area through the state of the art exhibits in the visitor's center, and take in the glorious views from the land and the water.
The Cliffs can be quite crowded during the summer months. If you plan to visit then, be sure to buy your tickets in advance. The rest of the year you will be safe with a walk-up ticket on weekdays. Visit the exhibits, and take a good walk along the Cliffs. Once you leave the area of the flagstone fence, be sure to stay on the trail, as both wind, and erosion can be a danger. Cruises departing nearby Doolin must be booked in advance. A cruise will complete your experience by giving an entirely different perspective, and a close up look at the birds who make their home on the Cliffs.
Contributed by: Roxanna of Gypsy with a Day Job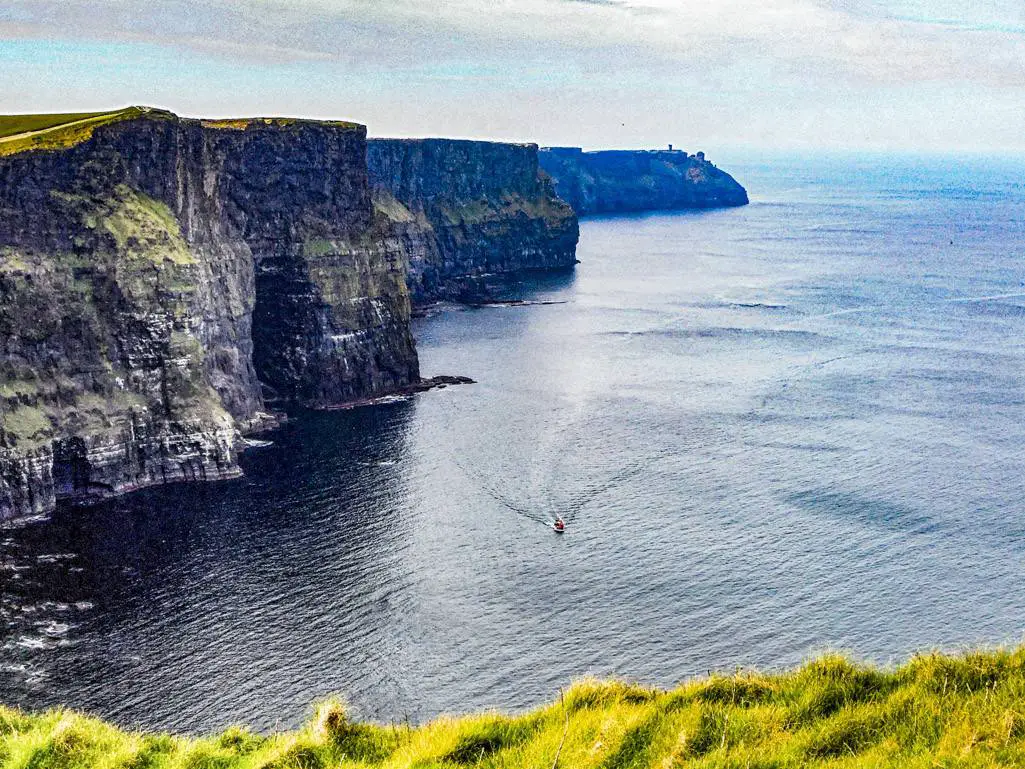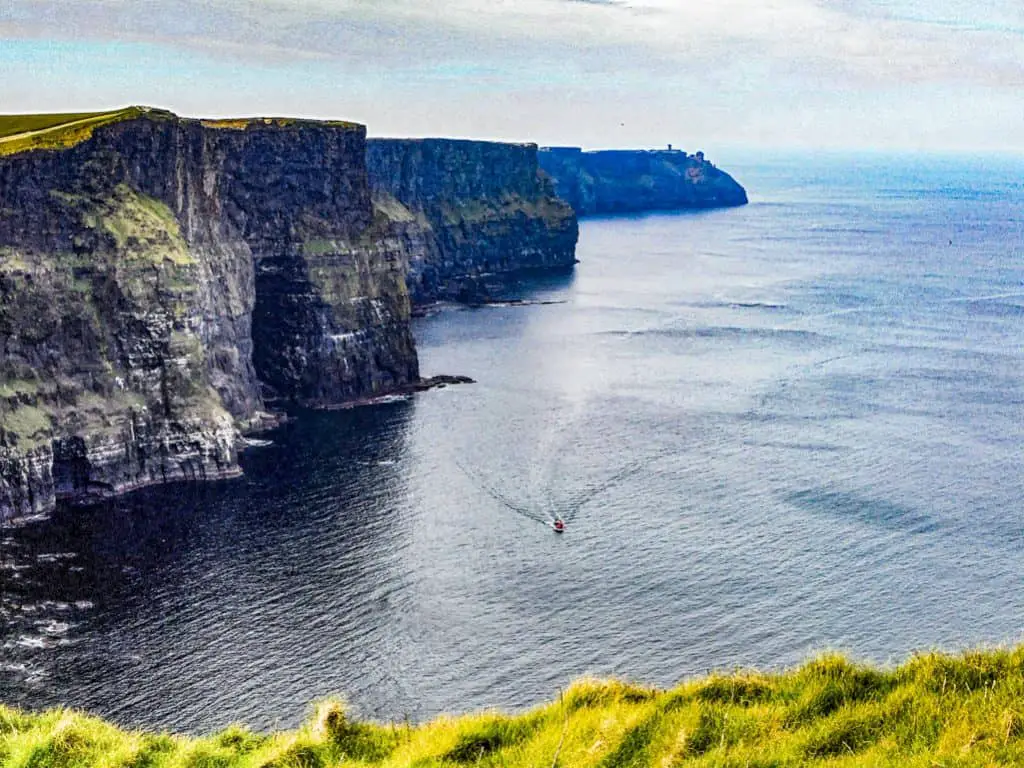 Aran Islands
The Aran Islands are made up of three islands, Inisheer, Inishmore, and Inishmaan. It only takes about 45 minutes via ferry to get to them from Galway, making them the perfect day trip.
The beauty of these islands is in their simplicity. On these islands, you'll hear Irish spoken by locals. You'll see lush green farmlands that end at the sea, quartered off by stone walls. And you'll appreciate a slower pace of rural Irish life.
Island hopping really isn't an option here, so how to choose which one? Start with either Inisheer or Inishmore. Inisheer is the smallest island famed for a shipwreck. And Inishmore is the largest famed for its large, ringed stone fort overlooking the bay.
No matter which island you choose, the best way to see them is by renting a bike for the day for $10. This way you can take as long as you'd like at photo ops along the way!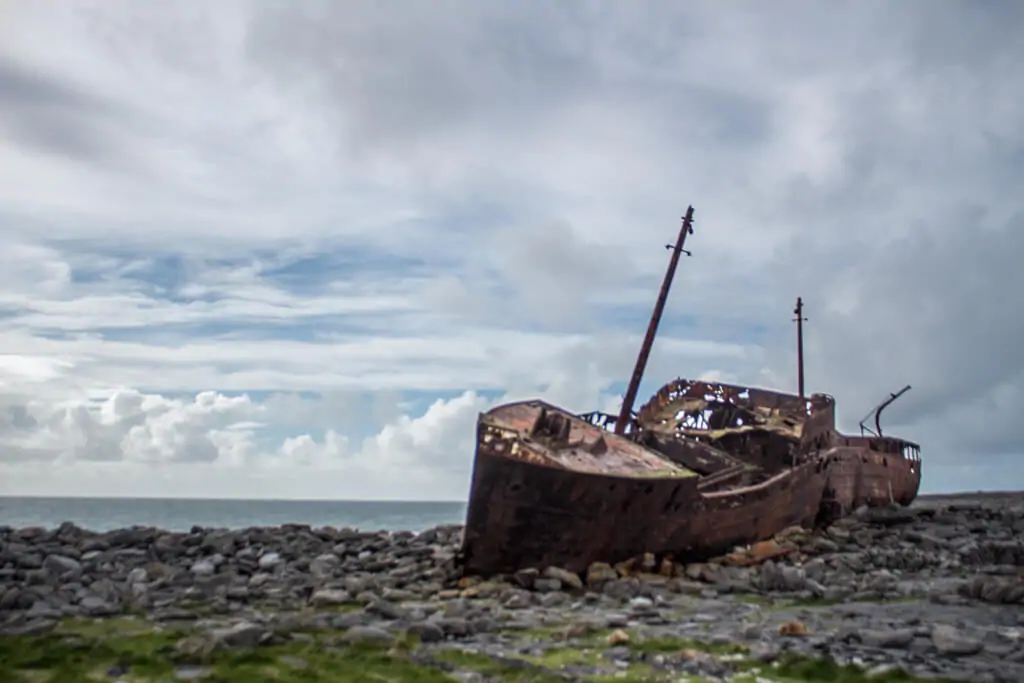 Connemara
Connemara National Park was definitely one of our favorite places during our road trip around Ireland. It's an easy day trip from Galway but if you have more time it's a great place to stay for a few days. If the weather cooperates, there are plenty of lovely beaches to relax after spending the morning exploring the park.
We love to hike, especially hikes with great scenery and Connemara doubles down on both. From the moment you enter the park, the views are breathtaking but for the best panoramic views, you should climb to the top of Diamond Hill. This is a popular hike beginning at the visitor centre near Letterfrack and, while reaching the summit is somewhat challenging, there are three easier options. In fact, there are numerous hiking trails throughout the park that will take walkers from mountains to lakes, bogs to forests at varying lengths and degrees of difficulty.
Killary Fjord is another spot worth seeing and Kylemore Abbey is a showstopper. The grand building is set between a mountain and a lake. On a calm day, the lake creates the perfect reflection of the abbey. Finally, Sky Road is a narrow peninsula with an even narrower road around it. If you're brave enough to drive it you will be rewarded with some amazing vistas of Ireland's western coastline.
Contributed by: Claire of Past the Potholes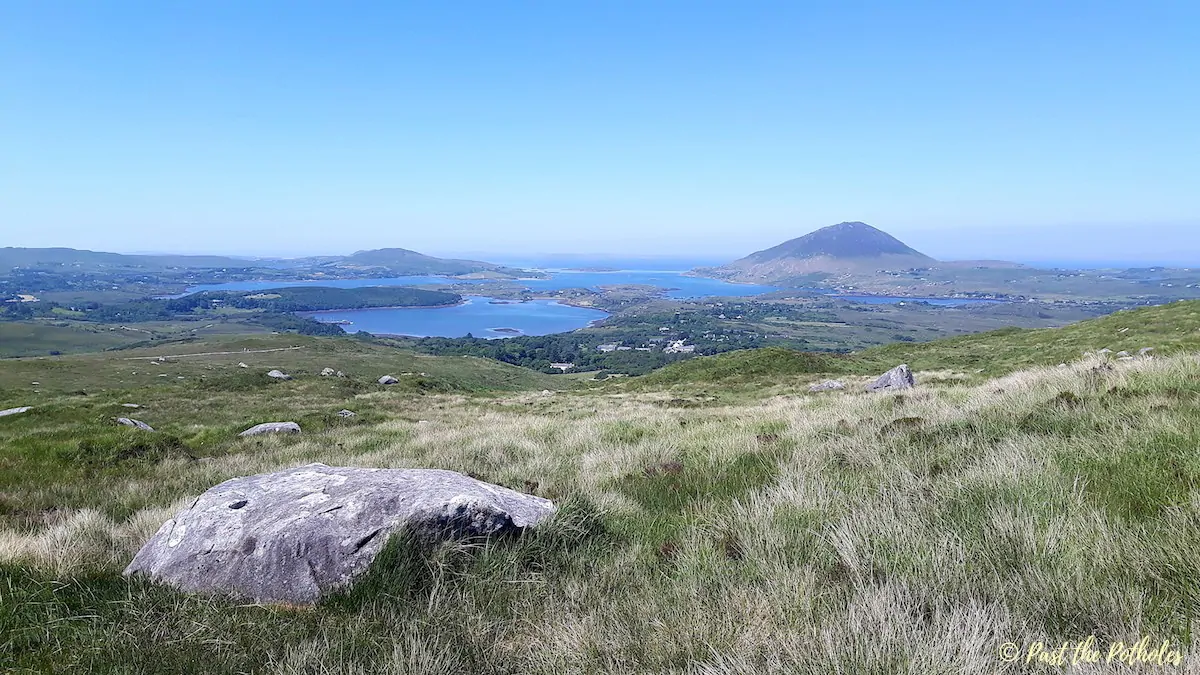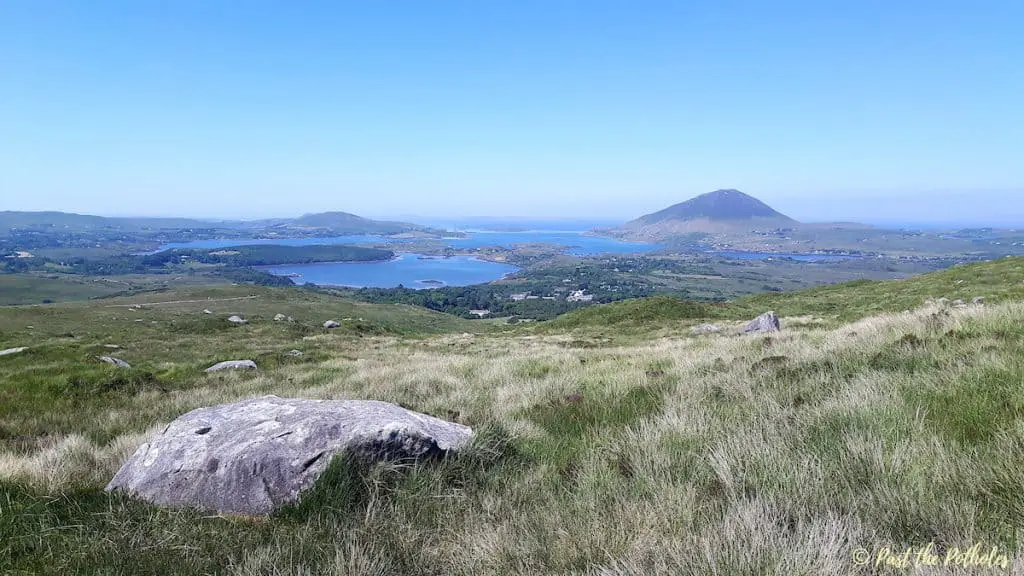 Limerick
Limerick is the third largest city in Ireland and is one that is often overlooked by travelers. Located in the west, it is the jumping off point for many travelers visiting the Wild Atlantic Way and The Cliffs of Mohr. It is close to Shannon Airport, one of the main airports that services flights to the US and makes a great destination to travelers just arriving to Ireland. It's the perfect destination for travelers wanting to see the "real" Ireland.
Once known as Pig Town for its role in Ireland's pork production, Limerick has a vibrant food scene lead by local culinary artisans. On weekends throughout the year, food producers and restaurants showcase Limerick's locally produced culinary offerings at the city's open air Milk Market. Displays of artisan cheese, produce, and of course Irish breads can be found at the weekend market. In the evening, travelers can find a wide range of traditional Irish pubs serving up pints of Guinness and Treaty City, the local craft beer brewed within the city limits. Limerick's Market Quarter is home to several pubs and nightclubs featuring live music and loads of good old Irish "craic."
For history and culture buffs, it is also home to historic sites including King John's Castle and the Treaty Stone of 1691. Or for more adventurous travelers, the River Shannon runs right through the city and you can take a kayak tour of the Shannon Estuary, to see Limerick from a different view.
Contributed by: Amber of Food and Drink Destinations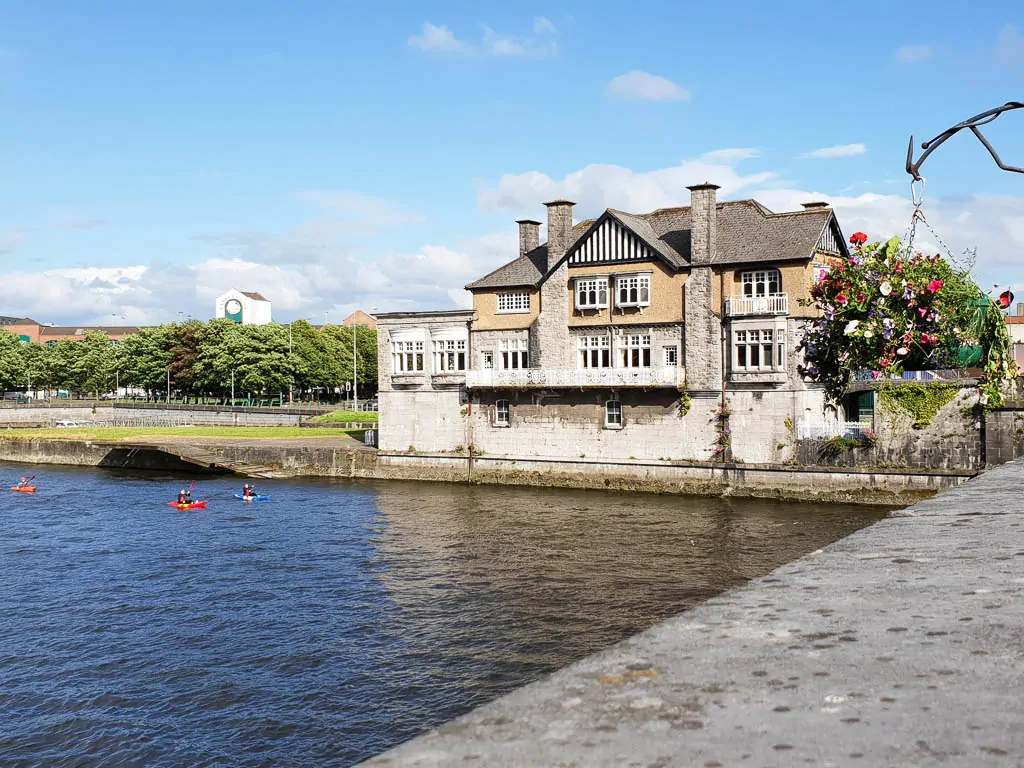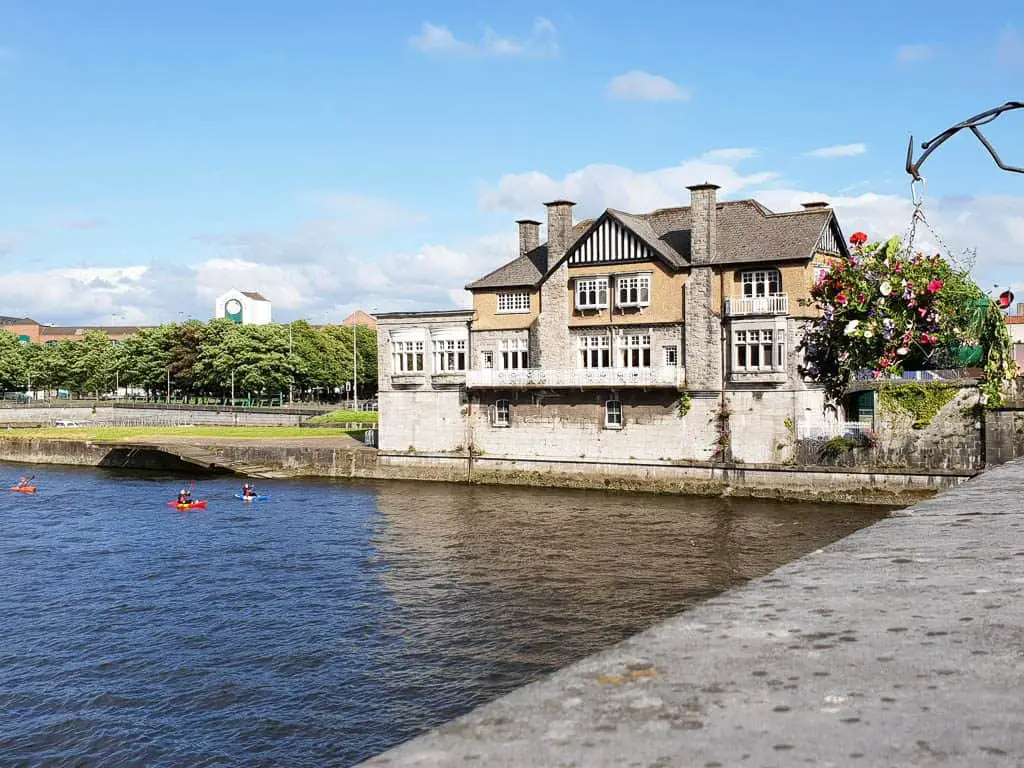 Tipperary for Rock of Cashel & Cahir Castle
A county of Ireland that should not be overlooked if you are visiting Ireland is County Tipperary. Situated in the province of Munster, this landlocked county is quite rural which makes it all the more stunning. It is also home to two of the best tourist attractions in Ireland, which you should ensure are on your list of things to do in Ireland. These are the Rock of Cashel and Cahir Castle.
The Rock of Cashel is a ruined medieval abbey which sits on a hill at the town of Cashel. It was once the seat of the Kings of Munster, meaning it is steeped in history. Most of the buildings are from the 12th and 13th centuries and although most of the roof is gone, the arches remain, giving you a sense of how grand it must have been in its time. Be sure to watch out for it as you approach the town.
Less than half an hour away you can visit one of Ireland's largest medieval castles, Cahir Castle. Situated on a rocky island in the River Suir at the town of Cahir, it is also one of Irelands best-preserved castles. It was home of the powerful Butler family, the Earls of Osmond in the late 14th century and the castle and gardens are a great place to explore, especially with kids.
Not far from Cahir Castle is another great tourist attraction, the Swiss Cottage. Built as an ornamental cottage around the year 1810 and is now a historic house museum worth visiting while you are in the area. Tipperary is a county not to be missed and is one of the best places to visit in Ireland.
Contributed by: Cath of Passports and Adventures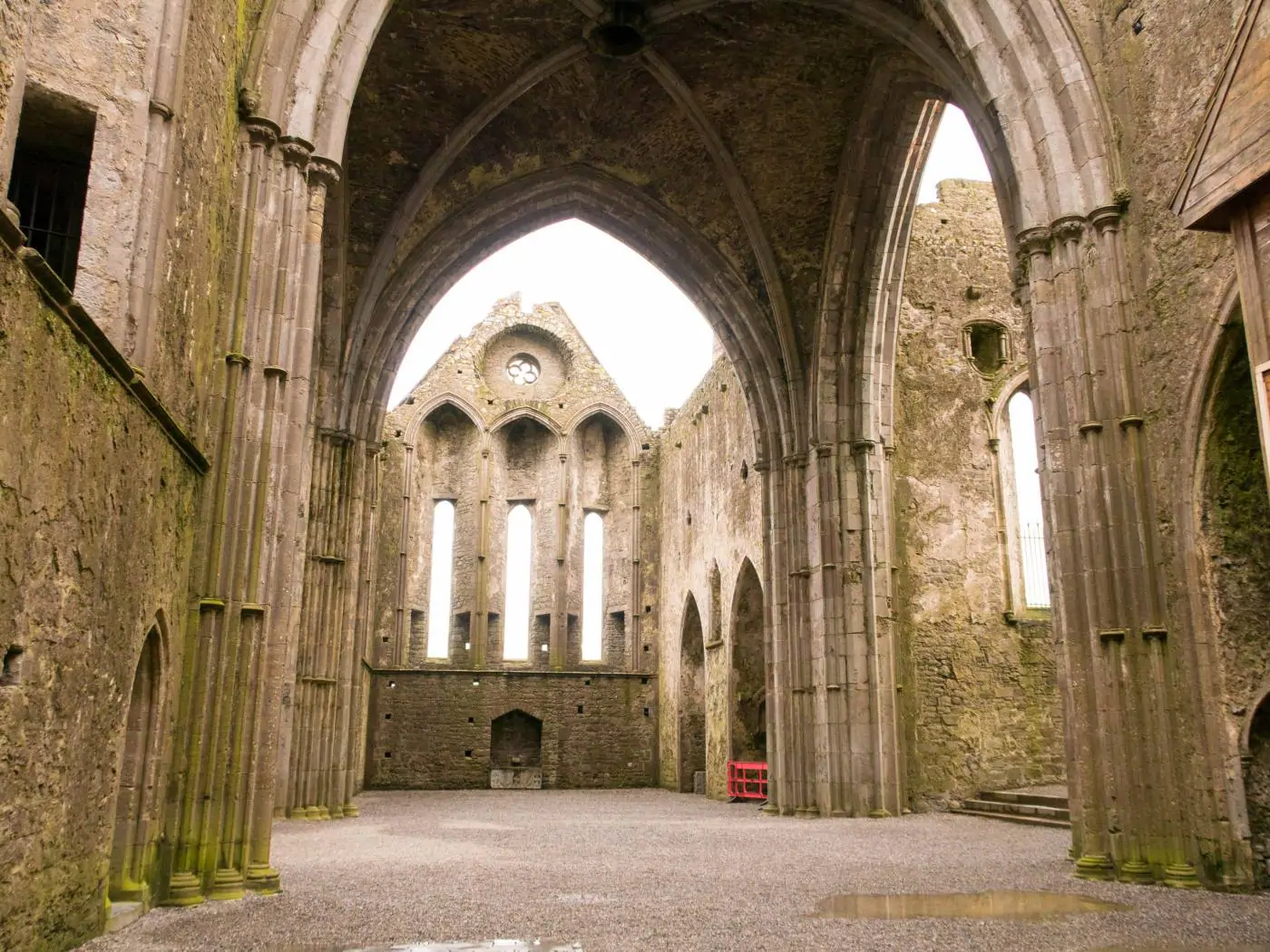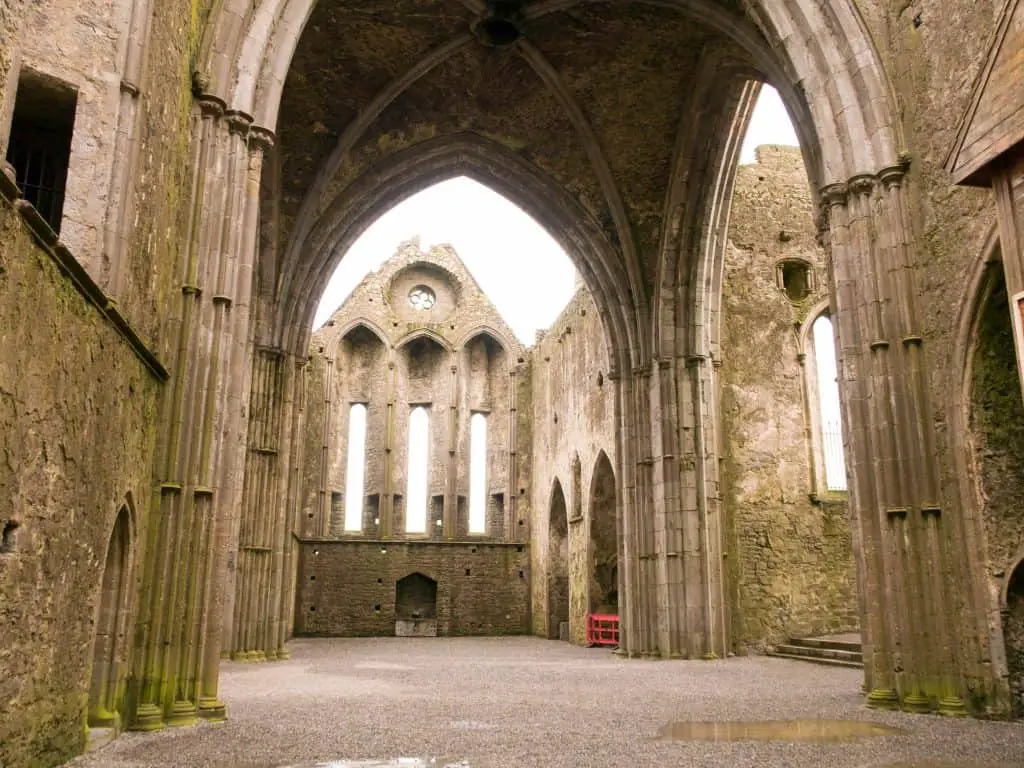 Donegal
Donegal is located in the northern part of Ireland in the county of the same name. It is a quaint little city well worth a stopover for at least the day. There is plenty
to do in Donegal
such as explore the castle, the friary, and the best of all take the waterbus around the bay.
The castle is very small, but it's just like one out of a fairytale. Nothing is large in it, except for the fireplace, which is just huge. Two people can stand in it. I know, because we did. They offer guided tours, but we were able to wander through on our own and pretend we were high born.
Down by the port, the friary is another place to wander, take lots of photos, and play make-believe. Then once you've had enough wandering, take a ride on the waterbus, beer in hand and enjoy the scenery from the water. We saw harbour seals sunning on the sand and enjoyed the 75 minute tour.
As small as Donegal is, it is memorable. Don't miss it!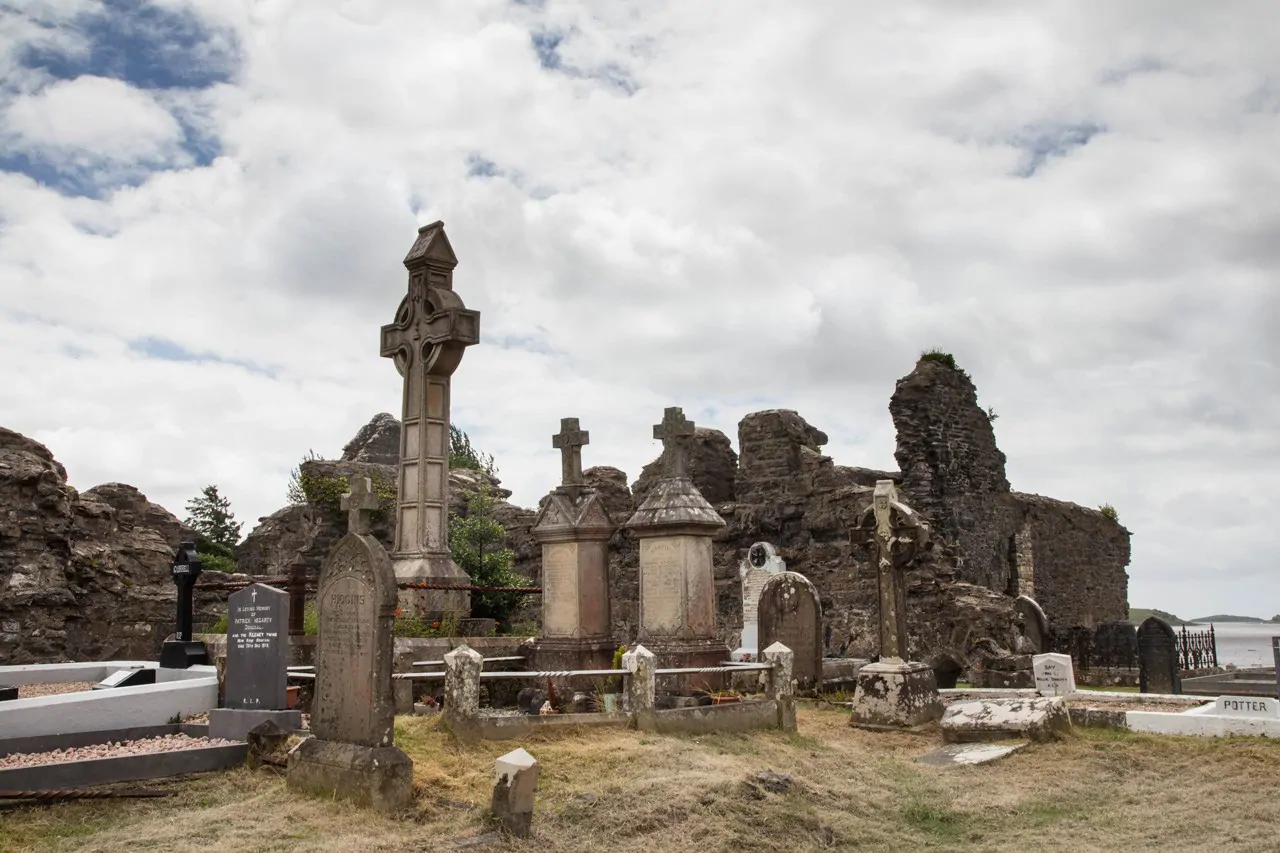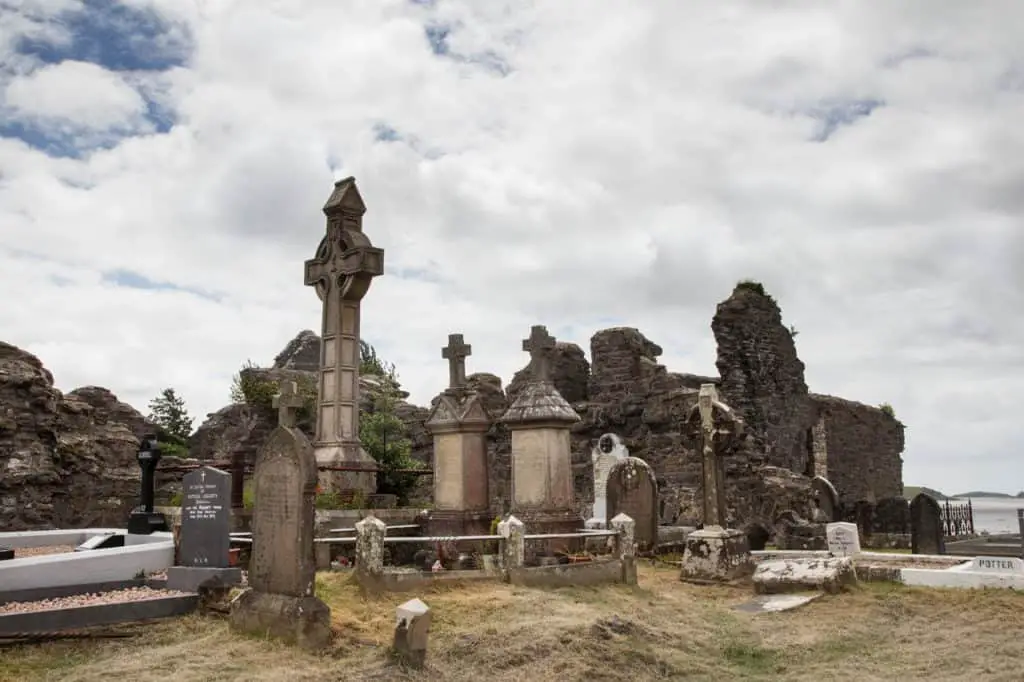 Sligo
W.B Yeats was laid to rest in 1948 under the shadow of Ben Bulben Mountain in Drumcliffe, County Sligo.
Drumcliffe sits in front of the stunning Sligo mountain range and is a place of quiet beauty, it is peaceful and serene and you can understand his desire to be buried here. Sligo is a County that many people pass by when visiting Ireland which is a shame as it has much to see and do.
Yeats' family has been associated with St. Columba's church in Drumcliffe for several hundred years and it was his deepest wish to be buried there. He actually died in France and the body was exhumed and returned to Sligo by his wife in 1948. There has been controversy however for many years as to whether or not the French sent the correct bones to Ireland.
Yeats wrote one of the most famous epitaphs of all time:
Cast a cold Eye
On life, on death
Horseman pass by!
The Drumcliffe Yeats Centre is a beautiful quiet place to come and remember one of the world's finest poets. The Centre includes the Church that his family worshipped at for years as well as a small gift shop and tearoom. There is no charge to enter the church or see the beautiful statue of Yeats in front of the church and his grave.
Contributed by Faith of XYUandBEYOND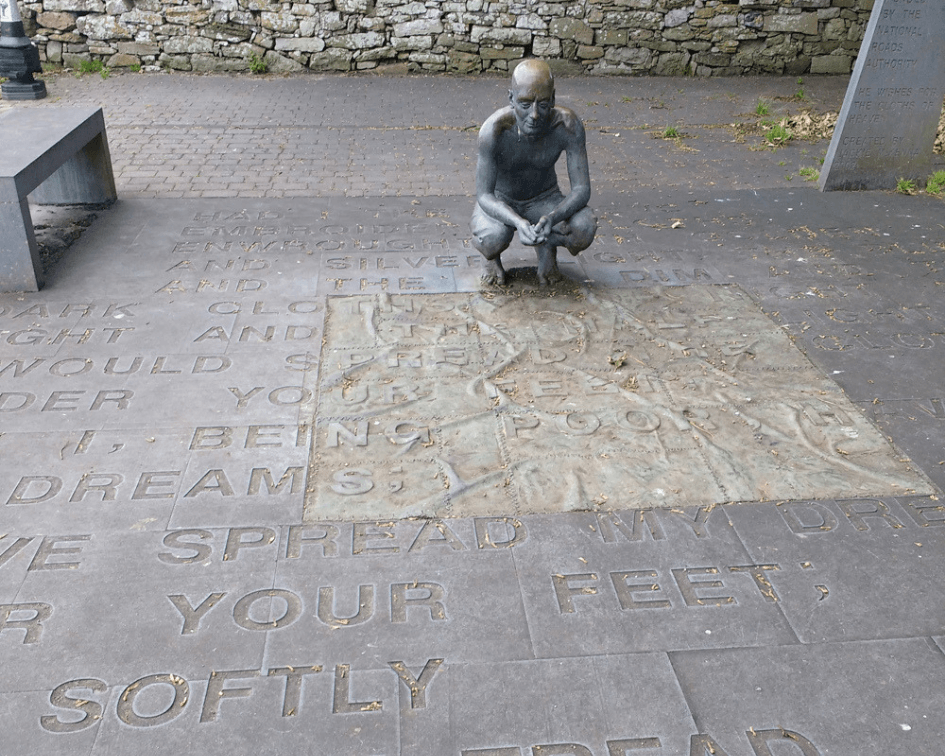 And just like that, we've made a complete loop of the Republic of Ireland. It's such a beautiful country, right? Did you fall in love with it as much as I did? I hope you get to put this bucket list to good use and see many of these beautiful places on your next trip to Ireland! Be sure to download the itinerary to help you check off all these spots!
Like this post? Save for later!