The Bray to Greystones walk is a beautiful coastal walk just 45 minutes south of Dublin city center. It may be slightly overshadowed by the Howth cliff walk, but the Bray to Greystones cliff walk is no less beautiful making it an excellent option to escape the busy Dublin streets for a stroll on a sunny day in Ireland. 
The only way that I heard about this walk was from my coworker who had visited the year before I did. He showed me beautiful pictures of yellow flower fields that dramatically dropped off into teal blue waters that you'd expect to see in the Carribean. His photos convinced me to put the Bray to Greystones walk firmly on my Ireland Itinerary for my first trip to Ireland.
This is the fifth post in the Ireland Travel Series. Here is the complete 6 part series:
Ireland Travel Series
Itinerary: Discover the Best of Ireland with this 7 Day Ireland Itinerary without a Car
Travel Tips: What Not To Do In Ireland: Avoid These Tourists Mistakes in Ireland
Packing Tips: The Only Ireland Packing List You Need for Any Season
Dublin: The Ultimate Guide to 2 Days in Dublin
The Wild Atlantic Way: Top 3 Day Trips from Galway Ireland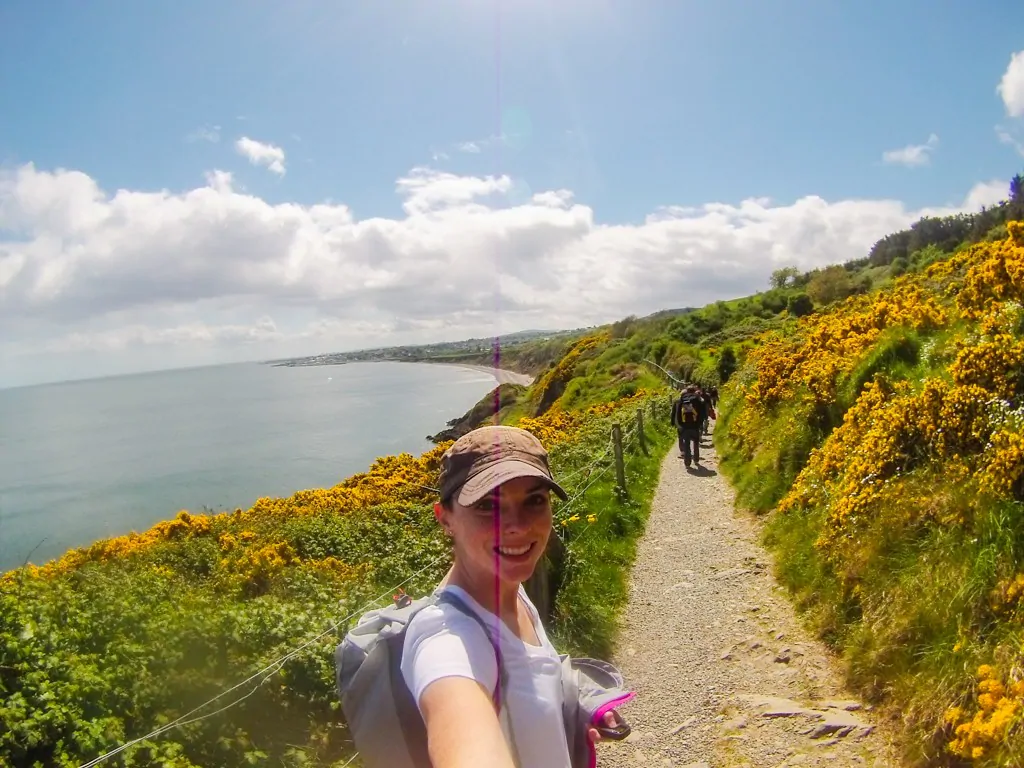 How to Get to Bray
The great thing about this walk is the ease at which you can DIY it. There is no need to rent a car or book a tour. Also, it can be accomplished in half a day. The day I did it was a rainy morning in Dublin so instead of rushing off to start it, I visited the Book of Kells and Trinity College. Once I walked out of the Long Room, the sun came out to play and I made my way to Connolly Station to catch the next train to Bray.
To get to Bray you'll take the DART train from any DART station close to you in Dublin (Connolly, Pearse, Heuston, Tara Street) to Bray (Daly). A return ticket costs €6.75 and the ride will take about 45 minutes. 
When you get on the train make sure to pick a seat next to the window as it's a stunning ride along the coast!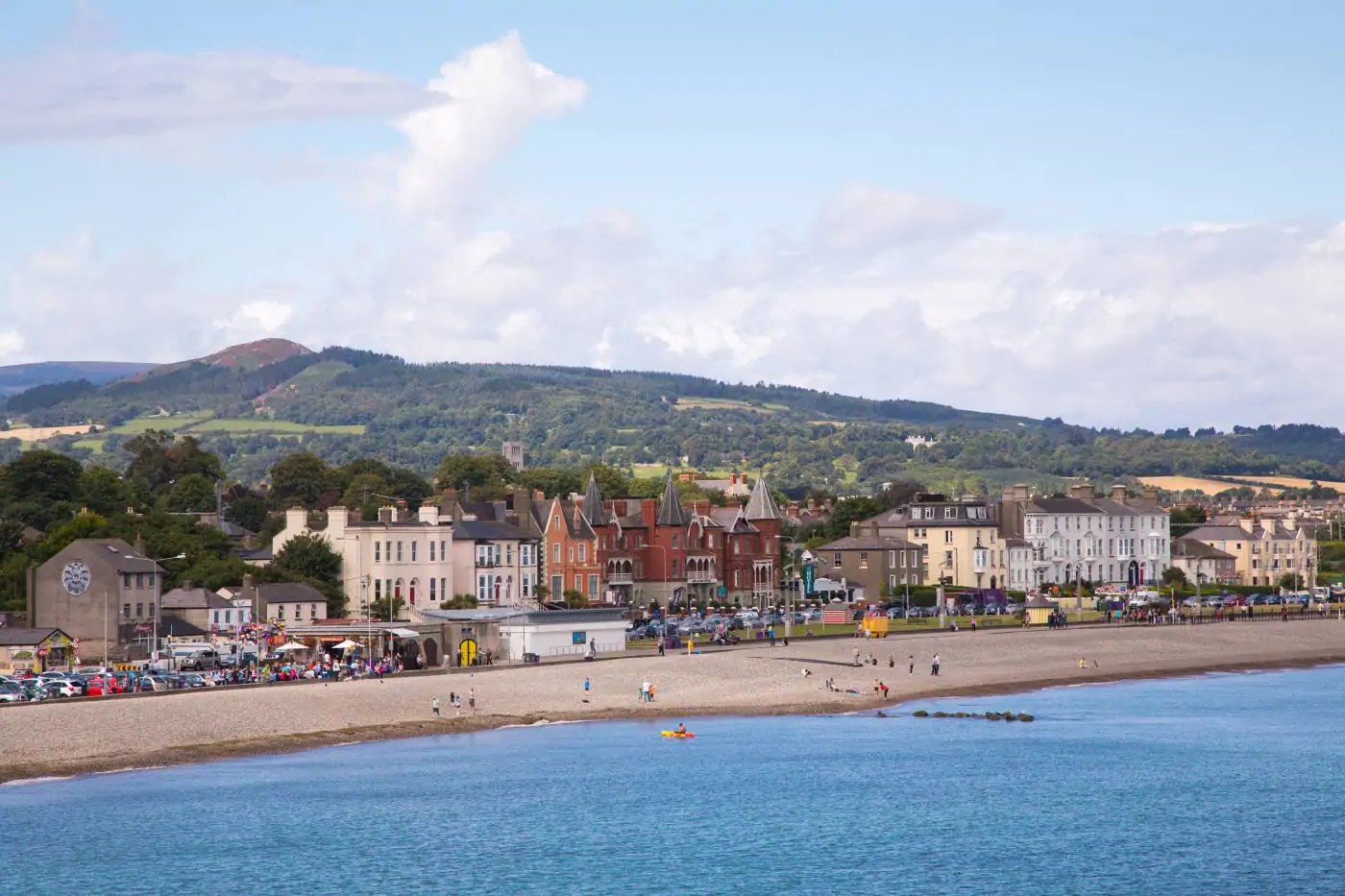 Where to Eat in Bray
If you're anything like me, you'll want to eat something before you start the walk. Once you arrive in Bray, you'll discover a charming little town with plenty of restaurant options. I was starving since I hadn't eaten much except toast from the hostel breakfast that morning. As I walked toward the beach, I discovered a pizza place, called Platform Pizza Bar, that had tables outside so I could enjoy the seaside view. The pizza was pretty damn good too, as it should be as it's regularly voted the best pizza in Dublin.
If you're not up for pizza, there are plenty of other options to choose from as you stroll along Bray's promenade. Perhaps a burger from Box Burger or brunch from Dockyard 8? This post has a good roundup of the best places to eat in Bray and I plan to try a few the next time I'm in town.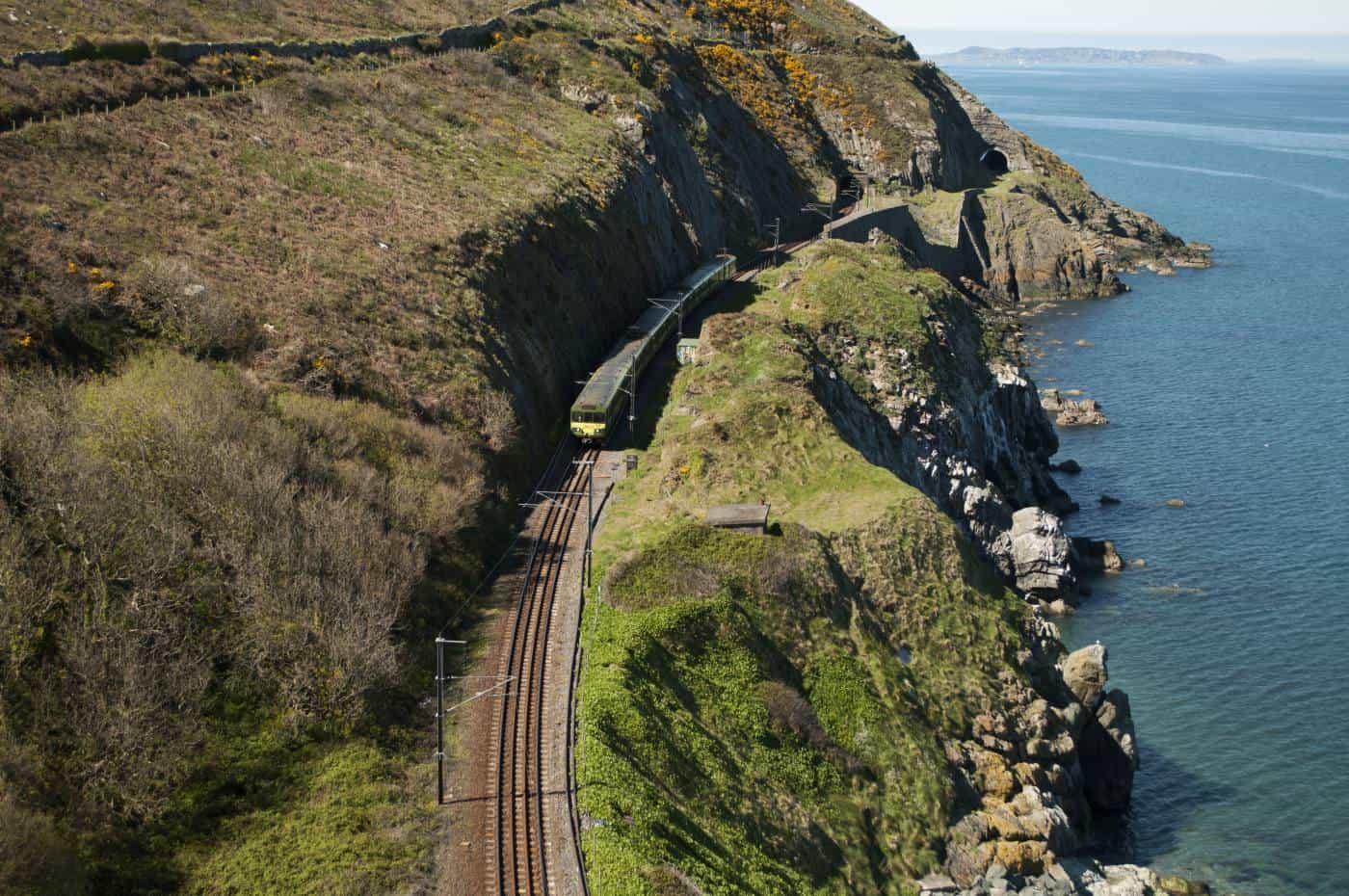 The Bray to Greystones Cliff Walk
Now that you're nice and full, it's time to walk it off. Stroll along the rocky beach or the promenade towards Bray Head. It's incredibly obvious where the walk starts as the dirt path turns to the left away from the street and towards the water. 
The walk is 7km in one direction, is fairly easy and should take approximately two to three hours to complete – depending on the amount of photo op and snack breaks you take.
You'll have two options for this walk. You can make the hike up to Bray Head to get a bird's eye view of the Wicklow Mountains, Bray, and the sea or you can walk along the coastal path. Or for that sneakily fun third option – do both!
I opted to skip the hike up to Bray Head and just walked along the path. I didn't pack the right shoes for this trip and was experiencing my first ever shin splints. So I wanted to keep my walk as gentle as possible. If you decide to hike up to Bray Head the path will eventually join back up with the coastal path closer to Greystones.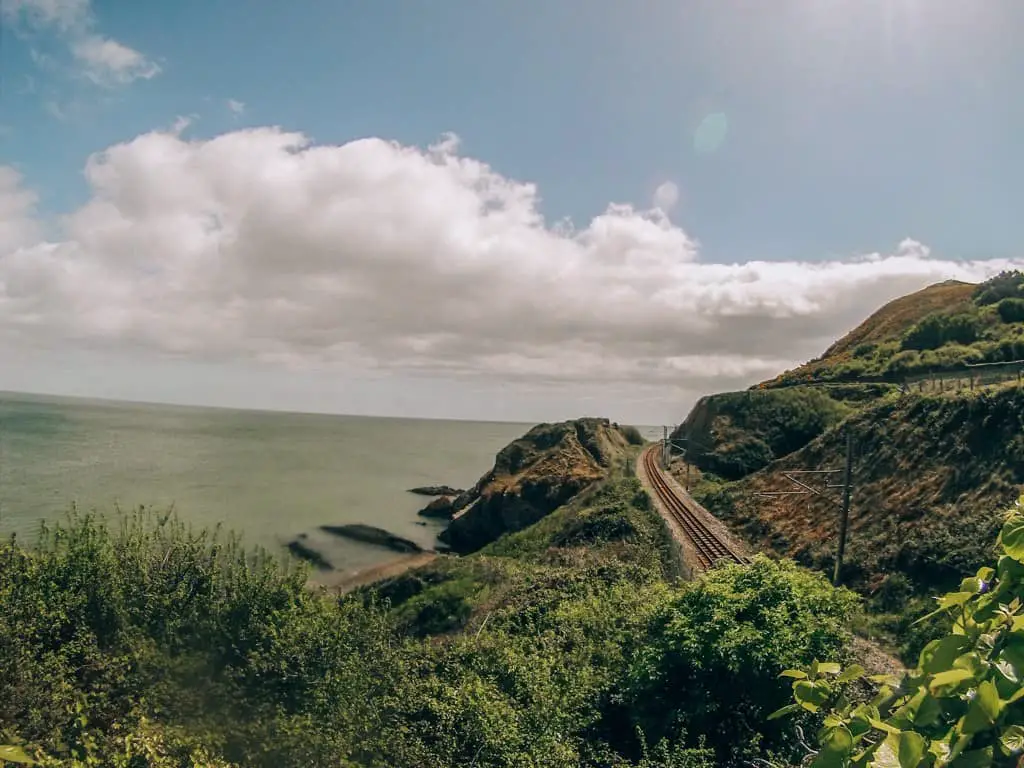 The coastal path follows the railroad tracks that seem to just dance on the edge of the cliff. You'll walk by large pastures with grazing sheep adding to the idyllic surroundings. There are also large fields with blooming yellow flowers.
The paths are dirt, but wide enough to walk side by side if you feel so inclined. The majority of the coastal path is lined with fences or stone walls separating you from a massive fall. 
Compared to its more popular counterpart in Howth, I found the Bray to Greystones walk had a bit more of a local vibe. There were people taking their dogs for a walk, families out for a summer stroll, and girlfriends chatting as they passed by me.
As you get closer to Greystones, the views become a bit less impressive than they were at the start of the walk. But as you come into the harbor you'll notice a small beach and a few restaurants.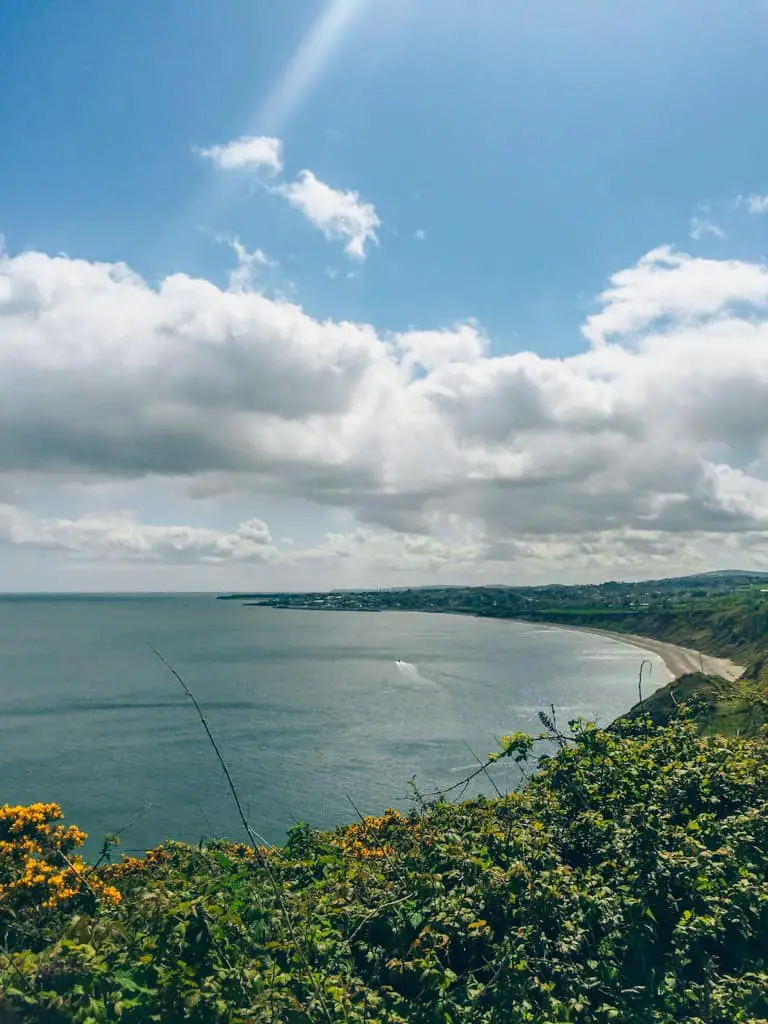 Where to Eat in Greystones
Again, if you're like me and need to eat every two to three hours to avoid getting hangry, it's about time for at least a snack before returning to Dublin. There are a few options for restaurants in Greystones. 
When I arrived there was a small ice cream shop, so that's what I went with. I enjoyed it with a view of the harbor and older gentlemen playing beautiful music on the benches next to me. 
If a post-hike beer is more your style, then try the Beach House for a pint and some pub grub. Or if you want a healthier option to support the exercise you just did, head into town for the famous vegan restaurant Happy Pear. 
Returning to Dublin
Once you've finished the Bray to Greystones cliff walk and eaten your fill head to the DART station in Greystones and return to Dublin. Alternatively, if you're still feeling energized and want to soak in as many coastal views as possible you can walk back to Bray along the coastal path again.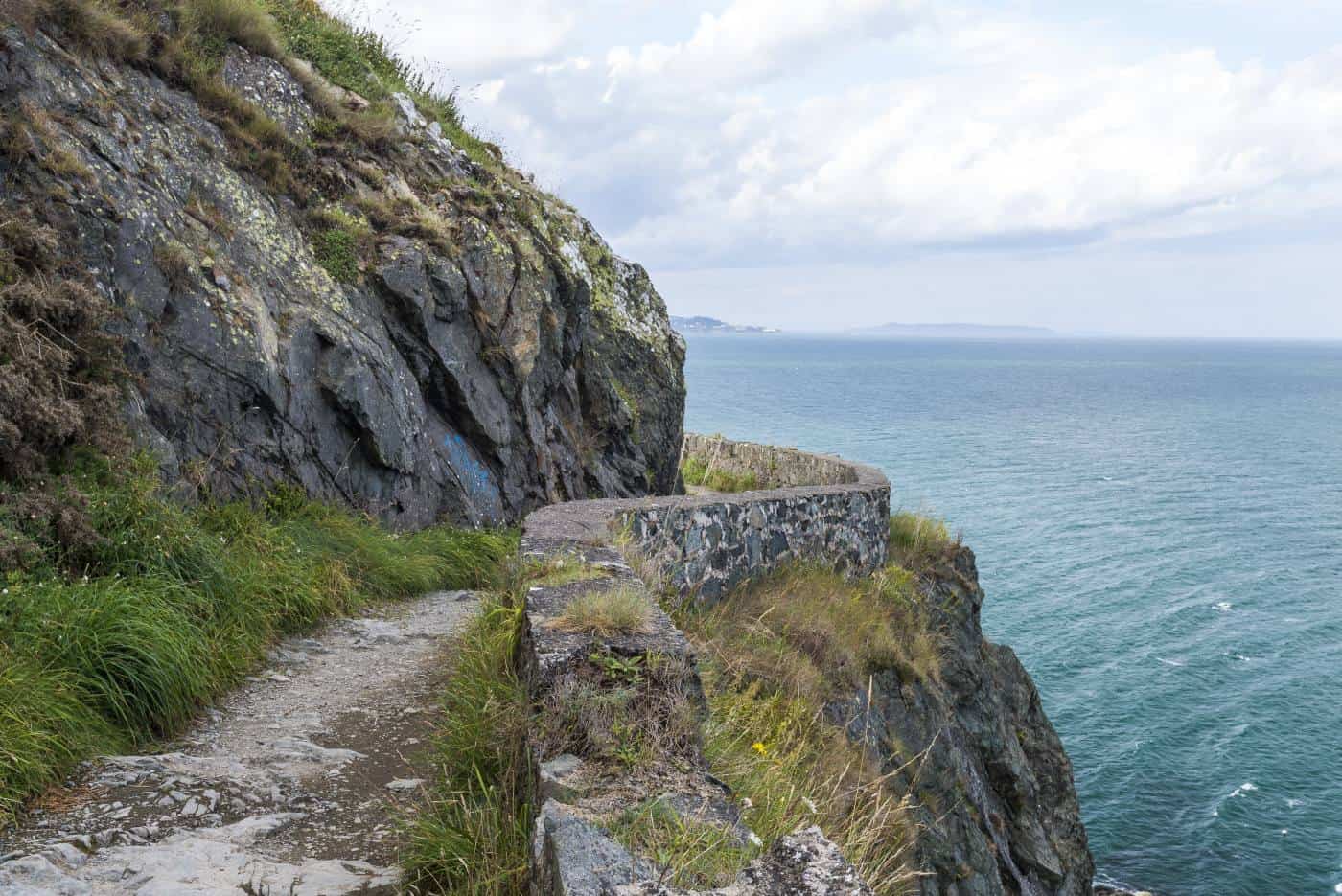 Staying in Bray or Greystones
I always love throwing out a few options for you. If you're feeling the need to get out of the busy streets of Dublin to a place with a bit more Irish charm and local vibe, perhaps you'll want to stay a night or two in Bray or Greystones. 
There aren't any hostel options in Bray or Greystones, but there are plenty of Airbnbs to choose from as well as traditional hotels such as The Strand where Oscar Wilde once stayed.
I hope that you enjoy this cliff walk as a break from the craziness of Dublin and a chance to see a different way of Irish life. I apologize for some of the crappy photos. While I remember taking hundreds of photos the day I did this walk, I can't seem to find them and the ones I can find aren't the best quality as this was well before my blogging days! So go see the beauty of the Bray to Greystones cliff walk for yourself!
Like this post? Pin for later!