After multiple trips to Ireland, where I skipped over Dublin in favor of my favorite city, Galway, I've since returned to Dublin and have fallen in love with Ireland's capital city. Aside from having a wide variety of fun things to do within the city, Dublin makes an excellent base for exploring the rest of Ireland, especially when you're short on time. I find it easy to plan day trips from Dublin as Ireland is a small country, so many places on your Ireland bucket list are just a few hours away. 
Of course, that's coming from someone who lives in California and has driven 8 hours without leaving the state!
Some Dublin day trips on this list will take half a day, while others will be an entire day. While many places on this list deserve more than a day, I've done my best only to include day trips that are reasonable to do in a day. I define reasonable as taking 2.5 hours max, one way to get to where you're going.
This post contains affiliate links, which means that, at no additional cost to you, I will earn a tiny bit of income if you decide to make a purchase or booking.
Getting Around and Out of Dublin
Before we get into planning your day trips from Dublin, let's go over how to get around Dublin itself and Ireland as a whole.
Getting to Dublin City Center from the Airport
The first thing you'll need to do is get from Dublin Airport to Dublin City Center. This is very straightforward! You can take a bus or a taxi.
Getting to Dublin By Bus
The bus is the cheapest way to get to Dublin City Center from the Airport. Once you clear customs and gather your luggage, follow signs for buses, specifically the Dublin Express. You can purchase your ticket online or from the person working at the kiosk.
Simply tell them your destination, and they'll tell you the closest bus stop. They may not know your exact accommodation, so have a general idea of where you need to get in the city, and they'll get you there.
A single ticket costs €9, and a return costs €11.
Getting to Dublin By Taxi
If you prefer to take a taxi directly to your accommodation, follow the signs for taxi ranks outside Terminal 1 and Terminal 2. The taxi will cost between €25 and €30 and take approximately 35-45 minutes, depending on traffic conditions.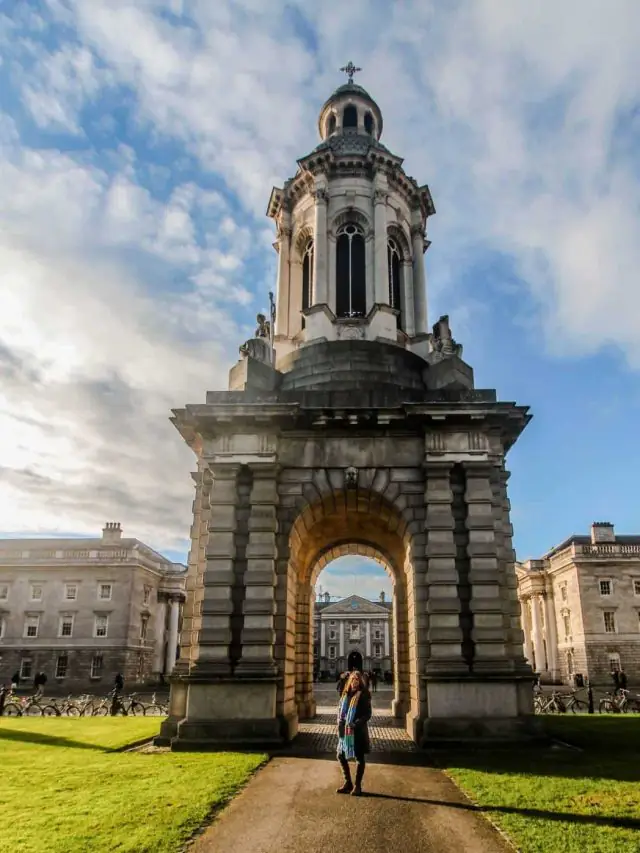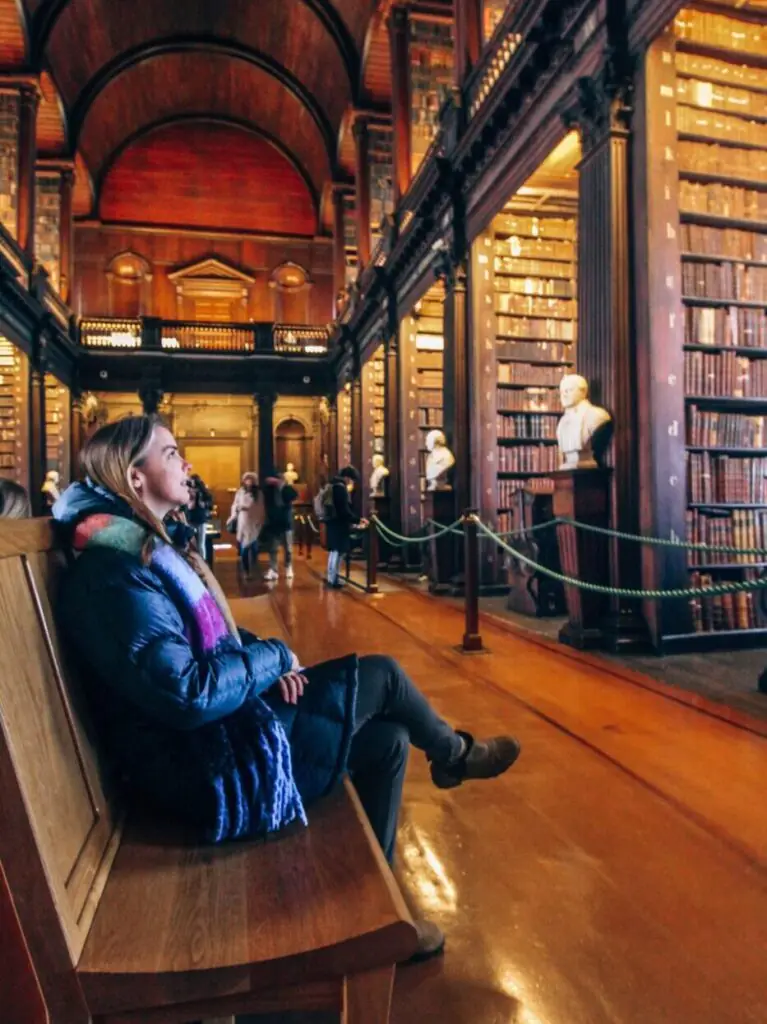 Getting Around and Out of Dublin
Walking in Dublin
Dublin is very compact, and many of the city's main attractions are a quick walk from your accommodation. It's also a very flat city, so you won't have hills or steep staircases, which surprised me about Edinburgh. There are also plenty of public transportation options in Dublin.
LUAS
The LUAS is Dublin's tram system, which has two lines: the Red Line and the Green Line. The two lines intersect in the city center and extend further out. The Red Line has stops for the Dublin Heuston and Dublin Connoly train stations, which will help you reach many of these day trip destinations.
Renting a Car in Dublin
If you're doing an Ireland road trip, I recommend picking up your rental car upon arrival, heading straight onto your road trip, and spending time in Dublin on the back end of your adventure. Alternatively, you can spend a few days exploring the best things to do in Dublin and then return to the airport to get your rental car and head out on your road trip.
Long story short, I only recommend driving in Dublin if you're used to driving on the opposite side of the road, in a city with many pedestrians, and have a place to park your car.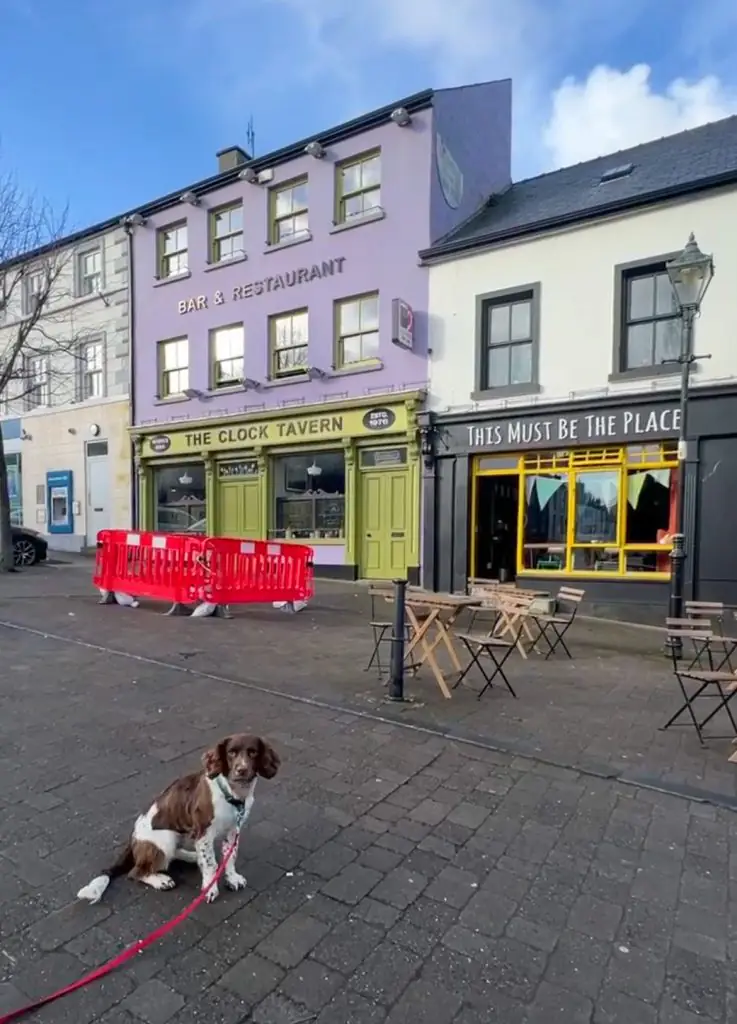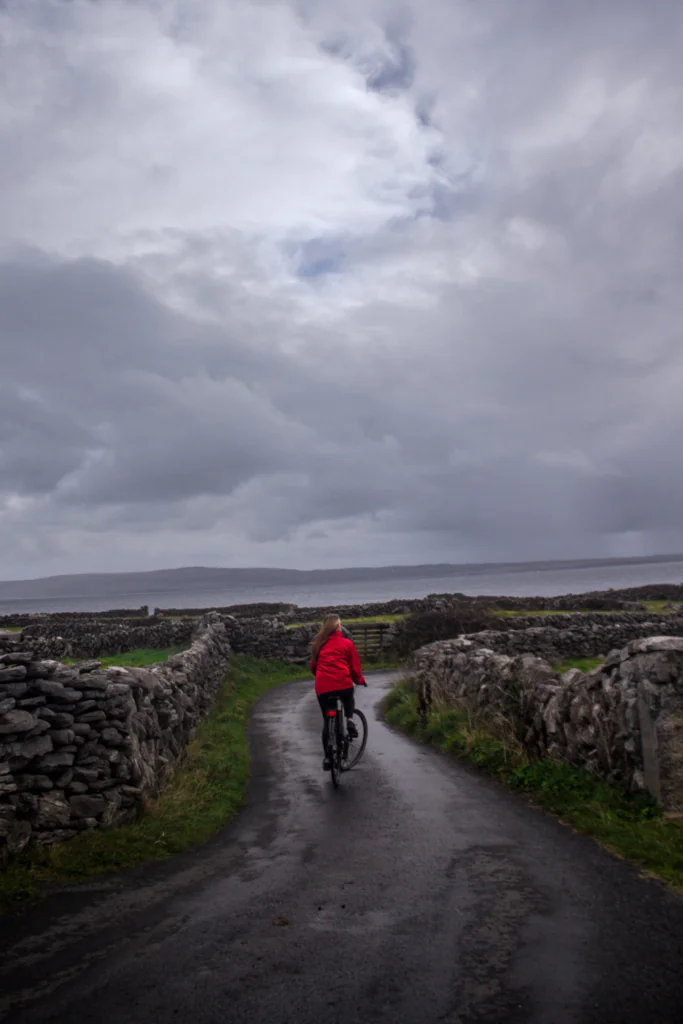 Getting Out of Dublin to the Rest of Ireland
Ireland by Bus
Traveling around Ireland by bus is an easy and inexpensive way to see the country. Multiple bus companies have direct routes between Dublin and popular destinations like Galway, Cork, Belfast, and beyond. Local buses can then take you to smaller towns.
Although bus travel is cheaper than renting a car, it may require more planning. You must ensure your itinerary makes sense for the bus routes and timetables.
I've traveled extensively by bus in Ireland, visiting towns like Doolin, Dingle, Kinsale, Clifden, and Westport. I also hopped on the back half of a guided tour when I realized there was no convenient bus route to my next destination. With a bit of patience and creativity, buses are a great way to get around Ireland.
The bus journeys have always been safe and comfortable. Plus, many have Wi-Fi on board if you need to connect, although I usually use the rides to catch up on sleep. The bus drivers are also typically helpful when you need to know the closest stop to your destination.
Check out CityLink for transport between major hub cities, and then use Bus Eireann to help get you to smaller towns.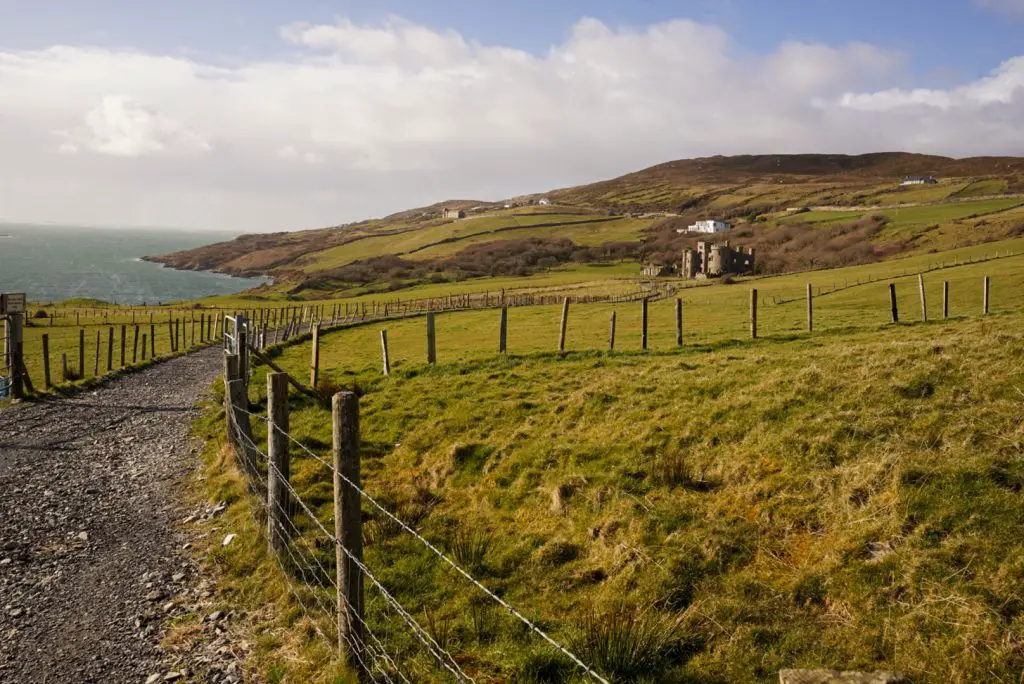 Ireland by Train
Iarnród Éireann Irish Rail provides train service throughout the Republic of Ireland, while Translink serves Northern Ireland. Although slightly more expensive than the bus services, trains may be the fastest way to get where you want to go!
Irish Rail also operates DART, the commuter train system in Dublin. Using DART, you can get to beautiful places like Howth, Bray, and Malahide within 30 minutes to an hour. The train ride to Bray is breathtaking.
Irish Rail also connects major cities with stops in between. I could take the train from Westport back to Dublin and found it very simple. I also liked that I could change my ticket easily on their website (which I had to do multiple times as I was sick with COVID). 
I also took the train from Cork to Cobh and found navigating it straightforward.
Irish Rail's network covers Belfast, Galway, Sligo, Waterford, Mayo and more. 
You should buy your train tickets in advance, as they sell out and prices increase closer to the departure date.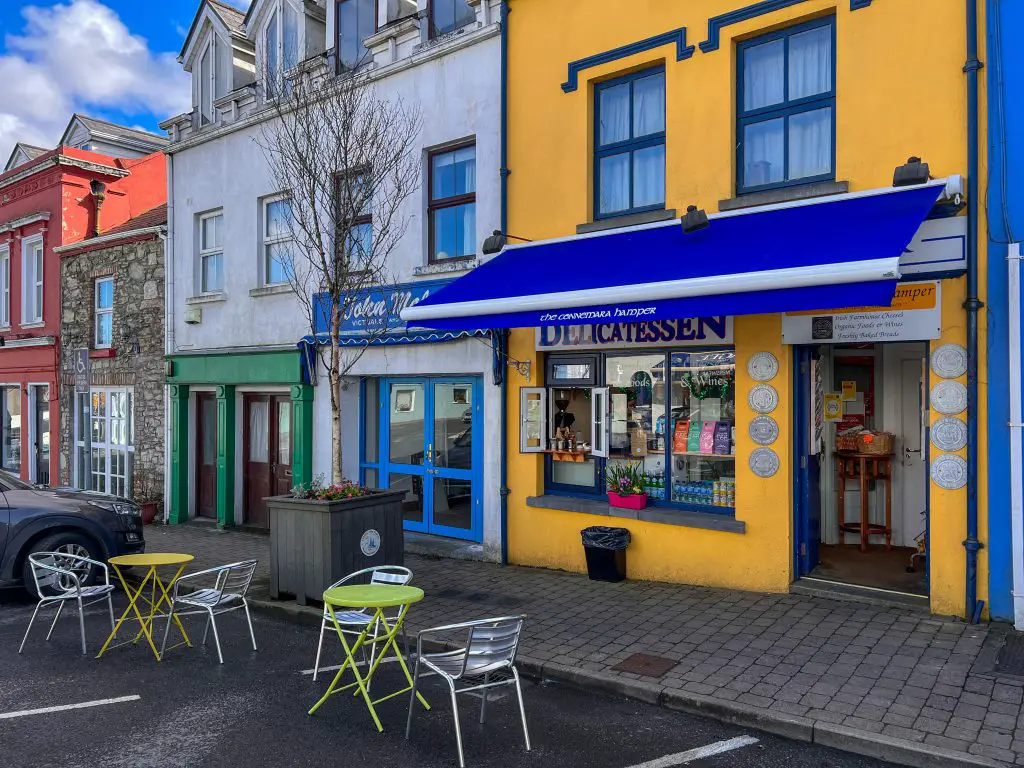 Ireland by Tour
Another way to see Ireland is with group tours. While I don't recommend having your entire trip be a guided tour, a guided day tour to a place you want to see that may be too difficult to get to on public transport is a great way to see Ireland, learn more about its history, and meet new people!
Group tours are the pricier option, but it's worth it to maximize your time in Ireland.
I've done a few group tours throughout Ireland, and one of the best day tours I did from Dublin was to Glendalough and the Wicklow Mountains.
Highly recommended tour companies include Wild Rover Tours, Love Irish Tours, and Rabbie's.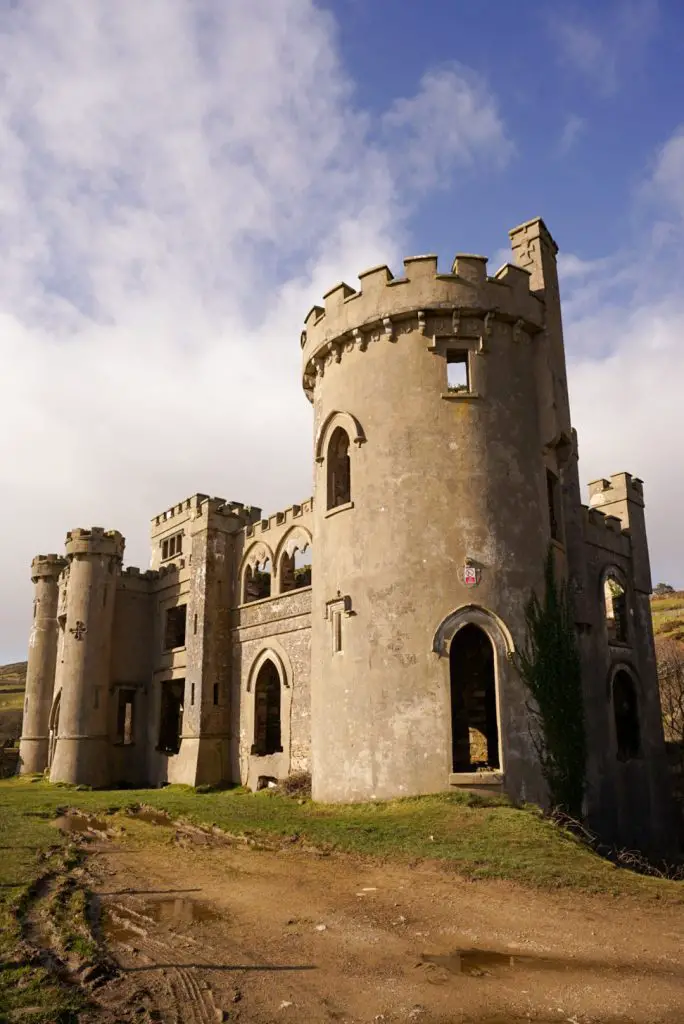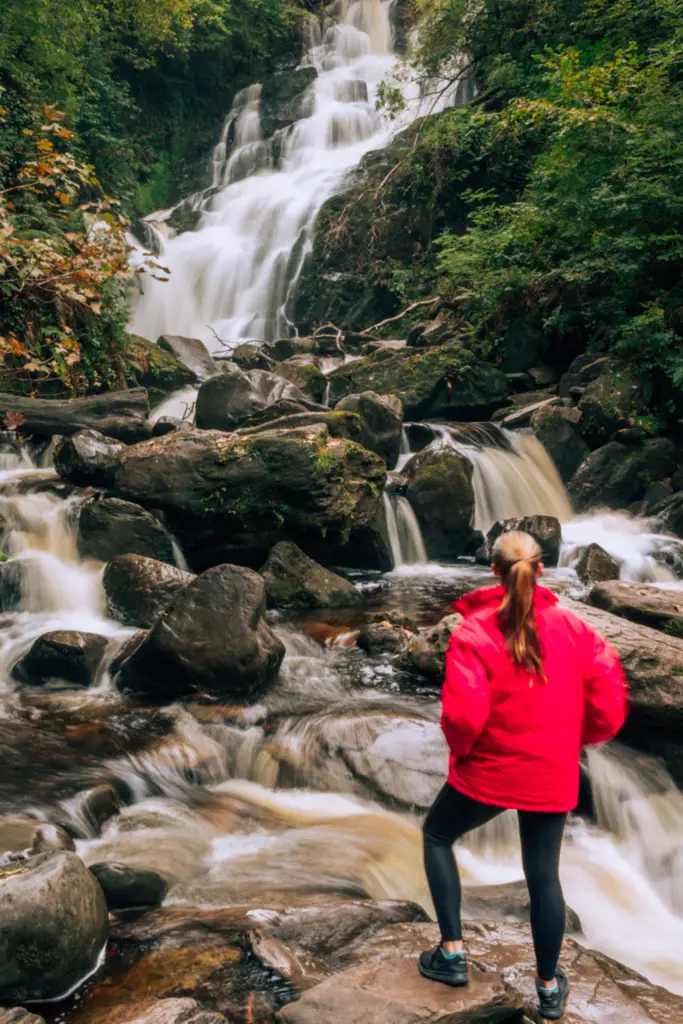 Best Day Trips from Dublin, Ireland
Now that you've got a better understanding of how to navigate around the Emerald Isle let's get into some of the best day trips from Dublin! I will start with Dublin day trips that are easy to reach on public transport. As the post continues, the trips will get further from Dublin and require more planning.
Ready? Let's go!
Day Trip from Dublin: Howth
Howth might be the most popular Dublin day trip as it's only 15km north of Dublin city.
Howth is a charming fishing village with stunning landscapes, delicious seafood, and a rich history. 
Start your day in Howth with the unforgettable Howth Cliff Walk. This walk takes you from the train station, through the harbor, and up along the rugged cliffs. Walk the trail all the way to the lighthouse for a great view. 
When you're done hiking, return to town to explore Howth Castle and Gardens. It is currently a private residence, but you can wander the castle gardens. 
Before you return to Dublin, stop into any seafood restaurant in the harbor for a late lunch or early dinner. You can't go wrong with any of them!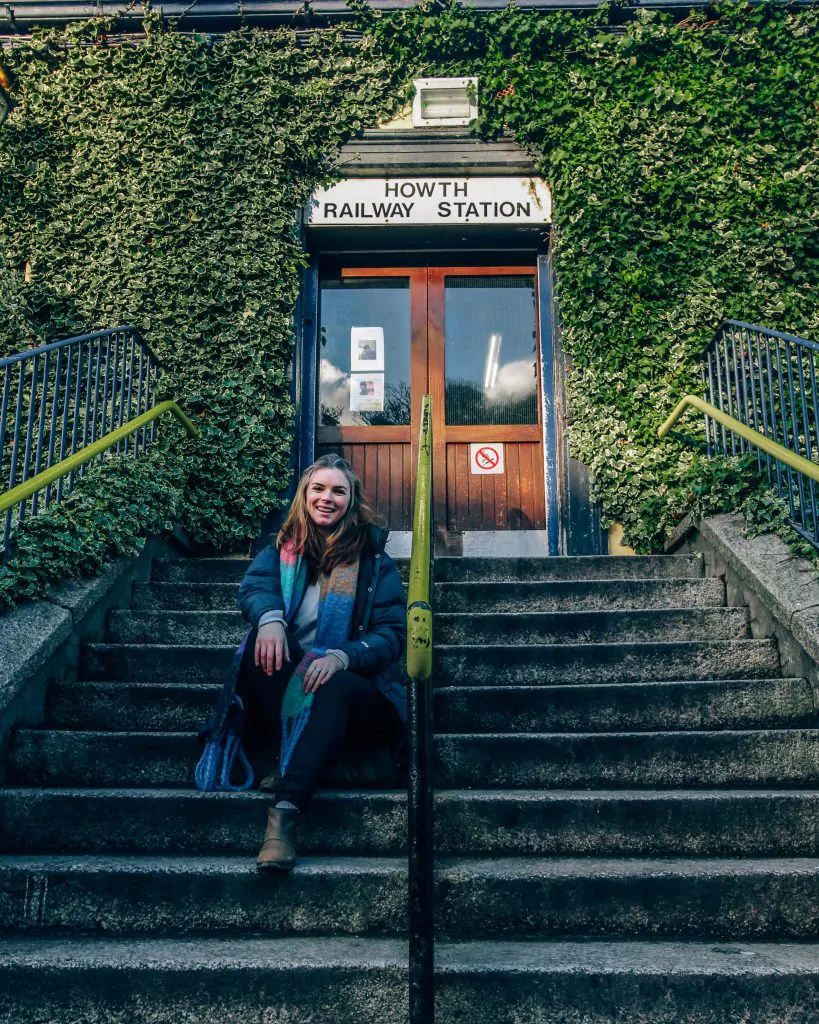 Getting to Howth from Dublin
The best way to get to Howth from Dublin is on DART. It's a short 30-minute train journey. You can purchase your ticket and hop on the train at any Dublin station. The Howth train station is also incredibly cute and worthy of a photo. 
Alternatively, you can take Dublin Bus H3 from Busaras bus station to Howth Harbor. The ride will take approximately 30-40 minutes.
A return ticket on DART costs €5 and a bus ticket is about the same.
Interested in a guided tour to Howth that includes a ferry trip around Ireland's Eye? Book it here!
Day Trip from Dublin: Malahide
Another easy day trip to add to your Dublin itinerary is Malahide, a coastal town located about 15km north of Dublin city center. 
When you disembark the train, walk to Malahide Castle, a medieval castle surrounded by 260 acres of green space. Tours of the Castle last about 45 minutes, and you can spend as long as you'd like doing a self-guided garden tour. Alternatively, you can skip the castle tour and only do the gardens, which I did after being burned out from castles in Scotland. 
I recommend stopping into the visitor center cafe for a sandwich and snacks, which you can enjoy in the garden (especially on a sunny day!).
When you're done at the Castle, return to Malahide village, where there are great cafes, shops, and pubs. Similar to Howth, there is a harbor but no cliff walk. However, it is a lovely walk along the coast with views of Dublin Bay and a small beach.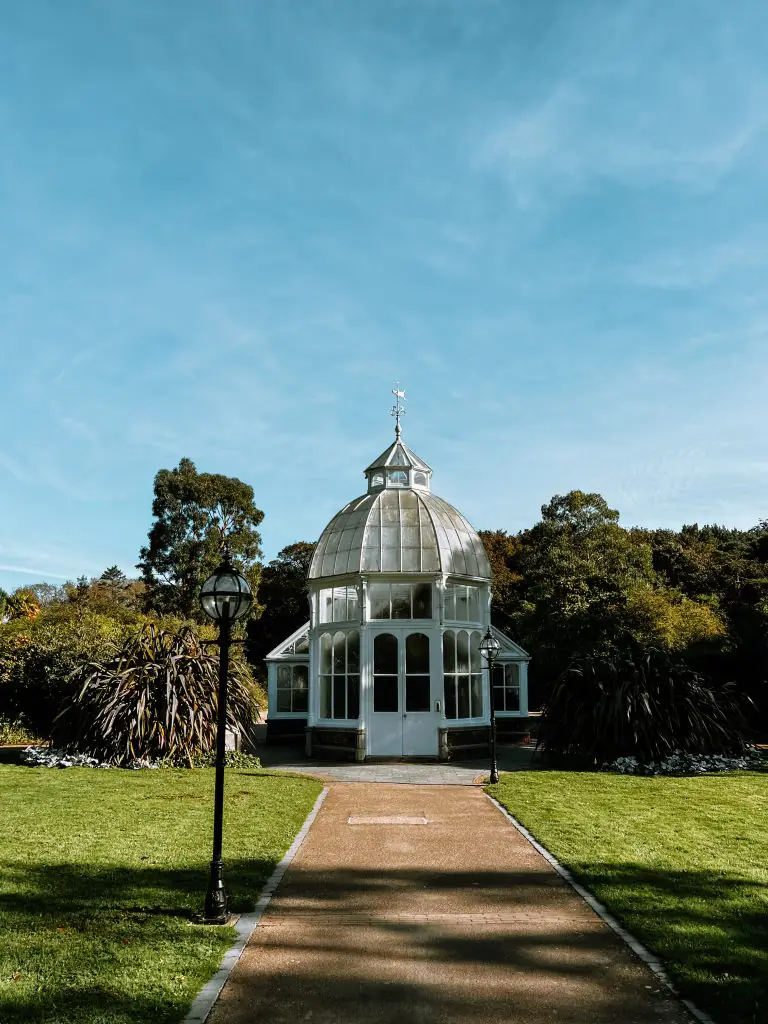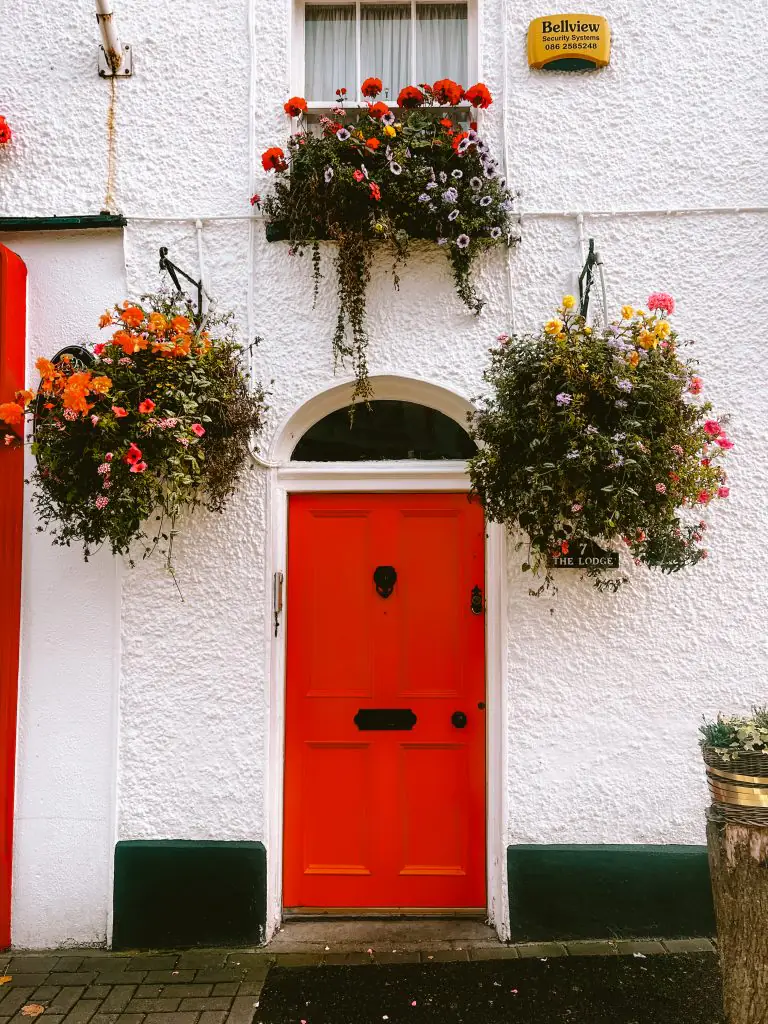 Getting to Malahide from Dublin
Hop on DART for Malahide from any of Dublin's train stations! It takes about 35 minutes to reach the village. Unfortunately, this journey does not take you along the coast, but it brings you to the heart of Malahide quickly and easily!
You can purchase your tickets on the day of. A one-way fare is about €6.
Day Trip from Dublin: Bray
The charming seaside town of Bray holds a special place in my heart. It was my first-day trip from Dublin on my first solo trip to Ireland in 2015! The journey to Bray from Dublin is part of this adventure as the train hugs the rugged Irish coast, offering stunning views.
The highlight of Bray is the Bray to Greystones Cliff Walk. However, upon researching this post, I learned it may be closed due to landslides. If it's not, it is definitely a must-do. If it is closed, you can hike to Bray Head for panoramic views of Dublin Bay.
If you can complete the walk to Greystones, then hop on DART to return to Bray for lunch or return to Dublin.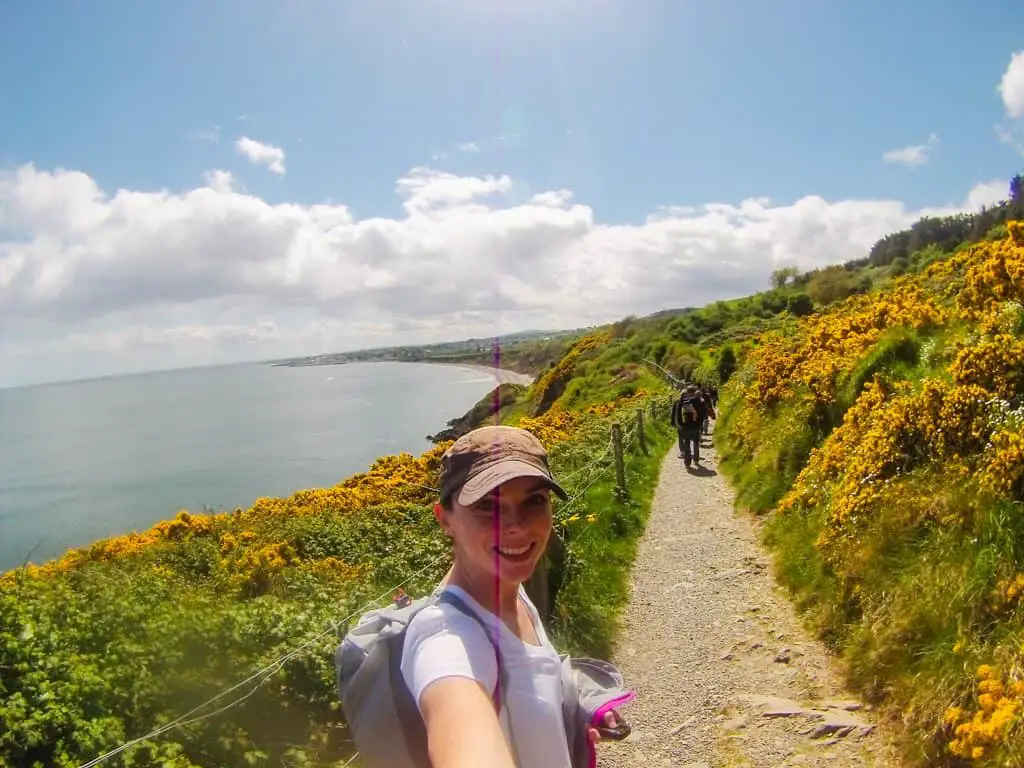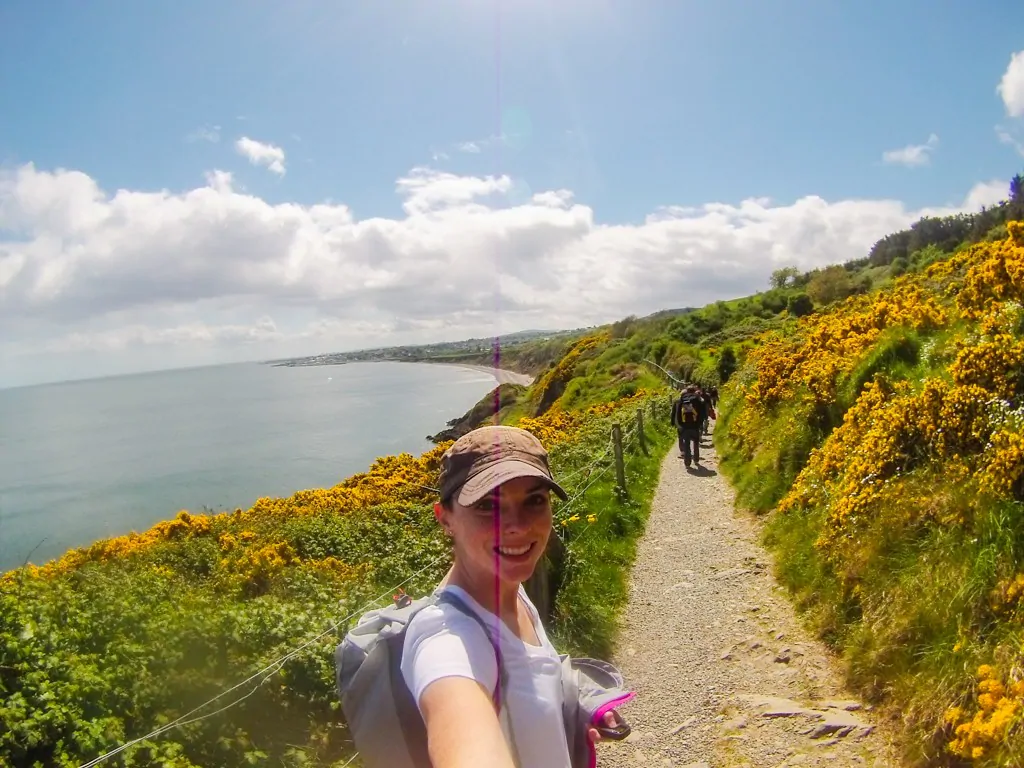 Getting to Bray from Dublin
Bray is another simple and easy DART ride from Dublin. This journey will take a bit longer, about 45-50 minutes, but it's so worth it!
You can purchase your return ticket the day of, which will cost about €6.
Day Trip from Dublin: Powerscourt Estate and Gardens
Nestled in the foothills of the Wicklow Mountains is the luxurious Powerscourt Mansion, which features exquisite gardens and a waterfall. Dating back to the 13th century, it is considered one of the grandest estates in Ireland. Visitors can tour the rooms or enjoy a meal at the Avoca cafe.
The real gem of this day tour, however, is Powerscourt Gardens. National Geographic named Powerscourt Gardens the third finest garden in the world- quite the claim to fame! Spend a few hours checking out the Japanese garden, the blooms of the Walled Gardens, and Triton Lake.
Ireland's highest waterfall is the Powerscourt Waterfall. However, it's 6km away from the estate. The best way to see the waterfall is by car. 
Getting to Powerscourt from Dublin
Consider combining your day trip to Bray with an afternoon at Powerscourt Gardens. From Dublin, take DART to Bray. When you're done in Bray, take the 185 bus to Enniskerry.
Alternatively, if you're coming straight from Dublin, take bus 44 to Enniskerry.
From Enniskerry, it's about a 20-minute walk (some of which is uphill) to the estate. 
This would also be a solid guided day trip from Dublin. Many Wicklow day trips include a stop at Powerscourt. Check out this one if you're interested.
Interested in a guided tour to Powerscourt Gardens? Book it here!
Day Trip from Dublin: Dun Laoghaire
Dun Laoghaire is a lovely day out from Dublin. Start your day with a walk along Dun Laoghaire Pier and then grab a coffee or meal at Happy Out Cafe or Bibi's Cafe. 
Continue your stroll through People's Park, which has well-maintained gardens, a tearoom, and a great Farmer's Market every Sunday.
Sea swimming is a popular pastime in Dun Laoghaire, as you can see from the Victorian Bathhouse that was recently revitalized. You can also swim near Sandymount.
Check out the free Joyce Tower Museum to learn more about Ireland's rich literary history. The tower is the setting for the opening of Joyce's Ulysses.
Getting to Dun Laoghaire from Dublin
Hop on DART for the 35-minute train ride to Dun Laoghaire. The Dun Laoghaire train station is right in the center of town!
A return way ticket costs €5. 
Day Trip from Dublin: Wicklow
Wicklow is often called the Garden of Ireland due to its lush forests, lakes, and rolling hills. As such, hikers love exploring County Wicklow to hike Sugarloaf Mountain, the Wicklow Way, or other trails in Wicklow National Park. 
If you're not much for hiking, don't worry; Glendalough, home to one of Ireland's most important monastic cities, is well worth visiting. The city contains the ruins of the monastic site founded by St. Kevin in the 6th century, including the impressive round tower. 
Also in the area is Powerscourt Gardens, which I mentioned before!
You could easily spend more than a day exploring all there is to do in the Wicklow mountains.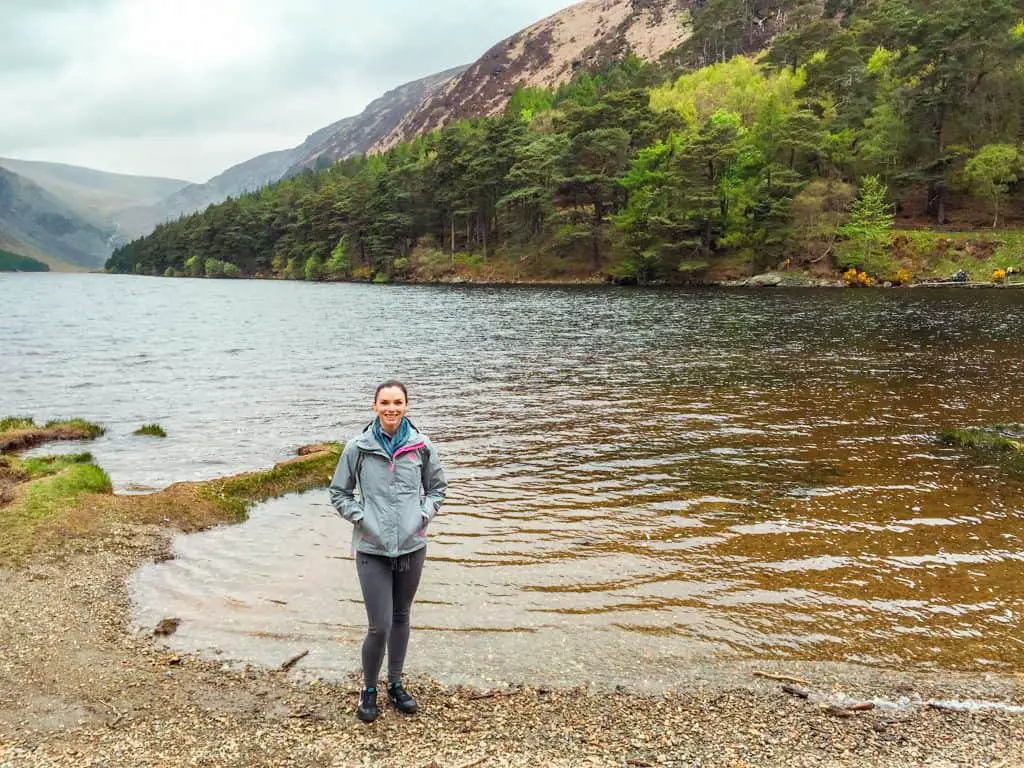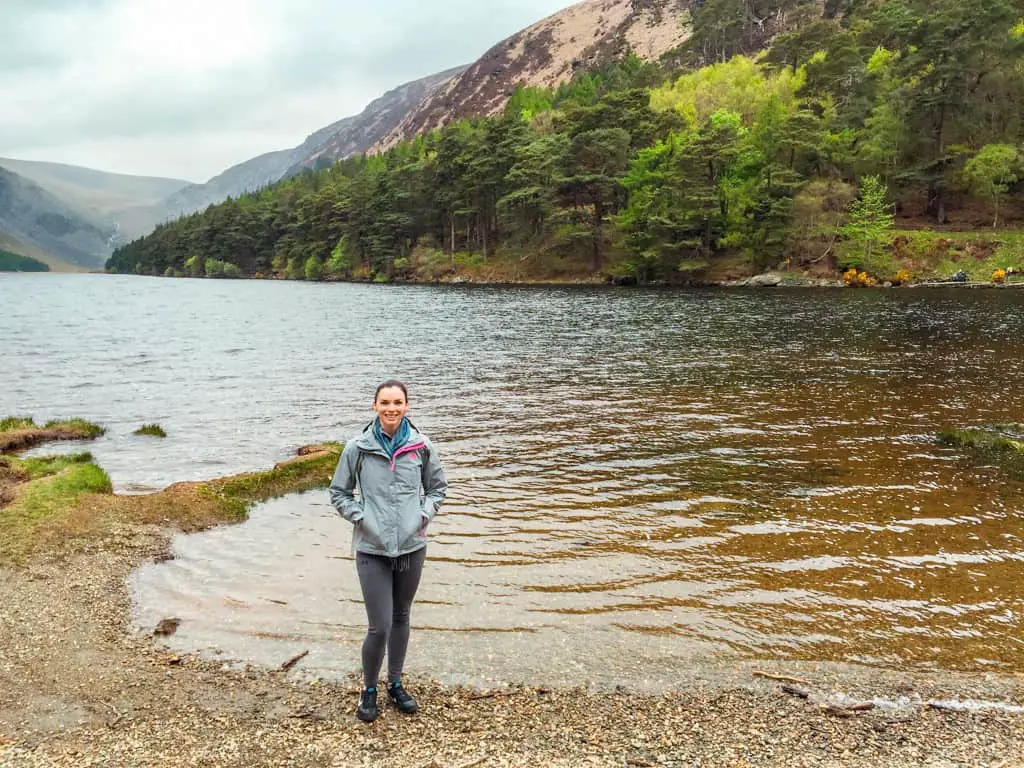 Getting to Wicklow from Dublin
A day trip from Dublin to Wicklow is best accomplished with a car or group tour. It is about an hour's drive.
I took this group tour from Dublin to Wicklow, and I absolutely loved it. We saw Glendalough, the Powerscourt Gardens, and the PS I Love Your Bridge. Plus, I learned more about Irish history along the way than if I'd tried to DIY it. 
Alternatively, a private bus company, St. Kevins, will take you from Dublin to the Glendalough visitor center. Many popular hiking trails begin near the visitor center, and you can reach the monastic sites and Upper and Lower Lake on foot. The bus ride takes about 1.5 hours and has two daily departures from St. Stephen's Green. A return ticket costs €20. If you choose this option, consider staying the night, so you're not rushed for time!
Interested in a guided tour to Wicklow National Park, Glendalough, and Powerscourt – this is the ONE! Book it here!
Day Trip from Dublin: Newgrange and the Hill of Tara
Located in County Meath in the heart of Boyne Valley is the UNESCO World Heritage site, Newgrange. Newgrange is a 5,000-year-old passage tomb (older than the Egyptian Pyramids) with neolithic carvings. Each year, the winter solstice illuminates the inner sanctum. 
From Newgrange, continue your journey to the nearby Hill of Tara, an ancient ceremonial and political center that served as the seat of the High Kings of Ireland. Explore the lush landscape with ancient monuments, including the iconic Lia Fáil (Stone of Destiny). The Hill of Tara offers panoramic views of the countryside and connects you with the myths and legends that have shaped Irish identity for centuries.
Getting to Newgrange from Dublin
The easiest way to get to Newgrange and the Hill of Tara is by car or group tour. It's about a 1-hour drive from Dublin. 
There are multiple guided tours from Dublin to this important archaeological site. Book it here!
Day Trip from Dublin: Kilkenny
Kilkenny is a charming medieval town with highlights that include a castle, Smithwick's Brewery, and narrow streets filled with shops, pubs, and cafes. 
When you arrive in Kilkenny, head to the Castle for a self-guided tour of the rooms. Then, explore the castle grounds, which include a garden and a large lawn. 
Afterward, head into town on the Medieval Mile, which connects the Castle to St. Canice's Cathedral and round tower. You can climb the round tower for awesome views of the surrounding area.
For lunch or dinner, head to Kyteler's Inn on Kieran Street. One of Kilkenny's oldest pubs, it is associated with witch stories and hauntings. However, it is currently a lively pub with great food. 
When you're done exploring the narrow cobblestone streets of Kilkenny, popping into anything that piques your interest, head back to Dublin.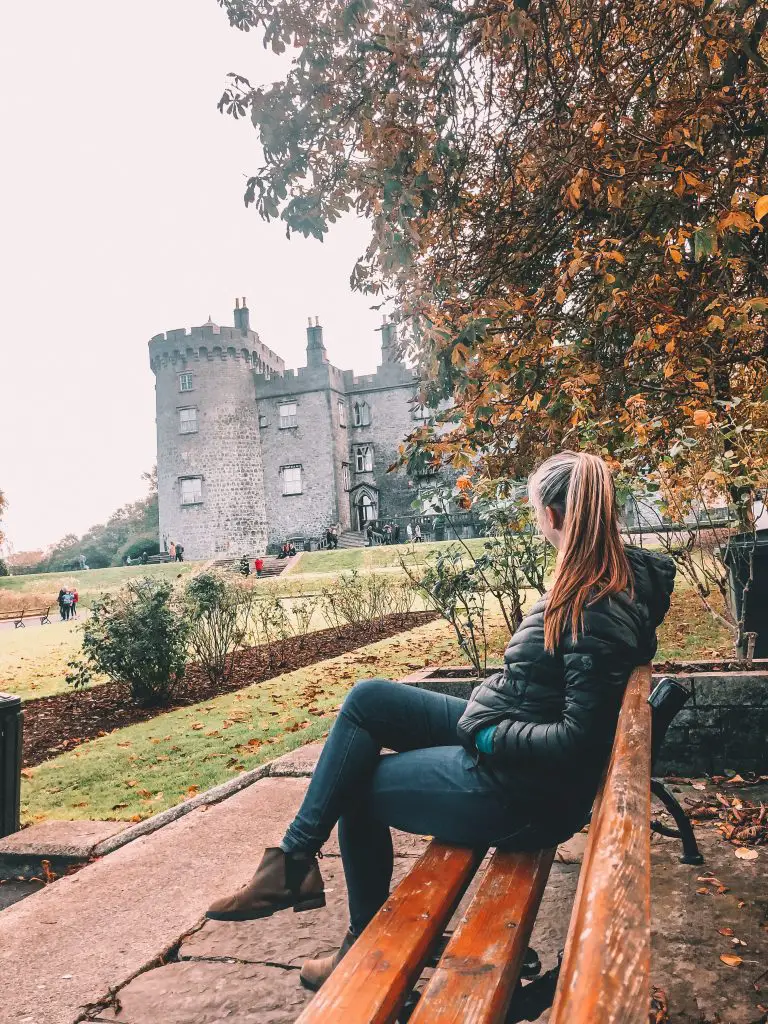 Getting to Kilkenny from Dublin
Kilkenny is easy to reach from Dublin by train, bus, or car. However, I recommend taking the train or bus. Each will take approximately 2 hours to reach Kilkenny. I just tried checking the train price, and no tickets are available online for a week from today. The Dublin Bus is likely the better option!
Interested in a guided tour? This one combines Kilkenny with the Wicklow mountains. Book it here!
Day Trip from Dublin: Galway & Cliffs of Moher
Galway and the Cliffs of Moher are right on the cusp of the time cut-off for a Dublin day trip. Galway is my favorite place in Ireland, and you should definitely spend more than one day there. With more than one day, you could take day trips from Galway to the Aran Islands or explore more of the Wild Atlantic Way.
However, you can see a lot of Galway city center in a day. Wander down the pedestrian-friendly Shop Street, lined with shops, pubs, and restaurants. Shop Street will also be filled with buskers if you'd like to pop into one of my favorite Galway pubs for a pint and live music.
If you have time, one of my favorite things to do in Galway is walking the Salthill Prom to the Blackrock Diving Tower. It's a great spot for sunset. Then, stroll back to the city center through the West End.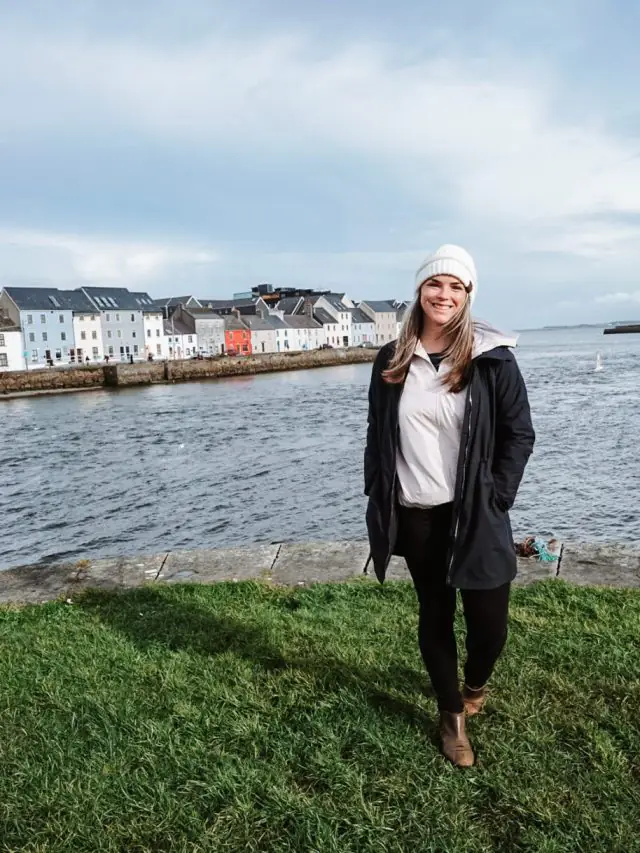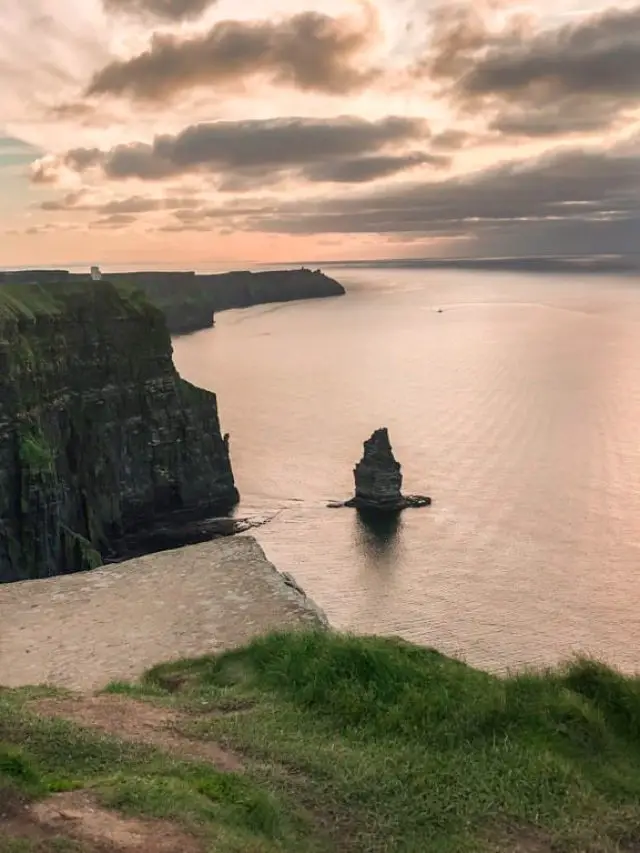 Getting to Galway from Dublin
Direct buses and trains leave Dublin for Galway multiple times daily. The trip takes roughly 2.5 hours. A return bus ticket costs about €25, and a train ticket costs about €30.
If you'd like to see the Cliffs of Moher while you're in Galway, doing a group tour from Dublin is best. It would be quite the feat to do both on public transit in a day because it takes about 2.5 hours to get to the Cliffs of Moher from Galway. 
I recommend this group tour that includes Galway, the Burren, and the Cliffs of Moher! Book it here!
Day Trip from Dublin: Northern Ireland
Another Dublin day trip that makes the list is Northern Ireland, just 2.5 hours away. Northern Ireland deserves way more than just 24 hours, but you can still see quite a bit in that time frame. 
In Belfast, you can take a black cab tour to see the famous murals, understand what they mean, and learn about The Troubles. Beyond Belfast city, you can explore the unique Giant's Causeway or see Game of Thrones filming locations like the Dark Hedges.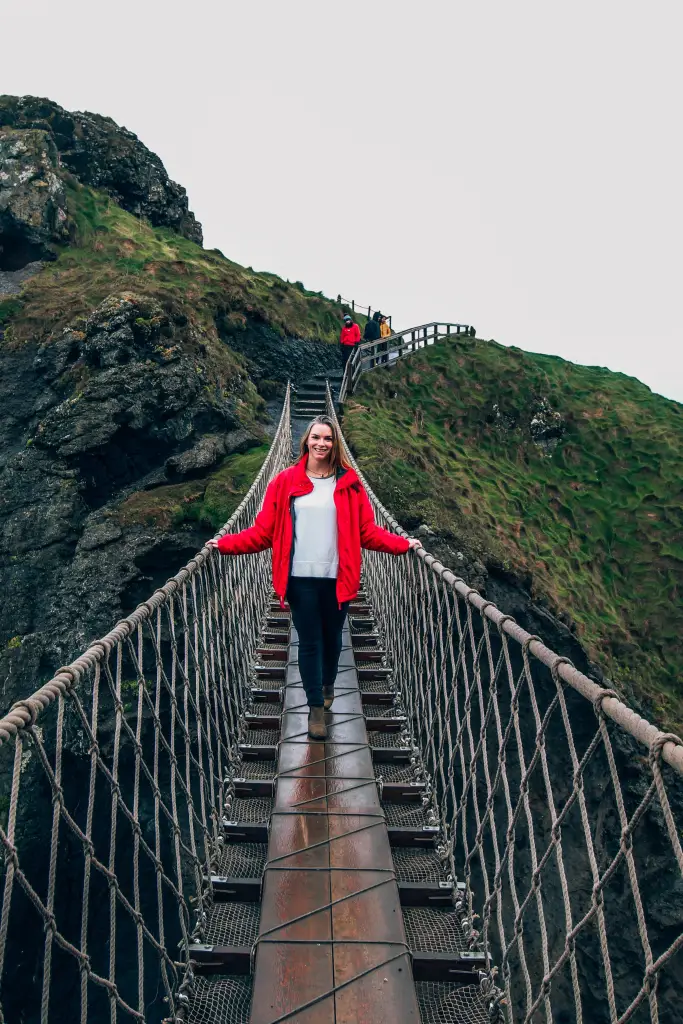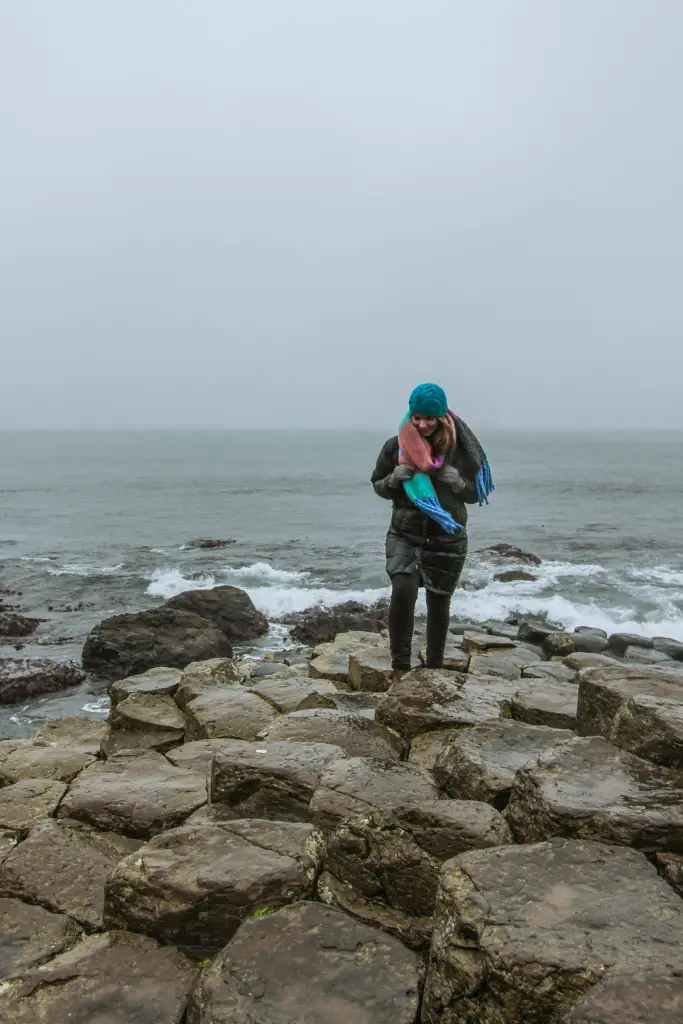 Getting to Northern Ireland from Dublin
A car will give you the most flexibility and opportunity to see the most in Northern Ireland. The drive from Dublin is roughly 2.5 hours.
The Dublin Express connects Dublin to Belfast. It picks up from the airport and Dublin city center. The cost is about €20-25, depending on when you purchase the tickets and your departure time. I highly recommend purchasing your tickets in advance online.
Alternatively, a direct train from Dublin Connoly to Belfast takes 2 hours and costs approximately €30. 
If you don't have a car and would like to see more of Northern Ireland than Belfast, I recommend this awesome group tour, which includes Belfast, The Giant's Causeway, Dunluce Castle, and other highlights. Book it here!
Ireland is a relatively small country, so you can cross many places off your bucket list with these Dublin day tours. I hope this post inspires you to see as much of Ireland as possible with careful planning and creativity. Let me know if you have any questions about planning your itinerary.