I grew up in Burlingame and, after living in upstate New York and Detroit and traveling the world, have returned here…for now. I've been re-discovering fun things to do in Burlingame since my return and have been pleasantly surprised. While it is a predominantly residential area, there is also great shopping, fantastic restaurants, and easy access to the outdoors.
Since being back, I've realized that many people use Burlingame as a base for trips to the Bay Area, as there is easy access to San Francisco via BART and CalTrain. There are also plenty of hotels in the area, which, combined with its proximity to the airport, make it an attractive location for flight attendants and pilots. Alternatively, you might be in town for a wedding at Kohl Mansion and looking for a place to grab a drink afterward.
I thought it would be helpful to sit down and write about what there is to do in Burlingame as someone who spent 26 of her 36 years living here so you can enjoy your visit!
This post contains affiliate links, which means that, at no additional cost to you, I will earn a tiny bit of income if you decide to make a purchase or booking.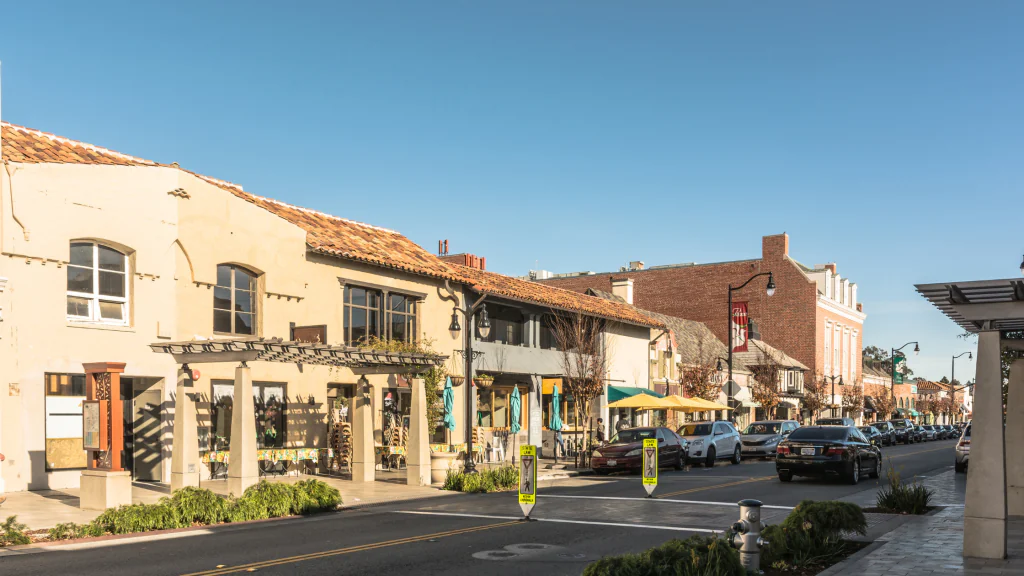 Where is Burlingame, California?
Burlingame is a small town in San Mateo County. Located on what is considered the Peninsula of the Bay Area, Burlingame is a suburb of San Francisco located about 15-20 minutes from the city. As mentioned above, it's about 5-10 minutes from the airport.
How to Get Around Burlingame
It's easiest to get around Burlingame via a car, but if you don't have one, don't worry. Ubers are readily available throughout the area.
Alternatively, you may prefer public transportation. From the San Francisco International Airport, take BART to the Millbrae Station. From there, swap over to the CalTrain. The two train stations in Burlingame are at Broadway and Burlingame Avenue. Each of these streets is where you'll find shops, restaurants, and cafes. 
If you need to get somewhere beyond Burlingame, the train connects much of the Peninsula to San Francisco, as does BART.
The Best Things to Do in Burlingame
Now that you've got an idea of where Burlingame is let's dive into the fun things to do while you're here.
Go Shopping on Burlingame Ave
Burlingame Ave, or the Ave as locals call it, is the main shopping area of Burlingame. On this street, you'll find national chains like Madewell, Athleta, Lululemon, and Apple. But there are some boutiques mixed in, like the long-standing Morning Glory, the newcomer Reliance, and the regional boutique Therapy.  
And that's just on the main street.
If you walk down any of the cross streets you'll continue to find smaller boutiques, a pottery studio, and a plethora of hair salons.
Throughout the year, there are various festivals on Burlingame Ave. In August, there is Burlingame on the Avenue, which is a street festival with live music and local artisans. In December, the Ave shuts down again for Winterfest, which is a nighttime festival that kicks off with the annual Christmas Tree lighting!
There are also a variety of restaurants on the Ave to help fuel your shopping spree and bars to quench your thirst. However, I'll share the best restaurants in Burlingame in its own section below.
Visit the Farmers Market
Every Sunday throughout the year (and Thursdays throughout the summer), Park Road turns into a farmers market. On Sunday mornings, locals flock here for locally produced fruits and veggies, artisanal breads, and empanadas. 
There are also food trucks, coffee stands, and fresh flowers. 
It does get busy, so if you want the first pick at the best produce, get there early. If you simply want to stroll through and grab a tasty treat, it's a nice way to spend a few hours on a Sunday morning.
The Sunday market runs from 9:00 am – 1:00 pm every Sunday throughout the year. The Thursday market begins in early May and ends in October. Thursday market hours are from 3:00 pm –  7:00 pm.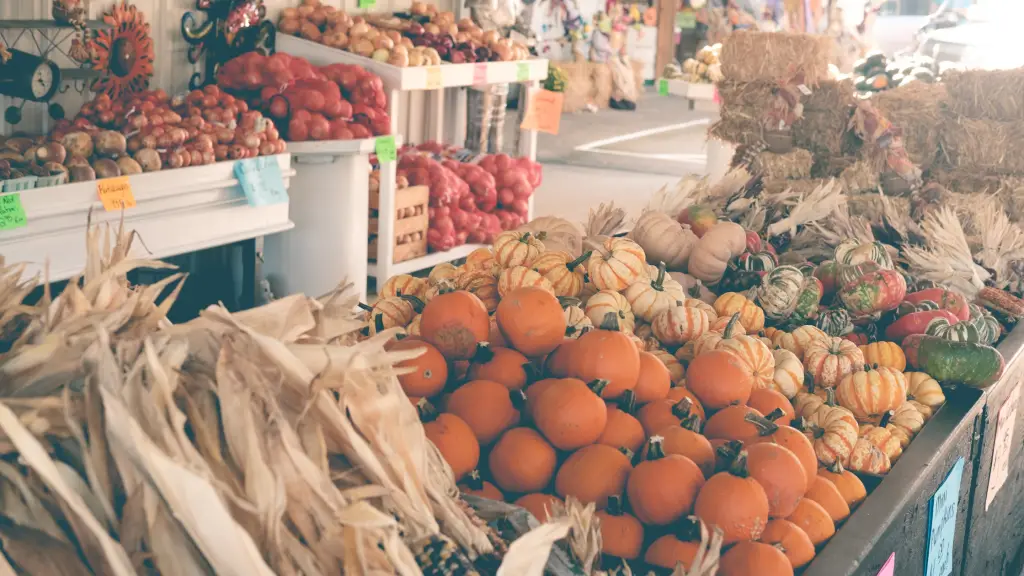 Go Thrifting on Broadway
Broadway is another hub in the area, but it's known more for its density of restaurants (and my favorite Irish pub) than shopping. That being said, Broadway is the thrifting destination in Burlingame. Burlingame is a fairly wealthy area, so the donations that arrive at the thrift stores on Broadway are…chef's kiss.
There are two locations you must check out if you're a thrifter. The first is the Goodwill on Broadway and California, across the street from the train station. It's a large Goodwill with so much women's clothing and shoes. I've gotten a few pairs of barely worn shoes here for work. There is also a really great home goods section!
The second location is Pick of the Litter on Chula Vista and Broadway. The proceeds from this smaller thrift shop go directly to the Peninsula Humane Society & SPCA. They have an excellent home goods section, where I got my huge matcha mugs for $1 each!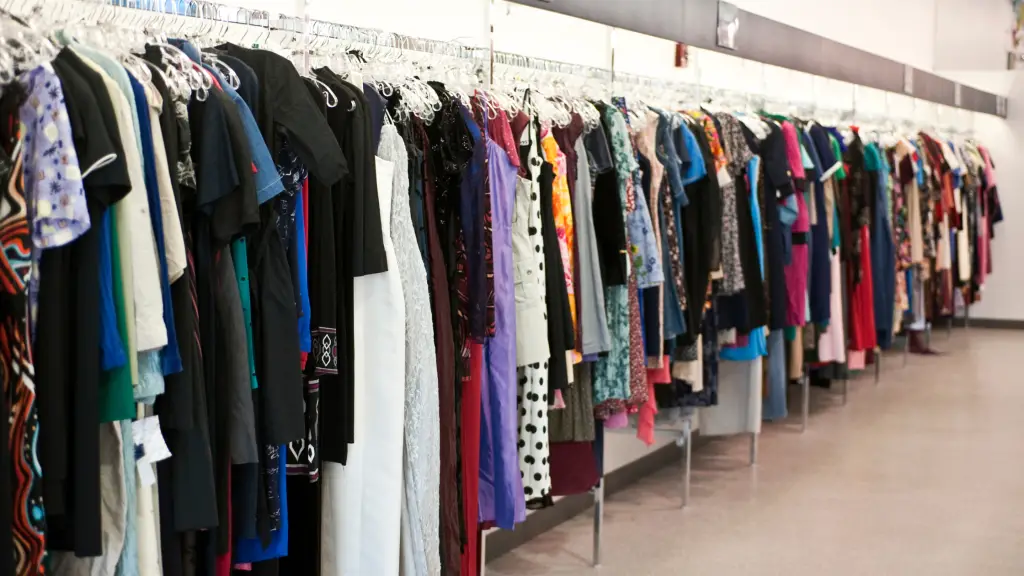 Enjoy a Treat at Preston's Candy & Ice Cream
I have fond memories of going to Preston's Candy and Ice Cream Shop for field trips in elementary school to see their chocolate factory. I remember my best friend's mom taking us there for milkshakes after high school. As an adult, I love the nostalgia of the red door chiming as I walk in to treat myself during an evening walk in the summertime.
Preston's has been a must-visit for 75 years. On one side of the shop, you'll find all of your favorite ice cream flavors, and on the other side, you'll find handmade chocolates, peanut brittle, and more. 
Preston's is a classic confectioner, and I hope it has another good 75 years of memories!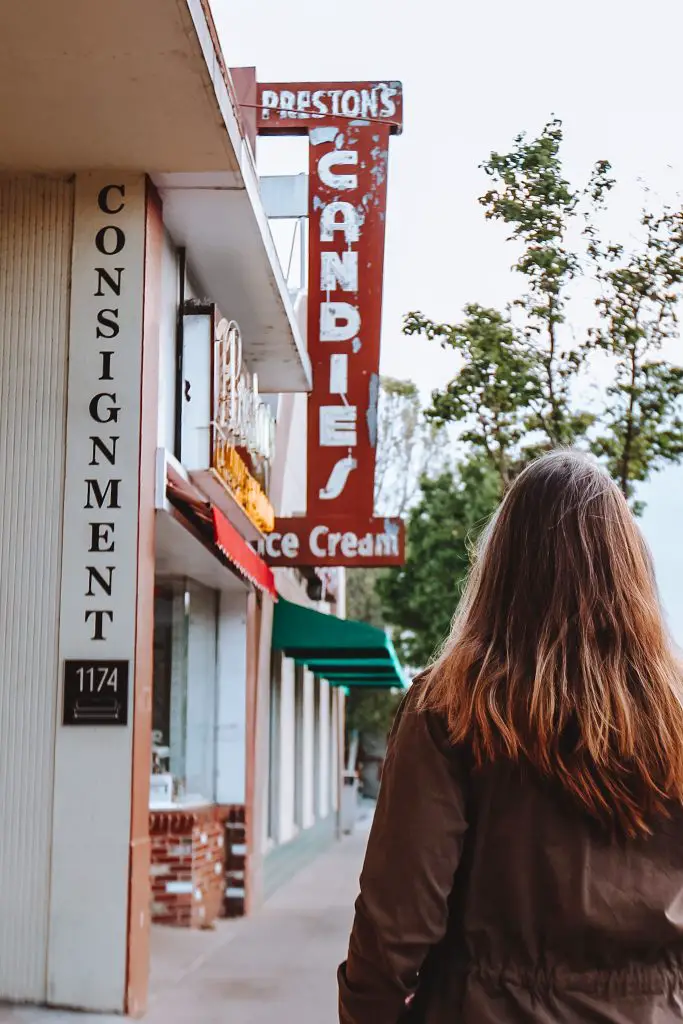 Have a Drink at Behan's
Located on Broadway Ave is the classic Irish Pub, Behan's. Another hit of nostalgia from this place as I finished my 21st birthday with a drink or two here.
Behan's is a cash-only Irish pub that has a shuffleboard table, dart board, jukebox, and Irish bartenders who've worked there for years!
On a nice day, snag a seat at the windows facing Broadway or take your drink to the cute patio in the back. 
Walk the San Francisco Bay Trail
If you're staying at one of the bayfront hotels, the San Francisco Bay Trail is a great walking path where you can watch the planes landing at SFO, enjoy views of San Francisco, and the breeze off the bay.
The San Francisco Bay Trail runs from Bayfront Park near the airport to Coyote Point Park. Along the way, you'll pass multiple hotels, the Anza Lagoon, Kincaids (a good seafood restaurant), and the new Facebook/Meta campus.
Get Outside at Coyote Point Recreation Area
Speaking of Coyote Point, the park is a popular waterfront park for outdoor adventures. For families, enjoy the playground with 11 slides or check out CuriOdyssey, a science museum with a small zoo. 
Windsurfers love the area for the strong winds that blow along the promenade. Plus, there are a number of walking trails and picnic areas throughout the park.
It does cost $6 to enter with a vehicle, or you can park on Airport Blvd and walk the Bay Trail into the park. I sometimes will park at Poplar Creek Golf Course, located near the entrance, although you're not technically supposed to. If you choose to do that, don't yell at me if you get a ticket 🙂
Take a Day Trip to the Beach
While you can enjoy the San Francisco Bay in Burlingame, it's also conveniently located for easy day trips over to some of my favorite beach towns like Pacifica and Half Moon Bay.
I highly recommend spending a day in either location. In Pacifica, I love spending the morning walking the Mori Point trail, followed by matcha at Soul Grind Coffee Roasters and watching the surfers at Linda Mar. Half Moon Bay has a great main street with local shops and restaurants and plenty of beautiful beaches to relax in on a beautiful day.
Plus, the drive on Highway 1 through Pacifica into Half Moon Bay is one of the best for dramatic ocean views!
Where to Eat & Drink in Burlingame
As mentioned throughout this post, it is now time to talk about the best places to eat in Burlingame.
Mingalaba
Mingalaba is a Burmese and Mandarin restaurant located on Burlingame Ave. It is some of the best Southeast Asian food I've had (to be fair, I haven't actually been to Southeast Asia, but you know what I'm getting at). 
Mingalaba is consistently busy, and they don't take reservations. It could be tough to get a spot on a weeknight, so try for lunch during the week. The mango salad is heavenly, as is the Sweet and Sour Chicken and Singapore Style Noodle. But trust me, you can't go wrong here.  
Broadway Prime
Broadway Prime is a classic steakhouse serving up delicious prime rib. Its sister restaurant is the House of Prime Rib in San Francisco. I've had so many birthdays, celebration dinners, and dates at Broadway Prime over the years. I love the Peninsula Cut served English Style, a little bit of the creamed corn and creamed spinach, and the Yorkshire pudding to top it all off. Such a delicious meal!
Maverick Jack's
Located in the former Broadway train station is Maverick Jack's, a solid burger joint with a menu of creative burgers, multiple fry options, and amazing shakes. It's become a solid burger spot to go with friends or family. I especially like their outdoor seating area on a sunny day.
Mykonos
If you're in the mood for Mediterranean food, Mykonos is the place for you. It's one of my favorite places to eat on Burlingame Ave. The Lachano dip, Brussel sprouts, lamb riblets, and meatballs are amazing. I usually go with a friend, and we get a sampling of the appetizers to share.
Caffe Central
Caffe Central has become a local favorite for its creative toasts, yummy salads, and great brunch. They also make a really good hot matcha latte and have strong wifi. On weekends it's crowded with people enjoying brunch, and during the week, you'll likely see plenty of laptops open as it becomes the work-from-home crowds mock office for a few hours. 
I've been known to write a blog post or two here.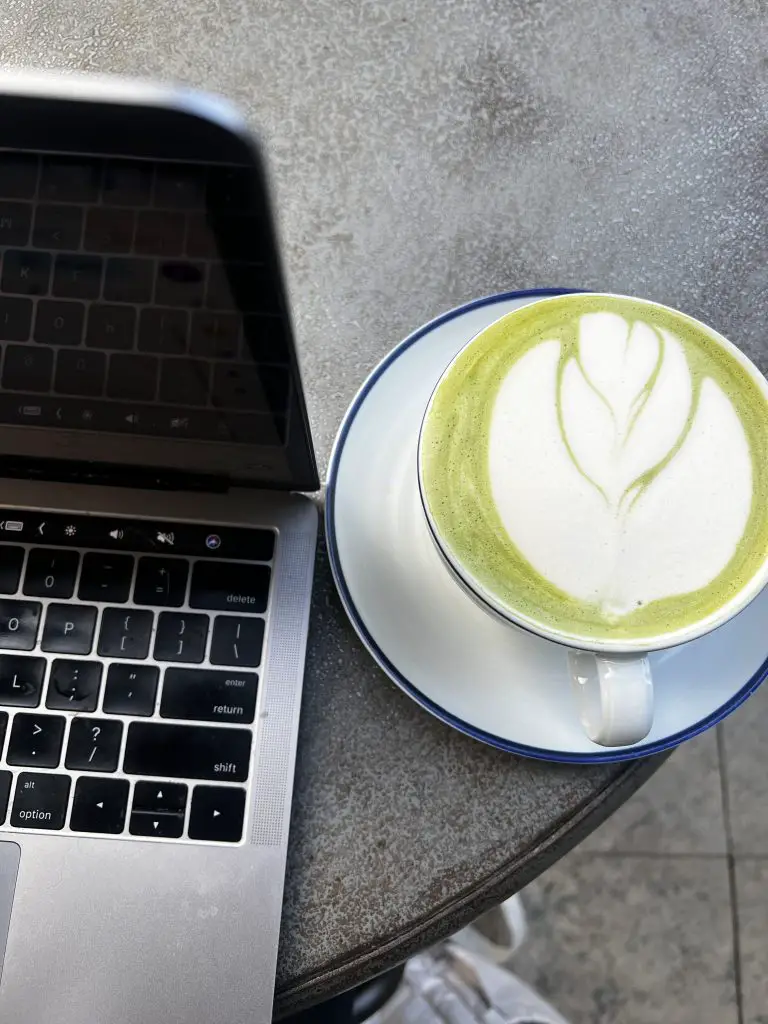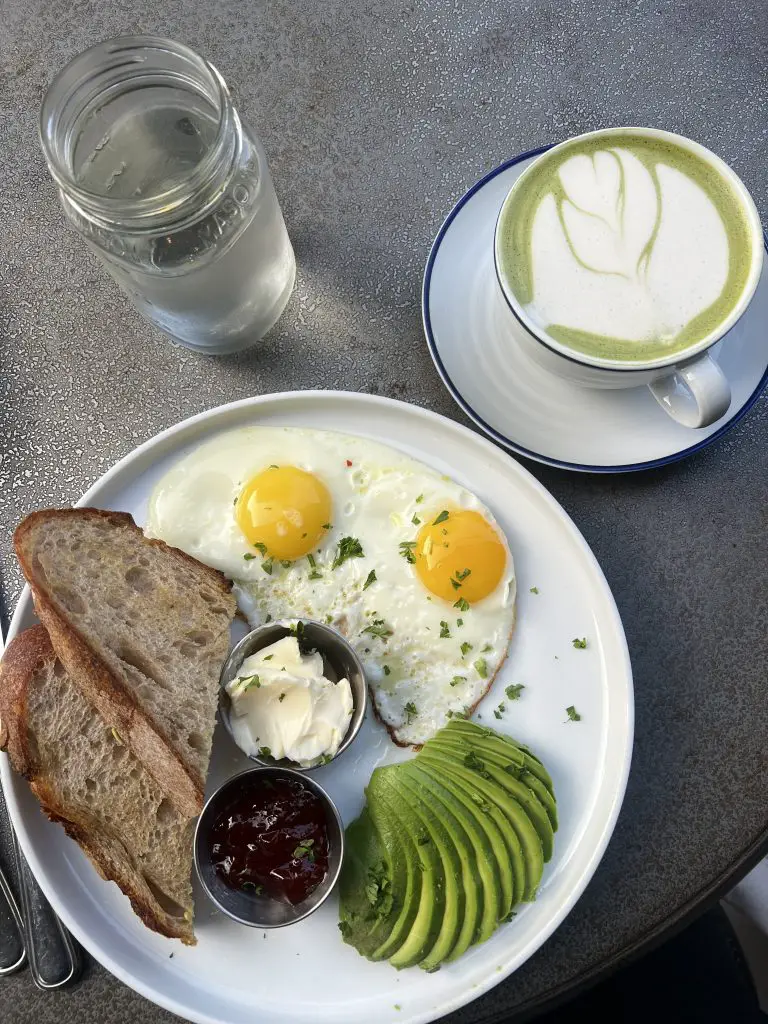 Village Host
Burlingame Avenue has some fancy pizza spots like Blue Line and Pizzeria Delfina, but I'm going to recommend Village Host.
Village Host is an old-school pizza joint, and they make a great pizza. Also, their garlic chips are amazing (it's basically cheesy garlic bread using a pizza crust).
The Barrel House
I mentioned more of a dive bar earlier, but if you're looking for something a little more classy, check out the Barrel House. They make excellent cocktails, have a nice patio out back, and cozy ambiance inside. They don't have any food though, so make sure to eat before you start sipping their cocktails because they can sneak up on you!
Where to Stay in Burlingame
If there is one thing Burlingame has, it's hotels. We have a full "hotel row" located on Airport Blvd. You'll find all the big chains there.
My favorites are the Marriott and the Embassy Suites. I've stayed at both of them throughout the years. 
These hotels aren't super close to public transportation, but they are a quick Uber ride away from the fun things to do in Burlingame. 
Check Burlingame hotel rates and availability here.
This was such a fun post to write. It felt like walking down memory lane a bit and helped me remember all of the good times I had growing up here. If you have any questions about things to do in Burlingame or on the San Francisco Peninsula, reach out!