Just 15 minutes away from my hometown is the coastal town of Pacifica, California. Growing up, I would spend sunny summer days soaking up the rays at Linda Mar, that's what locals call Pacifica State Beach. In college, I tried my best to become a surfer at that same beach. Now that I'm home from traveling, I make the quick 15 minute drive "over the hill" weekly to go on hikes, drink delicious Matcha, and get some much needed vitamin sea therapy. Over the years, I've explored the best things to do in Pacifica and I will share them with you here!
Before we dive into what to do in Pacifica, CA let's discuss a few important things to know before you get your swimsuit on.
Where is Pacifica, CA?
Pacifica is located on the famous Highway 1, which makes it a great stopping place for your Pacific Coast Highway road trip. Pacifica is only about 15 miles from the heart of San Francisco making it a popular day trip destination for Bay Area locals in need of a city escape. Because of its location combination you'll find locals and tourists alike enjoying this coastal city.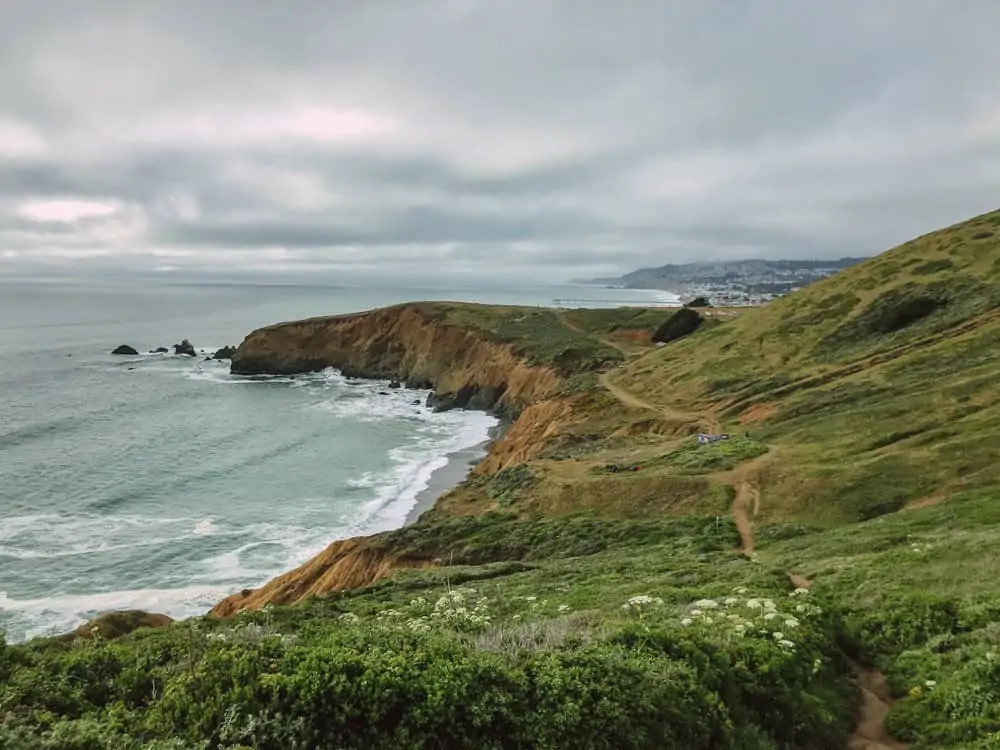 Weather in Pacifica
Consider this your warning, there is a 50% chance that when you arrive in Pacifica, it will be covered in fog. Just yesterday, I left my house where it was clear skies and sunshine only to be welcomed by a thick layer of fog in Pacifica just 15 minutes later.But don't let that deter you from visiting! Even with the fog, Pacifica is still beautiful and there are plenty of things to do!
The warmest months in Pacifica are from July to October with an average daily temperature of 65o. Those months also happen to be when the water is the "warmest" at around 58o.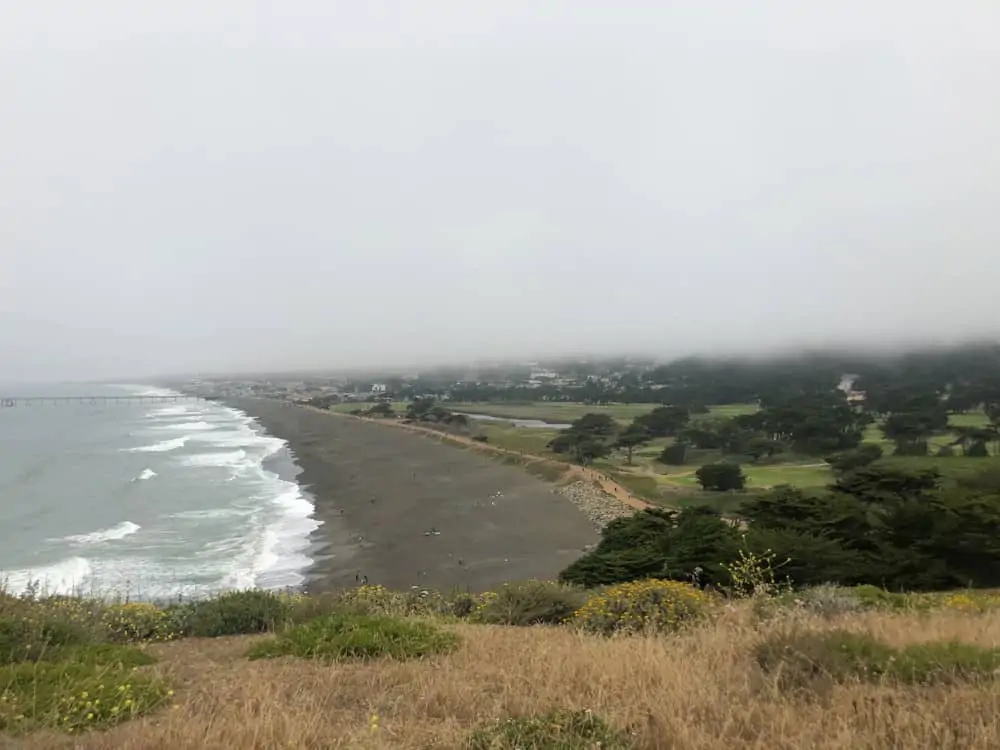 What to Wear in Pacifica
Now that you know the type of weather to expect in Pacifica, I recommend wearing layers. It's more common to see people enjoying the beaches here fully clothed instead of sunbathing. However, if you do get a sunny day, break out that bikini and get your tan on!
If you plan to try your hand at any water activities, you'll need a wetsuit, which you can rent from a local surf shop. Take it from me, the Pacific Ocean water here is cold!
Check out this San Francisco packing list if you're looking for more details on what to wear during your visit to the Bay Area.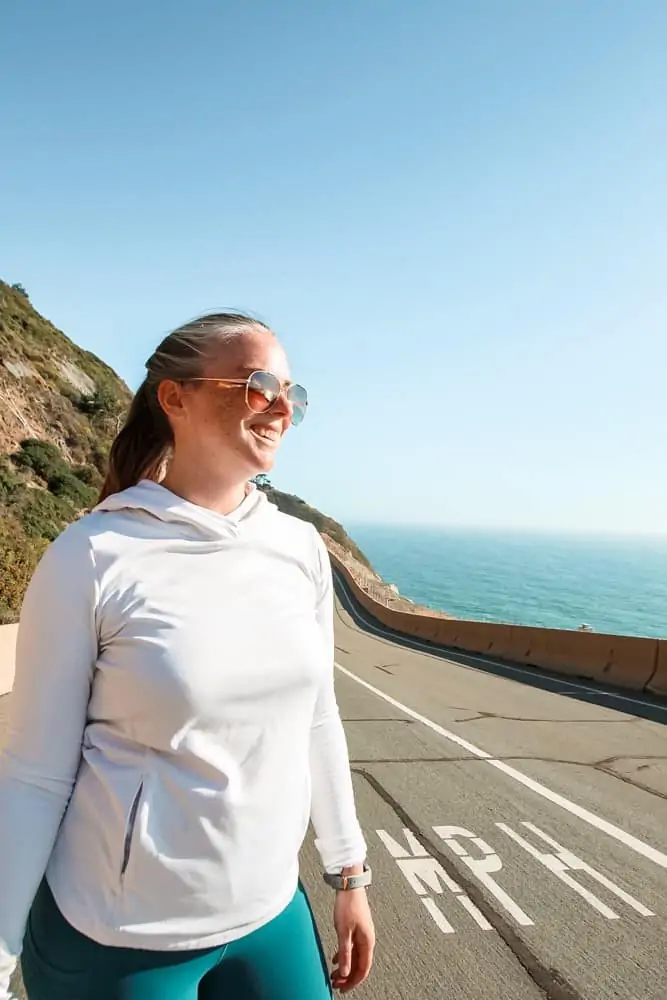 The Best Things to Do in Pacifica, CA
Now that you know the basics of visiting Pacifica, let's get to the fun part of what to do in Pacifica!
Relax or Surf on the Beaches in Pacifica, CA
Would it be a coastal town without awesome beaches? Of course not! 
There are four main beaches in Pacifica which I'll describe to you as if you were arriving from San Francisco on Highway 1.
Sharp Park Beach
The first beach you'll pass is Sharp Park Beach. Here is where you'll find Pacifica Municipal Pier, which is an excellent place for fishing, if that's your thing. Also on Pacifica Pier is Chit Chat Cafe where you can pick up a hot tea after a walk along the promenade. Sharp Park Beach itself has plenty of space for sunbathing on a warm day or just dipping your toes in black sand. Definitely come prepared with layers here as it can get quite windy.
Directions to Sharp Park Beach: Take the Paloma Ave/Francisco Blvd exit off of Highway 1. Head west on Paloma Ave until you come to the one way Beach Blvd. You can park on any of the neighborhood side streets, but there are also parking lots.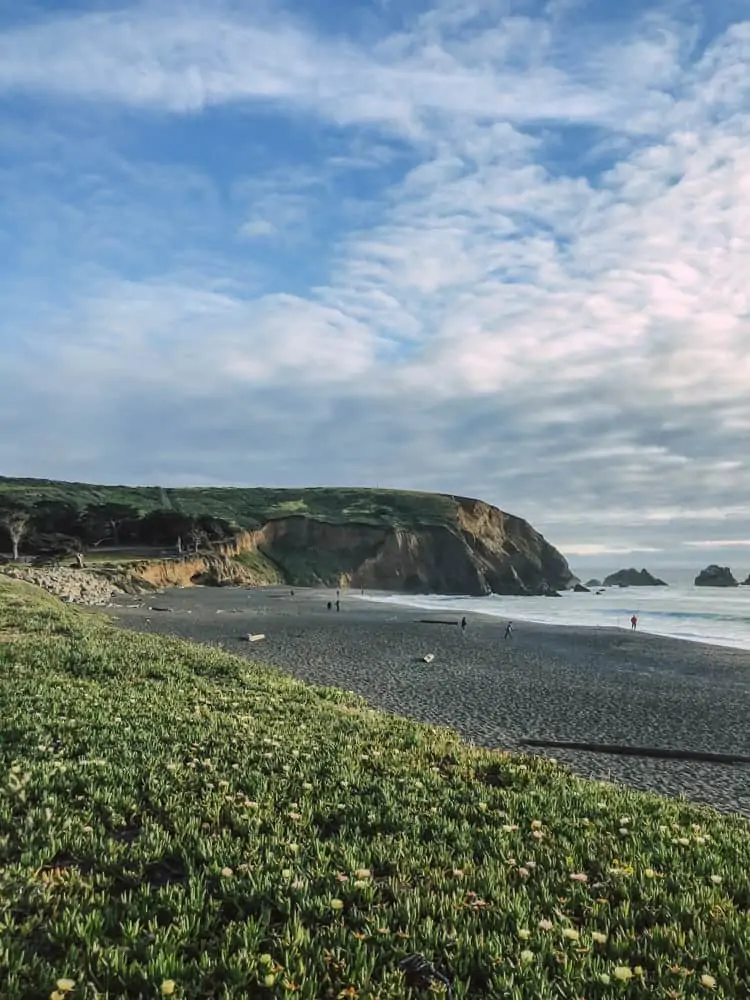 Rockaway Beach
Moving a bit further south down the Pacific Coast Highway, you'll find Rockaway Beach, which is a bit smaller than Sharp Park and when the tide is in, the waves crash right up to the promenade. Besides the beach nestled in between headlands, you'll also find beachfront hotels if you want to spend the night listening to the sound of crashing waves. 
Directions to Rockaway Beach: Turn west onto Rockaway Beach Ave and then immediately onto Old County Road which will bring you to the parking lot, however, you can also find street parking here. 
Pacifica State Beach aka Linda Mar
To be honest with you, I didn't know that this beach was called Pacifica State Beach until I sat down to write this post! I know this beach as Linda Mar and if I told anyone from this area that I was heading to Linda Mar, I guarantee they'd know exactly what beach I was talking about.
This 1 mile long half moon shaped beach is the most popular beach in Pacifica.
Linda Mar is also a popular beach for beginner and experienced surfers alike. If you're looking at the ocean from Taco Bell, to the left you'll find the beginners as this area is where the smaller waves usually are and to the right the larger waves draw the more experienced surfers.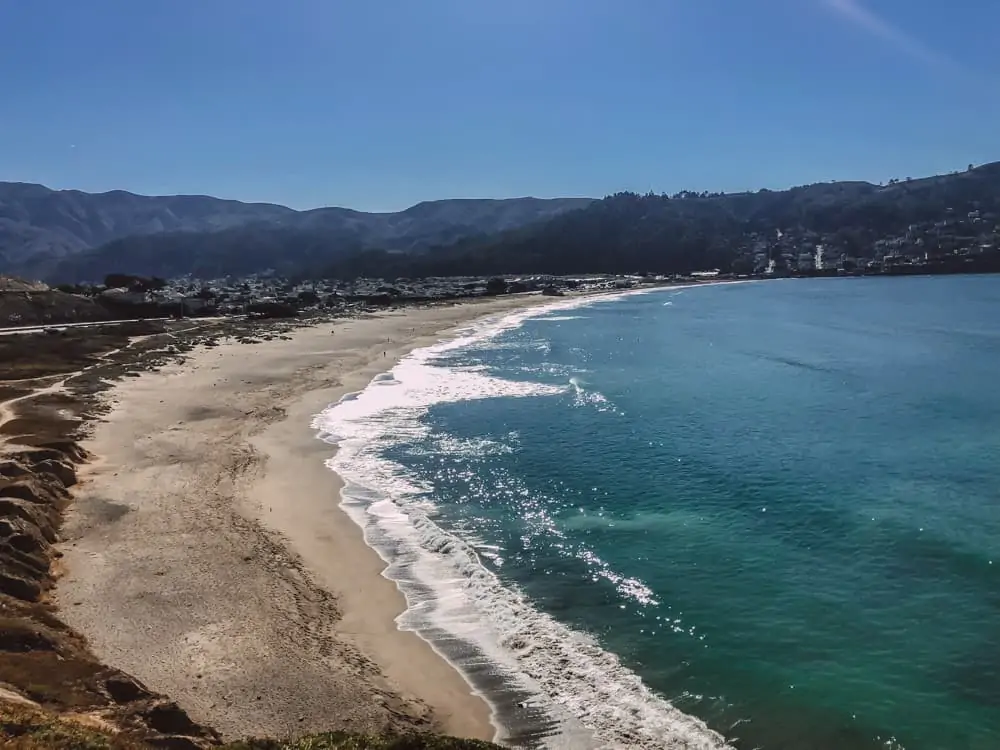 This is the beach where one summer I gave it my best effort to learn how to surf. I got good enough to stand up a few times each session! But ultimately, the water was too cold to keep me coming back in the winter, and I moved on to something else! 
If you'd like to give surfing a try, there are a number of local surf schools and shops that provide lessons, a surfboard, and a wetsuit. 
Here are a few to consider:
Directions to Linda Mar:  The parking lot is directly off of Highway 1. It costs $7 for up to 4 hours or $9 all day. 
Go Hiking in Pacifica
There are so many great hikes in Pacifica, that all come with a coastal view! They are suitable for a variety of fitness levels and time commitments. So whether you have one hour or a full day, there is a hiking trail in Pacifica with your name on it.
California Coastal Trail
One awesome thing about the Pacifica beaches is that they're all connected by a coastal trail. And it's only about 2 miles in one direction. Start your walk along the Sharp Park Beach promenade, climb Bootleggers Steps to Mori Point, continue along the mining path down into Rockaway Beach, then take the switchbacks south of Rockaway and follow the coast into Linda Mar. In fact, I might just do that this weekend for a nice little hike!
Update: I just did this hike yesterday, and I learned I was completely wrong about the distance. From where I parked near Pacifica Municipal Pier it was 5 miles in one direction to Soul Grind Coffee Roasters.
Mori Point Hike
If you're not up for a big hike or perhaps you only have a short amount of time allotted for Pacifica on your PCH road trip, then I suggest the Mori Point Hike.
I find that the easiest way to start this hike is from Pacifica Municipal Pier. While there is a parking lot for Mori Point, it's usually crowded, and street parking is easier to find! From Pacifica Pier, walk south along the coastal trail in between the beach and Sharp Park Golf Course.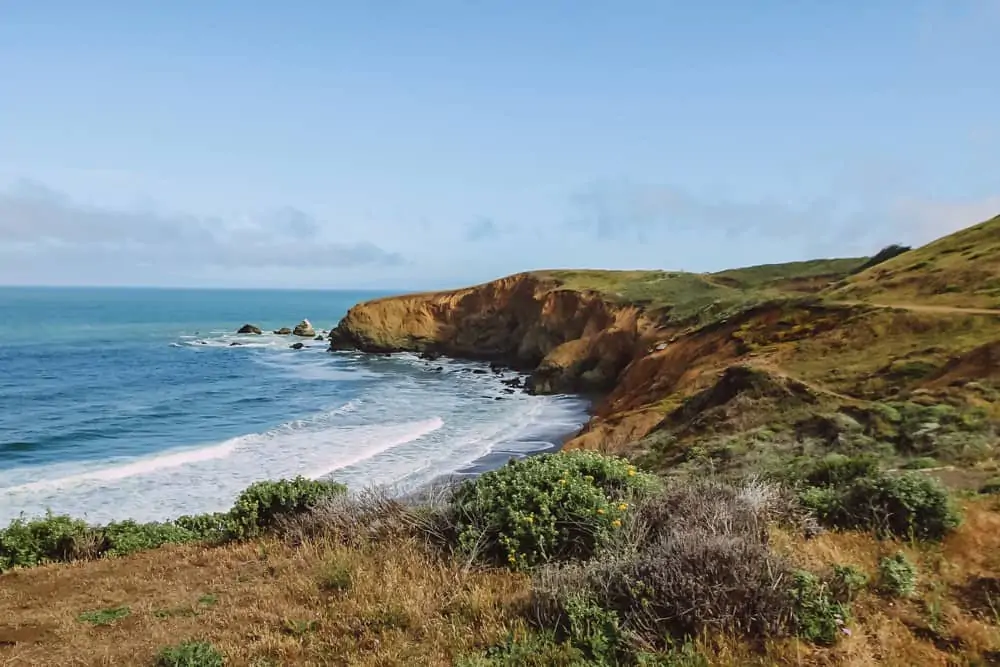 Once you reach the end of Sharp Park Beach you'll have two options to reach the top of Mori Point. You can either climb Bootlegger's Steps to the top or walk Old Mori Road trail up. It's incredibly easy to follow and I guarantee you there will be plenty of other people doing the same walk as you!
At the top, you'll find paths that allow you to explore more of the headlands and the path that will connect you to Rockaway Beach. 
Location: Park near Sharp Park Beach
Distance: Approximately 2 miles round trip.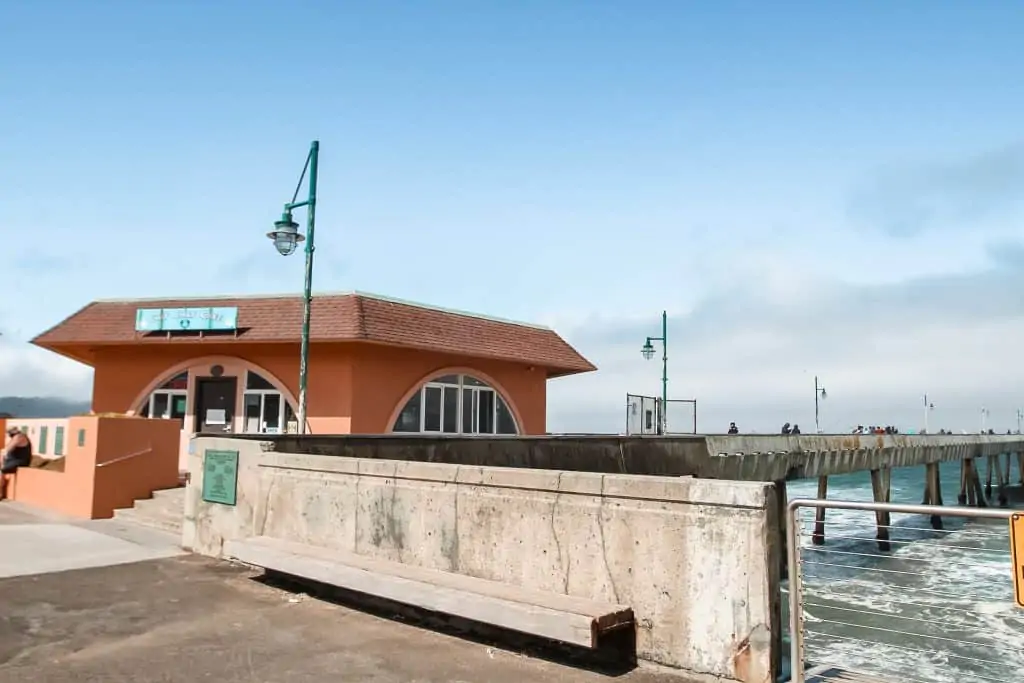 Devil's Slide
When I was growing up, Devil's Slide was an extremely windy, narrow, dangerous, and breathtaking stretch of Highway 1. I still can't believe that I used to drive it as a teenager! A few years ago, a tunnel was built through the mountain which created a safer way for car traffic to move south from Pacifica into Half Moon Bay.
Luckily for us, Devil's Slide was converted into a paved walking and biking trail. This once narrow road is now wide enough to provide ample space for walkers, joggers, and bikers. This out and back trail is roughly 3 miles, depending on if you want to walk to the bunker, which has a sign saying no trespassing, but everyone does, so it's up to you if you want to walk to see it.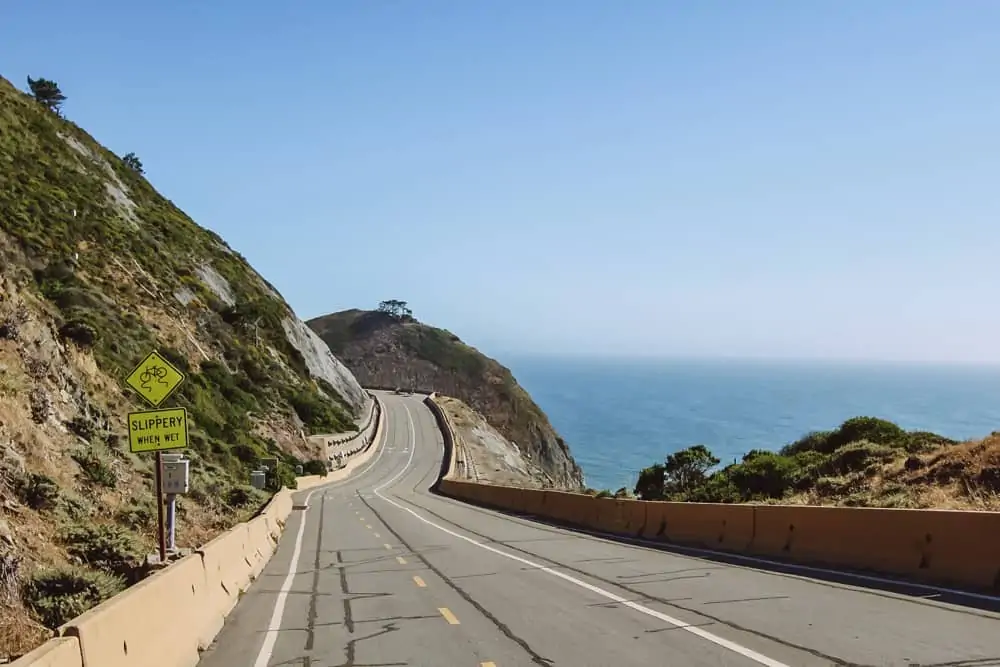 The trail has a fairly steady incline near the northern end, but there are also plenty of benches to sit and relax. Overall is very doable and a great option to stretch your legs during your PCH road trip or after a full day at the office.
There are two parking lots for Devil's slide, one at the North end and one at the South end, however, each parking lot has very limited space, so you may have difficulty parking during weekends and on days with gorgeous weather. There are also incredibly clean toilets on either end of the trail. 
Location: 5910 Devil's Slide Trail
Distance: Approximately 3 miles round trip
Pedro Point Headlands
You won't see a marker for this Pedro Point hike, which means, not many people know about this hidden gem in Pacifica! There are two access points for the approximately 3.5 mile Pedro Point Headlands hike. The main entrance shares the Northern Devil's Slide parking lot, but according to All Trails you can park in a dirt lot behind Ace Hardware and access the trail from there as well. I used the Devil's Slide lot.
When you park at the Devil's Slide lot, walk towards Highway 1, you'll see the trail to the left of the highway.
When you reach the trailhead, you can either go left or right, I suggest going left along the South Ridge Trail as this will be the steepest incline of the hike and it's always nice to get the tough part out of the way early on. This section of the trail has very little shade, so be sure to bring a hat and wear sunscreen!
Once you reach the top, you'll be rewarded with sweeping views of the coast and of Pedro Point Rock. Loop back to your parking spot along Arroyo Trail which is covered by gorgeous Eucalyptus trees!
Location: 5910 Devil's Slide Trail
Distance: 3.5 mile loop
San Pedro Valley Park Hikes
There are multiple hikes in San Pedro Valley Park. My favorite is to combine the Montara Mountain Trail and the Brooks Creek Trail for a roughly 8 mile round trip hike.
You can park your car in the San Pedro Valley Park parking lot for $6.00 or find a spot in the neighborhood for free and walk in.
On the way up, you'll climb switchbacks through the shade of Eucalyptus trees catching views of Pacifica along the way. You'll then come to a wide dirt path, North Peak Access Road, where you're in for a steep 1 mile climb to the top. If it's a clear day, you'll have awesome views of Half Moon Bay, Pacifica, San Francisco and even the Farallon Islands. If it's not, unfortunately, you'll be out of luck on the views, but the fog is quite beautiful as well.
On the return trip down the mountain, take Brooks Creek Trail where you'll find a 175 ft waterfall, which will really be flowing in the winter and spring!
Location: 600 Oddstad Boulevard
Distance: 6.5 mile loop
Note: You can also hike to the top of Montara Mountain by starting the hike in Half Moon Bay.
Sweeney Ridge
Sweeney Ridge is an awesome hike that offers great views once you reach the top! However, it is a steep 1.5 mile climb up! At the top, along with the views there is a former Nike missile site that you can explore.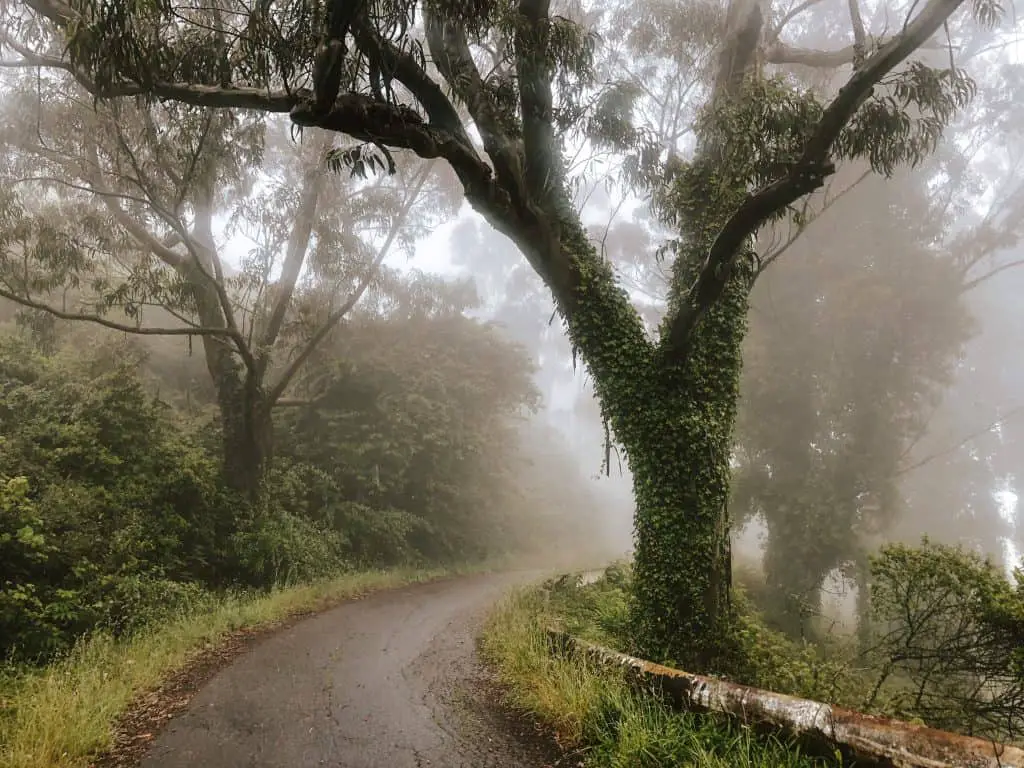 There are two options for starting the Sweeney Ridge: Highway 35 parking lot or Shelldance Orchid Gardens. If you start from Highway 35 the trail is completely paved compared to the gravel path starting from Shelldance Orchid.
Shelldance Orchid Gardens
Speaking of Shelldance Orchid Gardens, you should definitely stop by this world famous nursery after your hike up to Sweeney Ridge. If you're looking to add succulents, air plants, and of course an orchid or two to your COVID plant collection – Shelldance is for you!
Eat at the Best Restaurants in Pacifica
Do you find that fresh ocean air and plenty of hiking makes you particularly ravenous? Me too, friend, me too. Thankfully there are plenty of great places to eat in Pacifica. 
The Taco Bell
Ok, not the best restaurant by any means, and I haven't eaten at any Taco Bell in years, but I might be swayed to eat at this one, or at least drink. This Taco Bell Cantina is located at Linda Mar Beach. How about a frozen margarita while enjoying watching the surfers? If that sounds like heaven to you, then wander on over to the Taco Bell on the beach for some frozen tastiness.
Location: 520 CA-1 (Linda Mar Beach)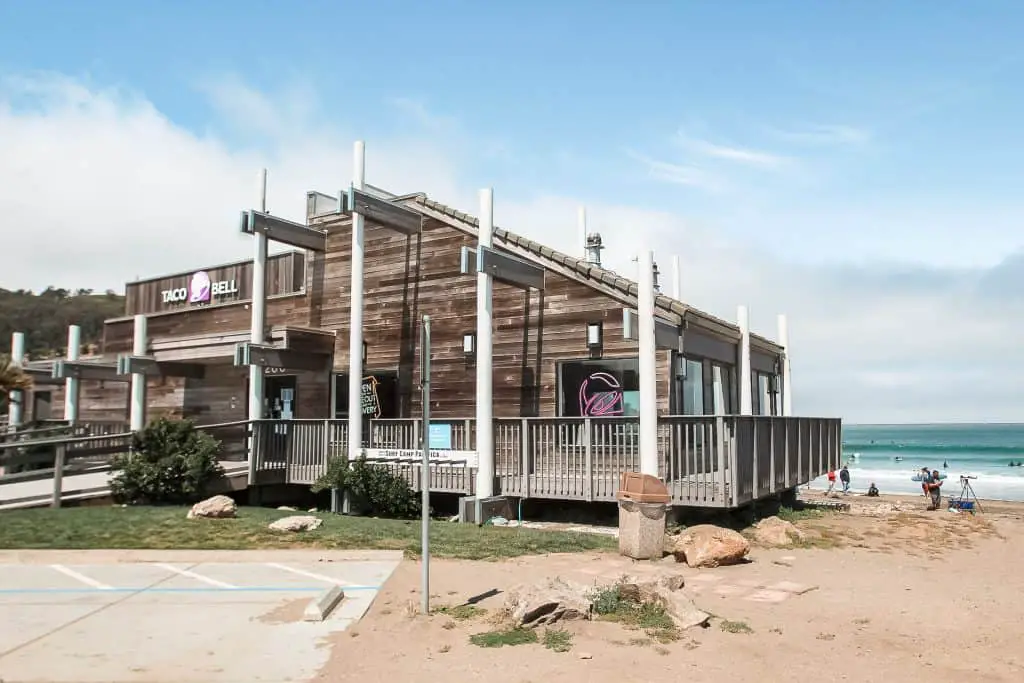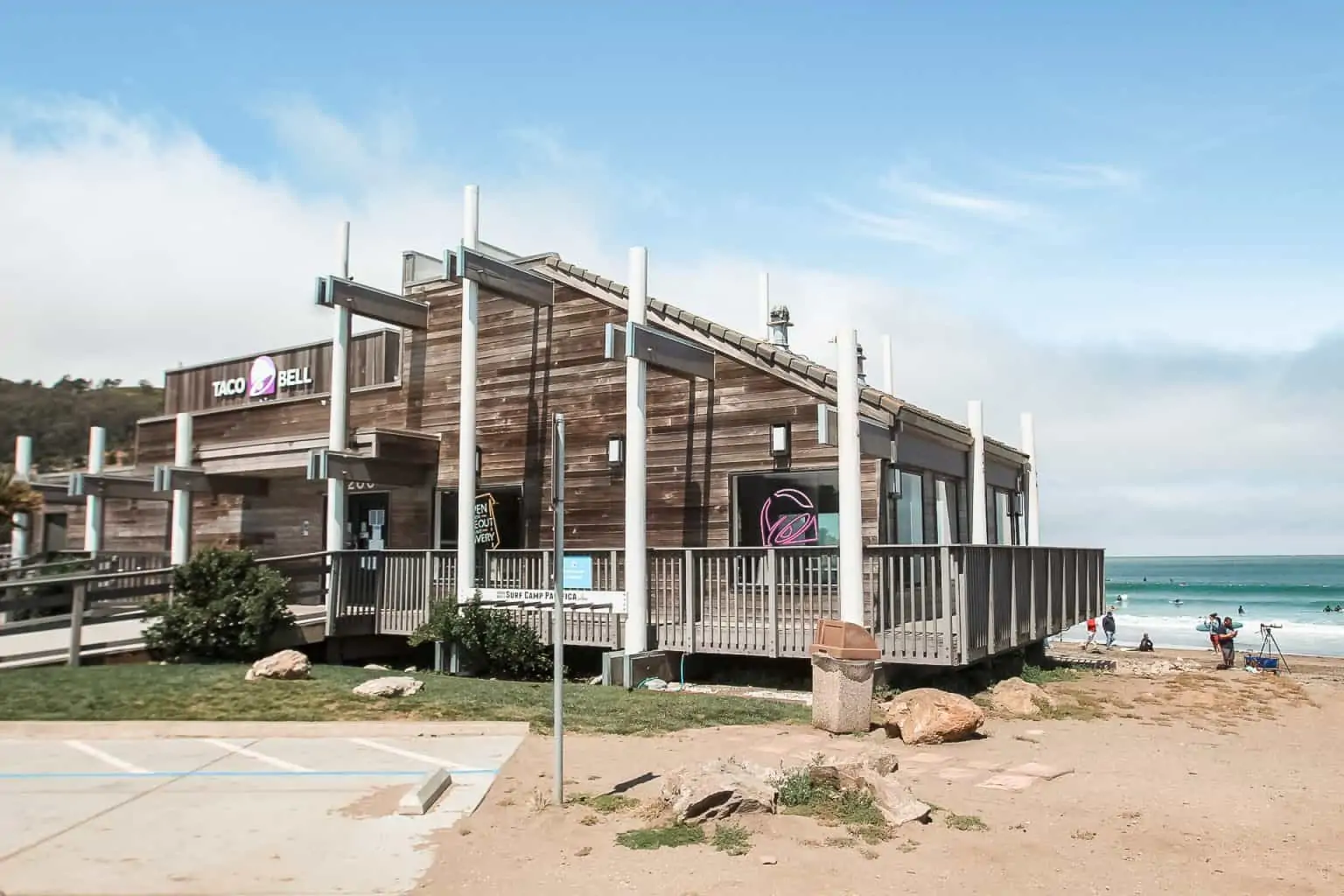 Soul Grind Coffee Roasters
Did you just walk from Mori Point to Linda Mar and now all you want is a coffee and some waffles? Or, if you're like me, a Matcha latte and avocado toast? Soul Grind Coffee Roasters is sure to please your taste buds. This coffee shop is one of my favorites. Their food is delicious, their Matcha is consistently on point, and the ambience is the perfect combination of relaxed beach town and gourmet eats. Plus, just off the parking lot for Soul Grind is a path to Linda Mar beach!
Location: 5400 CA-1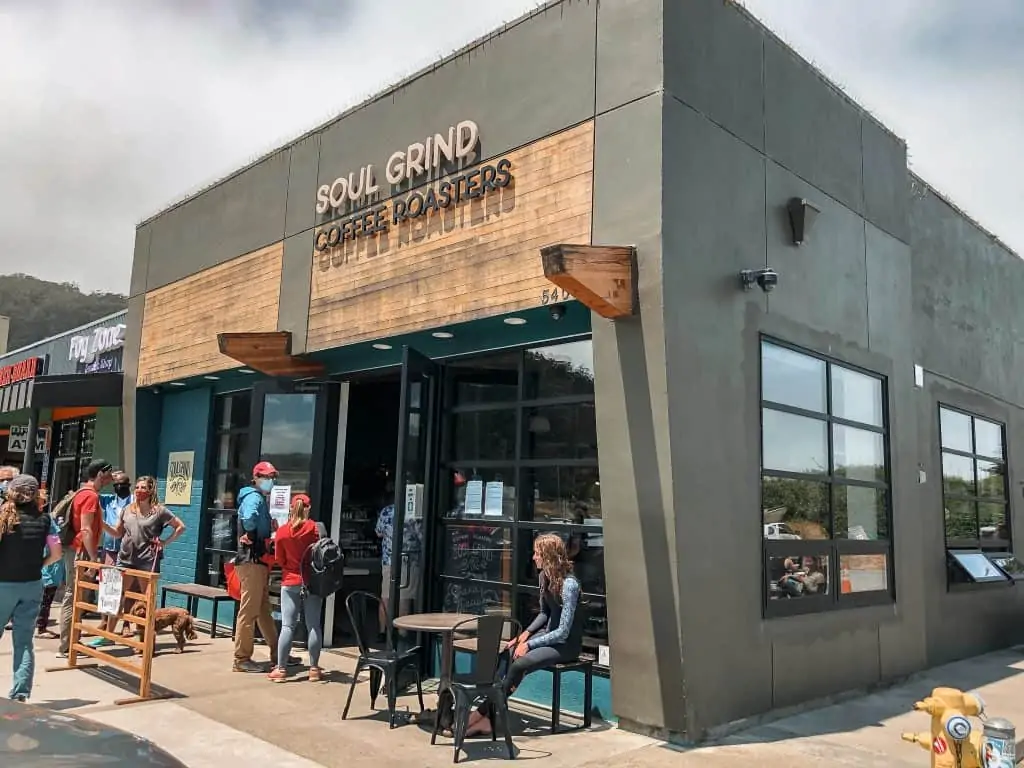 Puerto 27
Puerto 27 is a Peruvian restaurant that has been located in the heart of Pacifica for almost 30 years. This restaurant sits across the street from Linda Mar beach and has large windows offering gorgeous view while you sip on your Pisco Sour, dine on your ceviche and Lomo Saltado. 
I celebrated my 30th birthday here just after returning from Peru and let me tell you – the quality of their food, their attention to details, and their atmosphere had me feeling like I was back in Lima. I highly recommend Puerto 27 for a delicious dinner in Pacifica.
Location: 525 Crespi Dr.
Other Places to Eat in Pacifica
There are a few other restaurants in Pacifica that I've been wanting to try, but once COVID hit, that took a back seat. They have great reviews and once they open again, I'll try them out.
Gorilla BBQ: pre COVID this place always had a line out its door. 
Pacifica Brewery: has a great patio that looks perfect for sipping beer on a hot summer day.
Devil's Slide Taproom: their burgers look ahh-mazing. 
Colombo Delicatessen: order a huge deli sandwich for a beachside picnic
Mazzetti's Bakery: save space for a cannoli from Mazzetti's
That being said – there are so many restaurants in Pacifica from fine dining to hole in the wall – all with excellent food, you'll be sure to find something to satisfy whatever you're craving!
There are so many things to do in Pacifica, California, whether you're a local in search of nearby day trips or a tourist wondering if you should add a stop on your Highway 1 road trip itinerary. Discover amazing hikes that offer stunning views of the rugged coastline, gorgeous beaches where you can learn to surf, and great food to refuel after the exploring all of the awesome Pacifica things to do.
Which one of these are you most excited about in Pacifica?
Love small coastal towns? Check out these other California coastal towns:
The best things to do in Pescadero, CA
How to spend half a day in Avila Beach
Like this post? Pin for later!