Due to Coronavirus, I've had to shift my travel dreams from foreign far off destinations to familiar locales. After a road trip to Pismo Beach amidst the pandemic, I realized that staying within an hour's drive of home is the more responsible way for me to travel at this time. Thankfully, I live in the San Francisco Bay Area that is filled with often overlooked hidden treasures. I've also been spending more time in Pacifica uncovering what this local beach town has to offer, but this weekend I needed something different. I took a drive to a small coastal town recommended by my sister in law to find out the best things to do in Pescadero, California.
Where is Pescadero, California
Pescadero is a small town in San Mateo County located just 30 minutes south of Half Moon Bay and about an hour north of Santa Cruz. Pescadero's location makes it an excellent place to stop for lunch and to stretch your legs on your Pacific Coast Highway Road trip. Or if you're visiting San Francisco for a weekend and want a quick city escape, Pescadero is the perfect day trip destination. As soon as you step on to Stage Road, the main street in Pescadero, you will feel the pace of life slow down immediately.
This is why they call it the slow coast.
Weather in Pescadero, California
The weather in Pescadero is fairly moderate with summer temperatures rising into the 70s and winter temperatures in the 50s. I always recommend layers as fog is common along this part of the coast of California. The water is also quite chilly so if you're planning to swim, mentally prepare yourself for cold temperatures, or bring a wetsuit!
The Best Things to Do in Pescadero
One thing that I loved about Pescadero is the welcoming and community vibe. Every shop had a Black Lives Matter sign. The food is all based on local, seasonal ingredients. And the products sold in the adorable shops are sourced locally or from small businesses throughout the country. I felt nothing but happiness and calm as I strolled this one stop light town that was so welcomed amidst so much change and uncertainty. I'm certain that you'll have an equally lovely day exploring the best things to do in Pescadero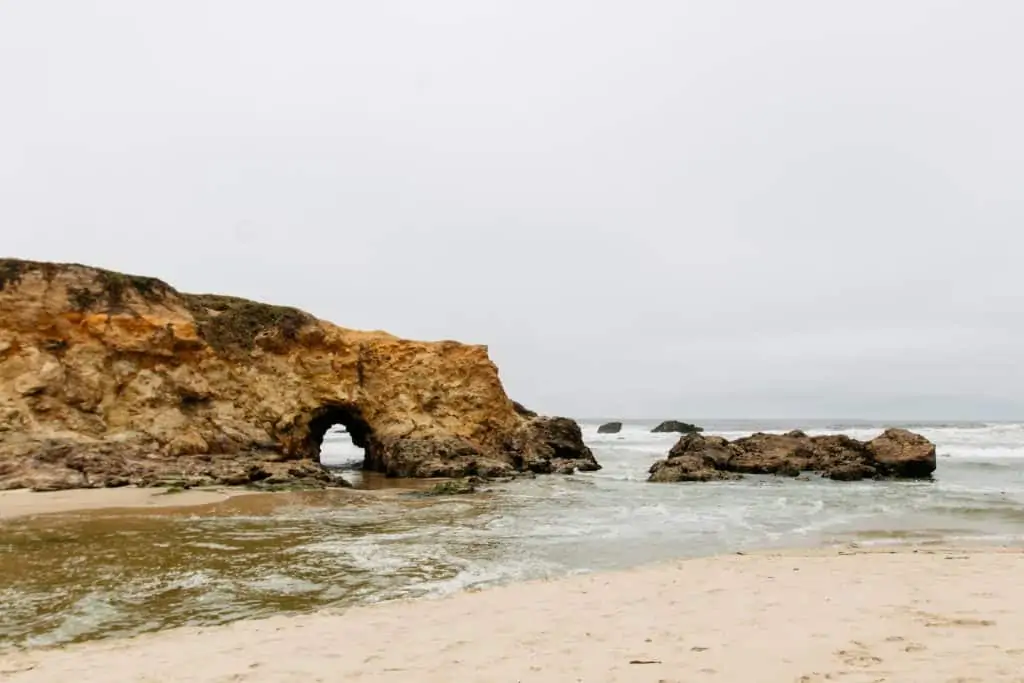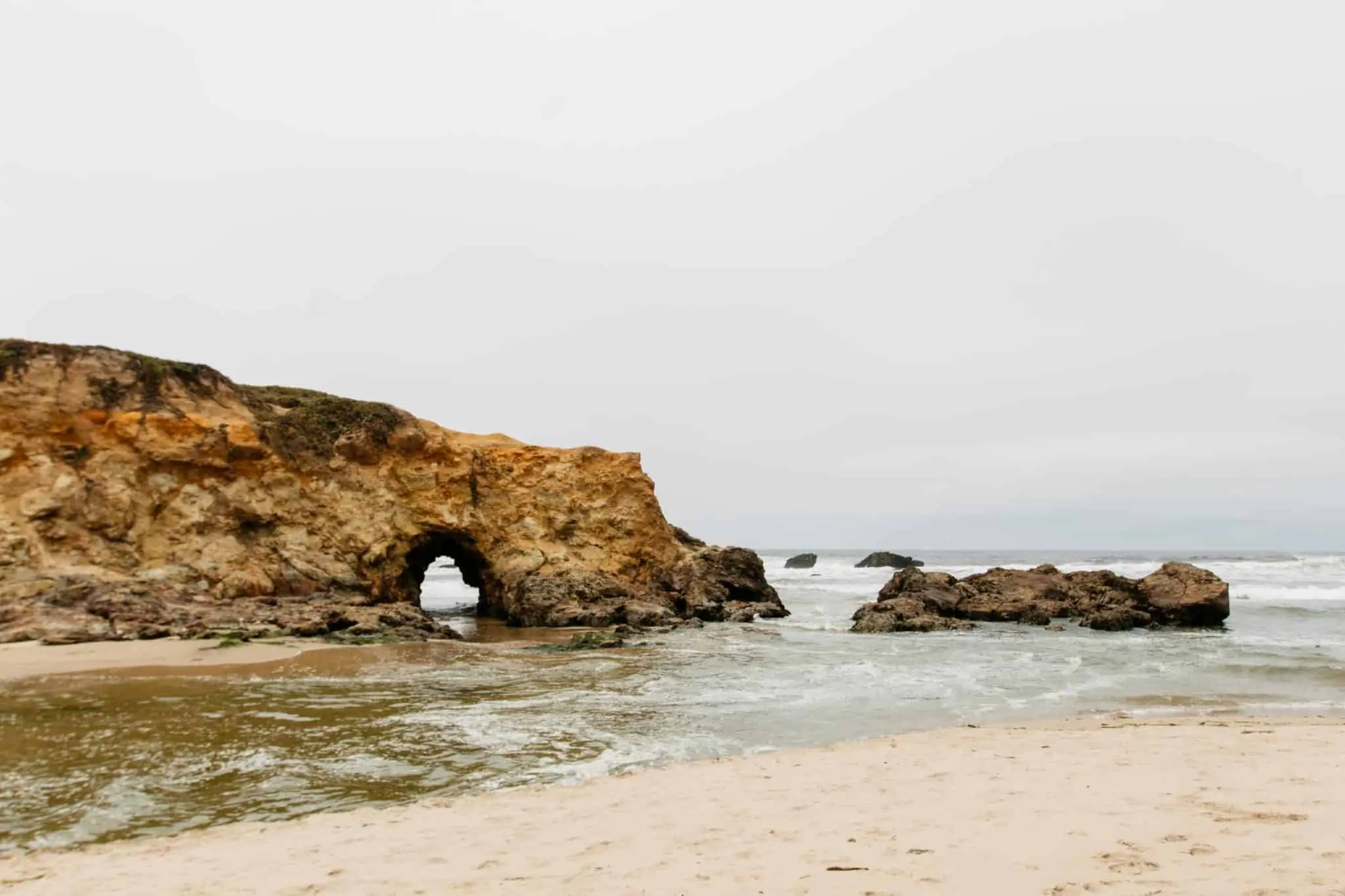 So let's get to it!
Stage Road is the main street in town where you will find the majority of the things to do in Pescadero. It might be small, but it packs a lot of punch. You're in for some delicious food and unique shops on Stage Road.
Eat at Duarte's Tavern
Duarte's Tavern is the first thing you'll notice when you drive into town. This restaurant and bar has been holding down the corner of Stage Road since 1894 and there's a good reason. The food is fresh, like veggies picked from their garden and fish caught that day kind of fresh. Plus their Olallieberry pie is absolute heaven.
I ordered their crab melt sandwich and a slice of Olallieberry pie a la mode. I double fisted that stuff, it was so good. I've also been told that their artichoke soup is top notch.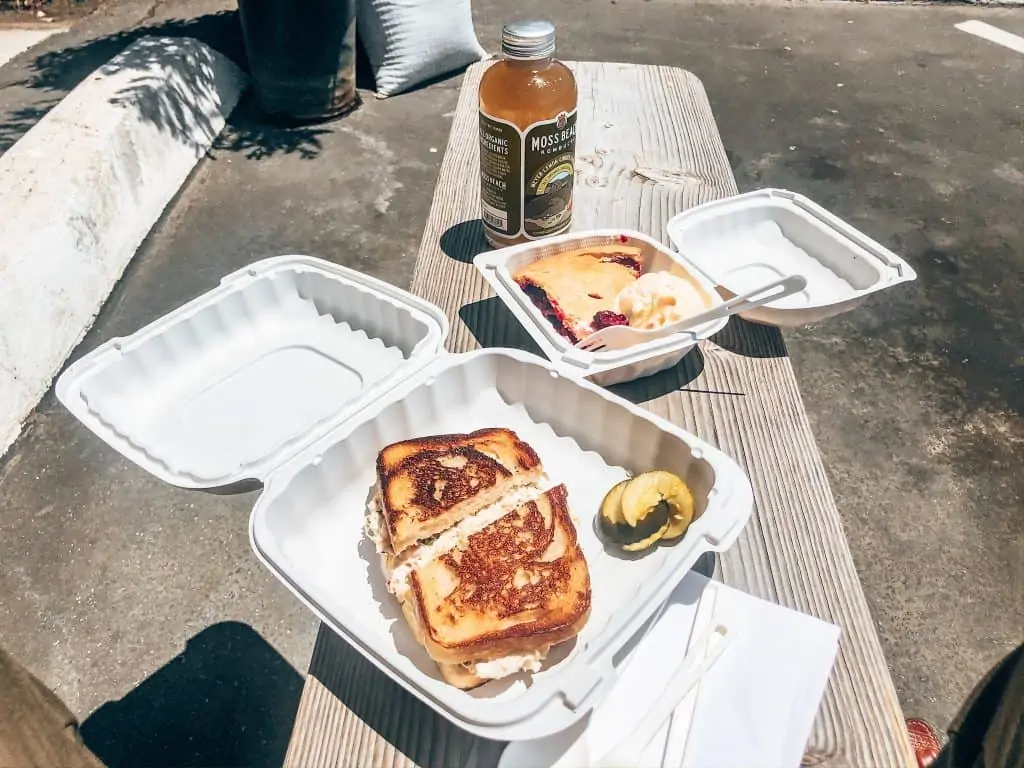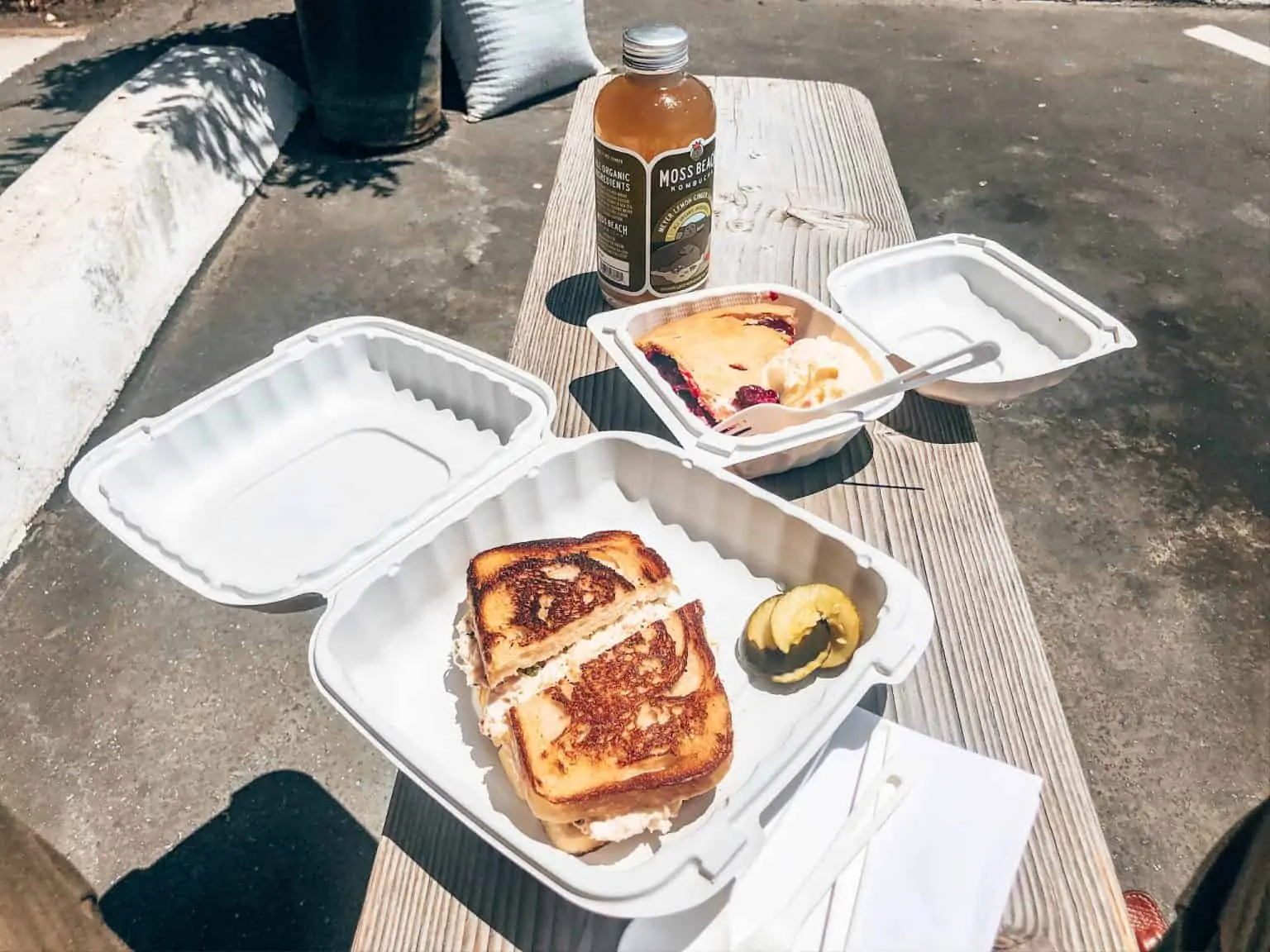 During COVID times, you're welcome to order at the door, pick up your food from the window, and enjoy your fresh meal on their picnic table in the parking lot. You can also order drinks to go if you want to take your lunch for a picnic on the beach. Be sure to wear sunscreen as there is no shade in the parking lot.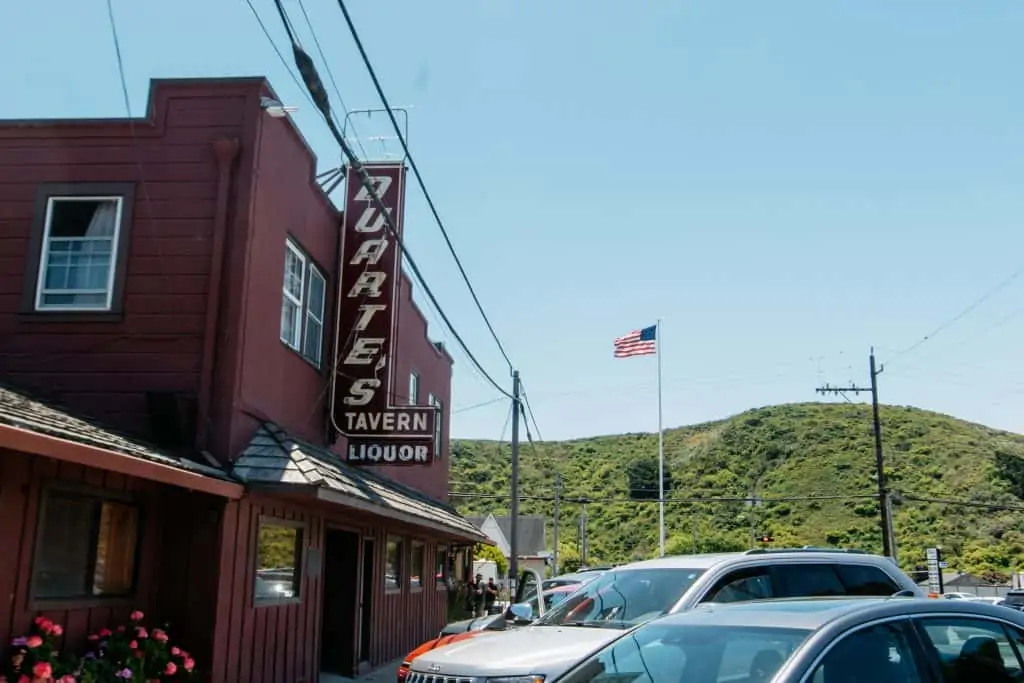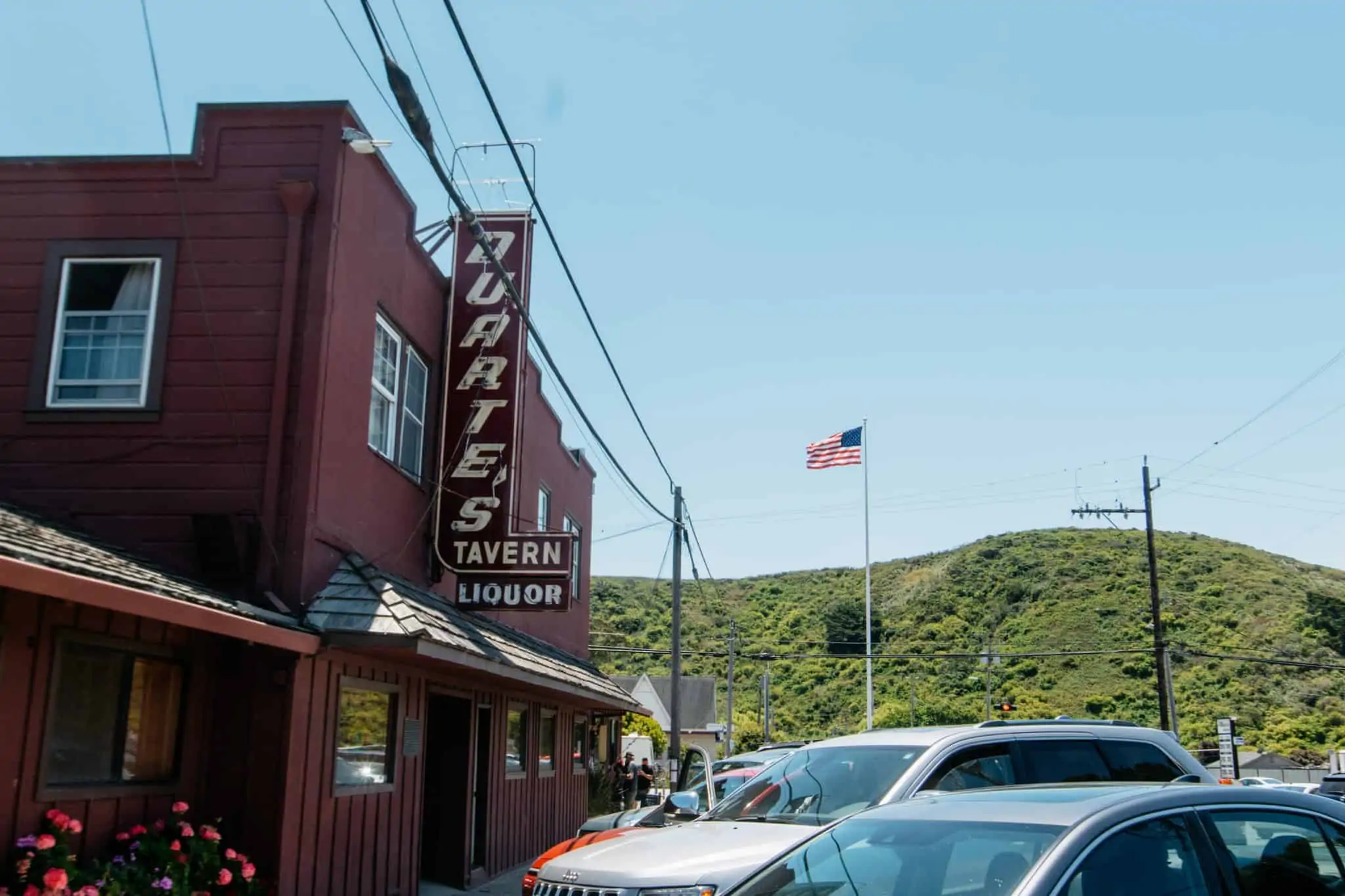 Get a Loaf of Bread from Arcangeli's Market
Just down Stage Road you'll find Arcangeli's (Norm's) Market known for their Artichoke Garlic bread and sandwiches. You can expect to find a line of people waiting for the hot Artichoke Garlic bread that they make throughout the day. I was warned by the lady in a shop I'd stopped in just before that people will throw elbows to make sure they get their bread. However, my experience was quite pleasant.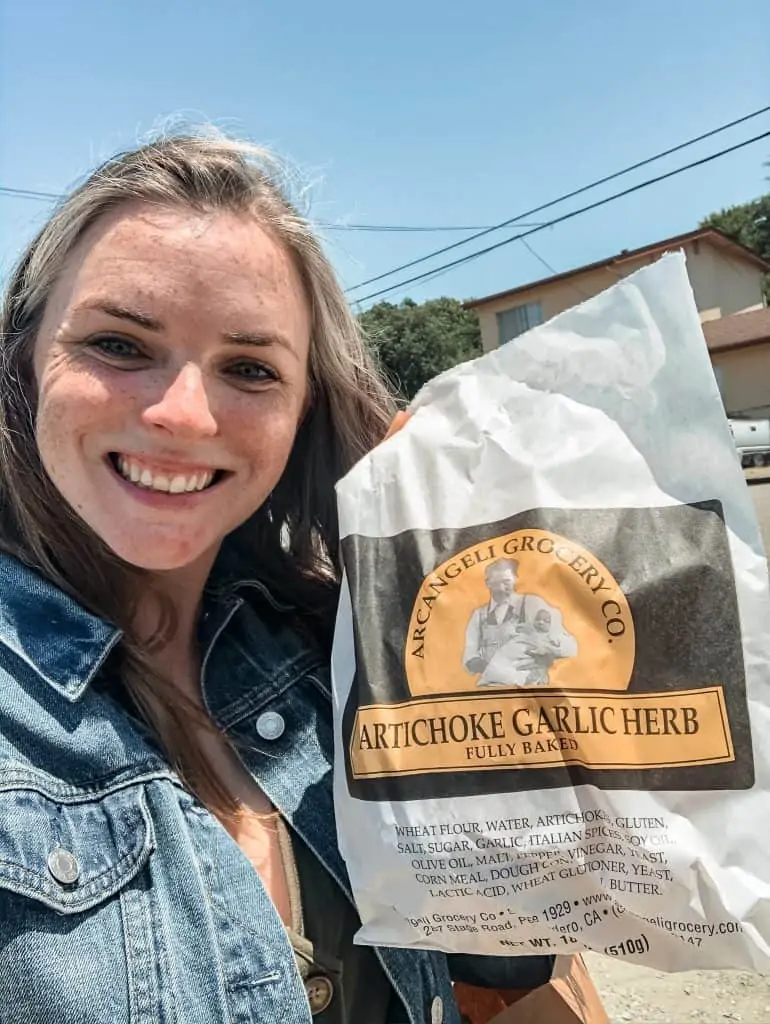 To allow for social distancing, there is someone monitoring the amount of people in the store, so you're asked to wait outside. She then directs you to the back of the market if you want a sandwich or to the register at the front for bread. I waited maybe 10 minutes all together before walking out with a piping hot loaf of Artichoke Garlic Bread.
If you're not planning on eating the bread immediately, you can also purchase a half baked loaf and finish the baking at home. The market also has everything you'd need for a beach picnic, however, I didn't linger to take too close of a look – cause you know, COVID.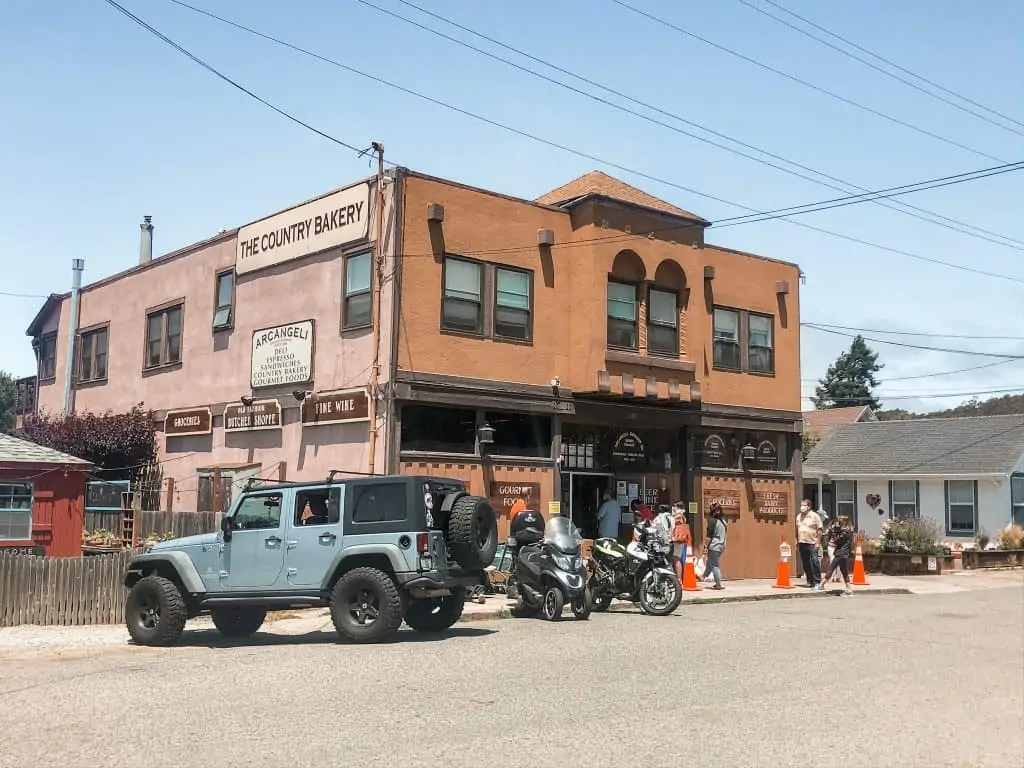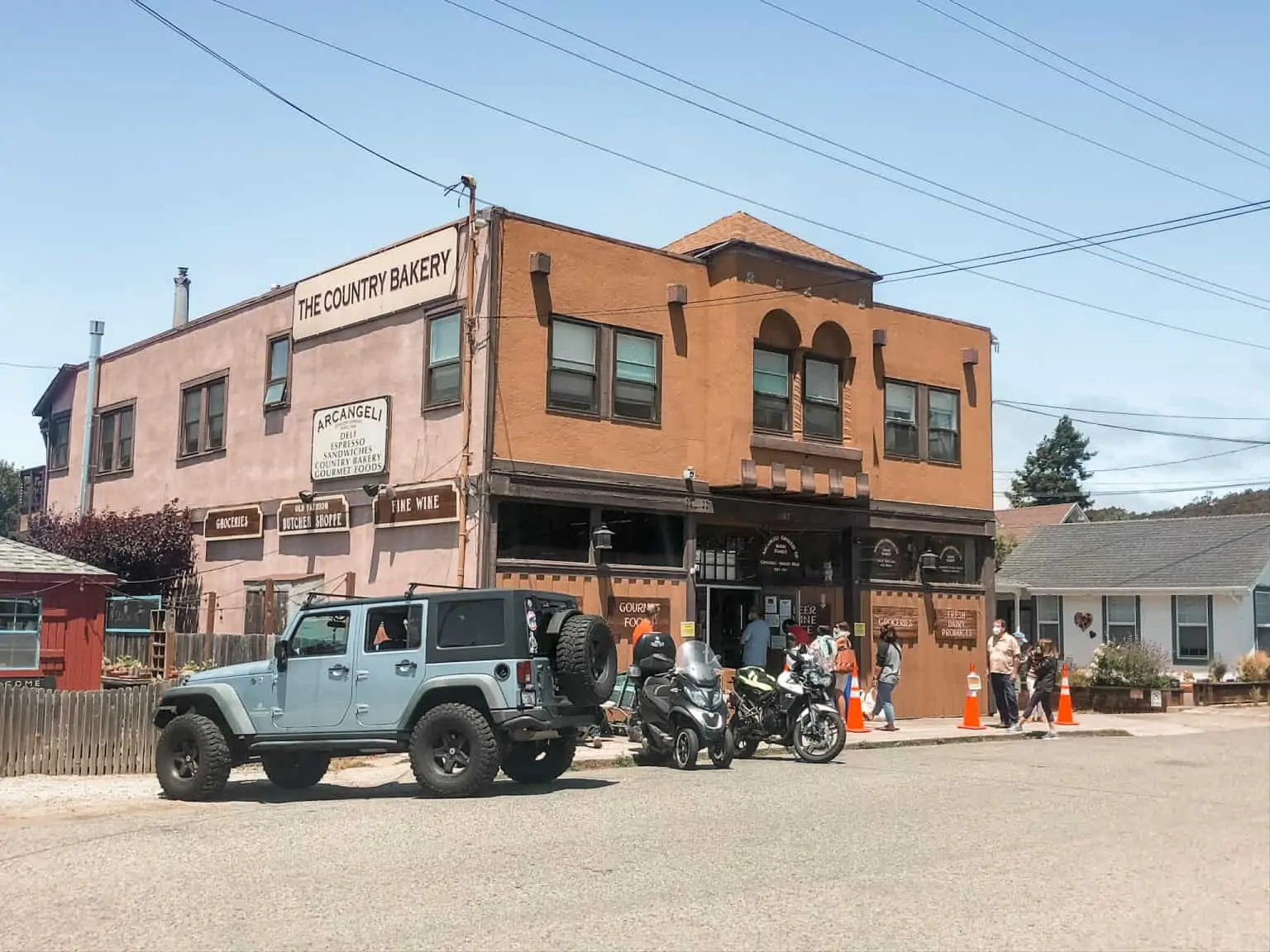 Eat Fish Tacos from Mercado & Taqueria de Amigos
The third option for restaurants in Pescadero, yep you heard that right, three great food options on one little street in a small coastal town. Well this one is not as obvious as it's located inside the gas station at the corner of Stage Road and Pescadero Creek Road.
Mercado & Taqueria de Amigos has excellent reviews on their fish tacos. I didn't have the opportunity to try them on my first visit to Pescadero as I'd already eaten my fill.
But I just returned to Pescadero after camping in nearby Butano State Park and this Taqueria was the first place on my list. I ordered two fish tacos and enjoyed them in the sun at a picnic table in their parking lot.
The reviews hold up – these fish tacos are perfect.
Simple ingredients, fresh fish, a squeeze of lime…just like the tacos in Tulum I loved!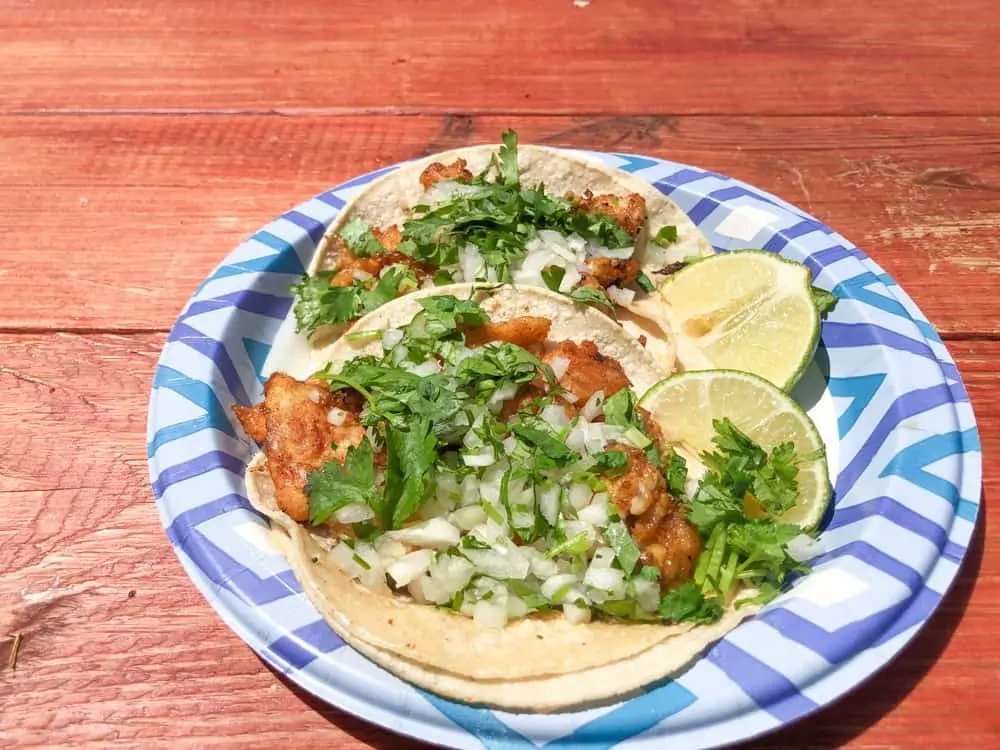 Sip a Coffee or Tea from Downtown Local
Not going to lie, I was surprised to see a hipster style coffee shop in Pescadero, but I was quite happy about it. At this time, you are not able to sit inside, but you can order your cup to go from the window. They also have a little shop with local produce.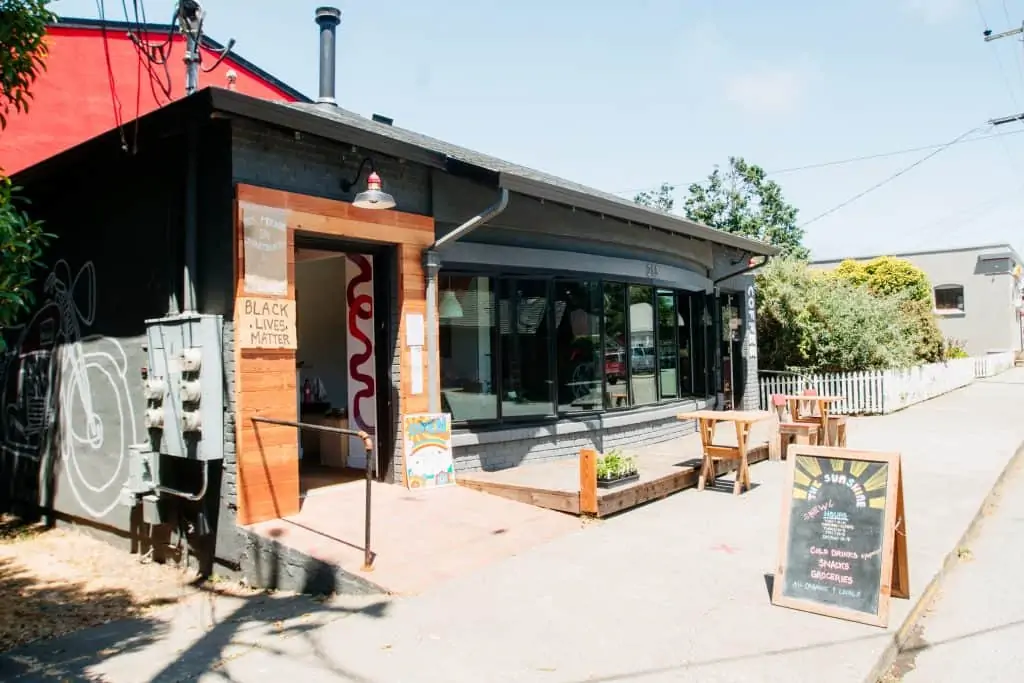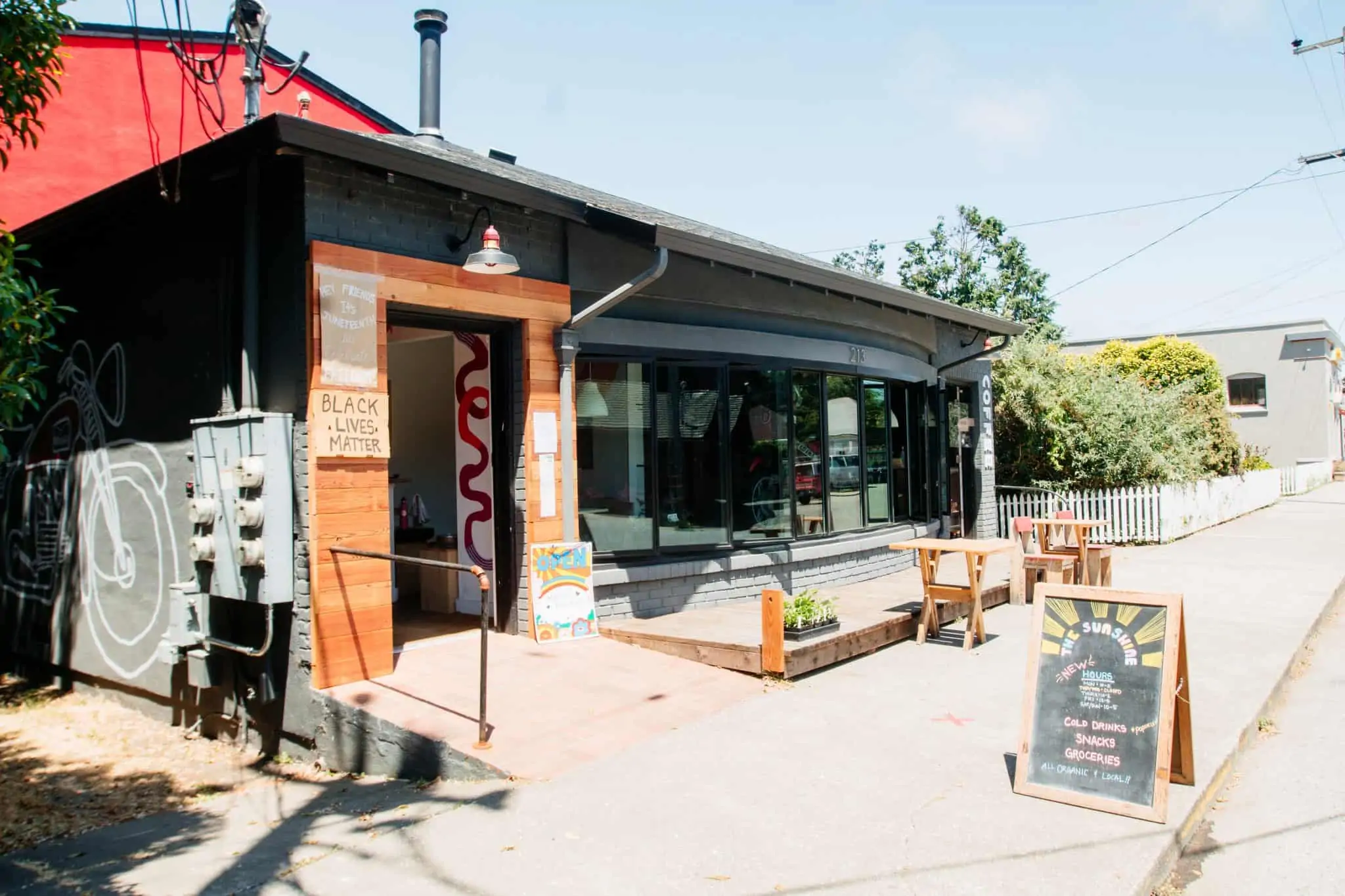 Shop the Sheds
There are a number of shops in little sheds along Stage Road in between Duarte's and Arcangeli's Market. Three of them were open when I visited as some owners are hesitant to open amidst a pandemic.
The first you must stop in to is Pescadero Essentials Wellness Collective where you'll find a wide range of locally sourced beauty products from bath bombs to facial serums. This shop has it all. The owner, Nichole, is incredibly sweet and knowledgeable. She also sources clothing made from rescued women in Nepal. Definitely stop in to shop here!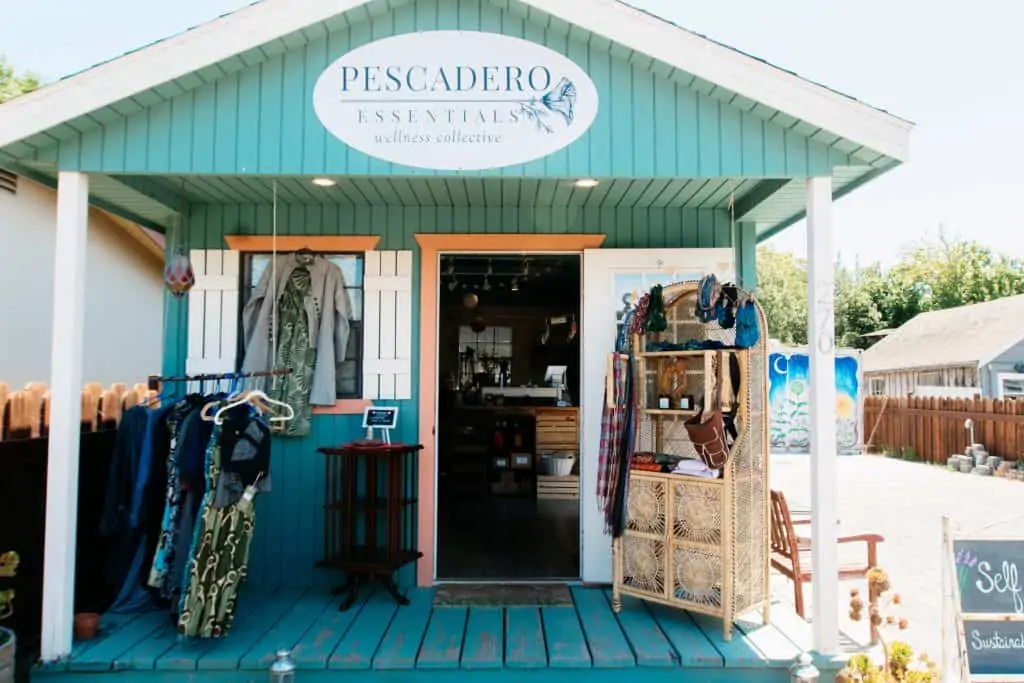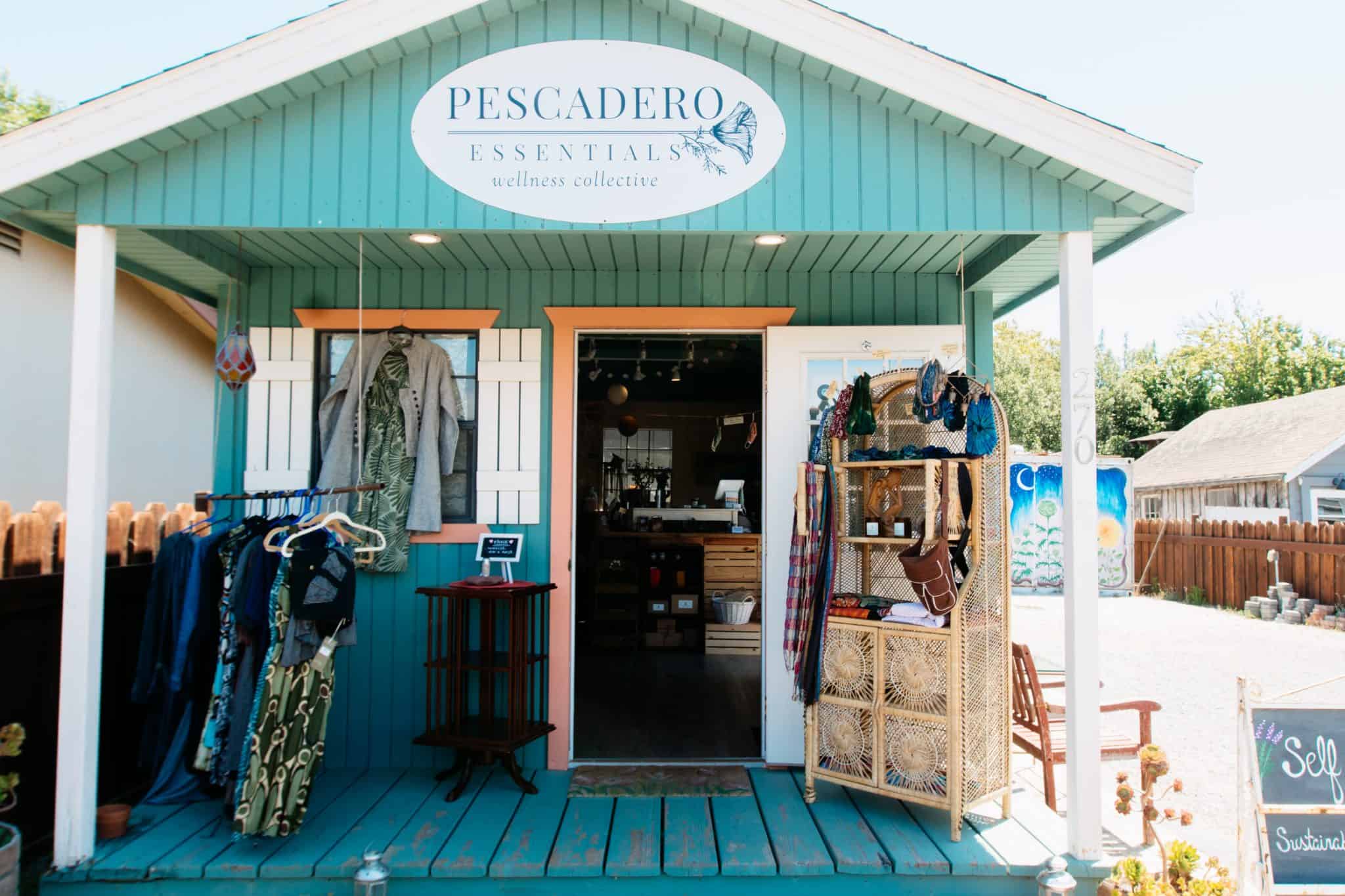 The other two shops that were open are right next to Arcangeli's Market, the first is called Slow Coast and offers locally sourced products from jewelry to clothing.
The second shop is called the Perfume Camp and the owner, Libby Patterson, is a Master Perfumer. She will assist you in creating the perfect scent to reflect your awesomeness. The other reason to wander into Libby's shop is for the wall filled with loose leaf teas. Tea for everything from digestion to brain function, all of the ingredients sourced locally, of course.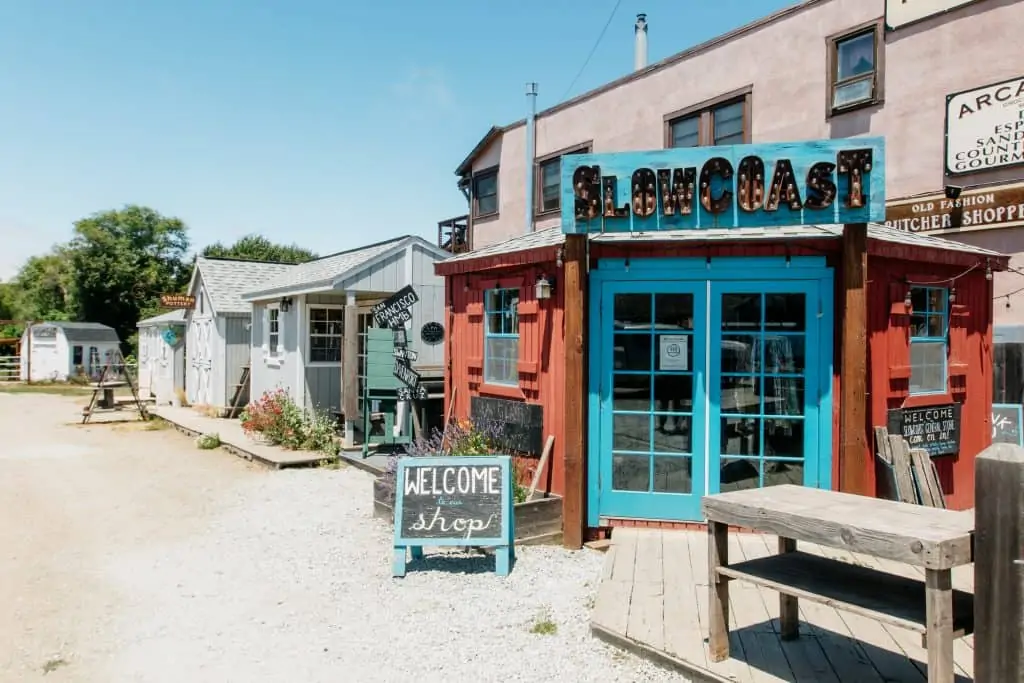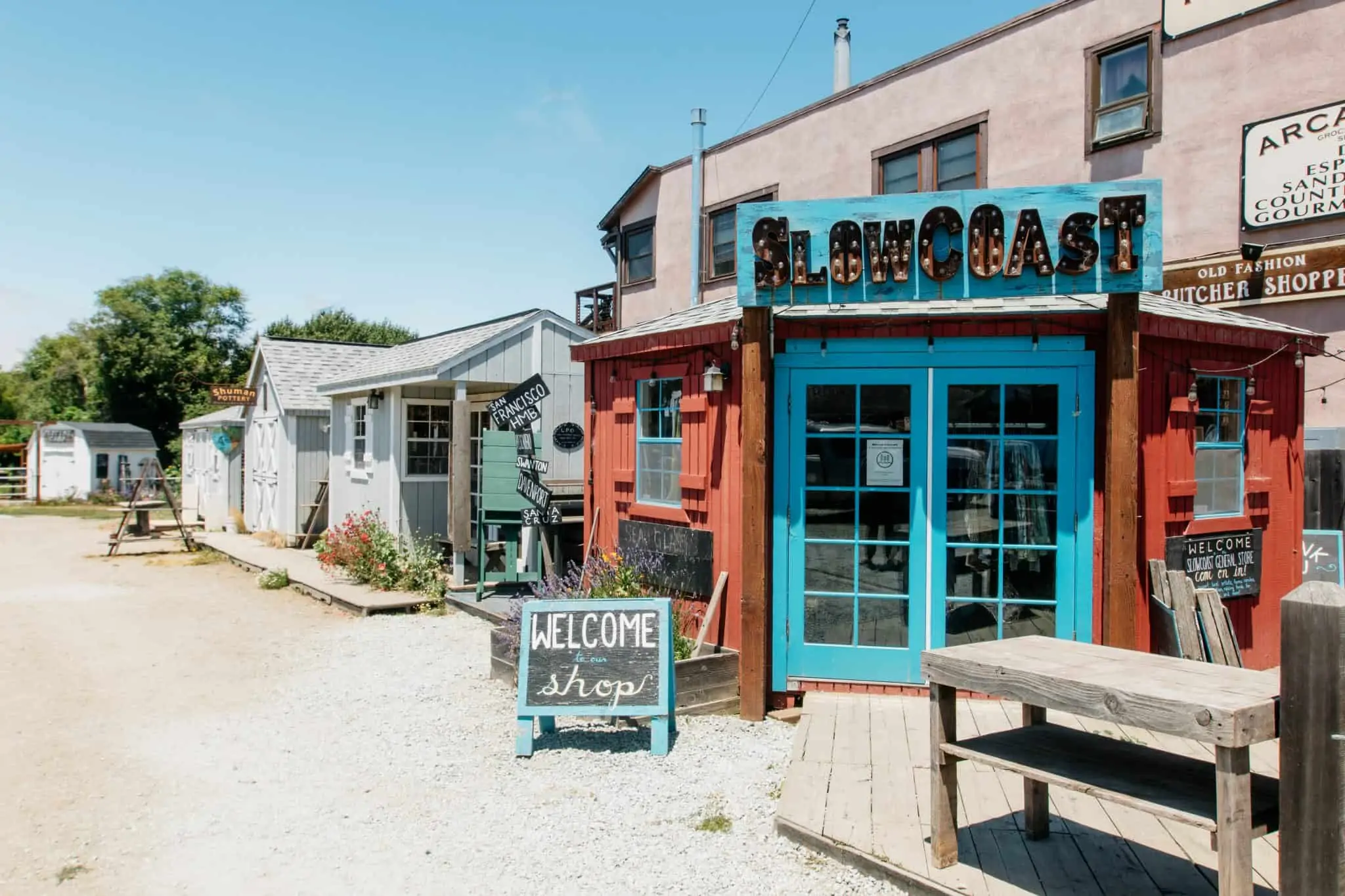 I bought 3 bags of tea and I've already tried two of them, both are fantastic. In non-pandemic times you are allowed to smell the tea, however, I could not. But thanks to Libby's expert advice I walked out with 3 bags of loose leaf tea, Brain Tea, Self Care Tea, and Balance Tea. I've already tried the Brain Tea and Self Care Tea and am so pleased with them. I'm looking forward to creating a lemonade with the Balance Tea for these warm Bay Area summer days!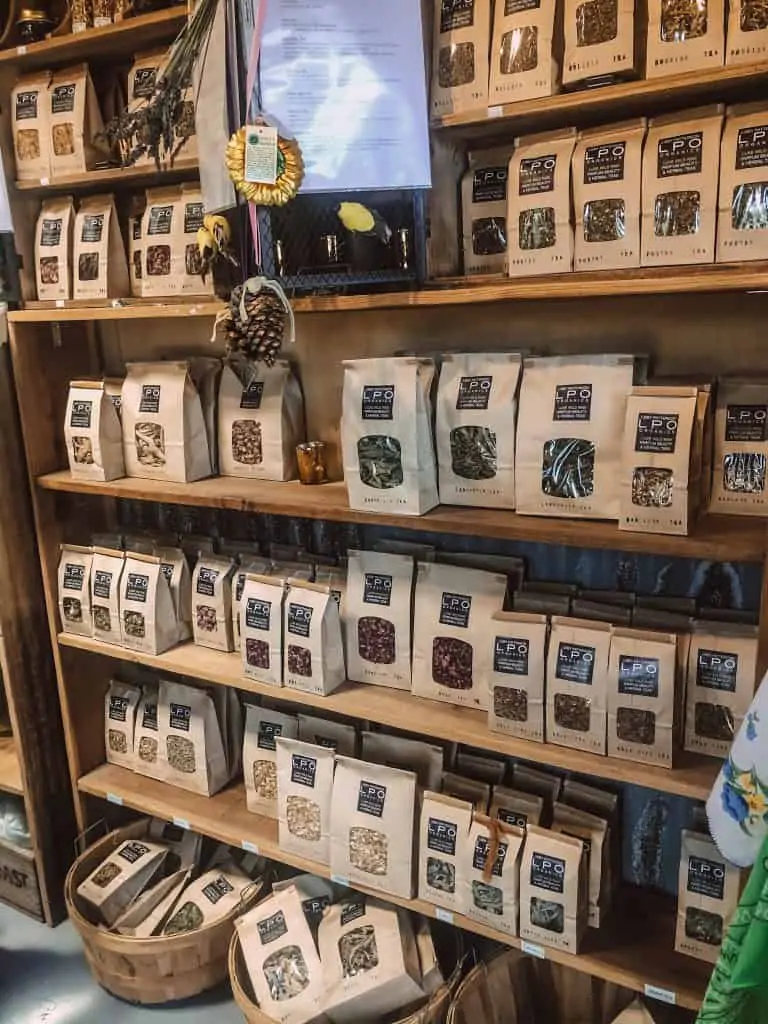 Say Hi to the Goats at Harley Farms
Located just up the road from Stage Road is Harley Farms, known for their goats! This place isn't just something to do with your kids. I absolutely loved seeing the goats, donkeys, puppies, and baby goats!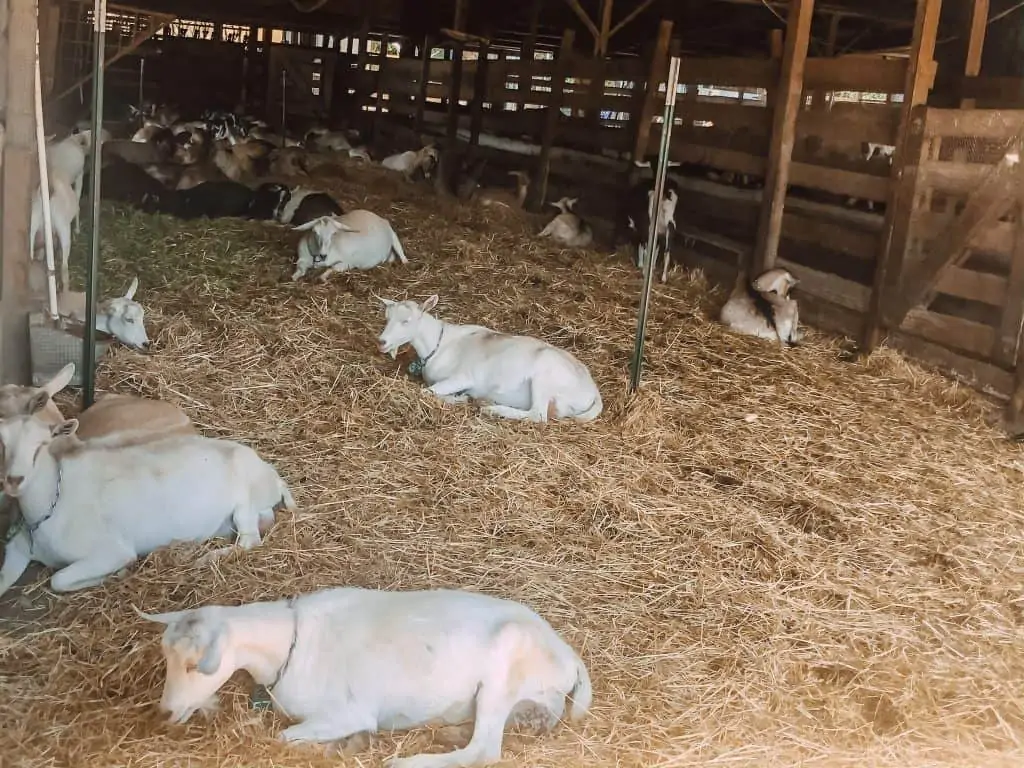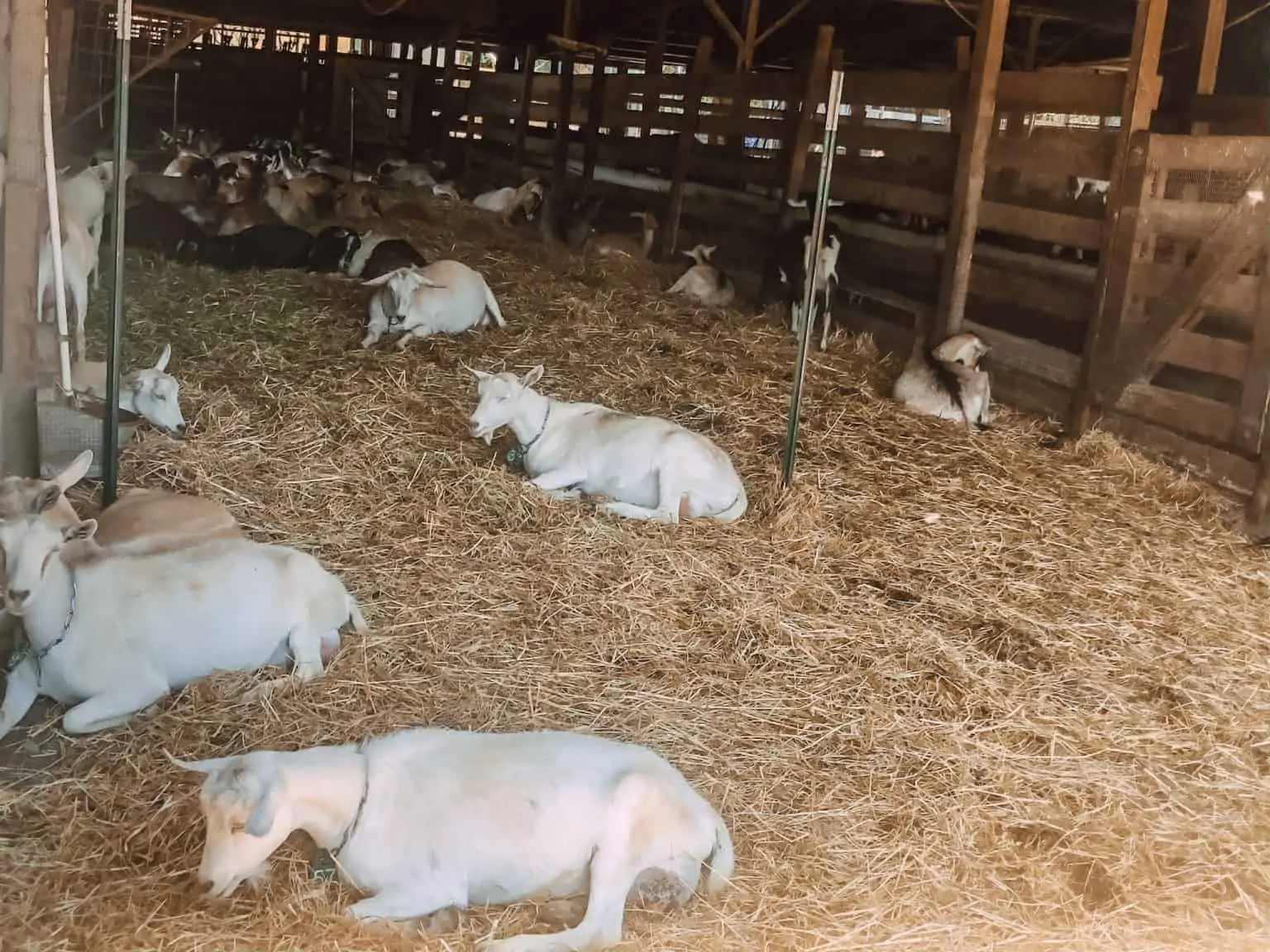 Plus they have a gorgeous garden and a shop where you can purchase cheese made from the goats you just fawned over. They also offer body products as well. There are picnic tables near the parking lot if you want to take your hot artichoke garlic bread with you to pair with their cheese.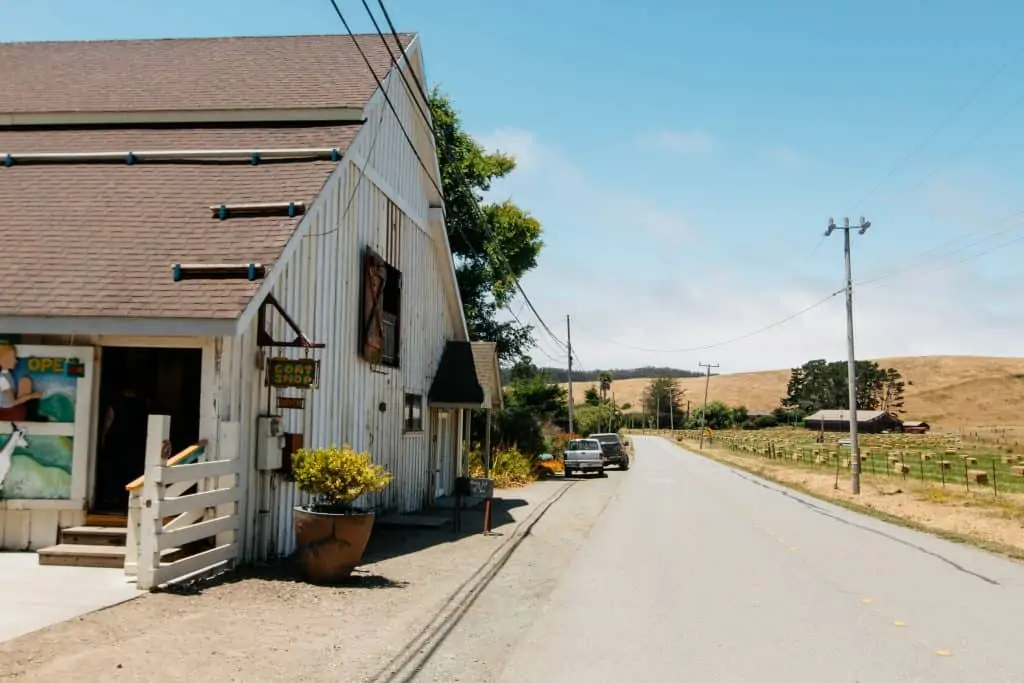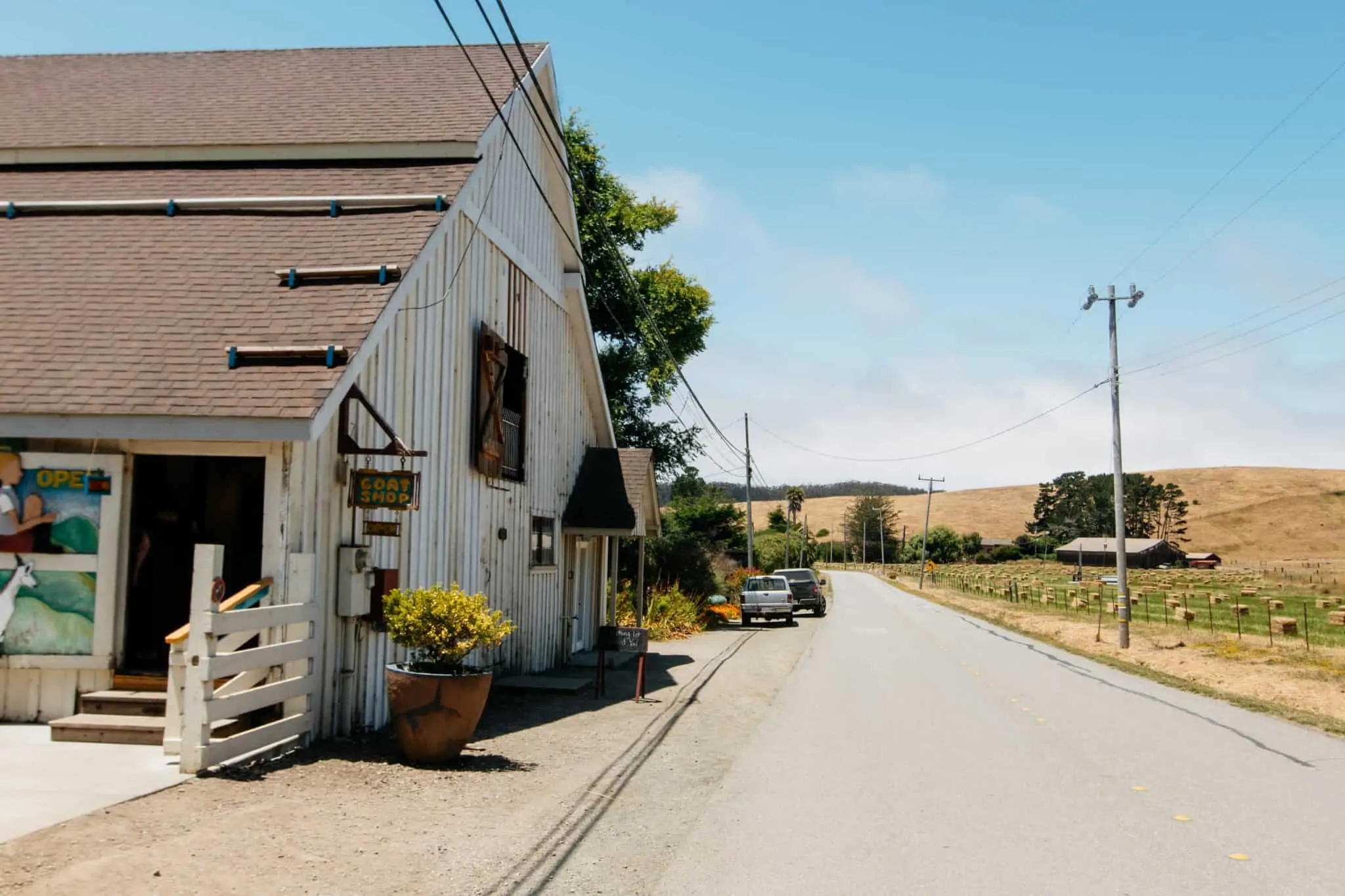 Visit Pigeon Point Lighthouse
Once you've explored this charming town, head down Highway 1 about 6 miles to visit the 116 foot Pigeon Point Lighthouse. The majority of the lighthouse is closed due to COVID, however, this is a great place for photos and to walk off all of that Olallieberry pie. Pigeon Point Lighthouse is also a great place to potentially see whales and seals!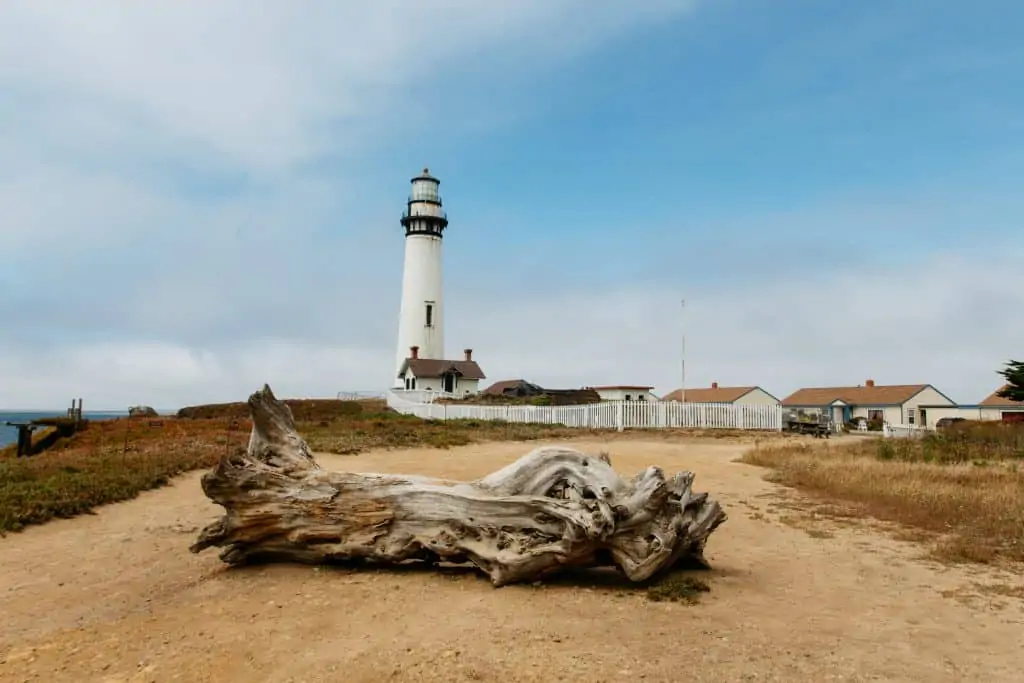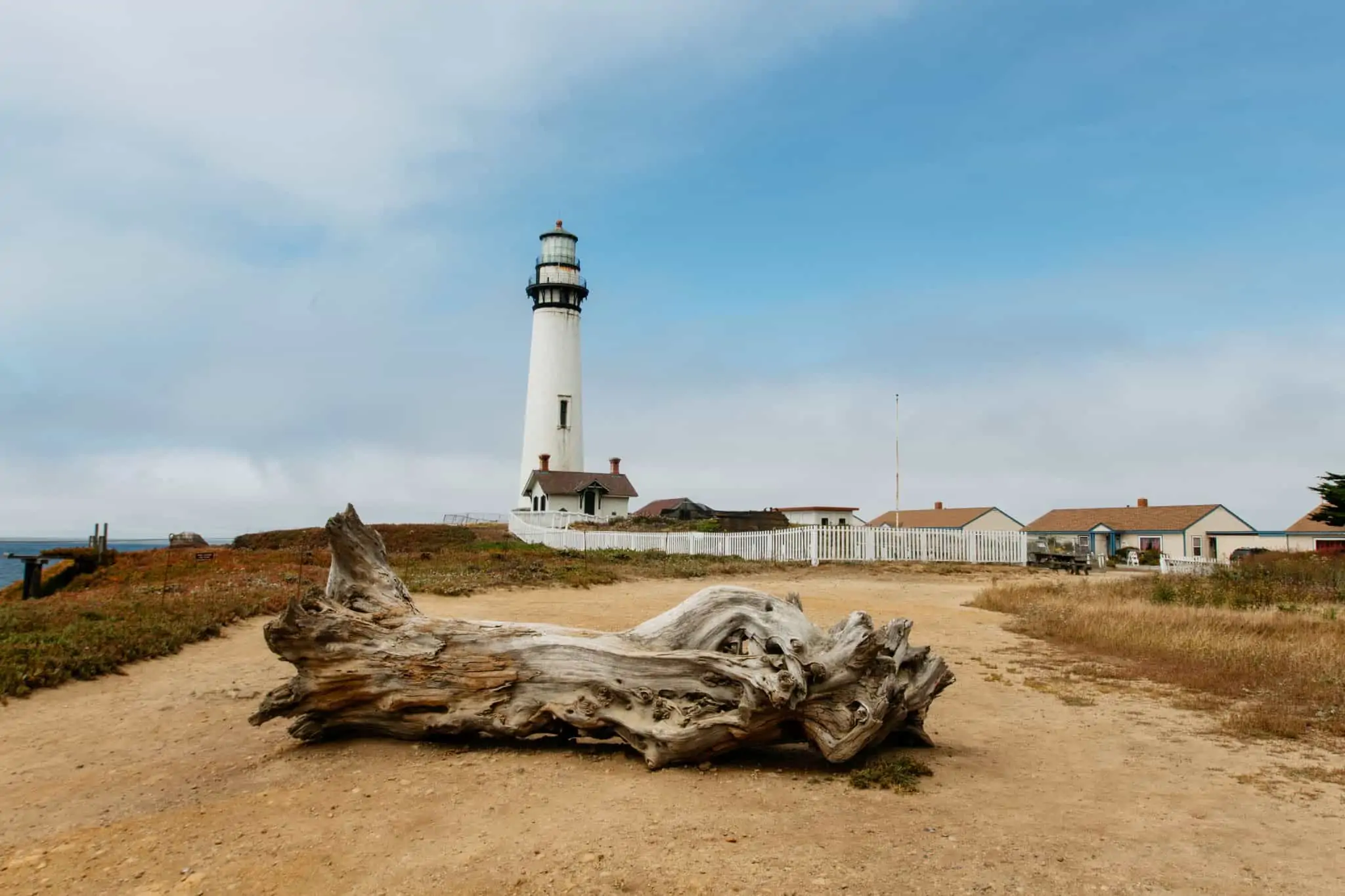 Relax at the Beach
Now that you've eaten and snapped some photos another great thing to do in Pescadero, CA is, of course, relax at the beach. In Pescadero, there are a number of beaches that you can pull off to the side of the road and walk down to, however, the two main beaches with parking lots are Bean Hollow State Beach and Pescadero State Beach.
Any of the beaches are a solid choice to chill on your blanket and soak up this slower pace of life.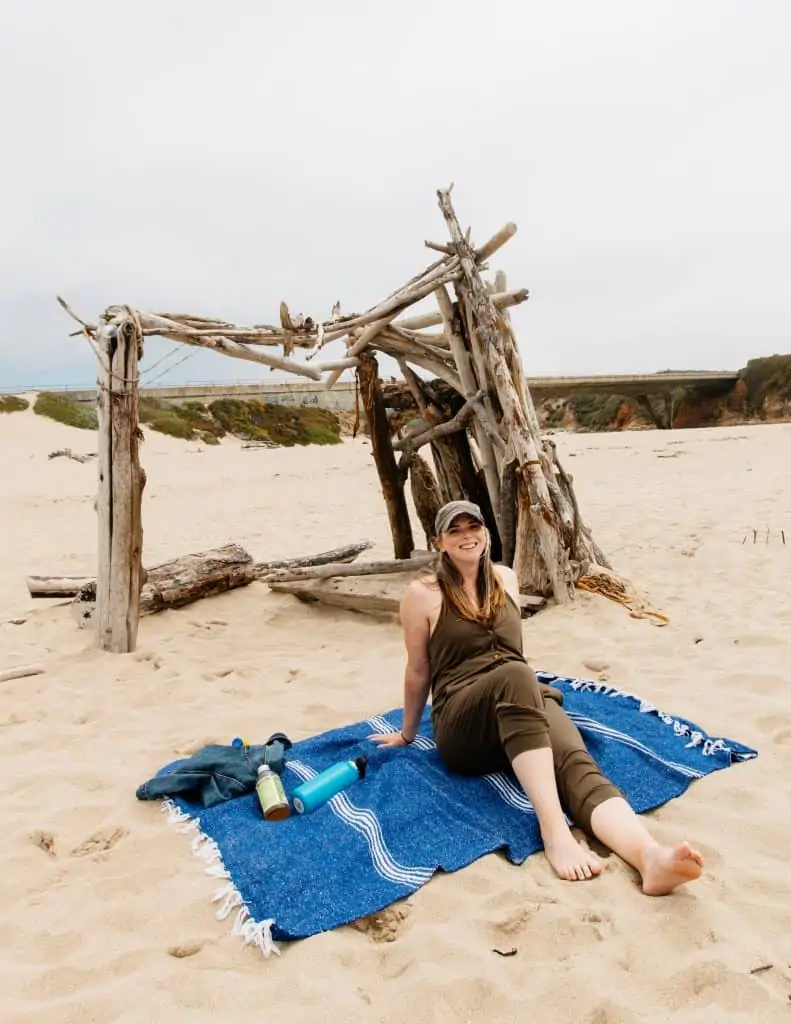 Take a Hike
If you're looking for hikes near Pescadero, a few miles down the road is Butano State Park which offers campgrounds and a wide range of hikes from easy to challenging.
I just spent a night solo camping under the redwoods and hiking in Butano and absolutely loved it. Besides the other people at the campsite, I only saw maybe 5 other hikers on the trails.
For something fairly easy, I suggest the Little Butano Creek Trail or Six Bridges Trail. Yes – there are actually six bridges, I counted. Each of these hikes are one mile out and back, although the Little Butano Creek Trailhad is a bit of walk into the park and a bit more strenuous due to a few more inclines.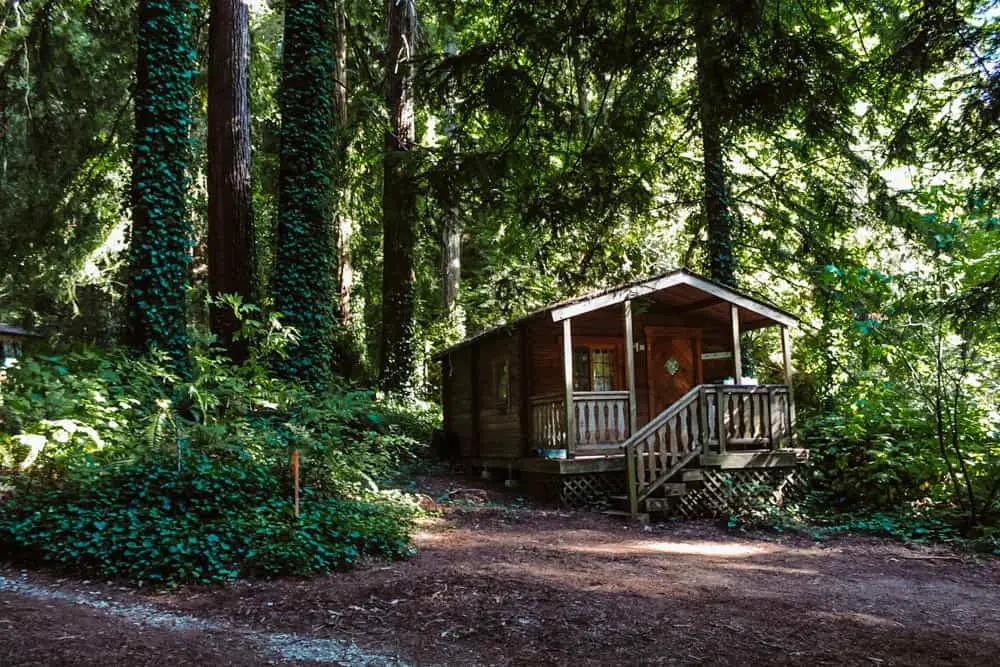 If you want something a bit longer than 2 miles, I suggest combining Six Bridges Trail (which starts close to the Visitor Center) with Goat Hill Trail. This would be a roughly 6-mile loop through Cypress Trees, Redwoods, and along the creek. You get a little bit of everything with this one and there aren't any crazy steep inclines.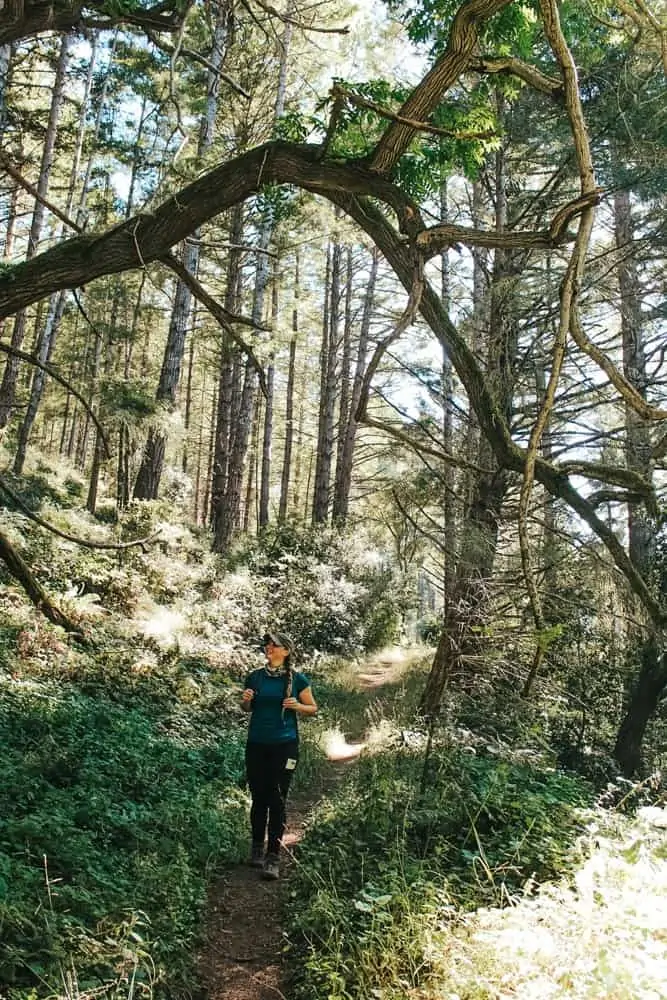 No matter which hike you choose, definitely wear bug spray for the creek portions. When I visited in early August, the creek was very low and had some stagnant areas, which bugs love!
A little bit further is Big Basin Redwoods State Park known for its waterfalls, wildlife, and views!
There are also a number of great hikes in Half Moon Bay and even more hiking trails in Pacifica.
See the Elephant Seals at Año Nuevo State Park
Ano Nuevo State Park is where you can see elephant seals, although due to COVID this aspect of the park is closed. When it reopens, this is definitely a must do. Elephant seals are such strange creatures to see first hand!
However, there is a gorgeous sandy beach here with a little cave that leads to another tiny beach. So if you are in need of some Vitamin Sea, I highly recommend coming to Cove Beach.
You do have to pay $10 because it's a state park, but because of this it's much less crowded than neighboring beaches like Bean Hollow State Beach or Pescadero State Beach.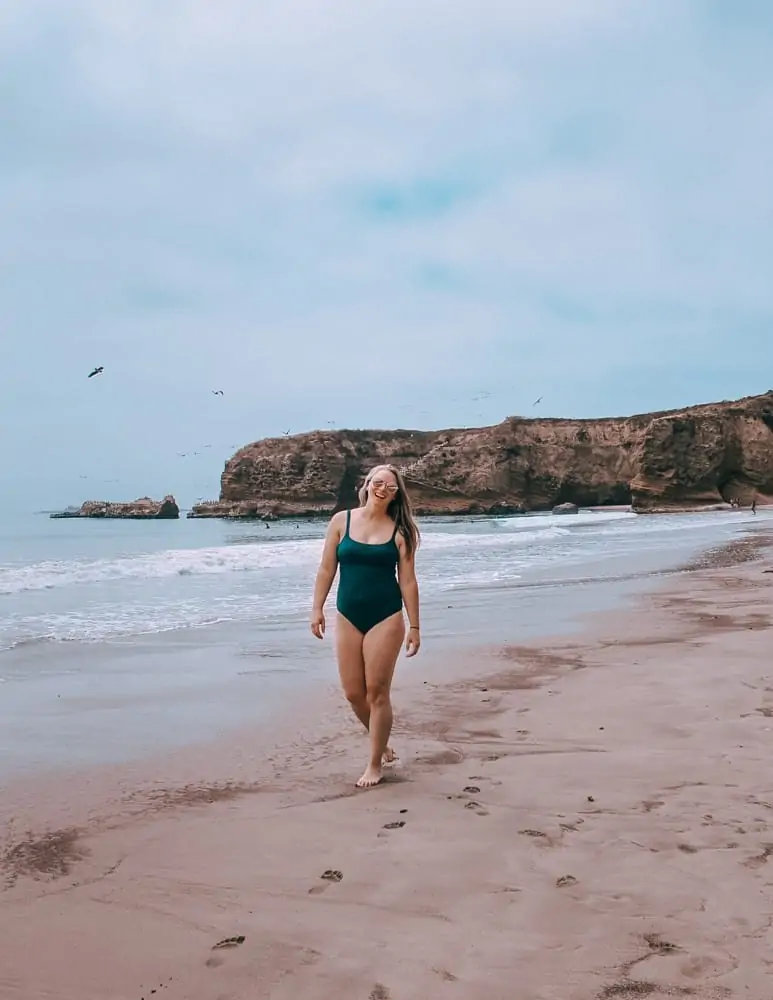 Where to Stay in Pescadero
If you're looking to linger in Pescadero a bit longer and really soak up the amazing vibe of this town, you're in luck with a variety of accommodation options.
Camping Near Pescadero
As mentioned above, Butano State Park and Big Basin Redwoods State Park offer campgrounds near Pescadero.
I just spent a night camping there and had a great time. There are flush toilets, a dish washing station, drinking water, and plenty of hiking trails that start in the campgrounds.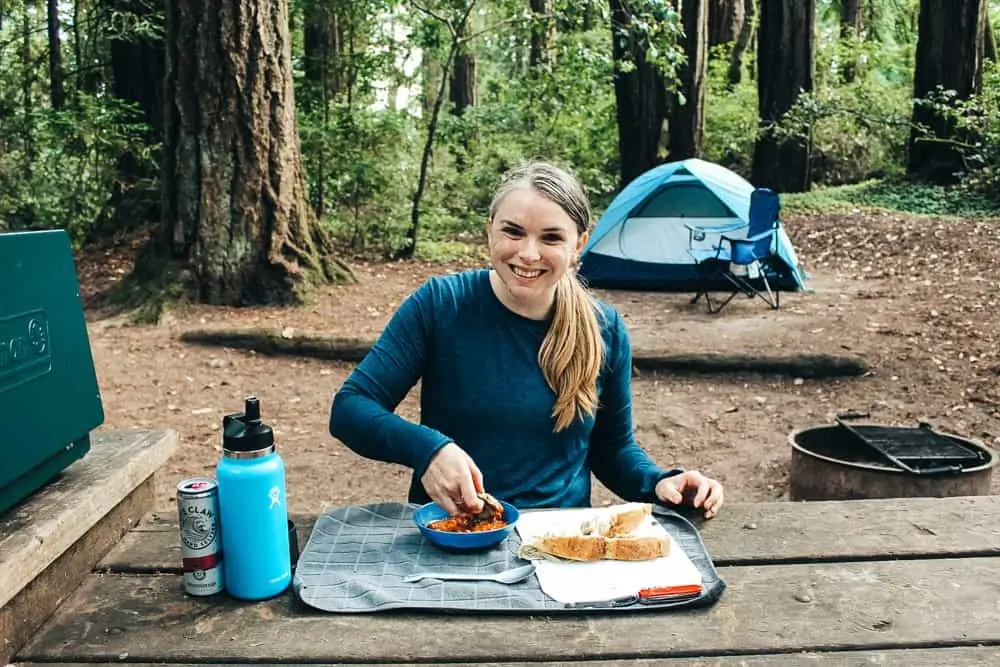 If you're looking for something slightly more glamorous, Costanoa Lodge offers cabins, tent bungalows, and regular ol' campgrounds! Check out their website for more information on pricing and availability due to COVID.
Hostels and Hotels Near Pescadero
Located directly next to Pigeon Point Lighthouse is Pigeon Point Hostel with a hot tub that overlooks the ocean which looks absolutely stunning for a sunset! I promise you I will be booking to stay here just for that hot tub once it reopens. It is currently closed due to COVID and I am unable to find their rates. However, traditionally, hostels are on the budget end of the accommodation spectrum. Stay tuned for more details about this hostel once it opens.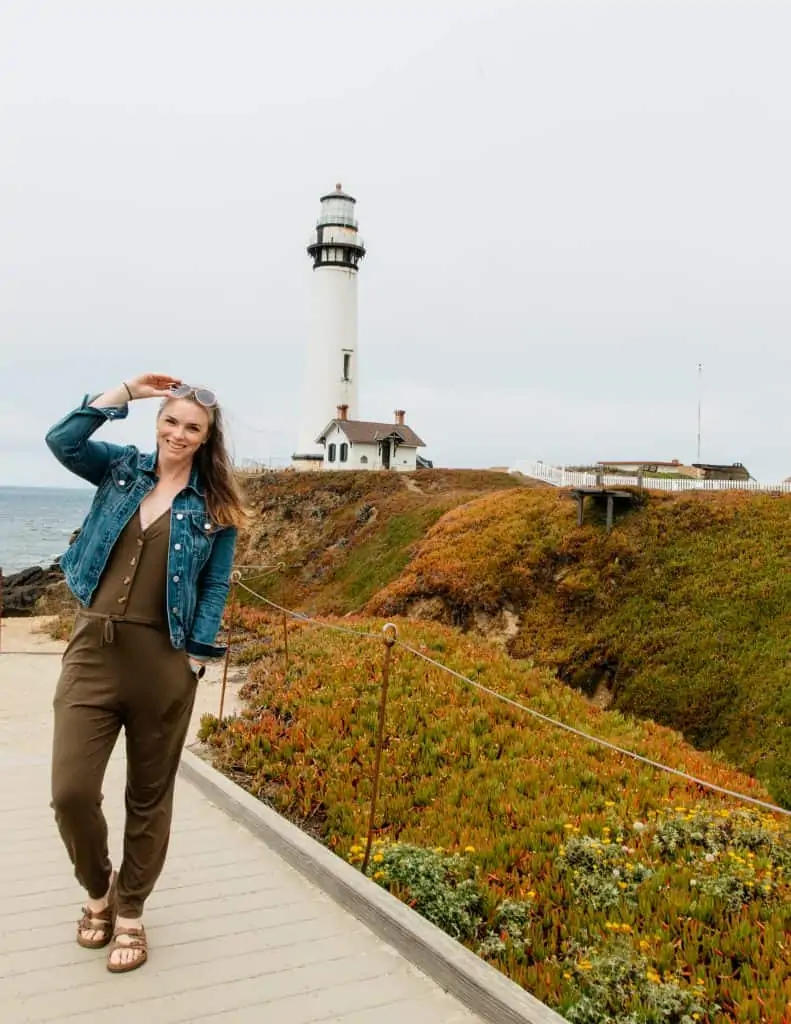 Pescadero Creek Inn
Nestled at the end of Stage Road in Downtown Pescadero is the Pescadero Creek Inn which looks like a charming place to extend your stay in Pescadero. The Inn has four rooms to choose from, each with a claw foot tub and there are horses on the property. The Pescadero Creek Inn is also very reasonably priced and currently accepting reservations!
So, if you're looking to take a break from the fast-paced energy from city life, are in need of a Coronavirus escape, or are searching for a lunch stop on your PCH road trip itinerary, Pescadero is for you. Even just picking one of the things to do in Pescadero will leave you feeling relaxed, because it's not just about what to do in Pescadero, it's the friendly nature of shop owners and the community vibe you'll get walking down Stage Road, popping into the shops. I promise you'll leave Pescadero feeling refreshed and happy.
PS: Also consider adding Avila Beach as a stop on your PCH road trip itinerary.
Like this post? Pin for later!