Many people told me to skip Lima, Peru. That it wasn't safe and there wasn't much to see there. But, my best friend is from Lima and while living in Ecuador I met someone from Lima, so I decided to ignore the advice of others and go see for myself. Altogether, I ended up spending about a week in Lima, three days before I spent a week in Cusco and about 5 days after I returned via the Peru Hop bus. However, not everyone can quit their job to travel, so I decided to condense my experiences into this epic way to spend 2 days in Lima.
I'm 100% thankful I decided to ignore the advice of others and go see Lima with my own two eyes. Lima has become a city I could see myself living in, should I ever want to!
This post contains affiliate links, which means I may make a commission if you decide to make a purchase. At no additional cost to you!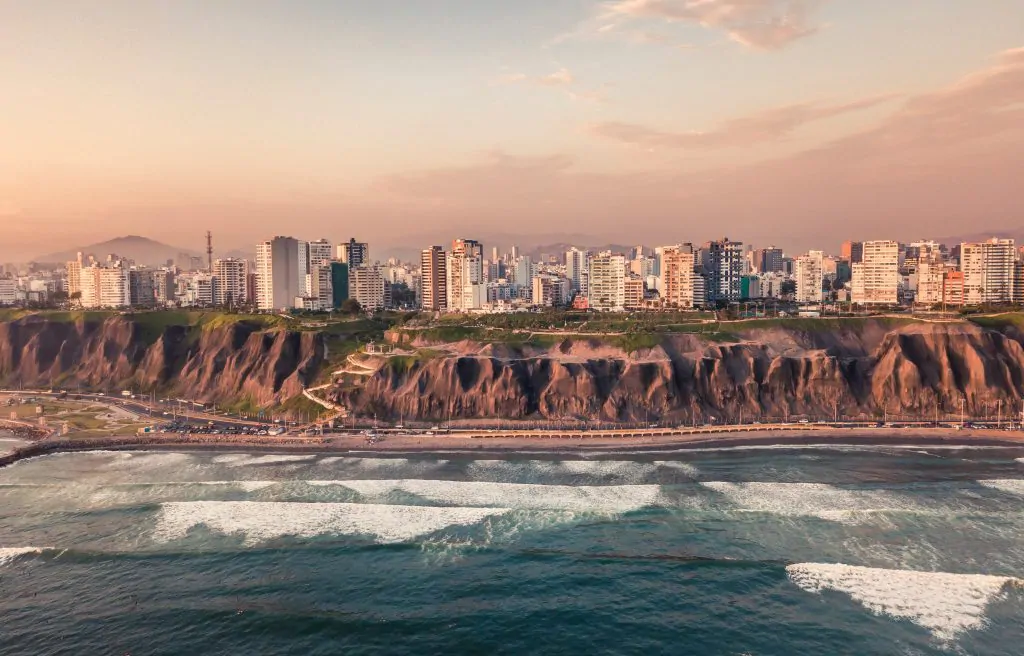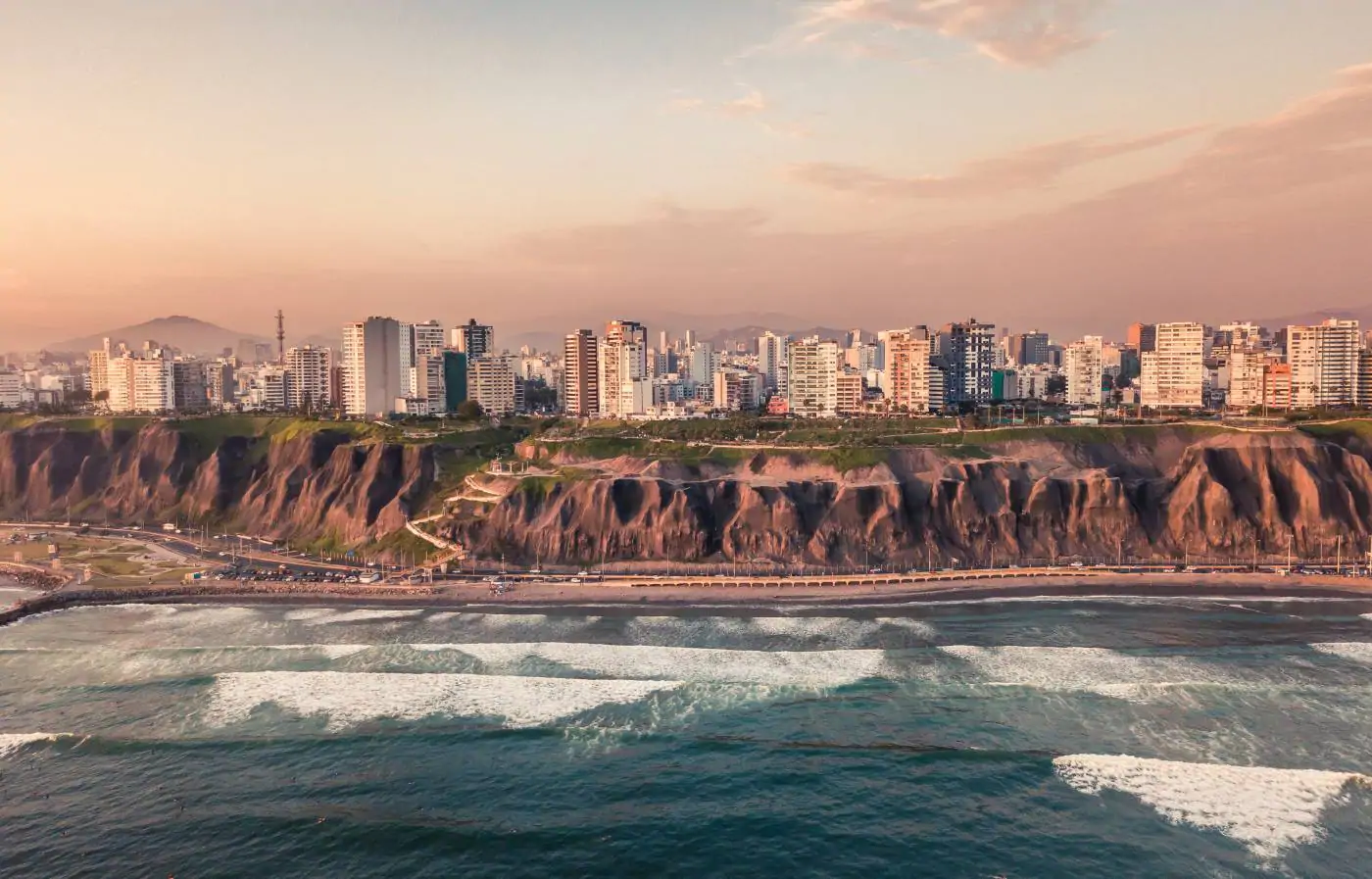 Solo Female Travel Safety in Lima
Before we dive into what to do in Lima, let's talk about solo female travel safety.
There are certainly dangerous places to find yourself in Lima. However, this two-day Lima itinerary will not take you there. That being said, I felt very safe during my time in Lima, although it is still very important to adhere to the majority of solo female travel safety rules. 
Ladies, you will get catcalled. In my opinion, it's best to just keep walking and not escalate anything. One charming fellow came very close to me while I was watching the sunset on the Malecon and said "I wanna fuck you". It took every ounce of energy I had not to say anything back. But I felt it was safer that way and I found a different location to watch the sunset.
Always trust your gut.
Pickpocketing is a common crime against tourists and locals so be sure to stand back from crowds at street corners.
In terms of transportation, always make sure the taxi is registered and a meter is used. I used Uber most of the time without any issues.
What to Eat in Lima
As you move throughout this two day Lima itinerary, you will come across the world-renowned Peruvian cuisine. It's so freakin' delicious. I did not have a bad meal in Peru, believe me, I ate my way through Cusco's best cafes. Everything from the chifa to the ceviche was tasty! There are a few dishes you should definitely try while you're there.
Chifa – this is Peru's version of Chinese food. And it's damn good.

Lomo Saltado – stir-fried beef, peppers, onions, french fries, and rice. Heaven

Aji de Gallina – Chicken covered in a creamy sauce with a variety of spices and rice. This is Peruvian comfort food.

Anticuchos – marinated beef hearts. This is typically street food, but many restaurants serve it as well.

Ceviche – eat all of the Ceviche you can get your hands on!

Sushi – Some of the best Sushi I've ever had was at Edo in Miraflores. I didn't understand anything on the menu and simply asked the sushi chef to make his favorites. They were all perfect.

Picarones – a Peruvian donut. Fried sweet potatoes & squash drizzled in molasses. So. Good.

Granadilla – this fruit looks like booger's but tastes divine. Cut off the top with a knife and use a spoon to get the fruit out of the inside. Enjoy!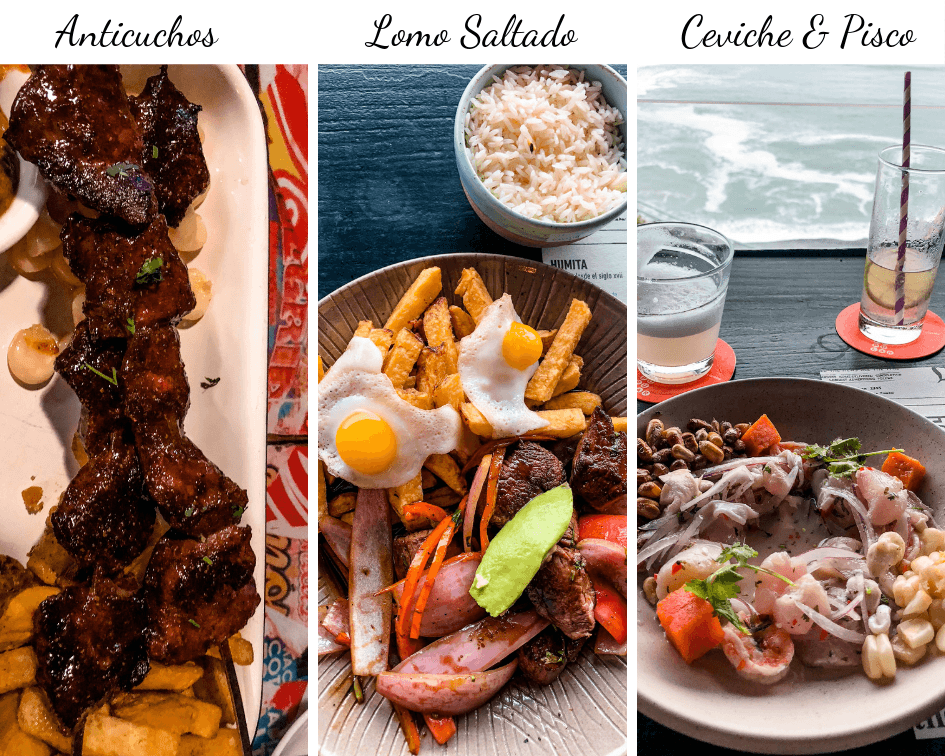 What to Drink in Lima
Anything with Pisco.
Pisco is Peru's national drink and it can be enjoyed in a variety of ways. There are a number of cocktails featuring Pisco, most famously the Pisco Sour and the Chilcano. Just be careful with how many you try, this is a strong liquor and you'll be feeling it after one.
For those who don't drink alcohol, there is a Chicha Morada. A sweet, yet tart, purple corn drink that originated in the Andes, but is now popular throughout the country.
Lima is possibly the only country where Coca Cola is not the most popular soft drink. They have their own, it's called Inca Cola and you should give it a try while you're there!
What to Pack for Lima
I am not the best packer. There are items in my backpack I never touched and items I wore constantly. But, I don't want to leave you hanging here, so check out Clare's packing list for Peru.
Alright, now that you know how to get there and what to eat and drink, let's chat about how you can spend 2 days in Lima.
How to Spend 2 Days in Lima
Alright, let's get down to the reason you came here. How to spend two days in Lima Peru!
Day One: Miraflores & Peruvian Food
Day one you will spend exploring Miraflores and enjoying Peruvian food. Miraflores reminds me of San Francisco, California with its very progressive vibe and tall apartment buildings overlooking the Pacific Ocean.
People, and Cat Watch at Parque Kennedy
Start your day off searching for cats in Parque Kennedy. This park is very central in Miraflores and surrounded by bars, restaurants, and cafes. Also in this park, you'll find local artists and other events going on throughout the day. One afternoon as I passed by, a group of people were dancing in the center of the park. It's quite a lively place with great people, and cat, watching.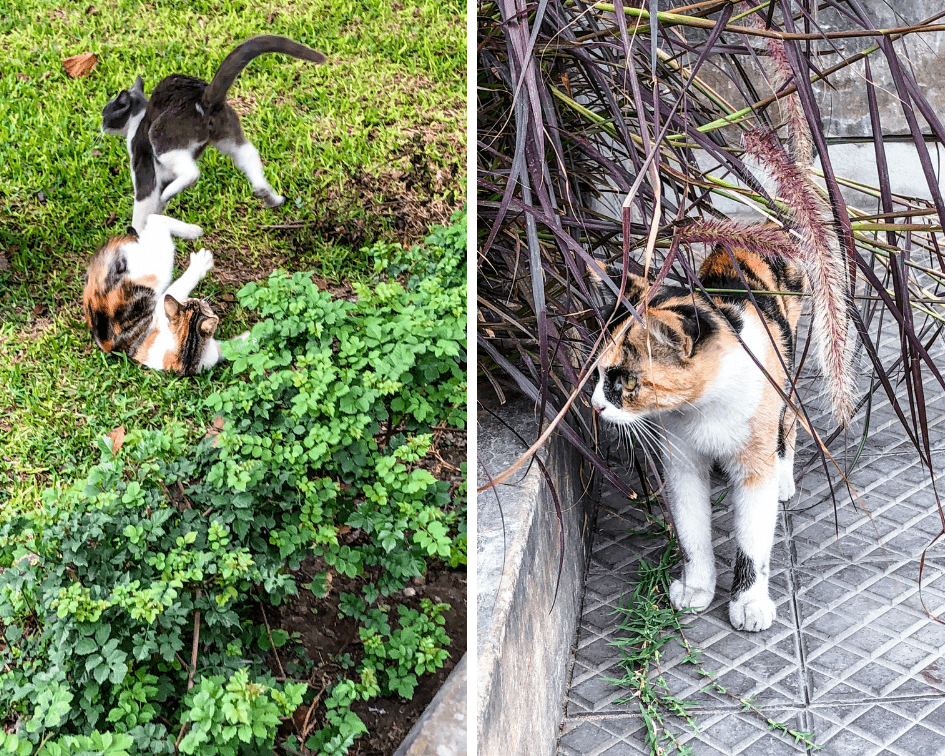 Ride a Bike Along the Malecon
From Parque Kennedy, walk to the Malecon. Along the way you'll be near one of my favorite cafes, Kaldi's Coffee & Tea. Stop in for a coffee or tea and a treat. Their chai latte is legit!
There are a number of parks along this part of the Malecon, you could either walk to them or rent a bike and ride the length of the Malecon. Heading north you can visit Parque de Amor, Faro de la Marina, and Parque Tres Picos. You could even trade in your bike for a pair of wings and go paragliding over the coast.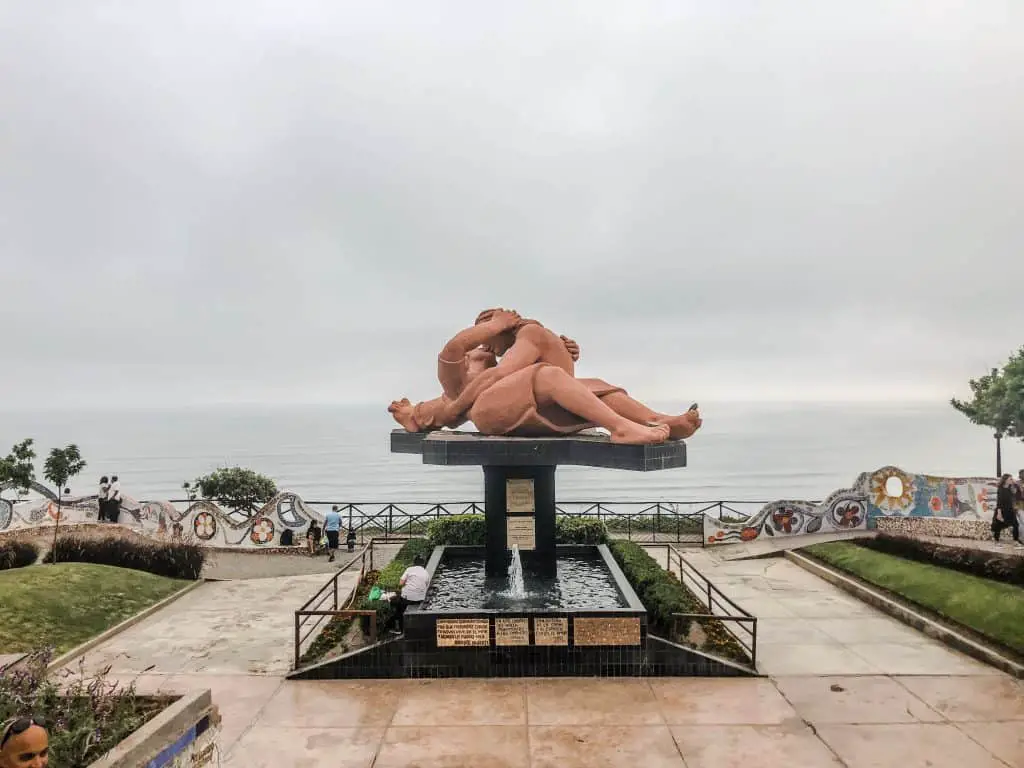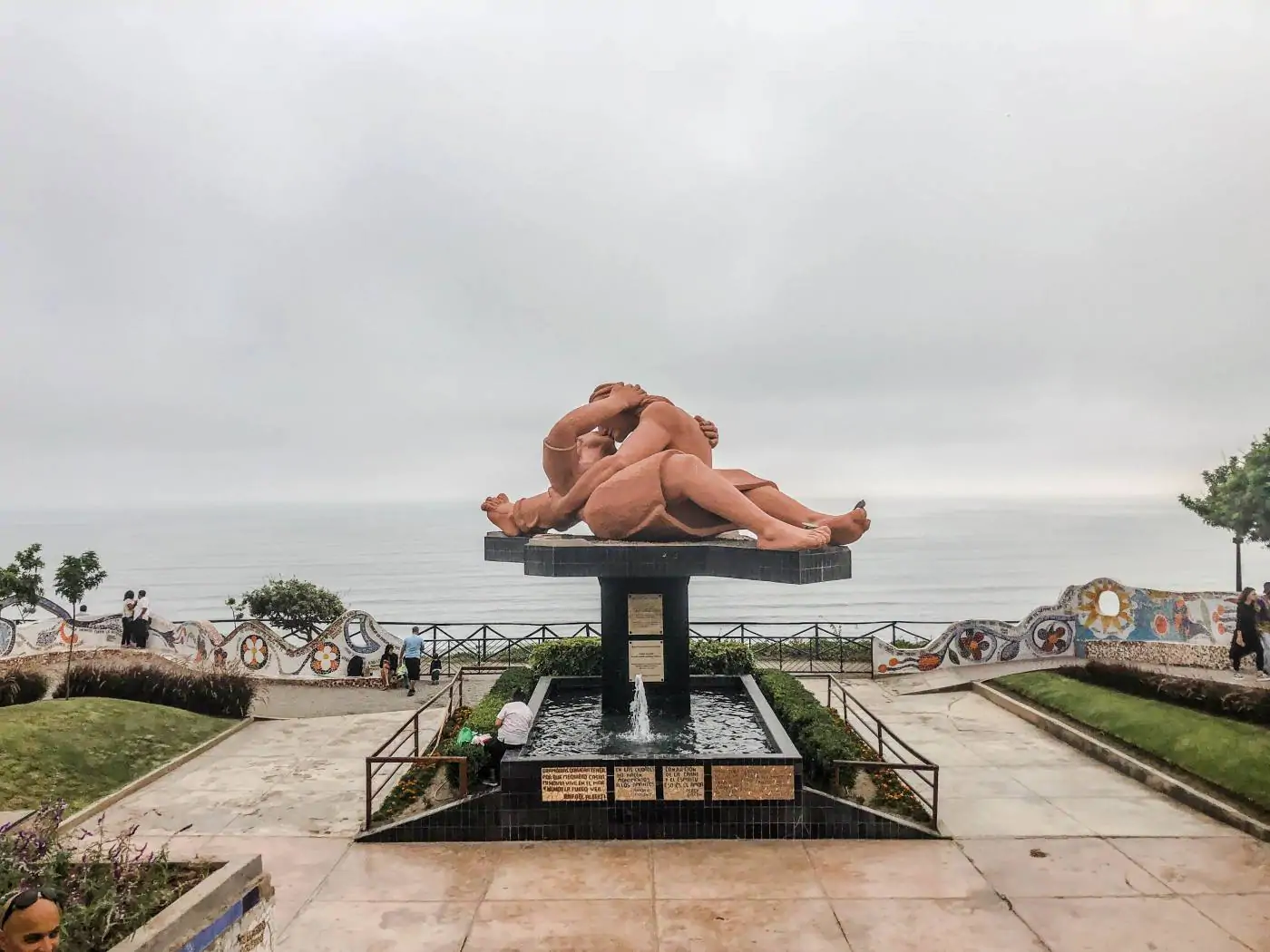 Paraglide Along the Coast
When I visited paragliding in Lima was at the top of my Peruvian bucket list. Just below hiking the Salkantay Trek to Machu Picchu. Unfortunately, each time I wanted to attempt paragliding, the winds were not strong enough and no one was allowed to fly. On my very last day, the winds picked up enough, and I flew. We glided from Parque del Amor to the Lighthouse and back at sunset. I highly recommend it!
After taking in the parks and the beautiful coast, return your bike and spend some time in Larcomar.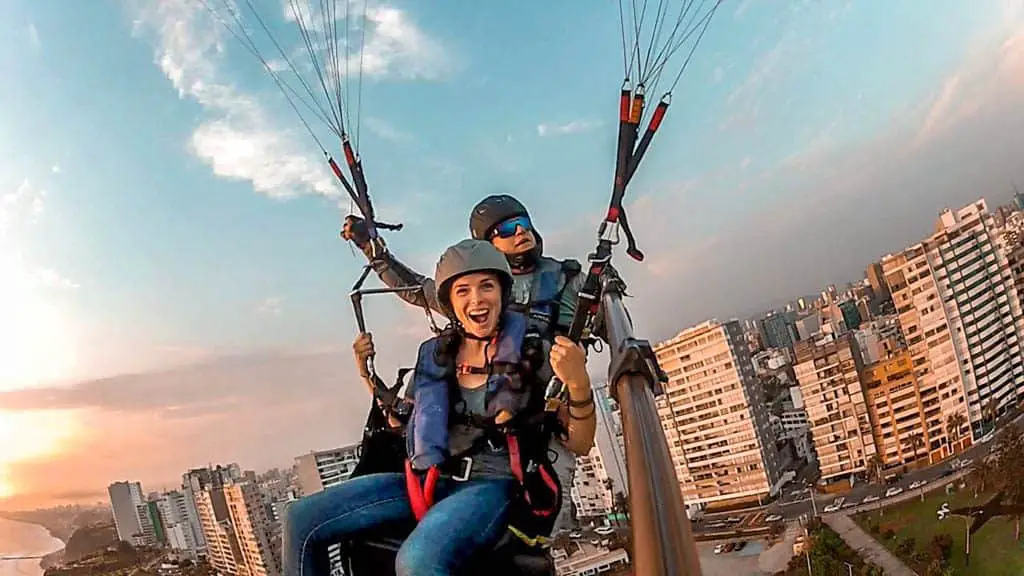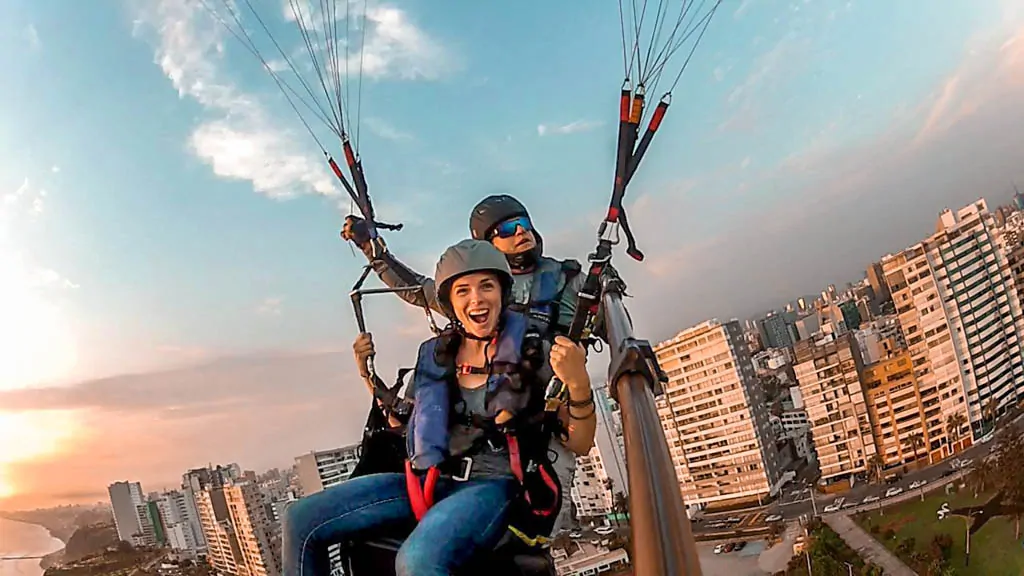 Go Shopping at the Seaside Larcomar Shopping Mall
Larcomar is a seaside shopping mall. They have all of the stores you'd expect to find in a shopping mall, however, the restaurants overlooking the ocean are the reason to visit. Enjoy a Pisco Sour and Lomo Saltaldo with a view of the crashing waves. Or just a Pisco Sour as your afternoon activity is a cooking class!
Take a Peruvian Cooking Class at Skykitchen
In the afternoon, take a Peruvian cooking class at Skykitchen. Skykitchen offers a variety of options when it comes to their cooking classes including Peruvian classics (Lomo Saltaldo), a standard meal (Aji de Gallina) and even vegetarian options. You could take this class on its own or combine it with a market tour or fruit tasting. I was able to get a spot in class on the same day, although it's because someone canceled. To secure your apron, book in advance.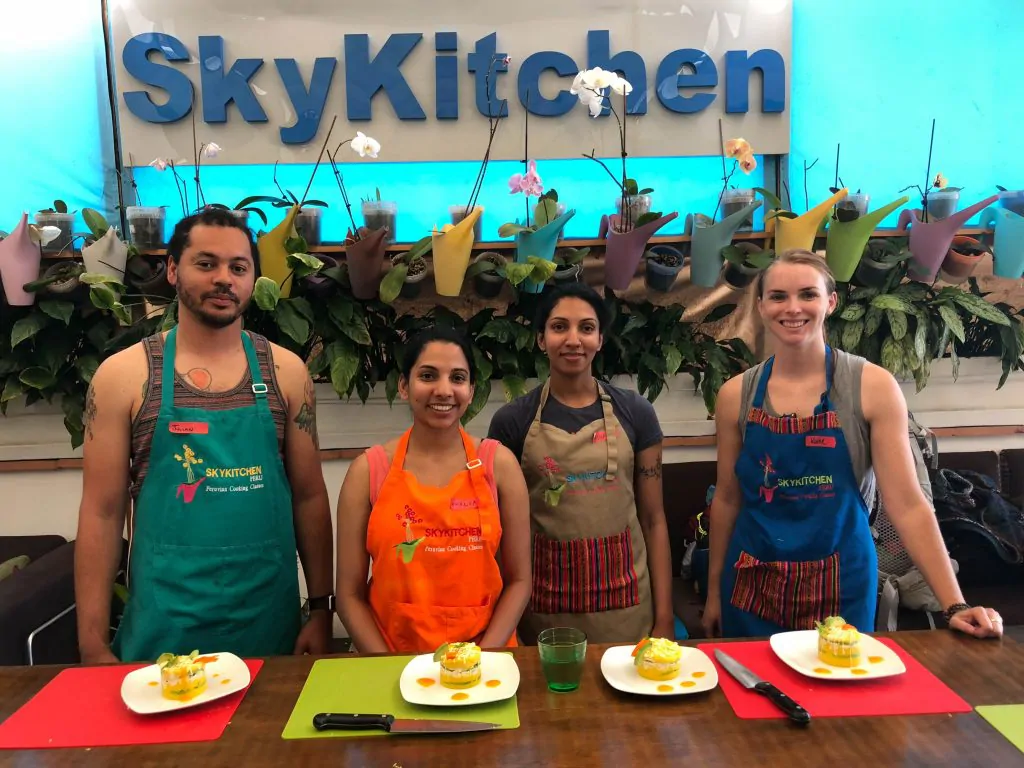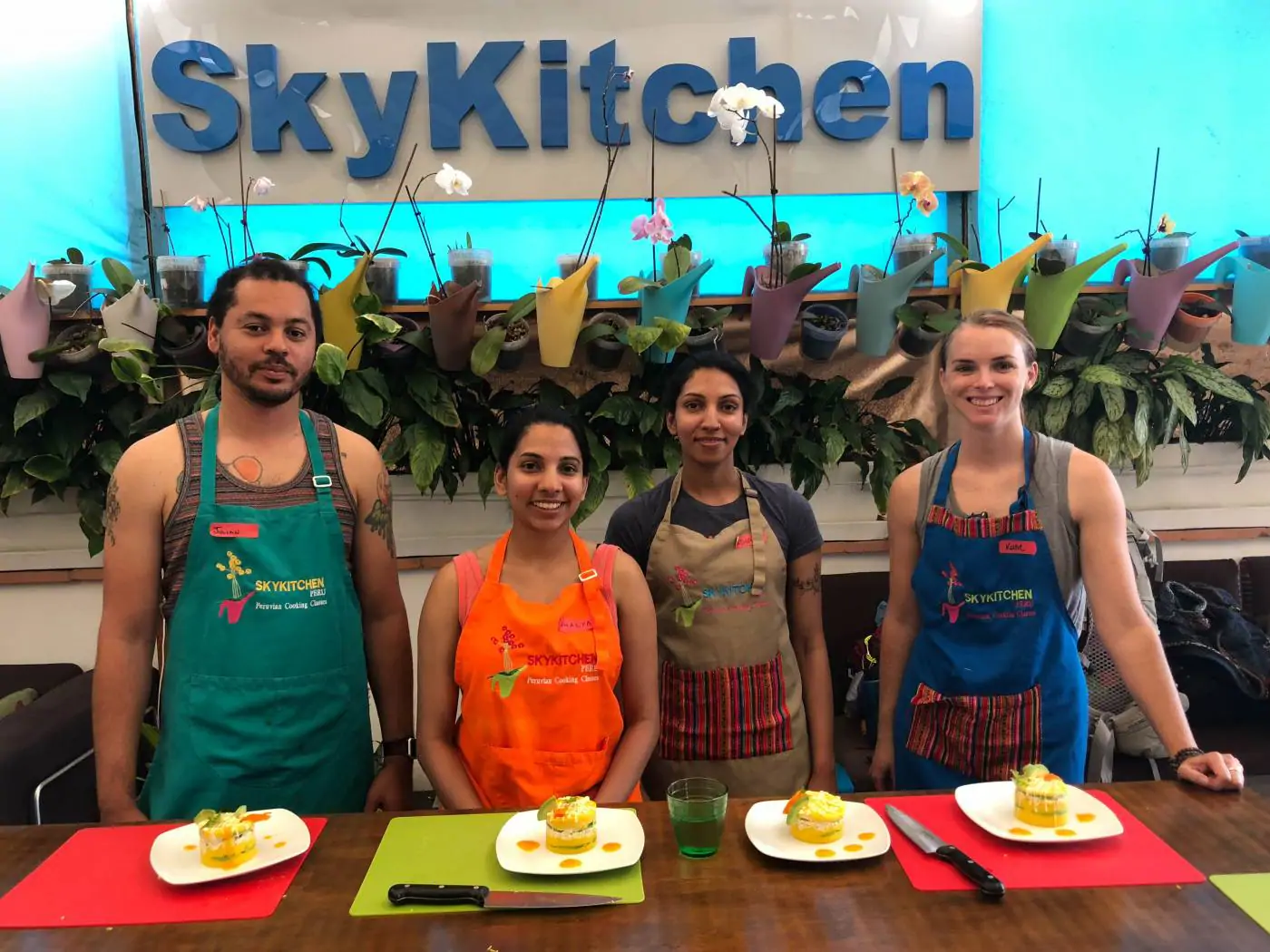 I sent them a message in the morning asking if they had a spot for the same day in the afternoon, turns out they did! And that afternoon I was sipping Pisco from a rooftop location in Lima, learning how to cook Aji de Gallina, and meeting fellow travelers. Peru is known for its food and what better way to get to know it, than learning how to cook it!
If you're not too full and still think you can have a few more pisco drinks, return to Parque Kennedy and find Calle Berlin. On this street are a number of bars where you can enjoy the rest of the evening!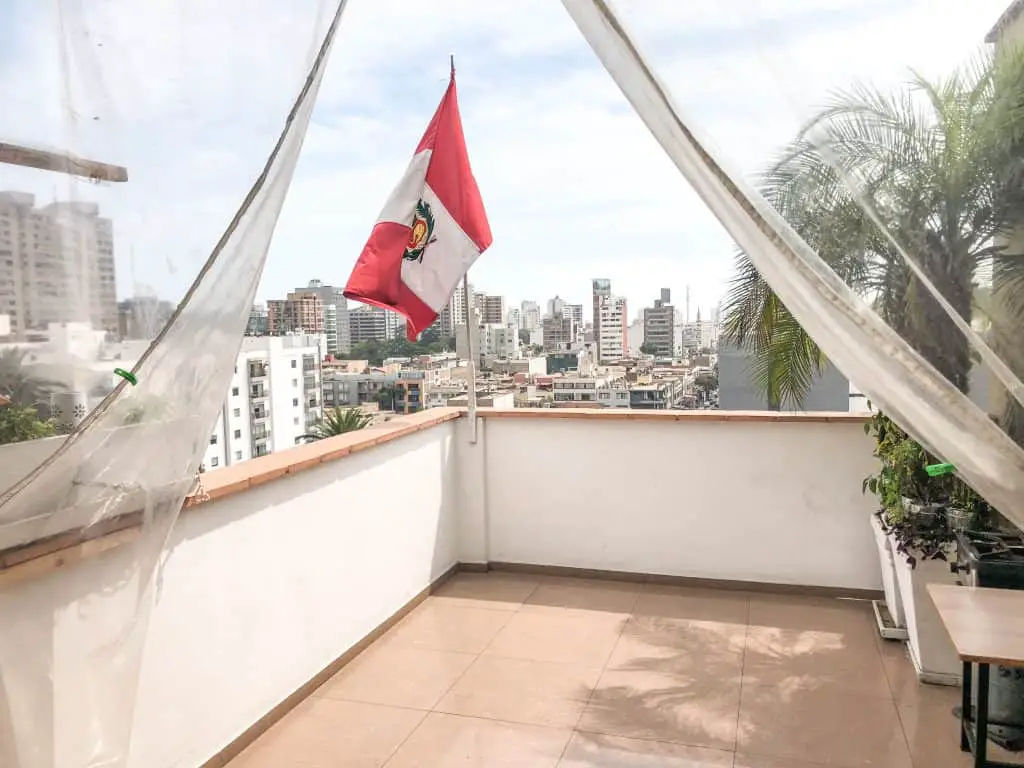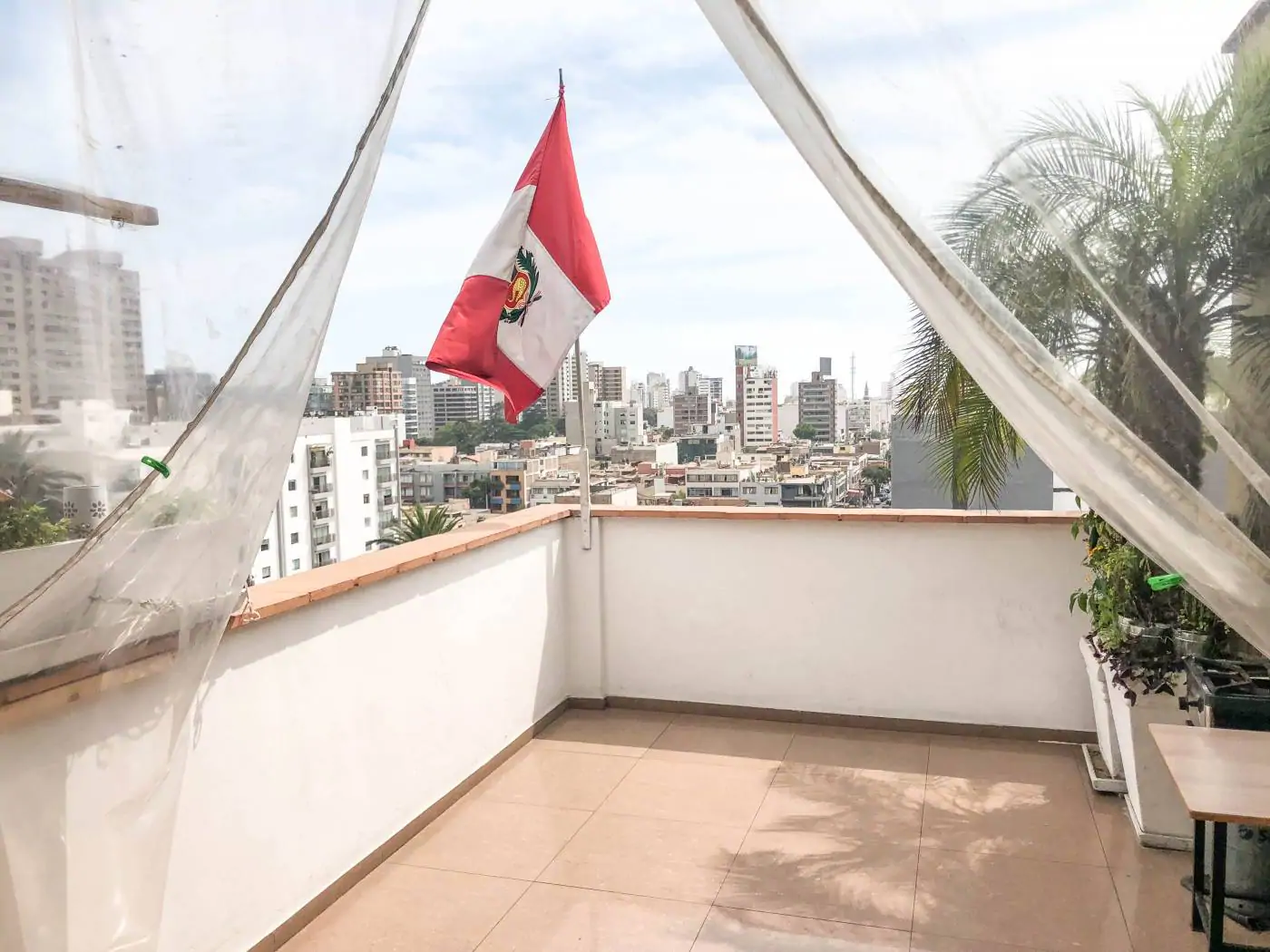 Day Two: Old Town & Barranco
Today, you'll switch to two different neighborhoods in Lima, Old Town and Barranco. Old Town is the Historic Center of Lima and Barranco is the bohemian corner.
Watch the Changing of the Guards in Plaza Mayor
In the morning of your second day head to Plaza Mayor in the Historic Center of Lima. You'll notice a drastic difference in the architecture and vibe here compared to Miraflores. Look up at the beautiful colonial buildings with their intricate balconies. Surrounding Plaza Mayor are the three most important buildings in the history of Lima; the Presidential Palace, the Cathedral of Lima, and the Municipal Palace. At 12:00 pm daily there is a changing of the guards at the Presidential Palace.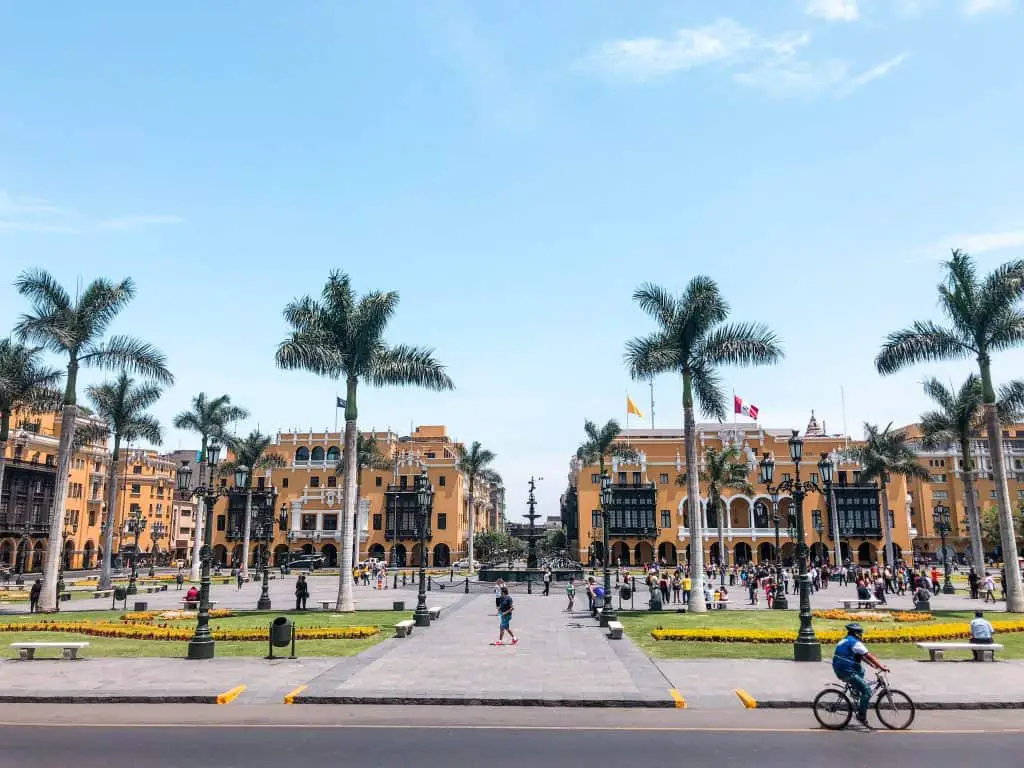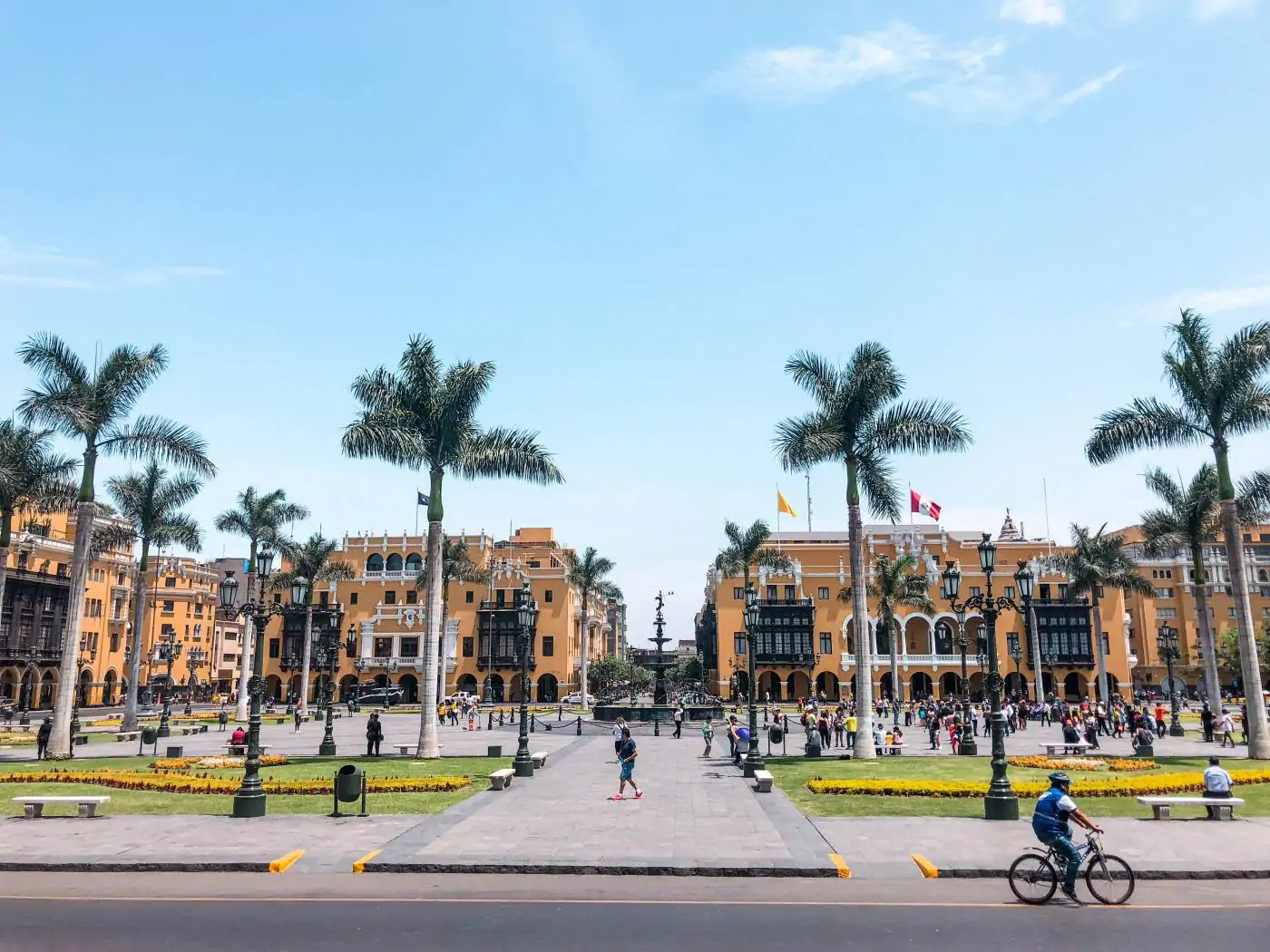 A word of caution, this isn't the safest place in Lima, so be aware of your surroundings at all times. The side streets of Plaza Mayor can lead to some dodgy locations. So stay on the tourist track here.
Enjoy Bohemian Barranco
After the changing of the guards head to the colorful and artistic neighborhood of Barranco. Barranco is a small neighborhood, filled with amazing street art! But first, head to the Bridge of Sighs and as you cross it hold your breath. Legend has it that those who see the bridge for the first time and cross it while holding their breath will be granted a wish!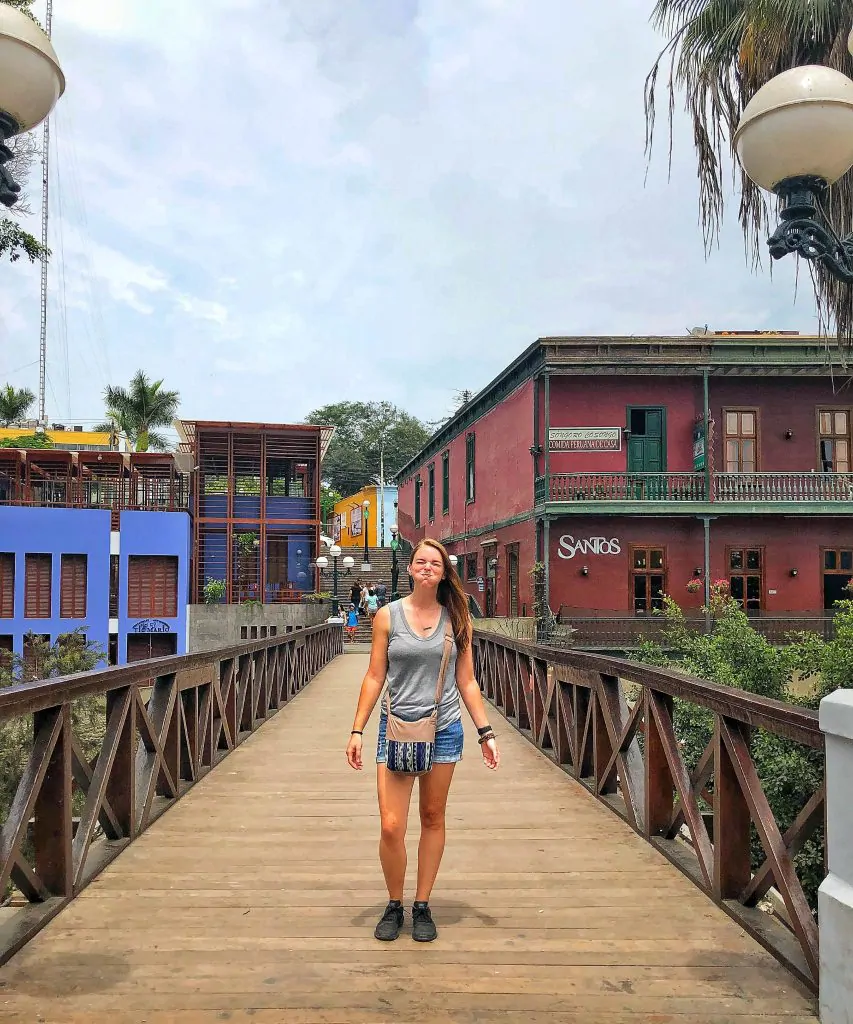 Once you've made your wish, head below the bridge to Baja de Banos where you will find a wide variety of street art. There are also little side streets and alleyways hosting a number of beautiful murals. Be sure to get a little bit lost here finding your favorites.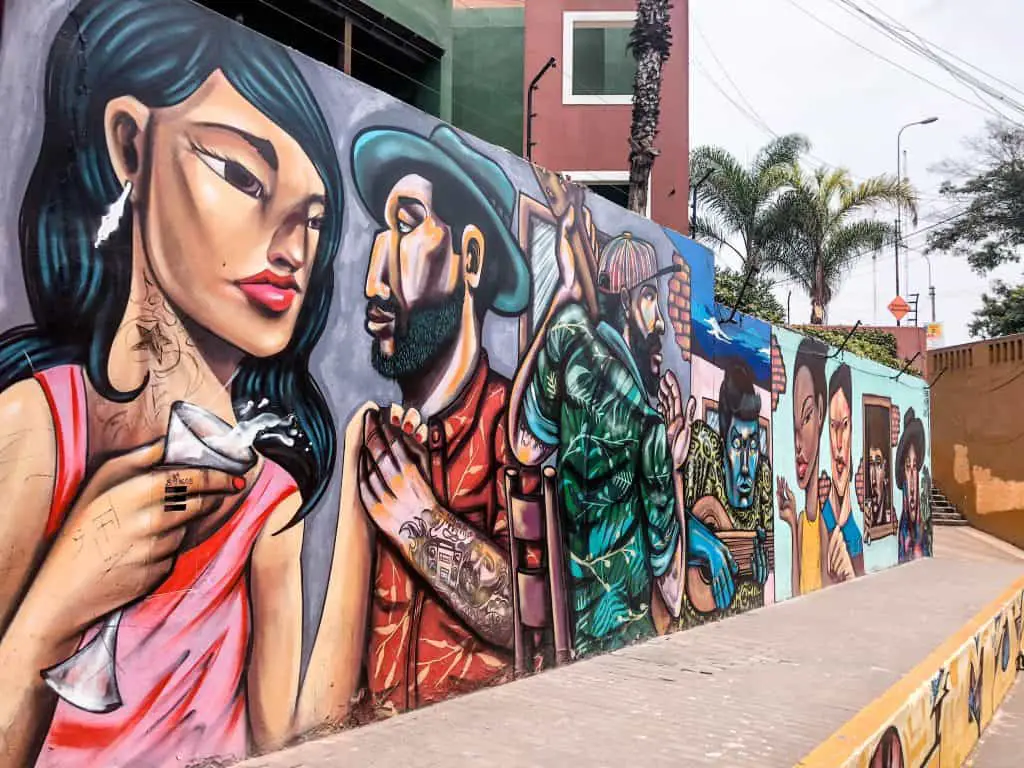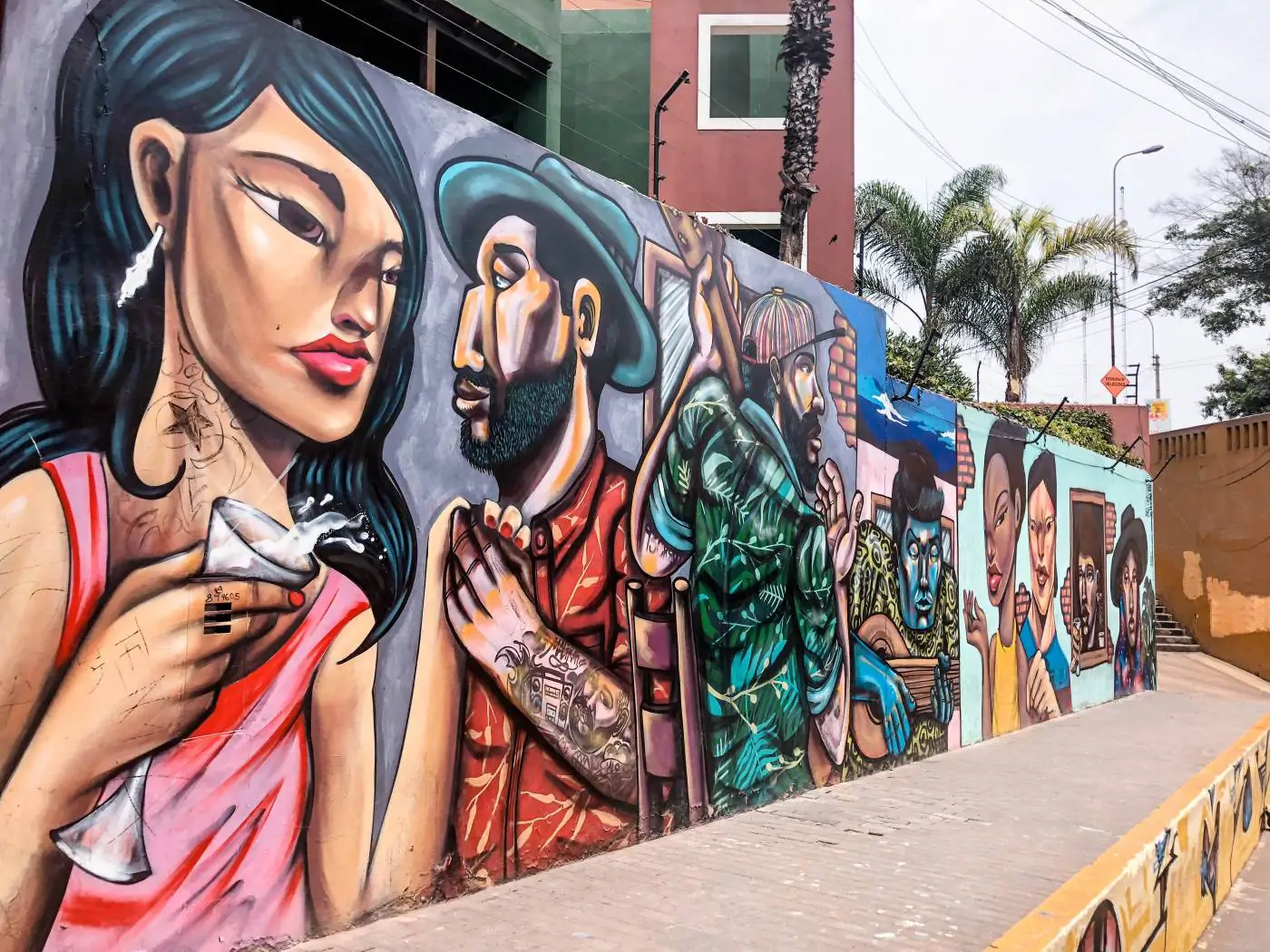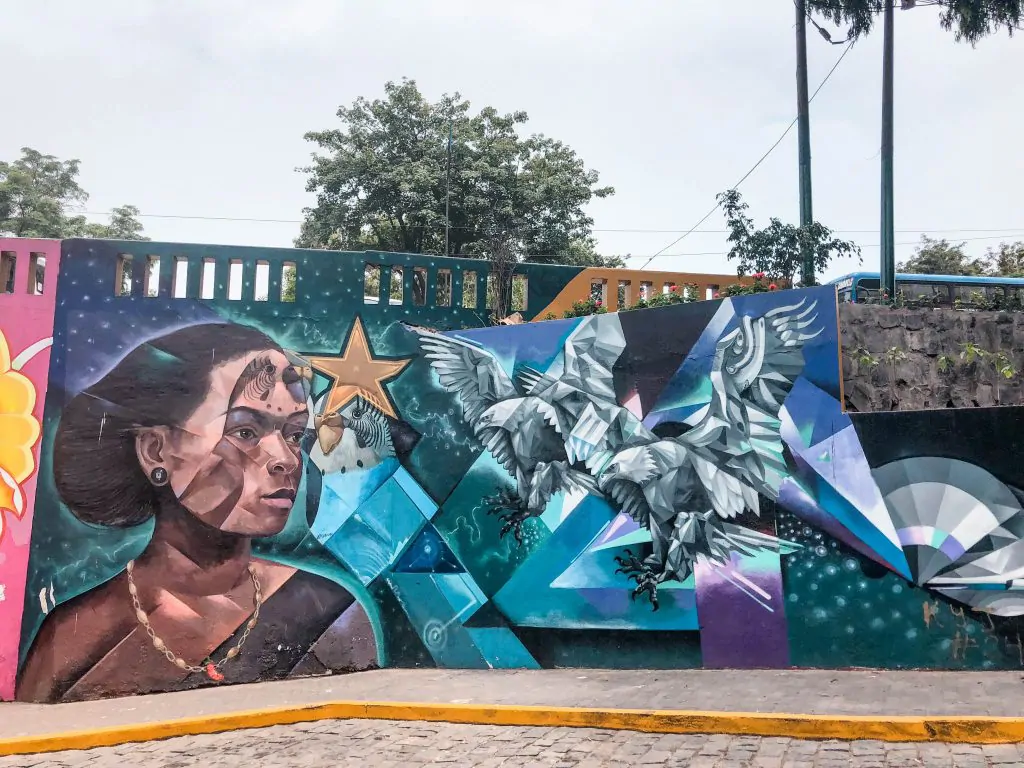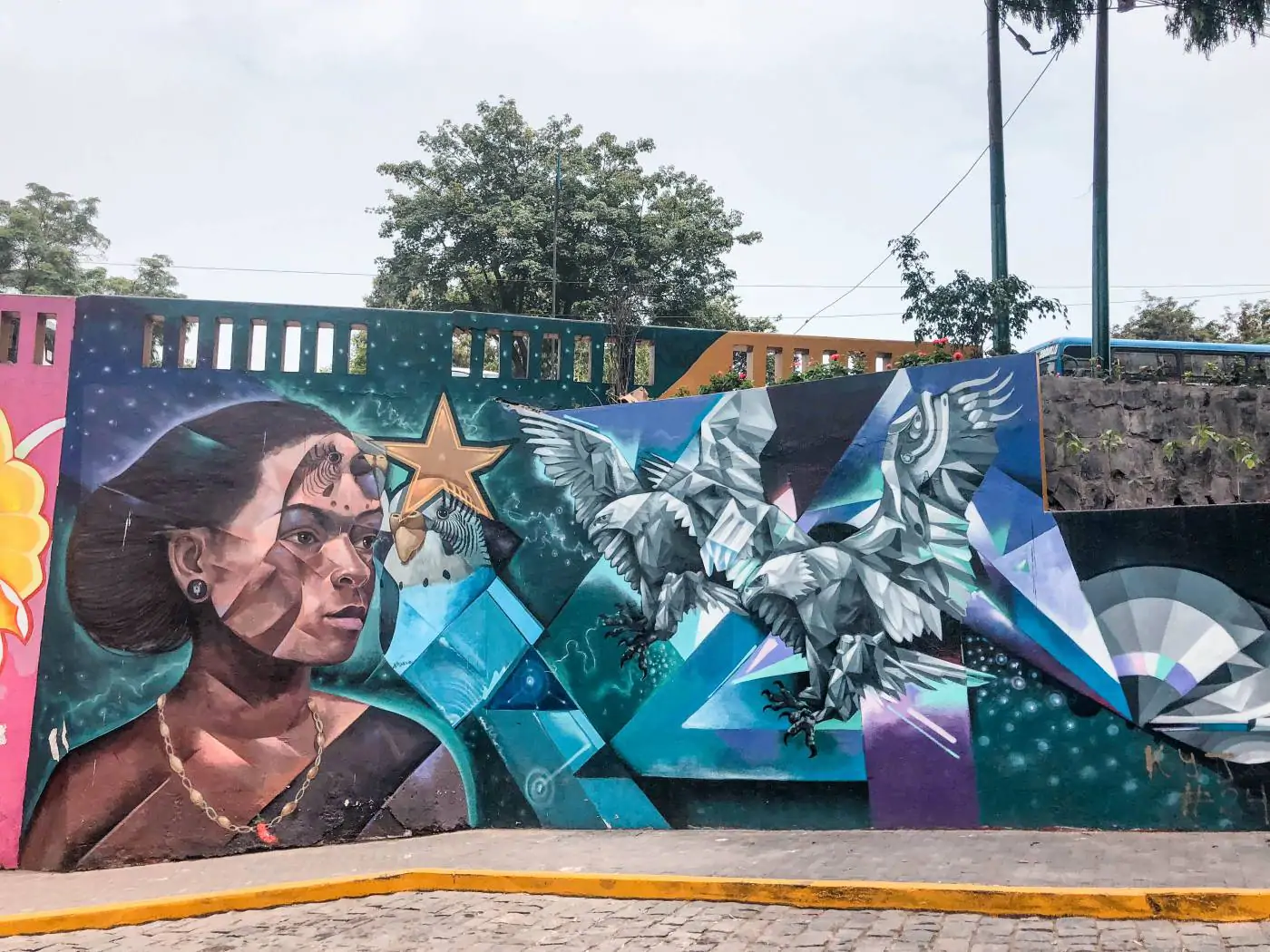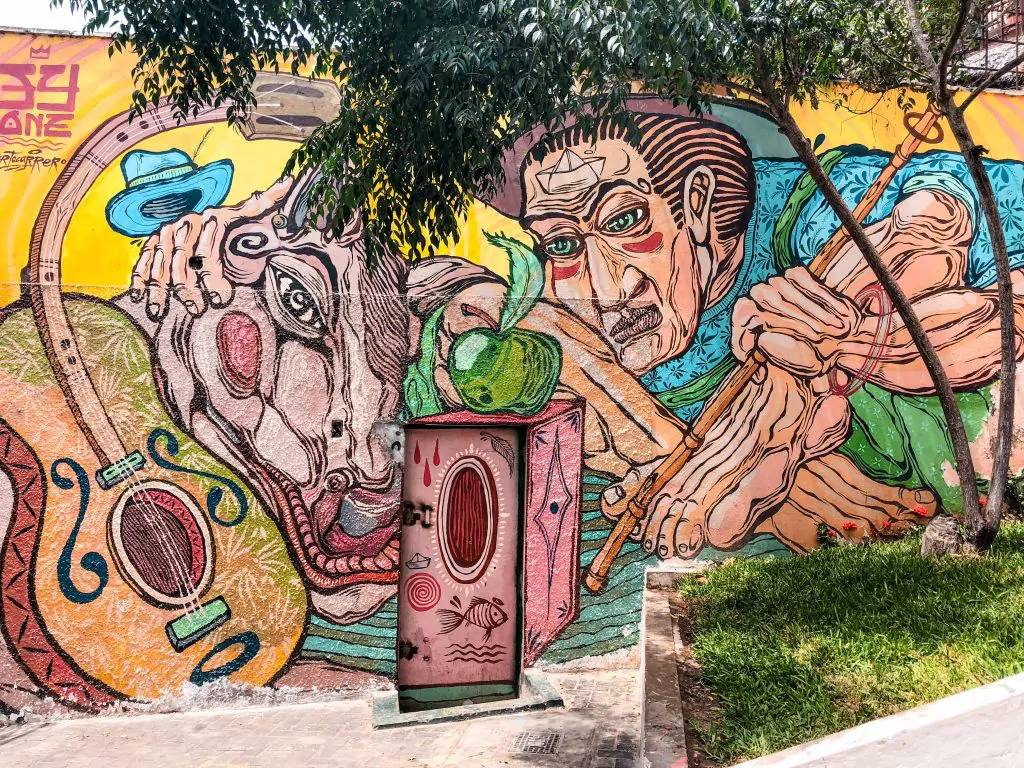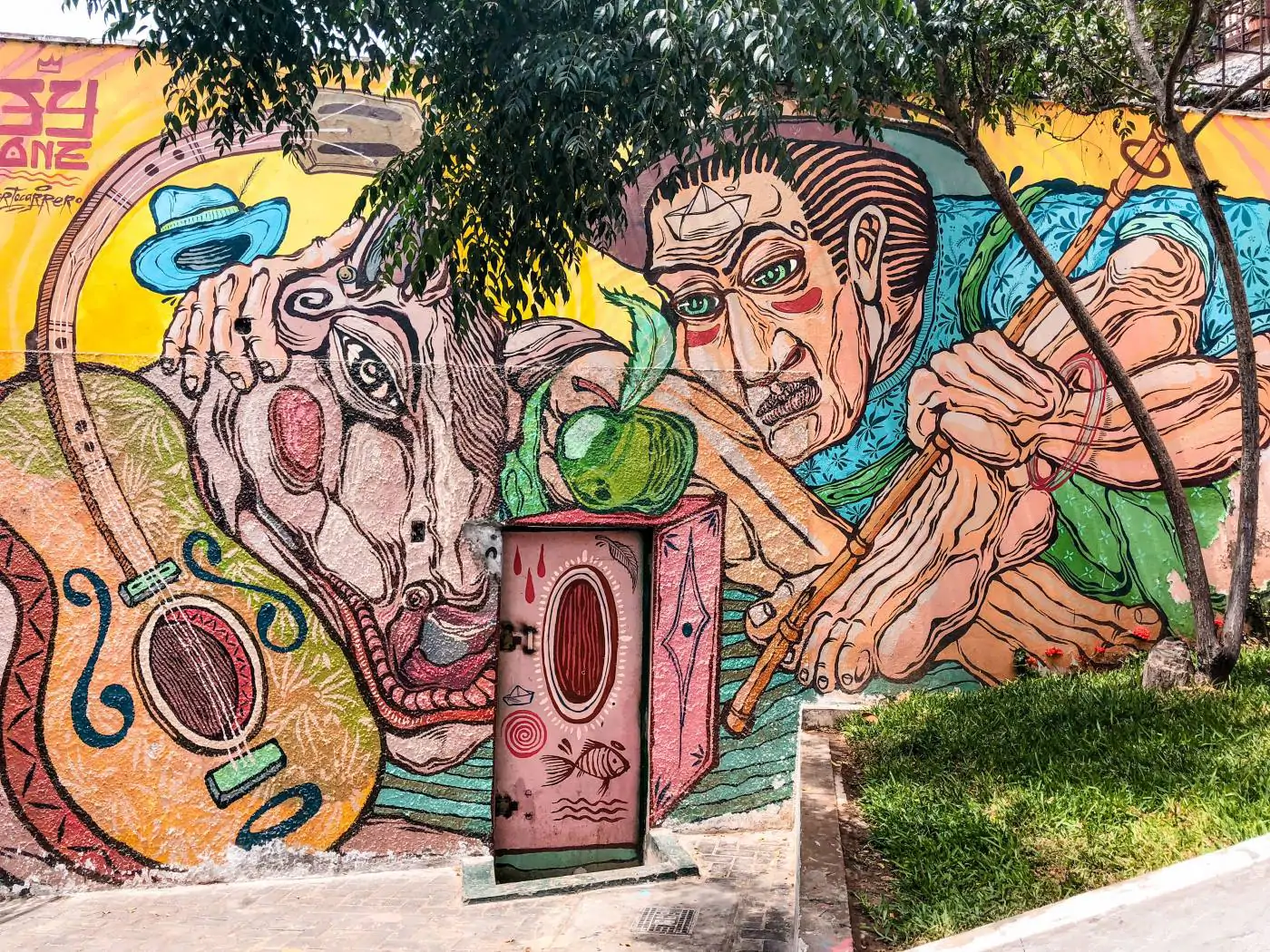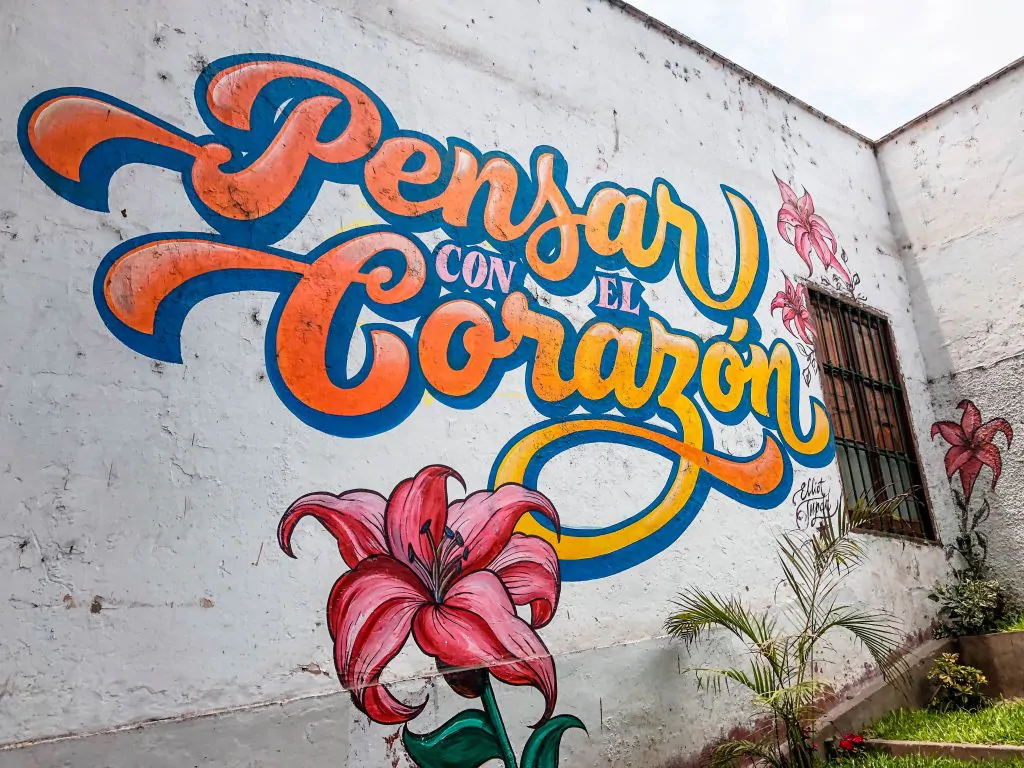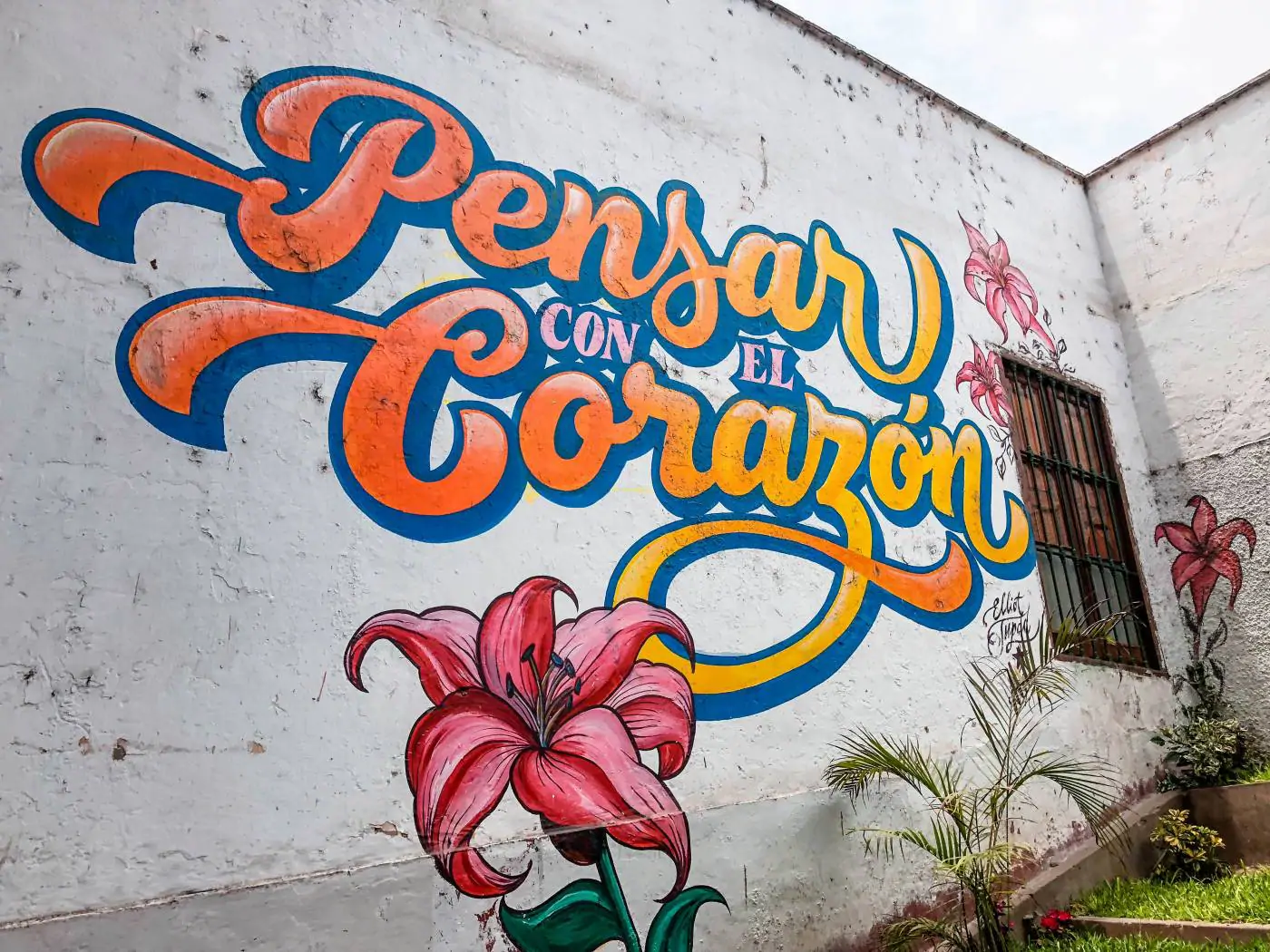 Catch Sunset from the Malecon
The Malecon runs from Barranco to Miraflores. So head back to the Malecon or even down to the beach to catch a beautiful Lima sunset. There really is no bad spot for a sunset here so find a bench and soak it up. You could even pack snacks for a sunset picnic.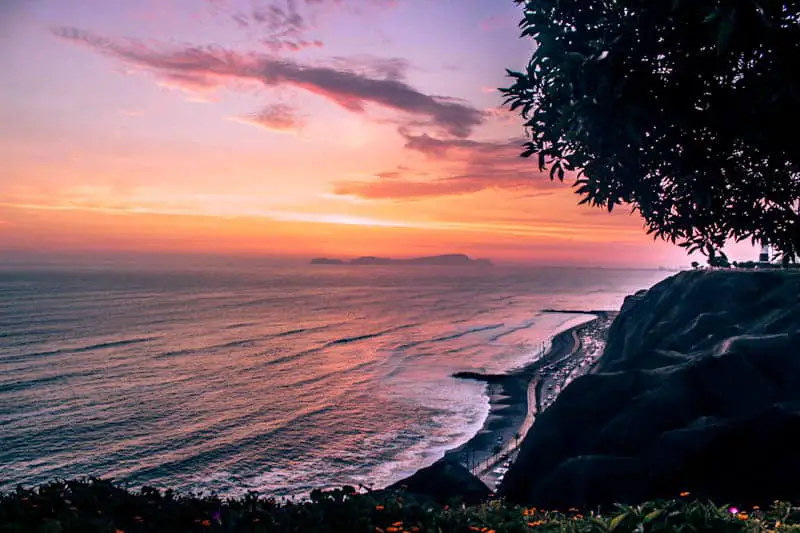 Drink some more Pisco & Eat!
Admittedly, I did not go out to drink or eat in Barranco. But, I have heard amazing things about the drinks at Ayahuasca and the food at Isolina!
How to Get to Lima from the Airport
The safest and least expensive mode of transportation from the Lima Airport to the city center is the Airport Express. A round trip ticket will cost $15 while a one-way taxi will cost at least $20. If you decided to take a taxi, secure one from inside of the airport and agree upon a price prior to handing your bags over. The area around the Lima airport is unsafe, so it's best to arrange your transportation before leaving the airport.
If you're coming to Lima from Cusco, consider taking the Peru Hop bus from Cusco to Lima. You'll need a bit of time in your schedule but it will take you to some of the best places in Peru along the way.
Where to Stay in Lima
As I mentioned above, my best friend is from Lima and I'd made a friend who lives in Miraflores. On my first visit, I stayed with my best friend's Mom in a suburb of Miraflores. On my second visit, I stayed at my friend's apartment in Miraflores, within walking distance to the Malecon.
So, I have no suggestions on specific hostels to stay in. However, I would recommend staying in either Barranco or Miraflores as the majority of activities are in these two neighborhoods.
And just like that, you've spent a lovely two days in Lima, Peru. There is definitely more to see and eat here – like the Huaca Pucllana ruins. I didn't visit them (out of pure laziness) but they could easily be swapped with one of the activities listed above! You could also take surfing lessons (which I thought I would, but again… lazy).
So tell me, what are you going to do with 2 days in Lima, Peru.
Like this post? Pin for later!