Peru is hands down one of my favorite countries. Everything from the people to the landscapes, to the delicious food, Peru is a place everyone should experience. Besides the Salkantay Trek to Machu Picchu, I didn't have many plans for my time in Peru. That flexibility allowed me to follow the advice of locals and travelers alike. A Peruvian friend suggested I visit Arequipa and a fellow traveler told me about sandboarding in Huacachina. But I was overwhelmed by the bus schedules and safety concerns of trying to reach these destinations, solo. Enter Peru Hop! I took Peru Hop Cusco to Lima, bypassing Bolivia, and here is what I have to say about my experience, including what I'd do differently.
Why I Chose Peru Hop
Ultimately, I chose Peru Hop because it took a lot of the travel planning off of my plate. Traveling solo means that I am in charge of every decision, and for just a part of my trip, I didn't want to spend it analyzing bus routes. Booking with Peru Hop allowed me to spend my remaining time in Cusco checking out cafes instead of scouring the internet for bus routes.
Added bonus, they pick you up and drop you off directly outside of your accommodation (except for Cusco). This means no taxi rides to and from questionable bus stations in the wee hours of the morning or late at night.
The second reason I booked with Peru Hop is that it's not really a tour company. Yes, they will help you book accommodation (with a discount) and there are tours included in the price of the ticket. But there is no obligation to join the tours. I mean, they do stop at the Nazca lines on the way to Huacachina so why wouldn't you stretch your legs by climbing up to the viewing tower, but you don't have to!
There are also optional tours not included in the ticket price such as a flight over the Nazca lines or a tour to Ballestas Island. Or you don't have to do anything. You can find tours on your own or chill by the pool.
How Peru Hop Works
Peru Hop is a hop on/hop off bus service throughout Peru and Bolivia. When I discovered Peru Hop during my research I found the bus schedules a bit confusing online. So, I didn't book anything online until I visited their office in Cusco. However, as I am writing this they've updated their website and it's much easier to understand the departure days based on location and amount of time you'll need in each destination.
You will select your departing location, the amount of time you have, and what country(ies) you'd like to visit. They've expanded their route options since I took it, so it really fits any time frame or interest! Each route comes with a recommended minimum time frame, however, you can stay longer if you'd like!
Once you make your booking, you will receive a login for Peru Hop's website. Through here you can make adjustments to the date and location of your pick up. So, if you arrive in one of the destinations and decide you'd like to stay longer, you can adjust your schedule as needed.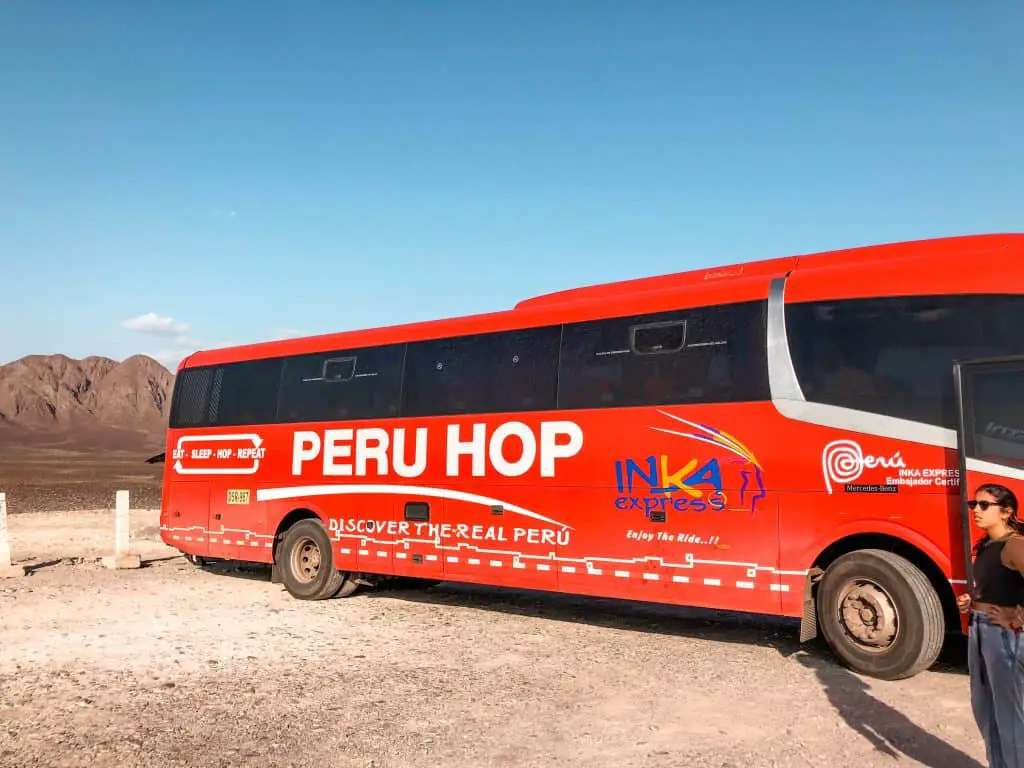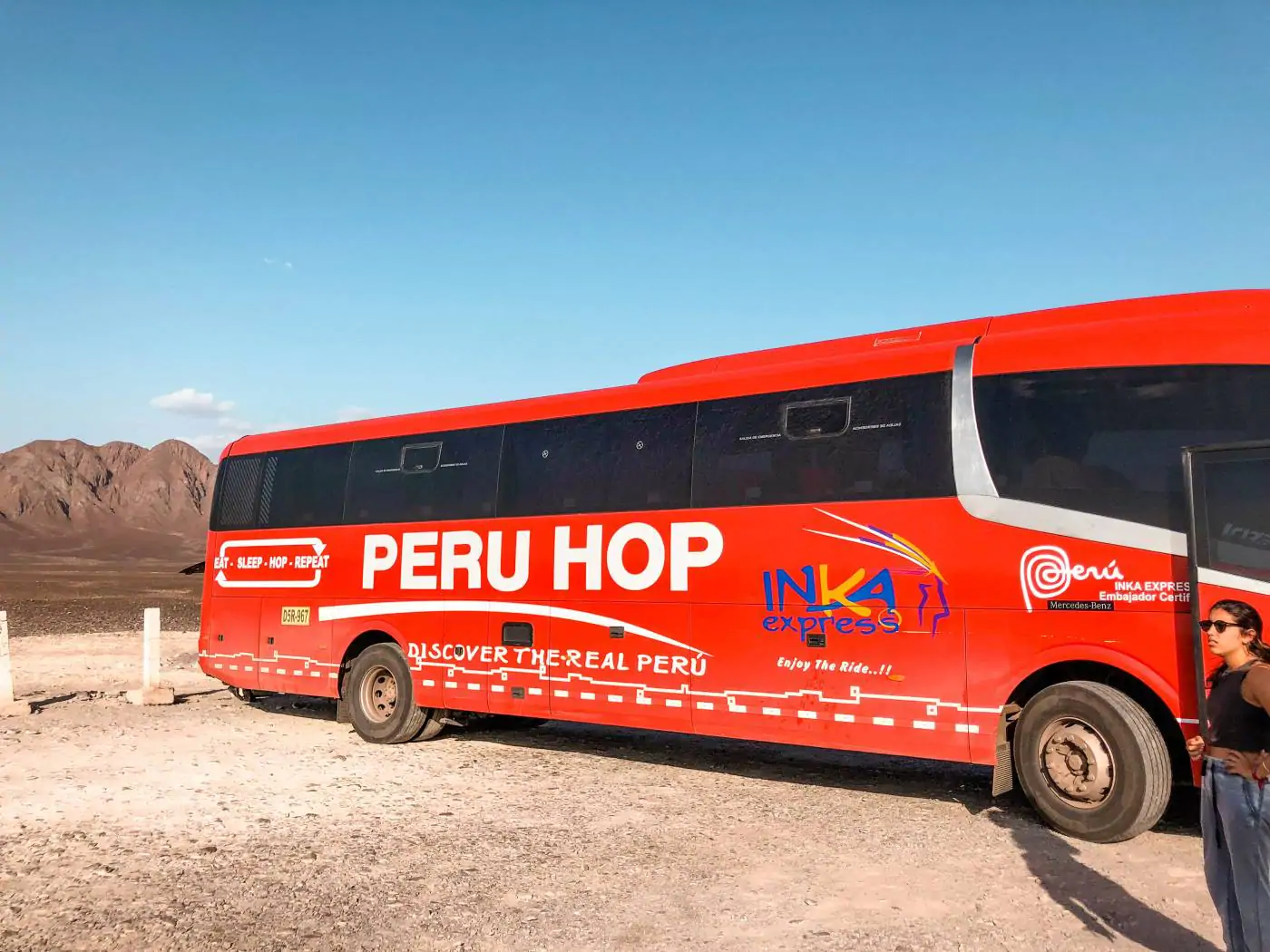 Peru Hop Facilities & Discounts
When you board your bus, you'll be given a wristband to wear for the duration of your trip. This wristband can be used for discounts at various restaurants at stops along the way.
The buses themselves are quite nice. They give you blankets and the chairs are semi-reclining with USB charging ports. There are also bathrooms on the bus. Plus if you get too hot or too cold, you can actually ask them to change the temperature, a rarity on public buses!
Plus, you'll get fed on long bus journeys! Your guides will take your order in advance and you'll pay at the restaurant! This is awesome so you don't have to pack a bunch of food as well!
There is no WiFi, but they do show movies. Take the opportunity to disconnect and gaze out the window at the beautiful scenery.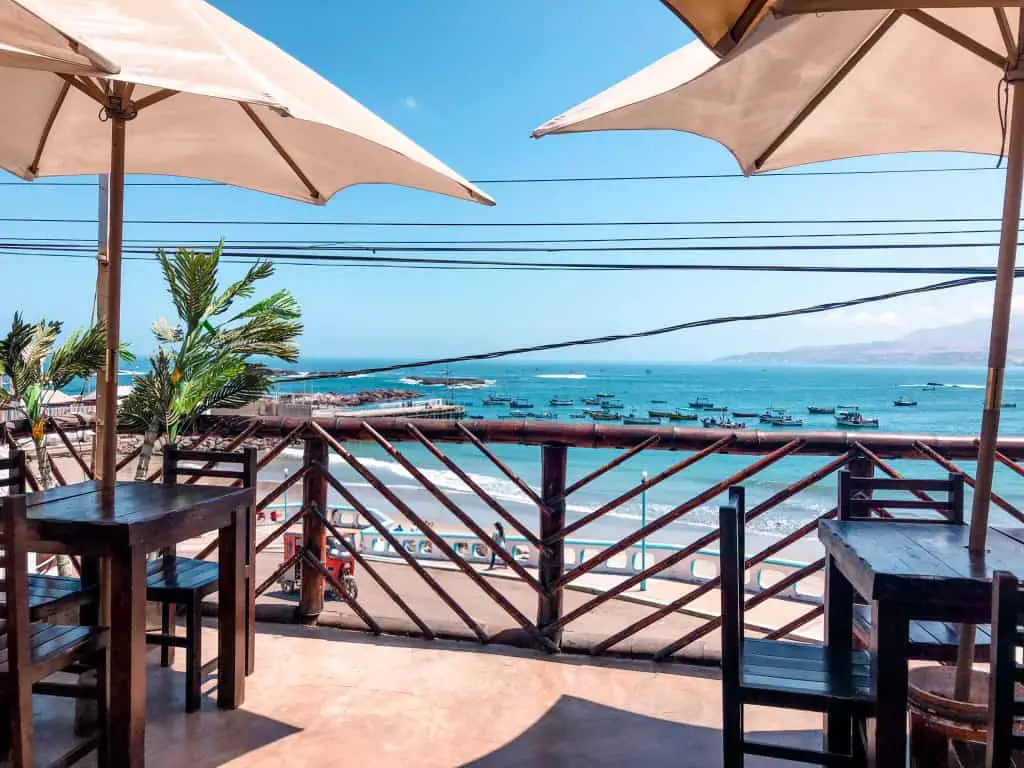 Peru Hop Guides
Each bus has two Peru Hop guides. These guides will book your accommodation for you from the bus, join you on the included tours, and provide advice for where to find the best ceviche.
I took Peru Hop during Holy Week, which I learned is a huge deal in Peru. This made booking accommodation very difficult as many Peruvians were vacationing in the Peru Hop stops as well. The guides on my bus made sure we all had accommodations, even if it wasn't our first choice, and did a good job at handling a busy week.
Plus they spoke fluent English!
Your Peru Hop guides may change depending on how closely you follow the itinerary. I ended up staying an extra day in Paracas which meant the two guides I started with were not the ones I finished the trip with.
Peru Hop Stops
As I said before, Peru Hop has expanded its route offerings since I explored Peru with them. They still offer the route I took which I will share with you below. I will say that I did the reverse of what most people do. Most people start in Lima and end in Cusco culminating their trip with Machu Picchu. After doing all of the things in Cusco, I boarded the bus and finished in Lima! This wasn't an issue except I could only enjoy the company of the cool people I met for a day before we departed in separate directions.
Peru Hop Cusco to Lima – The Full South Itinerary
Cusco to Puno
The trip started with an overnight bus from Cusco to Puno. I slept like crap on the bus because the roads were incredibly windy. But the seats were very comfortable. When we arrived in Puno our bus split up. Some people continued on to Bolivia and those who didn't switched to a different bus.
I wasn't planning on spending the night in Puno, but they did drop me off at a hostel where I could store my luggage and shower. Then I took the full-day tour of Lake Titicaca. This tour was coordinated through Peru Hop but was an additional cost.
Personally, I found this tour odd. They take you to the floating islands where the people of Lake Titicaca supposedly live. But on the way, you pass other floating islands where you see no one. It just seemed strange to me. There's not much else to do in Puno though, so if I were to do it again, I would skip Puno and spend an extra day in Arequipa!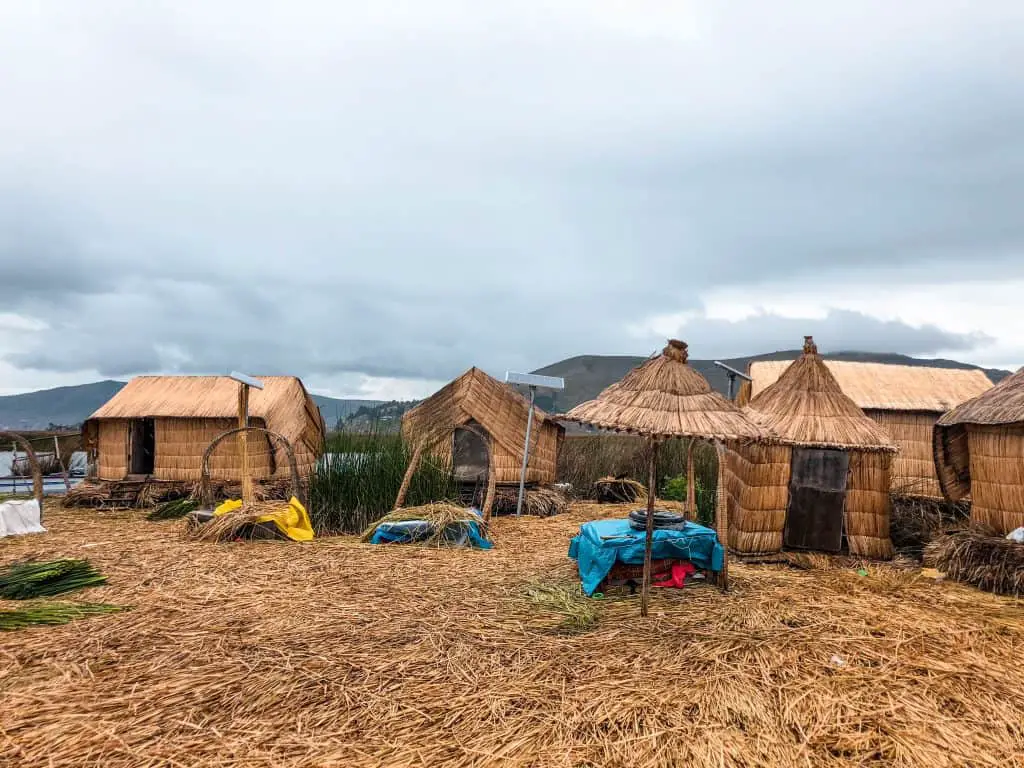 Puno to Arequipa
I boarded the bus to Arequipa that night and unfortunately slept no better on this night ride to Arequipa. But I did find comfort in the fact that my belongings were safely stored below and my smaller backpack sat safely in the seat next to me. I didn't have to keep my backpack on my lap as I did on buses Ecuador! The bus dropped me off at Flying Dog Hostel in Arequipa around 5:00 am. At that time, it wasn't possible to check in to the hostel, so I dozed for a bit in the hostel living room.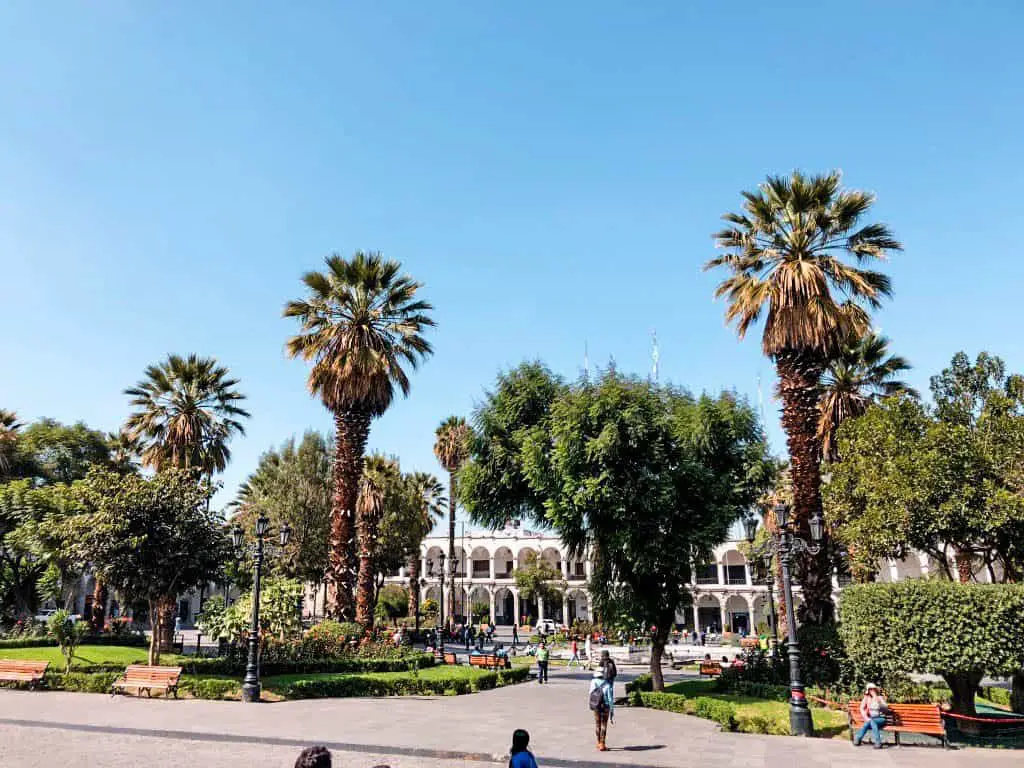 Arequipa is a beautiful city. It is surrounded by three volcanoes and the buildings are made out of white volcanic stone. My first day I took a free walking tour of the city where I learned of an awesome cafe to watch the sunset over the Plaza de Armas. The next day I ran into a friend from Ecuador and we spent the day drinking in a park and then stumbled upon a Holy Week parade.
A big draw to Arequipa is the close by Colca Canyon which is an optional tour with Peru Hop. I really wanted to go. But I'd hopped on the Peru Hop bus two days after my trek to Machu Picchu, my body wasn't ready for another two-day trek and the day trip just didn't seem worth it to me at the time. If I were to do it again, I'd spend some more time in Arequipa, letting my body recover, and getting to know the city. Then I'd hike Colca Canyon!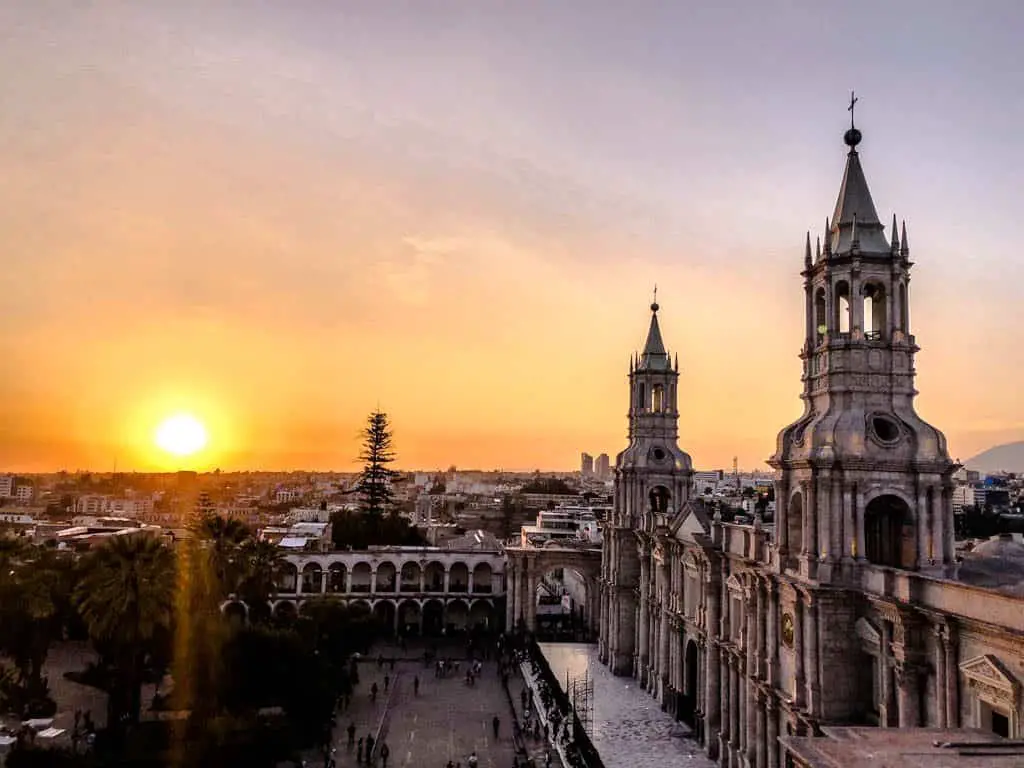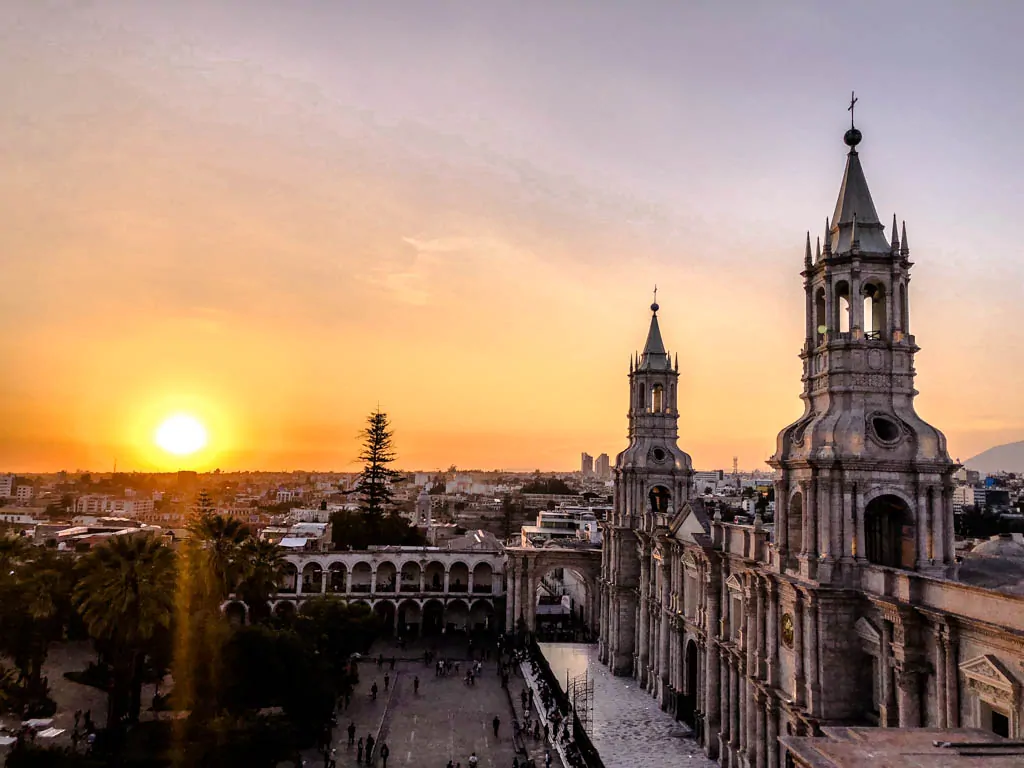 Arequipa to Huacachina
After two days in Arequipa, I hopped back on the bus towards Huacachina. This was my favorite part of the trip. The bus ride was during the day so you could see the changing landscape and gaze out of the window to the sea. The bus stopped along the way for lunch at a seaside restaurant and then again at the Nazca lines.
This Nazca lines tour is included in the ticket and it allows you to climb up to the viewing tower to see a few of the lines in the desert. There is an optional tour to take a flight over the lines. To do this, you'd either stay the night in Nazca and take the flight the following day or take a bus back to Nazca from Huacachina for the flight. I opted to skip the flight as I felt I'd seen enough of the Nazca lines from the tower. Although if this interests you, I have heard good things about it!
The main draw to Huacachina is sand boarding and dune buggying. This is an optional tour that Peru Hop will set up for you. And it's a total thrill! The total tour is about two hours and you will fly over the dunes in the buggy! I chose to lay on my stomach and go down the hill on the sandboard that way. You will get sand everywhere – be prepared!
P.S Don't go dune buggying and sand boarding without travel insurance!
I also opted in for the Pisco tasting tour, which is an included tour. They show you how Pisco is made, you get to go on a tour of the Vineyard and of course drink Pisco! The rest of the time I chilled by the pool and explored the desert oasis. Make sure you climb up the dunes for sunset! It's absolutely stunning!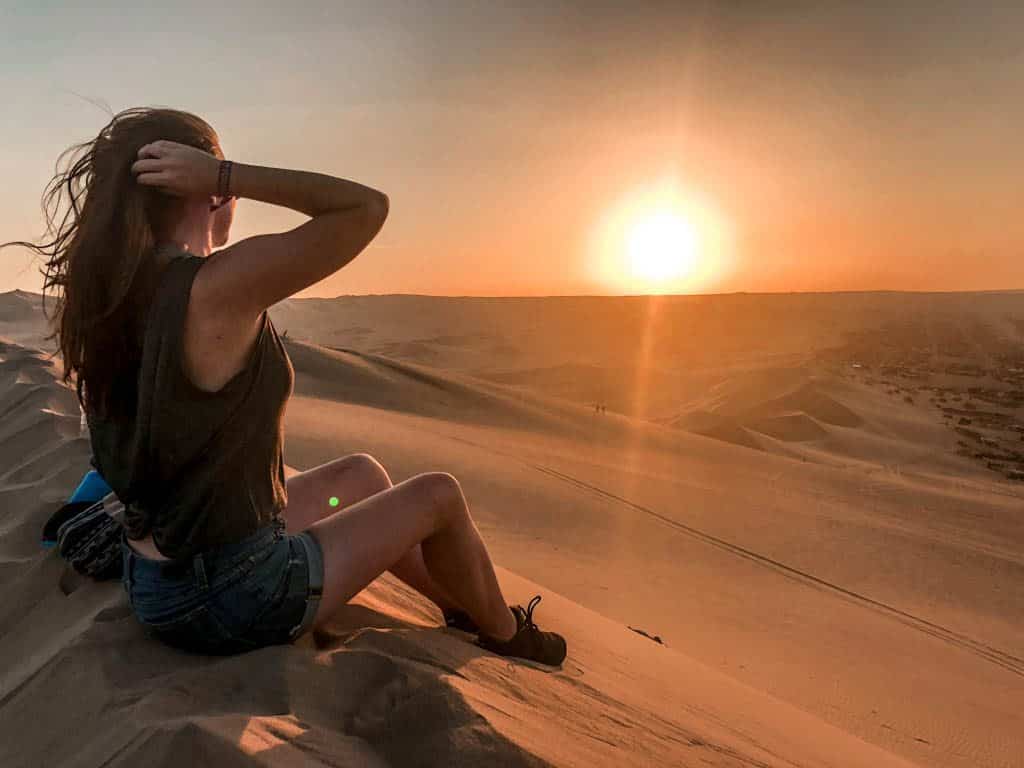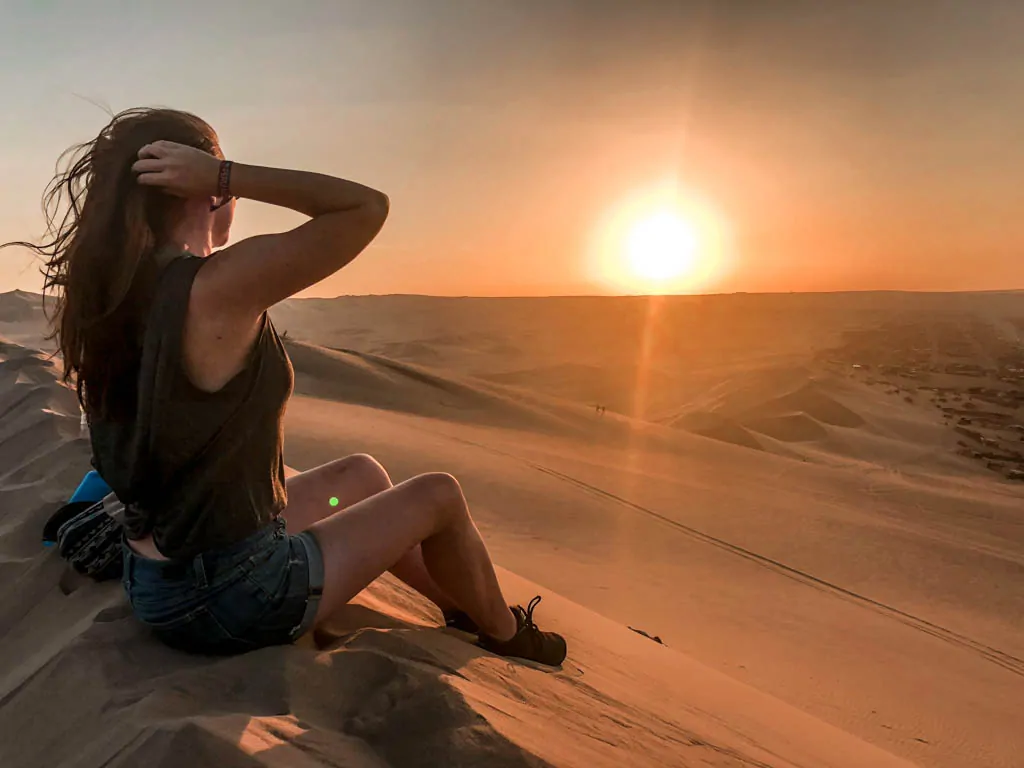 Huacachina to Paracas
Paracas was the only place I extended my stay outside of the recommended Peru Hop itinerary. Why? That friend I'd met up with in Arequipa told me about a great sunset hike in the Paracas National Reserve, but I'd miss it if I only stayed one night. As usual, the bus dropped me off at my accommodation, Kokopelli Backpackers Hostel.
This is a party hostel. Even more so during Holy Week. And not just for people staying at the hostel, for the entire town of Paracas. The thumping music went on until 6:00 am, so if you're hoping for a good night's rest, don't stay here.
That being said, the pool here is quite refreshing and there is direct beach access. There is also a restaurant and, obviously, a bar on site.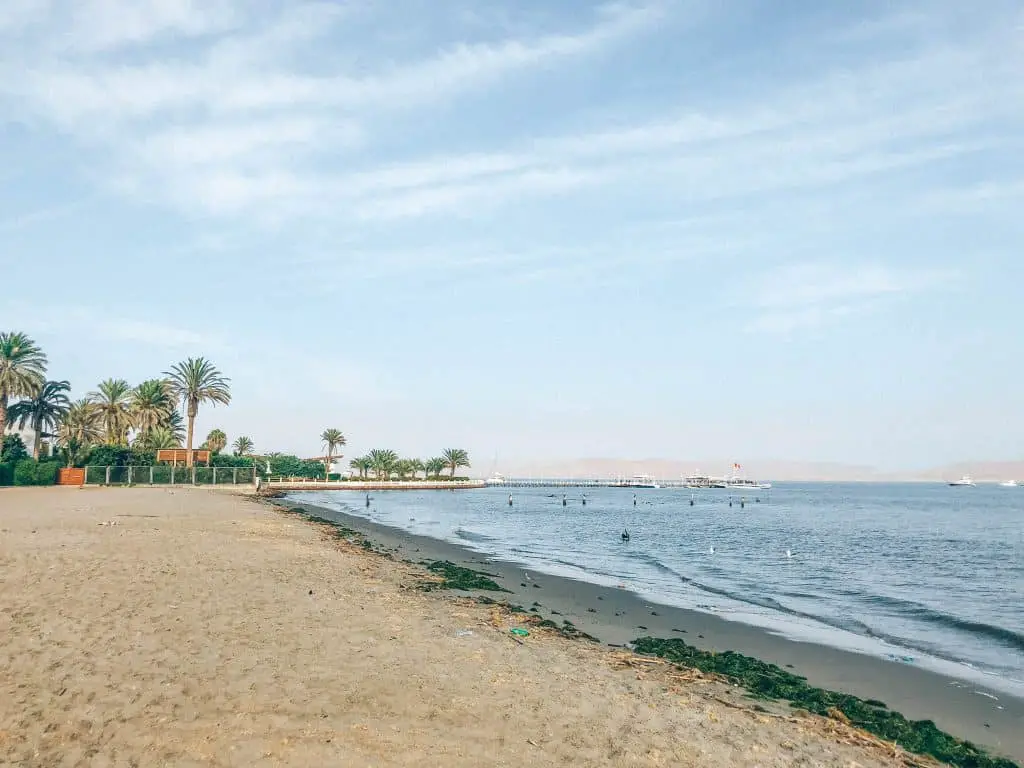 Peru Hop offers an optional tour to Ballestas Island, commonly known as the poor man's Galapagos. But since I'd already been to the actual Galapagos (sounds super arrogant I know), I decided to spend my time poolside and then take the sunset hike tour on the Paracas National Reserve offered by the hostel.
On the hike were me and three other girls traveling together. It was about an hour-long hike that ended at the perfect place with perfect timing for sunset. Along the way, we passed flamingos and kite surfers! After one more sleepless night in Paracas thanks to the Holy Week party-goers, I boarded the Peru Hop bus with the final destination of Lima.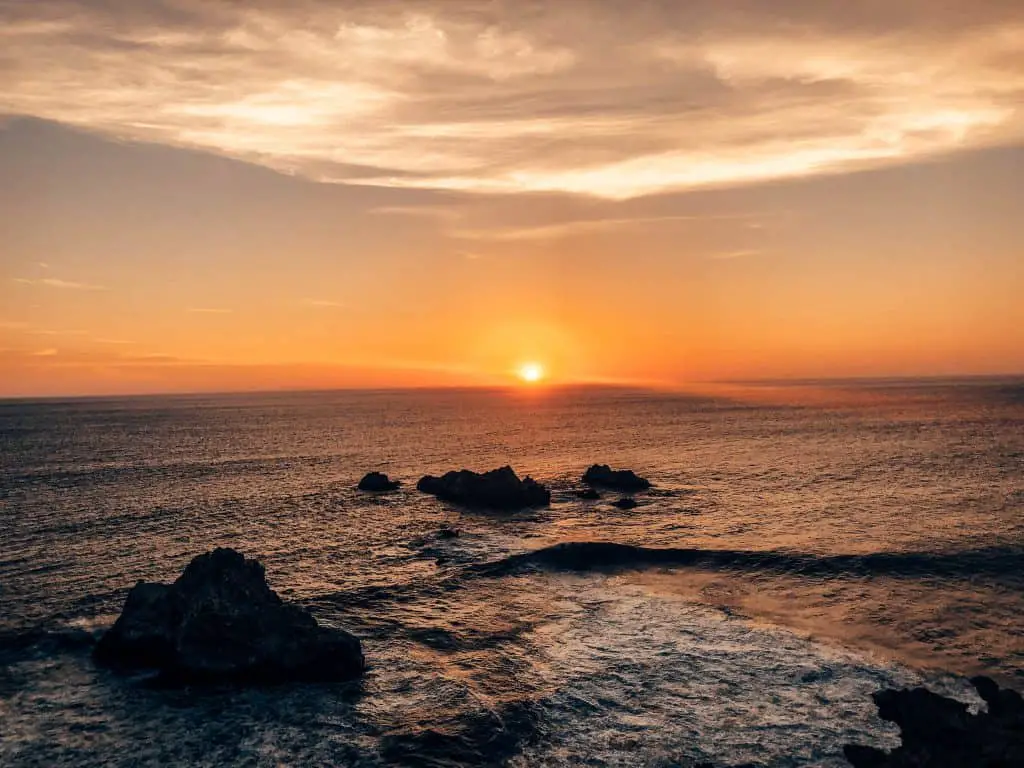 Paracas to Lima
This leg of the journey is quite interesting. On our way out of Paracas, we stopped for a tour at a former mansion turned hotel where slaves were brought in to Peru. We walked through a portion of the slave tunnels while learning about the history of the house. As I look at the Peru Hop website now, I don't see this as a free tour option anymore. It is possible they've removed it.
Four hours later, you'll arrive in Lima, a city you should spend at least two days exploring. Peru Hop drops off to the majority of hostels in Lima. As I was staying with a friend, I just asked to be dropped off at a hostel near his apartment in Miraflores and walked the remainder of the way!
Overall Thoughts on Peru Hop
I highly recommend using Peru Hop if you are short on time or just want some help planning your trip, without the constraints of a tour. And you should know, that I paid my way for Peru Hop, so I'm completely unbiased!
Peru Hop is great for solo travelers as you'll make friends on the bus, over lunches, and in the hostels. There were also some families and "older" travelers on the bus, so it really fits for a variety of different travelers.
Like this Pin? Save for Later!