Cusco, Peru is known as the capital city of the Incas, the starting point for a journey to Machu Picchu, and a city filled with culinary delights. I think we should add to this list the plethora of cafes and coffee shops. The trendy San Blas neighborhood of Cusco is home to a number of cafes, each with a unique vibe. I took it upon myself during my recent visit to discover the best cafes in Cusco. As I don't drink coffee, I tested out their selections of teas, treats, and of course WiFi strength.
Overall, the greatest aspect of these cafes is that there is absolutely no rush. You can spend as much time at these cafes as you wish. They make an excellent place to catch up on work, read, or simply relax. Out of all the cafes I collected WiFi passwords from, there's only one I wouldn't return to, but I'll get to that later. For now, let's discuss the best cafes to add to your Cusco itinerary.
The Best Cafes in Cusco
I stumbled upon Qura cafe after a much-needed yoga class at the Healing House. A basket of bread hanging just outside of Qura's door invited me into the warm glow. Qura is a tiny, relaxed cafe with a deliciously satisfying Acai Bowl. I did not try the bread as I was getting my fill of carbohydrates from my daily papas fritas serving. However, when I visited, a group at a neighboring table ordered a wide variety of dishes including salads, smoothies, and coffee, all of which looked scrumptious!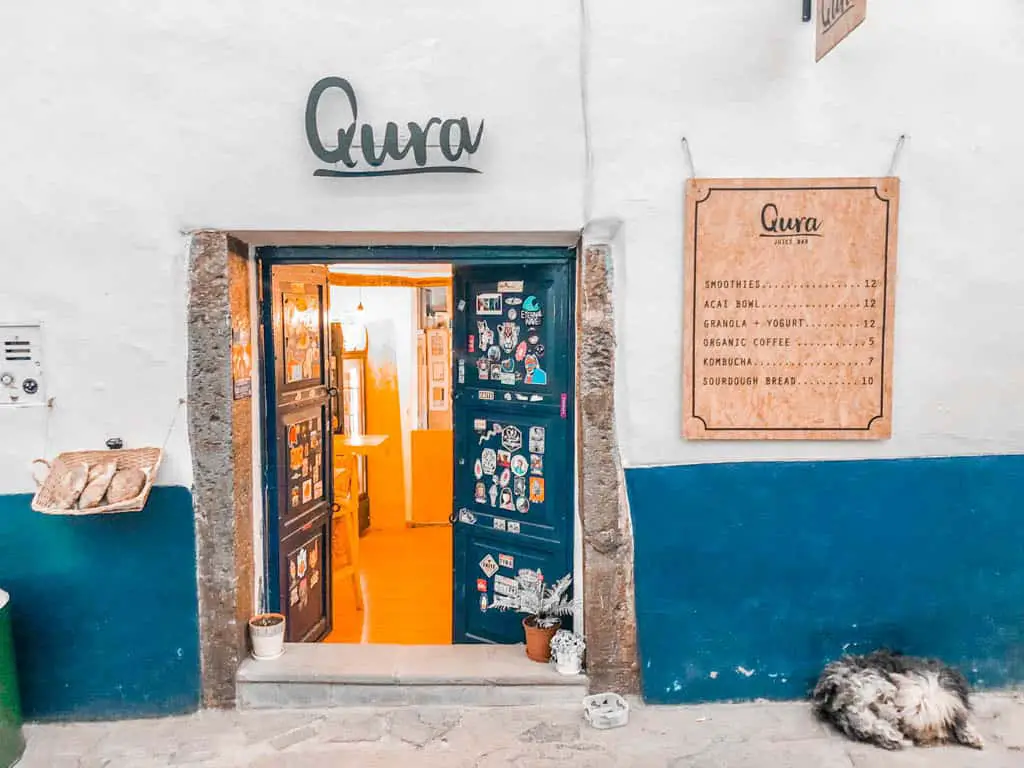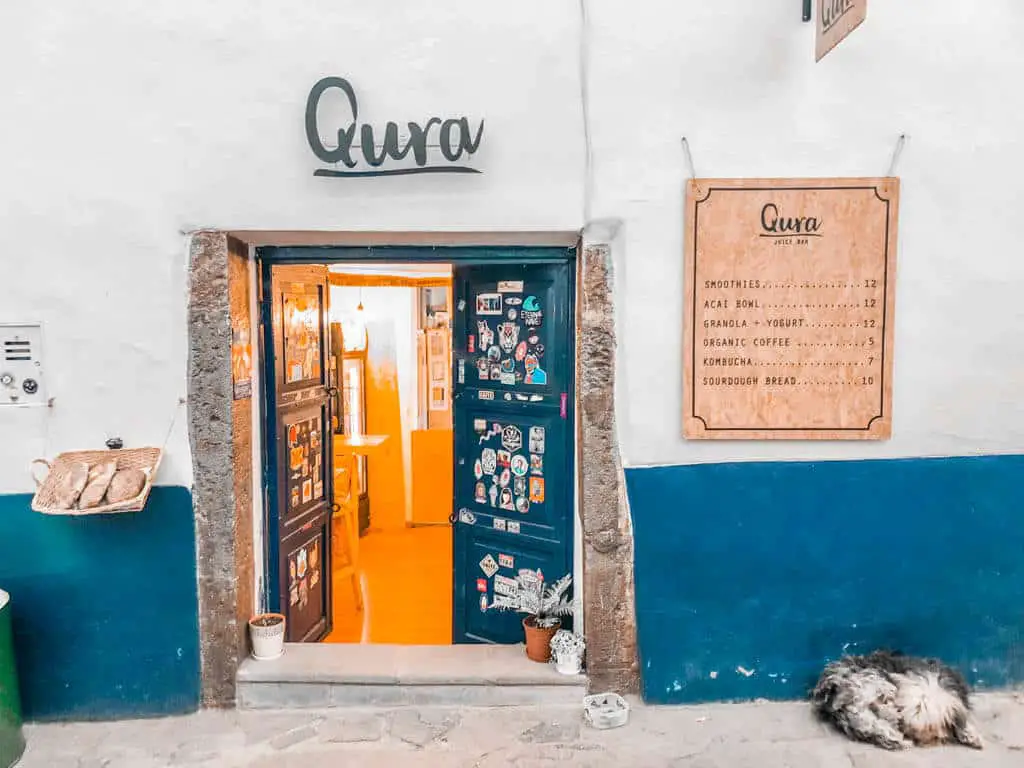 Cafe Loco is a tiny cafe located in Plaza San Blas. It certainly offers amazing views of the city and, despite its name, is a quiet place to spend a few hours working. As the only customer, I chose the window seat to enjoy an impressively large bowl of fruit and granola with a warming chai tea latte. There was no rush to leave from the staff, so I lingered to use some of the best WiFi in Cusco and take in the impressive view of the city below.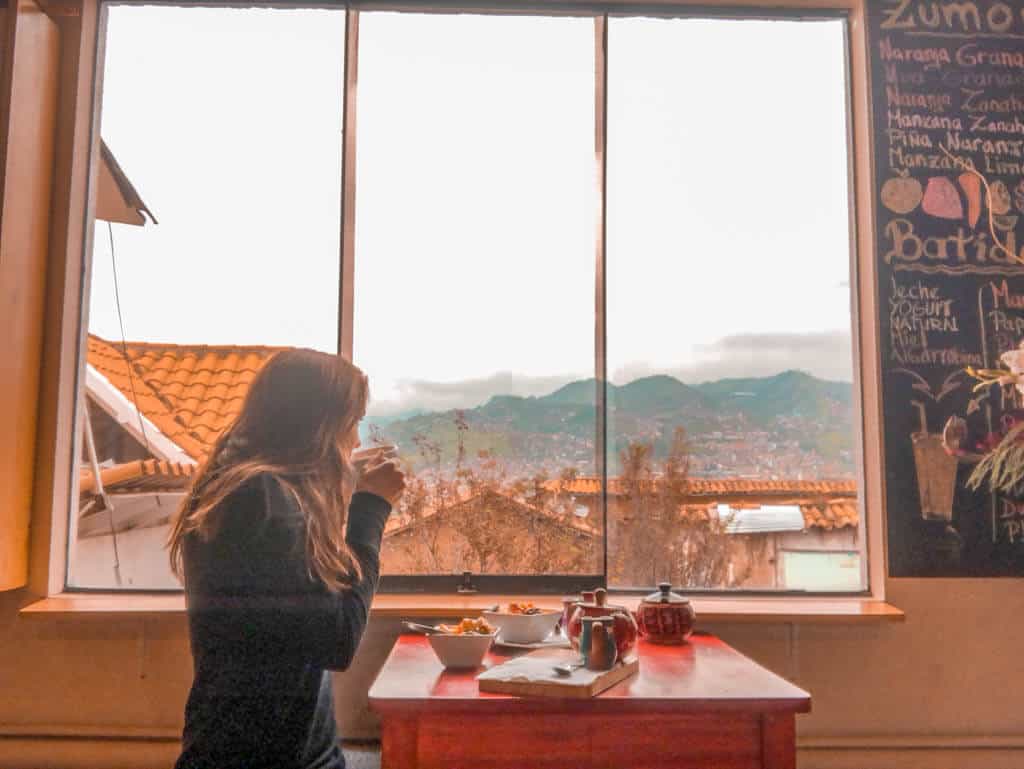 One of the larger cafes I visited in Cusco, I liked Laggart so much I went back twice. There are no Cusco views here, but it has two large rooms each with surprisingly comfortable sofas and interesting artwork making it a cozy place to spend a rainy afternoon.
They also have a wide range of sweet treats and empanadas. On my first visit, I chose a gluten-free brownie, because it looked better than the regular brownie, a rarity in my opinion. I paired it with hot chocolate. Both were amazing! The brownie beckoned me back for a second visit and I paired it with one of their loose leaf teas. Each visit, I stayed about three hours using their strong WiFi to plan my upcoming two days in Lima, Peru and no one bothered me – it was glorious!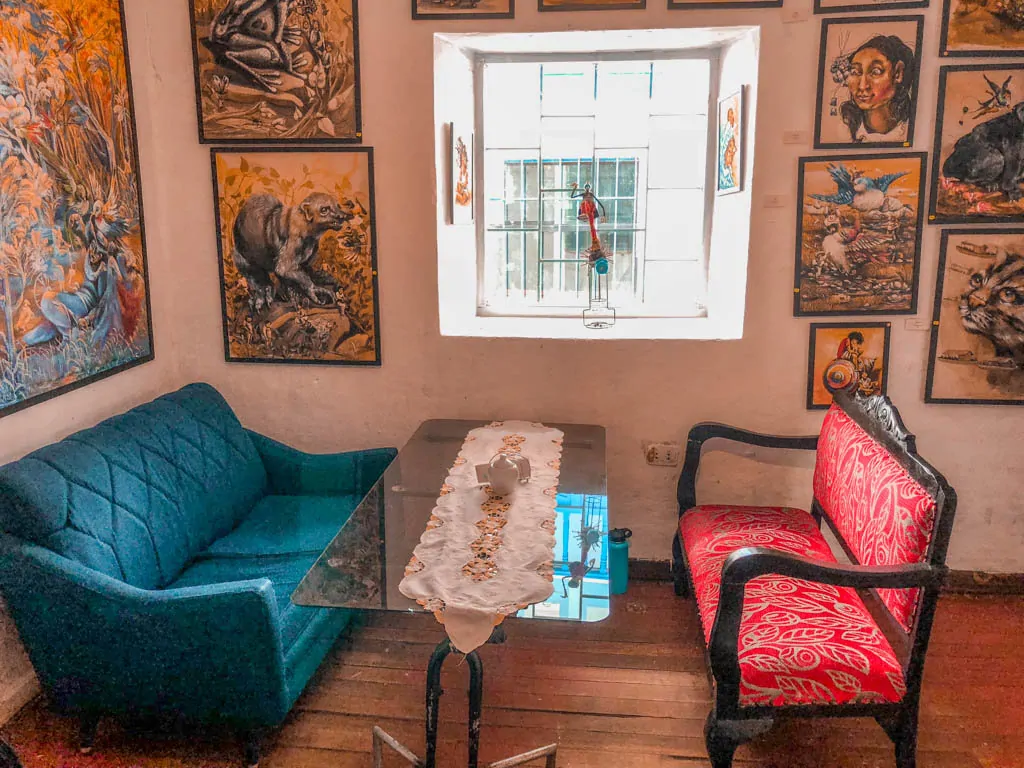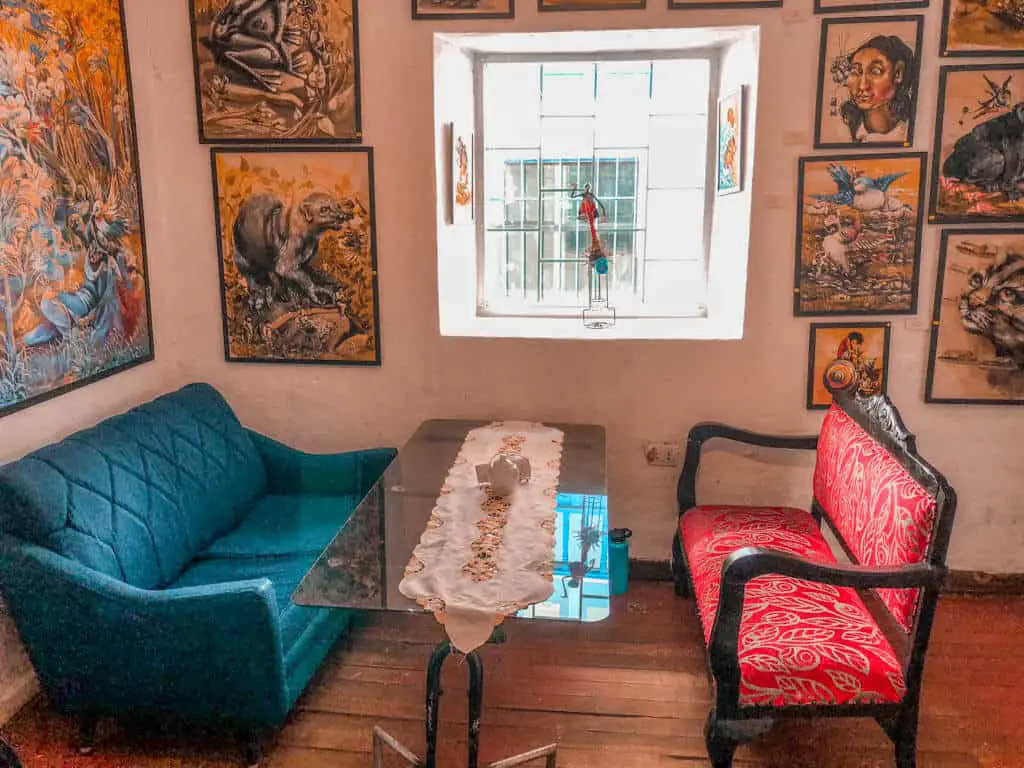 I was caught in a rainstorm and lost in the streets of San Blas looking for a specific Google recommended cafe. I had to do a double take when I passed this adorable cafe as La Cafeteria Cusco doesn't have a huge sign outside, just a simple chalkboard describing its tasty treats. As I poked my head in to make sure it was actually a cafe and the smell of freshly baked chocolate chip cookies immediately welcomed me. I ordered a warm cookie and a chai tea latte and set up my work at one of the three tables. There is a window seat as well if you just want to sit and people watch – an equally enjoyable cafe pastime. I never did find that Google recommended cafe. (It's called Monkey Coffee Cusco if you want to check it out!).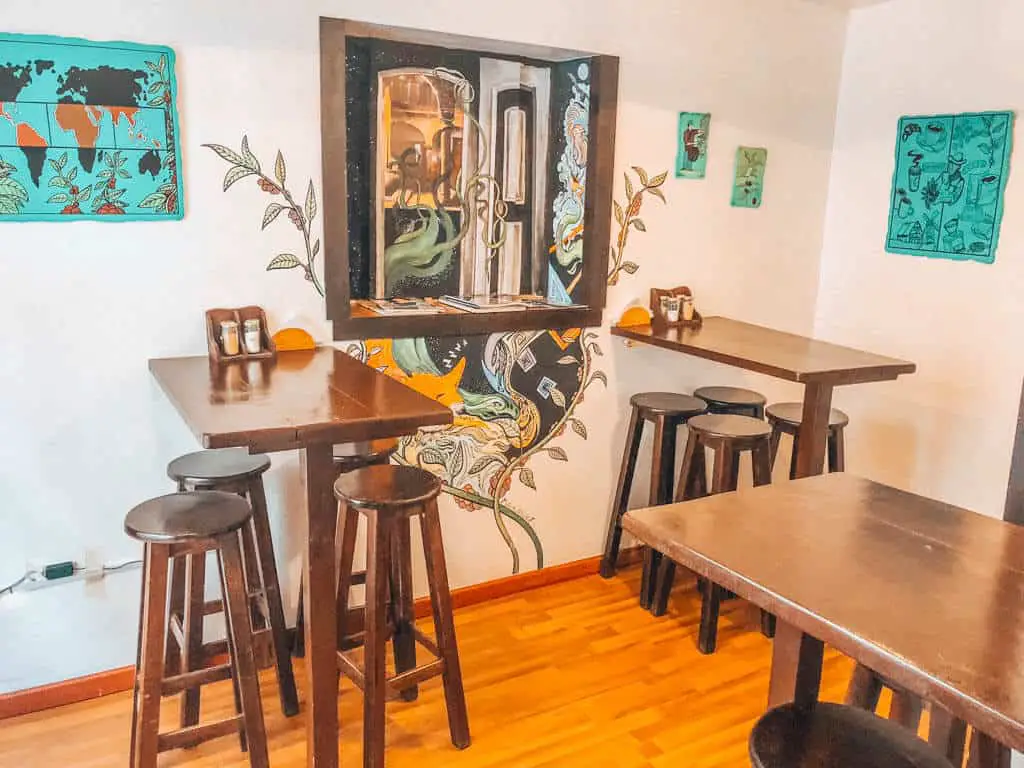 Situated at the top of a San Blas hill on the corner of 7 Angelitos and 7 Diablitos is Siete Siete. It's well worth the breathless climb up for sweeping views of Cusco. In addition to the views, this open and airy cafe uses its decor to pay homage to the seven angels and seven devils of the Andean culture, which you can read more about on their menu. Their menu has a variety of healthy options to help balance out all of the sweet treats! The service here is attentive, yet unrushed making it a perfect place to relax away from the noise of downtown Cusco.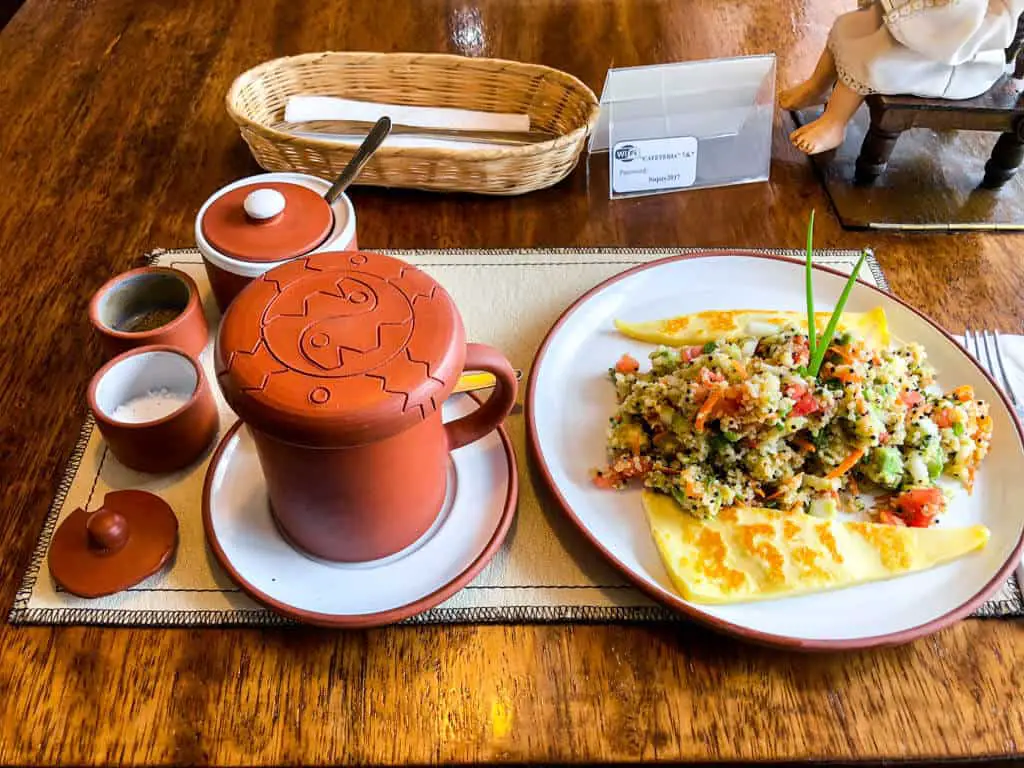 One Cafe to Skip in Cusco
The line out of the door for an entire Sunday is what first drew my attention to this cafe occupying a bustling corner on the edge of San Blas. I'm not one to wait in lines, especially when there are a plethora of other good cafe options. So when I passed this corner a few days later and saw there wasn't a line, I figured I'd give it a chance. Upon entering, I noticed tourists occupied every table in this packed cafe. The second thing I noticed was the prices – much more expensive than the other cafes I visited. However, when my avocado toast breakfast arrived the portion was USA sized, slightly justifying the price.
Almost as soon as I swallowed my last bite, the bill arrived. It was obvious that lingering to plan my how to take Peru Hop from Cusco to Lima was not an option. I paid and left, spending a total of about 45 minutes here. The food was good, but I'd grown accustomed to enjoying the slow pace of Cusco's cafes. With Jack's being so crowded with tourists, a bit pricey, and rushed I knew I wouldn't return. But, it did feel a bit like home, so if you're homesick for a good USA style breakfast, this is your spot!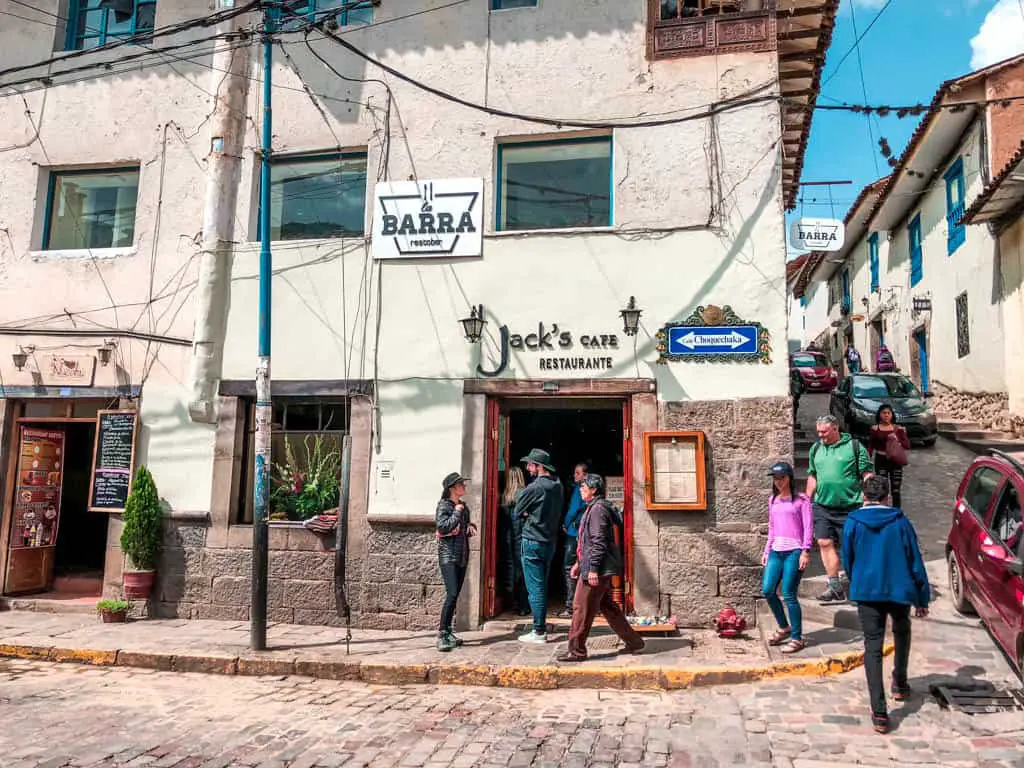 This Barely Scratches the Surface of the Cafes in Cusco
It seemed every street I turned down in San Blas there were more cafes to explore. I spent the better part of my two weeks in Cusco attempting to try them all, but I realized I'd be rolling to Machu Picchu if I tried every one of them. And my bank account would have been mad at me as well. There are excellent cafes I didn't mention as they are well documented on the interwebs, such as the Meeting Place (which was really good too!). So, I shared with you, my fellow sunset chaser, the ones I loved, and wish I could spend just a few more hours in.
Did you discover any cafes that I should visit if I'm ever back in Cusco?
Like this post? Pin for later!