Ah the Galapagos, a magical archipelago of islands located off of Ecuador's coast that is home to unique wildlife and landscape. It was once a pipe dream to visit, but thankfully, I took the opportunity to spend 10 days on the islands during my two months of living in Quito. This comprehensive Galapagos packing list details everything that I brought for my 10 day DIY trip around the Galapagos Islands. 
I also created a printable checklist if you'd like one, drop your email and I'll send it to you!
Before we get to the packing list, let's first discuss the timing of visits and the weather as this may dictate whether or not to pack certain items.
I am a participant in the Amazon Services LLC Associates Program, an affiliate advertising program designed to provide a means for me to earn fees by linking to Amazon.com and affiliated sites.
When to Visit the Galapagos
There really is no bad time to visit the Galapagos as the temperature is generally around 70s-80s and the water is just generally chilly year-around. This actually came as quite a shock to me. I was expecting tropical water temperatures. I was so wrong.
From June – November it's cool and dry and from December – May it's warm and rainy. The most popular time to visit is during the warm and rainy season. However, I spent 10 days there in January and it didn't rain once! That being said, if you do visit in the rainy season – plan for rain and if it doesn't rain you're lucky!
Sun Safety
Another weather concern to note is the strong Galapagos sun. Thanks to the Islands' location near the Equator the sun is quite strong. Combine that with being out in the sun and in the water all day long, sun protection was my number one concern when visiting the Galapagos. I kept in mind that any type of sunscreen I put on my skin would end up affecting the water and animals I came to visit, so I did my best to use reef safe sunscreen and wear clothing that would decrease my use of sunscreen.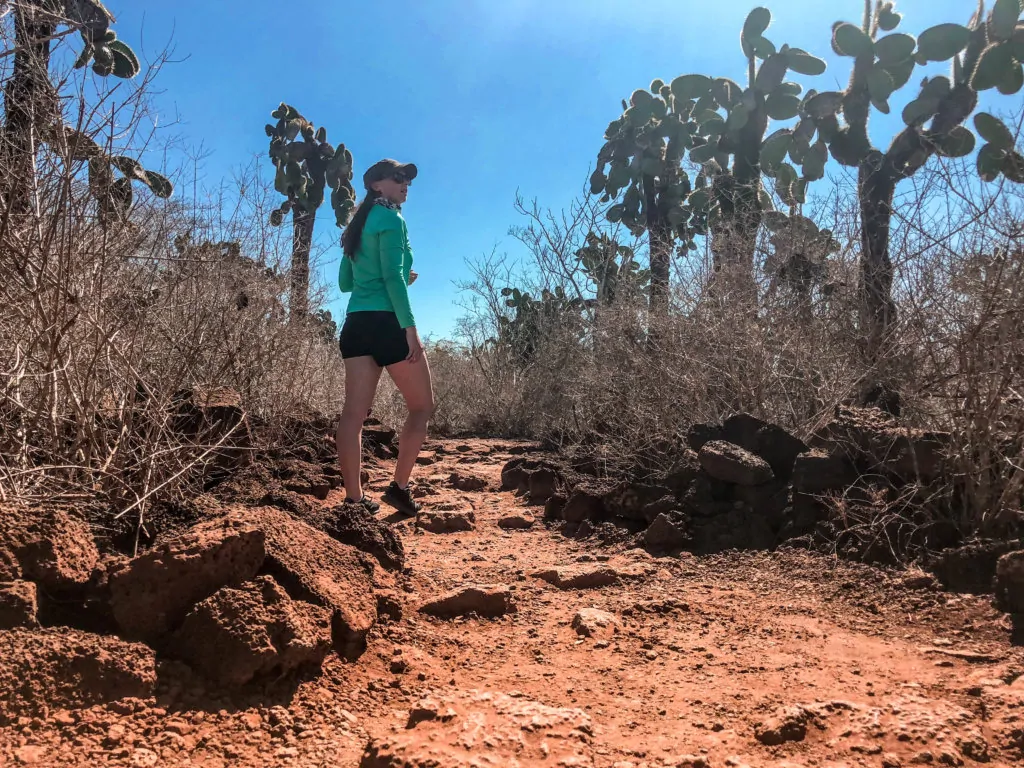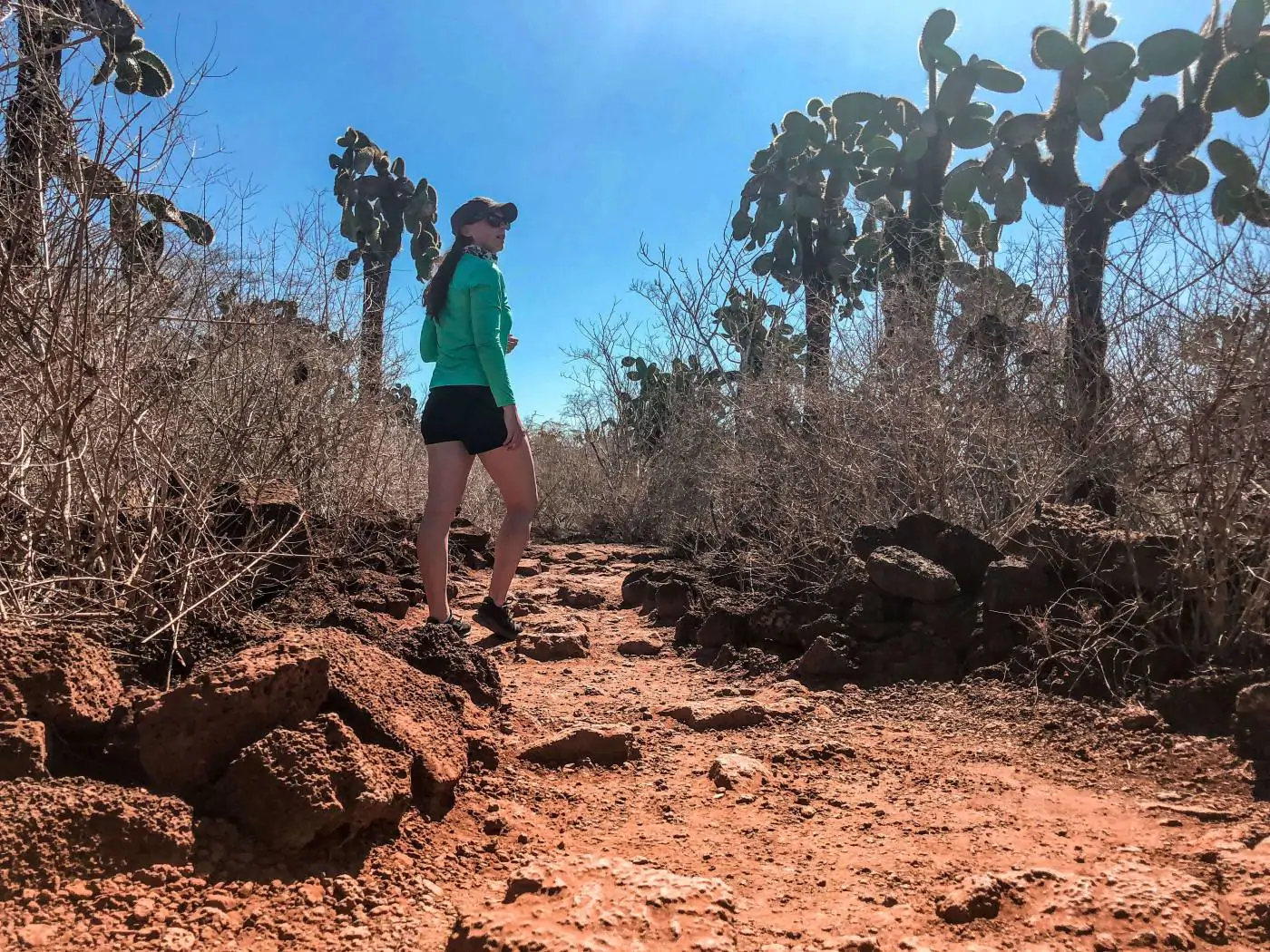 Pro Tip:
If you're doing more than the Galapagos while in Ecuador, you likely have a bigger backpack or suitcase. Leave what you can at your hostel or hotel in Quito and only take what you need. For example, I left two packing cubes filled with things I didn't need for the Galapagos but would need later for
Machu Picchu
!
Without Further Ado – The Galapagos Packing List
Travel Documents
There is a fair bit of documentation, and money, required for visiting the Galapagos.
Passport – A passport is required upon entering the Galapagos and the majority of tour companies will ask for a photo of your passport, or at least the number.
Visas – Visas are purchased at the departing airport (Quito or Guayaquil) and upon arrival. 
Cash – Just about everything is cash only. There are ATMs on Santa Cruz and San Cristobal, but Isla Isabela and the rest do not have ATMs. Tour companies typically only take cash or charge a hefty fee for credit card use. Additionally, make sure to have the appropriate amount to tip your tour guides. The Galapagos, and Ecuador as a whole, use USD.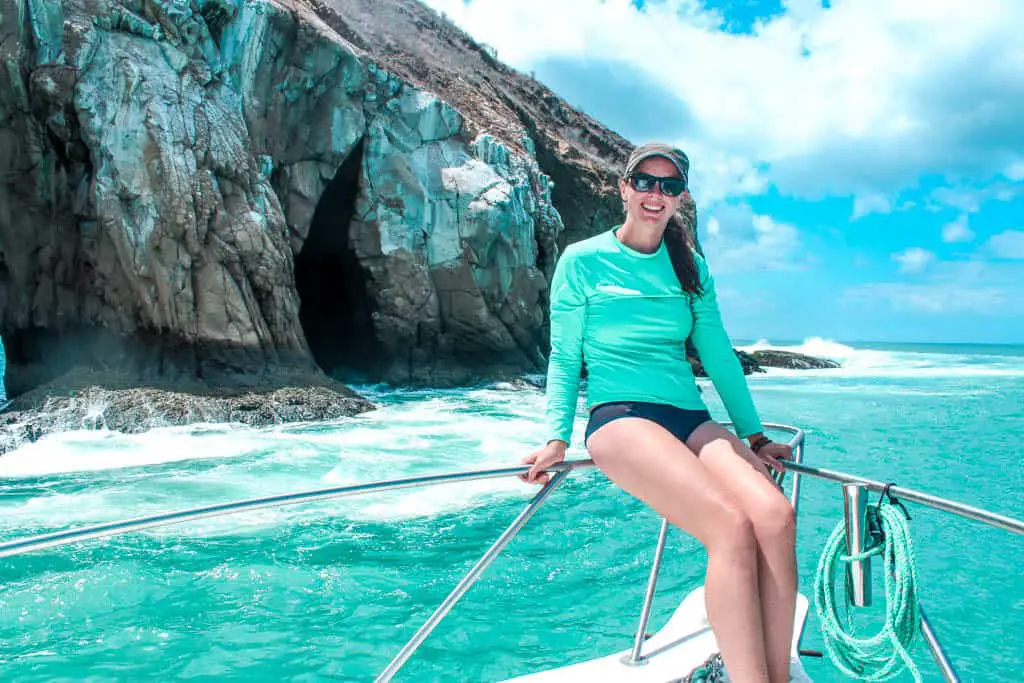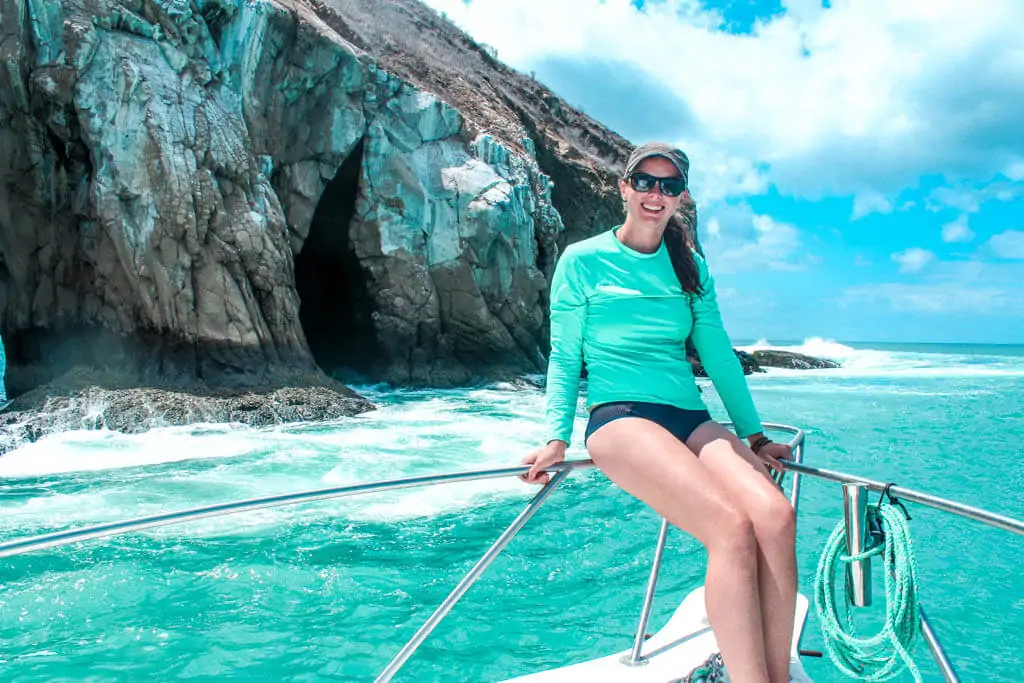 Clothing
Swimsuit – Two swimsuits are beneficial as you will likely be in the water most days. Pack two to have on rotation. This way each day you can put on a dry swimsuit and keep the UTI at bay…(I still got one anyway grr). 
Board Shorts – I had an old pair of old Roxy board shorts that came in perfect for long walks to Tortuga Bay and to keep my booty a bit covered from the strong Galapagos sun! Purchase your board shorts here. 
Rash Guard – I had a Roxy rash guard that I'd purchased from REI for my surfing trip to Costa Rica that came in incredibly handy for keeping my Irish skin safe from the Galapagos sun, and it kept me slightly warmer when snorkeling without a wetsuit. Discover the best rash guard for your activities here. Purchase your rash guard here.
Dress – I had a lightweight dress I picked up from Whole Foods, of all places, that was perfect for a swimsuit cover up or to wear out for dinner. Surprisingly, I don't have a photo of me wearing it, but I wore it all the time.
Tank Tops & T-Shirts – Two of each are plenty especially if you do a bit of sink laundry. I use Dr. Bronner's soap for sink laundry…and body wash, shampoo, etc. Buy your Dr. Bronner's here.
Khaki & Jean Shorts – My khaki shorts were perfect for long walks and my jean shorts for a cute summer outfit. Although the jean shorts created a bit of inner thigh chafing when I attempted to wear them for longer hikes.
Jeans – The weather does cool off in the evenings and there is just something about putting on a pair of jeans while traveling that makes me feel instantly comfortable. I got my jeans from Athleta and wore them daily for the past year until I wore holes into the inner thighs. They had the perfect amount of stretch without losing their shape. I miss them.
Lightweight sweater – I packed a lightweight sweater from Athleta that I could put on in the evenings to help decrease a bit of chill
Rain Jacket – I visited in rainy season and while it didn't rain, I'm glad I had it just in case! Mine is a shell from REI. 
Buff – Buffs are amazing. I wore one around my neck for the hikes to Las Grietas and Tortuga Bay. This helped protect the back of my neck from the sun and gave me a convenient sweat rag! Get your buff here. 
Undies and bra/sports bra – my FAVORITE travel undies are Exofficio. They don't ride up and dry quickly between washes. They can also be used as bikini bottoms in a pinch! And to be honest, they have become my everyday underwear. A sports bra is always a good idea to pack and can also be used for swimming! Purchase Exofficio underwear here.
PJs – Don't forget something to sleep in 🙂
Towel – A lightweight, quick dry towel is essential. Many tours will provide towels, but some will not. You can use it at the beach, in your hostel, and as an extra shawl for sun protection. Get your towel here.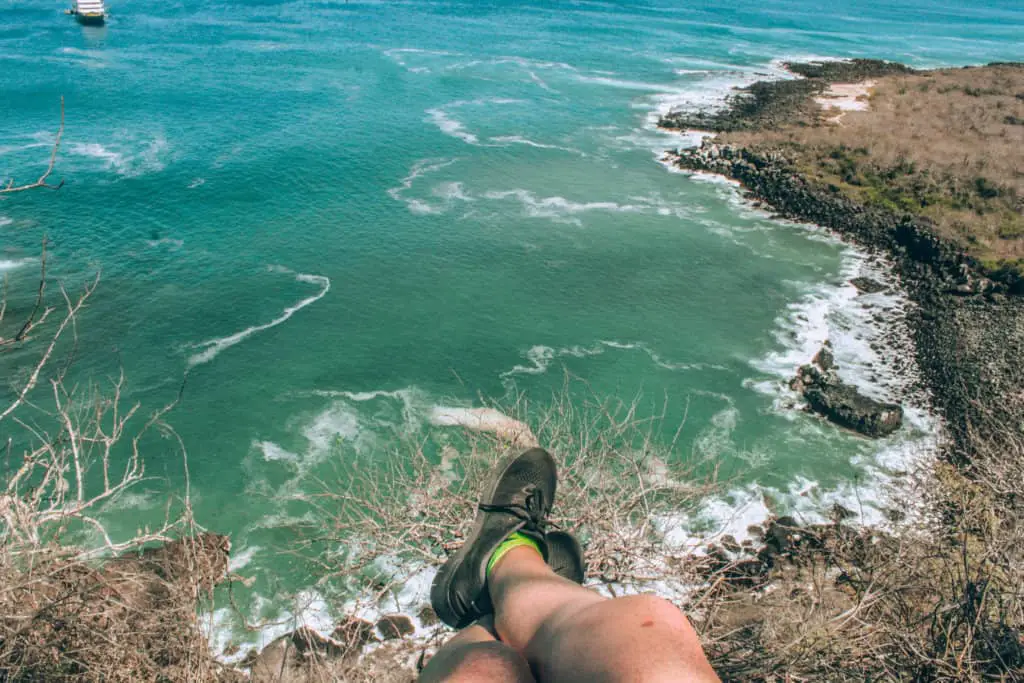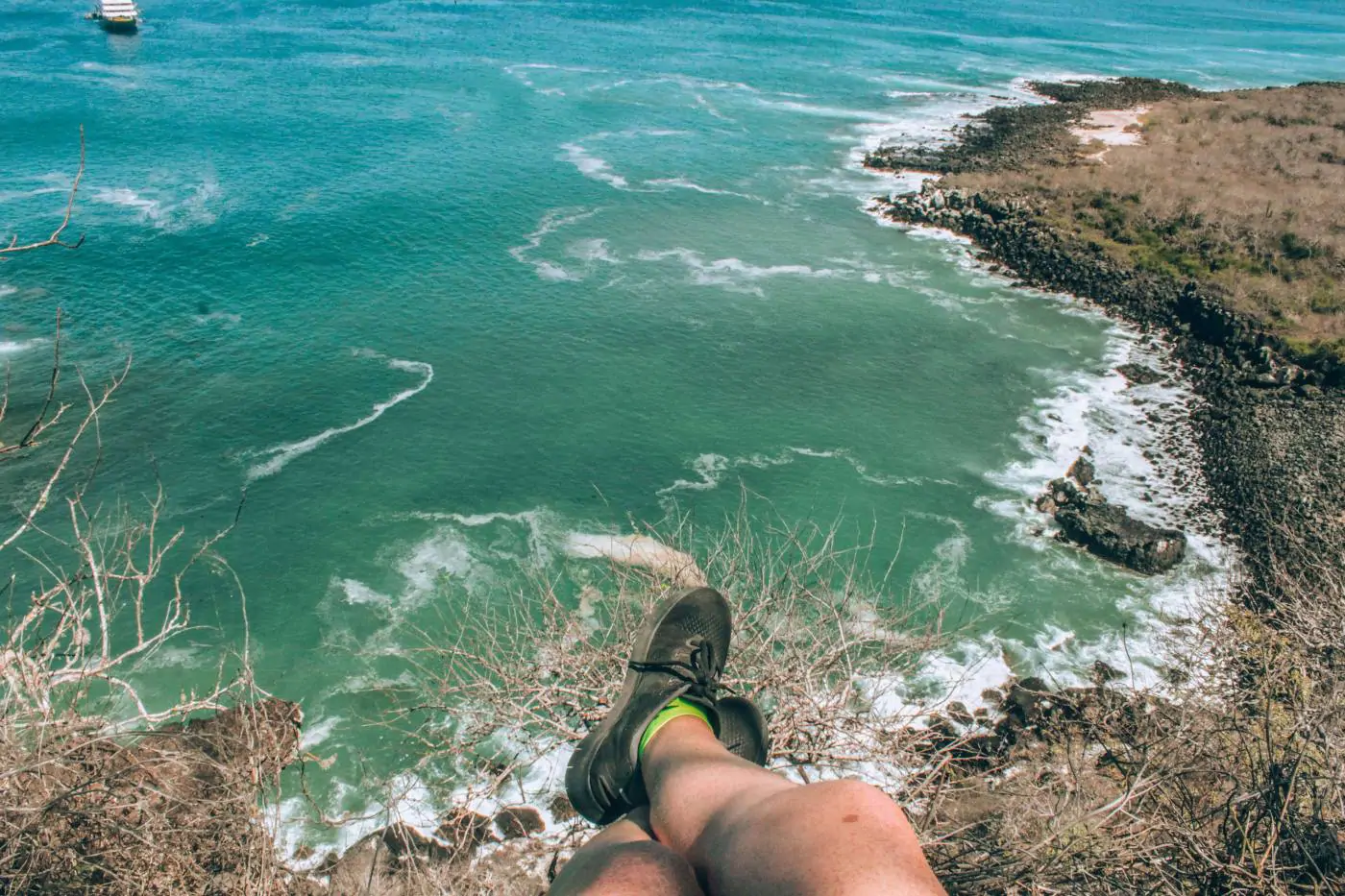 Footwear
Footwear can make or break a good vacation and the Galapagos presents unique challenges. I had my hiking boots, sneakers, flip-flops, and Birkenstocks. I wish I'd had water sandals as on some of the beaches on San Cristobal, you're basically walking on lava rocks into the ocean, which is quite painful without a barrier for your feet!
Sneakers/Hiking Boots – I didn't wear the hiking boots, but I wore the sneakers into the ocean (in lieu of water sandals) and to walk on the lava tunnels on my Los Tuneles Tour. Purchase the Nike's I wore in the water here.
Waterproof Sandals (Keens/Teva) – foot savers that I wish I packed!
Flip Flops – perfect for hostel showers and to wear on boats
Birkenstocks – So, I broke in my Birkenstocks on my very first day on Santa Cruz by walking about 40,000 steps. Which meant I had cuts and blisters on the tops of my feet for a few days, but after that, I learned that Birkenstocks are awesome for long walks when you don't want to wear shoes. I highly recommend bringing them, just break them in first! Purchase your Birkenstocks here. 
Capture Memories
You will want to take thousands of photos of every single seal, marine iguana, and blue footed booby. You'll end up with so many awesome photos from the Galapagos – if you pack the right gear.
GoPro (with casing and floatie): I'm not an underwater photographer, but the BEST camera for underwater photos is the GoPro. Trust me you'll want photos or videos of snorkeling with sea turtles, sharks, and sea lions! I have the hero3 and I know GoPro has made quite a few improvements to their camera in recent years. Make sure to bring a waterproof housing for the camera (the camera itself isn't waterproof) and attach it to a floating handle that wraps around your wrist so the camera doesn't end up on the bottom of the ocean!
DSLR – I used my Canon Rebel for on land photos of animals and myself! Yes, it's a bit clunky and heavy to carry around, but I love the photos I got! Purchase the Canon Rebel Kit here.
Tripod – The number one tool to get epic shots of yourself while traveling solo. Also, it's a great tool if you're taking night time or long exposure shots to stabilize the camera. Purchase the tripod I take with me everywhere.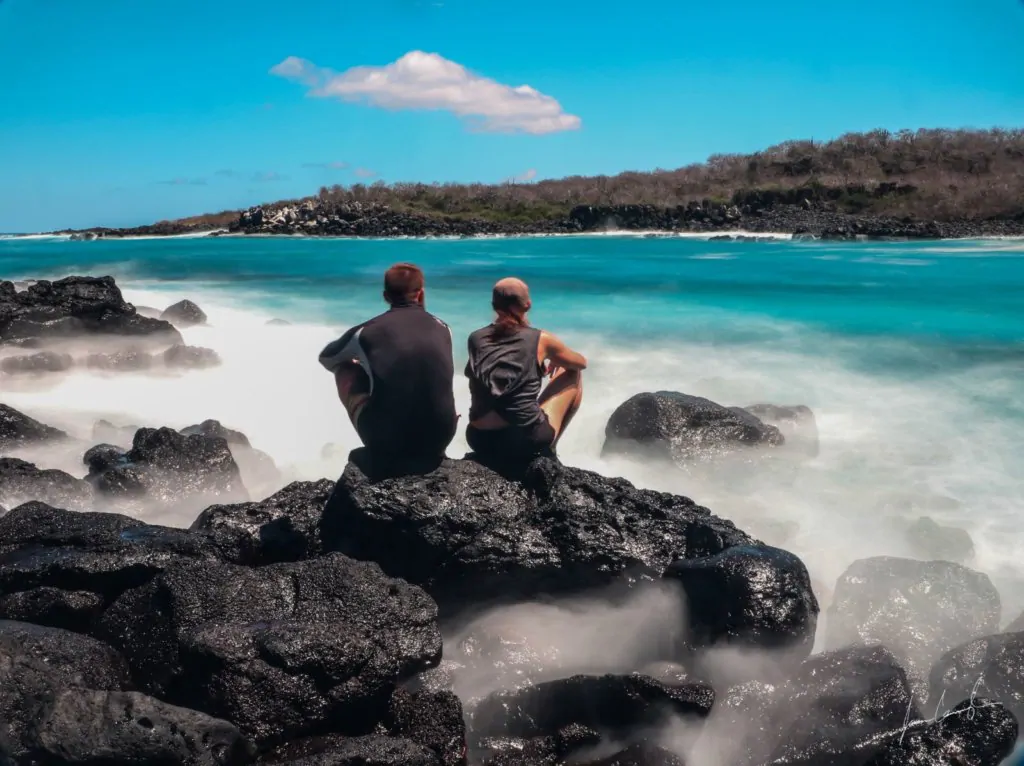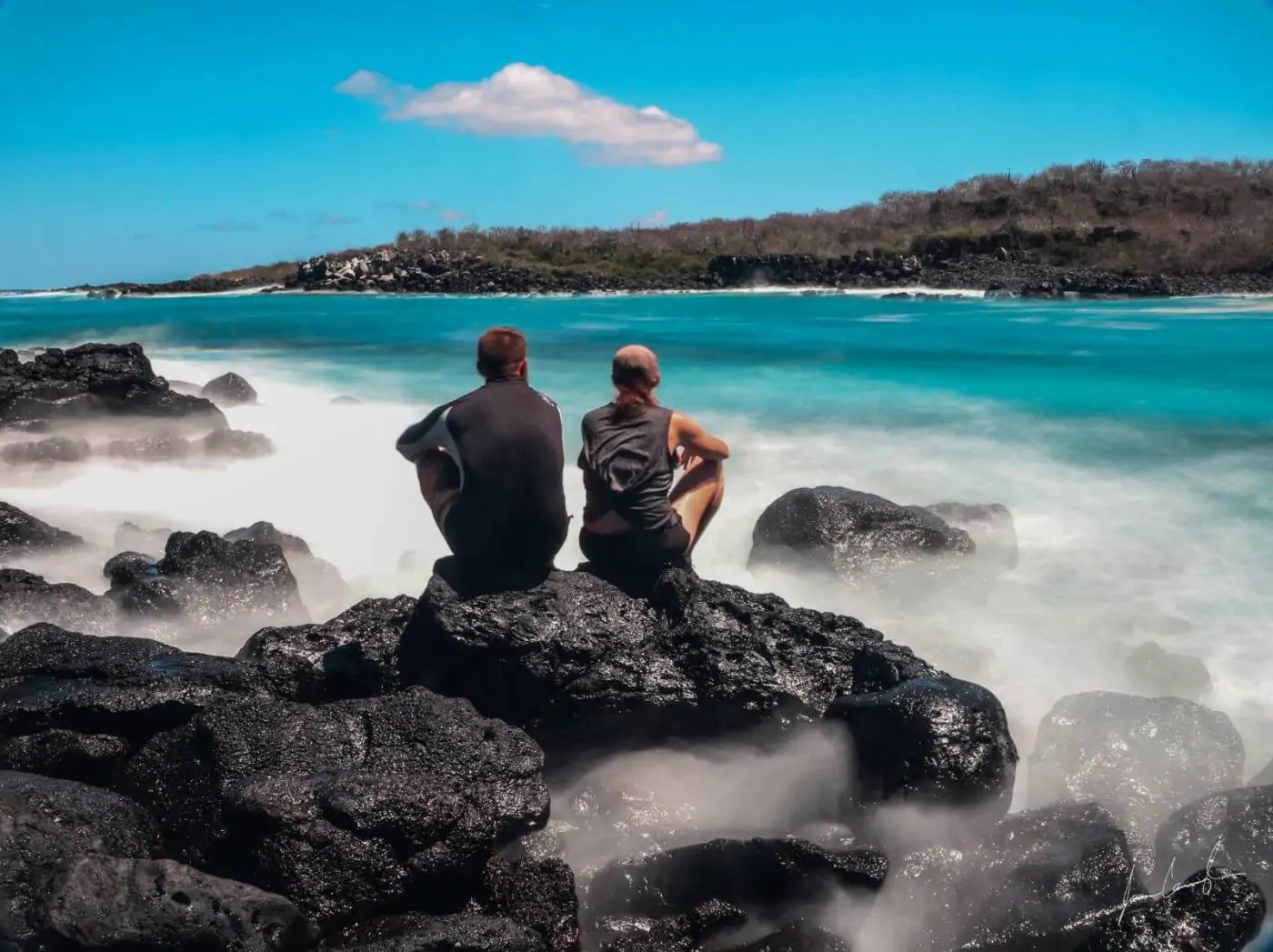 iPhone – I also took plenty of photos and videos with my iPhone!
Extra memory cards – To accommodate the thousands of photos you'll take – you need somewhere to store them! 
Adapters and chargers – plugs in Ecuador are the same as the US so if you're coming from the US there's no need for adapters. If you're coming from elsewhere an adapter for a US plug would work.  Make sure to have all the chargers.

Protect Yourself
Sunglasses – Sadly, I left my sunglasses on a beach during my tour to Kicker Rock. Thankfully this was two days before leaving the islands so I protected my eyes well for 8/10 days. But, the sun is incredibly strong so having quality sunglasses will protect them, and decrease the amount of squinting, which will decrease wrinkles (or so they say)
Sunscreen – I used Sun Bum for its reef protecting qualities. It also comes in a stick so you don't have to worry about liquid limitations. However, whichever brand you choose, just be aware that what you wear will enter the ocean with you. This includes moisturizer and hair conditioner. Get your reef safe sunscreen here.
Bug spray – It sounds crazy, but I'm one of those people who has never been bitten by a mosquito. In fact, I can't remember the last bug bite I've had. That being said, generally, bugs aren't an issue on the islands. But if you must, I found these mosquito repellent wipes that worked well for my friends on the trek to Machu Picchu use. Purchase your mosquito repellent wipes here. 
Coconut Oil – Trader Joes carries travel packs of coconut oil which helped moisturize my skin (and hair) after a day of sun and salt water.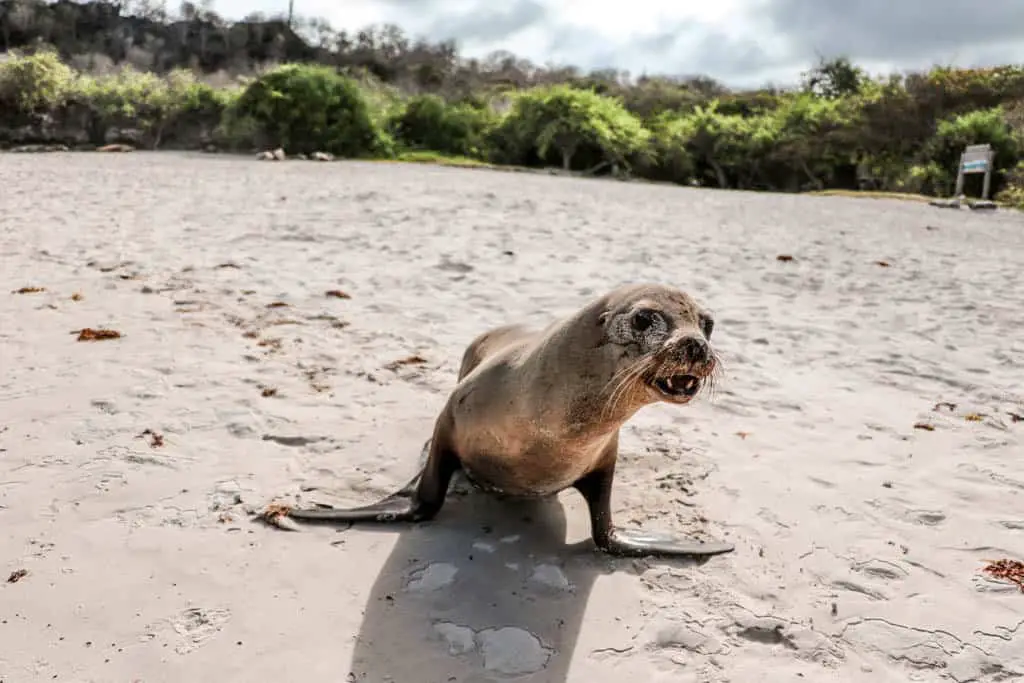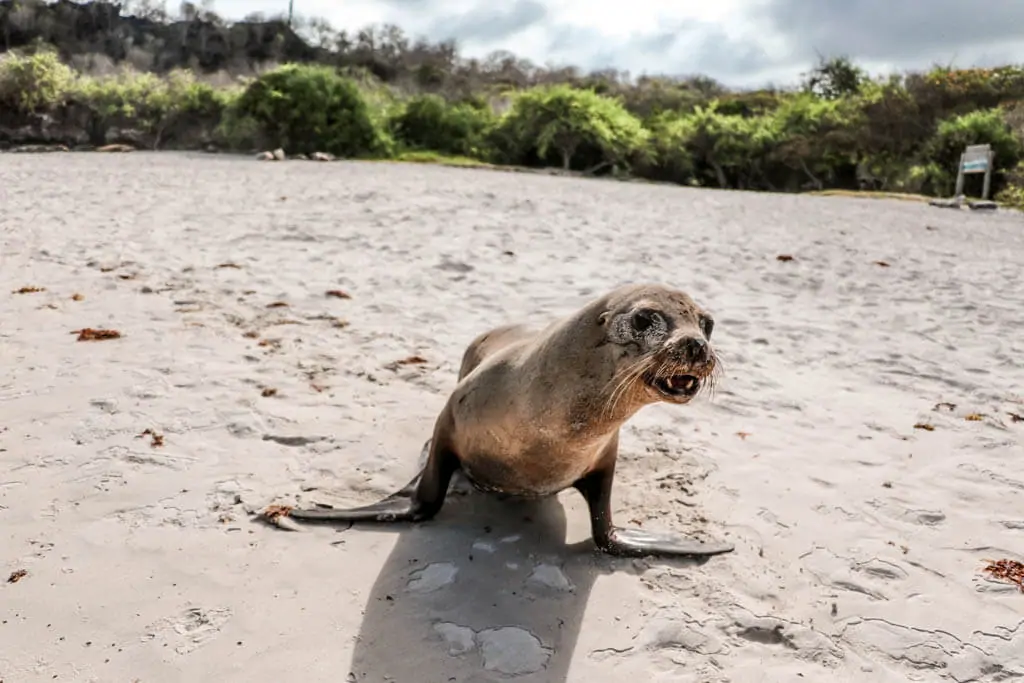 Stay Healthy
Dramamine – if you're prone to motion sickness, Dramamine is a great idea for day tours and ferry rides as the ocean can be quite rocky.
Water bottle – I loved my Hydro Flask on the islands. It kept my water cold and refreshing in the hot weather! Purchase your Hydro Flask here.
SteriPEN – The water in the Galapagos, and Ecuador, is not drinkable. In order to decrease the number of plastic water bottles I purchased, I used a SteriPEN to clean the water prior to drinking it. Get the SteriPen here.
Check out the SteriPEN at work

Immodium – As careful as I was with the water, I definitely needed Immodium once or twice thanks to new foods and just the basic traveler's diarrhea issues. I'm glad I had it on hand!
Medications – Make sure to pack more than enough personal medications you may need. There are pharmacies on Santa Cruz and San Cristobal. I had to use one at one point, and they are helpful for anything that pops up!
Travel Insurance – Just in case something happens to you or your trip, make sure that you have insurance! I use World Nomads for all of my trips and they have two different packages that cover "normal" activities and "extreme" activities. Double check which one covers diving and any other activities you might pursue on the islands!
Get a Personalized Travel Insurance Quote Below
I use World Nomads for all of my trips. Thankfully, I haven't had to use it yet, but I love knowing that it's there in case I need it.
Miscellaneous Items
Snorkel & Fins – Just the mask and snorkel cost about $4/day from any of the shops on the islands. If you can purchase one on the mainland it will likely save you money in the long run!
Wetsuit – Not a necessity as the majority of tours will provide a wetsuit in the cost of the tour. However, some don't and you might want one so you can snorkel a bit longer in the chilly waters. If you already have one, I'd suggest bringing it, but if not just be prepared for goosebumps while you snorkel!
Dry bag – This comes in so clutch for keeping your electronics safe on boats or anywhere near the water. Plus at the end of your trip, if anything is still wet, you can put it in the dry bag to keep it from getting everything else wet….and smelly. Purchase your dry bag here.
Day bag – I travel with a 55L Osprey Farpoint that comes with a 10L Day Backpack that was perfect for daily activities. I will say the water bottle pockets are a bit awkward so I just hung my water bottle from a carabiner attached to a strap! Purchase your backpack here.
Don't forget the basics: deodorant, toothbrush, toothpaste, contact lense equipment (plus extra lenses), glasses, shampoo, conditioner, coconut oil.
Phew! That's it.
Everything you'll need for an epic trip to the Galapagos. If you want this in checklist form, 'cause it's so satisfying to put a check in a box, right?, drop your email below and I'll email you this in printable checklist form!
Feel free to leave me a comment with any questions you have about packing for the Galapagos!
Like this post? Pin for later!